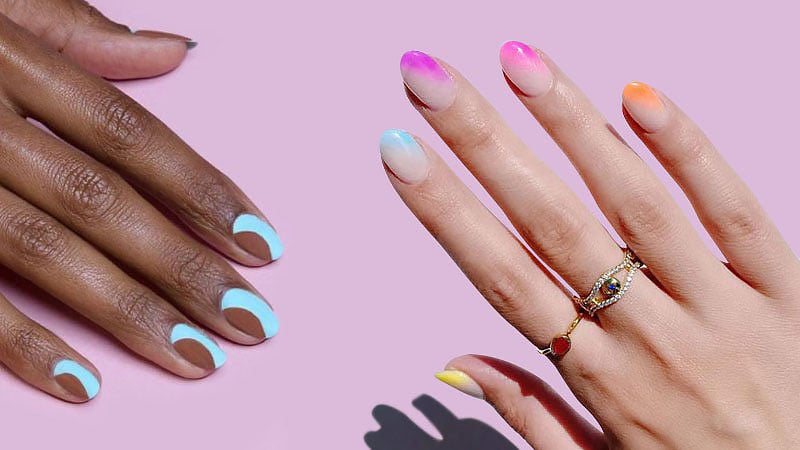 What makes nude nail designs so exceptional is it provides the wearer with a blank canvas to work from – you can add flowers, stripes, your favorite colors, and everything in between. No matter what shape, length, or aesthetic you prefer, there's something here that is sure to spark inspiration. The beauty behind this style is it helps elongate your fingers and instantly elevates any outfit you're wearing. If you're sitting at home or waiting for your fresh new set, it's time to find some inspiration with these trending nude nail design ideas.
1. Classic Nude Nails
For the days where you're not sure what to wear, the classic nude polish is a perfect choice. This style elongates your fingertips and creates a clean line across your hands. Choose a shade that reflects your natural skin tone best – you can choose a shade lighter for a delicate look, or something slightly darker for a high fashion twist. This manicure is so elegant and timeless that you can rock it with any nail length or style – it's a blank canvas that looks amazing on everyone.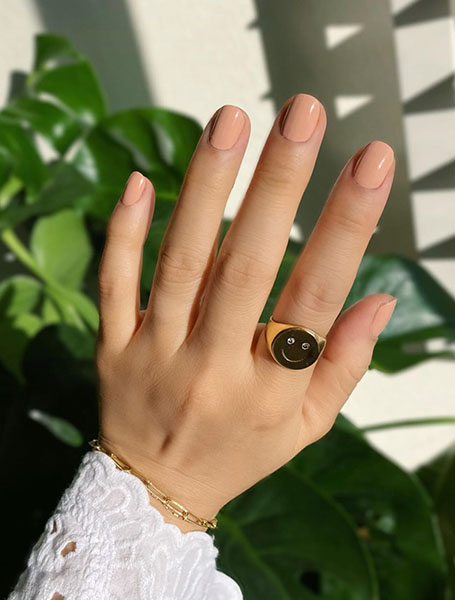 2. Different Shades of Nude
Why have one shade of nude when you can have five? This fun and quirky version of the classic manicure combines varying hues of neutral pinks and browns for a detectable pallette. Arrange the colors in a gradient down your fingertips, or sporadically place them across your nails. Baby pink, sand, eggshell, and stone are ideal hues to start with – there is so much freedom with this style.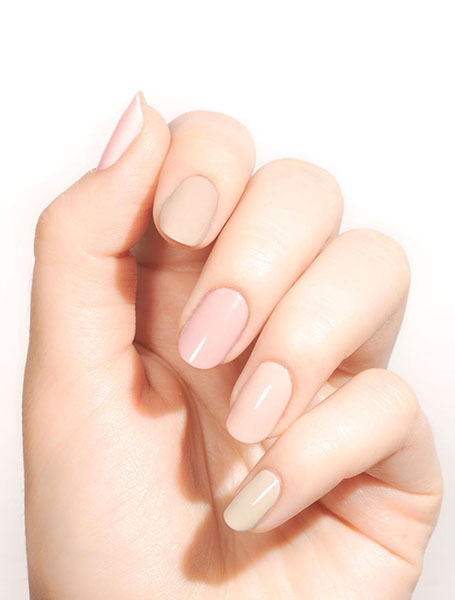 3. Abstract Nail Art
Add a funky twist to your nude manicure by painting a few extra shades on top? This abstract 2000s-inspired art uses bold splashes of color and looks as if someone painted them with a large paintbrush. Use fruity tones like watermelon and lime to create dimension within the neutral hues, and throw in a crisp white to even it out. For best results, opt for a nail polish pen with a fine tip so that you can apply extra details. You can run the pattern across your fingertips or save it for a feature nail.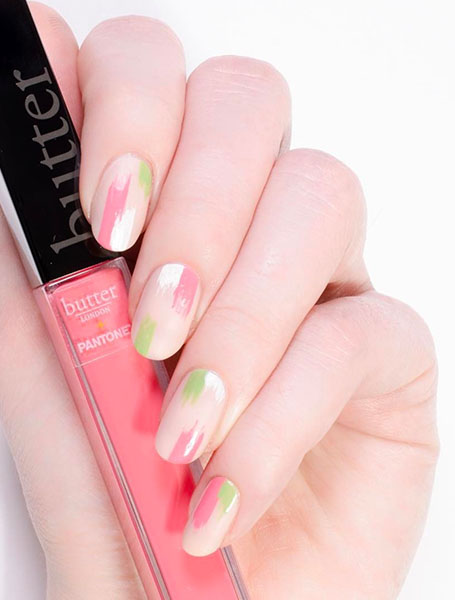 4. Baby Blue Nail Art
Put a fresh spin on the brightly colored manicure by adding a nude color detail. This modern and funky design allows the bright shade to be the hero of your nails, but let the neutral tint help create depth. Choose an inverted crescent pattern across your nail bed, and paint the most dominant part in a vibrant hue, leaving the remaining part in a more subtle color. It will help elongate your hands and complete almost any outfit you wear.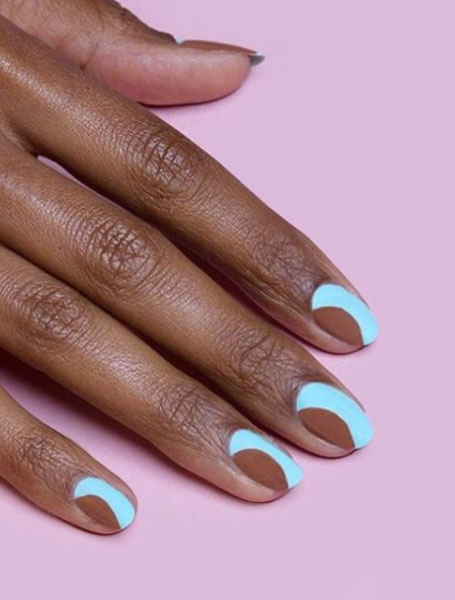 5. Black Nail Art
You can take a piece of art with you everywhere you go when you have these nails. The bold black lines stand out perfectly against the nude, and the updated version of the French manicure is the ideal finishing touch to the quirky eye design. This artwork suits those with oval or square shape nails, but it's an excellent choice for any length. The 60s-inspired mod artwork is a bold step away from tradition, but it's a wild way to update your current style.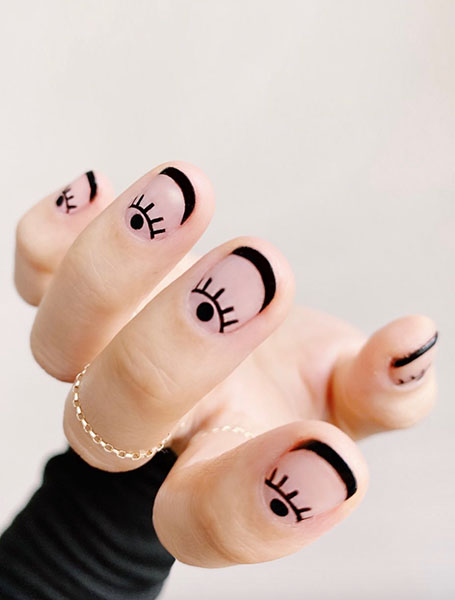 6. Color Ombre Nail Art
Enjoy the fresh and vibrant shades of summer by wearing them across your nude manicure. The soft gradient created in energetic colors offers the essence of sunshine and a tropical vacation. Let the shades run in the same direction across our nails – this will create uniformity amongst the varied hues and overall synergy within the design. Choose from pastel shades, neons or dusty blues, and pinks to create this ombre design.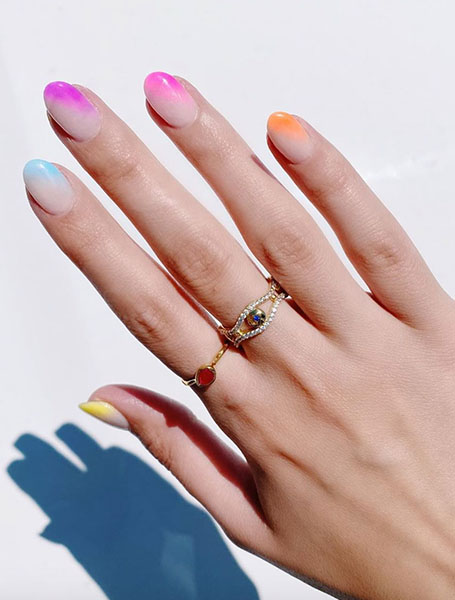 7. Floral Nail Art
Unleash your inner fairy princess with this delicate nail art. The bouquet draped across the cuticle adds a beautiful and feminine touch to the traditional nude manicure. Use a wide range of colors for a more natural and organic feeling to the overall design, or opt for monochromatic hues like pink, blue, or yellow. The leaves and twigs give the overall style the perfect finishing touch and add some sporadic dots along the edges to elongate your fingers. It's a stunning option for a laid back outfit and is a beautiful way to reconnect with nature.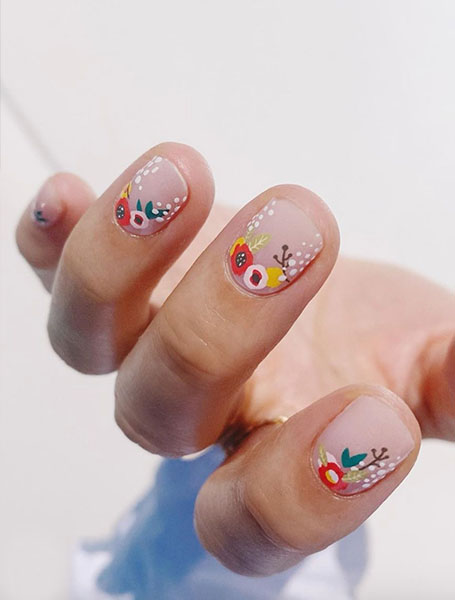 8. Nude Camouflage Nail Art
This nude camouflage manicure is the perfect blend of beauty and brawn and is the best option for the person who loves to experiment. Find the shades that you prefer, such as khaki, pink, or blue – these work beautifully with the neutral hues. To do this at home, practice the design a couple of times – it may look easy, but it can be a tricky pattern to master. It is a timeless, funky, and fresh way to do your nails, why not give it a try?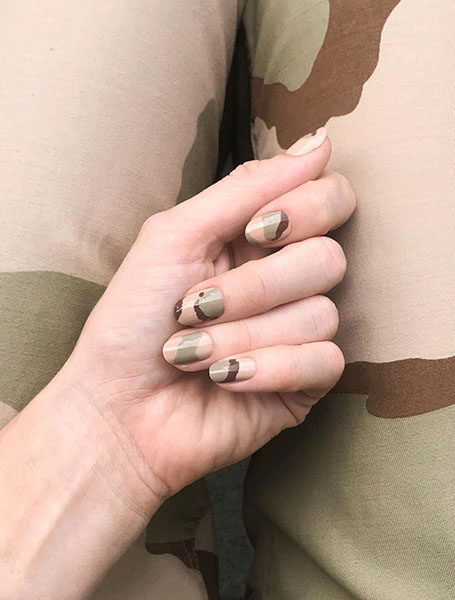 9. Nude French Manicure
The elegant French manicure has stayed in style since it first became popular, and there's a reason why. The timeless design features a thin white line at the tip of the nail, leaving the nude shade across the rest of the finger. Not only does this style flatter any event, but it also elongates your hands and elevates your outfit. You can choose any length or shape you'd prefer for this style – it's a universal option that works well for anyone.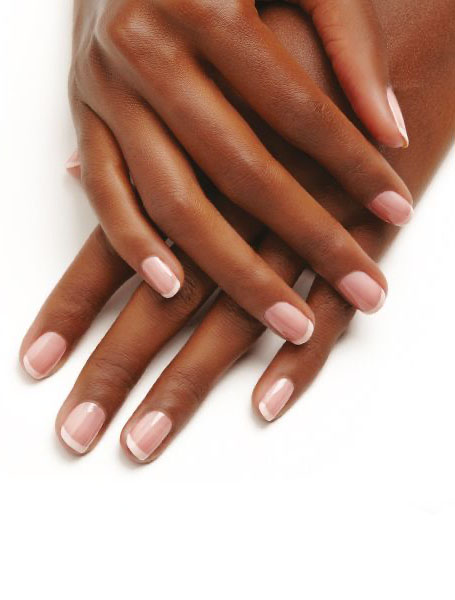 10. Rose Gold Detail
Rose gold and nude are two shades that work beautifully together. This geometric design is bold and helps any outfit pop, but it is elegant enough to wear to a fancy event. Paint 3/4 of your fingernail with the neutral hue of your choice, leaving the remainder without anything. Then, using a piece of metallic tape or polish, apply a thin strip between the painted and bare parts of the nail – this will fill the gap and create harmony between the design.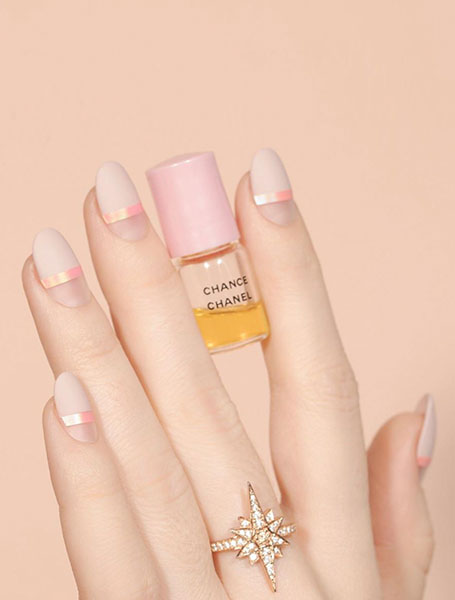 11. Asymmetric White Tip
Take your nail game to the next level by adding an asymmetrical twist to it. This classic design is a modern refresh to a stunning French manicure. In a similar vein to the iconic style, opt for a flesh-flattering shade of nude and add a bold white stripe to the tip. However, unlike the traditional feel, lift one corner of the end towards the center. It's an easy way to elongate your fingertips and add some high fashion into your everyday look.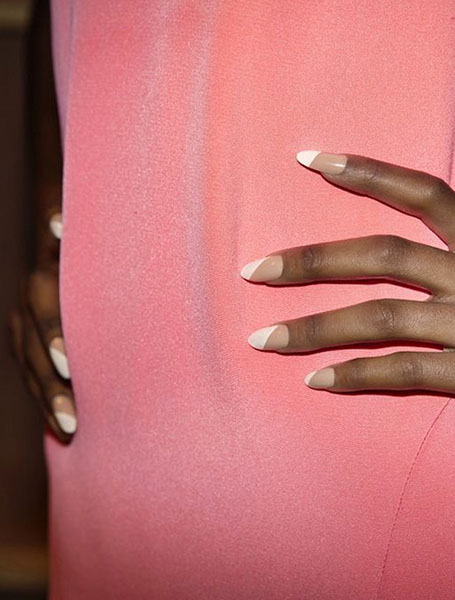 12. Blue and White Stars
Show your love for the night sky by adding a sprinkle of stars across your nude manicure. This cute and straightforward art is delicate, but oh-so effective in action. Choose star stickers in two shades of blue and add a pop of white – you can sporadically place the shapes across the tips or the entire bed of your nail. It's a style that flatters every shape and length and will add some fun into your overall look.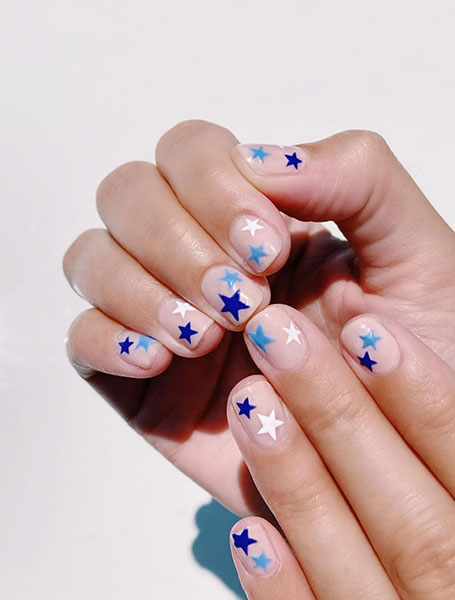 13. Mondrian-Inspired Nude Nails
Are you a massive fan of Mondrian or modern abstract art? Then why not showcase them on the tips of your nails? This 20th-century-inspired manicure features the stunning '30s artwork from Dutch painter, Piet Mondrian. To complete this look, keep the majority of your nailbeds painted in a crisp nude shade. Choose whichever fingers you prefer to act as the features, then paint a thin black line down the center of both. Using a fine-tipped brush, carefully construct the graphic squares and rectangles along one side. It requires a steady hand and plenty of patience, but it's so worth the result!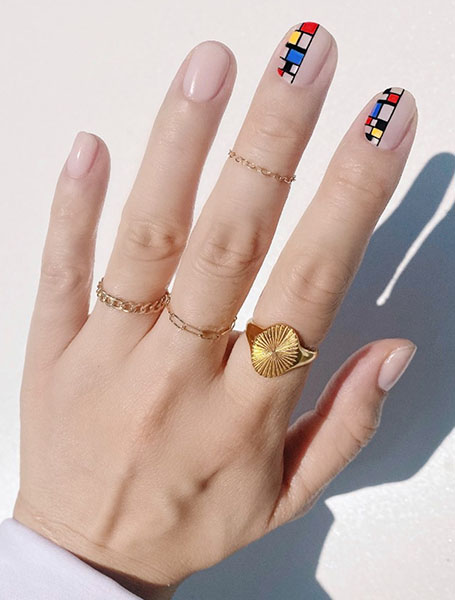 14. Evil Eye Art
This symbol is entwined with many cultures and holds a myriad of different meanings. This beautiful and enchanting design is a great way to elevate an outfit. Paint the delicate design along the cuticle of your nail bed, and leave the rest in a soft nude shade. If you like, you can repeat this pattern across every finger, and add pops of color to the overall manicure by exchanging the tone of the iris on each tip. Depending on the meaning you wish to convey, this is a stunning and effortless style to try.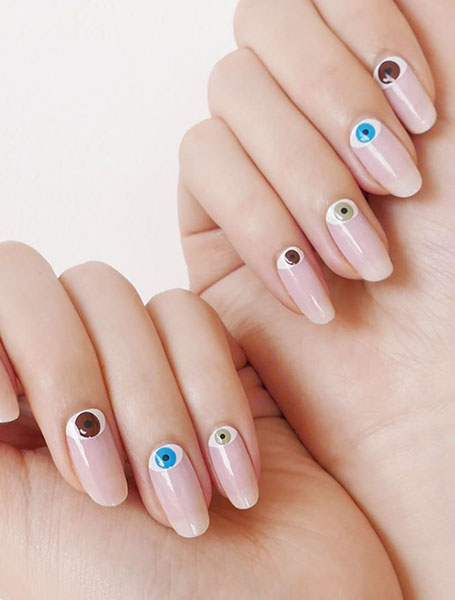 15. Glitter
Sometimes, glitter is all you need to create a stunning manicure. This subtle yet vibrant option is a great way to express yourself without deviating too far from the traditional nude polish. Find a topcoat that features the sparkling colors, and evenly spread it over the top of your neutral base. Choose multi-dimensional shades such as pastels or metallics, or keep it monochromatic by opting for blue, pink, or gold. Whether it's your birthday or you're just ready to have a great time with friends, this nail art is sure to get the party started.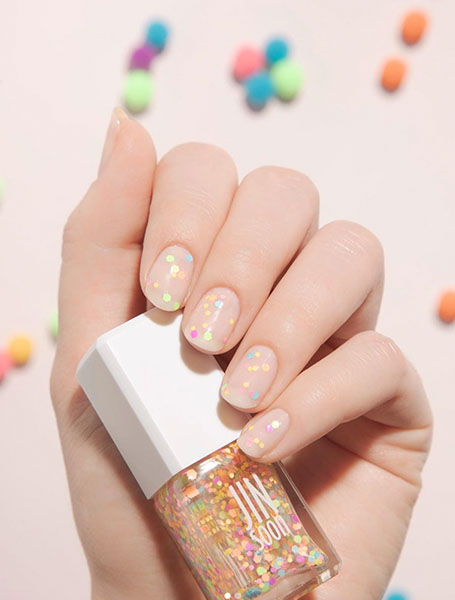 16. Jewel Detail
You're a queen, so why not show it off? The opulent and decadent design is sure to knock everyone's socks off, and for a good reason. This regal manicure takes the elegant nude color and throws a bit of sparkle on top, or a lot if that's what you prefer. Using colored crystal embellishments, create shapes and patterns across your nails in varying designs and sizes. This luxurious style makes the tips of your fingers shine like tiny tiaras and is worthy of any member of the royal family.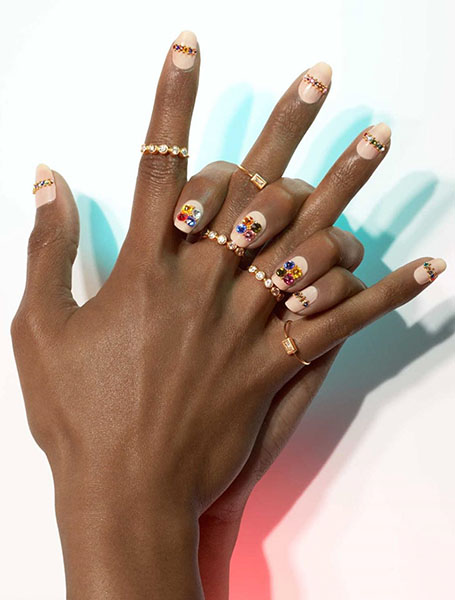 17. Lavender Detail
Soft pastels are a trendy palette to try this season – the soft and delicate colors look stunning against a neutral base shade. Choose a lavender hue in stripes across the nude – feel free to vary in designs across each nail for a fun and artsy feel. The beauty behind this manicure is its subtleness – the light purple is similar to the flesh tone, but the striking undertones make it the perfect option for a fun night out.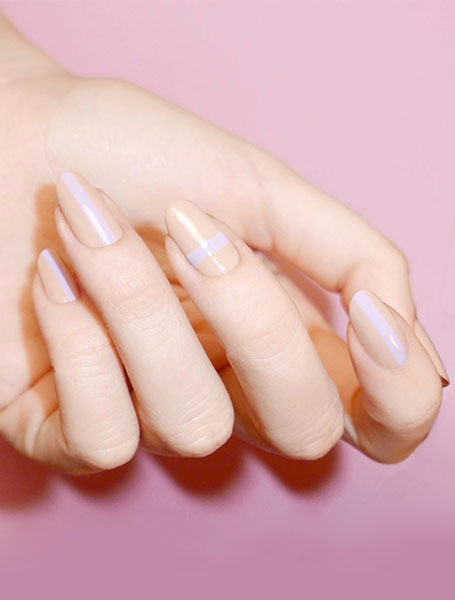 18. Minimalist Art
Sometimes it's the simple designs that have the most significant impact. This minimalist art looks beautiful against the nude base and gives you the freedom to play it up or down. Sprinkle a few polka dots across your nails in varying shades, such as orange or blue – pick hues that stand out against the neutral coat. Choose from large dots or something a little bit smaller – the options are endless and make for a stunning manicure.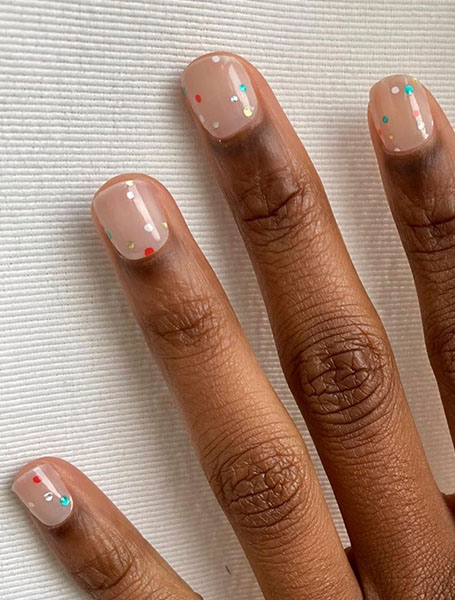 19. Pop Color Detail
Take it back to 1983 with these bright and fun color pop nails. The bold fluorescent hue looks vivid against the nude base, and boy, does it make a statement! Create straight lines at the cuticle, reaching towards the tip of the nail – this elongates your fingers and adds a unique twist to your traditional manicure. Keep the shapes as straight as possible by using small strips of tape to create the perfect edge. Alternate shades on each fingertip for a fresh and funky twist.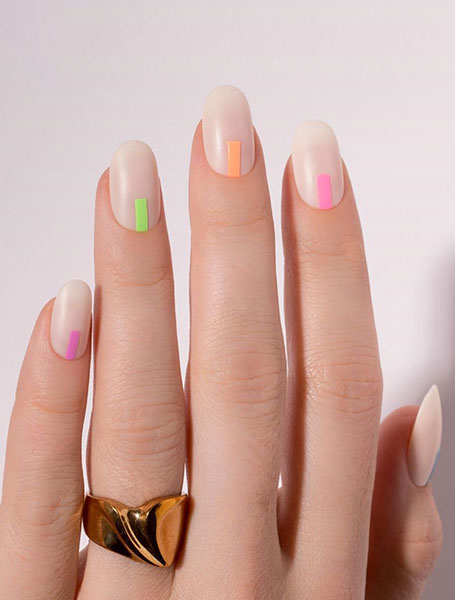 20. Rainbows
Rainbows are some of the most beautiful natural marvels on the planet, so why not showcase them on your nails? This blend of bright shades and a nude base is a great way to add a pop of fun into your everyday manicure, with a high fashion twist. Position the multi-colored spectrum across the natural placement of the crescent moon on your fingertips. Whether you're bringing this stunning style out for Pride month or every day, your day will shine a little bit brighter.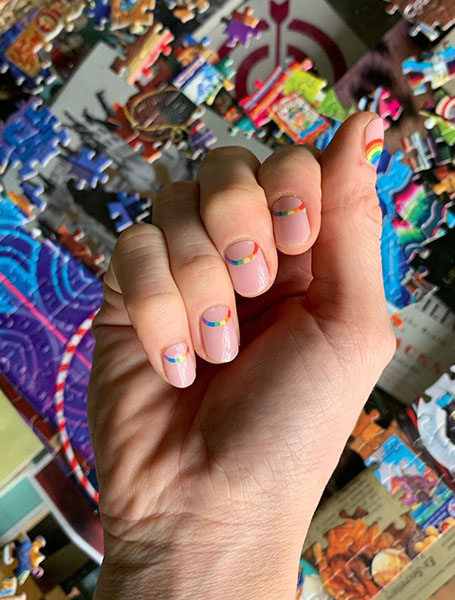 21. White Dot Art
"Simplicity is the ultimate sophistication," as Leonardo Da Vinci famously quoted. This elegant and straightforward manicure is easy to replicate, and it looks perfect with almost any outfit. The pink tone base coat is a soft and romantic option, and the bright white dot on top adds an element of complexity without going overboard. The placement of this point is entirely up to you. If you choose to have it on the tip of your finger, it can help elongate the length of the nail. The center is also an excellent choice if you prefer symmetry.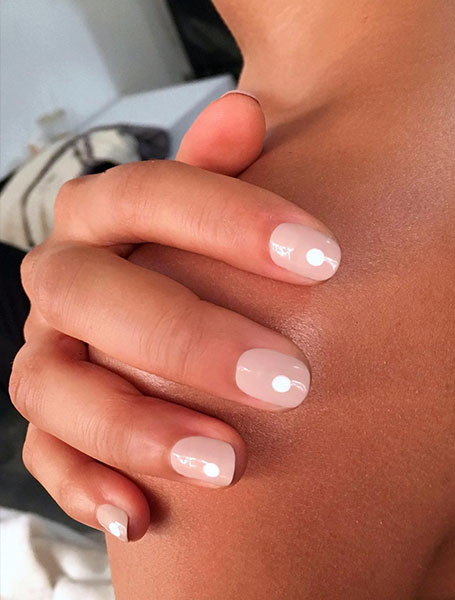 22. Yellow Detail
Add a bit of zest to your everyday art with a touch of yellow. Begin with a nude undercoat, in whichever shade you prefer. Using a bright lemon hue, you can paint a delicate stripe across the tip of the nail. If you want to add a bit of dimension across the fingers, why not draw another line above it? Finish this off by adding a clear topcoat, and you'll be ready for a wave of compliments. It is a sure-fire way to brighten your day and add some energy to an already gorgeous nude manicure.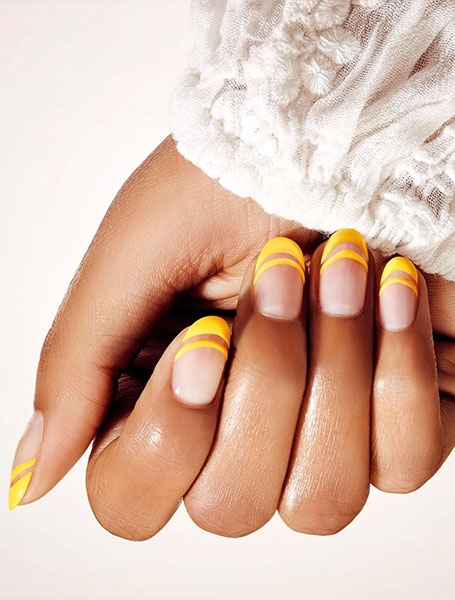 23. Wet Nail Look
A huge trend we've seen in recent months is the wet look. It's an intriguing and stylish manicure to have, and it looks lovely when accompanied with a nude base coat. What makes this nail art so different from the rest is the multi-dimensional layers over the traditional shade – it's as if you've walked through the rain and left a few raindrops on the tips of your fingers. It's effervescent and ethereal, and quite easy to create at home once you've mastered the art of the droplets. To try yourself, first, you should choose the neutral color you'd prefer to use – flesh tones look fantastic as they create the illusion of longer fingers. Make sure you're using a matte base for this; otherwise, the 'water' won't be as effective. Using a clear gel polish and a fine brush, add a few droplets sporadically to give the effect fo freshly washed hands.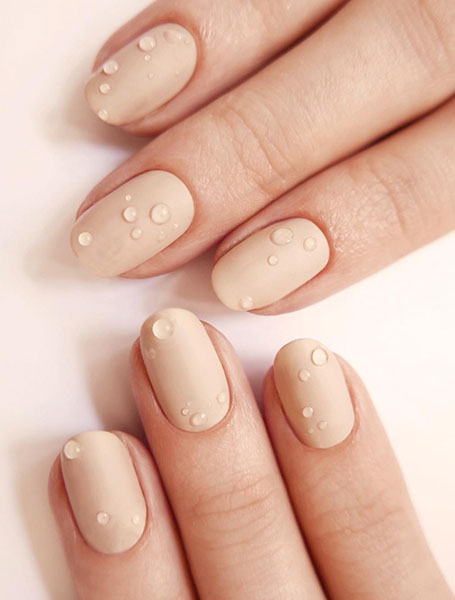 24. Gold Glitter Tips
Let everything you touch turn into gold with this extravagant manicure. The nude and metallic bend work well for any occasion, and it's straightforward to replicate yourself. There are a few ways you can recreate this look – the first is with glittery gold polish. After you've painted your nails with a matte, neutral shade, form a thin line along the tip of your finger with the varnish. If you prefer gold leaf, it's a great idea to find an artist who works with delicate materials. It is an excellent option for a wedding, date, or just a fun night out – the results are simply divine.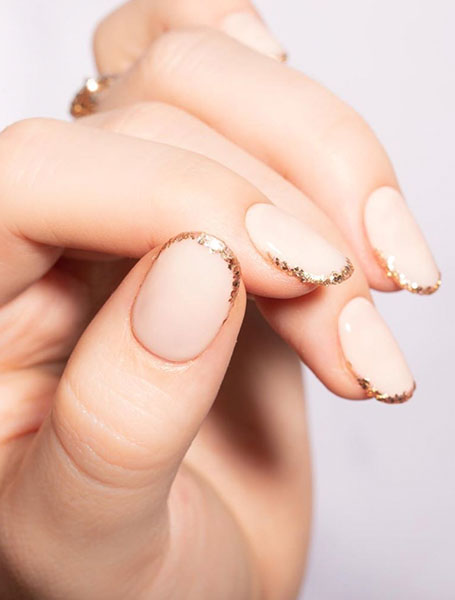 25. Blue, White and Red Nail Art
Take a dip to the seaside with a combination of blue, red, and white art. This stunning amalgamation is an excellent manicure idea for a summer day or merely a celebration of your favorite colors. Similar to a French manicure, you can replace the traditional white tip along the edge of your fingers with the bright hues. Alternate shades across each nail, and complement the tone by adding another color in the crescent moon. It's an excellent option for those who want to brighten up their everyday routine, or who love to experiment with funky designs!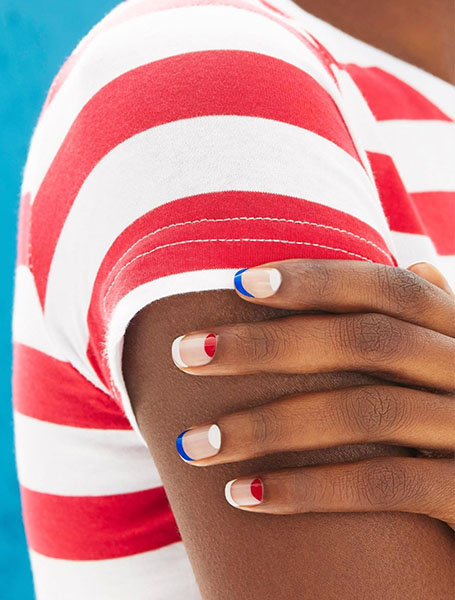 26. Matte Nude Nails
Nude nails are an excellent choice for your next manicure because there is a shade to suit every preference and complement your complexion. You can also experiment by combining your chosen shades with other colors or trying different textures, like matte. Matte nails are appealing because unlike the standard glossy finish, they appear smooth and flat. This gives your look more texture and can give you a manicure that is chic and sophisticated.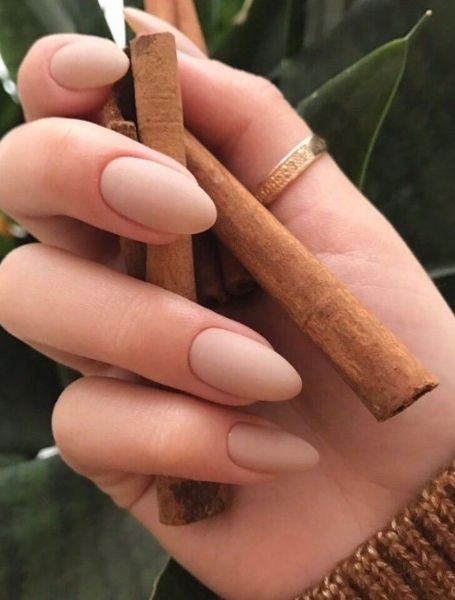 27. Nude and Green Nails
Nude goes with everything, giving you versatility in creating your manicure and the colors you choose. You can combine your favorite nude polish with a shade of green for a fresh and modern finish. There are various shades of green to choose from, depending on your preference. For those who want to create a contrast and want nails that demand attention, consider vibrant, saturated colors like neon green. Or tone down the look with pastel green or olive for a cute manicure. Green nails represent life, energy, and growth, and can make a subtle statement about your thoughts and feelings.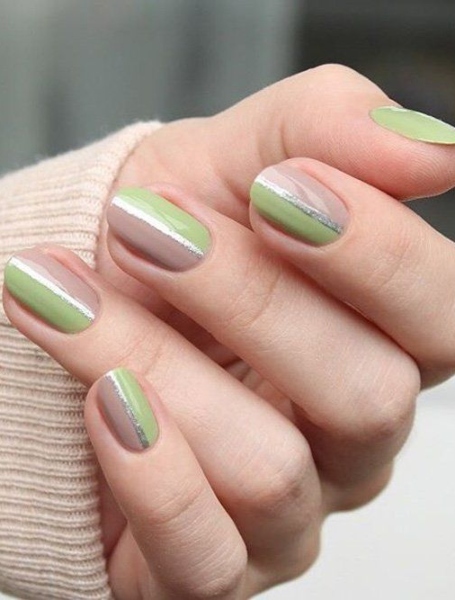 28. Pretty Pink and Nude Nails
Pink nails are a popular choice because the color is universally flattering and represents femininity and love. There are many shades of pink to choose from, including bright and bold choices like hot pink, to soft, romantic pastel shades. This allows you to find the hue that complements your complexion. Pink can also be mixed with different colors, including nude for an ultra-stylish but wearable look that will lend itself well to a variety of occasions.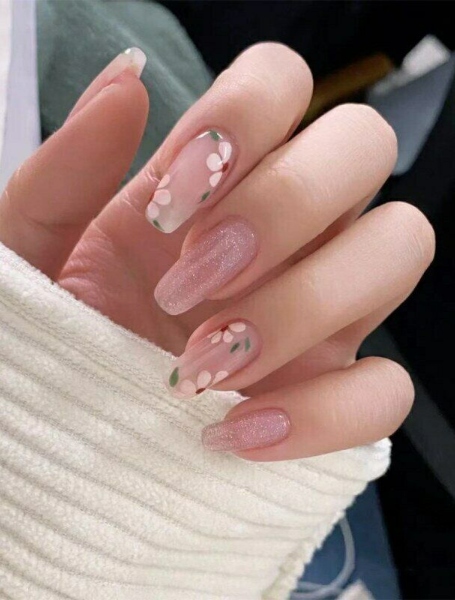 29. Nude Ombre Nails
Ombre nails are an excellent choice for your next manicure. The technique is created by seamlessly blending two or more colors to create a gradient effect. This can be incredibly flattering and can highlight the tip of the nail, enhancing your chosen shape. Nude ombre nails are a creative way to wear nude and can be paired with white or a lighter shade of nude for a subtle contrast, or brighter colors for a more daring finish.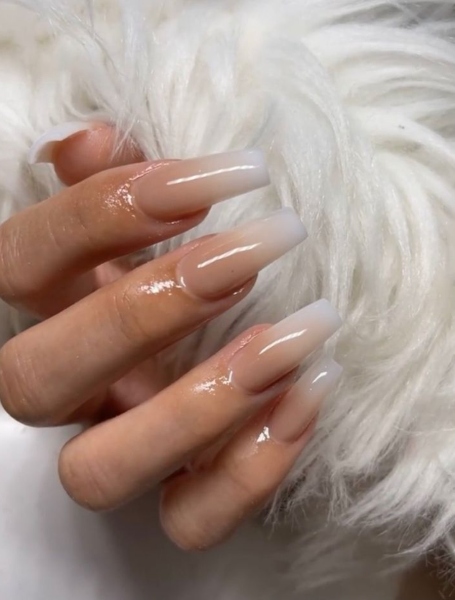 30. Nude with Grey Details
What is not to love about nude nails? There are multiple shades, allowing you to find the hue that best complements your complexion. Nude is also incredibly versatile and can be mixed and matched with everything from neutral colors to vibrant shades. Grey nails are appealing because they can be dark and moody, reflecting your mood or giving you the perfect wintery manicure. Or they can be light grey for a softer finish. Nude will create an excellent base color for subtle grey details, giving you a stylish and wearable manicure.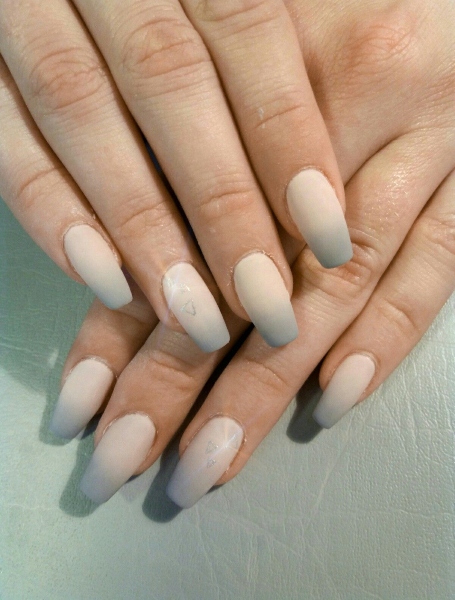 31. Nude Coffin Nails
Nude nails can be added to all nail shapes and lengths, making this one of the most appealing options for your next manicure. For those who want to embrace unique and fun shapes, coffin nails are ideal. Coffin nails are defined by their tapered sides and straight tip, which create a shape that resembles a coffin. They are ideal for making a statement and will draw attention to your nails. It is also a shape that lends itself well to nail art.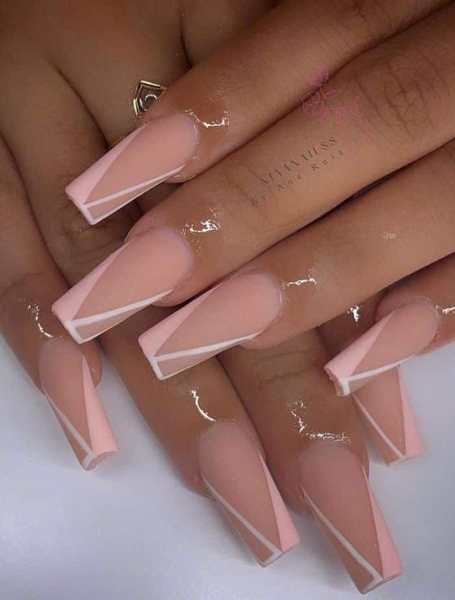 32. Nude Almond Nails
Almond nails are a versatile choice for your next manicure because they are elegant and sophisticated. They have slim, tapered sides that form a point and can be worn long or short for those wanting a more natural finish. The shape also complements all finger lengths. Almond nails are ideal for women of all ages, and with nude nails, you can create a timeless and classic look that can be worn anywhere.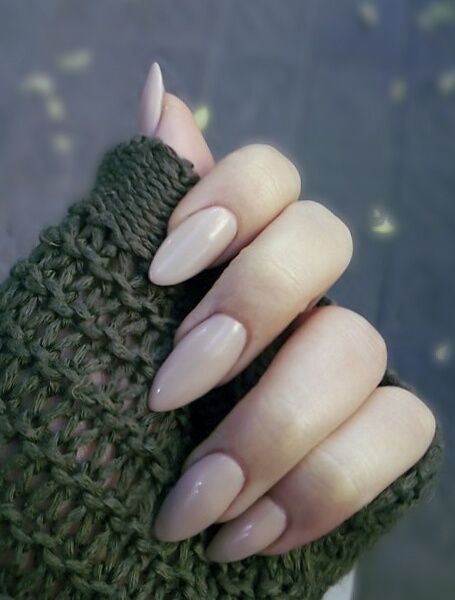 33. Nude Stiletto Nails
Stiletto nails are for women who want to make a statement and draw attention to their hands. The nail shape is edgy and cool, defined by the tapered shape with very pointed ends. They look best when worn long, which adds to the effect and will highlight the shape better. The shape looks great with all colors and nail art, but will be complemented by a shade of nude polish because it will create a more classic and versatile finish.
34. White Swirls
Swirls are an excellent choice for your nail art because they can be created in various shapes and thicknesses. You can also get creative with the placement and experiment with the finish. Nude is an excellent choice for the base color, and the white will create a slight contrast. If you place the swirls toward the tips this is a way to enhance the shape and can also elongate the fingers, creating a feminine and flattering finish.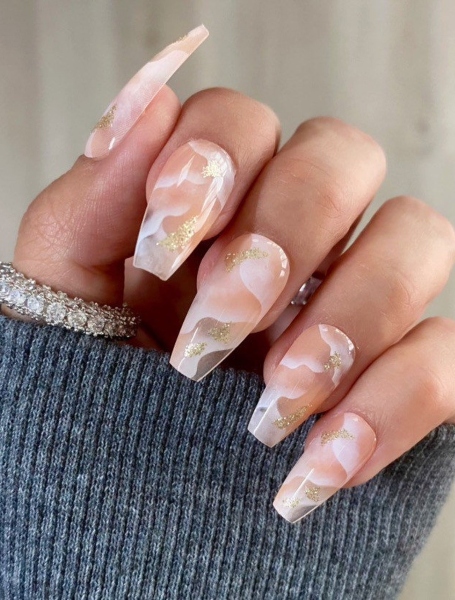 35. Tartan Nails
Tartan is a print created with ​​colored checks and intersecting lines and it can be made in various colors. Inspiration from fabric can make for gorgeous nail art, giving you a stylish finish. Nude is an excellent option for the base color and will give you more versatility as it can mix and match with everything. You can paint all of the nails a nude color and then focus the tartan on one fingernail for a feature nail effect.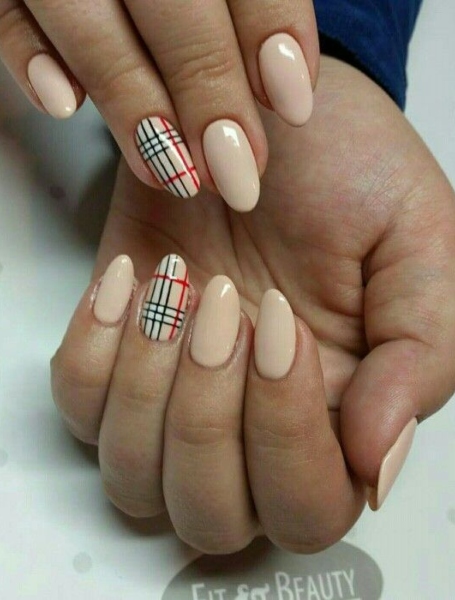 36. Checks Nail Art
Checks are one of the simplest but most effective prints. They can be created with different colors and in various thicknesses and placements. For a modern approach to this retro print, create it with solid, neutral colors like a combination of nude and white. The colors are versatile and can be mixed and matched with everything. This will look great on nails of all shapes and lengths, but longer nails will give you more space to get creative.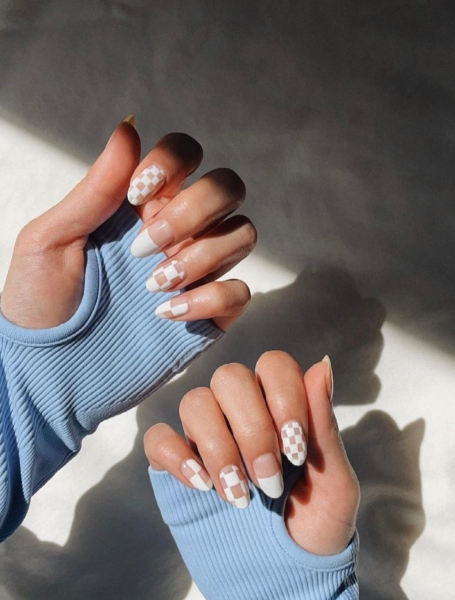 37. Animal Print
Animal print can be a bold and stylish choice for your manicure. There are several prints to choose from, letting you create expressive and creative nail art that demands attention. Despite the appeal of animal print, it can be challenging to wear, which is why pairing it with nude is an excellent option. This will tone down the print and make it easier to wear.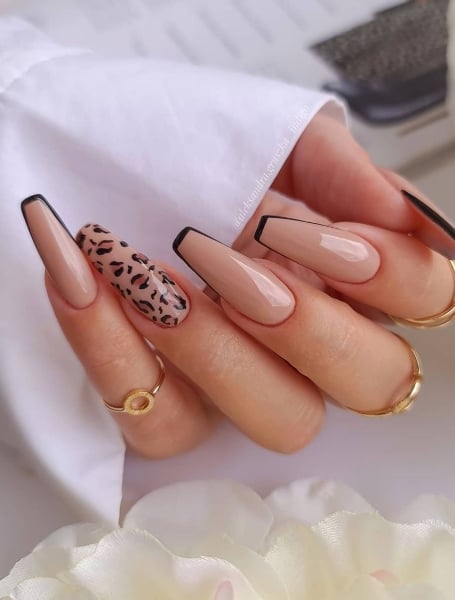 38. Heart Nails
Heart nails are a wonderful way to express your feelings and there are many options to choose from, letting you get creative with your nail art. For nude nails, you can add a cute black or red heart symbol to your base coat to create a slight contrast. You can focus the nail art on one finger or add it to all. The appeal of nude nail polish is that there is a shade to suit every preference and complement your complexion.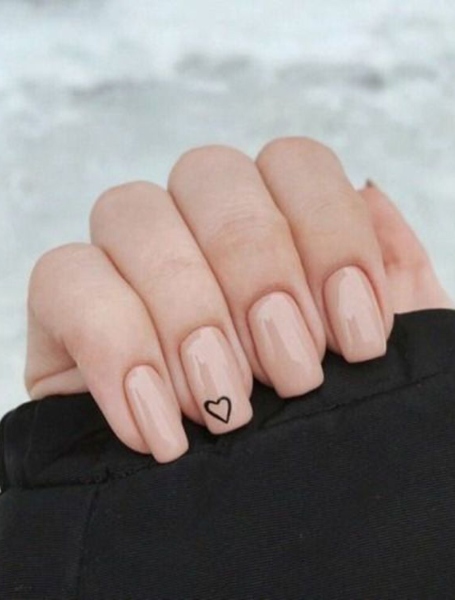 39. Nude Nails with Feature Art
Nude nails are appealing because the colors are easy to wear, classic, and incredibly stylish. The right shade can also make your nails look longer and elongate the finger. The color can mix and match with everything, which gives you the freedom to experiment with different color combinations, prints, and creative nail art. For a fun finish, you can paint your nails with your favorite shade of nude, and focus the nail art on a feature nail to create a contrast.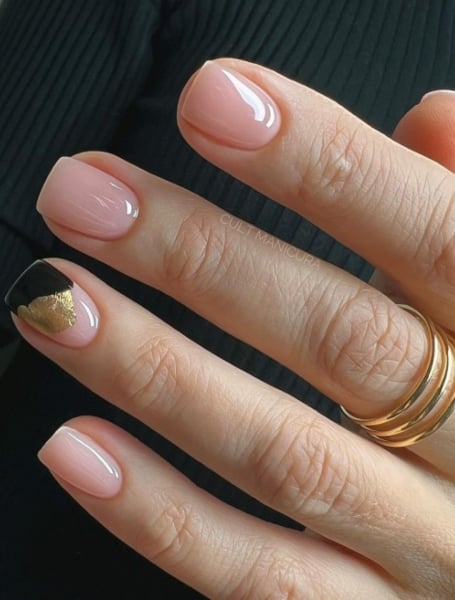 40. Nude Matte Nails with Floral Details
Nude matte nails are the perfect combination and will be an excellent choice for your next manicure. You can also use this polish as the base coat and add nail art over it, which creates a subtle contrast. Floral details are a wonderful way to add color to your nails but are also symbolic. Flowers represent beauty, growth, and life, and can remind you to live life to its fullest and take in the beauty around you.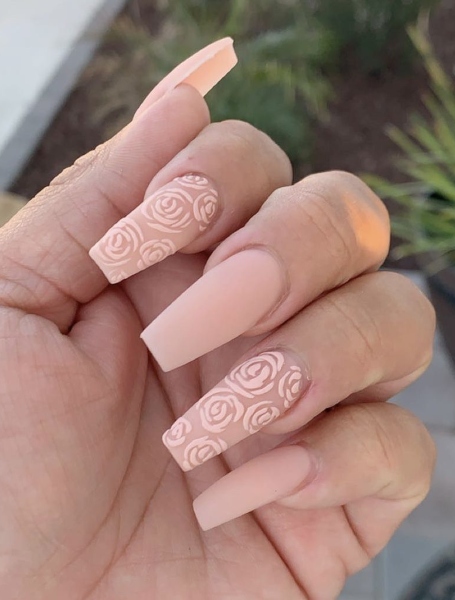 Nude Nails FAQs
What are nude nails?
Nude polish is gorgeous and can be worn by women of all ages and on every nail shape and length. The appeal of these colors is their versatility, and they can be worn anywhere, including on formal occasions and work events. Nude nails come in a variety of colors that represent skin tones. To choose the best option for you, pick the color that best reflects your skin tone.
What colors can I wear for nude nails?
Nude nails should reflect your skin tone, but there are a variety of colors to choose from. These can be light or dark, and some women like to get creative by combining light and dark shades for a contrasting look. You can opt for classic nude nails or something more daring like abstract nude nail art, which can be created with fruity tones like watermelon and lime. The beauty of these colors is that they will mix and match with everything, so your creativity is your limit.
How do I get nude nails?
You can get nude nails by finding the perfect nude nail polish that best reflects your skin tone. Opt for a lighter shade for a delicate finish or darker if you wish to draw more attention to your nails. You can also mix and match different shades or opt for striking colors such as baby blue and nude.
How do you apply nude nail polish?
You would apply nude nail polish in the same way you would typically apply your favorite lacquer. There is no real difference as nude refers to the color, which should reflect skin tone. That said, you do not have to stick to a single shade, and you can mix and match with multiple nude tones. You can also get creative with nail art, using a nude color as a base, or opt for clashing artwork with baby blue, color pop, or rainbow designs.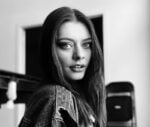 Alexandra Feiam is an experienced fashion writer who holds a degree in journalism. She has an impressive portfolio and expertise working as the Editor at Power Retail and Commercial Content Editor at Newscorp. Ally has been writing for The TrendSpotter since 2018, and her work has been featured in notable publications such as The Herald Sun, Arirang TV South Korea, Kidspot, The House of Wellness, and The Daily Telegraph.
SUBSCRIBE TO OUR NEWSLETTER
Subscribe to our mailing list and get interesting stuff and updates to your email inbox.