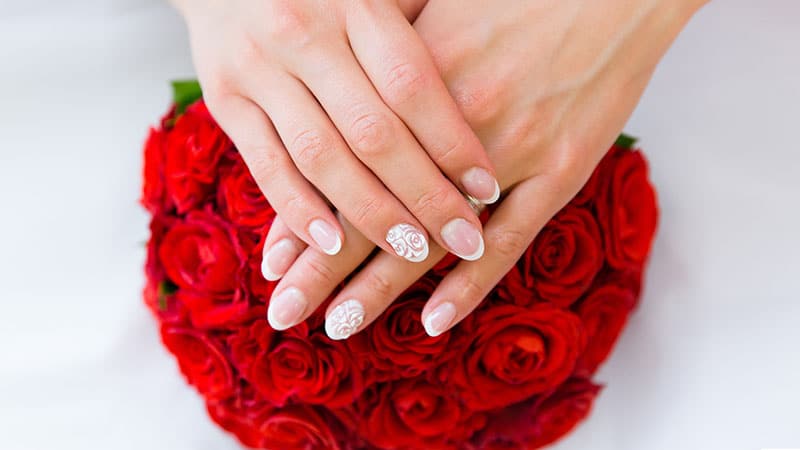 Dress, venue, guest list, flowers, shoes, suits, bridesmaids, and groomsman; there is an infinite number of things to tick off your to-do list before you say, I do. So it is understandable that your nails might not be the first thing on your mind. But trust us when we say that your hands will be getting a lot of attention on your special day. You certainly don't want to be caught short in those close-up bouquet shots with unpolished and unkept talons. As a bride to be, we understand how busy you are and that you don't have time to be scrolling through Pinterest pages and keeping up with manicure trends. So we've done the work for you and put together this list of beautiful wedding nails for your special day.
RELATED: How to Choose the Perfect Bridesmaid Dresses
RELATED: Magical Wedding Makeup Looks for Every Kind of Bride

1. French Wedding Nails
Give the classic french tips a modern revamp by swapping out the standard white for a stylish silver top. The pink undercoat and shiny tip will complement your white gold ring and come up beautifully in pictures.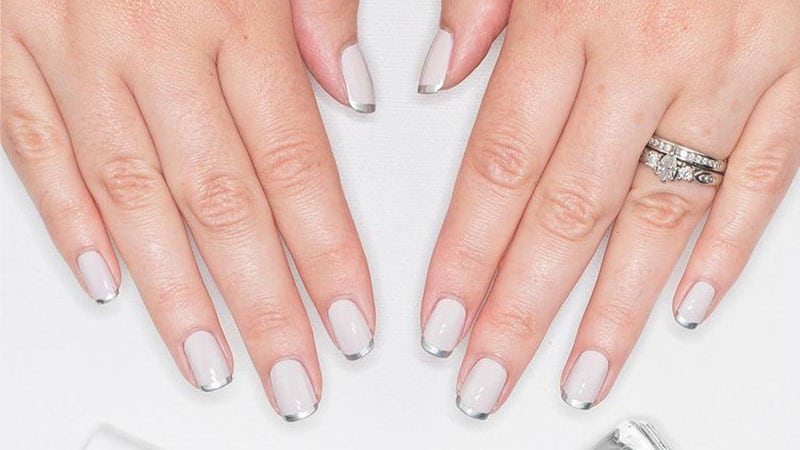 2. Classic Wedding Nails
Classic French manicures are timeless and elegant. If your nails are healthy enough, you can even skip the base color. But, if you want a little more impact, a soft pink, nude or peach undercoat, with or without decorative detail, will work beautifully with the stark white tip.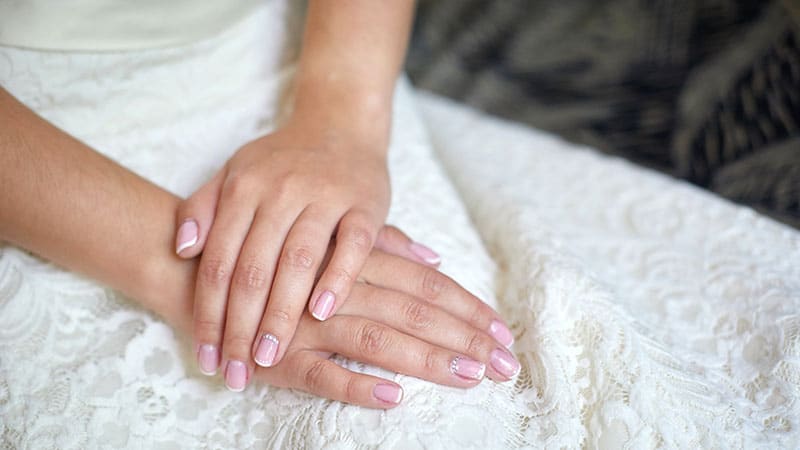 3. Gorgeous Wedding Nail Art
If you're thinking of trying out nail art, we would suggest keeping it pretty minimal and not too over-the-top. You want your pictures to be timeless, however, a few strategically placed diamontes, flowers or swirls can look seriously gorgeous.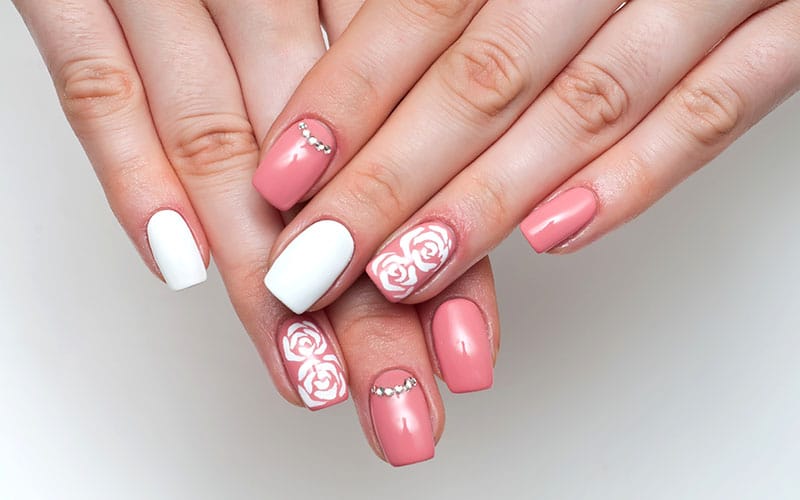 4. Ivory Wedding Nails
If you still want to be traditional but are after something a little more contemporary than a natural or French polish, ivory is a classic white alternative. Try out this sophisticated ivory base coat with a touch of gold glitter.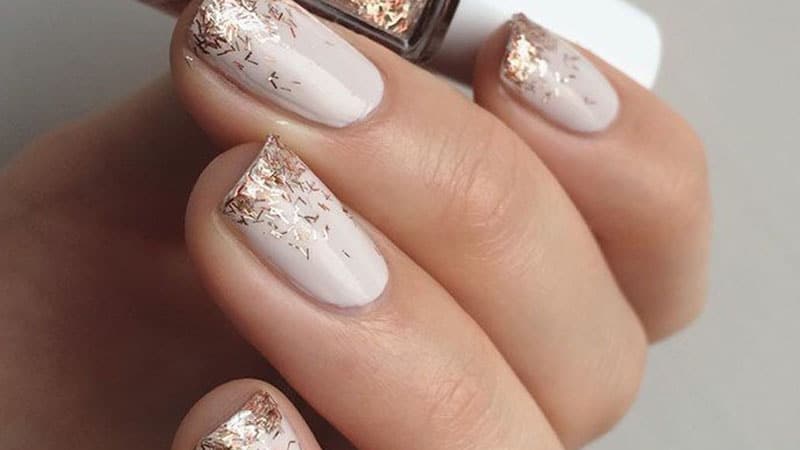 5. Red Wedding Nails
Red nail polish has always been a favorite amongst bold babes, so why not try it out as a fashion-forward bride? This cheeky red heart design looks super cute in pictures and is also a fun way of injecting your personality into your manicure.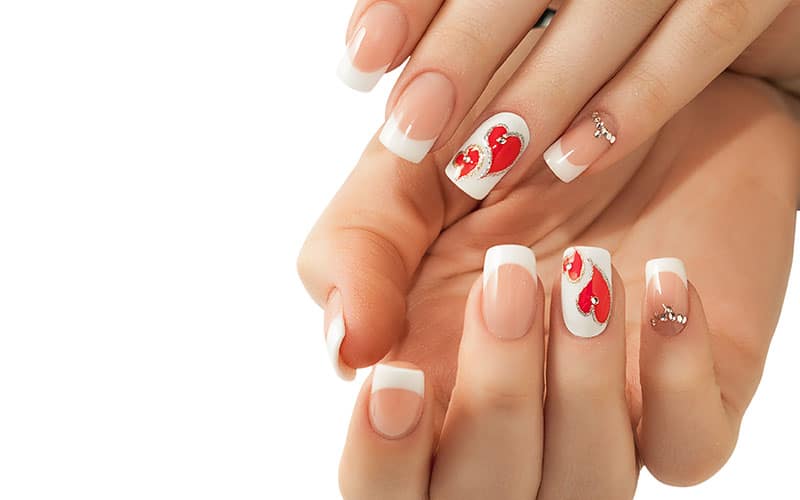 6. Wedding Acrylic Nails
If you're looking to add some strength and length to your talons on your special day, opt for acrylic nails. Doing so will give you the option to be a little more experimental with the shape. You can try square, coffin, almond, oval, or rounded shape nails.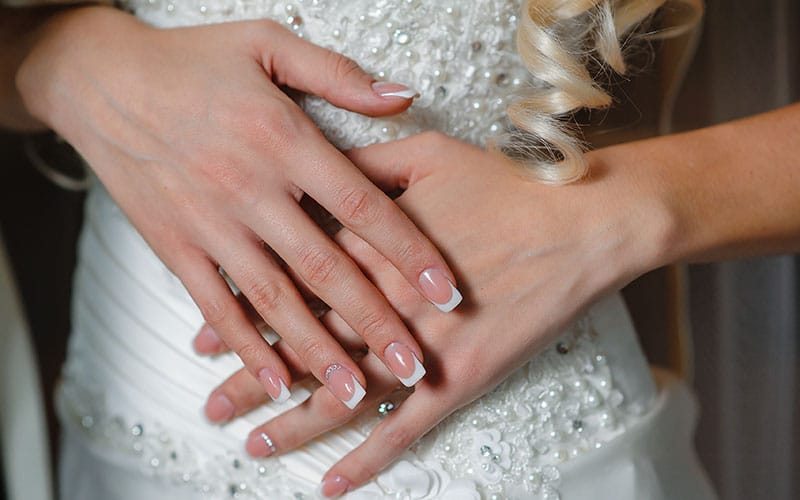 7. Blue Wedding Nails
Your chic mani can be your "something blue". Just decide whether you want something bold, such as a dark navy or a softer look, like this Tiffany's design.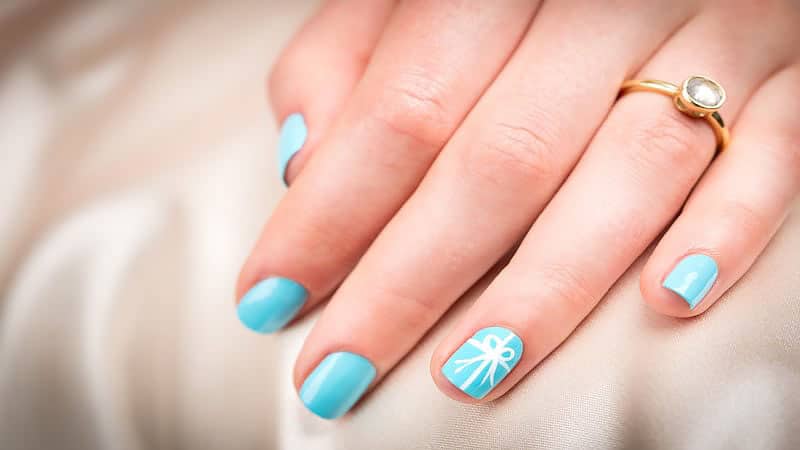 8. 3D Wedding Nails
Why should your ring finger be the only one with bling? Bedazzle your nails with a stunning 3D design for your special day.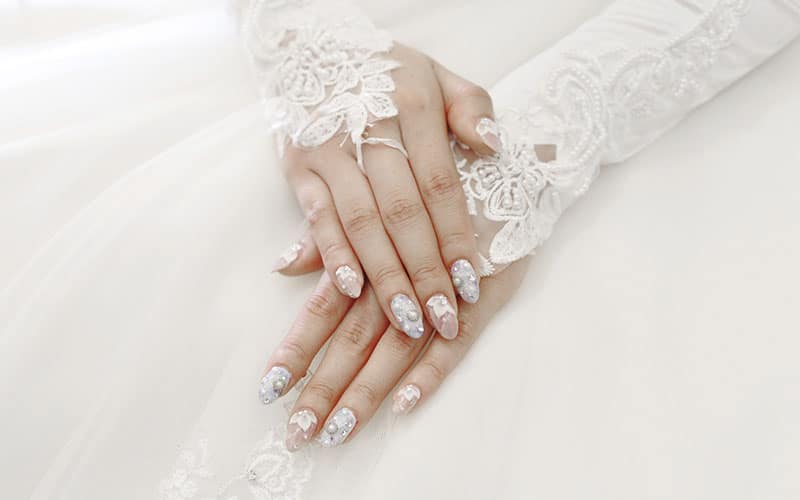 9. Orange Wedding Nails
These pretty pale orange nails with Swarovski crystal nail art are fun and creative. Summer brides should try out this design for a modern, youthful look.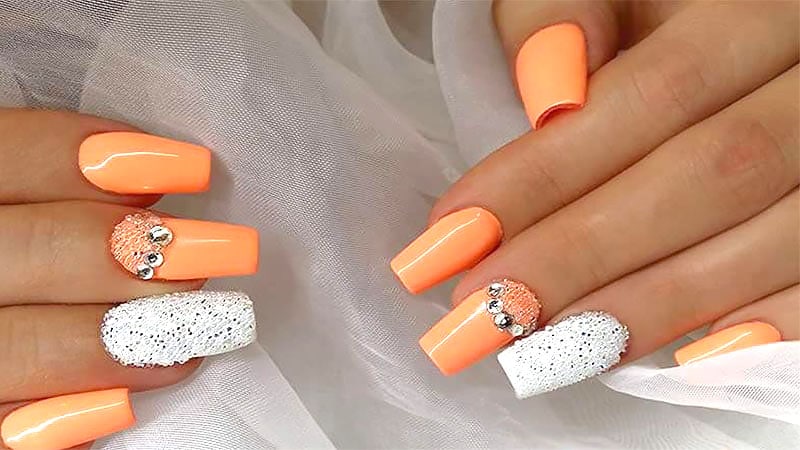 10. Ombre Wedding Nails
Upgrade your simple manicure or classic French with a sophisticated ombre design. It's a pretty and trendy take on a traditional bridal manicure and looks divine with a lace accent nail.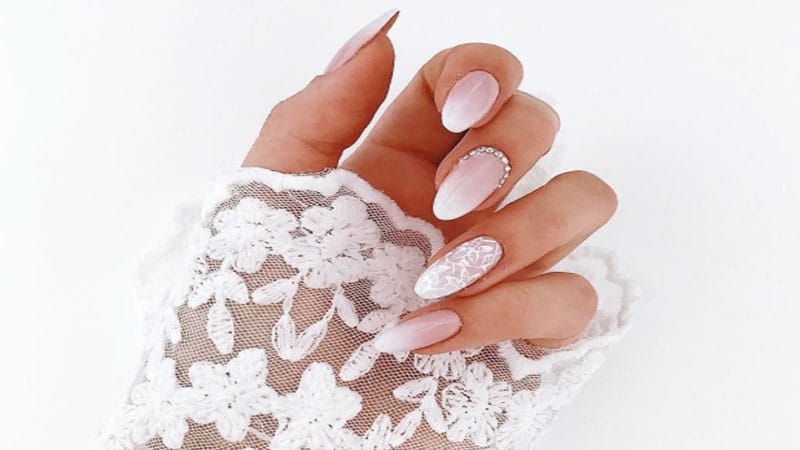 11. Purple Wedding Nails
Purple is versatile and a classic in the world of wedding color schemes. It's bold yet still subtle and classy. Try this statement design with added purple glitter for a super on-trend look.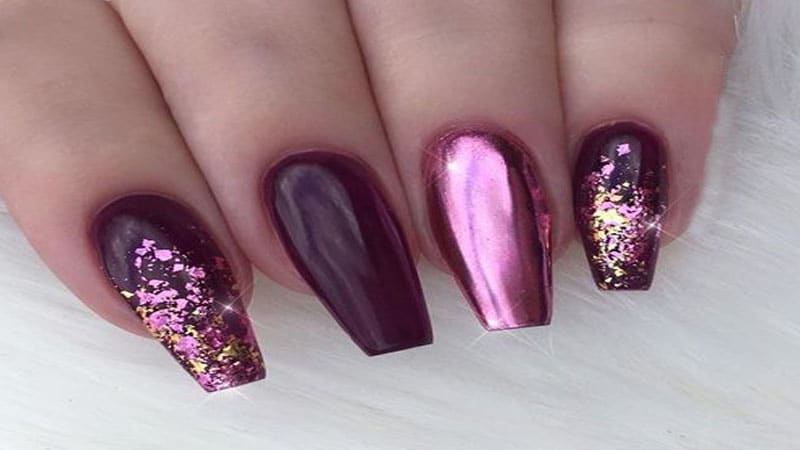 12. Wedding Gel Nails
Gel manicures can be real lifesavers for brides. The quick dry time and the durable, chip-free formula is almost a bigger dream come true than the wedding itself. Not to mention you can have your mani done a couple of days before the wedding knowing full well your polish will look as fresh as it did on day one. For the best results, we'd suggest getting a gel manicure one to two days before your wedding, this way the paint won't have lost its luster.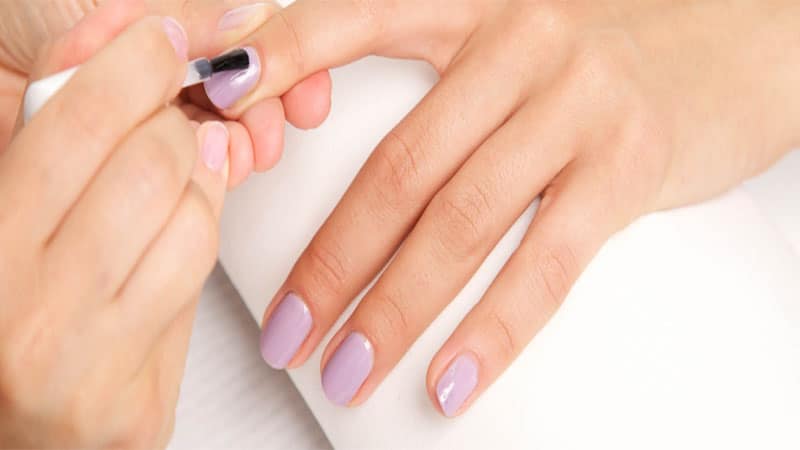 13. Gold Wedding Nails
Want an extra touch of glamour on your special day? Go gold. It's your wedding after all, so why not have a little bit of extra sparkle? You can even add glitter for a wow-factor.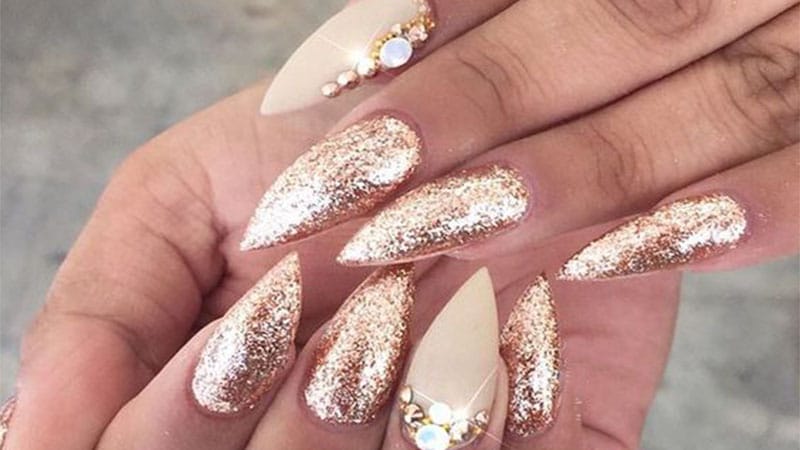 14. Cute Nails for a Wedding
If you want to have a little bit of fun with your nails on your wedding day, be our guest. There is a lot of fun inspiration, we love this cute floral design. It's chic and classic, modern and trendy, just what you need for your special day.
15. Wedding Accent Nails
Having glitter accent nails on your ring fingers is one way to ensure that your ring stays on display. Try a subtle silver glitter to help your ring stand out and keep the rest of your nails plain with soft pink or nude.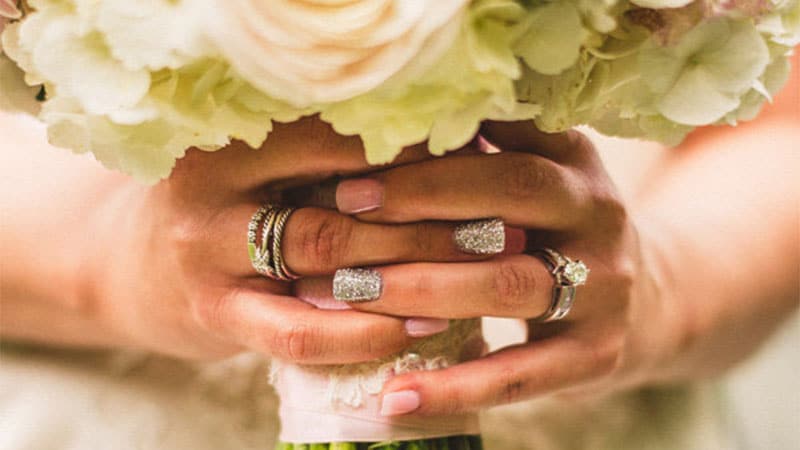 16. Natural Nails for Wedding
Au naturel nails can look effortless and elegant. Just make sure that your nails are neat and tidy. File the tips, so they're all one length and the same shape, tidy your cuticles and buff your nails. You can either go entirely bare or apply a coat of clear polish to add a little bit of shine.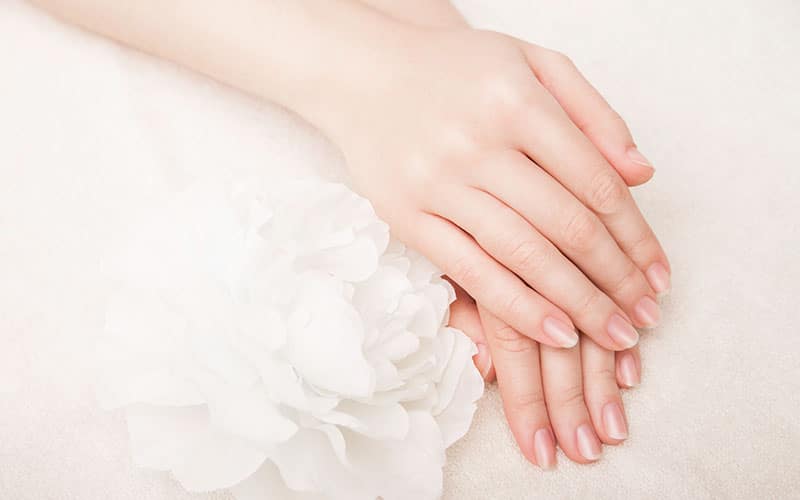 17. DIY Wedding Nails
As a modern bride-to-be, you're probably already an avid Pinterest and DIYer, so why not have a go at an at-home manicure? It could be a fun night for you and your bridesmaids and help you cut down on a few wedding costs. There are tons of tips, tricks, and how-to's online, but we like this surprisingly simple lace design. Just apply a clear base coat or soft nude color, leave it to dry, find some spare lace and place it over your nails. Paint over the lace in white polish, let it dry, add a clear top coat, and voila; you have gorgeous wedding nails.
18. Winter Wedding Nails
Are you getting married in winter? Try a pretty snowflake or speckled white glitter nail design for a gorgeous and seasonally-appropriate style.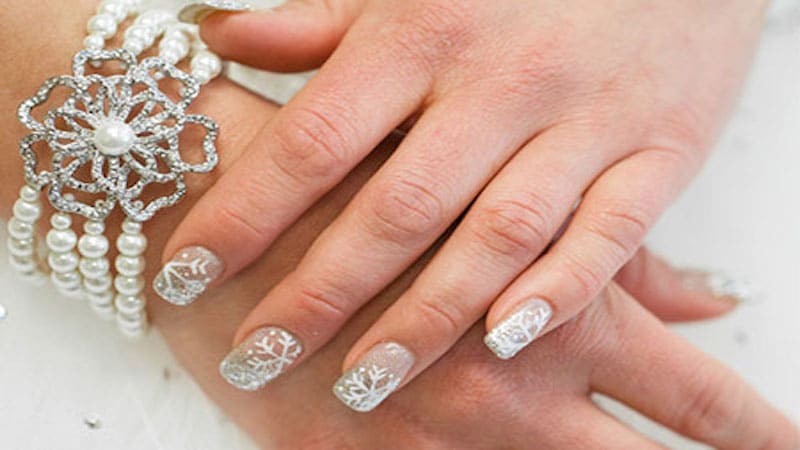 Wedding Toenail Designs
Last but certainly not least, you don't want to forget about your feet, especially if you're wearing open-toe shoes. Having your toes done will make you feel and look more put together, and it's a great way to prepare for that tropical honeymoon. Try to match whatever design you've chosen for nails, minus some of the more extravagant embellishments for practical reasons. This doesn't mean you can't still have fun with your pedicure, though. Try something simple like white nails with an accent toe featuring small studs and white swirls.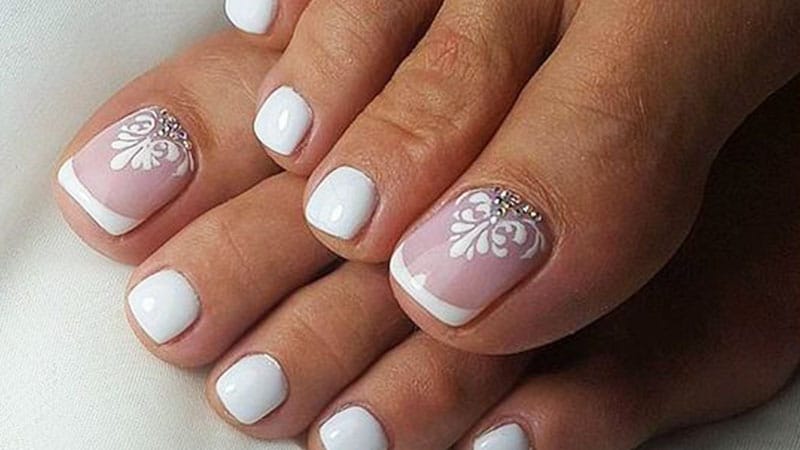 FAQs
When should you get your nails done for your wedding?
There are so many things to remember ahead of your wedding day, but one thing that you absolutely should not forget to do is book an appointment for a manicure. Your nails are one of the focal points on your big day; after all, you will be exchanging a ring with your partner and holding a bouquet, so, to ensure that they are not chipped or tacky, you should book your appointment around one to two days before.
What is the best nail colors for a wedding?
From classic white and pastel pink to pretty nudes and bolder hues, your color choices for your wedding mani are endless. If you're a more traditional bride, you might want to go for muted or pastel colors such as white, nude, matte gold or pink. Modern brides, on the other hand, may prefer brighter, bolder shades like red, maroon or purple. Or, if you're feeling extra edgy, you could always try a deep grey or black. Alternatively, if you're after something subtle yet creative, you could even go for blue nails.
What kind of nails should I get for my wedding?
The type of nails you should get for your wedding day largely depends on personal preference. Some women prefer a more fuss-free and laid-back approach, choosing to get a French manicure or paint their natural nails with a pretty, neutral shade. That said, artificial nails are a more popular option as they tend to be more durable, are less likely to chip, and can be shaped and styled into the perfect length. You can consider an SNS manicure, dip powder nails, shellac gel, or acrylic nails.
What color should the bride's nails be?
The color a bride chooses for her nails should make her feel confident and beautiful. There is no right or wrong shade, and some brides opt for a daring choice, picking reds or maroon, while others prefer a more classic approach with nude nails, candy pinks, pastel shades, or a timeless French manicure. If you want something a little different, you can also opt for nail art; this can be subtle, like a few diamantes added to your talons, or make a statement by adding flecks of gold or even heart shapes.
Can you wear white nails to a wedding?
Traditional brides, or those who prefer a classic and timeless approach to nail polish, can opt for white nails. It is a pretty yet simple choice. If you are not the bride, you can still paint your nails white while attending a wedding. That said, it is an absolute faux pas to wear a white outfit or any very light shade.
SUBSCRIBE TO OUR NEWSLETTER
Subscribe to our mailing list and get interesting stuff and updates to your email inbox.