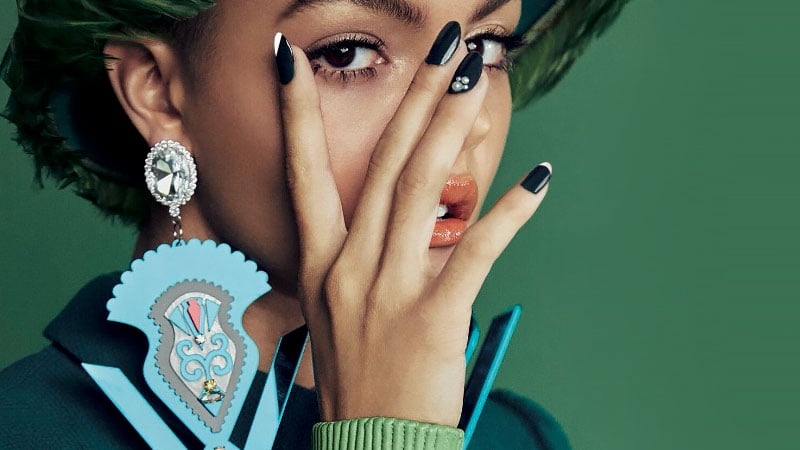 If you want nails that are super feminine and make a statement, consider embracing the long shapes. Oval, almond, coffin, and lipstick talons are just a few popular options that help elongate your fingers. They're also exceptionally versatile when it comes to designs and polishes because the length lets you play around a bit and have fun. Whether you want a subtle look, which can be achieved with dreamy pastel lacquers, or something a bit more daring like quirky long coffin nails or fluorescent flame decals, there are different options to suit every personality and style. Your manicure is a great way to show off the things you love, so don't be afraid to try out vivid colors or get playful. If you need inspiration for your next trendy look, then keep reading to find out more!
1. Raspberry Ombre Long Almond Nails
Do you want a fuss-free yet chic manicure? Then the raspberry ombre nails will appeal to you! You have likely seen ombre designs before because they are very trendy. To achieve the look, you need two distinct colors: a lighter shade and the darker one, which are then expertly blended into each other. The rich color is not so dark that it has a vampy feel to it and not too bright that you need a bucket load of confidence to pull off. This makes it the ultimate, easy-to-wear hue to try out this year.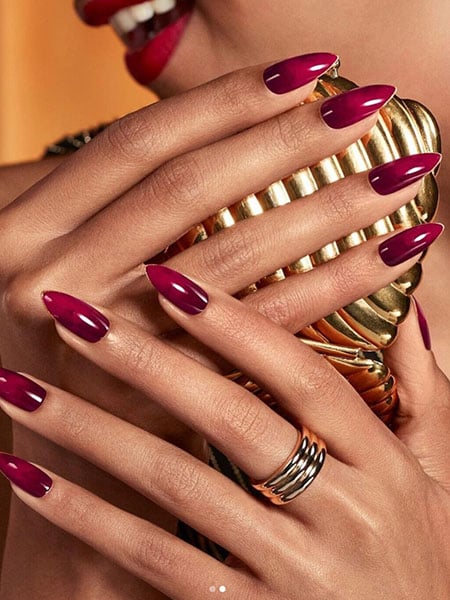 2. Long Coffin Logomania Nails
If you love brands and their logos, then a great way to let the world know of your fashion knowledge is with logomania nails. There are many ways to interpret this look; you can opt for varying bright colors or keep it simple with a chic black and gold option. The dark base coat lets the symbols come to life and makes even more of a statement. If you want something different, you could even work with your nail technician to recreate your own company's logo, which will also become a fun marketing opportunity.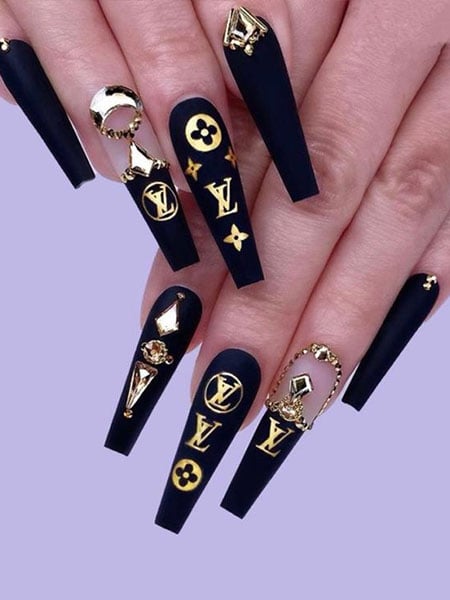 3. Long Almond Nails with Boob Art
Boob nail art is a fantastic way to celebrate female power! As the name suggests, these are designs that feature breasts and nipples of various shapes and sizes. This can also be an acknowledgment of how each person's body is unique and beautiful. Almond nails are a pretty and versatile nail shape. They lend themselves well to most designs, but this particular one will have you celebrating your femininity! To make the look even more interesting, you can paint each nail a different shade of pink or red. The combination is interesting, fun, and an excellent option for those who want something different.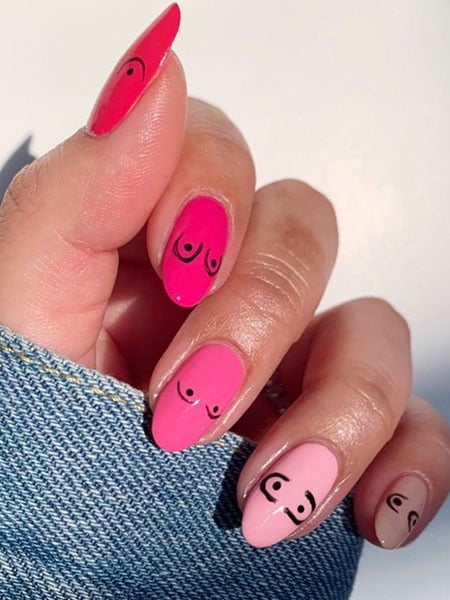 4. Long Coffin Pastel Nails
Coffin nails are dramatic, and they are bound to draw attention to your hands. Not only can they elongate your fingers, thanks to the impressive length, but they are also versatile in terms of nail art. If you want a simple yet magical look, consider painting your nails in varying pastel shades. Some of the most popular include minty green, soft yellow, baby blue, and candy pink. You can also get creative by adding various other details, such as studs or interesting accents.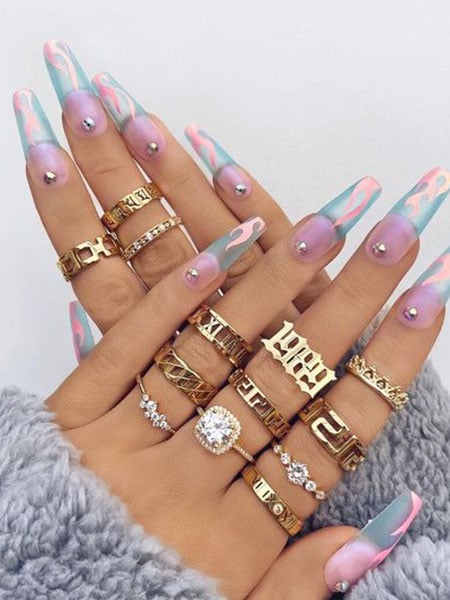 5. Line Art Oval Long Monochrome Nails
One of the best things about monochromatic nails is their versatility. They tend to lend themselves well to various settings and can be worn with several clothing colors and patterns. Line art is not overly complicated to create, and the abstract approach captures attention and draws the eye to your fingers. If you want your nails to be the focus of your appearance, you can wear bright shades with them, for example, a red or pink outfit. Alternatively, you can opt for a crisp tailored white or black garment for dramatic effect.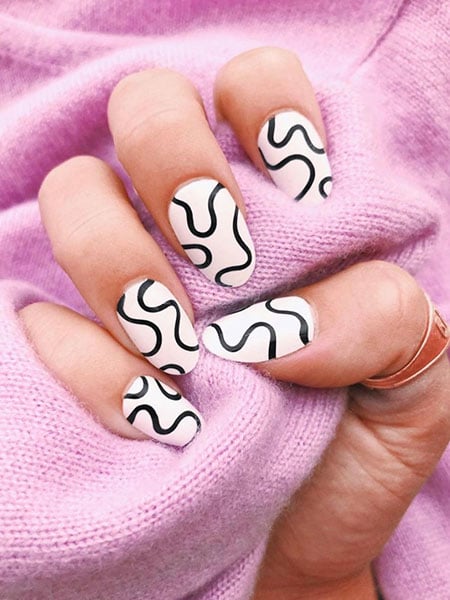 6. Mickey Mouse Long Ballerina Nails
There's a good chance that Mickey Mouse images take you back to your childhood, and opting for ballerina nails inspired by the Disney character can remind you of good old memories. What better way to bring a smile to your face?! This option is fun, and there are several ways to try it out. You can choose just a silhouette or a detailed image of the character, and then either pick a nail to be the focus for a more subtle appearance or for those more daring, you can decorate each fingernail.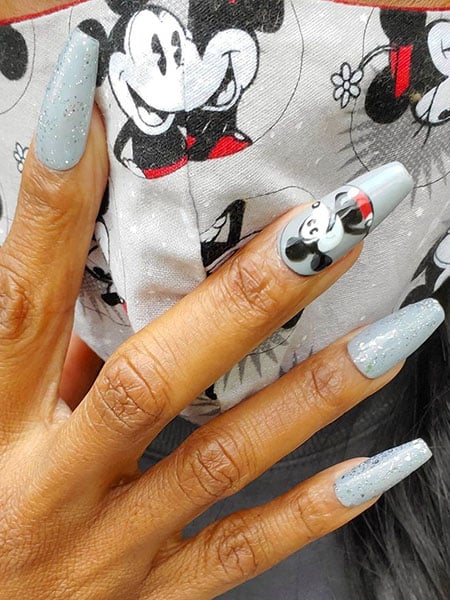 7. Red French Long Almond Nails
Almond nails are among the most popular shapes for women because they are long and elegant, yet also natural-looking. The form also allows you to experiment with various colors and designs. Instead of the classic French manicure, which uses white on the tips, you can recreate this look with a fiery hue, which is an interesting and bold option. Red is a color that demands attention and takes a lot of confidence to pull off. It is also a shade that makes us feel brave and powerful and is often symbolic of passion or romance. Is there a more trendy or chic option out there? We think not!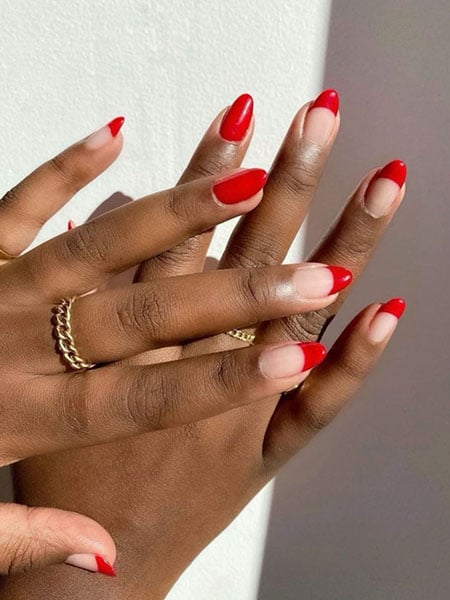 8. Tattoo Inspired Long Lipstick Nails
Body art is a great way to show off symbols and designs that are meaningful to you. It is a form of artistic expression and an extension of your personality, and your nail art does the same thing. If you want bold talons that are meaningful and make a statement, then long lipstick nails with tattoo-inspired designs are just what you need. Your creativity is your only restriction with this option, so don't be afraid to try something daring or bright. Dragons, flames, serpents, and a combination of vivid colors make for a brilliant appearance that will undoubtedly draw attention to your hands.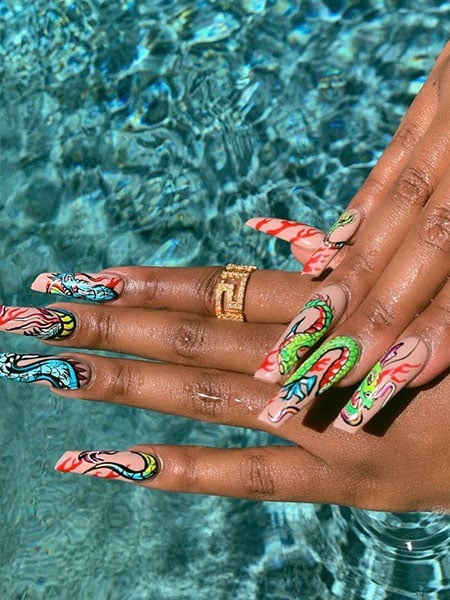 9. Long Pastel Watercolor Oval Nails
Pastel nails are always a good idea! The soft, dreamy shades are incredibly feminine, and they go with just about anything. The watercolor technique offers up something different, breathing new life into our favorite polish shades by combining several colors on one nail. The effect looks as though it is painted on a canvas, expertly blended to create an eye-catching yet simple design, all at the same time.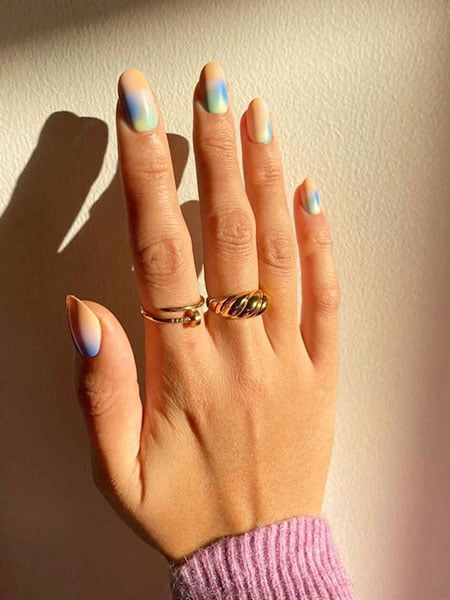 10. Long Square Nails with Cherry Art
Are you looking for a sweet and cheerful acrylic nail design? Then look no further than cherry art! The fruit often represents femininity and purity. It has been used in fashion prints and accessories for decades, so it is not surprising that it has also made its way into nail designs. There are many ways to try this look; whether you want to use stickers or stick-on jewels, the choice is yours. Keep a muted palette with pink and red shades for a more classic appearance. Regardless of how you choose to interpret this design, it is an ultra-cute and bright way to give your talons a makeover.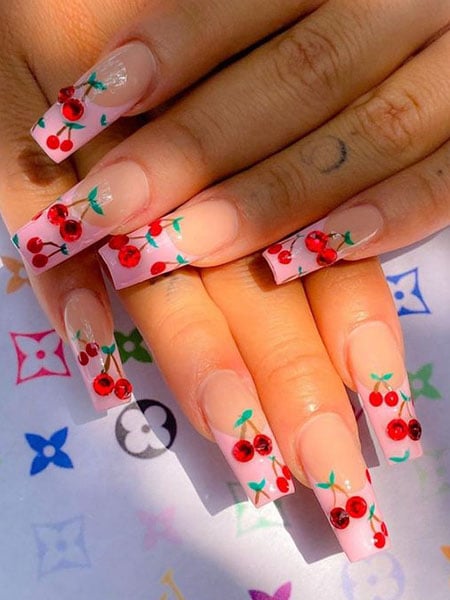 11. Long Rounded Nails with Fluro Fire Flames
Few nail designs demand attention in the same way that fluorescent fire decals do. The pigments of these colors make them brighter and bolder, and therefore, a lot of fun. Choosing nail art with flames is visually interesting; it is also symbolic, often representing passion and warmth. If you keep that in mind, your manicure is not just daring but also an excellent way to bring a bit of positivity into your life.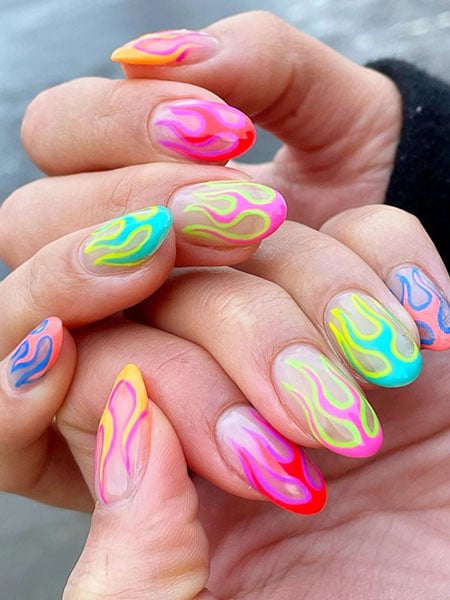 12. Long Mismatched Almond Nails
The shape of almond nails allows you to play around with various designs, and if you can't pick one, that's no problem because mismatched art is super trendy. There are no hard and fast rules of what you should and shouldn't do when creating your look; don't be afraid to experiment and be adventurous. To achieve a more cohesive appearance, it is recommended to keep it simple in terms of designs and focus only on a few shades or basic patterns like chevrons, line art, or animal prints.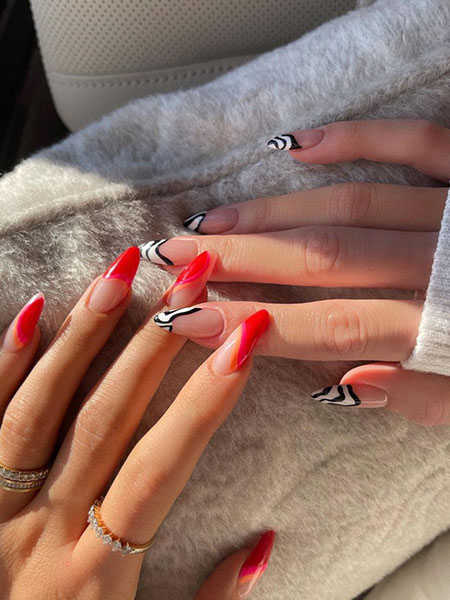 13. Line Art Long Almond Nails
Line art refers to the drawing style that creates an image using different and distinct lines, such as straight or curvy. The beauty of this approach is that it is effortless yet visually interesting, thanks to the varying dimensions created. There are so many different options and ways to interpret this artwork. That said, it is best to focus on the drawing to achieve this particular look. Therefore, you should opt for a nude base coat to let your design come to life.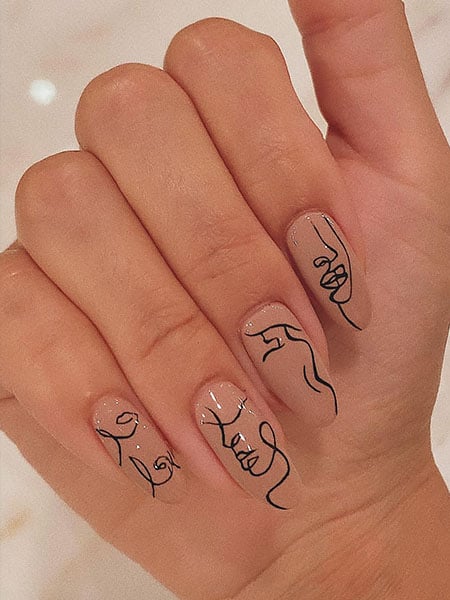 14. Long Coffin Nails with Gold Star Constellation Stickers
Coffin nails are ultra-feminine and a shape loved by models and celebrities. They may be harder to maintain, and you have to be careful not to break them, but the result is dramatic and beautiful. The shape allows you to experiment with various designs, and gold star constellation stickers are some of our favorites. The color is so luxurious, especially when paired with a light or nude base coat. At the same time, the artwork is perfect for people who love to think about the mystery of the universe or want symbols that are often connected to life, luck, and protection. So, if you like cute and meaningful nail art, this is the look for you.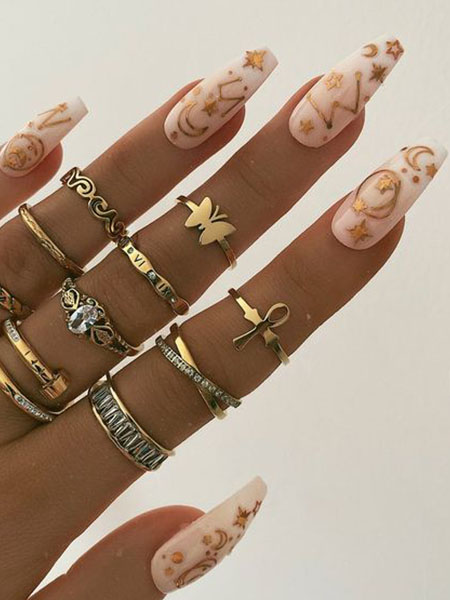 15. Long Oval Nails With Butterfly Art
The oval nail shape can elongate your nails' length and width, making it an incredibly flattering option. It is also a little more practical and versatile than other dramatic choices like coffin or ballerina talons. When it comes to choosing the perfect artwork for your hands, consider a pretty butterfly design. The insect is also linked to transformation and beauty, making it an attractive option for a woman going through a period of change or someone who wants her fingernails to be bright and cheery.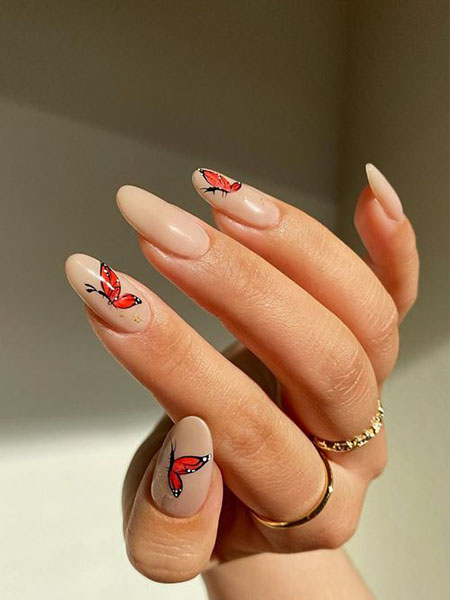 16. Classic White Long Almond Nails
White nail polish is a pretty and timeless choice that looks good on all nail shapes and is especially eye-catching on darker skin tones or with a tan. It is the perfect color because it goes with everything and can be worn in a variety of different settings, whether you are at a cocktail party or on a date at the beach. It is also a look that can easily be created at home because you don't need fancy nail tools, stickers, or a steady hand for precision. So, if you're looking for a modern yet sophisticated lacquer, this is the hue for you.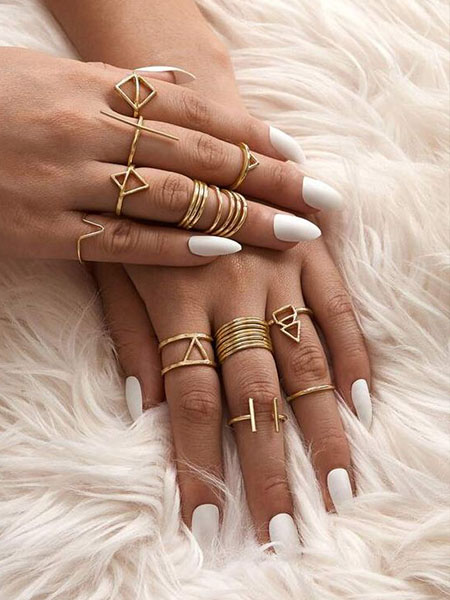 17. Monochrome Pattern Long Almond Nails
The almond nail shape features slim sides that taper upwards and have a slightly rounded tip. It is a good idea to draw attention to those tips, and you can do this with a monochromatic pattern. The look is minimalist yet sophisticated and is a fantastic option for someone who wants to have fun with their nail art without it being too obvious. The wavy pattern can also elongate your fingers, which is, of course, another bonus of this artwork.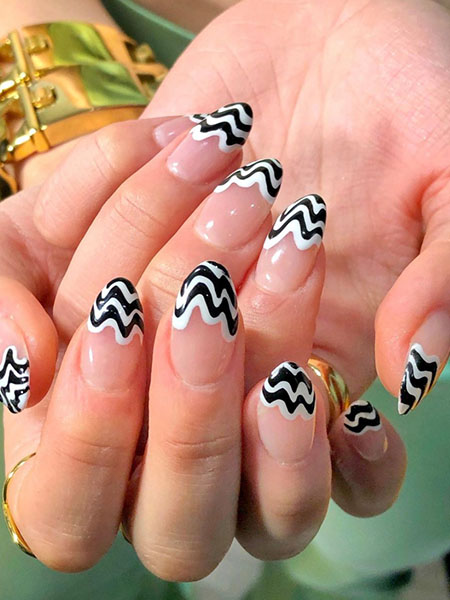 18. Long Coffin Nails with Cow Spots
Animal prints are a popular option for garments, so why not have them on the nails? Cow spots, in particular, make for an interesting yet simple look. The classic black and white combination is a realistic interpretation, and it looks striking on coffin nails. That said, if you want to play around with color and varying shades, such as nude and brown, then don't be afraid to give this a shot. You can also make your talons more sparkly by adding tiny diamantes or glitter accents for a stand-out look.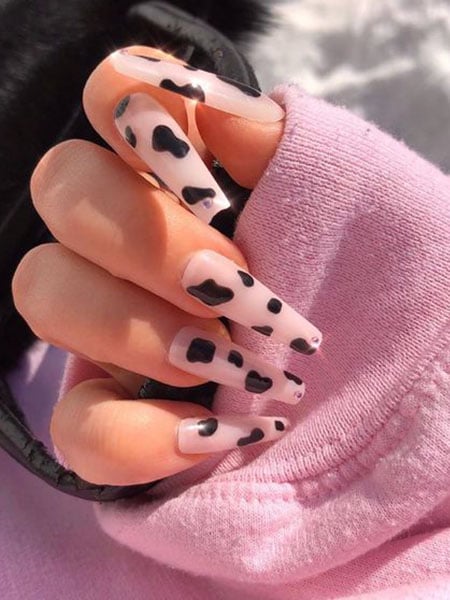 19. Pastel Shades Rounded Nails
Pastel nail lacquers are nothing new and have been among the most popular mannecure choices for women. The reason is simple: they are pretty and dreamy, plus they are super wearable. To make your look more interesting, you can try painting each fingernail with a different shade, creating a playful yet chic appearance. There are many nail shapes to choose from, but rounded nails, which are straight on the sides and curve at the tip, are great because they tend to be less prone to breakages than other pointier options.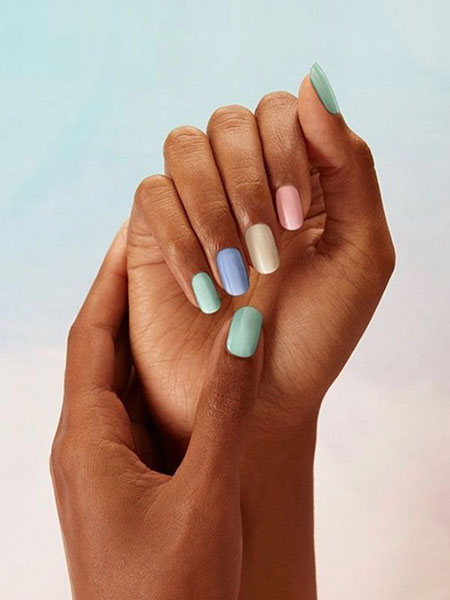 20. Quirky Long Coffin Nails
If you have a playful personality and want nails that are bold, bright, and anything but traditional, then quirky coffin nails are the pick for you. They may not be the most practical; after all, it is an extremely long shape with a squared tip instead of a pointy one, but they are incredibly fashionable and favored by celebrities. The artwork may not be suitable for every day, but it is a fantastic way to make a statement and show your personality's fun side. These talons will undoubtedly become the focus of your look, so try to tone down the rest of your outfit to really let them pop. Or don't, and embrace vivid colors, wild patterns, and shimmery makeup for an unmissable but super cool appearance.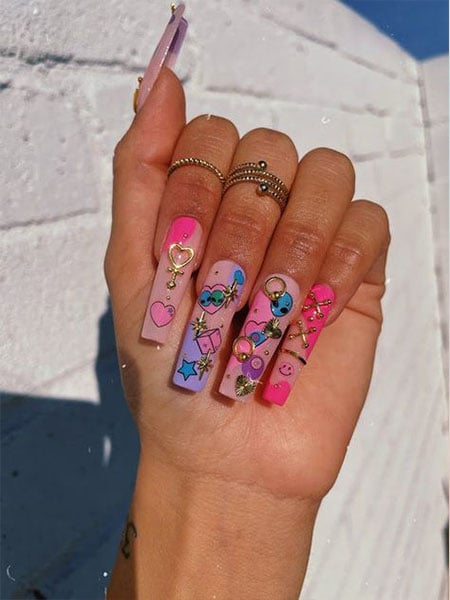 21. Rainbow Inspired Oval Long Nails
If you want to add some color to your life and your hands, then rainbow-inspired manicures on oval shape nails are a great way to do that. The multi-colored look crosses over the nail in a rounded shape, much like the arc of an actual rainbow. It is also worth noting that the symbol is often linked to happiness, peace, and friendship. You can mix and match the colors, choosing warm shades like red, yellow, orange, or cooler tones, like purple and blues. We can all agree that this is a relatively simple design to try out but a particularly effective one that is bound to bring you joy.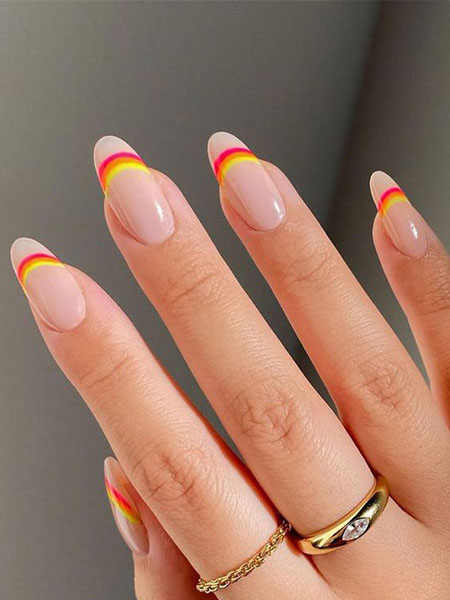 22. Coffin Love Long Heart Nails
Ahead of Valentine's Day, you can expect to see heart-inspired nails everywhere, but candy shades and symbols of love are going to be trendy all year round. If you want to let that special someone in your life know how much they mean to you with your nails, or want a manicure that is bright and fun, then this design will appeal to you. Get creative by picking various red and pink shades and paint each fingernail in a different abstract shape. The colors will draw attention to your hands, so be sure to keep them looking good by avoiding chipped polish and unkempt cuticles.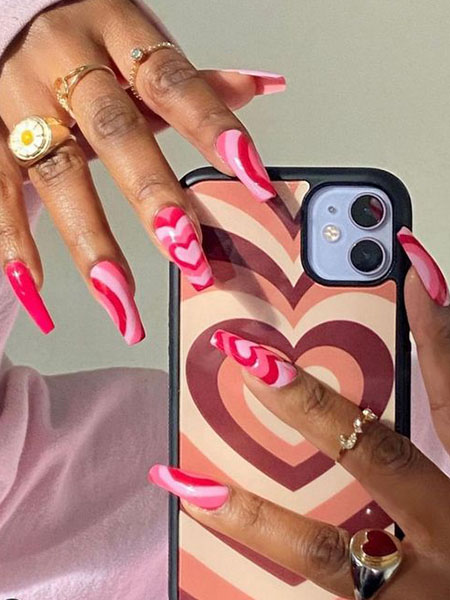 23. Coffin Chess Board Inspired Nails
If you're a fan of chess, then you will love these board game-inspired talons. Coffin nails make a statement on their own, but adorning them with black and white checks is another sure way to get your hands noticed. The monochromatic color combination is striking and can be created with a polish pen or stickers. It is also a look that will complement a wide variety of garments, so you don't have to worry about your nails clashing with the rest of your outfit.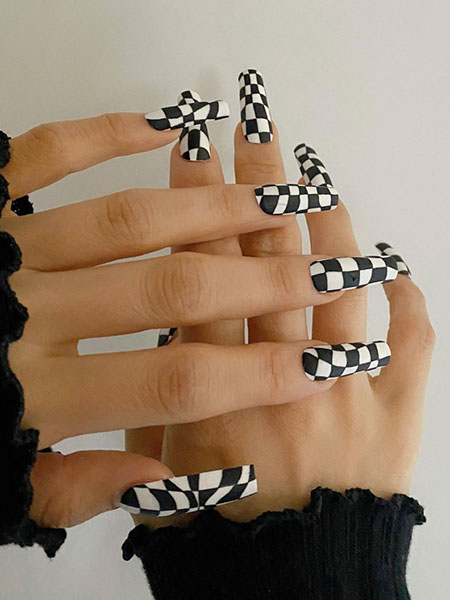 24. Neon and Black Sunflower Long Nails
Black and yellow are striking, and introducing them into your manicure is a great way to draw attention to your nails. The colors are contrasting and strangely complimentary, but it takes some confidence to pull off because this combination is so bright and bold. For this reason, you may want to add the yellow to only one or two fingernails. There are many ways to combine these hues, which can be as simple as patterns and line art, or opting for floral details like sunflowers with a black background. This option is symbolic as the sunflower is associated with devotion, hope, and adoration.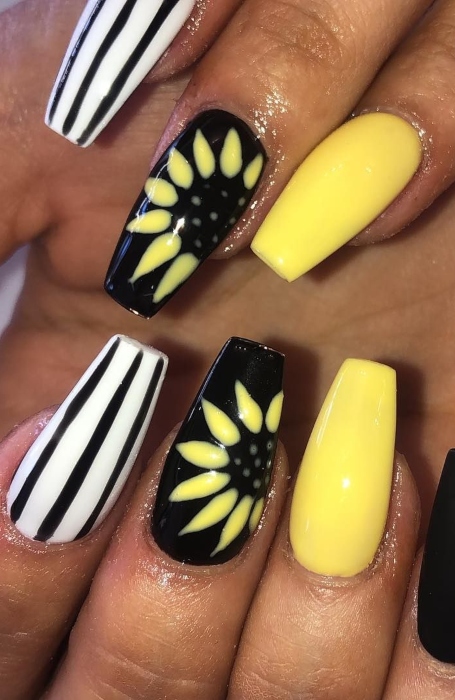 25. Muted Polka Dot Long Nails
Polka dots are a classic and versatile print that can be created in various colors and sizes. This is a fun look because there are multiple ways to introduce it to your manicure. You can opt for a combination of your favorite colors, trying out multiple hues at once. One of the prettiest looks is choosing muted colors like pastels on a nude base. This option will lend itself well to various settings and look great on nails of all lengths and shapes. You can distribute the circular dots evenly or try out different placements on each finger.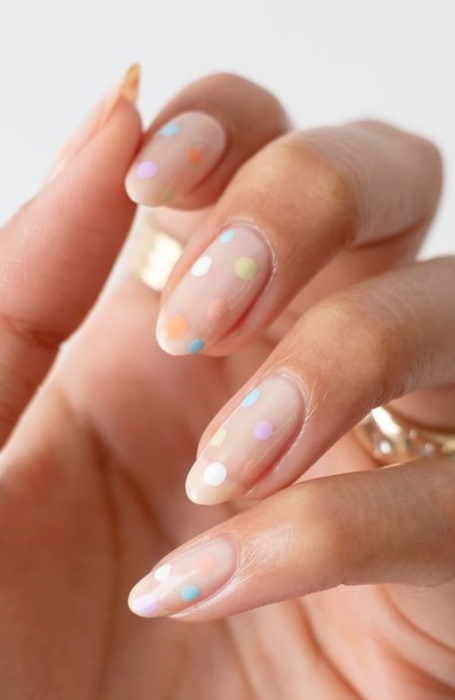 26. Simple Fruity Long Nail Art
The appeal of nail art is that it can be of anything, letting you find something that best reflects your personality.
Fruit serves as great inspiration because it is bright and colorful. There are many options for introducing fruit designs, choosing your favorite combinations, or focusing on just one if you prefer a limited color palette. You can also experiment with the placement, including focusing on just the tips, which is a wonderful way to highlight the shape of your nails. This is great on all nail lengths but best suits oval or almond shapes.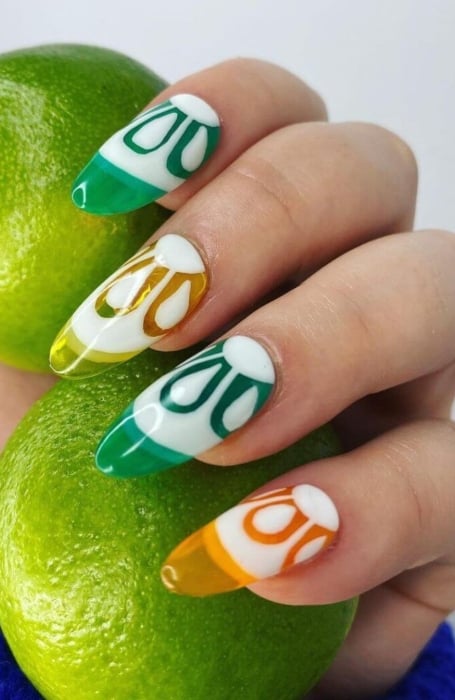 27. Long Colorful Nails with Checks
Checkered prints are simple and versatile and can be created in multiple colors. This is a fun way to introduce colors into your manicure in a very wearable way. The even grids of the print make it interesting and possible to experiment with color; you can opt for a different base color for each nail and a second color to create the grid. Or, if you want a more detailed look, you can paint each check in a different hue.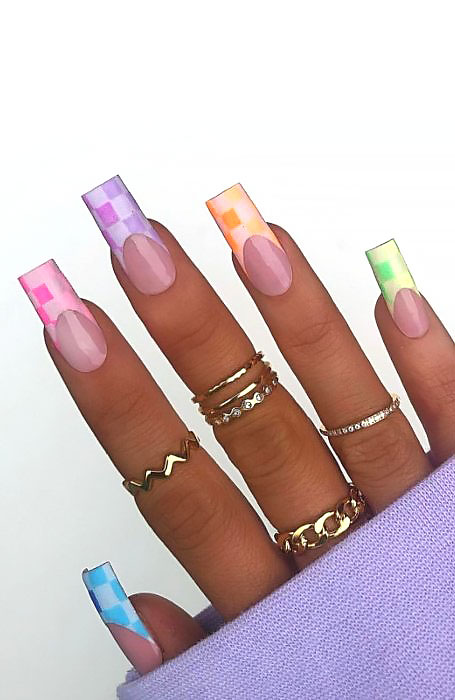 28. Long Cloud-Inspired Nails
Cloud nail art is pretty and symbolic: painting little wispy puffs on your fingernail looks gorgeous and represents magic and dreams. Your manicure can reflect your thoughts, feelings, and future hopes. There are many colors combinations to choose from, including a realistic portrayal with white clouds and a blue base coat, or you can experiment with brighter colors for a unique take on the cloud art.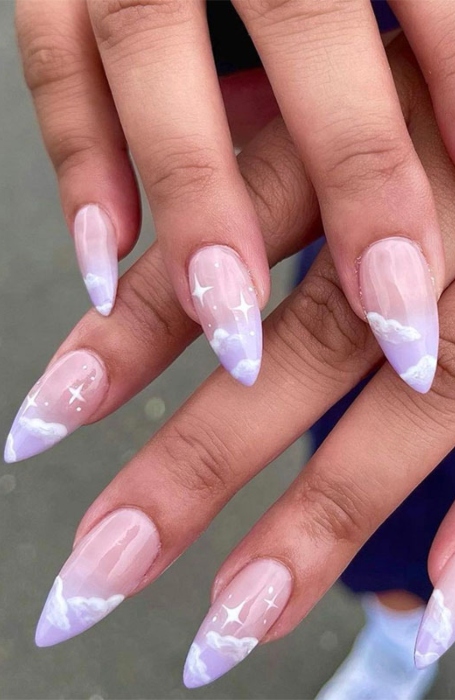 29. Long Groovy Floral Nails
The 70s was a time of fun color combinations and interesting patterns, and people were not afraid to experiment. If you are looking for a groovy manicure, florals combined with swirl patterns are the look for you. There are no right or wrong color combinations letting you pick and mix your favorite. This could be classics like orange, green, and brown, which have a retro feel, or you could opt for soft pastel colors. The flowers in your artwork will give it a pretty and feminine touch.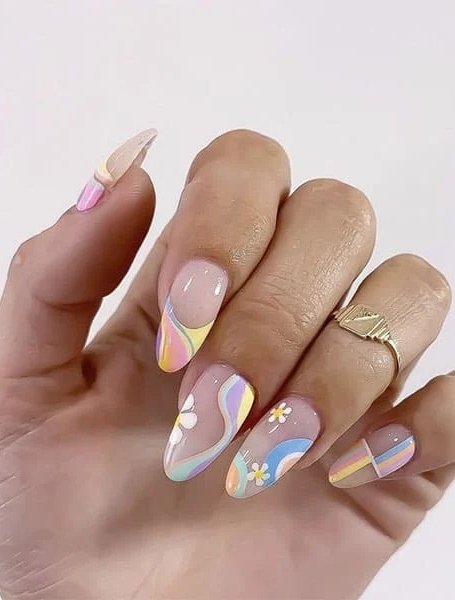 30. Long Mix and Match Nails
Mixing and matching nail art is an excellent way to try out a little bit of everything. This can be a combination of colors, patterns, prints, and images. You can pick complementary colors for a uniformed finish or contrasting colors for nail art that demands attention. It is also good to add little details like smiley faces, hearts, or flowers. It is a way to show your playful side and be expressive; you can combine your favorite things. This artwork looks excellent on nails of all lengths and shapes, but longer nails are best if you add a lot of detail.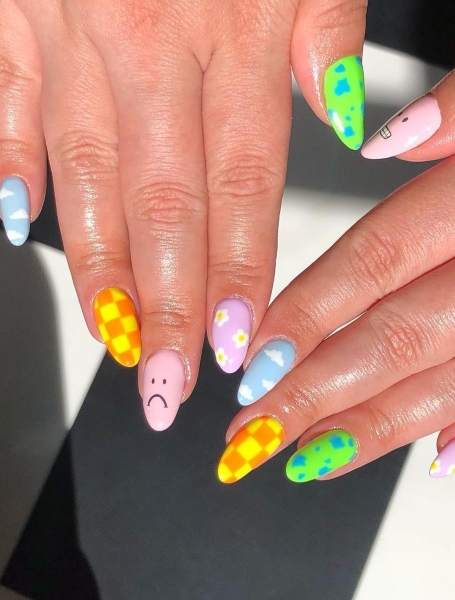 31. Disney's 101 Dalmatians Long Nails
Disney nails are a cute option for nail art, and there are many films to be inspired by. It could be one of the newer movies which makes you feel happy, or it could be a classic that you watched growing up, reminding you of the good memories from your childhood. One of the most striking combinations is 101 Dalmatians; you can also include the black and white dalmatians print or paw prints, opting for a more abstract approach. Mix and match different artwork on each nail for a bold and bright finish.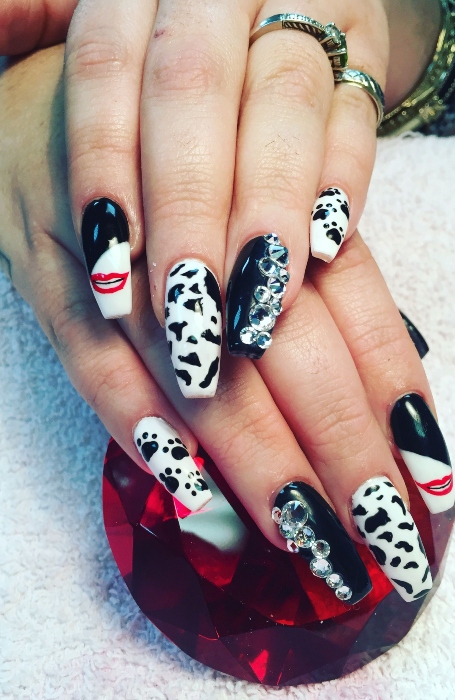 32. Classic Heart Long Nails
The heart is a universal symbol of love and will make a wonderful addition to any manicure. It is simple and easy to create, but you can also experiment with different sizes and placements to make the artwork more interesting. You may want to stick to a simple combination like red or pink, but combining four or five different hues is a great way to experiment with color and produce a striking finish. Sometimes the simplest option is the best; focusing on classic colors to recreate it will also make the look more subtle and lend itself well to almost all occasions. You can also try another approach to adding hearts to your nail art by focusing on just the tips, creating a heart shape with the bottom point being the point of your nail. For this option, long and pointy nail shapes will work best.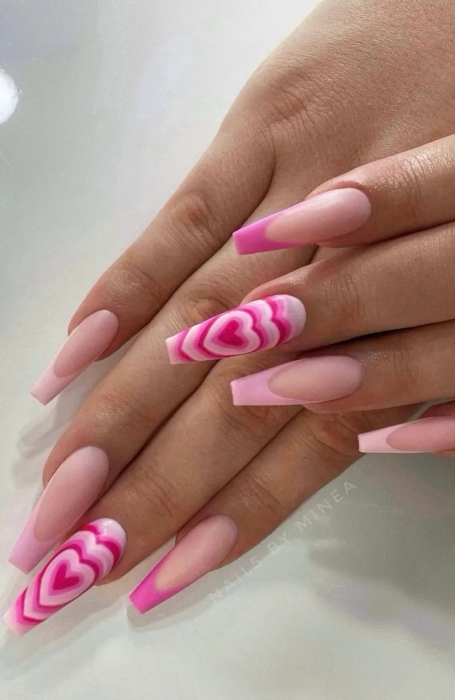 33. Autumn Marble Long Nails
Marble nails are a fun way to experiment with different colors. Autumn is a season associated with warm oranges, browns, deep reds, yellows, and dark greens, making for an interesting color combination and a great way to get your hands noticed. How you choose to introduce this effect can be different on each nail, letting you get creative with the placement. This is a manicure that can work with nails of all lengths and shapes, and if you focus the artwork on the tips, it can highlight your chosen shape.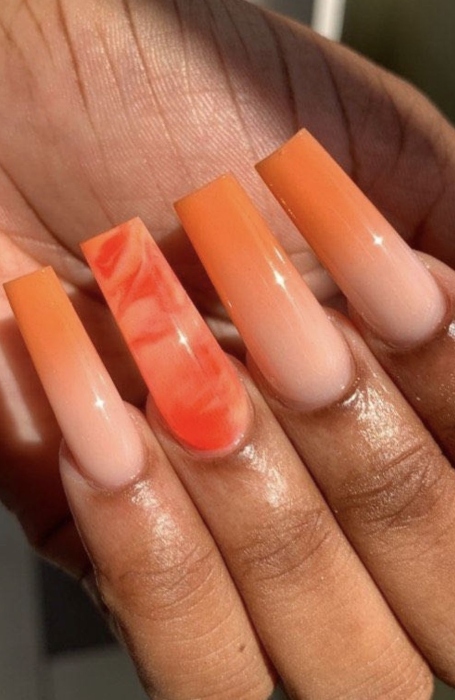 34. Arty Patterns on Long Acrylics Nails
Acrylic nails are strong and durable and can be created in varying lengths and all shapes. Long nails are particularly flattering and will give you a feminine finish. The appeal of acrylics is their versatility, and they work well with nail art. If you want a colorful and fun manicure that is less prone to breakage, then this is the look for you. Arty patterns can be the color combination of your choosing, and you can experiment with the placement. The abstract appearance also gives you more freedom with creativity and room for error. Each nail can be different, or they can all look similar for a more uniform appearance. If you are hesitant to wear bright colors on your nails, you can ease into this by opting to focus the nail art on a feature nail.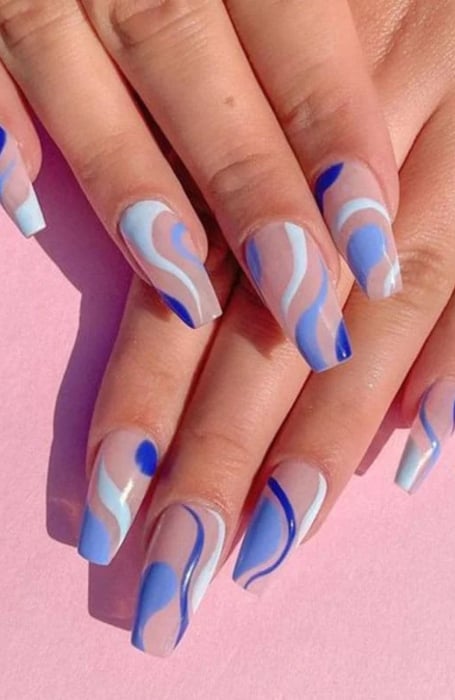 35. Long Star Nails
Star-themed nails are fascinating to look at but also symbolic. Stars are associated with light, hope, and guidance, and your manicure can remind you to look on the bright side of life or that there is light in a time of darkness. You can opt for a realistic portrayal of the star constellations by painting them white on a dark blue or black base color. The color combination will also create a contrast and make your artwork pop against the dark hues. Or you can stick to nudes and whites for a classic feel to the manicure, making it easy to wear and perfect for every day.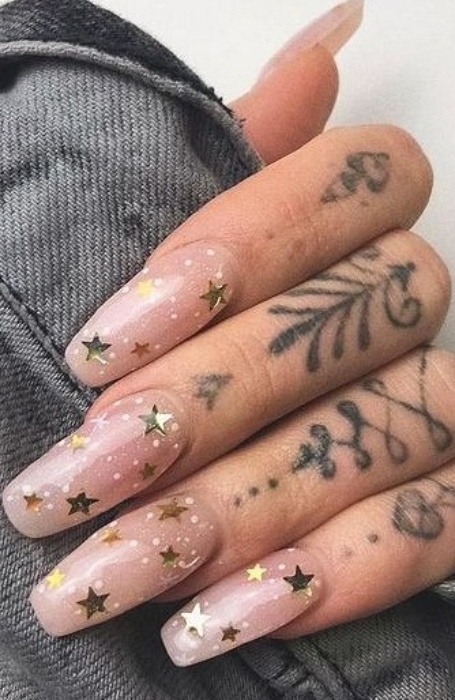 36. Long Red and White Nails
Red and white is a classic pairing and looks excellent for nail art. The colors are complementary and can easily be mixed and matched, whether you choose to do this with simple and chic patterns like stripes, polka dots, and checks, or prefer more detailed nail art. To make your nails feel modern and fun, you can add a different pattern or nail sticker to each fingernail, creating a mix and match effect. Your nail art is a way to express yourself and show your creativity, so let this be a way to do precisely that.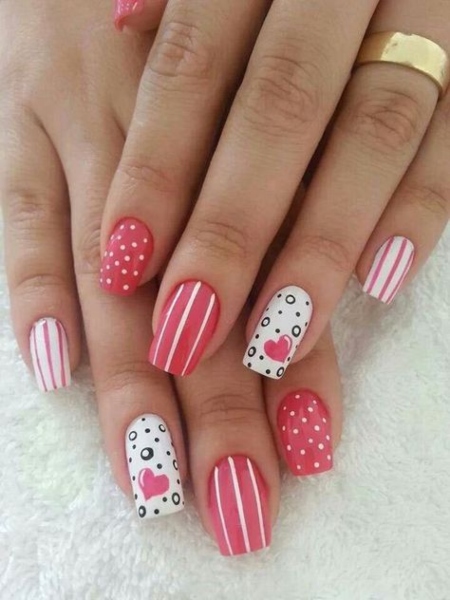 37. Long Autumn Floral Nails
Autumn is a time of the year known for its beauty. The leaves change color, and the seasons are associated with warm oranges, burnt reds, browns, greens, and yellows. Taking inspiration from this color palette can let you produce gorgeous nail art. You can combine them with abstract patterns, groovy swirls, or add leaves or flowers to your nails. You can achieve this nail art on nails of all lengths and shapes, but you want to include fewer floral designs on shorter nails. This is because you do not want to overwhelm the fingernail and make the patterns appear squashed together.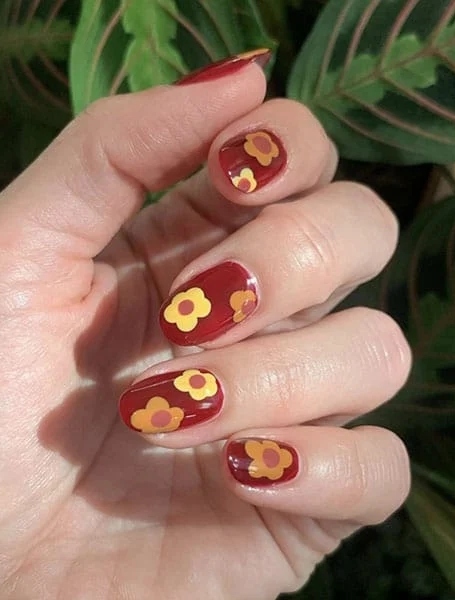 38. Long Moon and Star Nails
Moon and star designs are popular and a fantastic way to add a bit of mystery to your manicure. The combination is associated with new beginnings, female energy, creativity, spirituality, and so much more, making for a fun but also symbolic nail art. The different phases of the moon are also associated with varying things; for example, the crescent moon represents fertility, and the full moon is linked to magic and transition. This artwork lends itself well to different color combinations, letting you keep it simple with a monochromatic color scheme of black and white or opting for something bold and bright.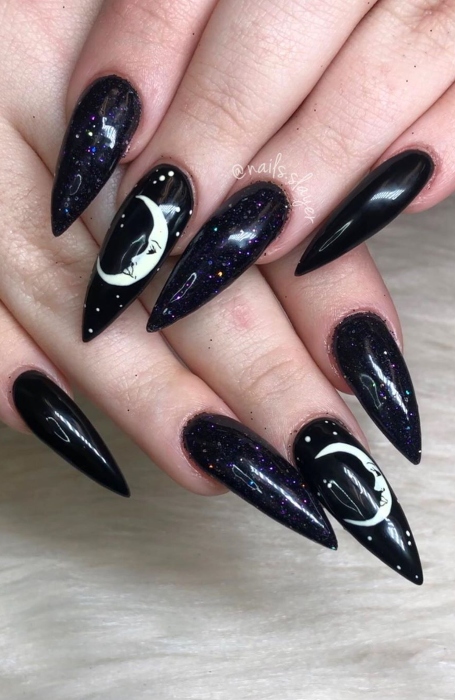 39. Subtle Abstract Long Nails
Abstract nail art is for the lovers of avant-garde art. When it comes to designing your nails around this movement, there is so much room for creativity and expression, letting you experiment with different color combinations and placements. Your nail art can be time-consuming to create because of the detail that goes into it, but this is a wonderful way to draw attention to your hands. It is also a way to show your playful side. You could also opt for a more subtle appearance, giving you cool nails that take less confidence to pull off. Any detailed manicure will look best on long nails as there is more space.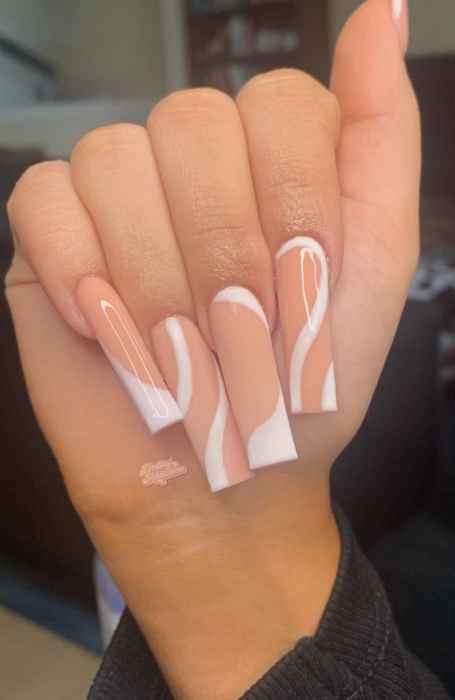 40. Long Confetti Nails
If there is a special occasion that you will be celebrating, then why not reflect that with your nail art? Confetti nail designs are pretty and fun and a wonderful way to add some sparkle to your appearance. There are so many different colors to choose from, but the best results are achieved by combining several hues at once. You can also add these tiny specks of color to the entire fingernail or focus only on the tips; this option can elongate your fingernail and highlight your nail's shape. Bright, glittery nails may not be suitable for all settings, but it is an excellent option for when you want to stand out from the crowd and get your hands noticed.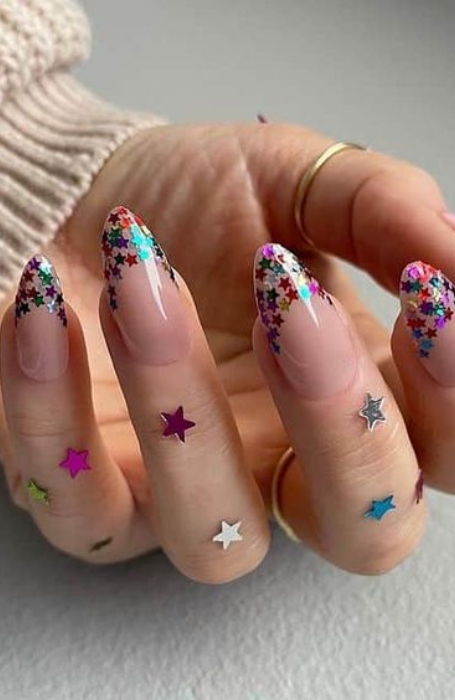 41. Long Muted Circular Nails
Circular designs are simple but effective, creating nail art that is pretty and versatile. There are many color combinations, but sometimes the best look is the simplest. Opting for neutral colors or muted tones make for a gorgeous look that will draw attention to your nails in a subtle way. It is also a fun way to add color to your fingernails, and you can experiment with different sizes and the placement of the shapes. You may want to mix and match the nails with other patterns for a statement look. Or you can tone it down by focusing the circular designs on a fingernail and painting the rest of your fingers with a solid shade of lacquer, like a soft pink or purple. Get your creative juices flowing, and try out this design today!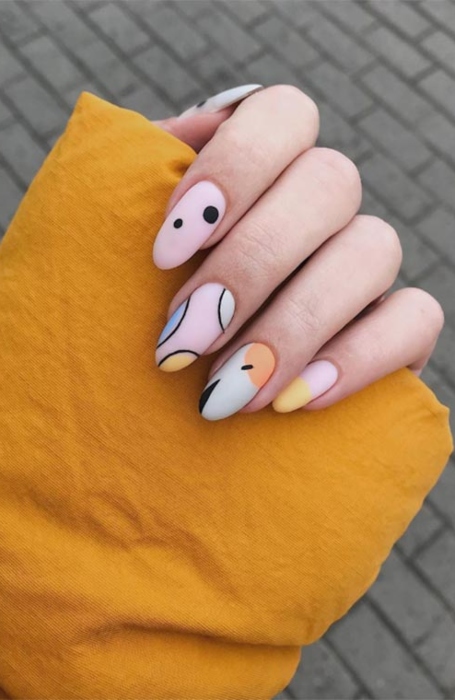 42. Long Cracked Nail Effect
The cracked nail polish effect was popular around a decade ago when everyone wanted to try it out because it provided you with something edgy and cool. Fast forward to the present day, and there is a way to try out this effect again, but with some fresh and modern twists. For the best results, you will not use the splattered black polish over your nails, which can be messy and look tacky if not done right. Instead, you want to paint the black lines over your favorite color combination, producing the effect but in a much cleaner way. It is also good to tone down the look by pairing it with a different color feature nail.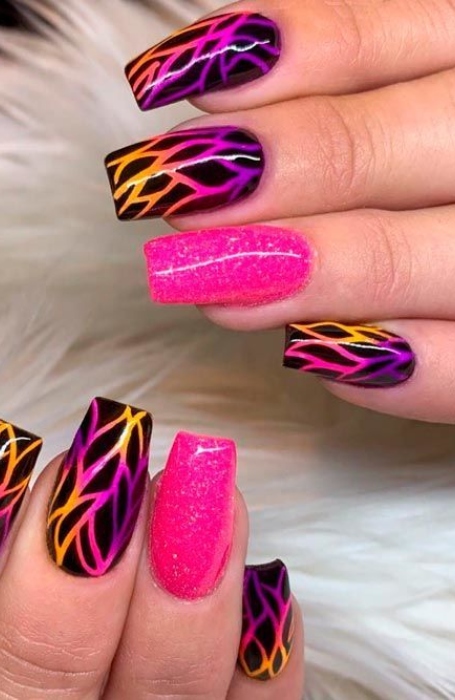 43. Long Multi-Colored Swirl Nails
Swirls have a retro appearance, and they are an excellent option for trying out multiple colors at once. Your nail art can be as bright and bold as you want, combining three or more colors, or you can tone it down by opting for a combination of only two shades. Swirls are also appealing because they lack precision, letting you experiment with different sizes and placements to create nail art that is expressive and fun. This artwork can work on nails of all lengths and shapes but for the best results, stick to long nails with a pointed or rounded shape, for example, long almond nails.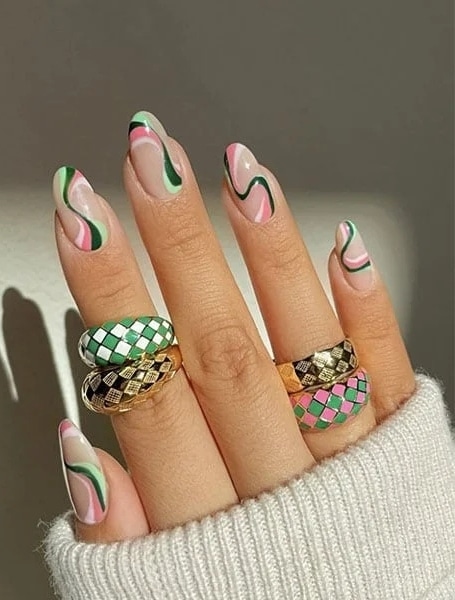 44. Long Rainbow Ombre Nails
The ombre effect is a popular color technique in hair and beauty. It is achieved by blending two hues, one light, and the other dark, but these colors can be of your choosing. The result is a stunning, graduated effect that can highlight the shape of your nail; it works best on long nails, like coffin nails, because there is more space for blending. Pick different pastel shades to create a beautiful rainbow effect, which is gorgeous and can be worn anywhere. The appeal of pastels is that they are muted and have a softness to them, making them easy to wear and mix and match.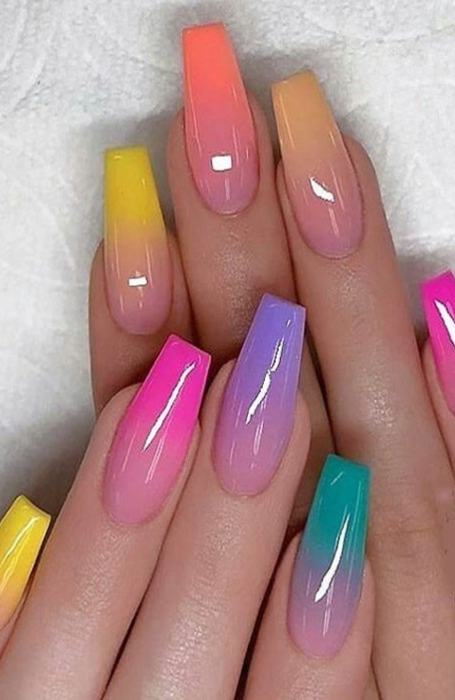 45. Long Smiley Face Nails
What better way to show that you feel happy and positive than with a smiley face manicure? Finding a way to include a smile in your nail art is a great way to remind yourself to look on the bright side of life or that there is good to be found in everything. There are several ways to create your artwork, but the most popular option is to opt for yellow. This hue is associated with optimism and creativity, but it is also one of the most striking colors. If you want nails that have a contrast, try pairing them with black polish.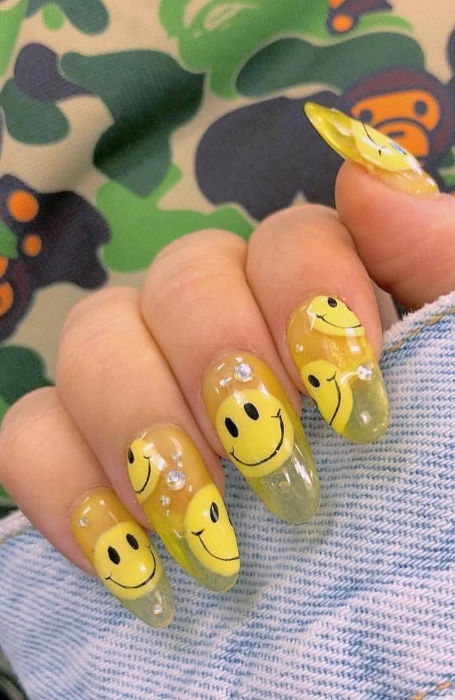 46. Long Emoji Nails
You do not have to stick to one expression when creating your perfect nail art; instead, combine several with emoji-inspired designs. Emojis are pictograms used in text messages and web pages to help convey a message and set a tone. When it comes to nail art, that same principle applies, letting you mix and match your favorite emojis to reflect your thoughts and feelings. You can choose a different emoji for each fingernail or opt for just one; the choice is yours. The result is a manicure that is playful and fun. Emojis are often created in yellow, but you can choose neutral colors for a more modern approach. The appeal of this is that it makes the look feel more sophisticated and will lend itself well to various settings.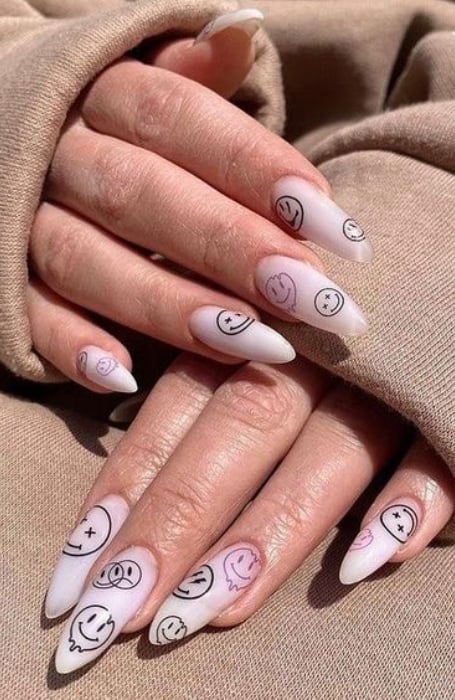 47. Long Pop Art Nails
Pop Art is an expressive and fun art movement that combines bold colors, interesting prints, and images from popular culture. This art is designed to be noticed and make a statement; adding it to your nails will make for a stunning and creative manicure. You can mix and match different images and patterns on each nail for the best results, creating unmissable, bold, and bright artwork.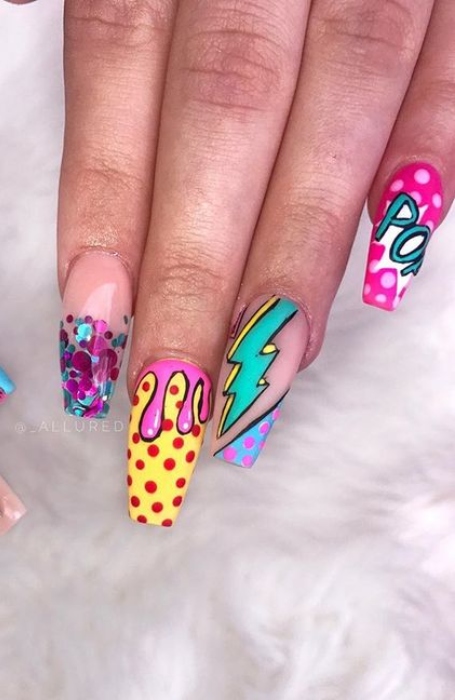 48. Long Lip Nails
Lip nail art is another fun way to add personality to your fingernails. Lips can be created in many different ways, but red lips, often with the mouth open, are associated with sexuality. This can reflect your thoughts and feelings, making a statement about femininity and personal choice. You can also opt for a kissing mouth linked with romance and love. There are many ways to make this nail art suit your preferences, so everyone has an option.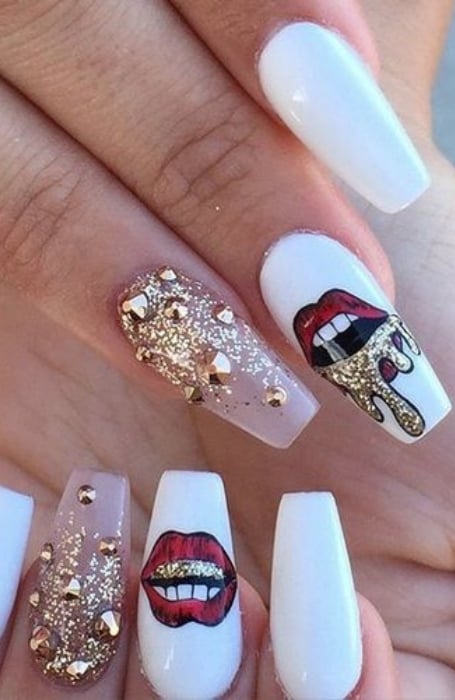 49. Long Travel Inspired Nails
If you are dreaming of summer vacation or planning a trip of a lifetime to see all of your favorite places, then travel-inspired nails are the option for you. Even if you do not have any big plans coming up, this artwork is associated with dreams, adventure, and freedom; it is not hard to see why it would appeal to women of all ages. When designing your artwork, you can make it generic, with images of planes or hot air balloons. Or let it reflect your likes by adding your favorite buildings or monuments. Choose a color combination you love, and bring this artwork to life.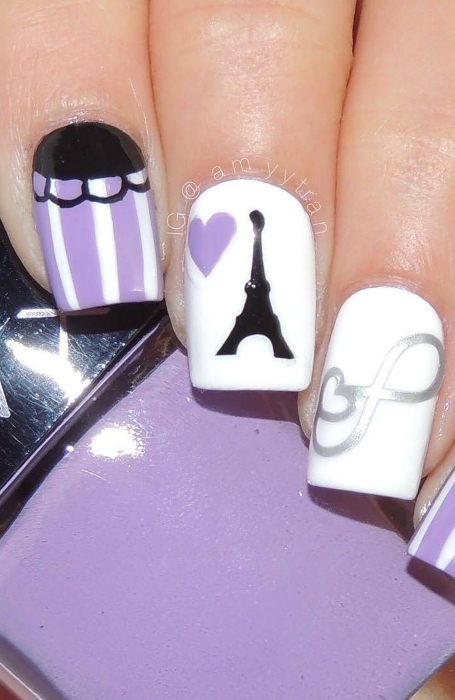 50. Long Peach Nails
Peach nail art is a favorite for the summer months, but you can try out this option anytime you want. The appeal of the peach is it is a bright and colorful fruit, but with emojis, it is also often associated with the butt, making this a cheeky way to show off your playful side. Opt for a nude base color and add the peach design over it. Or add it over an ombre effect of pinks and oranges for a more statement finish. Long nails are the perfect option for your artwork because they give you more space to get creative. They can also elongate the finger and have a very feminine aesthetic.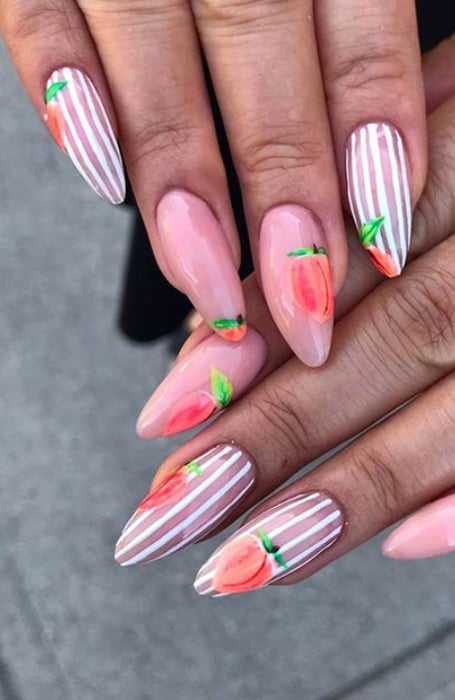 FAQs
What do long nails symbolize?
Long nails have a glamorous and sophisticated feel to them. They have the ability to elongate your fingers, and they draw attention to your hands. Be sure always to have them clean and well taken care of. The length also allows you to get creative with your manicure; you can pick bright or bold colors and interesting nail art to create a fun or feminine look. Long talons require more upkeep and tend to cost more than the fuss-free short options, so they can also symbolize how a woman wants to take care of herself and values beauty.
Is it bad to have long nails?
Long nails look great, but there are some cons to the length. For starters, certain shapes, especially particularly pointy and long ones, tend to be weaker. They are, therefore, prone to breakages. It can also be harder to do day-to-day tasks, like type on your laptop or pull up your jeans, and it is no secret that these nails require extra attention. Care should be taken to ensure that the undersides are kept clean to avoid harboring bacteria and dirt.
What do long nails say about you?
Long nails can say a lot about your personal preference and style, especially the colors and nail art you choose to decorate your talons with. Some people feel that this look means someone is more high-maintenance and appearance-driven, but that is not necessarily bad. It could also be that a woman wants to look and feel glamorous, and her nails are a way to achieve this.
Are long nails in style in 2022?
Long nails are definitely still in style for 2021, although some of the shorter shapes are gaining popularity, too.
What nail shape lasts the longest?
Shorter nail shapes are usually the most durable and long-lasting. These include the rounded option, which is pretty, classic, and low-maintenance. They are defined by their straight sides, which curve at the top, and because they follow the natural shape of your fingers, they are not prone to breakage.
SUBSCRIBE TO OUR NEWSLETTER
Subscribe to our mailing list and get interesting stuff and updates to your email inbox.