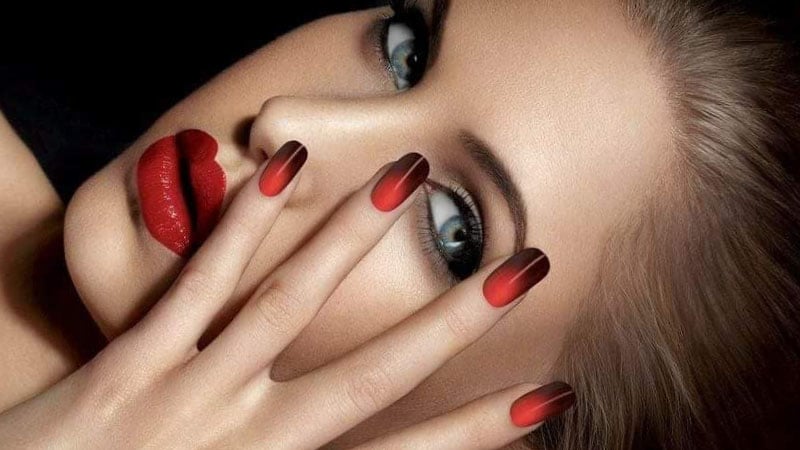 Why settle for a mere single shade when you can colour your world with the coolest ombre nail designs that will instantly elevate your look from basic to brilliant. While ombre has been wildly popular in hair and couture, its whimsical gradient of tones – from shadow to light – is stylishly transforming nails in the same fashion. Every style-conscious woman knows that dressing from top to toe means that all the little details require close attention. Your nails play an important role in presenting a chic impression and will need to be dressed up too. So why not ditch your plain base coat and opt for stunning nails with a unique, creative twist. As adored by fashionistas, and worn by your favorite A-listers, here are 18 of the coolest ombre nail variations that wave farewell to boring nails.

1. French Ombre Nails
We start with this subtle twist on a staple of nail art, the French manicure. Presenting a cool, sophisticated veneer, this ombre variation on a classic theme will work beautifully across any occasion. Simple enough for daily looks, from office to weekend shopping, or creating a refined after-hours finish. French ombre nails are the perfect choice for any woman who prefers to appear polished without fuss or embellishment.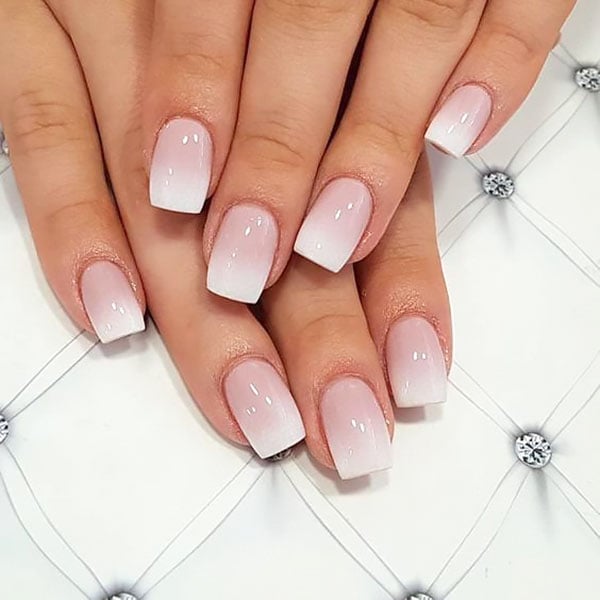 2. Glitter Ombre Nails
Introduce a touch of shine and sparkle to your nail repertoire with this gorgeous glitter ombre. Not only is this a cute and current way to decorate your fingertips, but it's also easy to replicate at home. Just add a shake of sparkle to your favorite base color, or leave it to the professionals to weave their special blend of magic. Whether it's tiny sprinkles or larger flecks, this glitzy ombre will razzle-dazzle 'em in the sunshine and long after the sunsets.


3. Pink Ombre Nails
For your next mani, think pink! From the latest electrifying neons to candy hues or soft pastels, a set of pink ombre nails is a deliciously feminine option. Darken the shading from cuticle to tip, or apply a reverse gradient for an equally striking effect. It all depends on where you prefer the highlight. Pink ombre nail designs make a particularly sweet complement to summertime dressing. Equally lovely against sun-kissed hands and burnished skin tones, as well as fair porcelain skin. Find the ombre tonal combo that suits you best, and you'll be pretty in pink.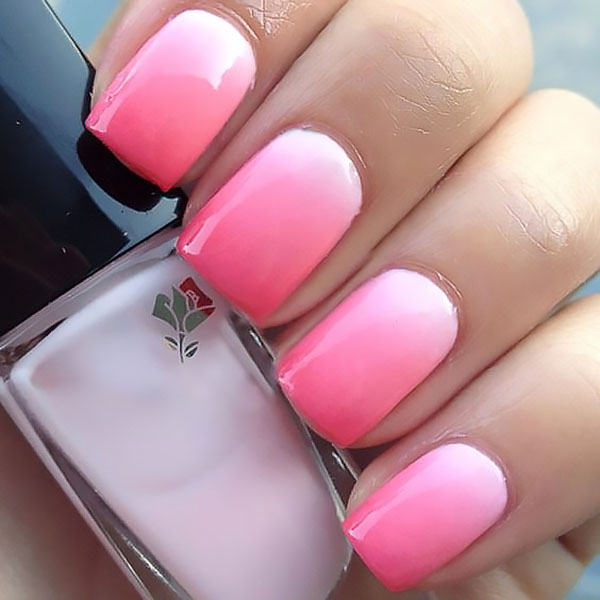 4. Blue Ombre Nails
One of the most elegant ombre designs is the trend towards moody blues. Winter fashions become a beautiful backdrop for fingers that look like they've been dipped in luscious blueberries, with tips feathered out to a lighter, icy shade. But while we usually identify this hue with the cooler seasons, brighter blues also look fantastic done in ombre style. Try shades from sky to azure for a more spirited, breezy feel. Select an on-trend, cornflower floral to match your nails, pair with crisp white for added impact, and you'll have a charming daytime look befitting a spring belle.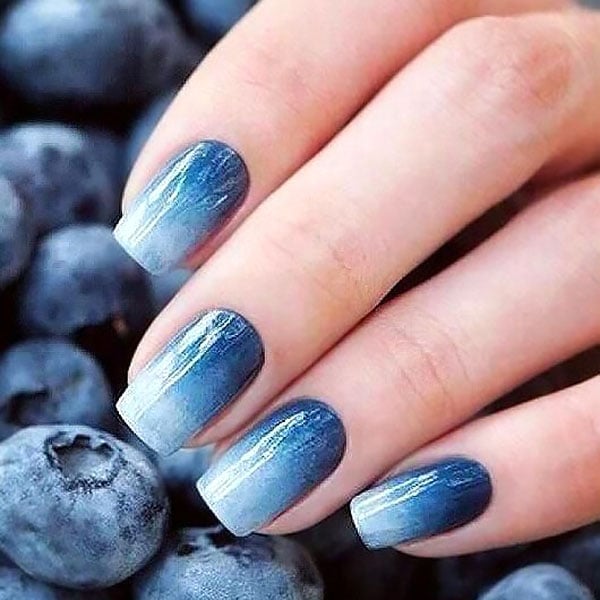 5. Nude Ombre Nails
Nude tones always give your hands a naturally understated presence. This minimalist ombre style is suitable for weddings, parties, or any occasion where the dress code requires you to appear polished with restrained elegance. Just as neutrals continue as a key, all-seasons trend, your new nude mani reflects the same taste for versatility. Try this ombre when you want simplicity, without resorting to ho-hum vanilla. Both chic and modern, these nails will be a cinch to coordinate with a whole range of looks, from off-duty right through to office-ready.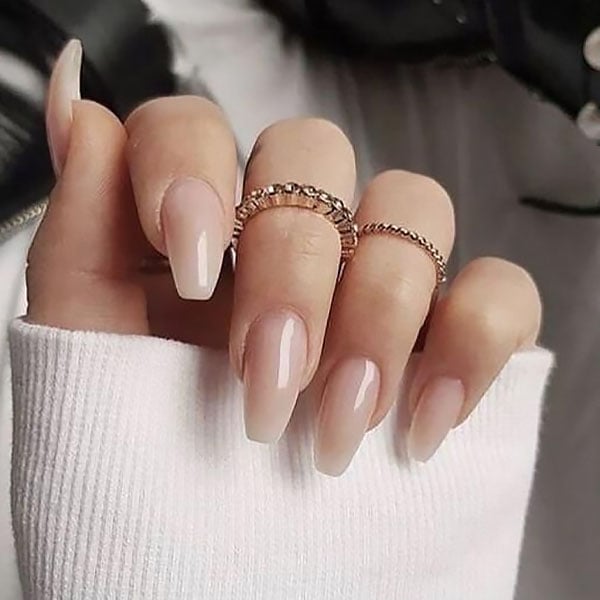 6. Pink and White Ombre Nails
Pretty and femme, this ombre design is another fresh alternative to a standard mani. The delicate pink and white shading suits the lighter weather and works perfectly with a summer dress or a springtime ensemble. You might also consider trying this palette for a bridal party or simply when you want to look sweet and chic. Variations of pink have been on the scene for a while now, but that's certainly no reason to give this charming fusion the flick. From dusky rose to baby pink, this soft pairing with white creates a gorgeous effect without being too radical.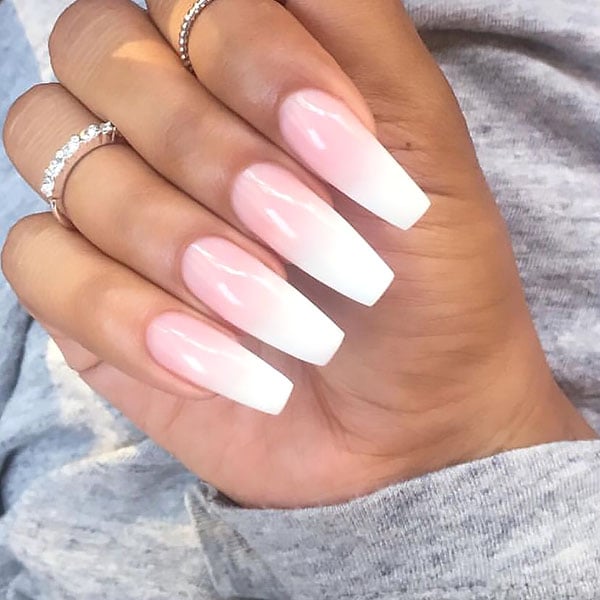 7. Red Ombre Nails
Fiery and fierce, red ombre nails signal passion – and will stop them in their tracks! This standout shading looks incredible any way you coordinate it. From strong black to cool blue, your red ombre nails will pop against a whole host of colors. Select a fire-engine red, tinged at the cuticles with black for a devilishly stylish treatment. Or try this tone-on-tone gradient, blending out from oxblood to candy apple at the tips, for a more seductive, high fashion look. Wonderful for winter and autumn, or anytime you choose to make a dramatic statement.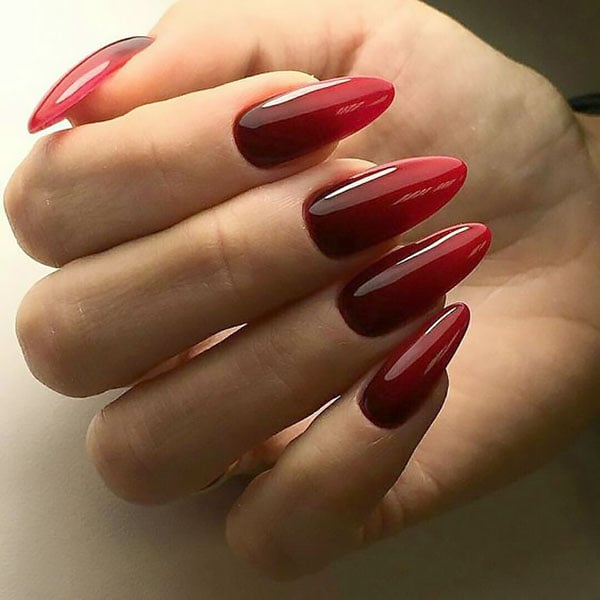 8. Coffin Ombre Nails
With a fanatical following in nail design, ombre coffin nails are adored by many, yet maybe intimidating for first-timers. But there's no denying that this distinctive shape makes for an utterly eye-catching sight when finished with an ombre treatment. While not all coffin nails have to be long, their cut-off tips and sharp angles will best show off your preferred gradient when extended beyond the fingertips. Whatever palette you choose to create the ombre look, make sure it's one that works well with this sensational beveled cut.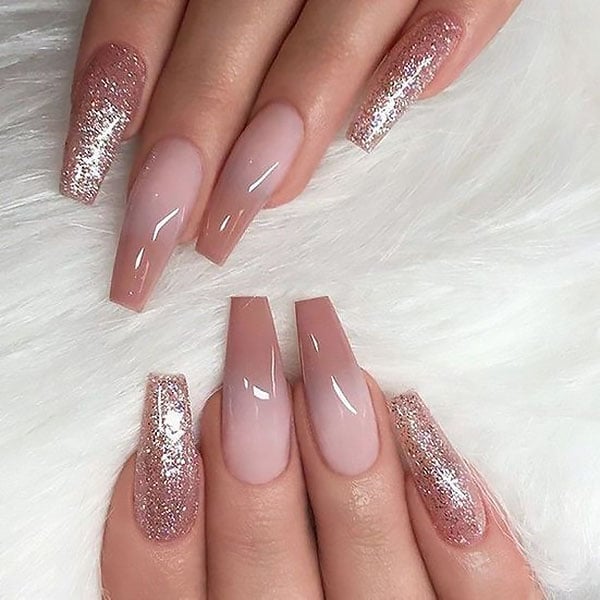 9. Black Ombre Nails
Move over, basic black! Edgy and captivating, the black ombre nail announces your cool cred loud and clear. Black lacquer is an absolute stunner when feathered out with either neutrals or grey. A classy ombre shading with beige will give a unique sepia effect to your nails. Or try teaming black with one of the many glam shades of grey. A more subtle variant like charcoal gives an enchanting foggy look; or blend from black to dove for a pleasingly chic dynamic. It is an ombre combination that looks just as exciting in gloss or with a matte finish. Perfect with winter ensembles or to enhance your favorite monochrome outfits.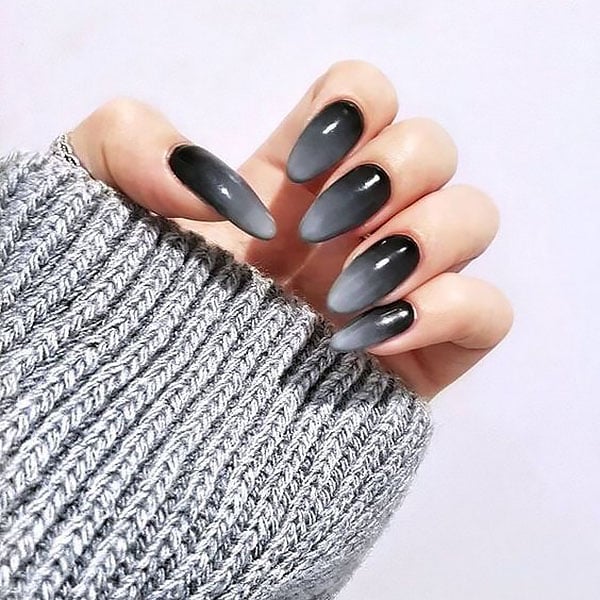 10. Purple Ombre Nails
This ombre shade is clearly not one for the shrinking violets. Purple ombre nails speak volumes about your individuality and create an image that's both smart and glamorous. From its warmer tones to cool, wherever you begin with the color purple, this hue spans a rich and alluring gamut. Moving from a deep royal to mauve, eggplant to iris, or boysenberry to lilac, purple ombre nails look at their irresistible best done in a high gloss. Wear this stylish ombre design to evening events or anywhere you wish to stand out in the crowd.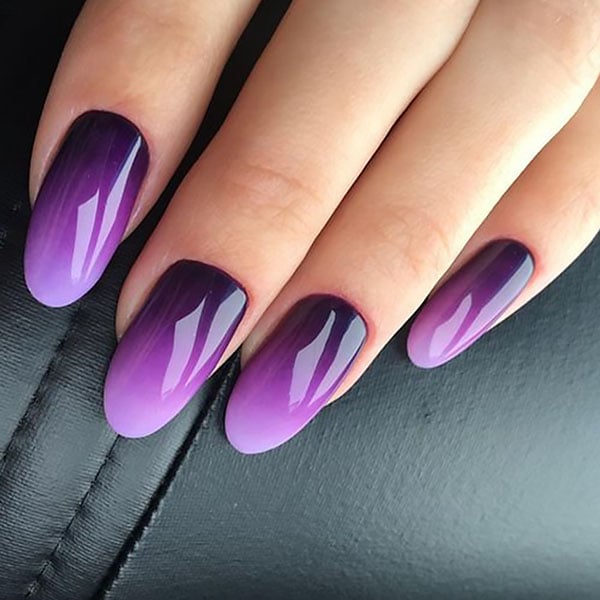 11. Yellow Ombre Nails
Hello sunshine! Just as yellow has been a force in fashion, yellow ombre nails are following suit to make their impact on the nail art scene. One of the top ombre looks of the moment features a fade from neon to nude. Other stunning effects can be achieved by shading yellow with vivid aqua for a midsummer, beachy look; or mix yellow with melon for a slice of Tropicana. From lemon to saffron, this ombre combo is sure to appeal with its sunny and youthful appearance. Complete with a cute outfit and you can head out the door as fresh as a daisy!
RELATED: 20 Stunning Yellow Nail Designs To Brighten Up Your Day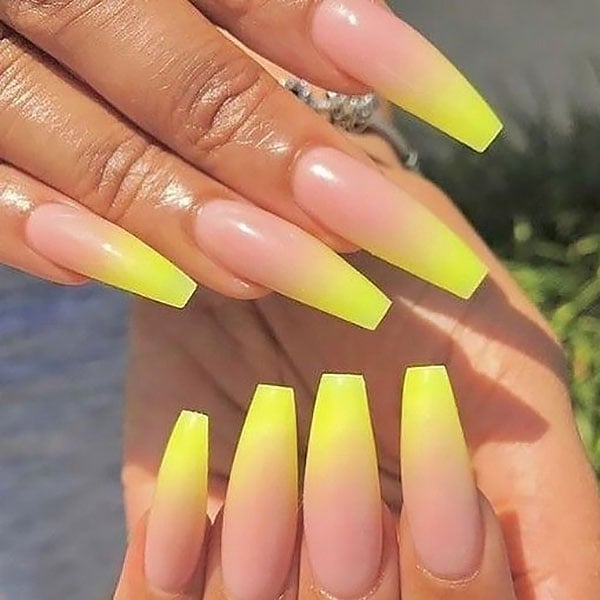 12. White Ombre Nails
If you're after a refined and sparkling blend, look no further than a fabulous set of pearly white ombre nails. Exuding pure class, this one is for the ladies who pitch their style at contemporary cool while avoiding anything that's too tricked-up. These nails will be superb with matching white linen or pair them up during downtime with pulled-together denim. This ombre design works a dream with a touch of healthy pink at the cuticles. Keep the shape and length moderate and you'll stay current yet timeless – proving that white's a classic that's far from basic.
RELATED: 20 Elegant White Nail Designs To Copy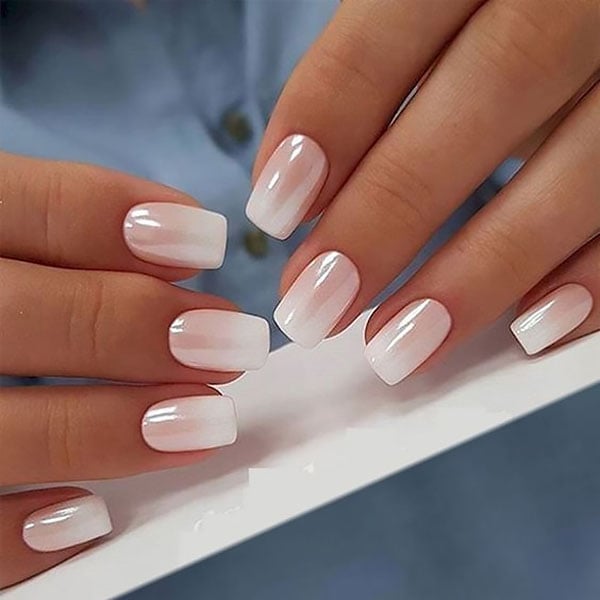 13. Matte Ombre Nails
For your next salon visit, why not try a dash of powder coating and update your claws with a sleek, matte ombre finish. This flat enamel may appear more subdued on the surface, yet the effect it gives off is far from plain. Matte ombre styles ooze sophistication, done with an ultra-modern vibe. Great for transitioning effortlessly from desk to dinner date, or wherever you prefer demure over lashings of gloss. To add more pizzazz, try a color clash ombre like this baby blue through to marshmallow pink. Whatever tones you choose, the matte ombre mani is definitely a trend you'll put on repeat.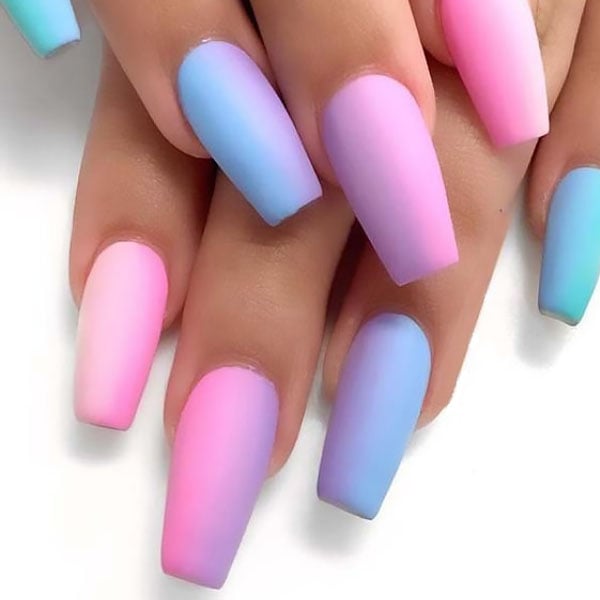 14. Orange Ombre Nails
We're peachy keen on this sweet look. From melon to succulent mango, master this lively ombre blend and you'll have a key element sorted this summer. Warm, saturated shades of orange will be a welcome trend all through the holiday season. Great against white, or coordinate at the opposite end of the color spectrum with breezy blues. From poolside to the beach, your orange ombre nails will add a delightful touch to your travels.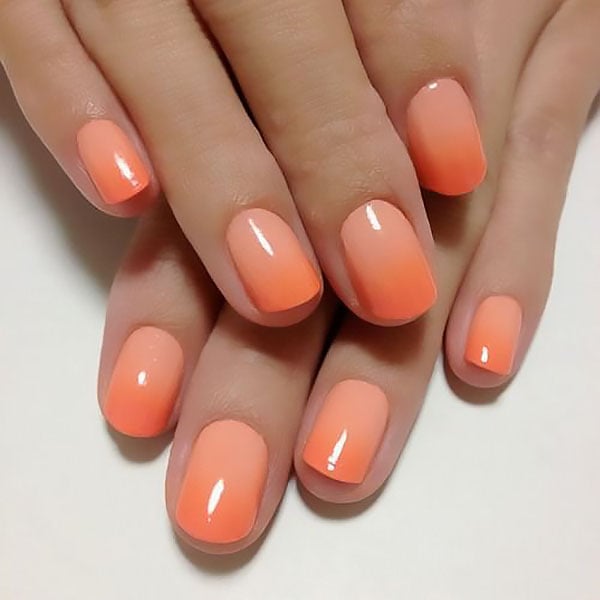 15. Gold Ombre Nails
Go for gold! With this sensational manicure, you can channel your Midas touch. Gold ombre nails look sublime as a fade from metallic to nearly nude. The luxurious gold leaf shading is designed as a high-impact statement and gives a remarkable accent to whatever outfit you've assembled for your event. Gold-tipped fingers provide the exquisite bling you need to feel like the star of the show. Accessorize your golden manicure with layers of complementary jewelry to really take your look to the town.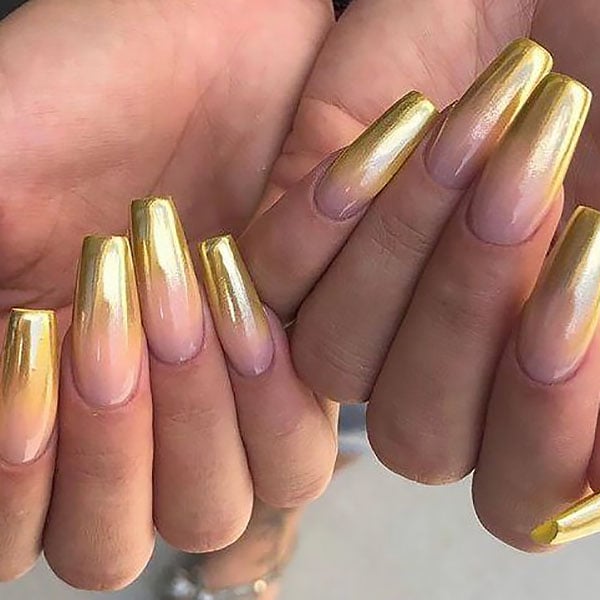 16. Rainbow Ombre Nails
Rainbow ombre nails are a pure pleasure to have at your fingertips. Optimistic and cheerful, you'll be hard-pressed not to smile every time you look down at your hands. This broad sweep through the color wheel takes practice to achieve, so unless you have patience and good hand-eye coordination, this is not one of the ombre styles you could easily attempt at home. Variations of the rainbow theme include a way to wear your pride proudly. Or try building up a rainbow ombre with neon shades and a smattering of glitter to unleash the true extrovert in you.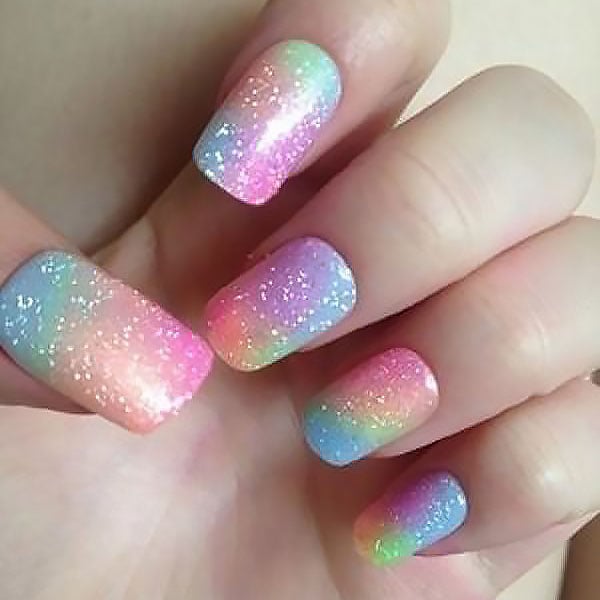 17. Burgundy Ombre Nails
Burgundy ombre nails have been de rigueur on the European runaways during the Fashion Week season. From shiny maroon to mulled wine or crushed plum, burgundy ombre nail art is inspired by the top trends for autumn and winter. As the more seasoned cousin to red and purple, burgundy tones add richness to any ensemble. This ombre design captures a mysterious elegance with a twist of sassiness. Try this shading in high gloss when you want the illusion of even longer nails; while a flat matte finish offers more mileage to this cool ombre blend.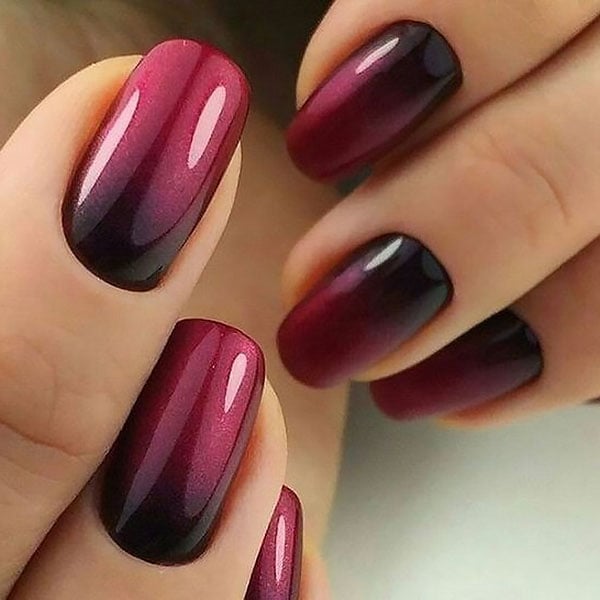 18. Rose Gold Ombre Nails
Have we saved the best for last? Rose gold may be the final item on the list, but as a top-trending shade from fashion through to champagne, this ombre design is also in no danger of fading away fast. The popular pink-hued metallic is a cool choice for the ultra-femme sophisticate and wears well on any occasion you'd like to leave a shining impression. Try keeping tones muted from cuticle to tip; or for a spectacular update, introduce a touch of glitter to the varnish. Blending two of the most stylish trends in nail art will give your rose gold ombre nails a breathtaking finish.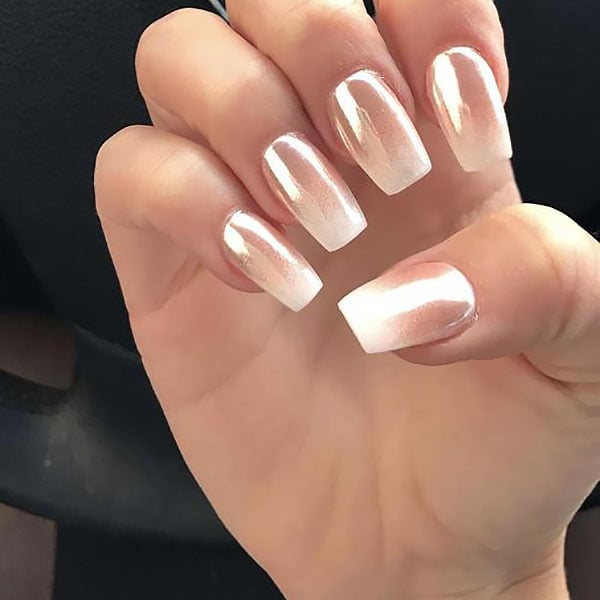 19. Ombre Nails with Clouds
Ombre is a technique that seamlessly blends two or more colors resulting in an interesting and dreamy finish. There are multiple ways to try this cute coloring, but ombre nails with clouds are one of the best combinations. Clouds look great on any background, whether it is soft pastels or a blue and white pairing. They can also represent dreams and positivity and remind you to keep your focus on the future. So, not only is this an attractive option for your next manicure, but it is also a meaningful one.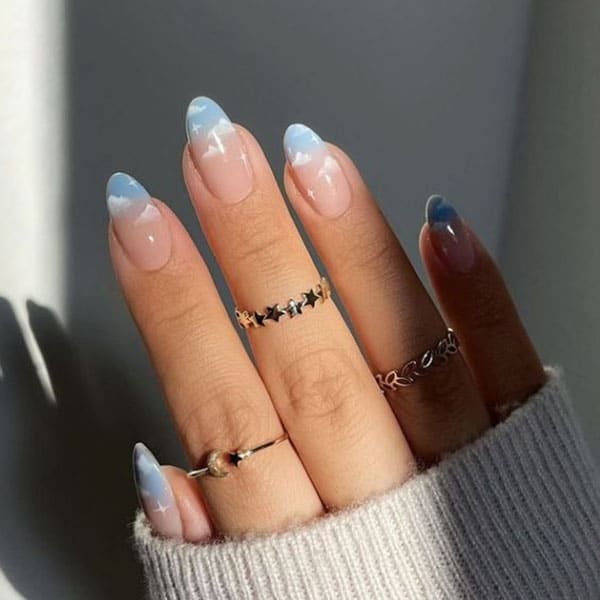 20. Lilac Ombre Nails
Lilac is a pale shade of purple that is easy to wear and pretty and will look great on nails of all lengths and shapes. The softness of the hue makes it gorgeous for women of all ages, and the color is associated with tranquility and youthfulness. If you want the perfect color for everyday wear or formal occasions, this is undoubtedly it. Opting for an ombre approach makes it even better as the look is more interesting, allowing you to make a subtle statement with your hands.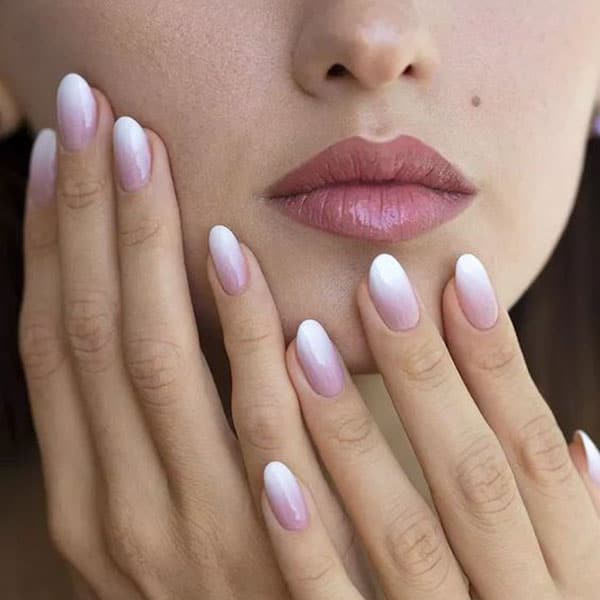 21. Peach Ombre Nails
The gradient of colors can add a playful twist to your nail art, and peach ombre is a subtle and pretty option. Peach is a light yellow-orange hue that makes you think of warmth and joy. It is much easier to wear than brighter colors because of the softness of the tone. This makes it perfect for a variety of settings, including formal ones. Suppose you want to draw even more attention to your hands, then pile on your favorite gold jewelry. You can also experiment with the finish of your lacquer; for example, the matte polish can create an interesting texture, while glossy polish feels feminine and is great on longer nails.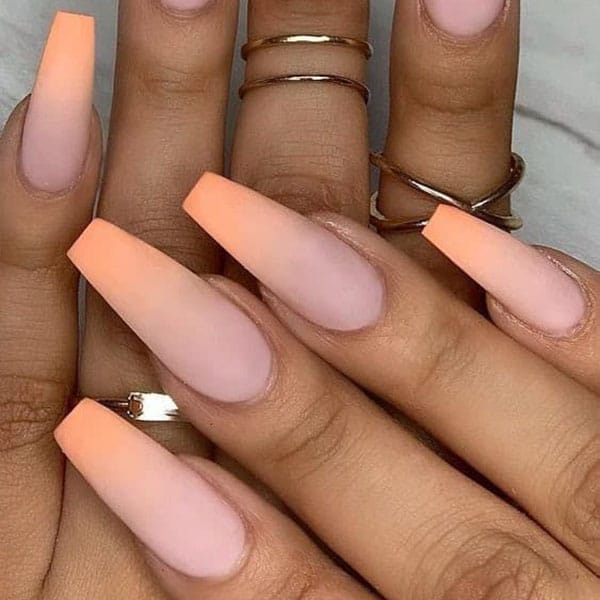 22. Orange and Fuchsia Ombre Nails
What is not to love about ombre nail art? There are many ways to play around with color, allowing you to combine your favorites for a subtle and chic look; or opt for something bold and bright. Orange and fuchsia is a pairing that will stand out. These colors are fun and daring and can make you think of an exotic cocktail, a summer vacation, and the sunshine. The vibrancy of these hues blends well together and may evoke feelings of happiness, thus elevating your mood every time you look down at your hands.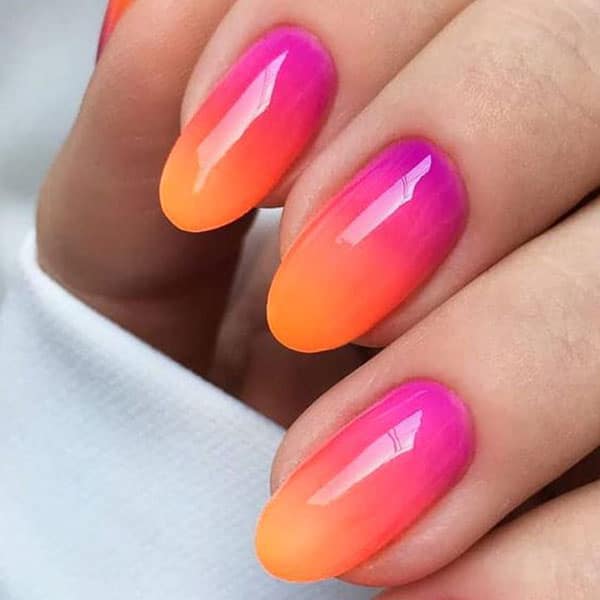 23. Abstract Ombre Nails
Why choose one color when you can wear multiple? This is the beauty of ombre nail art, as it allows you to play around with different shades and find something that reflects your personality. This could be subtle and simple, or you could opt for a bright and interesting combination, such as a different pairing on each nail. Abstract ombre tips are gorgeous and different and will get your hands noticed. Create interesting shapes on the tip instead of opting for the standard straight line; this gives a modern approach and allows you to have some fun. For maximum effect, pile on your favorite chunky jewelry and colored pieces.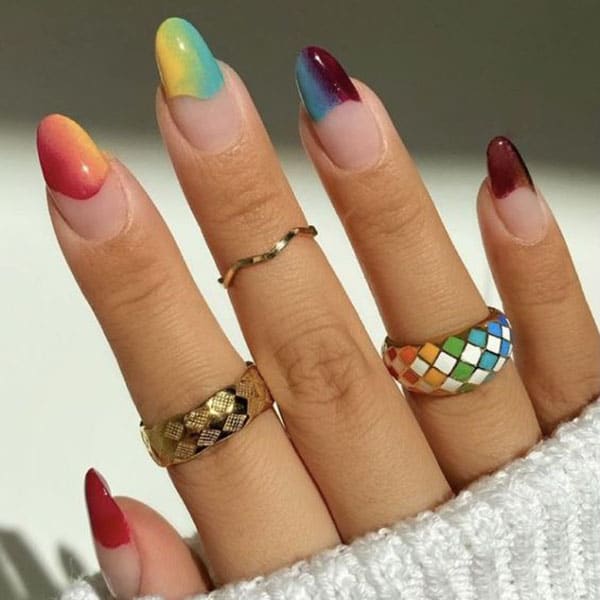 24. Grey Ombre Nails
Grey ombre nails are the perfect combination of chic and adventurous. The color makes you think of frosty mornings and is a cool, neutral hue that can be worn with everything. The ombre effect makes the color even more interesting, as you can pair it with white for a crisp and fresh feel. This is nail art that will lend itself well to most settings, including more formal ones. You can try out different polishes, and choosing a matte finish will make your manicure textured. When it comes to what to wear with grey nails, the best option is white or black tailoring to create a sophisticated appearance.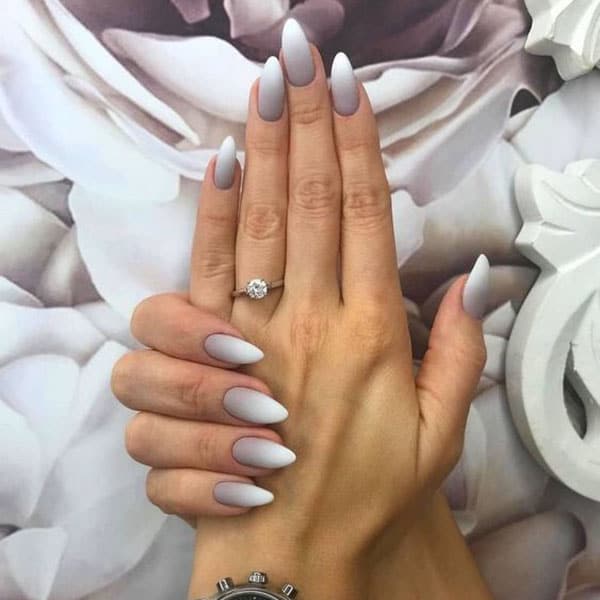 25. Brown Ombre Nails
The color brown is not as dramatic as black nail polish and is, therefore, easier to wear but still dark enough to make a statement. Brown ombre will draw attention to your nails and can remind you of nature and personal growth. There are many hues that you can pair with brown to create the ombre effect, including green, white, or mauve, depending on your personal preference and how subtle you want your manicure to be. To change your look, try painting two or three nails with a solid color and leaving the rest ombre. Or, you could play around with detailings like lines or swirls or glitter polish.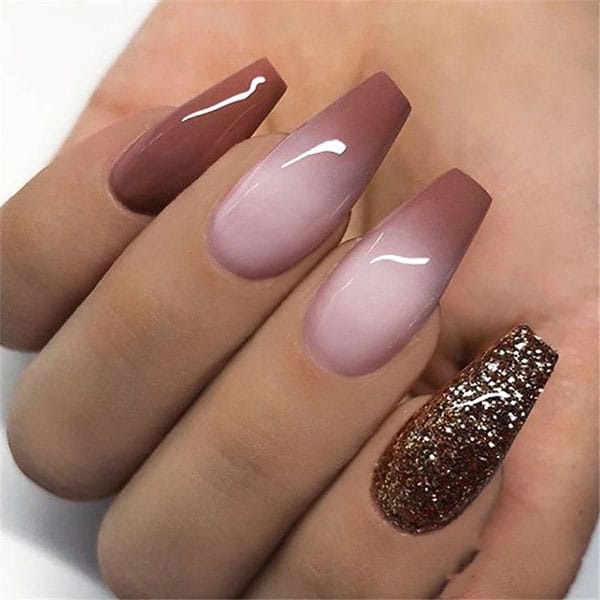 26. Green Ombre Nails
Are you looking for the perfect manicure to make you look and feel good? Then look no further than green nails. There are various shades of green, from light to dark, making it easy to achieve the ombre effect. Green looks great on nails of all lengths and shapes. You can choose the right shade of green to best complement your skin tone. This is an excellent way to have fun with your nail art without being too dramatic, making this a fantastic manicure for every day. Plus, green is a symbolic color, often associated with renewal, life, and growth.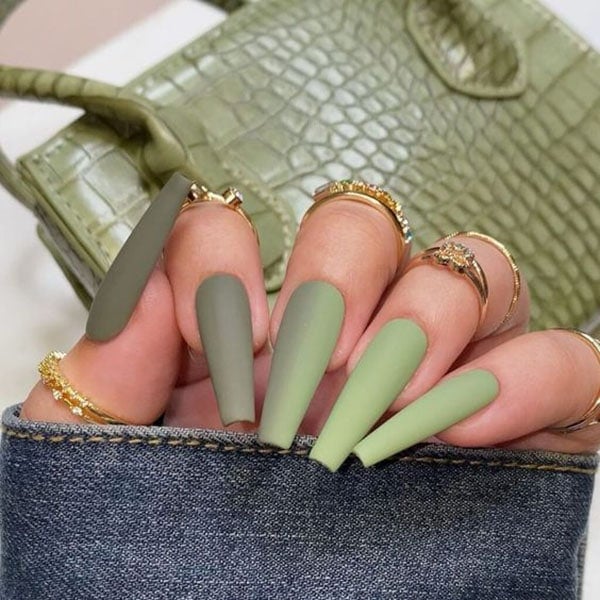 27. Neon Ombre Nails
Some colors are perfect for those who want a cute manicure without being too in-your-face, and then there is a neon ombre that is impossible to miss. This is the beauty of these bright and vibrant shades, and they draw attention to your hands in the best way. Pick all your favorite neon hues and have fun combining them for a pretty and cool look. You may feel restricted in what you can wear with neons, but let us tell you that there is no right or wrong answer here. For those who want to have fun with their appearance and express themselves, then, by all means, wear neon clothing for a matchy-matchy effect. For the women who prefer to tone down their look and let their manicure be the focus, then choosing solid, neutral clothing is great to pair with your adventurous nail art.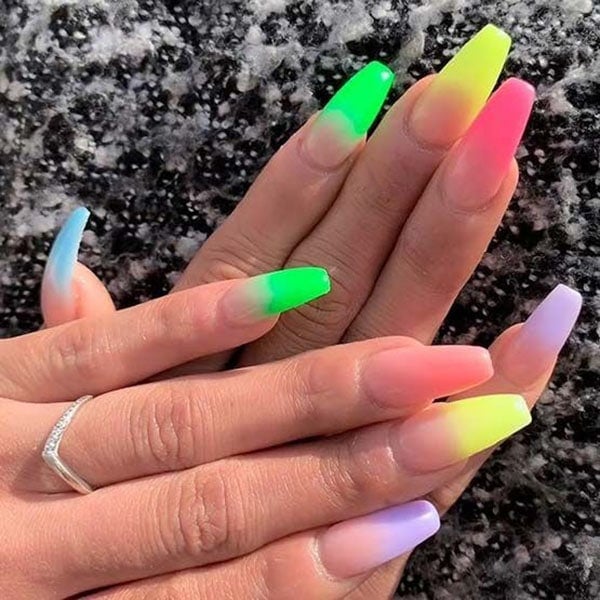 28. Aqua and White Ombre Nails
Aqua is a pretty shade of green and blue that is often related to water and can make you think of the ocean. It has a youthfulness to it. The color can be paired with other blue or green shades, but, undoubtedly one of the best pairings is to opt for white. White is a timeless classic, and it will never go out of style. It is a color that can be paired with anything and is associated with freshness, renewal, and new beginnings. Aqua and white ombre nails are a combination made in nail heaven and are flattering on most skin tones. You can also wear it on different nail shapes and lengths, but the longer, the better.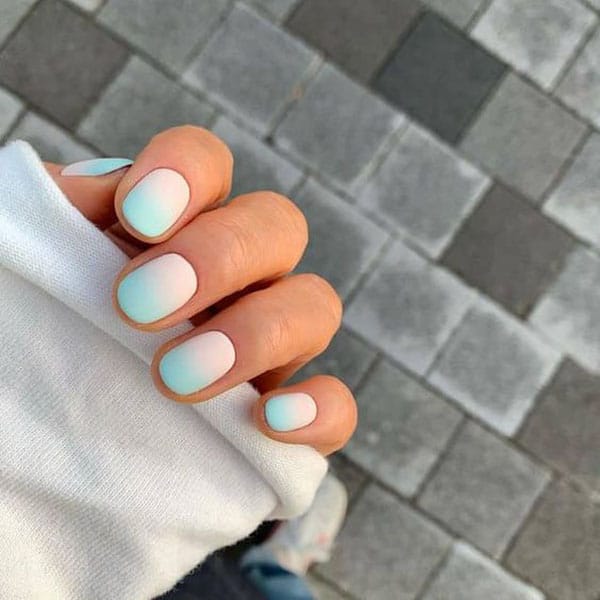 29. Ombre Nails with Flowers
The ombre nail effect can be worn on its own for a pretty and interesting manicure, but it also lends itself well to detailing. You can play around with different patterns and shapes or opt for a floral design. Ombre nails with flowers is an ultra-feminine option that will bring a smile to your face every time you look down at your hands. Choose your favorite colors for the base coat. This could be soft pastel tones or bright and bold colors like orange and fuchsia. Keep the floral designs simple so that they complement your base color instead of clash with it.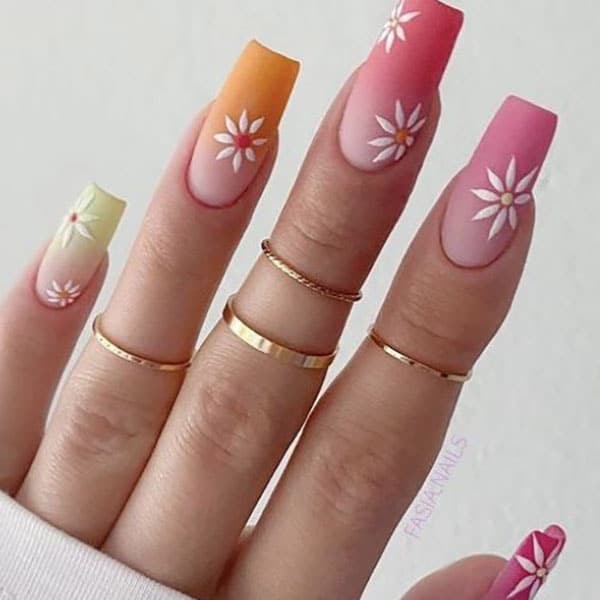 30. Ombre Nails with Watercolour Effect
What better way to show off your creative side than by combining two interesting nail art effects? The seamless blending of two colors creates ombre nails, often from light to dark or vice versa. The color combination you choose can be of anything and should best reflect your personality. If you want to take your manicure to the next level, though, then opting for a watercolor effect is the way to go. This is a dreamy and pretty option inspired by how paint dries on a canvas. The best way to achieve this combination is by picking a feature nail or two for the watercolor style and keeping the rest of your manicure relatively simple with a subtle ombre approach.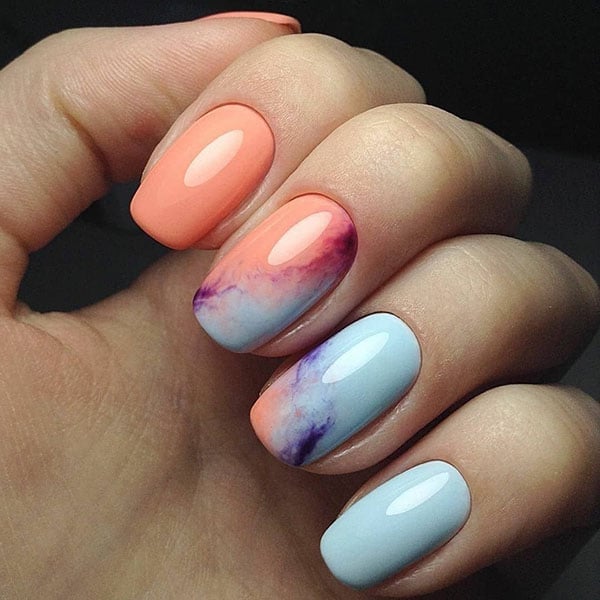 31. Holographic Ombre Nails
Ombre nail art is stylish and feminine, but deciding to do it with a holographic finish makes it even better. This can give a futuristic feel to your nail art and makes it stand out. The high-shine polish is created with an extra pigment to give it holographic properties, which is especially striking when it catches the light. Holographic ombre nails look best on longer lengths, giving you more space to experiment with your manicure. You can limit the holographic effect to the tips, pairing it with a nude polish. Or let it take up half the nail and paint the rest white or your favorite shade of pastel. The choice is yours so have fun.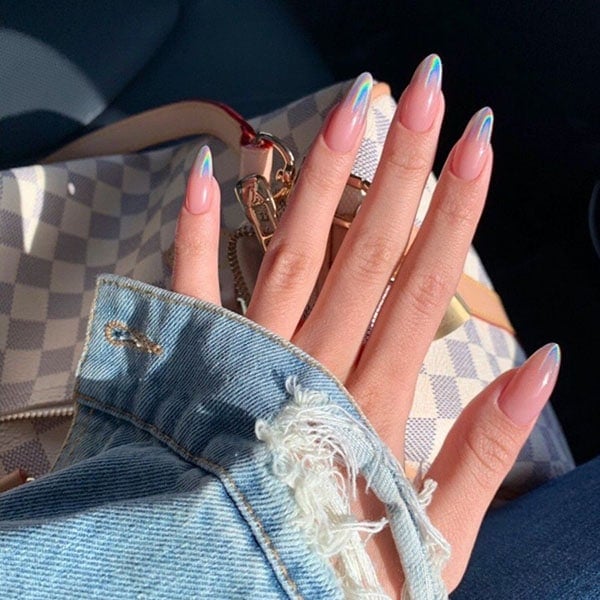 32. Short Ombre Nails
Ombre nails are stylish and versatile, allowing you to create them on any nail length and shape. Opting to keep your nails short may limit you with just how much you can experiment with the technique, but this subtle approach can also be more wearable. Short nails will lend themselves well to a variety of different settings, and, depending on the color combination you choose, they may even be suitable for work or special events. Opting for a brighter hue at the tip of your nail can also highlight the shape; whether that is round, square, or oval is entirely up to you. The beauty of short nails is they are strong and durable and less prone to breakage. They are also low-maintenance and won't restrict you in activities.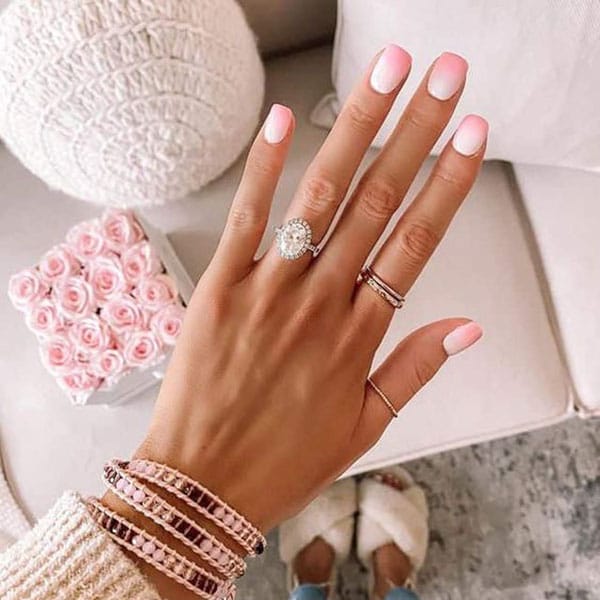 33. Gradient Ombre Nails
A gradient ombre manicure is a look that combines several shades for a pretty and stylish finish. The chosen colors will seamlessly blend, and you may choose to have a slightly darker or lighter hue on each nail. This creates an interesting look that is bound to draw attention to your hands. One of the best ways to achieve this manicure is by opting for neutral shades. They are easy to wear, universally flattering, and will suit all nail lengths and shapes.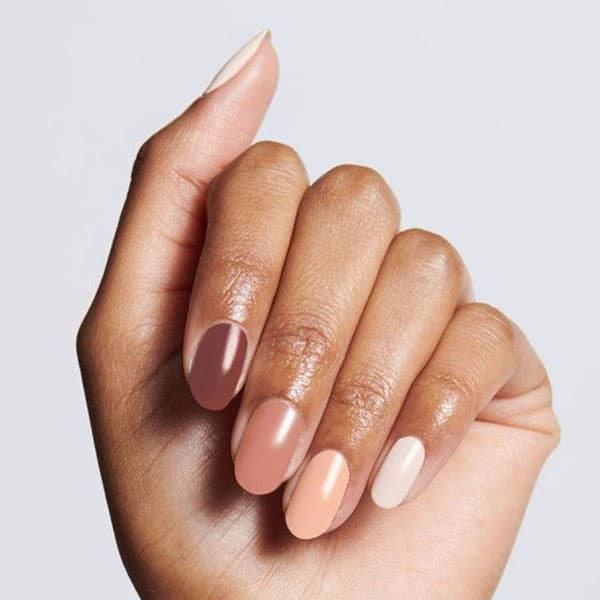 34. Cute Ombre Nail Design
Ombre nails can be combined with cute designs to let you reflect your personality. Opting for nail art enables you to express yourself and shows the world your fun side. It is also a great way to elevate your mood and put a smile on your face. Your manicure is best created on longer nails to have more space for detailing and color and to get creative. That said, there is no rule for what you can and cannot choose. This can be anything from heart designs and smiley faces to patterns, swirls, and flames. Use glitter or holographic polish for an ultra-feminine finish. You can also wear rhinestones or small jewels on the base of your nail for a striking effect.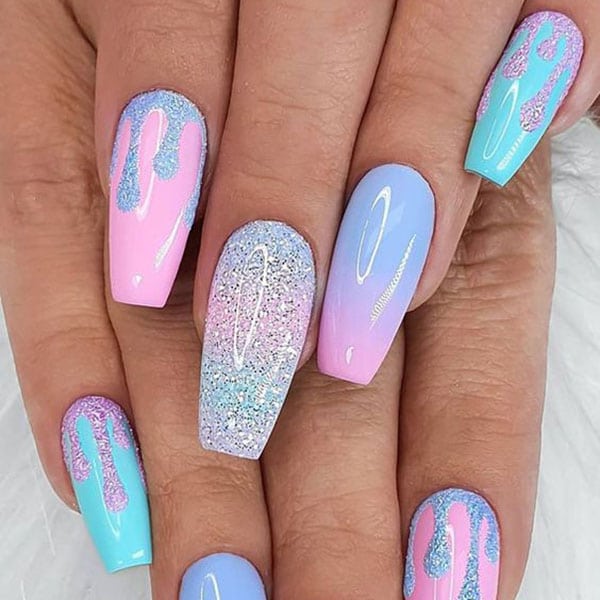 35. Ombre Nails with Rhinestones
Rhinestones can give your nails a pretty finish, and there are many different ways to incorporate them into your nail art. Some women prefer to go bold and pile on the rhinestone and jewels, creating 3D artwork bound to turn heads. This option is fantastic, but it is also high-maintenance, and you will have to take care when going about your daily activities so that your nails do not snag on things. A more subtle but no less gorgeous way to wear them would be to add rhinestones to just the base of your nail. Your base coat can be a single shade, or you can try out the ombre effect. You may also want to experiment with matte, glossy, or frosted nail lacquer to see which option works best for you and the look you want to achieve.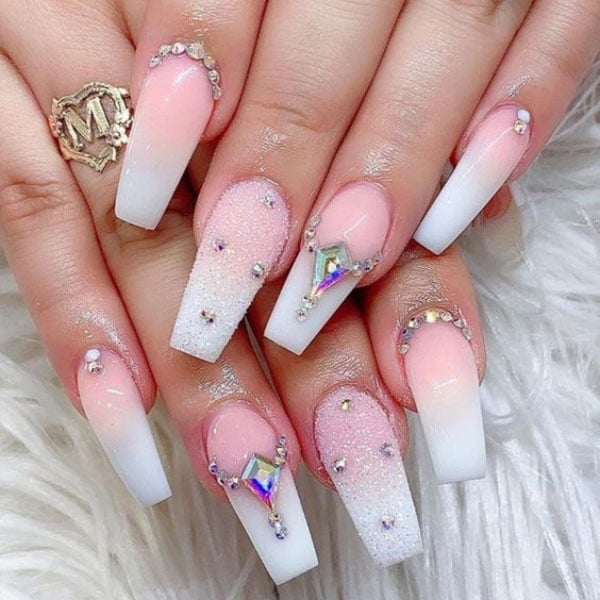 36. Summer Ombre Nails
If you cannot settle on one color for your next manicure you do not have to. The ombre coloring technique is appealing because it seamlessly blends two or more colors and summer-inspired nail art is fun and expressive. Summer is the season of warmth and life, and your nails can reflect this. Stick to classic summery colors like oranges, pinks, and yellows for a manicure that is bold and bright.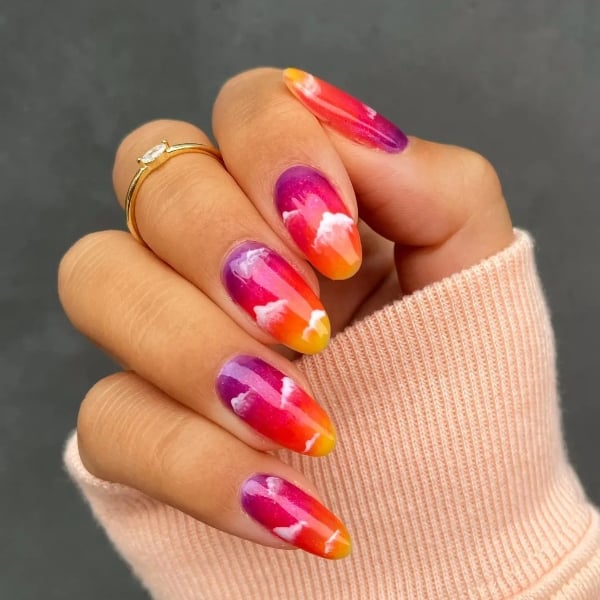 37 Fall Ombre Nails
Autumn is one of the best seasons in the year because it is filled with color. Dark reds, greens, oranges, and browns are all popular hues for Fall. You can beautifully combine them thanks to the ombre technique. You can also add nail art over an ombre base, with little leaf and flower stickers a popular choice. Fall nail designs can also be meaningful as it is a time that represents change and transition.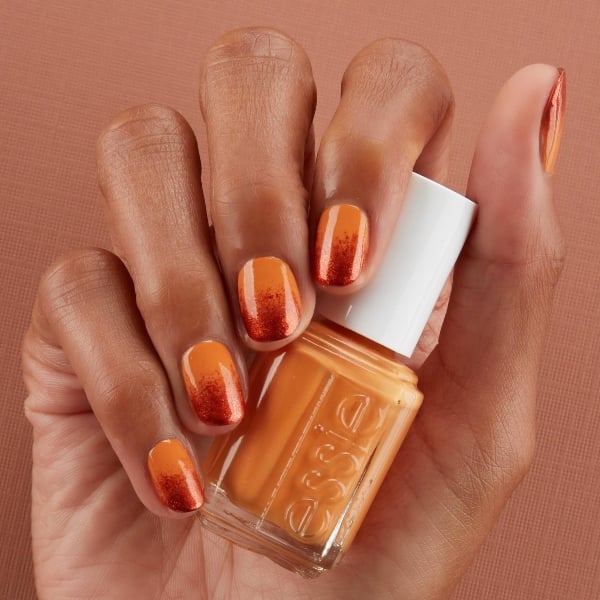 38. Ombre Dip Nails
Ombre is the blending together of two or more colors, often graduating from dark to light, but the colors you choose will determine this for you. You can also create it over natural or artificial nails, and dip powder nails are an excellent option. These nails are strong and durable and are great for those wanting to strengthen their natural nails. Dip nails are a great alternative to acrylics and there is no odor or mess involved in the application. There is a wide range of colors to choose from, and your manicure will last around three weeks.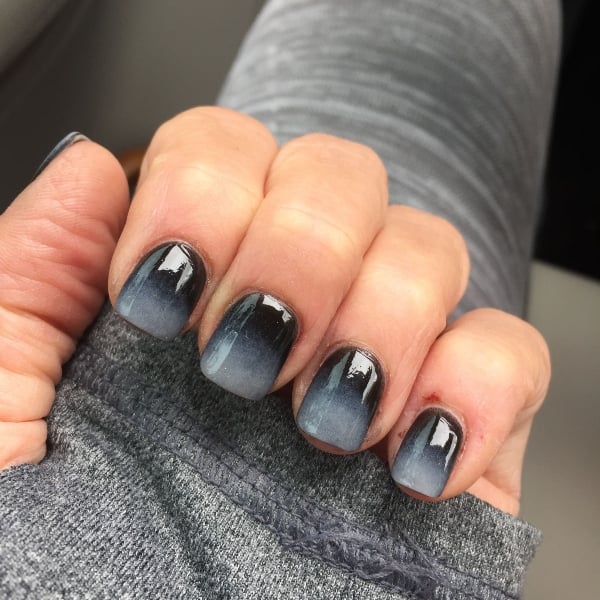 39. Orange Ombre Nails
Orange is a color associated with optimism and creativity, and choosing to paint your nails with an orange ombre effect will undoubtedly draw attention to your hands. You can go bold by combining your favorite shade of orange with black to create a high-contrast finish. Or pair it with a lighter orange or nude hue for a more blended appearance. There are many shades of orange to choose from, making it easy to find the hue that best suits your preference and will give you versatility with your manicure.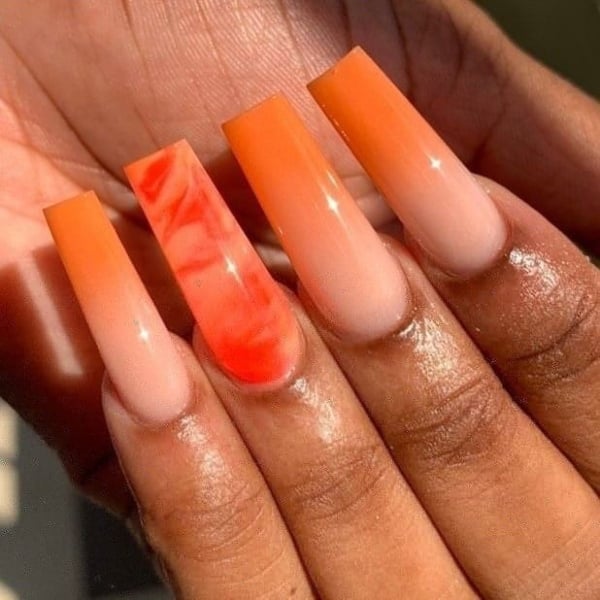 40. Acrylic Nail Ombre
Acrylic nails are appealing because they let you experiment with different lengths and nail shapes. They are favored by those who want unique or high-maintenance nails like edge or stiletto because they are much stronger and more durable than natural nails. Acrylics are also strong and long-lasting and work great with nail art and color. Pick your favorite shades and combine them for a pretty finish.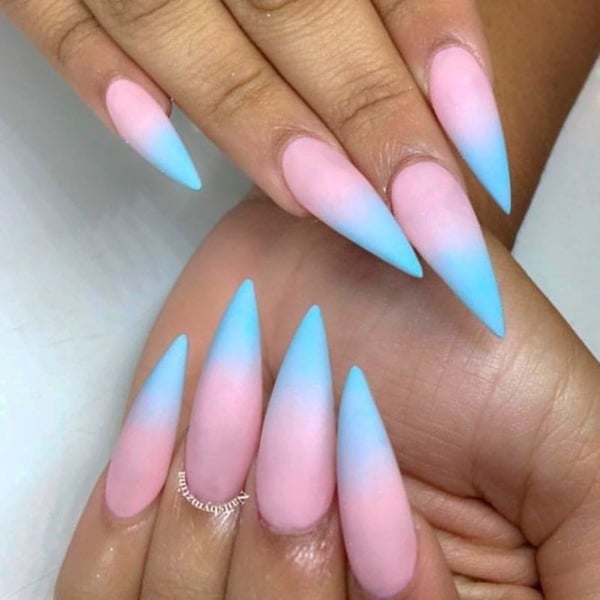 41. Natural Ombre Nails
Natural shades of polish are an excellent choice for those who want a manicure that lends itself well to all settings. These nails will be more subtle than the bright, bold colors that draw attention to the hand, instead giving you a sophisticated and feminine manicure. Stick to nudes, beiges, and whites, for pretty, easy-to-wear nails. Long nails are a fantastic choice for ombre as it gives you more space to get creative and blend the colors. However, medium-length nails and a classic shape will give you more versatility.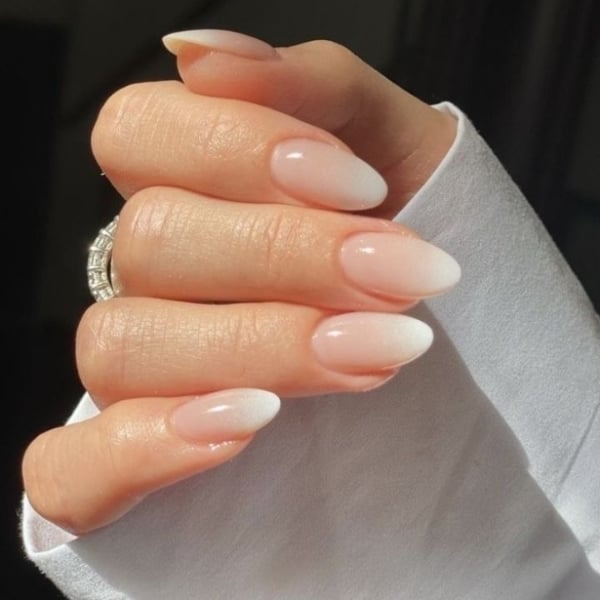 42. Ombre Wedding Nails
Some brides want nail art that sets them apart from the rest, but most prefer the classic approach with the simplicity of your nail art complementing your beautiful wedding dress and makeup. Popular options for wedding nails include the French tips manicure and nude or pink polishes. However, you can opt for ombre nail art to try something different. Seamlessly blending two neutral colors will show off the ombre effect in a subtle way.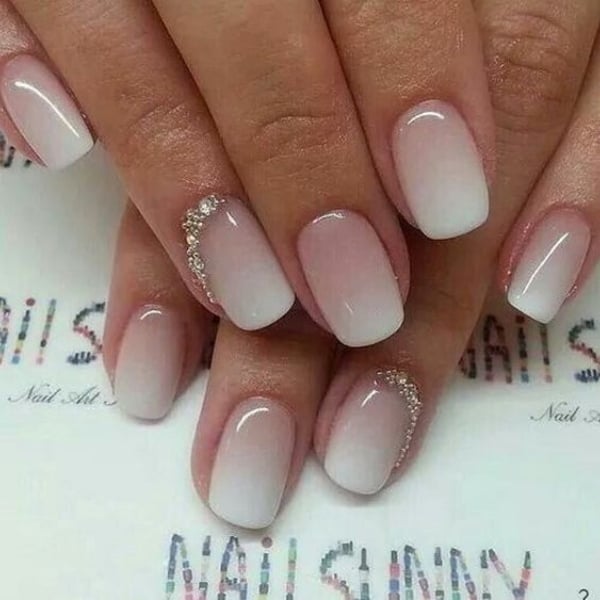 43. Royal Blue Ombre Nails
Royal blue is a deep shade of blue. It is saturated, which makes it easy to notice, and opting for a royal blue nail design is for those who are daring and not afraid to take risks. It is associated with power, trust, and authority. The ombre effect can enhance the color, or tone it down, which can be done by pairing it with nude or muted colors. Ombre nails work on nails of all shapes and lengths but are best suited to longer nails.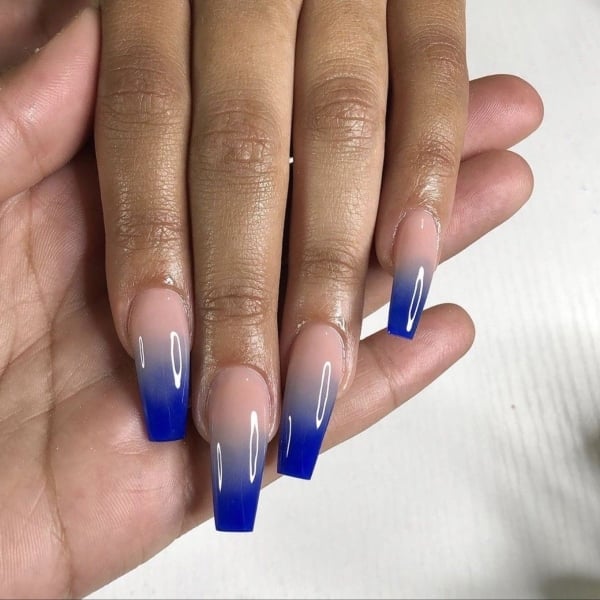 44. Ombre Stiletto Nails
Ombre nails can be created on long or short nails but longer nails and unique shapes are often favored because there is more space to get creative with your artwork. One of the most fun and eye-catching shapes is the stiletto nail, which is defined by its thin and pointy appearance. It is a shape that works best with long nails to show off the style. The shape is high-maintenance and prone to breakage, but you will have versatility with the ombre technique and create stunning, feminine nails.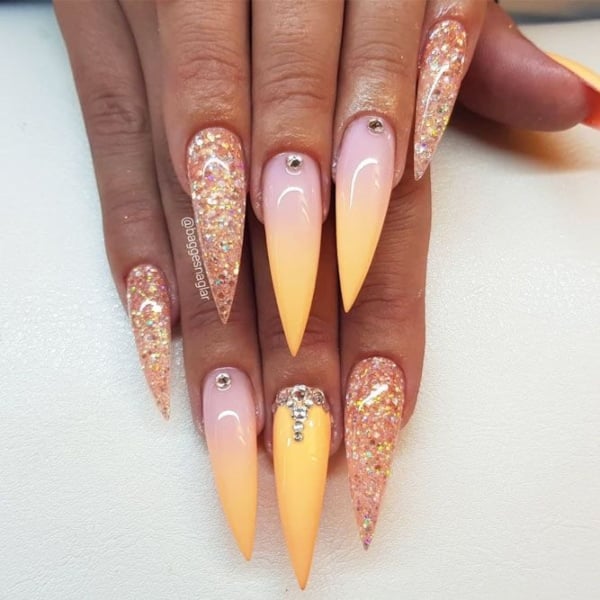 45. Matte Ombre Nails
The standard nail polishes have a glossy finish, but what happens if you want something different? Matte nails are an excellent choice because they appear flat and smooth. The texturally interesting manicure makes even the simple nail art or color appealing. Matte polish comes in a range of colors, letting you experiment with the color combinations of your choosing. To create contrast, you can also create the ombre effect with a matte and gloss finish or add jewels to the nails for a 3D finish.
46. Christmas Ombre Nails
Christmas is one of the happiest times of the year. It is a celebration of togetherness and family, and a lovely way to get into the festive spirit is with a Christmas-inspired manicure. Christmas nails can be of anything and can be as simple as the classic color combinations of red, pink, and white for a candy cane look, to detailed nail art. You can give your fingernails an elegant update with ombre nails, creating a beautiful, versatile look that is ideal for all occasions. Or use ombre as the base for cute Christmas characters; the choice is yours!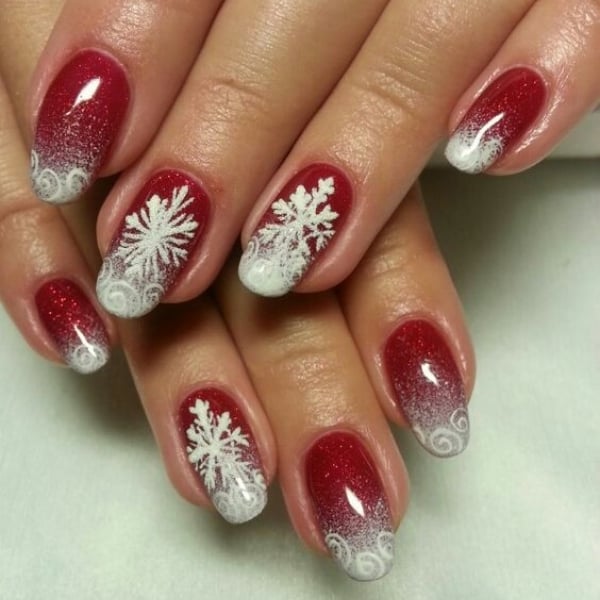 47. Hot Pink Ombre Nails
When it comes to the perfect color for your manicure, you cannot go wrong with pink. There are many shades to choose from, making it easy to find the hue that best suits your preference and complements your skin tone. Hot pink is a vibrant shade of pink that is unmissable and will demand attention, highlighting your nail shape and length. Hot pink ombre nails can be toned down by pairing them with a white or lighter shade of pink. Or you can create a high-contrast finish by using hot pink and a clashing color like black.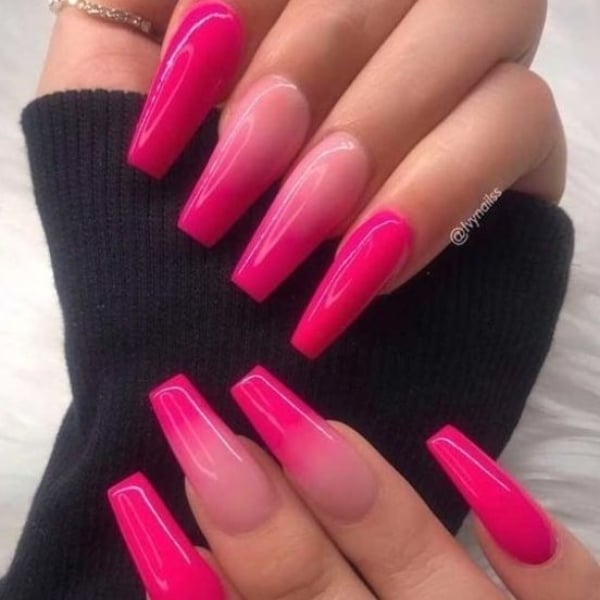 48. Ombre Powder Nails
Powder nails are a type of artificial nail created using a technique that involves dipping the nail into a colored powder, which is covered with a sealant. This makes the polish chip-resistant and will give you longer-lasting nails. There is a wide range of powders to choose from, giving you versatility with your nail art and letting you find the combination that works best for you. The ombre technique is also a gorgeous way to draw attention to your fingernails. It will give you a sophisticated or playful finish; depending on the colors you choose.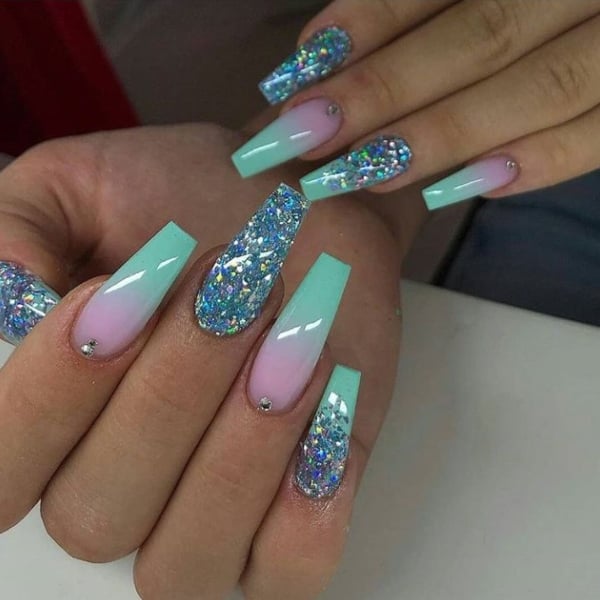 49. Pink And Blue Ombre Nails
Pink and blue are complementary colors and will look gorgeous when combined for an ombre manicure. There are various shades of pink and blue to choose from, depending on how dramatic you want the contrast in colors to be and how bold and bright. A great choice would be to opt for two muted hues like pastel pink and baby blue for a soft, dreamy look. However, you can also choose saturated colors like hot pink and royal blue for an electrifying manicure.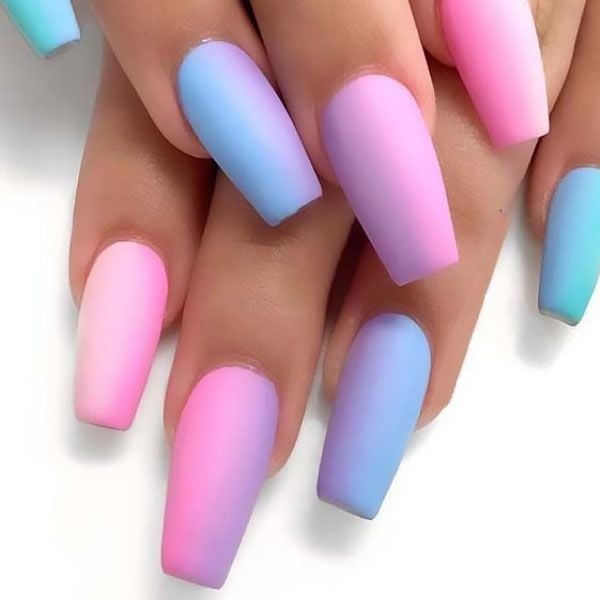 50. Two Tone Ombre Nails
Two-tone refers to a look that has two different shades or colors. The ombre nail trend is an excellent way to try multiple colors at once and is created by seamlessly blending two or more colors. The colors can be of your choosing, depending on your desired result. Natural-looking nails that are perfect for all occasions can be created with nude and white, while brighter color combinations will draw attention to your fingernails and highlight the shape and length of your nails.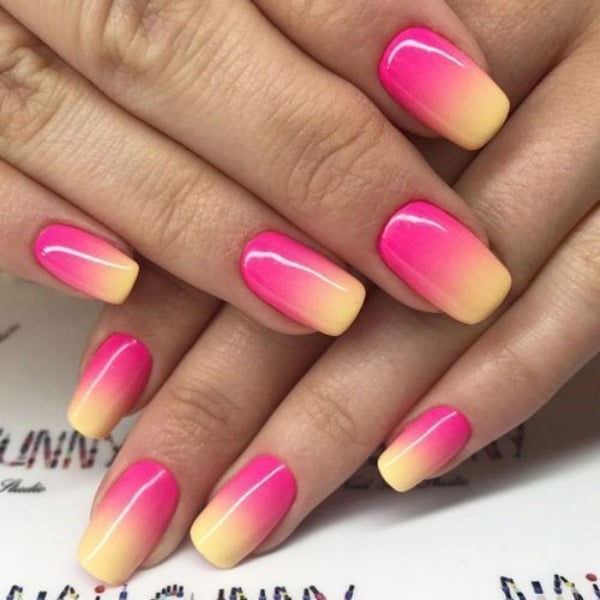 51. Almond Ombre Nails
When determining which nail shape is best for you, consider almond nails because it is one of the most versatile and flattering shapes. The almond nail shape is defined by its tapered sides and round peak and is given its name because it resembles the nut. These nails are best at medium or long lengths to show off the shape and give you more space to get creative with your nail art, including the ombre effect. Almond ombre nails are feminine and can make the finger look slimmer and complement wide nail beds.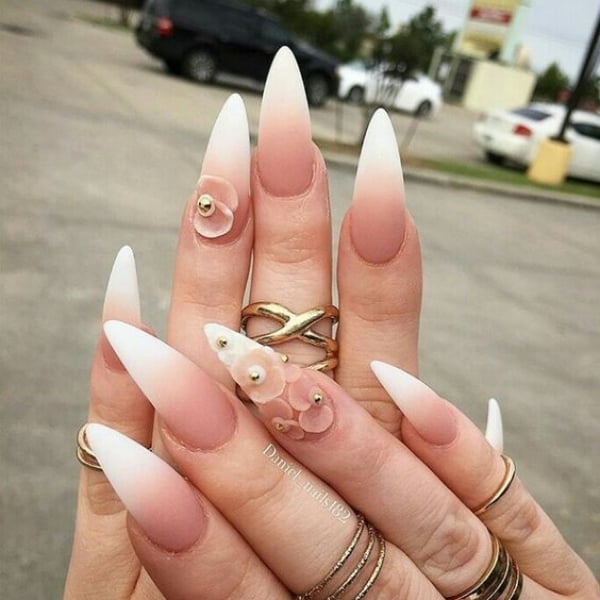 52. Beige Ombre Nails
Beige is a light-brown color that is neutral and easy to mix and match with other solid colors. It is an excellent choice for your manicure if you want something simple, understated, and feminine. This is a color that will mix and match with everything and complement nails of all lengths and shapes. To make the beige more interesting and create a fun finish for your manicure, try the ombre approach. Combine your beige polish with white or another nude color for a subtle but pretty design.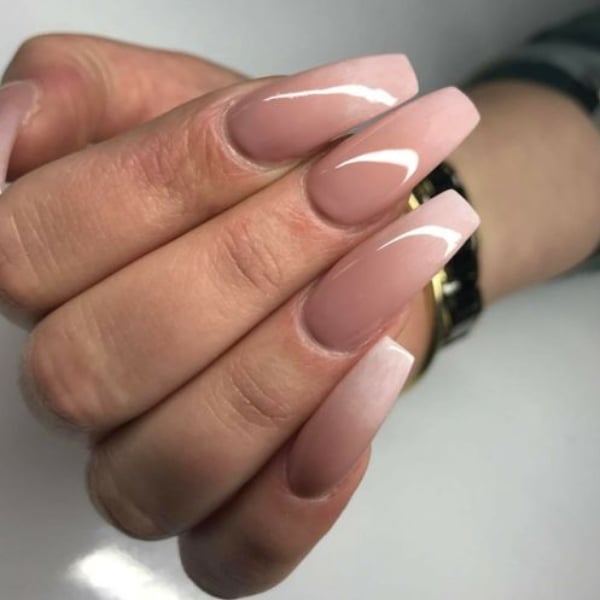 53. Coffin Glitter Ombre Nails
Glitter nails are an excellent way to add a little sparkle to your life. There is a wide range of glitter polish to choose from, or you can get creative with your manicure by combining several shades for an ombre finish. The brilliant blend of colors will create a visually interesting manicure that you will want to show off. An alternative could also be to add glitter polish over an ombre base, for example, focusing it on the tips to draw attention to your nail shape. An excellent shape is coffin nails, which are defined by their tapered side and a square tip.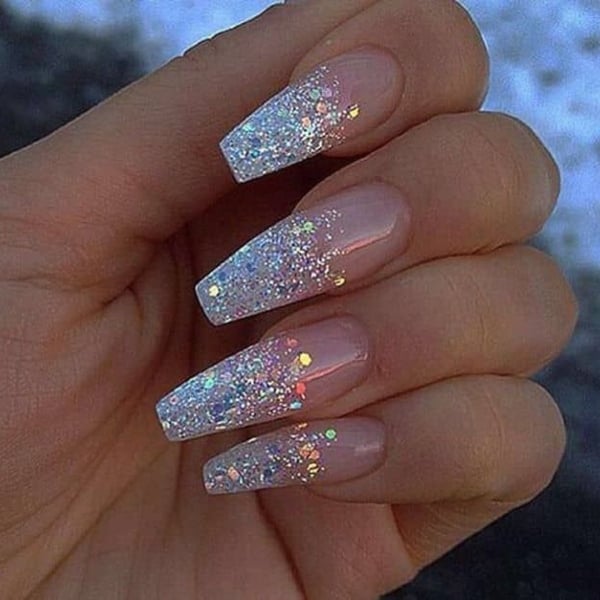 54. Color Ombre Nails
Your manicure is an excellent way to add a pop of color to your appearance and show off your playful side. There are many shades to choose from, making it easy to find the combination that appeals to you the most and will draw attention to your fingernail shape and length. For a fun way to combine different hues, try ombre nails. The effect is created by seamlessly blending two, or more, colors.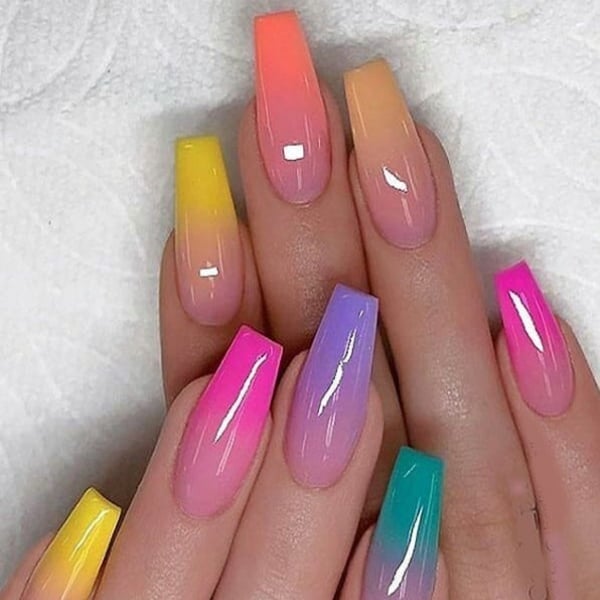 55. Light Blue Ombre Nails
Light blue nails are a pale shade of blue that is incredibly versatile and flattering on most people. The softness of the color makes it easy to wear and can mix and match with other light or neutral colors for a pretty and romantic finish. Ombre designs can look sophisticated and feminine, but your manicure can also be symbolic. Light blue is associated with tranquility and peace, letting you channel these feelings or reminding you to let go of the things that do not make you feel fulfilled.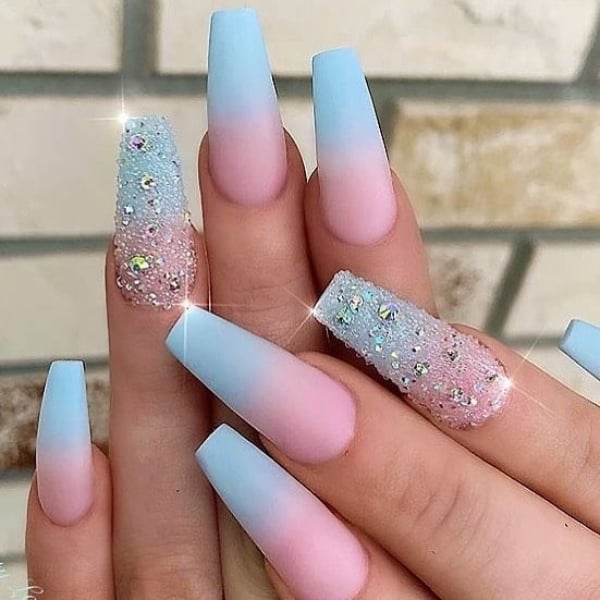 56. Ombre Nails With Diamonds
Ombre nails can be created in the color combination of your choosing. They can also be mixed and matched with other nail techniques for a contrasting finish. This includes adding gems and diamonds for a 3D finish. How you add them to your nails will differ depending on the desired result, but for a subtle and pretty finish, you can focus the gems at the base of the nail. Diamond nails will add sparkle to your appearance and can feel luxurious.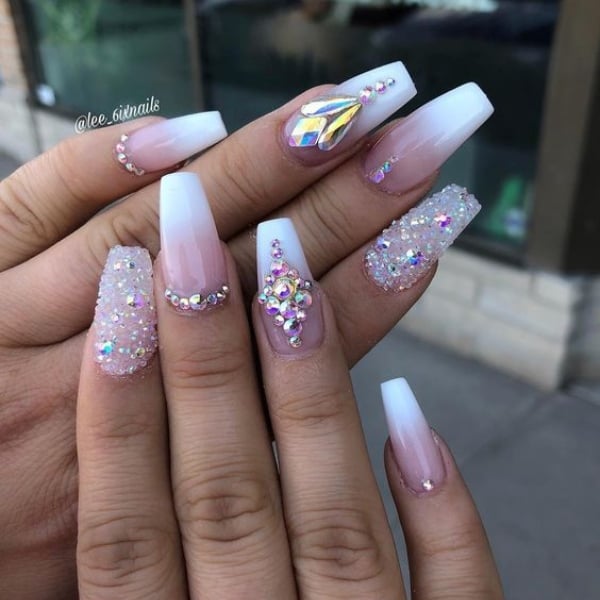 57. Teal Ombre Nails
Teal is a bluish-green color associated with rebirth, rejuvenation, and serenity. You can channel these things with your nail art, making a subtle statement about your thoughts and feelings. In addition, a teal ombre manicure is an excellent way to draw attention to your fingers and is universally flattering. You can combine it with other shades of blue or green for a blended finish or tone it down by pairing it with nude shades.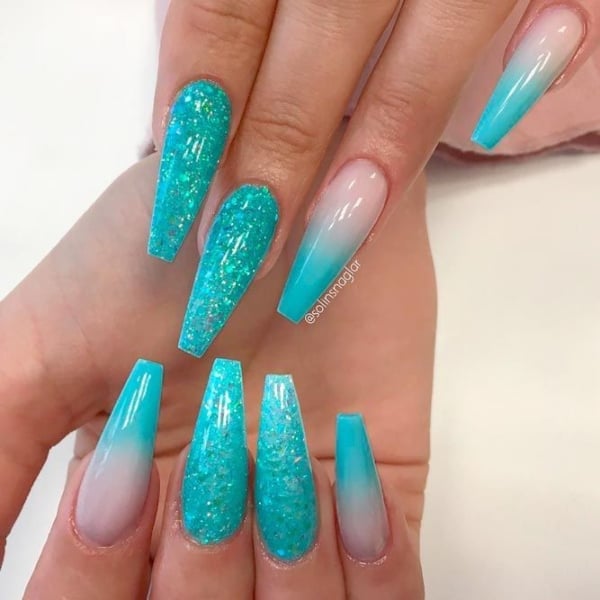 58. Halloween Ombre Nails
Halloween nails can be cute or spooky and there are many different color combinations and artwork to experiment with. This gives you versatility with your manicure and your creativity is your only limit. Ombre is an excellent way to try multiple colors simultaneously, including bold, clashing colors for a high-contrast finish. You can also mix and match your nail art, opting for selected fingernails that have the ombre finish, and others that include Halloween artwork.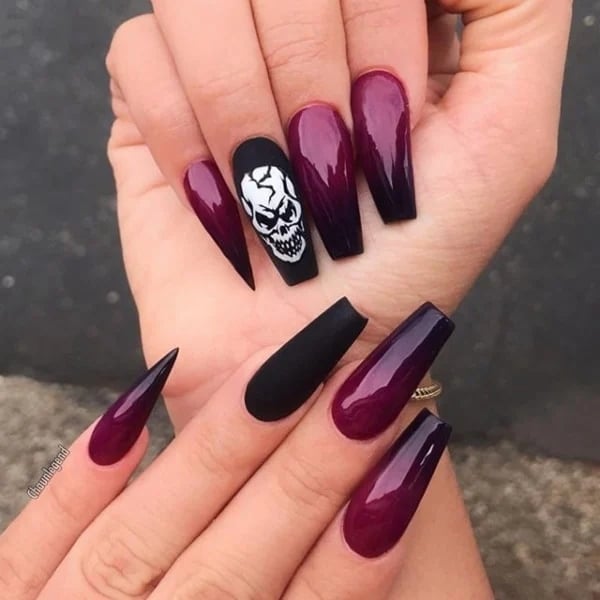 59. Ombre Sunset Nails
Ombre nails are a fun way to blend colors and have stunning results. For a bright finish, you can be inspired by the colors of the sunset, letting you blend pinks, purples, oranges, and dark blues. In addition to the ombre effect, you can also add silhouettes of palm trees or clouds for a more detailed finish. Sunset is one of the most beautiful times of the day, but it can also be symbolic. It will show you got through the day and another will come and with it new opportunities.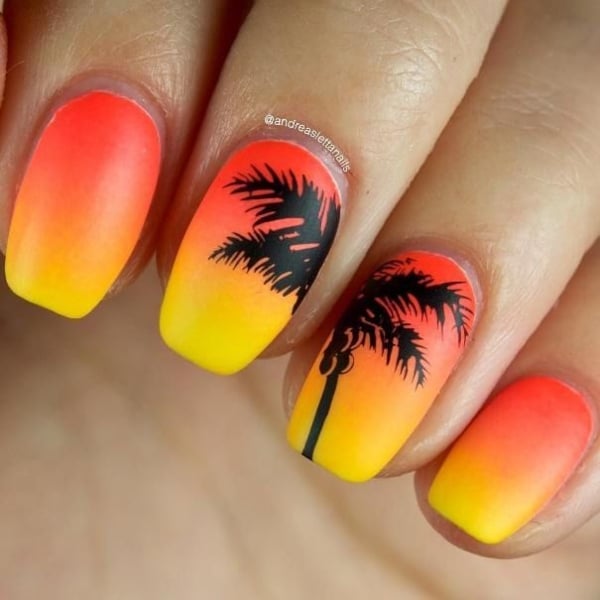 60. Spring Ombre Nails
Spring nails are often created with soft, muted colors, like pastels, giving you a dreamy and feminine manicure. These hues mix and match easily, so you can combine your favorite shades easily, making it the ideal manicure, no matter what the occasion. Keep it simple by choosing to combine only two colors. Or pick a different combination for each fingernail for a mix-and-match effect. Spring is also the time for new life and new beginnings, and this can be reflected in your manicure.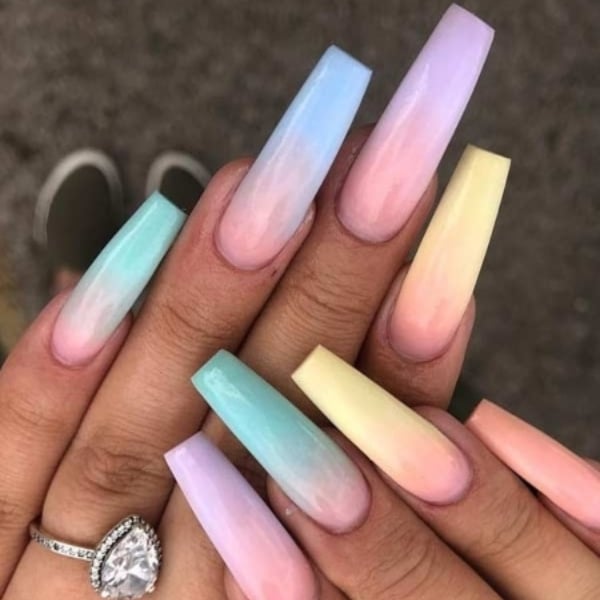 Ombre Nails FAQs
What are ombre nails?
Ombre nails feature two colors smoothly graduating into each other. It's a popular look that is particularly striking when done with a dark and light color coming together. However, it can also be done with different textures such as glitter and chrome.
How long do ombre nails last?
Ombre nails done with polish will last up to seven days before they generally start chipping. If your ombre is gel or dip powder, though, they'll last longer, around two to three weeks. At this point, they'll need to be filled in due to natural nail growth.
Do ombre nails cost more?
Like extravagant nail art, ombre nails can cost more because they require extra time, effort, and product to create the look.
Can you get ombre nails filled?
You can get ombre nails filled. If they're acrylic, the ombre will be nail polish, which gets removed with every fill anyway. If you have powder dip nails, the first couple of layers will be filed off, filled, and new color applied. Finally, for gel nails, you can fill them or soak and file them off to start again if they're lifting.
Can you get Ombre on real nails?
You can do ombre on your natural nails by using nail polish, nail tape, and a makeup sponge. Apply the tape to your fingers to prevent painting your skin. Then apply two coats of the first color. Next, it's time for the ombre. Paint the second color onto the sponge and dab it onto the tip of your nail until you have the desired effect, applying more if you need it. Then finish off with a topcoat.
What do you use for ombre nails?
Ombre can be done in a variety of ways. Firstly, you can use nail polish and a sponge for a less permanent option. You can also get your nail technician to create an ombre effect using acrylic, gel, or dip powder — whatever their preferred material is. These are slightly trickier but will last longer and look incredible.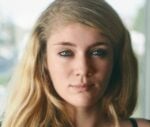 Cailyn Cox holds a degree in journalism and has been working with The Trend Spotter as a writer for over ten years. She has worked with some of the most prestigious women's and men's lifestyle publications. For her, writing is not just a job; it's a passion, which is why each article she writes is approached with such enthusiasm and dedication. She has extensive knowledge of hairstyles, tattoos, and beauty and has made a career out of creating informative articles that appeal to women and men of all ages.
SUBSCRIBE TO OUR NEWSLETTER
Subscribe to our mailing list and get interesting stuff and updates to your email inbox.