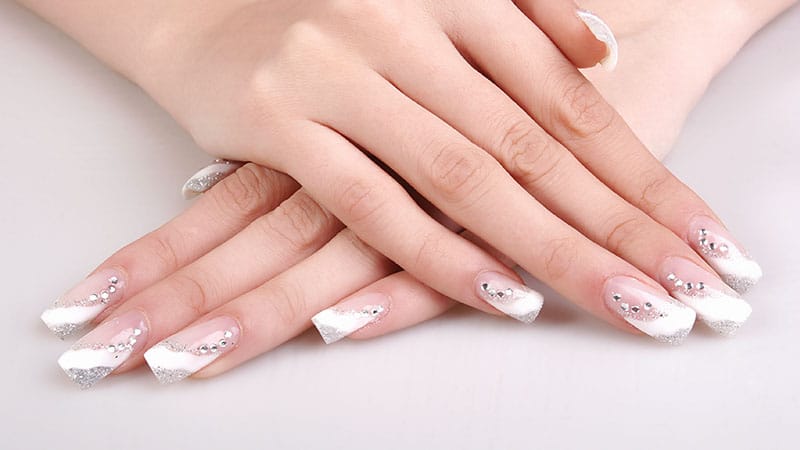 There are so many different options to choose from when it comes to nail art, but if you want to add some sparkle to your appearance, diamonds and rhinestones are fantastic choices. They are also incredibly versatile and lend themselves well to various artwork; if you want something luxurious, then gold flakes and detailing are great. If you wish to have bold or bright nails, then mint lacquer or bright blue hues will bring a smile to your face. Bedazzled manicures are cool and can be incredibly flattering. Plus, it is also an easy way to achieve a stylish and fashion-forward look. Nothing is stopping you from experimenting with different angles, colors, and techniques to find something that reflects your style. If you are heading to a special occasion, or want your dream wedding nails, keep reading to get inspired.
1. Diamond Nails with Gold Detail
Diamond nails with gold detail look sophisticated and luxurious. The color combination is simple yet striking, and they are effortless to wear, lending themselves well to various occasions. Choosing to add diamantés to a feature nail means you don't have to worry about your nails getting snagged on things, and this look is also much more subtle. It is a fantastic way to draw attention to your hands and one finger, in particular. Many women choose to show off their ring finger, highlighting their engagement or wedding rings.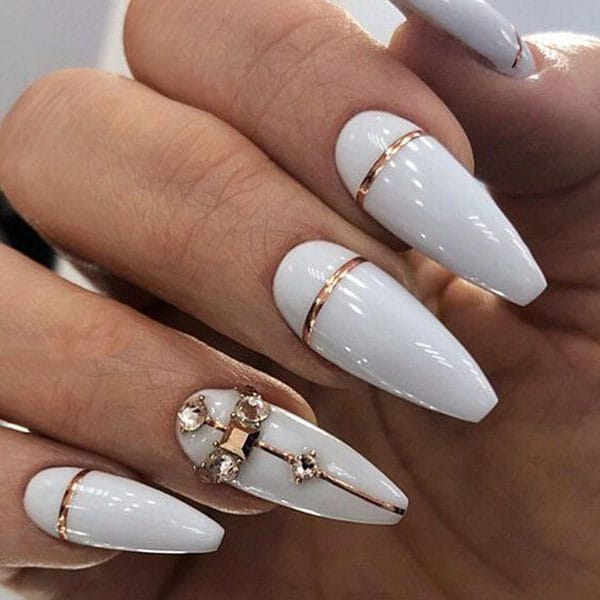 2. Blue Hearts and Rhinestones Design
Blue is a color that evokes calmness and tranquility. It is a dreamy shade that is easy to wear and suits all skin tones. There are various shades of blue to choose from; you can pick your favorite or combine several, depending on how dramatic you would like your nail art to be. For a fun and eye-catching look, the blue hearts and rhinestone design are fantastic. It's a pretty combination that is super feminine and luxurious. Hearts are also symbolic, being a universally recognized symbol of love and passion. Perhaps you want to remind yourself of the things you hold dear with your nail art? Or maybe you like the way it looks. Either way, this is a fantastic option to get your hands the attention they deserve and bring a smile to your face.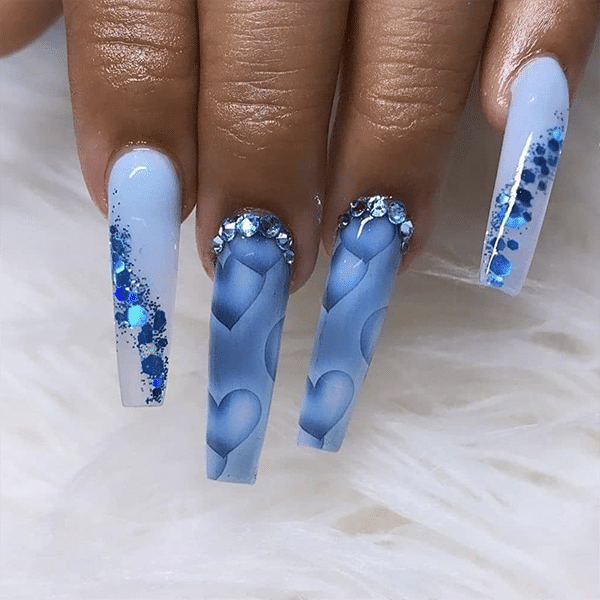 3. Playful Diamond Nails
Your nail art is an extension of your personality. It is a way to express yourself and have fun, and playful diamond nails show the world you're a woman who doesn't take life too seriously. If you want artwork that is bold and bright, this is a fantastic option. You can play around with different color lacquers and mix and match your favorite rhinestones and diamantés. Each nail can be different, which is excellent if you have trouble deciding on just one design. This look makes a statement, and although it is not the most practical option and cannot be worn in corporate settings, it is perfect for a summer vacation.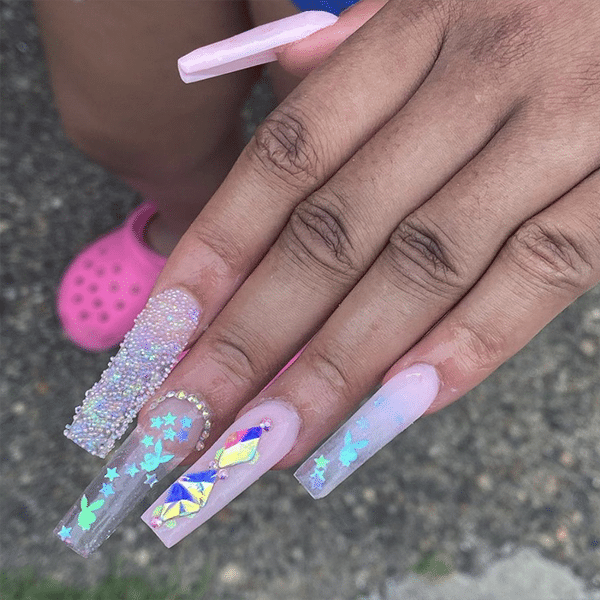 4. Rhinestones and Butterflies
Rhinestones and butterflies are the nail art look that will make you dream of a vacation. There is something so summery about this combination, and it is striking, bright, and fun. You can make each nail the same, featuring tiny butterfly nail stickers and rhinestones, or you can create something different. This depends on how dramatic you want your look to be. Butterflies are not just beautiful; they are also symbolic, representing change and freedom. This is a great way to express your thoughts and perfect for a woman going through a period of transformation.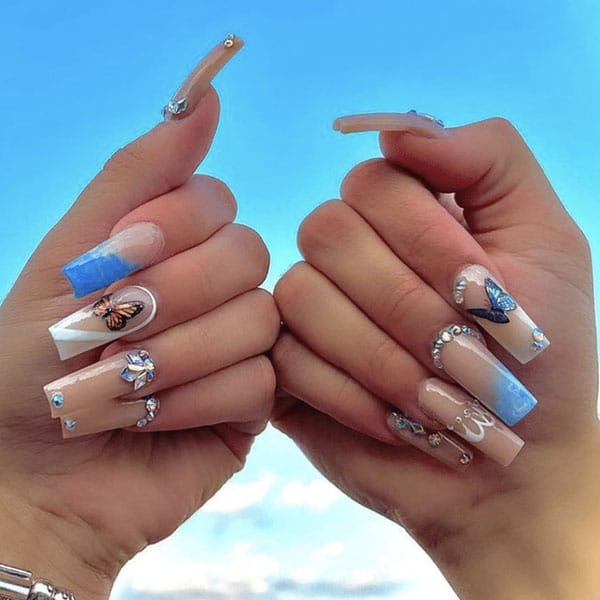 5. Matte Pink Nails with Rhinestones
If you're someone who wants a manicure that is gorgeous and ultra-feminine, then matte pink nails with rhinestones are the look you have been searching for. Pink lacquer is a timeless classic and suits every nail shape and skin tone. It is easy to wear, pretty, and versatile, allowing you to add stickers and jewels to it to make your artwork unique and interesting. Why opt for matte lacquer? The finish doesn't last as long as glossy nails and is more likely to chip. That said, it adds texture to your manicure and is very trendy. When deciding what rhinestones to add, it is a good idea to stick to a similar color to your base coat. This makes for a more streamlined appearance. Keep it simple with just two or three jewels.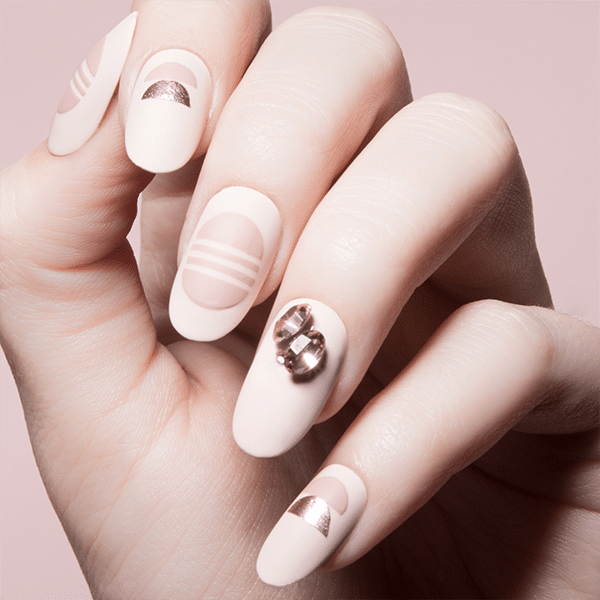 6. Diamonds All Over
You're probably not going to wear this look in the office, but you should try it out for a special occasion. This artwork is all about making a statement, and it is very high-fashion. It is not the most practical nail art, and you may be concerned about it snagging on clothing, but few looks are as fun and striking. Diamonds are also symbolic, so if you're a woman who wants to make a subtle comment with her nails, then this is the look for you. The gem represents strength, purity, and loyalty and is often associated with wealth, luxury, and the finer things in life.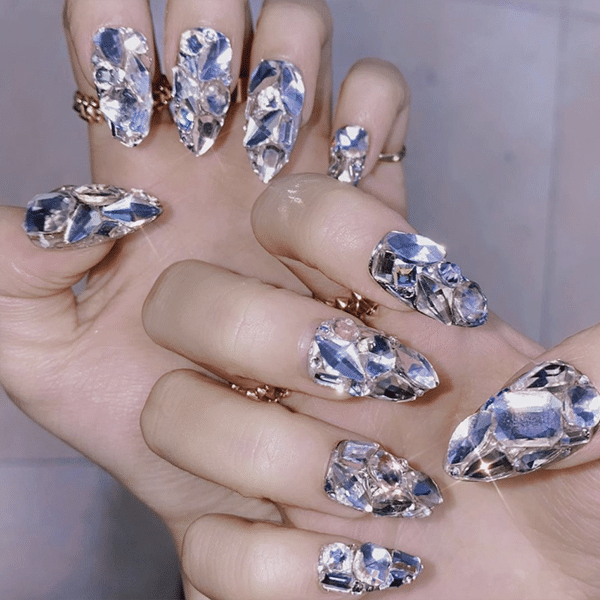 7. Diamond Nail Ring
Adding jewels to your nails makes for a very feminine and luxurious appearance. There is something so fun about this option, and you're able to create different patterns for bold or simple and elegant looks. The diamond nail ring falls somewhere between these two categories as it is easy to wear and striking. The idea is to focus the attention on a single fingernail by wearing a faux diamond clip over your nail. For the rest of your manicure, tone it down with a clear or nude polish and add a few tiny beads or diamantés on one or two other fingernails. The result is omething that is bound to get your hands noticed, but you don't have to worry about it being too over-the-top.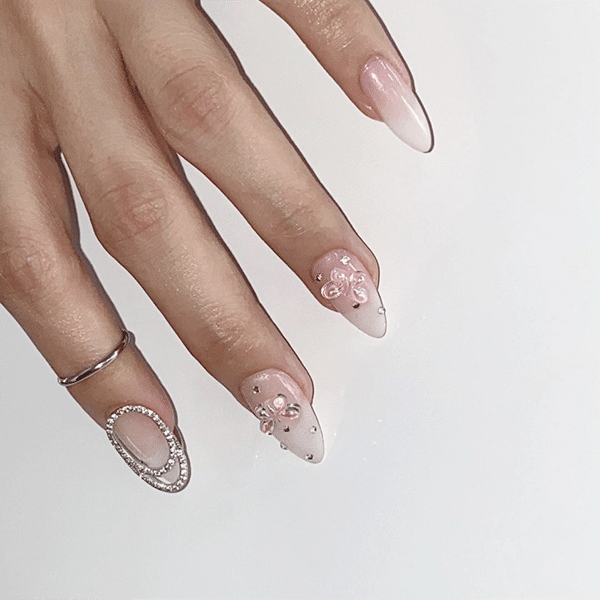 8. Mini Diamonds with Stars
There are few nail art combinations as pretty as the mini diamonds with stars look. The shine of the jewels adds to the overall look, making it appear as though the stars twinkle on your nails and are reminiscent of the night sky. You can choose to make the stars a single color for a more toned-down appearance. Or, if you're a woman who loves color, pick several of your favorite lacquers and paint stars of various colors on each fingernail. Stars represent direction, hope, and guidance, so in addition to being stunning, your artwork is also symbolic. Dream big, and let your personality shine through this gorgeous manicure.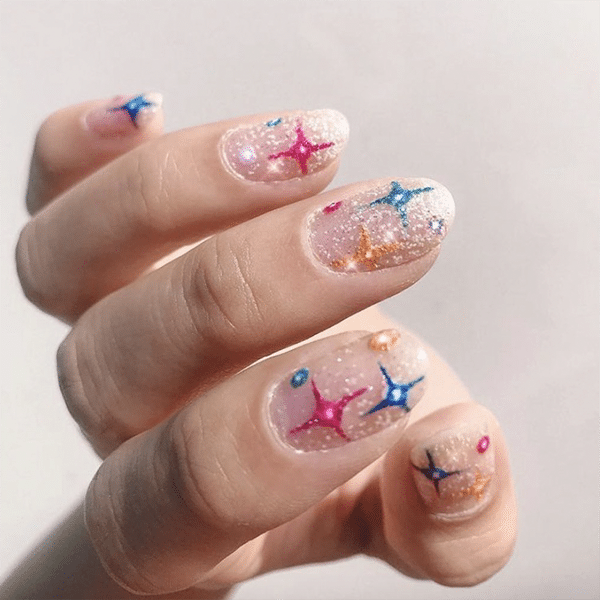 9. Elegant Diamond Nails
The saying 'diamonds are a girl's best friend' is true, which is why faux diamond nail art is such a popular choice. If you want an elegant look that is pretty without being too in-your-face, then this is it. It's a twist on a French tip manicure, but instead of the lacquer lining the top of your fingernails, you're opting for tiny diamantés. To make the look even more interesting, you can add a second line at the base of your nail. Paint your nails with a clear or nude base coat to keep it simple and draw attention to the little gems.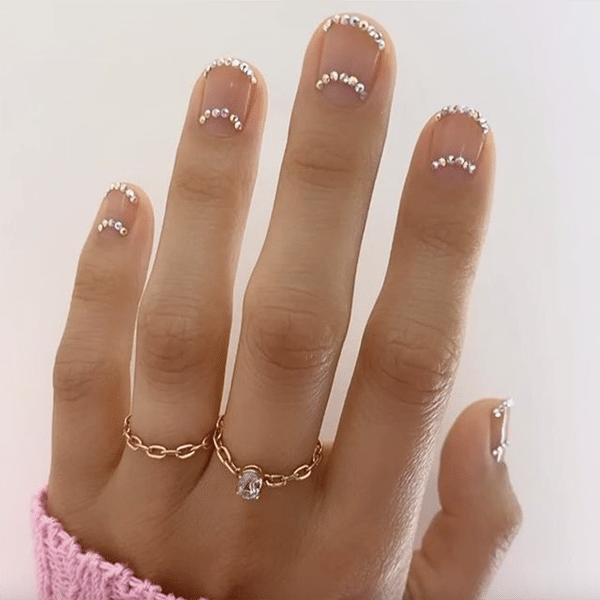 10. Natural Nails With Diamonds
Fancy polishes and highly detailed artwork are great if you have the time to do them, but many of these looks are not always appropriate for the office or more formal events. But jeweled nail art is nothing if not versatile, and natural nails with diamonds are one of the easiest to wear manicures you'll find. This look is subtle but gorgeous, easy to create, and will lend itself well to various occasions. It also works with nails of multiple lengths and shapes. Add a clear base coat and then choose a single diamanté for each fingernail. These can be of varying sizes, and you can experiment with the placement; different angles make for a more visually interesting appearance.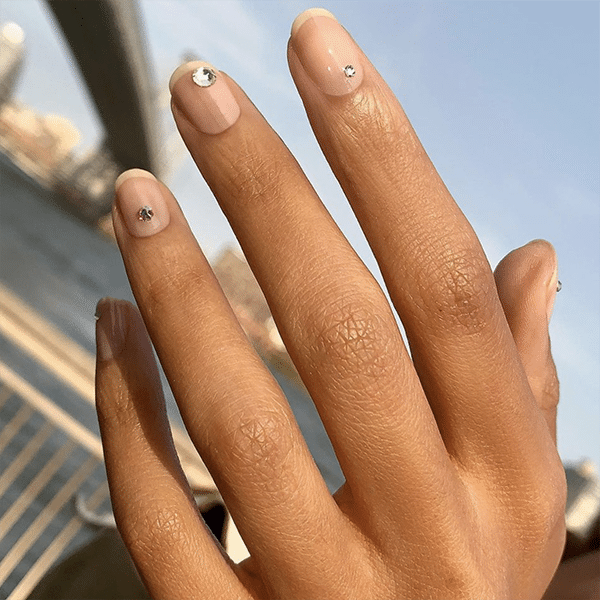 11. Mint Nails with Rhinestones
Adding rhinestones to your nails is always a good decision because they make for a very eye-catching manicure. The great thing about gems is that they are versatile, and there are so many different looks to try out, including mint nails with rhinestones. The color is a favorite for 2021 and is fresh and cool. It is a calming hue and suits every skin tone. Feel free to play around with the placement of your rhinestones, either at the tip of your nails, the base, or the center, and complement them with mint green lines.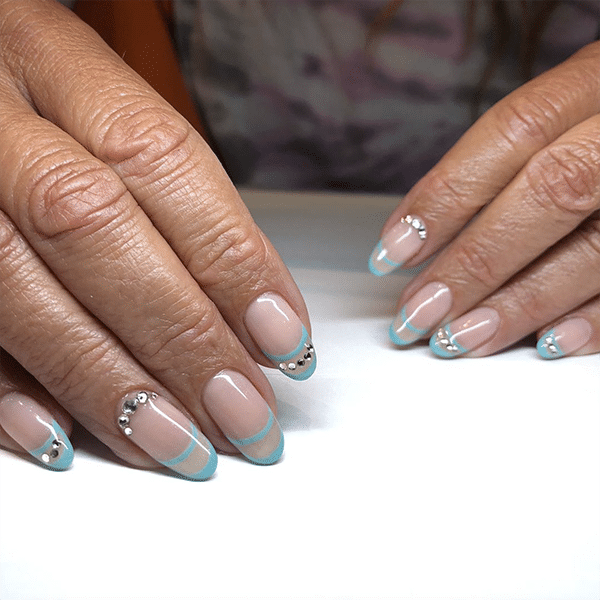 12. French Manicure with Rhinestones
If you are a woman who likes to combine the classics with something elegant and fun, then the French manicure with rhinestones is for you. It is an excellent choice for a wedding if you feel that the traditional options are too plain for you. The white tips define French manicures, and they ooze sophistication, but a more modern approach would be to experiment with different jewels. Play around with the placement, whether in the center of your fingernail or at the base and find what works for you. If you want a really dramatic look, then pile on the rhinestones, or opt for fewer and smaller ones for a more subdued approach.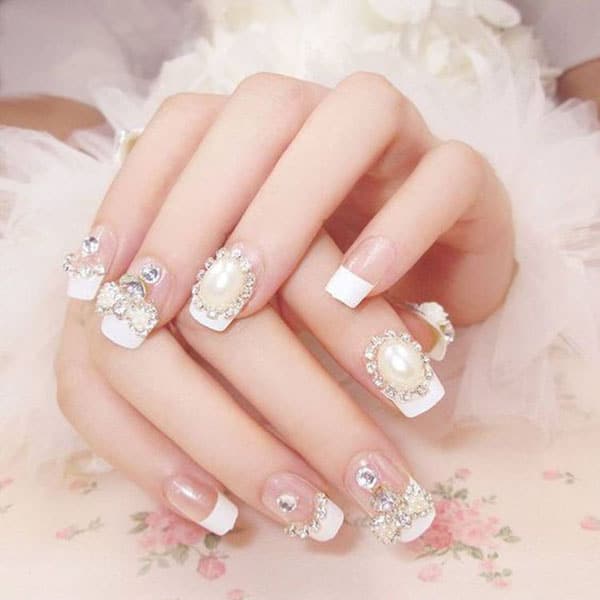 13. Ombre Nails with Diamonds
Ombre nails have long been a favorite for nail art because it is one of the easiest ways to create a fashionable and fun look. Why choose a single shade when you can combine them? This technique is all about blending two hues; usually, one light and the other dark, to create a gradient effect. It doesn't get much better than this, except if you add faux diamonds to your nails. Make your fingernails sparkle and be prepared to get a lot of attention thanks to this creative nail art, which is perfect for the style-conscious woman.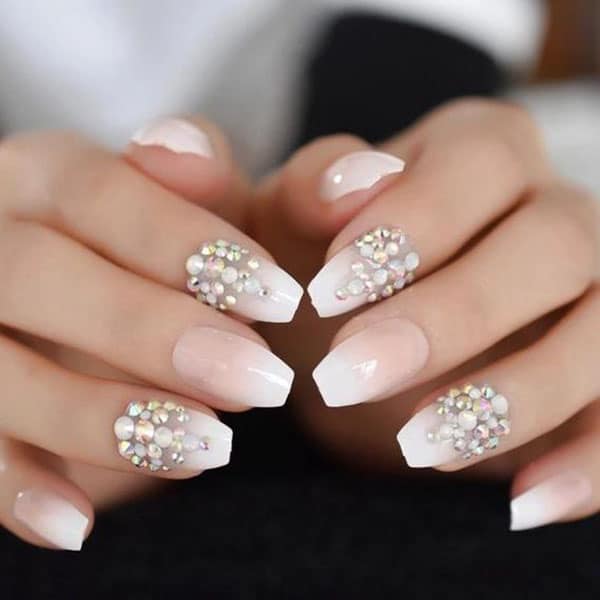 14. Mountain Peak Nails with Rhinestones
Rhinestones are a great way to add sparkle to your manicure, and they are versatile; they can be combined with various colors and different nail art. Plus, you can add them to nails of all lengths and shapes. That said, some are more dramatic than others, and the mountain peak nails with rhinestones is a look that demands attention. The style features a wide base, soft edges, and rounded tips and earns its name because they look like mountain peaks. It's a popular choice among fashionistas and celebrities, like Lady Gaga, and because of the length, you can experiment with many nail art ideas. Unleash your creative spirit by adding jewels in various shapes and angles. You can also use your lacquer to paint patterns or keep it simple by just opting to just do your tips.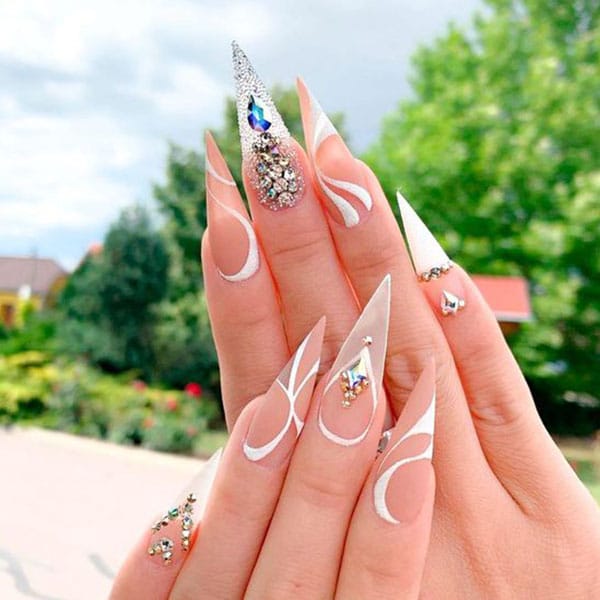 15. Wedding Nails with Diamonds
Your wedding is usually a time to stick to tradition, and many brides opt for simple and classic nail art. However, wedding nails with diamonds are still elegant but add just a little sparkle to your look. Your hands get a lot of attention on your big day, after all, you will be putting on the most important ring of your life, so it makes sense to have a manicure that you can be proud of. If you want something different but not over-the-top, this is the look for you. Just choose tiny diamantes and place them at the base of one or two nails. You may choose to highlight your ring finger, or perhaps you prefer the middle finger or thumb. The choice is entirely up to you, but the result is gorgeous.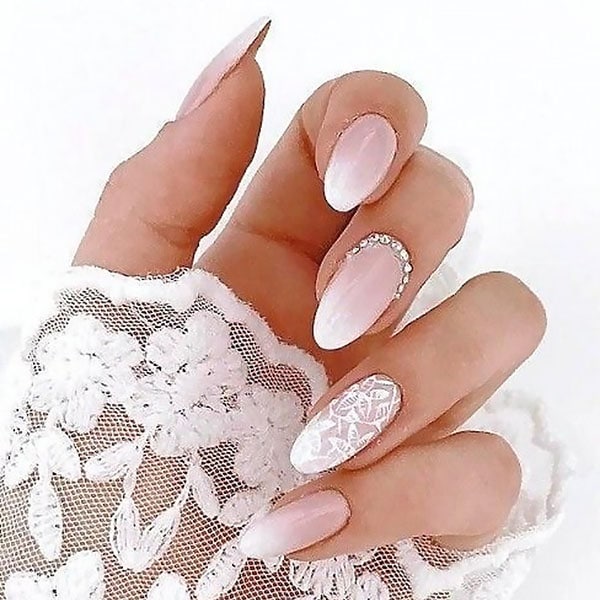 16. Gold Flakes and Diamonds
Gold is a color that makes you think of royalty and wealth, and there's a reason it's a favorite for nail art. There are so many different ways you can incorporate this rich hue into your manicure, but one of the best and most popular options is with gold flakes and diamonds. The use of little diamantés adds sparkle to your manicure and gives it an elegant feel, while gold flakes are stylish and versatile. They can be applied anywhere you like; you can decide on the gold nail design placement you feel works best. For an extra bold approach, pile on your favorite chunky gold rings and draw attention to your hands.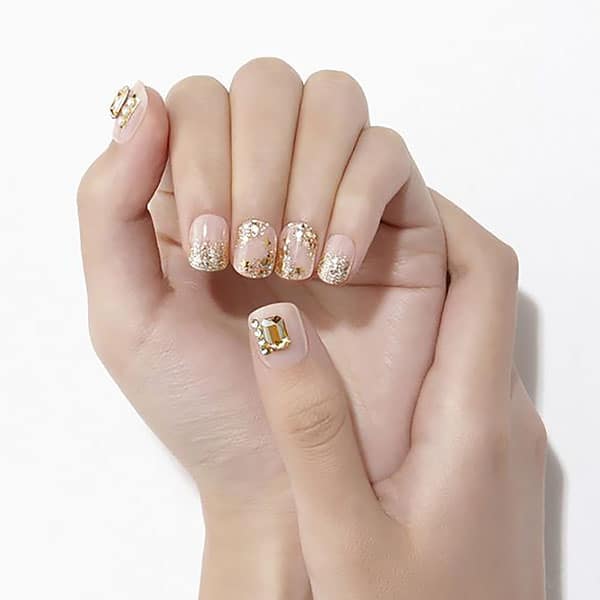 17. Diamond Polka Dots
Polka dots are a versatile and timeless pattern, and they can be created with different nail polishes, wraps, or, for a very sparkly look, with faux diamonds. This manicure is a modern take on a classic and is easy to wear and elegant. To make the focus on the diamantes, opt for a simple base coat. A dreamy pink, soft cream, or a clear coating is a great option. There are no rules with what you can and cannot do. You can get creative with your placement of the dots. Opting for the same size diamonds is excellent for a streamlined look, but if you want a more fashion-forward option, you can mix and match with the sizes.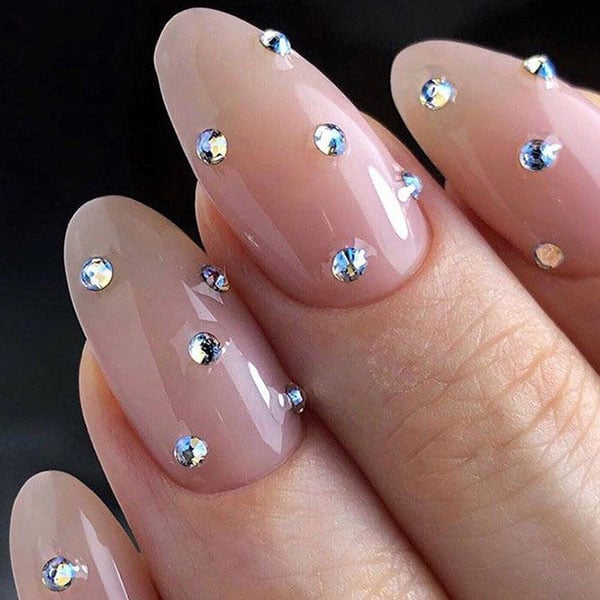 18. Flowers and Diamonds
If you want a simple yet striking look, the flower and diamonds combination is precisely what you have been searching for. Blooms are symbolic of beauty and growth and can make a powerful statement. Aside from the meaning associated with flowers, they are also a pretty and popular choice for nail art because of their versatility. Although they can be created in bright shades, opting for a pale, creamy base with a white flower is a simple yet elegant option for a more laid-back approach. This is an attractive choice for a wedding or special event.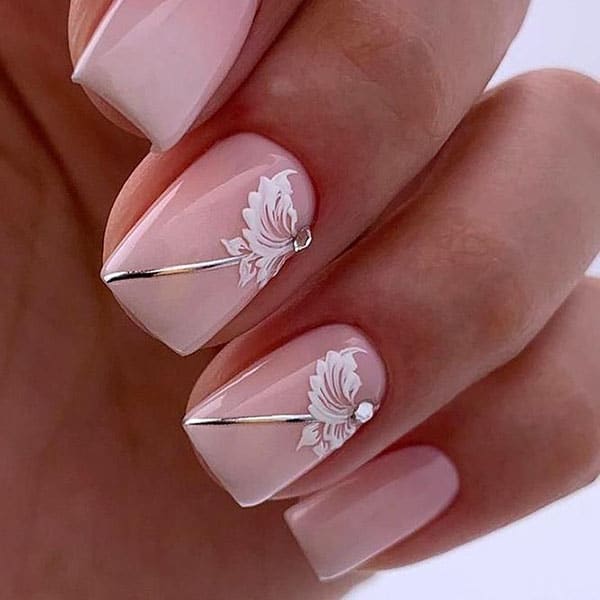 19. Large Rhinestone Nails
Large rhinestone nails are a great way to make a statement. They are big, in-your-face, and hard to miss, but that is the point. These are hardly the most practical nails, and you will find yourself restricted in where you can wear them. That said, they are fantastic for special occasions when you can show off your personality. You can choose from various colors and shapes; hearts, circles, and rectangles are great options. Play around with placement, gluing them at different angles and combining several rhinestones for artwork that you love. It is worth noting that it is better if you have long nails, as shorter options would be restrictive, and it can look overwhelming.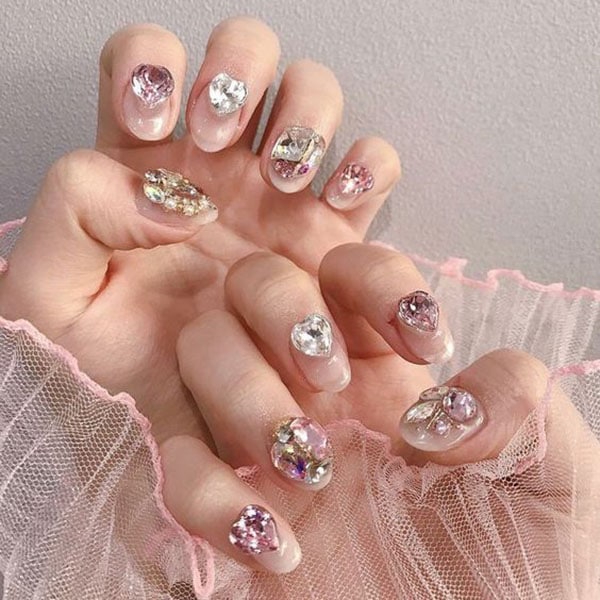 20. Black Matte Nails with Rhinestones
Black matte nail polish is incredibly stylish, and you have probably seen your favorite celebrities or fashion moguls wearing it. The color is associated with seduction, sophistication, wealth, and mystery, and the finish is very fashion-forward, especially when combined with silver rhinestones because of the contrast. Rhinestones also have a sparkling and dazzling effect. You can choose various sizes and shapes to create your desired pattern and decide on the nail you wish to highlight. For feature nails, many people choose the middle or ring finger.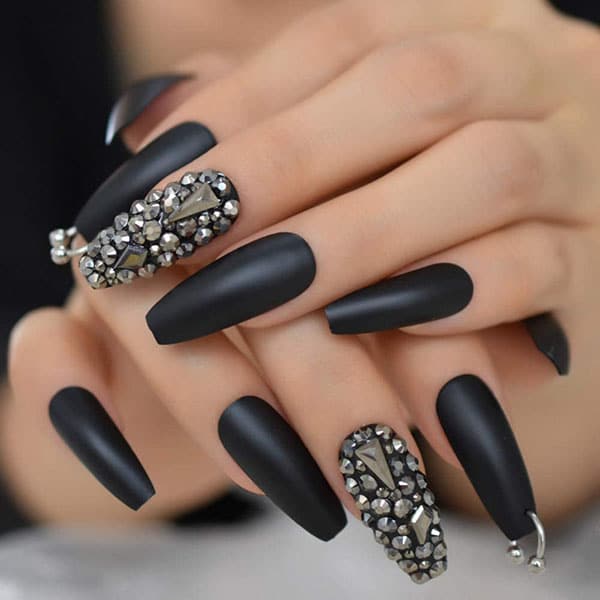 FAQs
How do you apply diamond nails?
Diamond nails are applied to a fresh coat of nail polish. You need to pick them up using tweezers and add nail glue to the bottom of it, then place the jewel onto your nail and press down lightly so that it sticks in place. The lacquer you choose for the base coat depends on your desired outcome; this can be clear or colored polish. You can repeat this process to achieve the look that you want, whether that is a large diamond in the center of the nail or several along the base of your fingernail.
How do you attach diamonds to gel nails?
The great thing about diamonds and rhinestones is that they are incredibly versatile, and you can apply them to regular polish or gel nails. With gel nails, you need to remember to ensure that the foundation gel is uncured so that you can get the stones in place. You will then cure them with your LED lamp once you have created your desired look and seal it with a topcoat.
How do you get jewels to stay on your nails?
To get jewels to stick on your nails, you need to place a small amount of nail glue on the bottom of each of them. Take care when adding the glue that you do not put on too much, as this will come out of the sides when you press down on the gem and ruin your base coat. You can also apply glue to the nail instead of the jewel. You want to apply the stones onto clean, polished nails. You can use a thin layer of nail polish over the rocks to help secure them. If this is a large, 3D look, this last step is unnecessary.
How long do diamonds last on nails?
Adding jewels to your nails should last for at least two weeks. How you care for your manicure will affect this time, though, and if you are doing many contact activities, they may fall off sooner. How dramatic and big your artwork is may also affect the time, as bigger pieces can easily get caught on things and may rip off.
Can I use nail glue for rhinestones?
Several different quick-drying types of glue can be used to apply rhinestones. You can either add the gems with the glue on your nails first or add it directly to the gems.
How do you apply diamonds to acrylic nails?
To apply diamonds to acrylic nails, add a layer of gel to the nail, and then use a tweezer or nail tool to place the gems in your desired patterns. You then want to cure them under the UV lamp. After curing, apply a top coat to help secure them in place. The great thing about nail jewels is that they can be created on different nails, including artificial ones.
SUBSCRIBE TO OUR NEWSLETTER
Subscribe to our mailing list and get interesting stuff and updates to your email inbox.