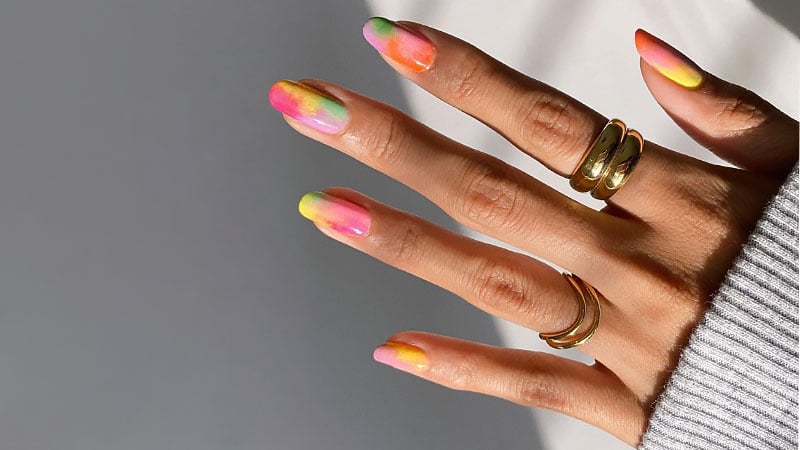 If you're looking for a fun way to add some color to your life, then it is time to embrace rainbow nail art. It is one of the hottest trends, and for a good reason, it makes your fingernails bright and cheery. It is a wonderful way to experiment with various colors and techniques to express yourself and show your personality. The great thing about this artwork is there are so many different interpretations, allowing you to pick something that appeals to you. For those who prefer more subtle and subdued looks, you can paint your nails in different pastel shades or opt to color only your tips. If you want to make a statement, then have fun with multiple patterns, quirky prints, and smiley faces. Or try out interesting spacing techniques. Keep reading for all the inspiration for your next must-have manicure.
1. Pastel Rainbow Nails
Why pick one color when you can have them all? The rainbow nail trend is the stuff that dreams are made of because it is so dreamy and gorgeous. Pastel shades are a longtime favorite because they are easy to wear and girly, but you can update this classic by choosing to paint each fingernail with a different lacquer, thus creating a rainbow effect. From muted greens to baby pinks, this is a look that will suit just about anyone and can be worn almost anywhere.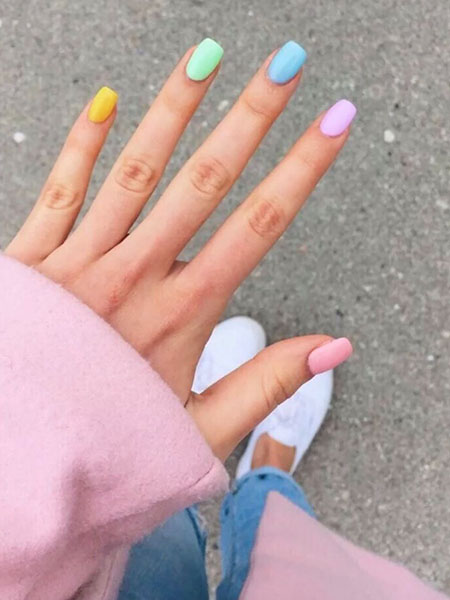 2. Watercolor Effect Rainbow Nails
If you're looking for the perfect nail art for your next manicure, then the watercolor effect is it. The design mimics the way paint blends and dries on a canvas; the combination of this and the bright colors make it a feminine and fun option. To create this design the easy way, you can opt for nail stickers, but if you're one of those women who prefer to experiment with her favorite lacquers, then pick a base coat and allow it to dry. Then add a layer of white polish, and once it has dried, you can then use a paintbrush to apply your chosen hues. Add a few drops of each color onto a piece of tinfoil and add it using a paintbrush. After each shade, dip your brush in acetone and then into the desired lacquer and repeat the process with a different color.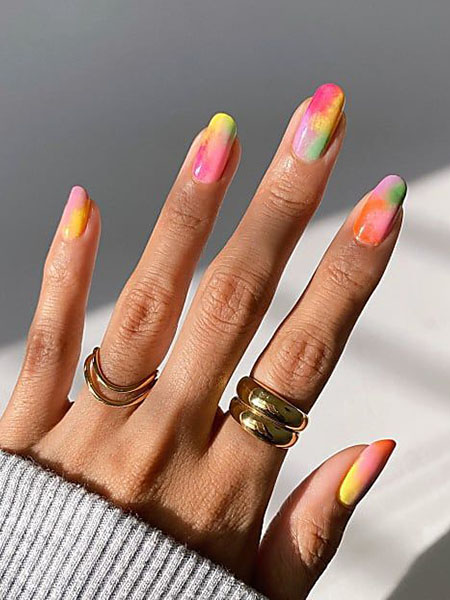 3. Rainbows With Other Patterns Nail Art
There are so many great patterns to choose from which can help you achieve a fun and creative look. Although the rainbow nail art trend is incredibly gorgeous, if you're the type of girl who can't pick one trend, then you don't have to. Have fun and experiment by painting each nail with a different set of artwork. This can be anything from polka dots to animal print. The various patterns will clash, creating a dramatic and interesting appearance. There is so much to love about this look, but it is definitely not for the faint-hearted, so wear it with confidence and be aware that a lot of attention is coming your way! For this reason, it is best if you make sure your hands are well-groomed.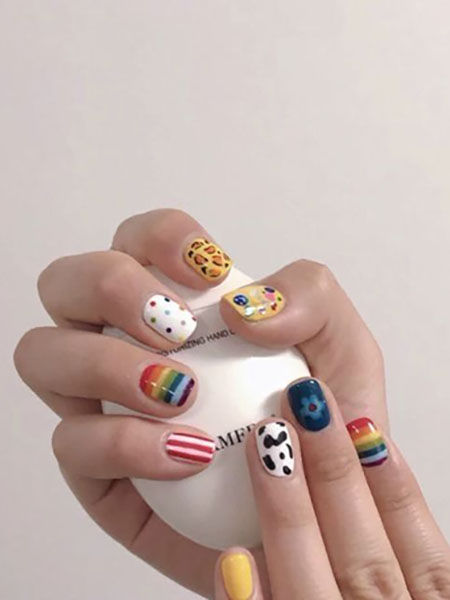 4. Rainbows With Clouds Nails
Rainbows with cloud nails are the girly look you've been dreaming of. Recreating this nail art, which has been inspired by the sky, will leave you with pretty and trendy talons. You don't have to paint every nail, and the ones you do choose don't have to have a matching effect. In fact, mismatched nail art with rainbows and clouds placed at various angles will only create a more visually interesting look. You can play around with the colors of your clouds; maybe you want classic white or prefer a series of soft pastel shades. Feel free to experiment and have fun with this social media-approved design.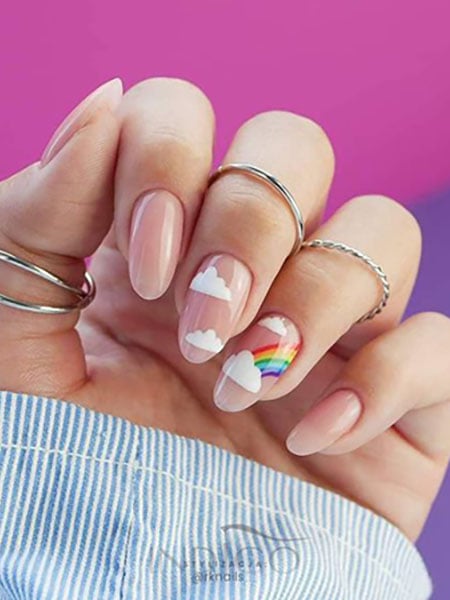 5. Rainbow Smiley Faces Nail Art
What better way to bring a smile to your face and joy into your life than with rainbow smiley face nail art? The great thing about having something cheery on your nails is that it can serve as a reminder to look on the bright side of life. We see our hands all the time, so why not create a manicure that shows off your personality and creativity. You can make the faces using different colors, including yellow, a hue often associated with happiness and warmth. The placement of your artwork can be in the center of your talons, or you can experiment with various angles. The base coat is another way to personalize the look to your tastes. If you want something bold, pick a daring color like red or green, and for a subdued appearance, a clear or nude lacquer will work wonders.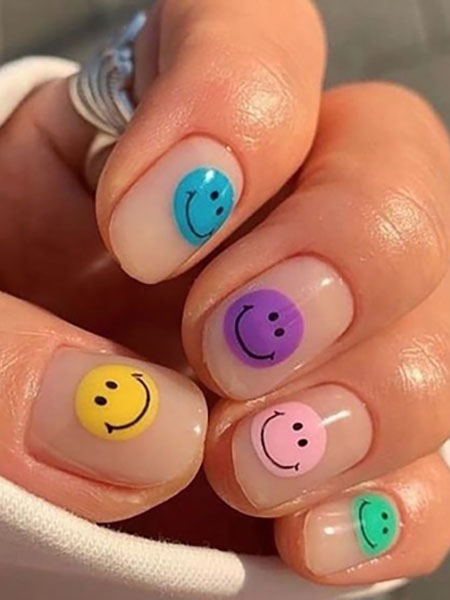 6. Rainbow Art Across the Nails
When it comes to rainbow nail art, the possibilities are endless. There are so many ways to try out this look, some subtle and others bold. The great thing about this is the versatility of the trend, allowing you to pick something that appeals to your style preference. Rainbow art across the nails is a pretty option, creating interesting spacing. You can add various other images, including clouds. Stick with a nude base to allow your nail art to really come to life, and for a more subdued look, pick two or three fingers to highlight and leave the other two plain.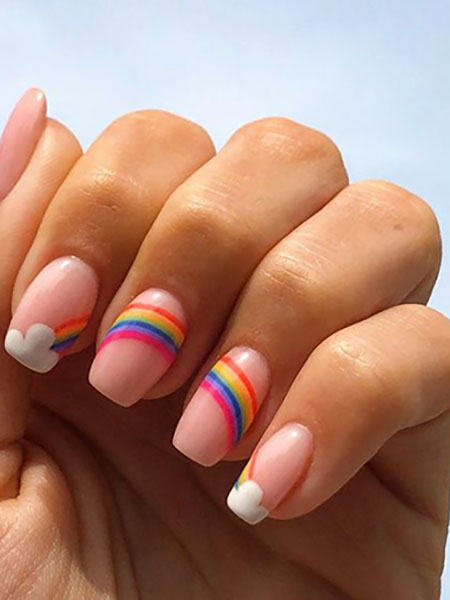 7. Ombre Rainbow Nails
Ombre refers to the shaded technique where colors are brilliantly blended into each other, from dark to light, and it's an effect that is popular with nail art. The ombre rainbow nails are in vogue, and it is a great way to add some color to your talons. Most ombre nails are typically darker at the cuticles and get lighter towards the tips, but you can also experiment by doing this from one end of the nail to the other, for example, working left to the right. Although you can use any bright polish to achieve this artwork, matte pastels are a feminine and stylish option. Your fingernails play an important part in creating an overall chic appearance, and this manicure will definitely help you achieve just that.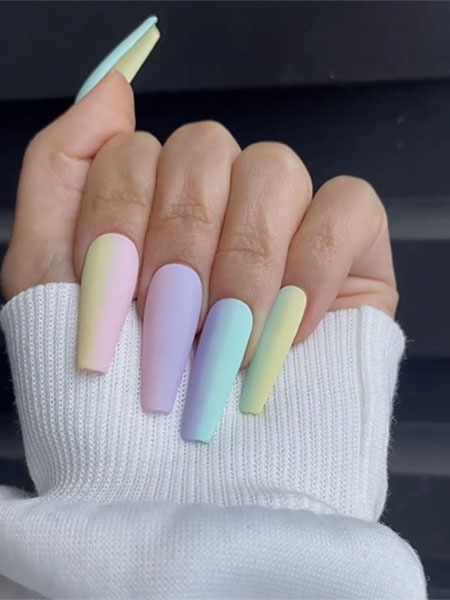 8. Fun and Cute Rainbow Nails
There is a time and place for neutral nail polish and solid shades, but the rainbow nail art trend is not that. This artwork is all about adding some color into your life and bringing a smile to your face. It is a great way to show off your personality and include designs that are fun and cute. Pick your favorite colors and start getting creative. You can paint a different pattern on each nail, or you can stick with a theme; for example, a rainbow on one fingernail, a cloud on the next, and sun or pot of gold on another. There are no rules as to what you can and cannot include. The key is to update your manicure with things you love.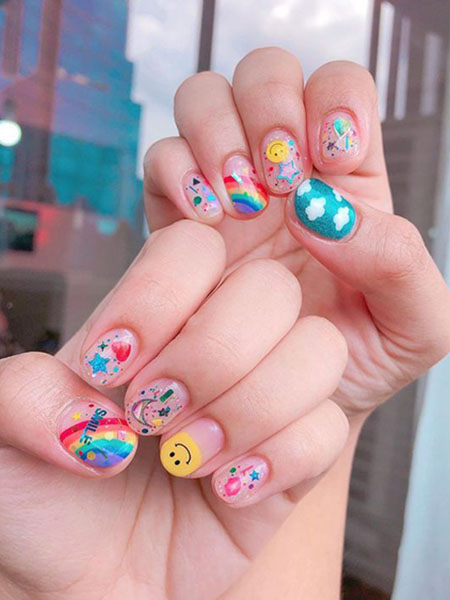 9. French Rainbow Manicure
The French tip manicure had been around for decades and remained a timeless classic. That said, there are ways to make this style modern and bright by swapping the traditional white line on your tips for brighter shades. The interesting use of color and spacing makes this artwork fun yet also versatile and super wearable. It is a way to embrace the rainbow nail art without being too dramatic and is easy to do in the comfort of your own home. If you want a design that is fuss-free but incredibly chic, look no further!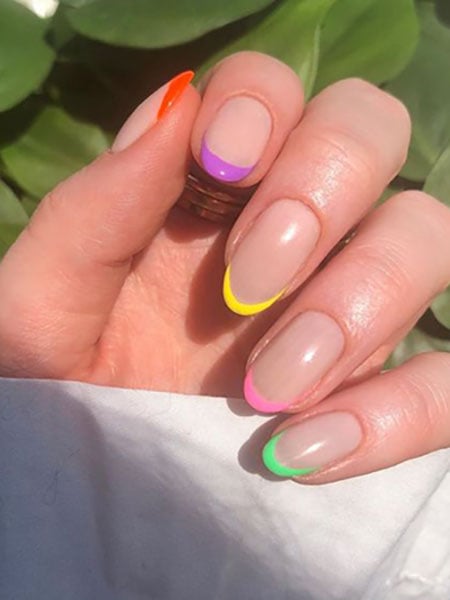 10. Black and rainbow Nails
Rainbow and black nails have a very retro feel to them, and it is a combination that people are bound to notice. Black is such a strong color, associated with strength and sophistication. Painting your nails with this lacquer makes an instant statement, but it is also a hue that lends itself well to other designs, including rainbow artwork. It's great for a base coat because it really allows color to pop. Adding stripes on the tip of your talons makes for a striking and pretty look that is perfect for a date night or a party and is bound to be a real conversation starter.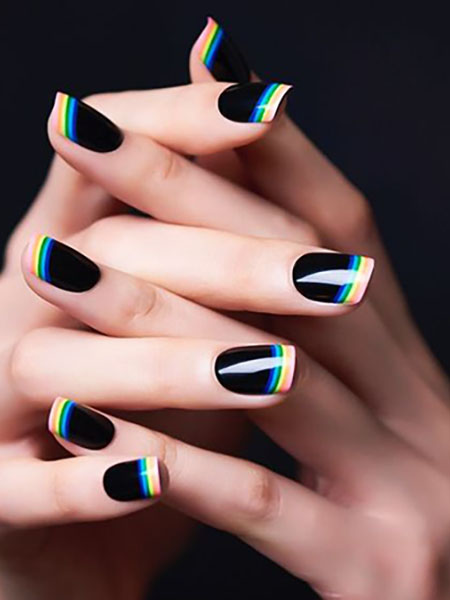 11. Modern Rainbow Tips
Experimenting with different shapes and painting interesting tips instead of solid horizontal lines can create a very modern and fun appearance. But deciding to do this with bold colors of the rainbow makes for an even more dramatic and head-turning look and one that is definitely perfect for the summer months. You are not limited to the actual colors of the rainbow and can pick your favorite shades and paint each nail a different one. Compliment the look with a nude base coat to let the tips become the focus. This is a wonderful opportunity to have some fun and will draw attention to your hands.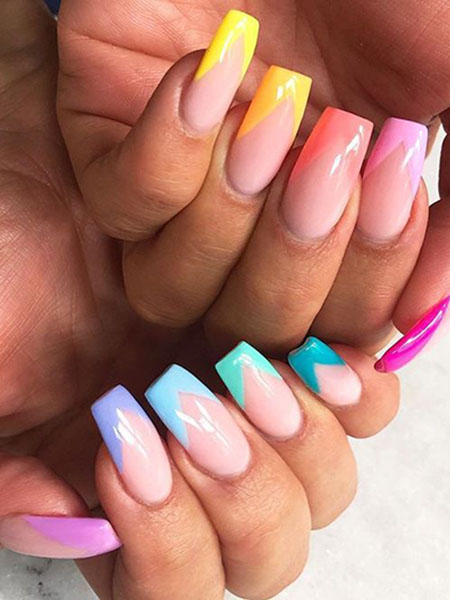 12. Rainbows and Polka Dots Nails
Brightly colored nails are often able to make the wearer happy just by looking at their hands. For this reason, it's great to experiment with fun and interesting patterns, and the combination of rainbows and polka dots is likely to become one of your new favorites. Rainbows are associated with a love of life and joy, while polka dots have a retro classic appeal. Together, you can achieve a fancy manicure that is hip, fresh, and easy to do at home. If you want the rainbow stripes to be the focal point of your look, then create a feature nail, one that is different from the rest.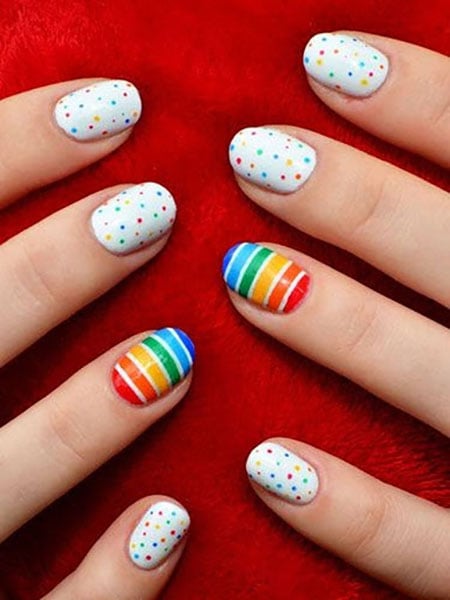 13. Rainbow Outlines
There are so many nail trends that come and go. Some are beautiful and easy to wear, and others can be dramatic and often impractical, but rainbow outlines definitely fall into the first category. It is a look that is simple yet striking and perfect for those who prefer a more abstract approach. The spacing also allows you to try out bright colors without committing to something too intense or dramatic. Deciding to paint the tips of your talons in various bold shades makes your manicure cheerful, versatile, and wearable. It is perfect for a variety of occasions and settings.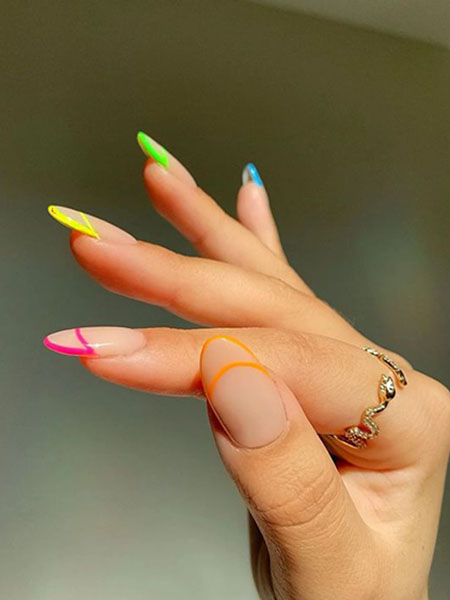 14. Rainbow Stars Nails
If you're a daydreamer or a thinker, then star nail art is exactly what you need. Stars are often associated with ambition and hope. The symbolism is powerful but adding these shapes to your fingernails is also enjoyable. Play around with various colors for a rainbow effect and different placements that appeal to you. To really emphasize your look, you can wear your favorite star jewelry or accessories.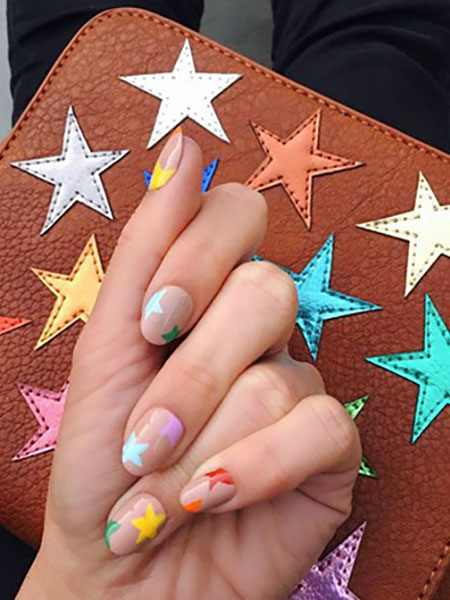 15. Rainbow Tips Nails
You don't need overly detailed nail art to make a statement or add a pop of color to your appearance, and sometimes the best looks are the simplest. The beauty of rainbow tip nails is that it is relatively easy to create even for a beginner. Plus, it's super wearable. It will lend itself well to various occasions, both casual and semi-formal, and it looks so effortlessly chic. Pastel shades are always a favorite because they are soft and dreamy, but if you prefer something brighter or love shimmery lacquers, nothing stops you from opting for this instead.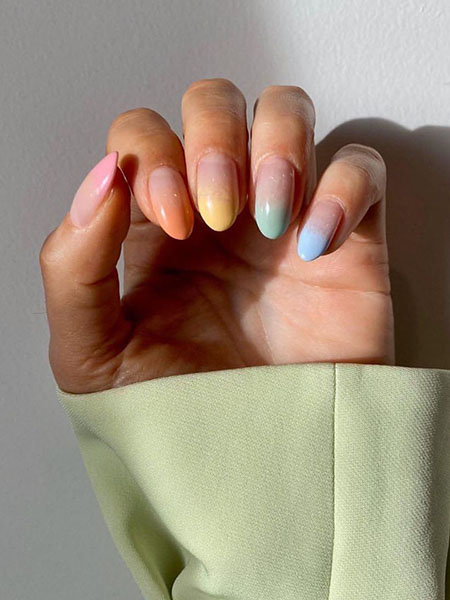 16. Rainbow Nails With Lightning Art
Feel inspired by what the rainbow represents for your next manicure. The bright colors are often associated with success, hope, and ambition, and the motif has long been an inspiration for clothing and accessories, and how obviously nails too. That said, for a different and modern take on the rainbow, you can pick designs that include multiple colors expertly blended. Maybe you love pastels and ombre? Or can you choose bold and bright lacquers and create a watercolor effect? The focus here is on another detail, lightning mail art. Show the world your fun and electric personality by adding these stickers to your talons. The result is spectacular.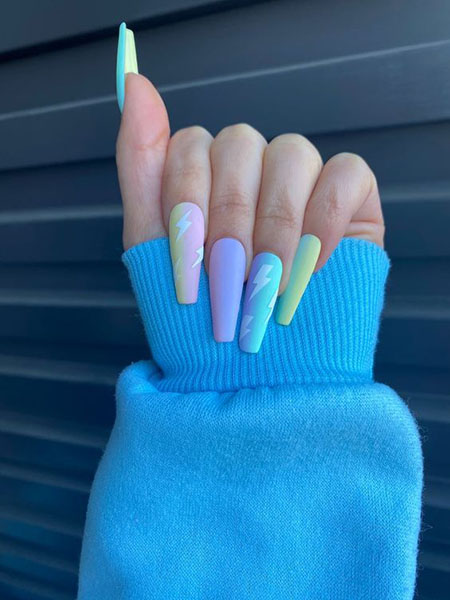 17. Rainbow Edges Nails
Having nails with cool angles makes for a unique appearance. If you want to try out the rainbow nail trend but aren't keen on anything too dramatic, rainbow edges are wonderful. It is also a look that is not as difficult to recreate in the comfort of your own home, although you do need a steady hand for precision. Pair complementary colors together, such as orange and yellow and green and blue. Or opt for two colors of varying shades, for example, a light and darker pink. There are so many combinations to play around with, making this artwork even more fun.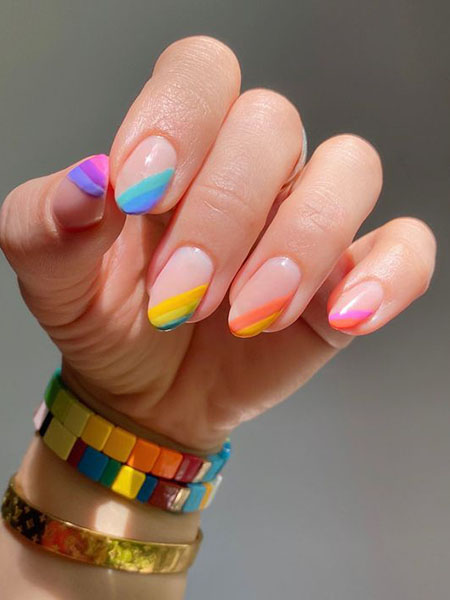 18. Rainbow Dots Nails
How we choose to paint our nails is really an extension of our personality and style preferences. Perhaps you love classic shades and prefer to paint each nail a different pretty pastel. Or maybe you want to experiment with bold patterns and colors. The beauty of the rainbow manicure is that there are so many different options, and you can pick the one that appeals most to you or try them all. If you are looking for some inspiration on trying out this trend, but don't want to spend hours painting your talons or spend a small fortune at the salon, then rainbow dots are simple yet effective. Embrace some color by opting for a nude or clear base coat; then dab little dots of your favorite lacquers.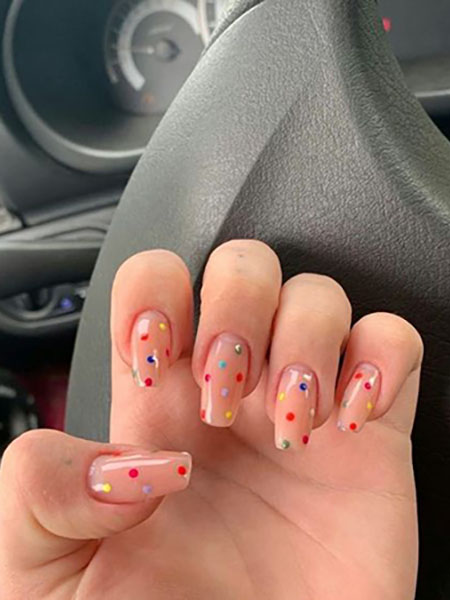 19. Rainbow Art Nails
A rainbow can really bring so much joy, and if you want to add some color into your next manicure and pick something that will bring a smile to your face, then this is the trend for you. Instead of sticking to the traditional shape of the rainbow, you can get creative by including it in various ways. You can do this by playing with spacing and using squiggles and swirls to make each nail a little different. This will create an even more exciting look. It is not just the colors you can experiment with, but also various textures. For example, a matte polish base coat or something shimmery or metallic. Feel free to alter this option to make it your own.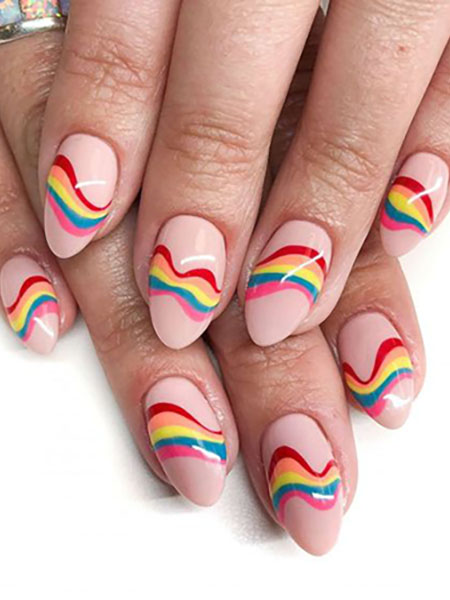 20. Rainbow Toenails
It is not just fingernails that can do with a fun update, but also toenails. This is true especially during the summer months when you can finally bring out the sandals and open-toed shoes. There are no rules on what you can or cannot do; whether you choose to go full-out with the nail art for a bright and playful look or prefer to keep it more simple with a different pastel shade for each toe. The only thing to remember is that after removing your polish, give your nails a break for a few weeks.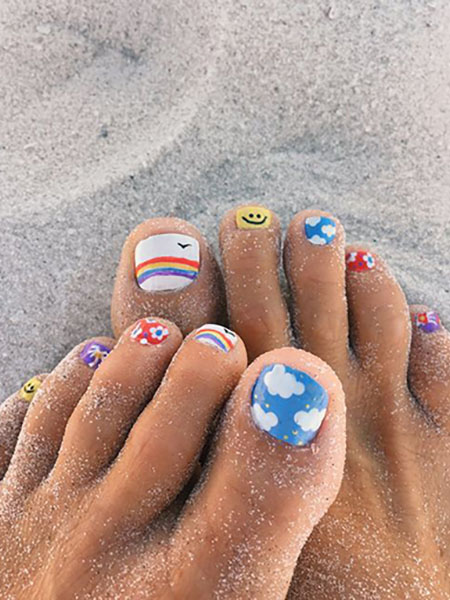 FAQs
How to do rainbow nails?
There are many different options to choose from that fall under the rainbow nail art category. Some looks are simple and wearable, like rainbow tips or painting each nail with a different color pastel lacquer. Other options are more complicated, like rainbows with clouds or interesting squiggles and swirls. There are YouTube tutorials online to help you achieve your desired designs, or you can take a photo of your inspiration to the local nail salon to let them recreate it for you.
How to do rainbow nails with water?
Using water for rainbow nails will help you achieve a pretty, blended look. The striking effect is achieved by placing warm water into a cup. You then add a drop of each of your favorite shades into the water, and use a toothpick to draw a line in the polish, and create your desired pattern.
How to do rainbow marble nails?
Rainbow marble nails are an effect that definitely makes a statement, although it will take some practice and patience to achieve. You should first pick the colors you want and then fill a cup, preferably a disposable one, with room temperature water. You then add a drop of each of your favorite shades into the water and use a toothpick to draw a line in the polish, from the outer edge to the inner circle, and this will create the desired effect.
How to do rainbow nail art?
There are so many different rainbow nail art options to choose from. Some are simple like polka dots can be achieved by applying little dabs of polish. You can try creating straight lines, which take some precision and practice but are relatively easy and versatile, or you could use nail stickers to help you paint the tips. There are many YouTube tutorials for more complicated designs that will give you a step-by-step guide on how to create your desired effect. Alternatively, you can make use of stickers or wraps. The one thing that is the same, no matter what you choose, is the importance of prepping your nails beforehand. Ensure that they are buffed and clean.
SUBSCRIBE TO OUR NEWSLETTER
Subscribe to our mailing list and get interesting stuff and updates to your email inbox.