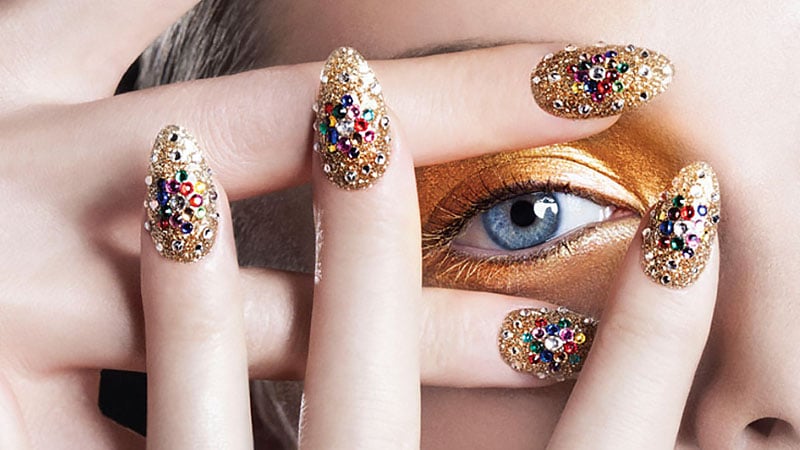 For thousands of years, this metallic shade has represented wealth, extravagance, and wisdom. From the runway to the pages of Vogue, the color continues to be a trend. This manicure color is perfect for any season or event; you can rock this art and feel like a member of the royal family. No matter if you love jewels, stars, or logomania, we've gathered some dreamy inspiration for you. If it's time to switch up your regular manicure, check out these stylish gold nail designs.
1. Cosmic Pastel Nails
Take your next nail art across the galaxy with these cosmic-inspired nails. This pastel and gold combo is a super cute way to showcase your star sign and stay trendy at the same time. This style works with a wide range of lengths, but you can include more intricate designs with a slightly longer tip. Make the design reminiscent of a French manicure and paint the ends a varying shade – great options include lavender, sky blue, and baby pink. The small cosmic embellishments are the perfect finishing touch and will have you feeling luminous.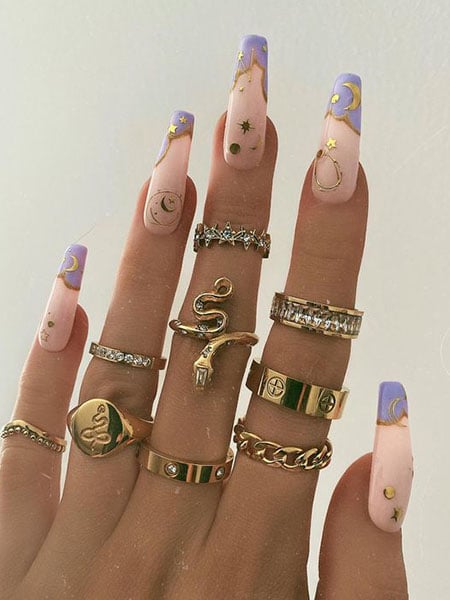 2. Natural Nails with Tiny Gold Detail
The smallest details can help create a piece of art, and you can see that in action with this stylish manicure. The glossy canvas is the best place to start for this design – keep the length short and the beds clean for best results. Using a tiny gold seashell nail decor, embellish the tips – styles that work best to complement them are pearls or any other shapes you prefer. The metallic shades add a touch of glimmer to your fingers without overwhelming the minimalist undertone, leaving you with timeless and beautiful nail art.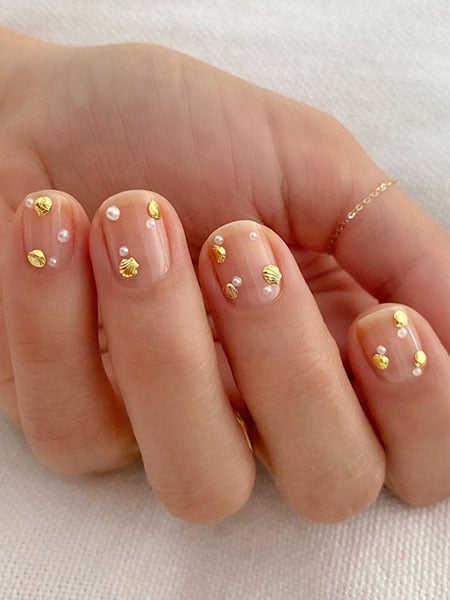 3. Cute Floral Nail Art with Gold Detail
For those who love a bit of timeless extravagance, this is the manicure for you. The combination of baby pink and white, with the floral pattern and gold embellishments, is a picture-perfect way to showcase your love for fashion. For this design, choose three fingers for the white petals, and add small gold dots to each flower's center. The remaining tips can feature a soft pastel pink or nude – place medium-sized pearl stickers on the middle digit, outlining the shape with tiny gold beads. If you want more decorations, delicately apply the same metallic spots on the top of the nail bed. Whether you're heading to a girl's night or you're taking a snap for Instagram, this style is a real head-turner.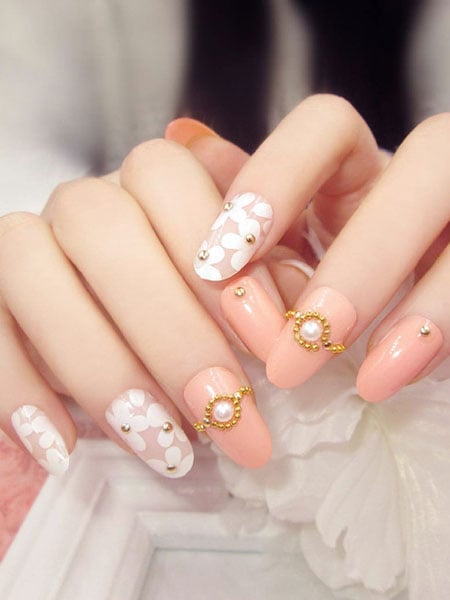 4. Gold Abstract Art Nails
Make your fingers the canvas of your next creation. The beauty behind this art is the varying colors, patterns, and placements, without making it look too busy. Starting with a white base, grab a medium-sized brush and paint pastel blue, soft pink, lavender, and gold polish over the top, leaving parts of the undercoat showing through. Fill in the nail's negative space by adding small black dots on every second or third fingertip. This design is all about fluidity, so let yourself have a bit of fun when giving it a go -mix and match with different shade combos, and unleash your inner abstract artist.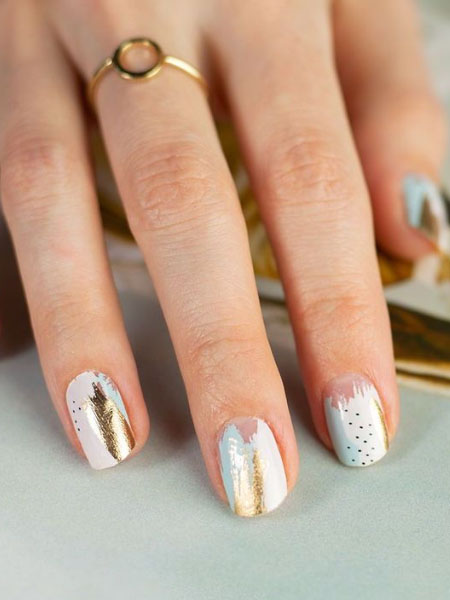 5. Gold Stars Nails
Shooting for the stars just got a bit easier, thanks to this sparkling nail art. Despite its simplicity, this manicure is sure to grab attention, and it's easy to see why. To replicate the design, paint your nail with a neutral or soft pink polish – you can keep your nails as long or short as you wish. Then, gently place golden star stickers on the face of the nail – apply them anywhere you like and have as many or little as you prefer. Mix it up a bit by applying the shape on a single digit, making it a feature nail. The options are endless, but the effortless elegance is forever.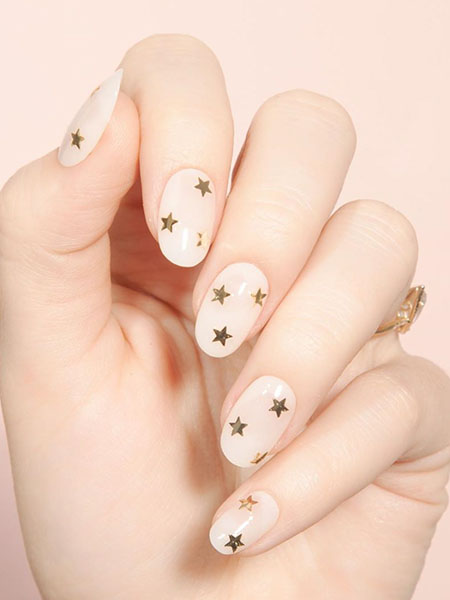 6. Gold Feature Nail
Elongate your fingers and add a touch of personality with a feature design. To make the gold stand out, paint the base a nude shade – this makes your digits look long and neatly presented. Using a fine blade, cut up a metallic sticker into fine pieces, and space them out evenly on the fourth nail. This is a deviation from the traditional style you regularly see, as it looks like a cracked mirror that's fallen on your fingertips. The sparkling yet subtle art adds instant attraction and will have you feeling like you've dipped your hands in a river of liquid gold.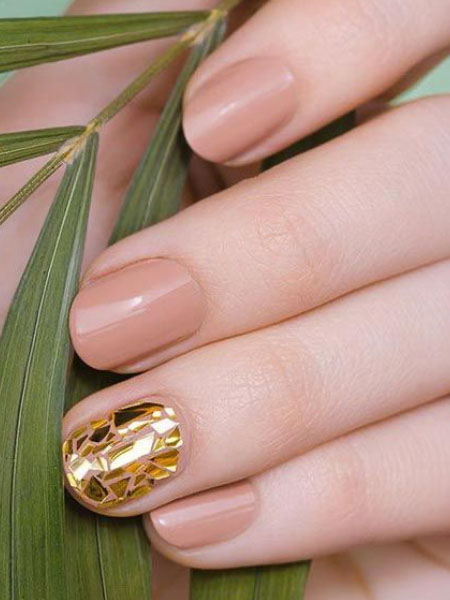 7. Gold Flake Nails
Who said gold leaf could only be used for paintings and portraits? This stylish and sleek design takes a traditional nail art and turns it on its head. When recreating this look, begin with a dusty rose shade, painting each fingertip. Using a stencil or small brush, delicately carve out a circle with white polish on every tip – add semicircles for the finger's edges. Gently apply the flakes anywhere you like, and fill in negative space with the shiny texture. Add a matte top coat to secure the added layers, and leave the manicure looking neutral.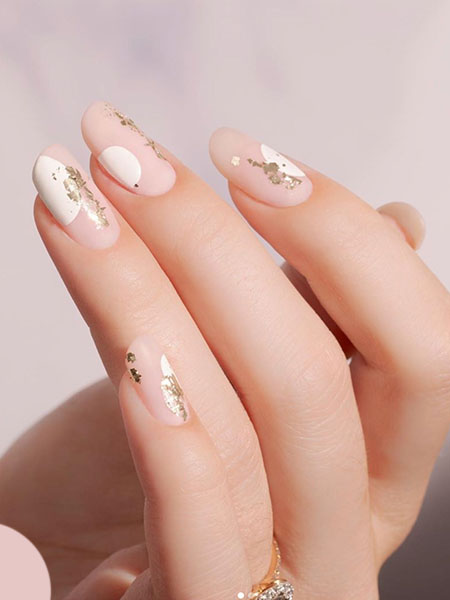 8. Gold Nails With Green Jade Detail
Show everyone the royalty that you are with this regal color combination. The bright gold polish resembles 24 karat flakes, and the jade feature nail adds a majestic touch, unlike anything else. Choose any shape you prefer for the jewel, and place it lengthways down the fingertip to elongate your digits. This manicure resembles dipping your hands into liquid gold, leaving nothing behind but a stylish and sleek design that will be the envy of onlookers everywhere.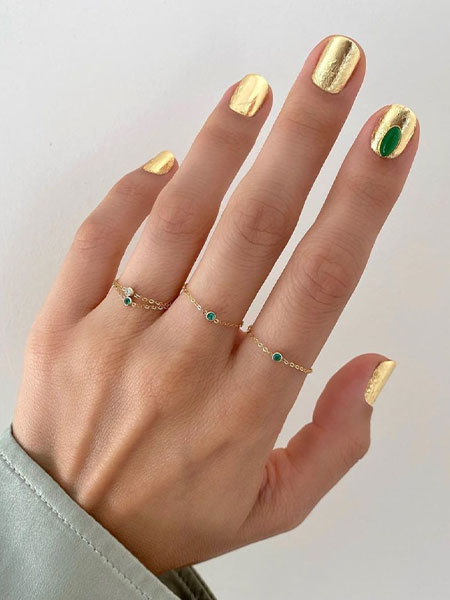 9. Gold Glitter Nails with Jewels
Who doesn't love a bit of drama? This nail art is over the top but absolutely mesmerizing at the same time. While it's possible to replicate at home, you should find an artist specializing in the delicate craftwork of jewel application for the best results. Paint the base of your nail gold, and begin placing multicolored stones in a circular shape in the middle of the bed. Add silver dots on the fingertip edges – this unifies the bold shades with the gold canvas. You will want to present your manicure to the museum, as it looks like a priceless piece of art.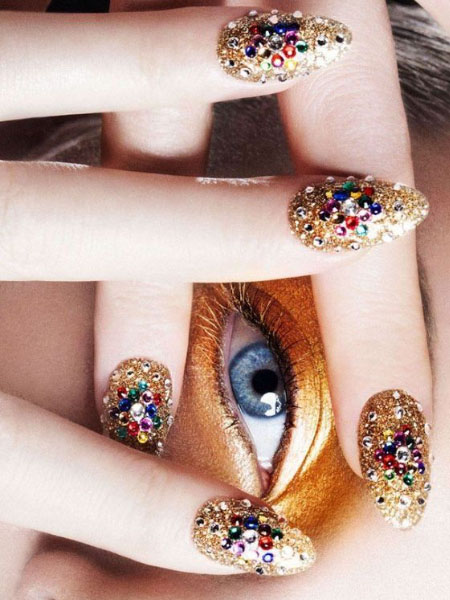 10. Gold Tips
Take your go-to French manicure to the next level by adding a touch of gold. This effortlessly glam option works well for any occasion and is easy to DIY. Just like the original nail art, you will want to start with a nude or neutral base. Next, apply a thin layer of tape to the tips – for a fun touch, add an extra layer of tape down the center of the bed and paint a matte shade on a single side. Once it's dry, paint the top of your finger with a glittering polish. This is an elevated and modern alternative to the classic style, leaving you feeling like a fashion icon as soon as you try it.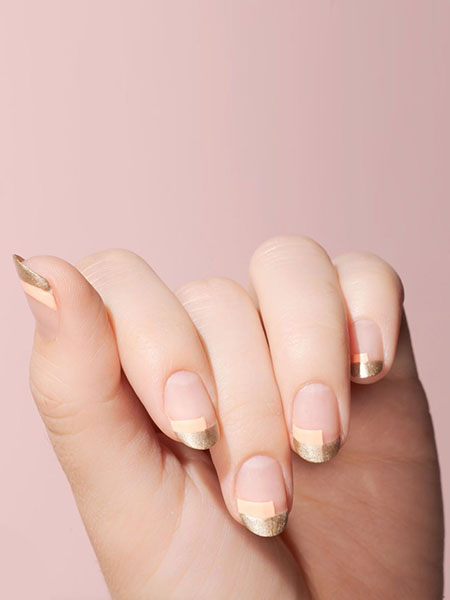 11. Gold Jewel Nails
Inspired by Gucci's iconic bejeweled footwear, this overly embellished nail art is one for the bold. Start with bare nails, cut short, and kept neat – you can add a thin layer of gloss for extra sparkle. Then, using nail glue, apply the oversized jewels on the tips of your fingers. Be sure that they cover the entire nail bed, which gives the impression of a stone painted directly onto the nail itself. Although it's not a manicure that works every day, it's an intriguing and creative alternative to traditional art that will have people eager to try.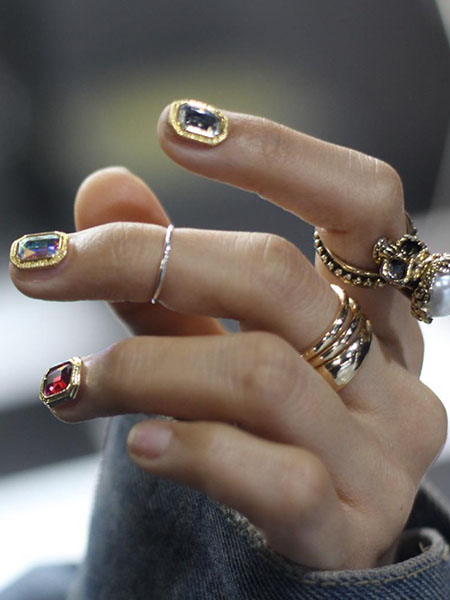 12. Gold Leopard Nails
Unleash your inner animal with this wild leopard design. The gold, black, and silver combination offers a luxurious feel to the manicure, and the pattern adds a fashionable twist. Paint the print on three of your five fingers, leaving two behind in solid gold. For the best results, opt for a small, fine brush for delicate shapes. You can get press-on nails with gold leopard print for those who wish to replicate the design without a fuss. This takes away the countless hours needed to perfect the pattern.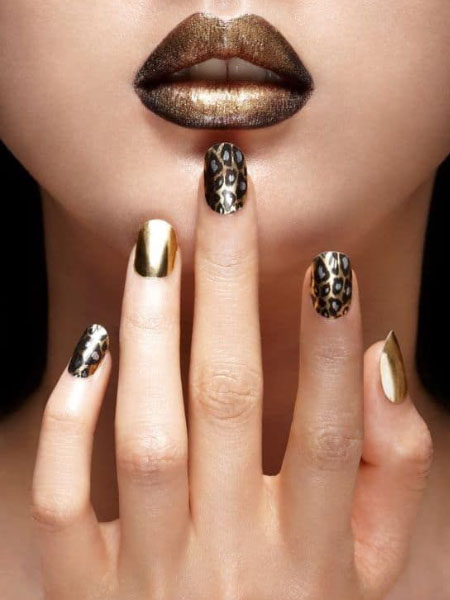 13. Gold Logomania Nails
One of the biggest trends of the last few years on and off the runway is logomania. Whether you adore Dior, go wild for Louis Vuitton or go crazy for Chanel, this is the manicure for you. The gold, white, and clear combo add instant glamour to your fingers, and the stunning shapes give a modern touch. For the finishing touch, add your favorite luxury brand and feature it on a single nail. This design works best for those with stiletto, coffin, or almond shape nails and looks great on longer tips. No matter if you're dripping in Dolce or sitting in a sweatsuit, the nail art will have you feeling like a superstar.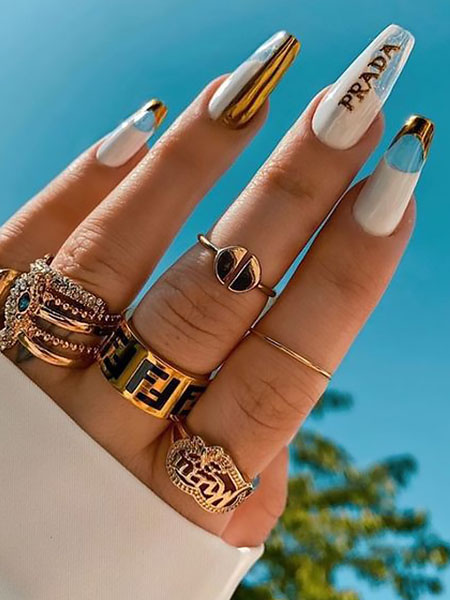 14. Gold Metallic and Glitter Nails
Make your hands the center of attention with this shiny nail art. Ideal for a party, red carpet event, or just a special night out, you can steal the spotlight with this stunning manicure. Recreate the look by painting your nails a gold color. Then cover every second tip with a cluster of stickers and jewels – add glitter for a sparkling touch. For a more subtle approach, you can keep the majority of your fingertips in a metallic shade, leaving a single digit to feature with the collection of colorful stones or golden glitter nail polish.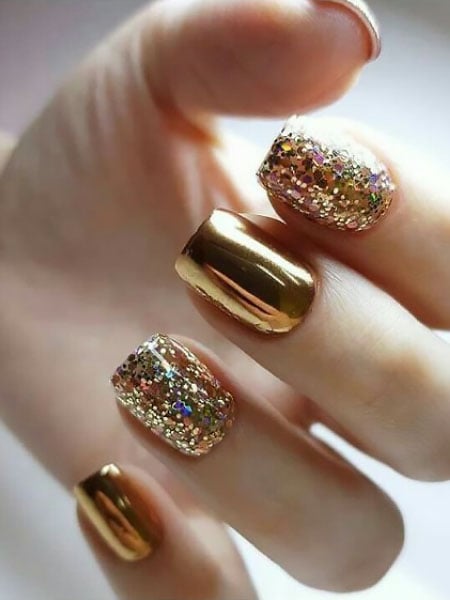 15. Matte Nails with Gold Detail
Take advantage of one of the trendiest designs this season. This nail art utilizes some of the hottest shades – bottle green, duck egg blue, sand, and pastel pink. Paint each finger a different color, and add a matte top coat for a sleek finish. When the tips are dry, stick gold nail tape on a slightly slanted angle on the nailbed. You can start from the tip and work your way to the center, stopping halfway through. Then, add a thin black line in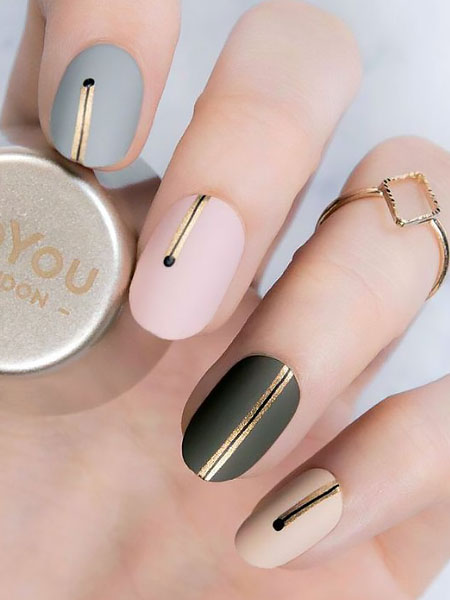 16. Gold Stripe Nails
Make a statement and stay subtle by adding a gold stripe down your fingertips. You don't have to have a base color or polish to achieve this. It's all about a blank canvas with an extravagant touch. Start by filing your nails into the desired shape, and buff them for a natural shine. Individually apply stickers down the center of the nail bed – this elongates your fingers and helps your hands sparkle. You can rock this look to the office, a party, or even a lunch with your friends. Mix it up by placing the stones in a horizontal line, or keep it for a feature nail.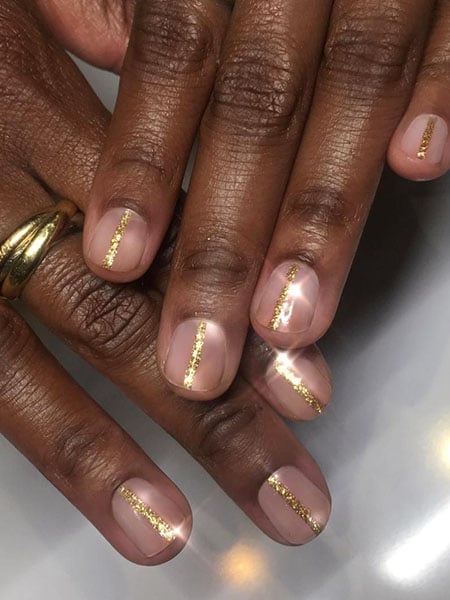 17. Gold Metallic Nails
Elevate your manicure game with a touch of metallic. This gold plated design is a great way to experiment with the shiny trend and feel futuristic all at once. The nail art takes its inspiration from the runway, but it looks great at almost any event. You can achieve the hyper-metallic finish with a metallic nail powder or apply press-on nails with the pre-painted gold color. The beauty of this style is the wide variety of silhouettes and lengths that it flatters. No matter if you're heading to a work function, fancy dress party, or a house party with your girls, this is a great way to complete your ensemble.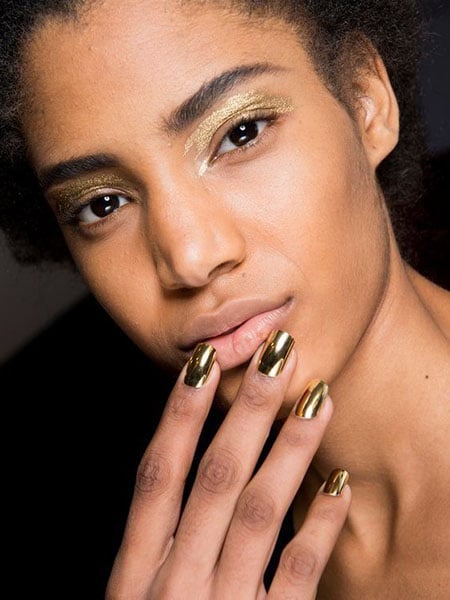 18. Gold Nails with Flower Detail
Florals for spring? Make your manicure a step up from groundbreaking by adding a gold leaf base. This fun and flirty nail art offers a combination of ultra-modern metallics and romantic roses, making it a great option for those who love to mix and match. To create this look, delicately apply the shiny flake to your nails' base, adding a top coat to seal the color. Using an ultra-fine brush, paint a bunch of flowers in the corners of your fingertips. Add them to a select number of fingers for an artistic touch.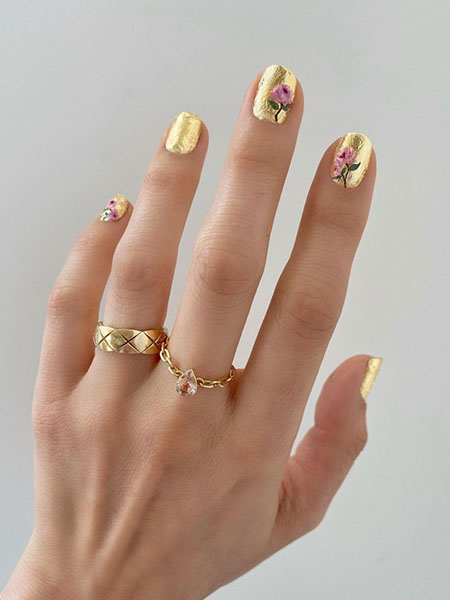 19. Ombre Nails with Gold Stripe
Bring in the summer feelings with this bright and colorful ombre nail set. To recreate the look, tap the top third of your nails near the cuticle – using a clean sponge, paint two shades next to each other and place it on the tip of the finger. This should create a gradient down the length of your nail, which helps make them look longer. Connect the polish and bare canvas with a medium-sized gold strip, placed horizontally across the nail bed. It's a fun twist on a super sleek manicure that will be a great option for many events.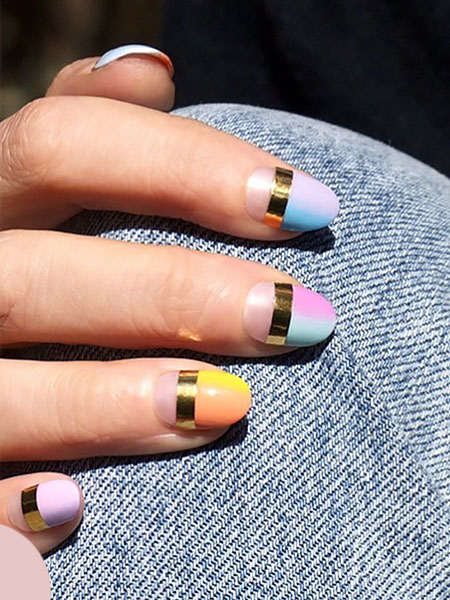 20. Gold Sun Nails
Chase the sun and enjoy the warmth everywhere you go, thanks to this sleek nail art. The nude and gold combination is bright and energizing, and the subtle matter finish helps neutralize it for everyday wear. Start with clean nails, and paint a thin layer of a nude base coat for a clean surface area. Then, using a fine brush, delicately draw the shape of the sun in the corners of the nail bed, and paint the rays across the length of the fingertip. Choose different spots for the lunar design to sit, and don't be afraid to feature just the beams of light where you wish. With a manicure this stunning, you will brighten everyone's day in an instant.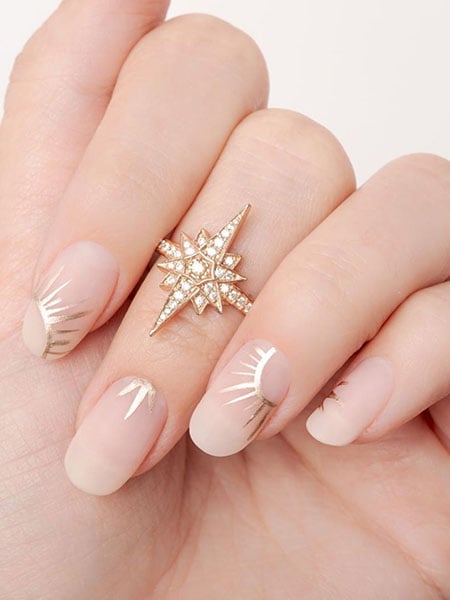 FAQs
What colors look good with gold nails?
Gold nails are an excellent way to get your hands noticed. The color is luxurious and can make even the most simple manicure look pretty and interesting. The great thing about gold is that it is effortless to mix and match with other colors, allowing you to get creative with your nail art. One of the best options is red, and the combination makes for a striking and eye-catching manicure. You can also wear your favorite shade of red lipstick to complement your nails.
Can I wear gold and silver nail polish together?
Most people would prefer to wear gold with muted colors or bright, warm shades like red and orange. There is some debate about whether gold and silver look good together, but one thing we can agree on is that if you do decide to opt for these hues, your nails will demand attention. Opting for clashing colors can make for an interesting and fun manicure. There are also ways to include silver on your gold nails in a subtle way, including little dots, a French tip, or silver lines and squiggles.
What are gold flakes?
Gold flakes are created using gold leaf and are a popular option for nail art because they create a gorgeous and textured appearance. They can make your nails look glamorous and can be applied to a clear base coat of nail polish. You can place them in the desired patterns or location with a nail tool or tweezers. You want to finish your look with a topcoat.
How do you use gold on your nails?
When trying out a gold manicure, there are many different options to choose from. You can incorporate gold lacquer, gold gems, or adding gold flakes to the nails. A few stylish designs include opting for a gold feature nail; this look focuses on only one nail while the rest are painted a nude or muted shade. You can add metallic stickers or paint the entire nail with gold polish. You can also try gold star nails, abstract artwork, and cute floral designs with gold details.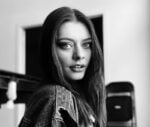 Alexandra Feiam is an experienced fashion writer who holds a degree in journalism. She has an impressive portfolio and expertise working as the Editor at Power Retail and Commercial Content Editor at Newscorp. Ally has been writing for The TrendSpotter since 2018, and her work has been featured in notable publications such as The Herald Sun, Arirang TV South Korea, Kidspot, The House of Wellness, and The Daily Telegraph.
SUBSCRIBE TO OUR NEWSLETTER
Subscribe to our mailing list and get interesting stuff and updates to your email inbox.