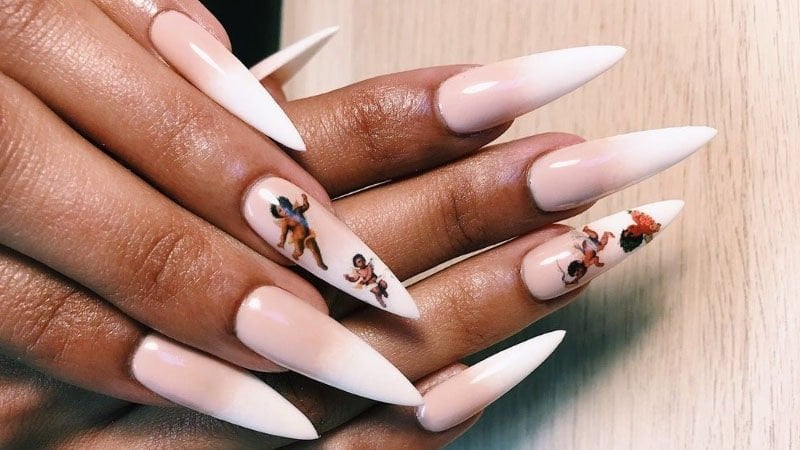 Nail art is a beautiful way to let your personality shine, and although there are many trends to choose from, the angelic-inspired artwork is undoubtedly one of the best. Angels represent many things to different people. To the religious, they are messengers of God, but they are also associated with love, goodness, purity, hope, and protection for others. There are many ways to try out this look, too, from bold black and gold combinations that demand attention and make a statement to more subtle and laid-back options such as an ombre or a dreamy pink base coat. For those who want a magical appearance, you can paint little clouds or hearts. That said, the best thing about angel nails is that many of them are so easy to create at home. All you need is your favorite lacquers and stickers. Keep reading for all the inspiration for your next fancy manicure.

1. Natural Color Angel Nails
Natural color nails are a great way to try out angel decals. The nude base allows the designs to come to life, complementing them instead of clashing with them. These shades are also incredibly easy to wear and are perfect for a variety of different occasions. Plus, they won't show chips and scuffs as easily and tend to suit all skin tones. That said, you can take your favorite lacquer to a whole new level by adding gold detailing and little cherub stickers to it. The result is bold, playful, and ultra-feminine. Feel free to pile on your favorite gold rings for an excellent matchy-matchy effect.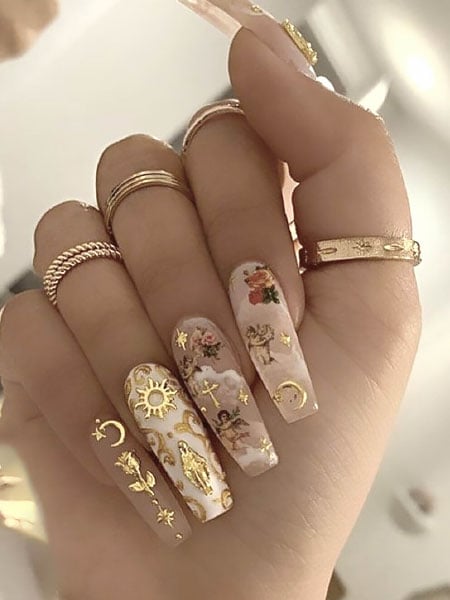 2. Love Angels Nail Stickers
If you want a fun manicure, you can create it with love angel nail stickers. The fantastic thing about this option is that you don't need to be a pro when it comes to nail art. Paint your nails with a nude, white, or light pink base coat to let the images stand out and become the focal point of your look. You can also add clouds or tiny hearts for a dreamy and girly appearance if you feel particularly creative. Angels are associated with innocence, goodness, and hope, but Cupid is also connected to love and matchmaking. Let your manicure tell your loved one how you feel about them, or let it bring a smile to your face because of its sweetness.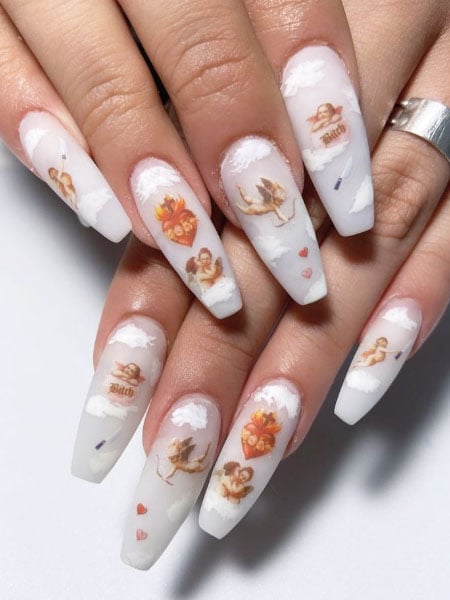 3. Stiletto Nails with Angel Feature Nails
Stiletto nails require some maintenance, and they may not be ideal for certain activities, but there is a good reason why so many women love them. The shape can elongate your fingers and tends to look very feminine. Also, no matter how simple your nail art is with this shape, it demands attention, and your hands are bound to be noticed. It is for this reason that simple designs can complement the form. Paint your talons with a bright color like blue to depict the sky and evoke calm. You can then pick a single fingernail to add your angel artwork to create a feature nail, which will become the focus of your look. Not only is this incredibly wearable, but it's also a pretty and modern approach.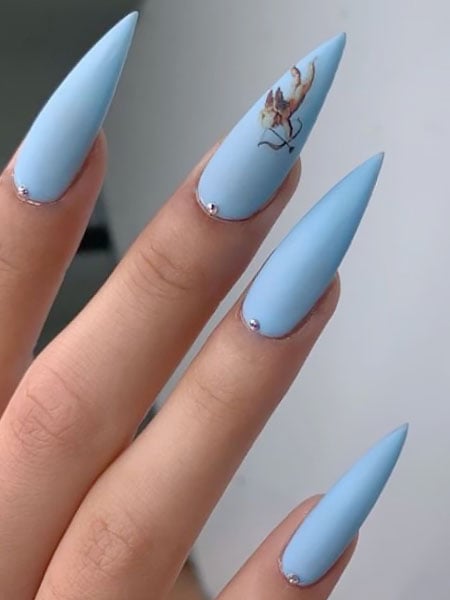 4. Iridescent Angel Nails
Iridescent angel nails are magical and beautiful. They sparkle in the sunlight and are the perfect base for various nail art designs, whether seashells or unicorns. It is also a great addition to any angel artwork. Adding cute little white or soft pink clouds and cherub stickers to your fingernails makes your manicure even more impressive. It is also a look that is surprisingly not all that difficult to achieve with the right lacquer. Plus, it is a great way to show off your hands and add a romantic touch to your overall appearance.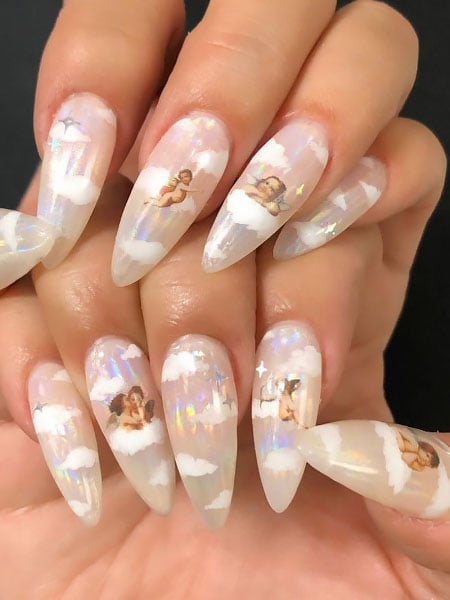 5. Angels and Icons Nail Stickers
Angels represent goodness and hope and are seen as the messengers of God. If you are an individual who values faith and wants to show this, then you could dedicate your nail art to religious imagery. It's a bold choice because it lets the world know your beliefs, but it can also make for beautiful and exciting nail art that can become a real conversation starter. An image of Mary, crosses, stars, and angels can all be combined for an intricate manicure. The detailing on each fingernail means it would help to have longer talons as this gives more space to complete the design and won't be overwhelming. Feel free to experiment with various placements and add rhinestones or diamantés to provide you with a more blingy appearance.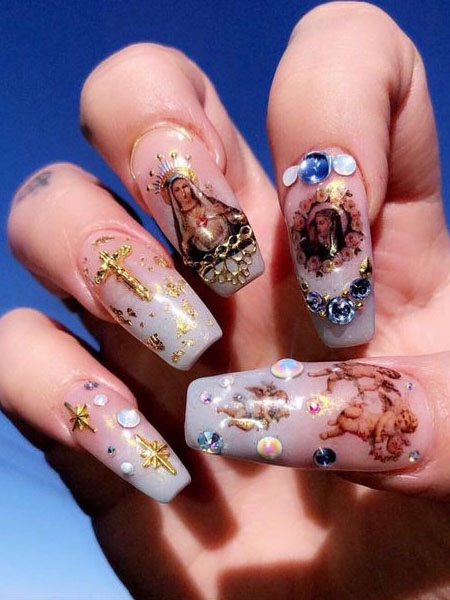 6. 3D Angel Nails
What is not to love about 3D angel nails? This manicure is perfect for a woman who wants to make a statement and get creative. It is so much more than just painting your nails with your favorite polish and includes many details, added jewels, heart shapes, flowers, and more. That said, the look will limit you in terms of activities, and you will not be able to do sports or anything that requires too much contact as you have three-dimensional artwork. Reserve this design for special occasions and impress everyone with your beautiful nails and skills.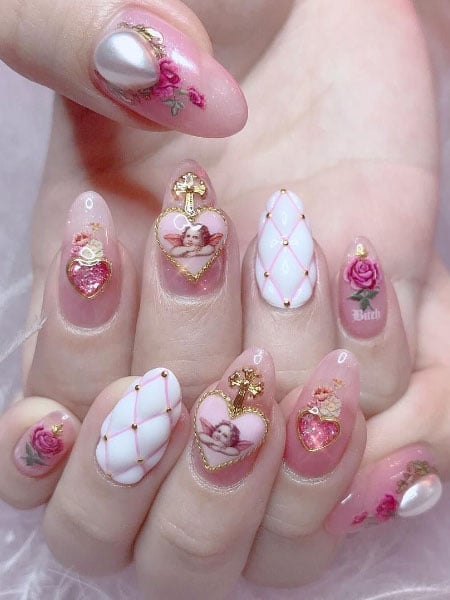 7. Angel Writing Nails
Letter nail art is so fun because you can spell out words that are meaningful to you. It is an opportunity to share your interests and the things you like without ever saying so. Maybe you want to show the world how you feel about love or want to be depicted as angelic. There is a definite appeal for creating angel writing nails, and it is an excellent alternative to using images. You can play around with various color combinations and see what works best for you. For a more laid-back and easy-to-wear look, black writing on a nude base coat is stylish yet simple. You can also opt for more bold shades like red or deep blue. Deciding on a specific font is another way to make this artwork unique.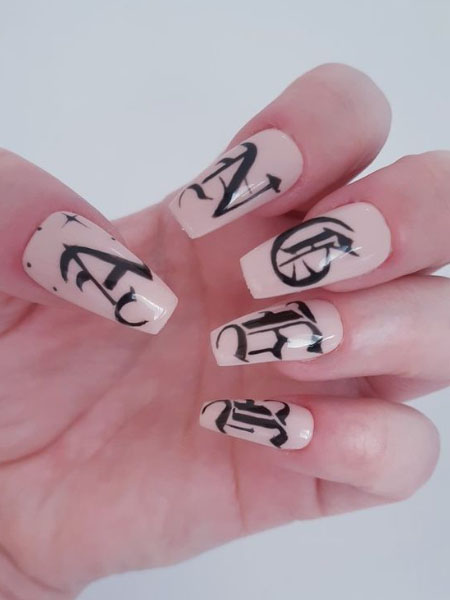 8. Black Marble Effect Nails With Angel and Cross Stickers
Black marble effect nails are so pretty and cool, and they're even more so when you add angel and cross stickers to your artwork. The marbled artwork style is so luxe. The colors are a classic combination and make a statement. Black is associated with power, strength, and sophistication and is a bold choice for nail polish because it demands attention. It works great as a base coat for nail art, and opting for gold detailing will really let your designs come to life and be even more noticeable. To tone down your look, you can pick two or three fingernails to add art to, leaving the rest plain. This will make your manicure less dramatic and more wearable.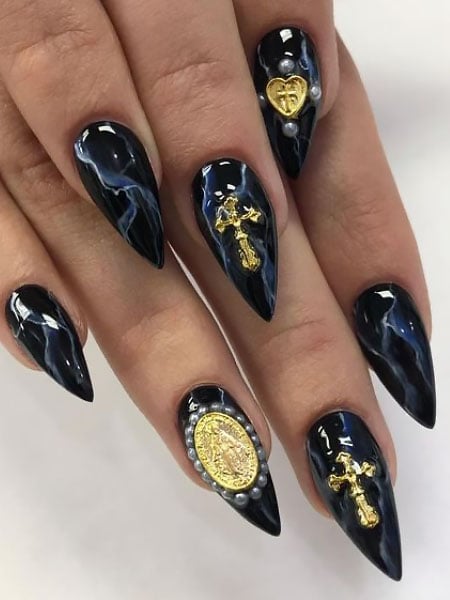 9. Ombre Angel Nails
Ombre angel nails are the perfect combination of pretty and cool. The shaded effect has long been a favorite for nail art because it can make an effortless statement. Ombre can also be created with various colors, but the key is to pick two shades, one light and one darker, and let them blend into each other. For softer, easier-to-wear options, nude or light pink shades with white or cream look great and will complement your nail art. If you're someone who prefers bolder artwork, you can opt for brighter colors like reds or blues. The great thing is that you can play around with combinations that work for you, making your look more personal and meaningful.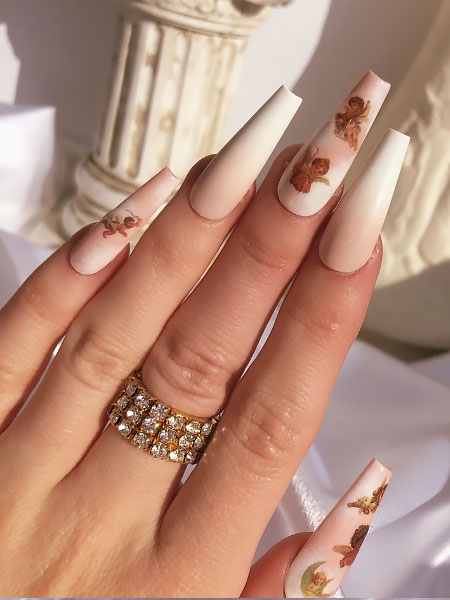 10. Angel on a French Manicure Feature Nail
If you're looking for a way to wear angel nail art that is sophisticated, classy, and perfect for almost all occasions, then the best way to do it is with a French manicure feature nail. The French manicure is a look that has been around for decades, but deciding to paint only one nail with a white tip is a modern approach. It makes that nail standout, which is a wonderful way to ease using nail stickers and artwork. You can add other details to make it unique. For example, gold foil, flakes, and tiny studs are great but keep it simple and subtle if you want a look that can be worn every day.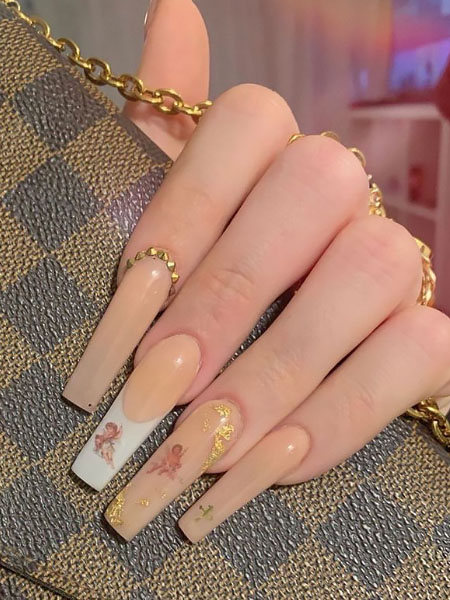 11. Squoval White Nails with Angel Art
Getting creative with nail art is a wonderful way to express your personality and share the things you love. It can make you happy, it can make a statement, and it can instantly add a playful or sophisticated element to your overall appearance. Longer nail shapes tend to be best when it comes to detailed designs because they allow more room. That said, the squoval looks fabulous with angel art, too. The shape works with long and short talons, and it is timeless, durable, and strong. It's also one of the most practical options because they won't snag on anything. White is a great base color. It is associated with freshness, simplicity and is easy to wear. Adding details and stickers of little cherubs makes for a sweet, feminine look.
RELATED: 20 Elegant White Nail Designs To Copy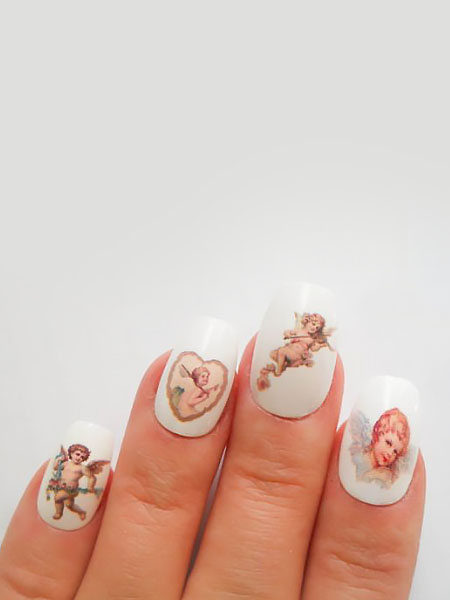 12. Angels in the Pink Sky Nail Art
Pink is a classic color when it comes to nail polish, and for a good reason, it's easy to wear, feminine and will complement just about anything you own. That said, if you want to update this girly shade, then create nail art with angels in a pink sky. Paint wispy white clouds to create a cute and romantic feel, and then add cherub stickers to your talons to complete the look. It is not as bold as some of the other takes on this trend, making it perfect for everyday wearing and will look great for a date, special occasion, or a daytime event.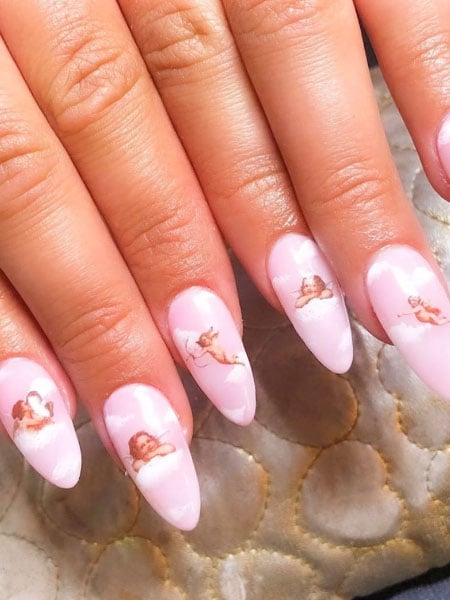 13. Cute Angel Nails
The beauty of nail trends is there are so many different ways to interpret them. Some people love bold, statement-looking talons, while others prefer a more playful approach. Cute nail art is an excellent choice for a woman who wants to experiment with bright colors and doesn't want to limit their creativity. Why have just a feature nail when you can choose to recreate each one in a new way? If you love 3D nail art, then add jewels. If you can't decide between glitter or gold foil, you don't have to. There are no rules with this artwork, and it is all about having fun and expressing yourself. To let your manicure be the focus of your appearance, tone down the rest of your look by wearing neutral shades. Or you can opt for bright-colored clothing and exciting patterns to create a clash that is bound to turn heads.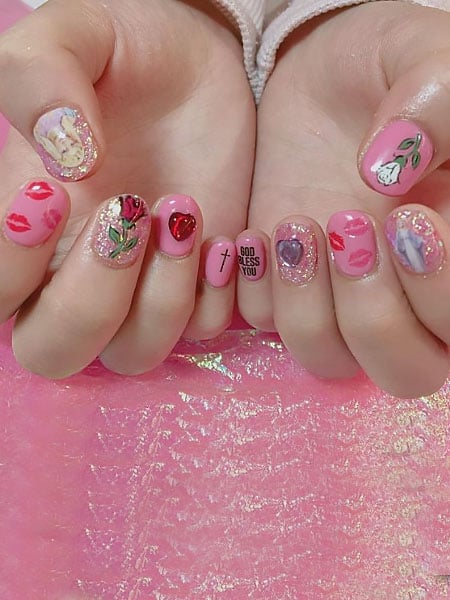 14. Realistic Angels Nail Art
There are many different versions of what an angel looks like. Some prefer a more adult image with white wings, while others love the little cherub and think it is super cute. There are also cartoonish interpretations and more detailed options, both of which have their appeal. If you want realistic angel nail art, you can do so by choosing high-quality nail stickers and applying them to your preferred base. Perhaps you love pastel shades and want to create a pretty blue sky filled with wispy clouds, or maybe you want a marbled grey and white look. The key is to make the background as close to a real skyline as possible. Pick this look for a lovely manicure that is also rich in symbolism, with these supernatural beings often being associated with goodness, purity, and love, and enjoy the compliments that are likely to come your way.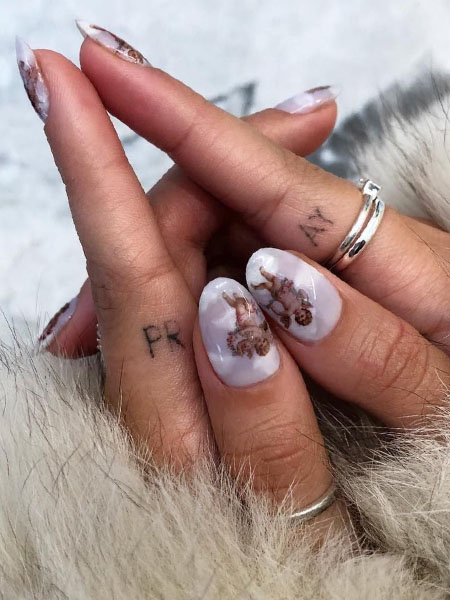 15. Natural Marble Nails with Angel Art
The marble nail effect is incredibly classy. You can play around with various colors, but natural ones tend to be the most wearable and versatile. It is a popular trend on its own and is a great way to express your creativity. If you are keen to try out this look, make it even more individual and add angel art to it. Pick nail stickers and gold foil, cross designs, and diamantes or jewels. It is an option that is perfect for special occasions and everyday wear and has a cute, romantic appearance. To create marbled nails, you need a few drops of your chosen polish, then take a brush and mix the two colors. Apply them to your nail and use a brush to create a swirling effect. If you do not have the time to master the pattern, you can use nail wraps.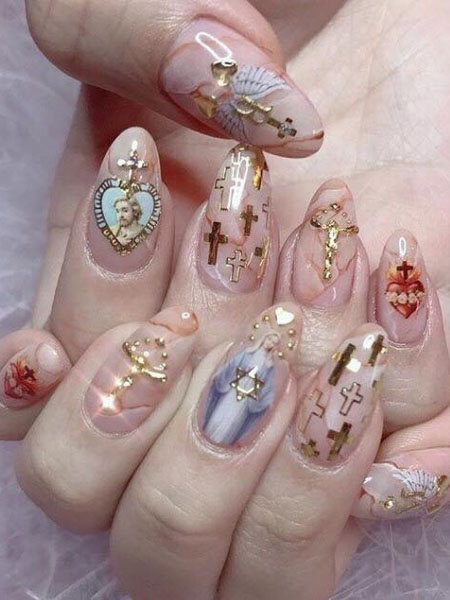 16. Angel Nails with Logos
If you want angel nails that make a statement, consider adding logos to your nail art. The appeal of logo artwork is that it is a way to share the things you love or admire; this could be anything, including icons from top fashion brands like Louis Vuitton and Dior. You can also add words and share your thoughts and feelings, for example, writing 'love' and 'joy.' Combining your logos with angel nail art creates an exciting contrast. Angels often represent guidance, innocence, and undying love. There are many ways to design your artwork, and you can experiment with combinations of varying colors; that said, long nails are often best for detailed nail art as there is more space to get creative.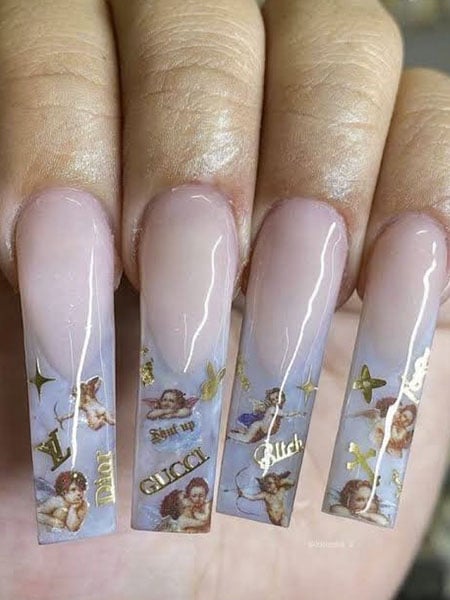 17. Angel Nails with Sparkles
Who doesn't love a manicure with a bit of sparkle? Adding angel stickers and combining them with glitter and rhinestones is ideal for anyone who wants to draw attention to their hands. Angels are associated with guidance, hope, and goodness, and you can include other imagery to add to this meaning. These stickers also pair well with different colors and can be created on nails of various lengths and shapes. For a look that helps make an image of the heavens and gives your nails a dreamy feel, opt for a white or pearl base coat and add your angel nail stickers and 3D details over it. You may also wish to include cloud artwork or tiny hearts. This blingy manicure should be reserved for special occasions because less is not more this time.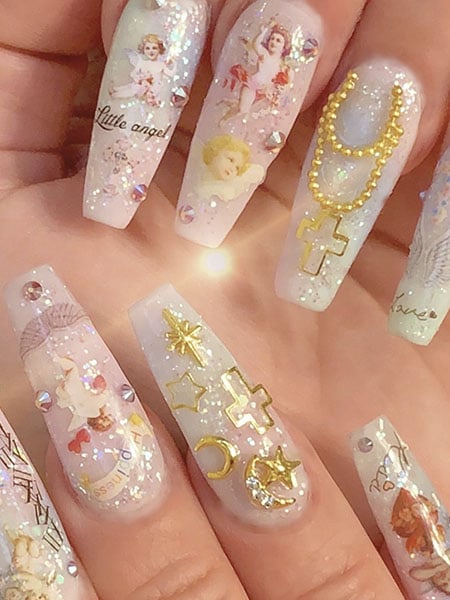 18. Angel Pattern Nail Stickers
The great thing about angel nails is that there are many ways to try them out, allowing you to express yourself and appeal to your individuality. You can add several nail stickers to each nail for those who love bold designs. Depending on the images you choose, your nails can also tell a story; for example, they can focus around a dreamy theme or be more religious. When deciding on a base coat for your stickers, there is no better choice than white. White is a timeless and classic nail polish associated with purity and new beginnings; this makes it the perfect choice because angels represent innocence and love. In addition, the crisp hue will let your artwork pop against it but can also draw attention to the shape of your nails.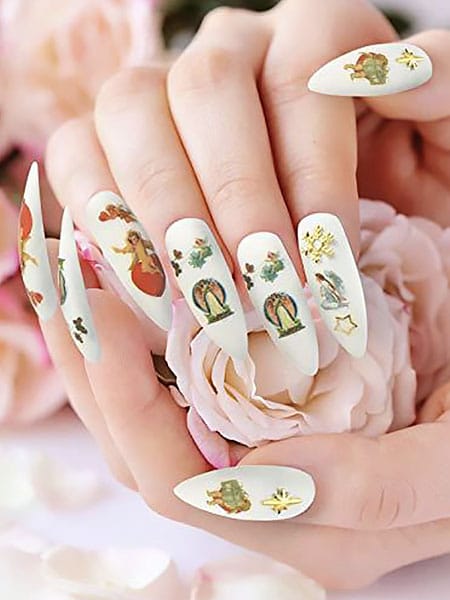 19. Angel Whispers Nails
The image of an angel whispering into another angel's ear is so wholesome. It is also symbolic and associated with childlike qualities such as innocence. Angels are also believed to give good advice, and this could serve as a reminder to stay focused and remain on a righteous path. The beauty of angel nail art is that there are many different designs, each of which is open to interpretation. If you want your artwork to be the focus of your manicure, then opt for a muted base coat. This will also let the design come to life. Pale purples, greys, and whites are all fantastic options. Focus your design on only one or two nails for a more subtle approach.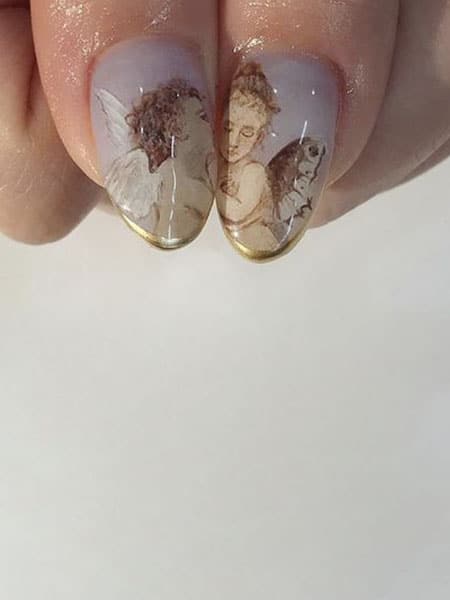 20. Angel Wings Nails
Angel wings are a fantastic choice for your manicure because they are pretty and symbolic. The wings are often associated with freedom and spirituality. It can be a reminder to live life the way you want. In addition, an angel wing is often used to honor someone who has passed, and if you have lost a loved one, this could be an excellent way to pay tribute to them. Your base coat could be anything, but muted colors are the most wearable, lending themselves well to different nail shapes and lengths. They can also be worn in various settings, including more formal ones. If you cannot decide on a single shade, try something different; the ombre technique blends two hues, often light and darker.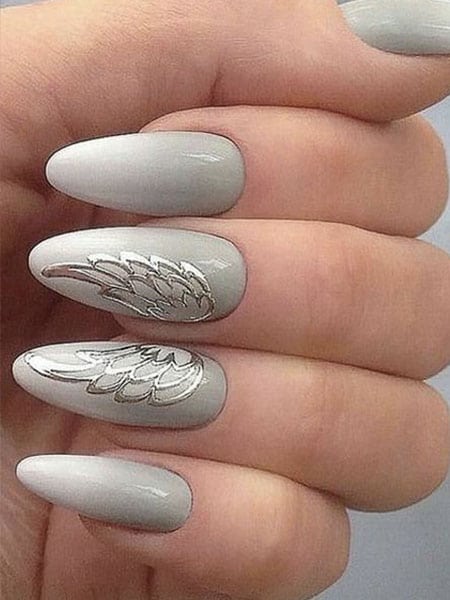 21. Angel and Stars
Angels make for a cute and dreamy manicure, but a great way to do this is with star imagery if you want to add to it. The combination of angels and stars on your nails is gorgeous and can make you think of heaven, goodness, happiness, and hope. Your manicure is pretty and symbolic, reminding you of the things that hold importance in your life. If you want to add a slight shimmer to your nails, consider adding a coat of clear glitter polish for a sparkly finish. You can also experiment with different placement of your artwork and keep it simple by focusing on a feature nail for a more subtle appearance. These designs will suit nails of all lengths and shapes, but longer nails are better if you wish to include a lot of detail.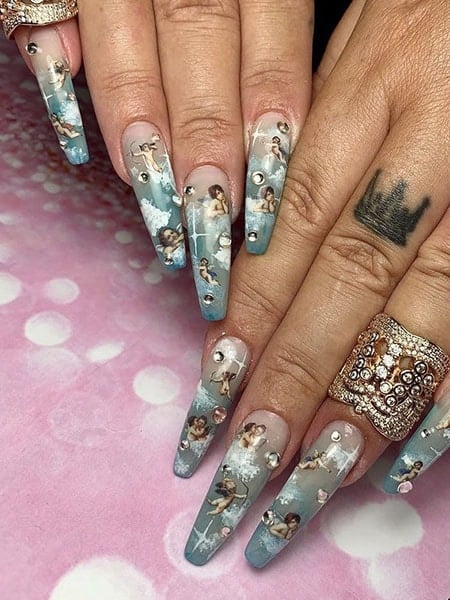 22. Angels in the Grey Sky
If you want an alternative to blue or white base coats, consider a grey sky with your angel design. Grey is a gorgeous hue that can make your manicure look more modern. It is also a cool, muted color, which makes it easy to wear, and it will lend itself well to various occasions and looks stylish and sophisticated. You can opt for an ombre manicure, combining light and dark grey, or pick your favorite color and add your nail stickers over it. You could also get creative by painting every nail with a different shade of grey. For more detail, you can include images of stars or clouds, adding to the dreamy feel of your manicure.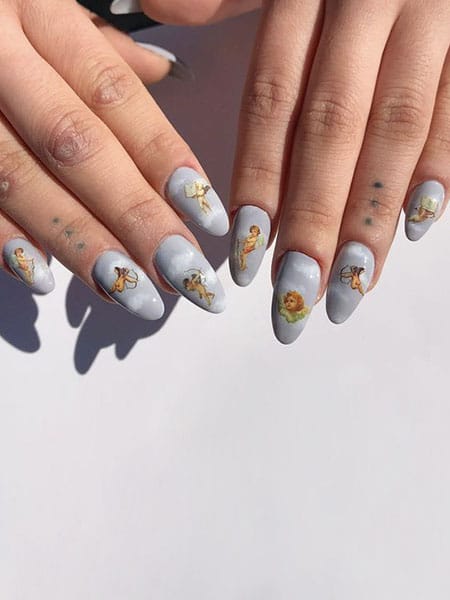 23. Angels on French Manicure
What is not to love about a French manicure? This is one of the most timeless and classic approaches to nail art and is sophisticated and perfect for every occasion. The traditional approach to the French manicure is to paint the tips of your nails white and wear a light pink or clear base coat. This can make your nails appear longer and draw attention to the shape. In addition, all nail stickers and artwork look gorgeous when paired with a French tip manicure, and your angel stickers will be a fantastic addition. If you want some sparkle, consider adding a few rhinestones or gems to the base of each nail. Alternatively, you could opt for a glitter polish to give it a shimmery finish.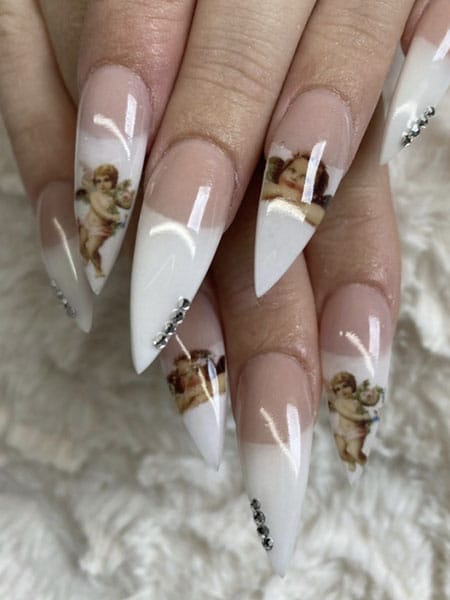 24. Ariel's Heaven Angel Nails
There are many choices when deciding on angel nails, allowing you to find something that best reflects your personality and preference. Your nails are a way to express yourself and have some fun with your appearance, and if you love animals or want to remind yourself that good things are coming, then you may be drawn to nail art that is inspired by Ariel. Ariel is an angel who is also the patron saint of wild animals, and you can get incredibly creative with your artwork. This could include images of angels and doves or any of your favorite critters. To keep the nail design the focus of the look, stick to a simple or muted background.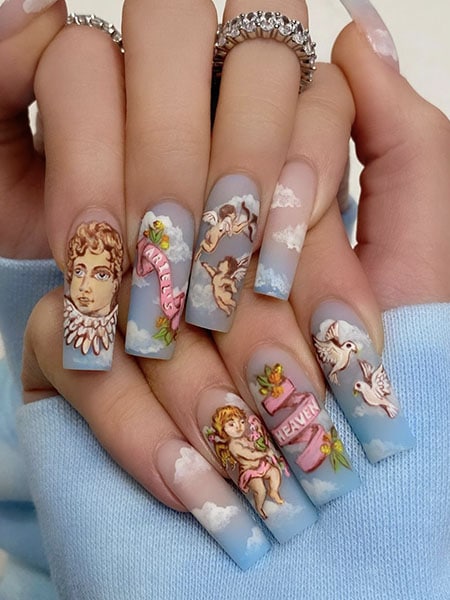 25. Blue and White Ombre with Angel Stickers
Ombre is a gorgeous technique that can make an effortless statement. Ombre nails are created by blending two shades, one lighter and the other darker, and these colors can be any combination. For a soft and easy-to-wear option, blue and white make for a subtle and beautiful base color that reminds us of the sky. This base coat can complement your angel stickers, making it look like celestial beings are in heaven. If you prefer bolder artwork, try out darker blue shades for a look that produces more contrast. The effect looks best on longer nails but can be adapted to suit various nail lengths and shapes.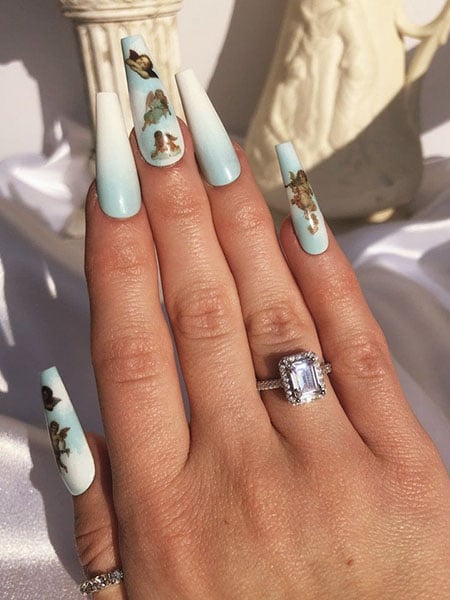 26. Blue Sky Heaven Angel Nails
A manicure that features a blue sky with angel stickers will demand attention and highlight your nail shape. Choosing to make your base coat represent the sky can add symbolism to your nail art as it reminds us of heaven, which could be associated with happiness, eternal love, and hope. The hue is associated with calmness, royalty, and sophistication and looks great on nails of all lengths and shapes. It is also flattering on most skin tones and can be worn by women of all ages. There are also various shades of blue to choose from, from light and muted pastels to deep, rich blues. Remember, lighter colors are easier to wear and produce a more subtle manicure.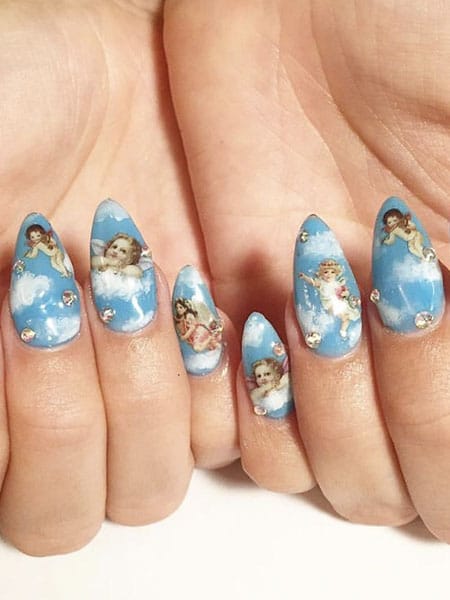 27. Cherubs Press On Nails
Press-on nails are a fantastic alternative for those who want to experiment with different nails shapes and lengths. They are easy to do yourself, affordable, and can be removed easily; this makes them perfect for the times you want to try longer nails or have fun with nail art for special events. Cherubs are a stunning choice for nail art because they are super cute and symbolic. They represent innocence, love, and sweetness. This could also be a way to honor a loved one, as cherubs are often used for memorial designs or to celebrate the birth of a child.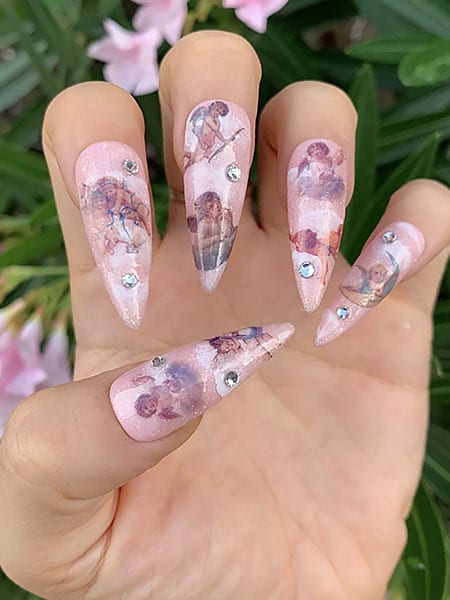 28. Christmas Angel Nails
The top of the Christmas tree is reserved for a very special angel decoration in many households. The angel represents the birth of Jesus Christ because of the angel messenger: this angel is the Angel Gabriel, who is also sometimes referred to as the Christmas angel. This is a stunning choice for a meaningful manicure during the festive season. Christmas is also a joyous occasion and the perfect time of the year to experiment with your nail art. You can include various other religious imagery to honor your faith or keep it simple with only the image of an angel. Pick pretty colors like pinks and nudes for your base coat, which will complement your chosen Christmas nail designs and look fantastic on all nail shapes and lengths.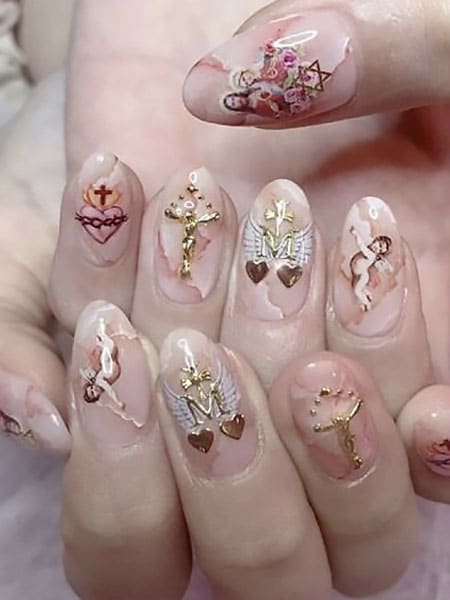 29. Crosses and Angel
If your faith plays an important role in your life, you may wish to choose religious imagery for your nail art. This could include angels and crosses or even an image of Jesus Christ. Your manicure is a way to express yourself and show the world what you love or hold dear to you. If you wish to celebrate your Christian faith or remind yourself of specific values in your life, then this is a great way to do it. Although you can wear this artwork whenever you wish, the Christmas season is a popular choice because Christmas Day is the birth of Jesus Christ.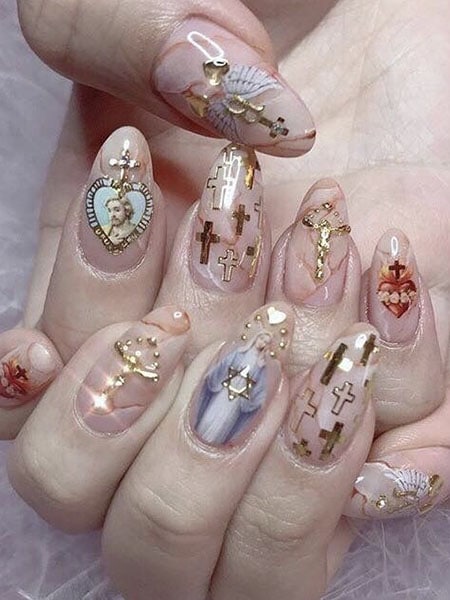 30. God Bless You, Angel
The phrase 'God Bless You' is often used by those in the Christian faith, and it means that you wish them well. You want to see good things happen because of their kindness or faithfulness. It is an expression that can be used in multiple situations, and it can also be added to your nails if you wish to send a message of positivity to yourself and the world. Slogan nail art can make a statement, but it can also be symbolic and special. When deciding how to incorporate this expression into your manicure, you could add it to each nail, combine it with an angel design, or focus on a feature nail. You can also have fun choosing different color combinations, for example, shades of pink or black and white; this depends on how much attention you want your hands to get.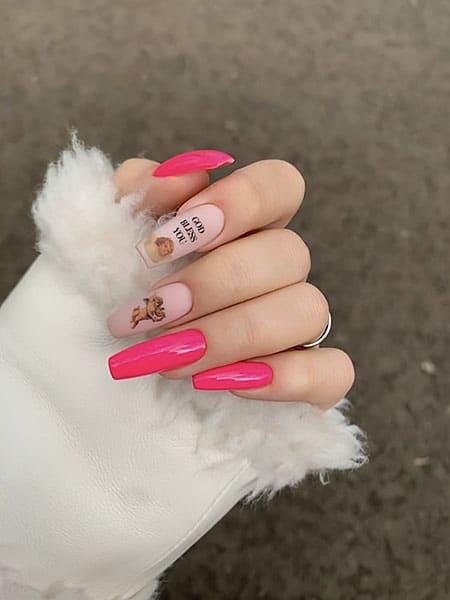 31. Gold 3D Sticker Oval Nails
Angel nails can be created in various ways and on nails of all shapes and lengths. That said, one of the most versatile shapes to choose is an oval. Oval nails are a classic choice and have a rounded tip. They are flattering and can also have a slimming effect, making your fingers look longer. In addition, oval nails lend themselves well to various nail designs. If you are someone who loves blingy manicures, then what better design than a gold 3D angel? Gold will give your nails a luxurious feel, while the 3D details make for a statement manicure. The downside to this option is that it will limit you where and when you can wear it; for example, you cannot do contact sports. Keep this look is for special occasions and moments where you want to draw attention to your hands.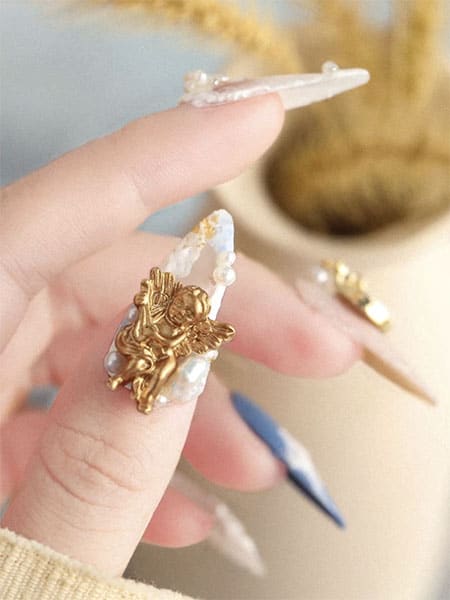 32. Graffiti Angel Nails
Graffiti slogans usually have a very distinct appearance, and this is a fantastic alternative to letter nail art. Instead of opting for simple letters, this option allows you to get more creative and is less precise than adding letter stickers to your fingernails. You can experiment with various color combinations and have fun with the placement, spelling out words that are meaningful to you. If you love angels or feel you have the qualities they are often associated with, including goodness, innocence, purity, and loyalty, then spelling out ANGEL is perfect. This look is already bold, but if you want an even more detailed manicure, you can add other images such as a halo or angel wings.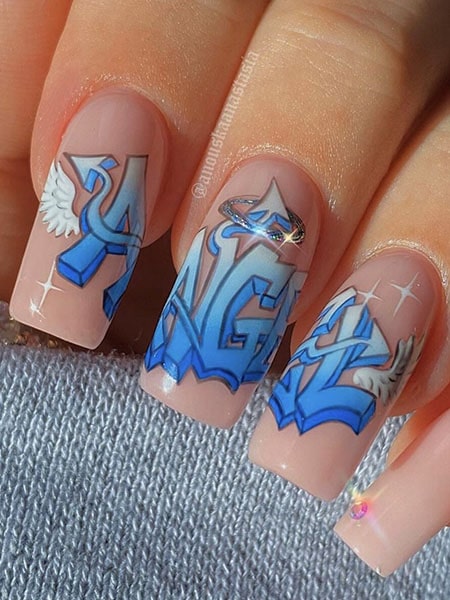 33. Grey Coffin Angel Nails
Grey nails are having their moment in the limelight because this cool, muted color is easy to wear and classy. It is an excellent alternative to nude or white but is just as versatile and can be worn on nails of all shapes and lengths. It is also flattering on most skin tones, and there are various shades to choose from. If you want a pretty, feminine manicure, then choose coffin nails. Celebs and style icons love these nails because it makes a statement. It gets its name because of the shape, which has a straight tip and tapered sides and resembles a coffin or top of a ballerina slipper. It is durable. Plus, coffin nails lend themselves well to nail art, including angel designs.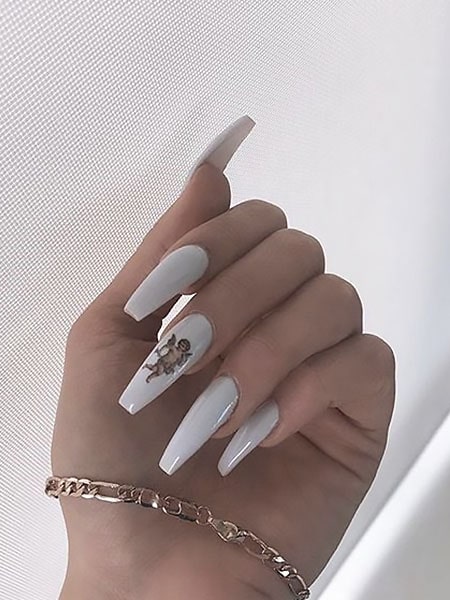 34. Little Angels Stiletto Nails
When it comes to nail art, stiletto nails are one of the most popular shapes. They are so long that there is more space to get creative, letting you combine various colors and imagery to create the manicure of your dreams. Stiletto nails with little angels is a gorgeous, feminine manicure, but the shape is also appealing because it can elongate your fingers, making them look longer and slimmer. Its thin, pointy tip defines the shape, which gets its name because it resembles a stiletto heel. Simple designs look great on stilettos, but you can also combine several images, depending on your preference. Adding celestial beings to each fingernail can make you think of goodness and remind you what is important in your life. Or, it is simply a way to express yourself and have fun.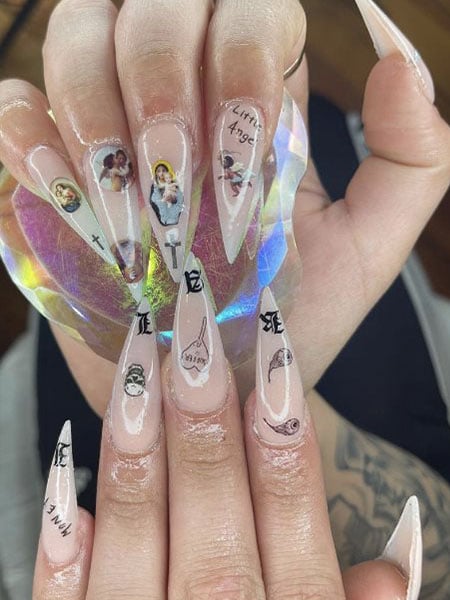 35. Transparent Angel Nails
Angel nails can be simple and cute or bold and make a statement. There are so many ways to incorporate angels into your manicure that it is different and unique for each woman. Transparent angel nails will let you do this if you want to create a heavenly appearance. Instead of opting for a colorful base coat, keep it clear and add clouds and angel stickers over it. This option can work with long or short nails but is more noticeable on longer nails. This also gives you more space to get creative and include multiple images.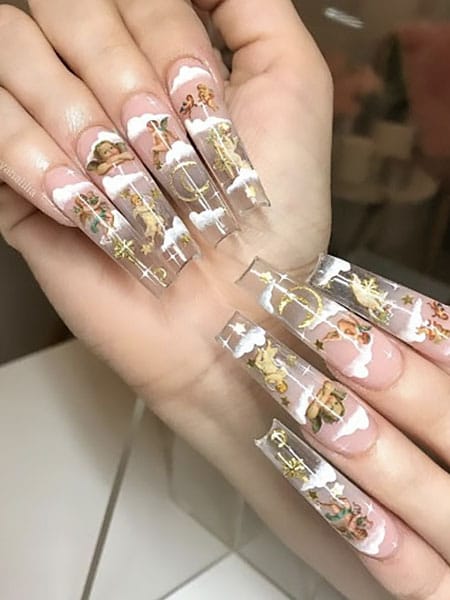 FAQs
Are angel nails trending in 2021?
There are many nail art trends in 2021, and among them are angel nails. The angelic-inspired trend is dreamy and girly and perfect for a variety of different occasions. There are many ways to interpret this theme: some bold and bright options and others more subtle. There is, therefore, something to appeal to everyone, and women of all ages can try out this cute look.
How to create angel nails?
There is a variety of different angel nail looks to try out. Some are simple, using natural or pink base colors and adding angel decals, while others are more complicated, like 3D nail art or the marbled effect. The great thing about creating your own look is that you can pick something that suits your skill level and personal style. If you have time and want to practice perfecting the more complicated looks, you can watch YouTube tutorials to give you a step-by-step guide on how to achieve your specific design or effect.
Can nail art be done on natural nails?
Many people like to do nail art on acrylic nails because they could be longer or because acrylic polish doesn't dry as quickly. There are some options that artificial nails tend to work best with. That said, you can stick nail stickers onto your natural nails. It would be best if you painted your nails with a base coat first, and this can be whatever color you prefer; this is so that the stickers will actually stick.
Are stickers or decals better for nails?
Nail stickers and nail decals are not bad for the nail and will not harm it. They are also incredibly easy to apply and can peel off without lifting or damaging your nail. You do need to take care to remove them properly, though. That said, not all products are made equal, so it is always best to choose from a trusted and reputable brand, so you know what exactly you are putting onto your nails.
Do nail stickers work?
Nail stickers do work, and it is a wonderful way to update your manicure. The great thing about stickers is they are easy to apply, there is a wide range of different images to choose from, and you don't have to be an extremely skilled manicurist to apply or remove them. This is great for someone who wants to try out the hottest nail trends but doesn't have a lot of time to practice painting their nails. Although not all products are made equally, and some are of better quality than others, they can last around a week if worn correctly.
Can you put regular stickers on your nails?
Nail stickers are designed specifically to be used on your nails and should stick better than normal stickers. That said, nothing is stopping you from using regular stickers, too, although they may be harder to apply, probably won't last as long, and may tend to curl at the edges. You will need to apply a topcoat layer or two to help keep them in place.
SUBSCRIBE TO OUR NEWSLETTER
Subscribe to our mailing list and get interesting stuff and updates to your email inbox.