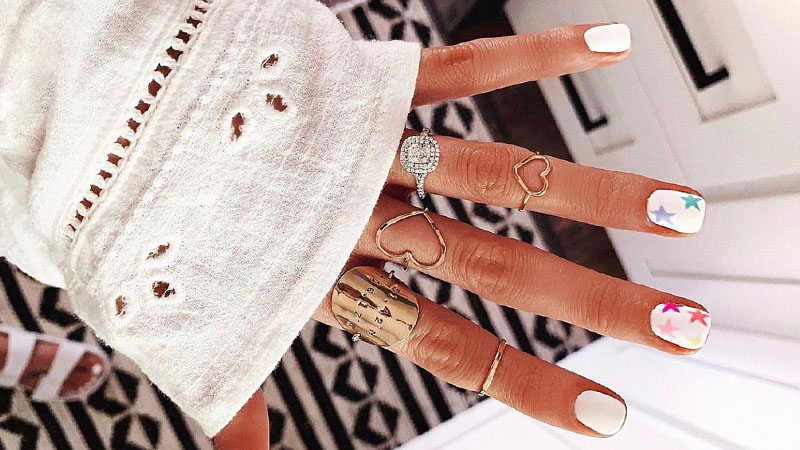 From the night sky to the depths of the ocean, this supernova of a pattern is one of the unique parts of the natural world. There is an event for every single one of these designs, no matter the time of day or year. Are you ready to shine like the luminary firework you are? These dreamy star nail designs are way too cute for you not to get – there's something here for everyone!
1. Bejeweled Star Nails
Sparkle like the bright light that you are with a set of bejeweled nails. The oversized shape in the middle of the finger adds drama to the traditional nude manicure – let the edges of the glittering orb spread beyond the tips for a bursting effect. Add some large jewels on top for an extra touch of brilliance. This design is so stunning that you won't need to accessorize to stand out.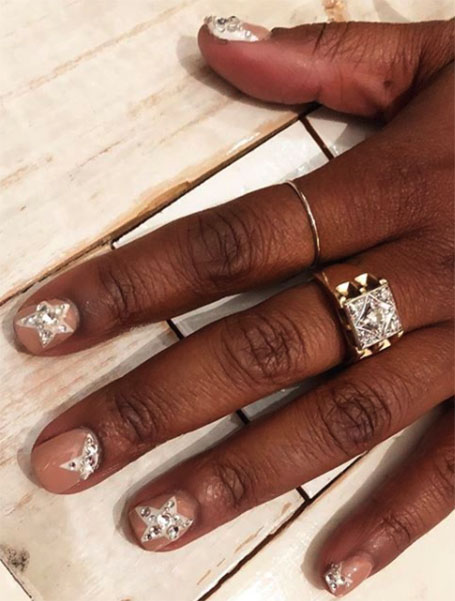 2. Black Minimalist Star Nails
Put a high fashion spin on the classic black and nude manicure with a pair of stars. This minimalist style is easy to replicate and looks fantastic for almost any event. You can find sets of stickers for the perfect finish, create a stencil, or paint it organically onto your nails. Place the shapes across the tips – you can choose a neutral base color or something clear for a natural effect.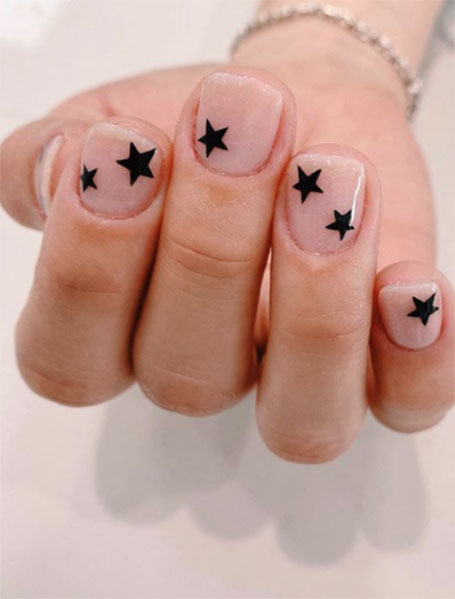 3. Chrome and Gold Star Manicure
Are you looking for a futuristic manicure with an haute couture twist? This chrome nail art features blindingly beautiful stars over the top of a metallic base and is an excellent design for a summer date, or a night out with friends. No matter how long or short your nails are, this is a style that will elevate your outfit and look trendy for years to come.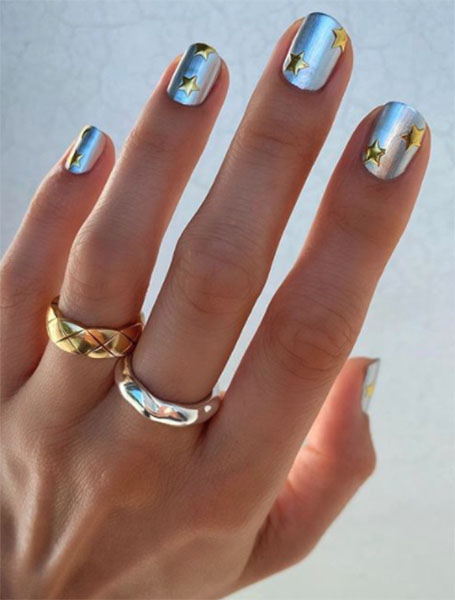 4. Crescent and Star Manicure
It's one of the trendiest nail silhouettes of the season, and this design takes the cake. Sprinkle stars and half-moon along the crescent of the nail bed – this will elongate your fingertips and add a touch of sparkle to a classic manicure. Start with a soft muted color for the tips, and fill the moon with a cream or white hue – line the varying shapes with glitter polish for a finishing touch.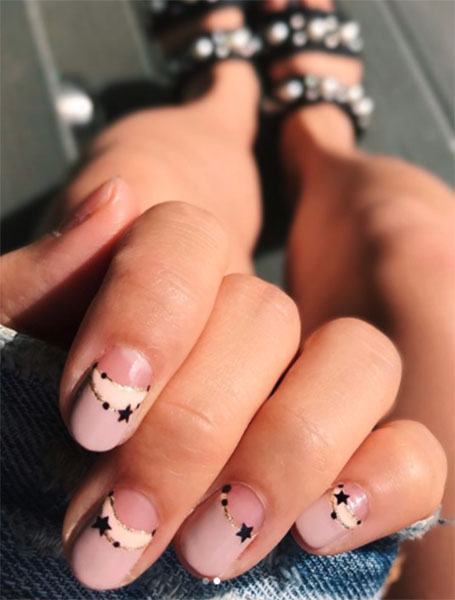 5. Gold Star Nails
Dip your fingers into gold with this delicate manicure. Starting with a nude or clear base, place four to six small stars along one side of each fingertip. The beauty behind this design is in its simplicity – you don't have to go all out to create an impactful piece of art. This is an excellent option for those with shorter nails and is a beautiful way to elevate a natural nailbed.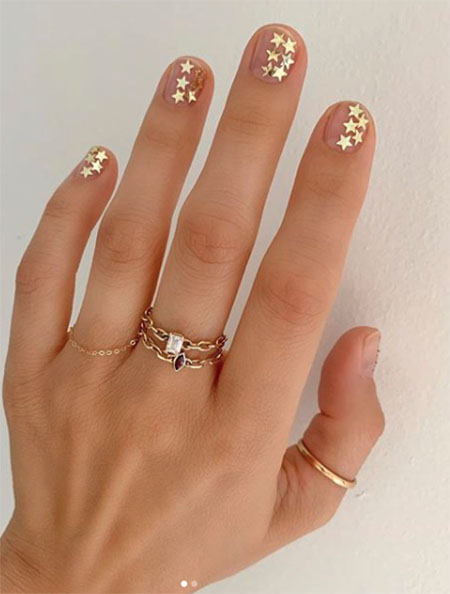 6. Holographic Blue Star Nails
Some of the biggest trends of the season are holographic colors and star shapes. What appears like water droplets are quickly transformed into a clear night sky – this manicure is terrific for anyone who loves to become entranced with art. To re-create this look, place the metallic artwork across the tips your fingers – add some small dots with the same polish to fill in negative space and complete the design. Every time you move your hands, the hue will change as it captures the light.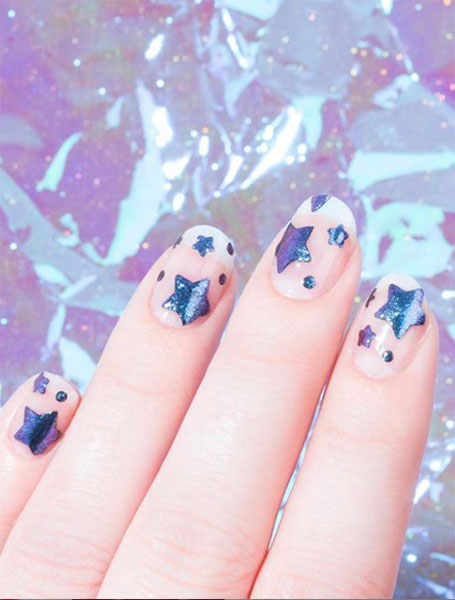 7. Inverted Black and White Star Nails
Take the classic black manicure to the next level by making shapes out of the bare nail bed. Using small pieces of tape or a star sticker, place them on your fingers and paint the dark hue over the top until it's fully covered. Once the polish has dried, remove the shapes, leaving behind an outline of the celestial design. For a bonus, use one of the remaining stickers and place it on a bare digit for a fun twist. It's an edgy way to elevate the go-to style, why not give it a go?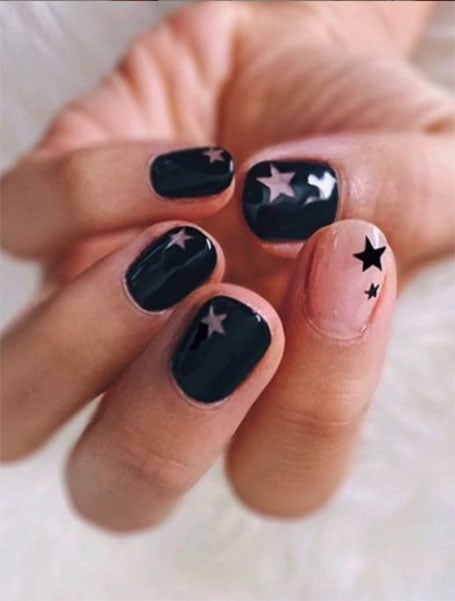 8. Lavender Star Knit Nails
Let this manicure help you feel snug and stylish all at once by combining chunky knit patterns with glitter and the night sky. Utilizing the trendy shade of lavender, this nail art is a great way to mix up your routine and try something new. Try coordinating hues for the stars, such as silver, black, and white. For a high fashion final touch, paint a matte topcoat over the top, giving off the appearance of a wooly jumper.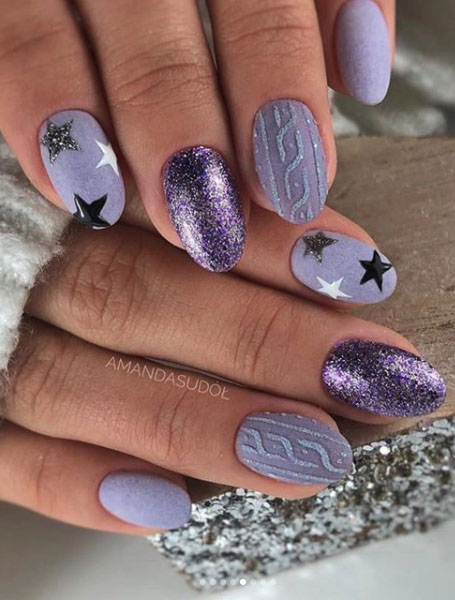 9. Minimalist Gold Star Nails
If you're not a huge fan of wild nail art, step outside of your comfort zone with this stylish manicure. The minimalist stars sprinkled across each finger offers dimension to a traditional nude manicure. For the perfect shape each time, use stickers and place them sporadically, depending on the size of the area. To prevent them from peeling off later, paint a topcoat – this also seals in the color and helps the art last longer.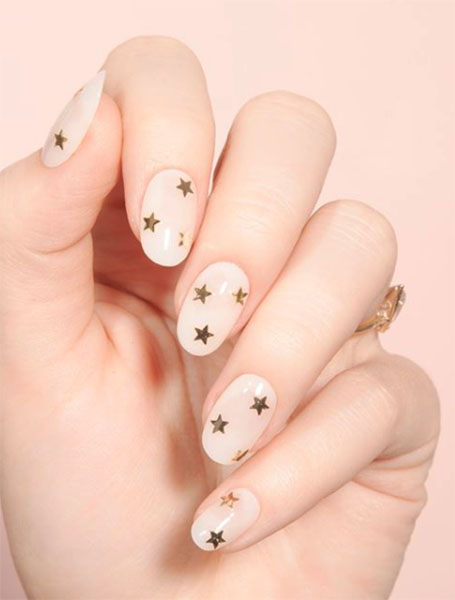 10. Multicolored Star Nails
The '90s are having a huge comeback right now, so why not take inspiration from some of the era's biggest color trends and put them on your fingers? This bright manicure sprinkles stars in yellow, green, blue, red, and pink across each nail, sitting over the top of a nude base. This combination is bold and is ideal for those who love to experiment with their style.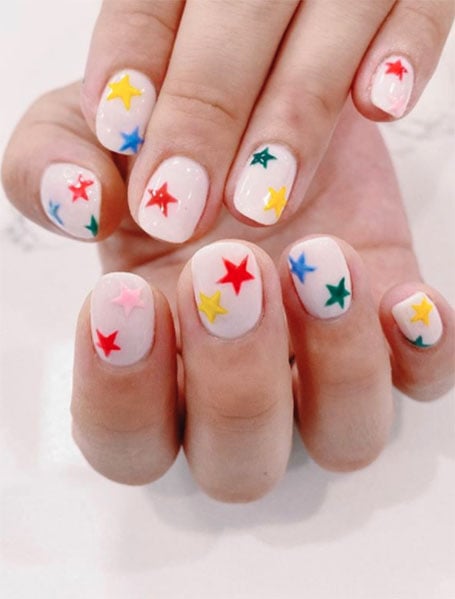 11. Nude Sparkling Star Manicure
Haute couture isn't just for the runways, and this manicure proves it. Unlike traditional star nail art, this resembles the bright lights in the sky, with a dusting of tiny diamontes from the cuticle to the tip. For maximum impact, keep the base color clear or nude – this will let the glittery ends shine when it hits the light. There's no better time to wear this than an event where you have to dress to impress – it's an exquisite combination of elegance and high fashion.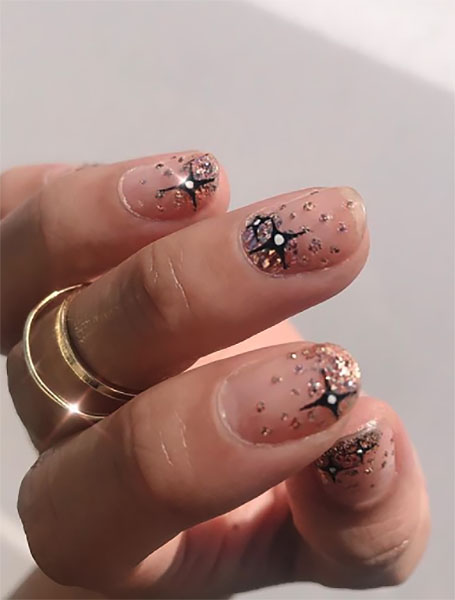 12. Nude Star Manicure
Sometimes the most subtle pieces of art are the ones with the most significant impact. From far away, this may seem like your traditional nude manicure, but get up close, and you'll see the stunning artwork. Depending on the size you prefer, paint a few stars in soft baby pink on top of a clean base. If this is a shade that is too light for you, opt for sand, caramel, or something that flatters your skin tone. It's a timeless way to keep up with the latest trends.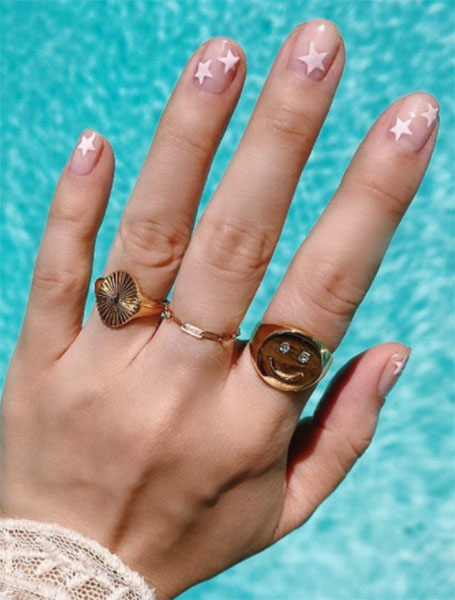 13. Pop Art-Inspired Star Manicure
You'll be seeing stars after finding this pop art-inspired manicure. Taking its inspiration from Lichenstein and comic books, you can create bold and impactful shapes on each finger. Paint the base in a purple hue, and then place yellow on a few fingers of each hand. To help the pattern really stand out, define the edges with a thin black polish.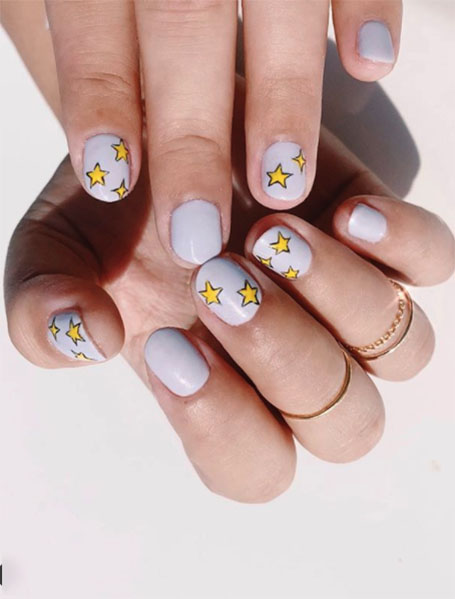 14. Rainbow Star Manicure
Showcase your love for the colors of the rainbow with this star-studded manicure. The sparkling nail art is simple in design but extremely effective in practice. Leave the base of the nail bare and paint the bright shades over the top – let the shape reach past your fingertips to elongate your hands. Choose whichever hues you prefer – navy blue, yellow, burgundy and orange are popular choices for those who love to stay on-trend.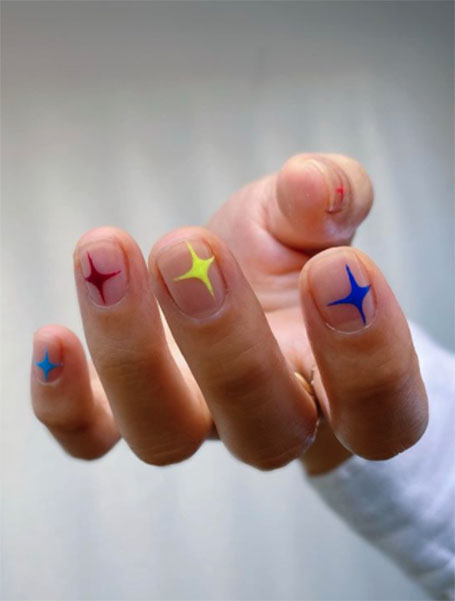 15. Silver Star Manicure
This showstopping manicure is the perfect option for a Christmas event or a wedding. The peppering of glitter across the center nails creates a glimmering effect, and added stars help the design shine brighter. For a really bedazzled look, leave the remaining tips in a soft and subtle nude base, and let the middle and ring fingers do the talking. This gradient-style design looks fantastic with silver or gold colors and is sure to capture everyone's attention.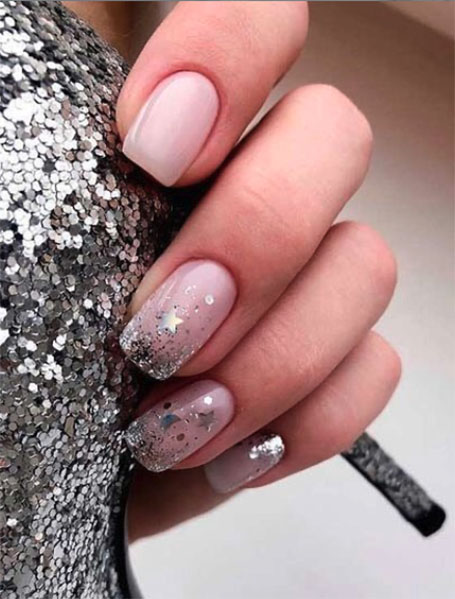 16. Starfish Manicure
Unleash your inner mermaid and carry the ocean with you everywhere. This starfish manicure features the cute sea creatures across each finger. To create this gorgeous nail art, place the shape in the different corners of each nail – add small dots in orange, red, and white across the design for the finishing touch.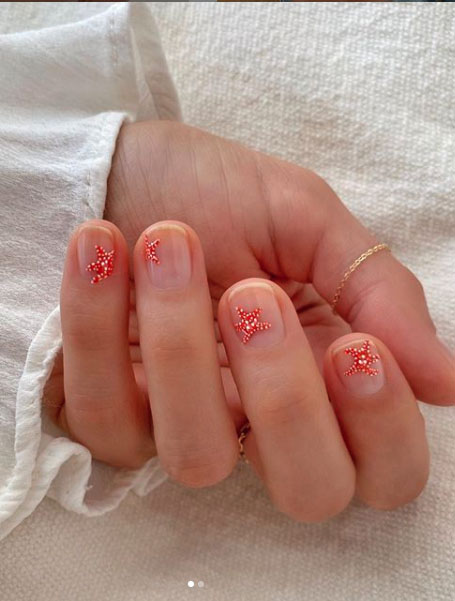 17. Stars and Smile Nails
Brighten your day and keep the energy up wherever you go, thanks to this delightful nail art. The combination of classic smiley and white stars is an instant mood-booster and is a perfect way to complete a summer ensemble. While the traditional yellow is a fantastic option for the happy faces, feel free to try varying shades – this is a design that will keep you feeling optimistic all day long.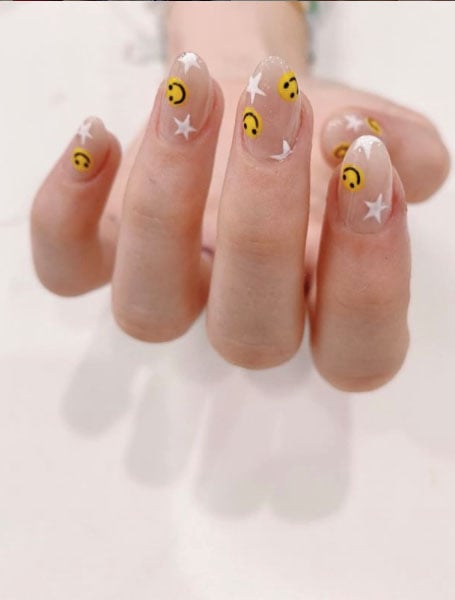 18. Stars and Snowflakes Manicure
Dust the stars across your fingertips with this sparkling and delicate manicure. A sprinkle of snowflakes, glitter, and stars on the tips of your nails will instantly elevate your ensemble and will be suitable for the winter bride. No matter how long or short your nails are, this is a beautiful choice to showcase your love for the snow and night sky.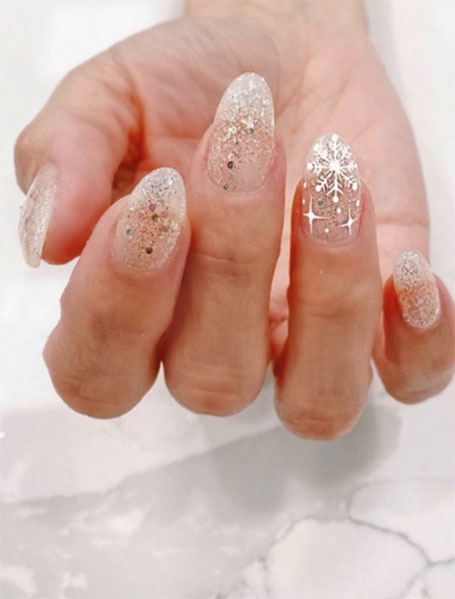 19. Stars and Moon Manicure
Are you a fan of astrology or the meanings behind the night sky? This celestial manicure is delicate and fashionably filled with significance. Using a soft pink base, you can place the blue stars across a few fingers, and leave the rest free. For a multi-dimensional effect, add gold moons and designs on the varying tips. As eyes are the gateway to the soul, this nail art can represent more than just some pretty patterns.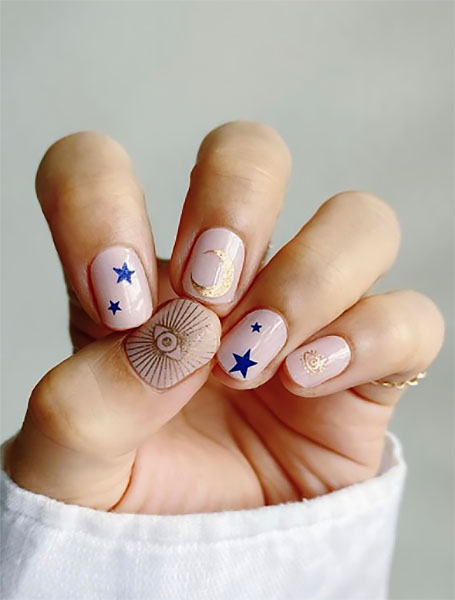 20. Subtle Star Manicure
From the office to a night out with your friends, you can't go wrong with a classic nude manicure. For those who like to think outside the box, add a series of tiny white stars on each finger for a high fashion twist. The soft and delicate style is subtle in design but has maximum impact in practice. Find a neutral shade that best flatters your natural skin tone, and add the pattern on top in a crisp light hue.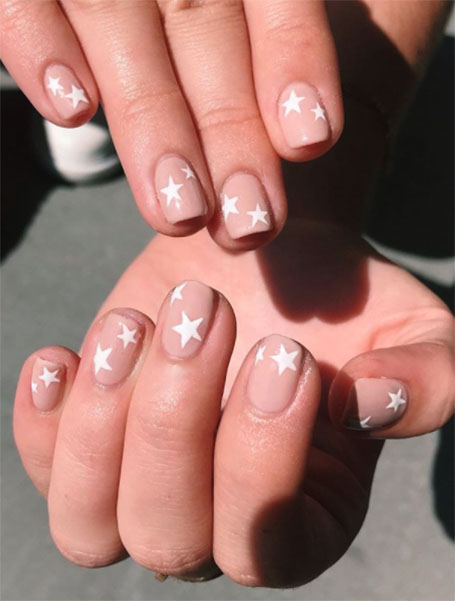 FAQs
What are star nails?
As the name suggests, star nails are inspired by our night sky. There are multiple designs to choose from, from sparkly jeweled creations and shiny chrome and gold manicures to the more understated minimalist black stars. This is a super cute manicure for any time of the year, and there is something for everyone!
How do you get stars on your nails?
Achieving the star nail look can be done in several ways. Some opt to hand-paint their designs, while others choose stickers or stick-on jewels. Each look is effective and makes for a dreamy appearance.
How much does it cost to get star nails?
The cost of your star nail manicure is going to depend on several things, specifically the detailing you choose. Elaborate pieces that require a lot of skill and time to complete will cost more than simple designs. Your choice of salon and nail technician are two more factors that influence the price. You are looking to pay around $60, on average.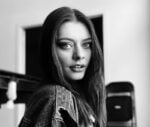 Alexandra Feiam is an experienced fashion writer who holds a degree in journalism. She has an impressive portfolio and expertise working as the Editor at Power Retail and Commercial Content Editor at Newscorp. Ally has been writing for The TrendSpotter since 2018, and her work has been featured in notable publications such as The Herald Sun, Arirang TV South Korea, Kidspot, The House of Wellness, and The Daily Telegraph.
SUBSCRIBE TO OUR NEWSLETTER
Subscribe to our mailing list and get interesting stuff and updates to your email inbox.