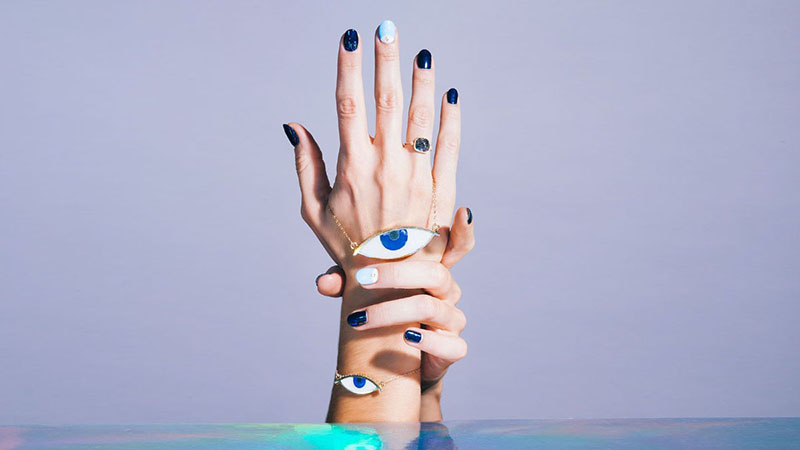 This season, shades of blues are trending on the runways and in everyday street style, making it one of the coolest colors of the year. Manicure is a great way to experiment with new styles and designs, and this is a perfect opportunity to test out some of the hottest looks. If you're a fan of this cool shade or you want to spice up your routine, we've got you covered. Find your new favorite go-to look with these coolest blue nail designs to copy.
1. Blue Adidas-Inspired Nails
Are you a major Adidas lover? This manicure seeks its inspiration from this iconic brand logo and looks fantastic on each nail. To create this look, paint the base of the nail white and wait for the polish to dry. Next, cut out and stick the thin strips of tape to form clean lines at an angle across the fingertip, and add blue nail polish over the entire nailbed. Once the second layer has dried, you can remove the tape to reveal the pattern.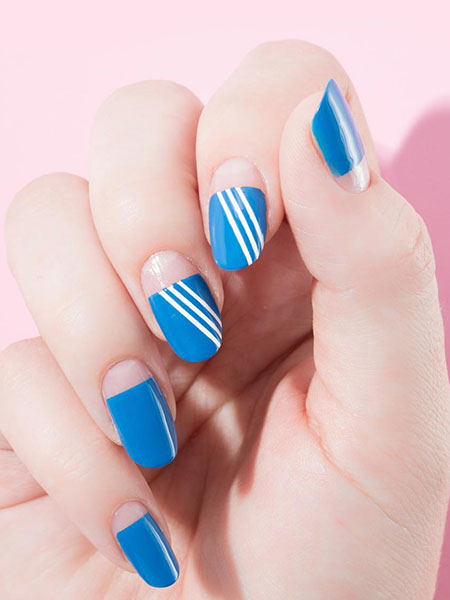 2. Blue and Yellow Nails
Combine both sides of the color wheel with this cute manicure. The lemon shade next to the ocean blue is a stunning option for those who love to try new things. Throw in some graphic black lines into the mix for a break up of the opposite hues. You can create a reverse French manicure with the two tones or feel inspired by Mondrian's artwork and keep it abstract. To make the lines extra-fine, use a thin art brush – you can use bits of tape to ensure your lines are straight.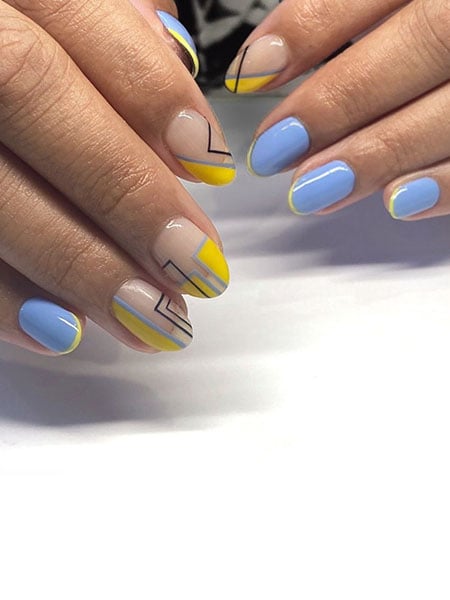 3. Blue with Gold Nails
Add a touch of decadence to your manicure with these gold and blue nails. The duck-egg shade is an exquisite hue for any season, and the sprinkles of precious metal add dimension and depth. The 3D nails artwork looks as if someone melted gold across your fingertips and makes for a perfect feature nail or across the entire hand. Choose the shape and length that suits you best – everything works with this stunning design!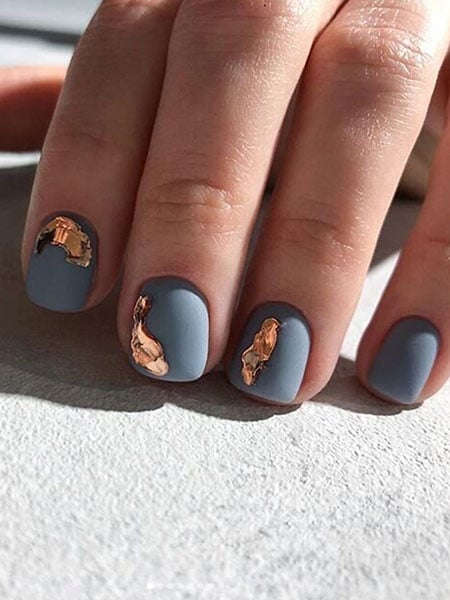 4. Blue Clouds Nail Art
Keep your head up and think positively with these beautiful nails. The cloud design is a soft and simple piece of art to take with you everywhere, and it matches every season of the year. Choose varying shades of blue, such as the color of the sky or even a reflection of the ocean. This style takes a lot of practice, so be patient when replicating the manicure – use small brushes to draw fine lines and shapes for the perfect result.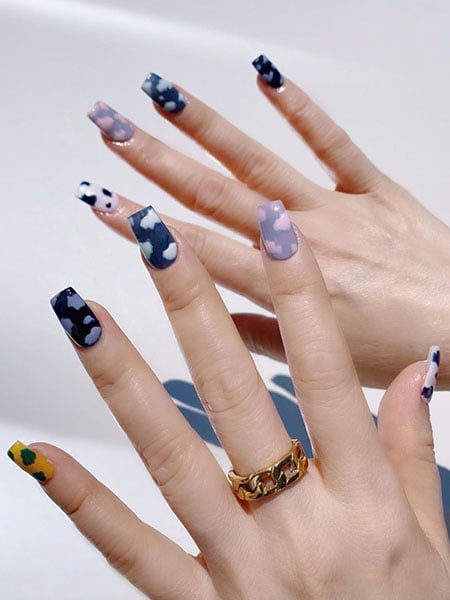 5. Blue Eyes Nail Art
See things from every angle thanks to this eye-catching manicure. Featuring the magnificent blue color across each nail bed, it'll help you instantly stand out. The symbolism behind this art holds a different meaning across the globe and is a gorgeous addition to your ensemble. Try it across your entire hand or a feature nail – throw in some gold decorative accents for a finishing touch.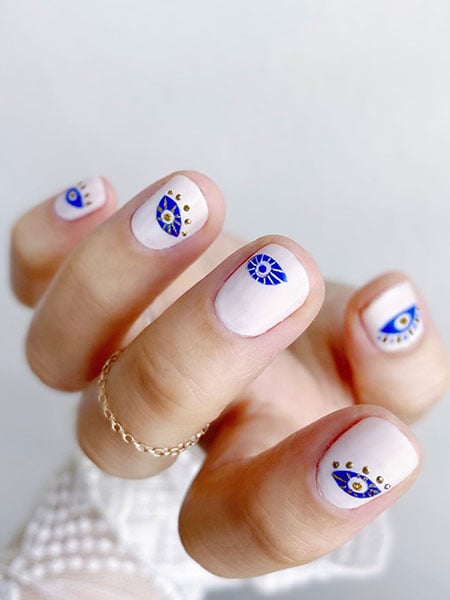 6. Blue Leopard Print Nails
Showcase your personality with these stunning leopard print art. The bright blue color combined with the neon yellow and orange creates the right amount of dimension for a chic overall look. You can feature this manicure on any length or shape nail – it's a bright and vibrant addition to your outfit.
7. Blue Line Nail Art
Do you love the waves of the ocean? Well, this manicure is perfect for you! Featuring organic blue lines across a nude base, there is plenty of room for you to explore new shapes and designs with this funky art. Begin by working a few cohesive squiggles across the pinky nail, and let it continue to the next finger. It works with every shape and length – longer nails allow you to work with more space, but try it with varying styles to see which works best for you!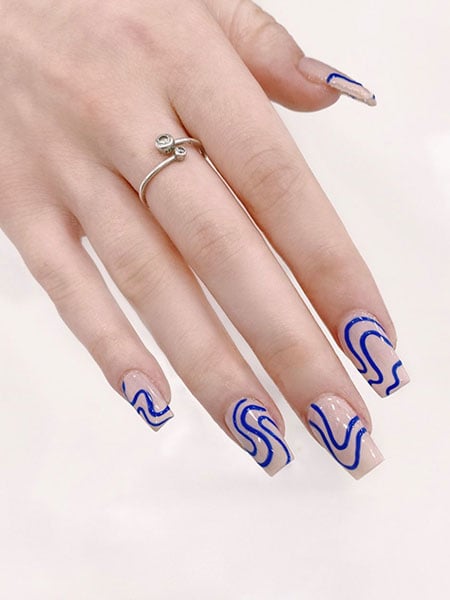 8. Blue Nails Abstract Art
Mix things around and shake up your routine with this abstract art. The blue manicure takes geometric shapes and spins it on its head – add splashes of white and black bold lines for an artistic edge. Use tape to create sharp lines across your nail – try a couple of varying hues of the crisp tones for a multi-dimensional effect. This is the perfect opportunity for you to try out new styles and let your creativity run wild.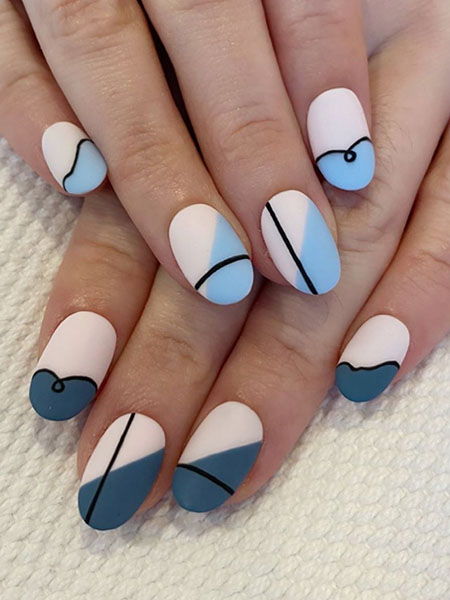 9. Blue Nails with Jewel Detail
Express yourself creatively with these opulent royal blue nail designs that give off the essence of nobility, and the added jewels on top keep you feeling regal. Sprinkle the sparkling accessories onto the fingers, leaving the tips clear. It's a wonderful manicure for a shoot on Instagram or a fun night out with friends. Now, where's your crown?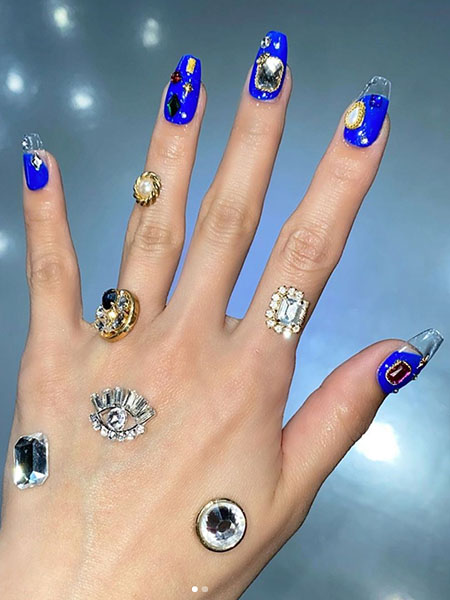 10. Blue Stars Nail Art
The night sky is one of the most magical parts of the natural world, so why not showcase them on a manicure? Let your fingertips touch the stars by sprinkling them across your nails. Use a midnight blue as the base, but only paint half of the nail bed – add a few gold dots and a crescent moon to complete the design. It's a stunning option for those who love high fashion and star gazing.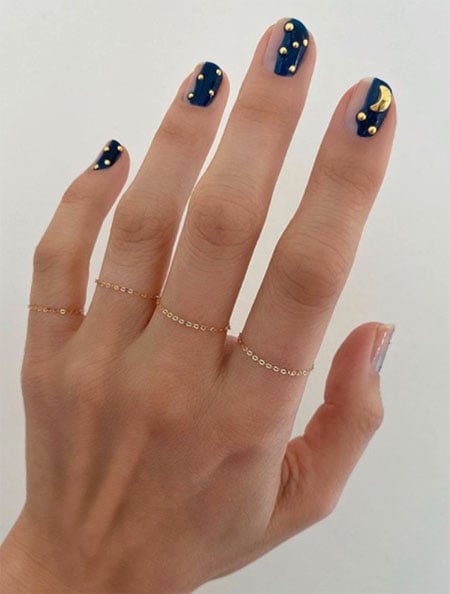 11. Blue Tips Nails
Add a summery touch to your outfit with this funky blue art. Using three shades of polish, it's easy to create dimension and a stellar piece of art on your nails. Create a reverse French manicure by painting the crescent part of the bed with baby pink and pastel purple. It helps elongate your fingertips and elevates your ensemble. Watch as everyone turns to you as the trendsetter for the slickest designs.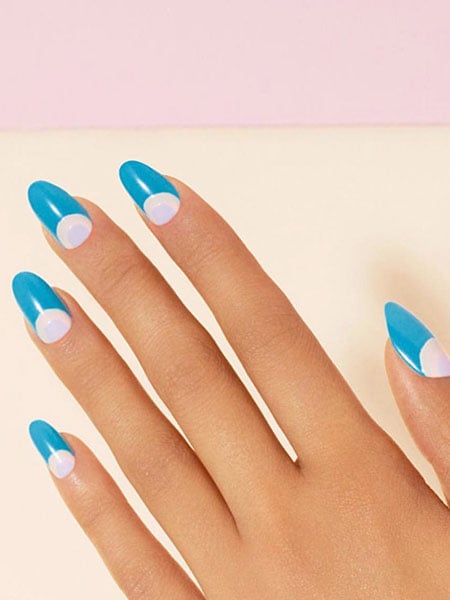 12. Blue Waves Nail Art
Channel your inner ocean lover with this blue wave design. The yin and yang-inspired artwork combines the classic blue shade with a nude base and offers the perfect blend of the color wheel. It's a tricky style to master, so make sure you have a steady hand and a fine-tipped brush before starting. Pro tip: use different shades across each nail for an extra cool finish.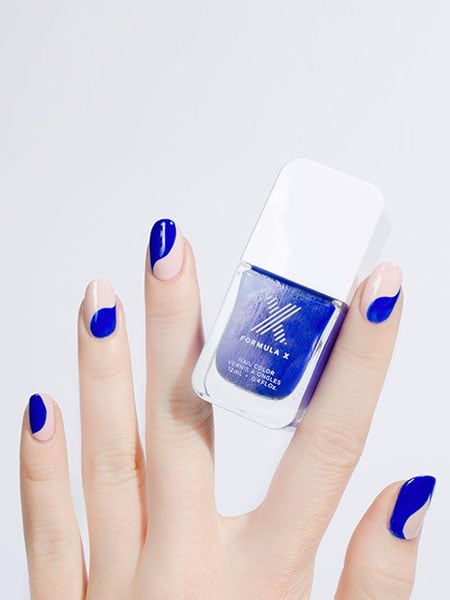 13. Cobalt Blue with Silver Glitter Nails
When you're feeling a little bit extra, you won't be able to resist a manicure this elaborate. The combination of cobalt blue and sparkling silver creates a multi-faceted and Insta-worthy design for your nails, and it's easy to replicate! Using small bits of tape, shape a small triangle in the center of the bed, and paint over it with the dark tone. Using the metallic hue, add a tiny dot to the point of the geometric shape and voila. It's a simple yet effective design that works well with any length.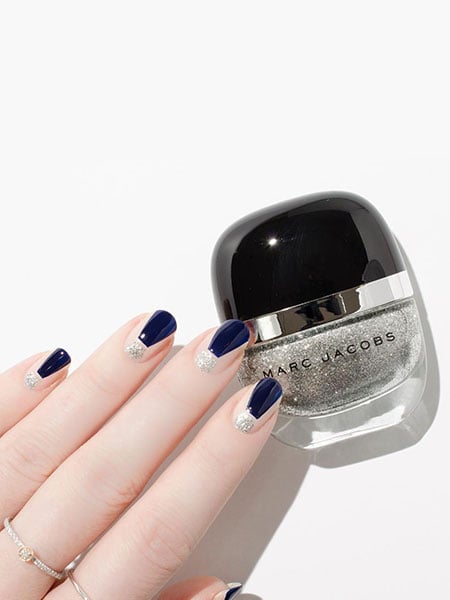 14. Feature Blue Nails
Sometimes having one color on your nails isn't enough, so why not try your hand at a whole bunch? One of the trendiest styles of the season is featuring a wide variety of hues across your fingernails, and adding a pop of blue may just be your next go-to. Combine summery shades like lemon, cherry red, and nude, leaving each fingertip with a single, bold tone. Let the cool pastel blue sit on a single feature nail, making it stand out among the rest for an ultra-cool manicure.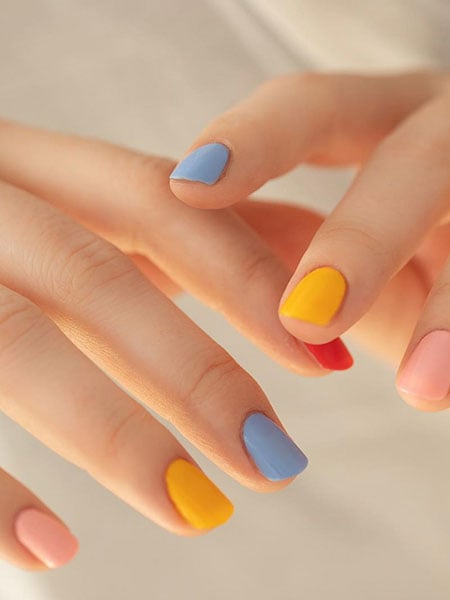 15. Matte Blue with Feature Glitter Nails
If you're going to go all out, you may as well have some fun with it. This funky, fresh, and ultra-glamorous manicure is sure to set hearts alight, and for a good reason. The matte blue finishes are stylish and trending – the juxtaposed sparkling feature nails add an extra zing to your hands. It's an excellent option for a night out with your friends or a night to yourself. It's easy to fall in love with this design, so why not give it a try?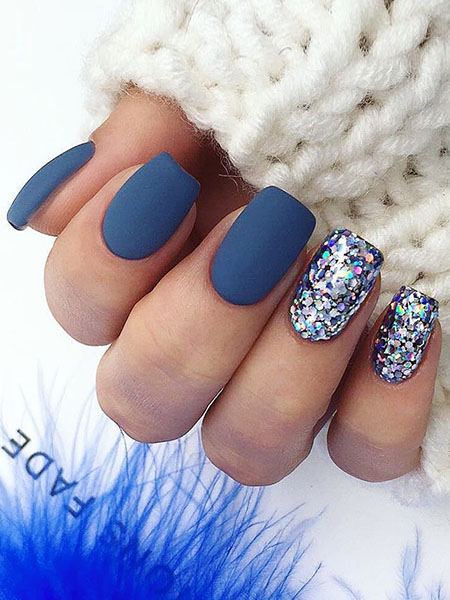 16. Light Blue Nails
Light blue nails are a lovely option for trying out the blue nail trend because they are easy to wear and flattering on most people. This is a soft, pale shade that is ideal for special occasions or every day. It can be added to the nails in a variety of ways. This includes painting your nails a solid block of color or pairing it with dark blue to create a striking contrast. Light blue is also symbolic of being in a relationship. And painting your nails could be a subtle and fun way to honor your romance.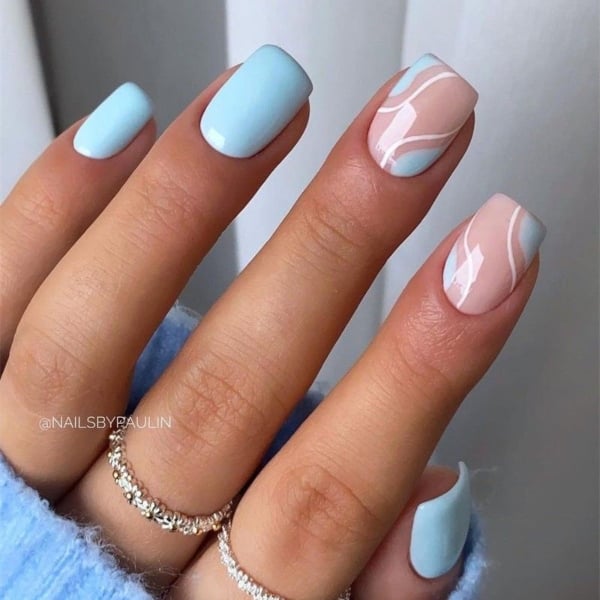 17. Blue and White Nails
Blue and white nails are a modern and versatile pairing. The white will let your chosen shade of blue pop, or you could create nail art to tone down the color; the choice is yours. You can add white to multiple shades of blue to create a more blended finish. Try out retro-inspired nails with swirls or checks, or opt for something delicate and feminine like floral nail art.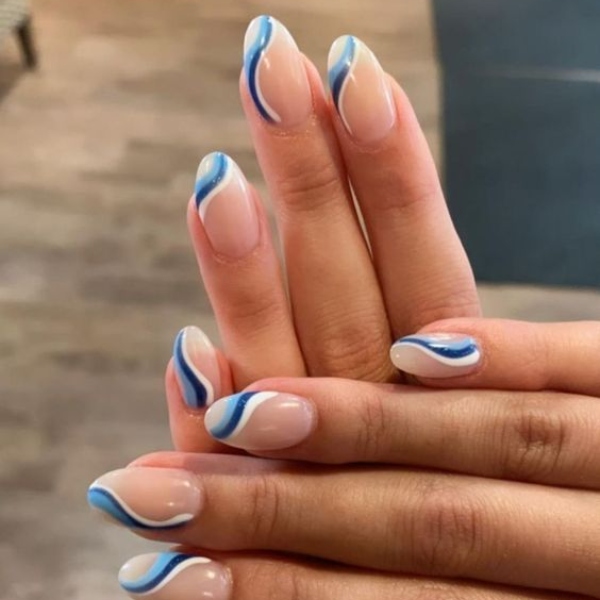 18. Red White and Blue Nails
Red, white, and blue are a classic combination that can be added to your nails to celebrate American patriotism. There are several ways to create your nail art, from stars and stripes to show your dedication to your country to abstract designs that let you get creative. Red, blue, and white are contrasting colors, and opting for this nail art will draw attention to your hands. It is ideal for a woman who wants to stand out.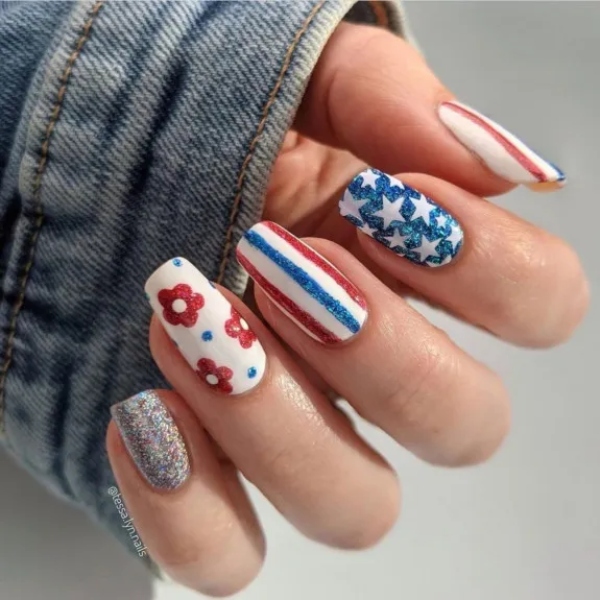 19. Royal Blue Nails
Royal blue is a color that is deep and vibrant, making it noticeable and excellent for nails that you want to show off. It is also a color associated with power and trust and can make a subtle statement about your thoughts and feelings. You can paint your nails with a solid block of this color for a simple and sophisticated manicure. Or combine it with silver or white hues to create a striking contrast. The brightness of royal blue will draw attention to your nail length and shape; this is the perfect opportunity to try out coffin nails or stiletto nails.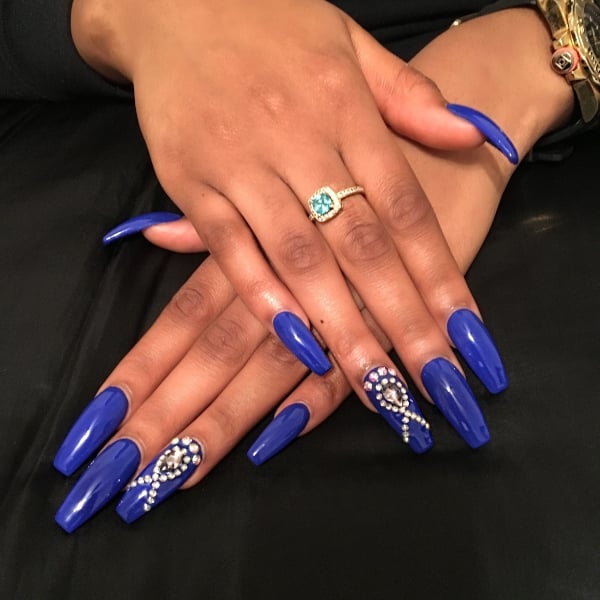 20. Baby Blue Nails
Baby blue is a gorgeous, versatile color associated with calmness and tranquility. It is a soft color that is easy to wear and will complement nails of all lengths and shapes. Baby blue is flattering on most people and can be paired with different colors, including neutrals like white, nude, and grey. Or you can opt for a more striking pairing like soft pinks and peaches, or even different shades of blue. Keep your nail art simple.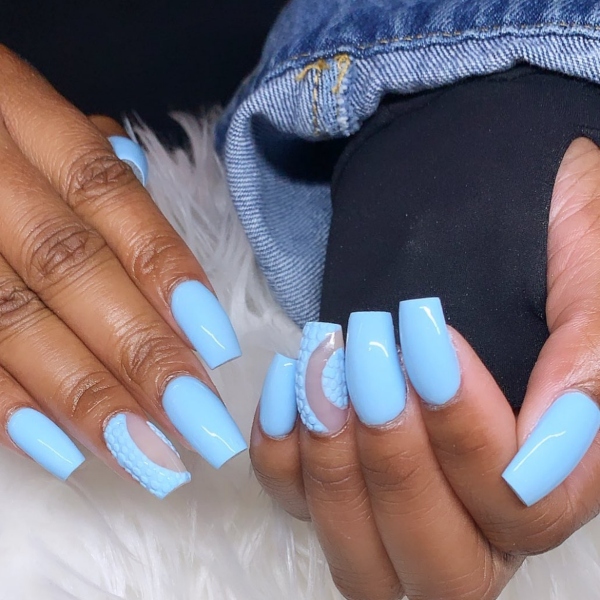 21. Royal Blue and White Nail Designs
For a gorgeous manicure that will demand attention, you need royal blue and white nail designs. Royal blue is a deep shade of blue. When paired with white it will create a brilliant contrast. The crisp white will enhance the vibrancy of the royal blue while still looking stylish and sophisticated. There are several options for how to pair the colors, including trying patterns and prints or keeping it simple with a modern approach to French tips. This gives you the creative freedom to create a manicure that best suits your preference. It will also look fantastic on nails of all lengths and shapes.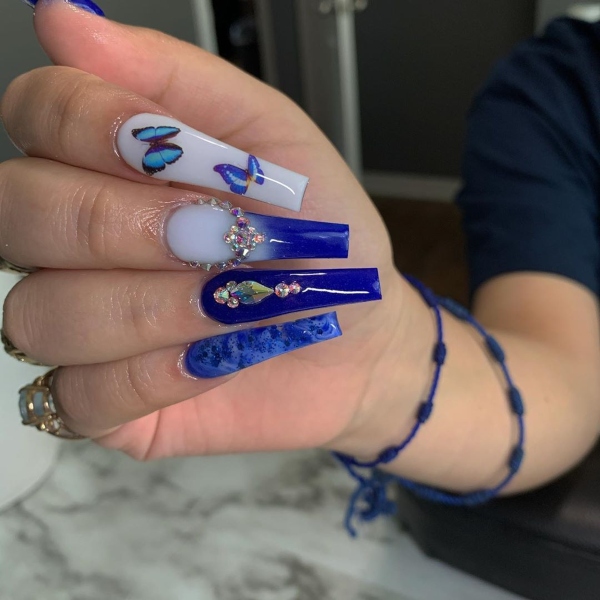 22. Sky Blue Nails
Sky blue is a light shade of greenish blue. It gets its name because of the similarity to the noon-time sky and is flattering for most people. It also looks exceptional with cream, white, and gold, so consider incorporating these hues into your nail art if you want to create detailed nail art. Add clouds or little sun stickers to create a sky theme. Or keep it simple, painting each fingernail with your favorite sky blue nail lacquer. Regardless of how you incorporate this color, it will make for a stylish and fun manicure.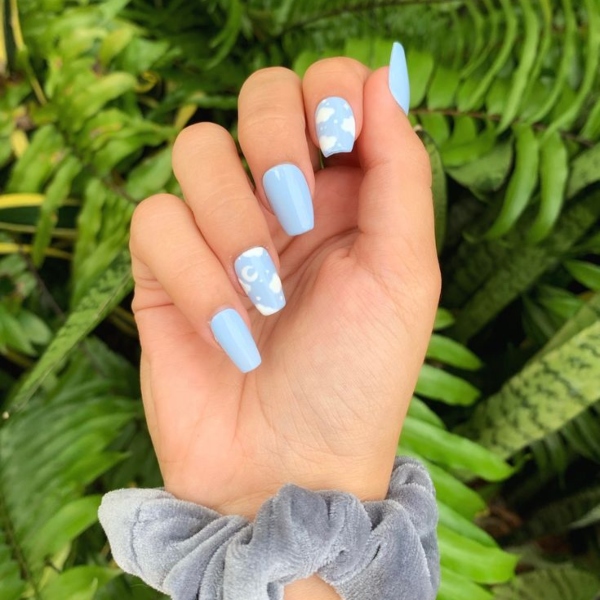 23. Blue and Silver Nails
Blue and silver is a color pairing that looks stylish and versatile. You can pair all shades of blue with silver, depending on how much contrast you wish to create; the darker the blue the more contrast. Combine the colors in your preferred way, including adding the silver over a blue base coat or mixing and matching them by painting one nail silver and the next blue.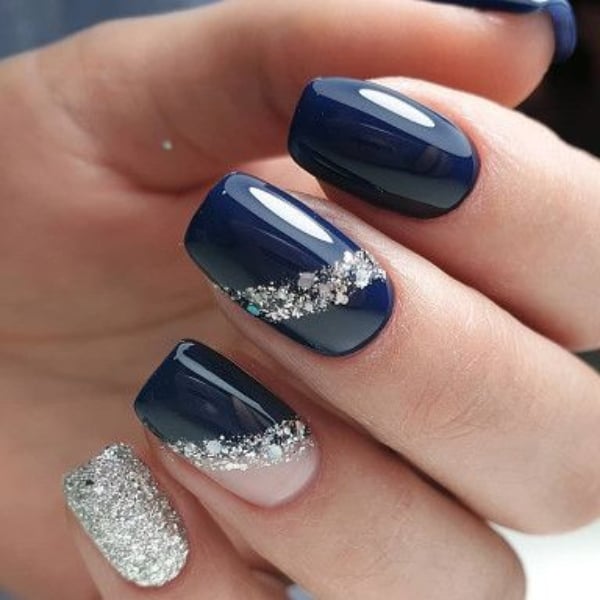 24. Blue and White Ombre Nails
Ombre is a brilliant technique that blends two colors, one light and the other darker. This creates a graduated effect and is a fun and stylish way to wear more than one color at a time. A blue and white ombre manicure is an excellent way to give the colors a more blended appearance and looks elegant and sophisticated. Choose a light blue, like baby blue, for a soft and romantic finish.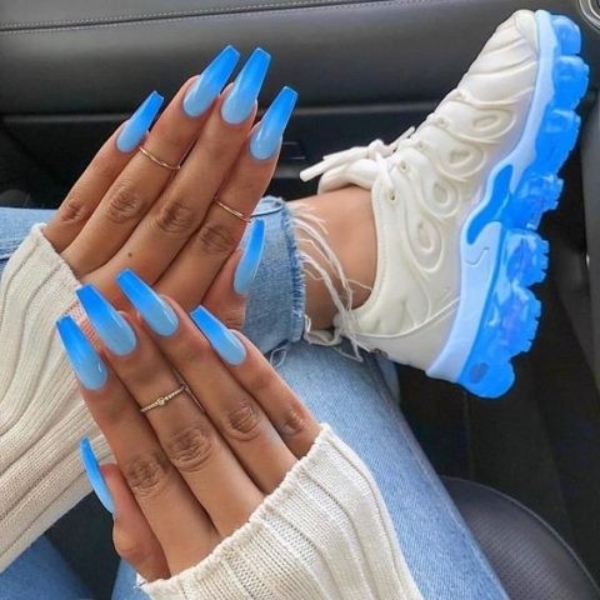 25. Matte Blue Nails
Matte blue nails are a great alternative to the classic glossy lacquers. The appeal of matte nails is that it creates a smooth and flat appearance that is texturally interesting. All colors can be made in matte, letting you combine your favorite shades of blue by painting each fingernail with a different color. Or stick to one hue and pair it with a feature nail sticker art for a more detailed and feminine finish.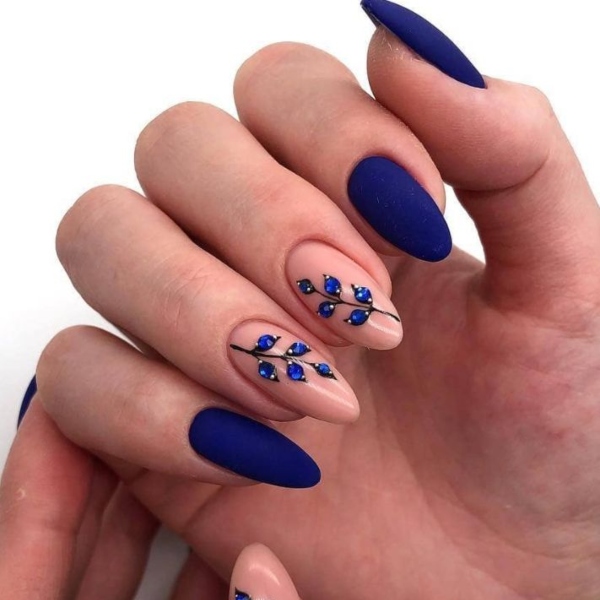 26. Blue Glitter Nails
Glitter nails are an excellent way to add some shimmer to your appearance, but many women have reservations about wearing glitter polish. This is because too much can appear tacky and challenging to pull off. The key is to limit the polish or choose a clear polish with silver or blue pieces and paint it over your chosen blue base coat, creating a subtle and blended finish. There are many ways to add sparkle to your nails. This makes it a versatile option that doesn't have to be reserved for the festive season or special occasions.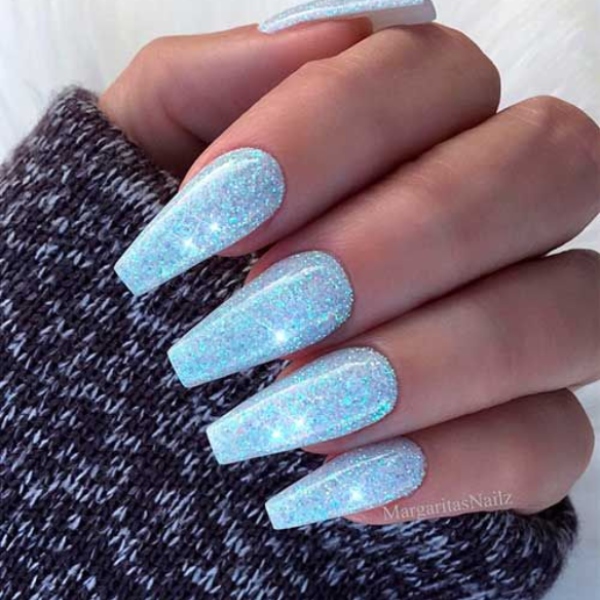 27. Blue Swirl Nails
Swirls are a fun option for your nail art and are easy to create because you can make them in different sizes and experiment with your placement. Swirls do not have to be precise, which gives you more creative freedom. They look great with all colors; you can mix and match your favorite shades of blue or opt for clashing colors like blue and yellow. This nail art can be added to nails of all lengths and shapes because of its simplicity.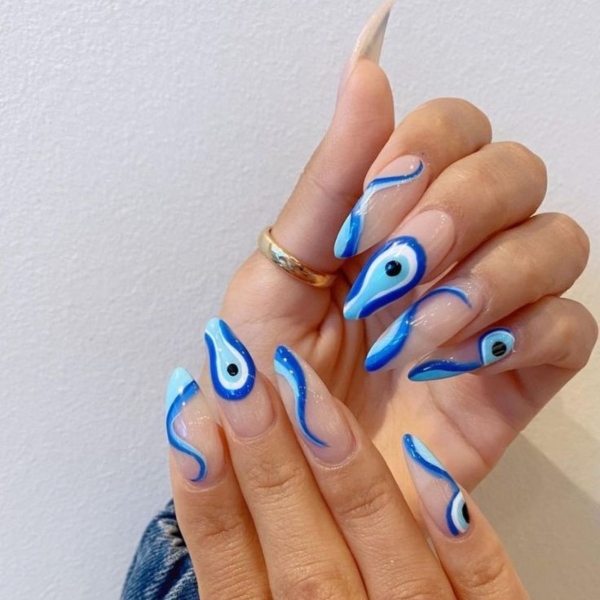 28. Blue and Yellow Nails
Blue and yellow are an excellent combination, ideal for drawing attention to your nails. This is because the colors are contrasting yet complementary, making them easy to combine while still having a striking result. You can create nail art on each fingernail that combines both colors, or you can paint one nail blue and the next yellow. Yellow can also be paired with multiple shades of blue but trends to have the best results when worn with darker hues.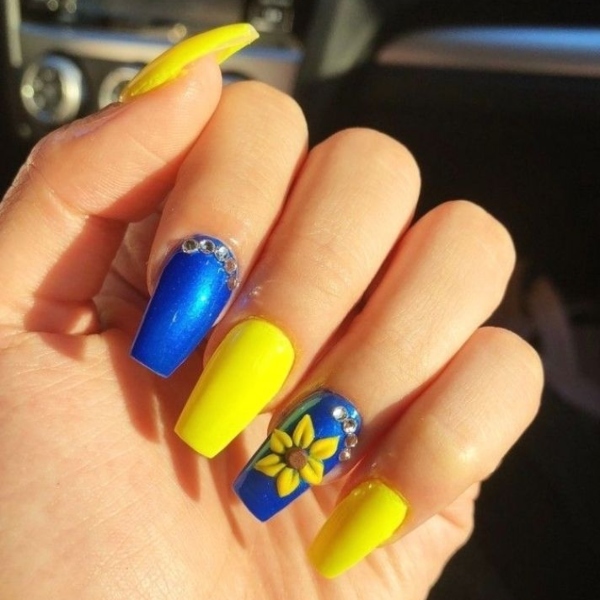 29. Tiffany Blue Nails
Tiffany & Co. is a brand founded in 1837, and synonymous with luxury and sophistication. Owning a piece of Tiffany jewelry is a goal for some women, and there are many beautiful pieces. The color associated with the brand is distinct and gorgeous and can be a way to celebrate your love for the finer things in life. There are several ways to try out this color for your next manicure, including adding nail art to the iconic white bow seen on the Tiffany boxes.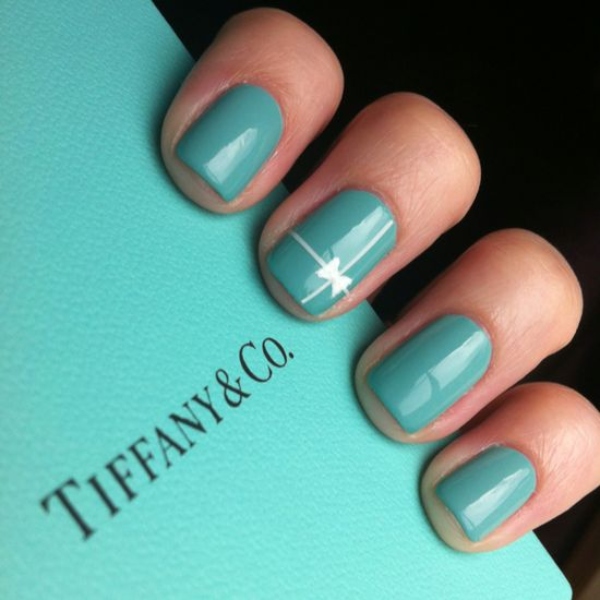 30. Cobalt Blue Nails
Cobalt blue is a universally flattering and wonderful color for women of all ages. It is a silvery grayish blue hue and is bold, bright, and beautiful. Deciding on how to incorporate cobalt into your nails is easy because it pairs well with many colors, including navy, green, orange, red, and white. It is also a hue that will complement nails of all lengths and shapes. This lets you experiment with interesting shapes; like coffin nails or duck nails.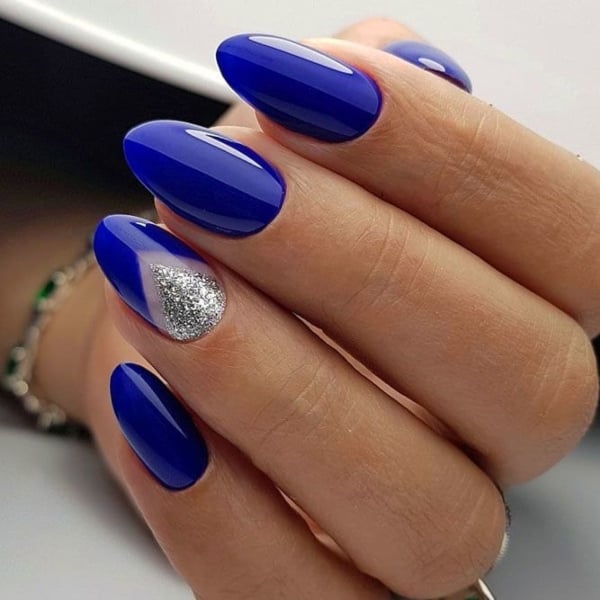 Blue Nails FAQs
What can I wear with blue nails?
The dozens of shades and tones of blue make it a versatile color. It looks great with different nail designs such as cloud art, gold accents, and leopard print. When it comes to clothing, it's also very versatile. Keep it fresh with white, denim, and navy. Alternatively, pales pinks look great with pastel blues, and dark navy nails give a moody edge to an evening look. Blue is also an excellent match for bright colors like orange and yellow.
What is the trending nail color for 2022?
Neutral earthy tones, such as sand, soft red, and chocolate brown, are trendy in 2022, as they reflect the neutral colors found on the runways. Classic blue is also in thanks to being the Pantone color of the year for 2022.
SUBSCRIBE TO OUR NEWSLETTER
Subscribe to our mailing list and get interesting stuff and updates to your email inbox.