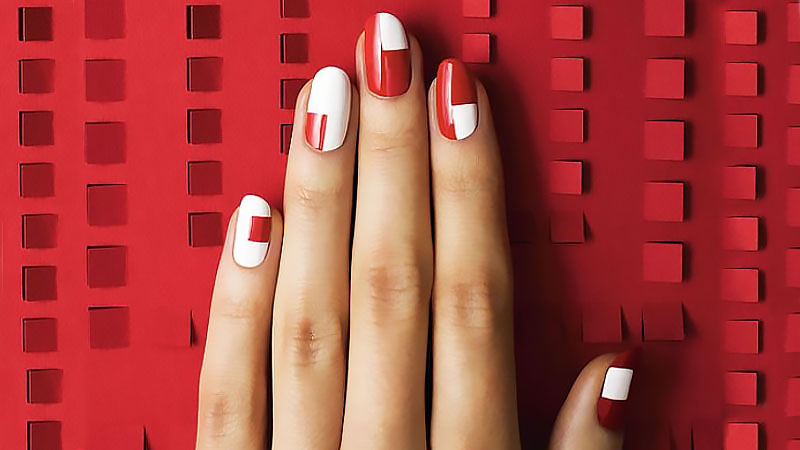 Red nails are a classic manicure option. It's a versatile look that can be adapted for a sophisticated event, a day at the office, or a romantic date night. Far from being boring and basic, you can play with the tones, top coat, nail shape, or decorations to make your red nails stand out from the crowd. Keep reading to find out the best ways to take your red nails to the next level.
RELATED: 15 Hot Red Lipsticks That Will Become Your Secret Weapon
1. Dita Von Teese Red Nails
Burlesque star Dita Von Teese is famous for her old-school glamorous look. A ruby red manicure perfectly complements her retro style. To get Dita's '50s-inspired nails, ask for a half-moon manicure with a glossy red base and a nude or pale pink accent.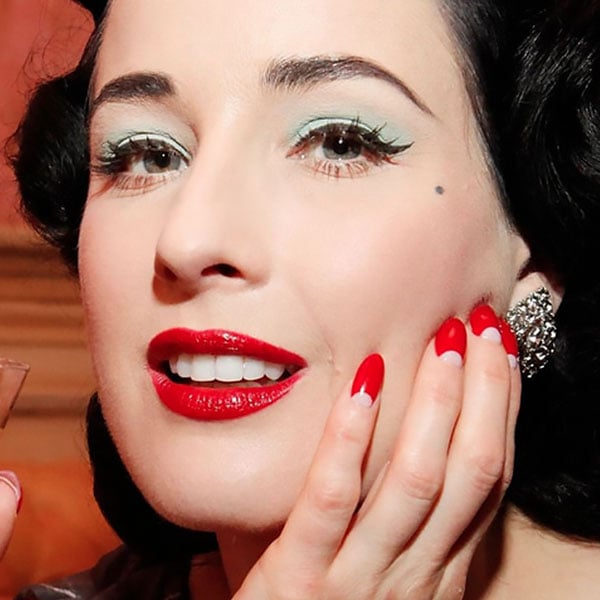 2. Fun Nail Design
Show off your quirky and creative side with a fun nail design. One popular option is a social media-inspired manicure. An Instagram heart or a Facebook like fit perfectly on each nail. You could also try different emojis – either smiley faces or cute food like tacos, fruit, and ice-cream.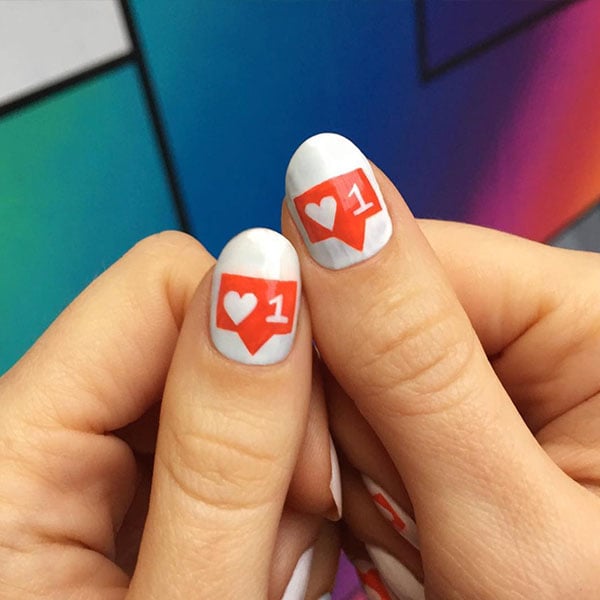 3. Matte Red Nails
Red nails look great with any finish, from satin to glitter and high-shine. However, a matte top-coat gives your scarlet manicure a modern twist. A matte finish also adds a richness to the color and draws attention to your nails because it's unusual. You could also try a matte feature nail or all-matte manicure with a shiny feature nail.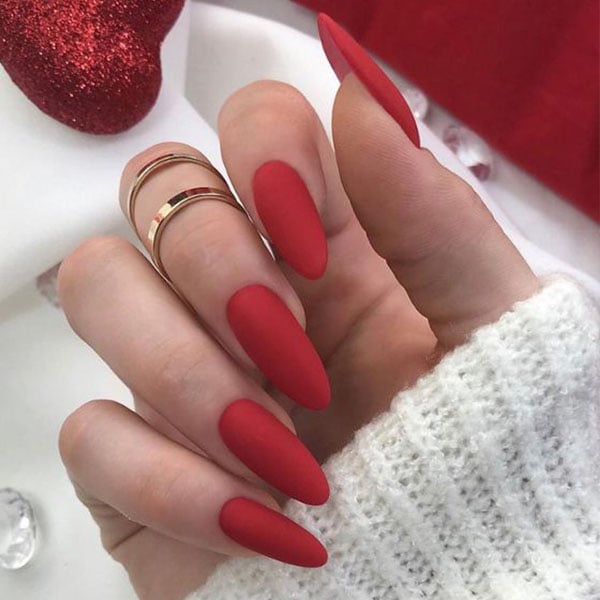 4. Metallic Red Nails
Metallic has been a big nail trend for years, and it's not going out of style any time soon! The cool chrome look will make your manicure stand out from the crowd and attract attention. It's created by using a 'mirror' or 'chrome' powder mixed with your polish. With the right tools, you can achieve the foiled finish of metallic nails at home.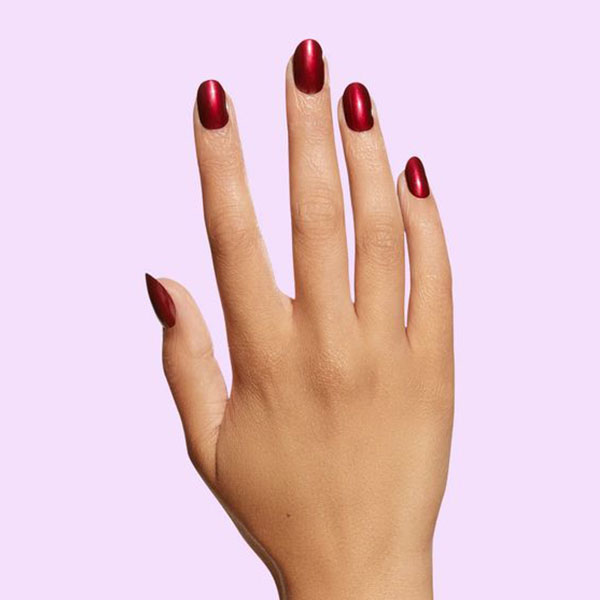 5. Red And Maroon Ombre Nails
For a fresh twist on red nails, combine a crimson shade with maroon in a subtle gradient. The resulting ombré effect looks sensual and passionate. Ideal for the cooler months, it has a stylish feel and a polished finish. Ombré nails also look great on all nail shapes, particularly square, stiletto, and coffin.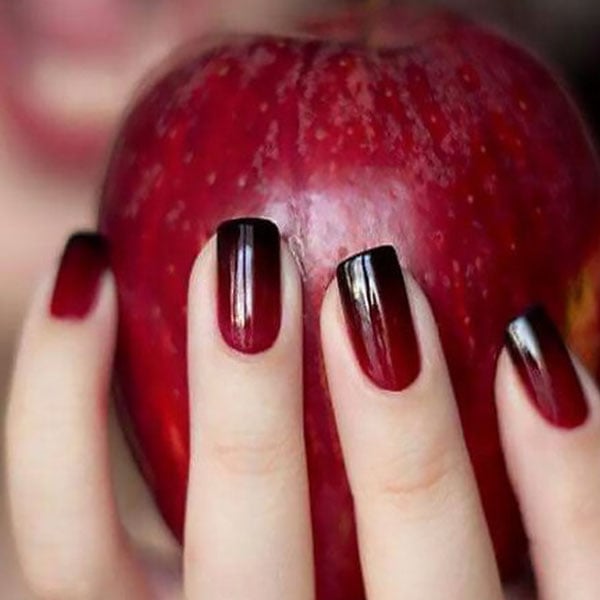 6. Red And Pastel Nails
An unusual color combination for your manicure is red and pastel. Try adding a coral red feature nail, while keeping the rest of your nails within the pink pastel family. The pop of bold, saturated color will draw attention and give a simple manicure a striking and unexpected look.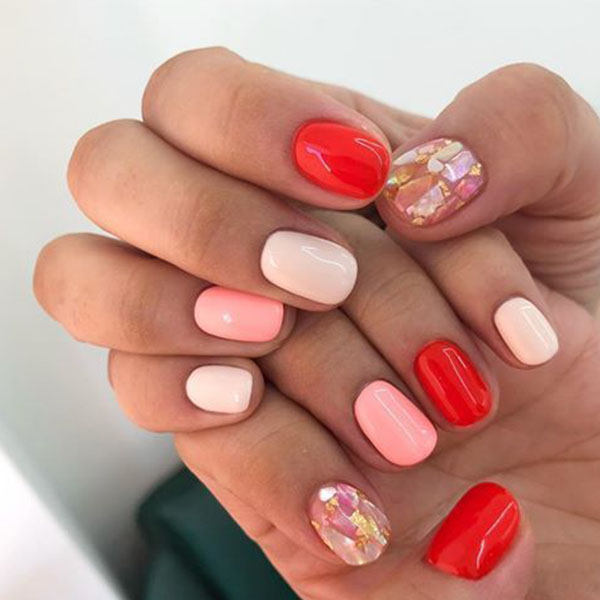 7. Red and Pink Nails
Red and pink is a classic color duo. The contrast between bold, passionate red, and pretty pink makes for the ultimate feminine and romantic manicure. For a special occasion like Valentine's Day or your anniversary, play up the girly feel by adding cute details like hearts.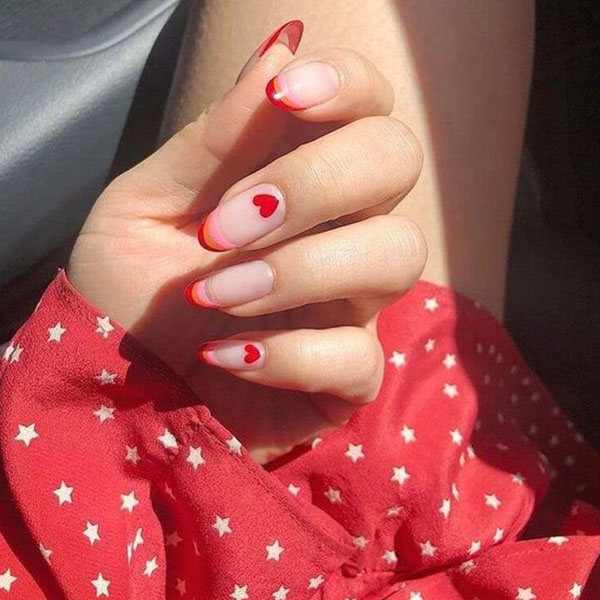 8. Red And White Candy Nails
Give your nails a psychedelic '60s vibe with red and white candy stripes. Retro treats and wrappers inspire the sweet and swirly look. For an at-home version, try a more simple diagonal or vertical lines, similar to the uniforms worn by candy stripers.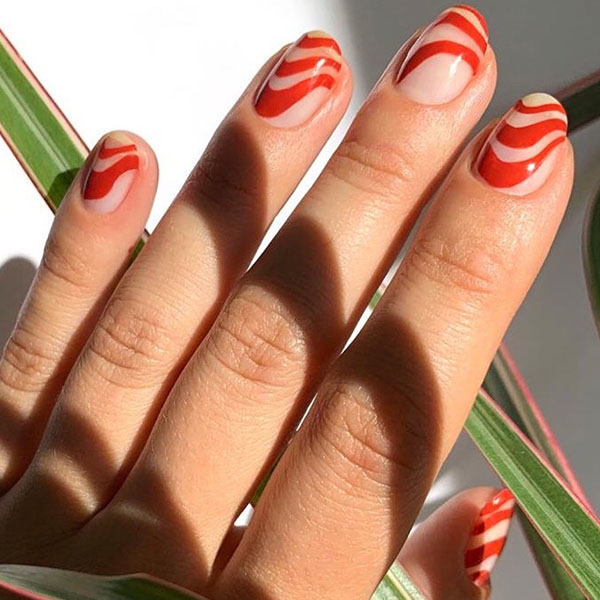 9. Red And White Love Nails
Show your romantic side with red and white love nails. Perfect for a date night or special occasion, love nails are cute and sweet. Opt for a red manicure with a white heart feature nail, or reverse the colors and go for a pop of red. You can also use heart-shaped glitter or repeat the heart pattern on every nail. There are so many ways to embrace this trend!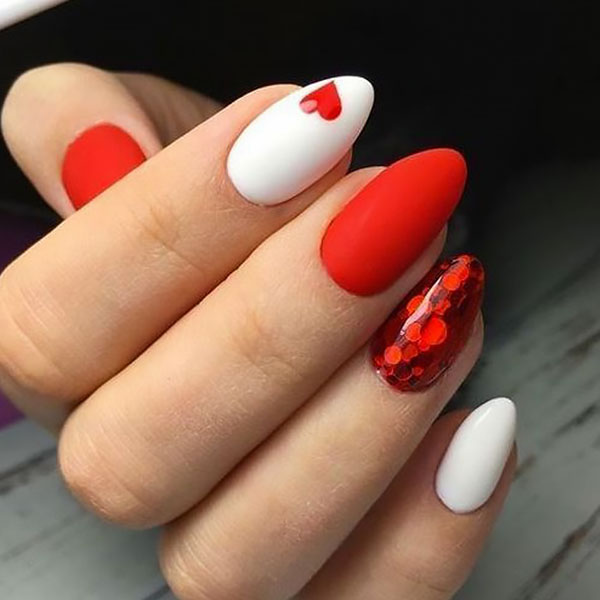 10. Red Cherries Nails
Sweet, juicy cherries are a popular pattern on clothes and nails. That's because they are bright, fresh, and give a pop of red to any look. Paint the iconic double cherry on each nail for an adorable result that will remind you of long summer days. Combine with classic French tips for extra '90s style points.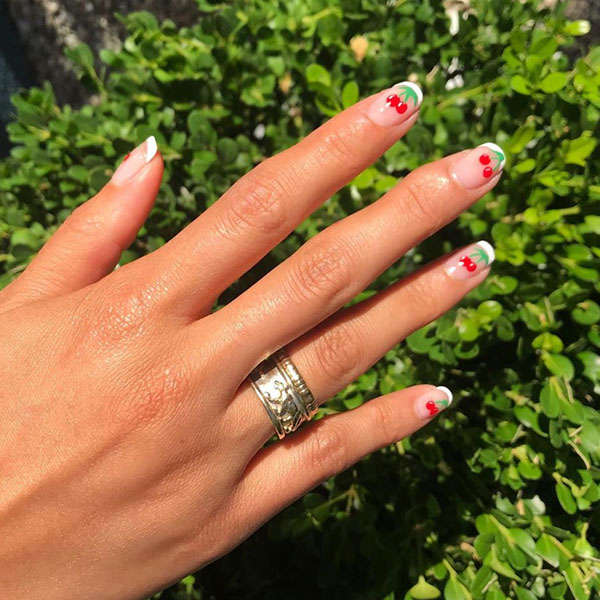 11. Red Dots
Embrace the red dots trend with oversized dots on your nails! It's a subtle and quirky pattern with personality. Plus, it puts a fresh and modern take on a classic manicure design. You could also try a polka dot pattern. For best results, paint your dots over a nude, clear, or white base.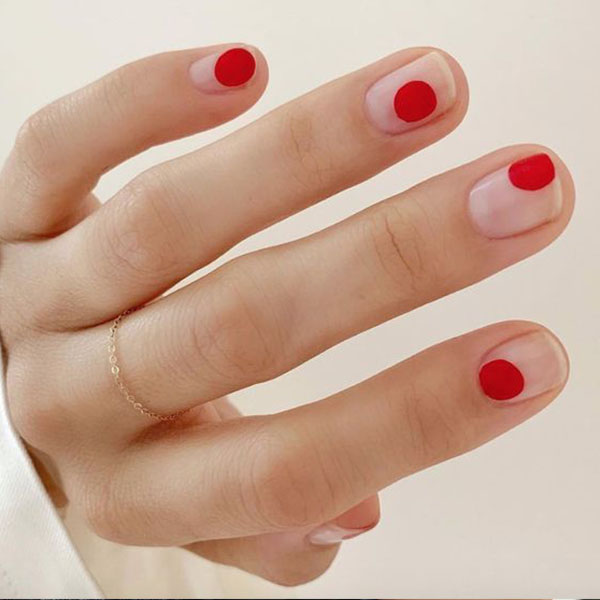 12. Red French Manicure
We're all familiar with the classic French manicure – a nude base with white tips. To give your French manicure a fresh and cool update, swap the white for red. The result is a sexy and sophisticated nail look that is as simple as it is chic. Perfect for the office or a night out, the red French manicure is one of the most versatile options. Try combining it with an almond, oval, or stiletto shape.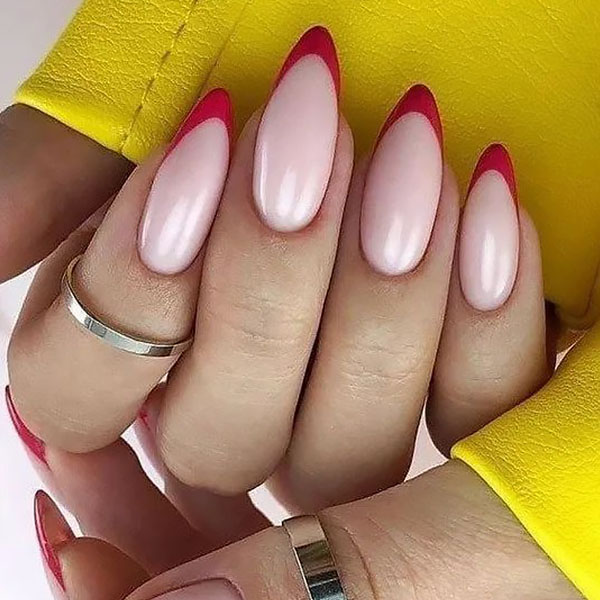 13. Love Heart Tips
Love hearts are one of the most versatile patterns you can choose for your nails. One trending option is love heart tips. Subtle, cute, and flirty, love heart tips are easy to create yourself. Shape your nails, so they form an oval, almond, or stiletto shape, then paint on a double curve to form a heart on each one.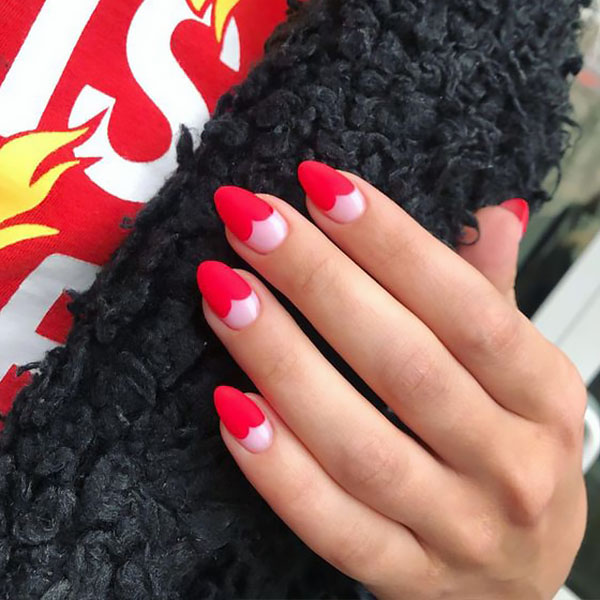 14. Red Pink Ombre Nails
A pretty and feminine take on the ombre manicure is red to pink. To get the look at home, apply a white base coat so that the colors on top pop. Then use a damp make-up sponge to stamp on the red and pink polish, which will ensure you get an even, blended gradient. Then simply add a glossy top coat, and you're done!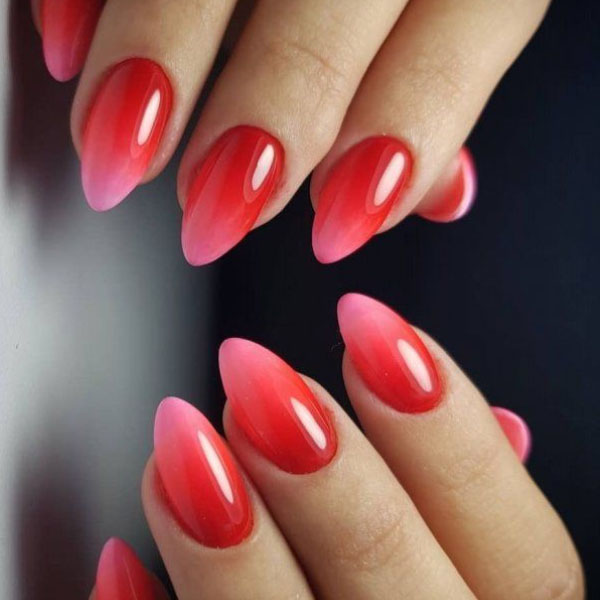 15. Red Stick-On Nails
Stick-on or press-on nails give you a stand-out manicure in minutes. They are also a good option if your natural nails are too weak for acrylics or gel polish, or if you bite your nails. While there is a huge variety of stick-on nail designs and shapes available, red is a classic and goes with every outfit.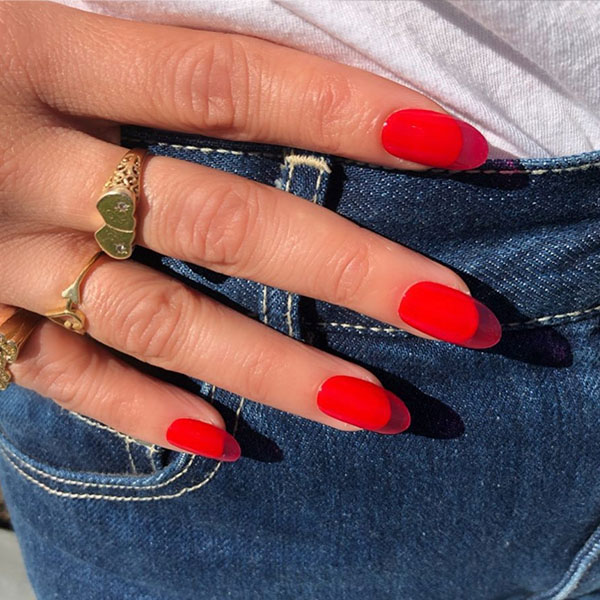 16. Red Manicure With Feature Nails
Feature nails are a great way to refresh a simple manicure without redoing every nail. Whether you choose a contrasting color or a pattern for your feature nails, you can be sure your fingertips will stand out. That is because the human eye is attracted to contrast. For your red manicure, choose a pattern with complementary colors in the same hue family.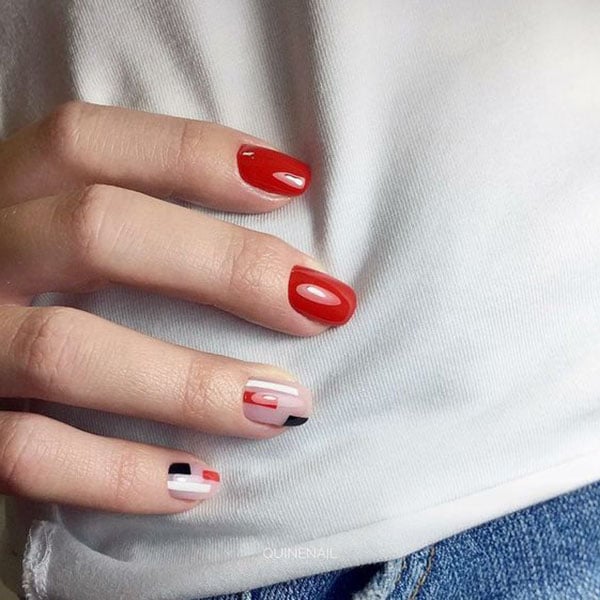 17. Shades of Red
Why choose between your favorite red nail polishes? Show off the full spectrum with a shades-of-red manicure. From cool-toned berry reds to hot orange-red hues – and everything in between – your fingertips will look amazing. Because all the colors are in the same shade family, you won't need to worry about them clashing. Instead, all the reds will work harmoniously together.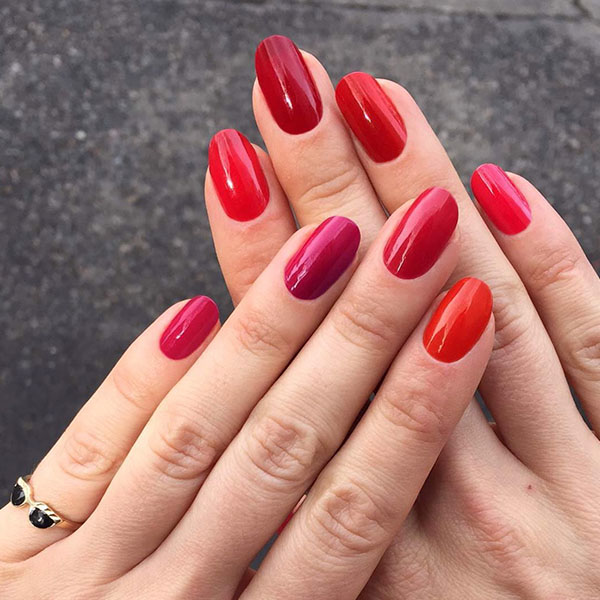 18. Red Aspen Nails
Red aspen nails are a type of press-on nail that look and feel great. The Red Aspen nail will last around two weeks and can only be applied once. This is the perfect option for someone who wants artificial nails without the hassle of acrylics or gel. Press-on nails don't chip and can be easily added over the natural nail, making them a versatile and stylish choice.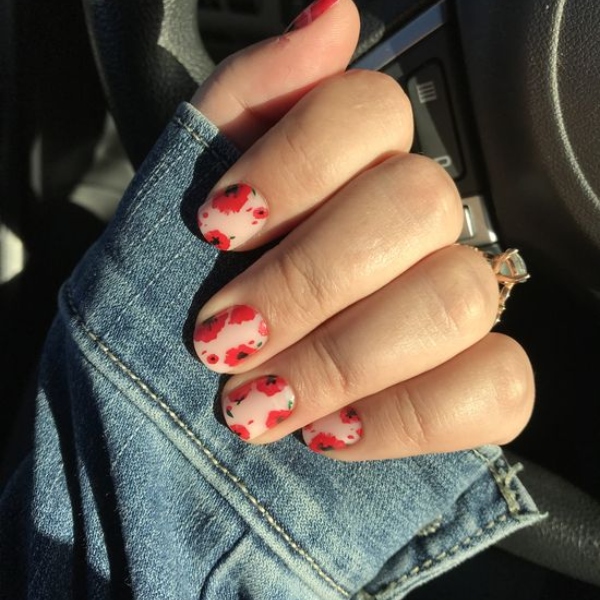 19. Red And Black Nails
Red and black is one of the most striking color combinations and is an excellent way to get your nails noticed. There are many ways to pair these two bold hues, including with an ombre effect. Alternatively, you could try a modern approach to the French tip manicure by painting the base of your nail black and the tips red. Or have fun with nail art, prints, and patterns.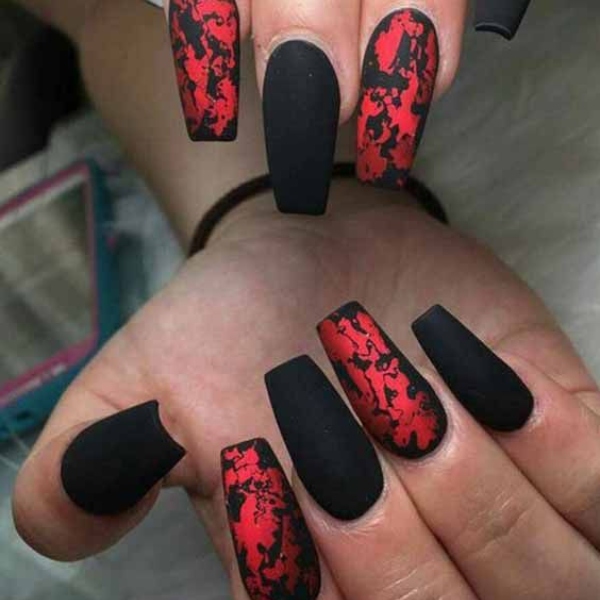 20. Red Acrylic Nails
Acrylic nails are artificial nails that are placed over your natural nails. They are strong, durable, and ideal for anyone who wants to experiment with different lengths and nail shapes. While acrylics can be worn short, for the best results, you should keep them long and make a statement with your favorite shade of red. With proper care, acrylic nails will last two to three weeks.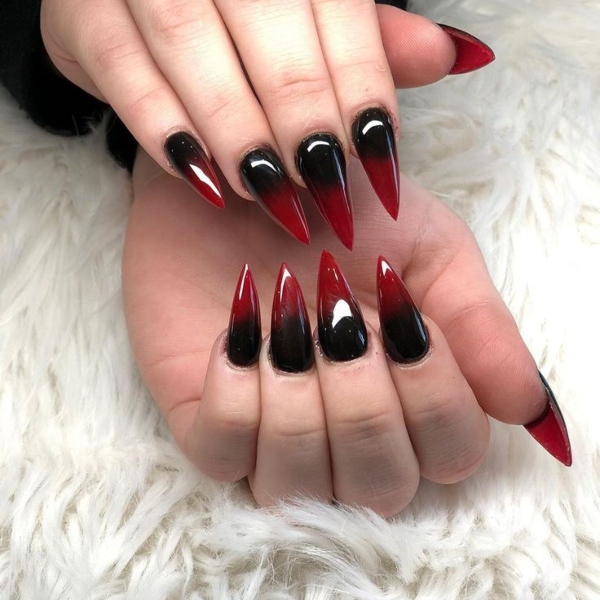 21. Red Christmas Nails
Christmas is one of the most joyous times of the year, it is also one of the most colorful. This is the perfect time to experiment with your nail art, and red is a classic color for the festive season. It will look great as the base coat for candy cane nail art or more detailed Christmas nail designs like Santa Claus or snowmen.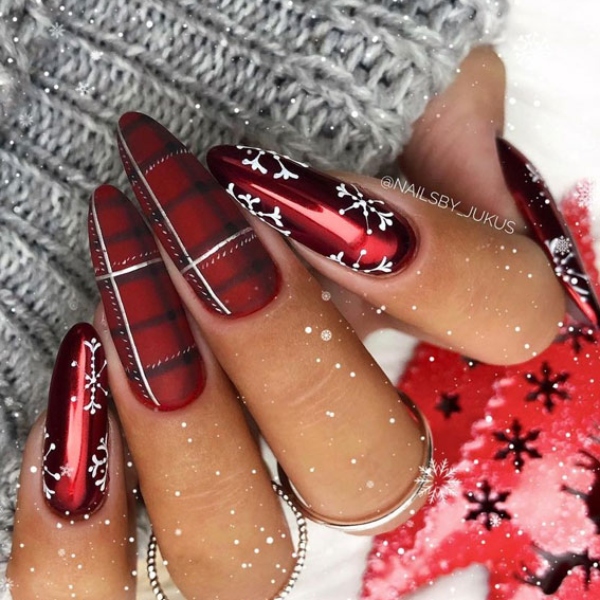 22. Red Bottom Nails
Christian Louboutin shoes are celebrated for their stylish designs and distinct red sole, and red bottom nails have a similar concept because the bottom, or inside, of the nail is painted red. The color you choose on the top can be anything, but black is an excellent choice to create a contrast. For this look to work, you need long nails, and an interesting nail shape will complement the design.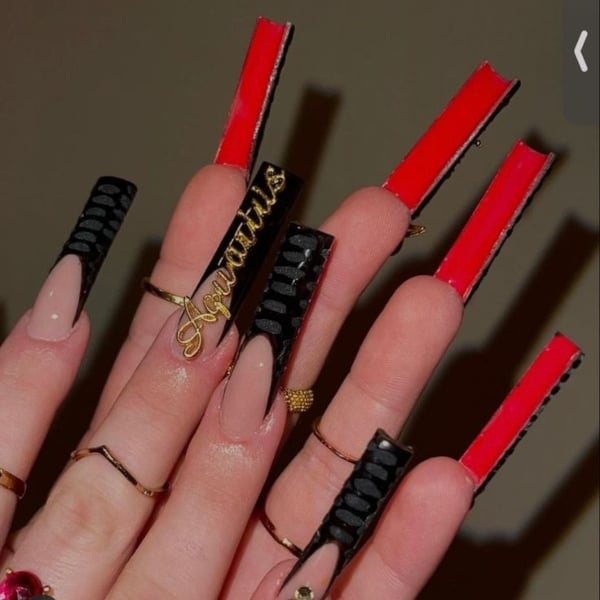 23. Red Glitter Nails
Glitter nails are an excellent way to add some sparkle to your appearance. Glitter can be fun and fashionable, although it can also be overwhelming to try out. This is why introducing it to your look in a subtle way, like with nail art, is an excellent idea. You can opt for red glitter over a nude base. Or paint your nails red and add metallic colored glitter, like silver or gold, over it to create a stylish contrast.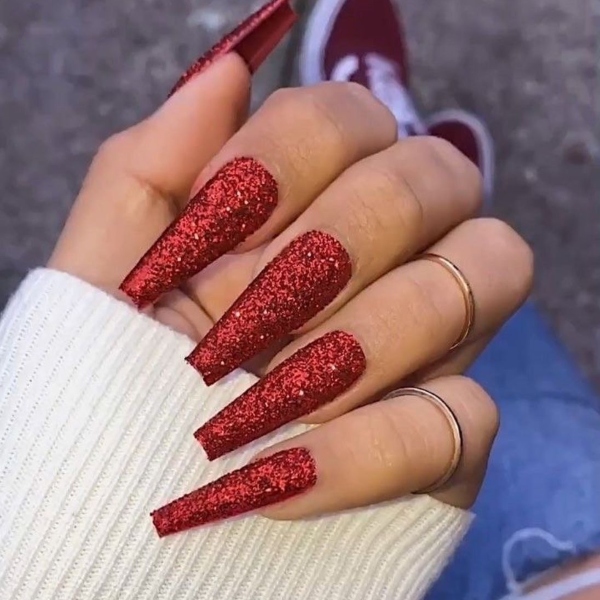 24. Dark Red Nails
Dark red is a brownish-red color that can look similar to burgundy. It is an excellent option for nail art and easier to wear than the more vibrant red shades. This color will give your nails a more moody finish and can be worn with black nail art. Or you can lighten the look by pairing dark red lacquer with nude or white; the choice is yours.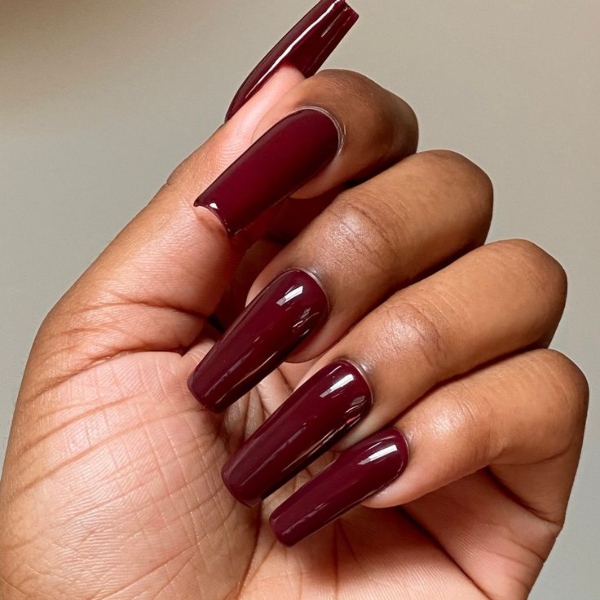 25. Red Coffin Nails
Red is a color that demands attention and will instantly highlight your nail shape and length. For those who love interesting nail shapes, this is a great way to show them off, and coffin nails are ideal because they are feminine and flattering. The shape is defined by the tapered sides and square top. Coffin nails look great long or short but will make the most impact when worn long.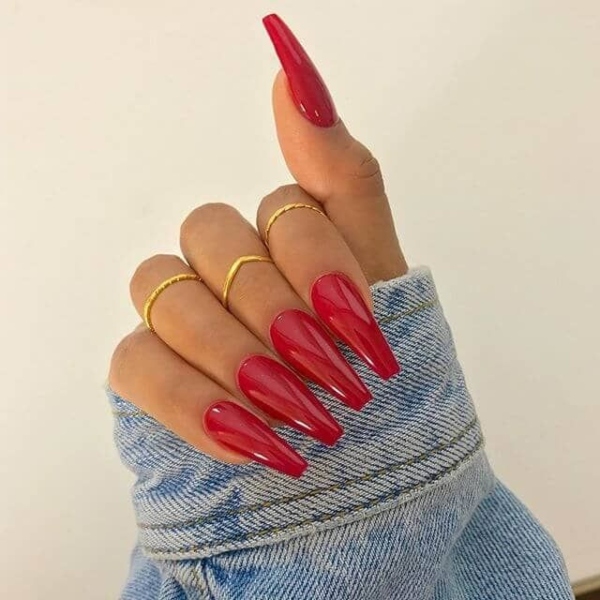 26. Coffin Baddie Red Acrylic Nails
Your nails are an extension of your personality and a way to show off your style. You can get creative with different shapes, including coffin nails, and experiment with nail art, including bright colors, 3D details, and unique prints. The Baddie style is youthful and expressive, inspired by social media trends, bold makeup, and a streetwear influence. These are nails that will ensure you stand out from the crowd.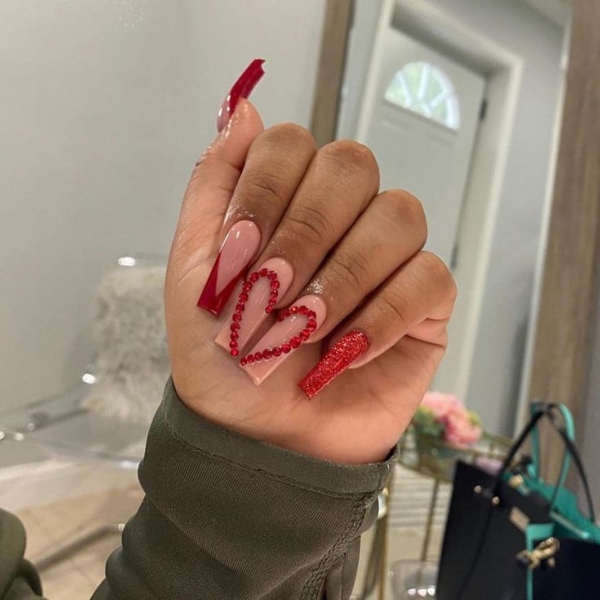 27. Red And Black Ombre Nails
Red and black are one of the most stylish and striking combinations. A chic way to combine these two hues is to try the ombre nail approach. This technique is created by gradually combining two or more colors so that they blend into each other. The darker color is often kept toward the tip, and the lighter at the base, but you can change this up depending on your preference.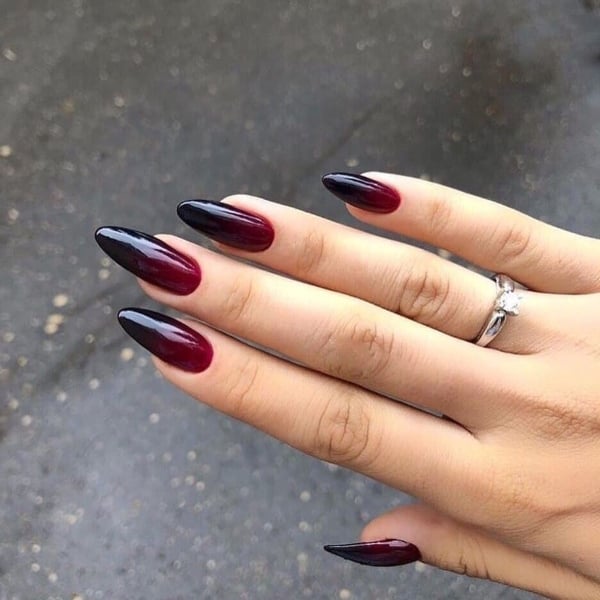 28. Red Carpet Nails
The red carpet is rolled out for the hottest fashion and entertainment events. It is a time when people dress their best and are often photographed by the media. It is not surprising that red carpet looks have inspired fashion and beauty trends, and you can use one of these looks for your next manicure. You can keep it simple and effortlessly chic, or opt for bold designs that demand attention.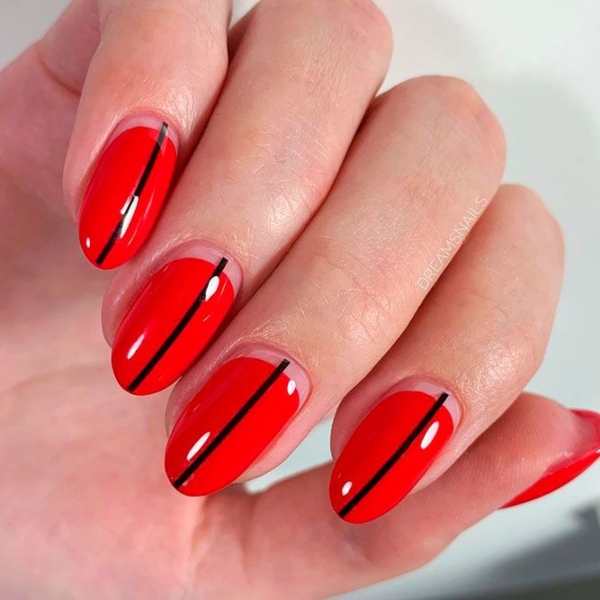 29. Red Stiletto Nails
Stiletto nails are defined by their heavily pointed tips and the sides of the nail are smooth and filed to achieve this thin peak. The shape is extremely popular among celebrities and influencers because of the impact it makes. It looks gorgeous when worn long and can be incredibly flattering and feminine. Red is vibrant and expressive color and will look great on stiletto nails.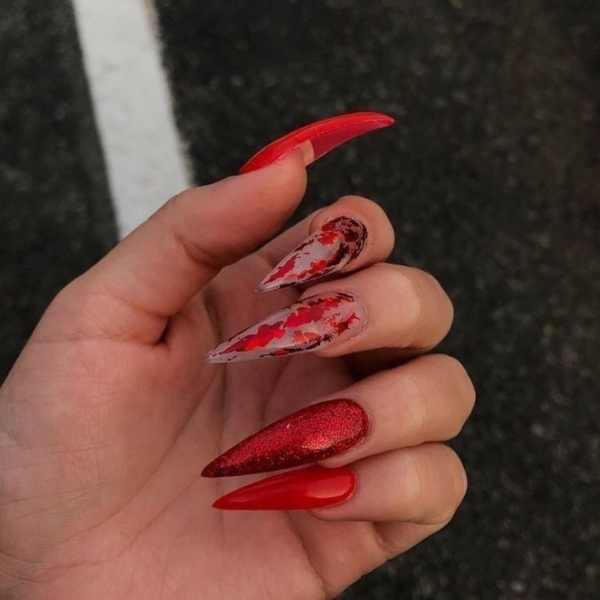 30. Long Red Nails
Long nails are great because they can elongate the finger and make it look slimmer. Having longer nails also gives you more versatility, letting you experiment with different nail shapes and giving you more space to get creative with your designs. The length is also associated with femininity. Red nail art is an excellent choice and can be as simple or as detailed as you wish.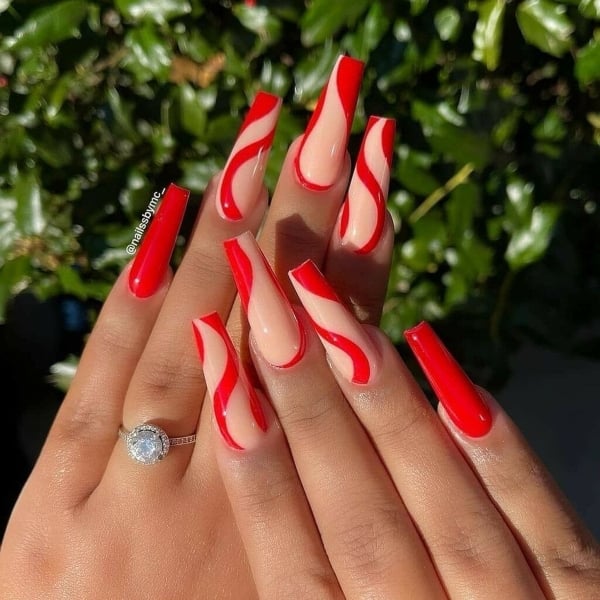 31. Short Red Nails
Short nails may be more restrictive as you cannot try out as many nail shapes and they are often best suited to simple nail art because of the lack of space. However, they are incredibly practical and less prone to breakage than long nails. Your short red nails will not restrict you from your activities and are the perfect option for an everyday look.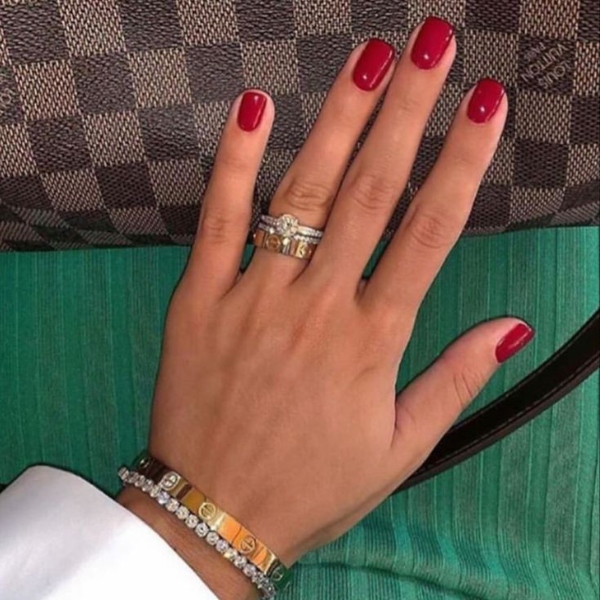 32. Red Almond Nails
Almond nails are one of the most popular nail shapes because of their versatility. The shape gets its name because it resembles the nut, and is slim on the sides, wide at the base, and filed to have a rounded peak. They can be worn long or short, and look great with nail art. Other pros of almond nails include they are fairly strong, feminine, and can make the finger look slimmer.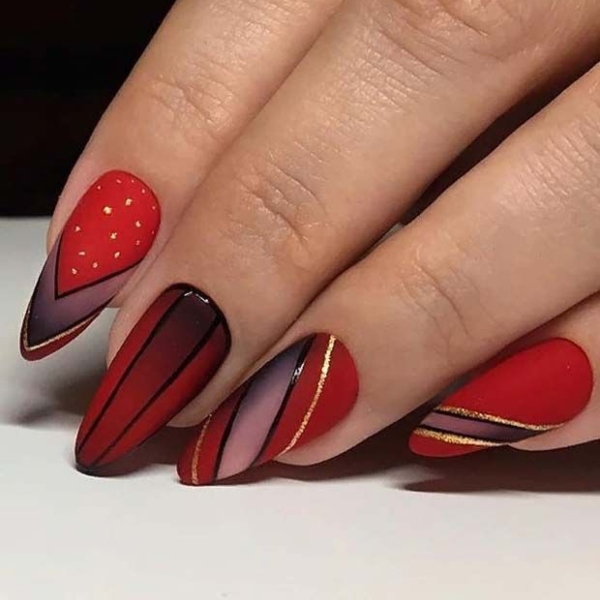 33. Red Persimmon Nails
Persimmons are a deep red color, and you can be inspired by the sweet fruit for your next manicure. Opting for a persimmon red is a great way to try out a fun color and it will highlight your nail shape and length. You can add nail art over your base color, or keep it simple for an effortlessly chic look.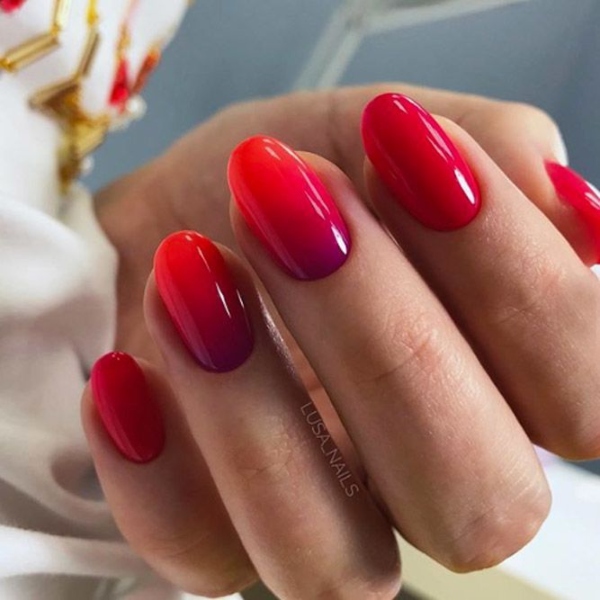 34. Red Valentine Nails
Valentine's Day is a celebration of love, whether that is for a romantic partner, a best friend, or self-love. You do not have to wait until Feb.14 to try the love-inspired nail art and it is great for whenever you want to express yourself. Try out a combination of different shades of red for a modern approach to the theme, or keep it classic with red and white heart designs.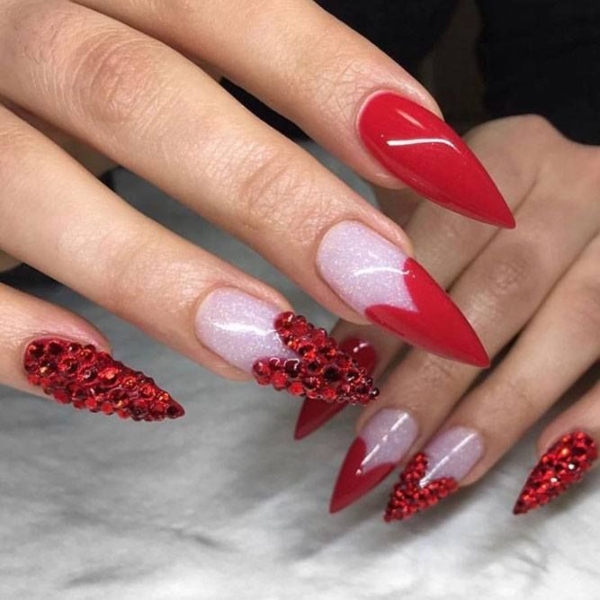 35. Red And Silver Nails
Red and silver are colors that pair well together and will give you a stylish and shiny manicure. The warmness of the red and the coolness of the silver will create a balance and there are several ways to combine the colors. This includes adding silver glitter to the tips of the nails for a French tip-inspired look and painting the base coat red. Or try out different stripes and angles.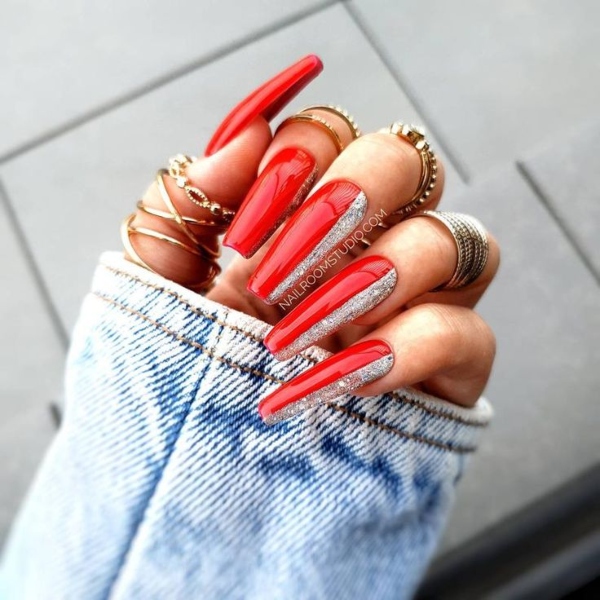 36. Red Marble Nails
Marbled nail art is an excellent option for those who want a stylish and unique manicure, as each marking will be slightly different. This is a great way to celebrate individuality and there are several ways to try out the marbled effect and different color combinations. White and red are excellent options. You can also focus the nail art on a feature nail and paint the rest of your nails red. This will draw attention to only one finger and can be a way to highlight special jewelry.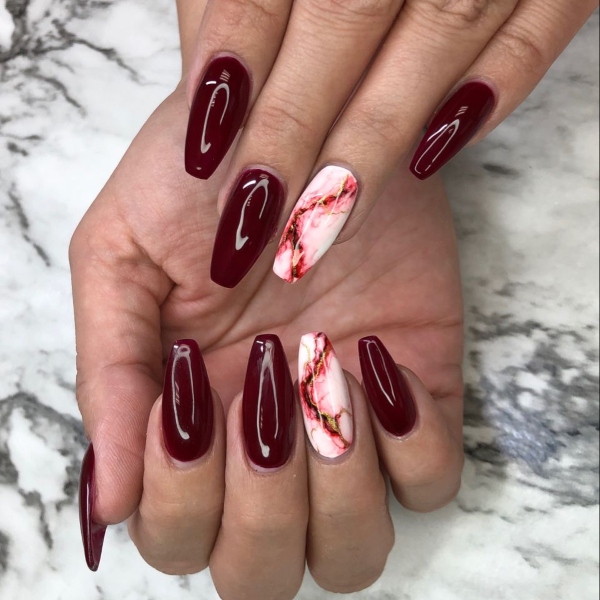 37. Red Sparkly Nails
Sparkly nails are perfect for special occasions or festive celebrations. You can add the sparkle to your red manicure with glitter nail polish or tiny gems; this gives you versatility with the design and you can create it to reflect your style. Long nails will give you more space to get creative, while short nails are practical and ideal for every day.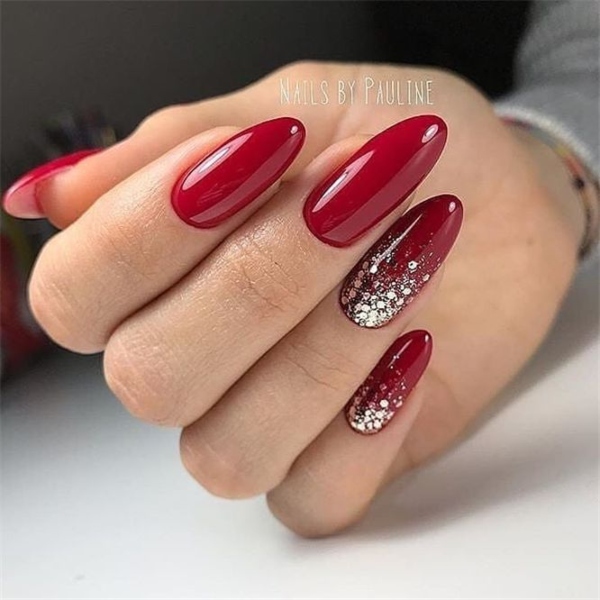 38. Blood Red Nails
Blood red is a deep, dark brownish-red color and it is an excellent and versatile color for your next manicure. There are many ways to incorporate the color into your nail art and it can be as simple or as detailed as you wish. For example, you can paint each fingernail with a solid coat, or show your quirky side with blood-spattered designs for a creepy, Halloween-inspired look.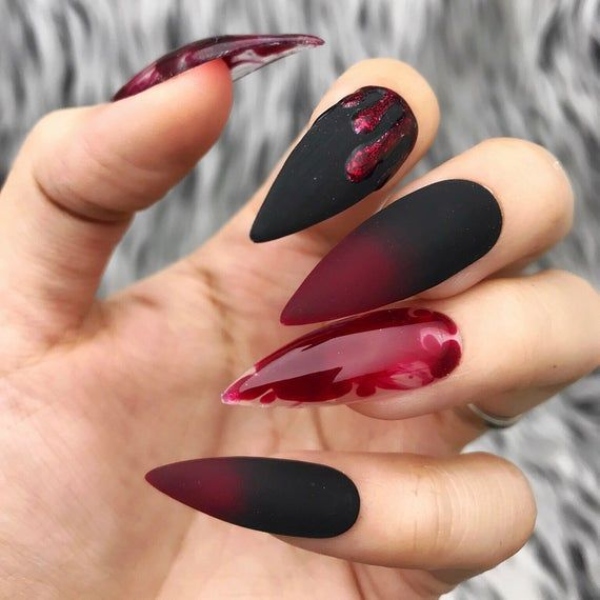 39. Red Chrome Nails
If you like standing out from the crowd and want to highlight your nail shape and length, chrome is the way to do this. Chrome nails have a metallic, reflective surface that is great for catching the light and giving your nails a shimmery finish. They are created by using a special type of polish that uses chrome powder. There are various colors to choose from, including red.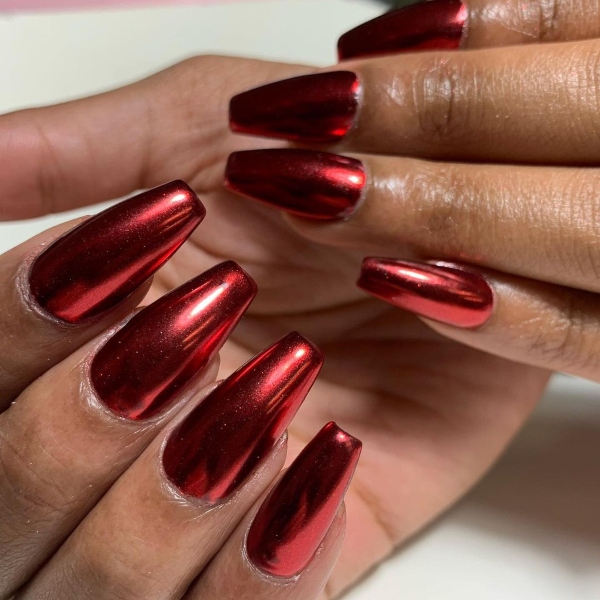 40. Red Cartoon Nails
What better way to show off your playful side than with cartoon nails? You can pick your favorite cartoons from childhood as a celebration of the simpler times or honor a special memory. Or your design could be of your favorite anime character or marvel superhero. Get creative with your nail art and find a way to include the shade of red you love the most.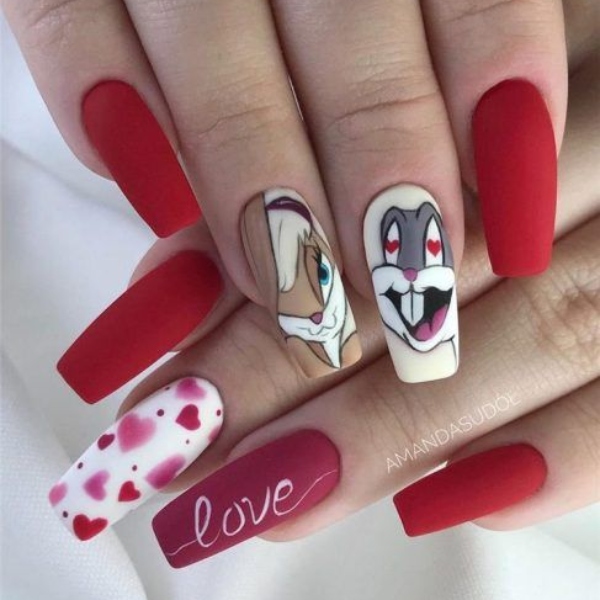 41. Red Press on Nails
Press-on nails are an alternative to gel and acrylic nails that are quick to apply and affordable. They are already made and attached to the surface of the natural nail with glue. You can then shape them to suit your preference. Press-on nails can often be bought in your favorite colors or with designs already on them, but you can also paint over them. They will last for between one and two weeks.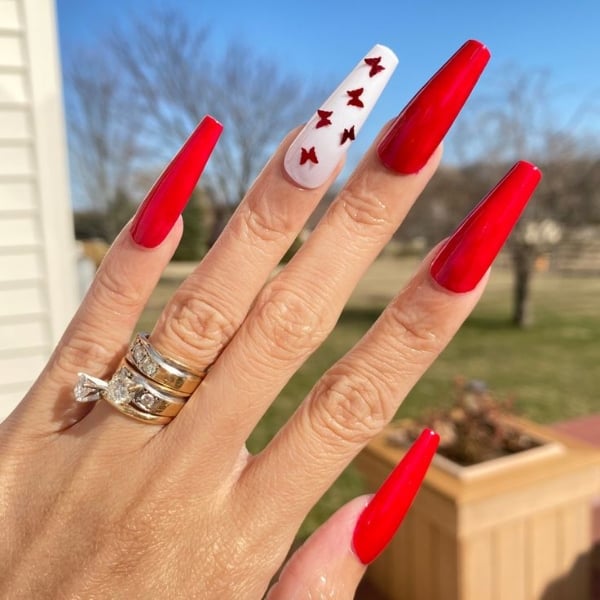 42. Red Prom Nails
For many, prom is one of the most important and memorable moments in their high school experience. This is a time when you want to look and feel your best, and the right nail art can facilitate this. Prom nails can be simple or bold and expressive, depending on your preference. There are many different looks to choose from and red is an excellent choice and will draw attention to your nail shape and length.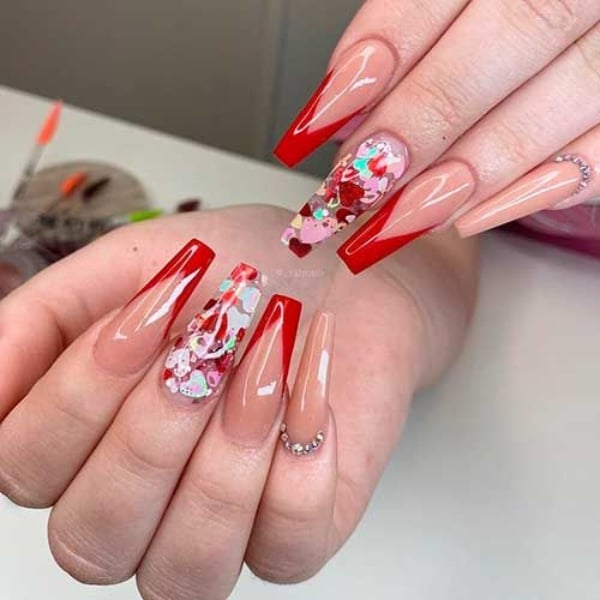 43. Red White Blue Nails
What better way to show your patriotism than with your nail art? The red, blue, and white color scheme is associated with the United States and each color has important symbolism. The red is for hardiness and valor, the white represents purity and innocence, and the blue for justice, vigilance, and perseverance. You can get creative with how you choose to combine the colors, including adding stars or stripes.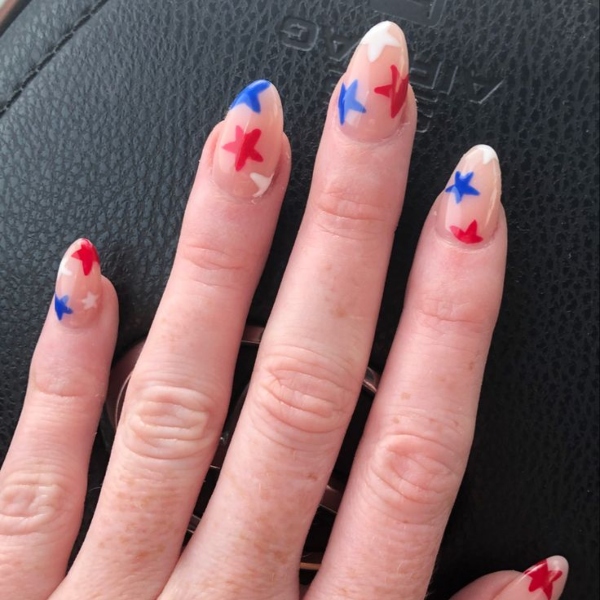 44. Bright Red Nails
Bright red nails are bold and vibrant. Red is a color associated with passion and seduction, and this color will reflect that. It is an excellent way to draw attention to your nails and is a color that will suit most complexions. However, it can be challenging to wear such a saturated hue, and if you are trying out red nails for the first time you may want to pair your nail art with a neutral shade like white or nude to tone down the vibrance.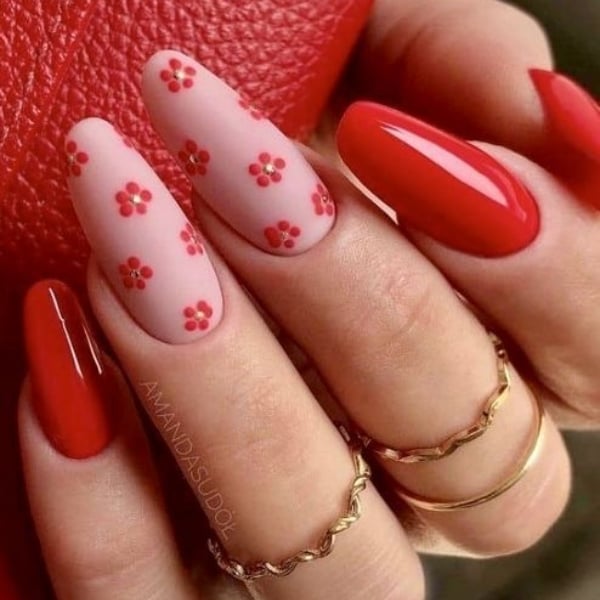 45. Orange Red Nails
There are many shades of red to choose from, some are dark, and others are bright. There are brownish-red shades and orange-red hues, making it easy to find a shade of red that best complements your complexion and suits your preference. The appeal of orange-red nails is that they are bold. You can also combine shades of red and orange separately with your nail art, for example, flame details.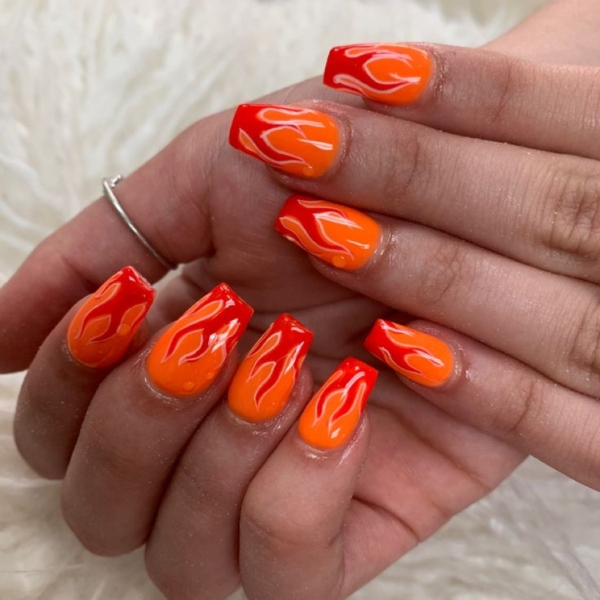 46. Red And Nude Nails
Nude nails are appealing because there is a shade to complement everyone. It is an easy color to wear and is effortlessly chic, making it the ideal choice for your nail art no matter what the occasion. Nude also pairs well with other colors including red, and the combination will create a subtle contrast. The nude color will also tone down the red, making it less bold and easier to wear.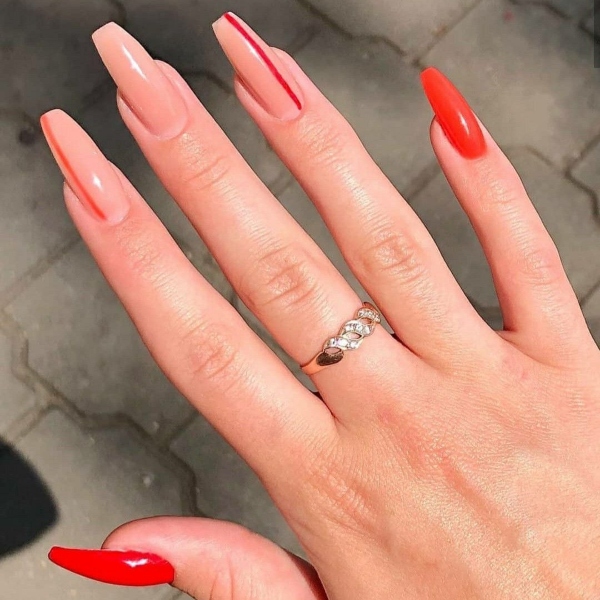 47. Light Red Nails
Light red is a pale shade of red that is a great choice for someone who loves the color but wants a less saturated, and not quite so bold finish. This color can be added to the nails in various ways depending on how detailed you want your nail art to be. This includes trying out your favorite prints and patterns or adding cute floral or heart details.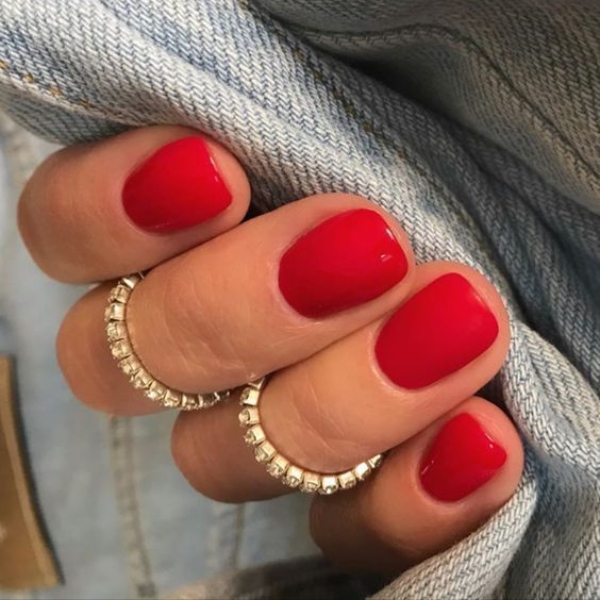 48. Red Halloween Nails
Halloween is one of the most expressive celebrations because it is your time to experiment with different looks, including fashion and beauty. You may not have the confidence to pull off bold styles normally, but Halloween is the perfect time to get creative. You can also include designs from your favorite horrors, a blood-spattered effect, or combine black and red for a dark, vampy Halloween nail finish.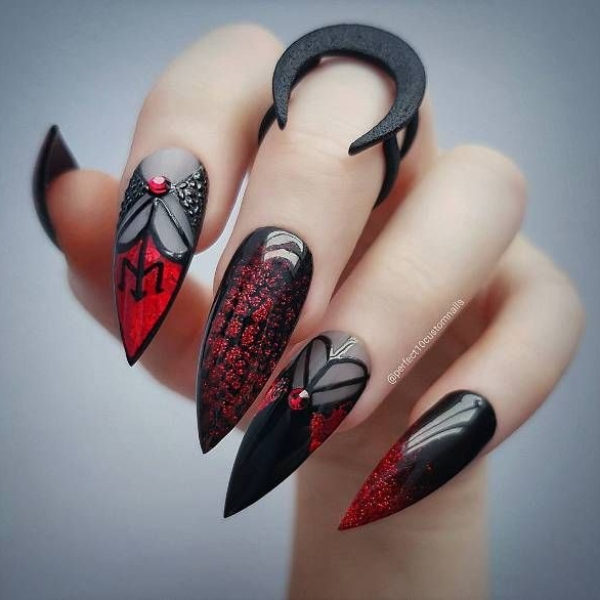 49. Red Quinceanera Nails
The quinceañera is an important celebration and coming of age for a girl on her 15th birthday. This is a day you will likely remember for the rest of your life, and you want to look and feel your best, this includes having the perfect manicure. Red is bold and bright and is a great choice, especially if your dress is red and you want to complement it.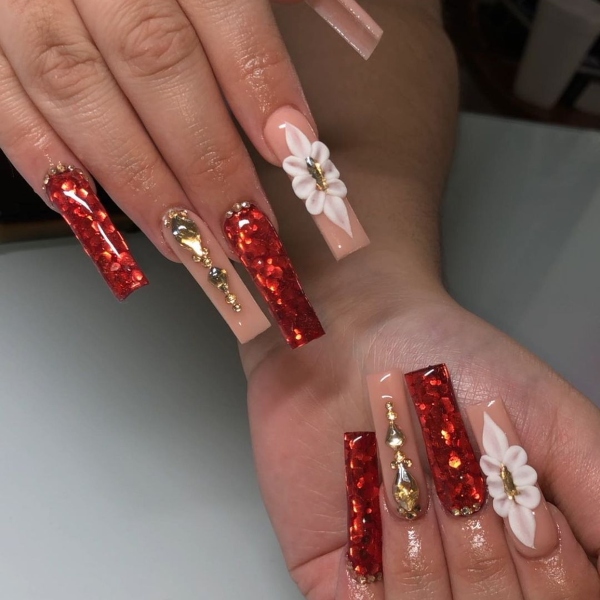 50. Red Butterfly Nails
Butterfly nails are a beautiful choice for your next manicure and they will look gorgeous when created in red. You can create a design with a red base coat and choose a different color for the butterflies, or add red butterflies to a white or nude base. Red is a color associated with passion and seduction, but it is also bright and bold. Butterflies are also a symbolic choice for your nail art and represent beauty, growth, and transformation.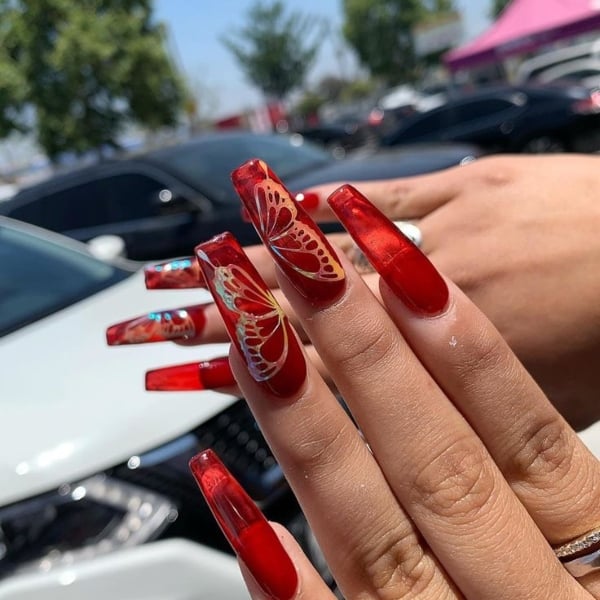 Red Nail Designs FAQs
What do red nails symbolize?
Red nails are a bold choice, and they have the ability to grab attention and make a powerful statement. This hue is often associated with romantic love and passion, but it can also give the wearer confidence. There are various shades to choose from, all of which allow you to perfectly show off your hands and let others know that you are anything but a wallflower.
Do red nails look good?
Red nails definitely look good. It is a color that is timeless and has been popular for decades, although it does take a lot of confidence to pull off because it is guaranteed to draw attention to your hands. Keeping this in mind, it is important to ensure that your nails are well-manicured, as chipped polish or unkempt talons is especially noticeable when painted in this bold hue.
Is red nail polish classy?
Red nail polish can be classy, although it is not always appropriate for every occasion. For example, if you work in a very conservative environment, it may be best to opt for a simple, natural shade. That said, red is a hue that lends itself well to various settings and can be used to give your look a pop of color. You can also make a statement by matching it to your lipstick or accessories.
Do red nails go with everything?
If you want your nails to be a focal point of your appearance, then tone down the rest of your outfit by wearing solid, neutral shades like black or white. Red nails demand attention, so they look perfect when your outfit is toned down; however, they can go with almost everything.
SUBSCRIBE TO OUR NEWSLETTER
Subscribe to our mailing list and get interesting stuff and updates to your email inbox.