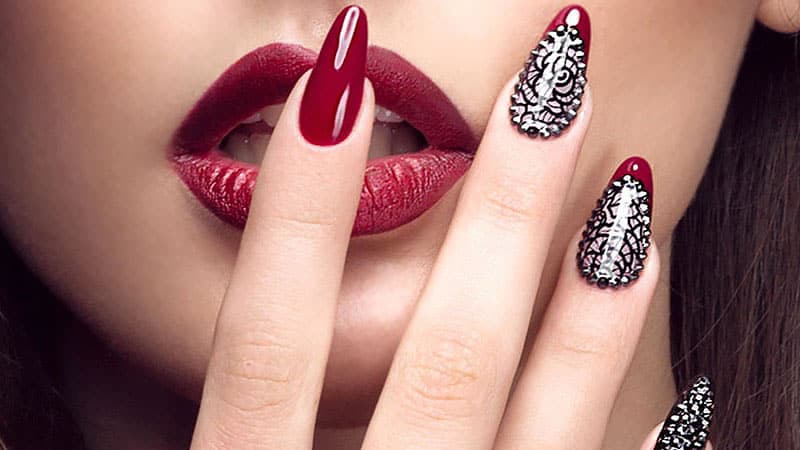 We know you love your weekly mani-pedi, but aren't you getting a little bit tired of the same old pale pinks, nudes, or black? If you're feeling daring you could always try a bright red or blue, but why not go for something even more glamorous? If you're looking for a way to make your talons stand out, then 3D nail art is here to answer your manicure prayers. From flower designs to simple studs, three-dimensional nails have never looked better. Here, we've curated a selection of the best 3D nails to inspire your next manicure.
RELATED: How to Do Manicure at Home Like an Expert
1. Lace 3D Nails
A lace 3D nail design is an excellent choice because you can have it as sparse or as covered as you like. To get started, choose your base color and grab some lace. This look is just like a regular lace mani, except instead of painting over the material and pealing it off, you stick it to your nail, creating a raised 3D texture.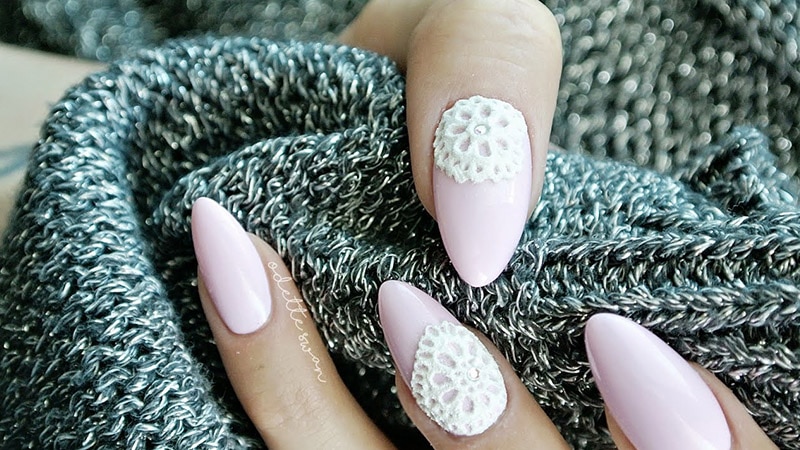 2. 3D Unicorn Nails
From highlighters to doughnuts, unicorn everything is arguably one of the biggest millennial trends. So why should you deprive your nails of a mystical makeover? Try this standout glitter design with a unicorn horn accent nail.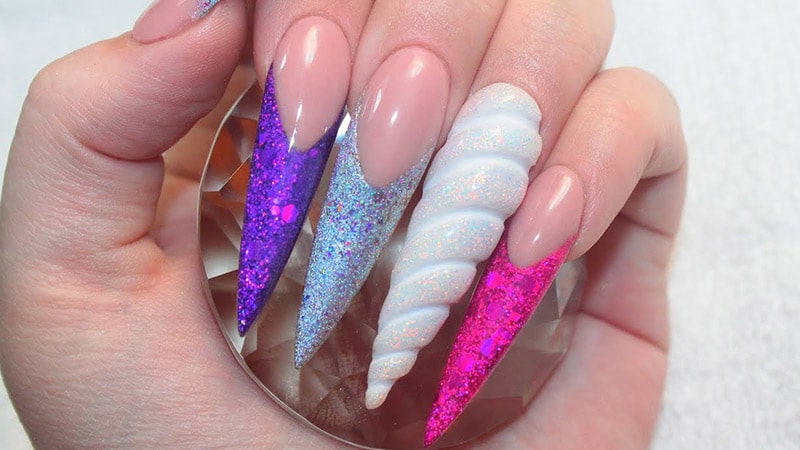 3. 3D Snowflakes Nail Art
A frosty and cute nail design with 3D snowflakes will have you welcoming the winter weather with open arms. To create the look, start with a blue base before adding your white flakes.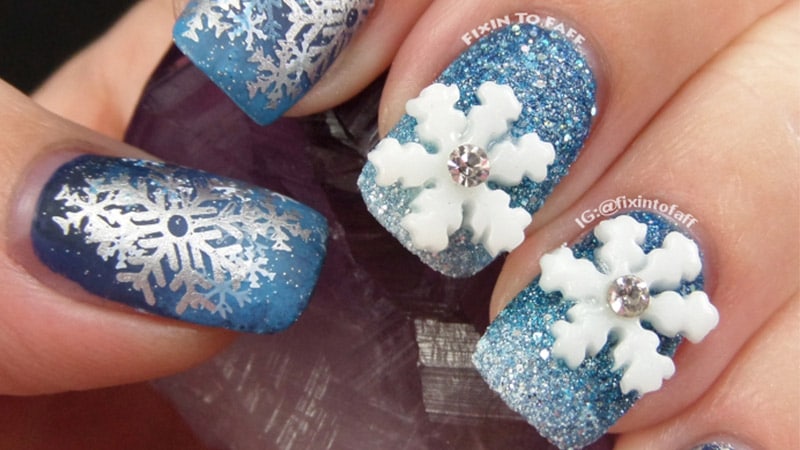 4. 3D Bridal Nails
Why should your ring be your only bling on your special day? 3D nails may not scream bridal chic, but when done simple, they can pop in those close-up ring shots.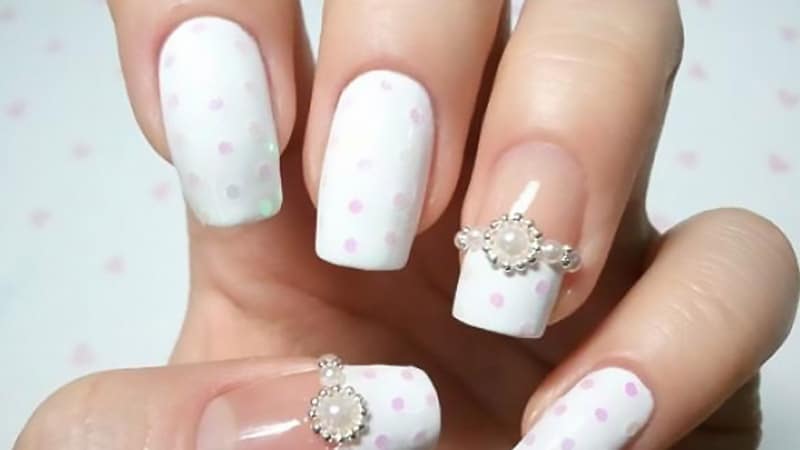 5. 3D Rose Nail Art
Roses are another take on gorgeous 3D floral nails. We love a pretty pink rose design with leaf details for a fresh and young alternative to a classic red rose style.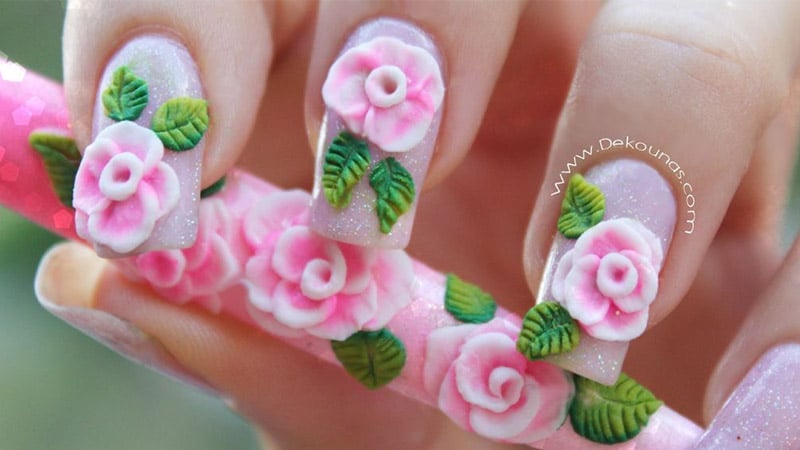 6. Mermaid 3D Nails
Channel your inner siren of the sea with this blue bejeweled design.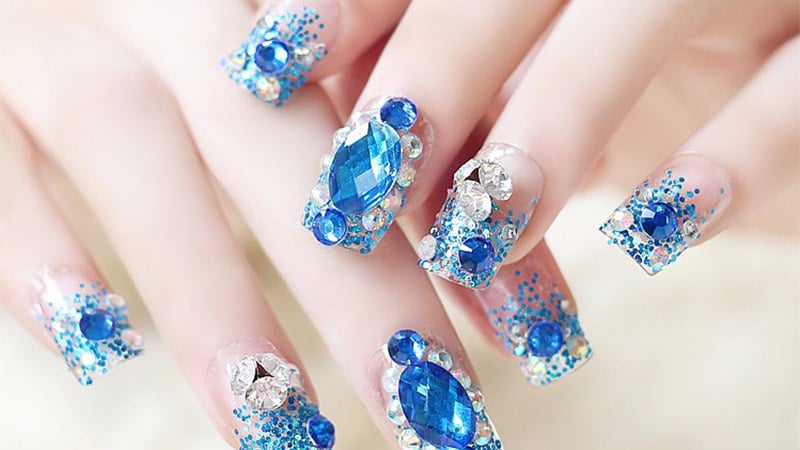 7. DIY 3D Nails
It's surprisingly easy to give yourself an at-home 3D manicure. Just grab the nail glue and diamontes and fire up your Pinterest account. Although there are many designs to try, styles with studs are the easiest, so consider starting with them if you're a nail art beginner.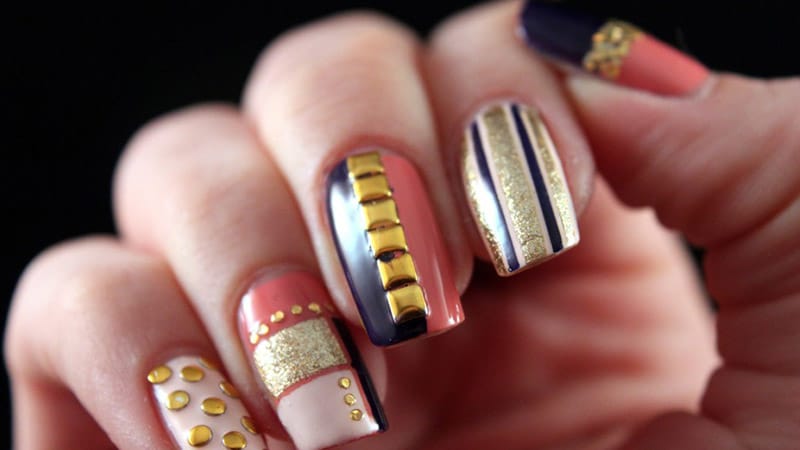 8. 3D French Nails
For a feminine and elegant look, try a French mani with 3D flowers. The stunning white flowers will undoubtedly add a modern and trendy touch to your classic French tips.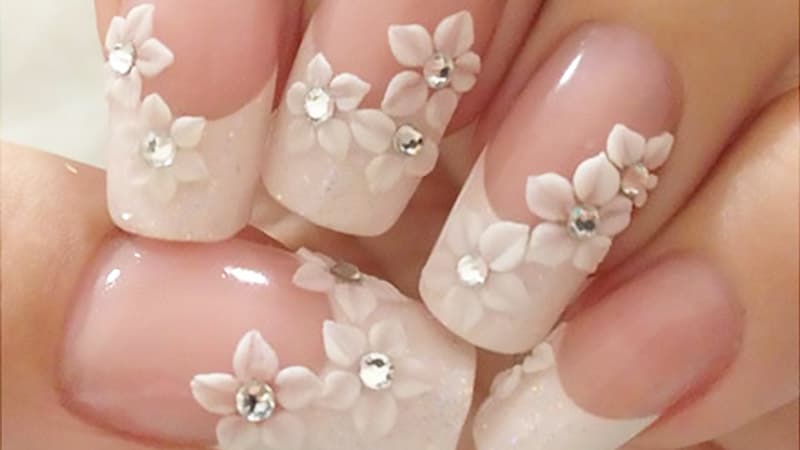 9. Bejeweled 3D Nails
If subtlety isn't your thing, go for something with a little more bling. From words to jewels and even chains, there's no limit to the 3D elements you can attach to your nails, so get creative and let loose.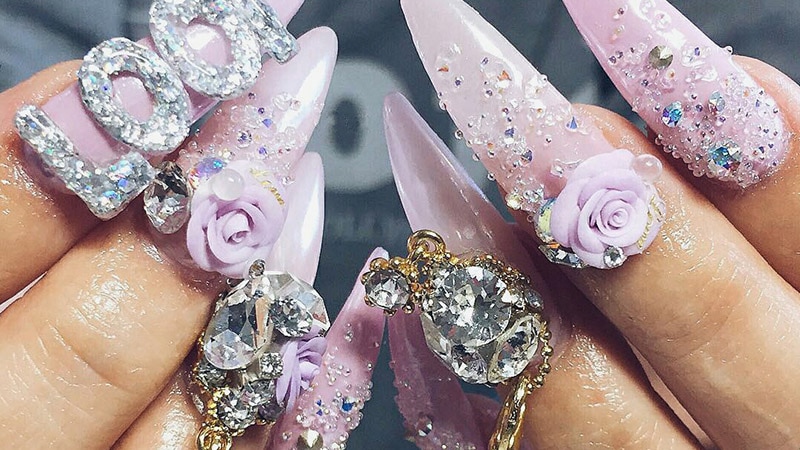 10. Simple 3D Nails
For something a little more understated, try a simple 3D nude manicure. Nude tones are highly versatile and can suit any occasion. So, even with the addition of some subtle silver or white embellishments, they'll still appear chic and appropriate.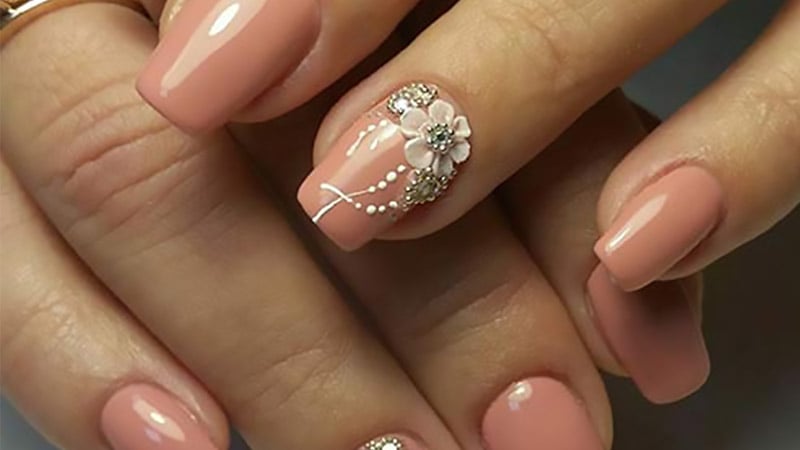 11. Matte 3D Nails
A simple 3D element can breathe new life into a classic matte polish. For a boldly chic look, try pairing black nail polish with a bow and black studs.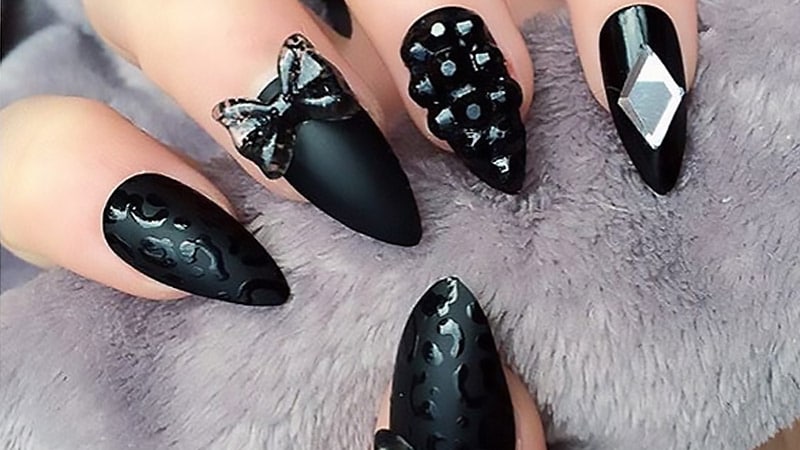 12. Glossy 3D Nails
Matte is lovely, but sometimes a girl needs to shine. Glossy nails are always a bit of fun and even more so with a little 3D feature. Try a gorgeous navy polish with a few diamontes for a bit of sparkle.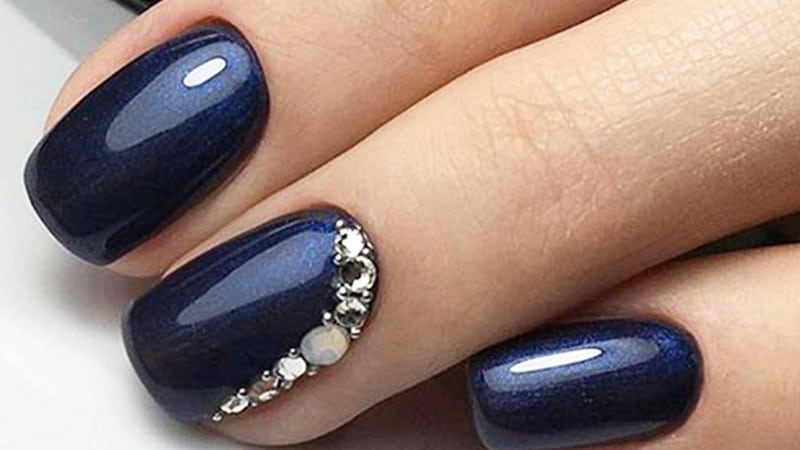 13. Gold 3D Nails
Want to take your glamorous gold manicure to the next level? Try adding some 3D embellishments, such as studs or diamontes.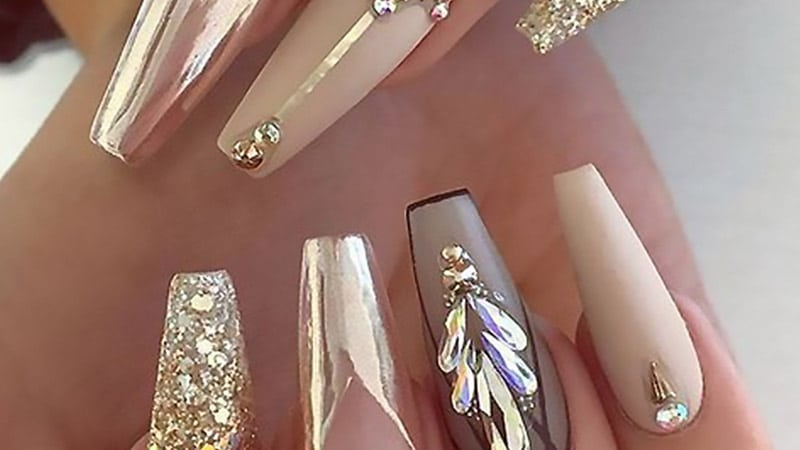 14. Coffin Nails with 3D Design
Like 3D details, coffin nails are also on-trend right now. So, why not combine the two? You could go for something over the top or a simple accent nail. The sky is the limit with these extra long talons.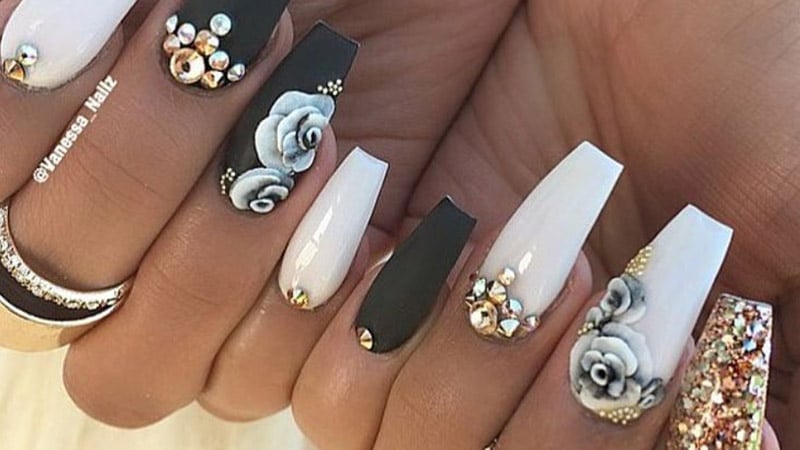 15. Ombre 3D Nails
Ombre has long been a favourite nail design, but it's starting to fade out. To give your ombre mani a fresh feel, try adding some 3D sequins or flowers.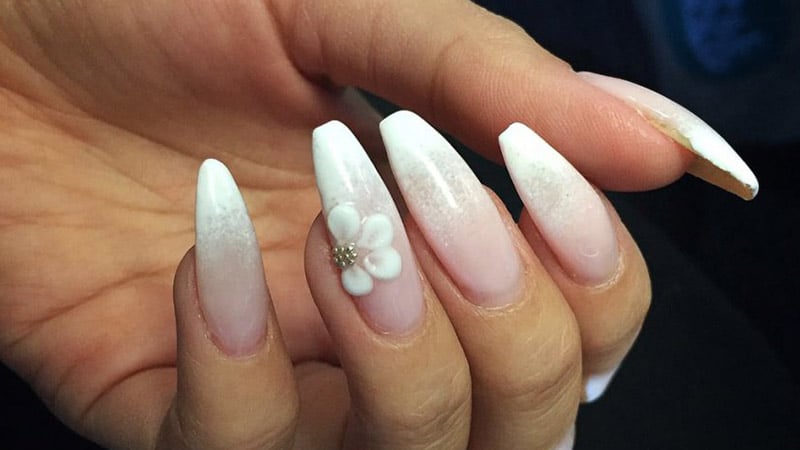 FAQs
What is a 3d manicure?
A 3D manicure is more than just nail polish. It has extra details glued to the nail, such as jewels, flowers, lace, bows, or anything else you can imagine. It's generally then lacquered over to seal it in for extra security. Alternatively, your nail artist can also use extra gel or acrylic to sculpt shapes, such as unicorn horns or flowers.  
How do you do 3d nails?
With artwork as intricate as some 3D designs, it's best to head into your favorite nail salon. They will do the manicure as usual and apply a base coat color in whatever shade or theme you like. Then, it's time for the real art. Depending on their skills, they'll either glue decorations on using nail glue or create custom art using extra nail gel or acrylic. Special tools make this process a lot easier, as does a slow setting product.
What are the 5 basic nail designs?
The five basic nail shapes are square, oval, round, almond, and stiletto.
What is the popular nail color for 2022?
The popular nail colors for 2022 are deep reds, shades of brown, blueish-grey, muted greens, nude, navy, and metallic finishes.
SUBSCRIBE TO OUR NEWSLETTER
Subscribe to our mailing list and get interesting stuff and updates to your email inbox.