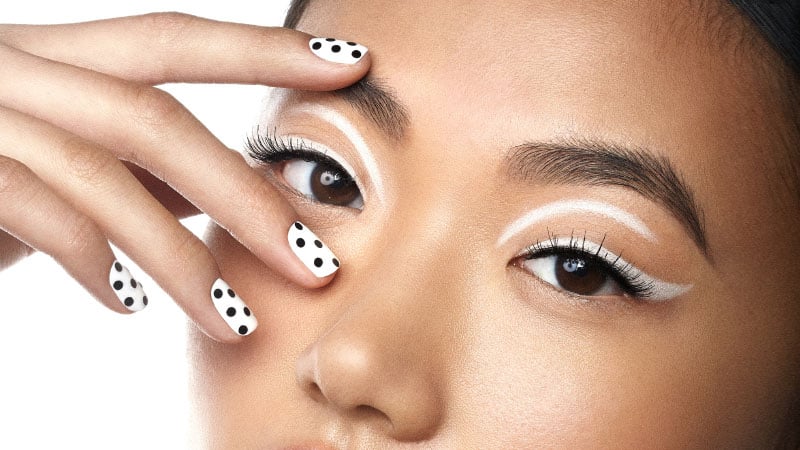 As one of the chicest colors this season, this go-to shade is the perfect blank canvas for any nail art. From polka dots to an updated French manicure, there are endless ways to accessorize your fingertips. Keep scrolling to get your dose of white nail designs for your next manicure.
1. White and Gold Nails
Why have just white nails when you can add a dash of gold? This boho-inspired manicure is stunning thanks to its sparkling cut-outs and patterns. Add in baby pink detail to create depth with the design, or keep it classic with only two colors. It's an excellent option for a fancy event or a photoshoot for Instagram at home.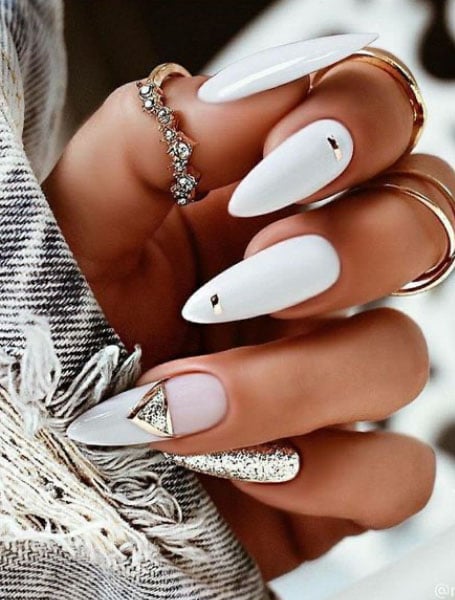 2. Black and White Design
This striking combo is always a great idea, whether it's a night out with friends or a day at the office. Inspired by '60s mod designs, this funky manicure is sure to grab attention. Use black polish to draw a narrow border around the edges of your white nails, and separate the middle into two sections. You can make this pattern feature on a single finger or have it across your entire hand – it's a modern take on a timeless style.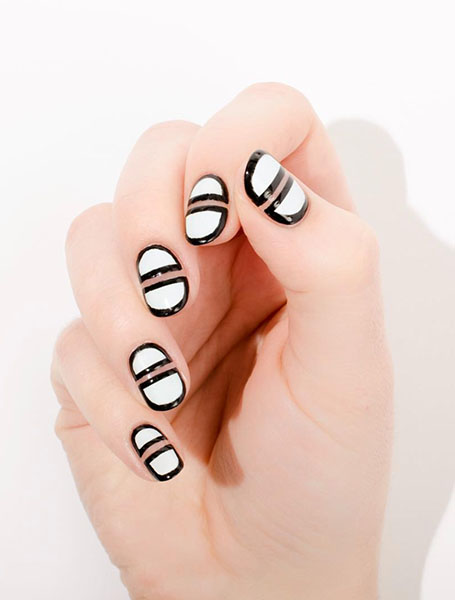 3. White French Tip with Pearls
Update your current go-to manicure with this stunning design. The French tip is a traditional style that complements almost any outfit. The subtle and elegant pearl near the cuticle elevates the overall appearance and will look incredible at any event.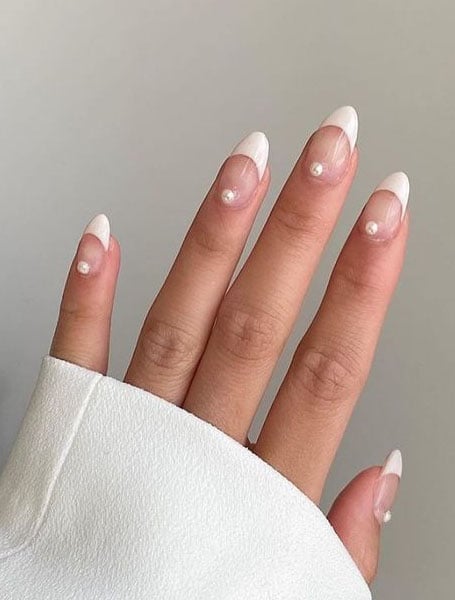 4. Pink and White Design
If you are a fan of geometric shapes and pink hues, you will love this design. With edgy lines across the nailbed in pink and purple, it's a bold and elegant manicure for anyone. If you prefer different colors, switch things up with neutral grays or even a bright blue. It's an exciting way to wear white nails with a trendy twist!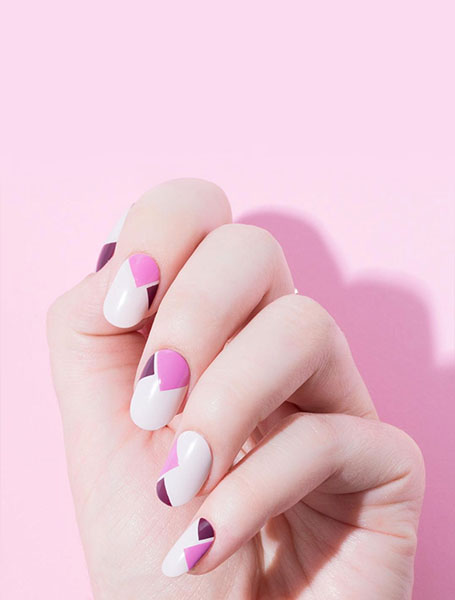 5. White Nail Design with Stars
Shine bright like the night sky with these stunning nails. The combination of white and pastel shades add depth to an already stunning manicure. Opt for colors such as baby blue, coral or mint – they are vibrant enough to stand out, yet classic enough for any event. Place stars across the middle and ring finger for a subtle, yet captivating result.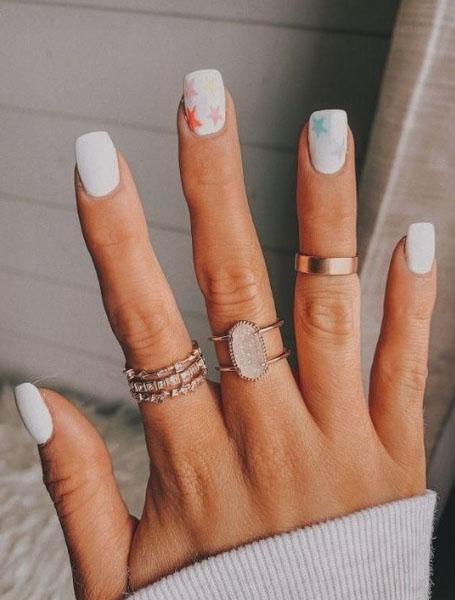 6. White and Gold Nail Designs
This gold-lined manicure takes white nail polish to the next level. Using a metallic gold varnish, you can carefully paint geometric lines across the fingertips, making each digit a different pattern. For an extra elegant finish, opt for a pale pearlescent shade for the base.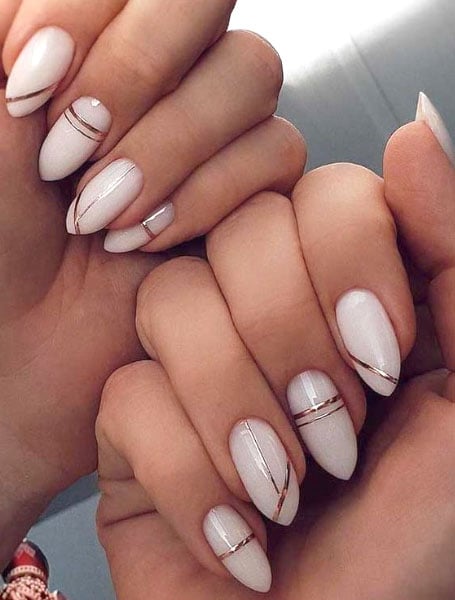 7. Blue and White Nails
One of the trendiest shades this season is powder blue, so why not wear it on your nails? This cute and easy manicure idea is simple to recreate and looks beautiful on anyone. Take three colors, white and two different shades of pastel blues, and paint each nail a different hue. It's the perfect style for summer and is a popular and fresh option.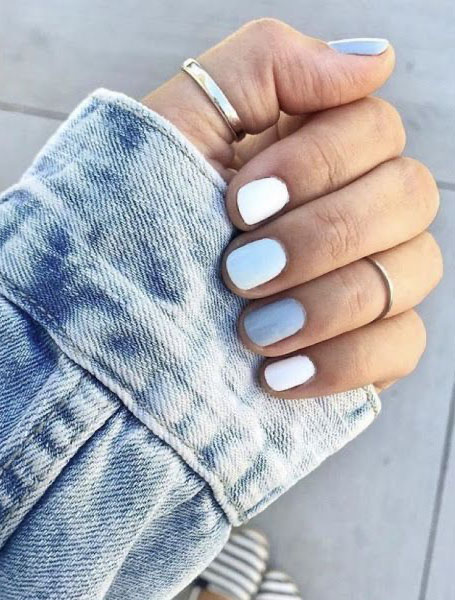 8. White Coffin Nails
Elegant and simple, these coffin nails have it all. The stylish shape is a great way to elongate your fingers, and the sleek white finish will elevate your outfits and brighten your ensemble. Leave every fingertip plain or add a feature nail design. The options are endless for this manicure, so you can try something new every week and look divine.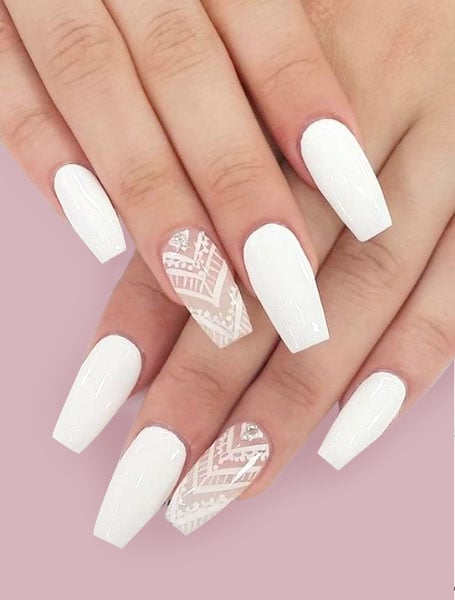 9. White and Silver Nails
For lovers of all things elegant and sophisticated, this manicure is an ideal option. The design takes inspiration from quartz and looks almost as precious as the stone. Using silver polish or a strip of metallic tape, you can add dimension and depth to your fingernails. It's an excellent alternative to wearing jewelry for a night out, let your hands do the talking.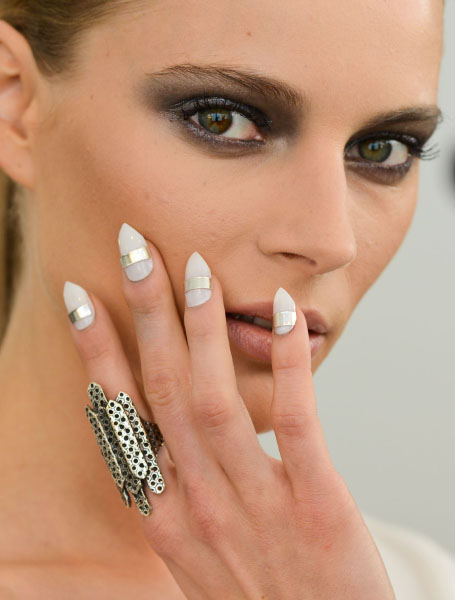 10. Red and White Nails
Are you feeling a bit romantic? Then why not express it with this white and red manicure. The funky shapes across each nail resemble hearts, but the abstract styling makes it a touch avant-garde. Complete the look with metallic arrows coming through the pop of color for the perfect finish. It's a great way to celebrate your anniversary, Valentine's Day, or just a special night out.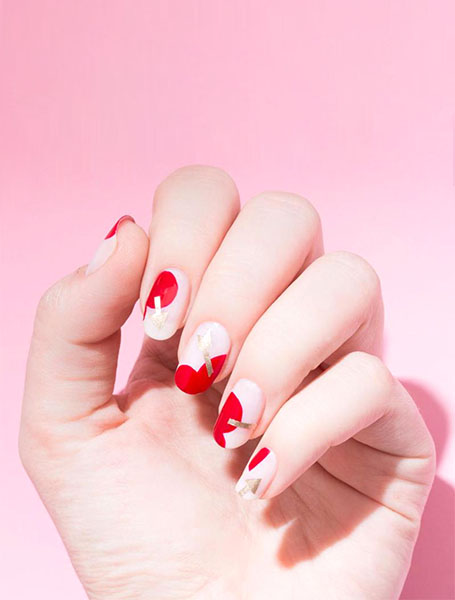 11. Simple White Nails
Sometimes the most simple things are the prettiest. These classic white nails are a statement and are sure to elevate any outfit you wear. Not only are they perfect for any season of the year, but they help elongate your fingers so you can wear them at any length. Add some decorative jewelry for the perfect finishing touch.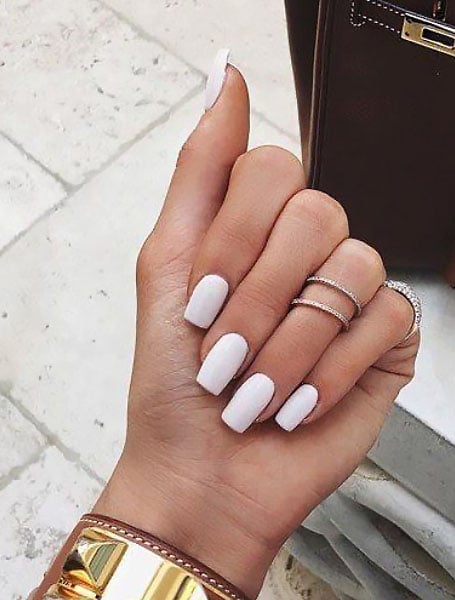 12. White with Glitter Nails
This manicure is simple yet elegant. The soft addition of sparkles on the feature nail elevates your overall look without overdoing it. Watch as everyone begins complimenting you for your beautiful fingernails.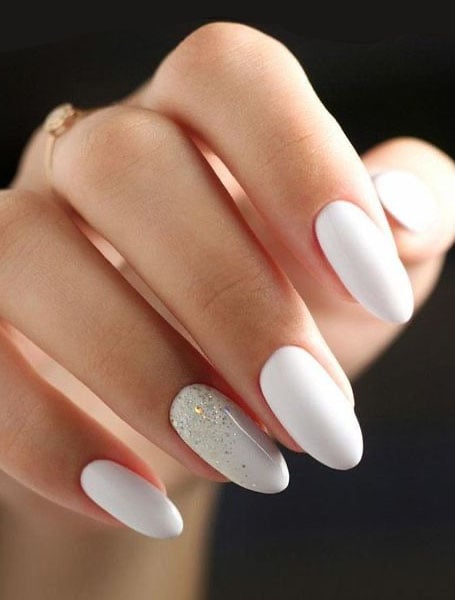 13. Cute White Design
Some designs last the test of time, so why not showcase them on your nails? This cute artwork is simple and refined, and it looks perfect on any base color. Opt for earthy tones as a dimensional second shade for feature nails, such as blush pink or duck egg blue. This gorgeous color combo will be your favorite for years to come.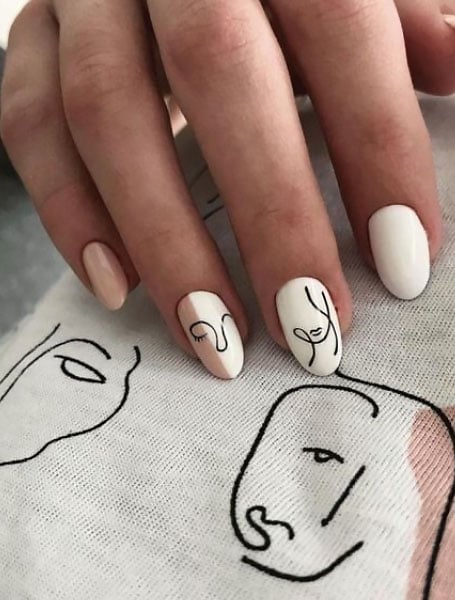 14. White Design with Diamonds
Take your nail art to the next level by adding some crystals to the feature nail. This iridescent style is the best way to jazz up an outfit, but it's elegant enough for almost any event. Opt for a couple of shades to feature over the white base – baby pink and magenta work well across the nails.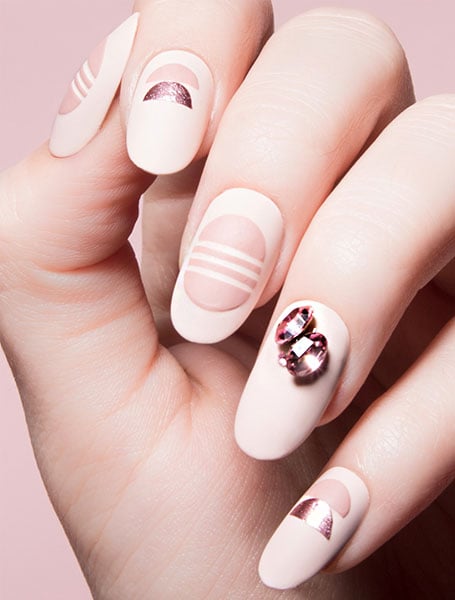 15. White Flower Design
Take a trip to a field of flowers with this stunning nail art. While the design is so simple, the balance of colors makes it remarkable. A great way to replicate this style is by finding a transparent sticker or print with delicate floral patterns. You can place it up the nail or across – there are endless options with this manicure. As a final touch, apply a coat of matte polish for a soft finish.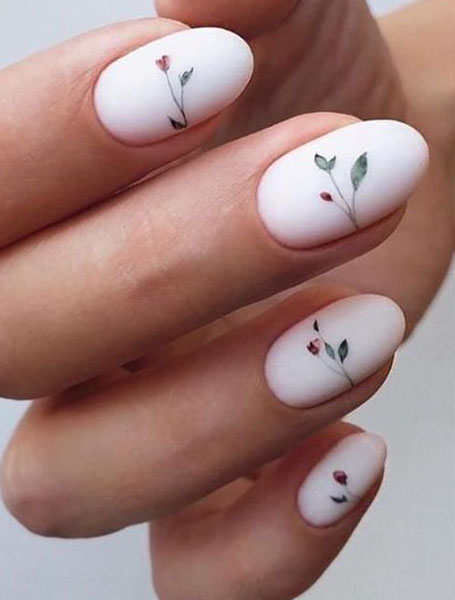 16. Pink and White Ombre Design
The French manicure just got itself an upgrade. This pink and white ombre perfectly balances the two colors and is the perfect style for a formal event like a wedding. Choose from the short, coffin, or almond shapes nails – a myriad of lengths will work perfectly with the design.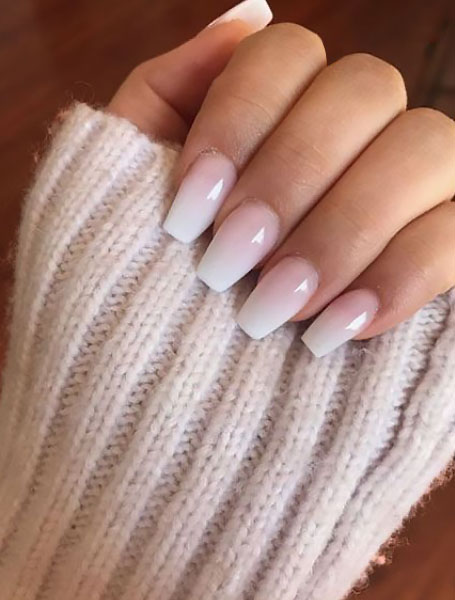 17. White Nails with Feature Ring Finger
Everyone deserves to inject a little color into their lives, so why not do it with a holographic feature nail? The white surrounding it plays the perfect contrast. Why blend in when you were meant to stand out?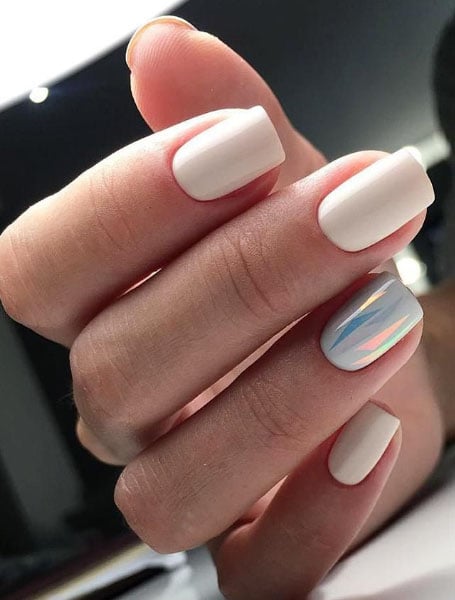 18. White Nails with Hearts
Just like your traditional French manicure, this gorgeous design adds a pop of color to the end of your fingers. However, why not spice things up by adding a love heart shape to the tip of your nails? Be sure to find a reputable nail technician to complete this look – it requires a steady hand and symmetry. It works best for those with almond-shaped nails.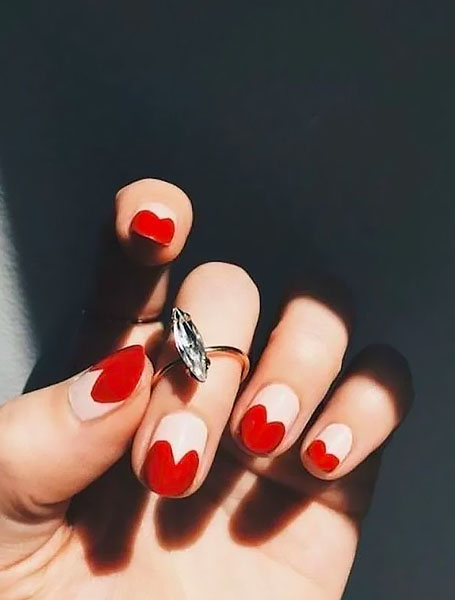 19. White Nails With Letters
Let your hands do the talking with this sleek manicure. The black and white contrast is a bold statement that is sure to capture attention, but the letters across each nail take the cake. Choose a three or four-letter word and paint each letter across a fingertip.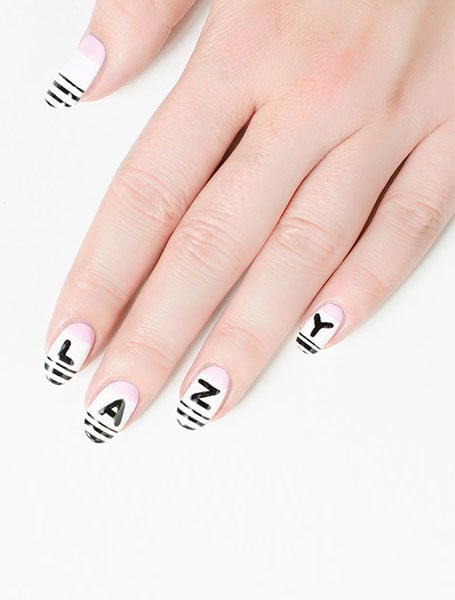 20. White Abstract Design
Let your imagination run wild with this white abstract design. The splashes of pastel and metallics look amazing – add some tiny polka dots across the nail for dimension. The manicure works perfectly for every nail length, and you can rock it to almost any event.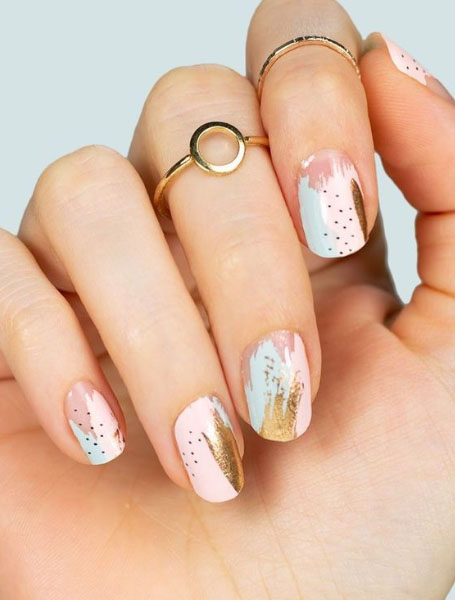 FAQs
Are white nails classy?
White nails are a classy, crisp, and fresh choice for your next manicure. It's a clean shade that works well with every other color and lends itself perfectly to artsy designs. The only thing to keep in mind is that chipping can be more noticeable with white, so make sure to stay on top of your mani maintenance.
Are white nails popular?
White nails are incredibly popular, especially with the growth in nail art and designs. It's a wonderful neutral that acts as a blank slate for whatever you want to pair it with. It's fresh, crisp, and elegant.
SUBSCRIBE TO OUR NEWSLETTER
Subscribe to our mailing list and get interesting stuff and updates to your email inbox.