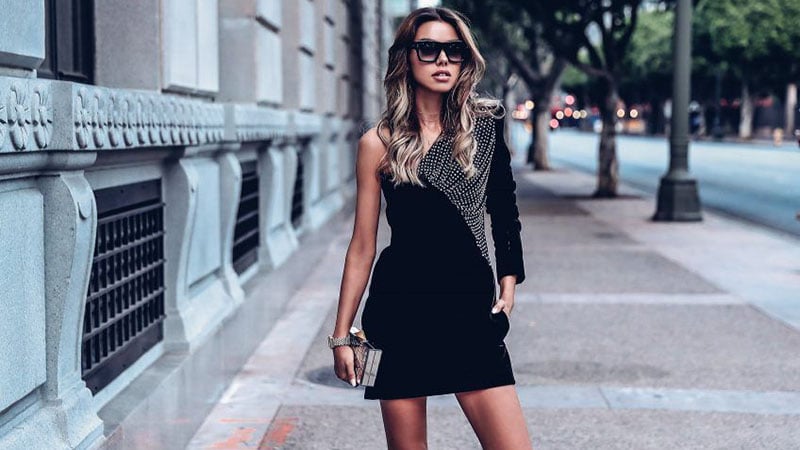 There's something that every woman needs to have in their wardrobe: the little black dress or LBD. Its popularity is credited to Coco Chanel, who in 1926 created what Vogue called the Model T design. However, the history of the LBD goes back way further. These dresses take many different forms, so if you're not sure which one is best for you, don't fret. Here is a list of perfect little black dresses to buy this season.

1. Little Black Cocktail Dress
Get flirty and fashionable with a black cocktail dress. They're perfect for a semi-formal event or date night. Characterized by the length, this LBD falls just above or below the knee. Add some drama by experimenting with different fabrics – silk and satin are excellent choices for a summer event. Dare to add a little sparkle to your outfit – cocktail attire looks amazing with a bit of glitter!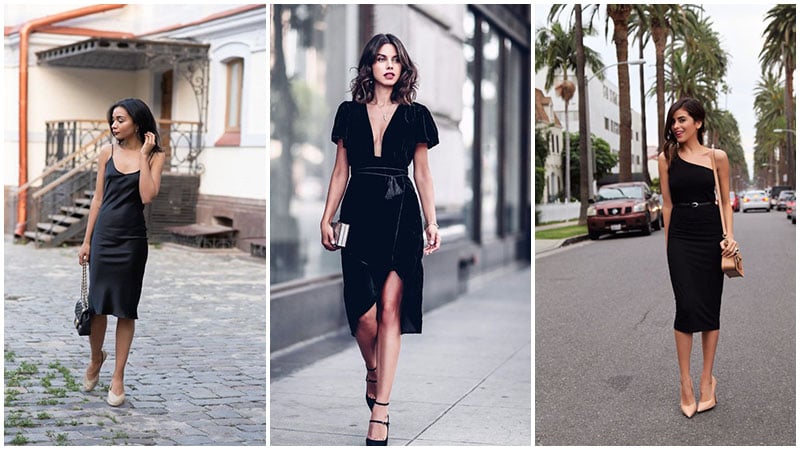 Get the Look
2. Little Black Classic Dresses
If it ain't broke, don't fix it! A classic LBD is an absolute must for every woman's wardrobe – elegant and timeless, you can't go wrong! A Bardot-style neckline or a mock turtle neck can be alluring and classic all at once. A sleeveless or long sleeve black dress captures the attention of everyone around you. Keep it simple with a solid black color, so you can up the ante with accessories and shoes. For events such as weddings, corporate evenings, or dinner with your friends, cocktail or tea-lengths are the perfect fit. Whether you prefer A-line, bodycon, empire waist, or a shift silhouette, you won't falter with this classic.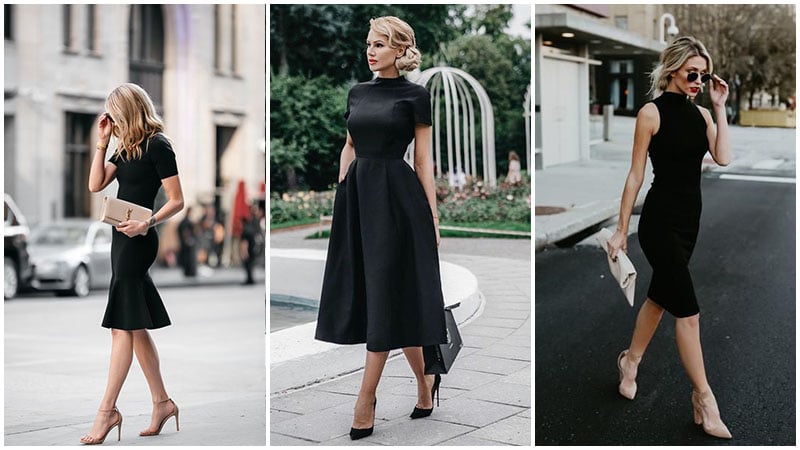 Get the Look
3. Sexy Little Black Dress
Stop traffic and turn heads in a sexy LBDs. Now, an LBD doesn't have to be super short or revealing to be seductive. Figure-hugging silhouettes are perfect for a night out. You can choose to wear solid black or add a little spice by wearing something sheer with a slip underneath. Showcase your pins with a mini paired with some killer heels and a smile. Watch out, you're going to have eyes on you all night!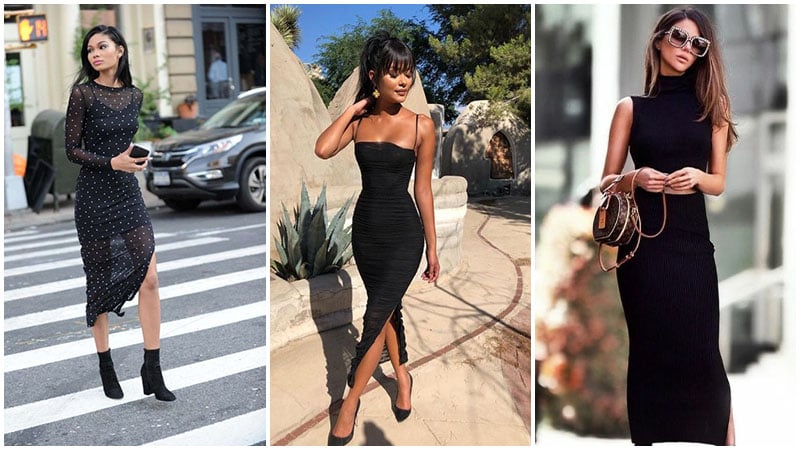 Get the Look
4. Little Black Dresses with Sleeves
Make a statement with some sleeves on your LBD. Whether you prefer long, flowing sleeves or a Victorian-inspired puff shoulder, the options are endless for this super stylish selection. For colder nights, opt for something longer; if it's a warmer event or you're inside, why not turn things up a notch by wearing an off-the-shoulder or something 80s-inspired? No matter how you choose to wear it, you'll grab the attention of every room you walk into!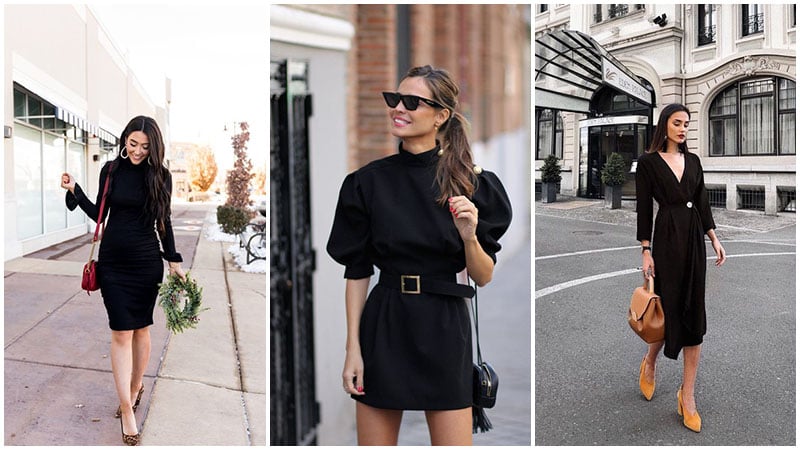 Get the Look
5. Little Black Lace Dresses
Feminine and classic, the lace LBD is a perfect piece to wear to any event. Opulent and daring, these delicate designs can amplify your night out. Whether you wear it as a small detail or you go all-out and wear head-to-toe lace, you're sure to make a statement, no matter where you're going. Keep things simple in terms of accessories: pearls and neutrals look best when paired with the delicate fabric. For an edgy twist on the classic piece, wear a leather moto jacket, and you'll have the perfect blend of pretty and punk.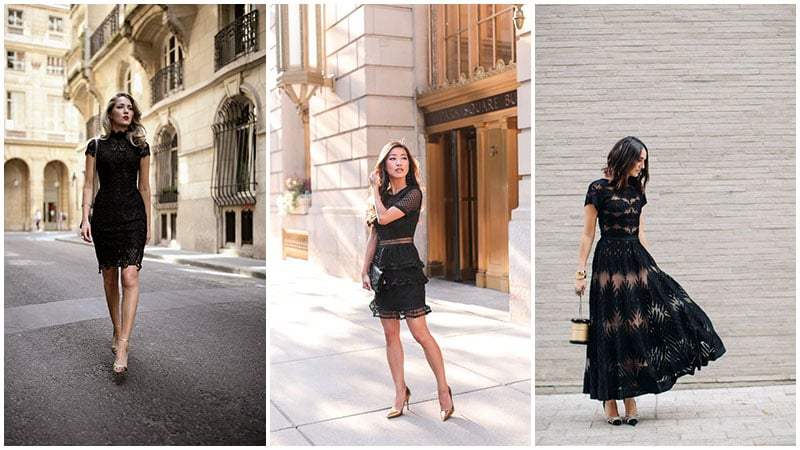 Get the Look
6. Little Black Cute Dresses
When the weather is too hot to handle, combat the heat with a cute LBD. Frilly sleeves, floral patterns, and square necklines are sweet additions to your LBD that instantly grab attention. Keep things summery by wearing a short silhouette, showcasing your gorgeous legs. You can swap out a pair of heels for some flats or sneakers for an ultra-casual appeal. No matter how you style these pieces, you'll look adorable and stylish all at once!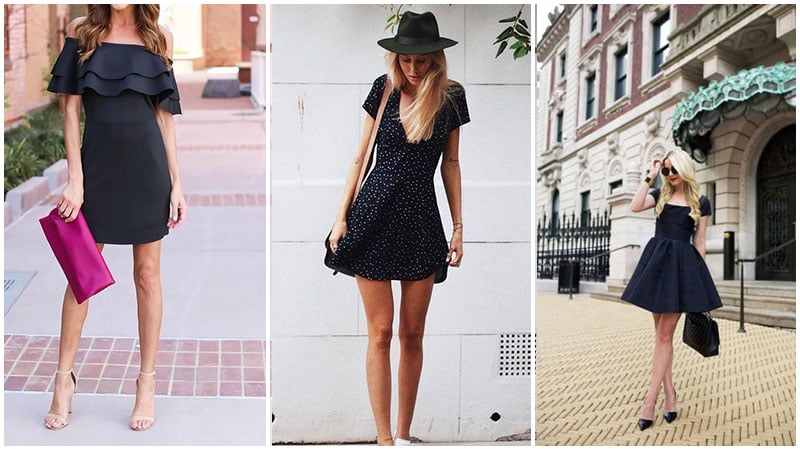 Get the Look
7. Little Black Dress for Party
Turn up the volume and let your hair down while rocking one of these pretty party dresses. Dare to bare some skin with a strappy figure-hugging midi length, or keep it flirty in a mini. Whether you're headed to a house party or a big bash on a boat, you can rock these pieces perfectly. Add some texture and embellishment to your party attire and everyone at the gathering will have their eyes on you!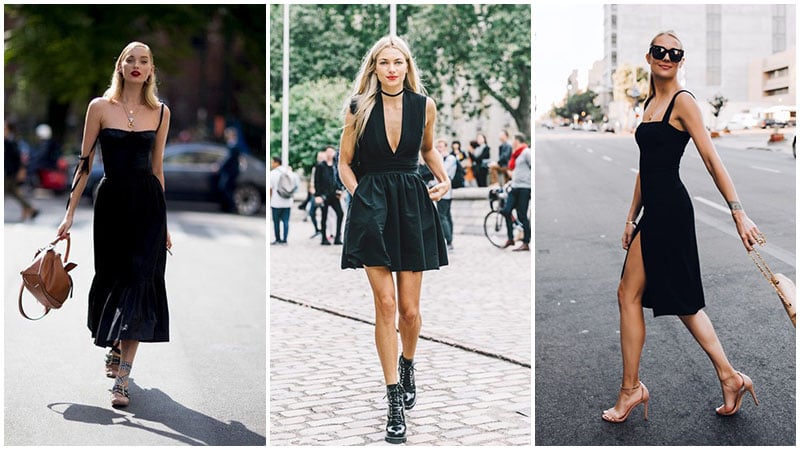 Get the Look
8. Little Black Petite Dress
Lengthen your legs and elongate your torso by rocking an LBD. For petite girls, it's best if you choose a dress that hits just below the knee or mid-calf, as it creates the illusion of longer legs. This length is perfect for a party or date night. If you're heading out and wish to wear a shorter piece, opt for something block-colored – the one color creates a seamless line to your body. Add a pair of heels and a belt to cinch your waist and create the appearance of oh-so-long pins!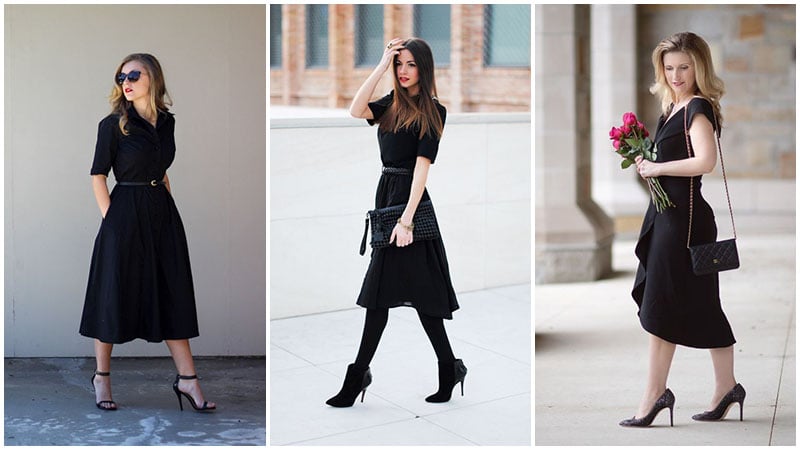 Get the Look
9. Little Black Bodycon Dress
Show off that amazing body with the help of a bodycon dress. Tight and figure-hugging, these pieces are perfect for showcasing your hourglass figure and adding some drama to your outfit. A black bandage LBD looks best when in a solid color with the help of some accessories. They can be worn to almost any event and they're a bold and sexy addition to your wardrobe!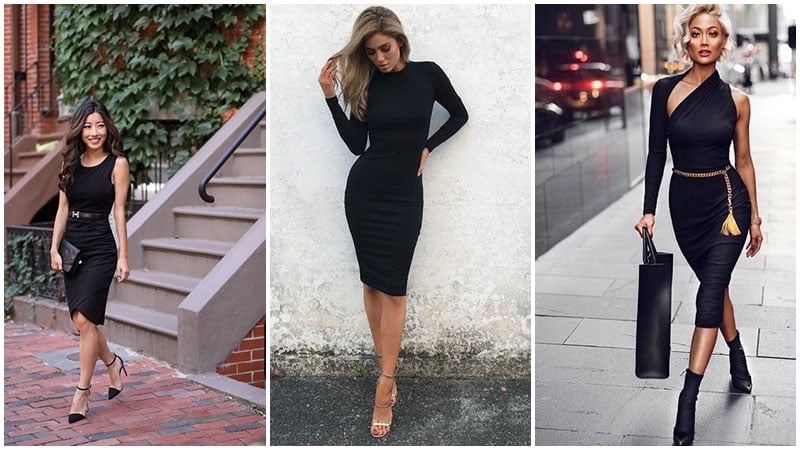 Get the Look
10. Little Black Dress for Wedding
Who said you shouldn't wear black to a wedding? A dark dress may seem like a faux-pas, but you can definitely rock the color to a wedding or commitment ceremony. Keeping the length below the knee, choose a gown with an exciting twist such as an off-the-shoulder frill or a bell sleeve. Brighten up the look with some colorful accessories or a pair of sparkly shoes. Don't worry, you won't upstage the bride, but you'll definitely make jaws drop when you enter the room!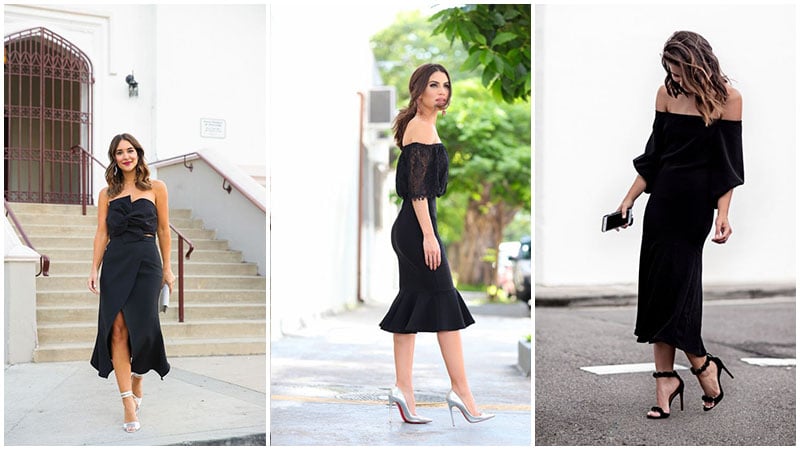 Get the Look
11. Little Black V-Neck Dresses
Flattering and suitable for all weather conditions, the V-neck is a silhouette that's perfect for women with a fuller figure. Classic and elegant, this style comes in different lengths and suits various events and seasons. For work events, opt for a wrap or a tea-length black dress. If you're heading to a casual gathering such as a house party, you can't go wrong with this cute design.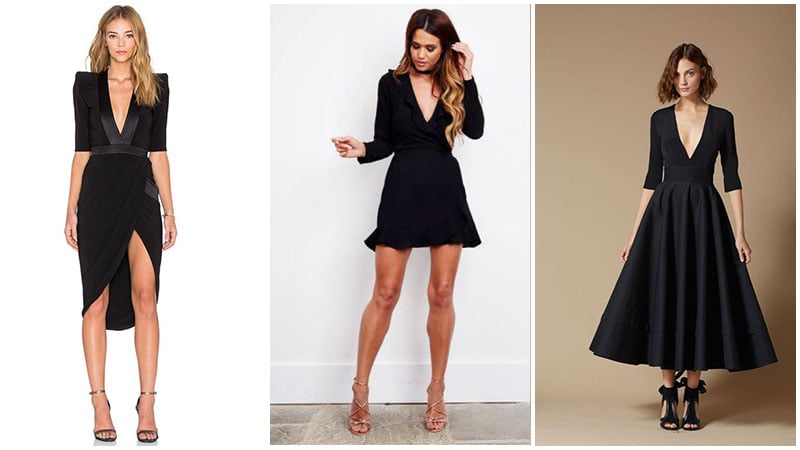 Get the Look
12. Little Black Casual Dresses
Be cool and still look fashionable with a casual LBD. Laidback and comfy, they're easy to pair with a leather moto jacket and sneakers. Whether you're going to the zoo or the supermarket, this casual attire will keep you cozy but looking effortlessly stylish all at once. If it's a little chilly outside, pair the piece with a bomber jacket and ankle booties. These dresses are so cute that you can wear them with almost anything!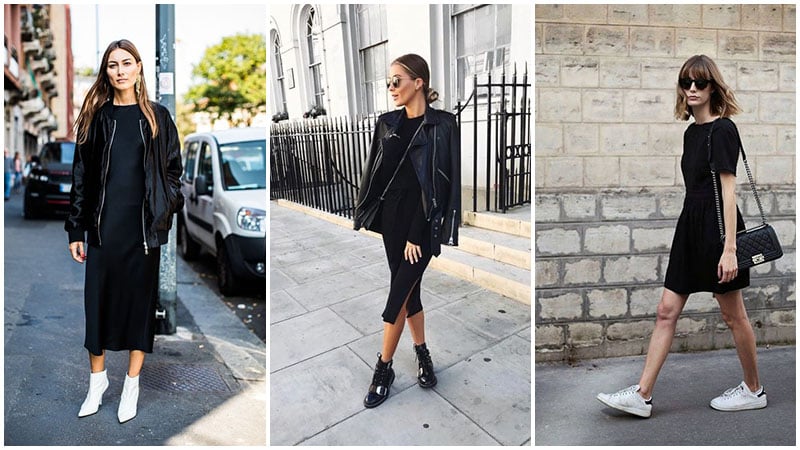 Get the Look
13. Plus Size Little Black Dress
Seduce the room with the perfect LBD. Flatter your figure with an A-line silhouette, cinching in your waist and flaring out. They're perfect for a first date or brunch with the girls. If you're ready to turn heads, a figure-hugging square neck bodycon style is the way to go. Dark colors are perfect for accessorizing in any season, and for all events. With a flattering neckline and a body-skimming shape, your gorgeous body will be showcased to perfection!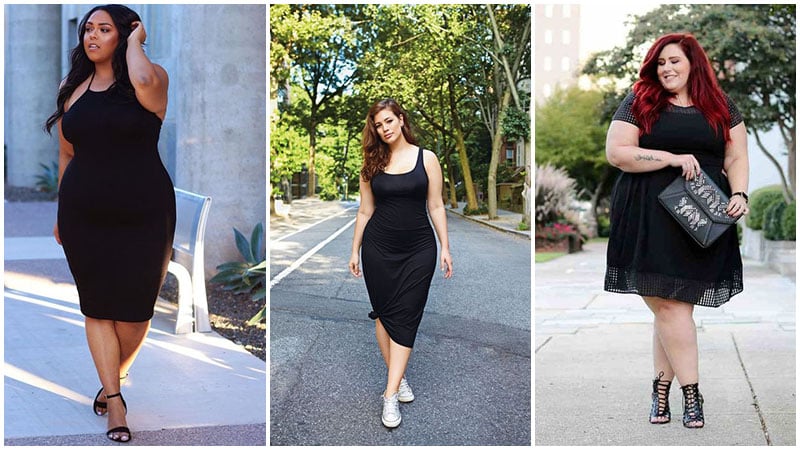 Get the Look
14. Maternity Little Black Dress
Dressing for two never looked so good! An LBD looks amazing when combined with a baby bump, so why not show it off to the world? Get comfy with a loose-fitting midi dress; the best option for running errands or having lunch with the family. If you're going out to paint the town red, a solid black bodycon is the perfect choice for you. Keep the length at your knee or just below, creating a seamless line from the bump to your behind. An outfit this cute will accentuate your pregnancy glow so much, you'll brighten the entire room!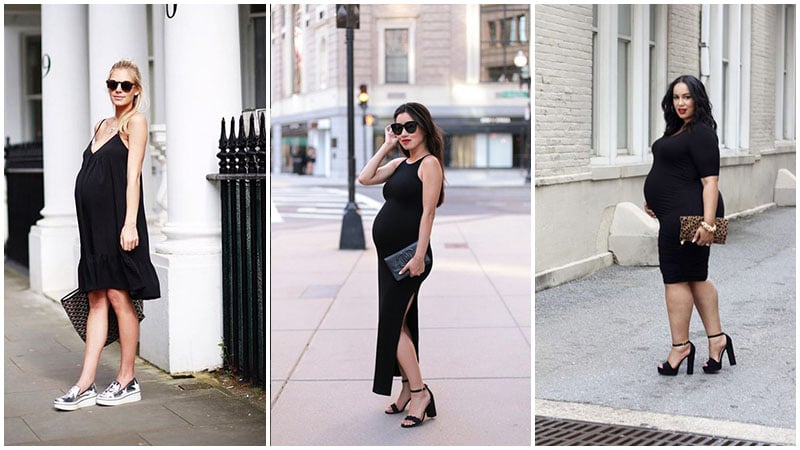 Get the Look
Little Black Dresses FAQs
What is the perfect little black dress?
The perfect little black dress is something that every woman needs in her wardrobe. These looks take on many different forms, from a classic style to a cocktail dress, and finding the right one depends on your body shape. You want to pick something that gives you loads of confidence, can be worn in a variety of different settings and is easy to mix and match with accessories.
What does a little black dress mean?
A little black dress is a term made popular by Coco Chanel, who in 1926 created the Model T design. In modern times, a little black dress means a simple and classic style that can be dressed up or down. It is a garment that is all about elegance and sophistication.
Who popularized the little black dress?
In the 1920s, fashion publication, Vogue, brought out a cover that featured a little black dress designed by Coco Chanel. At the time, black was not a color that was worn in everyday fashion. She is often credited with the design, which remains a classic piece of women's clothing even today.
Why Every girl needs a little black dress?
Black is a color that is form-flattering and has the ability to make a statement with little effort. The LBD is all about elegance and sophistication. Every woman should own it because it lends itself well to various settings, can be dressed up or down, and is a classic and simple cut, making it a timeless fashion piece.
SUBSCRIBE TO OUR NEWSLETTER
Subscribe to our mailing list and get interesting stuff and updates to your email inbox.