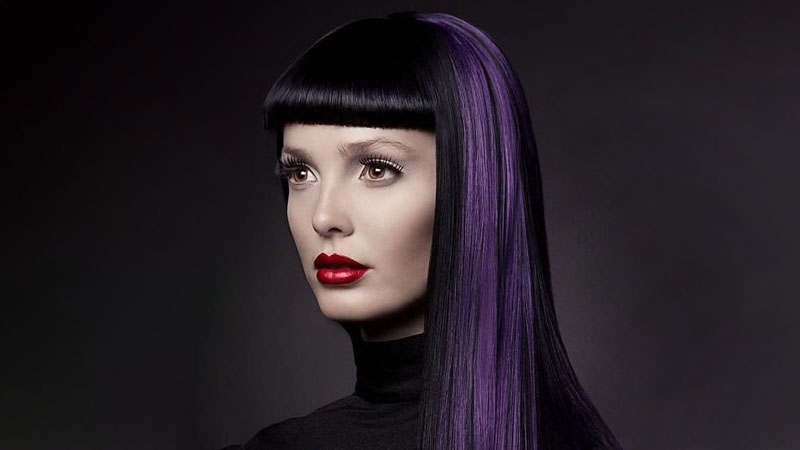 Purple hair is edgy, cool, and effortlessly chic. There are many colors to choose from, from light and dark to everything in between, making it easy to find the perfect hue to suit your preference and complement your skin tone. You can also get creative with how you add purple to your hair, choosing from one of the many techniques; this could include chunky highlights that demand attention or subtle balayage that blends with the hair. Or, go big and bold with split dye or rainbow colors. Purple hair is expressive and fun, allowing you to show off your playful side and let the world know you are someone who takes risks. If you are looking to transform your appearance and channel your favorite anime look, then try out these fun purple hair color ideas.
RELATED: 25 Dreamy Lavender Hair Color Ideas
1. Silver and Purple Hair
Silver and purple are two colors that work well together and are complementary. Blending the hues will create a metallic finish, giving your hair a shimmer. This is great for creating depth and dimension. The color is also easier to wear because it's darker and less vibrant.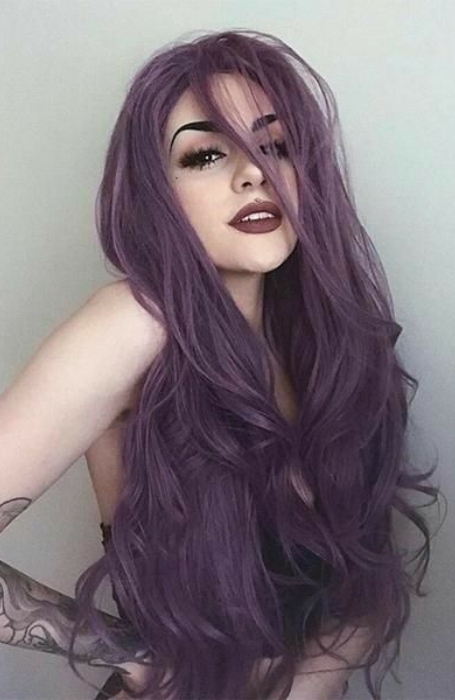 2. Lavender Purple
Lavender is a medium purple with pink tones and is a pretty color associated with grace, calmness, and devotion; choosing to dye your hair this hue could be a great way to celebrate your femininity and channel these qualities. Lavender is versatile and can be added to hair of all lengths and textures, giving you a chic hairstyle that is super playful.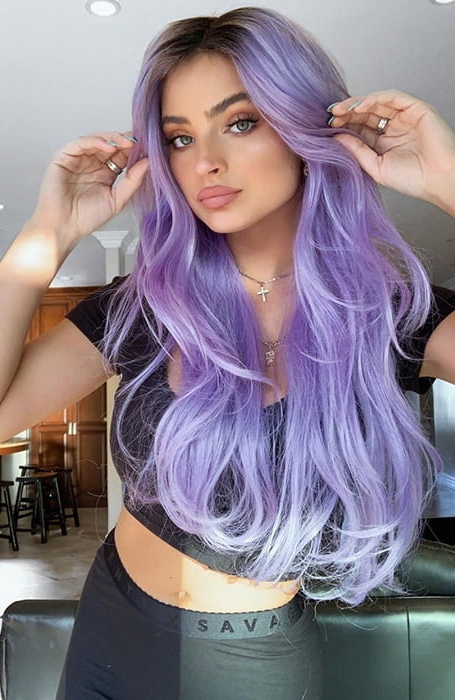 3. Vibrant Purple Money Piece
The money piece has been around since the 90s but has made a comeback in recent months because it is so effortlessly cool. The color is focused around the hairline only and is great for brightening the appearance and creating a face-framing effect. While creating a money piece with natural dyes is subtle, using a bright shade like purple will create a contrast.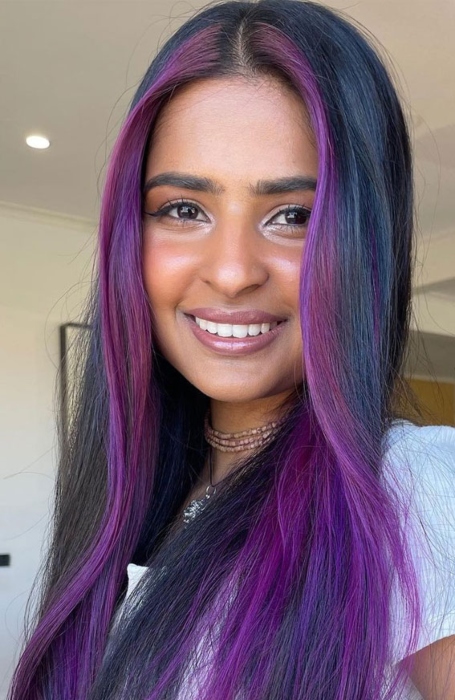 4. Pastel Purple Hair
Pastel colors are often favored for hair dye because they have a light, washed-out appearance, making them easier to wear and flattering on most people. The softness of the color means you will not have to change your makeup routine drastically and will create less contrast than more saturated shades of purple.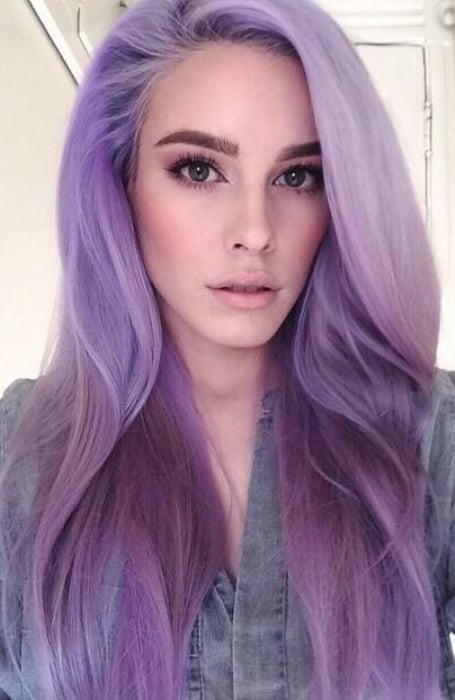 5. Purple Balayage
If you want to add purple to your hair naturally and subtly, do it with balayage. Balayage is a coloring technique created by hand painting the color onto the hair, creating a sweeping effect. With bold hues like purple, it is a great way to give your hair a lift.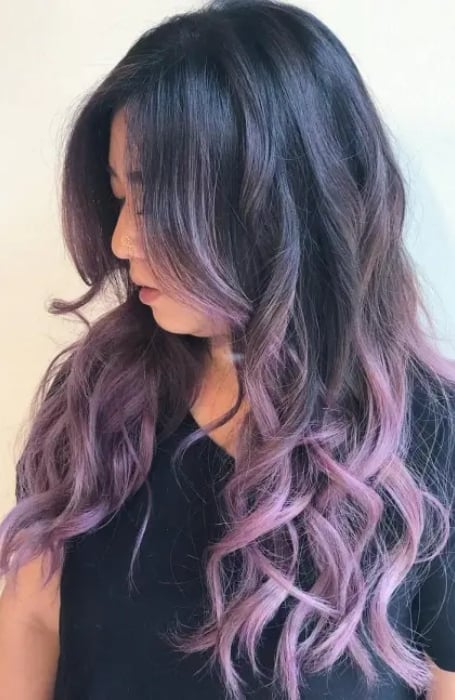 6. Purple Wavy Hair
Wavy hair is naturally textured and great for showing off color. Purple hair is fun and expressive and can be added to all hair textures, but wavy locks are great because they have natural movement and will show off highlights. It is also easier to disguise signs of damage and dryness on wavy hair than on straight.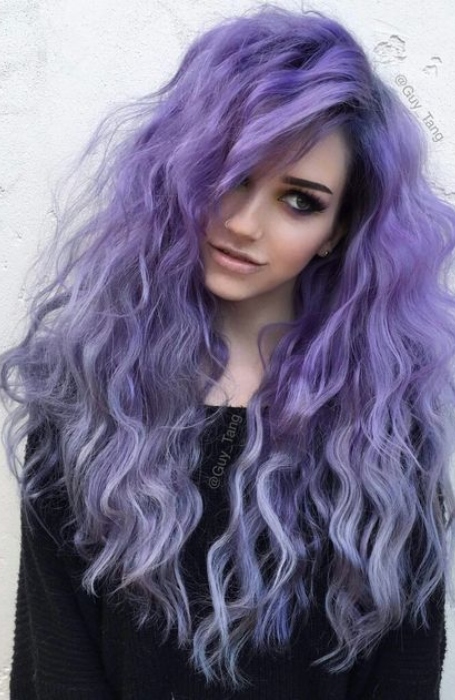 7. Grayish Purple Hair
A grayish purple hue is less vibrant than many other purple shades, making it easier to wear and a more subtle approach to dyeing your hair purple while keeping the cool factor of the grey and silver hair. You will also find that the color is versatile and will best complement those with cool undertones.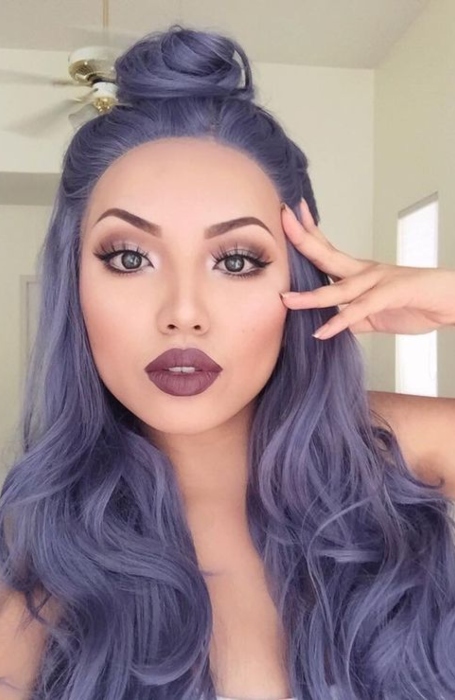 8. Purple Curly Hair
Curly hair is a great way to show off your exciting new color because it is texturally interesting. Purple is bright and bold and will draw attention to your hair, enhancing the curls. Depending on your preference, there are various shades of purple to choose from. This will let you find the hue that complements your complexion best.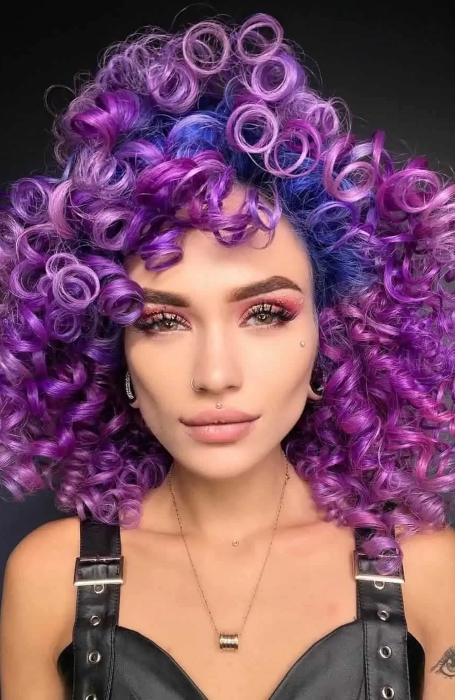 9. Black Hair with Purple Streak
To give your black hair a modern finish, add a purple streak. Instead of focusing on the color throughout the hair, you want to add just one streak. This will create a subtle contrast but is also a low-maintenance approach to dyeing the hair. Choose a dark shade if you want it to blend with your natural hair or a lighter shade if you want it to be more noticeable.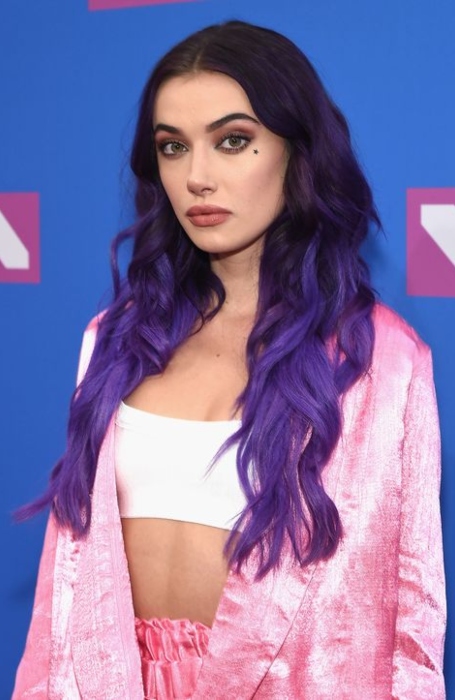 10. Blue and Purple Hair
Blue and purple are striking combinations that are easy to wear because they are two similar and complementary shades. You can add the colors in various ways, letting you get creative and experiment with your look. For example, add highlights to give the hair depth and dimension, or add it to the tips of the hair.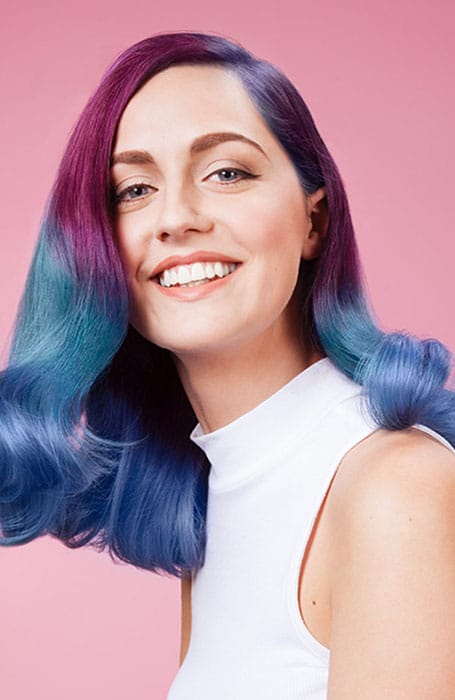 11. Purple Blunt Bangs
Blunt bangs are an excellent choice for someone who wants a fringe that will draw attention to your eyes. The straight cut of these bangs makes them noticeable, so you can color them purple to enhance this. You can focus the color on only the bangs to create a contrast or dye your whole head; the choice is yours.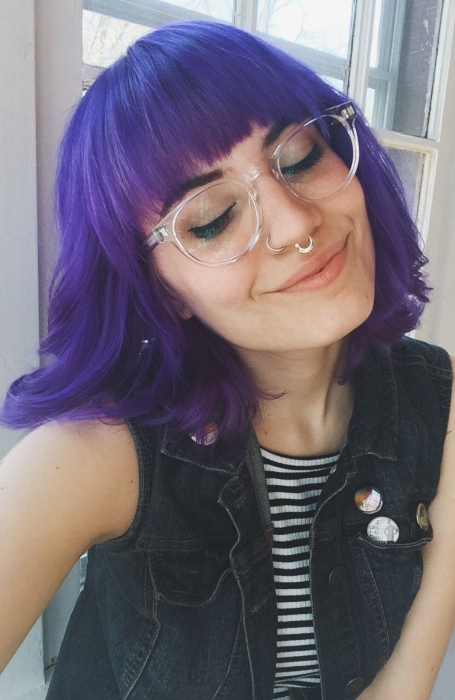 12. Purple Straight Hair
Straight hair is defined by the lack of curl pattern and often looks sleek and healthy. Dyeing your straight hair purple is an excellent way to show off the color; the right combination will give the hair depth and dimension. Ensure your hair is well moisturized to avoid drawing attention to any dryness or damage that may have occurred during the dyeing or bleaching process.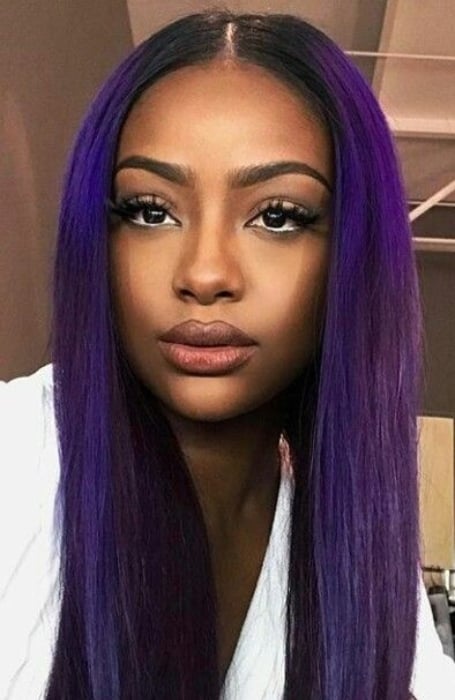 13. Split Dye E-Girl Purple Hair
The split dye E-Girl hair trend is fun to experiment with different colors. It is one of the most statement coloring effects, splitting the color in the middle of the head so that each side is different; it could be two artificial shades, or you can choose to keep the one your natural color.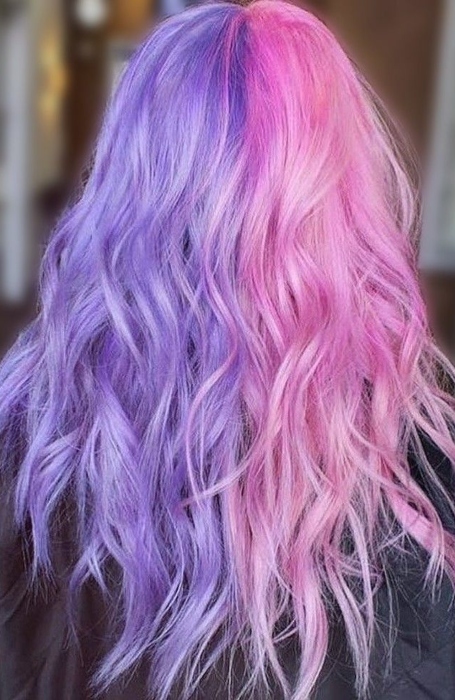 14. Black Hair with Purple Balayage
Black hair is fantastic with purple streaks, creating a subtle contrast. The purple can give the hair depth and dimension and can be added in thin pieces or large streaks, depending on how noticeable you want it to be. You can also strategically place the streaks so that they frame the face.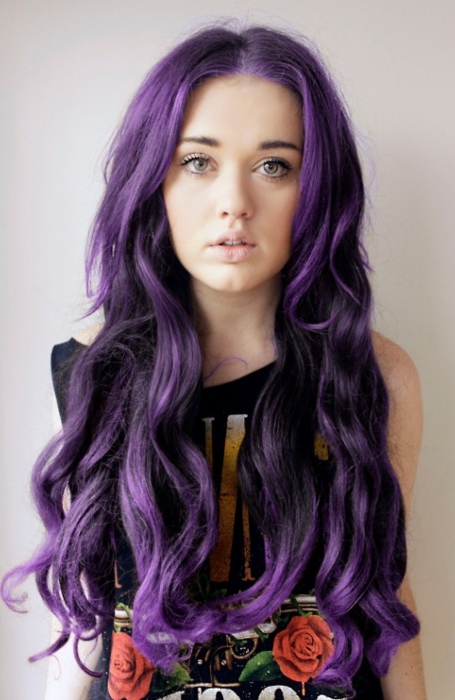 15. Faded Purple Hair
You do not have to opt for a rich shade of purple to try out this cool color trend, and faded purple is just as stylish. It is also more wearable because the color is less saturated and easier to wear, complementing all hair textures and types and suiting most complexions.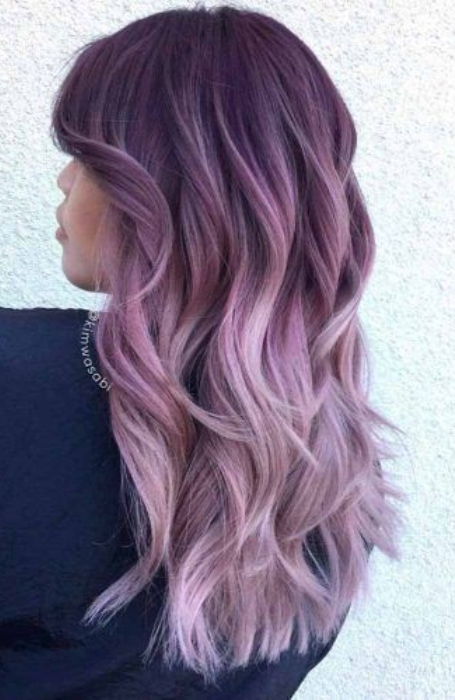 16. Purple Peekaboo Hair
Peekaboo hair is applied to the underneath of the hair, keeping the top layer your natural color. This is a fantastic option for someone who wants to experiment with their hair more subtly because it can be easily disguised; the hair will have to be up for you to see the purple.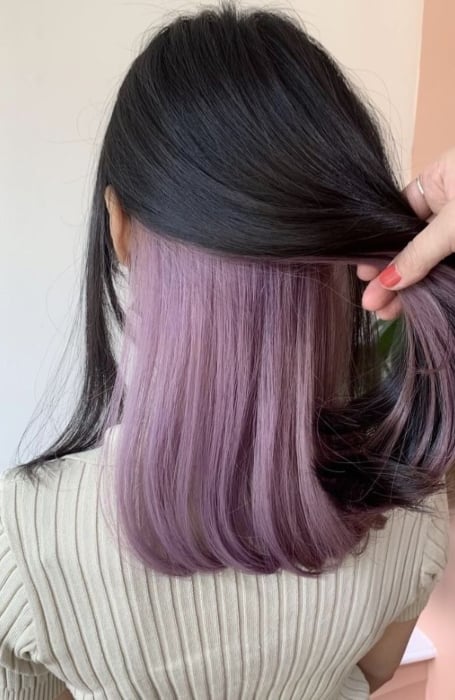 17. Purple Braided Hair
There are many ways to style purple hair, letting you experiment with chic hairstyles and drawing attention to the cut. You can also opt for a feed-in braided hairstyle and pre-dye the hair in your favorite shade. This is ideal for preventing damage and dryness to your natural hair.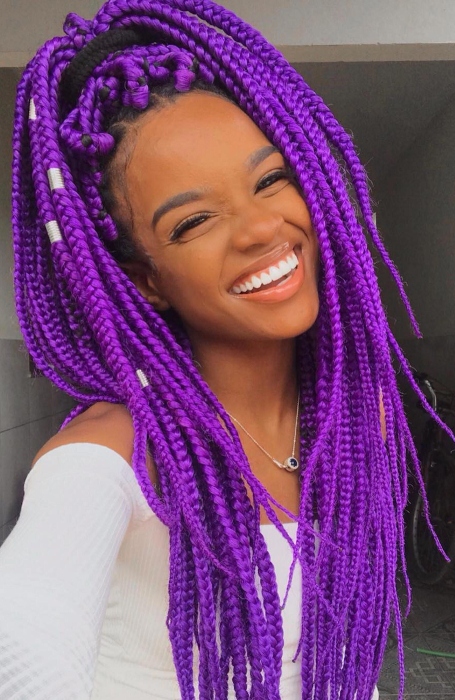 18. Purple Ombre
Ombre is a fantastic way to try multiple colors at once. The technique blends two or more colors of varying lightness, creating a graduated effect. For a subtle finish, you can add purple to the end of dark hair, or you can try multiple artificial colors to make gorgeous mermaid-inspired hair.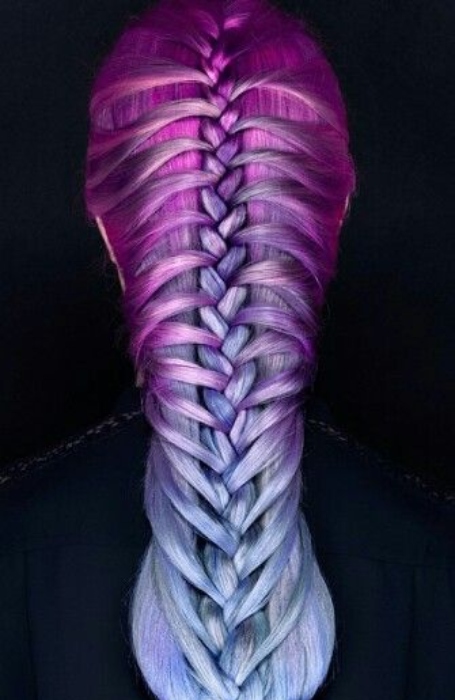 19. Purple Hair with Dark Roots
Purple hair looks great when paired with naturally dark hair and can have a much more subtle effect because there is less contrast. Add it to the hair in several ways, including focusing it at the tips and leaving your roots dark. This is a low-maintenance approach that is effortlessly stylish.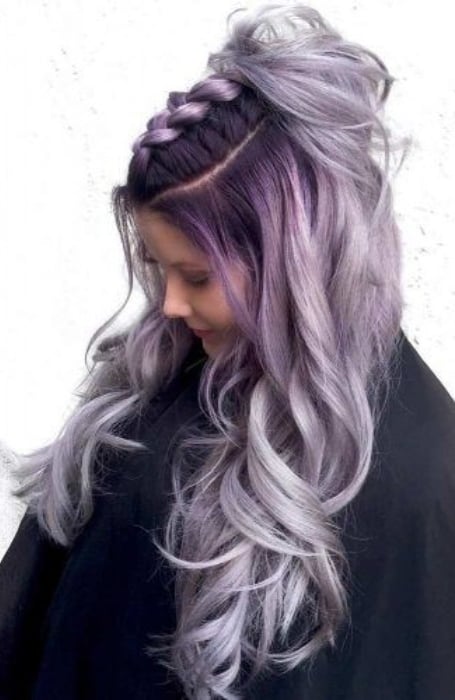 20. Dark Purple Hair
Choosing a very dark shade of purple is a great way to experiment with color without it being too bold. This hue is close to black hair and will look great when added to naturally dark hair with highlights or ombre hair color. When deciding on which shade of purple to choose, consider your complexion and current hair color.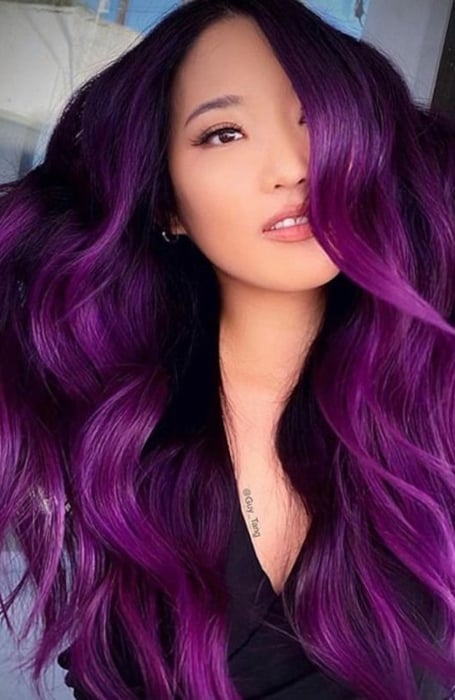 21. Purple Highlights
There are many ways to add purple to the hair, including highlights. Highlights are a great way to give the hair depth and dimension and a more subtle approach to trying out different colors. Depending on your natural hair color, you can find the right shade of purple for you; lighter shades tend to complement blonde hair, while darker shades look great on dark hair.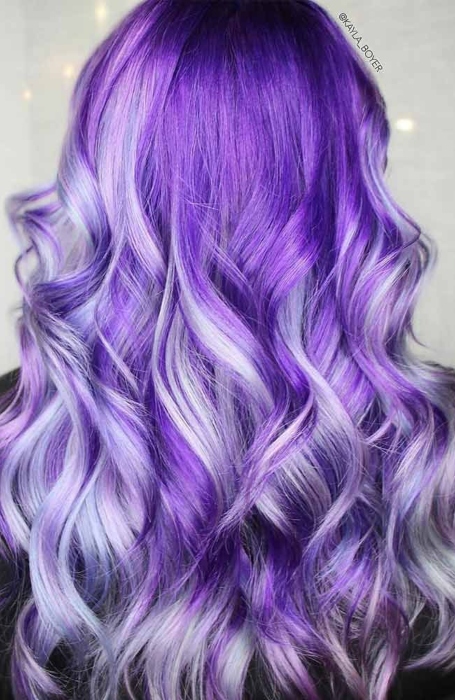 22. Purple and Pink Hair
Purple is ideal for those who want to stand out from the crowd and get their hair noticed. You can also pair it with artificial colors for a bright and bold finish, and purple and pink hair is a stylish and feminine approach. The two colors are complementary but will also create a contrast.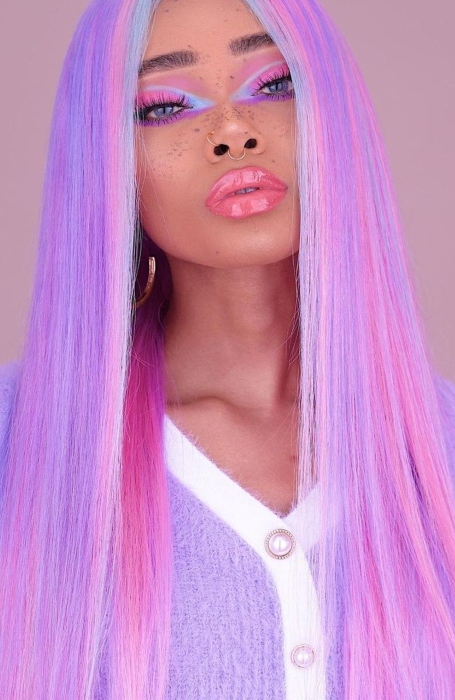 23. Purple and Green Hair
Purple and green hair is a striking combination, and the colors will create a contrast. This is a great way to give the hair depth and dimension. It is also a playful color combination, letting you experiment with color and have fun. There are several ways to add it, including split dye or ombre hair color.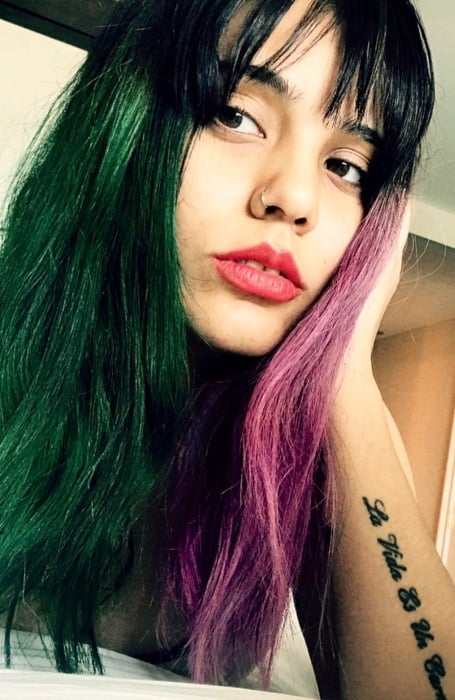 24. Blonde Hair with Purple Tips
Why not try purple tips to give your blonde hair an exciting update? Focusing the color at the end of the hair is a great way to draw attention to your haircut and is a low-maintenance way to have fun with purple dye. Purple will contrast the lightness of blonde, and you can decide how obvious you want it to be with the shade of purple you choose; darker colors will create a more noticeable finish.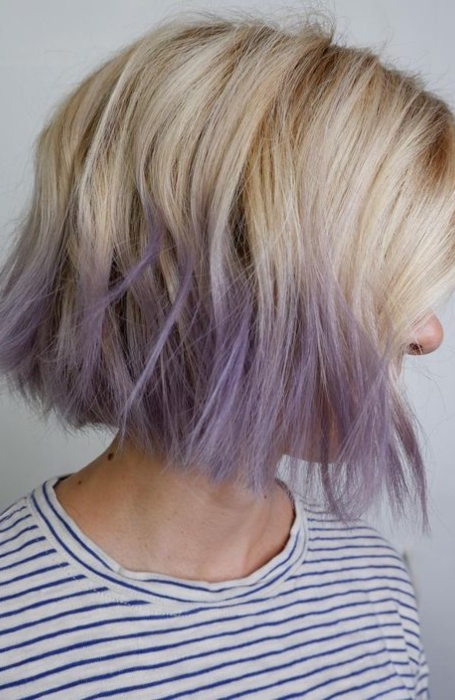 25. Brown Hair with Purple Highlights
You can add purple highlights to give the hair depth and dimension while also making it look more vibrant and cool. Purple can be added to all hair textures and colors, including brown hair. Choose a shade of purple that will complement your shade of brown for a more subtle finish, or opt for a bold finish with contrasting hues.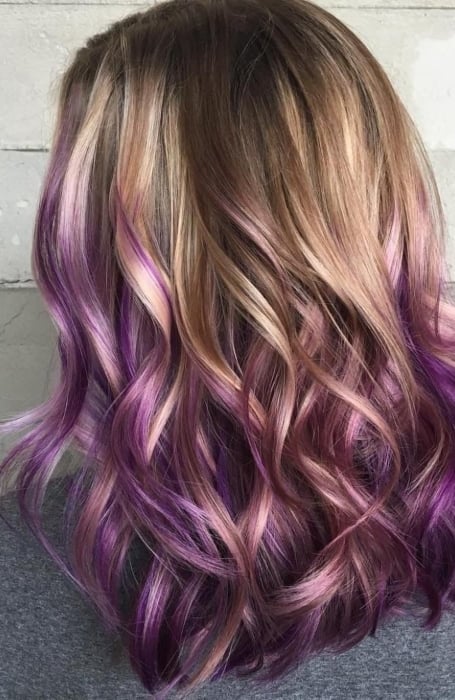 26. Lilac Hair
Lilac is a pale violet color that is incredibly versatile, and adding it to your hair will create a soft, romantic finish. You can opt to dye all your hair violet or add it to the tips. Alternatively, you can opt for an ombre hair finish. Lilac will look good on most people, but you will need naturally light hair or to bleach darker hair before dyeing it lilac for the color to take properly.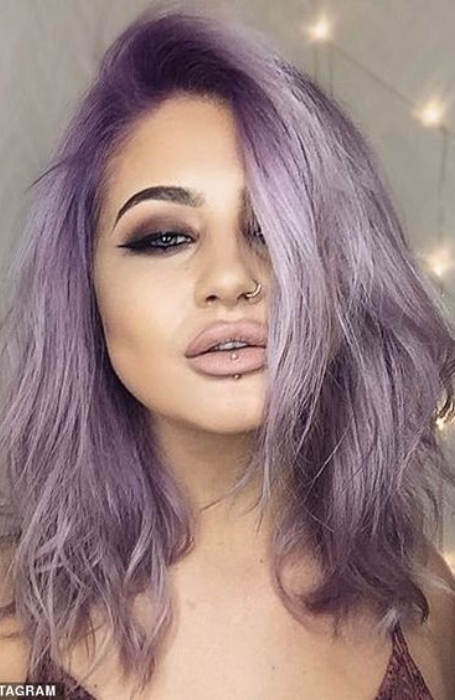 27. Mint and Purple Hair
Mint and purple hair is an exciting combination and great for creating a contrast. There are several ways to add it to the hair, but one of the most striking finishes is to focus the purple at the roots and the mint toward the ends. Depending on your preference, you can opt for solid blocks of color or an ombre approach.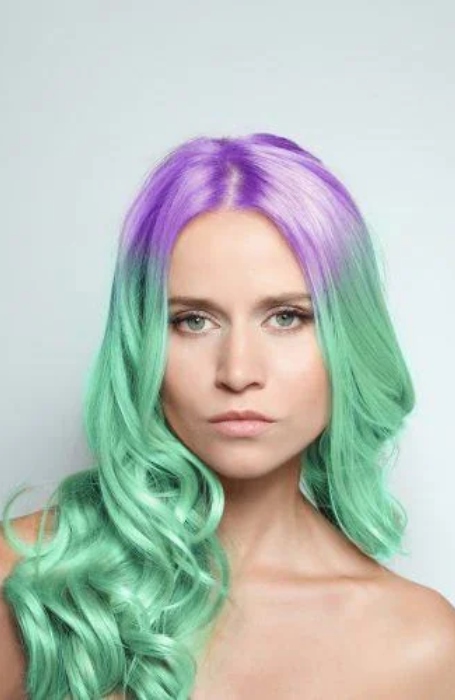 28. Purple Rainbow Hairstyle
Why opt for one color when you can have several? The rainbow hairstyle is a gorgeous, expressive style. Rainbows are associated with hope, brightness, and inclusion and can make a statement about your thoughts and feelings. This is also a creative way to incorporate purple into the hair.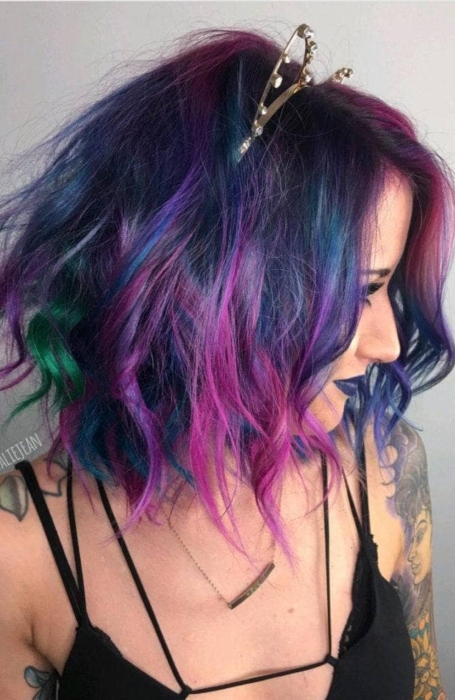 29. Purple and Green Braids
Look no further than purple and green braids for a fun and energetic approach to your hair color. The color combination will create a playful and bright finish, making your braids even more noticeable. Braided hair is chic and practical and can reduce daily style time. It is also a way to experiment with your hair as there are many braided looks to choose from.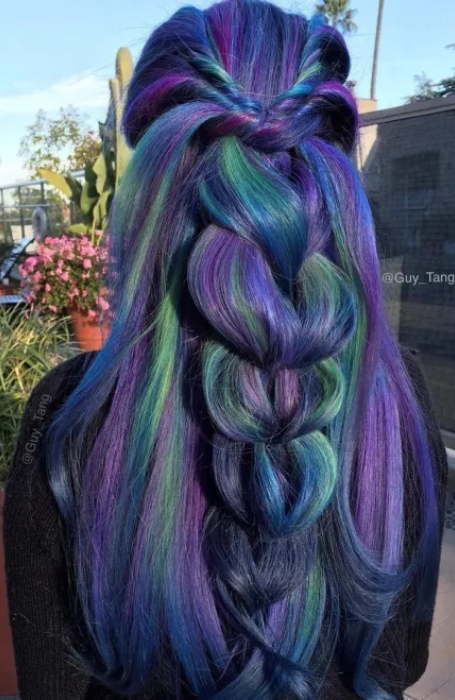 30. Purple Roots with Blonde Hair
There are many ways to try out purple hair, giving you the freedom to experiment and find the look that best suits your preference. To give your blonde hair a stylish update, you can focus your chosen shade of purple on the roots. The contrast will demand attention, but it is also a simple and easy way to try out the color.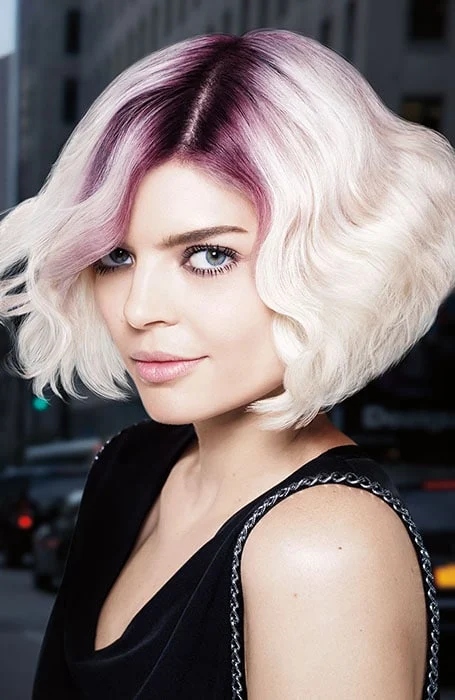 31. Black Purple Hair Color
Adding a purple wash to your black hair is a great way to lighten it and brighten your appearance. It will create subtle contrast and add depth and dimension to the hair. There are several colors to choose from, including plum and eggplant, and the darker the purple, the more subtle the result.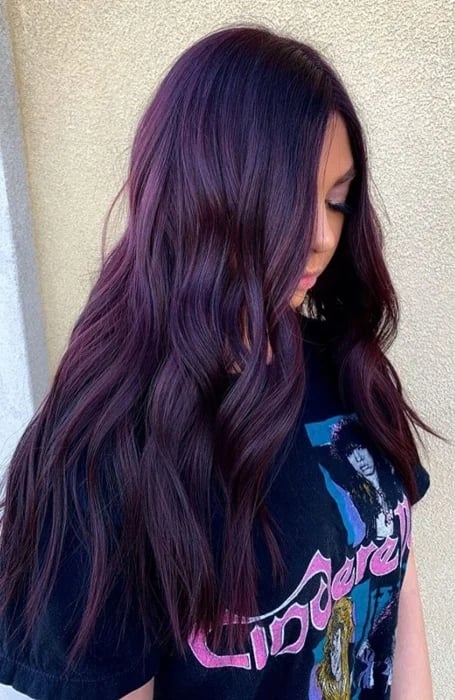 32. Purple Hair with Red Ends
There are several ways to transform your hair, but none are as fun as purple with red ends. The combination of red and purple is striking, and while these hues will produce a contrast, they are also complementary, making it easy to wear them. Focusing the red at the ends will highlight your haircut.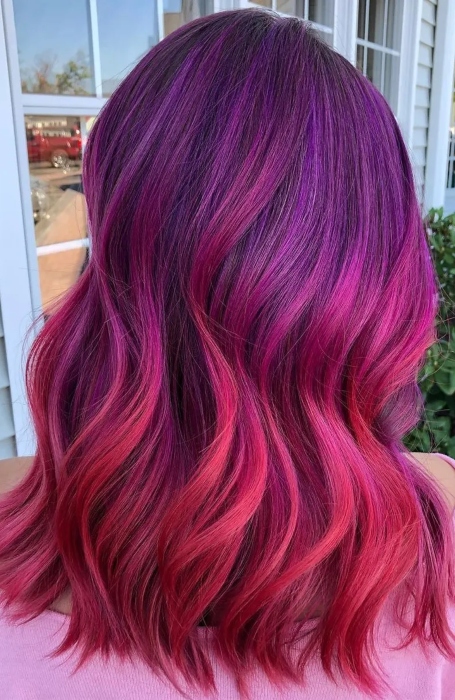 33. Warm Purple Hair
Depending on your preference, there are many shades of purple to choose from. For those who want a vibrant, warm shade of purple, this is ideal for getting the color noticed. Purple is a fun and expressive color for your hair and is a great way to show the world that you are not afraid to take risks.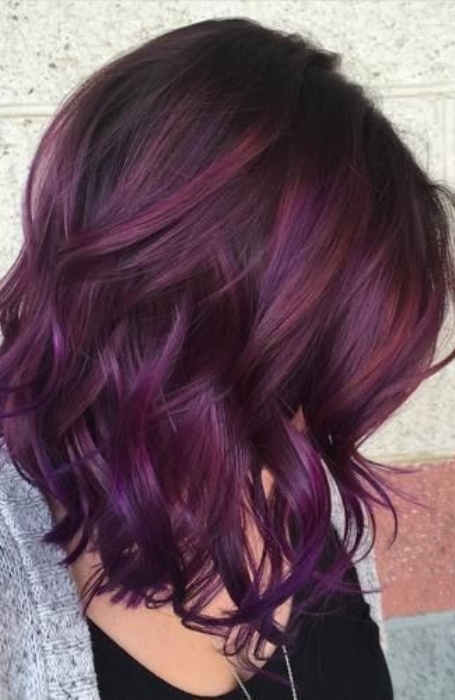 34. Subtle and Stylish Purple Hair
You do not need to opt for a bold color change to transform your hair, and the simplest approach is often the most stylish. If you have dark hair, this can be achieved by choosing a dark purple shade to minimize the contrast, and with blonde hair, you want to select a light shade for the same reason. Add the color with babylights for a delicate and barely-there finish.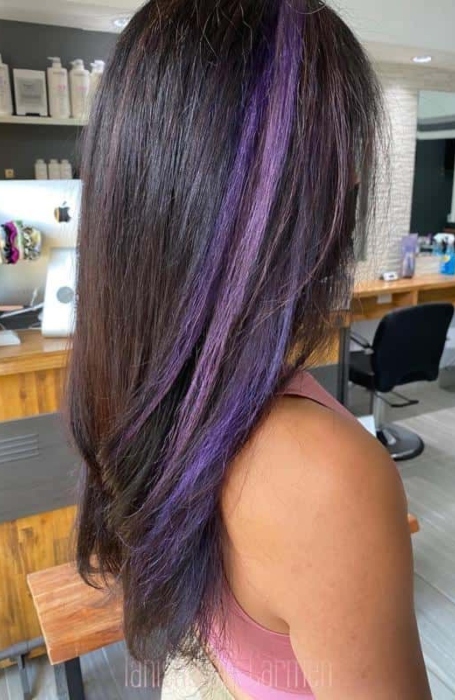 35. Violet Hair Color
Violet is a light shade of purple hair that is flattering on most people and incredibly versatile. You can add color to the hair in various ways, including subtle highlights and strategically framed layers to frame the face. Or you can dye the entire hair violet for an edgy and effortlessly chic finish. It is also pretty and feminine.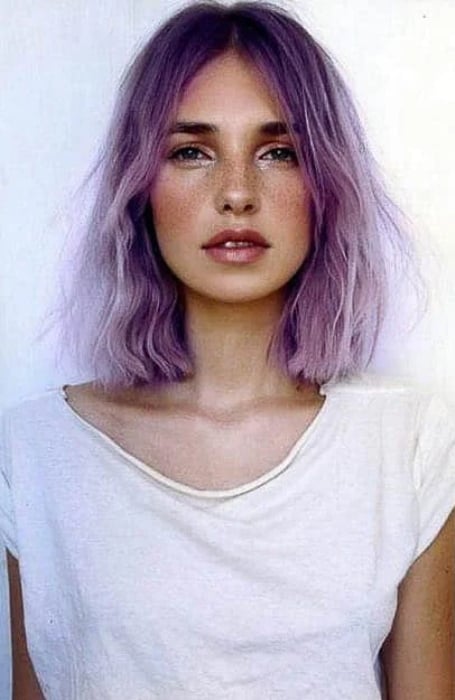 36. Iridescent Purple Hair
For those who want to stand out from the crowd and embrace mermaid's hair, you can achieve this with iridescent purple hair. The brilliant shine of the colors will draw attention to the hair and highlight your texture and haircut. Despite the boldness of the color, it also feels luxurious, reminding you of pearls.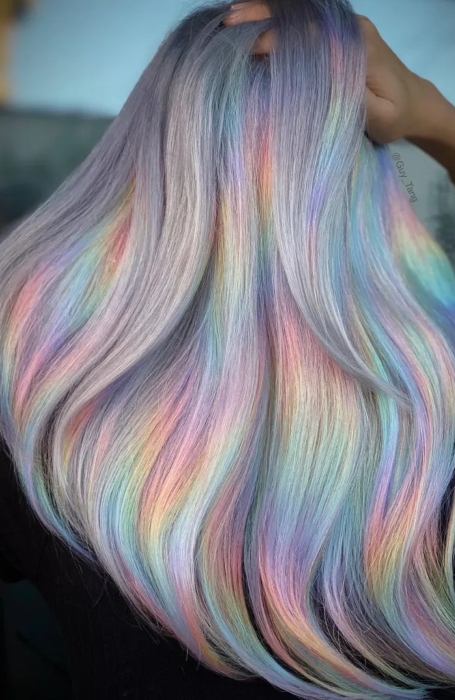 37. Light and Dark Purple
Mixing two shades of purple, one light, and the other dark, is a great way to achieve depth and dimension in the hair. You can add it to your hair in various ways, either with highlights throughout or opting for a graduated effect like the ombre coloring technique.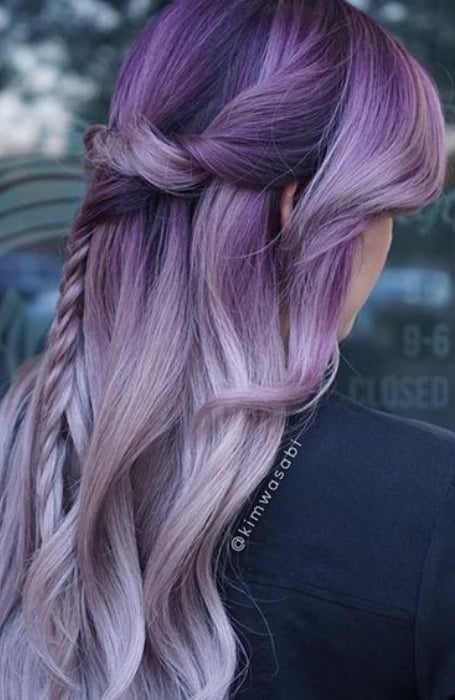 38. Purple Hair with Blue Roots
Purple and blue are color combinations that go well together. The two colors are complementary, and although they will create a subtle contrast, the colors do not clash, making them easier to wear and more versatile. For example, focus the blue hair color at the roots and dye the rest of your hair purple for a playful look.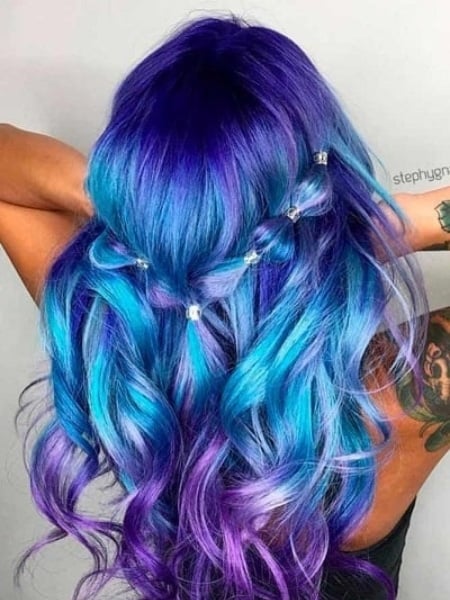 39. Purple Money Piece With Rose Gold Hair
Purple hair is fun and expressive, but you do not have to dye your whole head to make a statement. You can also focus the color around the front of the hair, opting for a trendy hairstyle all the cool girls love. Money Piece hairstyle with rose hold hair is universally stylish, framing the face and highlighting your features.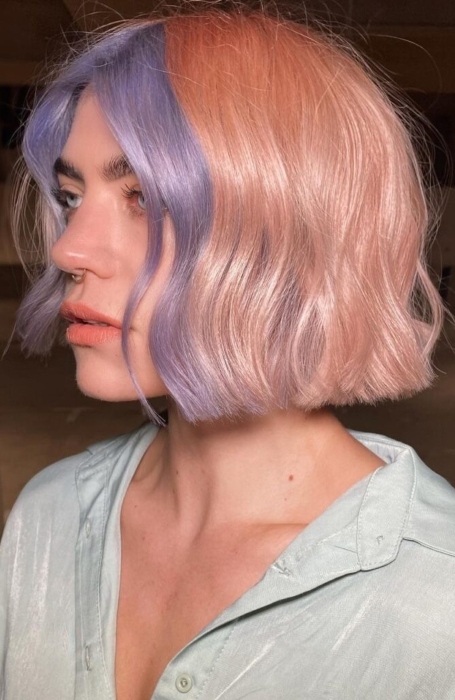 40. Purple Tips
Purple is a color associated with luxury and wealth, and there are many shades to choose from, making it easy to find the color that best compliments your complexion. If you prefer a more subtle approach to hair coloring, a great choice is to dye only the tips. This will also draw the eye to the end of the hair and highlight the length and cut.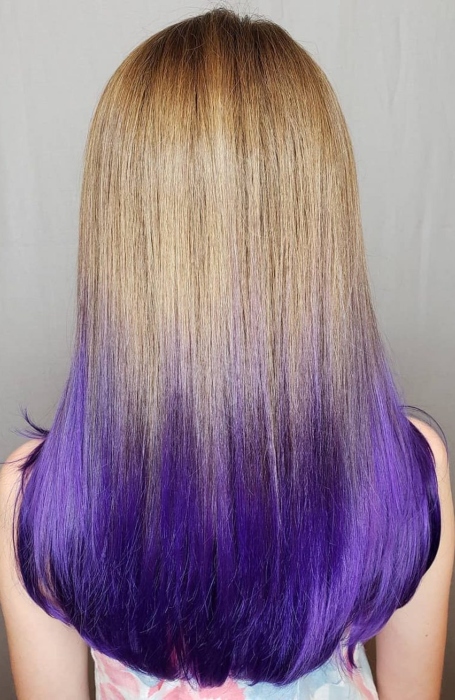 Purple Hair FAQs
What color does purple fade to?
Your purple hair color will gradually fade to a lighter purple shade. Depending on the initial color, it may also have a blue, pink, or reddish tint.
Is purple on hair still trendy?
Purple hair is still trendy and incredibly versatile. There are various colors to choose from, from light to dark, and purple can be easily mixed and matched with natural hair colors or artificial hues. There are also multiple techniques, from balayage and highlights to split dye, depending on the look you want to achieve. This helps you tailor your look to suit your preference, complement your skin tone, and will let you express yourself.
What skin tone does purple hair suit?
There are various shades of purple to choose from, so the answer as to which skin tone it will suit will vary. For example, light purple like lavender or pastel will look great on someone fair, while a deep, rich purple is better suited to darker complexions.
What color goes best with purple hair?
Purple is a versatile color and can be added to blonde, brunette, and black hair. The key is choosing the right shade of purple to complement your hair color and complexion. Purple also pairs well with blue or pink dye for a complementary finish. For clothing, stick to neutral colors to let your hair be the focus of your appearance. Or embrace the color and wear yellow, green, and orange to create a high-contrast finish.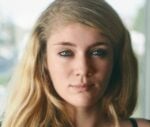 Cailyn Cox holds a degree in journalism and has been working with The Trend Spotter as a writer for over ten years. She has worked with some of the most prestigious women's and men's lifestyle publications. For her, writing is not just a job; it's a passion, which is why each article she writes is approached with such enthusiasm and dedication. She has extensive knowledge of hairstyles, tattoos, and beauty and has made a career out of creating informative articles that appeal to women and men of all ages.
SUBSCRIBE TO OUR NEWSLETTER
Subscribe to our mailing list and get interesting stuff and updates to your email inbox.