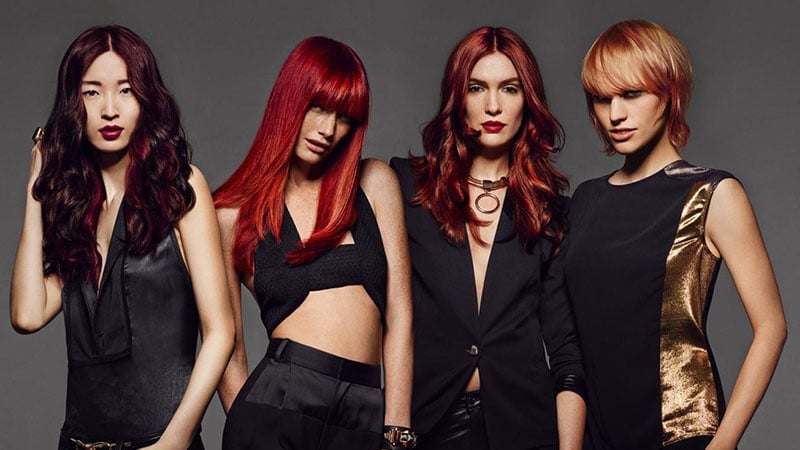 \
When it comes to high-impact hair colors, nothing beats red. Whether entirely subtle and soft or totally bold and vibrant, red hair colors are attention-grabbing and awesome. If you've ever thought about going red, now's certainly the time. The color is hotter than ever and completely on-trend. Best of all, anyone can become a redhead and look great. All it takes is finding the right shade for your complexion and style. Luckily, we can help with that. So, if you're ready to grab some attention and turn some heads, here are the hottest red hair color ideas to try today.
RELATED: 30 Sexy Dark Red Hair Ideas To Copy
1. Wine Red Hair Color
Red wine hair color has long been a popular trend for a good reason. Rocking a dark and rich shade of red with subtle hints of purple creates a dramatic look that goes perfectly with a little black dress.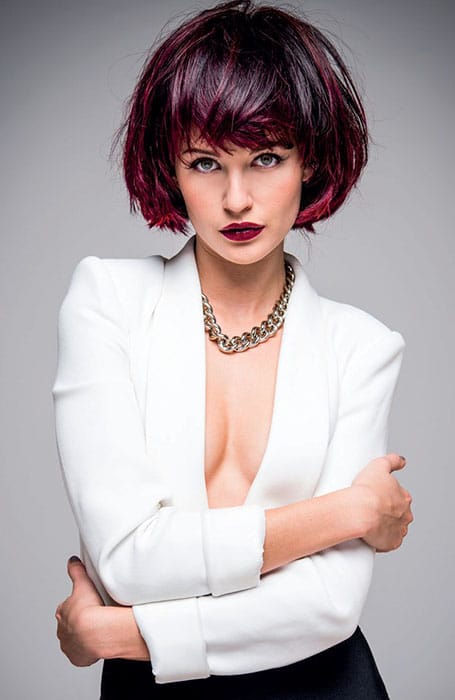 2. Violet Red Hair Colour
Violet red is an exotic shade that blends red and purple together. The rich hue, which is highly fashionable and suits ladies who love a little attention, appears especially lovely when paired with a dark complexion and dark eyes.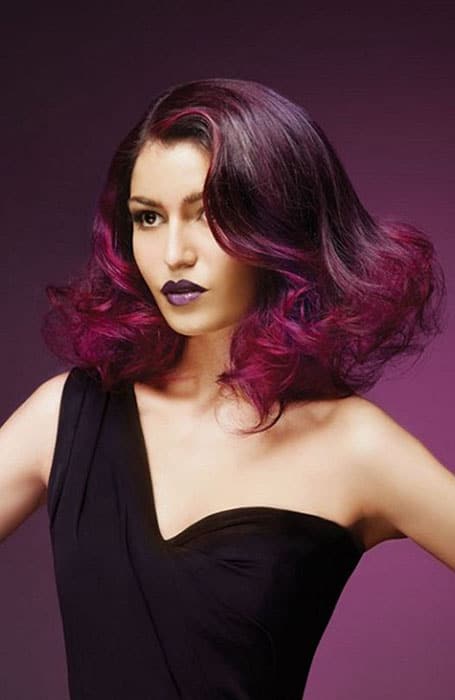 3. Strawberry Red Hair Color
Strawberry locks look particularly beautiful on ladies with light skin with pink undertones. The hue is a natural and warm shade of red with plenty of life.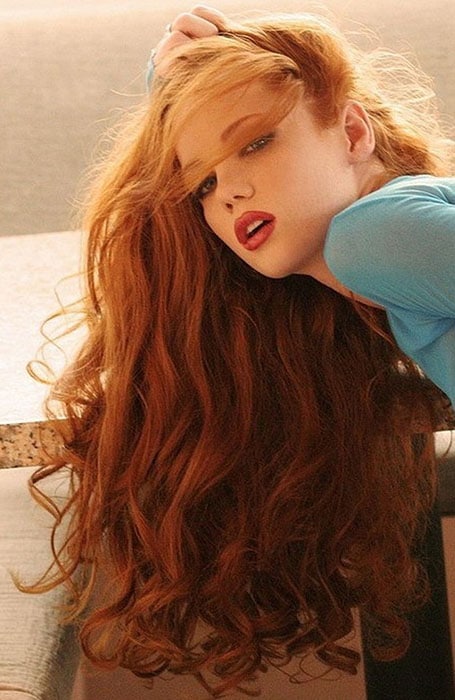 4. Ruby Red Hair Color
Inspired by the gemstone of the same name, ruby red hair boasts an intense and radiant shade of red. The dramatic hue appears particularly striking when paired with pale and porcelain complexions with light blue or green eyes.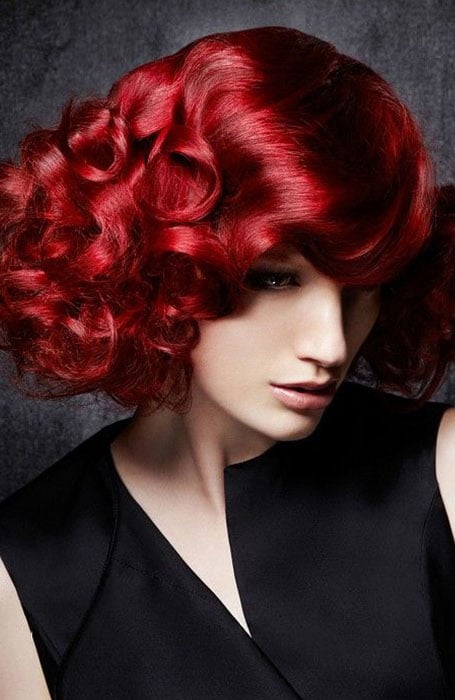 5. Rose Gold Hair Color
Rose gold is one of the most popular hair color trends of the moment. The unique shade is a mixture of copper and pink and can be adjusted to be either intense or subtle. Although the hue is most wearable for ladies with naturally light hair shades, those with darker locks can embrace the color with a chocolate rose gold.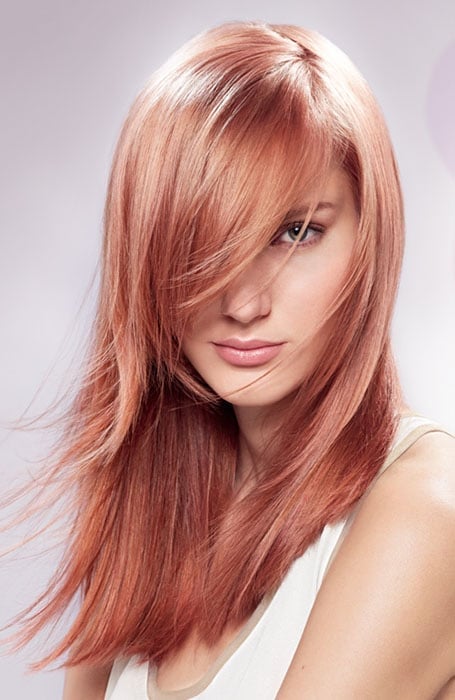 6. Red Velvet Hair Color
Red velvet hair shades, which received their name from the cupcake of the same color, are rich and intense with cool undertones. The bold and trendy look suits dark or olive complexions with cool undertones and brown, icy blue, or emerald green eyes.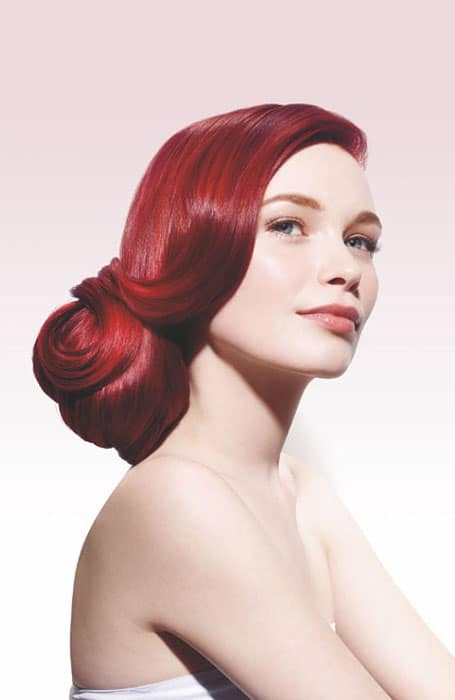 7. Red Hair with Blonde Highlights
Opting for blonde highlights is an excellent way to soften the impact of red hair. For light shades of red, choose creamy blonde highlights, and for darker reds, select golden highlights.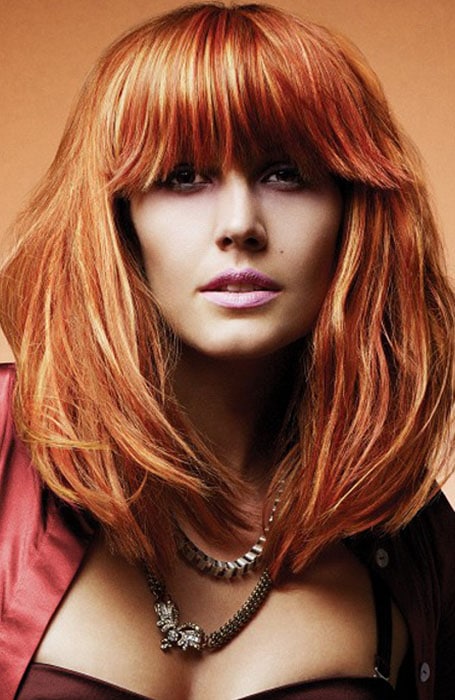 8. Red Copper Hair Color
Red copper is a rich and intense blend of red and orange/brown. The color suits fair and medium complexions with peach or golden undertones and blue, green, or hazel eyes.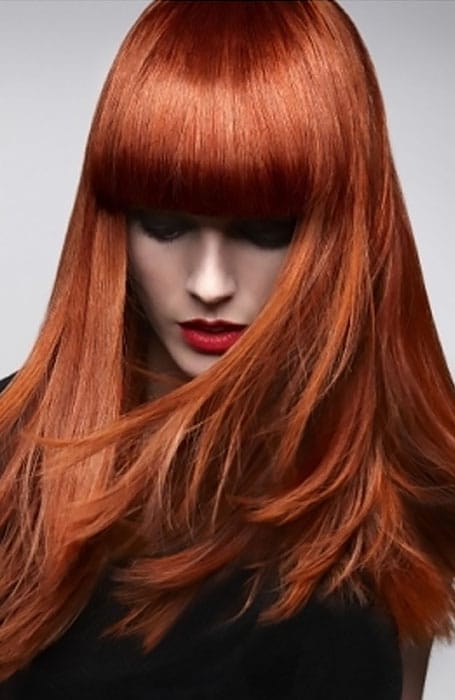 9. Red Brown Hair Color
Blended hair colors are one of the top hair color trends, and red-brown is amongst them. The chic color, which can be similar to auburn but often richer, is ideal for light and mousy brunettes wanting to try a red hue.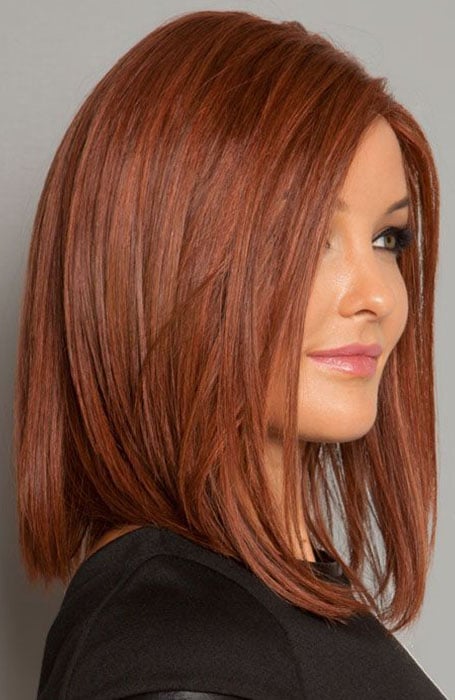 10. Medium Auburn Hair Color
Slightly darker than light auburn, medium auburn combines mid-golden-red shades with mid-brown tones. The color looks particularly striking on those with fair or porcelain complexions and blue, green, or warm brown eyes.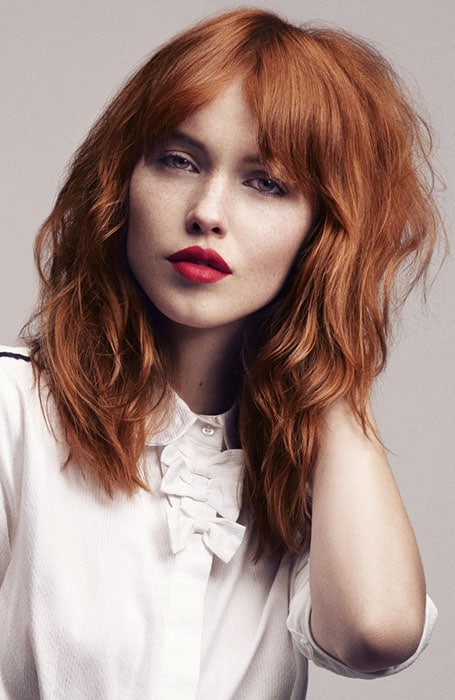 11. Maroon Hair Color
Maroon hair colors are made up of a combination of dark brown and rich red or crimson. As such, ladies with medium, dark or olive skin tones should consider rocking this shade of red for a chic look.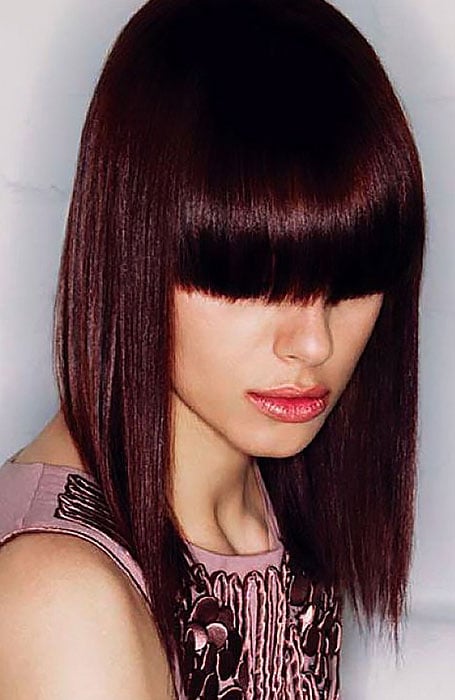 12. Mahogany Hair Color
A dark, rich, red-brown hue, mahogany is a lovely choice for ladies with fair or medium complexions and cool undertones. The striking colour is equally bold and elegant and is ideal for creating a luxurious look.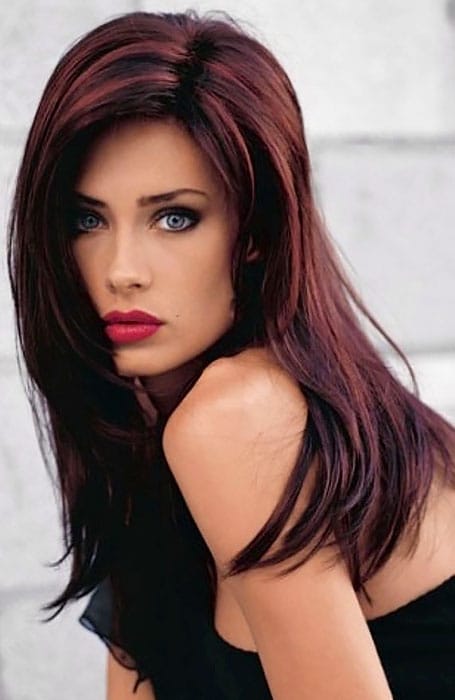 13. Magenta Hair Color
Magenta hair colors, which feature a deep blend of purple and red, can be quite vibrant and statement-making. Ideal for bold personalities, the shade is most attractive when worn on medium or dark complexions with dark eyes. If you have a different skin tone or prefer a softer look, consider rocking magenta highlights instead.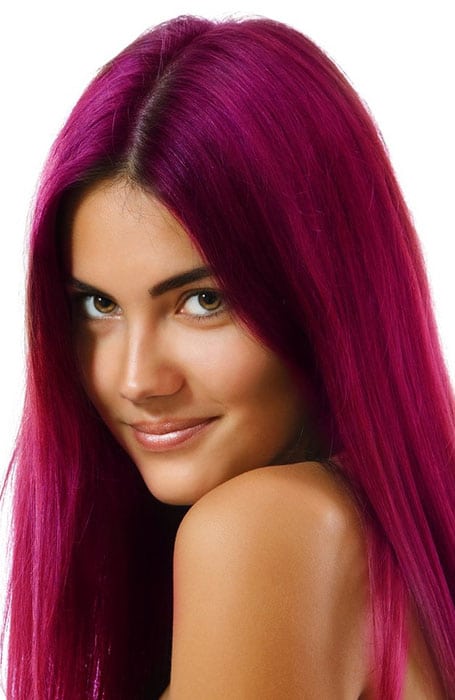 14. Light Auburn Hair Color
Light auburn hair blends a light golden-red tone with a soft brown hue. It is a gorgeous shade that suits creamy, peachy, and golden complexions with blue, green, or warm brown eyes.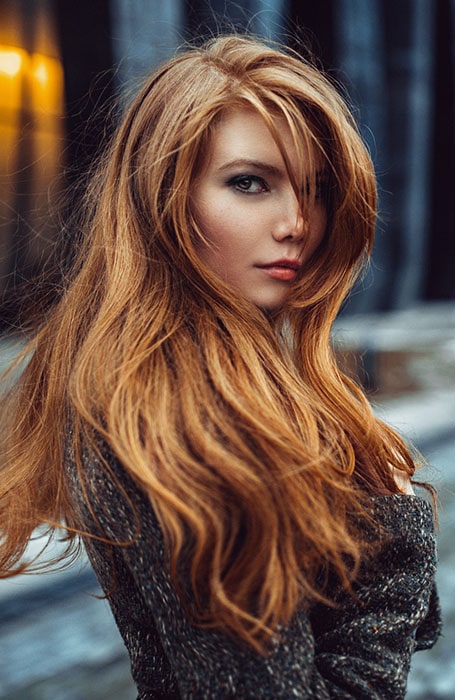 15. Golden Copper Hair Color
Golden copper is a sunshine-filled shade. The hue is warm and spicy and blends dark, golden blonde with a light and bright red. It is ideal for complexions that are porcelain, peach, golden or neutral with blue, green, hazel, or warm brown eyes.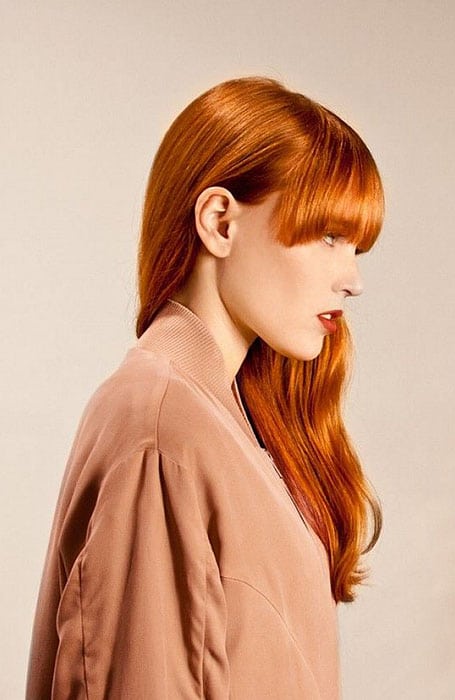 16. Ginger Hair Color
Ginger hair color is perfect for ladies who prefer a natural-looking red hue that's just a touch bold. Slightly hotter than your typical ginger, the color is a medium red-brown tone with a hint of spice. The warm shade is ideal for those with fair skin and green or brown eyes.'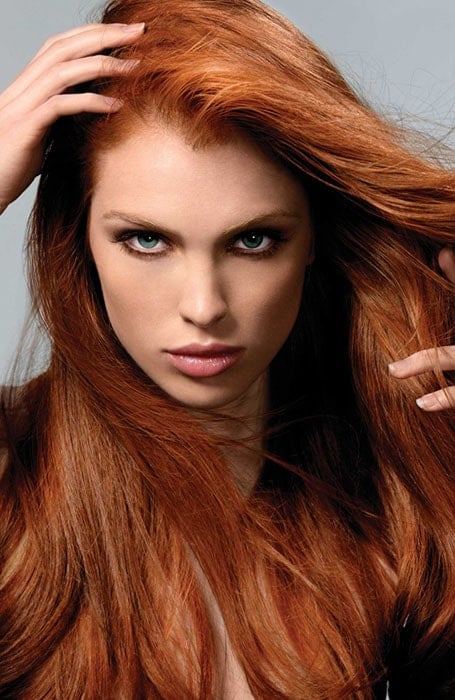 17. Ginger Hair Color
Ginger is a warm and spicy shade of red. It also tends to be quite light and natural in appearance with a slight touch of warm brown. While many natural redheads boast this tone, the color can also look great on anyone with a fair complexion and cool undertones.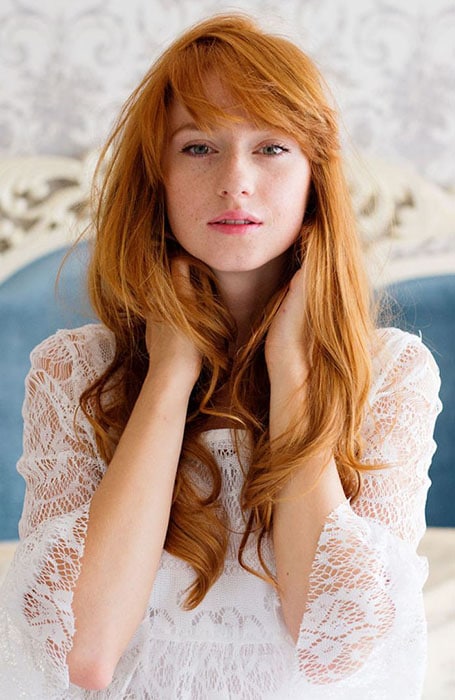 18. Dark Burgundy Hair Color
If you have naturally dark brown or black hair, changing to a dark burgundy hue can be a great option. The decadent color can look fantastic and easily offer a new fashionable edge to your look.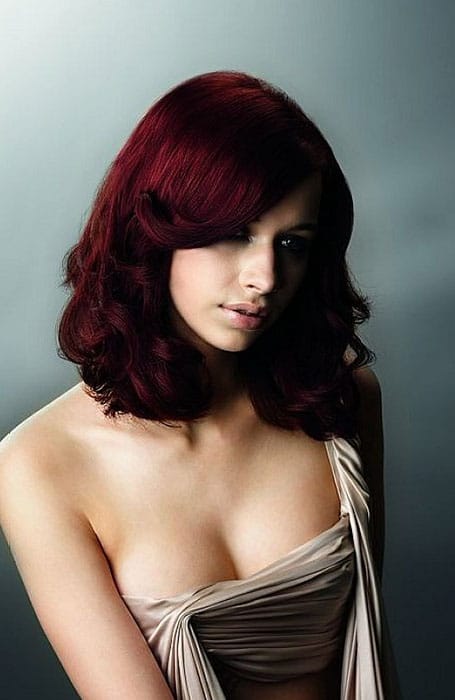 19. Dark Brown Red Hair Color
Dark brown-red hair can be a fantastic option and provide a lovely look for many ladies. The shade is especially ideal for those who are naturally dark brunettes and are seeking to go red for the first time.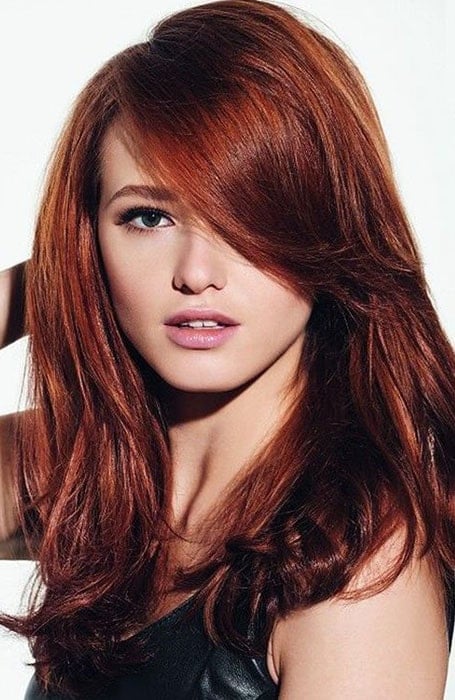 20. Dark Auburn Hair Color
Dark auburn hair combines deep golden red with rich, warm brown. As such, the elegant and intense color is ideal for women with warm or neutral skin tones and blue, green, warm brown, or hazel eyes.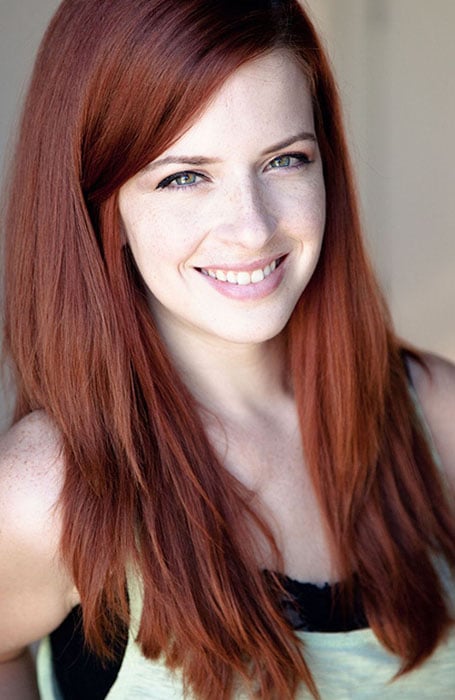 21. Copper Hair Color
Copper is a fiery red tone filled with plenty of warmth. The hue is perfect for ladies with fair or golden skin and green, brown, or hazel eyes. If you're not quite ready to go completely copper, you can consider trying copper highlights instead.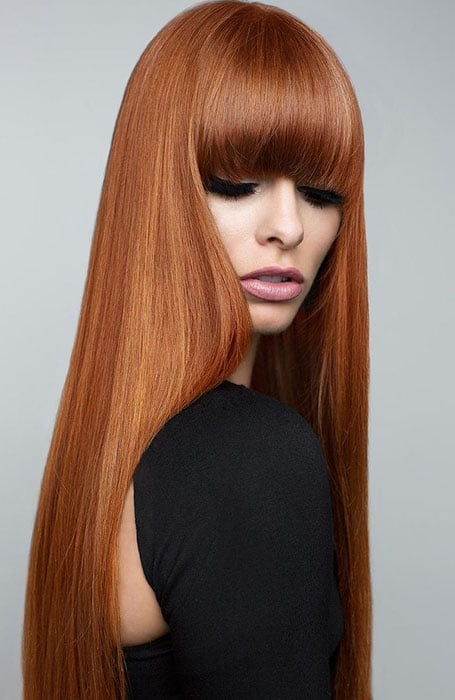 22. Cherry Hair Color
Cherry is a gorgeous and striking hair color that features a touch of blue/brown. The bold tone appears the most flattering when paired with medium or dark skin tones with brown eyes.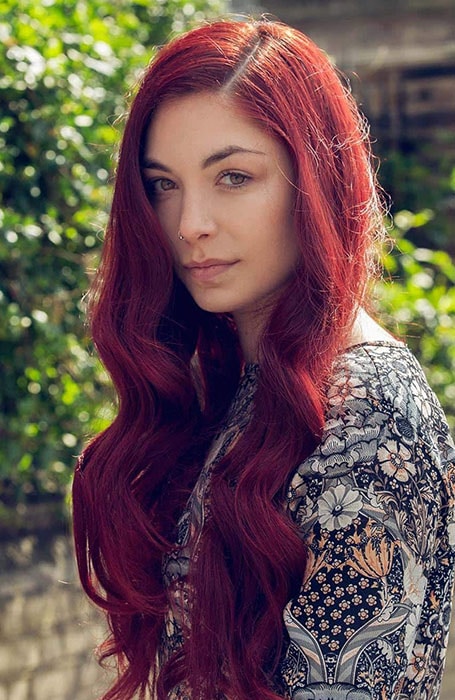 23. Cherry Brown Hair Color
Cherry brown hair colors contain a beautiful blend of rose red and intense brown. As such, the cool and dark hue is best suited to medium and dark complexions with cool undertones and brown eyes.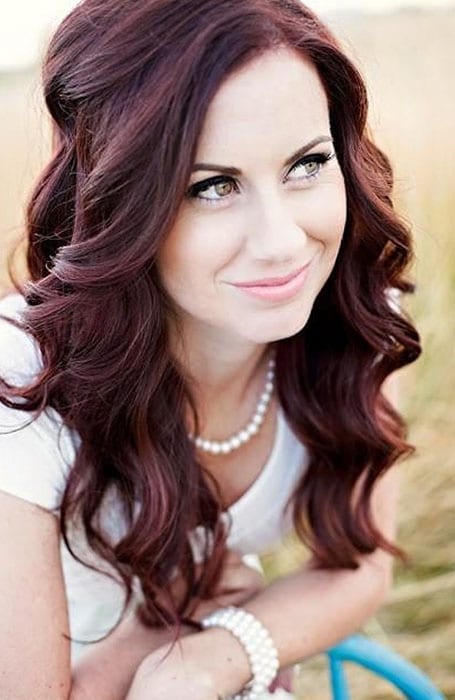 24. Cherry Black Hair Color
Cherry black is a rich and dark color that blends blue/black with a deep cherry red. The hue appears especially lovely on darker skin tones and ladies with cool brown eyes.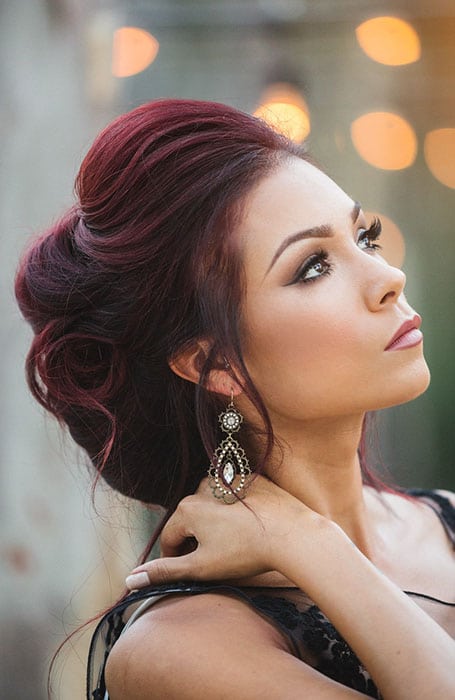 25. Burgundy Hair Color
An intense and eye-catching hair color, Burgundy is a dark shade of red with a hint of purple. The gorgeous hue is perfect for those with medium or dark complexions, including olive skin tones, and brown or icy blue eyes.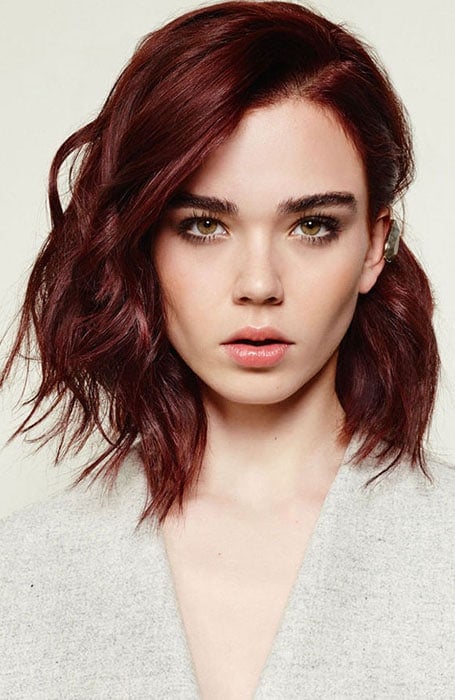 26. Bright Red Hair Color
Bright and intense shades of red are not for the faint-hearted. The high-impact hair color draws a lot of attention and often becomes a lady's main feature. Although the hue is stunning when first received, you should be aware that it will take constant maintenance to keep it looking its best.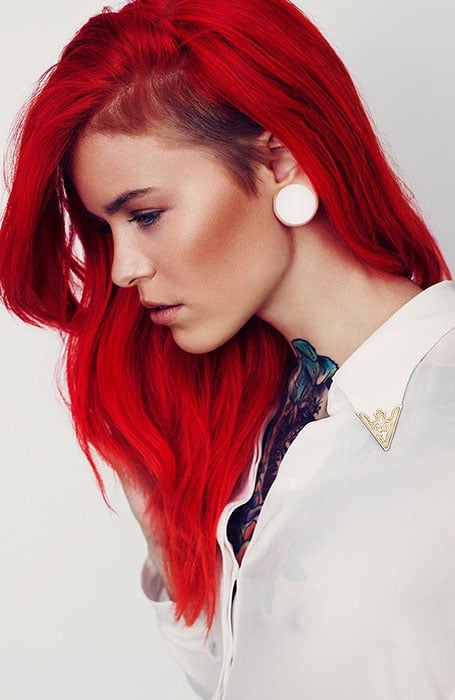 27. Bright Copper Hair Color
Bright copper is a warm red color that packs a punch. Not for the meek, this vivid and bold shade is sure to get you noticed. Rock the hue if your complexion is fair, peachy or golden and your eyes are green or hazel.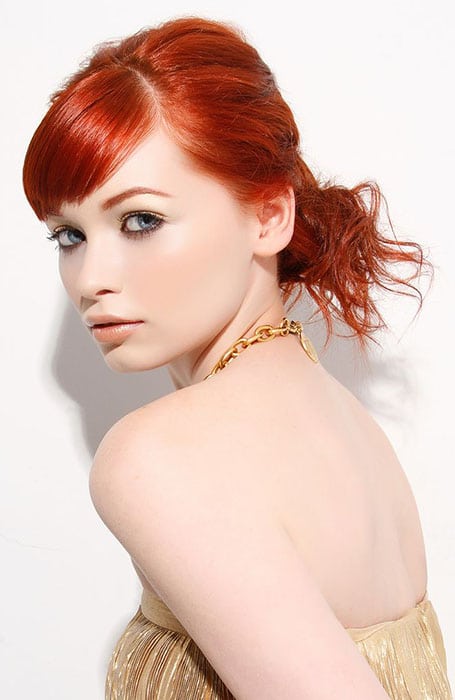 28. Blue Red Hair Color
Blue-red hair color is a shade of red with blue undertones. Although you can't see any blue, it serves as a base to make the red a richer color. The hue also appears much cooler in tone than typical orange-based reds.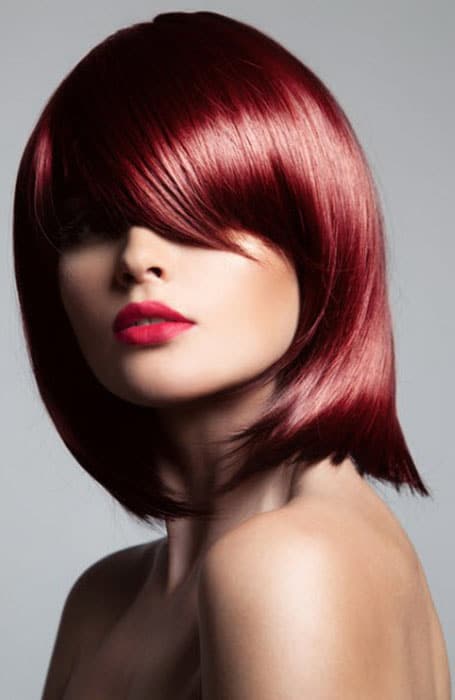 29. Aubergine Red Hair Color
Aubergine red hair features a unique shade that can appear quite dramatic. The color is essentially a dark eggplant red hue and best suits ladies with cool skin tones and blue or green eyes. Remember to be careful of this shade if you have a warm complexion with golden undertones as the combination can be quite unflattering.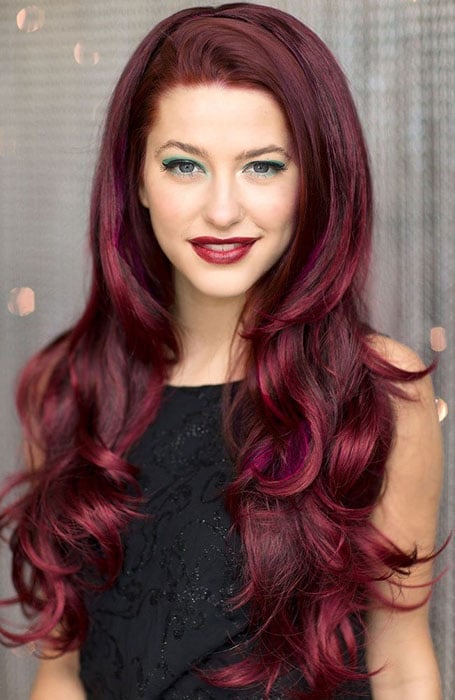 30. Amber Red Hair Color
Golden orange blends with hints of red and brown to create amber red hair colors. While the warm hue suits fair skin tones with warm undertones particularly well, it can partner perfectly with any eye color.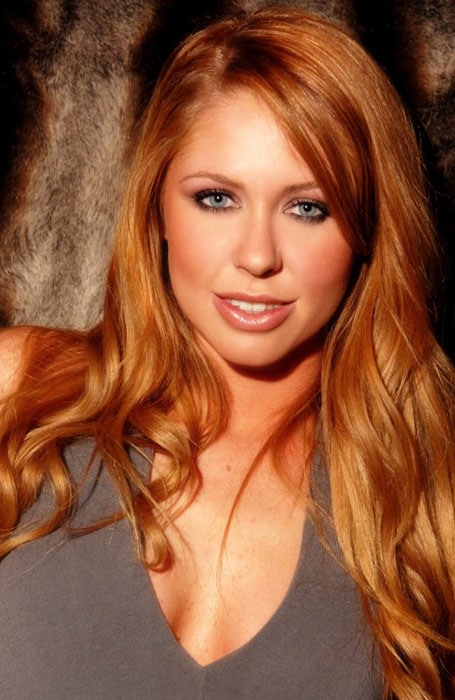 31. Burgundy Red Hair Color
Burgundy is a mixture of red and purple tones and it is trending because it suits all hair types. It is a rich color associated with ambition and wealth and looks great on most people. Burgundy hair has a wide range of shades, and you can choose to adapt it to your preference, including focusing on the red tones for a more vibrant finish.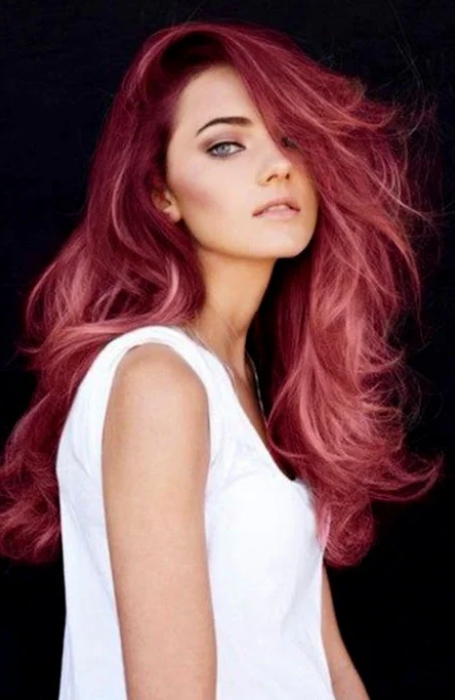 32. Dark Red Hair Color
Dark red hair is a more wearable approach to red hair because the darkness of the hue is less vibrant. It is a flattering color for most people and is simple to wear. You can dye your entire head of hair, or blend the dark red with naturally dark hair to create a subtle contrast.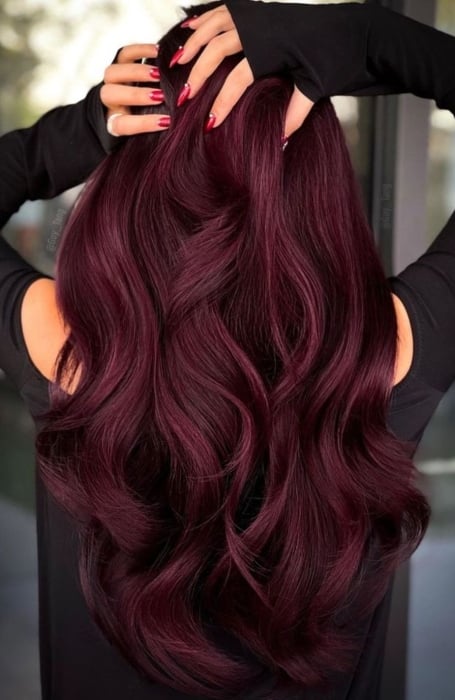 33. Cherry Red Hair Color
For those who want a hair color that will stand out, look no further than cherry red. This color is flattering on most skin tones including fair and deep and will give your hair depth, making it look fuller, thicker, and healthier. You can style in various ways, including opting for sleek, straight hair to highlight the shine.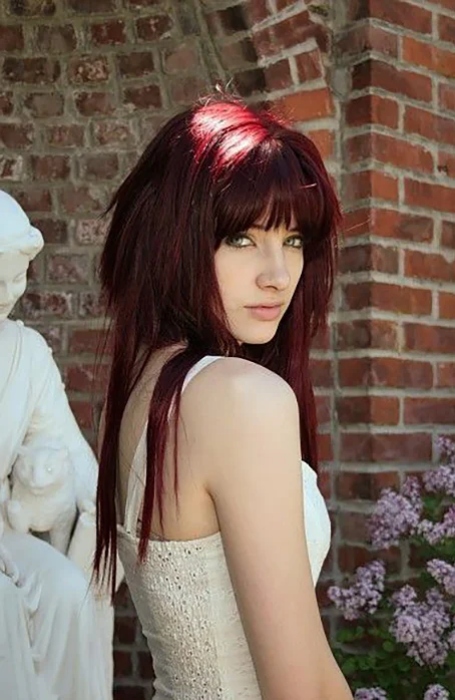 34. Copper Red Hair Color
Copper is a reddish brown shade that is gorgeous for hair. It looks great on those with warm skin tones and light eyes. You can blend the copper with a red base tone, creating a rich color that will highlight your haircut and texture.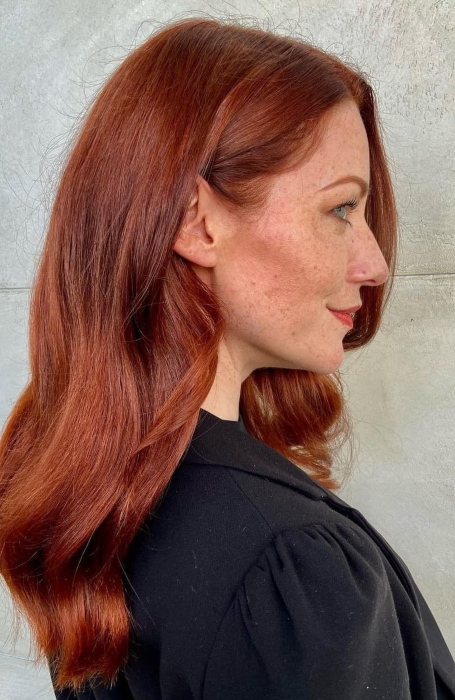 35. Brownish Red Hair Color
Brownish red hair is a great way to try out red hair but in a subtle and more wearable way. It is also an incredibly versatile color and will suit most skin tones. To give the hair depth and dimension you can also add highlights, strategically placing them in the hair to create a face-framing effect.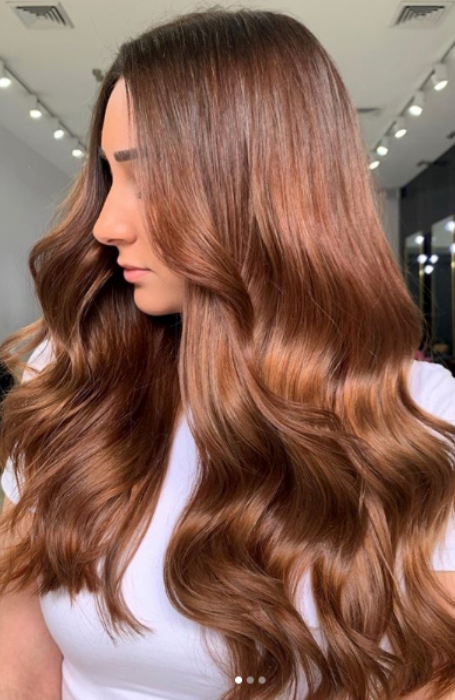 36. Deep Red Hair Color
If you are looking to update your hair with a gorgeous, versatile color, look no further than deep red hair. It is a color that will make you think of passion and seduction, giving your hair a welcome update. This hue is flattering on most people, making it easy to wear while also highlighting your hair texture.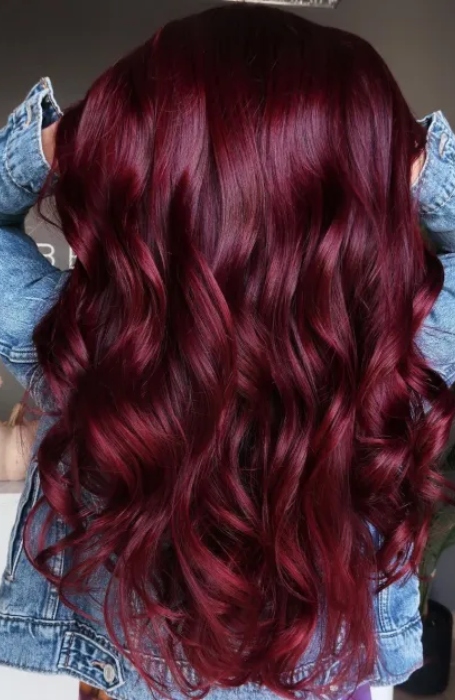 37. Brown Red Hair Color
Brown red hair is the perfect blend of brown and red tones, giving you a hair color that is bright and fantastic for lightening your appearance. It will work well with all hair textures and lengths and is a fun way to experiment with hair color while still keeping it wearable.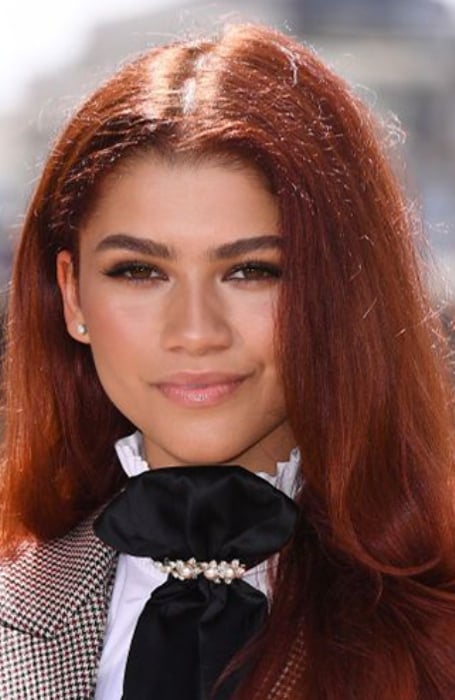 38. Ginger Red Hair Color
Ginger hair is an orangey-reddish color that is bright and bold. You can adapt it to suit your preference, but because the color is warm it is often best suited to those with a cool skin undertone.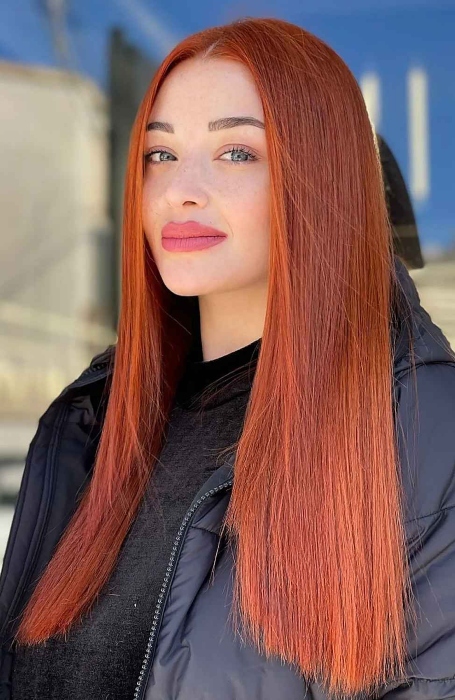 39. Natural Red Hair Color
There are many artificial shades of red hair, but a small percentage of people are also born with natural red hair. The color can vary, but opting for a reddish brown hue is the most versatile and will be flattering on most complexions. Work with your hairstylist to find the approach that will compliment you best.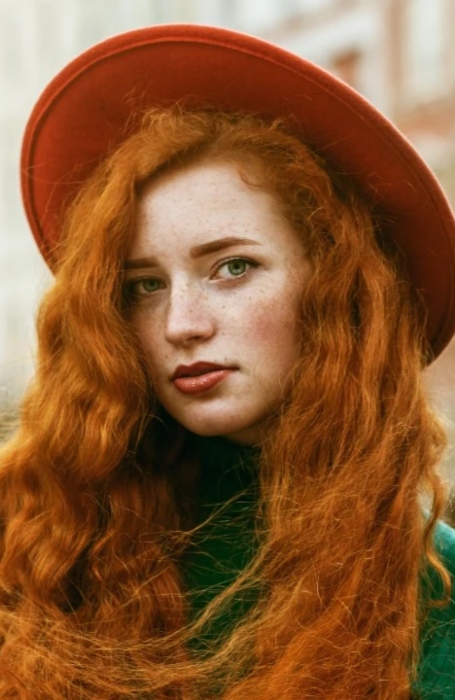 40. Red Orange Hair Color
Red orange hair color is as the name suggests, a blend of red and orange hues. It is a medium vibrancy and flattering on those with fair skins and pink and yellow undertones. This is a great way to highlight your hair texture and style because the hue is bright and bold.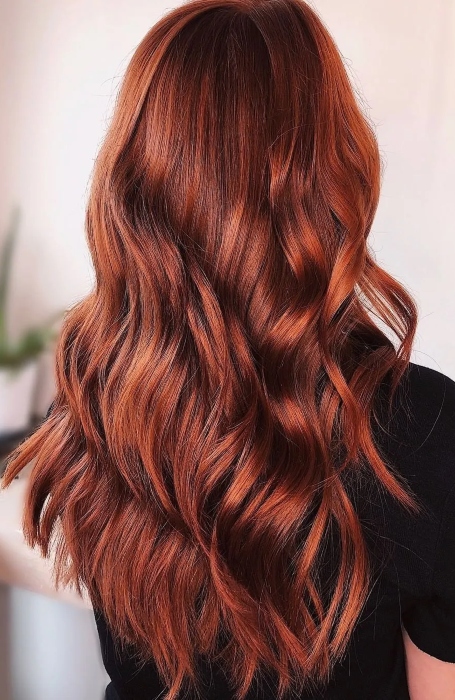 41. Auburn Red Hair Color
Auburn hair is a natural color and is a blend of red and brown tones. It is a gorgeous shade for most complexions and is exceptionally versatile, letting you add it to the hair in various ways. You can tone it down by adding a deep brown to it, or embrace the red tones for a more vibrant finish; the choice is yours.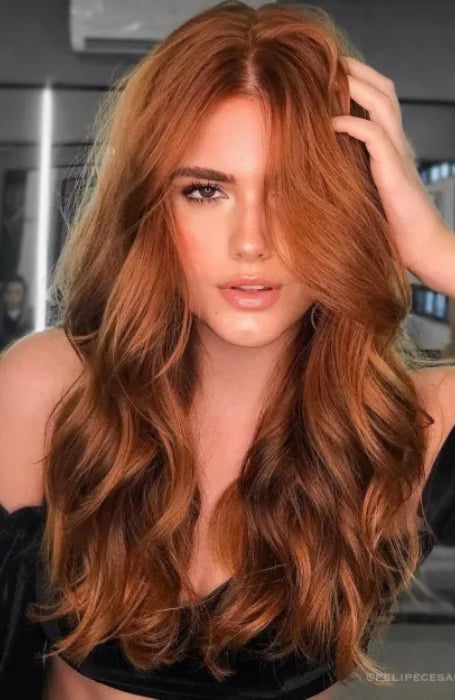 42. Light Red Hair Color
Light red hair is pretty and glamorous and an easy way to ease into dyeing your hair red because it is not the boldest or brightest tone. You can also add subtle babylights throughout the hair to create depth and dimension and lighten your hair.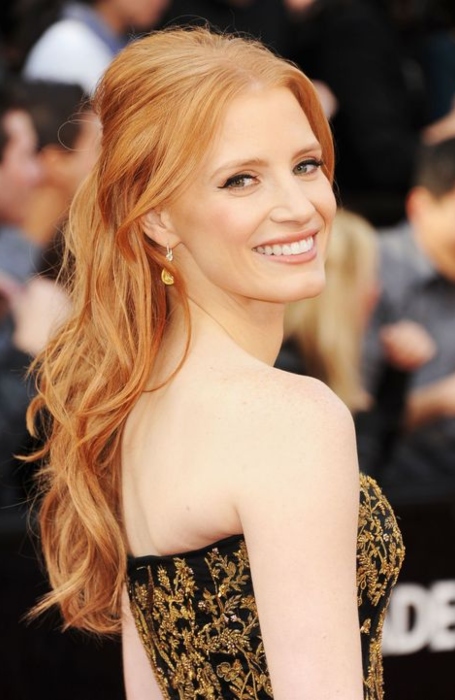 43. Purple Red Hair Color
Purple red hair is a combination of red and purple hair tones, and because it is a less natural-looking color, it will demand attention. It is a versatile shade that is best suited to those with cool complexions, both fair and dark, and complements light eyes. It is a beautiful and expressive hue that is ideal for those who want to experiment with their hair.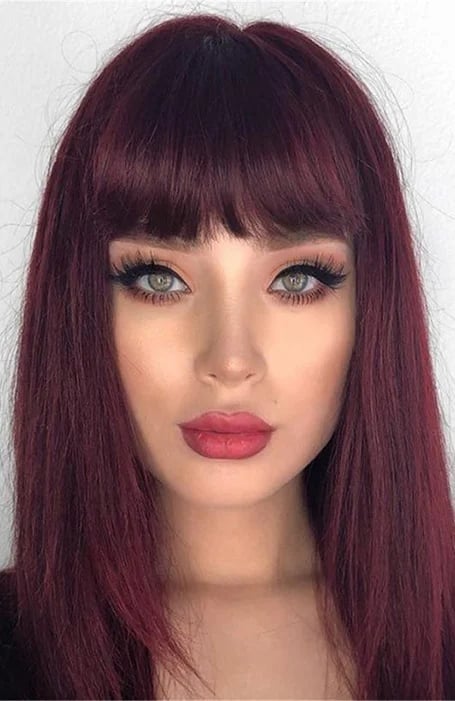 44. Black Red Hair Color
Black red hair is a brilliant combination of red and black, making the red tones darker and easier to wear. If you have naturally dark hair, this is an excellent way to lighten it, adding depth and dimension to the hair and making it look less flat.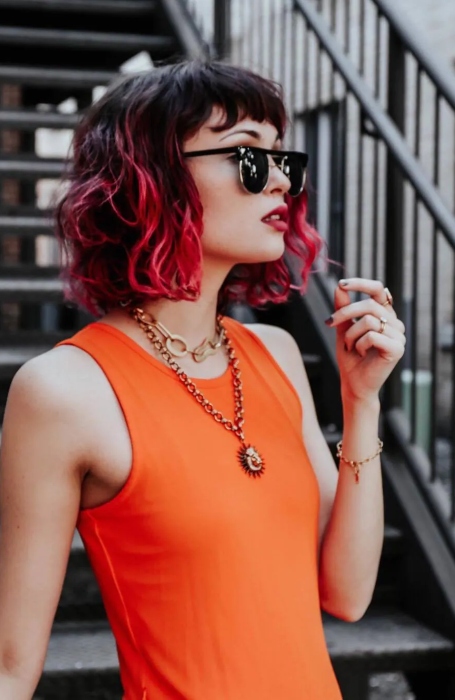 45. Ruby Red Hair Color
Ruby red is a pinkish red hair color that is unmissable yet surprisingly versatile. The beauty of red hair is that it can easily be adapted to suit your skin tone and it is bright, drawing attention to your hair texture and cut. This is a great color to change up your look and get you noticed.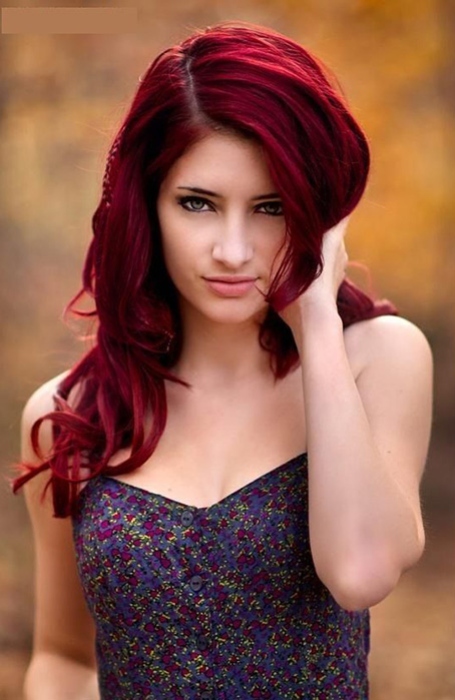 46. Black and Red Hair Color
You can also opt for a more daring approach to red and black hair, trying out the ombre hair color technique or split dye. The combination is ideal for someone who wants an unmissable color that will make a statement. The look is easier to achieve if you have naturally black hair to start.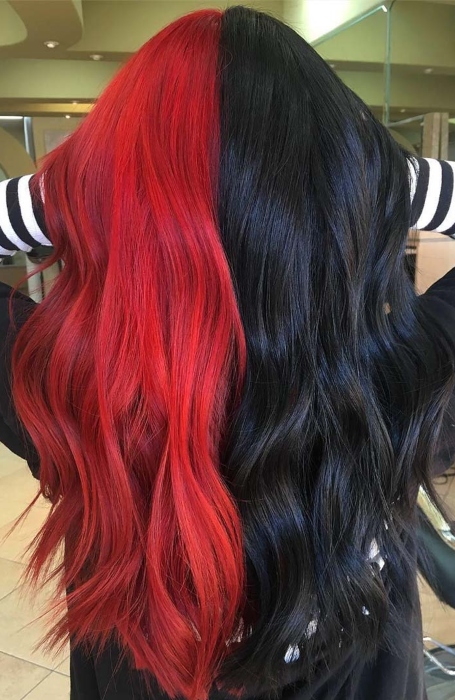 47. Blonde and Red Hair Color
Blonde and red hair work well together, and the blonde's lightness will tone down the reddish hues. You can combine these colors in several ways, including adding red lowlights to blonde hair, or blonde highlights to red hair, creating a beautiful, blended finish.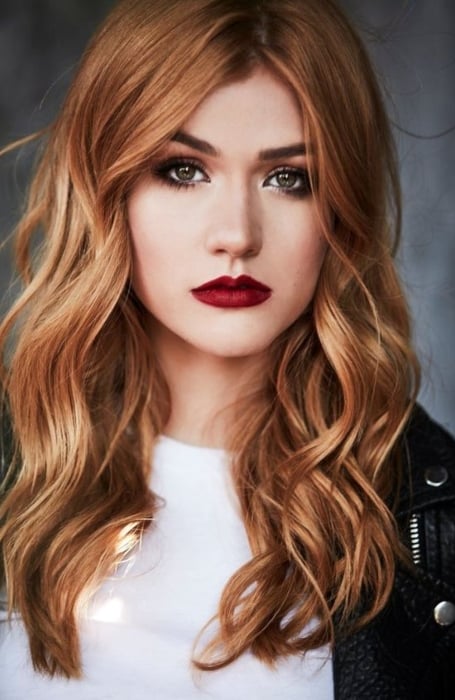 48. Red Hair Color with Highlights
Red hair looks gorgeous with highlights, giving it a softer finish. Highlights will give the hair depth and dimension and can be added in various ways; from thick streaks to delicate babylights. Ask your stylist to strategically place them to create a face-framing finish that is very flattering.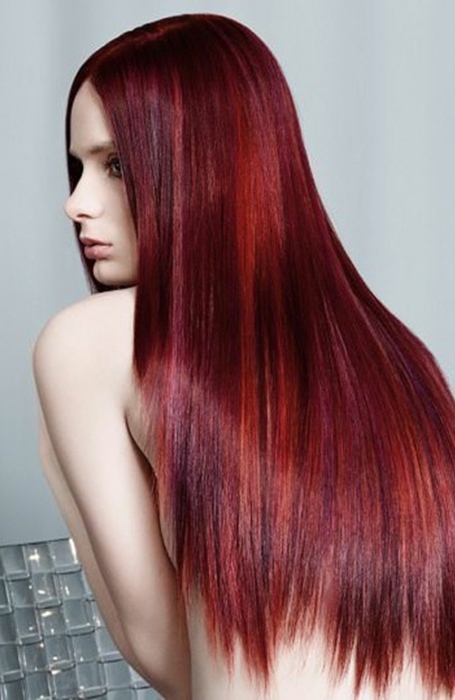 49. Intense Red Hair Color
Red hair can be muted or it can be bold and bright and opting for an intense shade will fall into the latter category. This is a rich hue that is unmissable and will get your hair noticed, highlighting the cut and texture. Before choosing to dye your hair any vibrant shade, ensure it is in the best condition.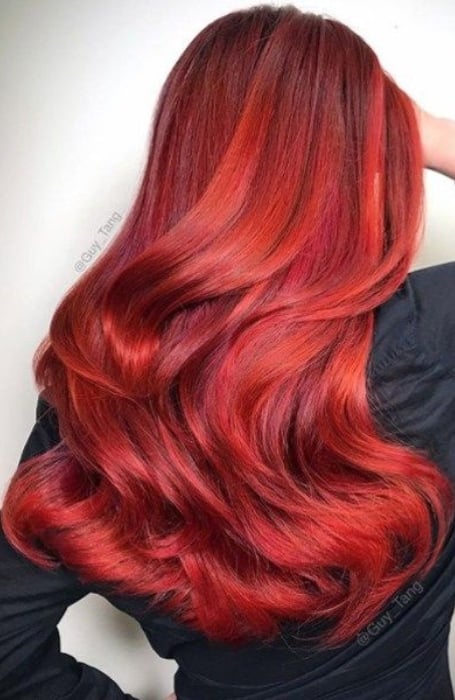 50. Light Red Blonde Hair Color
Light red and blonde hair is a subtle and wearable approach to red hair. You can combine the colors in several ways, including trying out highlights, balayage, and ombre. Light red looks fantastic on those with pale, neutral skin tones.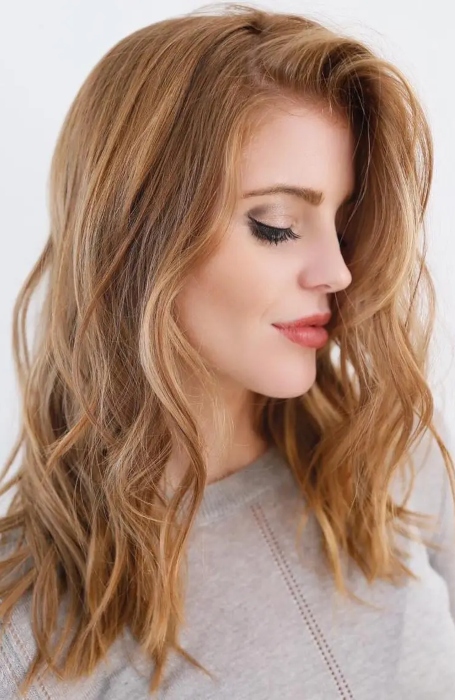 Red Hair Color FAQs
What color is natural red hair?
Natural red hair tends to have slight brown undertones but can vary in brightness and depth from person to person. It can be as light as a strawberry blond or as dark as a deep auburn.
What skin tones look best with red hair?
Red hair can have both cool and warm hues, making it pretty flexible and suiting most people. However, it does work more easily with lighter colored skin that has cool pink undertones. That's not to say it won't work on warm, olive, or dark skin; it might just be trickier to find the perfect shade.
What are the different colors of red hair?
There are dozens of different shades and types of red. Some of these include violet, wine, ruby, rose gold, strawberry blond, copper, auburn, ginger, golden red, cherry, burgundy, magenta, and bright red.
Can I pull off red hair?
Red is really versatile and can work on pretty much everyone. However, it works easiest if you have light-colored skin with cool pink undertones. Finding the right shade for warm, olive, or dark skin is just a little trickier but achievable. When dying your hair red, the other thing to remember is that it's a high maintenance color that can fade fast. Consequently, you need to commit to regular touch-ups every six to eight weeks.
Is red hair attractive on a girl?
Red hair is beautiful on women. It's bold, energetic, passionate, and vibrant, allowing you to stand out from the crowd and show off some personality. Natural redheads are also a genetic rarity, making them even more elusive and appealing.
SUBSCRIBE TO OUR NEWSLETTER
Subscribe to our mailing list and get interesting stuff and updates to your email inbox.