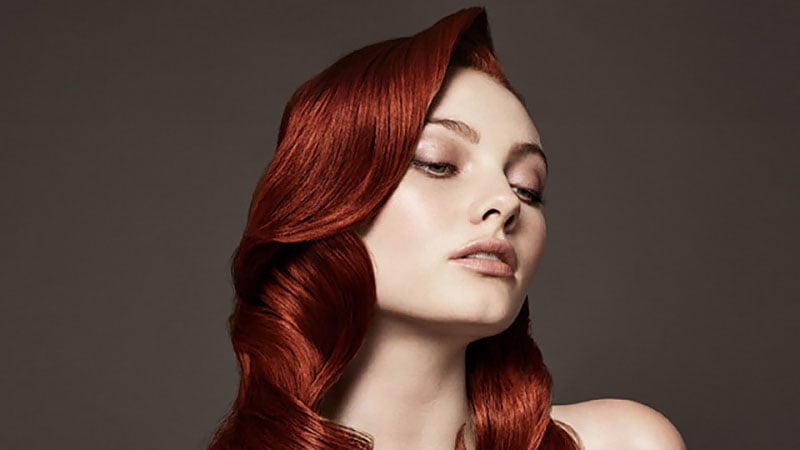 Dark red hair always makes a bold statement. Whether you want to show off your fiery personality or create a sense of mystery, dark red hair will do the trick. It comprises of every hue from rich scarlet to deep burgundy, so there's a shade that will suit your skin tone and coloring perfectly. Keep reading to discover the potential of this versatile hair color and get ready to take the plunge.
RELATED: 30 Hottest Red Hair Color Ideas to Try Now
1. Red Hair Dark Roots
Dark roots blend perfectly with most shades of dark red, particularly those on the burgundy spectrum. For a seamless look, match your red color to the undertone of your natural roots; choose a blue-toned plum if your undertone is cool, or a burnt scarlet for warm undertones. Keeping your roots dark will also make your hair color last longer, as you can let the style grow out naturally without re-dyeing your roots every few weeks.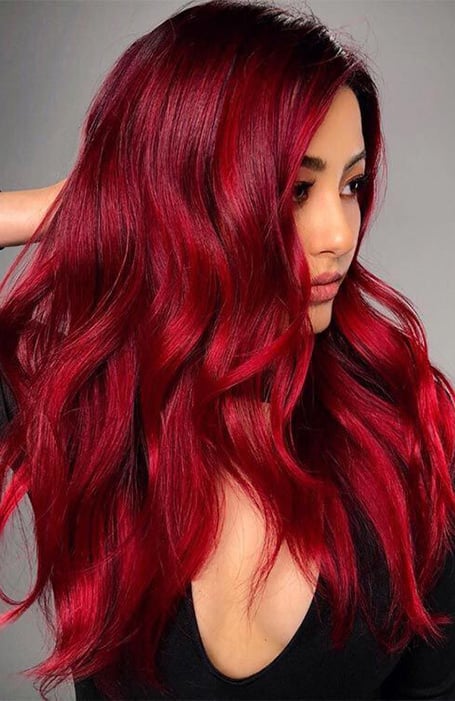 2. Dark Cherry Red Hair
Dark cherry red has been a popular hair color for a long time because of its striking look and versatility. The color looks flattering in almost all skin tones, from fair to deep, and gives you a sexy and feminine look. Plus, the deepness of the shade makes your hair seem thicker. Ask your stylist to add a gloss for a super shiny and healthy-looking result.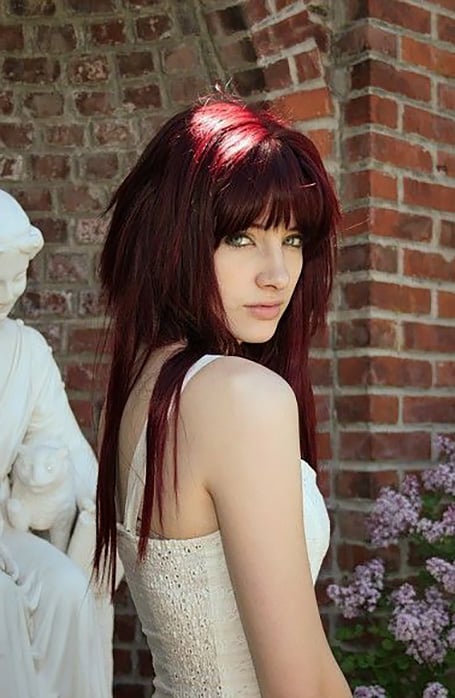 3. Dark Red Brown Hair
It's often said that red hair flatters natural blondes the most, but brunettes can also make the transition with stunning results. A great option for brown-haired ladies is dark red-brown hair. The hue blends red wine hues with a chocolate base to create a beautiful final result. Rich and velvety, it still stands out and looks particularly flattering on those with a fair complexion.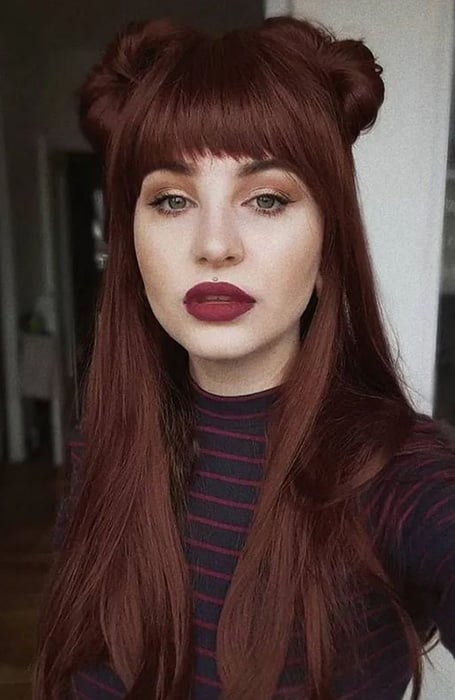 4. Dark Hair + Red Highlights
Women who want to make a subtle change to red hair should consider adding highlights. It creates a more natural finish than other dark red options, and your stylist can also place the highlights to flatter and illuminate your face. For best results, ask for a mix of red-toned highlights not too far from your natural color.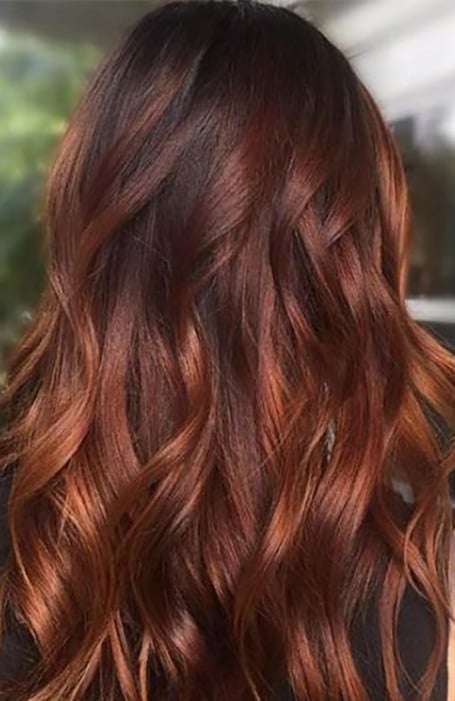 5. Natural Dark Red Hair
Most people picture redheads with bright copper, strawberry blonde, or rusty ginger locks, but there's a wide spectrum of natural red hair. Dark red hair tends toward the cooler side of the spectrum and is widely known as auburn or dark auburn. Rich, regal, and vibrant, it's a beautiful tone that can be expertly mimicked by your colorist if you weren't lucky enough to be born with it.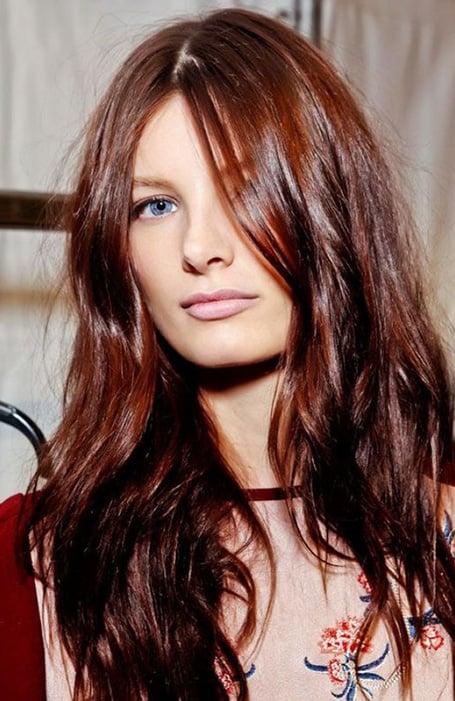 6. Dark Purple Red Hair
Dark purple-red hair fuses rich red with violet tones and makes for a beautiful and sophisticated look. Because it is a less natural hair color, it pairs perfectly with a bold, graphic cut like blunt bangs or bob. A versatile shade, dark purple-red looks flattering on all cool-toned complexions – whether fair or dark – and contrasts beautifully with green eyes. However, those with warm-toned skin should note that the purple hue can bring out unflattering yellow undertones.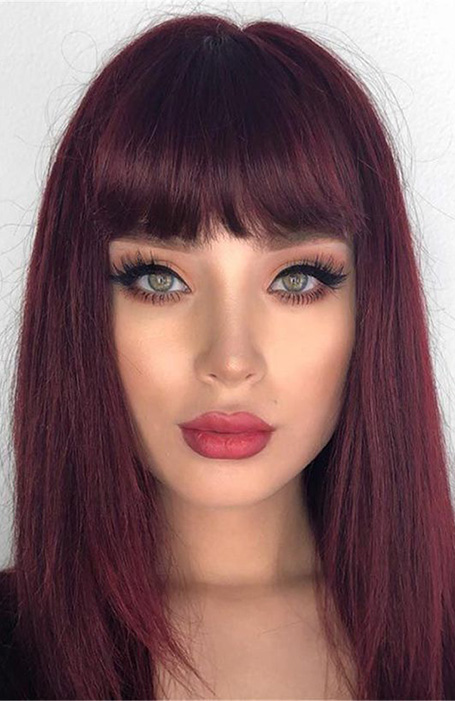 7. Dark Red Hair + Highlights
Women with naturally auburn or dark auburn hair can give their look a lightened lift with highlights. While keeping their overall shade in the dark red family, highlights will add dimension and movement to their locks. Plus, highlights don't damage your hair as much as an all-over lightening treatment and can make thick hair look less dense and flat.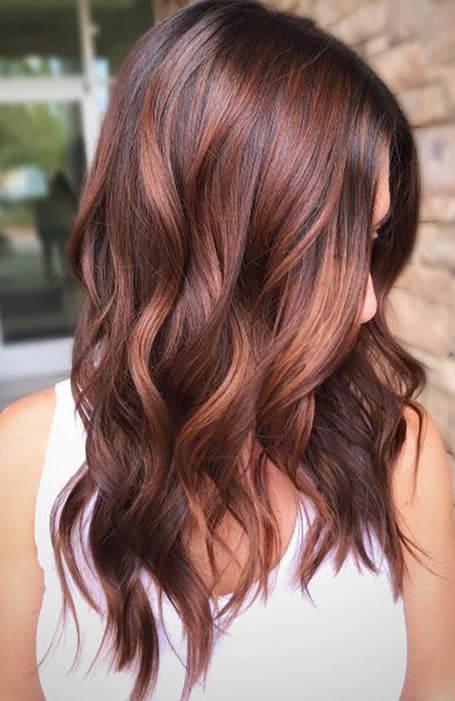 8. Red and Blonde Highlights on Dark Hair
For brunettes who want to go a little more daring with their highlights, a blend of red and blonde highlights will do the trick. Technically, the red shades should act as lowlights, giving your base color some added depth and a warm glow. Meanwhile, the blonde highlights give your overall look a summery twist.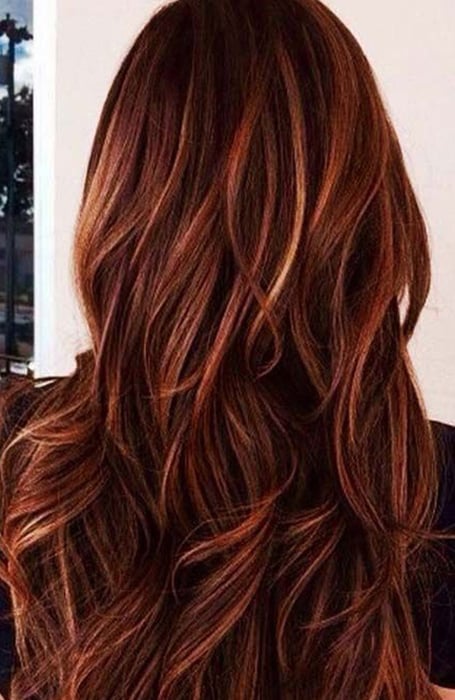 9. Plum Red Hair
Plum red hair – sometimes called blackberry – looks great on all cool-toned skin. That's because it contains some blue pigment alongside warm red. One advantage of plum red hair is that it's on the darker end of the spectrum, so you can make the switch without needing to bleach your strands first. You can also vary the intensity of your color for a sophisticated purple or playful and vibrant violet result.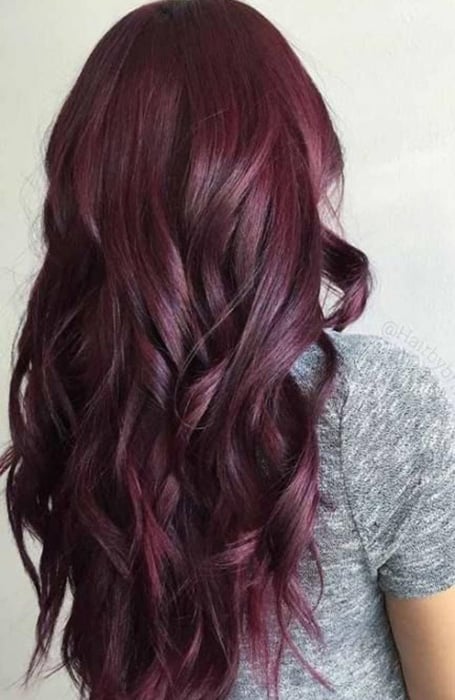 10. Auburn Highlights Red Hair
Blonde isn't the only option when it comes to highlighting red hair. Fiery ladies who want to tone down their color or give it more depth can benefit from auburn highlights. The auburn shade is a dark, cool red, which can be blended with a coppery red base to create a subtle and sophisticated finish. It's also an ideal choice for those who want to transition into a darker red gradually.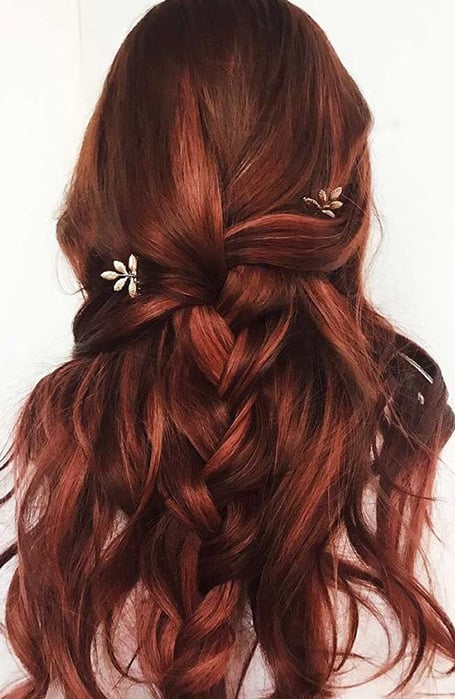 11. Bold Red Hair
For women who love to stand out, bold red hair is a must. Red hair naturally draws attention as it's the rarest hair color. Plus, it's associated with passionate, fiery personalities. To ensure all eyes are on you, choose a dark red hue that has an unnatural look – think crimson, garnet, and ruby.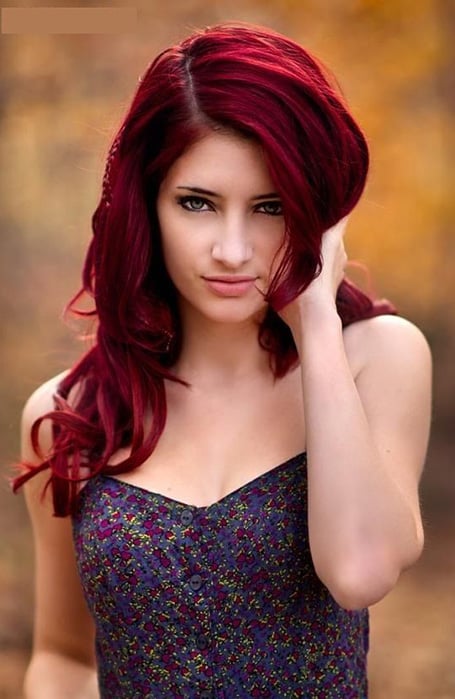 12. Ombre Dark Red Hair
The ombre technique – which is based on the French word meaning 'shaded' – is used to blend two or more hair colors. While it's frequently used to combine blonde and brunette, it also looks fantastic with dark red hair. For ladies with dark brown or even black roots, ombre mid-lengths and ends make it easy to get the dark red look without an all-over color.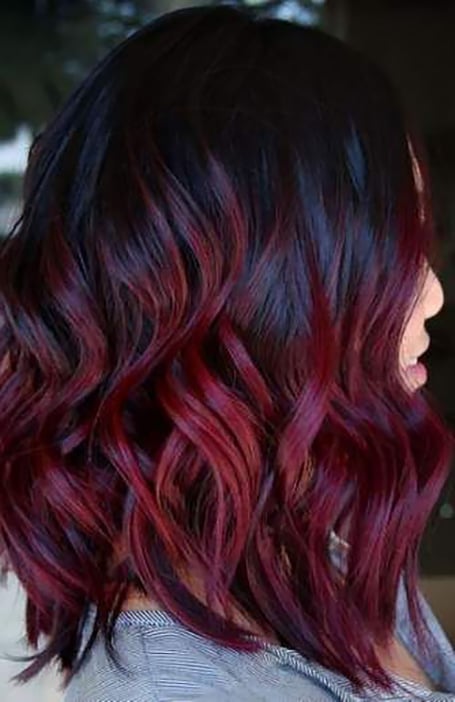 13. Chestnut Highlights
The chestnut shade combines brown with warm red tones, which makes it the ideal choice for light brunettes looking to move darker on the red spectrum. An easy transitional color, chestnut highlights are perfect for the cooler months of the year as they add an autumnal feel to your look. Add deeper lowlights of auburn or cinnamon to take it to the next level.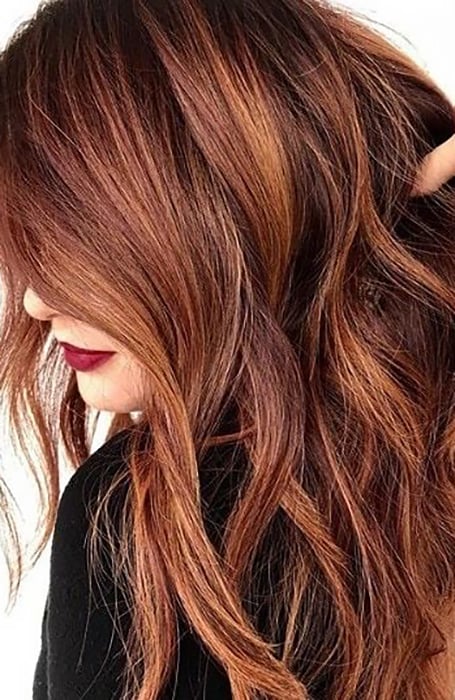 14. Dark Ginger Hair
Ginger – sometimes called copper-gold – is one of the most vibrant red hair shades. Dark ginger takes out some of the brighter gold and instead creates a cooler, deeper result. While still on the warmer side, dark ginger suits a variety of skin tones. It looks less intense than classic ginger and has a more sophisticated feel.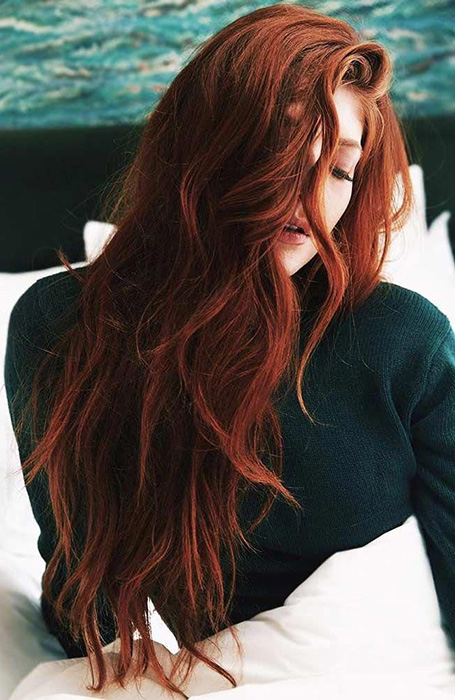 15. Short Dark Red Hair
If you're about to cut your hair into a bob, why not change your color too? Short dark red hair looks sophisticated, yet has a more dramatic finish than a simple blonde or brunette shade. Plus, because your hair is shorter, changing the color is a less time-consuming process. Short dark red hair looks best in as a bold, all-over color on short hair, so you won't need to worry about highlighting.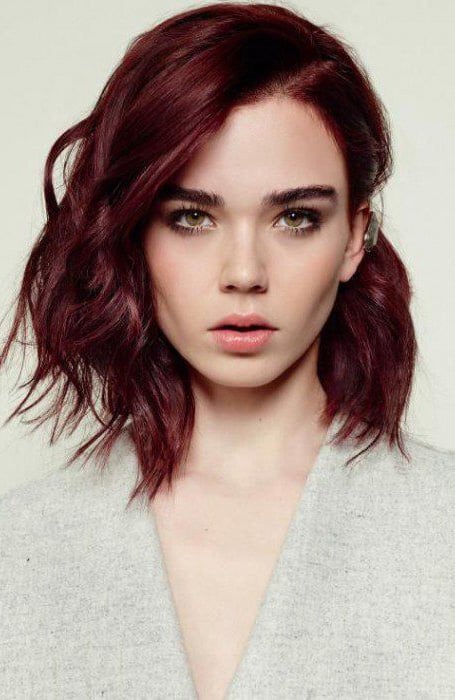 16. Curly Short Dark Red Hair
If you're thinking of dyeing your short curly hair red, consider going for a darker shade. While strawberry blonde and brick red can look cute and playful, dark red curls have a more modern and sophisticated edge. However, bear in mind that curly hair can be trickier to dye than straight hair. That's because the chemicals involved in changing the hair color can disrupt your curl pattern. Opting for a dark red can be a better option as your stylist may only need to use a tint, rather than damaging bleach.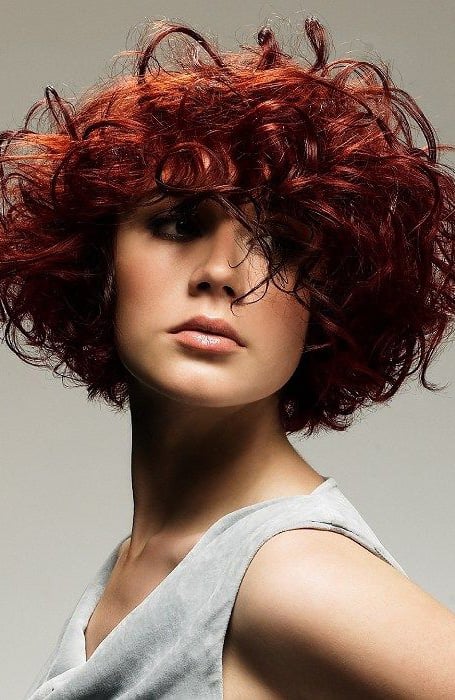 17. Mid Length Dark Red Hair
Sexy and feminine, mid-length dark red hair is a classic look for a reason. It's an ideal choice for brunettes who want to shake up their color and show off the sultry side of their personality. If your hair has naturally warm undertones – for example, if it looks orange whenever you've tried to go blonde – then going dark red will be a breeze. Dark red hair suits a variety of skin tones and is especially flattering if you have brown or green eyes.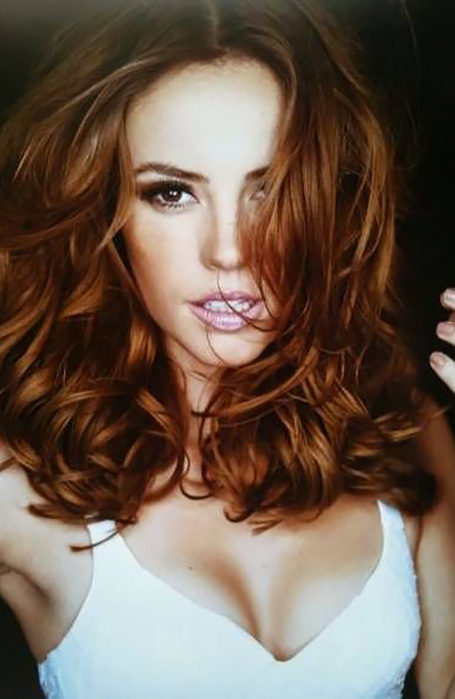 18. Dark Red Natural Hair
Dark red hair looks fantastic on Afro-textured hair and complements deep skin tones too. However, the chemicals involved in dyeing your hair can disrupt your curl pattern as well as cause drying and breakage. To maintain your natural hair through the process, choose an ammonia-free color like a semi-permanent tint, and avoid bleaching if possible. Finally, regularly apply a deep-conditioning treatment and always use sulphate-free shampoo and conditioner.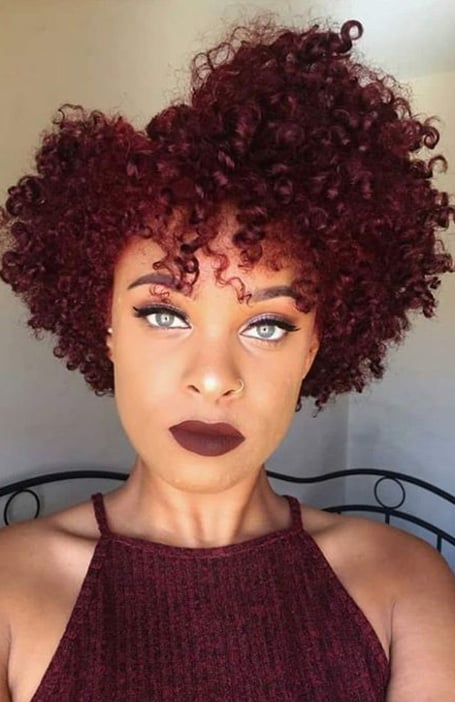 19. Dark Red Hair + Copper Highlights
Copper highlights are a great way to lift dark red hair and give it a fresh, summery feel. Depending on where they are placed, peachy bronze pieces can be used to frame and illuminate your face. They also add dimension and movement to your hair. However, it's important not to go too light as extreme highlights can give dark red hair a 'tiger stripe' look.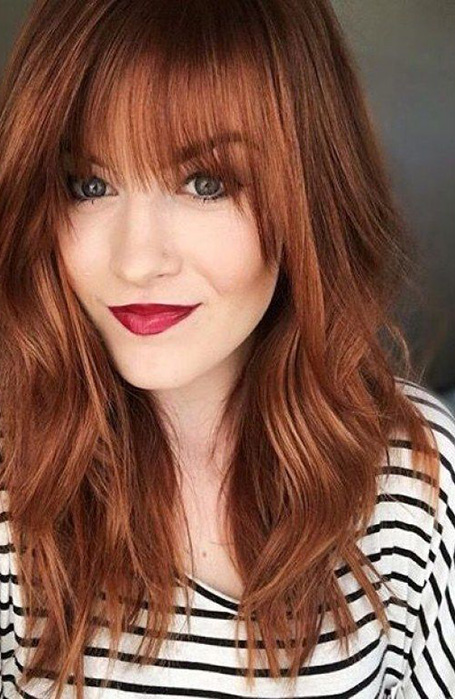 20. Black and Red Hair
One of the boldest hairstyles is black and red hair. It's a striking combination that always stands out from the crowd and adds an edgy twist to your look. Depending on the shade of red you choose, black and red hair can range from sophisticated and wearable to artistic and graphic.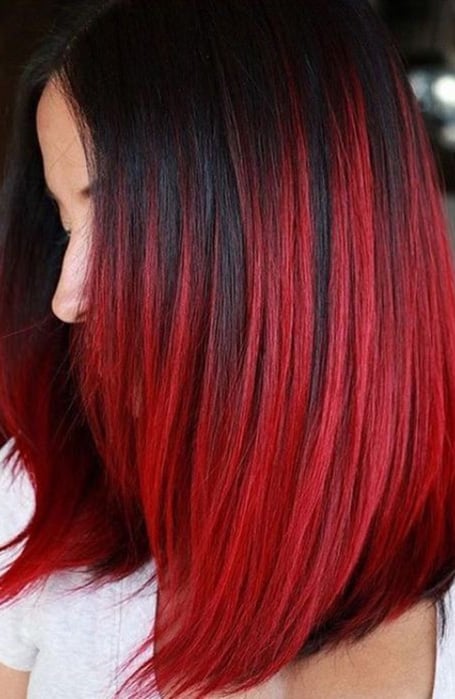 FAQs
What is dark red hair called?
There are a myriad of shades of dark red hair. From auburn to burgundy, these regal shades range in tones that perfectly falter different skin tones and face shapes. Some examples of dark red hair include rich scarlet, plum, dark ginger, and dark purple.
Is dark red hair natural?
While most natural redheads have a light copper or strawberry blonde coloring, there is a vast spectrum of shades that can occur naturally. Those with darker red hair more commonly have dark auburn tones, which is situated on the cooler side of the spectrum.
Is dark red hair attractive?
Red hair is the rarest of all colors, so it tends to attract a lot of attention when someone rocks it. Dark shades are often associated with sensuality and create the perfect sense of mystery. The bold color choice is one of the more attractive options, and with its rarity, you'll easily stand out more than others.
How do you get dark red hair?
Depending on the shade you begin with, you can transcend from a virgin shade to deep red without having to break out the bleach. Dark hair naturally has a lot of red undertones, so if you strip away the dark shade, you will be left with some orange tones. Choose the shade you prefer, and decide whether you wish to add some highlights. It's a good idea to scope out professional hairdressers to get this done correctly - it's worth it for the color payoff.
SUBSCRIBE TO OUR NEWSLETTER
Subscribe to our mailing list and get interesting stuff and updates to your email inbox.