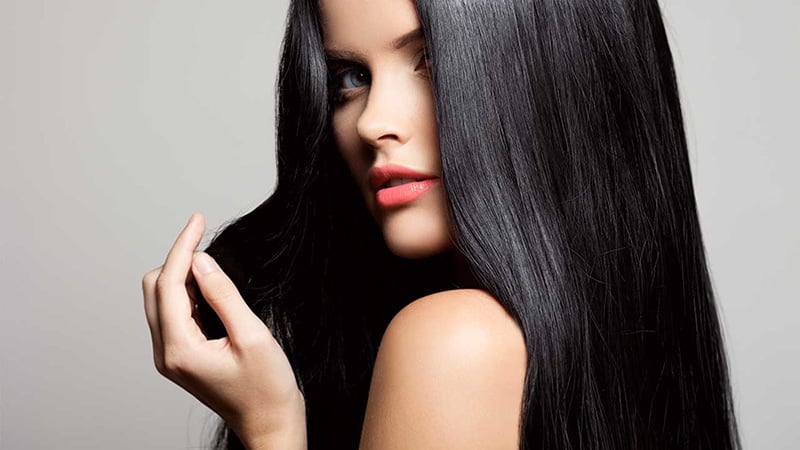 Are you considering going over to the dark side? Black hair is a striking color choice that can be adapted to suit any skin tone. Sexy and sophisticated, it also looks great at any length, from a pixie cut to long, mermaid locks. Check out these trending black hairstyles that will have you booking the salon in seconds.

RELATED: 30 Sexy Black Hair With Highlights You Need To Try

1. Balayage Black Hair
Balayage has been a hair color staple for years because of its ability to give hair a subtle, flattering lift. When you have black hair, your stylist can add balayage caramel highlights to create movement and dimension in your style. Balayage looks particularly beautiful on naturally wavy hair.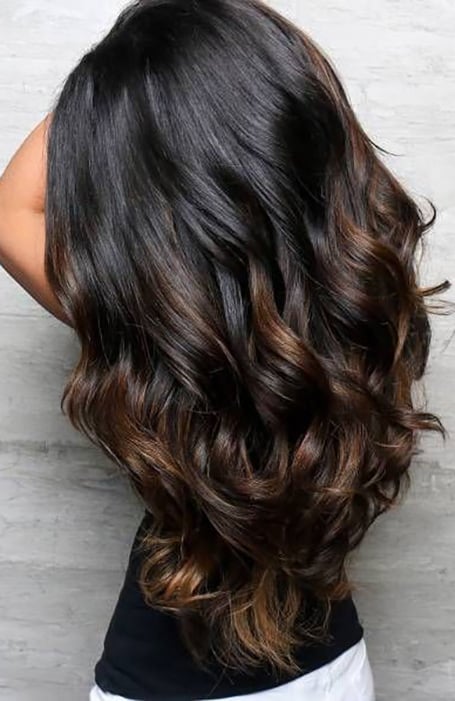 2. Black Hair + Brown Highlights
Adding highlights to a black base color can be tricky, and depends on the natural undertones in your hair and skin. If you have warm tones, hues like caramel and coppery auburn will work beautifully with your black locks. For a natural look, have your stylist blend the highlights from the mid-lengths of your hair; this creates a 'sun-kissed' effect and will illuminate your face.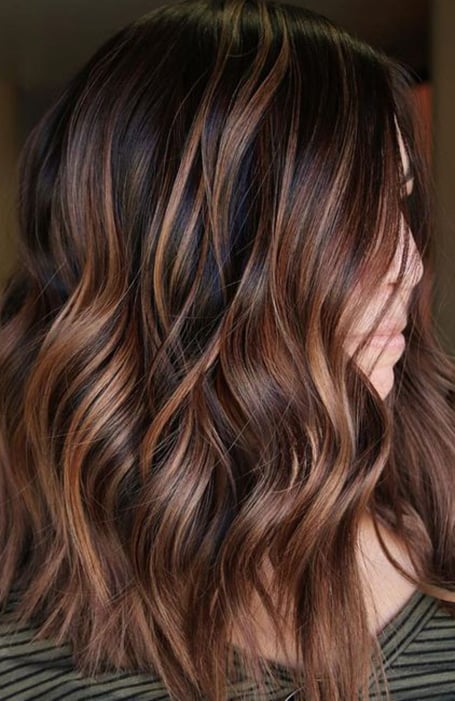 3. Black Hair + Blonde Highlights
Blonde highlights add an unusual dimension to black hair. If you're looking to experiment with a lighter color, adding touches of honey blonde to your dark base is an easy way to test out the look. As with brown highlights, it's best to blend the lighter pieces from the mid-lengths as this will avoid the 'tiger stripe' effect. Your stylist can also add in caramel or even rose gold pieces for a multi-dimensional finish.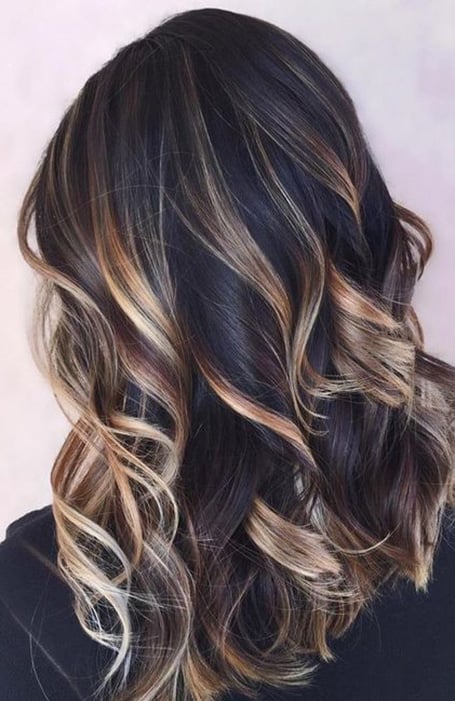 4. Blue Black Hair
Blue-black hair is the most cool-toned option for those looking to dye their hair super dark. The deep and rich midnight hue can be adapted for both fair and olive skin tones. Slightly more purple-blue works with fair skin, while true blue contrasts beautifully with medium complexions. When opting for blue-black hair, make sure you get a high-gloss treatment to ensure the color pops and shines.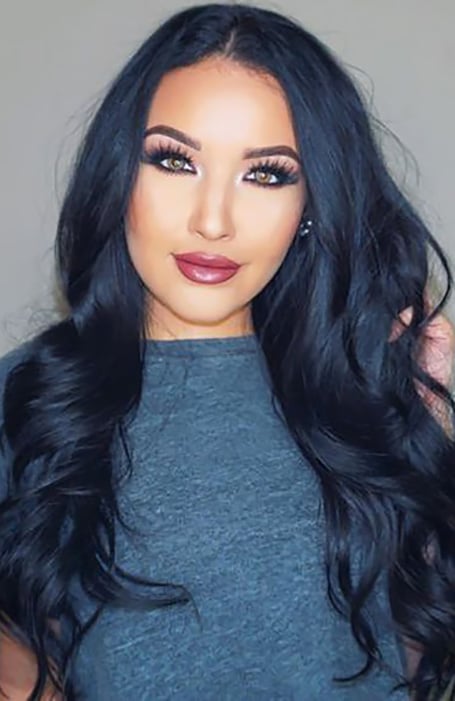 5. Black and Red Hair
Black and red hair is one of the most popular color combinations. That's because it's striking and bold, yet still wearable for every day. For a more dramatic finish that will ensure you stand out from the crowd, opt for a brighter tomato red. Meanwhile, auburn and cherry red keep the look slightly more casual while still showing off your personality.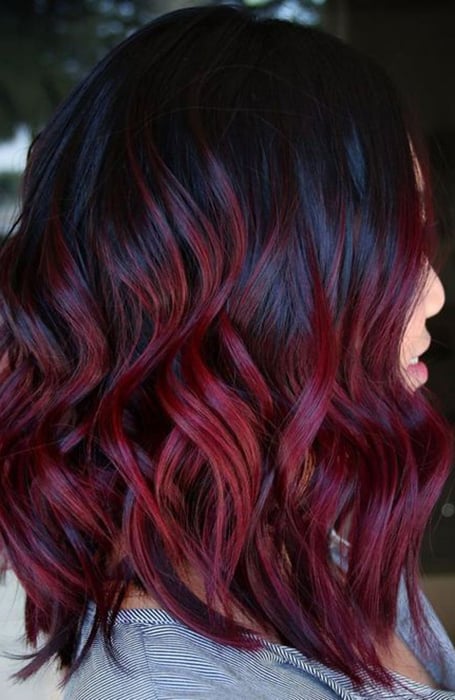 6. Black Cherry Hair
Black cherry hair combines a super dark base with deep ruby and burgundy. It's a popular color choice in the colder months because it reflects the vibrant hues and rich tones of autumn. The black cherry look is an excellent choice if you are a natural brunette with auburn undertones. That's because it maintains the natural warmth in your hair, making the transition into darker black shades easier.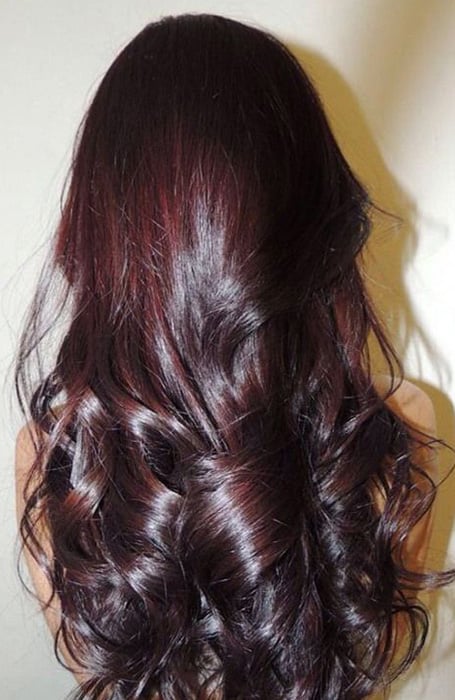 7. Black Purple Hair
Also called black plum or eggplant, black-purple hair maintains the sophisticated feel of black hair but adds a subtle twist. Versatile enough to wear to work or a festival, it suits those with a naturally fair skin tone and neutral to cool undertones. If you are a brunette with blue eyes, it will almost certainly flatter you. It also works well on those with deep skin and cool undertones.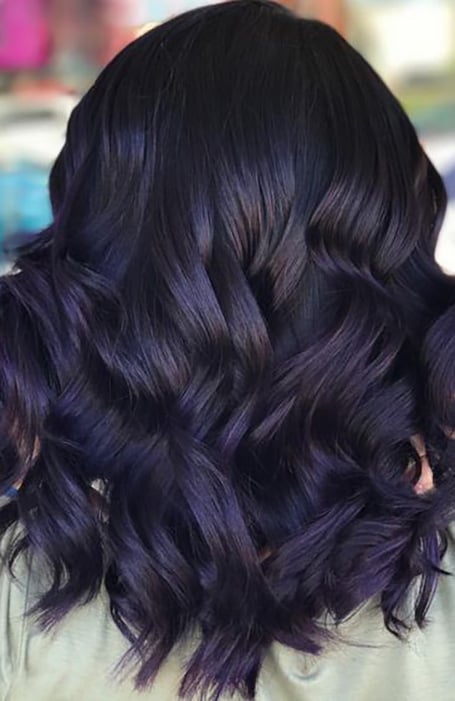 8. Black and Blonde Hair
A bold and dramatic new trend is black and blonde hair. Eye-catching and bright, the color combination stands out – which is why it's become a favorite with lots of social media influencers. To get the look, your stylist will bleach and tone a section of your hair to a platinum blonde, while keeping the rest ultra dark. Bear in mind that you'll still need to use a purple toning shampoo to maintain your blonde pieces, and avoid over-washing to ensure your black dye doesn't fade too quickly.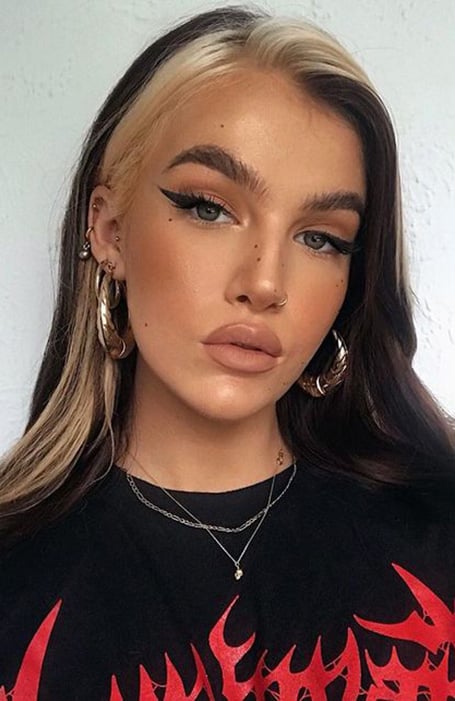 9. Black Ombre Hair
There are lots of different variations on black ombre hair, as black looks striking when blended with almost any color. One choice that's trending right now is 'greyscale' hair – a black ombre look that blends and fades to grey and white. While it's a high-maintenance look, the dramatic and head-turning results are worth it!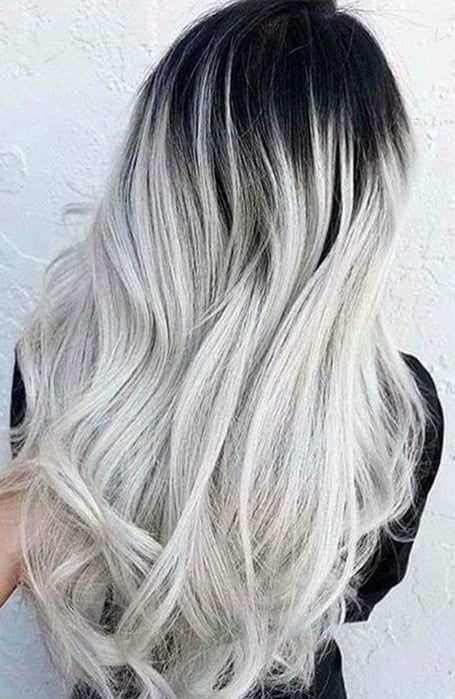 10. Short Black Hair
Black hair looks great when combined with a pixie cut, and if you've always dreamed of going ultra-short, why not give it a try? The result is eye-catching and dramatic, with a chic finish. Plus, a pixie cut is low-maintenance and easy to style. It's ideal for women with Afro-textured hair wanting to go natural for the first time, as it provides a pretty yet sophisticated look after getting 'the big chop.'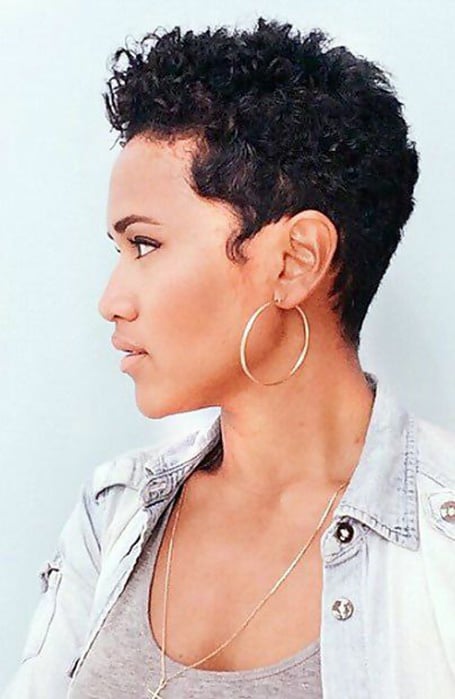 11. Black Hair Bob
One of the simplest ways to change up your look is by cutting your hair into a bob haircut. It's an excellent option if you already have shoulder-length hair, as it's not too dramatic a change and will grow out more quickly than a pixie cut. A black hair bob works well if you love the '60s look. It also has a chic French girl vibe, especially when paired with bangs.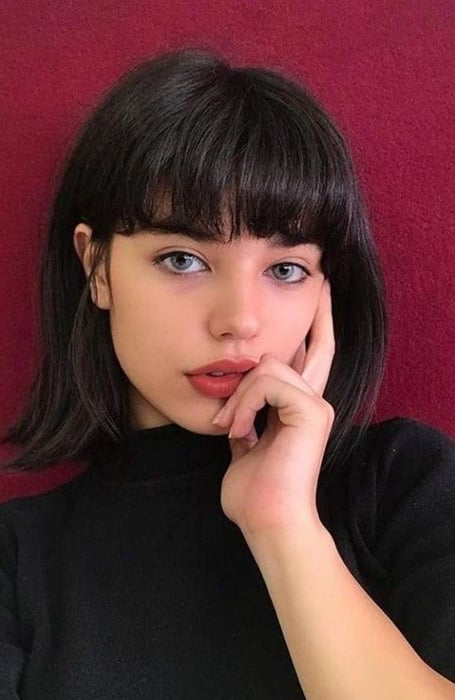 12. Black Hair Lob
There's a reason fashion editors everywhere love the lob. It's a low-maintenance cut that can be adapted for all face shapes and hair textures. It looks excellent when styled wavy or blowdried straight and smooth. Dyeing your lob black will give a more dramatic finish to this classic cut, especially if your natural color is blonde or chestnut brown.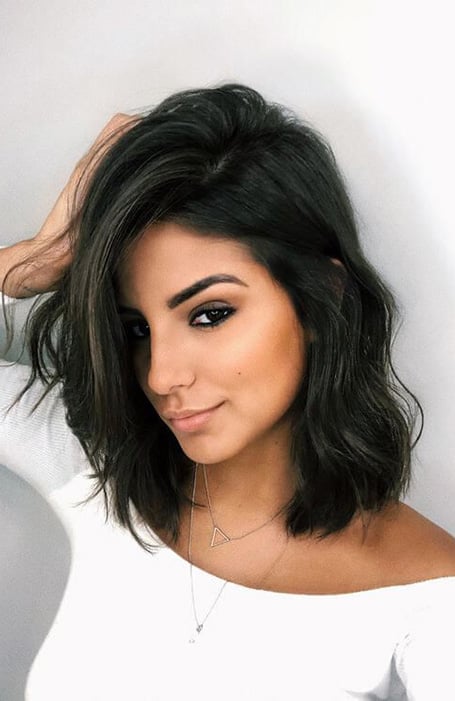 13. Medium Black Hair
Medium hair falls from just below your collarbone to just below your shoulder blades. It's easier to maintain than long hair, which means it's perfect for experimenting with a darker color as it doesn't require as much product to dye or wash. It's also a great length for blending clip-in hair extensions.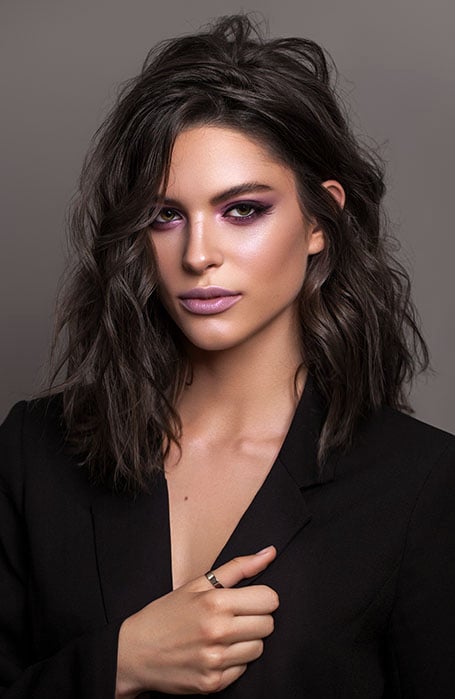 14. Long Black Hair
Long black hair is ideal for women who love a feminine, sexy, and glamorous look. Plus, it's flattering whether styled in bombshell waves or smooth and straight. However, if your hair isn't naturally super dark, it's a high-maintenance choice. Before you take the plunge and go to the dark side, ensure your mane is in excellent condition by getting a trim and treatment at the salon. Once you've colored your long hair, avoid washing too frequently or styling with heat tools, as both can negatively affect your strands. Alternatively, you can take medium or shoulder-length black hair long with clip-in extensions.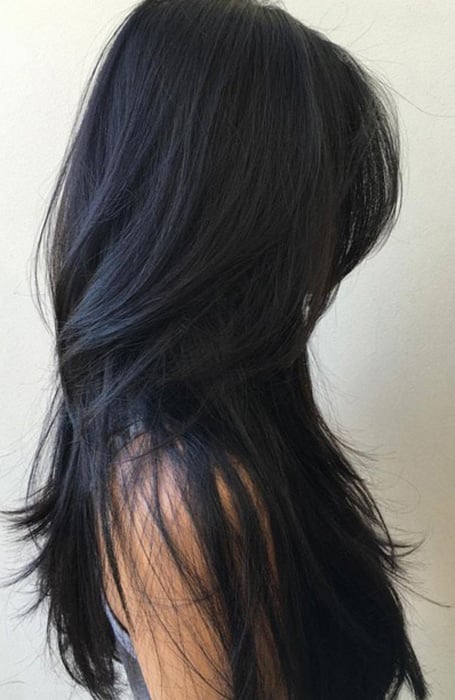 15. Natural Black Hair
If chemicals, dyes, and heat have damaged your hair, consider going natural and embracing your childhood curls and color. Not only is natural black hair one of the healthiest options for Afro-textured manes, but it can also be cheaper and easier to maintain than using relaxers or getting a weave. Use plenty of moisturizing products, don't over-comb or brush, and consider taking hair vitamins to promote healthy growth.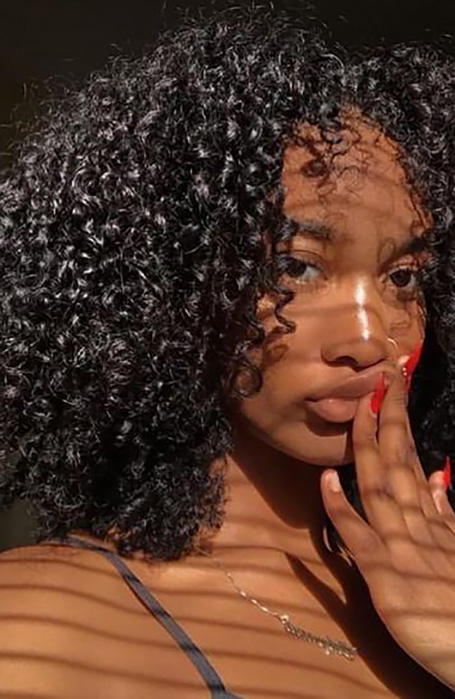 16. Asian Natural Black Hair
Those with Asian heritage often have naturally very dark hair with unique textures and characteristics. Asian hair tends to be coarser and straighter than other hair types, as well as stronger and faster-growing. It's also usually thicker and shinier than Caucasian hair. That makes long black hair ideal for this hair type. However, Asian hair is also strong enough to take an on-trend ombré black or dip-dyed look, which can require heavy bleaching.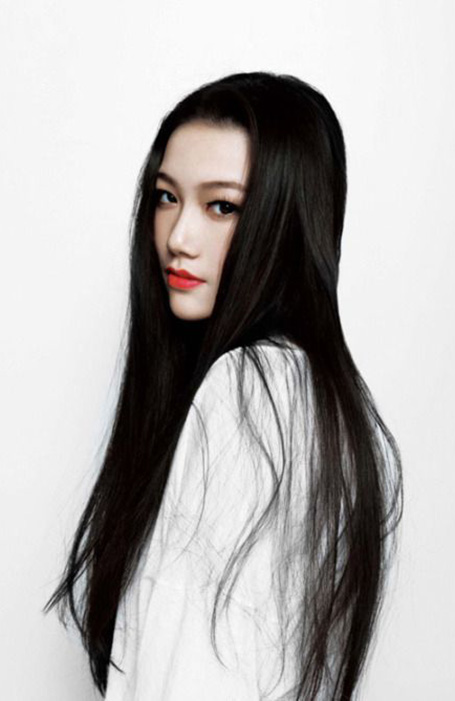 17. Black Hair + Fringe
For a fresh retro look, combine your black hair with a fringe. Bangs work with every hair length and can give your look a different feel. For example, a short, blunt fringe is a quirky and edgy choice, while long, face-framing bangs look softer and more feminine. When choosing your bangs, take into account your face shape and your hair type too.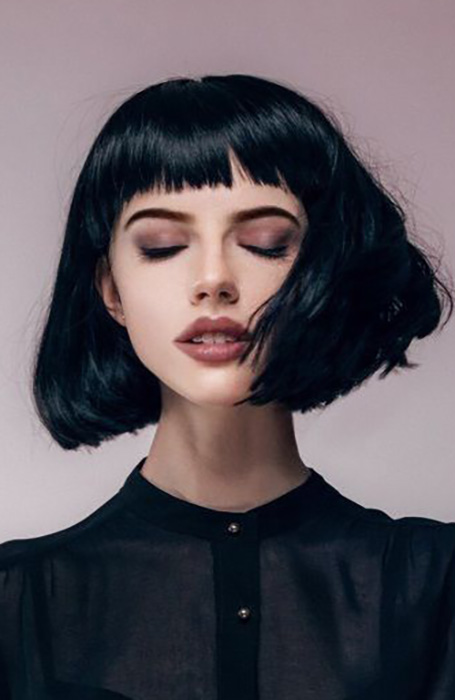 18. Braided Updo for Black Hair
Braided updos suit all hair types but work particularly well on natural Afro-textured hair. If that's you, cornrows twisted into a low bun are an on-trend and chic option that works well for both day and night. Those with Caucasian hair could try a crown braid.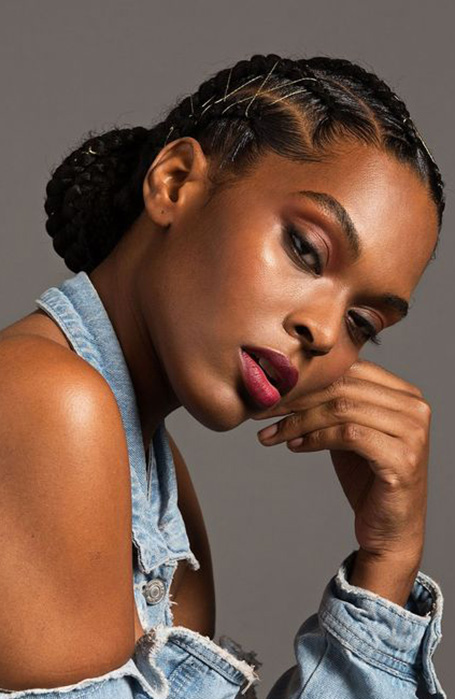 19. Curly Black Hair
There are several factors to consider if you're looking to dye your curls black. Firstly, curly hair tends to be drier than straight hair, which can compound the drying qualities of the dye. As a result, it's essential to do a moisturizing treatment a day before you dye your hair. Secondly, your curl pattern can be disrupted by certain dye ingredients, so to avoid frizz, choose natural and oil-enriched products. That way, you'll end up with a glossy black finish that looks and feels healthy.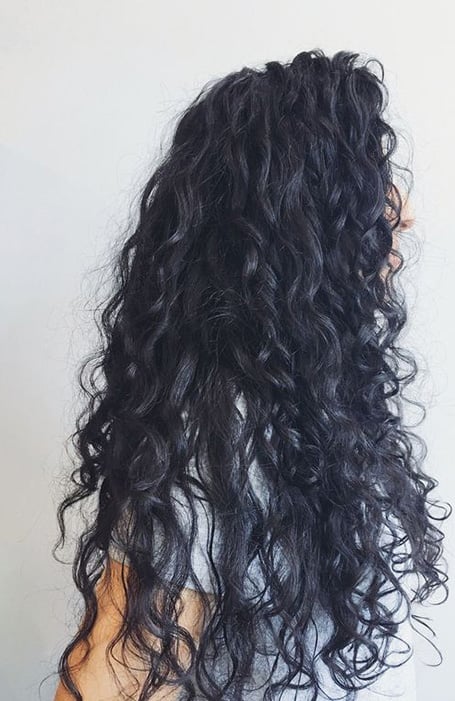 20. Half Blonde Half Black Hair
An even more extreme take on the blonde-and-black hair trend is half blonde, half black hair. Instead of merely bleaching a few sections of your hair, half of your locks will be lightened, and the other half left dark. Not for the faint-hearted, the edgy and eye-catching look will earn you compliments!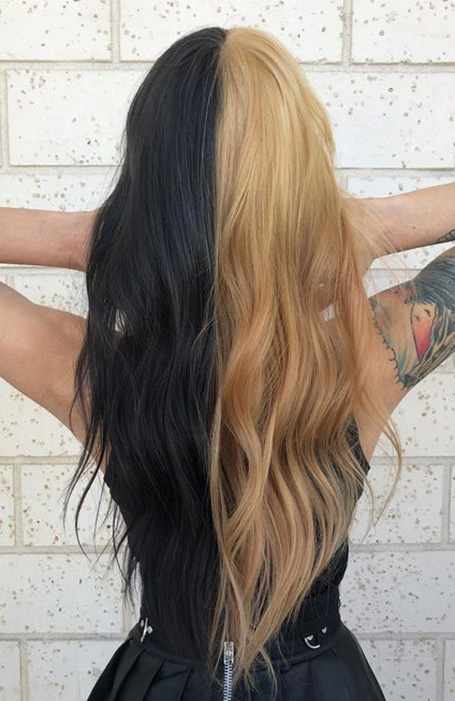 FAQs
What are the best black hairstyles?
The saying that blondes have more fun is simply not true because black is a striking color and a fantastic choice for a woman who wants her hair to look healthier and thicker. Some of the best hairstyles to choose from include black hair with brown highlights, balayage, blue-black hair, and black cherry hair. A few cuts that work well with this color include fringes, bobs, short locks, and curls.
What are the different shades of black hair?
There are several different shades of black hair to choose from, depending on your style preference. If you want dark hair with a subtle twist, then black plum is a fantastic choice and suits those with a naturally fair skin tone. Black and red is another popular combination and will create a more dramatic finish. Those who want a more sun-kissed appearance may opt for brown highlights or blonde highlights to achieve an unusual dimension for their hair.
What are lowlights in black hair?
Lowlights are typically dark pieces that have been added to the hair to create a contrast. They tend to be a shade darker than your natural hair color. However, with black hair, it can be tricky because the contrast can be quite overwhelming. If you get it right, though, the addition of caramel or blonde tones looks fantastic.
How can I make my hair black naturally?
When it comes to dying your hair, there are a lot of ways to do it. Some people prefer to avoid chemical formulas in favor of natural alternatives. These include the black tea remedy or using a combination of onion juice, lemon juice, and olive oil. Several recipes on the internet explain how to turn your hair black or stop the greying process naturally.
Which hair highlight is best for black hair?
The best hair highlight for black hair depends on your personal preference. That said, some popular choices include caramel highlights, teal blue, rich burgundy, deep auburn or red, and purple.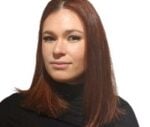 Arabella Roden is a skilled writer and sub-editor with over ten years of experience across print, digital, and B2B. She holds a Bachelor's Degree in Journalism and specializes in beauty, hairstyles, fashion, tattoos, and lifestyle topics. Arabella is currently the Chief Sub Editor at Mecca Brands and has been writing for The Trend Spotter since 2019.
SUBSCRIBE TO OUR NEWSLETTER
Subscribe to our mailing list and get interesting stuff and updates to your email inbox.