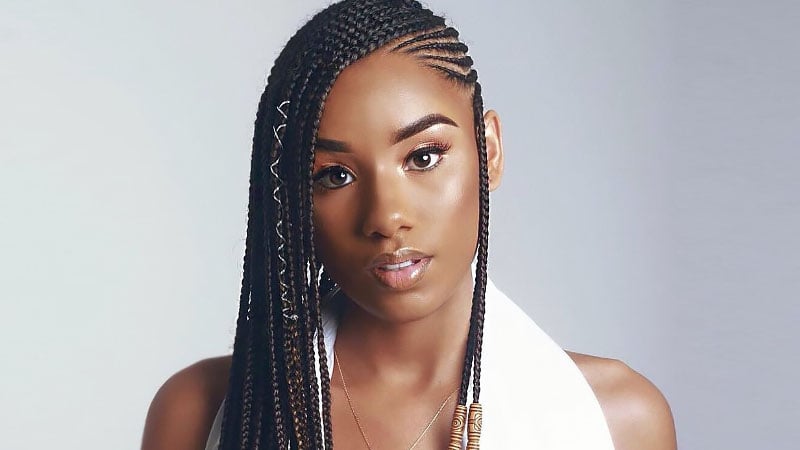 Tribal braids have their roots in Africa and feature many different techniques and braid styles. Traditionally, braided hairstyles were a way to communicate status, age, relationships, and more. Today, tribal braids are all about acknowledging heritage while showing off your personality and style.

1. Fulani Braids
One of the most popular tribal braiding styles, Fulani braids, comes from the Fula people of West Africa. The signature part of the style is a central braid or twist at the head's crown, traditionally decorated with rings and beads. It's accompanied by thin to medium side braids, which can be left loose or plaited into an up 'do. Versatile and vibrant, it's no wonder Fulani braids are so popular today.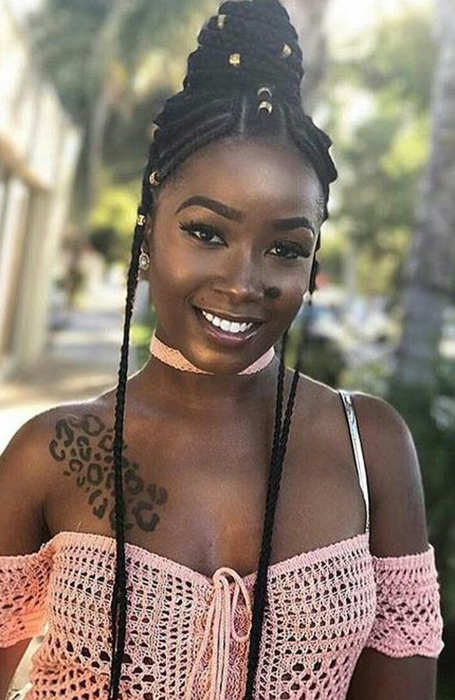 2. Middle Part Tribal Braids
Middle part tribal braids, like other middle-part hairstyles, suit round, and oval face shapes. That's because the eye is drawn to the center of your face by the parting, while the long braids work similarly to long bangs or layers, slimming your face and making it seem longer. Middle-part tribal braids look laidback yet mysterious, with an edgy vibe.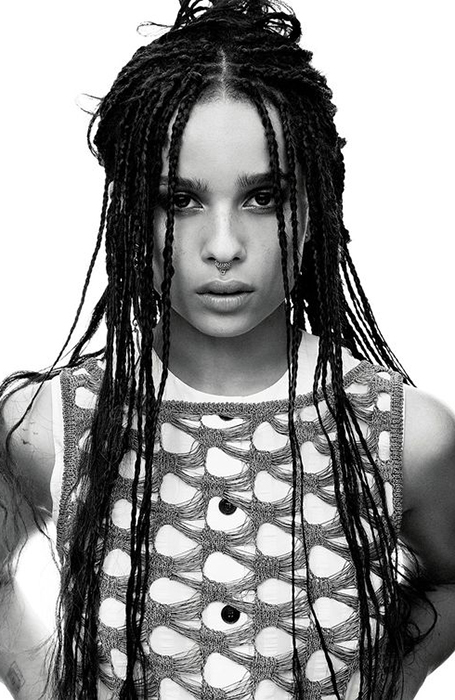 3. Side Part Tribal Braids
Side parted hairstyles suit square and diamond face shapes. That is because the side parting draws attention to your eyes and cheekbones while showing off your angular jaw. When combined with tribal braids, a side parting creates a soft and feminine look. It pairs perfectly with thicker styles, such as goddess braids.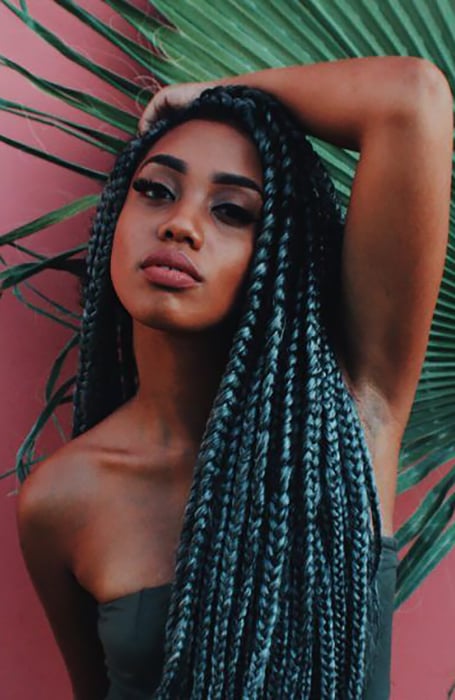 4. Jumbo Tribal Braids
For a hairstyle that always stands out, try jumbo tribal braids. A form of box braids, jumbo tribal braids are much thicker than other styles and usually require extra hair extensions to be used to get their signature oversized effect. As important as the braids' size is how your hair is parted when putting them in. Different patterns can be created this way, while rings, hair cuffs, and beads are added to give the jumbo braids a unique tribal look.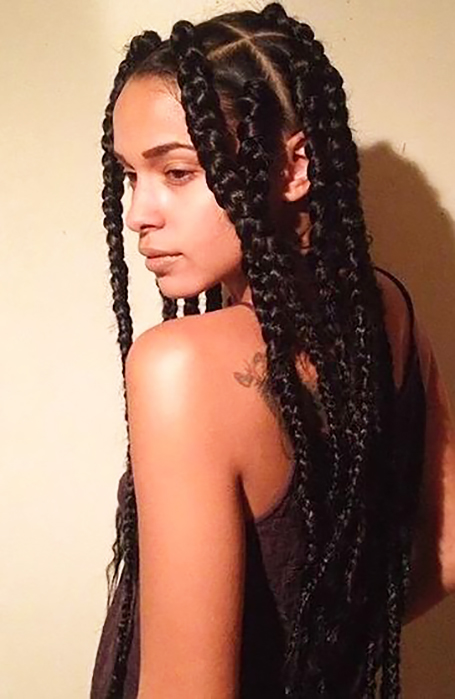 5. Two Layer Tribal Braids
To create two-layer braids, your stylist will divide your hair into horizontal sections, then cornrow each section and braid the hair in different patterns. As each row is braided, the stylist will feed in extensions. Because the upper and lower parts are braided separately, you can achieve a much longer and more voluminous look and a unique contrasting finish.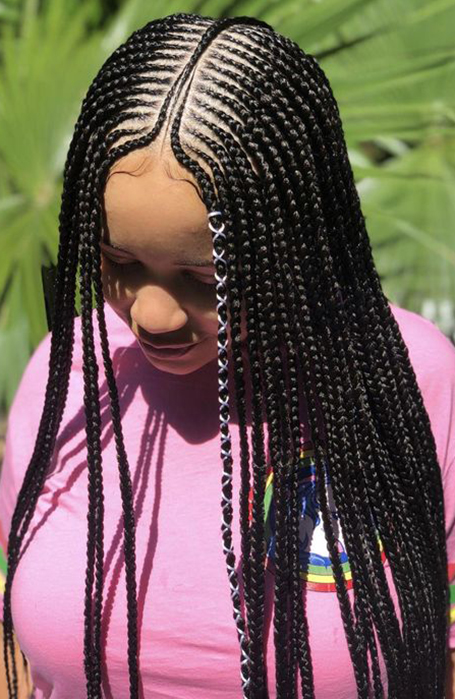 6. Ghana Braids
As the name suggests, Ghana braids are a traditional hairstyle from the country of Ghana. The term 'Ghana braids' broadly applies to many braiding patterns with a unique tapered effect. To create the Ghana braids look, your stylist will create thin micro braids, which then taper out to more full, thicker plaits and twists.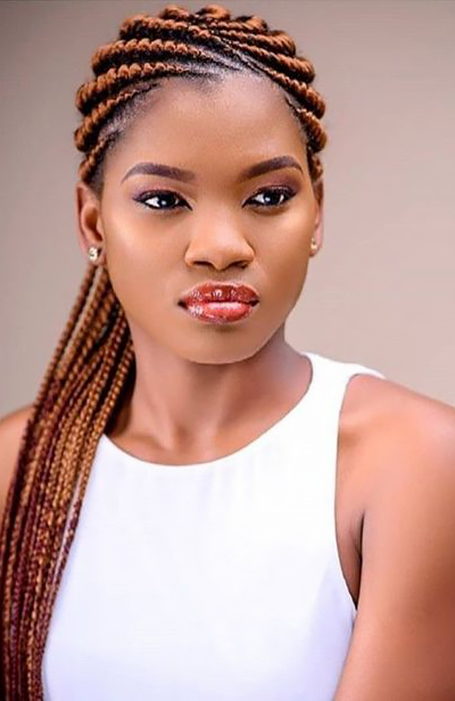 7. Long Tribal Braids
Long tribal braids are perfect for women with naturally long hair. However, they can also be created with knotted or feed-in extensions. As a tribute to traditional tribal hairstyles, you could add shells to the ends of the braids. Cowry shells were treasured in many African cultures and are associated with womanhood, wealth, and protection.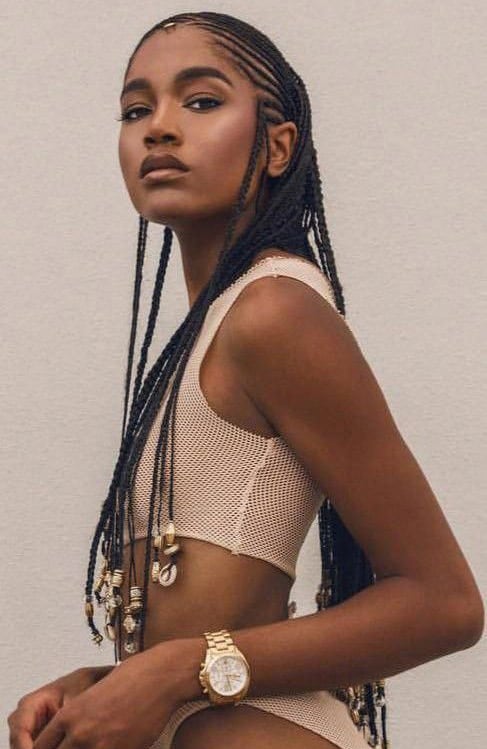 8. Short Tribal Braids
Tribal braids can be done on any hair length, from short to long. If you have shorter hair and would prefer to go without extensions, try a chin or mid-length tribal style. The key to the tribal look is creating unique and organic-looking braids, so don't worry about making them all the same length – which can be tricky on shorter hair. Try a center or side-parted Senegalese twists braid style and add rings and beads for a subtle tribal look.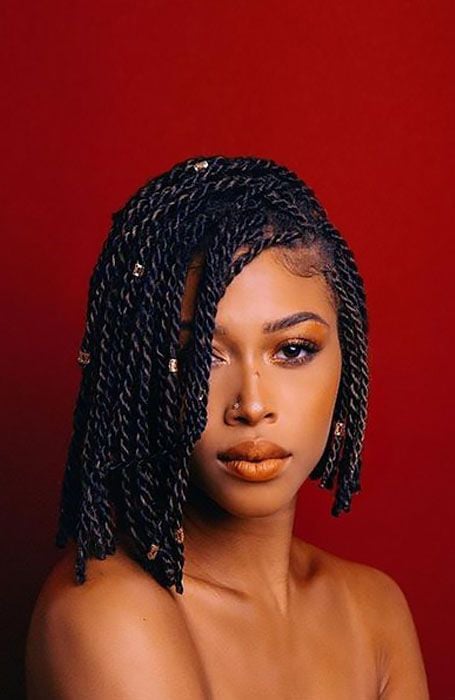 9. Tribal Braids with Beads
Beaded braid hairstyles are part of many African cultures and were traditionally used to identify social standing. Today, beads can be added to braids to reflect your style or as a tribute to tribal heritage. Glass, colorful, wooden, or metal beads add a unique and individual twist.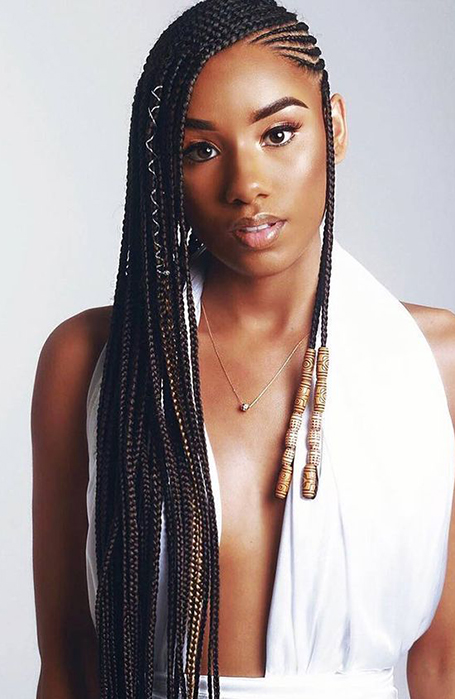 10. Tribal Braids Ponytail
To give your tribal braids a modern and chic twist for a special occasion, style them up in a ponytail. To create the ponytail, gather your braided hair up to the crown of your head. Avoid pulling your braids too tight, as this will cause tension on your scalp and can lead to breakage. Then, take two or three braid strands and wrap them around the base of the ponytail, looping them through to hold the other braids in place. Voila – you have a stunning ponytail with no elastic needed.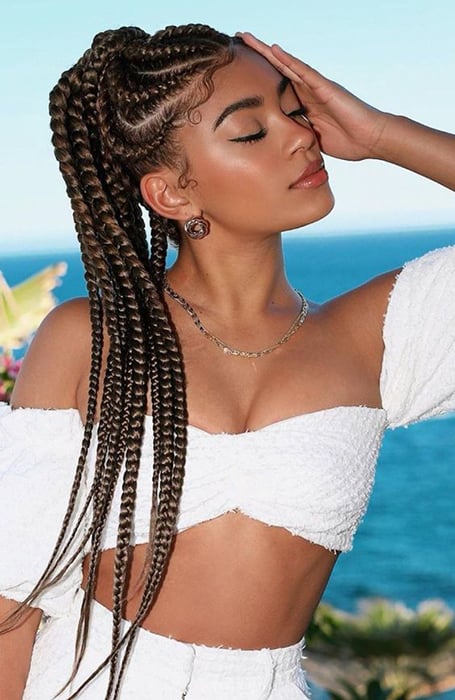 11. Tribal Braids Bun
The braided bun is a classic hairstyle and looks even better with a tribal twist. It's the perfect elegant and sophisticated look for a special occasion like a wedding or engagement party. Ask for braids of different sizes, patterns, and thicknesses, then add gold wire for a traditional, gilded touch.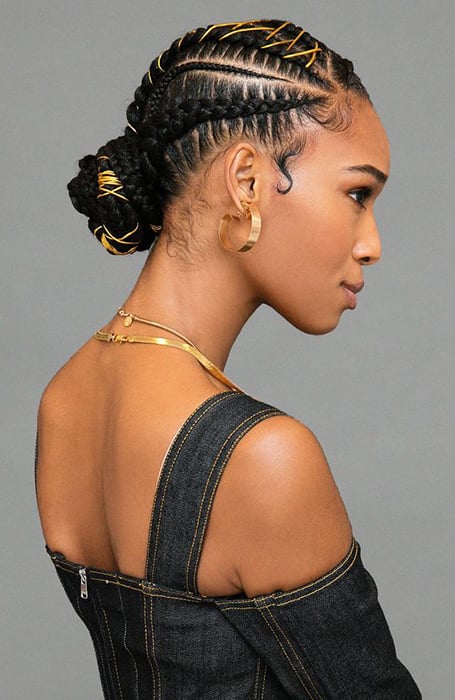 12. Feed-in Braids
Feed-in braids use a knotless technique to add extensions to your natural hair, creating longer, thicker, and fuller braids. Because no knots are required, feed-ins put less stress and tension on your scalp, making them an even more protective style for your natural hair. Feed-in extensions can be used to create beautiful, thick tribal braids if you have short or fine hair.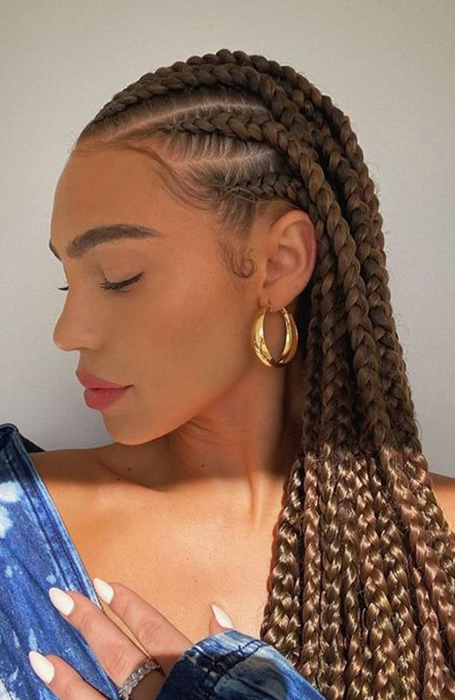 13. Tribal Braids with Color
Give your tribal braids an Afropunk edge by adding some color. Ombre pink and purple will make you stand out from the crowd and express your unique personality. The safest way to create a colorful tribal braid look is to use dyed extensions. That way, your natural hair will remain intact and unbleached.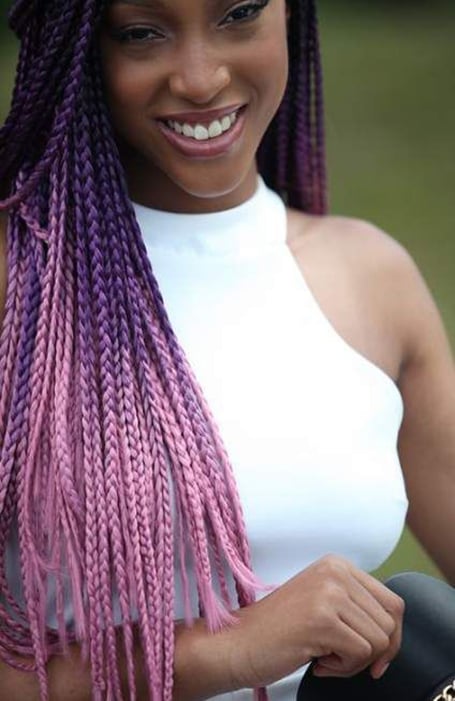 14. Goddess Tribal Braids
Thick, sleek, and defined goddess braids have been worn by African women for centuries and are just as popular today. Like cornrows, the underhand braiding technique is used to create goddess braids. You can leave them loose or style them into a ponytail or updo. Add elements such as beads, rings, or wire for a traditional tribal touch.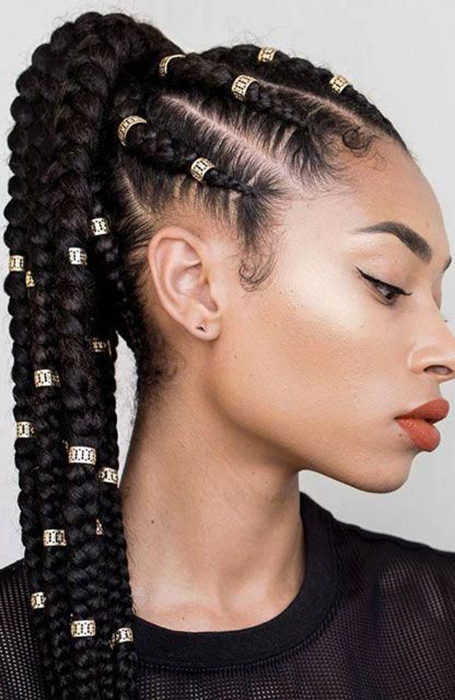 15. Tribal Box Braids
Box braids became popular in the '90s – made famous by Janet Jackson – but they are thought to originate with the tribes of Namibia and the Nile Valley thousands of years ago. Box braids get their name from the signature square sections of hair from which each braid is formed.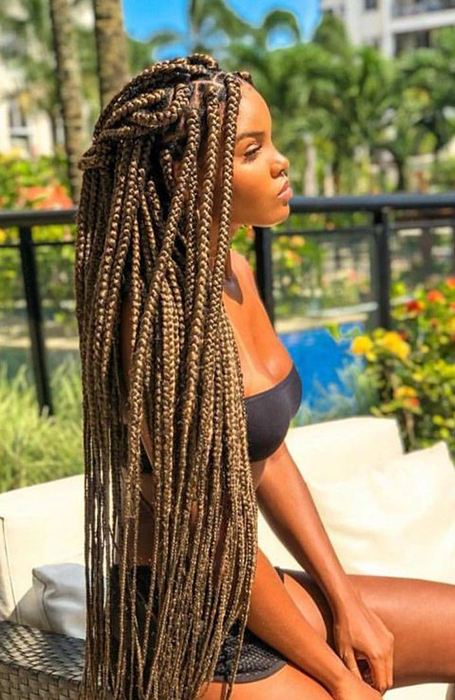 16. Bohemian Tribal Braids
Free-spirited women will fall in love with bohemian tribal braids. The hairstyle mixes braided strands with loose hair to create a unique, original, and creative look. Unlike other braiding styles, bohemian braids don't require all of your hair to be plaited or twisted. The result is a wild and feminine style that's as individual as you.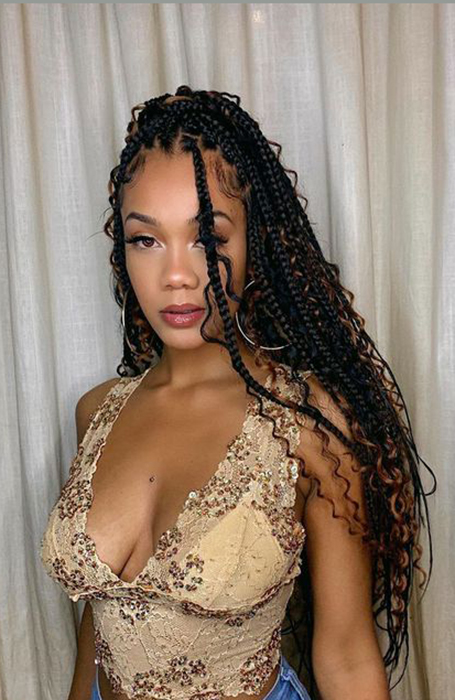 17. Cute Tribal Braids
Tribal braids are versatile, so they can be adapted to suit different styles. For a sweet and youthful look, try cute tribal braids. The style combines mid-length, thin braids with a classic Fulani-inspired pattern. Add glass beads to the ends of your braids and tuck your strands behind your ears to add to the cute effect.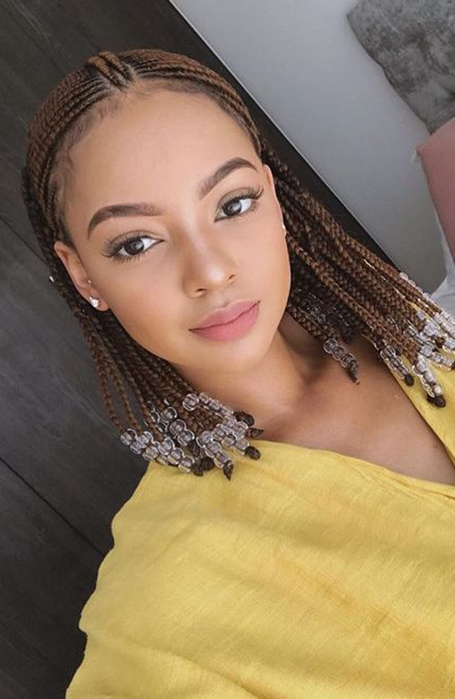 18. Lemonade Tribal Braids
Lemonade braids are close-braided cornrows that go from left to right rather than front to back. They were named after the style worn by Beyoncé on the cover of her album Lemonade. For a tribal version of lemonade braids, have your stylist braid your cornrows slightly further apart so that more of your scalp is visible, and add beads or rings.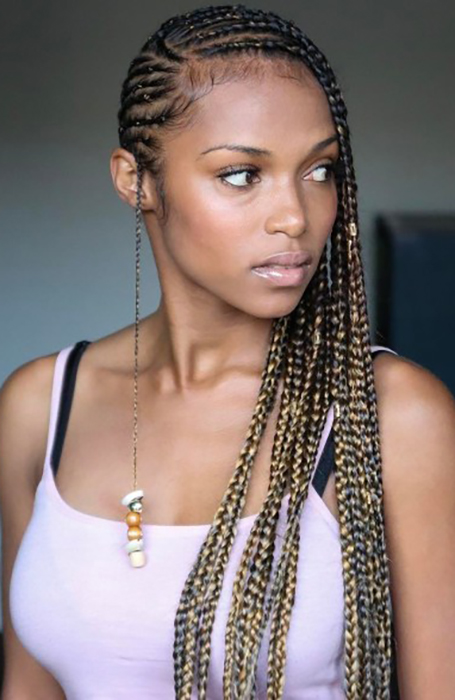 19. Tribal Braids with Curly Ends
For a beautiful and free-spirited look, leave the ends of your tribal braids loose and curly. For best results, try pairing curly ends with long, thin plaits. Unbraided ends also contrast beautifully with tighter braiding styles like box braids. Plus, the style takes less time to put in than a fully braided look.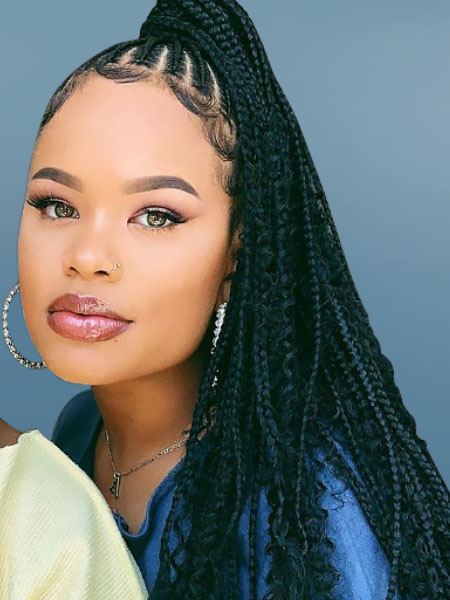 20. Triangle Part Tribal Braids
Box braids date back thousands of years and are thought to originate in Southern Africa. Triangle box braids get their name from the shape of the hair sections. Instead of the classic square – or box – each one forms a triangle. It's a unique twist on the usual box braid style and is a fun way to shake it up if you want a fresh look on a classic style.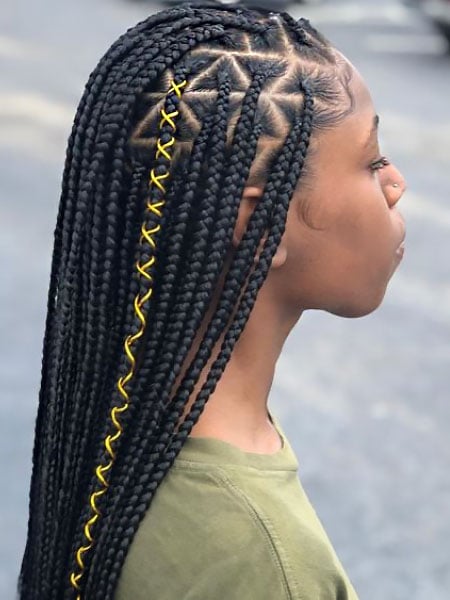 21. Tribal Braids with Rings and Cords
Rings and cords are traditional hair adornments in many African tribal cultures. They create a glamorous and unique look when combined with braids, as the rings' metallic finish or the cord's light color contrasts beautifully with black hair. Plus, you can switch out the adornments for a fresh new look at any time, as they don't have to be braided into your locks.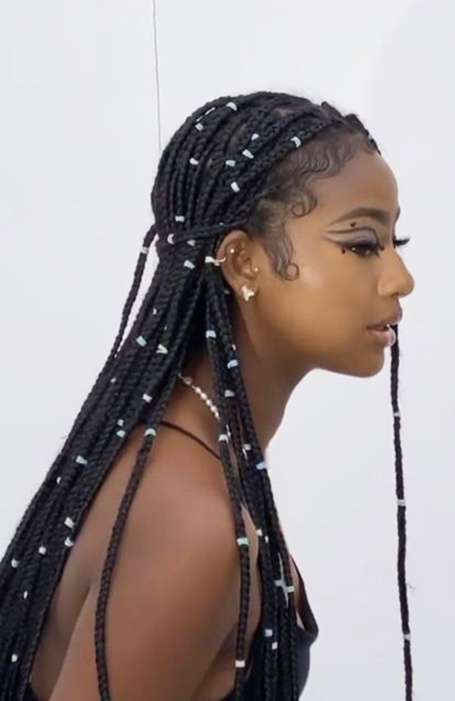 22. Box Braids with Top Knot
Box braids are a gorgeous traditional style on their own but look even more stunning when combined with a top knot. A twisted, braided top knot always stands out from the crowd and will give you a regal and confident look. Plus, the combination of a top knot with box braids adds height and lengthens the face, making this a very flattering combination.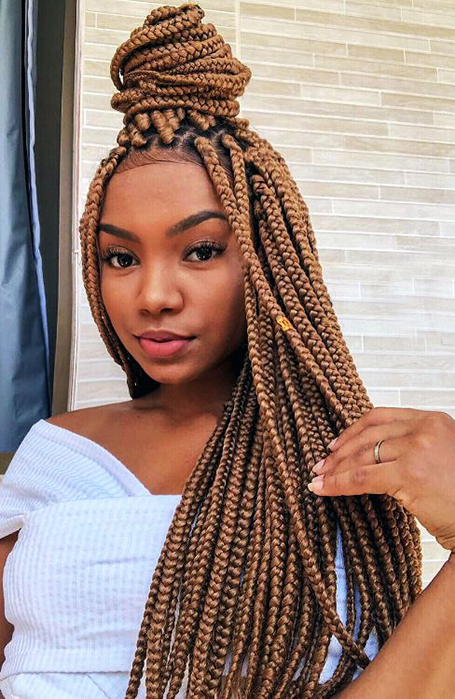 23. Tribal Braids with Half Top Bun
Like the top knot with box braids, the tribal braids with a half top bun hairstyle is a flattering look – particularly for those with rounder faces. However, it's a softer style with a more organic and laidback vibe, as the braids don't have the same uniform look as classic box braids. Leave some loose, curly tendrils to add to the pretty and feminine feel.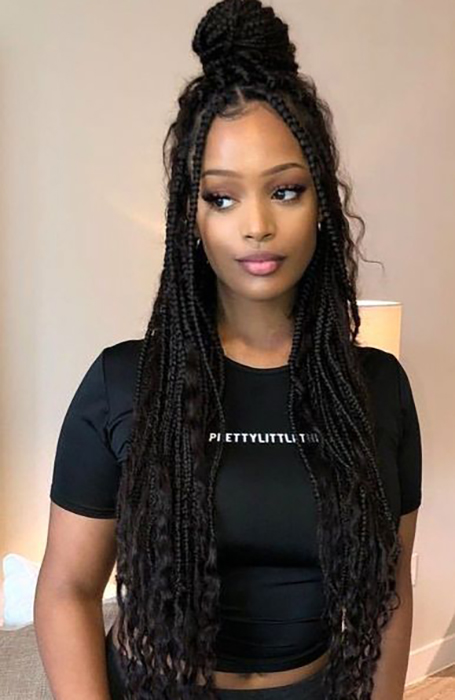 24. Senegalese Tribal Braids
Senegalese tribal braids, also known as Senegalese twists, have a signature silky, rope-like look that adds a glamorous touch to any look. Technically a twist rather than a braid, the style originated in the West African nation of Senegal and first became popular worldwide in the early 2000s. While based on traditional techniques, the twists use modern synthetic hair to create a glossy, smooth look.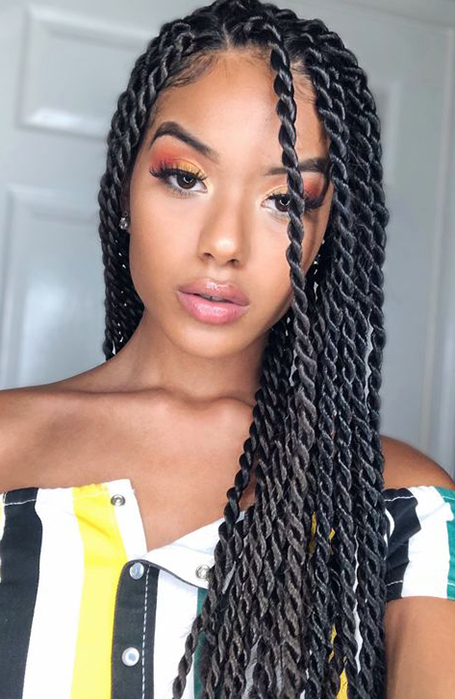 25. Tribal Feed in Braids with Cords
Feed-in braids are knotless, meaning your stylist will plait hair extensions into your real hair for a seamless finish. The result is longer, thicker braids that move naturally – perfect for creating different braided tribal styles, like Fulani braids. Longer sections of hair are also ideal for adding decorations like cords, which can be braided in or wrapped around your braids for a stylish look.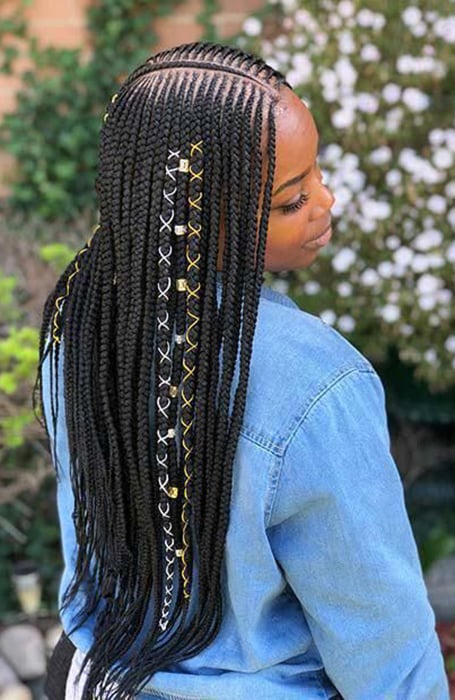 How to Do Tribal Braids
Feeling inspired by these gorgeous tribal braid hairstyles? Check out this video from IrenesBraids. In the clip, Irene demonstrates how to create a combined box braid-Fulani style. The front section of the hair features the traditional Fulani central braid and side braids, while the back section is filled out with classic box braids for a stylish tribal-meets-modern final look.
Tribal Braids FAQs
What are tribal braids?
'Tribal braids' is a term used to describe braiding patterns that have their roots in African cultures. They often incorporate several different types of braids, as well as decorative accessories like rings, beads, and shells. Some of the most famous tribal braid styles are Fulani braids, Ghana braids, and box braids.
How long do tribal braids last?
If your tribal braids are on the tighter side – such as Fulani braids – experts generally advise to keep them in for a maximum of five weeks. Box braids last a little longer – around six to eight weeks. As with all braided hairstyles, leaving them in too long can cause breakage and product build-up on your scalp. 
How much do tribal braids cost?
The price for tribal braids depends on several factors, including the length of the style, the complexity of the braiding pattern, how thick you want your braids, the quality of the braiding hair, where you live, and your stylist's experience and expertise. As a general rule, you can expect prices to start at around $200–$250.
How many packs of hair do you need for tribal braids?
For a full head of tribal braids – depending on the style and thickness of the braids – you will need around 5 to 8 packs of hair.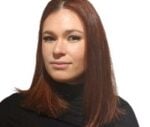 Arabella Roden is a skilled writer and sub-editor with over ten years of experience across print, digital, and B2B. She holds a Bachelor's Degree in Journalism and specializes in beauty, hairstyles, fashion, tattoos, and lifestyle topics. Arabella is currently the Chief Sub Editor at Mecca Brands and has been writing for The Trend Spotter since 2019.
SUBSCRIBE TO OUR NEWSLETTER
Subscribe to our mailing list and get interesting stuff and updates to your email inbox.