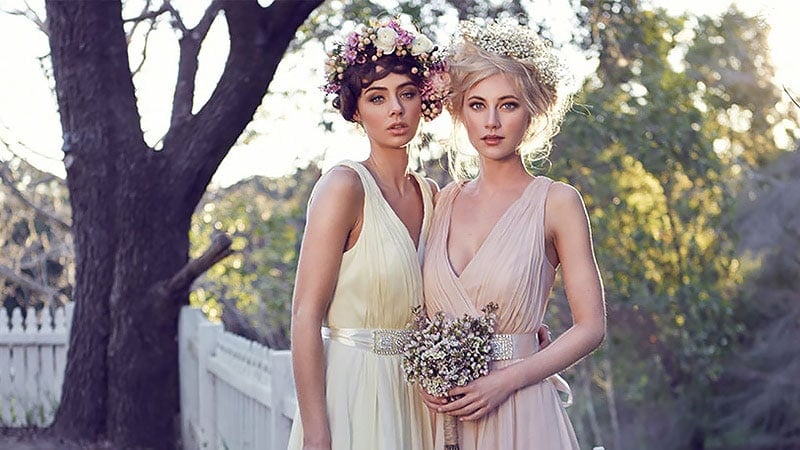 Selecting the perfect hairstyles for bridesmaids can be a challenging task. After all, their hair should complement their dresses, suit the style of the wedding, and look great in photographs. Then there's the added difficulty of deciding whether each bridesmaid should have a unique style or if they should all be the same. So, while it may be a seemingly small choice, a bridesmaid hairstyle can cause a whole lot of stress for brides-to-be. Luckily, if you're in this boat, we can help. To save you time scouring the web for the perfect 'do, we've curated a selection of stylish and beautiful options that you and your bridesmaids are sure to love.
RELATED: How to Choose the Perfect Bridesmaid Dresses
1. Crown Braid and High Bun
Buns and braids are as perfect together as the bride and groom. In particular, crown braids are elegant and unique, and they look seriously gorgeous around the base of a high bun. The style can be kept sleek or pulled out for something softer.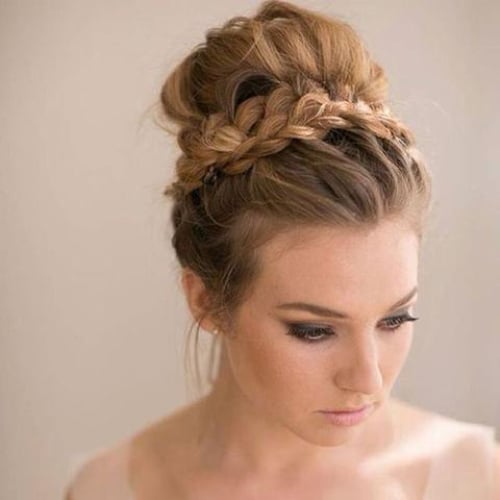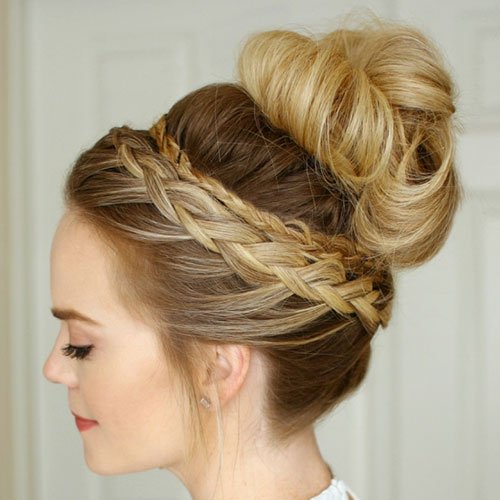 2. Smooth Bun Updo
A sleek bun is a classic bridesmaid look and perfect for a formal wedding. Pair it with floor-length bridesmaids gowns that feature embellished or high necklines and finish the look off with winged eyeliner.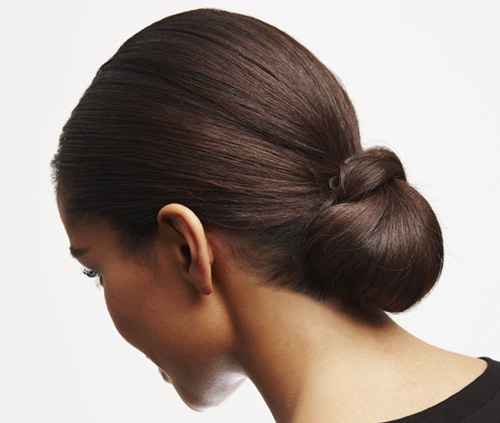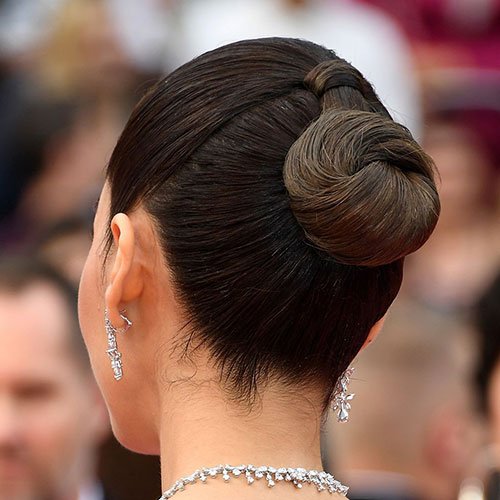 3. Textured Ponytail
Ponytails are often overlooked when it comes to bridesmaids' hairstyles. But, a curly ponytail sitting high at the crown is a stunning and flattering look. The style is perfect for a casual wedding, and most bridesmaids could even do it themselves.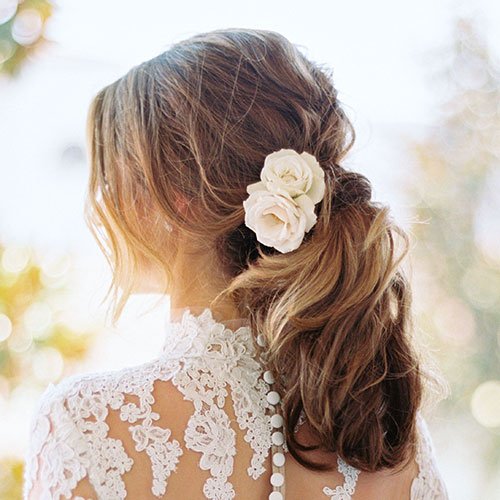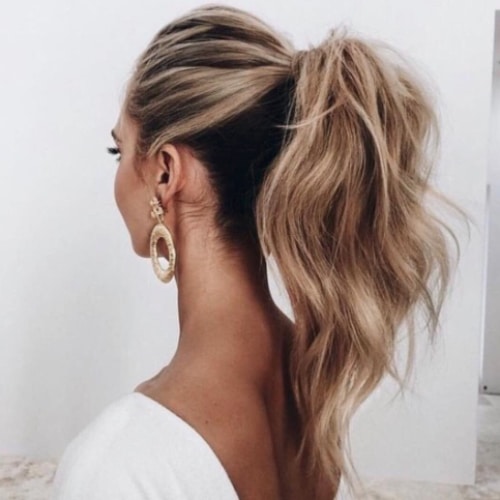 4. Braided Updo with Flowers
Give a standard braided bun a little floral flair by adding some flowers matching the bouquet throughout. The result will be a pretty and romantic look that'll appear great with a simple dress and small flowers.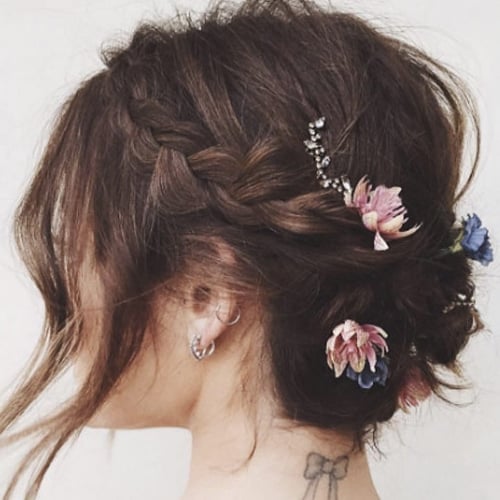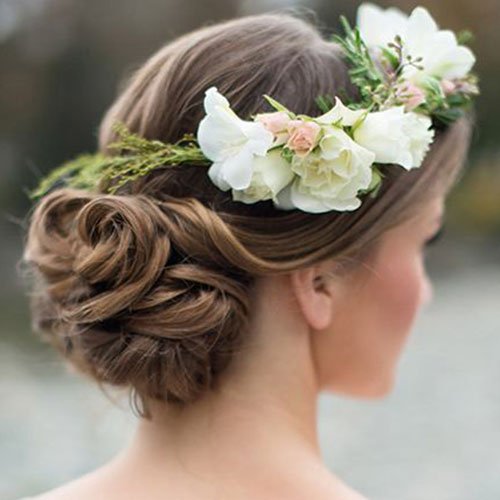 5. Loose Bun Updo
Loose buns are one of the most universally flattering hairstyles and will make all of your bridesmaids feel amazing. Just remember, this simple and stunning style works best with boho gowns and natural makeup.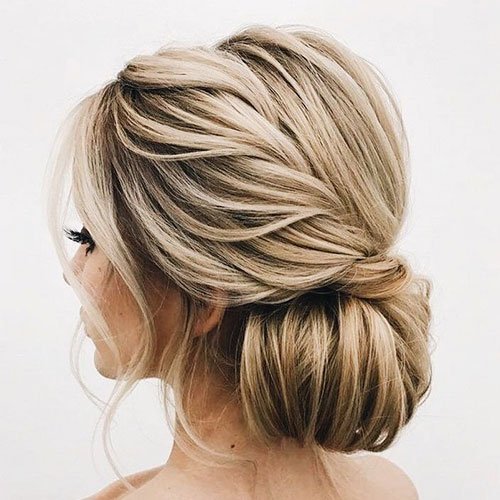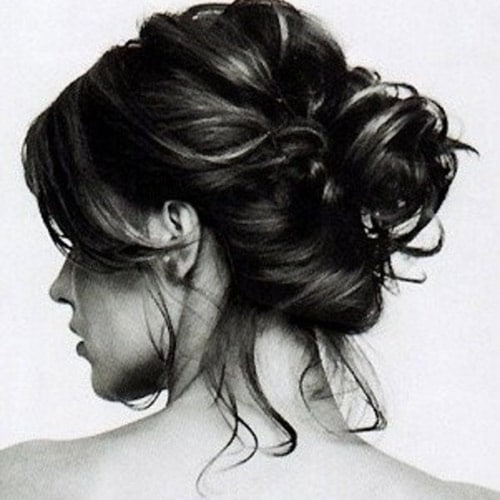 6. Curls Pulled to One Side
Bouncy curls pushed to one of is one the most classic bridesmaid hairstyles. It is simple, stunning, and easy enough to DIY. Style the curls as tight or as loose as you'd like and secure to one side by placing a few bobby pins underneath. Cover the pins using the top layer of hair and voila!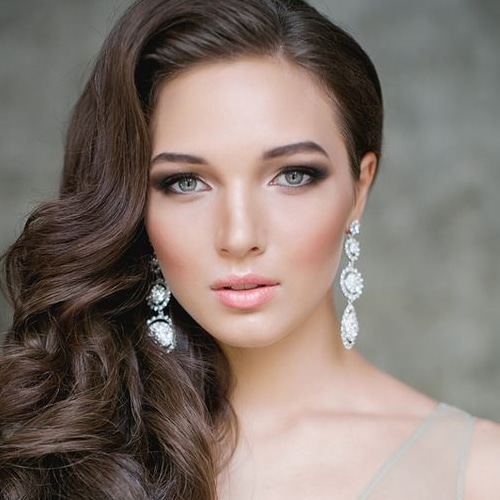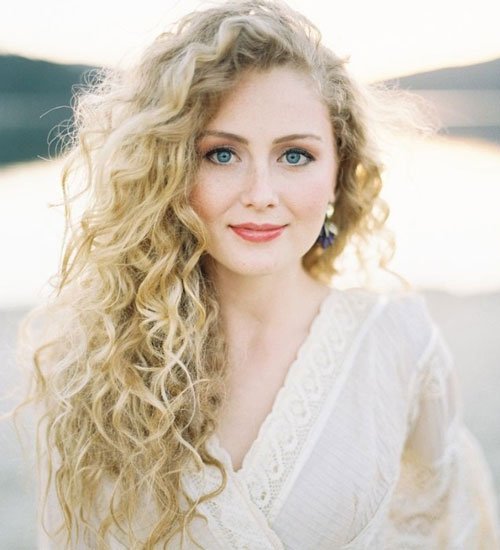 7. Hair Tucked Behind Ear
For a softer, more flattering take on the curls pulled to one side style, try tucking a small section of hair behind one ear. Then, let the rest of the hair fall naturally. Style with soft waves and statement earrings for a vintage look.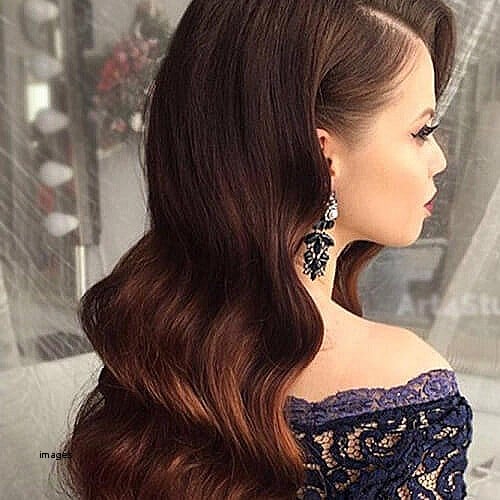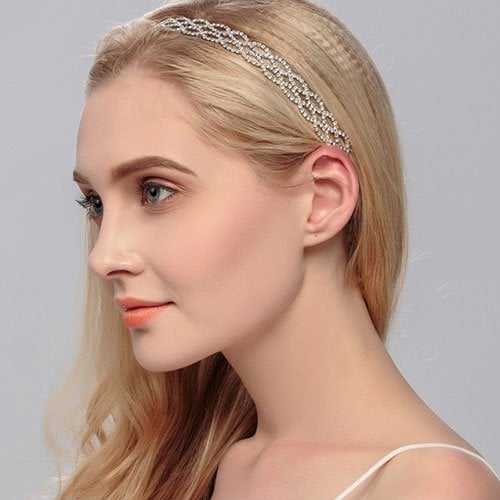 8. Slicked Back Hairstyle
If you're after a modern and edgy hairstyle for your bridesmaids, try a slicked-back look. While this style is on-trend right now, it's also simple enough that it won't look dated when you look back on pictures in the future. To nail the look, keep the dresses and accessories minimal and let the hair speak for itself.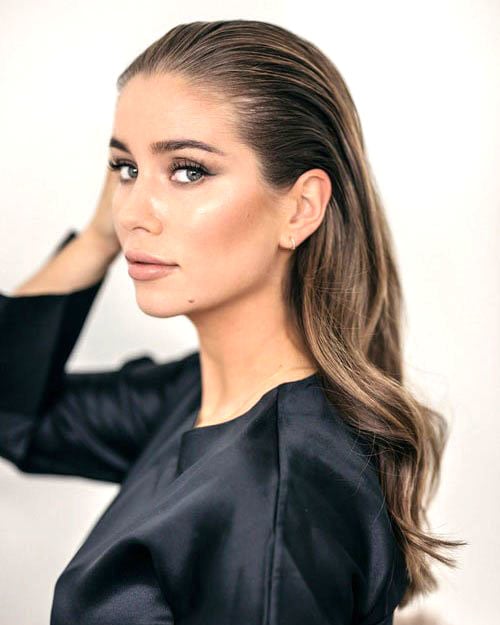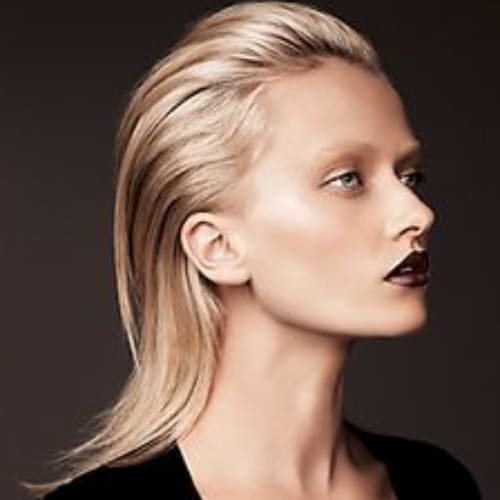 9. Vintage Curls
Loose vintage curls are timeless, elegant, and flattering for almost every face shape. The super glamorous style will have your bridesmaids feeling as amazing as they look.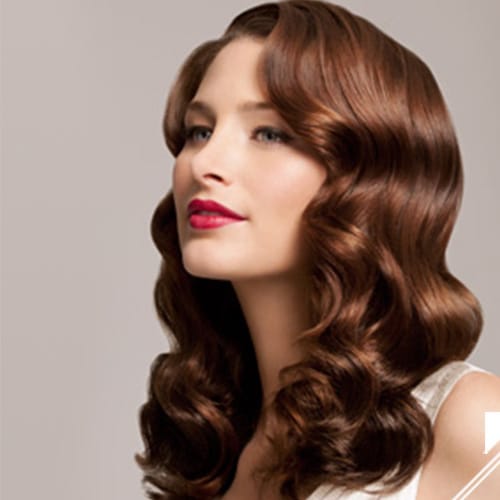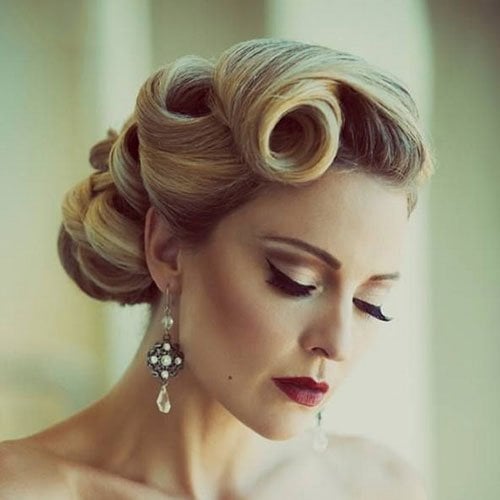 10. Straight and Simple
There are a few styles that are more sleek and elegant than dead straight hair. Not only is it flattering, smooth, and striking, but it's also not a style we often see at weddings. So, if you're looking to stand out, consider having your bridesmaids go for a sleek, straight hairstyle with a simple middle part.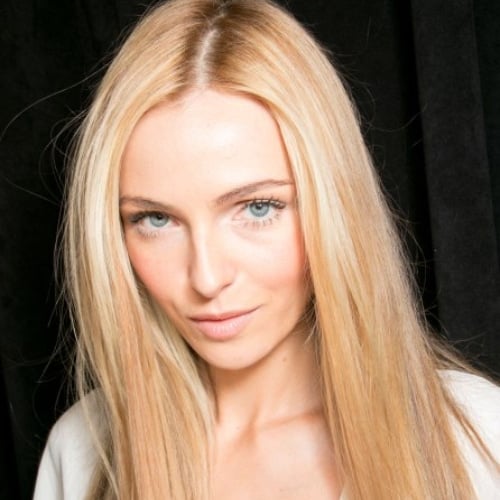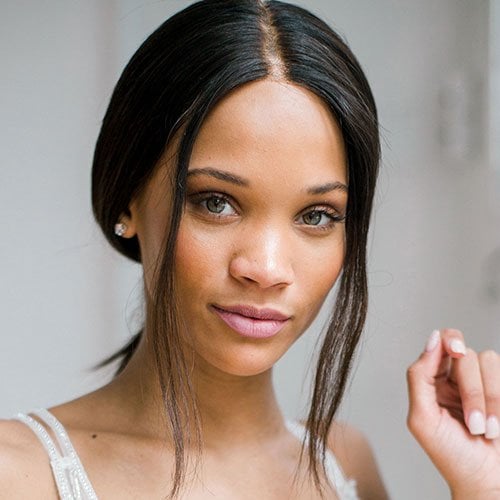 11. Waterfall Braids
Waterfall braids are a fun and unique take on a standard braided style. The cascading hair creates a stunning and soft look that's ideal for any bridesmaid. For something extra special, you could even try a beautiful double waterfall braid.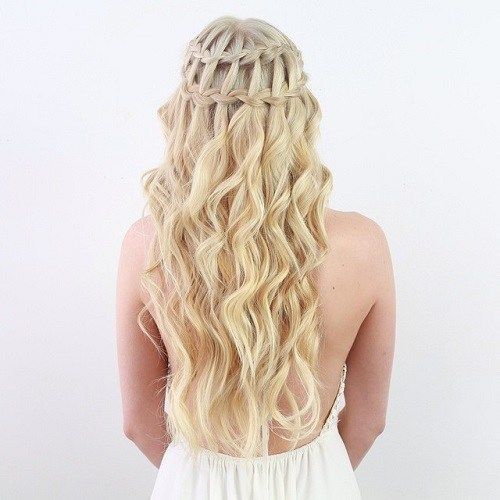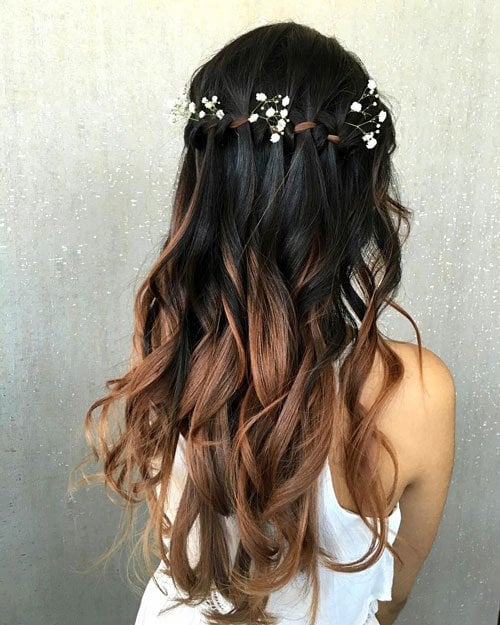 12. Headband Braid and Curly Hair
Headband braids and curls are a perfect pair. The best part about this style is that can be as tight or as loose as you like. So it'll look equally as stunning for formal or boho weddings.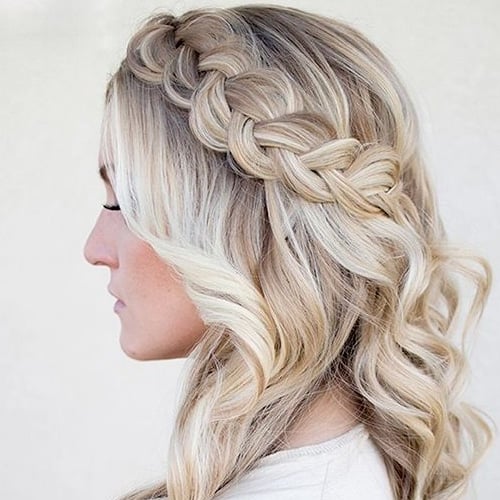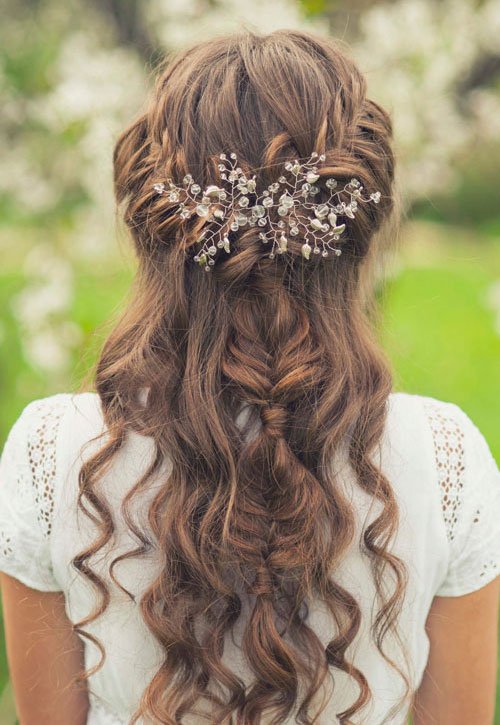 13. Top Knot
Top knots are one of the biggest trends in hair right now. So, why not try them for your bridesmaids? You might think this look is too casual, but we assure you a simple top knot and loose curls will look stunning and effortless.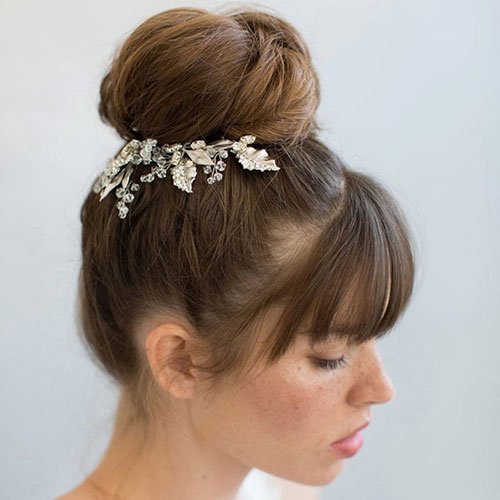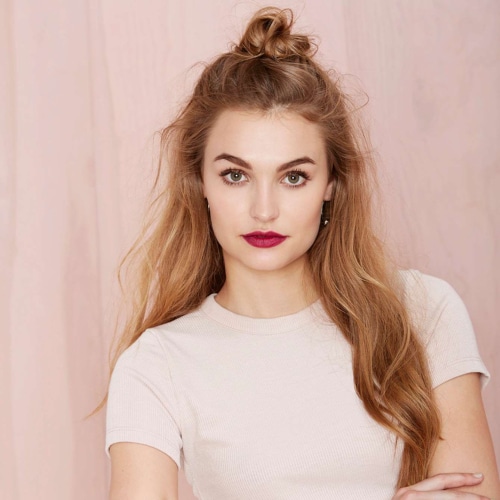 14. Half Up Half Down with Twists
Half up half down twists are a softer alternative to braids and, if you're looking to save a little money, you can do them at home. To create the look, loosely curl the hair and coat the tips of your fingers with a small amount of wax. Then, starting with a section from the front, twist backward, picking up more hair as you go. Repeat on the other side. Finally, connect the two sides at the back of the head and secure with a clear elastic.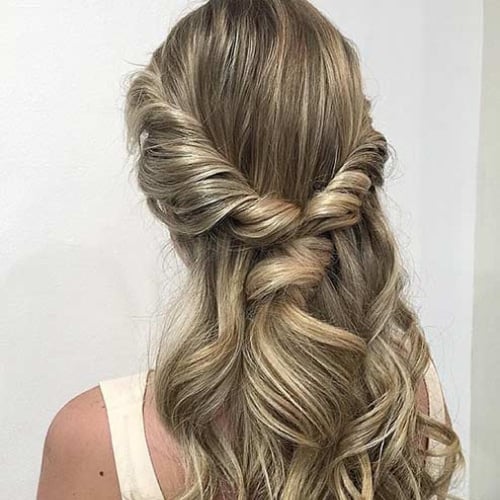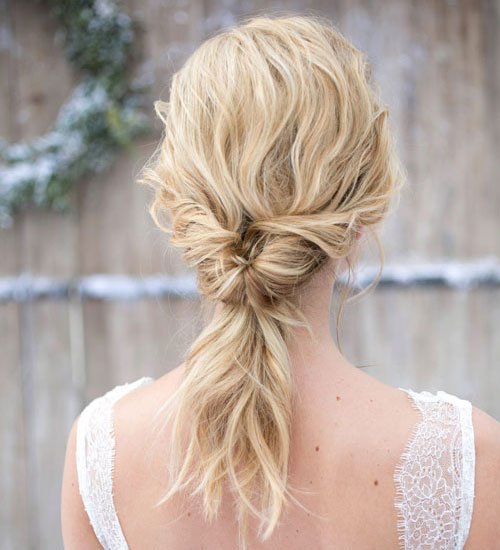 15. Half Up with Accessories
Add a little flair to a traditional half up half down braided hairdo by adding some smaller flowers or accessories. If you're wearing a hair clip or crown, try something similar yet more subtle in your bridesmaids' hair. Doing so will tie all the looks together.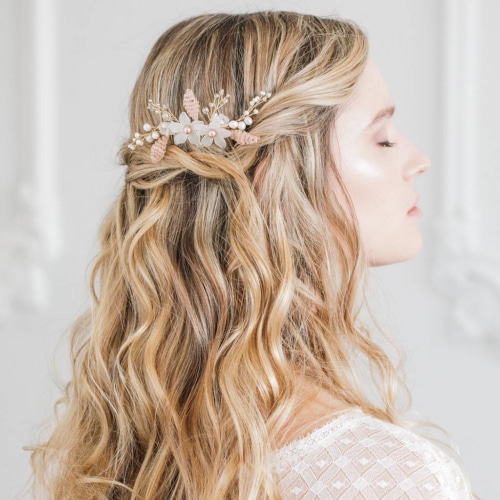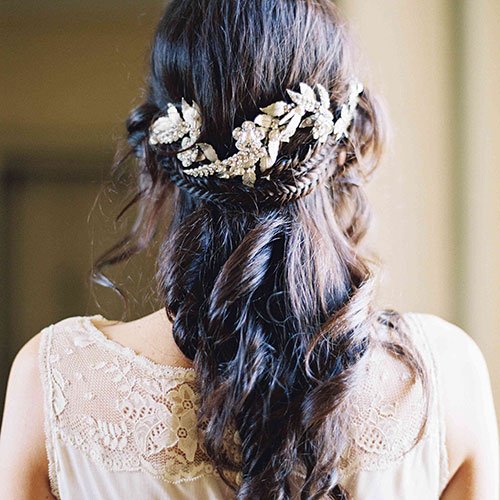 16. Low Bun
The low bun hairstyle is a more relaxed approach to the classic bun and it is also more versatile. This is an excellent option for women of all hair lengths and textures and can look chic and romantic. You can also accessorize it with hair vines or pearl clips to give it a more bridesmaid-approved finish.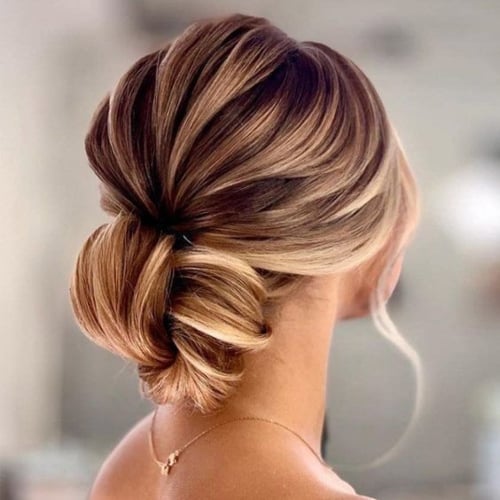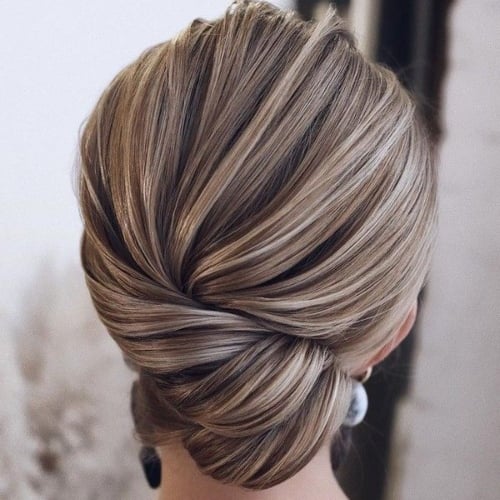 17. High Ponytail
The high ponytail is a look that demands attention and can be incredibly sophisticated. It looks neat and polished when worn sleek and straight, with the hair secured so that it is away from the face. This can be a great way to highlight your features and can be incredibly flattering. You will need a medium to long hair length to pull off the high ponytail.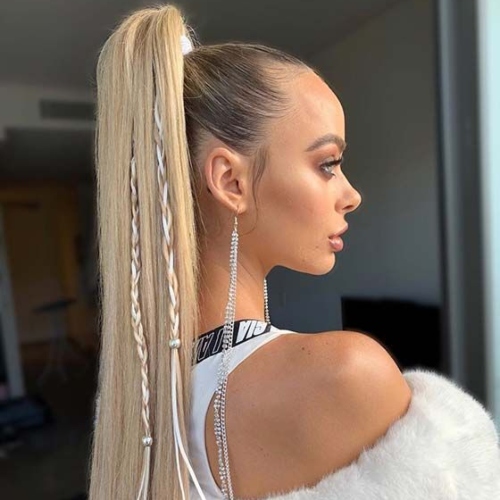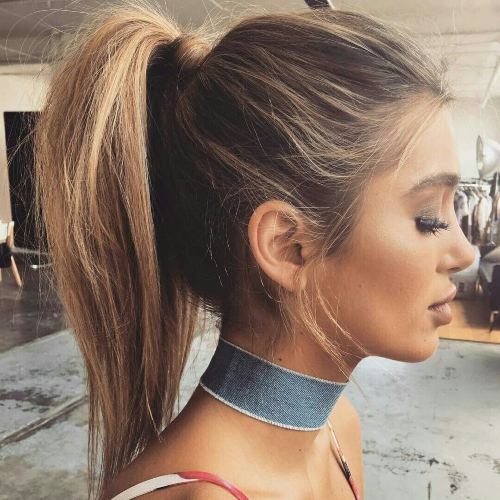 18. Low Ponytail
The low ponytail is a stylish alternative to the high ponytail. It feels more casual and is ideal for a boho wedding or a more informal celebration. This version of the ponytail also gives you more versatility and because it is worn lower, it is suitable for shorter hair lengths. It also complements all hair textures.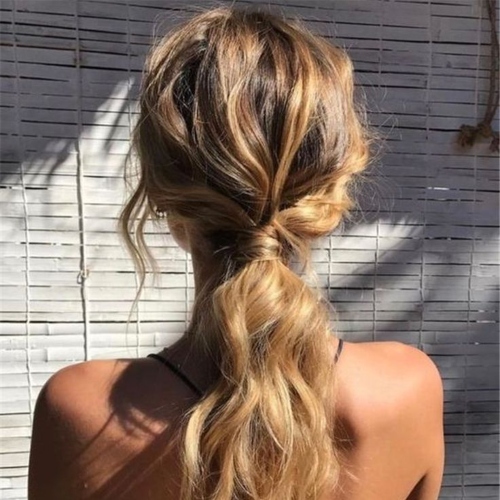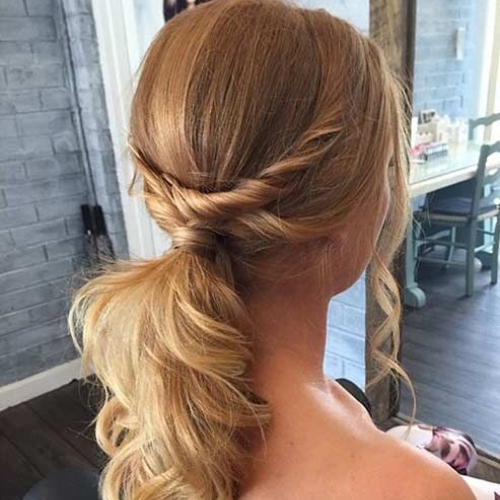 19. Fishtail Braid
The fishtail braid is one of the most intricate and beautiful braided styles you can choose. It is an excellent choice for a bridesmaid and complements most hair textures. The braid starts at the crown and works downward in the center. You can also opt for a modern approach to the classic fishtail by tying it into a bun.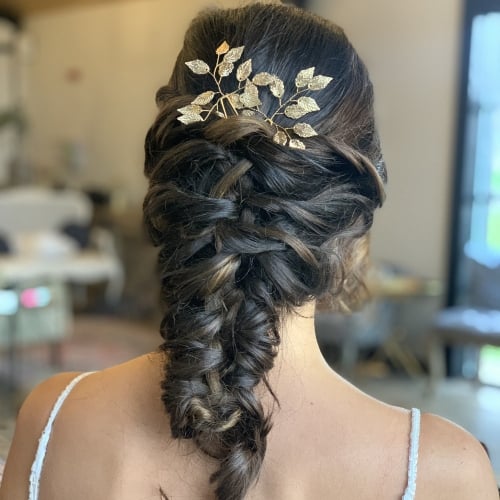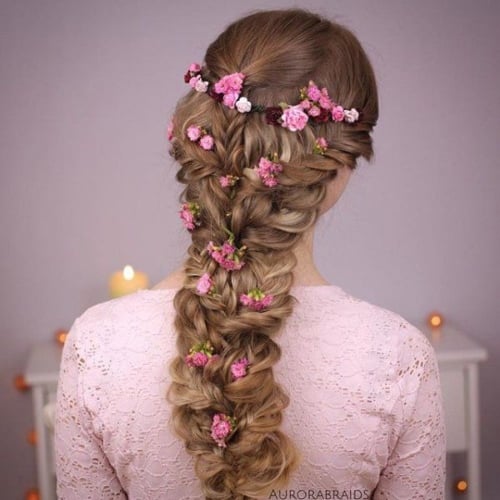 20. Dutch Braid
The Dutch braid is one of the most common braided styles because of its versatility. It is created by sectioning the hair into three strands that are crossed underneath each other. It can be styled in various ways, depending on your preference for your bridesmaid's hair length and texture.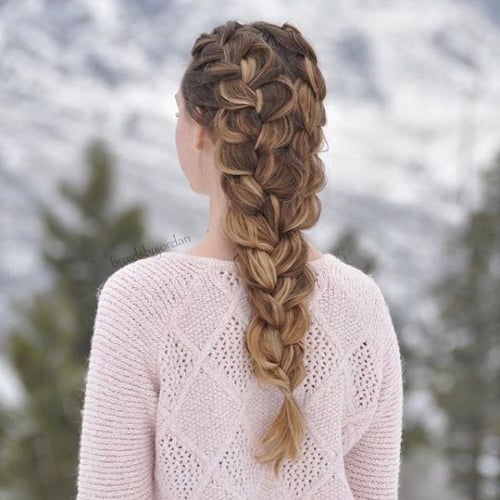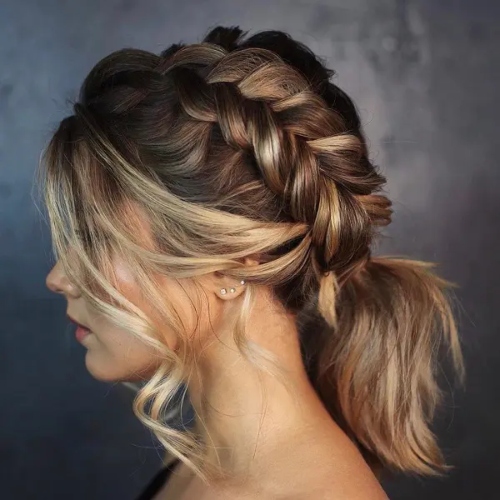 21. Chignon with Face Framing Pieces
The classic chignon is timeless and elegant. It is created by pinning the hair into a knot and secured at the nape of the neck. If you want to update the look to make it more modern, this can be done by keeping a few strands of hair loose around the hairline. The hair will frame the face, highlighting your features. This can be incredibly flattering.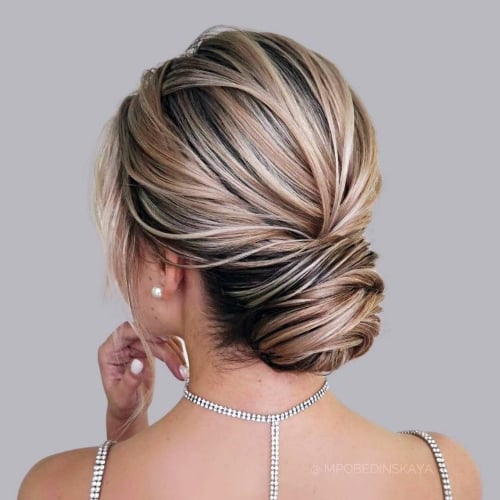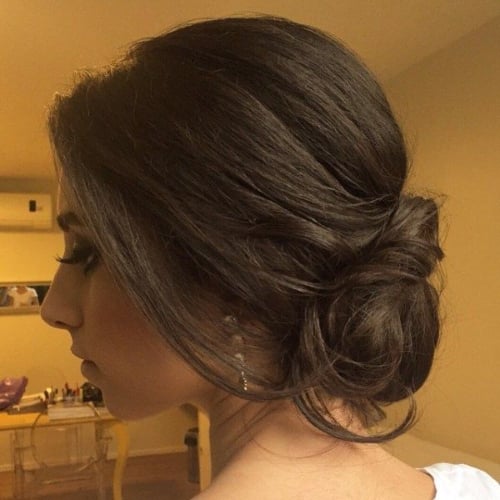 22. Beachy Waves
If you want a gorgeous look to show off your bridesmaid's hair texture, then beachy waves are it. This is a popular style that will complement naturally textured hair and looks carefree and romantic. This is the ideal option for those wanting to achieve a boho-chic vibe and the look lends itself well to accessories.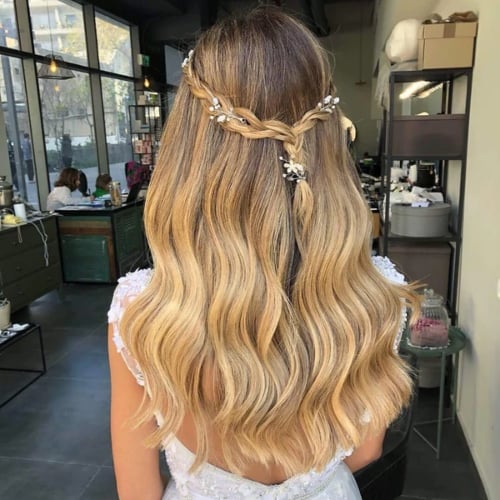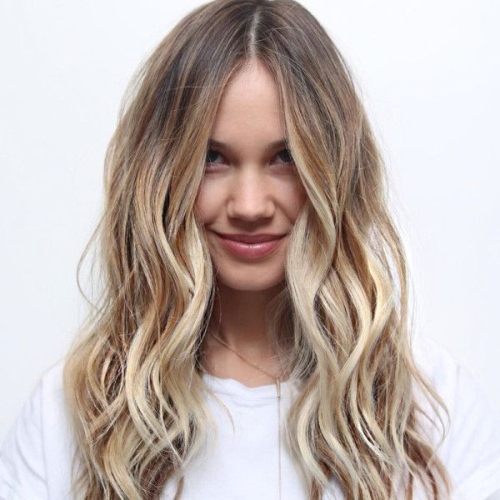 23. Twisted Bun
The twisted bun is effortlessly chic and is the ideal bridesmaid hairstyle because it is simple, yet beautiful. It is created by twisting the hair on either side of the head and securing it into a bun at the back. Pulling the hair away from the face in this way will also highlight your features.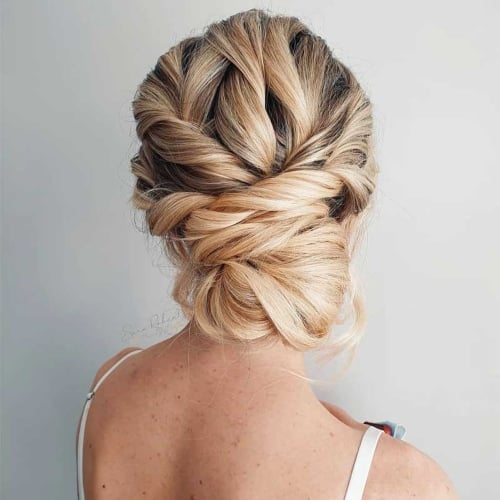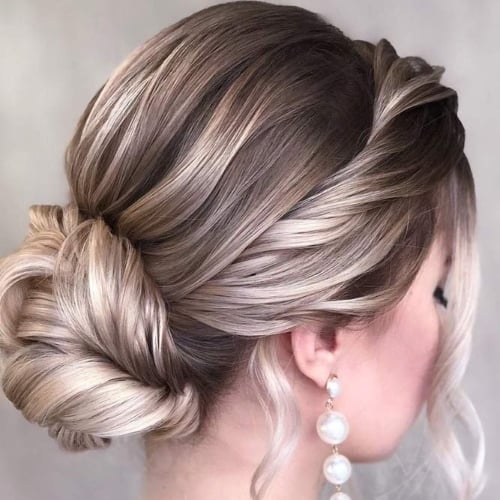 24. Half Up and Half Down Bun
The half up and half down hairstyle is loved because of its versatility. It can be styled in various ways and adapted to suit all hair lengths and textures. The style gives you the best of both worlds, pulling the hair away from the face and opening it up, while also letting you show off your hair texture.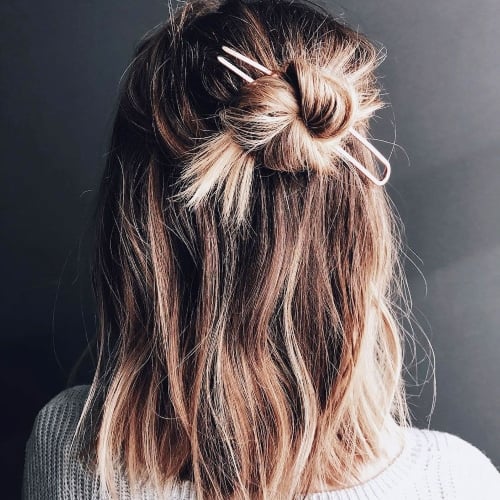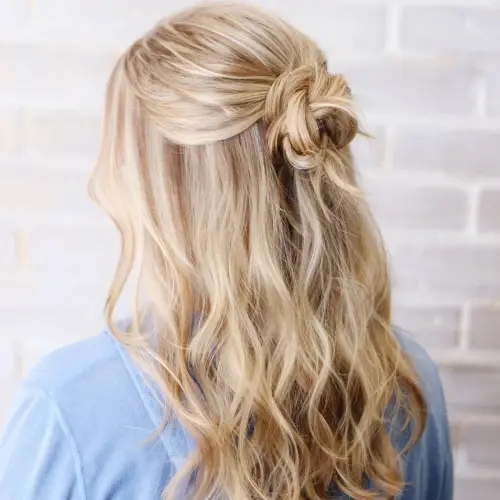 25. Flower Braid
Flower hair accessories are popular for weddings, but instead of opting for the standard vines for your bridesmaid's hair, you can create a look that transforms their hair into a flower. The flower braid is defined by the flower shape that it creates and looks great when the rest of the hair is left down.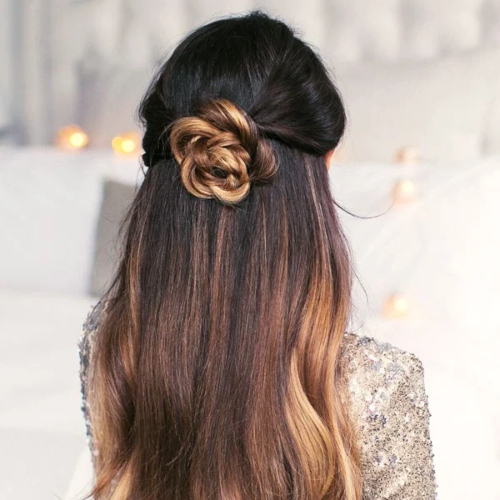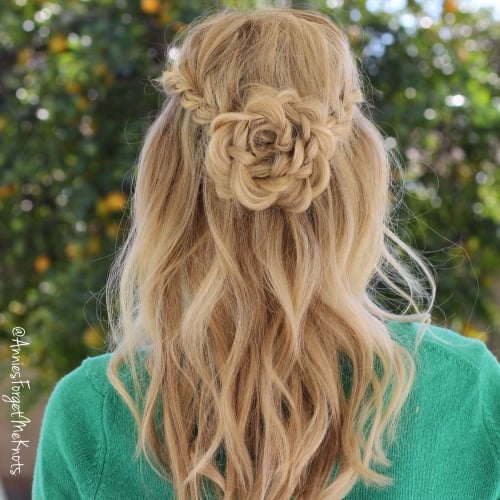 26. Messy Bun
Bridesmaids are an important part of any wedding celebration and you want them to feel special and look great. An excellent choice for their hairstyles is the messy bun which is a simple but romantic hairstyle that is incredibly versatile. The deliberately unstructured finish lets you show off the hair texture.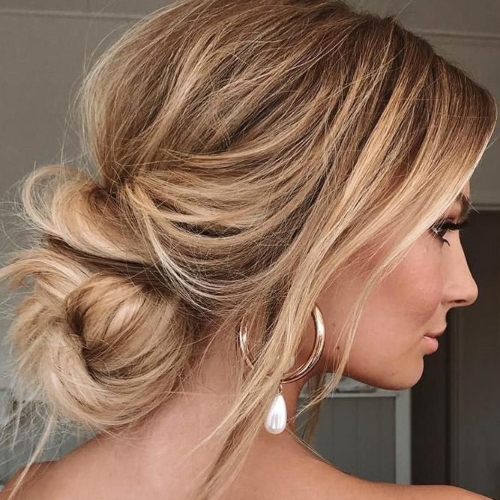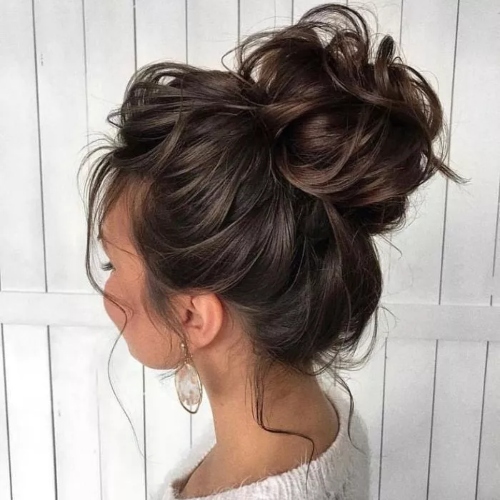 27. Simple Updo
Sometimes the best looks are those that require the least effort. If you prefer a minimalist approach to things then the simple updo is ideal. What you choose depends on your preference, it could be securing the hair with a clip, a simple twist, or a classic bun. The beauty is in simplicity.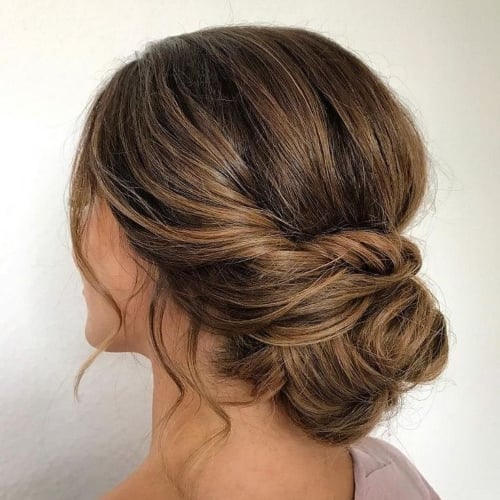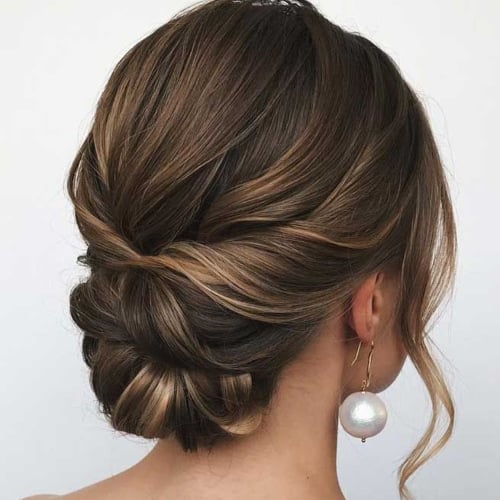 28. French Twist
For those who love a classic hairstyle, the French twist is what you need. It is created by twisting the hair until it folds on itself and is then secured with hairspray and bobby pins, or similar accessories. The look is ideal for women of all ages and is incredibly sophisticated.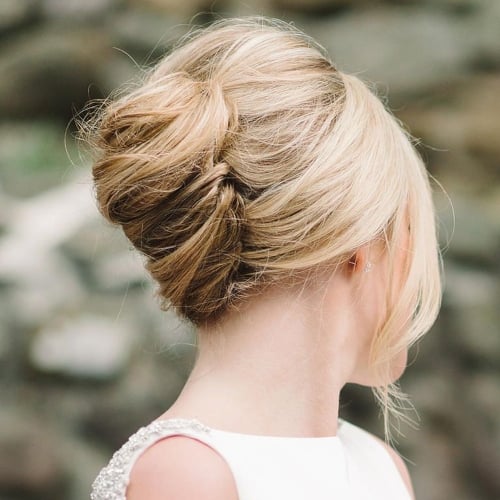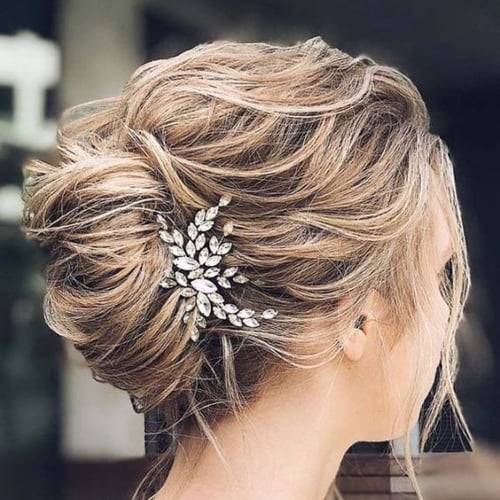 29. Cornrow Updo
Cornrows are one of the most popular protective styles because of their longevity and versatility. They are created using the underhand technique and can be added to hair of various lengths. You can experiment with the size of the braids and how many you want to add. You can also style it in different ways, including working the hair into a chic updo.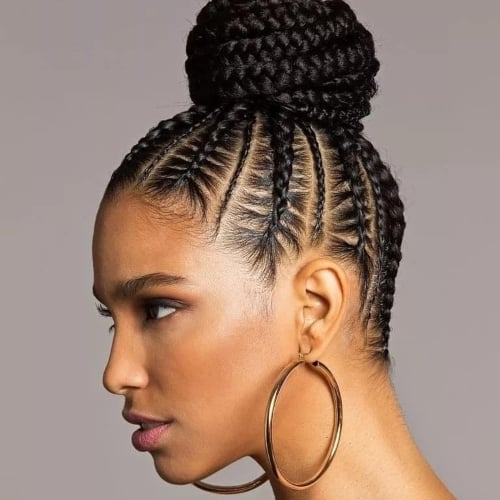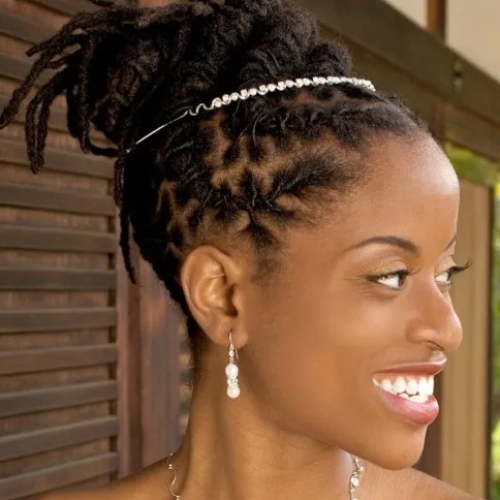 30. Updo with Wispy Bangs
Bangs are an excellent addition to any hairstyle. They can be created on all hair textures and can be cut to various thicknesses. However, the most versatile approach is wispy bangs. These piece-y, barely-there bangs will create a soft and romantic finish and can frame the face. They also complement thin and fine hair.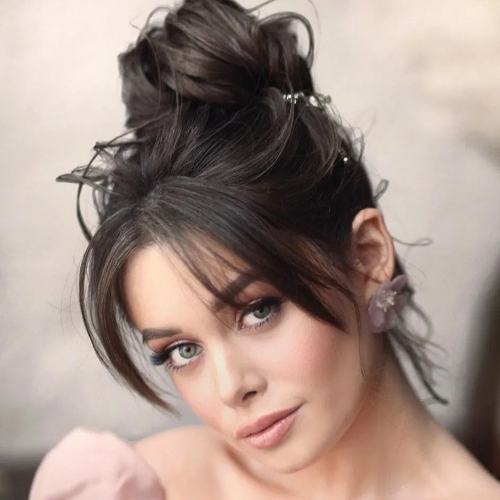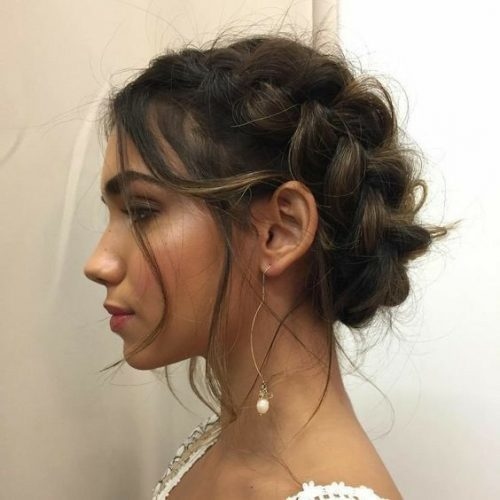 Bridesmaids Hairstyles FAQs
Should bridesmaids wear their hair up or down?
Your bridesmaids can wear their hair either up or down, depending on the look you're going for. When deciding, it's a good idea to consider what their dresses look like, what the wedding's theme is, and what the weather will be like. Of course, you'll also need to think about each person's hair length as well, as some styles work better on different lengths. Finally, your bridesmaid's face shapes might also come into play, as some shapes look better with up or down styles.
How do I choose my bridesmaids hairstyle?
There's a lot to consider when deciding what hairstyle you'd like your bridesmaids to have. What do their dresses look like? What's the theme of the wedding? How long is their hair? What will the weather be like? What are you doing with your hair? Use Pinterest to look for ideas, chat with your hairstylist for professional thoughts, and of course, you can consult your bridesmaids too. Just remember, as beautiful as they will be, you'll be the center of attention on the day.
Do bridesmaids pay for their hair?
This will depend a lot on the bride and groom. Some brides pay for everything, some choose to split the cost, and some ask their bridal party to pay for their outfits, hair, and makeup. The most important thing is to be clear about expectations when asking someone to participate in your special day. No-one wants to be put in financial distress, so be upfront about costs and let them decide if it can fit in their budget. Importantly, don't take it personally if they can't say yes for financial reasons.
Do bridesmaids have the same hairstyle?
Bridesmaids don't have to have the same hairstyle, and you can change it up depending on their style and face shape. It can be nice to have linking elements, such as all up, all down, all curled, all braided, but it's entirely up to you.
SUBSCRIBE TO OUR NEWSLETTER
Subscribe to our mailing list and get interesting stuff and updates to your email inbox.