Whether she's touring the globe, hitting the hottest red carpets or simply hanging out with friends, Rihanna knows what it takes always to look stylish. While other celebrities blindly follow trends and play it safe with their sartorial choices, "Bad Gal RiRi" mixes it up with bold looks that perfectly represent her naturally confident personality. From grunge-style, supersized hoodies to sexy, satin, slip dresses, this singer-cum-designer oozes sensual, feminine fashion with an edgy dose of tomboy attitude. Her unique ability to balance proportions and match pieces that normally wouldn't work together make her a master in styling and someone we can all learn a thing or two. Here are the top ten style lessons that we have learned from the superstar that you can take into your own wardrobe.
Rihanna's Style
Ripped-Knee Skinny Jeans
Rihanna's style works so well because she has a knack for balancing chic, feminine pieces with raw, grunge details. One of her most simple ways to achieve this balance is to throw on a pair of ripped-knee, skinny or slim-leg jeans. While the tight fit of the skinny jeans hugs Rihanna's legs, showing off her feminine physique, the open, ripped knees add a messy and rough touch that takes the look beyond the ordinary. Rihanna chooses a mid-blue wash for her jeans in order to nail this look (darker washes and blacks may appear to grunge, while lighter blues and whites may make the style appear more feminine).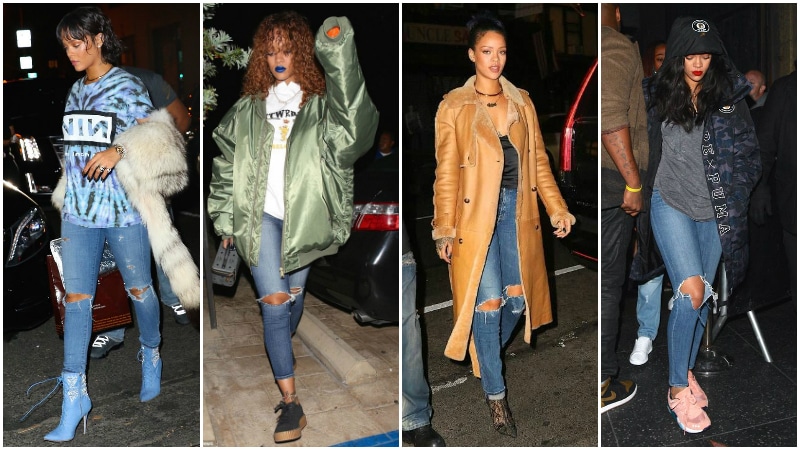 Supersized Jackets and Jumpers
While Rihanna loves a sexy, feminine look, she also likes to change things up with masculine details, such as supersized jackets and jumpers. These extreme styles surpass the usual oversized look and take things to a dramatic next level. While fashion certainly isn't all about showing off your body, the key to pulling off this style is to keep your bottom half slim and minimal with bare legs, tight pants, or leg-hugging boots. If you do decide to wear loose or slouchy pants, make sure that your hair and makeup is on point to avoid looking sloppy.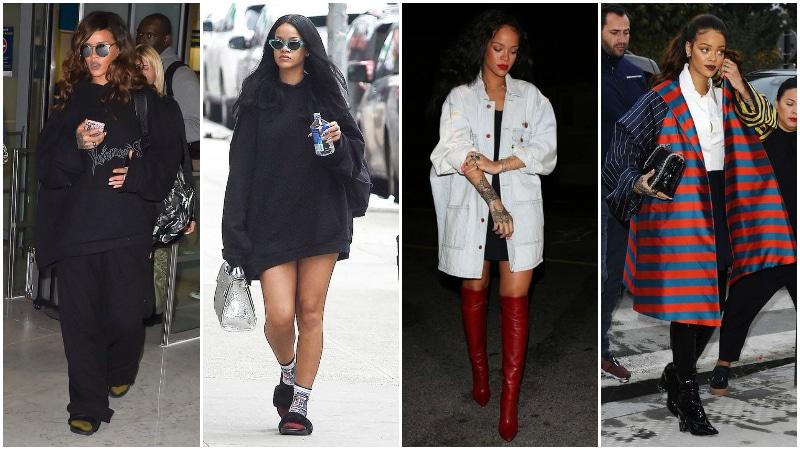 Satin Slip Dresses
With the recent resurgence of '90s trends, Rihanna is but one of a slew of stylish celebrities to re-embrace the classic, satin slip dress. Whether she chooses a mini, midi or maxi length, the 28-year-old makes this style work for her by dressing it up with some simple, strappy stilettos and light jewelry. While black is always a timeless and flattering shade, Rihanna ups the ante on this trend with bold, jewel-hued styles. Try the look for yourself at your next appropriate evening event, or layer a T-shirt underneath and pair it with sneakers for an effortless daytime look.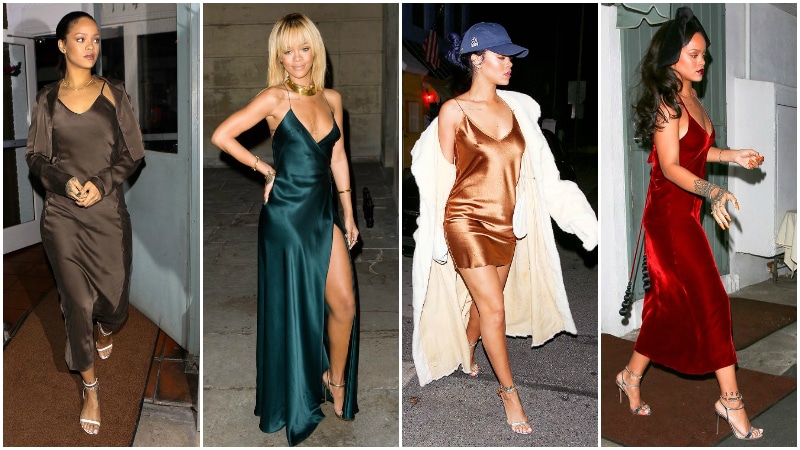 All Over Pastels
Like all of us, Rihanna loves a bit of black in her wardrobe, but she also knows when a healthy dose of color is needed. While she looks great in just about every color, Rihanna loves to spice up her style with some feminine pastels. Whether she's wearing baby blue, soft pink, mint green, or light lavender, the singer keeps the look consistent with her signature bold style by wearing the hue head-to-toe. Add in some chic accessories, and you have a divine look that is sure to get you noticed.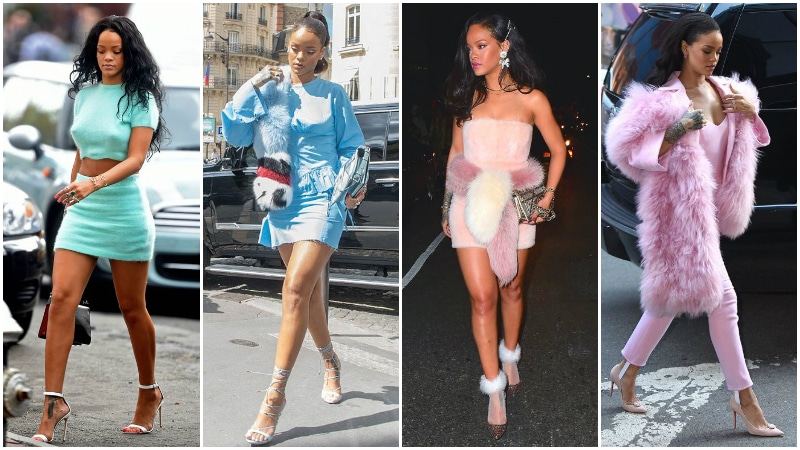 Fur Coats
Rihanna's love of thick, statement outerwear extends past jackets and jumpers and into coats. The Fenty designer loves to finish off a polished look with a thick fur coat and often chooses unique styles and interesting colors to do so. The eye-catching, textural garments create an unmissable, feminine outfit feature that Rihanna pairs with everything from eveningwear and stilettoes to casualwear and sneakers. Recreate this stylish look for yourself by choosing a faux fur coat that you can wear all winter long.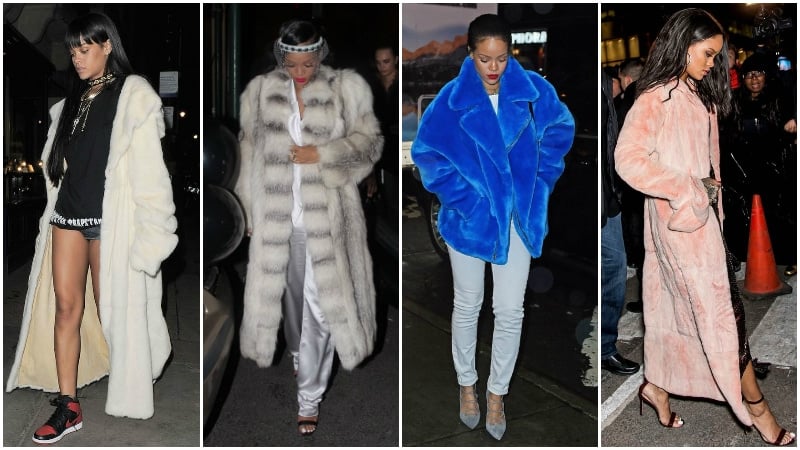 Thigh-High Boots
Clothes are, of course, what fashion is all about. Sometimes, though, a killer pair of shoes can say more than any item of clothing in your closet. Rihanna's much-loved thigh-high boots make that statement and more with their unapologetic style. Cool, chic, bold, sexy, and filled with attitude are just a few words that describe both these boots and the singer wearing them. While you may not be ready for boots that go all the way up the leg, definitely invest in some over-the-knee boots if you haven't already.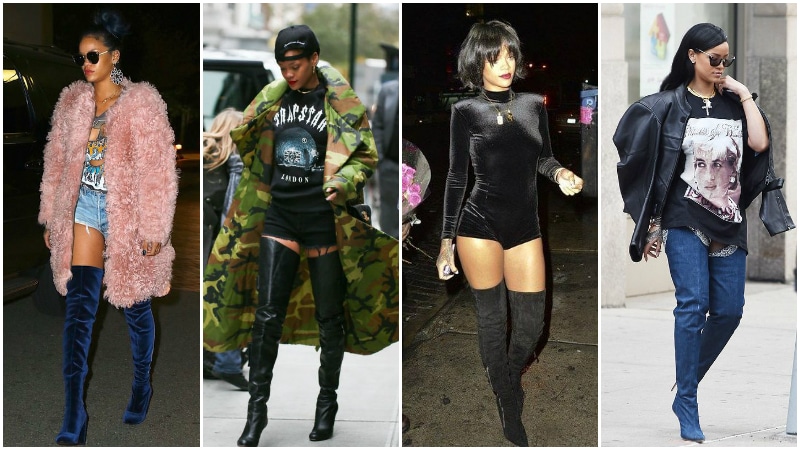 Caps
Rihanna's tomboy edge is complete with one simple accessory: caps. The basic hat, which was once reserved for baseball games and teenage boys, is now a style staple bridging both "normcore" and athleisure into everyday wear. Rihanna adds the easy accessory to both casual and more dressed-up looks for an expectedly relaxed touch. When wearing a cap for an evening look, add some bold lipstick to elevate the style and keep your look chic.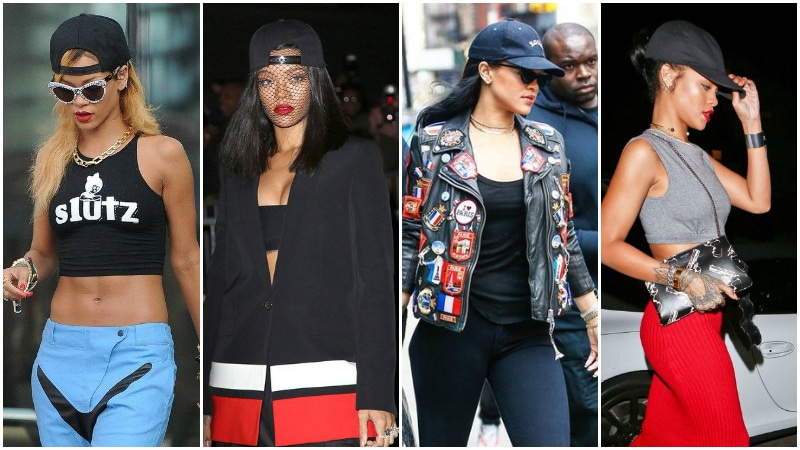 Hoop Earrings
Everyone's favorite '90s style earrings are back, and we love them. Rihanna does, too, by the looks of things, as she has been sporting hoop earrings to numerous events and outings in recent months. The stylish celeb chooses simple silver or gold styles of hoops that are both thin and large. As a general rule, the bigger and thicker your hoop earrings are, the more impact they will have, so be careful not to overdo it. For the ultimate '90s style, complete your jewelry look with a choker necklace.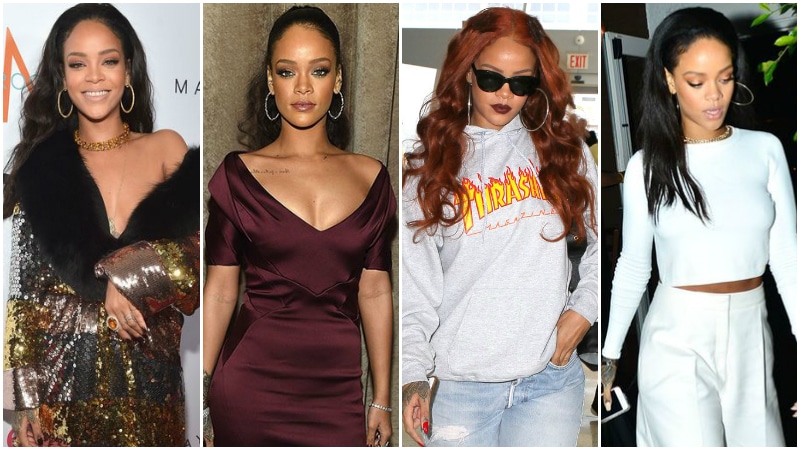 Dark Berry Lips
While Rihanna's style is a skill, her beauty is natural. That doesn't mean that we can't learn a thing or two from her makeup routine, though. Rihanna's go-to beauty look is a dark, berry lip, and it's easy to see why. While the hue looks fabulous on her, it also matches her style with its gorgeous, sultry shade and bold, attitude-heavy appearance. Add this color to your own beauty bag for those nights when pink lipstick is too girly, and a bright red is too classic.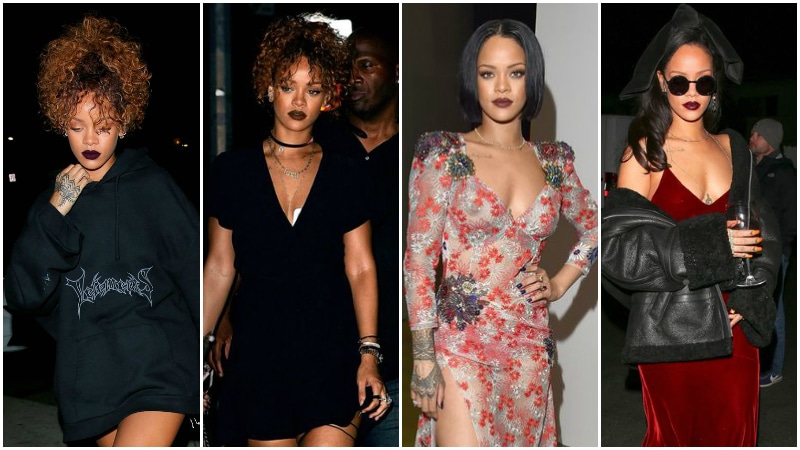 Voluminous Curls
Rihanna's confidence extends past her wardrobe and to her hair, where she embraces a myriad of different styles and colors. While we love RiRi's hair in its many varieties (pixie, sleek bob, and long waves, to name a few), nothing beats her natural, voluminous curls. Her tight ringlet curls are as wild as her personality, and she embraces them thoroughly. So if you have natural hair like Rihanna's, take a page out of her book and embrace them. Just remember to take care of them with the right moisture-rich products and curl-enhancing creams.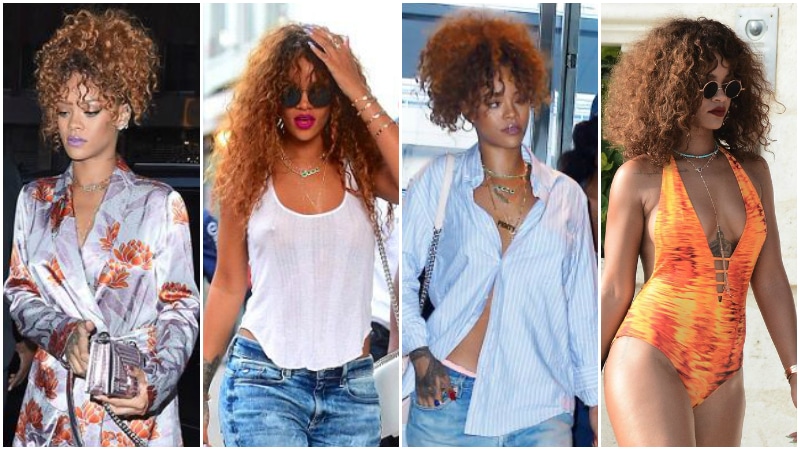 SUBSCRIBE TO OUR NEWSLETTER
Subscribe to our mailing list and get interesting stuff and updates to your email inbox.