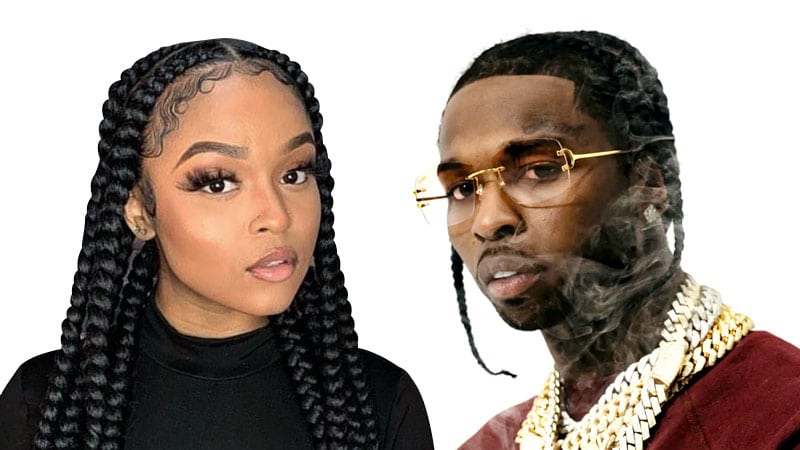 Pop Smoke braids are a fantastic protective style for natural hair, and there's a good reason it has been rising in popularity in recent years. It was inspired by the late rapper Pop Smoke, hence the name, and has a very distinctive look that provides an opportunity to get creative with your hair. The beauty of this hairstyle is its versatility, and it can be worn by both men and women and suits different hair textures, lengths, and hair types. You can also experiment with color, accessories, and partings. For all the information you need for your next cool hairstyle, keep reading.
What are Pop Smoke Braids?
Pop smoke braids are a hairstyle that has become increasingly popular over the last few years. It was inspired by the late rapper Pop Smoke, who wore his hair very distinctly. The look can be worn by both men and women and is a protective style that can cut down on your daily grooming time and help to avoid breakage caused by friction. They are created using stitch in knots, and this hairstyle is typically defined by the middle parting, with four feed-in braids created on either side of your head. However, there are many variations, which can be tailored to suit your personality and preferences. The braids can last around four to six weeks or longer, depending on your style and the way your care for them.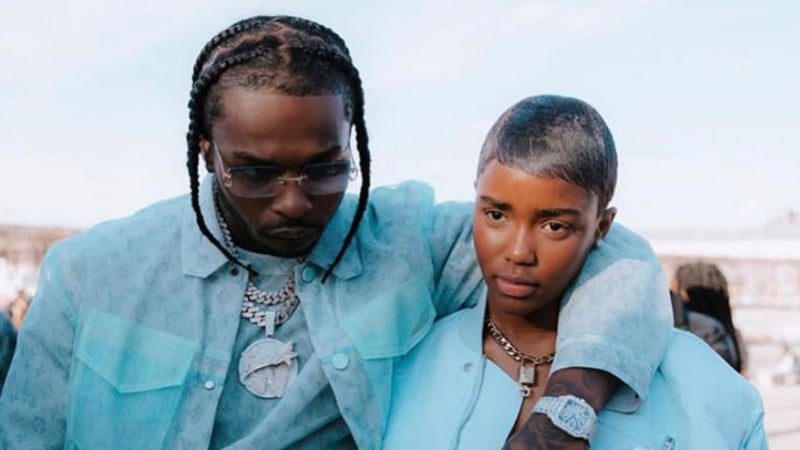 Pop Smoke Braid Hairstyles
1. Classic Pop Smoke Braids + Medium Length Hair
Braids are an excellent choice for afro-textured hair, providing a protective option that is often low maintenance and will lend itself well to various styles. These include the classic pop smoke braids, which can be created on all lengths. If you want a pretty and feminine option, then opting for medium-length hair is a great option. If you are trying to grow your hair, this is a way to help the process; braiding is a protective style, helping to prevent friction and breakage. The look is also a great way to reduce the time you'd otherwise spend styling your hair. Plus, this makes it an appealing choice for someone who wants a stylish yet easy hairstyle.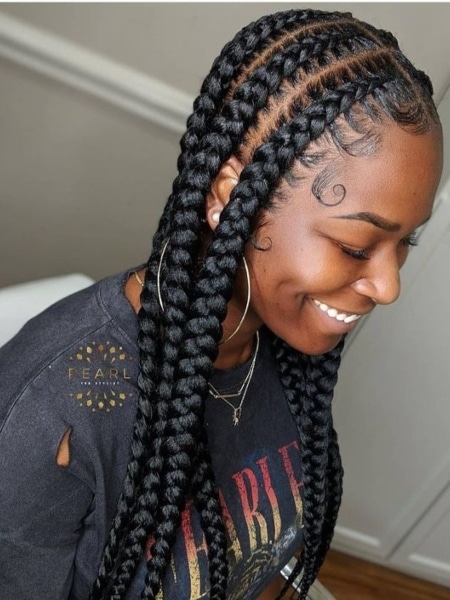 2. Classic Pop Smoke Braids + Short Hair
Pop smoke braids are nothing if not versatile and can be worn on long hair or short. One of the pros of opting for this style with shorter hair is that this is a protective style, which will help your natural hair growth. It does this by protecting your locks from friction and breakage. There is also less time required for installing the braids as there is less hair. This can reduce the costs of your braids, and your locks will be easier to maintain. They may also feel lighter.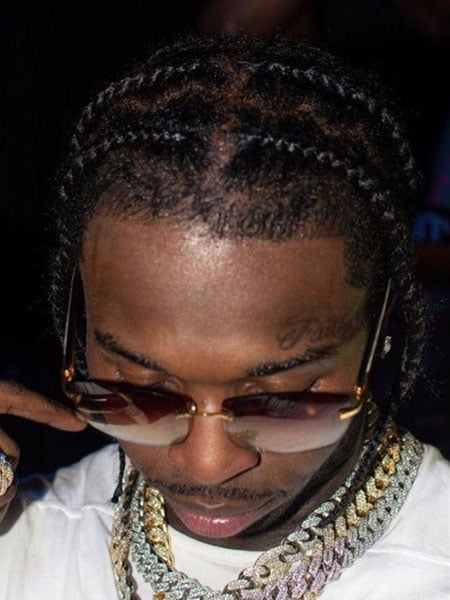 3. Classic Pop Smoke Hairstyle + Long Hair
Pop smoke braids have been around for a few years now, and their popularity continues to grow. They are believed to have been inspired by musician Pop Smoke and have become a favorite among fashionistas. One of the best things about this style is how versatile it is; and can be worn with thin or thick, on long or short hair, and it lends itself well to various accessories and interpretations, like beads or a Zig-Zag hairline. That said, a lovely choice would be to wear the classic pop smoke hairstyle with long hair. This is a low-maintenance option that looks cool, provides protection, and can make a statement. It is a fantastic way to express yourself, so feel free to experiment with different colors.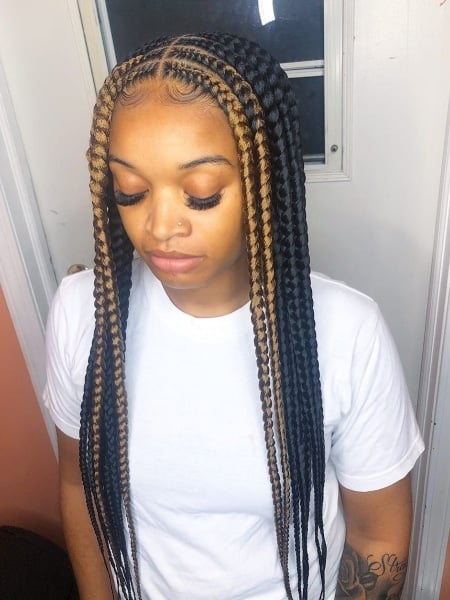 4. Pop Smoke Braids with Extensions
Pop smoke braids look great and have become a popular trend. They are braided close to the scalp and created in such a way that it clearly shows it off, allowing you to play around with different looks, including extensions. Extensions are fantastic for adding length to your chosen style but also provide you with more styling options. When getting extensions installed, it is unlikely that you will need glue or heat for application. So, you do not need to worry about hair damage. They can be expensive, and installation can take a long time, but many will find that the pros far outweigh the cons.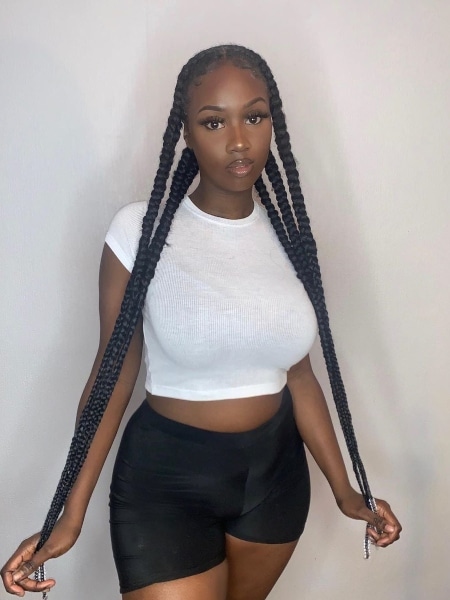 5. Pop Smoke Zig-Zag Part Braids
Pop smoke zig-zag part braids are a combination of two hair trends rising in popularity in recent years. The braids draw attention to the scalp, and this is a great way to get something fun and an opportunity to express your more creative side. Although their distinct middle parting often defines pop smoke locks, this is a variation of the look and can make even the most simple hairstyle striking and bold. Plus, it can be created on multiple hair types, textures, and lengths; all you need is a wide-toothed comb and a little patience.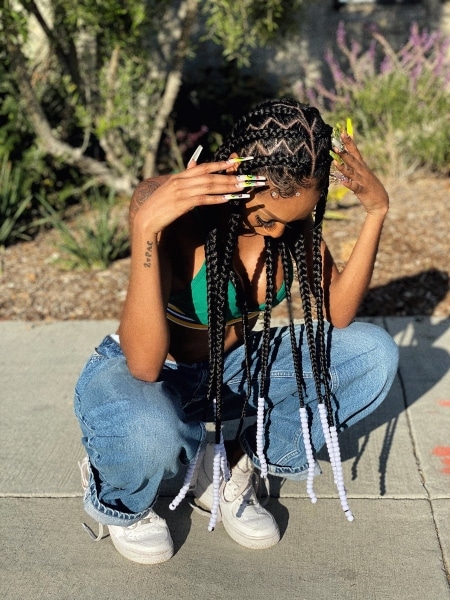 6. Pop Smoke Braids + Beads
What could be better than wearing pop smoke braids with beads? They accentuate the protective style and look great. To keep the beads in place, you can use a small elastic band over the braid or a bead pin. Consider how many beads you intend to use and the weight of each to prevent any strain. Beads are much more than just a cool accessory, though, and can acknowledge the cultural importance of braiding, as West Africa is known for its beads. Traditionally, they could tell a lot about the wearer, including tribal history and ancestry, marital status, and age.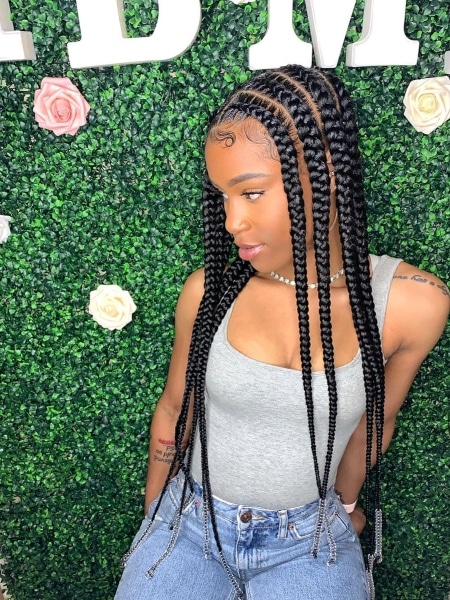 7. Small Pop Smoke Braids
Small pop smoke braids are another way to try out this hairstyle. One of the best things about shorter braids is that they take less time to complete and feel much lighter. You also do not need to be concerned with them tugging at your scalp, and the lack of weight will ensure you don't feel any discomfort. Small braids cost less as you won't need to use many hair packs and can even be done entirely with your natural hair if it is long enough. Although longer braids have their appeal, this is a versatile and much simpler option.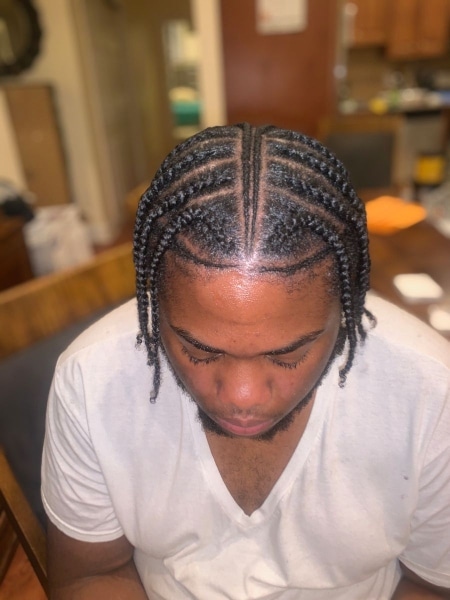 8. Pop Smoke Braids + Weave
Pop smoke braids are expressive, can last several weeks, and can be created to suit various lengths and textures. They can be created on natural hair or use extensions or weaves, making it easy to achieve the exact look that you want. Weaves are great for adding length, fullness, and volume and can help cover up thinning areas. Hair extensions can be glued, sewn on natural hair, or clipped. You can also get creative with your hair parting and add fun accessories like beads.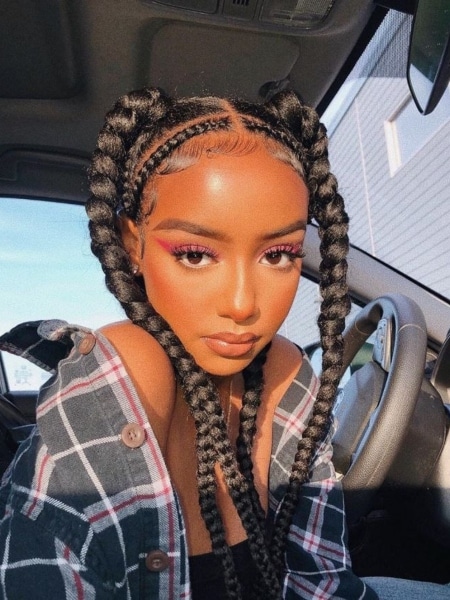 9. Pop Smoke Inspired Jumbo Tribal Braids
Pop smoke braids are sometimes referred to as tribal braids. Braided hairstyles initially were a way to indicate status, relationship, and so much more, but today they are also about acknowledging your heritage or expressing yourself. This particular look uses much thicker braids and will often require extensions to create a fuller appearance. It's all about volume, and the oversized appearance can be fun and flattering. You can also add to it using hair cuffs or beads, depending on your preference.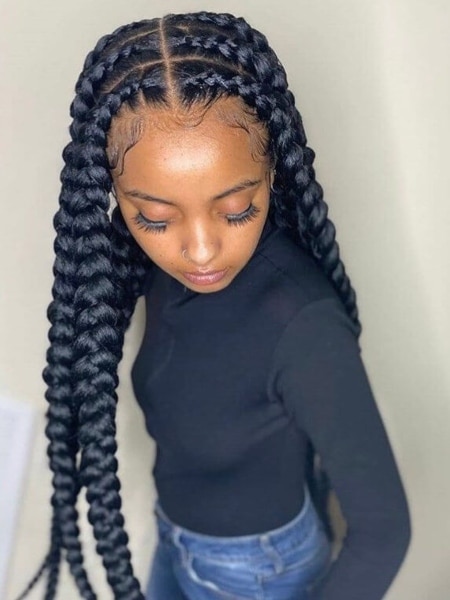 10. Pop Smoke Braids + Fade
Pop smoke braids with fade haircuts are another option and can be worn by men and women. Fades are incredibly versatile and a fantastic way to create a fresh look; it is expressive, and, let's be honest, it looks cool and edgy. There are many different fade styles to choose from, allowing you to pick your preference and showcase your personality and style. Before choosing the right one for you, consider your braids and face shape, and find what will complement them best.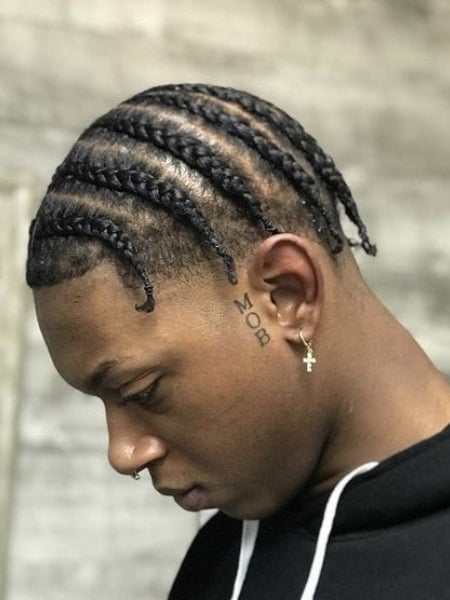 11. Pop Smoke Braids + Colored Hair
If you're the type of person who wants hair that is going to turn heads and makes an instant statement, then pop smoke braids with colored hair is the look for you. The great thing about this protective style is that it can be created in so many different ways. This allows you to fully express yourself and find a hairstyle that you love and can wear with pride. Brightly colored hues may not be corporate-approved, but it is an excellent way to change up your look or have some fun during your downtime. This is probably not a style you want to attempt at home, so work with a professional for the best results.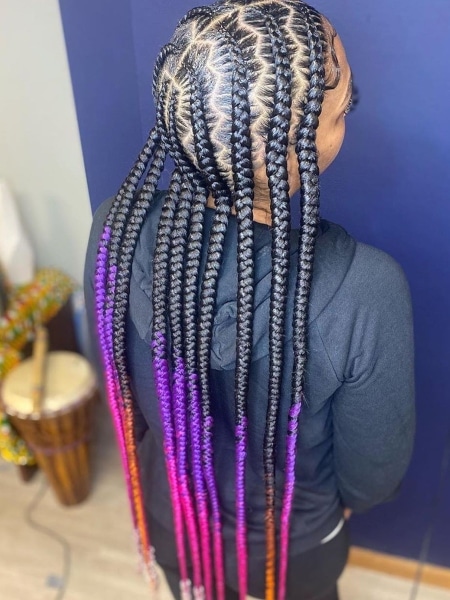 12. Three Layer Pop Smoke Braids
There are many different interpretations of the pop smoke hairstyle, which allows you to find the perfect look for you. A popular option for this protective style would be the three-layer pop smoke braids. They are the ideal choice for someone who wants volume and length, and you can experiment with various colors and finishes. This particular option requires the use of a lot of hair, so you need to take care to ensure that you have enough braiding; high-quality pure kanekalon, which is an excellent option.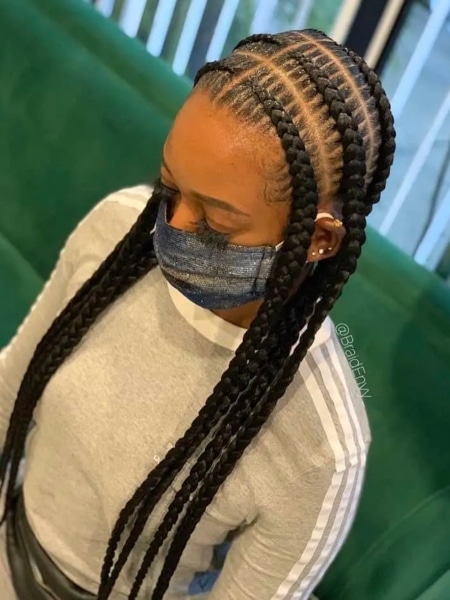 13. Pop Smoke Ombre Hairstyle
The great thing about pop smoke braids is their versatility, and they lend themselves well to a variety of lengths, textures, and colors. If you want a fun approach to the braids, then try out an ombre hairstyle. The shading technique blends two colors, one light and the other darker. It doesn't start at the root, making it darker and your tips lighter. This ensures there is less maintenance and takes less time to do. Ombre can be done in many colors of your choosing, from classics like blonde and brown to bolder and brighter shades.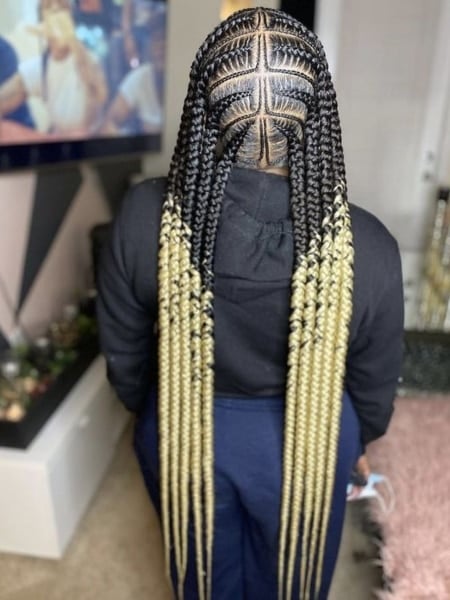 14. Pop Smoke Braids for Girls
Pop Smoke braids are a great choice of hairstyle for women of all ages. They are a protective style, helping to prevent friction and breakage, plus, they can be a way to express yourself. There are so many different interpretations of these braids that you can use them as a way to make your look unique and suited to your preference. Another pro is that they will last around for up to six weeks, depending on how you care for your hair and the overall health of your locks. This makes it an excellent choice for someone who wants a change for the warmer months or a stylish look that requires little daily maintenance.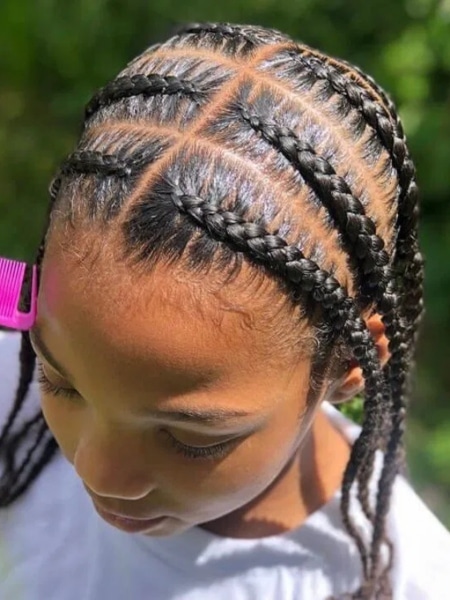 15. Pop Smoke Braids for Boys
Pop smoke braids are not just for women, but for men too. It was first inspired by the hairstyle of musician Pop Smoke, who wore his hair in this very distinct style. Pop smoke braids for boys are trendy at the moment, and many men have embraced protective styles. This can help to keep their hair healthy but can also be symbolic and make a powerful statement. These braids can be done on long or short hair, but you will need a couple of inches to make the style work.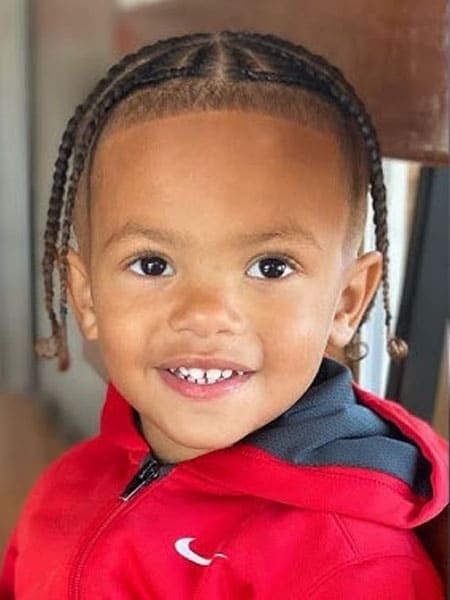 How to Do Pop Smoke Braids for Short Hair
The appeal of pop smoke braids is their versatility, and they have inspired many different variations. It can be done on long hair and short, but the process between the two can be slightly different. You will likely use your natural hair for short hair, although you need a few inches to work without braiding hair. Watch this interesting video to discover a step-by-step guide on how to achieve these braids, as well as what tools you will need. Plus, tips, like including using gel on the ends if the hair sticks out.
How to Do Pop Smoke Braids for Long Hair
Pop smoke braids may look similar to many other styles, but they are special and unique. They are often defined by the middle parting and they are done using the feed-in technique. They give you a chance to change up your hairstyle from the more well-known protective styles, and if you are opting for a look with length, this can create volume and fullness. To find out how to do pop smoke braids for long hair, watch this video to provide you with all the tips and tricks you need. This includes what the hardest part of it is and how to do feed-in braids.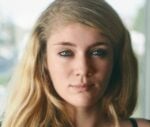 Cailyn Cox holds a degree in journalism and has been working with The Trend Spotter as a writer for over ten years. She has worked with some of the most prestigious women's and men's lifestyle publications. For her, writing is not just a job; it's a passion, which is why each article she writes is approached with such enthusiasm and dedication. She has extensive knowledge of hairstyles, tattoos, and beauty and has made a career out of creating informative articles that appeal to women and men of all ages.
SUBSCRIBE TO OUR NEWSLETTER
Subscribe to our mailing list and get interesting stuff and updates to your email inbox.