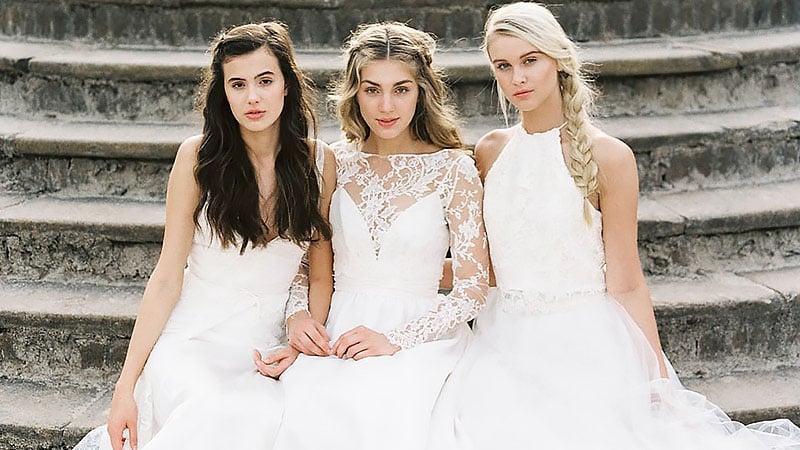 When it comes to weddings, it's only natural to want every detail to be perfect. After so many years of picturing what your wedding might look like, how could expectations be anything but high? From the location and the cake to the dress and the shoes, every element is a hard decision that will shape this magical occasion. Let us take some of the stress away with this guide on the best wedding hairstyles that will leave a lasting impression.
Wedding Hairstyles for Long Hair
If you're lucky enough to have long, luscious locks, you should show them off on your special day. While leaving your hair down may seem more casual at first, with a bit of effort a loose 'do can look just as polished as any up-do. Try thick curls and loose braids to add the type of feminine appeal that a soft up-do naturally offers. If you still want to tie your hair back, try a half-up-half-down style. As long hair is often thicker and heavier than shorter hair, it can be too much for a single bun. A half bun or pony will relieve this weight while still keeping your hair off your face.
Thick Curls
Your wedding day is the perfect occasion for a classically beautiful and feminine hairstyle, meaning that curls are an ideal look. While beach waves can be perfectly lovely, nothing beats the polished look of large, bouncy curls. Perfect for thick hair, these full curls look divine on long lengths. Simply add a beautiful clip or pin to keep the look from overpowering your face.

Loose Braid
Long, loose braids aren't just for models and celebrities heading to Coachella, the gorgeous and modern style can also be perfect for your wedding. Curled, and almost falling apart, the style, although not polished, is entirely elegant in its own right. Ideal for those with thinner, long hair, this hairstyle adds extra texture and creates volume from teasing.

Half-Up-Half-Down
A half-up-half-down hairstyle is a perfect option for when you can't decide between leaving your hair loose and styling it in an up-do. This look gives you the best of both worlds. It incorporates the length which breathes femininity while keeping hair off your face in a way that adds polished elegance.

Wedding Hairstyles for Medium Hair
Medium hair is the most versatile length when it comes to trying different wedding looks. It's long enough to appear lovely when left out while still being easy and light-weight enough to pin up. Choose the style for you that best suits your personality and the theme of your wedding. A low bun is perfect for a classic bride, while a wavy, half-up style is ideal for the relaxed, modern bride, and a braided bun suits a non-traditional, out-of-the-box bride.
Low Bun
For women with medium-length hair who fancy themselves a classically beautiful bride, a low bun is an excellent choice. The look is elegant and polished and works for both curly and straight hair. It's also a fantastic option to better show off your wedding dress and any special jewellery.

Relaxed Half-Up
If you have medium-length hair and wish to wear it loose for your wedding day, consider a relaxed, half-up style. While medium hair can look perfectly beautiful left out, it doesn't have the same impact as longer or shorter hair does. Add interest to your style, while keeping it understated, by adding loose waves and wearing it half-up with braids or a small bun.

Braided Bun
If you're looking for an extra special hairstyle for your special day, why not try a braided bun? This unique twist on a classic style turns traditional into non-traditional. Whether you choose a crown braid, a braid that wraps around a top knot, or one that wraps around the side of your head and turns into a bun, this modern style will undoubtedly draw compliments.

Wedding Hairstyles for Short Hair
While it's true that short hair can be more limited when it comes to style options, the length can still be transformed in several ways to create a beautiful 'do. The trick is to add a polished elegance that goes beyond your typical day-to-day look. Short hair is super popular now, with most women choosing to wear theirs in a long bob (lob) with loose beach waves. If this sounds like you, mix things up for your special day by adding wrap-around braids, pinning back one side, or even wearing it in an updo (just make sure your hairdresser secures it firmly!).
Chic Up-Do
Just because you have trouble tying your short hair into a ponytail doesn't mean your hairdresser can't create a beautiful up-do with your hair. Hidden pins, decorative clips, and the use of the right hair products can create the hairstyle of your dreams. Ideal for those with grown-out bobs and lobs, a chic up-do can be the best choice for making you feel like a perfect, blushing bride.

One Side Pinned Back
Who said that your wedding hairstyle needed to be intricate? Sometimes, the simpler, the better. Add a touch of old Hollywood glamour to your special day by adding silky-smooth curls to your short hair and clipping or pinning back one side. This easy hairstyle is all about the shine and the bling, so make sure your locks are on-point, and your clip is completely chic.

Wrap-Around Braid
Are you planning an outdoor wedding? Combat wind by choosing a simple hairstyle that stays out of your face. A wraparound braid for short and loose hair is the perfect option for this. The style also adds a gorgeous, bohemian touch that works perfectly in a natural setting. Ideal for thinner hair, a thick braid paired with lightly tousled waves is an easily-achievable and beautiful style.

FAQs
What is the best hairstyle for wedding?
There are various hairstyles to choose from for weddings, depending on your locks' length and texture. For long hair, a classic and beautiful look is thick curls or a pretty loose braid. Medium hair can look stunning in updos like a low bun or a half updo. Shorter locks can be pinned back on the side with a fancy clip or flower, or you can opt for a wrap-around braid.
How do I choose my wedding hairstyle?
Before deciding on a look for your wedding, it is helpful to do some research to determine which hairstyles are best for your length of hair and texture. Once you have decided on a look, you need to try it out. Go for a trial with your chosen hairdresser. It is also helpful to see if your style will match with your dress and if it is appropriate for the weather. For example, in a very hot climate, you may want to opt for an updo to ensure you are kept cool and comfortable.
How soon before my wedding should I get my hair done?
If you are getting your color touched up before your wedding day, it is best to go around two weeks before. If you are trying to determine what style works best for your hair, give yourself enough time to make an appointment or even multiple appointments with your chosen hairstylist.
How much do hairdressers charge for wedding hair?
The cost of your wedding hair may or may not include a trial, and the price will differ depending on your chosen hairstylist and the complexity of your look. You may also get a slight discount if you are getting the same person to do your hair and makeup and for multiple people. You can expect to pay around $150 or more for both of these, depending on your location.
SUBSCRIBE TO OUR NEWSLETTER
Subscribe to our mailing list and get interesting stuff and updates to your email inbox.