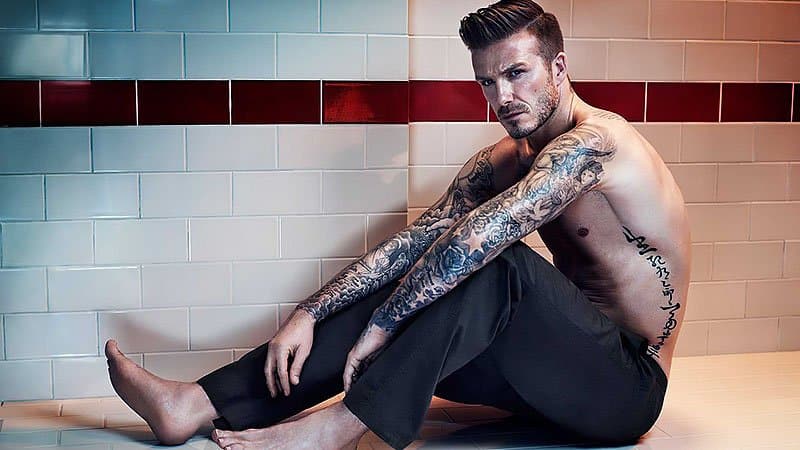 Today, getting a tattoo is a no-brainer for many men. After all, some ink can be a seriously cool way to showcase your personality. But, while the choice to go under the needle may be easy, the decision of what exactly to get tattooed on your body and where can be challenging. To ensure you don't end up regretting your tat in ten years' time, it's important to approach the process thoughtfully. To help you do so, we've created this ultimate guide filled with advice on how to choose the best tattoos for men.
Tattoo Ideas for Men
1. Small Tattoo
Small tattoos are appealing for many reasons, and it's little wonder they are gaining in popularity. The great thing about tiny pieces is that you're not limited in terms of placement, and you can get them inked behind your neck, or on your finger, if you so desire. These designs also tend to be more discreet, which can appeal to someone who wishes to cover them up, or doesn't want to draw attention to themselves. Plus, if this is your first time getting your skin inked, it's a great way to ease into the process.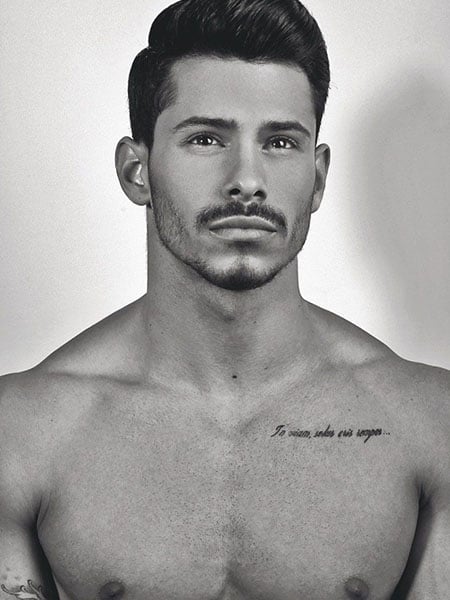 2. Tribal Tattoo
There are many variations of tribal tattoos, depending on the culture, but the one thing that they have in common is their very artistic interpretation. Initially, ancient tribes would use symbols to represent their social status, as a way to provide protection to the wearer, or simply to express themselves. Most of these designs are detailed, using patterns that are meaningful to the chosen tribe, and this is, therefore, an excellent way to honor your heritage. These pieces tend to look best on shoulders and arms.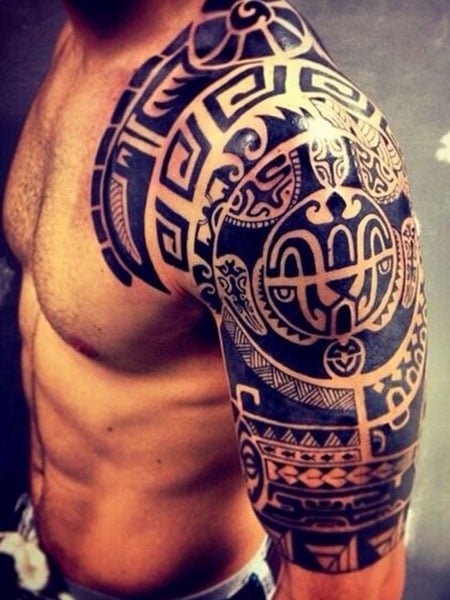 3. Simple Tattoo
If you prefer minimalistic designs, you will be drawn to simple tattoos, which are just as fresh and meaningful. The beauty of these pieces is just how uncomplicated they are, often focusing on basic shapes and outlines and avoiding colored ink and shading. This option is an excellent choice for a man who is more classic and laidback and wants a tattoo that reflects these qualities.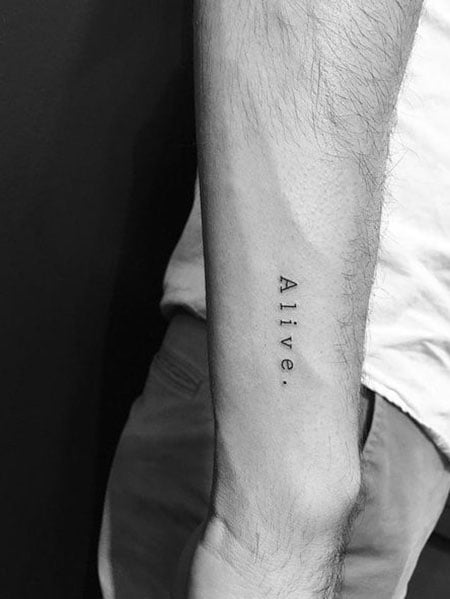 4. Animal Tattoo
If you have a favorite species or are inspired by certain qualities that a creature is usually associated with, then it makes sense to get an animal tattoo. There are so many different options to choose from, whether you want a wolf, or a majestic elephant, allowing you to design something unique to you. You will benefit from working with a reputable tattoo artist who can help to create a meaningful piece.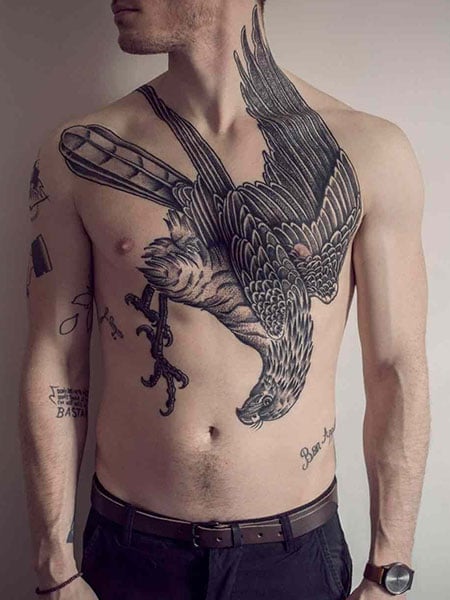 5. Portrait Tattoo
Honoring a loved one or a celebrity who has inspired you can be done through a portrait tattoo. It is a beautiful way to have a constant reminder of the significance of the individual you have chosen to ink, but it is also a piece that requires a lot of skill. Many ink artists will have a specific style that they specialize in, and you should do your research before finding the right one for your particular design. If you want great results, you need to find someone who focuses on portraiture, to ensure your ink does not look cartoony. You should also remember that the detail that this style requires will make for a lengthy tattoo session.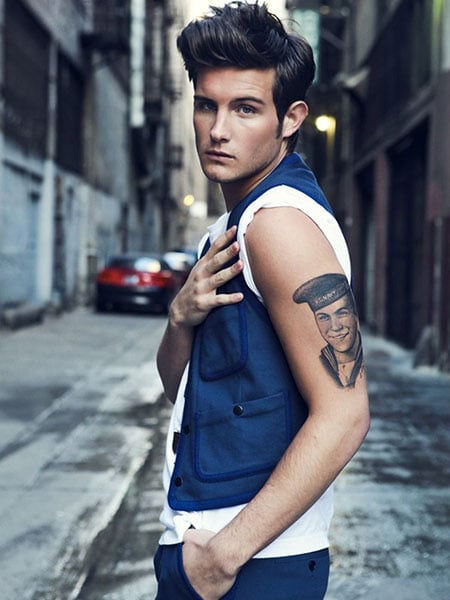 6. Lettering Tattoo
Lettering tattoos are relatively basic, and it is about not only the words, which could be the name of a loved one or a meaningful place but also the style. What makes each of these pieces unique is the font and size that have been chosen; these can range from frequently used options like Arial to fancier ones like Calligraphy. The importance is really to select something that appeals to you, but also emphases your tattoo.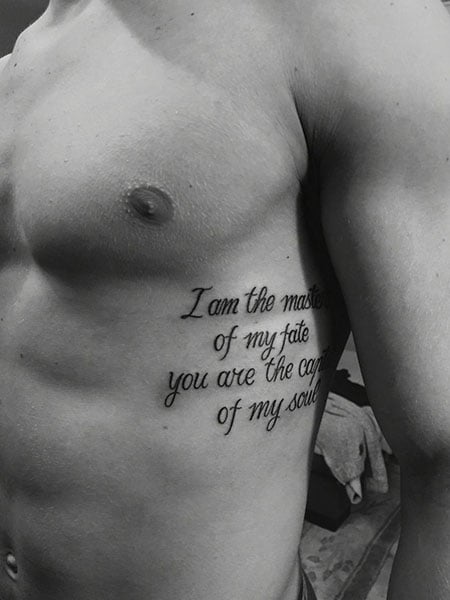 7. Skull Tattoo
The skull is a universally recognized symbol and usually signifies death. Skull tattoos have been a much-loved design to tattoo for decades, although it was once favored by more hardened individuals who had a bit of a record for being tough. Nowadays, these pieces take on a wide range of different meanings and designs vary, often including roses, which represent love and beauty, or serpents, symbolizing wisdom or secrecy.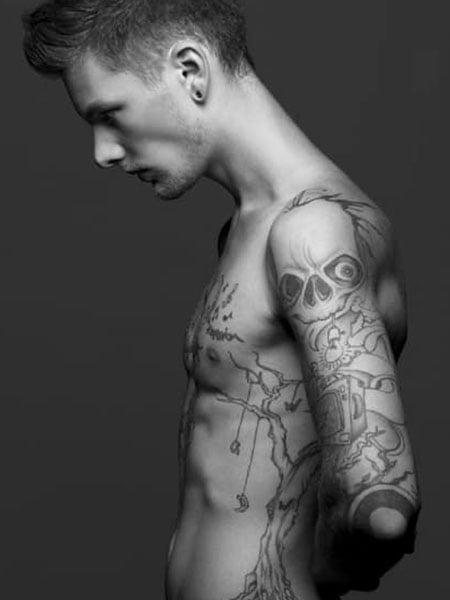 8. Cross Tattoo
Honoring your faith can be done in many ways, including getting a cross tattoo. The Christian religion sees the symbol as an essential part of its beliefs, as it represents Jesus Christ's willingness to sacrifice himself for the good of humanity. There are many different ways to interpret the cross, though, and designs can be detailed and incorporate various other elements or be as simple as two lines intersecting.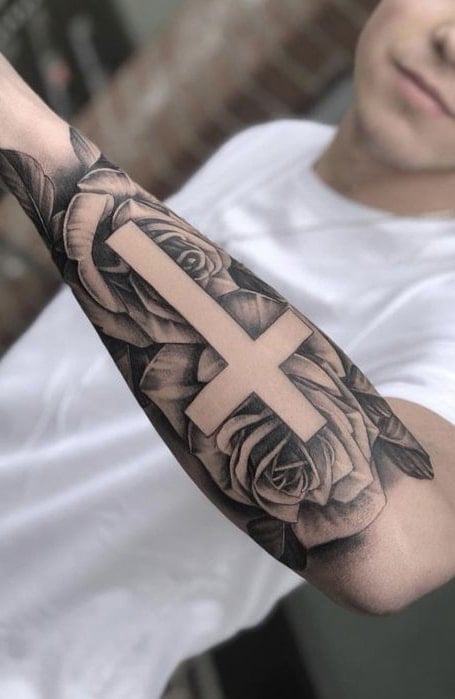 9. Star Tattoo
When you look into the night sky, you will see countless stars. To many people, they symbolize hope, guidance, and even the chance to wish for something better. It makes sense then that individuals want to tattoo these astronomical objects onto their skin because of their deep personal meaning. There are several interpretations of the design, with one of the most popular being the nautical star, which can represent your direction, or the ability to find your way home again.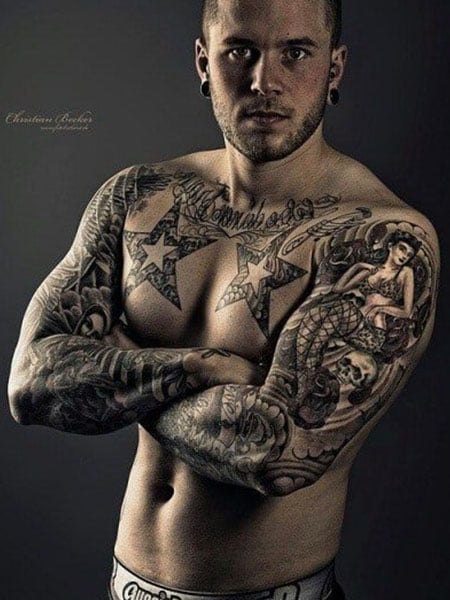 10. Money Tattoo
There's a common saying that money makes the world go round, and if you're of that mindset, then a tattoo of bills or coins may be particularly appealing. Cash also represents wealth, profit, and success, and is an excellent choice for the man who wants to remind himself of his ambition to attain his goals, financial or otherwise.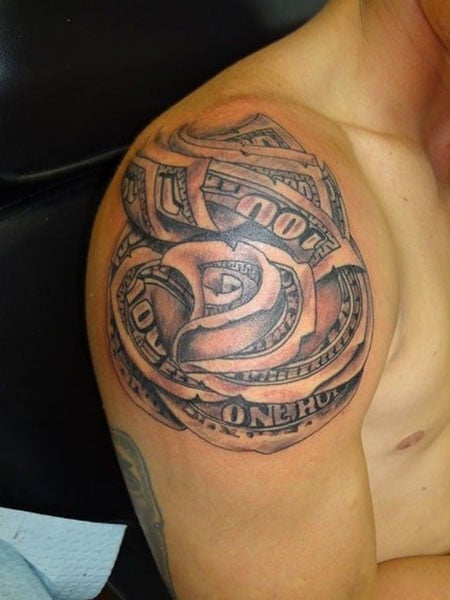 11. Angel Tattoo
If you want to honor a loved one who has passed or show your devotion to your faith, an angel tattoo is an excellent way to do that. Although there are many different interpretations of what these supernatural beings symbolize, most would associate them with purity and spiritual development. Other characteristics include protection and guidance, and the wearer may want a piece that serves as a reminder of how they are not alone.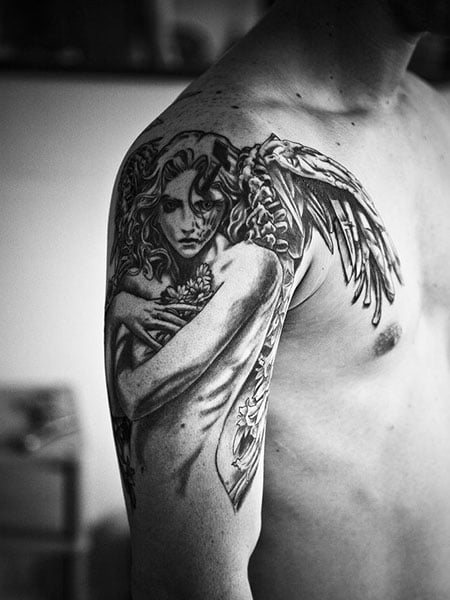 12. Music Tattoo
Music plays a vital role in our lives and can uplift us, improve our moods, and inspire; this is even more true for those who play an instrument or simply have a deep love and passion for songs and sounds. When choosing a music tattoo, your creativity is your limit; you can incorporate other designs, such as flowers, sheet notes, and lyrics, or keep it simple.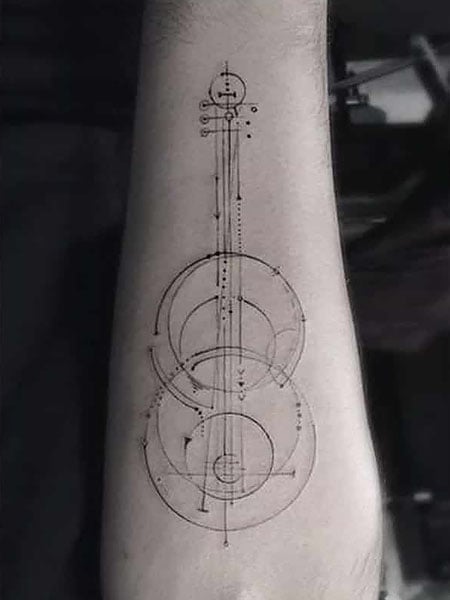 13. Arrow Tattoo
Arrow tattoos are a fantastic choice to show the direction in your life, but can also represent strength. The weapon is often linked to Native American culture, where it was used for hunting, but also by warriors as a means of protection. There are numerous design options, and the complexity of your ink can vary. If this is your first piece, you may want to start small and keep it basic, without color or shading; a great way to ease into getting tattooed!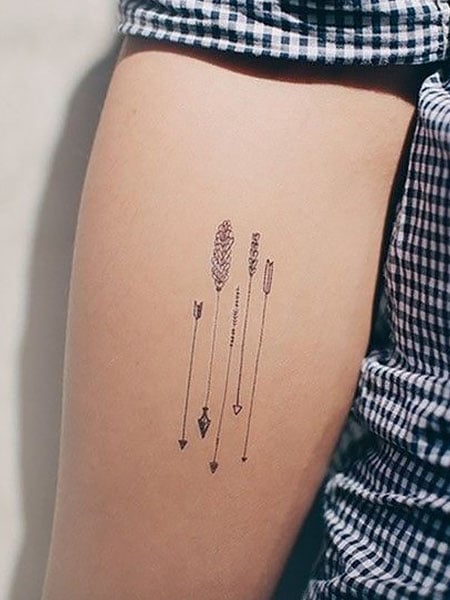 14. Feather Tattoo
Birds can soar above the sky, and this would not be possible without their wings. It is for this reason that feathers often represent freedom or travel. The plumage is a popular tattoo option because of the meaning and message associated with it, and the wide variety of designs and interpretations make it an excellent choice for both men and women. It also represents different things to certain cultures; for example, in Christianity, it can be a symbol of virtue, while the Native Americans associate it with souls and spirits.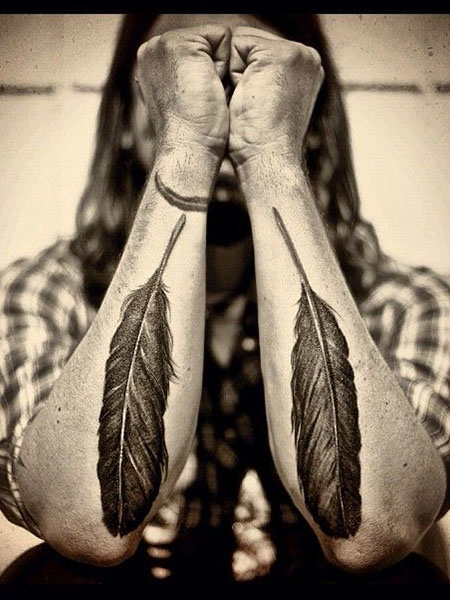 15. Crown Tattoo
Do you feel you have all the makings of a king? Well, why not a crown tattoo, then?! The head adornment is often associated with royalty; it thus represents power and glory, but can also signal self-control, or a desire to be better, making it a meaningful design to get inked onto your skin. Another popular choice is for men to get a matching crown tattoo with their partner.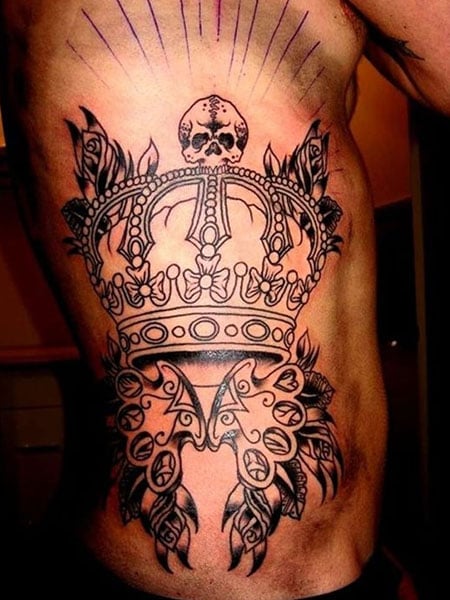 16. Car Tattoo
Many men are passionate about motor vehicles, whether that's for the design, engineering, or the need for speed, is up to you. We can see why car tattoos are such a popular option, though, and they can be incredibly eye-catching. If you have an emotional connection to your first car or worked hard to repair and rebuild one, both of these would make great ink options. Alternatively, you may simply be inspired by the automotive industry and bright colors; the choice is yours!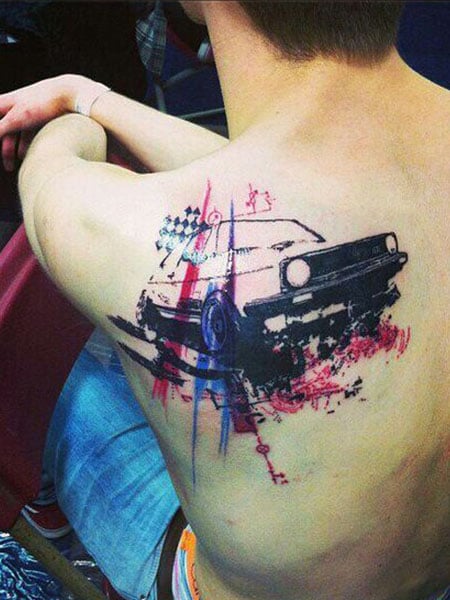 17. Family Tattoo
Our associations with our family make us who we are, and although not everyone has had a good upbringing, some want to honor their familial unit with a family tattoo. It's a beautiful way to express your love and respect for those in your inner circle and shows dedication and loyalty. There are many different ways to create a piece like this, whether that be with realistic portraits, a meaningful quote, dates of birth, or names.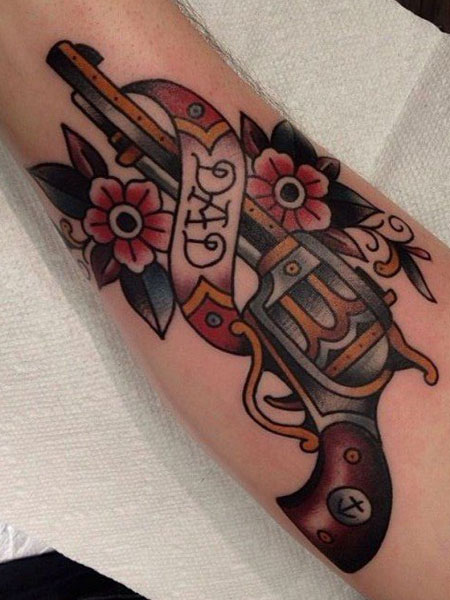 18. Scorpion Tattoo
Scorpions tattoos have been a popular choice for men to get inked for many years. They are both respected and feared and often serves as a warning for others not to get too close to the wearer. The predatory arachnid can cause pain, but it is also associated with protection or strength. Although there are many ways to ink this dangerous creature, the hyper-realistic versions are the most intimidating.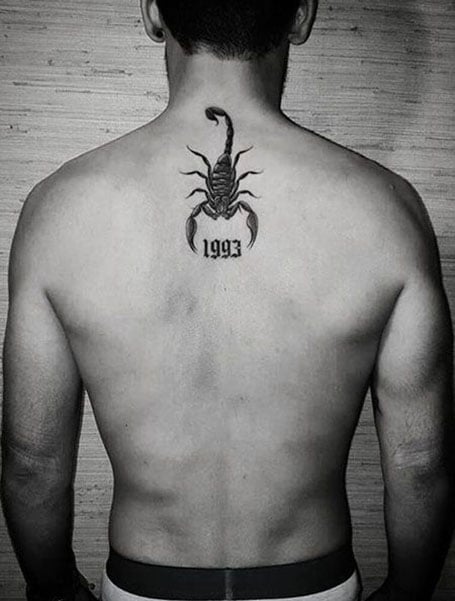 19. Meaningful Tattoo
What is meaningful to one person may be entirely different for the next, and that is the beauty in getting a deeply personal tattoo. You can pay tribute to your nearest and dearest by including their names, dates of birth, or symbols that serve as a reminder of your bond with them. On the other hand, individuals can be inspired by animals or objects whose characteristics they may be able to relate with or feel gives them purpose.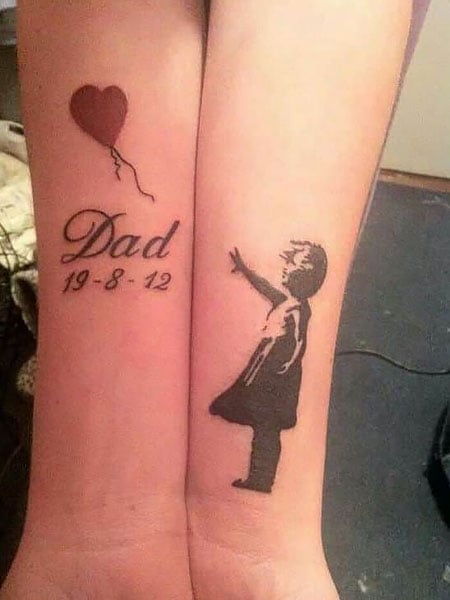 20. Name Tattoo
If you want a tattoo that has a lot of symbolism, then consider this meaningful design. The decision to ink someone's name onto your skin says a lot about your feelings towards that person. Getting a name tattoo is deeply personal, and some choose the names of their family members, while others celebrate their friendships, or honor a loved one who has passed on. Regardless of whose moniker you want, this will be a piece that is unique to you!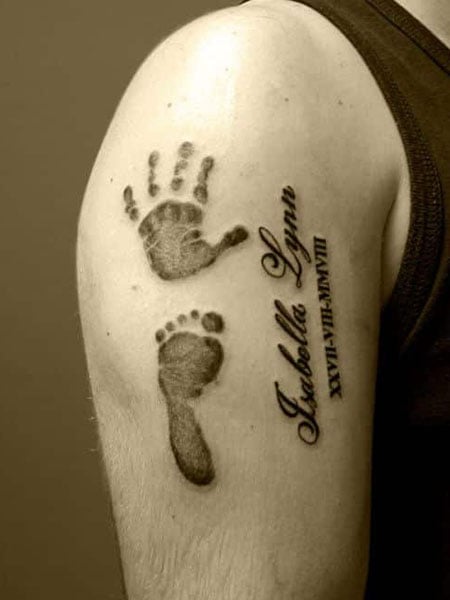 21. Snake Tattoo
Snake tattoos are pretty badass, right?! They tend to make great options because of their versatility, and designs can be incredibly varied, with some people opting for vivid colors and large pieces that engulf their arm, while others want to keep it simple with a small black tattoo. One thing we can all agree on is that the serpent doesn't just have a variety of design interpretations, but also meanings. It is a creature often associated with danger, but also rebirth and transformation because they shed their skin. In different cultures and religions, they can also symbolize varying things; for example, in Christianity, the snake represents sin, while in Japan, it could bring good luck and prosperity.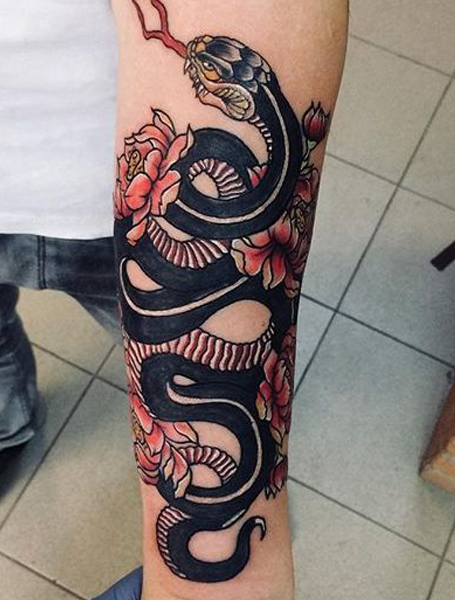 22. Compass Tattoo
A compass is a sophisticated navigational instrument, and the detailing makes it a super cool design. Still, it's more than just the appearance that makes this symbol so common to get inked. The tattoo is often associated with a strong sense of direction, perseverance, and a love for travel. It's a versatile option, which can be complicated or straightforward, depending on your preference, and suits many different placements on the body.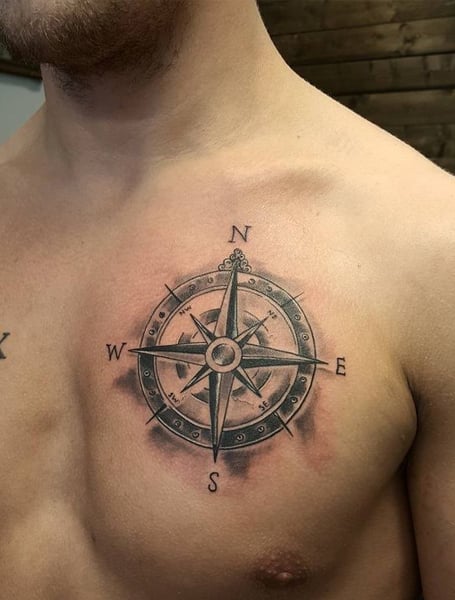 23. Elephant Tattoo
The symbolism associated with an elephant tattoo makes it an excellent option for any strong man. It is a majestic animal, celebrated for its wisdom and power. It is also a creature that symbolizes loyalty, prosperity, and good luck, which is why it is such a common choice for men to tattoo. You can opt for something small and uncomplicated, like an outline piece, or pick a large, detailed design that requires a spacious spot, like on your chest or back. One thing is sure; whatever design you choose, it will undoubtedly stand out!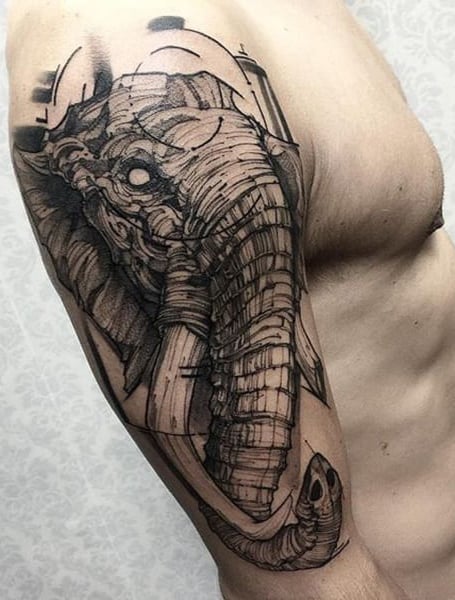 24. Wolf Tattoo
Men who value family, loyalty, and protection are drawn to wolf tattoos because these beautiful animals often represent these characteristics. The animal lives in a pack, and its strength and survival are dependent upon the other members of this unit. This concept can remind the wearer of the importance of a familial bond, and the need to be there for loved ones. Alternatively, it can also represent a desire to be wild and free.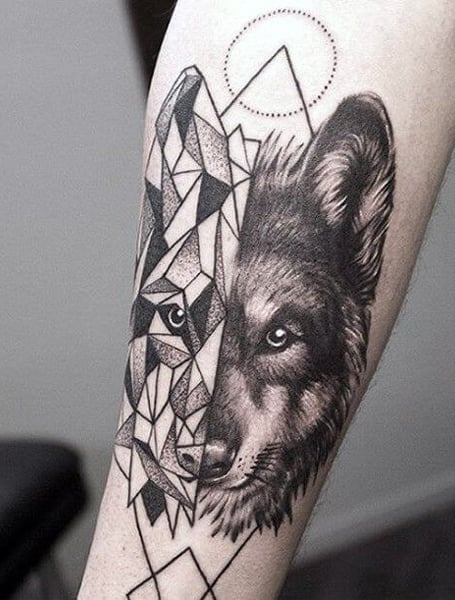 25. Phoenix Tattoo
The phoenix is a symbol of rebirth and renewal. The mythical bird is associated with fire and sun and cyclically regenerates, rising from the ashes. The design appeals to anyone who has gone through a hard time but has survived it, only to come out stronger. These tattoos are often best when created in vivid colors, including reds, oranges, and yellow, and tend to make quite the statement.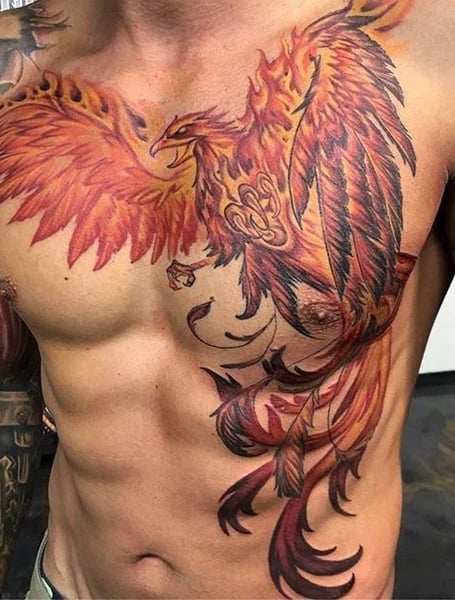 26. Dragon Tattoo
Dragon tattoos symbolize wisdom, fearlessness, and power, making it a popular choice for men to get inked onto their skin. These mythical beasts represent a variety of different things and have been featured in both European mythologies, as well as in East Asian cultures. They can be perceived as good or bad, and associated with fire or water elements. Depending on your interpretation, the color, and the size of the design, dragons can also represent passion, mystery, or fierceness.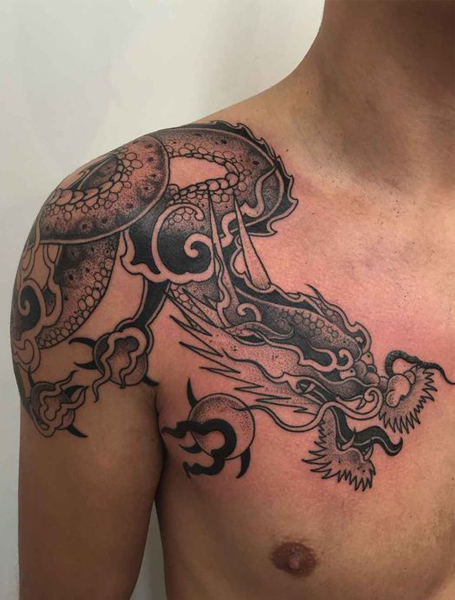 27. Religious Tattoo
There are a variety of images that mean something special to individuals and their faith. For example, a dove or the face of Jesus Christ is relevant to Christians, while the Buddha is significant to Buddhists. Religious tattoos are connected to a person's spirituality and those who want to show what it means to them. Designs like this are often considered to be uplifting and encouraging, reminding the wearer they have a purpose, or that there is a guiding force to help them find their way.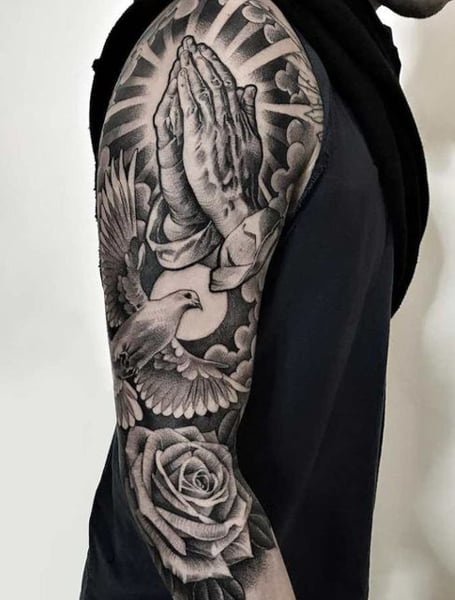 28. Moon Tattoo
The night sky is very dark without the light of the moon, and these ideas are translated into tattoo designs, with our natural satellite often symbolizing life, growth, and even creativity. The different phases also have varying meanings; for example, a waning design can encourage feelings of letting go and moving on, a crescent shape could be a time of transition, and a full moon is representative of something magical or transformative.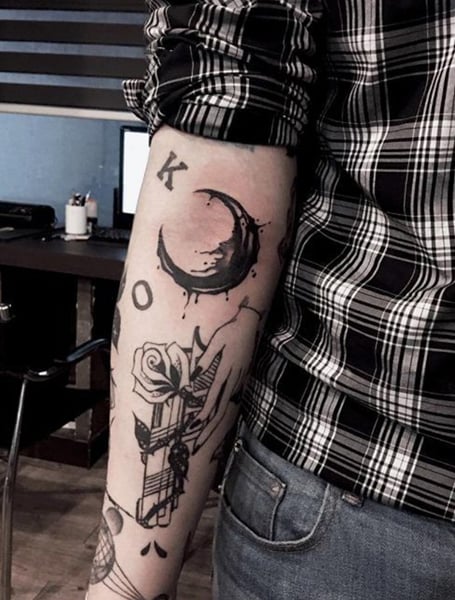 29. Tree Of Life Tattoo
Nature tattoos are popular symbols to get inked on your skin, but the tree of life is particularly meaningful. The importance of this ink is hard to ignore as it symbolizes immortality, renewal, knowledge, wisdom, and strength. It is something that has cross-cultural symbolism; in Norse mythology, it explores the link of the spiritual and human world, and in India, it is a connection between God and humankind. The design is intricate, often differing in color, shape, and style, but commonly features branches and roots intertwined in a circle. Some people choose to incorporate other elements into the piece, like birds or patterns.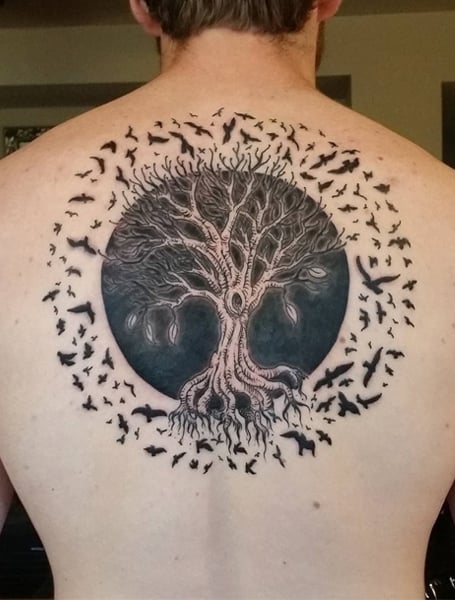 30. Koi Fish Tattoo
Koi fish are of great importance in Japanese and Chinese culture, and in the form of tattoos, they often represent perseverance, determination, and strength, among other things. The worth of the species differs greatly depending on its size and color, and these designs look especially impressive when done in vibrant shades, as it makes the piece pop. There is also meaning behind the different hues, with red representing intense love or desire, blue is seen as a masculine option and associated with reproduction, and yellow or orange is connected to wealth and good fortune.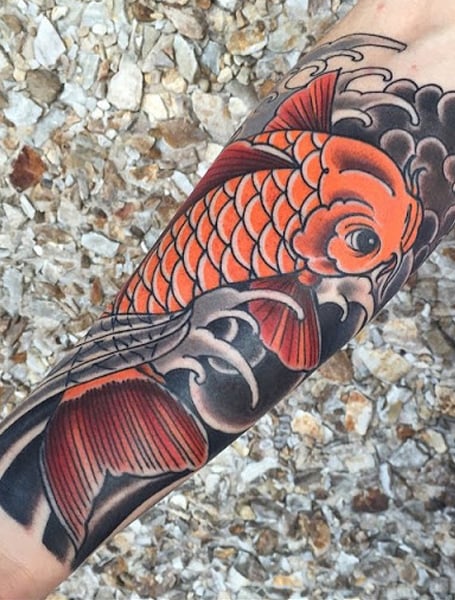 31. Bird Tattoo
Freedom and independence are two attributes connected to bird tattoos. Many of us wish we had the gift of flight and were able to fly away to new and far-off lands, which is why these beautiful winged creatures are so appealing. They may also represent the passing of a loved one, and the concept of heaven and earth. There are thousands of different bird designs, and the species, color, and size you choose to make your ink personal and unique. A goldfinch, for example, is associated with happiness, while a swallow is historically linked with sailors and represents exploration and travel.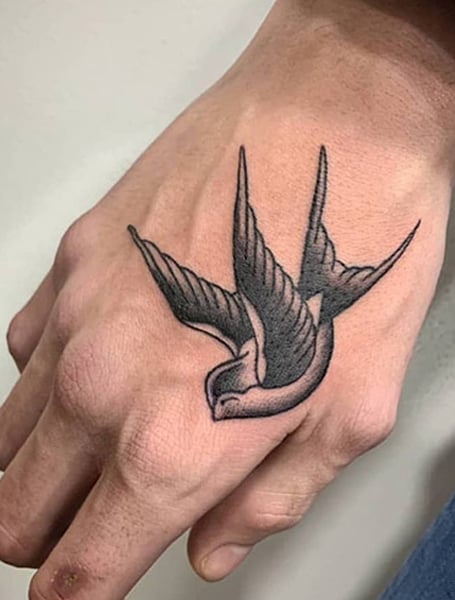 32. Medusa Tattoo
In Greek mythology, Medusa was a female monster with venomous snakes for hair, and those who looked her in the eyes would be instantly turned to stone. It is a terrifying story, but these days, Medusa is considered more as a symbol of feminism and power. She can also represent mystery, jealousy, rebirth, and even death. The beauty in this tattoo is that it is out of the ordinary, appealing to men who want something different and thought-provoking.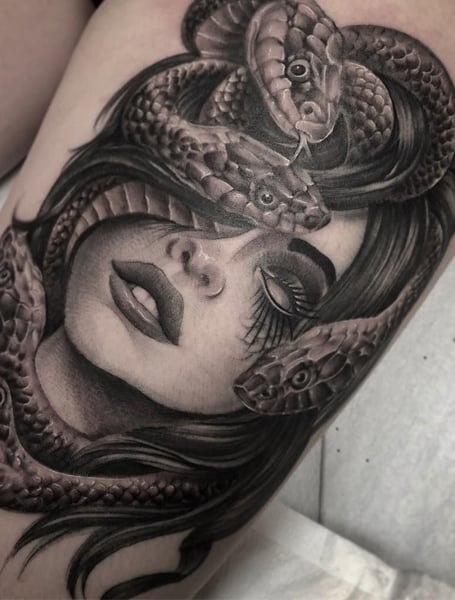 33. Mom Tattoo
Many men choose to honor the loved ones in their lives with ink that includes dates, names, or portraiture, but a mom tattoo is common and rich in history. These classic pieces have been around for decades, and won't be disappearing any time soon. As expected, this is a way to pay homage to mothers, but the designs, which vary significantly, are usually created in a Sailor Jerry style. It is thought that sailors, before a lengthy stint away from home, inked heart tattoos with the word "mom" to keep his family close.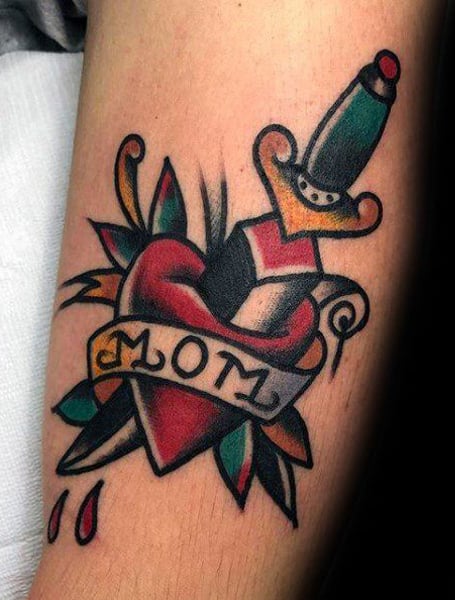 34. Wave Tattoo
Maybe your horoscope is a water element, or you love the deep blue ocean? Either way, you can't go wrong with a wave tattoo. It is one of the most versatile symbols and thus open to many different interpretations in both design and meaning. It could be a way to 'go with the flow' and not worry about being in control. Still, for others, the symbolism is associated with overcoming emotional turbulence or a difficult time in your life.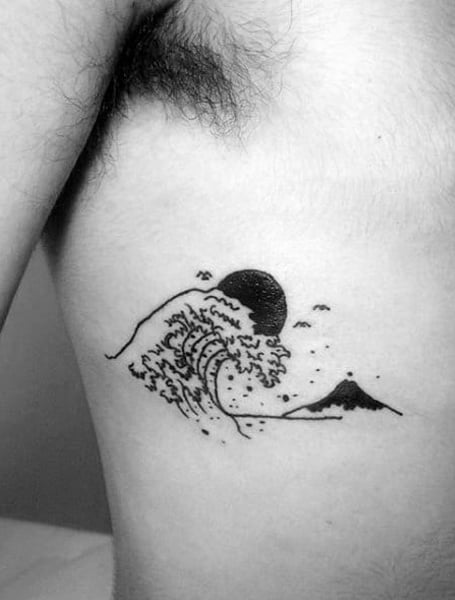 35. Aztec Tattoos
The ancient civilization of the Aztec people is an interesting one, and we should expect nothing less from the tattoo options. The symbols are highly detailed and complicated, but that is the beauty of the design. What can an Aztec tattoo mean for you? The answer varies, but they are generally mystical. Initially, they were created by the peoples who dominated Central America to honor a God, and there are many elements to the piece, including eagles, serpents, warriors, the sun, and a calendar. Each design is rich in symbolism and history; the calendar, for example, uses animal faces to represent a new month, while a warrior symbolizes the afterlife.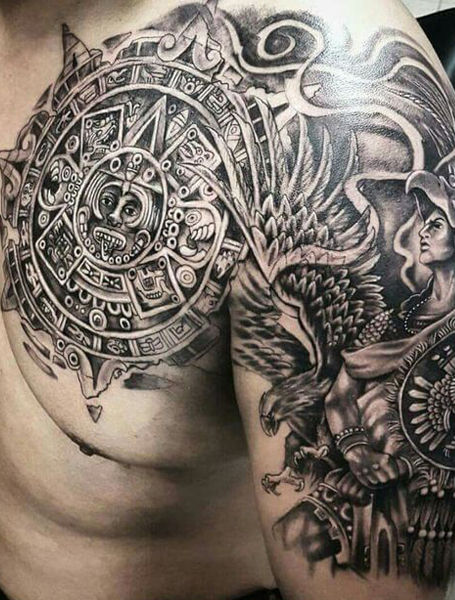 36. Dragonfly Tattoo
Dragonfly tattoos are rich in meaning; and often representing harmony, luck, peace, and prosperity. There are many positive attributes associated with dragonflies, which makes it a very inspiring design. They are one of the oldest living insects and are also linked with metamorphosis, growth, and freedom. You can choose to get a realistic portrayal, or something more abstract, both lend themselves well to a variety of different colors and placements.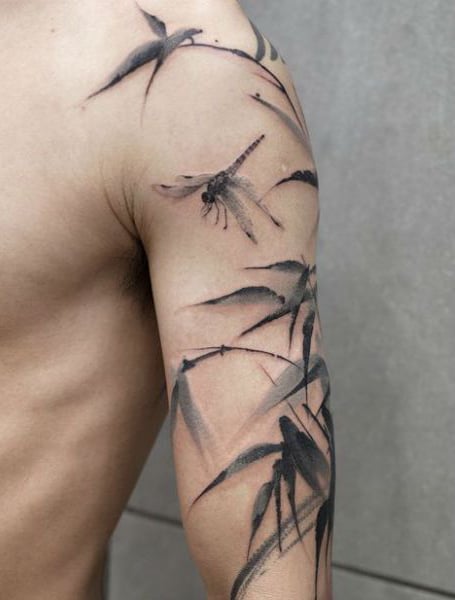 37. Line Tattoo
Sometimes the beauty of a design is in its simplicity, and minimalist ink has increased in popularity. A line tattoo is all about the essential elements, creating something appealing with little detail. There is a wide variety of options, with some people choosing solid black lines; others opt for a more abstract interpretation, but all of them have a deep personal meaning, despite their basic form. These pieces should also not be as painful to get inked onto the skin because they lack shading.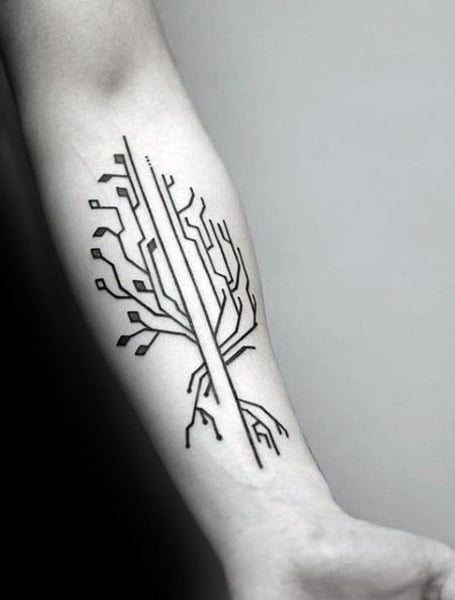 38. Family Crest Tattoo
A coat of arms is used to honor your heritage, and men who are proud of their roots will be drawn to a family crest tattoo. Although these pieces can vary in size, they're usually best suited to the arm or chest, somewhere where there is a lot of room to allow for detail. Stand tall with a purposeful design like this!
39. Geometric Tattoo
Geometric tattoos focus on the essential elements that make up the symbol, such as the shapes and outlines. They are often created in black ink and look best with little to no shading. Despite its simplicity, there is a lot of thought that goes into the design, with the results feeling quite modern. Men who love minimalistic pieces will find this style very appealing.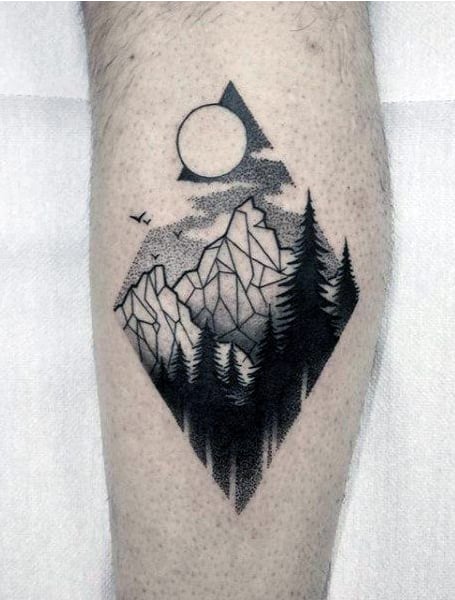 40. Quote Tattoo
Maybe there is a Bible verse that moves you or a poem that you love from your favorite poet?! Sometimes, words can be incredibly inspiring, which is why quote tattoos are so meaningful. It is a way to express how you are feeling or to keep what motivates you close to your heart. There are so many different pieces to choose from, making your choice all the more personal. Placement depends on the length of the quote, but most men prefer to get inked on a larger piece of skin to allow more room for detail.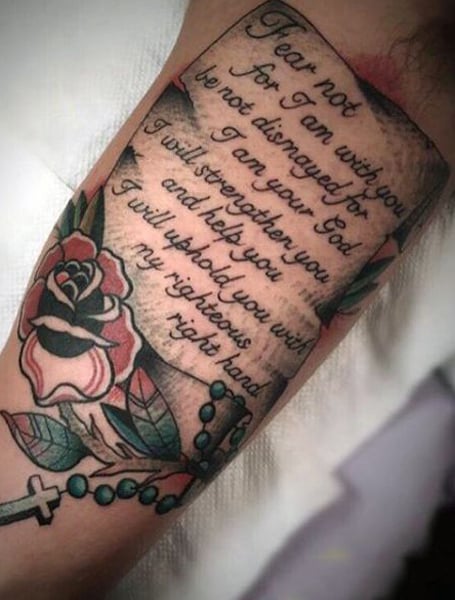 41. Lion Tattoo
Show off your courage and bravery with a lion tattoo! This majestic creature is the king in the animal world, a powerful predator that is feared and respected. Lions can also appeal to a man who is passionate about family; they live in a pride, and their strength and survival are dependent upon this close familial unit. When deciding to get a tattoo of this big cat, you will be pleased to know that it is suited to many different styles, from photorealistic to geometric.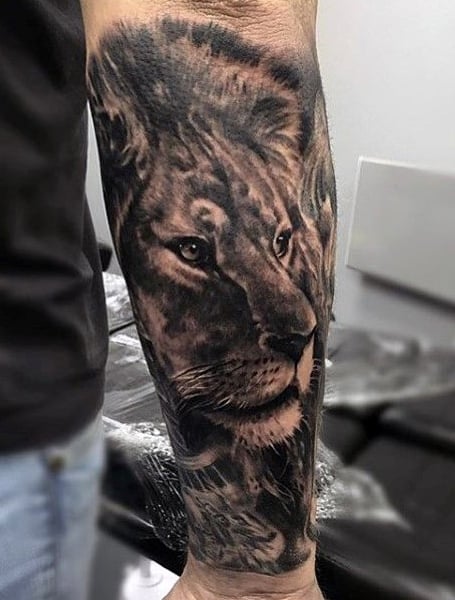 42. Semicolon Tattoo
If you have struggled with mental health or depression, a semicolon tattoo will have significance for you; the punctuation mark is seen as a sign of solidarity. It serves as a reminder to the wearer that their story is not over yet. Despite the struggles that they have been through, their lives will continue, and this holds a powerful and beautiful meaning. It is for this reason that these pieces are often best suited to places where they can be looked at daily, so the individual remembers what they have already accomplished, and what they will achieve in the future.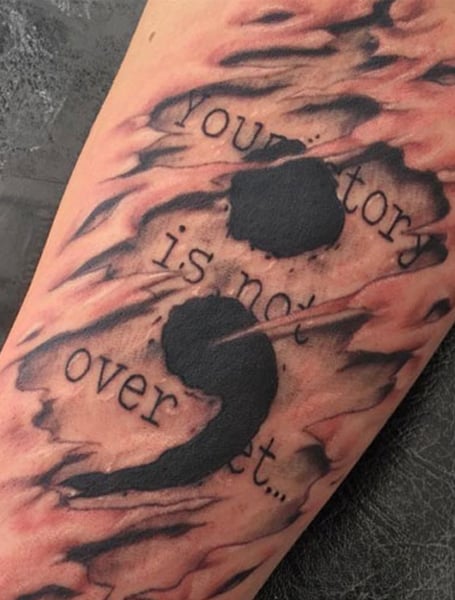 43. Dream Catcher Tattoo
A dream catcher is an object that has great significance in Native American culture. The hand-woven product is created to look like a spider's web and used to shield someone against evil and help to filter out the negative experiences in their life. Dream catcher tattoos take on the same meaning and serve as a symbol of protection. It is the perfect design for a man who wants something meaningful and detailed, as the pieces are often beautiful and intricate.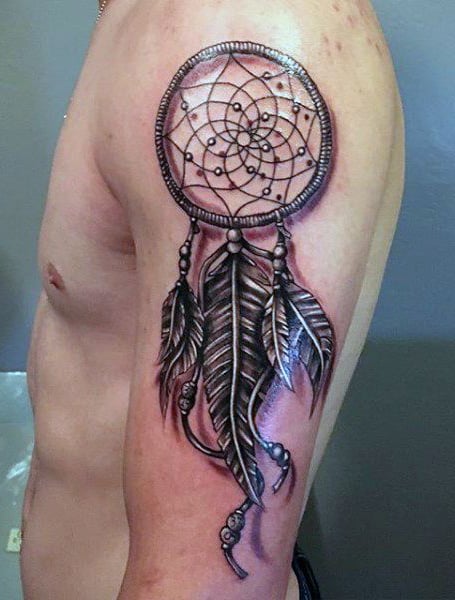 44. Owl Tattoo
An owl tattoo represents wisdom and knowledge, but also mystery and magic. It is the perfect piece for someone who values these qualities in life. It can also be seen in many cultures, including the Native Americans, who believed it to be a messenger or an omen of death. The nocturnal bird works well as a stand-alone design, but different elements can also be incorporated to make the piece more detailed. Standard options could include lanterns, branches, trees, and the moon.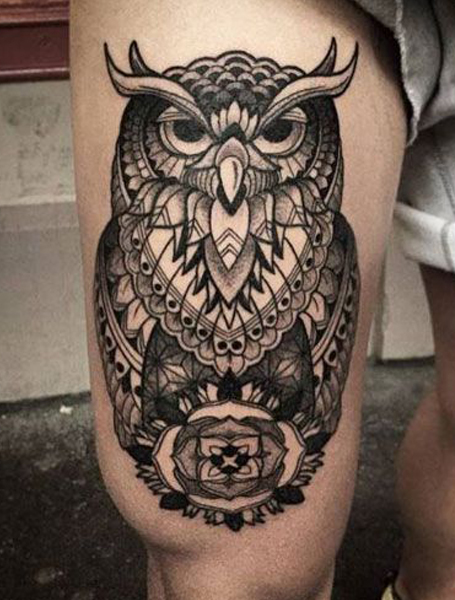 45. Roman Numerals Tattoo
Sometimes you want to ink numbers or dates that are important to you, and a great way to do this is with a roman numerals tattoo. For some, this option is a little more mysterious than merely tattooing the symbols we use daily. Plus, they make for an exciting and eye-catching piece. The meaning behind these chosen dates is personal. You can choose to create a large design across the chest, or opt for something small across the wrist; the choice is yours.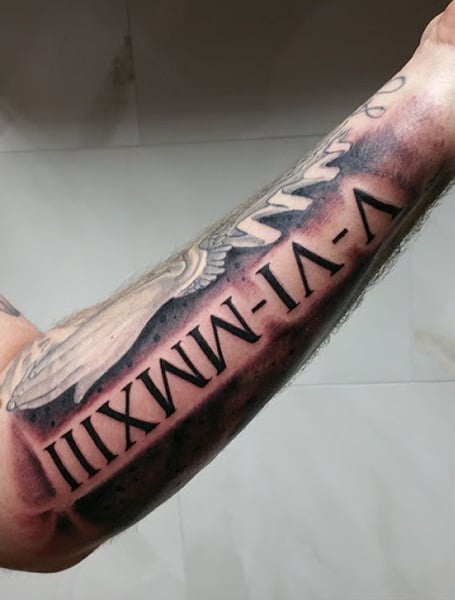 46. Anchor Tattoo
The anchor tattoo is a symbol for sailors, who spend their lives on ships, but the naval forces also favor it. The purpose of this device is to stop a vessel from drifting in the current, holding it firmly in place; thus, a tattoo like this would represent stability and calmness. Even for those who have no attachment to ships, this is a beautiful design because it can serve as a reminder to stay focused during the rough times in life.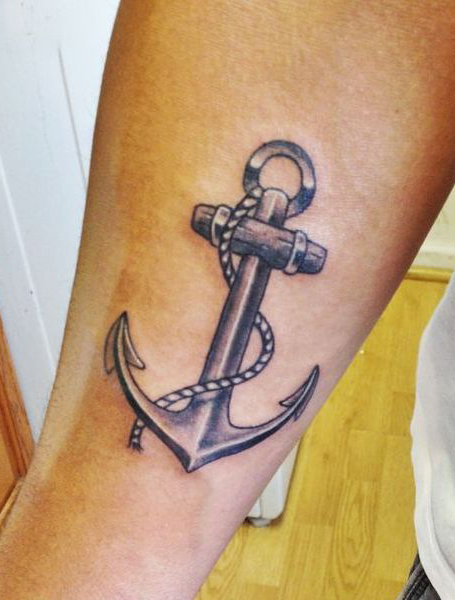 47. Bear Tattoo
Bears are feared but also well-respected and are rich in symbolism. They can represent power, courage, and endurance, but also have a more other-worldly connection. Warriors across the globe have worn bearskins as armor and a show of strength. As with many other animals, this fearsome beast also has cultural significance; for example, the Native Americans have linked it to the spiritual world.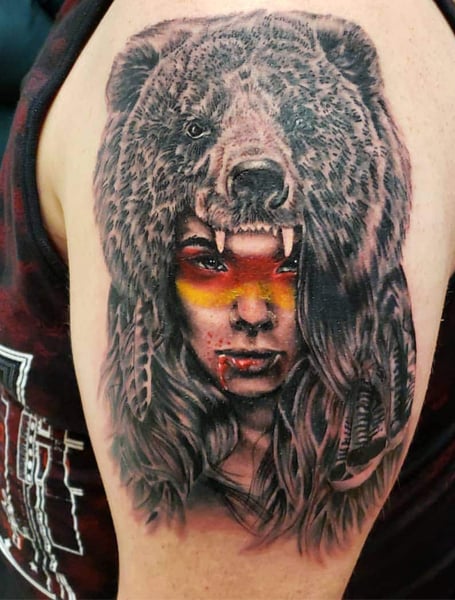 48. Tiger Tattoo
Do you value strength and power? If so, then a tiger tattoo may be what you need. In its natural environment, a top predator, a fierce hunting machine built to take down prey. That said, the big cats can symbolize freedom and independence. The tiger has also featured heavily in many Asian cultures. In Chinese folklore, it is considered a protector of the dead. For the Korean people, they are considered the king of the animal kingdom, and the mighty beasts are also the national animal in India.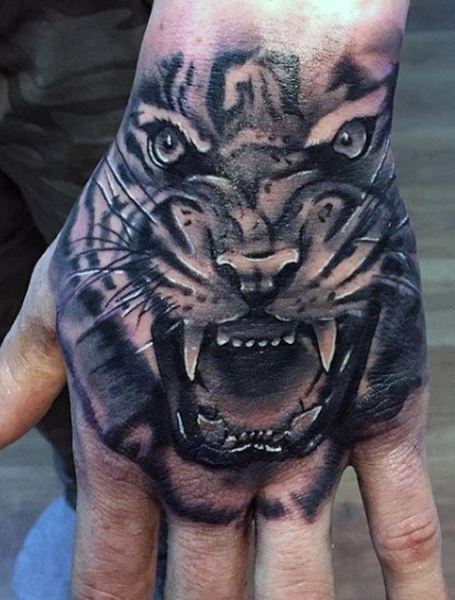 49. Clock Tattoo
We are all familiar with the concept of time and how we have a limited amount of it, which is why a clock tattoo is a thought-provoking choice. It often represents the balance between life and death. A man who thinks a lot about his mortality may be drawn to a piece like this. Or it could be inked to honor the memory of a loved one, with the timepiece indicating when they passed. Alternatively, this can also be a touching way to signal the birth of a baby. Clocks are often accompanied by other elements, including roses and trees, which signify life, or skulls and fire, which represent something darker.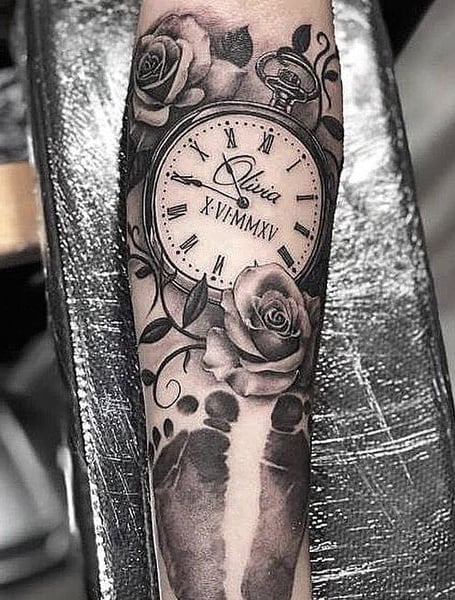 50. 3D Tattoo
If you want a piece that comes to life on your skin, then you need a 3D tattoo. The artists who specialize in this style are very skilled and can create hyper-realistic pieces that add an extra dimension to your ink. The design challenges your perception and can be quite intimidating, especially when it is a dangerous creature like a scorpion or a snake that has been inked onto your skin. Something to remember is that these pieces are incredibly detailed, and as such, it is common for them to come with a higher price tag.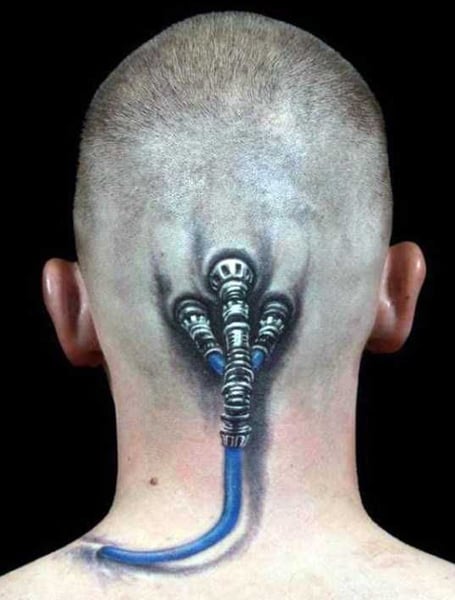 51. Joker Tattoo
The Joker is a surprisingly much-loved villain from the DC comic series; he was also later portrayed in films. Despite being Batman's arch-nemesis, many people are drawn to this character because he is mischievous, mysterious, and a trickster. Although he is evil, he can be seen more as a symbol of rebellion, and men are often able to relate to this, as well as some of his other traits. Plus, his appearance is so unusual to look at, with strange makeup and bright hair, making it an eye-catching piece. When deciding to tattoo the Joker, it's worth noting that this design looks best in vibrant colors.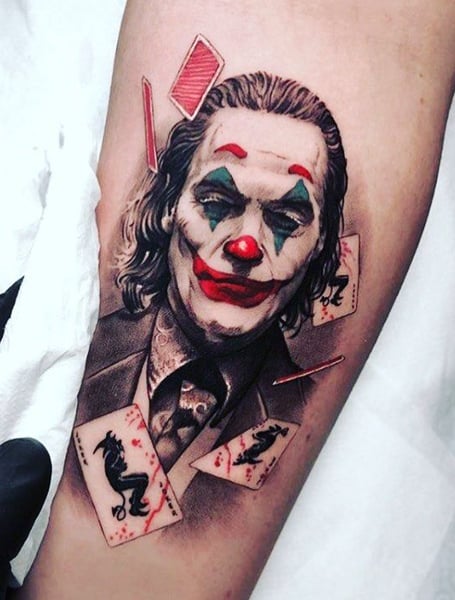 52. Mountain tattoo
If you love being outdoors and feel at peace in nature, then an excellent piece for you would be a mountain tattoo. There are many different interpretations of how to get it inked; some men opt for a simple silhouette, while others dedicated an entire sleeve to the landscape. Still, most people will agree that it symbolizes love for travel and adventure. The design can also indicate a journey or how it can be an uphill climb to achieve something.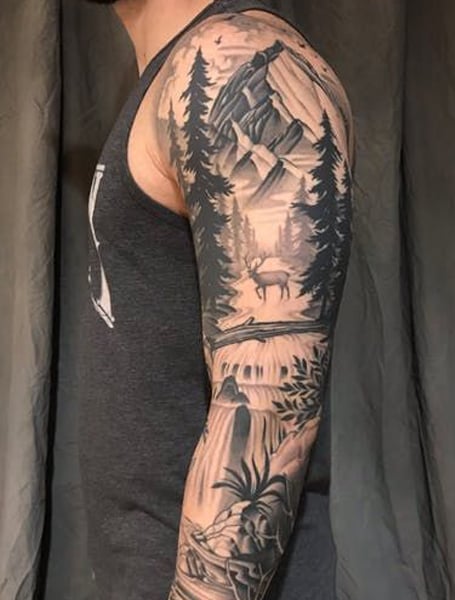 53. Octopus tattoo
A squid or octopus tattoo is often linked to intelligence, mystery, and illusion. The animal can avoid enemies, or easily escape from danger by suddenly releasing black ink. In real-life, these creatures are found in many different colors, and in the form of a tattoo, they tend to be especially eye-catching when completed in bold, bright shades. The beauty of these designs is that no two are quite alike, and there are many interesting interpretations. The best placement is somewhere with a decent amount of skin, like the shoulder or chest, so that the details of their tentacles can be shown.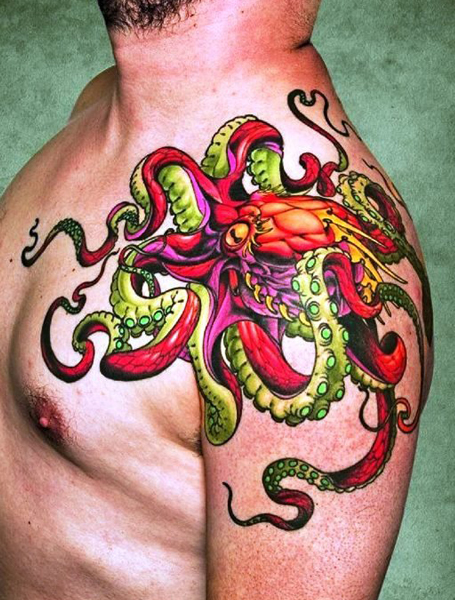 54. Viking Tattoo
Norsemen have been popularized in film and art, and are regarded as skilled and fearless warriors. They explored and plundered new lands, and their warrior spirits made them a fearsome enemy. Viking tattoos can be seen as a symbol of power and strength and would have been inked as a way to honor their faith and rituals. There are many design options, including the helm of awe; an ancient compass-like creation that provides mental and spiritual protection. It's not hard to see why you would want to adorn your body in such intricate patterns!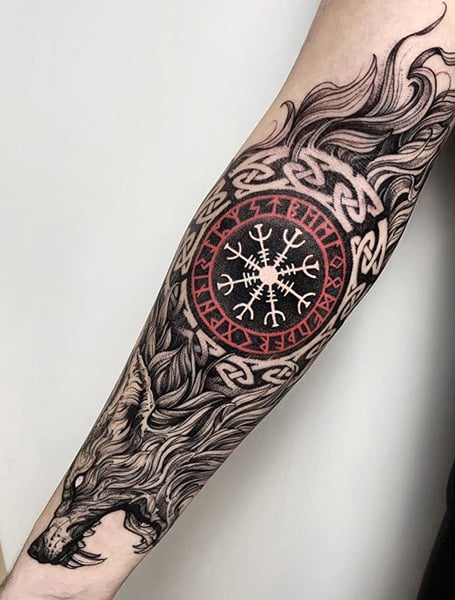 55. Dog Tattoo
The dog is man's best friend, so it's little surprise that people want to get tattoos of their favorite animal. Typically, these canines represent loyalty, protection, and love, which are characteristics that inspire many men. The various breeds and style options give you a wide variety of choices when it comes to your ink. Plus, you can get your pet, giving the tattoo even more importance.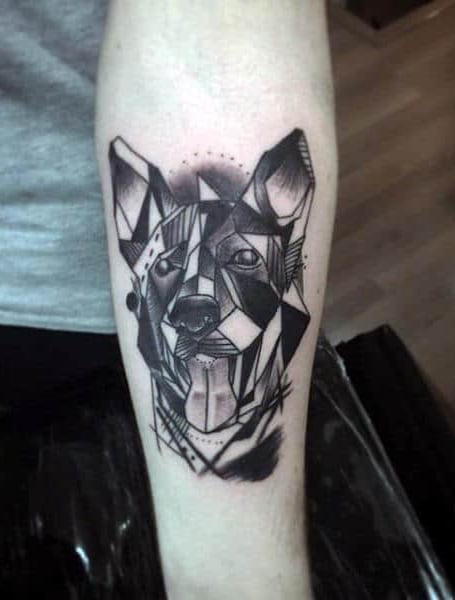 56. Buddha Tattoo
The teachings of Buddha are an essential part of the Buddhist faith, and so is his likeness. Buddha tattoos are often associated with peace and a sense of calmness. Some men are inspired by this and want to honor their devotion to a religion they find beautiful. That said, before getting anything inked onto your skin, you should do your research to ensure that the chosen design is not culturally insensitive.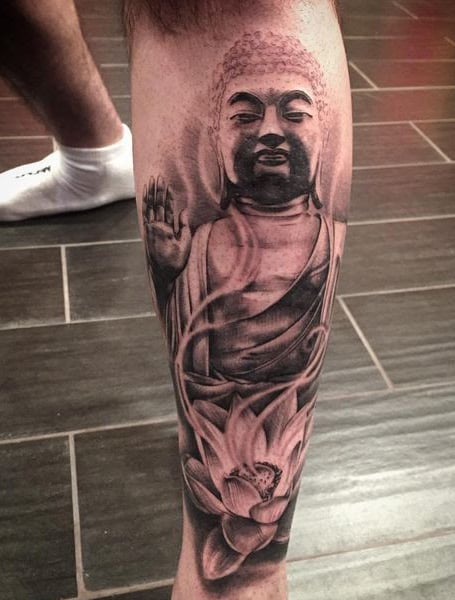 57. Praying Hands Tattoo
The praying hand tattoo is a Christian symbol, and one that is used to show an individual's deep love and devotion to their faith. The hands together in a praying motion, signifies the importance of God and the power of prayer, which brings you closer to your maker. A piece like this is also connected to respect and personal sacrifice. If you are a believer, you won't regret this a meaningful design!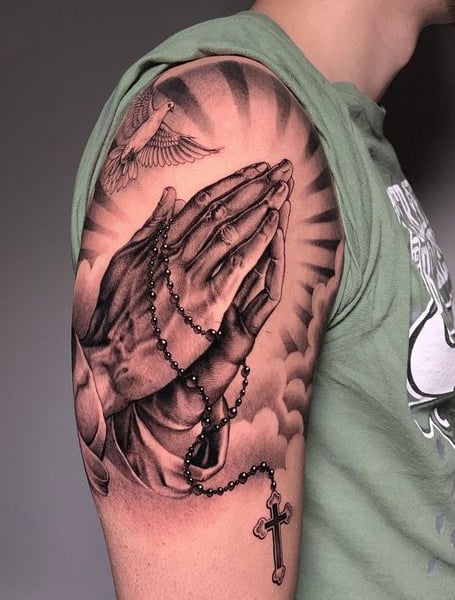 58. Heart Tattoo
Heart tattoos are universally recognized, and there are many different options and styles; you can opt for something realistic, or a more abstract design. Most commonly, the symbol is associated with love, but can also represent courage, or be inked as a memorial to honor loved ones who have passed. Color is also significant when it comes to these designs, with black being used for grief and loss, and red for passion and desire.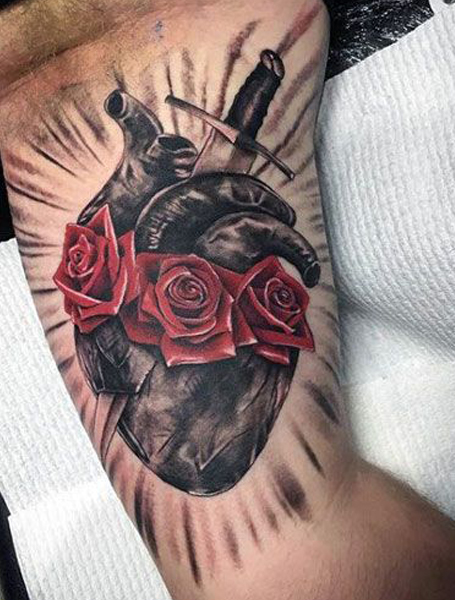 59. Rose Tattoo
Of all the blooms that you can choose from, rose tattoos are perhaps the most meaningful. So, why should you get this floral design? The flower is often associated with a balance between beauty and pain; it is beautiful, but the thorns can cause discomfort. The different colors also have varying meanings; red is more about love, desire, and passion, while a yellow rose could symbolize friendship and joy.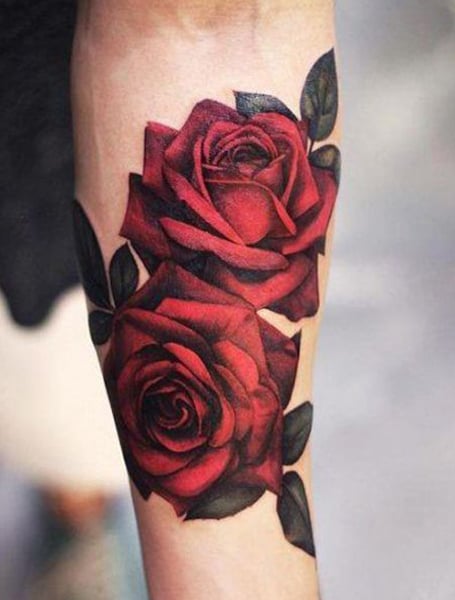 60. Sun Tattoo
For men who want a meaningful but uncomplicated piece, a small sun tattoo is a good option. The designs vary but tend to work best when kept simple, allowing the symbolism to speak for itself. As for the meaning, the two most common traits are truth and light. Our world would be very dark without the sun, and thus, it represents a direction and a guiding force. It can also be a symbol of life on earth.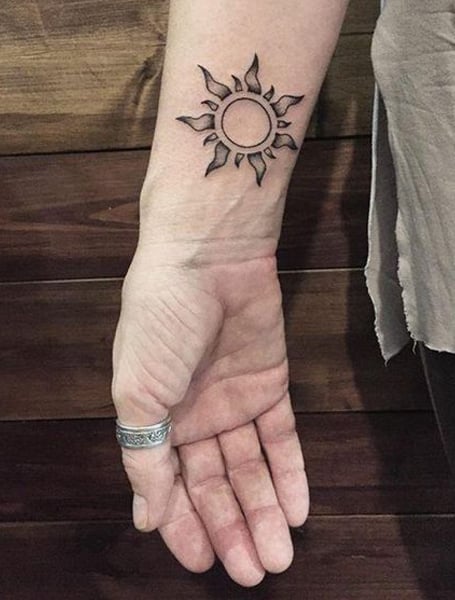 61. Stick and Poke Tattoo
You may have seen stick and poke tattoos trending on social media lately, and the style is enjoying a surge of popularity. Unlike electric machine tattoos, they are created using a hand-held needle and rod gadget, and it has a very distinctive, almost imperfect appearance. It may not be as precise as an electric piece, and the same lines need to be done several times to take, but this is the appeal of the aesthetic. Each inking is unique and different. The method takes you back to tattooing basics and has a rebellious association because the technique is not mainstream. There is no limit to what you can get, although, in general, these designs tend to be less detailed and smaller.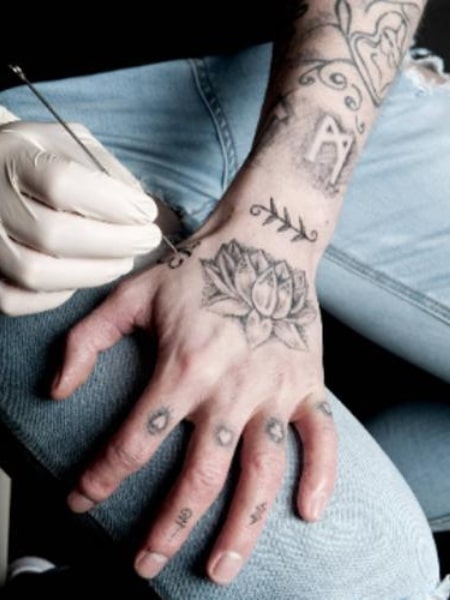 62. Minimalist Tattoo
If you are a man who likes to get down to basics and prefers the simpler things in life, then a minimalist tattoo is the style you need. These inklings are all about stripping the design down, often using lines, limited shading, and little detailing. The use of negative space makes your body art interesting, but it will also not hurt as much. Another pro is that the tattoo session should generally be shorter and not as expensive as a piece that required a lot of detail or color. When deciding what you want to get done, there is a lot to choose from; pick something meaningful to you.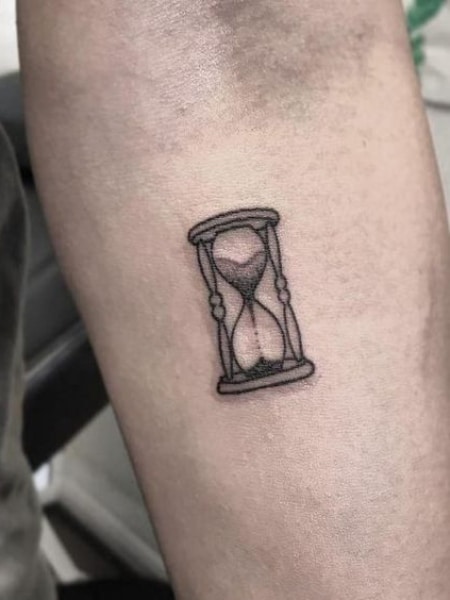 63. Sibling Tattoo
Sibling tattoos honor the blood bonds that you share, but for some people, those who are not related are also considered family. Whether you are celebrating the relationship you share with your brother and sister, or best friend, this is a beautiful and significant option. It shows appreciation for the person and will serve as a reminder of this every time you look at your ink. When it comes to deciding on your body art, there are many different options. If you prefer something small and simple, then the minimalist technique will appeal to you. In contrast, the watercolor or Traditional American tattoo style makes a bold statement. Your inking can be matching, or it can be two separate images that go together.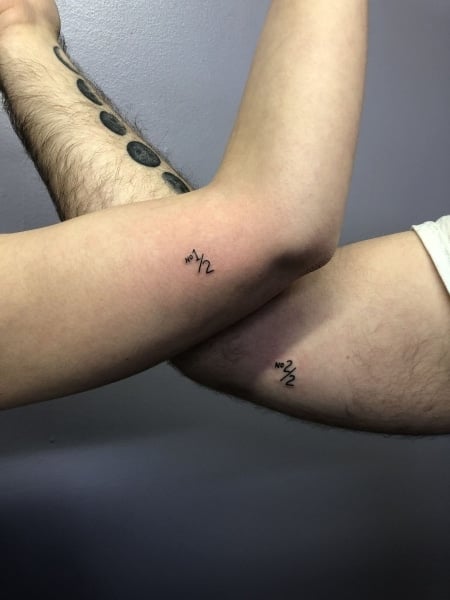 64. Skeleton Hand Tattoo
Some body art is cute or funny, and then some are cool or scary options. The skeleton hand tattoo can be cool and intimidating. Deciding to get inked on your hand is a bold choice, even more so if you opt for something as noticeable as this, covering the entire hand. The visibility makes it fascinating and has a rebellious element to it; it can restrict professional opportunities, and you may receive public judgment. This is a piece that will make a statement, and it represents death, bravery, fearlessness, and protection. There are many options to choose from, from basic outlines to hyper-realistic artwork, making it easy to find something appealing to your personal style. It may seem like a depressing subject for your ink, but it is a thought-provoking and interesting choice.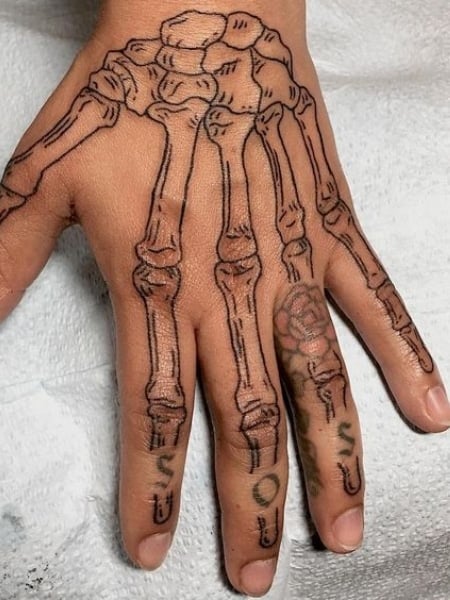 65. Japanese Tattoo
Japanese tattoos, also referred to as Irezumi, are bright and bold, but the subject matter is also incredibly symbolic. The imagery used is often a way to honor folklore or tradition. Popular designs include mythical creatures like a phoenix or dragon, meaningful animals like a koi fish, or images of nature, for example, a lotus of cherry blossom. The technique has become popular around the world because of its appearance and symbolism. The vibrant colors, interesting shading, and black linework make for an eye-catching piece. That said, tattoos still carry a stigma in Japan. This is due to the infamous Yakuza gang, known for covering their bodies in ink as a show of commitment.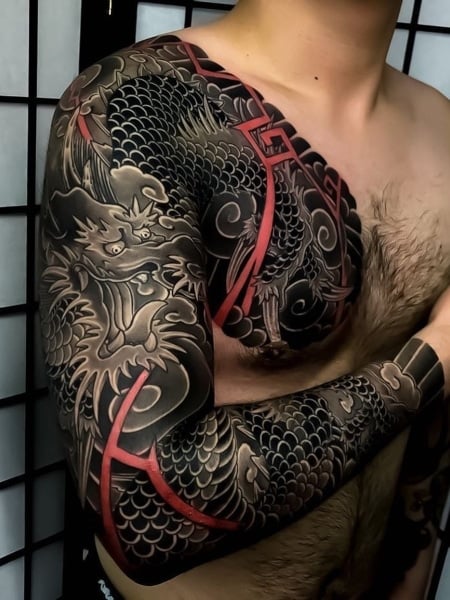 66. American Traditional Tattoo
The American Traditional tattoo, also known as Westen or Old School, is a fantastic option for someone who wants to make a statement. The technique is defined by its use of thick bold lines, minimal shading, and a limited but very bright color palette. This usually consists of red, green, yellow, and blue. The artwork is also created around several themes; these can include animal designs and nautical inking. You can choose everything from the fierce serpent ink to a celebration of the female form with a diving girl. The style also has a rebellious feel to it, as those on the fringes of society were once the only people to use it. If you love iconic body art that is bound to turn heads, then this is the right choice for you!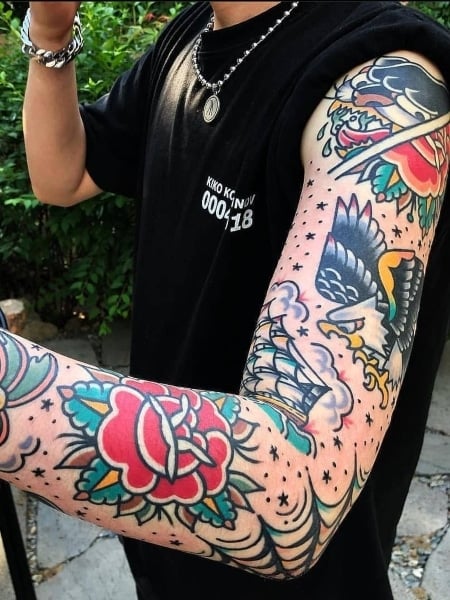 67. Matching Couple Tattoo
If you want to show your seriousness about your partner, then what better way to do this than with a matching couple tattoo? Body art is meant to last forever, and it is a serious commitment to get the same ink as a loved one. It makes a bold statement about the relationship and is a way to celebrate the connection you share. For this reason, you should think long and hard about what is meaningful to both of you. It should not be a compulsive decision, and you would be wise to wait a few months or years into the relationship. Maybe you want to get an image of your favorite cartoon character or a quote that describes your bond. It can be something cute, deep and symbolic, or funny. Plus, the process of getting inked together is a bonding experience.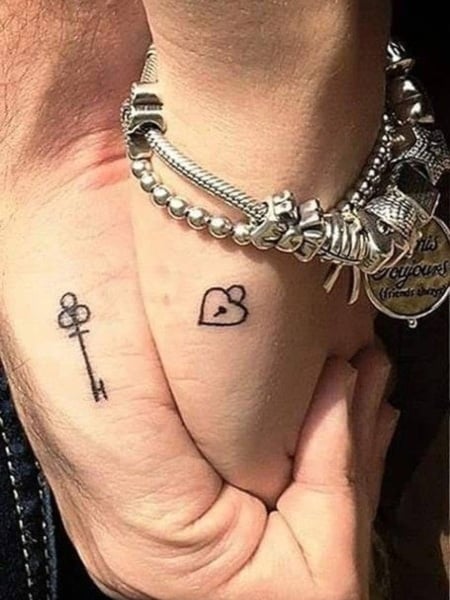 68. Best Friend Tattoo
Best friend tattoos celebrate the person in your life that is like family, even if you are not blood-related. Deciding on a design that symbolizes your bond is an excellent choice because it shows your appreciation for each other. Men need to be able to show emotion, and honoring your friend in this way does that. You can pick anything that has importance to your relationship, from funny images and inside jokes, to words or quotes that are meaningful. It could be a piece that reminds you that there is always someone who has your back and that you can trust with anything. Your inking is meant to last a lifetime. This is exactly what you want because you hope that this person in your life will be around forever, too.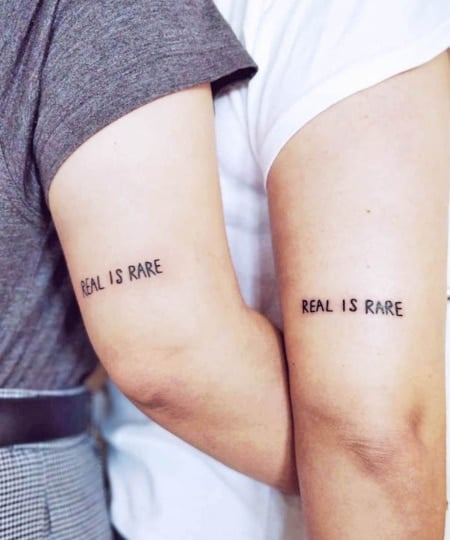 69. Flower Tattoo
There are so many different flower tattoos to choose from, each with its meaning. In general, blooms are associated with life, growth, and love. They can be inked on their own or as a filler with other images. For example, a skull or a clock can represent the balance between life and death. When choosing which flower you want, consider its appearance and the meaning attached to it. A lotus is associated with enlightenment and rebirth, while a poppy represents patriotism and honors fallen soldiers. The rose symbolizes balance, beauty, and pain, and the daisy is connected to loyalty and good luck. Floral body art also lends itself well to color, so if you choose a technique that uses bold shades, for example, the watercolor effect, a flower is a great choice.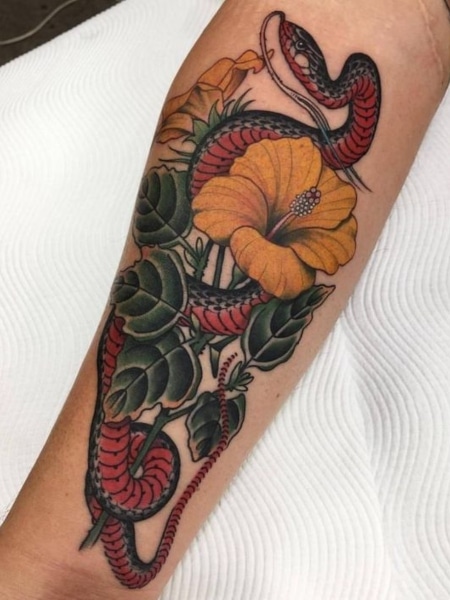 70. Eye Tattoo
Our eyes are the windows into our soul and are often associated with mystery, protection, and clarity. It has importance to many cultures, and there are varying interpretations for what it means. The great thing about opting for an eye tattoo is that it can say a lot about you; do you want to ward off bad spirits and eliminate negativity from your life? If so, then the evil eye is the piece for you. It is thought to keep the wearer from harm and is linked to safety, perseverance, and faith. Another option could be the third eye, which represents wisdom and intuition. It can be a helpful guide for many people when making decisions and can act as a voice of reason. If you want body art that looks cool but is also deeply symbolic, look no further than an eye-inspired design!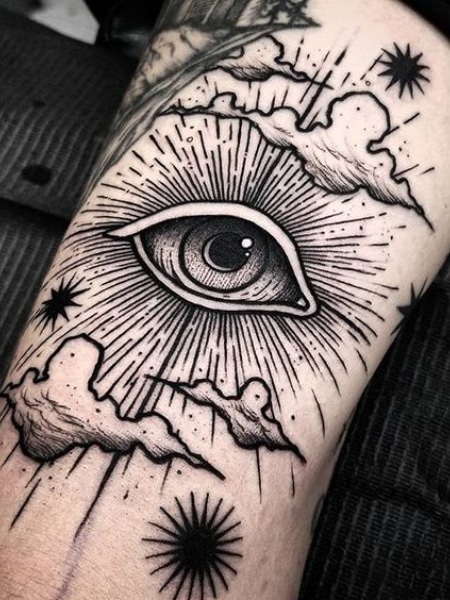 71. Tree Tattoo
Tree tattoos represent life, growth, and regeneration. They are also a symbol of longevity and strength. It is not hard to see why someone would be drawn to a design of a tree because of the powerful meaning associated with it, but also because of choice. There are many different trees, each with its unique significance. For example, pine is linked with endurance because they can live for many years, while the Joshua tree is connected to resilience. There are also symbols like the tree of life, representing eternity and wisdom, which is perfect for a man who contemplates his mortality. Or, if you want a more personal design, you can opt for a family tree. This can be complete with the names of your loved ones and potentially their birth or death dates too.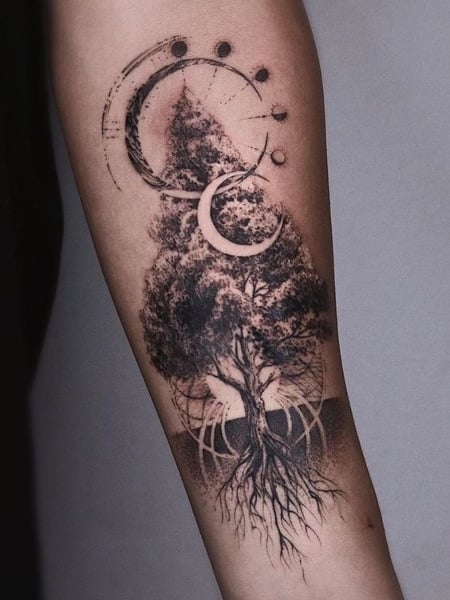 72. Collarbone Tattoo
Collarbone tattoos are super cool, and it is the perfect spot for someone who doesn't mind the pain. Getting inked in this location will hurt because of the proximity to bone, but how much discomfort it will cause depends on the size of your design and your pain threshold. There is a wide range of different options to choose from that can be inked across your clavicle or underneath it; these include elaborate serpent or delicate floral designs. Or something as simple as a quote. It is a popular choice for men who want to make a statement. It will get you noticed, but at the same time, the collarbone is easy to cover up. This is great if you work in a corporate environment or wish to ink something for your eyes only.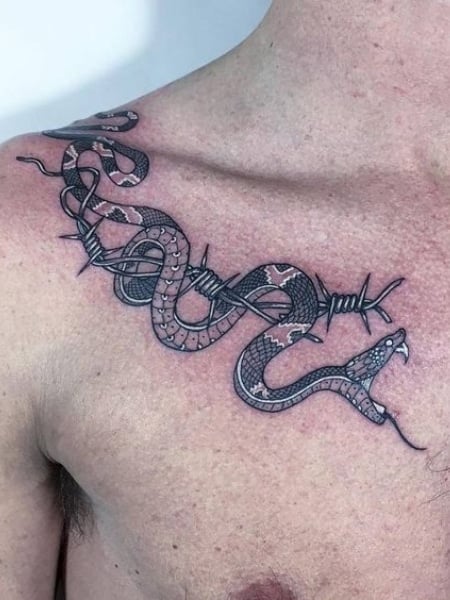 73. Angel Wing Tattoo
Angels are messengers and protectors, celestial beings that are associated with a balance between heaven and earth. If you want a deeply symbolic inking, then an angel wing tattoo is it. The wings represent different things, including faith, hope, guidance, innocence, and protection. For some, it is a symbol of God and a way to celebrate their faith. It could be a reminder to be a better, more caring version of themselves. Others may be drawn to the design because they find comfort in the thought of a guardian angel watching over them. Or get tattooed with wings to honor a loved one who has passed. Placement is just as important, and although having wings sprouting from your shoulders is a great option, you can get them tattooed anywhere. Your piece can be big or small, detailed or simple; the choice is yours.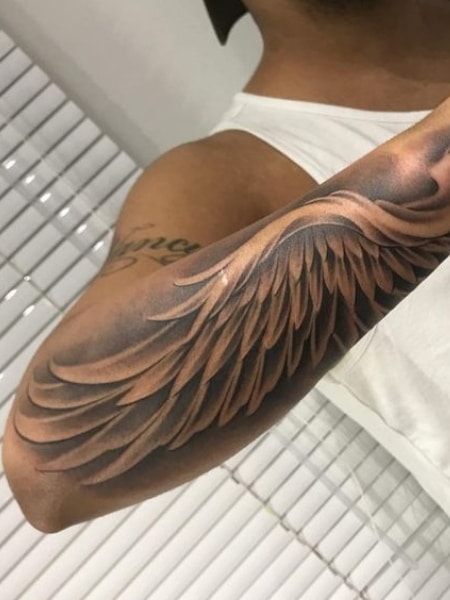 74. Finger Tattoo
Deciding on a finger tattoo is not a decision that should be made overnight because this is a spot that is bound to get noticed. Opting for such visible ink is part of its appeal, but there can also be a stigma attached to it; it may affect your opportunities in the workplace. Plus, they hurt. The lack of muscle and fat around the fingers and the proximity to bone increase the discomfort. If you are not deterred, then this is a fantastic location for something meaningful to you. It is best to keep the design small and simple because overly detailed pieces won't age well. This could be a little eye or symbol that has importance to you. Or a ring to show your commitment to your marriage. You can use your whole finger or decide on a more discreet option by tattooing on the side of the finger.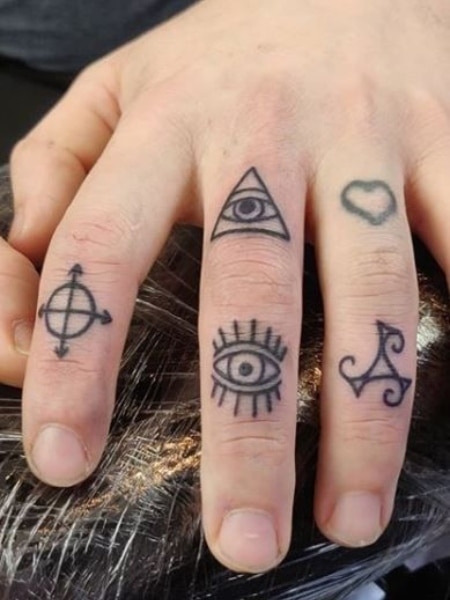 75. Wrist Tattoo
One of the most popular placements for body art is the wrist. This is for a range of reasons, including that it is visible, letting you show off your design, but it can also be covered up easily. It is also great for something meaningful to you. This allows you to look at your piece regularly and serve as a reminder for why you decided to get it. From small and simple to an intricate rose or floral design. There is so much choice when it comes to finding the shape, symbol, word, or image you love. It is worth noting though a wrist tattoo is considered to be among the more painful options because there is little fat and muscle in the area.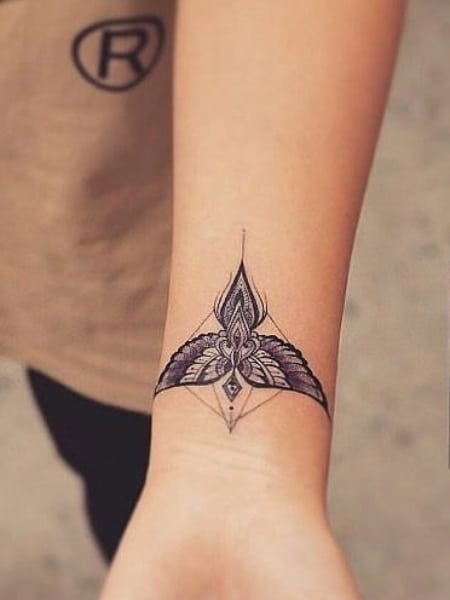 Where to Get a Tattoo
Sleeve Tattoo
Covering the arm, sleeve tattoos for men can be seriously expressive. So, whether you like colored tats, tribal designs, Japanese styles or something else, be sure to select an option that represents you.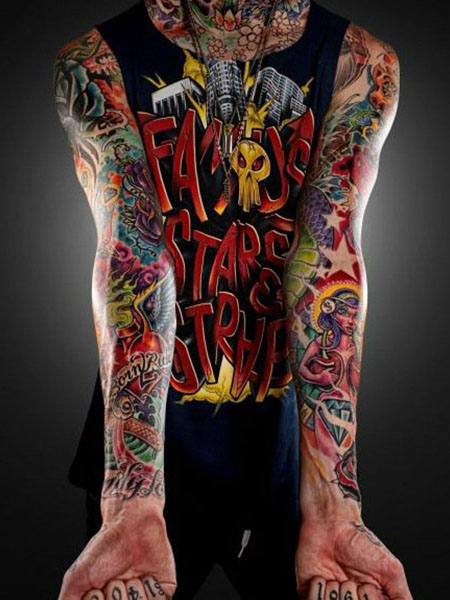 Knuckles Tattoo
Although difficult to hide, knuckle tattoos can make a fantastic choice for bold gents. In particular, they are ideal for showcasing ink that features two four-letter words, one eight-letter word or eight symbols.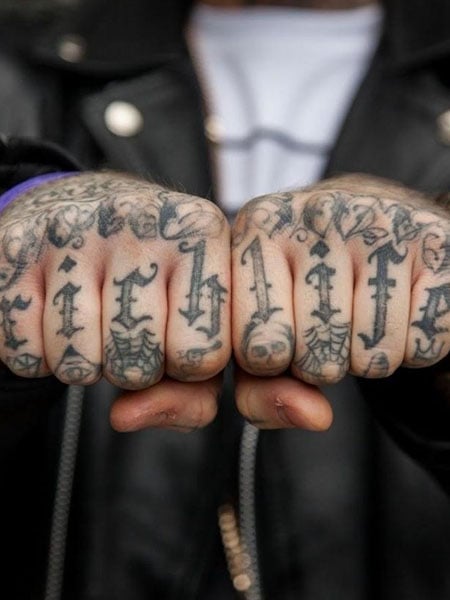 Shoulder Tattoo
Shoulder tattoos can be highly attractive and cool. Also, the unique rounded shape of the shoulder allows for some seriously artistic and unique designs.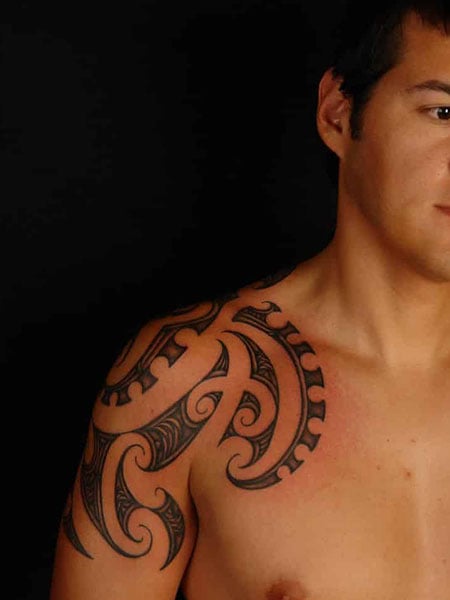 Chest Tattoo
Men's chest tattoos can look fantastic, which is undoubtedly why the area is one of the most popular to get inked. Of course, they can also appear really bad if you don't choose your artist wisely. So, be careful.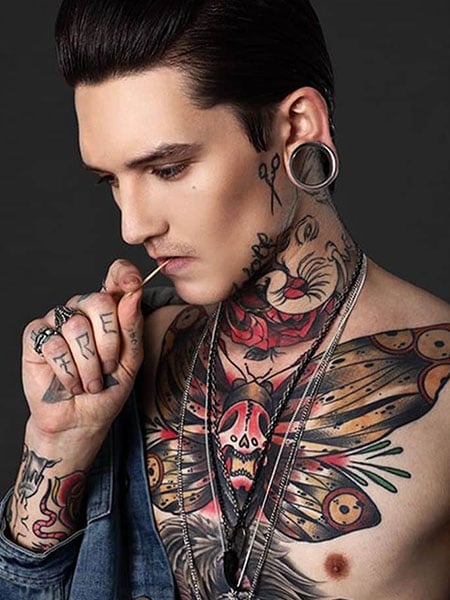 Forearm Tattoo
When it comes to forearm tattoos, your options are vast. But, remember that whatever you get will be on display whenever you want to wear a T-shirt or short-sleeved shirt.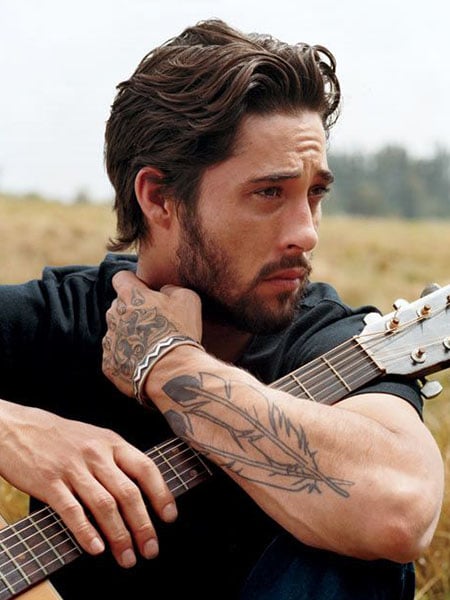 Back Tattoo
Your back is like a blank canvas just waiting for some ink. So, it's the perfect spot for a fresh tattoo. All you need to do is decide on a great back tattoo design you'll be proud to display come summertime.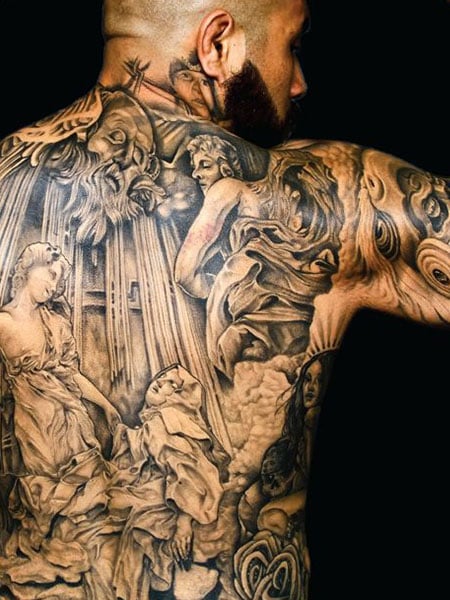 Leg Tattoo
If you want a tattoo you can show off whenever you want, a leg tattoo design makes an excellent option. All you need to do is wear shorts, and your awesome artwork will be on display.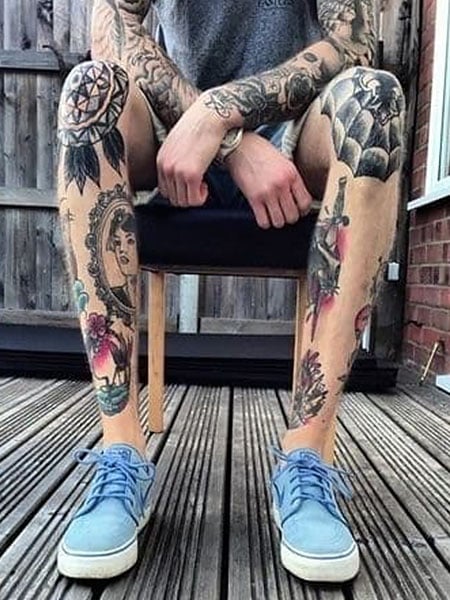 Inner Wrist Tattoo
Inner wrist tattoos can be stylishly subtle. Additionally, the small space lends itself perfectly to a variety of cool designs, such as eyes, initials, symbols and more.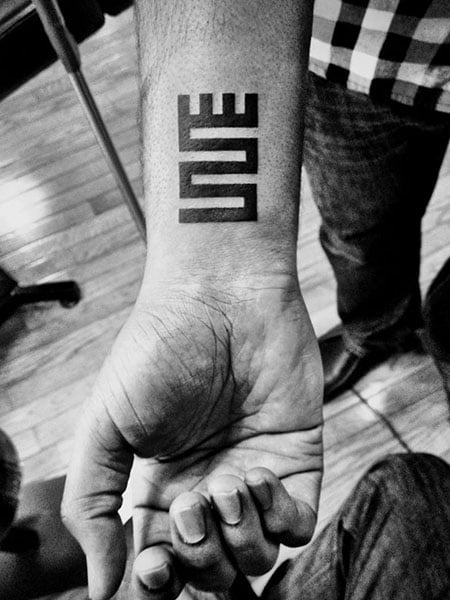 Stomach Tattoo
For a sexy look that's easy to hide, you may want to consider a stomach tattoo. But, be mindful that they tend to look best on toned bodies and can stretch out if you put on weight.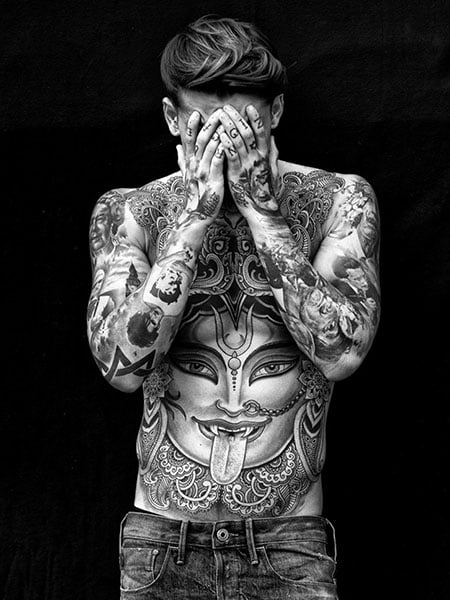 Ankle Tattoo
The rise of cropped pants and wearing shoes without socks makes the ankle one of the best places to get inked right now.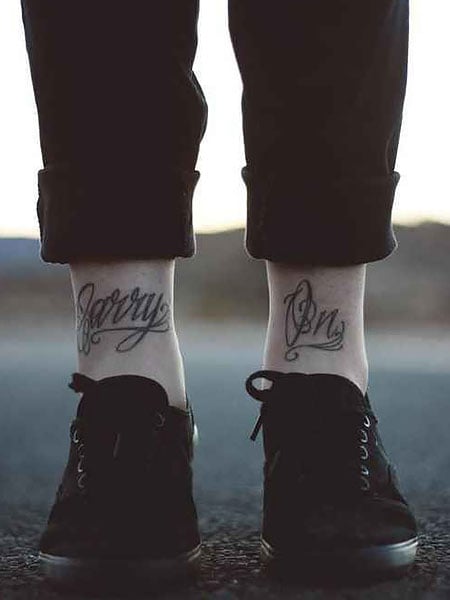 Rib Tattoo
Although it may be one of the most painful areas to receive a tattoo, the rib cage makes an excellent canvas for large, complex, colorful, and intricately detailed rib tattoo designs.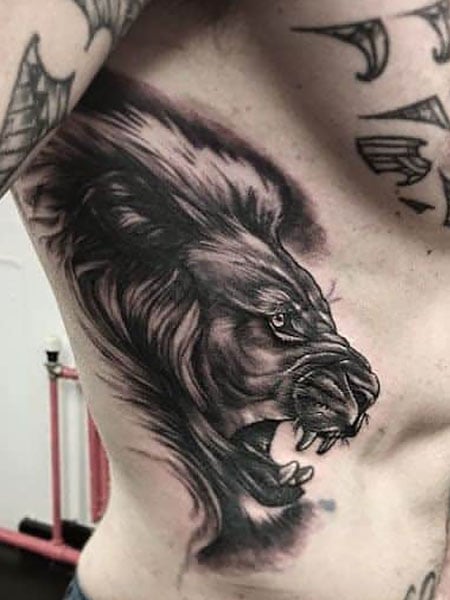 Neck Tattoo
As neck tattoos are visible even with clothes on, they can be a risky choice. But, if you're lucky enough to work in an industry where they're accepted, you can get some remarkable designs.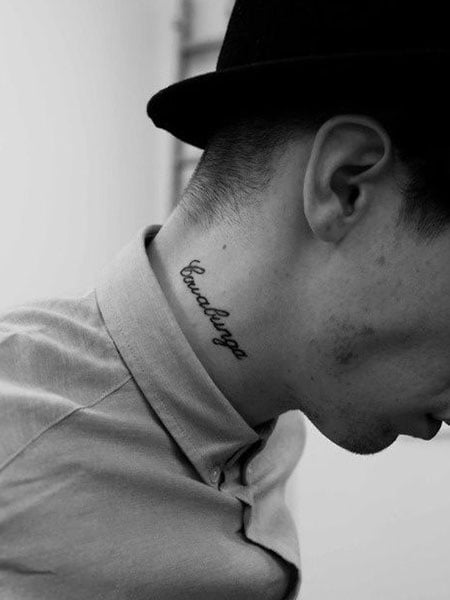 Face Tattoo
While face tattoos may be gaining more acceptance, they are still a somewhat extreme style. As such, it's critical to consider the pros and cons before deciding to get one.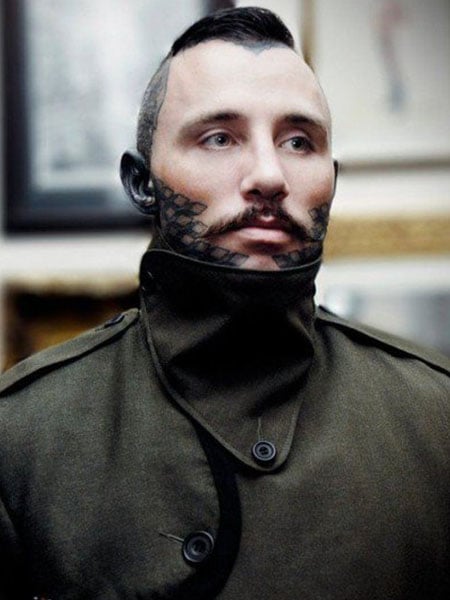 How to Get a Tattoo
Choose the Right Tattoo Artist
Inking your skin with awesome artwork requires the help of a professional. For the best results, be sure to choose a competent tattooist that specializes in the style of tattoo you want to get.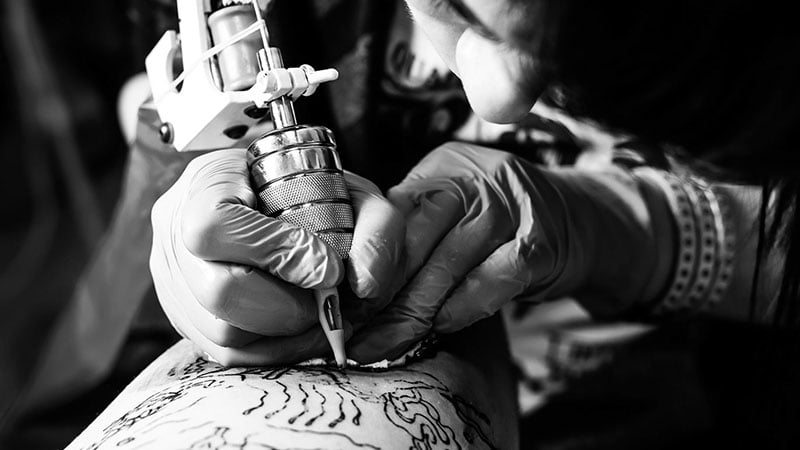 Listen to the Professionals
Be sure to listen to the advice of your tattoo artist. As a professional, they'll be able to provide expert insights into what'll work and look best both now and as your skin ages.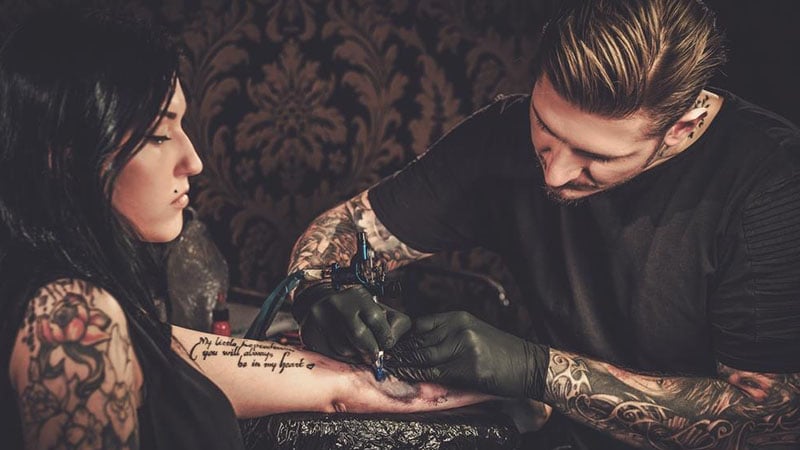 Select Something with Meaning
For a tattoo you'll love for years to come, it's best to select a design that's meaningful. But, be sure to balance meaning with aesthetics to ensure your ink is as stylish as it is sentimental. Oh, and if you're thinking about getting your girlfriend's name, keep in mind that relationships can end.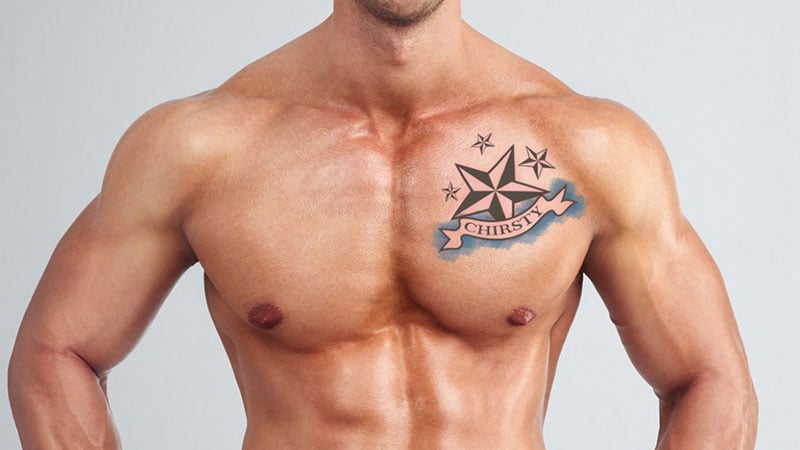 Play it Safe
While many workplaces have come around on tattoos, some, such as corporate offices and the army still frown upon ink that can't be covered up. So, before you get that killer neck tat, be sure to consider how it'll affect your current employment and future job prospects.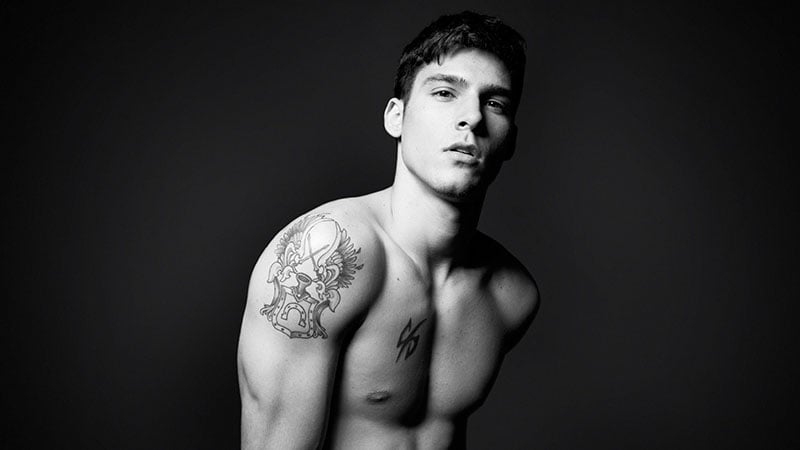 Don't Worry About the Pain
While getting a tattoo can hurt, it's probably not as bad as you imagine it to be. In general, most people find the experience highly uncomfortable rather than painful. Of course, some areas of the body, such as those on the torso, are more sensitive than others.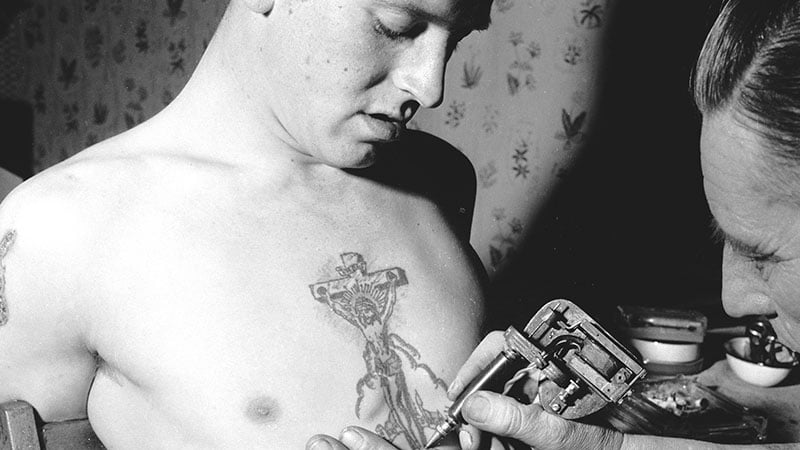 Take Care of Your Tattoo
Taking care of your tattoo is an essential part of ensuring it looks its best. As improper aftercare can lead to fading and even infection, it's vital that you follow your tattoo artist's instructions after receiving your ink.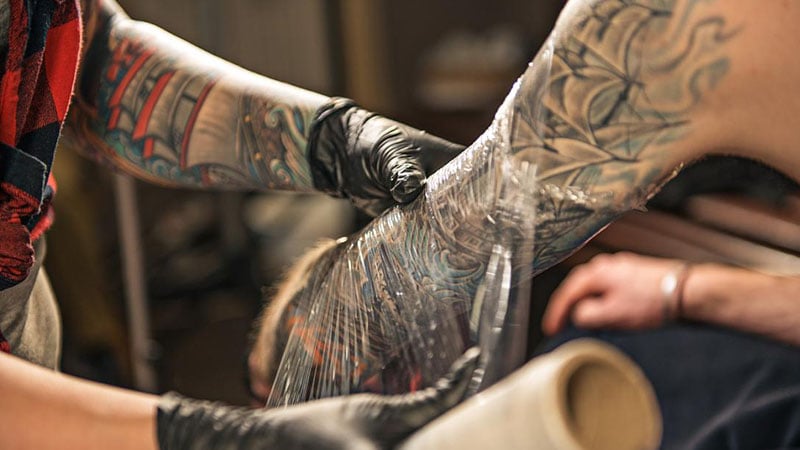 Does a Tattoo Make You More Attractive?
If you're wondering whether a tattoo will make you more attractive or not, you should know that you're not alone. The question is one that has been asked and debated for years. It's even been the subject of studies, such as the one discussed in this video on the topic.
FAQs
What are the most popular tattoos for guys?
The most popular tattoo designs for men are tribal, skull, phoenix, dragon, lion, wolf, flower, compass, religious, nautical, and crown.
Are tattoos attractive on males?
Women think men look healthier with a tattoo. However, tattoos don't make a man look more or less attractive. Tattoos can signal impulsiveness and a propensity for risk-taking.
Where do tattoos hurt the most?
The most painful places to get a tattoo is the armpit, ribcage, ankle and shins, nipples, elbows, behind the knees, hip, neck and spine, head, face, ears, hand, fingers, feet, toes, stomach, and inner bicep.
What are the least painful places to get a tattoo?
The least painful place to get a tattoo is the upper outer thigh, forearm, upper and lower back, outer shoulders, outer bicep, and calves.
Where should I get my first tattoo?
Good spots for a first tattoo that you can easily admire are the wrist, arm, foot, and hand.
SUBSCRIBE TO OUR NEWSLETTER
Subscribe to our mailing list and get interesting stuff and updates to your email inbox.