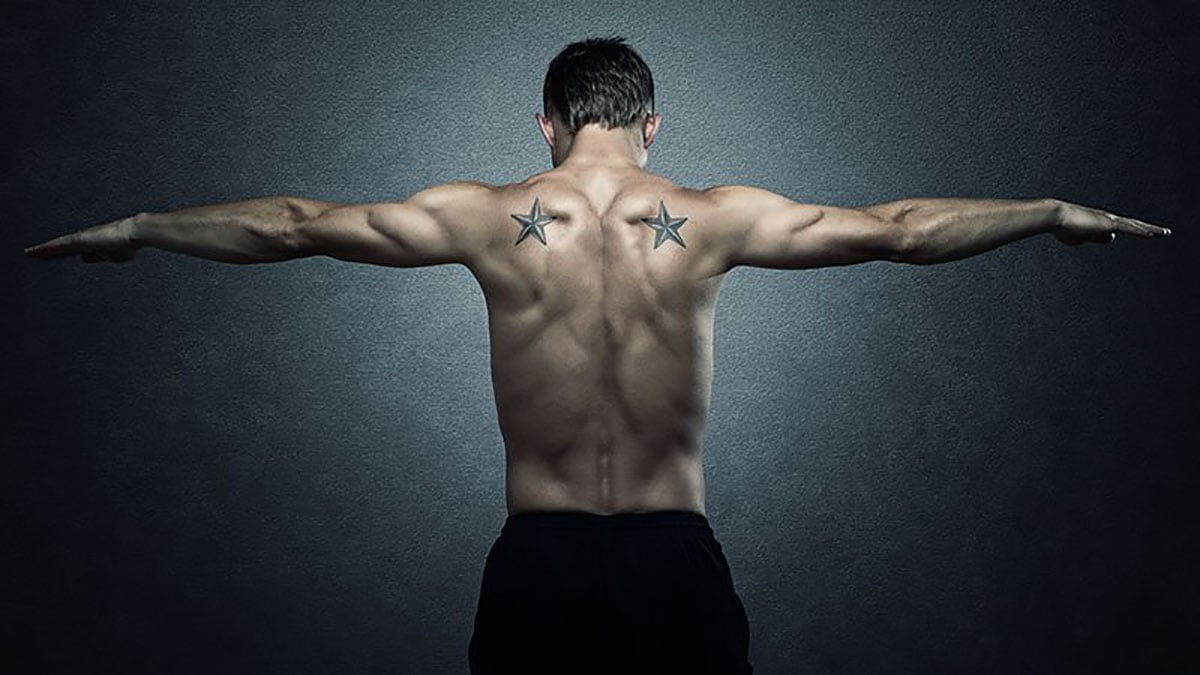 So you're looking to get some ink. Whether you're just starting out or adding to the collection you've already got going, a small tattoo is a great option to keep in mind. Even for the man who would generally opt for a sleeve, a stand-alone tattoo is a great way to showcase a single design. There's no harm in picking something that's a little smaller, in fact, here's proof. We've picked out the best small tattoos for men who like a little ink.
RELATED: 200 Best Tattoo Ideas for Men

1. Small Chest Tattoos
While many men think that a big chest tattoo is the best option when tattooing this area, a small and simple tattoo can even look better. If you're planning to build the tattoo down your arms, then a large chest piece will lock it all together and look fantastic; otherwise, always go small.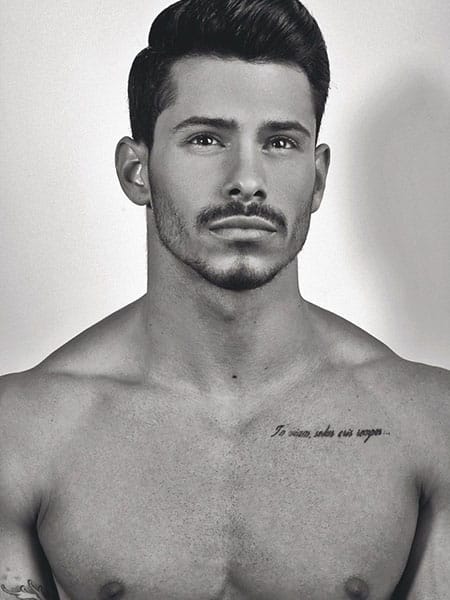 2. Small Wrist Tattoos
If you are looking to get a wrist tattoo, you will want to opt for a smaller design. The wrist is a nice and flat piece of skin to work with, so many designs will look good here. If it's your first tattoo, it's a decent spot to experiment with to see whether you'll want to get more.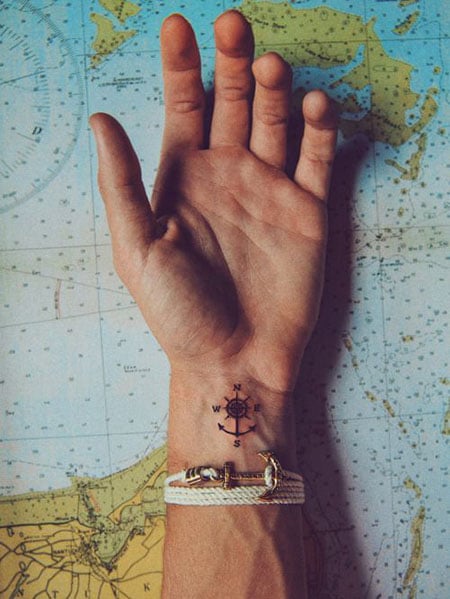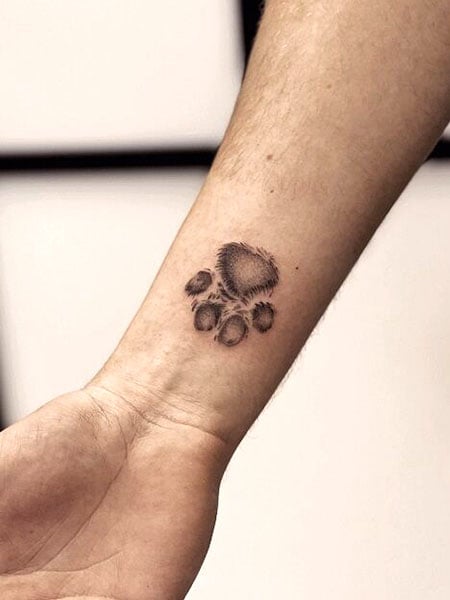 3. Small Arm Tattoos
Depending on the size and length of the tattoo, think of where it'll look best. If it's something really small, you might want to think of placing it at the very top of the arm. Otherwise, the back of the arm is another good location, just above your elbow. If the design has some length, smack bang in the middle of the arm will look great. You want to be careful when picking your placement for your arm tattoo because you don't want to end up with something that looks like it doesn't belong there.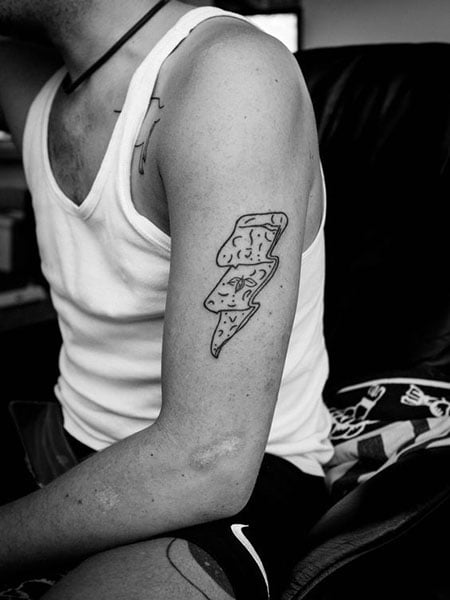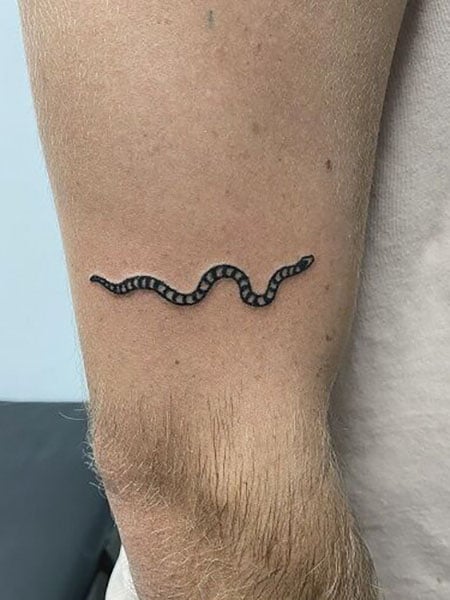 4. Forearm Tattoo
Your forearm is the perfect size for a small forearm tattoo design. Also, with its surface area, there's so much to choose from. It's a decent area for a lengthy script that won't simply fit across your wrist. Otherwise, you could also opt for a cool shape or design that sits just below where your arm bends.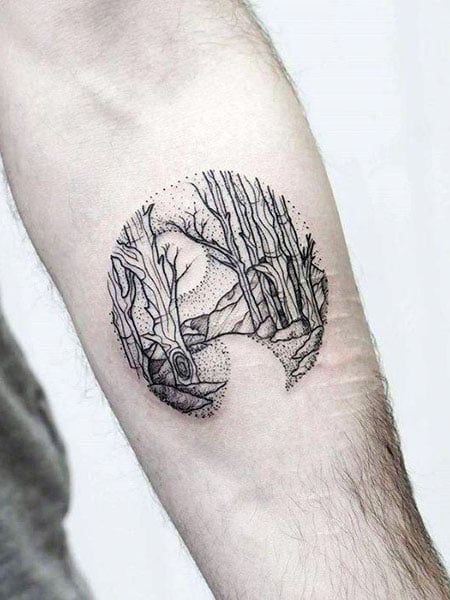 5. Small Back Tattoos
If you're getting one individual small back tattoo, keep to the upper back. Either the side or middle of the back is a great location. Though keep in mind that whichever you chose, you want it to be centered. This means placing it either down your spine or the right inline between your shoulder and neck.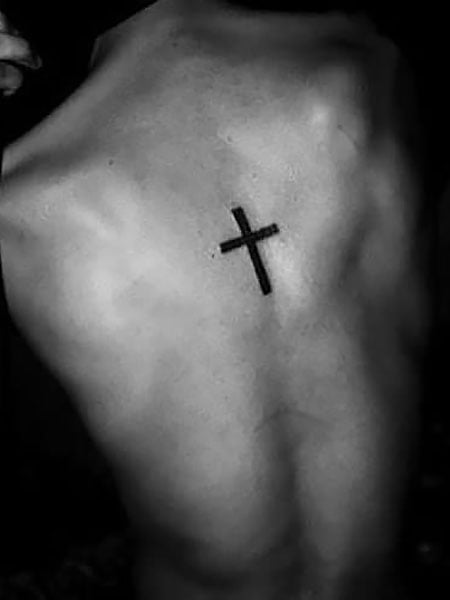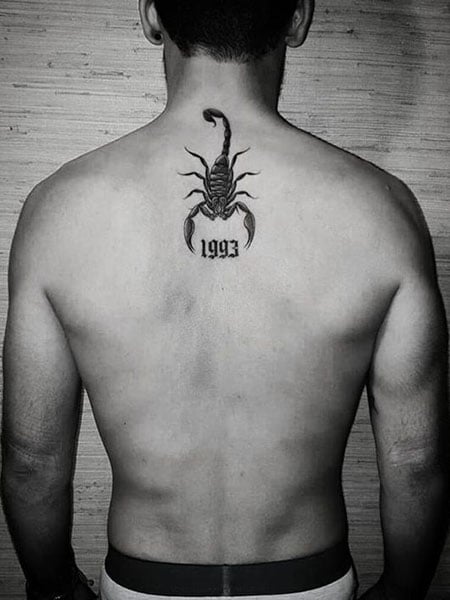 6. Small Hand Tattoos
The hand is a perfect spot when getting a small tattoo. However, while they look awesome when you first get them done, they're prone to quickly fade and blow out. This means that the ink will become thicker. Usually, this happens because our hands spend a fair amount of time in the water, which affects the hand tattoo. If you're set on this location, by all means, get it done. Though keep this info in mind and maybe speak to your artist about it before you get it done.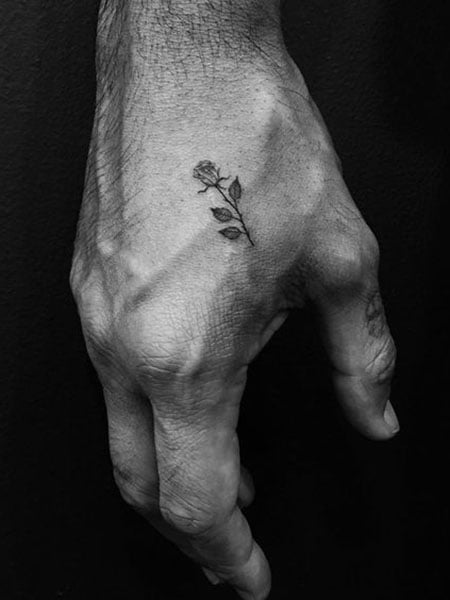 7. Small Shoulder Tattoos
The top of the shoulder is a sizeable place to fit the script or something that creeps slightly up the neck. If you're thinking of getting a shoulder tattoo, a small design usually looks best in this positioning, though a single word does fit nicely there as well.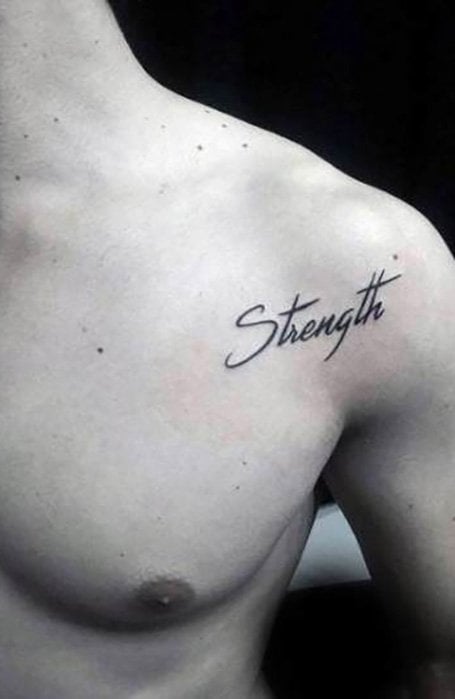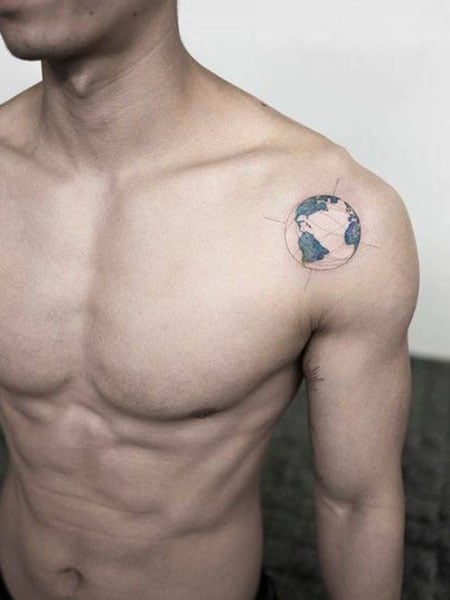 8. Small Neck Tattoos
If you're thinking about getting a neck tattoo, then you're brave. It's generally an area where you get inked if you've already got a fair few tattoos. However, if it's your location of choice and you want something small, you've got plenty to choose from. Either writing or symbols going down the side or back of the neck or a small piece of art located roughly behind the ear are a good way to go.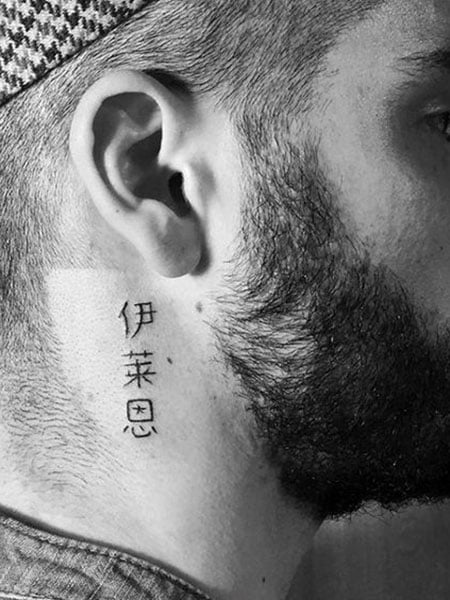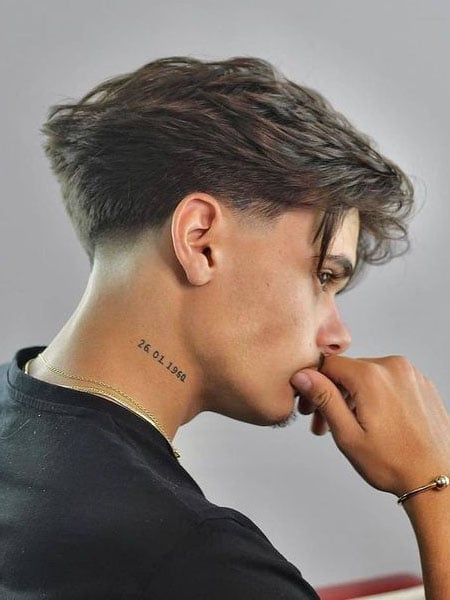 9. Small Face Tattoos
Before you get a face tattoo, really think it through. If you've done so and you're still set on the idea, the best location to place your it is along your cheekbone. This is probably not the best location if this is your first tatt. You might want to try something more subtle to begin with and work your way up to something as bold as this.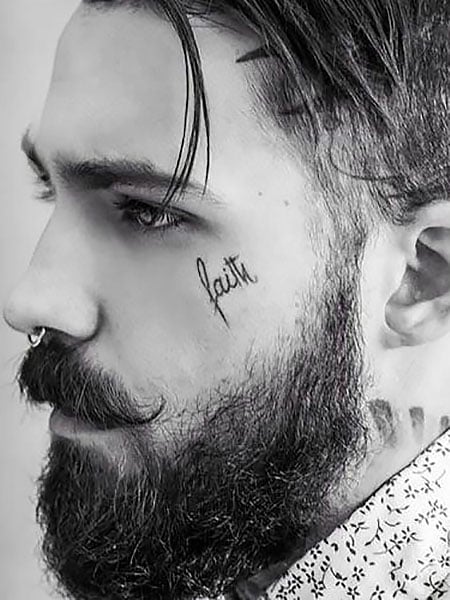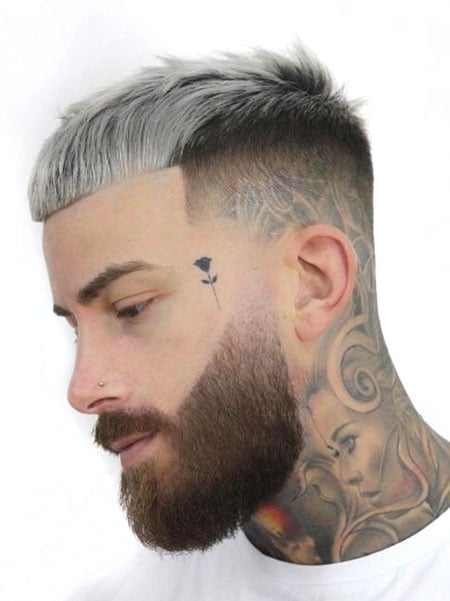 10. Small Rib Tattoos
While the ribs might be a little bit prickly to get done, it's a great location for a small tatt for many reasons. It's easy to hide under clothing, and it's a big space to plant a small tattoo, meaning you've got many location choices, such as right on the side of your body or slightly to the front or back. Both art and text look great here, making it a versatile spot.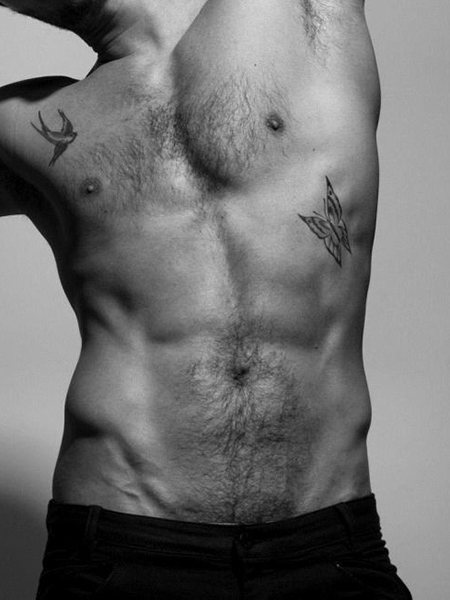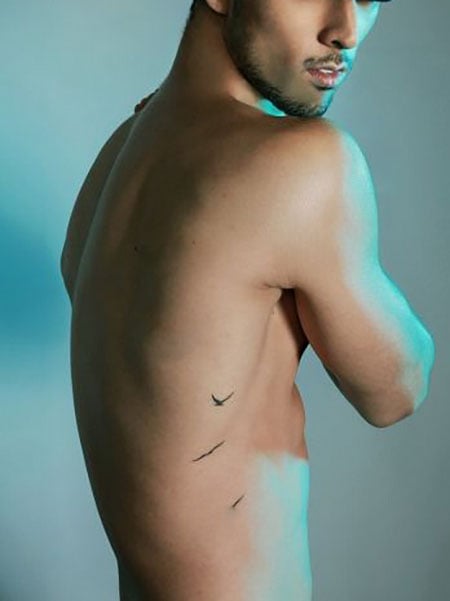 11. Small Leg Tattoos
Leg tattoos give you a lot of location choices. You've got to decide if you want it on the thigh or lower leg, then whether you plan to place it on the back, front, or side. Think of the design that you want and then decide where the best placement will be for it. You can play around with your choices before making the final decision.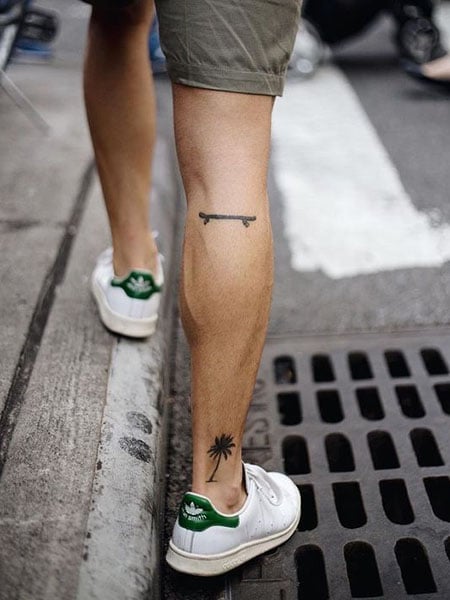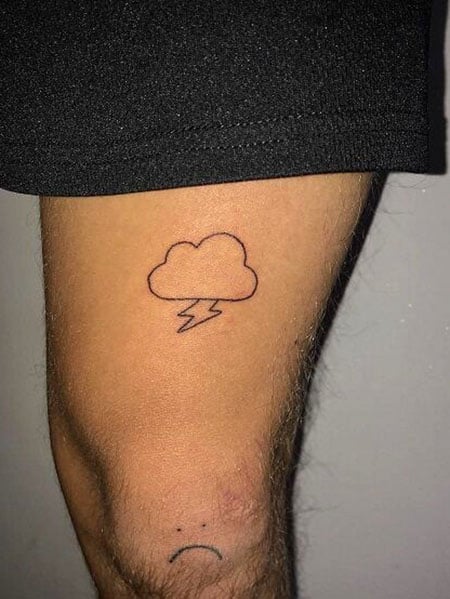 12. Small Foot Tattoos
The surface area of your foot only allows for a small design. Therefore it's an easy choice of placement if you don't want your tattoo to look lonely amongst all your fresh skin. It's also an easily hideable location, which is handy if you don't want it to be on display 24/7. If you have decided to tattoo your foot, you might want to think about your pain threshold. Sure, it'll be a small tattoo, so it won't take too long to do. However, it will be a bit bitey while you're getting it done.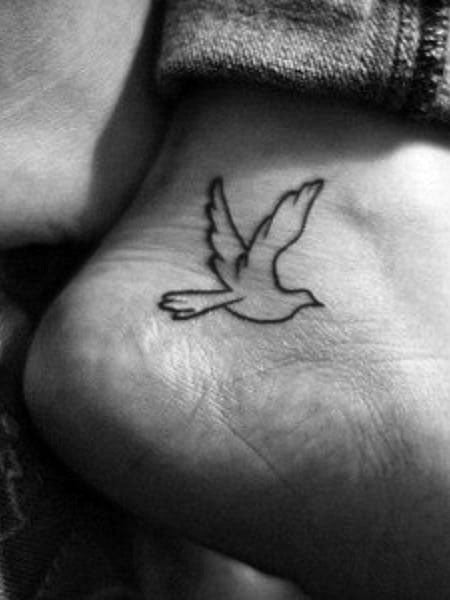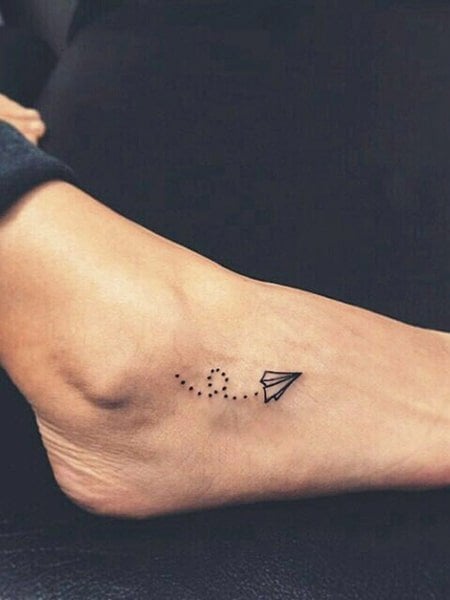 13. Small Cross Tattoos
Crosses are a great way to show your faith while they're also really manly. Either a thick black cross or an intricate rosary design looks masculine, even when they're smaller in size. If you're tossing up where to get it, the hand/fingers, back, chest, and wrist are all great locations for a cross tattoo.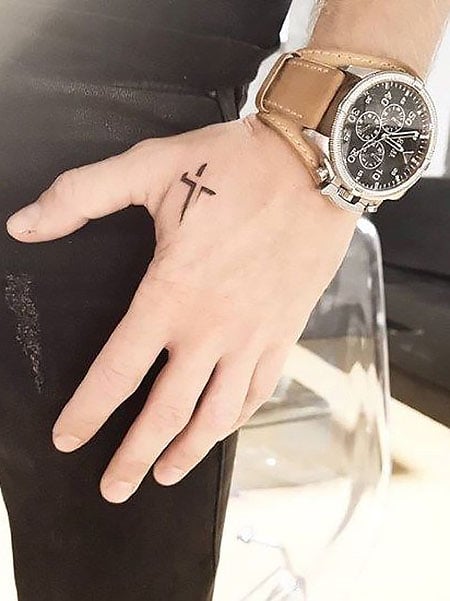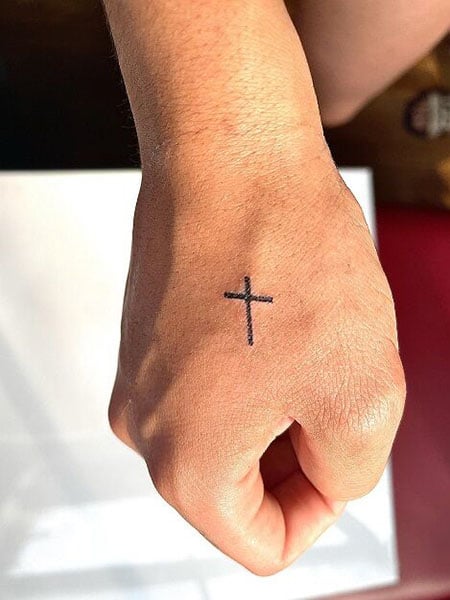 14. Small Crown Tattoo
You've got two options with a crown tattoo. You can either get a black outline of a crown, or you can make it detailed. Small tattoos look amazing when intricately designed; you just have to make sure you find the right artist. Generally, you'll want to find someone who specializes in fine lines for the best possible result.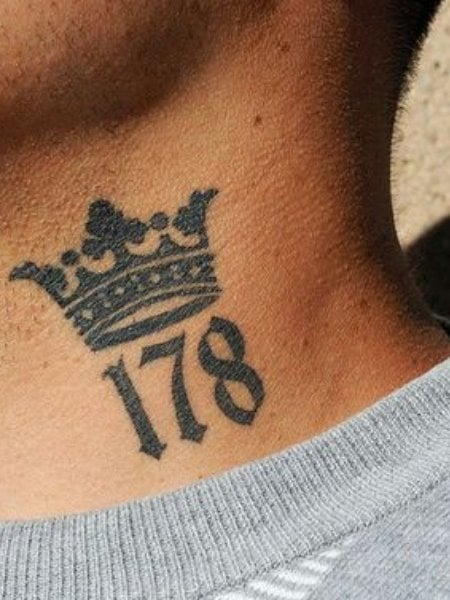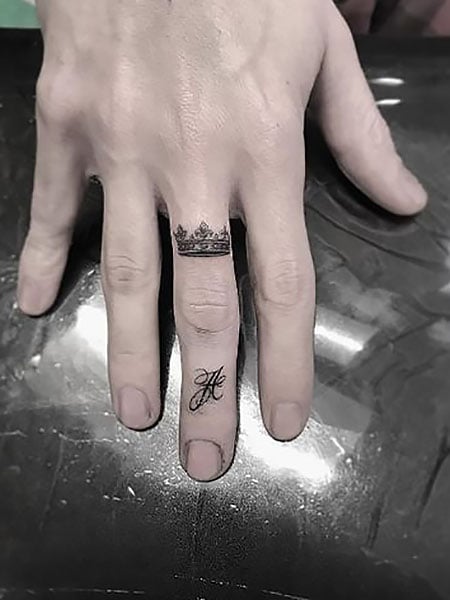 15. Small Tribal Tattoos
A small tribal tattoo band, either wrapped around the wrist, upper arm, or ankle, is a good alternative for a full tribal sleeve. Even with small tattoo ideas for men, you can still make it as intricate or as simple as you like. If you're not that interested in tattoos, you can still honor your ancestors by opting for something much smaller than they may have got.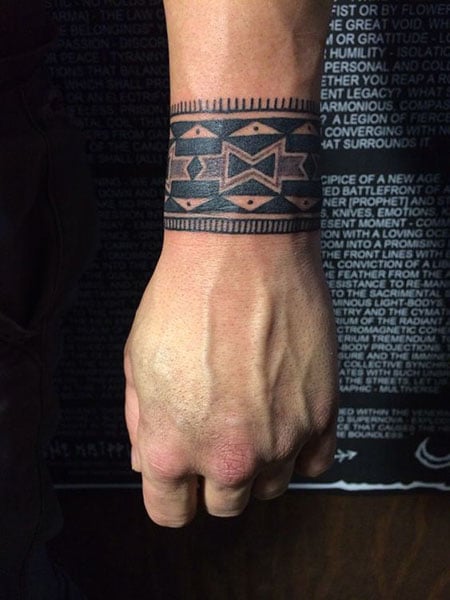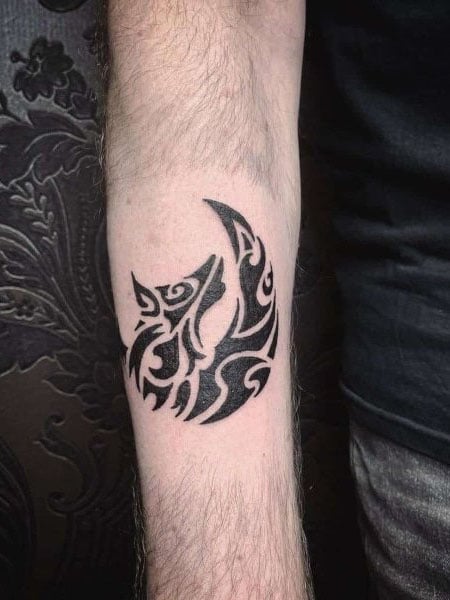 16. Small Animal Tattoos
Animal tattoos are such a fun design, whether you're getting a replica of your beloved pet or your spirit animal. You can play around with your design, such as adding geometric shapes or getting a picture added inside the body of the animal. For instance, if you get a bear, you can incorporate a forest into the design. Portrait animal tattoos can also look detailed and realistic if you get them done by a good artist. When getting any tattoo, a lot of thought should be put into the type of artist that will be able to fit your design brief.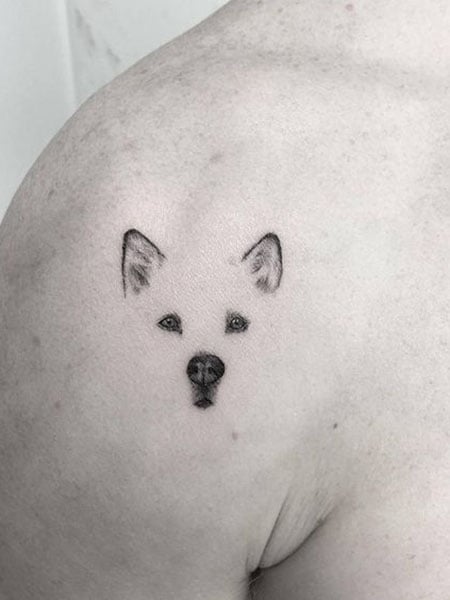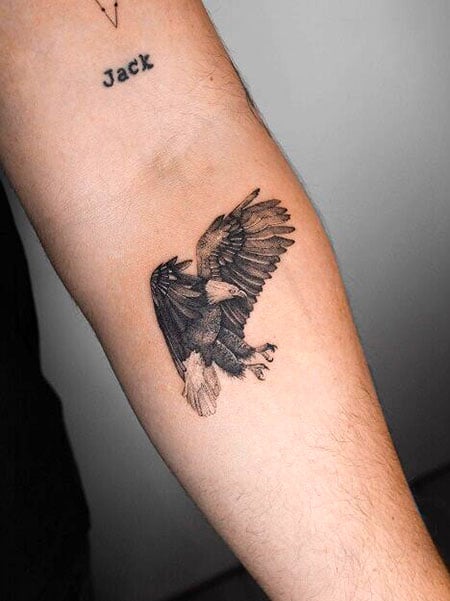 17. Small Meaningful Tattoos
You might not like the idea of creating a huge mural on your skin; you might just want a small meaningful tattoo to honor someone or something that means a lot to you. That's completely fine, a small symbol, picture, or quote that either reminds or links you to them is all you need, and you can get it in as discreet a location as you choose.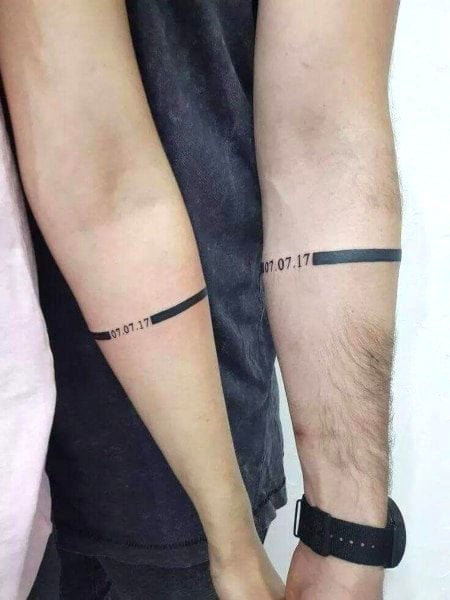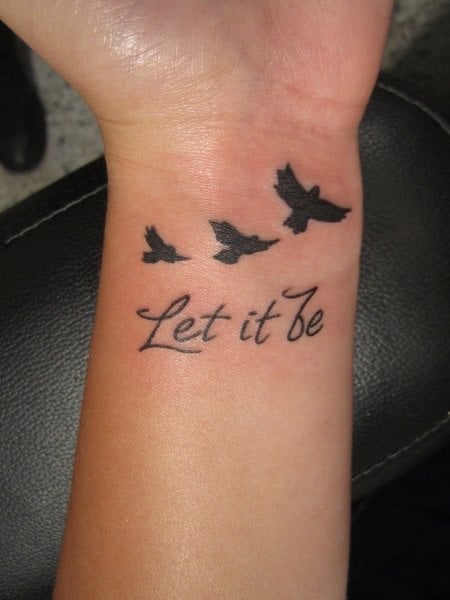 18. Small Skull Tattoos
Whether you're simply getting the outline of a skull or wanting to make it look realistic, a small design will suffice. Just as much detail can be added as if you were to get one triple the size or buried within a sleeve. Skull tattoos always look quite mean, so there will be no questioning of your masculinity with this design.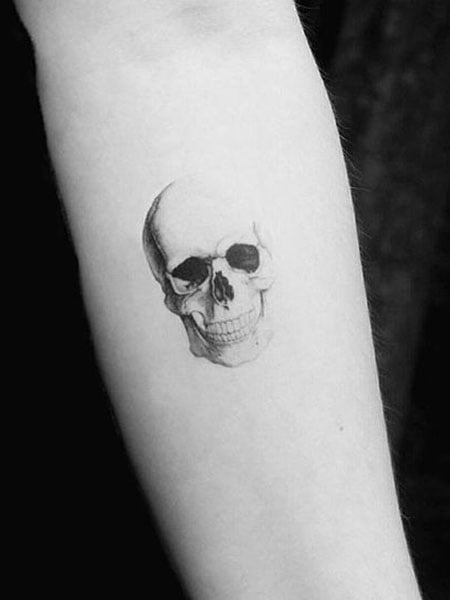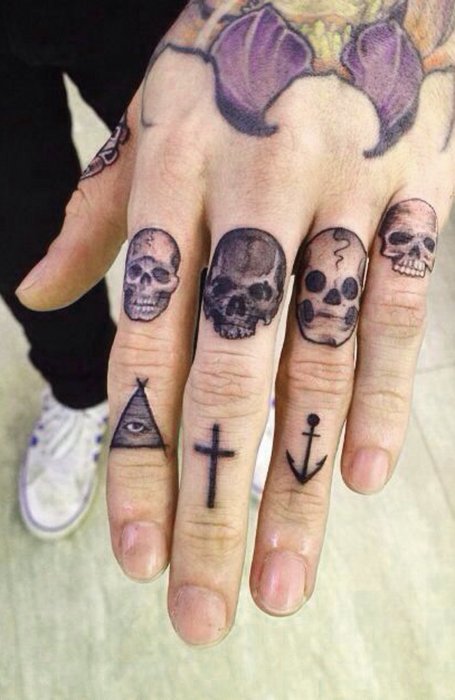 19. Small Lettering Tattoos
Small lettering is a simple script that generally looks a lot better than big, bold writing. It's usually a good idea to find a fine lines artist for quality lettering, as you don't want the words to blow out or be so bold that it's hard to read the script, especially if the writing is small in size. Small lettering allows for so many different fonts as well, so you'll have no shortage of choices when making your decision.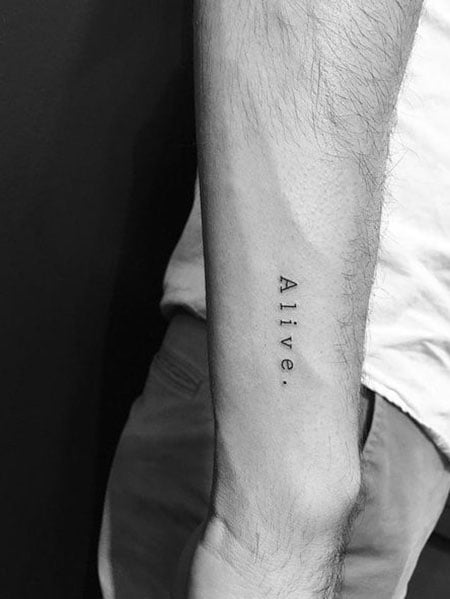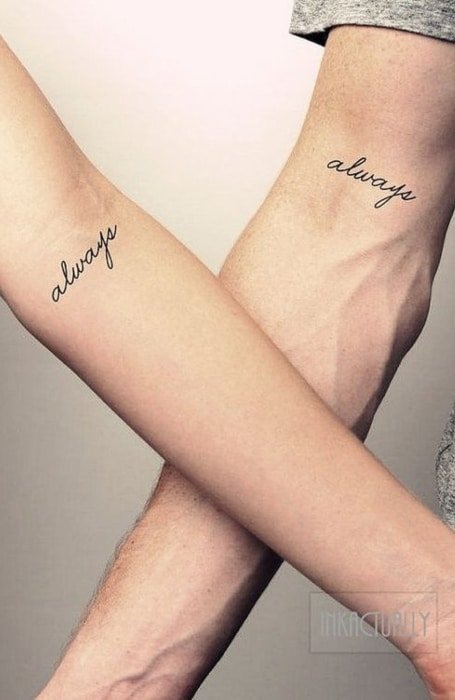 20. Small Portrait Tattoos
Portrait tattoos don't have to take up the entire side of your ribs. They can still be very detailed when they're smaller in size. Most portrait tattoos are either of a bible character, a historian, a famous person, the deceased, or an immediate family member and pet. When getting a portrait, you should always give your tattooist a picture to work off. The tattoo will look exactly like the picture, so be certain of your choice when picking the perfect shot.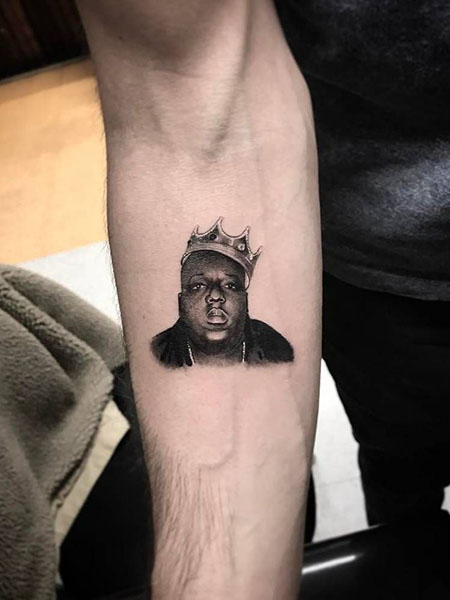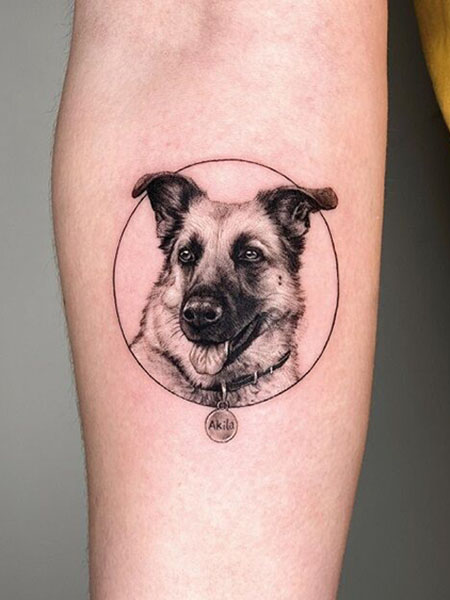 21. Small Star Tattoos
If you're after a small tattoo, but you're not sure what design to get, a star tattoo is an easy one, especially if it's your first tattoo and you don't want anything too drastic. It can be as simple as an outline of a star or completely blacked out. Otherwise, if you want it to have some meaning, you could consider getting the Star of Bethlehem, a star from the Australian flag, or any other design that may resonate with you.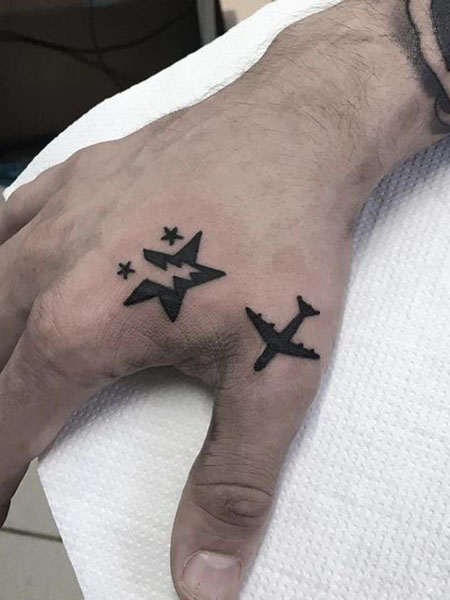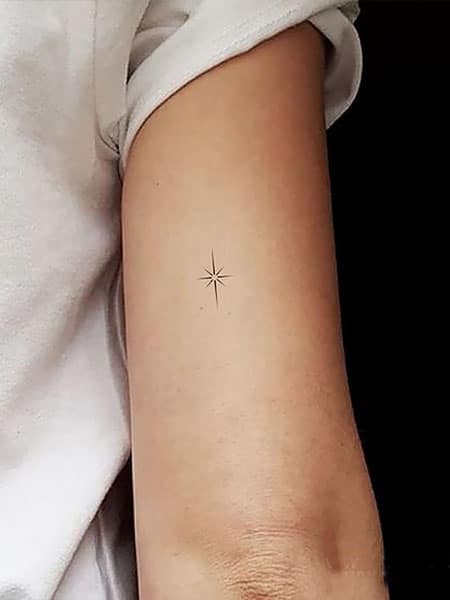 22. Small Angel Tattoos
Angel tattoos generally have a deep emotional meaning behind them. Some of these may include spirituality, protection, strength, love, or remembrance of someone who has passed. Whatever your reason is for wanting an angel tattoo, keep in mind that you can get a smaller design. While many angel tattoos tend to be larger, it is possible to pick a design that you like and shrink it. The design may need to be tweaked a little, but at least then, it will be unique to you.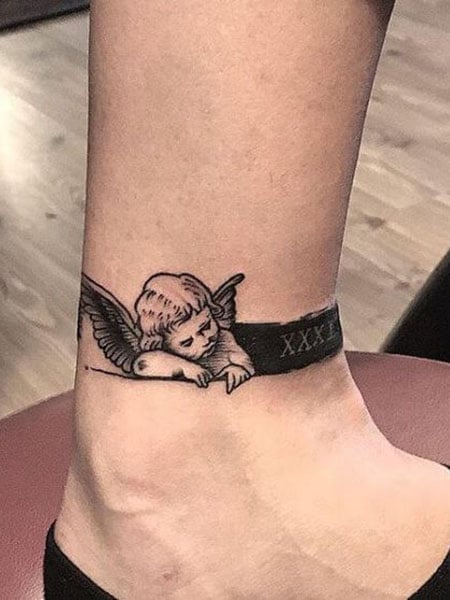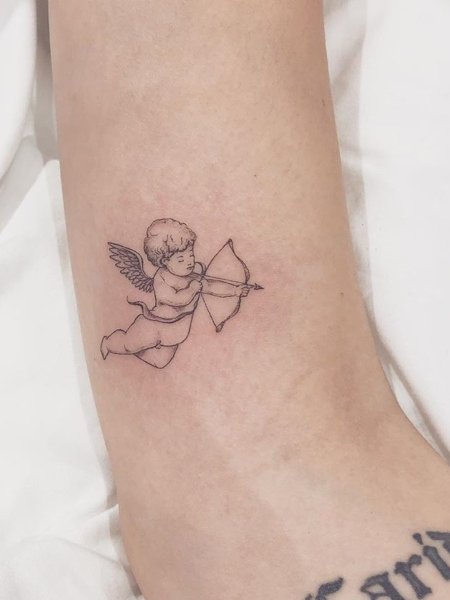 23. Small Music Tattoos
Music tattoos are an easy one, as most designs are typically pretty small. Popular designs include records, music notes, and the outline of a guitar or other instrument. These designs are usually kept pretty simple as well and, for the most part, are only done using black ink.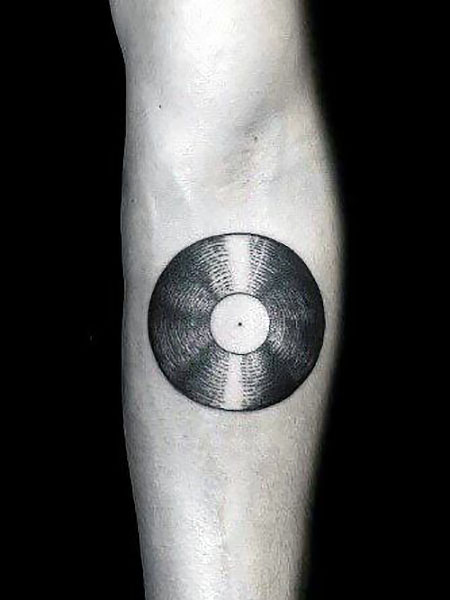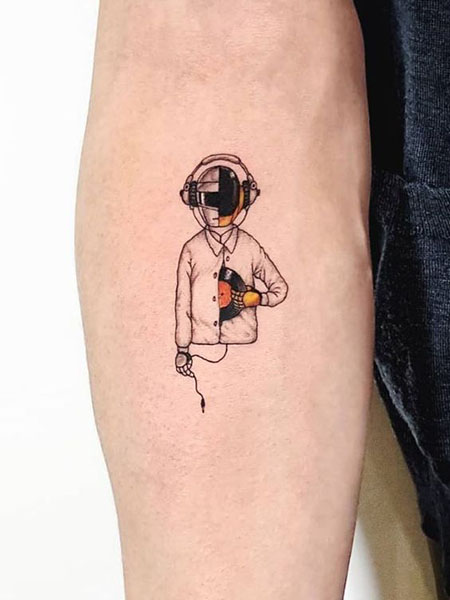 24. Small Scorpion Tattoos
Scorpion tattoos look manly, no matter what size it is. While the outline of the scorpion doesn't leave much room for creativity, the design of the body does. You can make the scorpion look as realistic and three-dimensional or as cartoon-like as you want. Another popular scorpion design is also a tribal print if that's fitting for your background.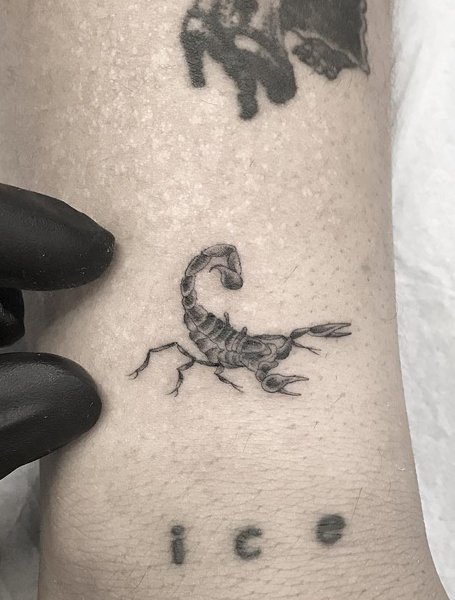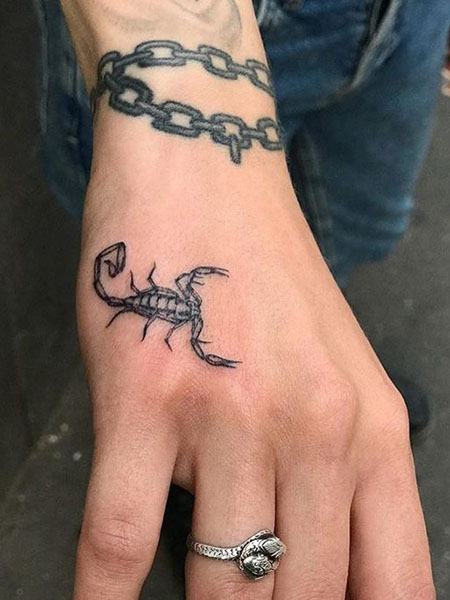 25. Small Name Tattoos
Name tattoos are a great sentiment towards the one whose name you get inked. It doesn't have to be very large in size to get the message across that you love them. Much like lettering tattoos, it's best to find a fine lines artist for the job. You don't want the words to blow out or be bold enough that it's hard to read the script.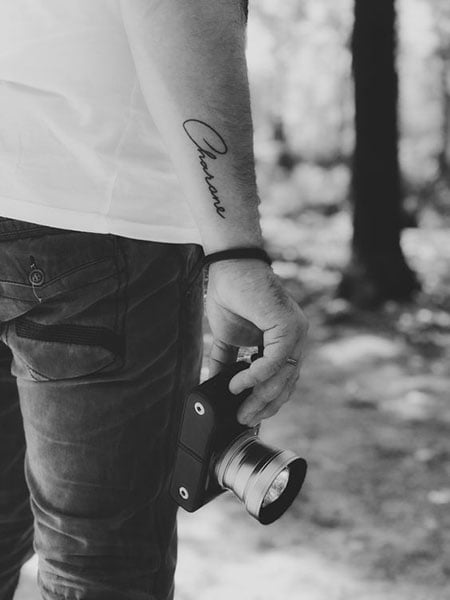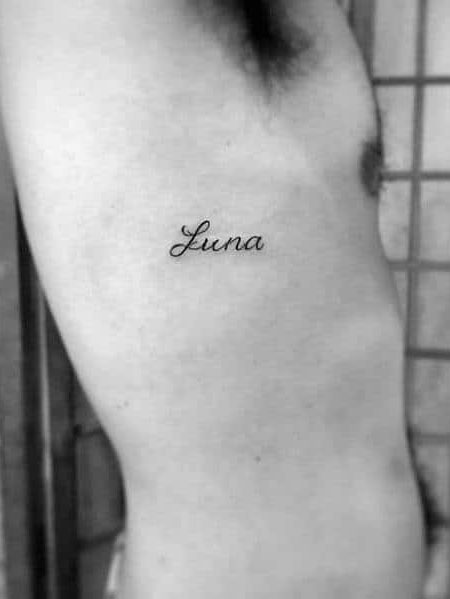 26. Small Money Tattoos
There are so many different money tattoo designs to choose from. You can either simply get a note or coin tattooed; otherwise, if you want to be creative, you could opt for something like a rose made out of notes or the Monopoly logo. Again, money is the kind of tattoo where no matter the size, it looks pretty masculine.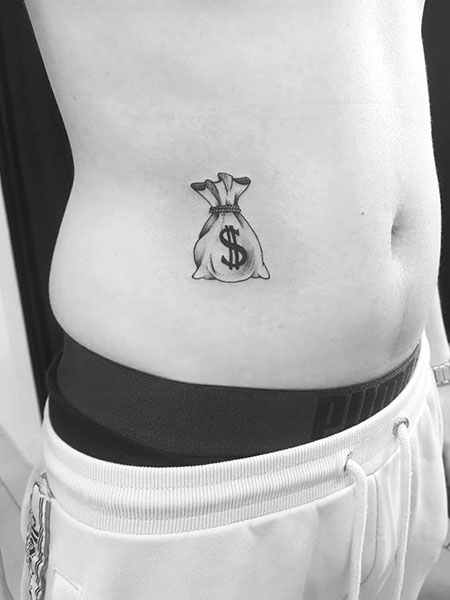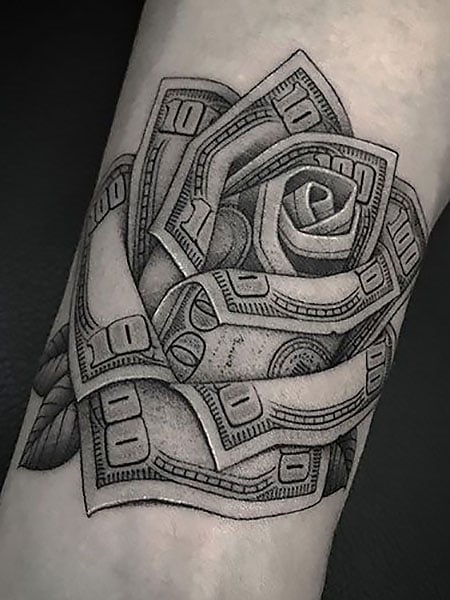 27. Small Simple Tattoos
Small tattoos are ideal because they can be inked anywhere on the body. They can be done in various styles, but often the simplest designs are best. The lack of detail can shift the focus onto the symbolism behind your piece. Simple tattoos focus on the basics and appeal to those who prefer a minimalistic aesthetic. They will have limited shading and are most commonly done in black ink.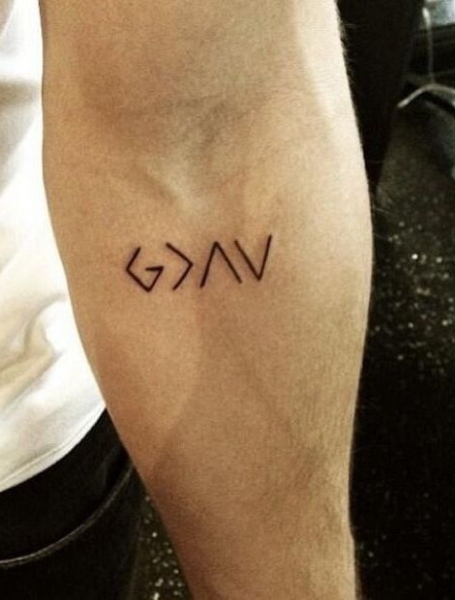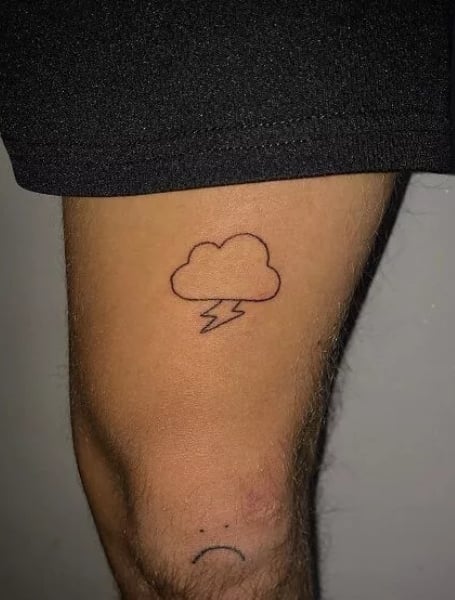 28. Small Rose Tattoos
Rose tattoos are one of the most commonly inked because they can be created big or small, simple or detailed, and work great as a stand-alone design or a filler. The rose is also one of the most symbolic flowers, associated with passion and love, but also balance; the thorns remind us that even the most beautiful things in life can cause us pain.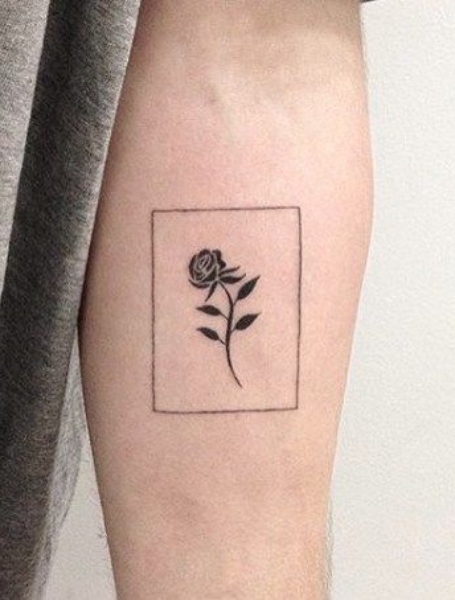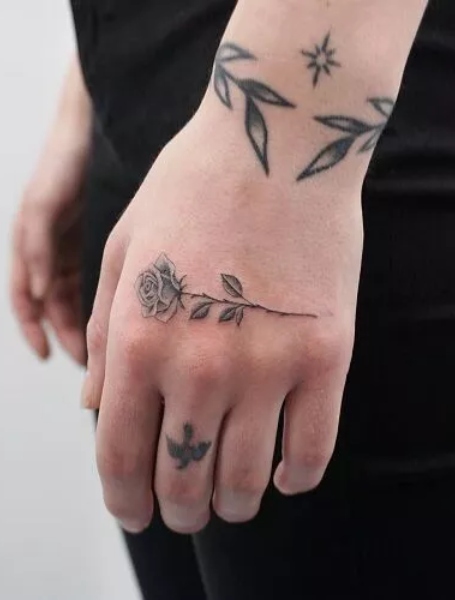 29. Small Thigh Tattoos Men
Thigh tattoos are appealing because of the versatility of the location. It is often favored for large, detailed designs, but that is not to say you cannot get inked with something small and simple. The thigh is considered low on the tattoo pain scale chart because of the thick skin, muscle, and fat in the area, which provides cushioning.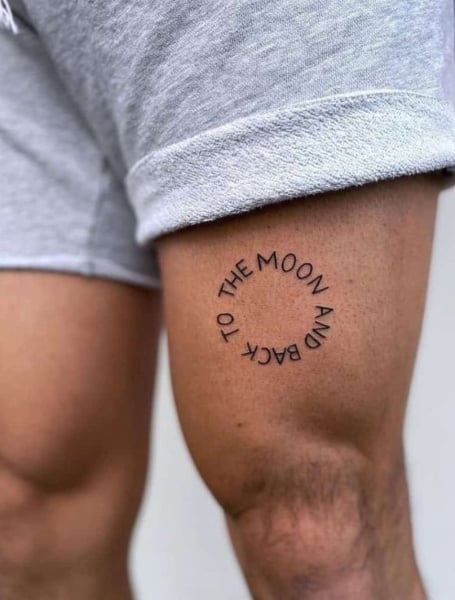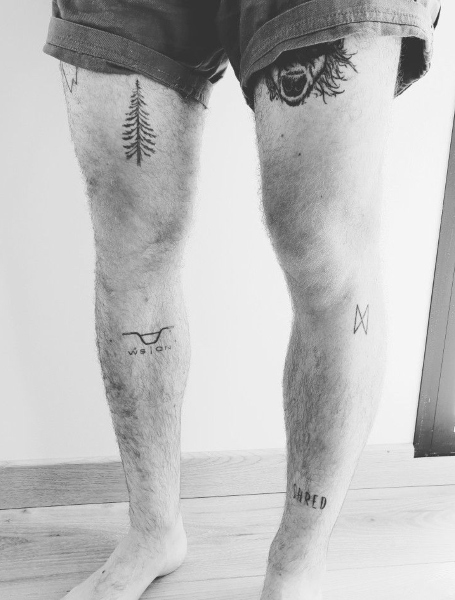 30. Minimalist Small Tattoos
Minimalist tattoos focus on the basic elements of your design and are often simplified and created with little detail or shading. The beauty is in the simplicity, and this is a great option for a small tattoo because smaller designs need less detail. Your tattoo should be less painful, quicker to complete, and less expensive, making this an appealing choice.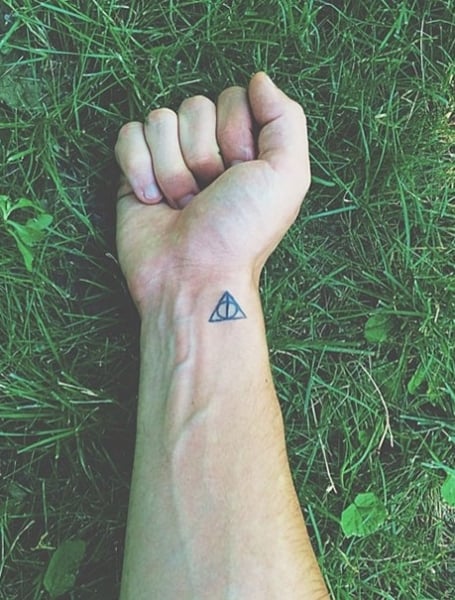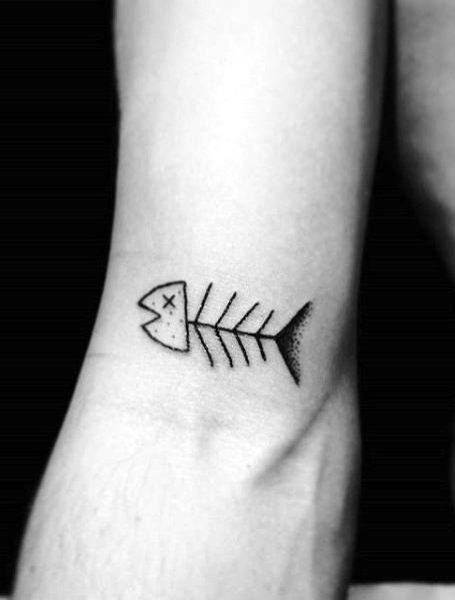 31. Small Christian Tattoos
If you are someone whose faith plays an important role in their life, then what better way to honor this than with a tattoo? Tattoos permanently mark the body and can bring the wearer comfort or inspire and encourage them. Popular choices for tattoos for Christians are a small cross, a Bible verse, or an empowering word like "Jesus" or "faith."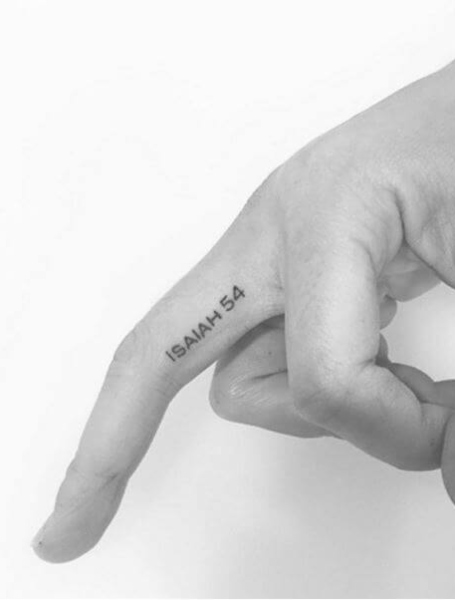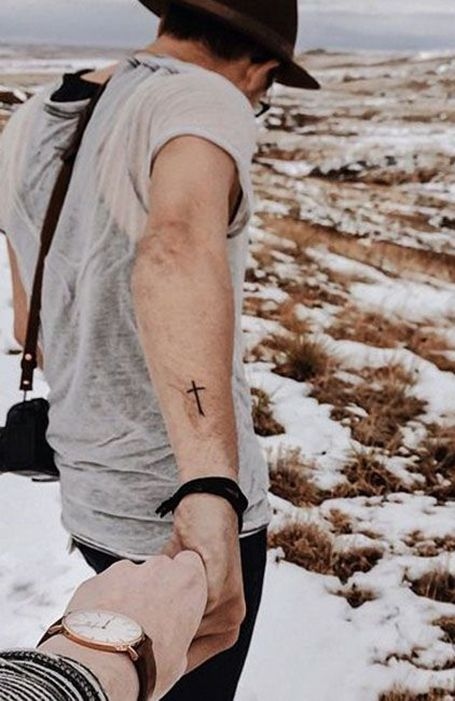 32. Small Quote Tattoos
Quote tattoos are an excellent choice for your next inking because of the meaning associated with them. There are many quotes to choose from, letting you draw inspiration from anywhere; this could include your favorite film quote, a passage from a book, or even something a loved one has said to you. You can get it inked on a smaller scale, which gives you versatility with the placement, and will look great almost anywhere!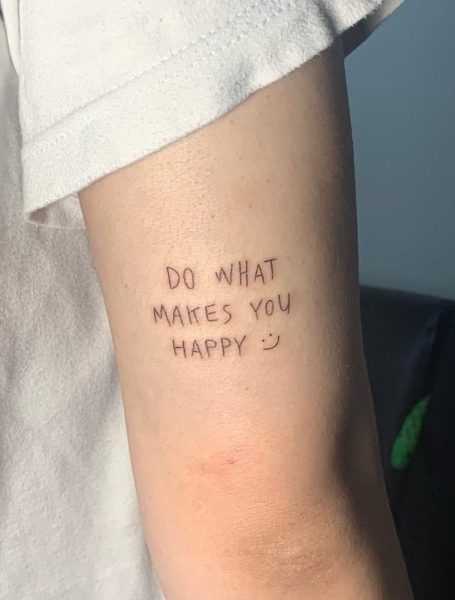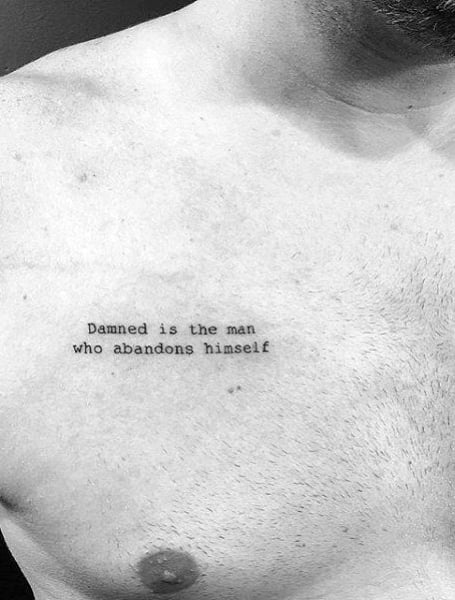 33. Small Calf Tattoos
The calf is an excellent location for your next tattoo and is generally considered low to moderate on the pain scale because of the thick skin, muscle, and fat in the area which provides cushioning. However, the detail and size of your calf tattoo design will impact the discomfort, which is why small, simple designs are so appealing.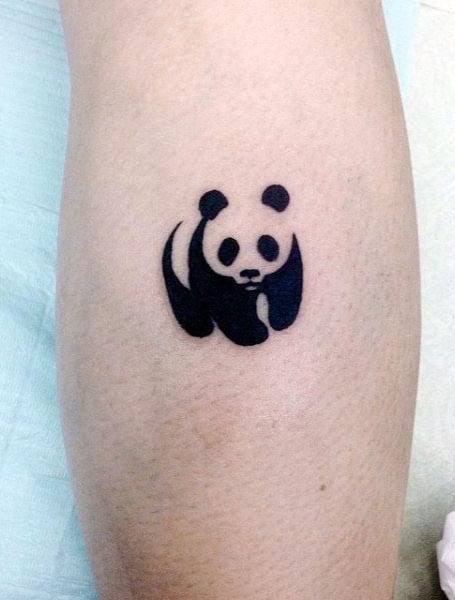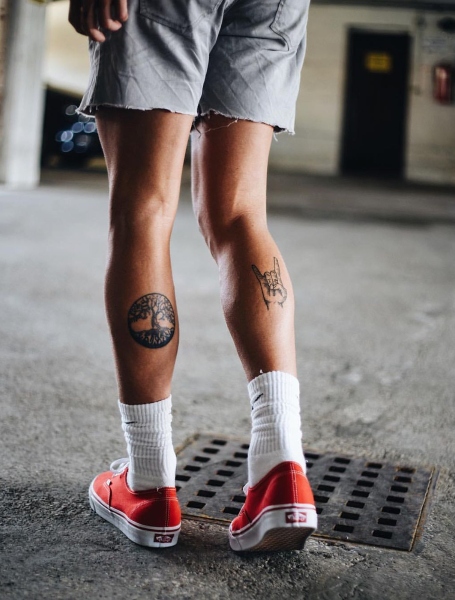 34. Small Religious Tattoos
Religious tattoos are an excellent way to honor your faith and remind yourself of the important role that it plays in your life. You can choose to celebrate your relationship with God or pick a more abstract design that symbolizes your thoughts and feelings. For example, a lotus is associated with spiritual awakening. Religious tattoos can be inked to celebrate the life of someone who has passed.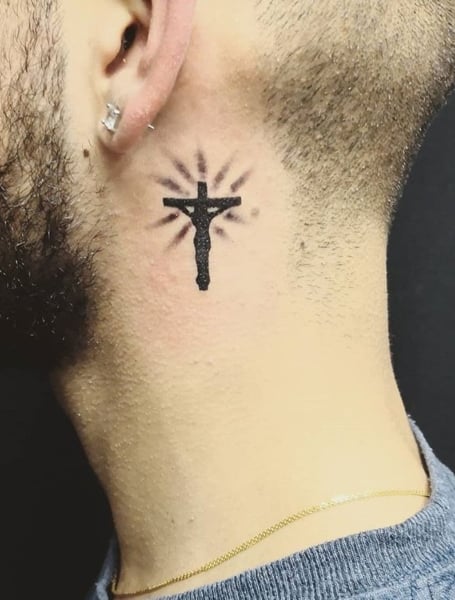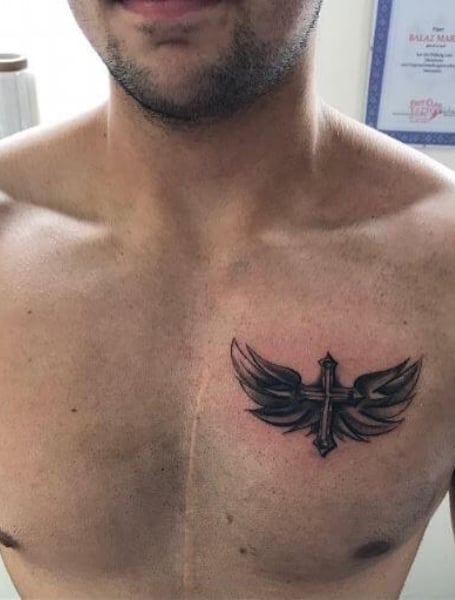 35. Unique Small Tattoos
There are generic designs that are appealing because of their simplicity or the meaning associated with them, but if you want something different, think outside of the box and find a unique tattoo. A great choice would be an image of Medusa, the snake-haired monster who is rich in symbolism. Or choose a tiny UFO, a favorite animal, or a character from your favorite anime. Or you can combine several small designs to tell a story, reflecting your thoughts and feelings.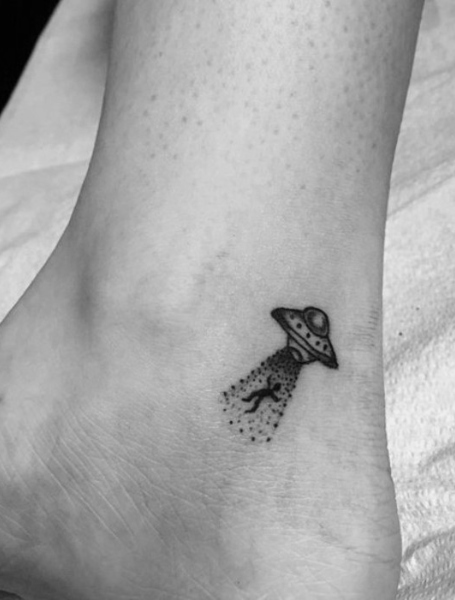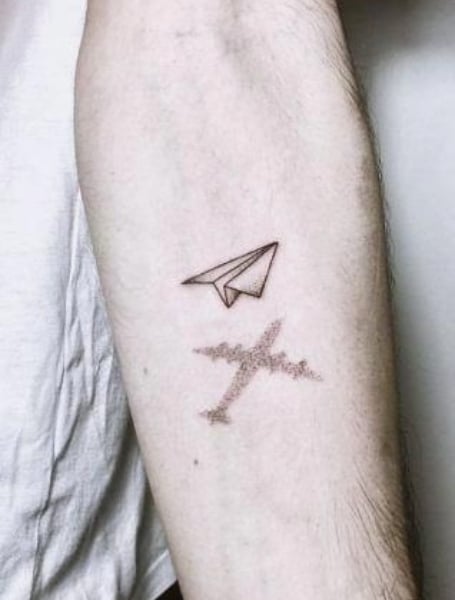 36. Small Lion Tattoos
Lion tattoos represent bravery, courage, pride, and family. They are a popular choice because they can be inked in various ways and look great in different styles, from hyper realistic to outline designs. Your placement is just as important as the design. Small tattoos give you the choice of anywhere on the body.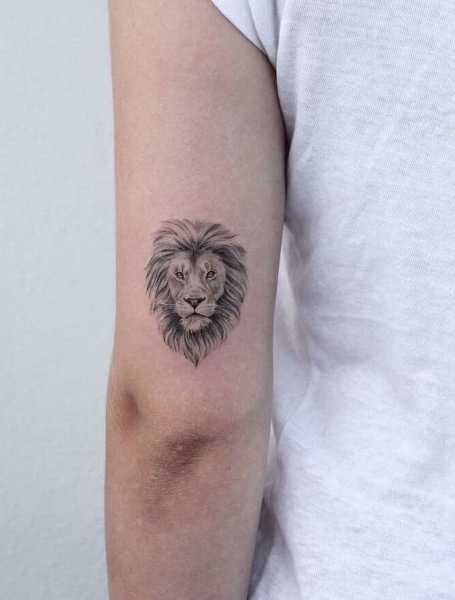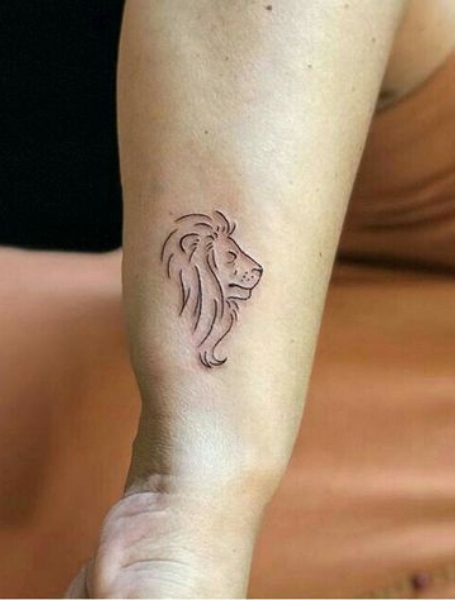 37. Small Wolf Tattoos
Wolf tattoos are an excellent choice for someone who values family, loyalty, and protection. The animals live and hunt in packs, which can be symbolic of family. They rely on each other to succeed, the same way many of us need those we love the most in our lives to help us navigate challenges and to celebrate successes. Your wolf tattoo can be of a silhouette or could focus on the face of the animal. It lends itself well to various designs, so have fun and experiment while keeping it small.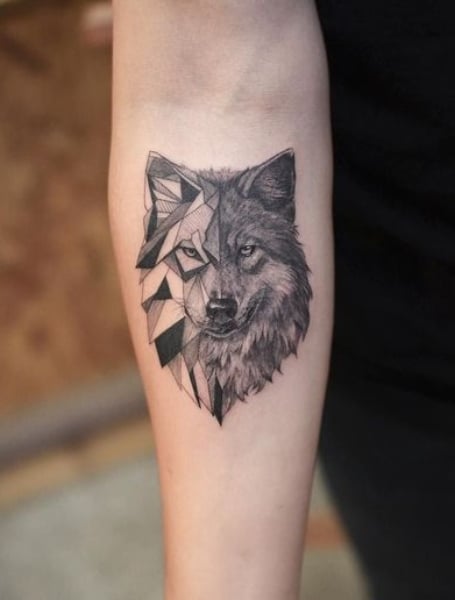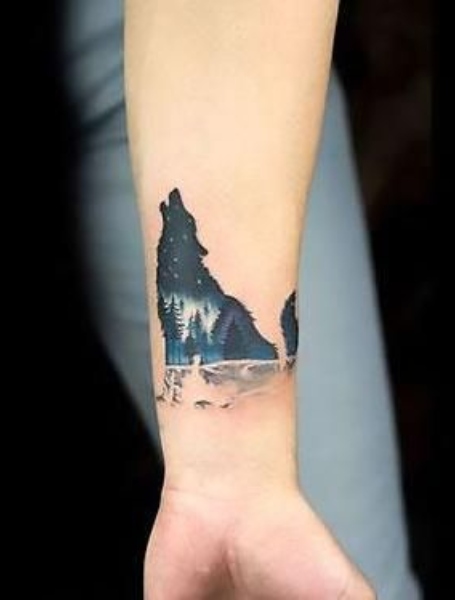 38. Small Finger Tattoos
Finger tattoos are an excellent location for body art that you want to show off. The placement is best suited to small and simple designs because of the lack of space, but the appeal of finger tattoos is their visibility. There are some downsides, including the pain and how quickly these tattoos fade, but they are edgy and cool and will let you express yourself and the things you love.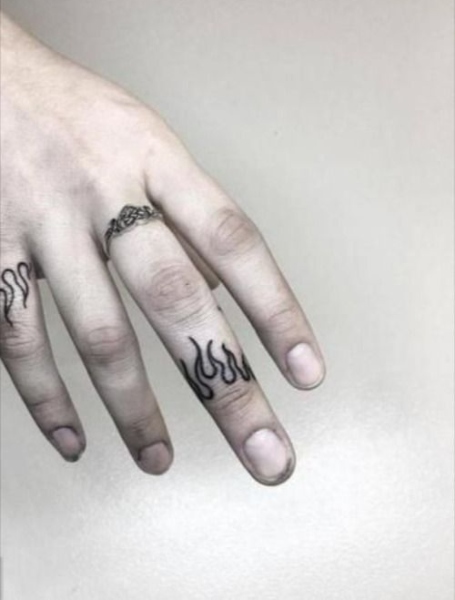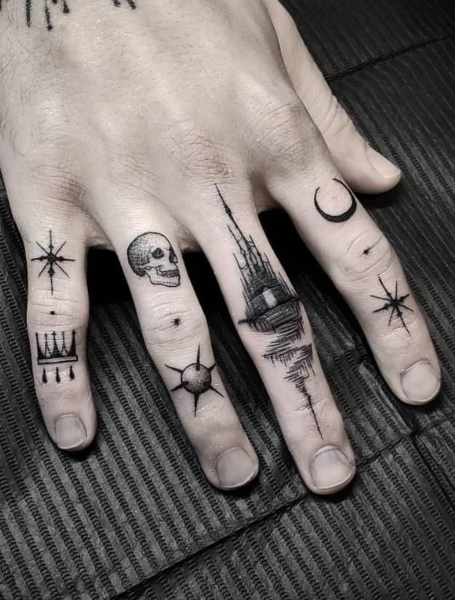 39. Small Arrow Tattoos
Arrow tattoos are an excellent choice for a small design because they can be simplified, focusing on the basic elements. The weapon has roots in Native American culture, and when tattooed, it is associated with strength and protection. They can also represent the direction and can make a powerful statement that will say a lot about your choices.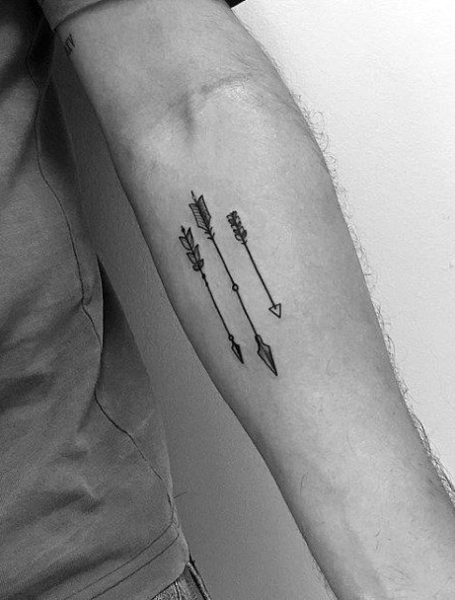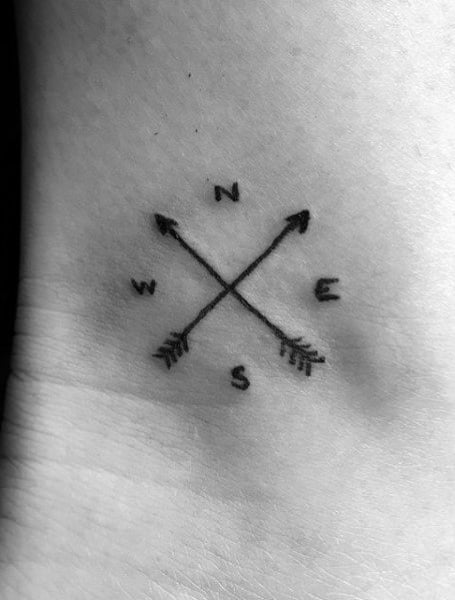 40. Small Naruto Tattoos
Naruto is one of the most well-known and loved Japanese manga series that was first published in 1999. It was created by Masashi Kishimoto and has many powerful and memorable storylines to inspire you. For a small Naruto tattoo design, you want to focus on the face of the main character, Naruto Uzumaki, or you could opt for symbols, combining several to convey a message.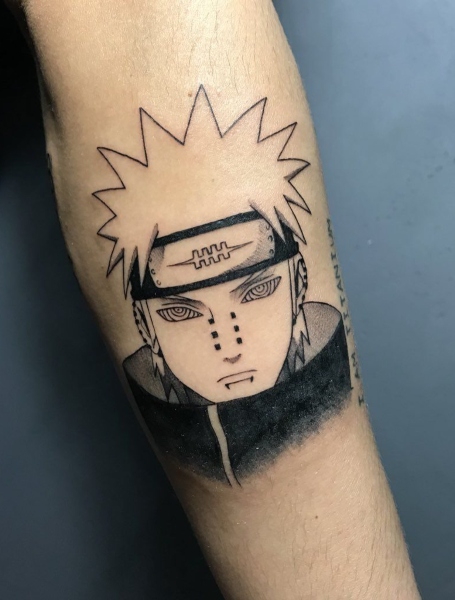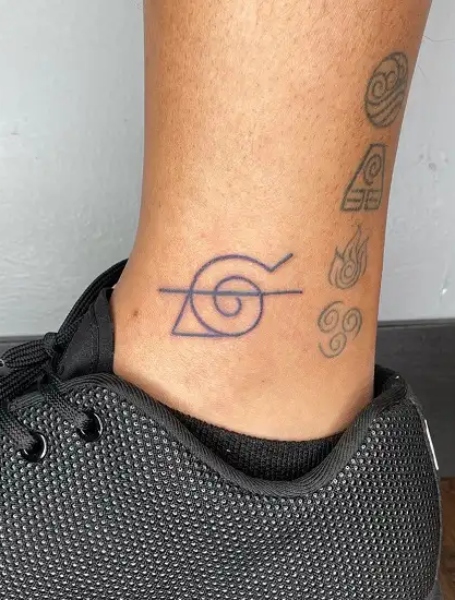 41. Small Tattoo Ideas for Couples
A couple tattoo is one of the sweetest ways to show your commitment to your relationship. It is another way to be bonded together, and the process of choosing the right design will be a memorable and fun experience. You can opt for small matching tattoos, or choose designs that complement each other, for example, a lock and key.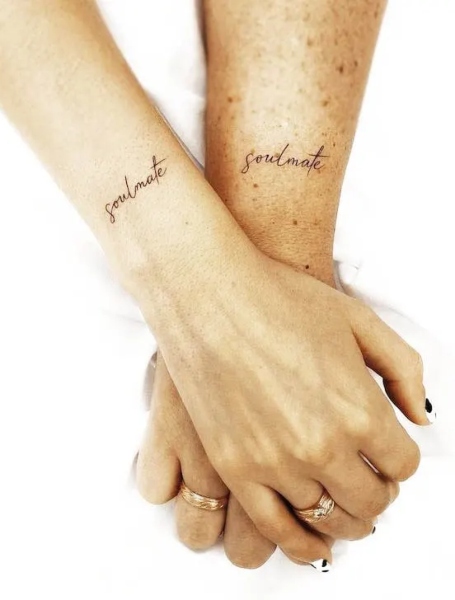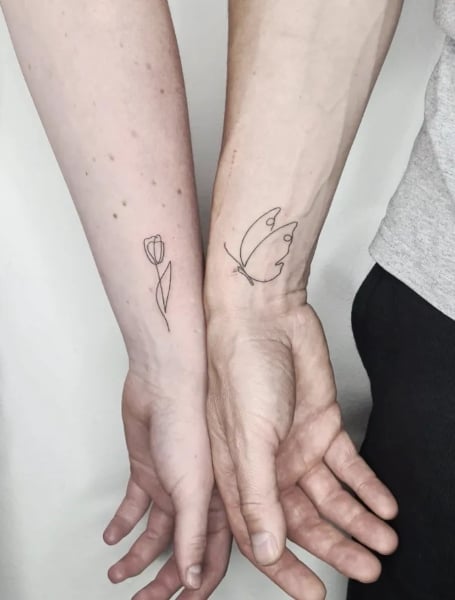 42. Small Anime Tattoos
Anime tattoos are a great way to reflect your passions and interests. Anime refers to the Japanese style of animation. There are many different anime characters and series to draw inspiration from for your tattoo, including Fullmetal Alchemist: Brotherhood, Naruto, and Dragon Ball Z. You can also choose symbols, quotes, or more abstract designs to best suit your preference.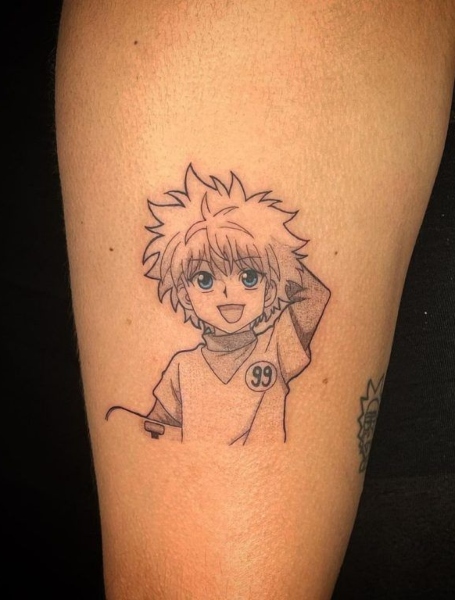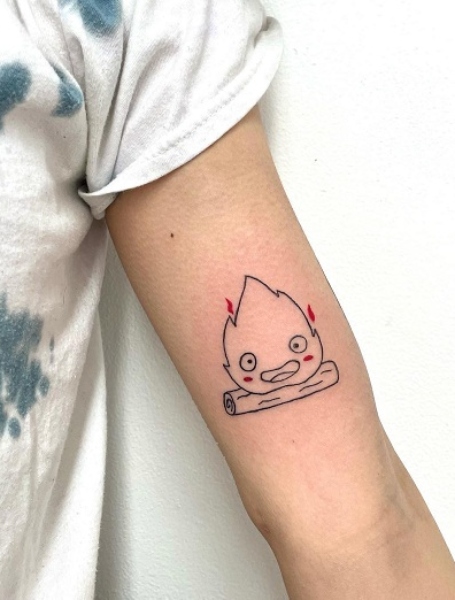 43. Small Family Tattoos
Family is important, whether it is biological, adopted, or chosen. These are the people who will love and support us through everything and are the first people to cheer us on or wipe away our tears. Family tattoos are popular because they are an excellent way to honor your relationships and remind yourself of where you come from.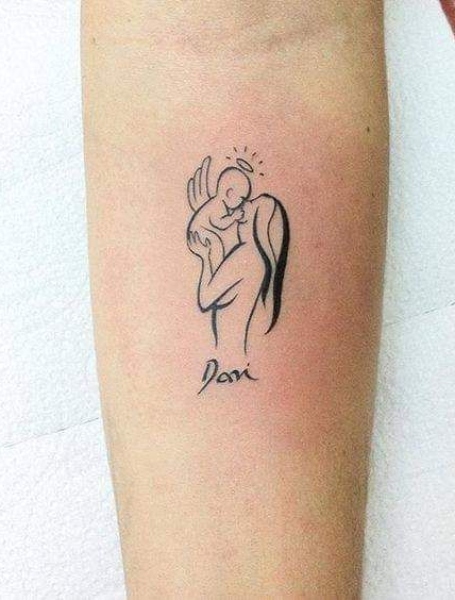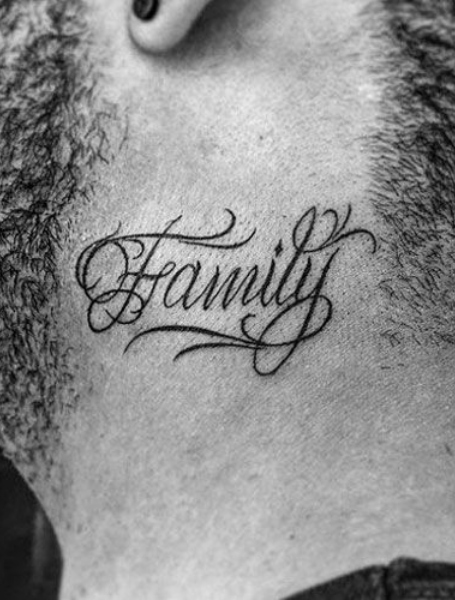 44. Small Skeleton Key Tattoos
A skeleton key is a name given to a master key that can open multiple locks. The symbolism of this can be incredibly powerful and can represent the strong love you feel for someone. It could also be associated with freedom and exploration. The design can be simple or intricate and can be inked on a small or large scale. This gives you versatility.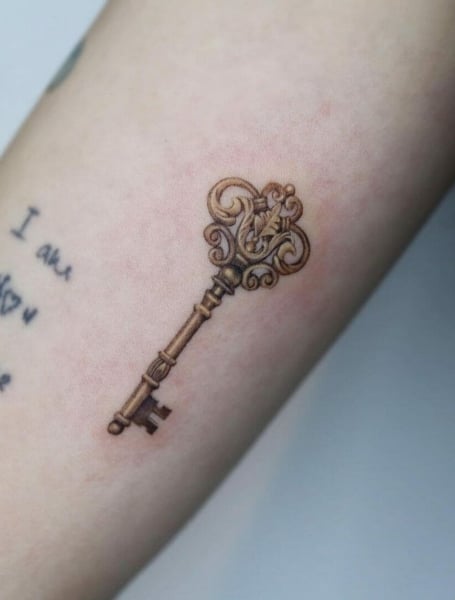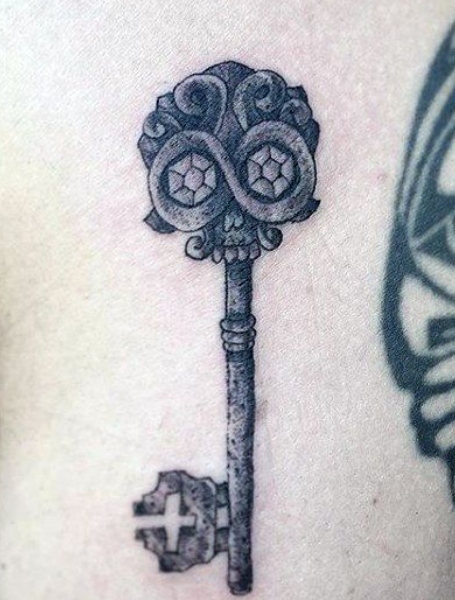 45. Father and Daughter Small Tattoos
The bond between a father and daughter is unique and special. In many ways, a healthy relationship with your father will set the foundation for all future relationships. It will help you understand that you are powerful, strong, and worthy of love. If you have an unbreakable bond with your little girl or have risen to the challenge of being a great dad, then there is no better tattoo than one that honors your relationship.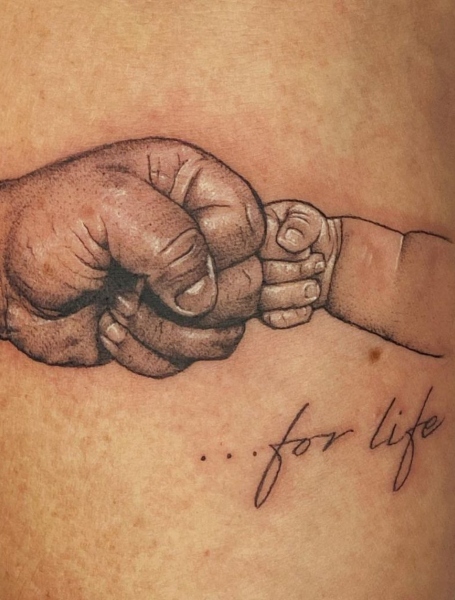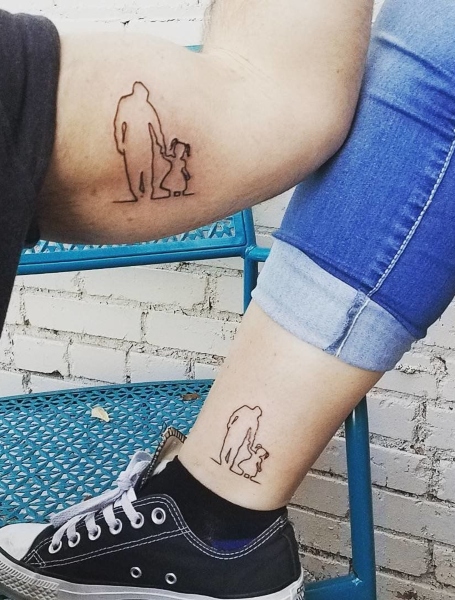 Small Tattoos for Men FAQs
Where should guys get small tattoos?
The most common places to get a small tattoo are the wrist, forearm, ankle, foot, neck, face, rib, and hand.
What are the most popular tattoos for guys?
The most popular tattoo designs for men are tribal, skull, phoenix, dragon, lion, wolf, flower, compass, religious, nautical, and crown.
Are tattoos attractive on males?
Women think men look healthier with a tattoo. However, tattoos don't make a man look more or less attractive. Tattoos can signal impulsiveness and a propensity for risk-taking.
SUBSCRIBE TO OUR NEWSLETTER
Subscribe to our mailing list and get interesting stuff and updates to your email inbox.