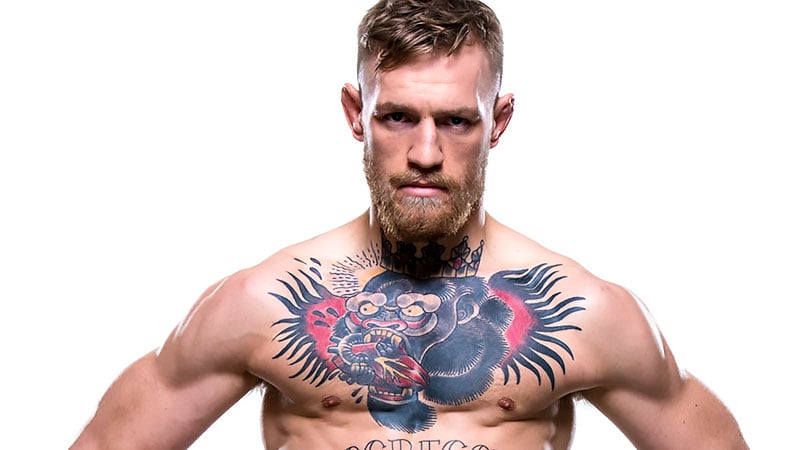 Tattoos for men have long been a source of creative expression for both men and women, with chest tattoos being one of the most popular tattoo choices for men. Whether you're looking to make a bold statement or express yourself in a more subtle way, there are countless designs that can suit any style preference. From geometric shapes and tribal motifs to birds, animals, and religious symbols—no two chest tattoos are ever the same. In this post, we'll explore some of the symbolic meaning behind different types of chest tattoos as well as provide ideas for those considering inking up their own chests!
1. Tiger Chest Tattoo
Whether you choose two tigers facing each other or you stick to one feature feline, a tiger tattoo represents power and strength. It is a traditional piece that looks fantastic in an Asian or hyper-realistic contemporary style. Opt for a color tattoo for a bold look, or choose an intricate design with black ink.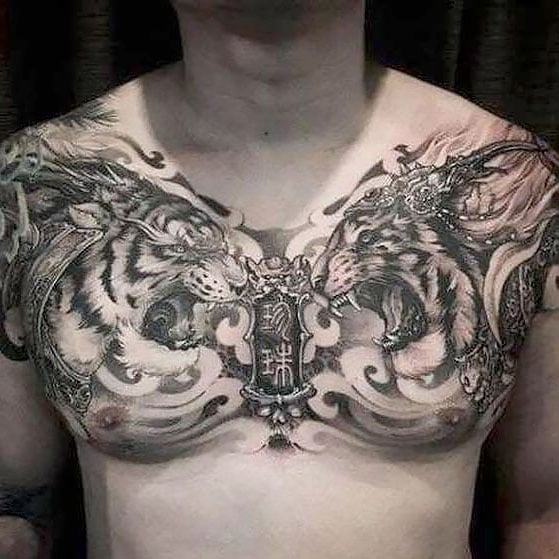 2. Viking Chest Tattoo
From The Valknut representing Odin's Knot to Yggdrasil tree of life, there is so much meaning behind these Viking tattoos, Whether you choose The Twin Ravens of Odin design or another mythological symbol, you can show off your heritage with pride. Representing strength, safety, and connection to the universe these tattoo designs are sure to start a conversation with anyone you meet.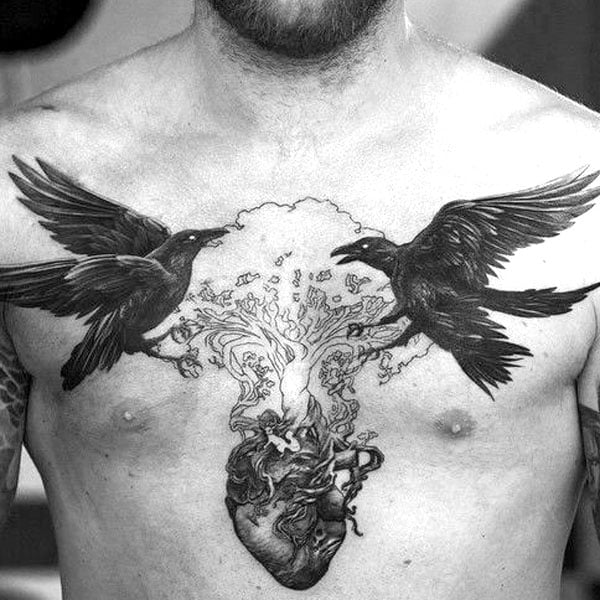 3. Roman Numerals Chest Tattoo
Solidify your favorite date or something important to you with a Roman numeral chest tattoo. This classic, clean, and timeless design keeps the meaning behind the numbers close to your heart, and its simple enough to work with other tattoos. Choose the large or small font, and include any other scriptures or quotes you wish underneath to complete the ink.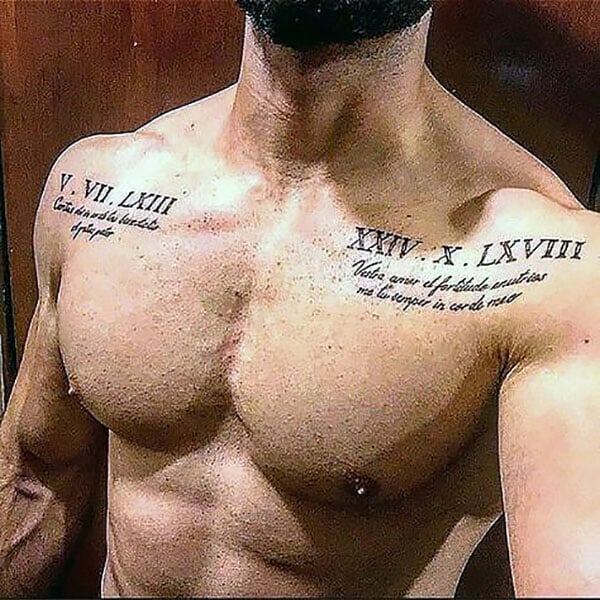 4. Family Chest Tattoo
You only have one family, so why not pay them respect with a chest tattoo in their honor? Choose from having tasteful portraits, names, or the word 'family' written across your chest will keep them close to your heart. Be sure you work with an artist that specializes in portraits and can create desired artwork.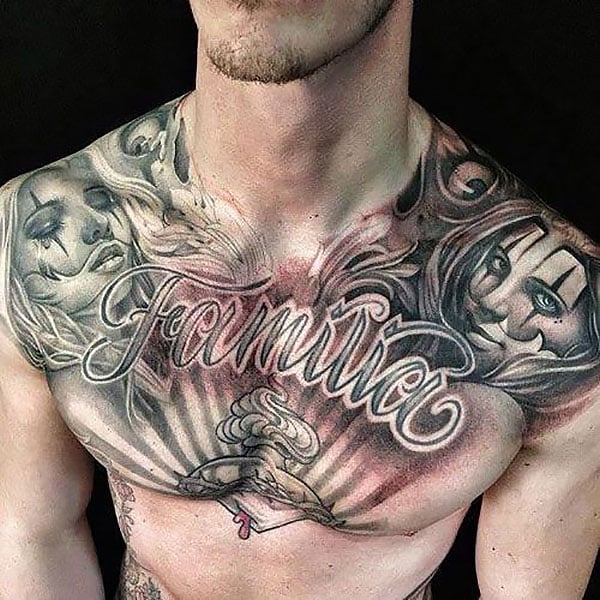 5. Quote Chest Tattoo
Quote tattoos are filled with meaning that resonates with anyone. If you're inspired by words of wisdom or a song's lyrics, why not etch them into your skin? Choose to string the sentence across the chest or keep it located to one side of your body. There are so many ways you can style this tattoo design and create a timeless piece of ink that speaks volumes to you.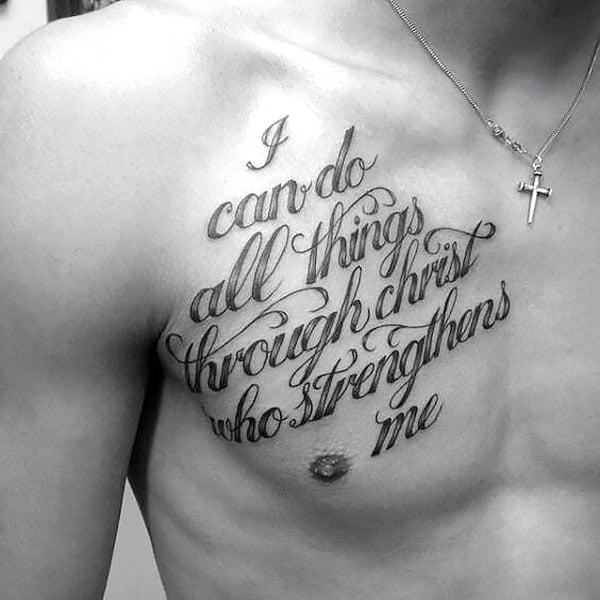 6. Animal Chest Tattoo
Let your inner wild one show with an animal chest tattoo. Covering the entire front of your body, incorporate a collection of animals or stick to one creature in the center. A torso filed with animal designs creates a bold and ink-redible sight and is sure to attract some attention wherever you go.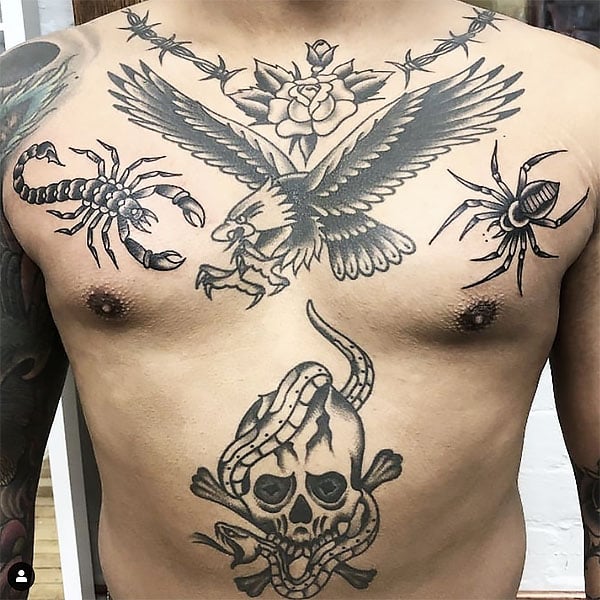 7. Compass Chest Tattoo
Not everyone knows where they're going in life, but a compass tattoo may remind you how to choose the right direction. Let your heart make the decisions in your life by inking this design on your chest, and add "N" for an authentic naval feel. Whether it's oversized or small, this ink is a classic piece of art that looks great on the skin.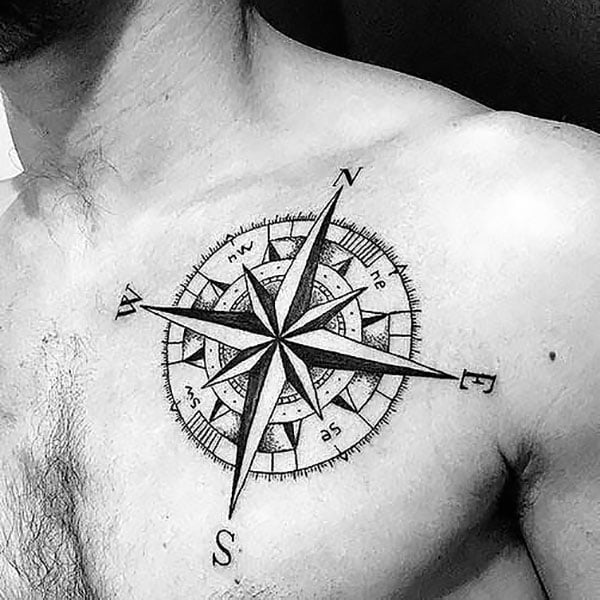 8. Rose Chest Tattoo
Beauty, love, and balance – the rose tattoo holds a lot of meaning. When combined with other symbols, it's a portrayal of emotions and significance that is hard to ignore. Lay petals across your chest or let another prominent figure hold the flower in its hands. As the finishing touch, opt for a bold color, such as red or pink, to make the beautiful art blossom.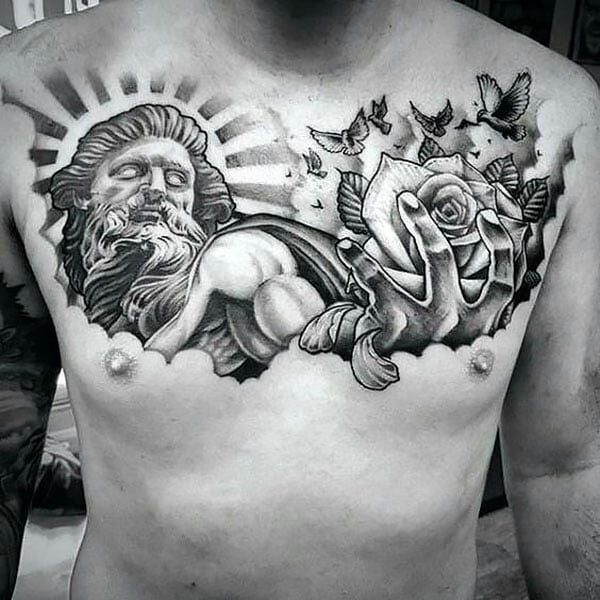 9. Skull Chest Tattoo
A skull tattoo is the hallmark of someone who cannot be tamed. When combined with wings, roses, or a dagger, the ink holds the meaning of death and mortality, but also represent the overcoming of difficult times and protecting valuable possessions. No matter how you symbolize this art, it's a strong message that you can hold sacred to your soul.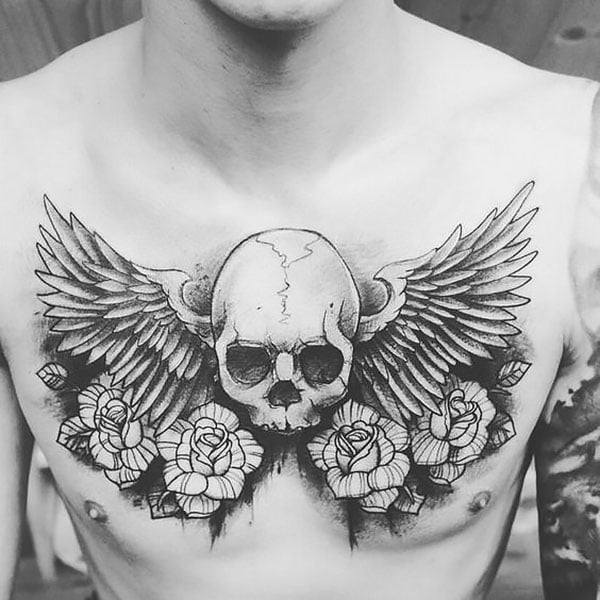 10. Angel Chest Tattoo
Pay respect to your religion, a loved one, or Renaissance art with an angel tattoo. This ink holds deep meaning behind it, including faith, devotion, and hope – placing it on your chest keeps it close to your heart and resonates with its more profound symbolism. Keep the artwork traditional or with a modern twist, no matter what you decide, this is a piece that will stand the test of time.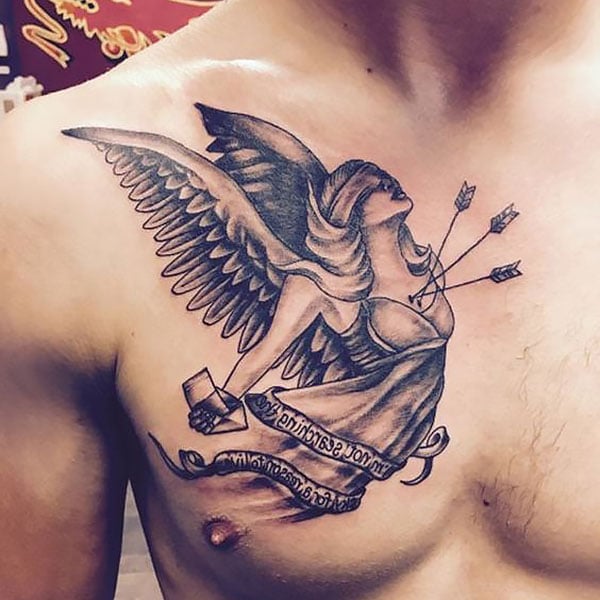 11. Religious Chest Tattoo
Show your devotion to your religious figure with a holy-inspired tattoo. Whether you're paying respect to a loved one or someone of divinity, this is a powerful piece of ink that is sure to get people talking. Cover the entire chest with symbolic imagery, and make it as intricate or bold as you wish. Black ink looks brilliant with this theme, as well as color, so you have further opportunities for adding more detail.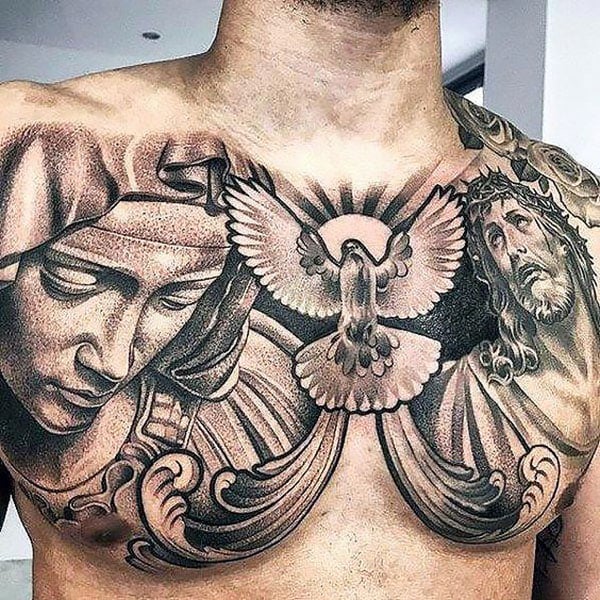 12. Owl Chest Tattoo
Tell everyone who's boss with an owl tattoo. This bird offers meanings of knowledge, wisdom, and transition, and is an excellent option for those who have made some significant decisions in their life. Choose to have the wings cascading across your chest, or keep them locked by its sides for a simple, yet effective design. Black ink with tribal patterns inside the wings is a bold choice, and hyper-realism with bright colors makes an excellent option for this ink.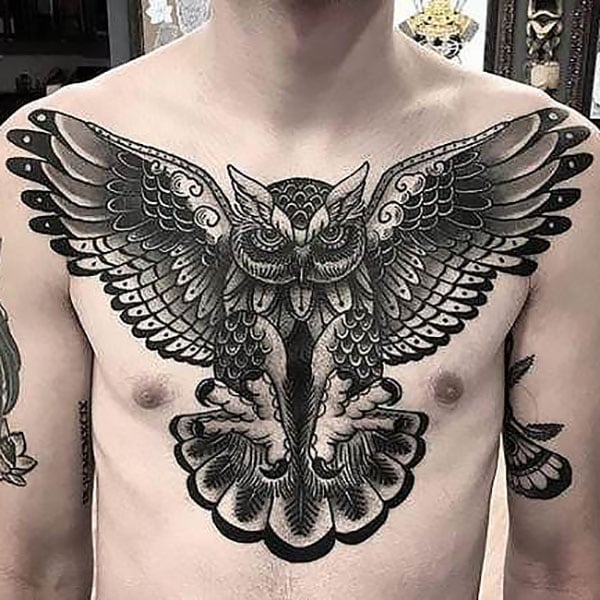 13. Line Art Chest Tattoo
A line art tattoo is all about the detail. From a Mandala to a simple portrait, the clean-cut design of this elegant ink is an excellent choice for a man who is refined and classic. Symmetry plays a massive role in these pieces, as one skewed shape can create imbalance and set it off. It looks its best in darker colors, such as black so that you can see the bold shapes created across the skin.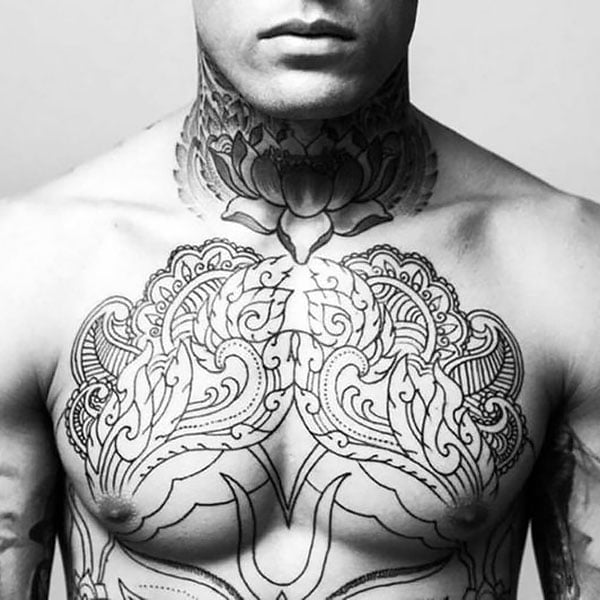 14. Heart Chest Tattoo
Make a literal statement by placing a heart tattoo on your chest. From anatomically correct designs to a traditional cartoon style, this choice of ink is a timeless option that will last forever. Whether you wear it for religion, a symbol of friendship, or undying love, you will always hold meaning to this everlasting piece.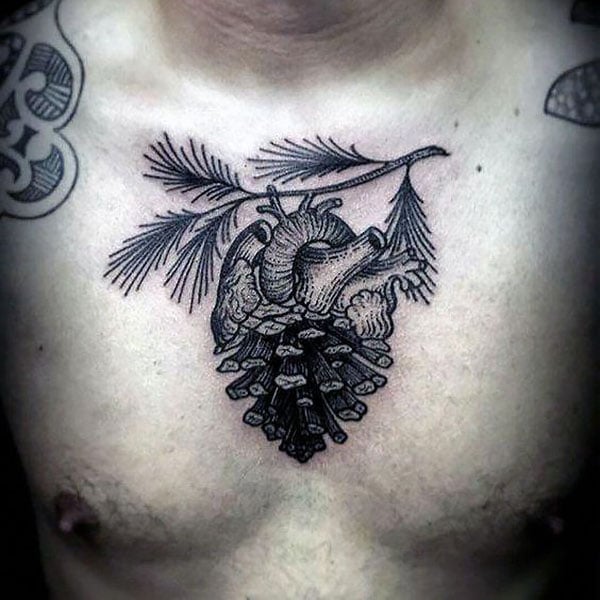 15. Phoenix Chest Tattoo
Showcase your rebirth, triumph, and success with an ethereal phoenix tattoo on your chest. This tattoo is a bold expression of letting go of the past and embracing the future. Traditional color choices include gold, red, and orange to represent the fire that the bird engulfs itself in, or portray the symbolic piece in black ink to depict the ashes that it raises from.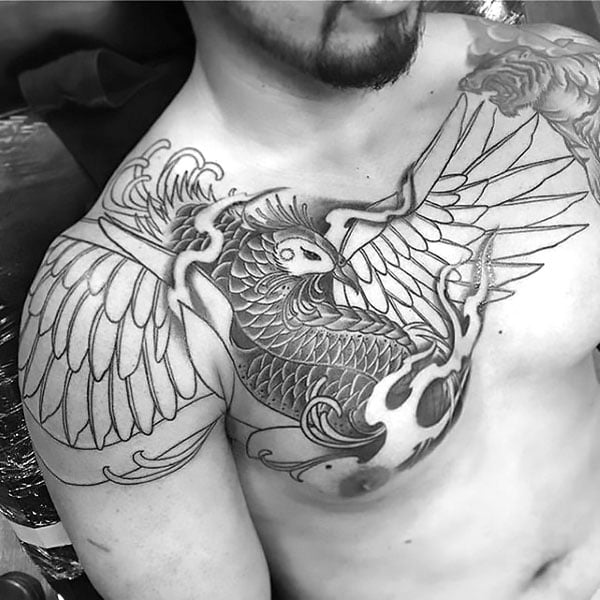 16. Simple Chest Tattoo
Sometimes simplicity is key to making a bold statement. From doves on either side of your body to geometric shapes, a simple chest tattoo is discreet and can pack a lot of meaning.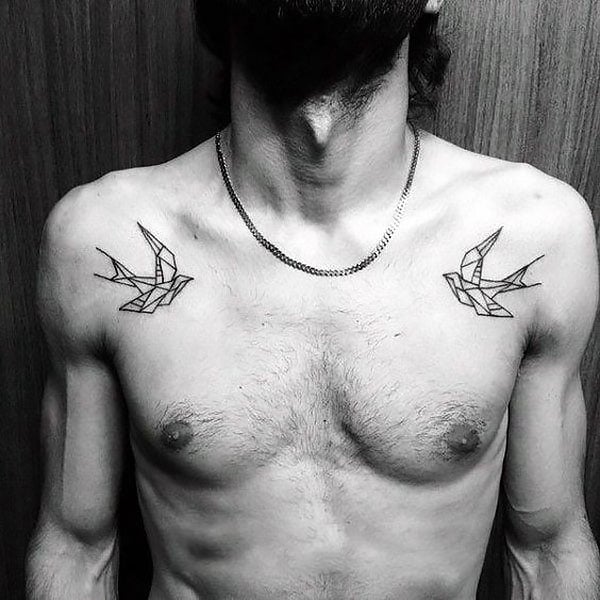 17. Tribal Chest Tattoo
The tribal tattoo is often considered a rite of passage in many cultures. Although times may have changed, the beauty behind this ink hasn't, and it remains a powerful symbol for those who are after a tattoo filled with meaning. Wrap the intricate artwork around your chest, or channel your inner Dwayne 'The Rock' Johnson and feature the pattern on your arms, rather than just your chest.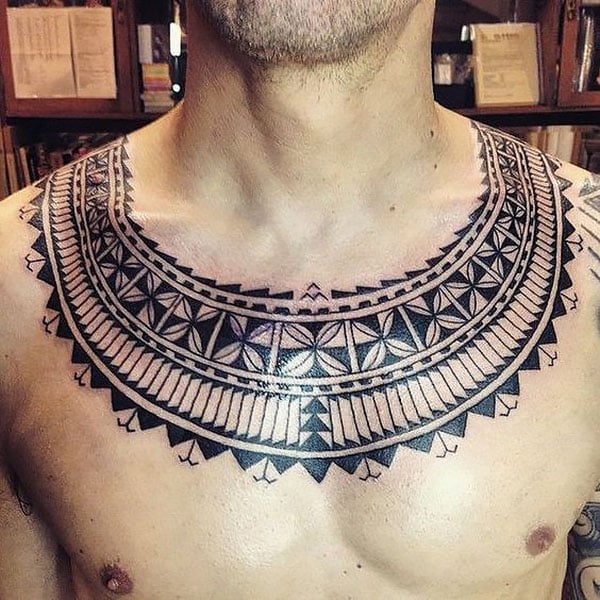 18. Meaningful Chest Tattoo
A family portrait, quote, or symbol that holds significance is an excellent idea for a chest tattoo. Designs that contain meaning are a great thing to consider when choosing your piece, as you know it will stay close to your heart forever. Opt for something simple in black ink or an intricate and colorful style. No matter what you decide, if it means something to you, it's worth getting!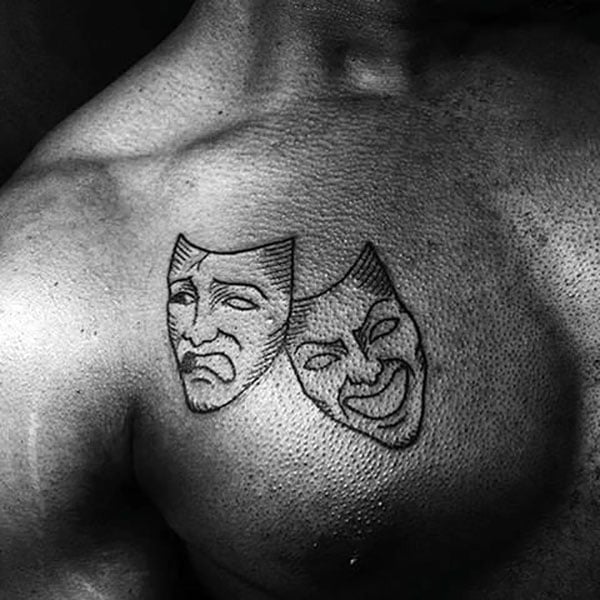 19. Eagle Chest Tattoo
Representing courage and focus, an eagle tattoo will be with you through thick and thin. The meaning behind this art is different in varying cultures – from strength and purity to force and high achievement. Spread its wings across your torso for a full effect, or let the bird's eyes be the focus.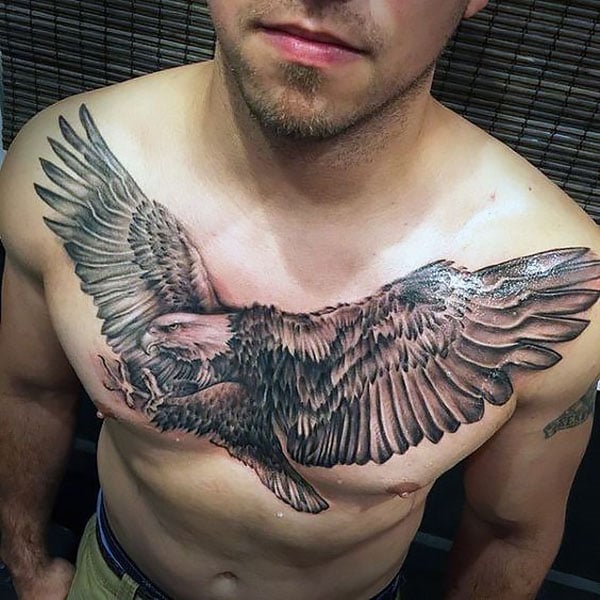 20. Lion Chest Tattoo
As one of the most fierce animals on the planet, a lion is a compelling choice for a chest tattoo. Whether you prefer to have the king of the beasts roaring or in its calm state, you will always feel strong and secure.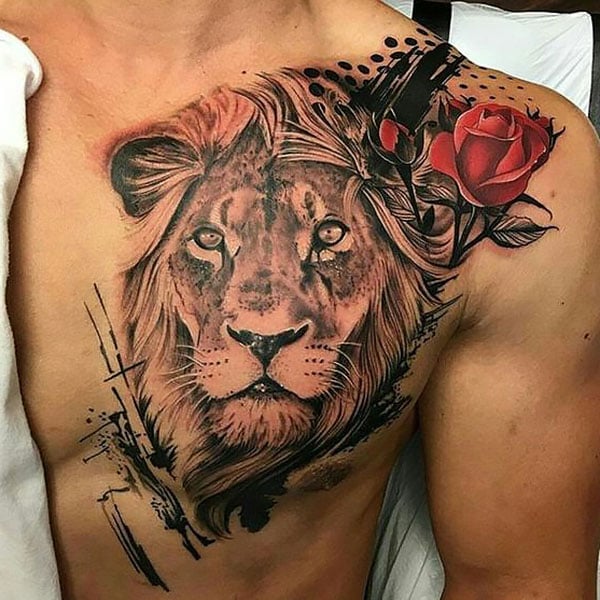 21. Wing Chest Tattoo
Often associated with religion and spirituality, wing chest tattoos hold a lot of meaning for its wearer. Whether you choose a bird, an Egyptian symbol, or an angel, this art looks best when spread across the torso and to the shoulders. For intricate detail, opt for a black ink design – it's an excellent way to show off detailed shadows and patterns.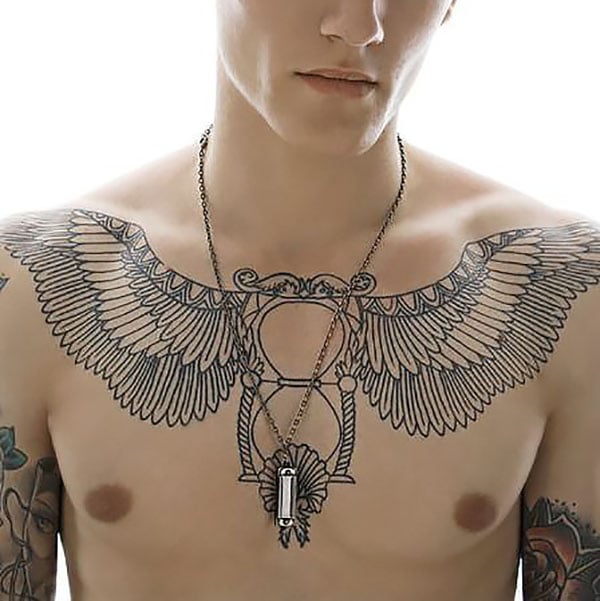 22. Name Chest Tattoo
Show your love for a special someone by inking them on your chest. Choose from a cursive script or type font, and you'll hold the person close to your heart. The beauty behind this tattoo is its simplicity, so feel free to add more as you go along. However, be aware that the person's name will be with you for a long time, so choose wisely.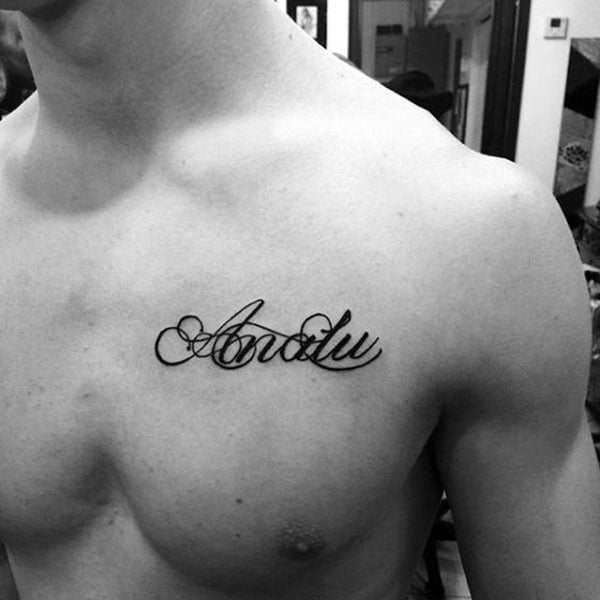 23. Geometric Chest Tattoo
Incorporate a modern design into your skin with a geometric tattoo. Whether it's a simple shape or a detailed animal, it's a timeless tattoo choice with a contemporary twist. This design is also versatile; you can spread it across your torso or focus it on one side of your body. No matter what you decide, you'll have a piece that you'll cherish forever.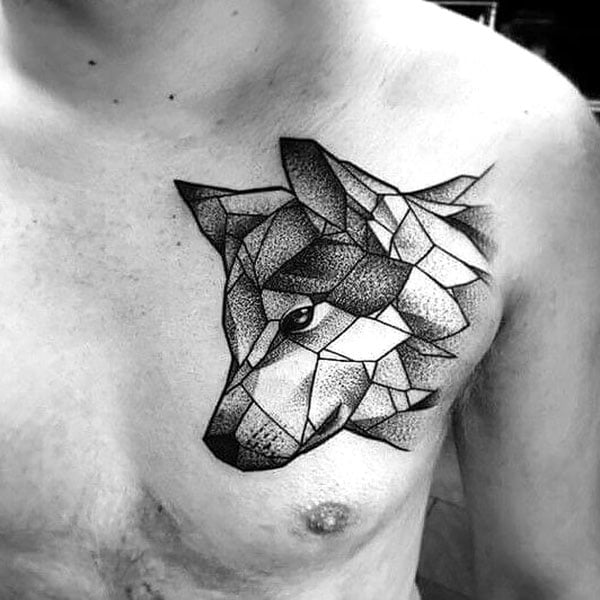 24. Snake Chest Tattoo
Representing a new life, snake tattoos are an excellent choice to wrap around your chest. From one snake to an entire den, this reptilian-inspired ink holds a lot of meaning to its wearer. If you'd like to depict infinity, why not portray the serpent eating its own tail. Opt for a bold emerald color to make the ink pop, or stick to black for a modern twist on the classic piece.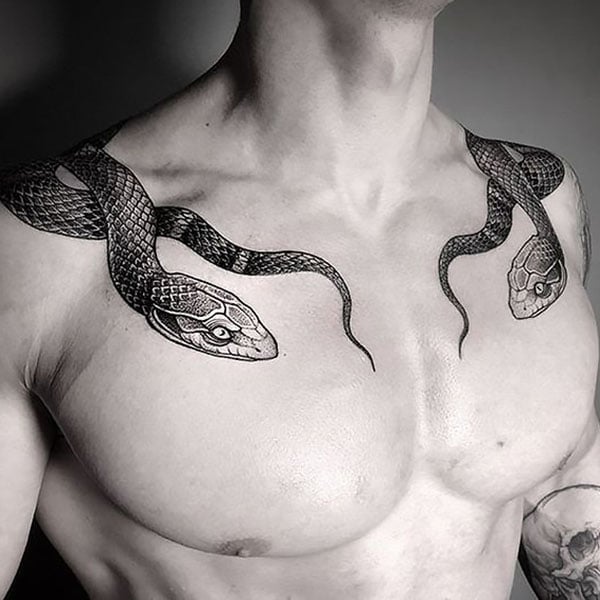 25. Scorpion Chest Tattoo
Repel fear and intimidation with a scorpion tattoo. Akin to the Grim Reaper, this tattoo represents sexuality, loyalty, and the ability to protect yourself. It is a design that requires intricacy, so whether you choose color or monochrome, make sure you find a reputable artist that is good with detail.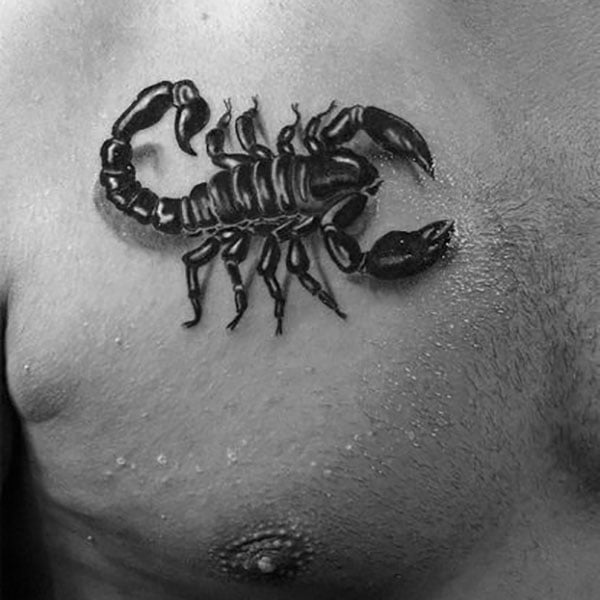 26. Dragon Chest Tattoo
Embrace your heritage or showcase your strength with a dragon tattoo. It represents wisdom and is an excellent choice for ink on your chest. There are several ways to wear it, such as working the piece across your midsection and into a sleeve. If you're not ready for a massive design, opt for the dragon to sit on one side of your chest. As a symbol for good luck, you'll be a proud wearer of this fantastic art.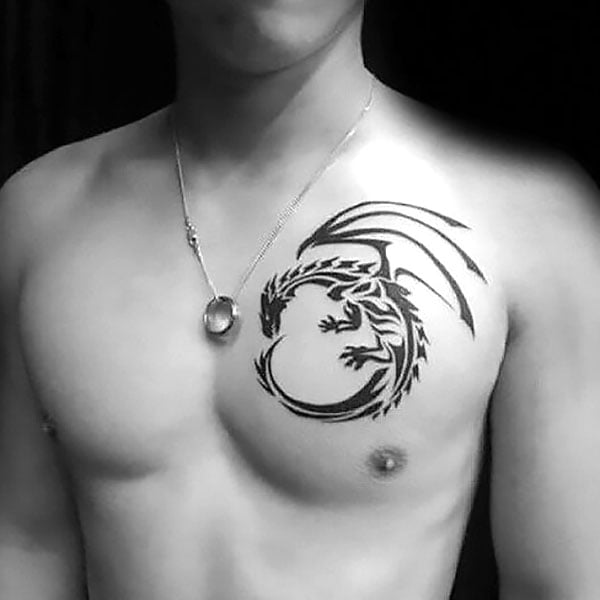 27. Mechanical Chest Tattoo
Expose your inner mechanics with this punchy chest tattoo. Create a 3D feel with supreme shading and delicate tinting – the more realistic, the better. Although there's no technical meaning behind this ink – it looks terrific on any torso and is a classic piece to consider.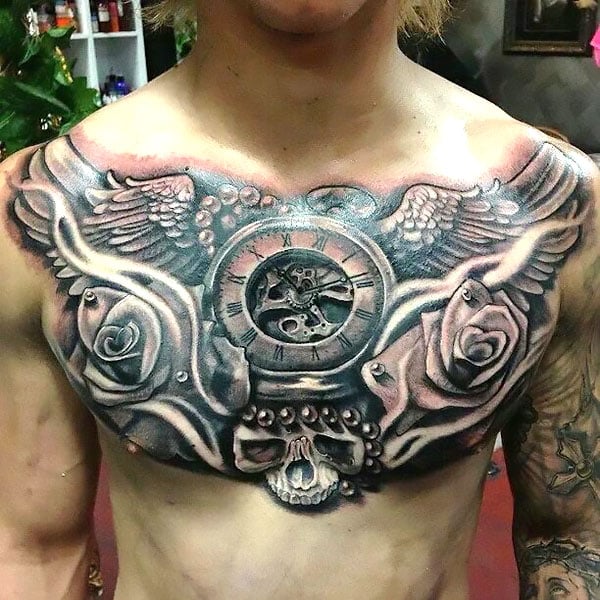 28. Gangster Chest Tattoo
Show off your love for the bad guys with a gangster chest tattoo. From the '30s style to the streets from the '90s, this design is sure to grab some attention. Portray an entire scene across your chest, or a portrait of a single mobster, the ink is a stylish and classic way to turn your body into art.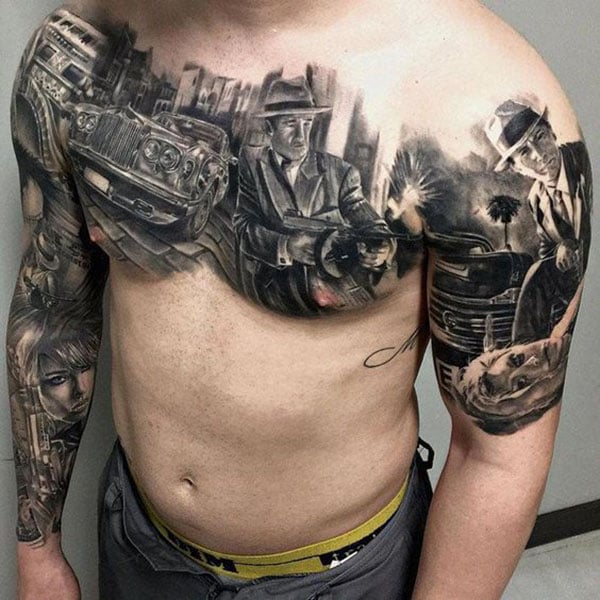 29. Kaleidoscope Chest Tattoo
Let your imagination run wild with a kaleidoscope tattoo. Much like a Mandala, these designs are intricate and full of wonder. If you're feeling colorful, opt for a watercolor tattoo style, or keep it bold and bright in black ink. It is a fearless and exciting piece that is worth every cent.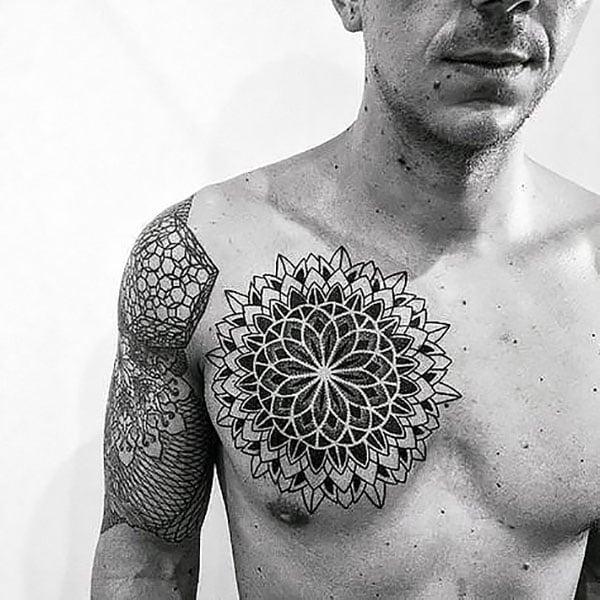 30. Stars Chest Tattoo
For the man who loves tradition, the star tattoo is a classic that you can't miss. With a 3D style or a scattering of the bright lights, this represents truth and embodies spirituality. Keep it simple by placing them on either side of your upper torso, or create a galaxy across your chest. It's a timeless piece that will last with you forever.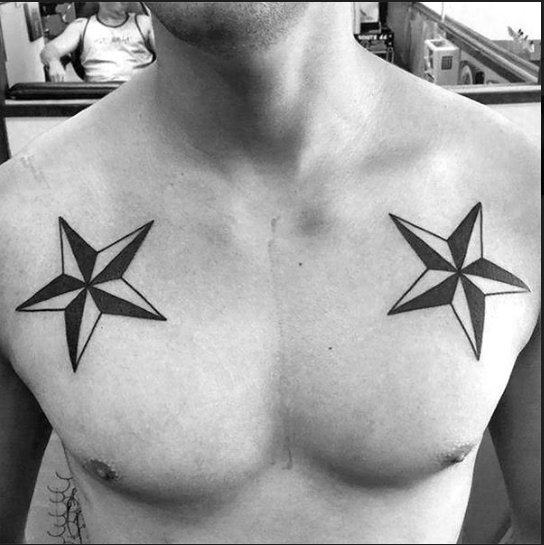 31. Aztec Chest Tattoo
Many different designs represent Aztec and Mesoamerican cultures. A chest tattoo with a hummingbird represents the Aztec sun god, Huitzilopochtli. Detailed patterns of eagles and other significant symbols of the ancient civilization make for beautiful Aztec tattoos and are worth considering when getting a piece.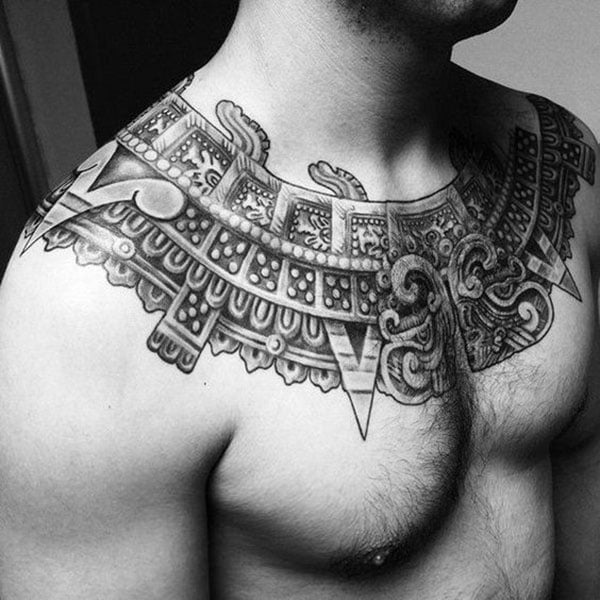 32. Small Chest Tattoo
Tattoos are significant decisions, so if you're not ready to go all out, why not take a small step with something little? This space calls for something delicate, bold, or intricate – whatever you want. Of course, this size means you can't pick something with too much detail, but finding a design that you adore will help you create the perfect ink for your chest.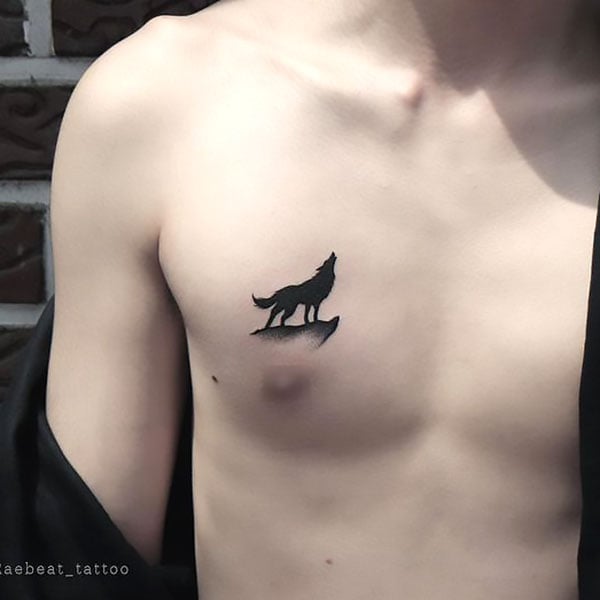 FAQs
Do chest tattoos hurt?
The chest is one of the more painful areas for a tattoo. There is less muscle or fat in the area, particularly along the sternum and around the ribcage, which means it will hurt more. Chest tattoos on men will hurt less along the pec area, as there is generally more padding here.
What are good chest tattoos?
Good chest tattoos for men will outline the torso well and follow the natural lines of the body, creating extra breadth and emphasizing muscle definition. Powerful animal designs such as eagles, lions, wolves, and snakes are popular options that project an image of strength and masculinity. Other possibilities include homages to faith and family, as it sits close to the heart, bringing extra meaning to the design. Lastly, because it's such a large area, you can go all out with full action scenes, biomechanical imagery, and artwork, as well as tribal patterns that play an important role in some cultures.
What do chest tattoos mean?
Mostly a chest tattoo means you're a badass who's brave enough to sit through a painful session. However, the symbolism of the location, being so forward and visible, also means you're bold and powerful. The design you choose may also mean something special to you, as many traditional images each have their own symbolic meaning.
SUBSCRIBE TO OUR NEWSLETTER
Subscribe to our mailing list and get interesting stuff and updates to your email inbox.