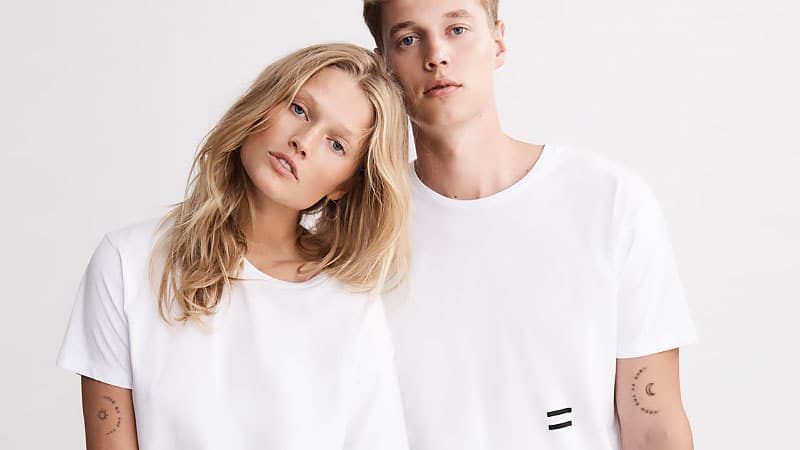 If you love your sibling and want to celebrate the bond you share, then an excellent way to do this is with a tattoo. Those who are close to their siblings know that this is a connection like no other. These are the people who you will love unconditionally and will always have your back. It is like having a built-in best friend for life. When it comes to deciding on your body art, there are many different options to choose from; simple and minimalistic to detailed and complicated pieces. You can opt for gender-neutral unisex designs that can be worn by brothers and sisters or matching pieces. Celebrate a childhood memory with a character from a favorite TV show or pick a meaningful quote that moves you. If you are looking for inspiration for your next ink, keep reading.
1. Unisex Sibling Tattoo
If you are searching for a design that both men or women can wear, or prefer more gender-neutral pieces, then a unisex sibling tattoo is just what you need. These can be as simple or as complicated as you wish; however, popular choices would be letters, words, quotes, and roman numerals. Perhaps you want to get inked with a meaningful tattoo like a date or pick out beautiful words symbolic of the bond you share with your siblings. There are so many different interpretations. Depending on your personality and the placement you want to choose, you can have some fun with this idea or keep it minimalistic.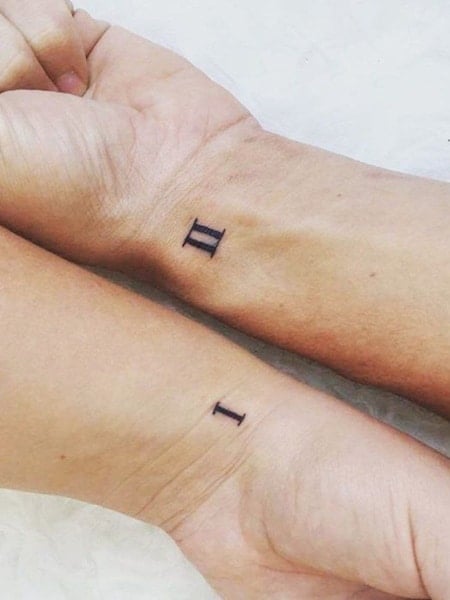 2. Matching Sibling Tattoo
One way to honor the bond you have with your family is to do so with a matching sibling tattoo. These can be thoughtful and represent a special milestone you have shared, reflect upon a beautiful memory, or be something you both love. Deciding on a design that is the same as your siblings is a wonderful way to show the world how close you are. Plus, it can serve as a reminder of how much you mean to each other. Matching ink may also strengthen your bond even more. It is nice to get it inked somewhere you can look at every day. That way, if you are not with your sibling, you can still think of them when you look down at the piece. Popular locations would be on your wrist, finger, or arm.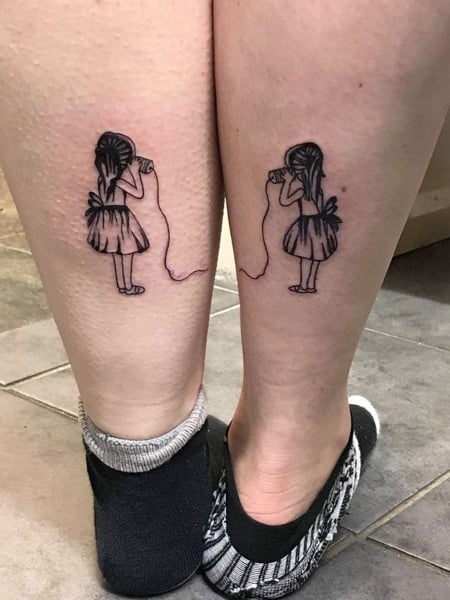 3. Cute Sibling Tattoos
Pretty, colorful designs are a wonderful way to have some fun with body art, and there is a definite appeal to opting for cute tattoos. There are so many different things to choose from, so you should pick something meaningful to you. For some, this may be one of their favorite characters from a childhood show or movie; for others, it could be an animal they love, whether mythical or real. There are no rules about what you can and cannot do with your piece. Consider different techniques and bold colors and work with your chosen tattoo artist to create something you are proud of.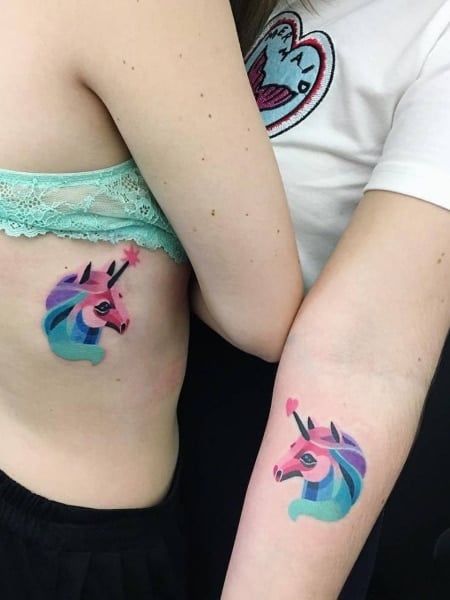 4. Sister Tattoos
If you have a sister, you will fully understand that this is an unbreakable bond. It is like having a built-in best friend from the moment you are born, and if you are close to your sibling, then why not get a meaningful sister tattoo? There are so many designs to choose from that reflect who you are as a family and tell your story. You could pick a favorite memory, show your sis how much you love her with her name, or keep it simple with the word 'sister.' The process of brainstorming and picking out your body art is just as unique. It will give you a chance to reflect upon everything special to you.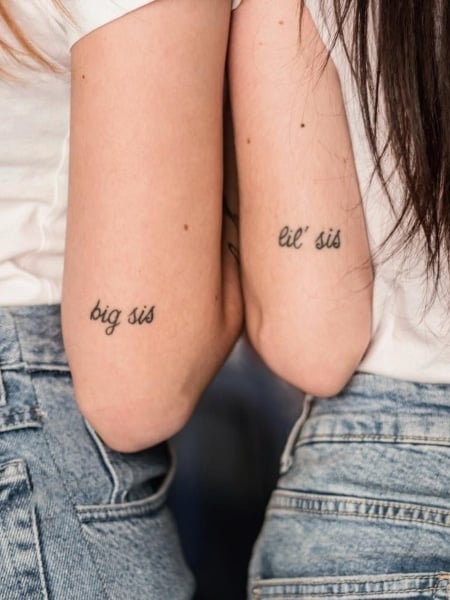 5. Brother Tattoos
The special relationship between brothers is something that needs to be highlighted more. Too often, society tells men they are not allowed to show emotion or get sentimental in public, and this needs to change. If you love or respect someone, tell them. If you want to celebrate that bond, do it. Brother tattoos don't have to be a traditionally masculine piece either, and there is a wide range of options to choose from. If you want something small and simple, getting the word 'bro' or a phrase about brotherhood is a great choice. Although sibling tattoos tend to honor blood bonds, many people also feel that their friends are the family they have chosen and love them as like a brother. There is nothing to say you cannot get body art like this with a dear friend, too.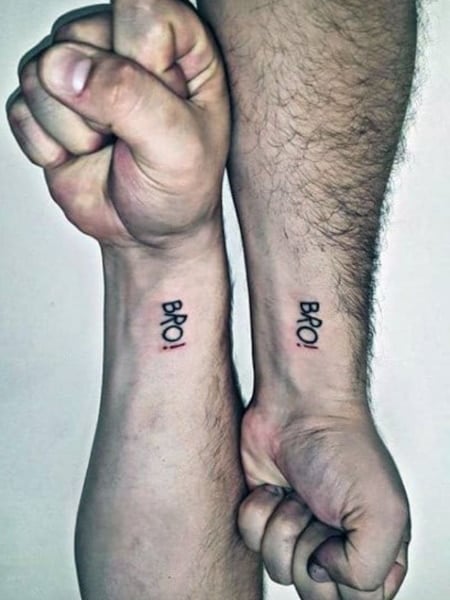 6. Brother and Sister Tattoos
Brother and sister tattoos are a fantastic way to celebrate your family. When deciding what pieces work best for you, you may be drawn to something unisex or something you both love. Some may share the same hobbies, likes, and dislikes, which will make coming up with a piece to honor your bond easy. You do not need an incredibly complex design for it to hold meaning either. Some prefer a more laid-back approach, opting for a single word like brother or sister. Simple, yet effective. To make the piece more unique, you can pick out a font that you both love or even opt to get it done in each of your handwriting.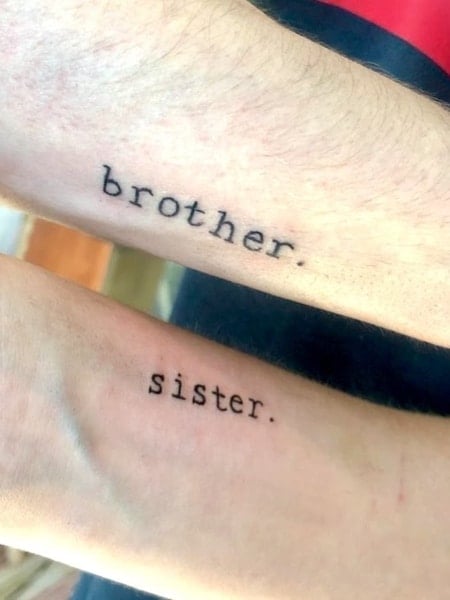 7. Sibling Tattoos for Two Brothers and a Sister
If you want to show the world that you and your siblings have an unbreakable bond, there are many ways to do that. Opting for tattoos representing your relationship with your brothers and sister is a beautiful idea. However, it would be best to think long and hard about what designs will work for all three of you. Sibling tattoos for two brothers and a sister can be just about anything from numbers and dates to your favorite animals or matching heart tattoos. If you want to make your piece incredibly unique, you could use portions of each of your fingerprints and design them in a heart shape. This way, your fingerprints are combined forever. This symbolizes your everlasting love and support of one another, as well as a commitment to being the best siblings you can be.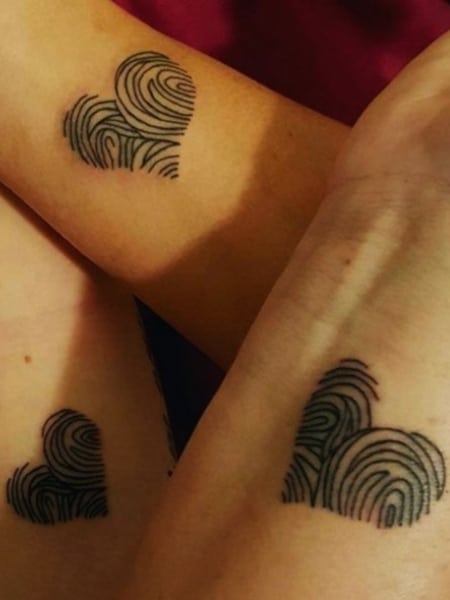 8. Sibling Tattoos for Three
If there are three siblings, it makes finding the perfect tattoo for you a little more challenging as there are more people's feelings and thoughts to consider. After finding what you all love, you may come up with a favorite childhood cartoon character. Or perhaps a shared memory you want to celebrate. You can also get matching tattoos or pieces that complement each other. For those who want something small and simple, dates or words are a great choice. Something like first, second and third can reflects the order in which you were born. Or you can opt for something symbolic, like a series of three trees. In general, trees are connected with knowledge, strength, and wisdom. Their roots are also a symbol of stability and a connection to your past, to your family, and the future.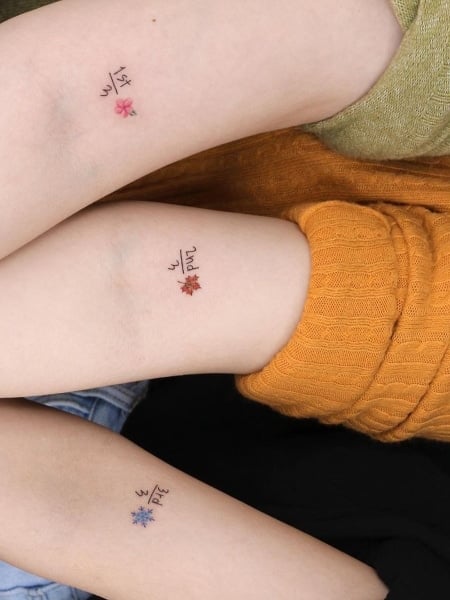 9. Sibling Tattoos for Four
Deciding on a sibling tattoo for four people can be a complicated process because it is likely that you all have different likes and dislikes. But after a bit of brainstorming session, you may come up with a design that you love, which perfectly captures your personality. You can get matching ink or something that reflects the order in which you were born. Or perhaps you have a favorite flower or plant that you think would make for a great piece. You could also find a way to honor your heritage. For example, with a four-leaf clover if you're Irish or hibiscus to celebrate Hawaiin culture.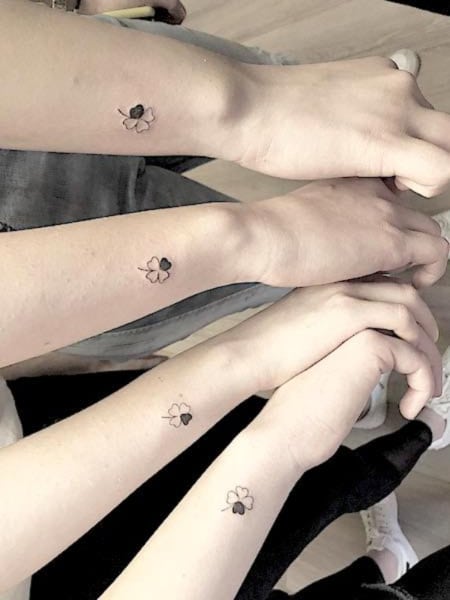 10. Sibling Tattoos for Five
Sibling tattoos for five may be harder to brainstorm than if it's just two of you, but when you come up with a piece you all love, it is a fantastic way to celebrate your connection. Something simple like a series of shapes and triangles can work nicely for this design, with each shaded differently to represent the individual. This makes each inking unique but also the same. Other options could be flowers, animals, or a date from a cherished memory. If you want something straightforward yet special, you can also opt for words like sibling or family.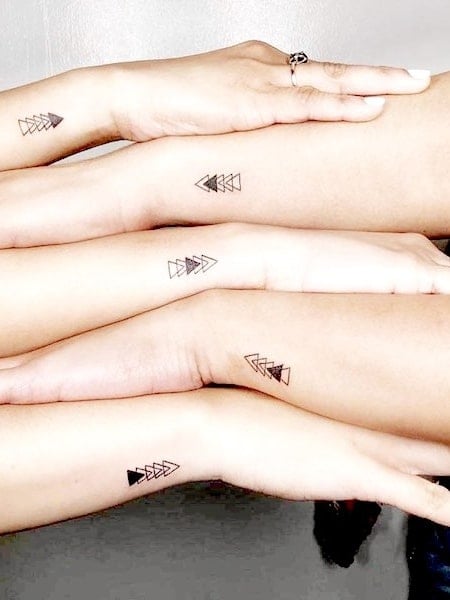 11. Sibling Memorial Tattoos for a Brother
A sibling memorial tattoo is a way for you to celebrate the life of the person you have lost. The design may bring some comfort to the wearer as they show off the love they have for their brother, and it is an excellent way to carry a piece of them with you forever. These inkings are unique to the individual as they honor their bond. Usually, a lot of thought and emotion is invested in these types of pieces. It could be a portrait, a meaningful phrase, special dates and times, or your brother's name. This tattoo is so symbolic that it deserves to be somewhere that can be seen, and popular locations include the forearm and upper arm.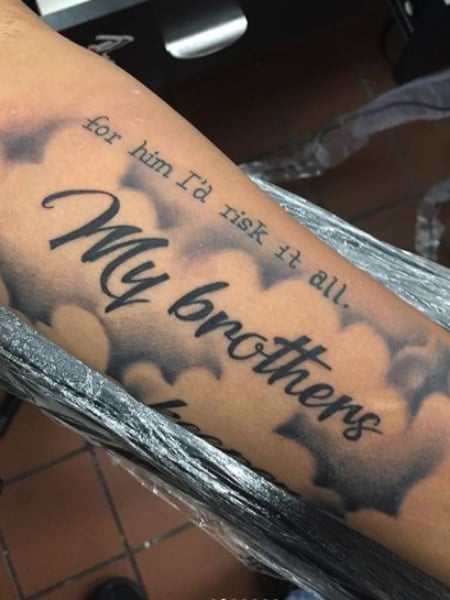 12. Sibling Memorial Tattoos for a Sister
Memorial tattoos are a way to express your undying love for the person who has passed. Each design is unique to the wearer and rich in symbolism, and this is a piece that can be represented in many different ways. Some people want to add special dates and names to their body art. Others may want an image in their loved one's likeness. You can also opt for a quote that brings you comfort, lyrics, or a poem that your sister loved. There is no denying that whatever you choose will be an expression of love and will convey these feelings to everyone who sees your ink.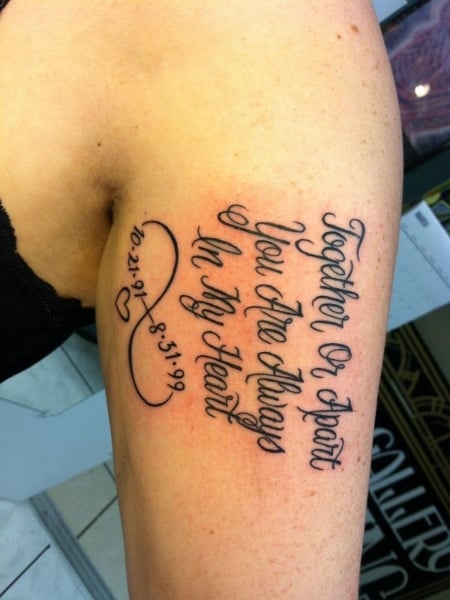 13. Unique Sibling Tattoos
There is nothing wrong with picking out basic symbols, letters, and quotes to show your connection. If you have decided to get a piece to honor the bond you share with your brothers or sisters, it is remarkable regardless of the subject matter. That said, some people spend a long time picking out a design and come up with unique sibling tattoos. These can include multiple different images to make it more personal and tell a story. Or an abstract option that will become a conversation starter while the meaning is not immediately obvious. The process of picking out your inking will be a lot of fun, and if you want something that stands out, this is the option for you.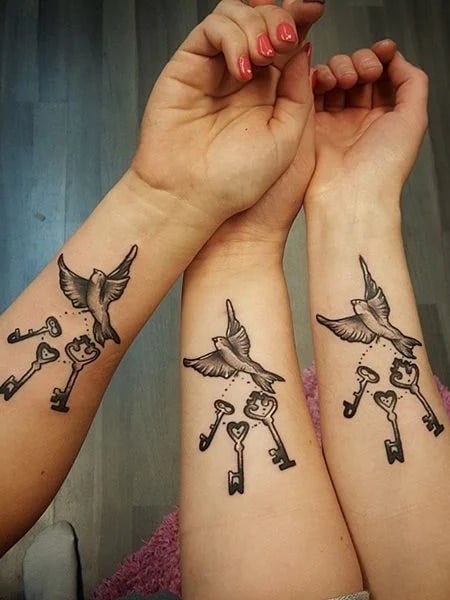 14. Clever Sibling Tattoo
The meaning of a clever sibling tattoo differs from person to person. That said, an example could be of how two things need each other to exist or function, such as a satellite antenna and satellite. One individual gets inked with one of these images and the other with the other. On their own, the design looks cool, but together it takes on so much more meaning and has a completeness about it. You can pick anything, but the more unusual, the better, as it makes for a more interesting tat.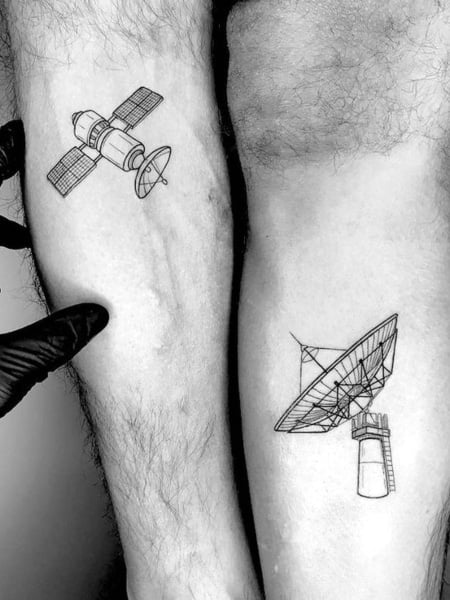 15. Sibling Quotes Tattoos
When you think about the love you have for your sibling, perhaps a quote comes to mind? Maybe there are lyrics from your favorite song that you both adore? Or a poem that you feel was written as though the poet was speaking directly to you. There are many phrases to choose from, and you can pick ones that directly address having a sibling or those that are slightly more abstract and instead discuss the connection and bond. Deciding to get a sibling quote tattoo is a bold choice and a permanent display of the importance of your relationship. You can get matching body art, or each get half the quote to complete it together.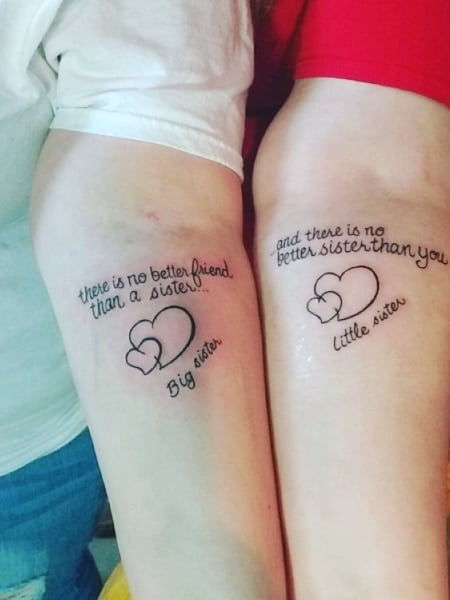 16. Simple Minimalist Sibling Tattoos
Simple tattoos are great for individuals who prefer a more basic approach to body art. These designs usually do not have too much detail, are created in black ink or a limited color palette, and can be small or large, but are often very basic. The importance of this style is that it focuses more on the subject that you've chosen than the technique. If you opt for a small design with your brothers or sisters, this is also very versatile as it can be done anywhere on the body as you have no size constraints.
RELATED: 25 Minimalist Tattoos that Say More With Less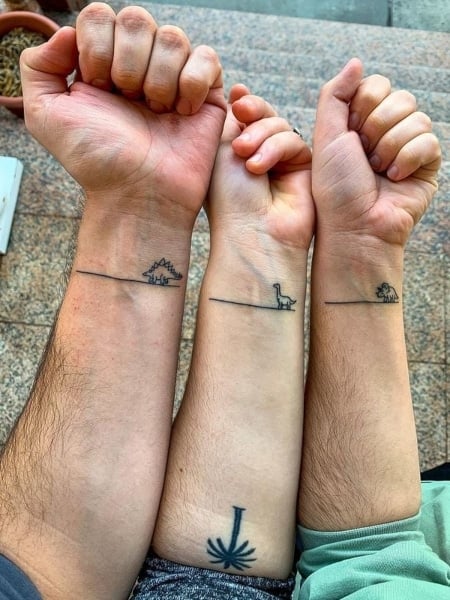 17. Sibling Initial Tattoos
Deciding on a sibling's initial tattoo may seem like a straightforward option, but it is also meaningful. What better way to show your appreciation for your family members than by wearing the letters of their names on your skin? There is a lot of sentiment behind this body art. Plus, it is unlikely to be something that you regret later. Due to how basic and small this piece is, it's great as a first tat or someone who doesn't want to be restricted with where they can get it inked. Placement plays an important part in your decision; show off your artwork somewhere visible, or cover it up. The choice is yours!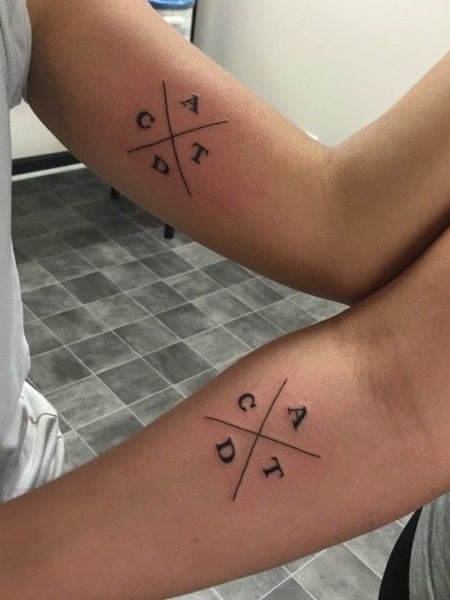 18. Tattoos that Represent Siblings
Your siblings may drive you crazy at times, but they are also your best friends for life and what better way to celebrate that than with body art? The great thing about getting a sibling tattoo is that there are so many different options to choose from, including images representing siblings. This can be anything from Celtic knots and family trees to your favorite brother and sister characters. For example, Bart and Lisa from The Simpsons portray what it is like to have a sibling. It can be a cute option for someone who wants ink that honors their bond without making it too obvious.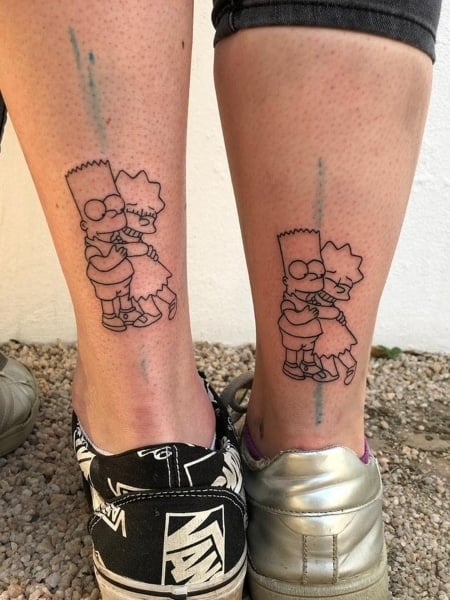 19. Sibling Tree Tattoos
The family tree, or in this case, the sibling tree tattoo, is such a powerful symbol. It represents strength, endurance, and love and is a wonderful way to show off your bond. The design often features a tree with various branches, each connected to a different name, and these should be the names of your siblings. To make the piece even more complex, you can add their birth dates. Family tattoos are thoughtful ways to honor the bond you have with those closest to you.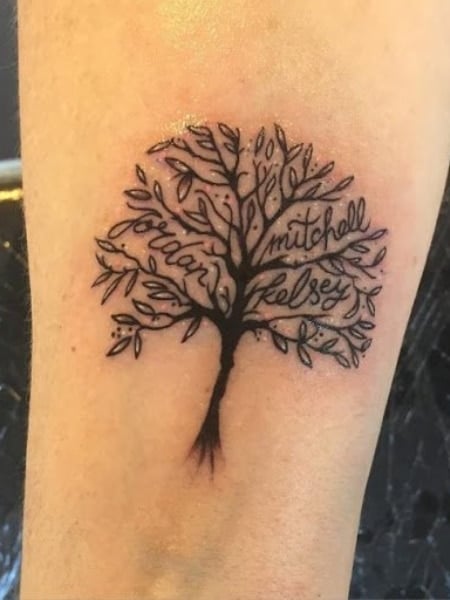 20. Disney Sibling Tattoos
Disney is where the magic happens. For so many of us, these movies are a reminder of the happier times in our childhood. It is not hard to see why someone would be drawn to the idea of getting a Disney sibling tattoo; so many of these characters either have relatable qualities or the bond they share is important and special. Some of the most popular siblings include Frozen's Anna and Elsa, Aristocats' Marie, Berlioz and Toulouse, and Peter Pan's Wendy, John, and Michael. Although most people opt for positive representations, this is also an option for someone who doesn't have a great relationship with their siblings. For example, Scar and Mufasa from The Lion King and Cinderella and her step-sisters, Anastasia and Dizella.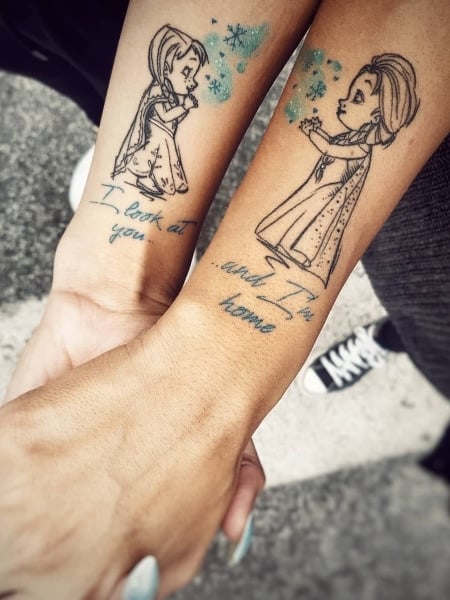 21. Celtic Sibling Knot Tattoo
The Celtic Sisters Knot is a design that comprises two parts and represents the bond shared between sisters. It can be a sign of female strength and power and is a beautiful choice for a tattoo that celebrates the special bond you share. The design features a heart, which can represent everlasting love, and a triquetra or triple spiral weaved into it. This is symbolic of the different stages in a woman's life. In addition to honoring the connection with your sibling, it can also be a way to celebrate your heritage or simply what it means to be a powerful female.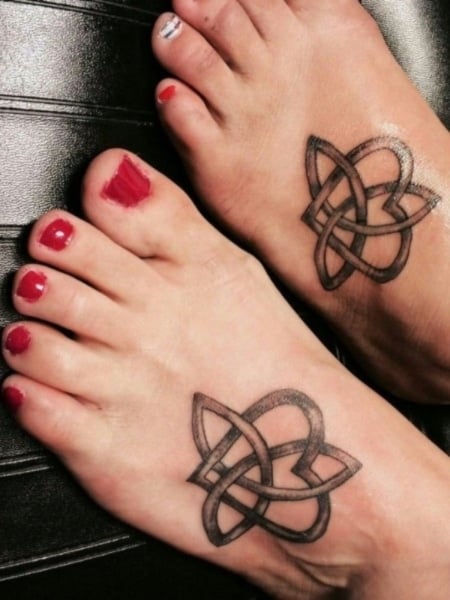 22. Sibling Heart Tattoo
What better way to show your love than with a heart tattoo? Although one of the most obvious meanings associated with this symbol is love, various other things are connected with it. These include compassion and courage, and it can be inked as a way to show your affection for someone or as a way to express grief or loss. If your sibling has passed, this may be a minimalistic yet beautiful option for a memorial tattoo. Your design can be as simple or as complicated as you wish. For some, a tiny heart shape is excellent, while others prefer a more anatomically correct drawing. Regardless of what you choose, the meaning is the same.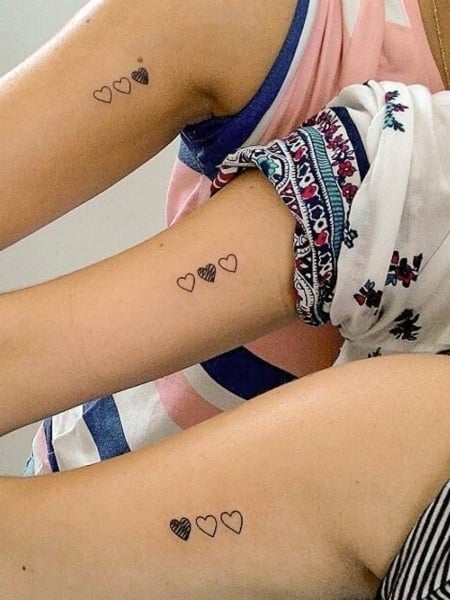 23. Geometric Sibling Tattoo
Geometric tattoos are a technique that is gaining popularity because they are fascinating to look at. The shapes used to make the piece create something complicated and meaningful. It is often associated with balance, symmetry, and mystery. If you love the style, you and your sibling can think about ways to get it inked. This could be two matching designs or half of one big piece so that when you come together, it is completed. When done well, geometric body art is beautiful. It would be best if you did your research beforehand about which tattoo artist to use. It would help to find someone who is experienced in this technique to create a precise and symmetrical piece.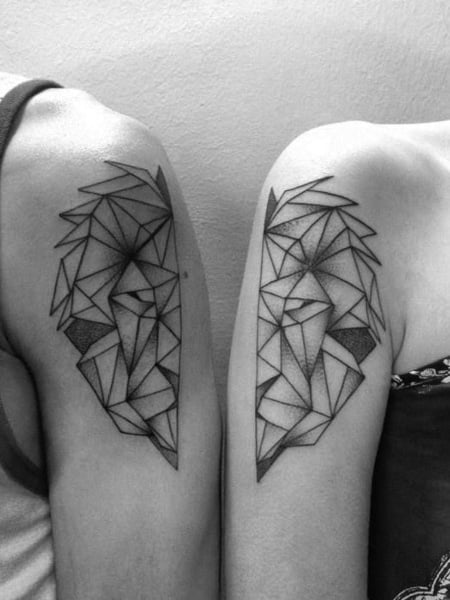 24. Creative Sibling Tattoo
When it comes to body art, the only thing limiting you is your creativity. This means you can play around with various designs, changing them to make them more personal and finding something unique and different. Maybe you want a piece that combines two elements that can only be used together or need each other to function, for example, a bow and arrow. You can also make your piece more personal by adding roman numerals of a special date or time. There are no rules for what you can or cannot do with your ink. Work together with your sibling to brainstorm something that will make a statement, but most importantly, is special to you.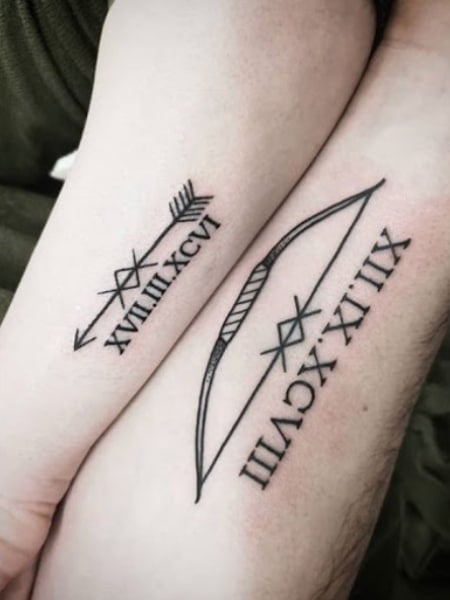 25. My Siblings Protector Tattoo
Although there are many different quotes, lyrics, and poems you can choose from when getting body art dedicated to your family, one of the most meaningful and powerful statements is a My Siblings Protector Tattoo. As the name suggests, this is often inked by someone who wants to prove to the world that they will do anything to keep their sibling safe. They will watch over them, guide them, and above all, protect them from those who mean them harm. This can be inked by a brother or sister and is a way to warn others not to mess with your loved ones because you will always have their back. To make the piece more unique, you may also want to include names, birth dates, or additional quotes.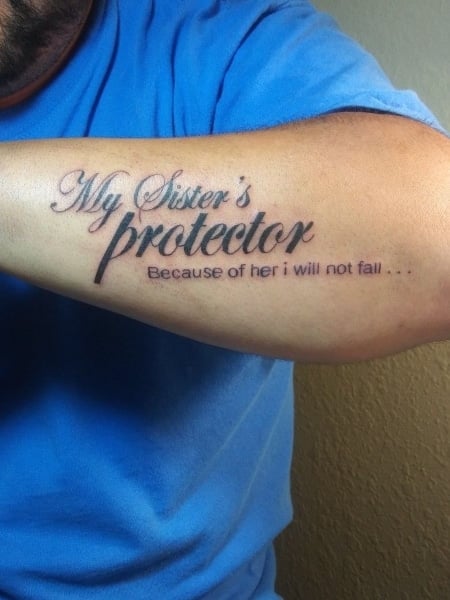 26. Siblings Circle Tattoo
Deciding on a circle tattoo to celebrate your relationship with your sibling may seem like a simple option, and while it is this, it is also incredibly symbolic. The circle is a shape that represents so much, including life, wholeness, eternity, and perfection. For someone who loves a minimalistic approach to body art but is also a deep thinker and is drawn to the symbolism associated with this shape, this is a fantastic and interesting choice for your next ink.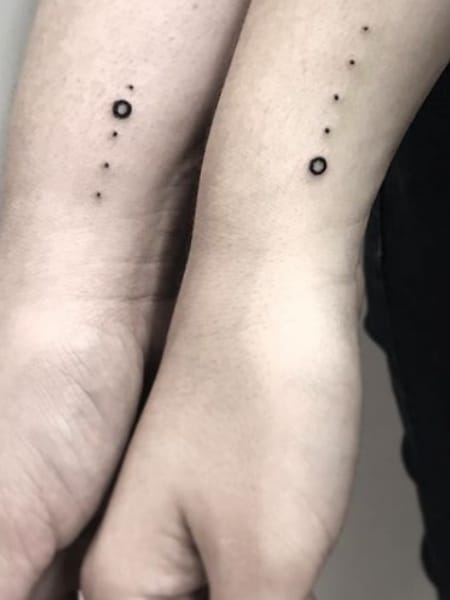 27. Sibling Puzzle Tattoo
When deciding on a tattoo, you may be drawn to a puzzle piece. Not only is this a symbol of the connections that you share with someone, especially if these two pieces go together, but it is also an interesting design. There are few better ways to show just how close you are with your sibling than opting for a piece like this; it is simple yet still meaningful. You can also add initials or birth dates. It is also worth noting that the puzzle piece symbolizes autism. This is a nice way to show your solidarity and raise awareness for the cause, especially if your sibling is on the spectrum.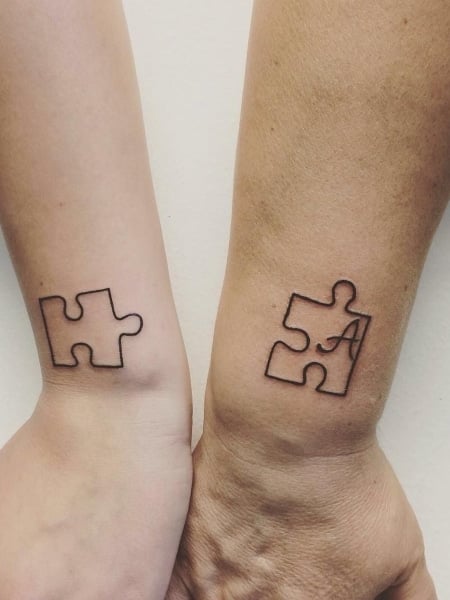 28. Big Sister Little Sister Tattoo
If you're looking for a simple symbol of sisterhood, then the Big Sister, Little Sister design is a perfect choice. The Big Sister and Little Sister tattoos can be done in a wide variety of fonts, so you can pick something that you both love or even choose each other's handwriting. You may also want to make the pieces more unique by adding initials or birth dates. They may steal your clothes and drive you crazy at times, but at the end of the day, there is no one like a sister!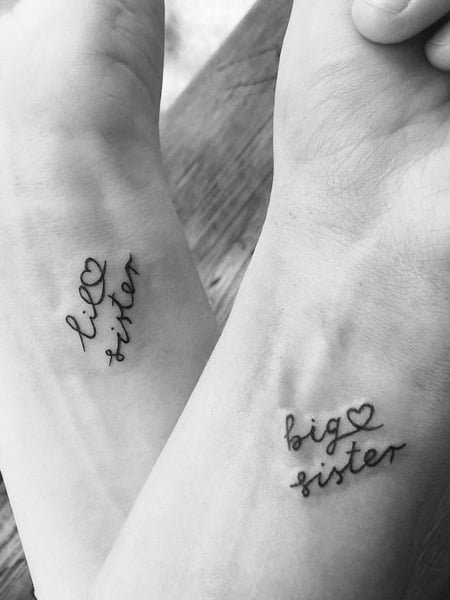 FAQs
What is the sister symbol?
Many different symbols can represent sisterhood, but one of the most common is The Celtic Sisters Knot. This is a design that comprises two parts and represents the bond shared between sisters. It can be a sign of female strength and power and is a beautiful choice.
What tattoo should I get with my sister?
If you want to celebrate the connection you share with your sister, you can do this in many ways. Some people are drawn to simple designs, like the word 'sister,' or 'sibling,' or quotes about sisterhood. Others may want a more personal piece, opting to honor a childhood memory or picking out their favorite animal. You can make these designs matching or different, or a continuation of one another. For example, half a quote on one person, and the rest on the other. When deciding what you should get, spend some time brainstorming and come up with something you both love and will be proud to show off.
What is a symbol for brothers for life?
If you are looking for a tattoo to celebrate brotherhood, there are many options. You can choose to spell out the word brother, pick phrases that you love, or find a symbol, such as two cartoon characters, to show the bond between brothers. The phrase brothers for life can have positive and negative associations, so it is important to know this, as there have been prior criminal gangs with this name. If you live in a country where this phrase may have had ties to crime, it is best to avoid spelling it out.
What things represent siblings?
Many different things represent siblings, from Celtic knots to cartoon characters. When deciding on a tattoo that celebrates the bond you share with your family, you can pick anything meaningful to you. This could be matching ink of your favorite animals, heart-shaped tattoos, or quotes or phrases that you love.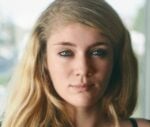 Cailyn Cox holds a degree in journalism and has been working with The Trend Spotter as a writer for over ten years. She has worked with some of the most prestigious women's and men's lifestyle publications. For her, writing is not just a job; it's a passion, which is why each article she writes is approached with such enthusiasm and dedication. She has extensive knowledge of hairstyles, tattoos, and beauty and has made a career out of creating informative articles that appeal to women and men of all ages.
SUBSCRIBE TO OUR NEWSLETTER
Subscribe to our mailing list and get interesting stuff and updates to your email inbox.