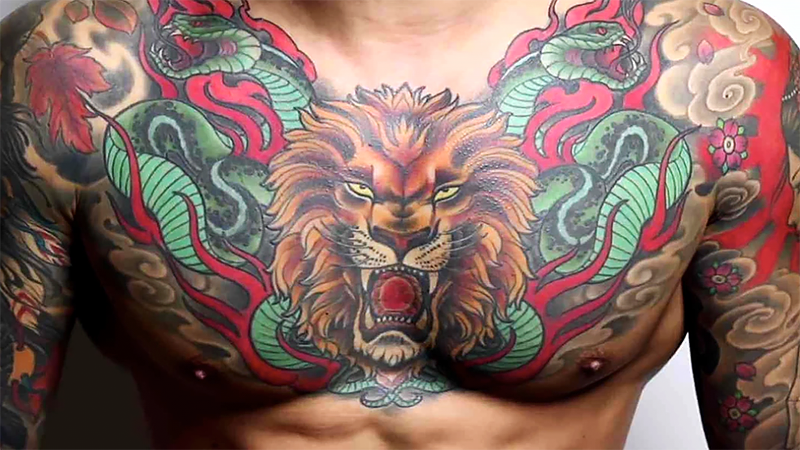 Lions are one of the most popular tattoo designs for men because they represent dominance, strength, confidence, and courage. They aren't called the King of the Jungle for nothing. They are also instantly recognizable, meaning they are suited to lots of different art styles – from photorealistic to geometric and tribal. Read on to discover all the different types of lion tattoos and the perfect piece for you.

1. Lion Face Tattoo
A lion face tattoo looks majestic and wise. The design is excellent if you're an animal lover or want your ink in the photorealistic art style. While some lion tattoos can seem intimidating, a lion's face shows the more mysterious and peaceful side of the animal. To show off all the detail in your lion face tattoo, try a forearm, chest, or back placement.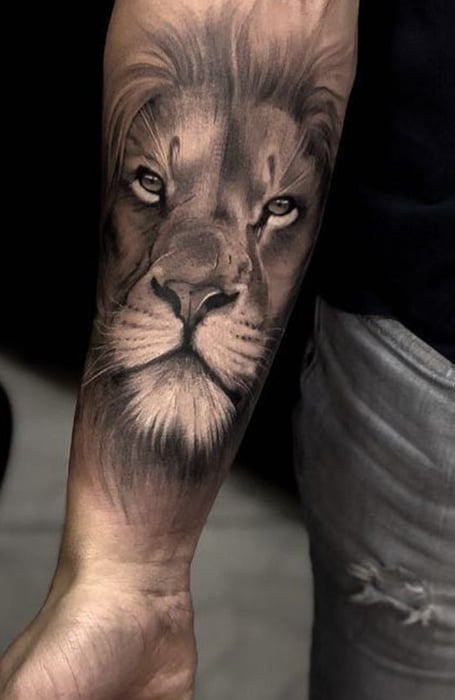 2. Lion With Crown Tattoo
The lion with a crown tattoo plays into the powerful, royal image of the lion. Men who are the protector of their family and are in charge suit this tattoo design. It shows that you are strong, independent, and in control. The tattoo can also have a Christian meaning: the Bible refers to Jesus as both a king and a lion. Singer Justin Bieber has this tattoo design on his chest.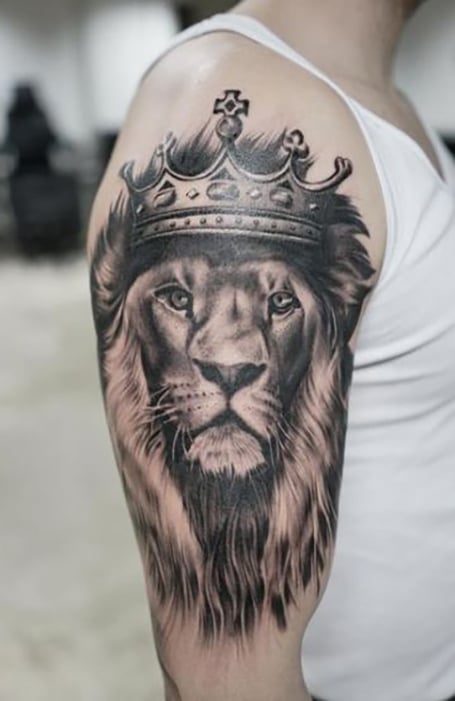 3. Female Lion Tattoo
A female lion tattoo is a very meaningful tattoo choice because of the way lionesses behave in nature. In the wild, lionesses hunt together to provide for the family, as well as care for cubs. They are powerful predators, as well as being maternal. For those reasons, a lioness inking makes for the perfect tattoo tribute to the strong women in your life.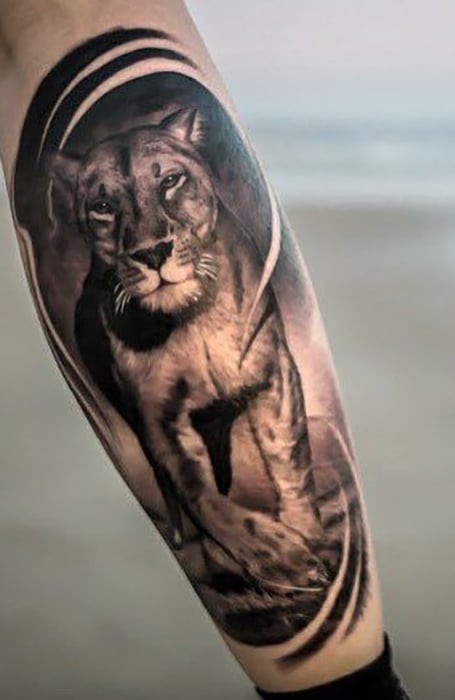 4. Tribal Lion Tattoo
There are several options when it comes to choosing a tribal lion tattoo. If you have tribal heritage, a lion tattoo in your culture's traditional style would be a striking choice. African tribal art often includes bold black ink and geometric shapes. Meanwhile, the classic tribal tattoo style has more curved lines, which would give your lion design life and movement. Either way, a tribal lion tattoo is eye-catching and unusual.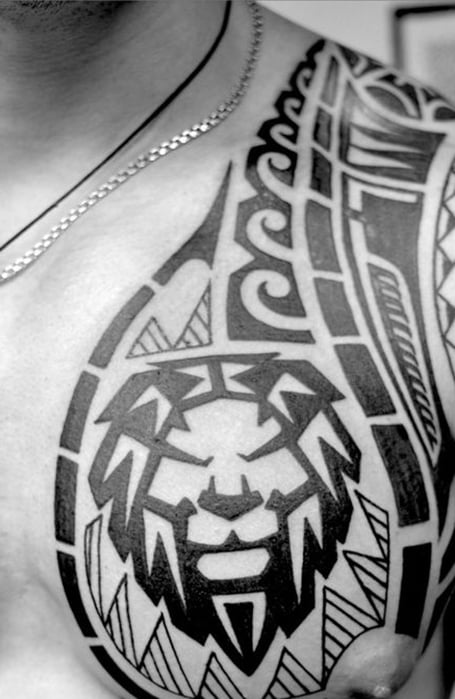 5. Small Lion Tattoo
Your lion tattoo doesn't have to be big to have an impact. Even a small lion tattoo looks striking and cool. For extra impact, ask your tattoo artist to add white ink details to the lion's eyes. Additionally, a small lion tattoo is ideal for your fingers and hands, forearm, neck, or behind the ear.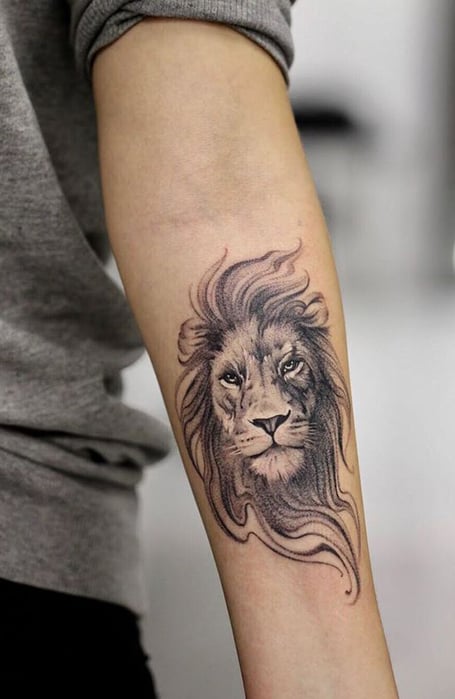 6. Geometric Lion Tattoo
For an unusual and trendy take on a lion tattoo, try a geometric tattoo. The art style gives any tattoo a modern and futuristic touch. So if you're a fan of more abstract and non-traditional ink, it could be perfect for you. There are lots of different options when it comes to a geometric lion tattoo. Shaded triangles will give the design depth and complexity, creating a stand out effect.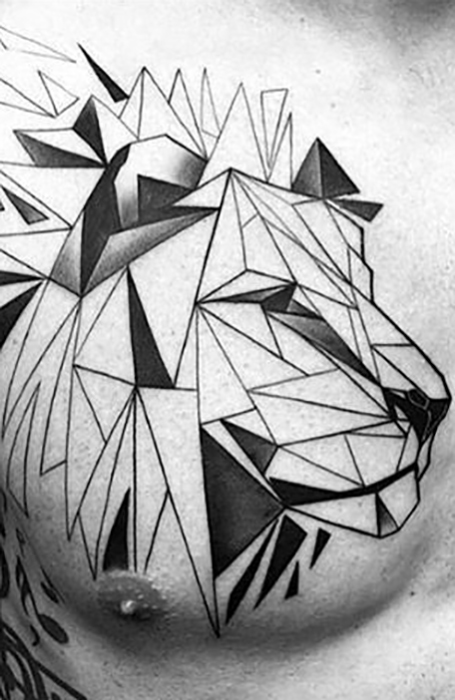 7. Lion and Lamb Tattoo
Christian men looking for a meaningful, powerful, and masculine tattoo should consider a lion and lamb design. In the Bible, both these animals symbolize Jesus Christ. He is often called the 'Lion of the tribe of Judah,' which refers to his heritage as part of King David's family line, and as the messiah. The lion also symbolizes his conquest of death. Meanwhile, the lamb represents Christ's sacrifice, as in ancient times, lambs were sacrificial animals used in religious ceremonies. To add even more meaning to this inking, you could add your favorite Bible verse or three crosses.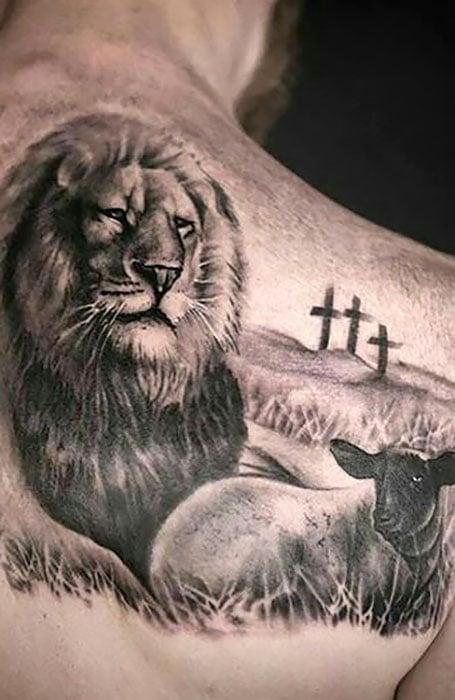 8. Lion of Judah Tattoo
The lion of Judah tattoo is of a lion wearing a crown and holding a royal scepter. It has several different meanings. Firstly, it can be considered a Christian symbol as Jesus Christ is referred to as 'the lion of Judah' in the Bible. Secondly, the design features on the old Ethiopian flag, making the design very significant for those with Ethiopian heritage. For the same reason, it is also meaningful for followers of the Rastafarian religion and culture, as former Ethiopian emperor Haile Selassie is considered to be an incarnation of God.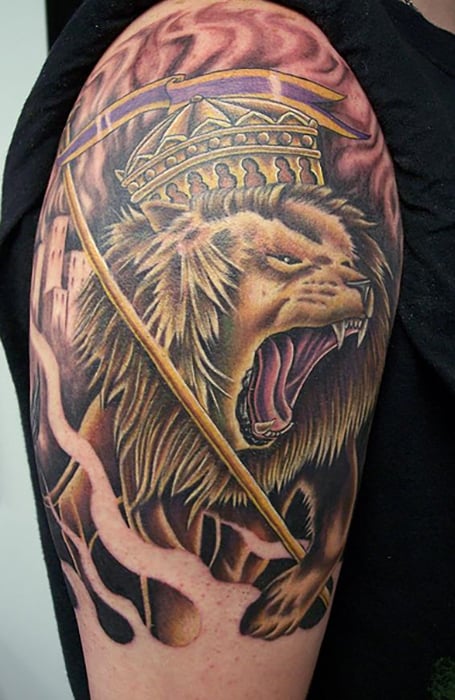 9. Lion and Cub Tattoo
The lion and cub tattoo symbolizes the protection between father and child. That's because, in the wild, lions fiercely defend their cubs. For that reason, it's a popular tattoo choice for new dads. It's a tattoo that shows how important family is in your life, so if you want to show your 'pride' how you will always keep them safe, it's a great option.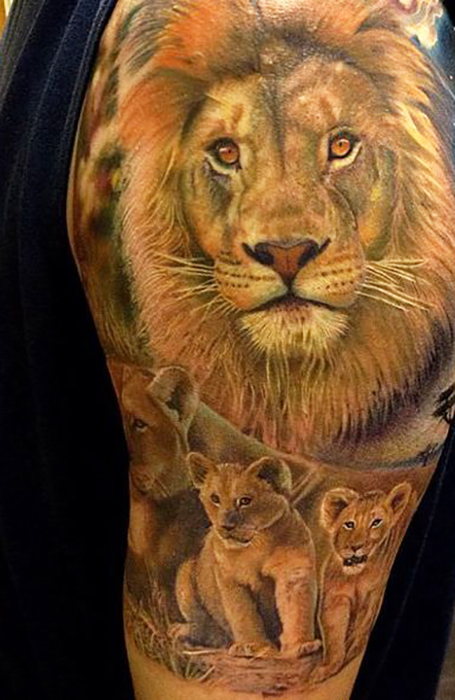 10. Roaring Lion Tattoo
Proud and powerful, a roaring lion tattoo is all about showing your strength to others. Lions make this sound to mark their territory, and their iconic roar can be heard up to 5 miles away. A roaring lion tattoo looks intimidating because it shows off the wild side of the beast. It has a very masculine feel and also requires a lot of space, so it suits a chest, thigh, or back placement. Formula 1 champion Lewis Hamilton has this tattoo. If you want to show off your wild side, try this inking out.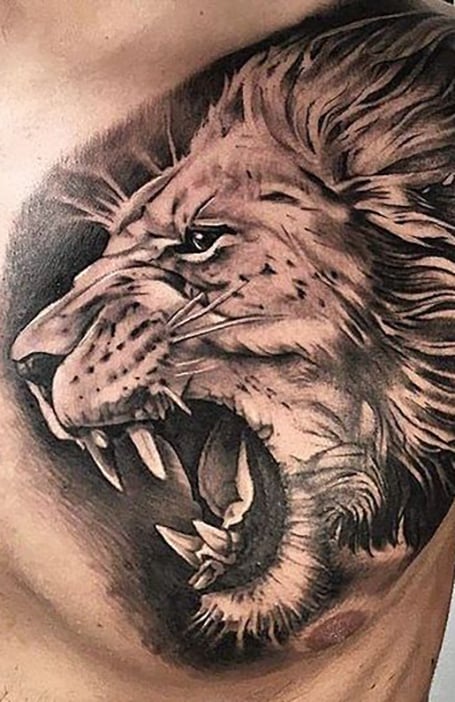 11. Lion Eyes Tattoo
One of the most popular lion-themed inkings is a lion eyes tattoo. It's a mysterious and intriguing design that's ideal if you like the photorealistic tattoo style. Eye tattoos are considered lucky in many cultures; they indicate that the wearer is being watched over. Eyes are also considered to be 'the window to the soul' and represent someone's inner personality. So if you feel connected to the strength and power of a lion, a lion's eye tattoo is perfect for you.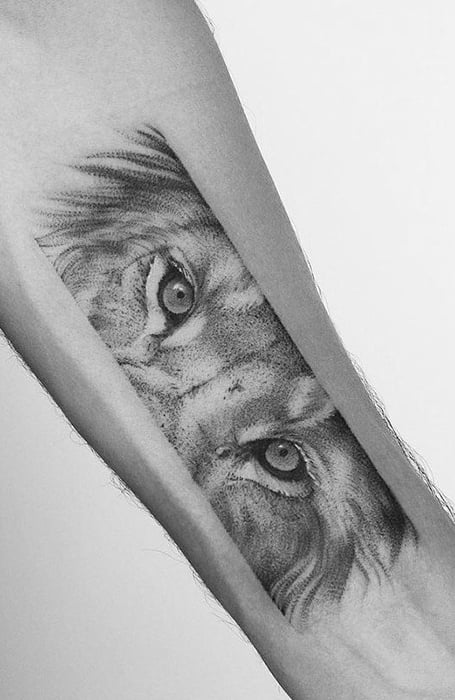 12. Lion Chest Tattoo
A chest tattoo gives the artist a larger canvas to work with, so you can have a bigger and more detailed design. It's an excellent choice for an intricate lion tattoo that extends over your shoulder. A tattoo on the left side of your chest often symbolizes courage and bravery because it's over your heart.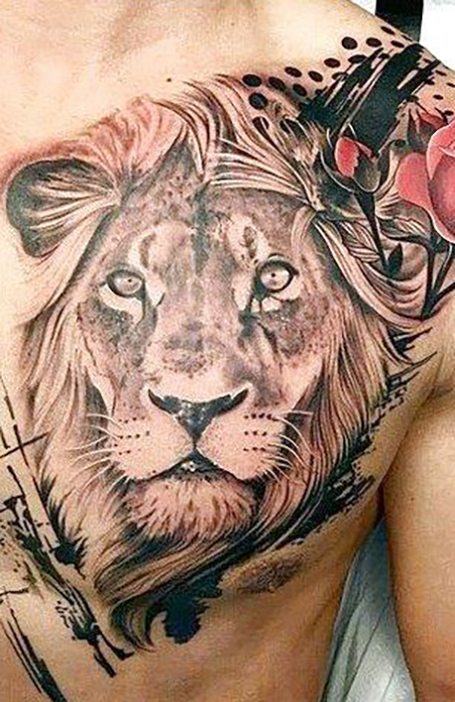 13. Lion Hand Tattoo
A hand tattoo is an excellent placement for a strong masculine design like a lion because others will see it whenever you shake their hand. For the same reason, it's great for building confidence as it makes you feel stronger and more powerful. Hand tattoos also symbolize control. As a result, some men get a lion tattooed on their right hand when they achieve success or to show their self-control, like overcoming an addiction.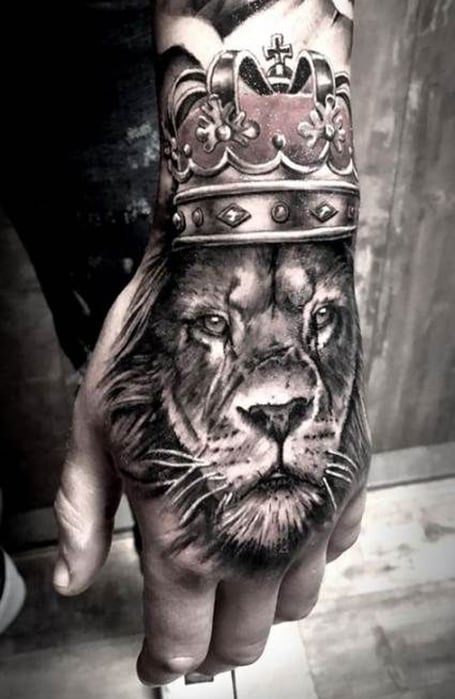 14. Winged Lion Tattoo
Not only does a winged lion look cool and powerful, but it also has a deeper meaning. This mythical take on the lion represents St Mark in Christianity, which makes it a great option if your favorite Bible passage is from Mark's gospel. NBA star LeBron James has this tattoo on his chest, which is an ideal placement because it provides enough space to show the detail of the wings.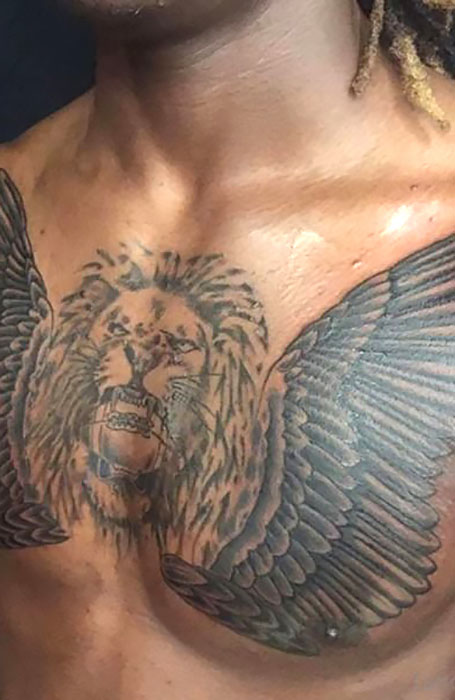 15. Lion Forearm Tattoo
Forearm tattoos are one of the most popular tattoo placements for men. That's because you can see them without the help of a mirror – unlike your back. You can easily cover a forearm tattoo with a long-sleeved shirt. It's one of the least painful places to get a tattoo, so it's an ideal placement for your first inking. A smaller lion tattoo would look great on your inner arm, while you could show off a larger design with a quote or Bible verse on the outside of your forearm.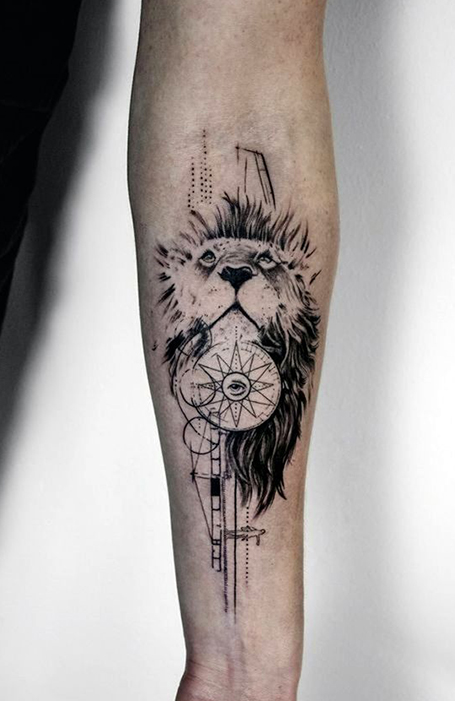 16. Lion Shoulder Tattoo
Another popular placement for men is a shoulder tattoo. That's because it's a traditional and very masculine area of the body to get inked. A shoulder tattoo usually covers your bicep and can extend further up to your collarbone or down to your chest. A lion tattoo matches perfectly with a shoulder placement because both are associated with strength.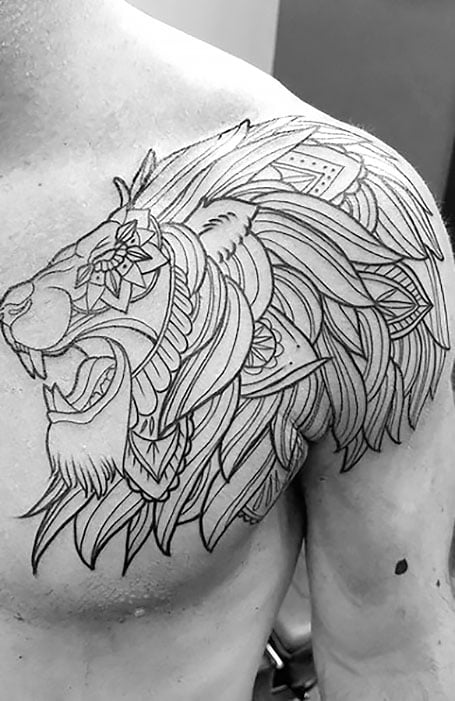 17. Lion Sleeve Tattoo
A full sleeve tattoo stretches from your shoulder to your wrist. Usually, many different tattoos make up a sleeve to tell a story or create a specific scene. A large lion tattoo anchors a sleeve design because it's eyecatching and dramatic, and looks great in black ink or full color. It also pairs well with lots of other symbolic tattoos, like eagles, roses, flags, crowns, crosses, and skulls.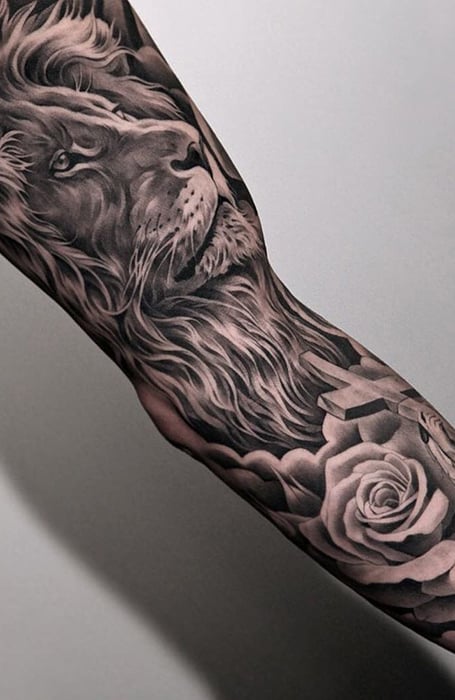 18. Lion Back Tattoo
If you want a lion inking with maximum impact, choose a back tattoo. You'll have enough space for a large, detailed design of either a lion head or even a full body. Lyon footballer Memphis Depay has a lion tattoo that covers his whole back. While back tattoos are bold and often chosen by extroverts, they are also symbolic – people often get their most meaningful tattoos on their back, knowing they won't see it every day. Back tattoos show others what's most important to you.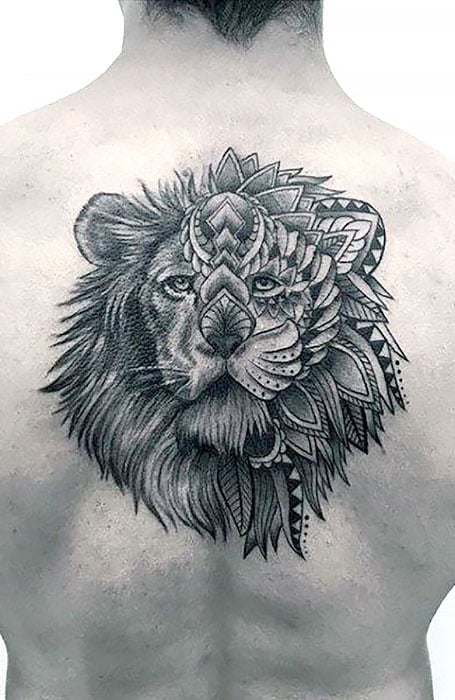 19. Lion Finger Tattoo
Lion finger tattoos have become trendy in recent years and have even been adopted by celebrities like boxer Anthony Joshua. The inking has all the power and majesty of a full-size lion tattoo but is still subtle. The shape of a lion's head fits with the narrow space on your finger. Matching lion finger tattoos are also a fun choice for a couple's tattoo.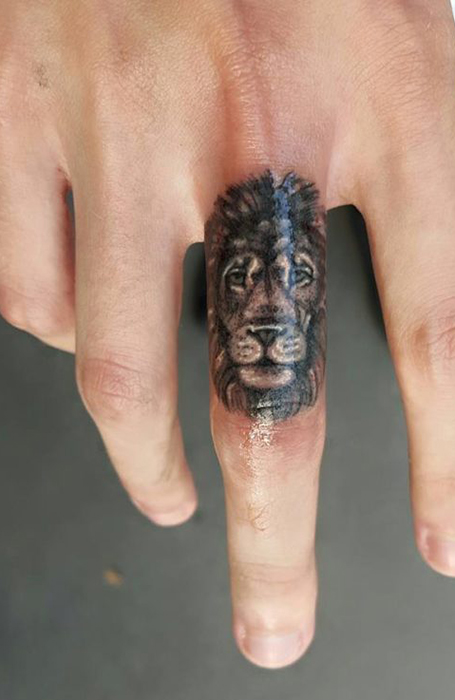 FAQs
What does a tattoo of a lion mean?
Besides power and royalty, lion tattoos have other meanings. The animals are the symbol of many countries, including the UK, Norway, and Ethiopia. That makes them a patriotic choice of body art. In astrology, a lion represents the birth sign of Leo, making it ideal for those born at that time of the year. And finally, lions have a significant religious meaning for many Christians as they symbolize Jesus Christ, as well as St Mark.
How much is a lion tattoo?
The cost of a lion tattoo will depend on the size and detail. Generally, they are larger to allow intricate detail, so it will cost more. Most tattoo shops charge by the hour, and the rate might be a standard shop price, or it could vary by artist depending on their experience, exposure, and popularity. Expect to pay between $120-$200 per hour, on average. When you book in for a consultation and discuss your design with the artist, you'll be able to ask for a ballpark quote.
Where do you put a lion tattoo?
Popular placements for lion tattoos include the chest, back, arms, and legs. These areas are larger and allow bigger, more detailed designs. They're also often the most powerful parts of a guy's body, enhancing the strength and dominance meaning of the tattoo.
SUBSCRIBE TO OUR NEWSLETTER
Subscribe to our mailing list and get interesting stuff and updates to your email inbox.