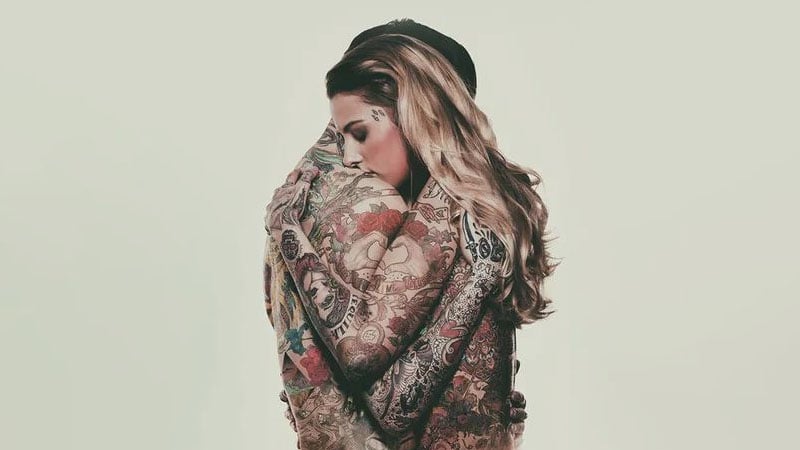 Tattoos are a way to show your individuality, whether you want to decorate your body with symbols and images because you love the way they look or you are drawn to their symbolism. When it comes to the design you choose, there are several options, and while some people are drawn to generic images and tattoo flashes because they appreciate the style or the meaning behind these designs, others want something unique and adapted to reflect their thoughts and feelings. Unique tattoos are created to be different from the rest, and this can be done by drawing your design, or adding personal details to it, including names and dates. Express yourself and start thinking outside of the box with these creative and meaningful tattoo designs for men and women.
1. Unique Couple Tattoos
Couple tattoos are an excellent way to show your commitment to your relationship and celebrate the bond you share. Making them unique and personal, instead of opting for a generic design and symbolism, will make your piece even more special. Think about your relationship and what is most important to you, which will help you decide on a creative design. You can also include names and dates.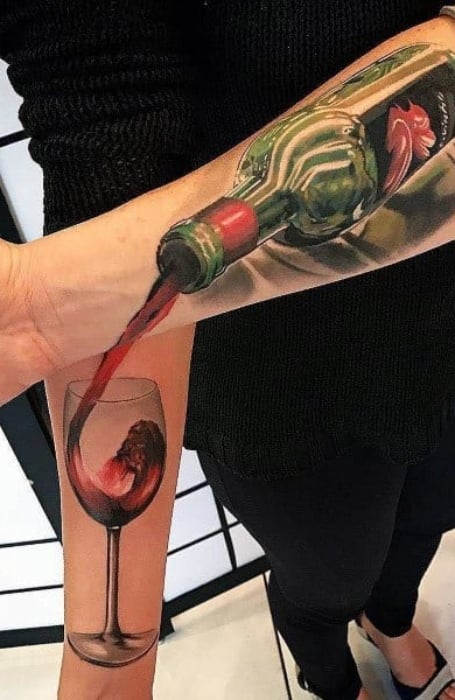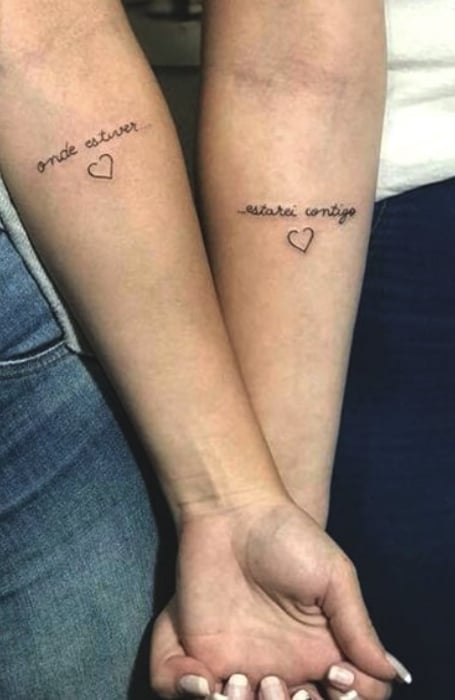 2. Unique Forearm Tattoos
The forearm is an excellent location for body art because it is large enough to accommodate a detailed design, but small pieces also look great here. It is also ideal because you can look at your unique tattoo every day but easily cover it up with clothing. Another pro is that forearm tattoos are moderate in pain because of the thick skin, muscle, and fat that create cushioning.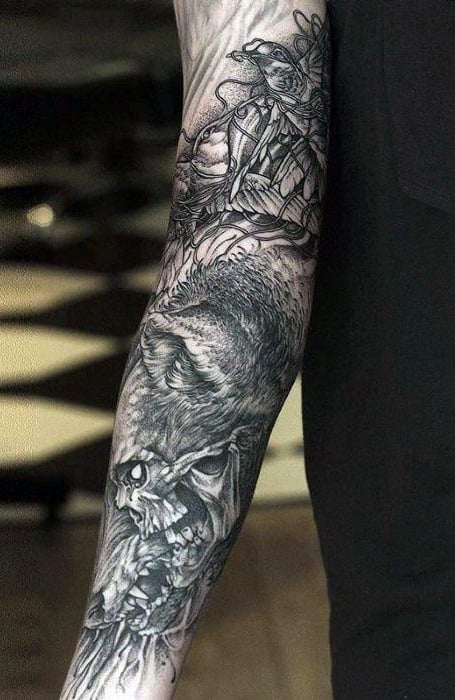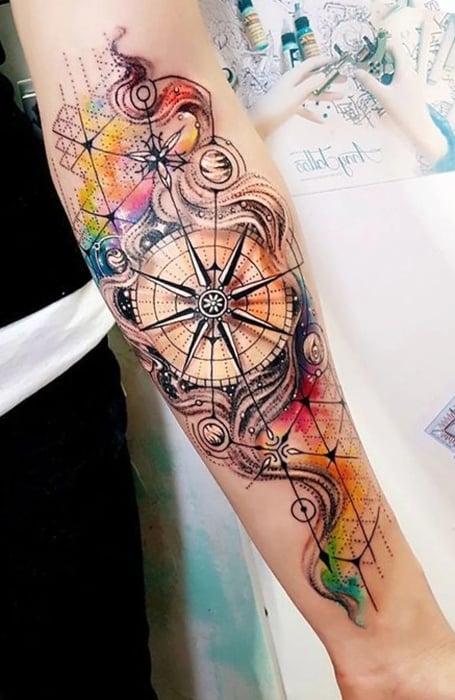 3. Unique Small Tattoos
Small tattoos are appealing because they can be inked anywhere on the body. They are also more discreet and easier to hide. Other pros include the lower cost of your tiny design and that the tattooing process will be quicker, which will result in less discomfort. Find something unique and special that will bring you joy or motivate you every time you see it.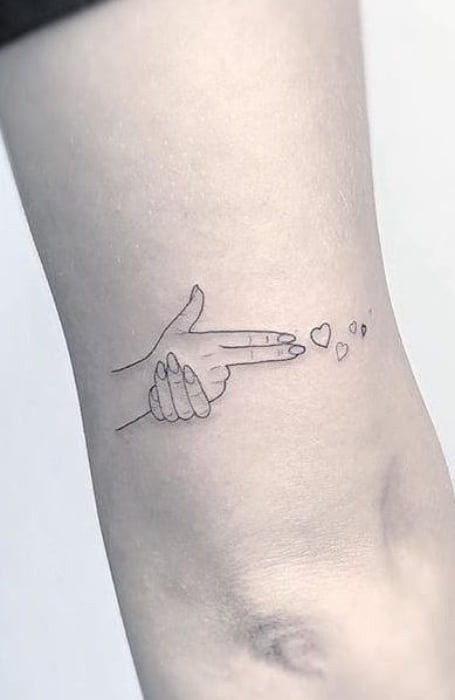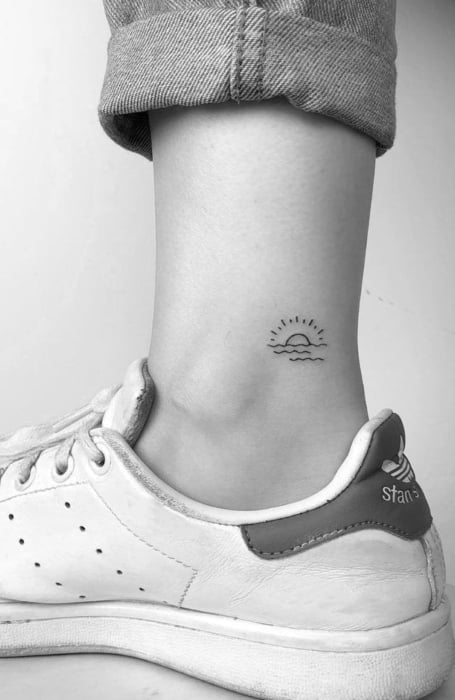 4. Unique Arm Tattoos
Arm tattoos are a versatile location and can be easily covered up and shown off when you want. The arm is low to moderate on the pain scale chart, depending on where you get inked and the detail of your piece. While generic designs of flowers or animals are cute, for a unique tattoo, you can design it yourself or include important details that are relevant to you.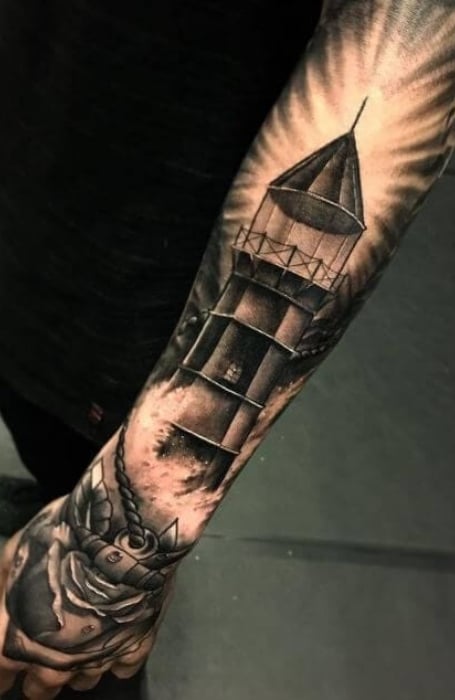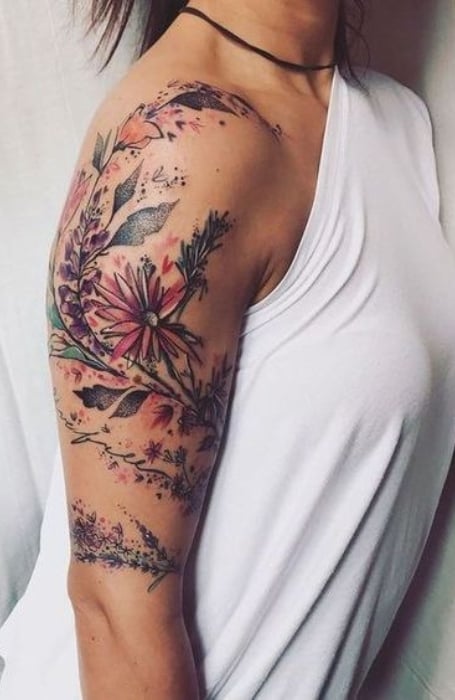 5. Unique Tree of Life Tattoo
The tree of life is a powerful symbol with rich symbolism. It represents personal growth, strength, and connectedness. When deciding on the ideal design, you may want to alter the original design to make it unique and even more relevant to you. You could do this by choosing a different tree, for example, a cherry blossom. Or add quotes, names, dates, and other images to your tattoo.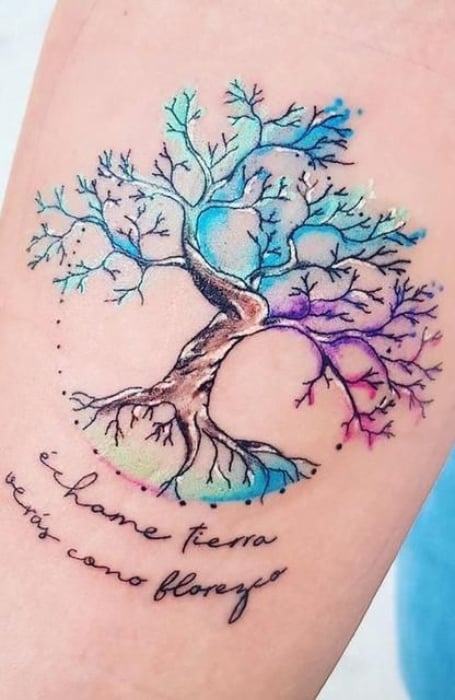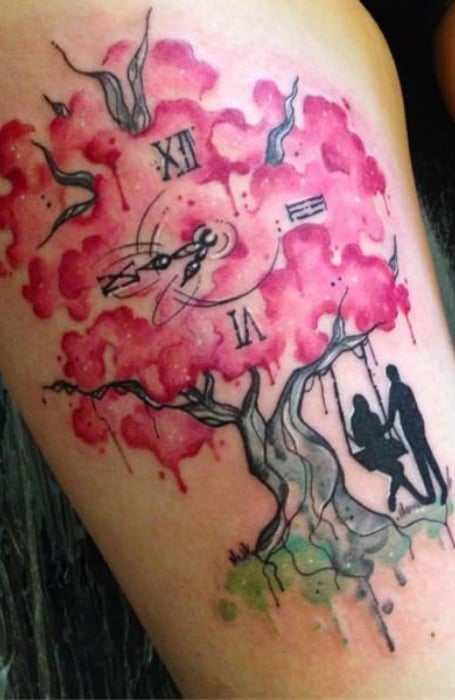 6. Unique Sternum Tattoo
Sternum tattoos can be painful because of the thin skin and proximity to bone, but they are a popular choice for men and women to get inked. This is because the placement is close to your heart and should be reserved for unique and meaningful designs that can make a statement about your thoughts and feelings.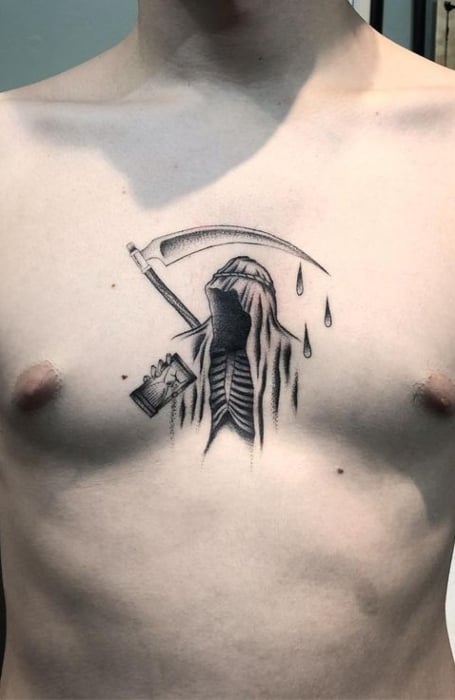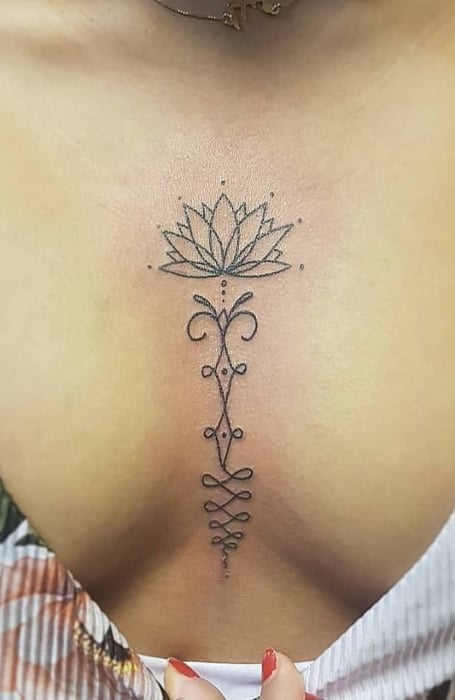 7. Unique Cross Tattoos
Cross tattoos are symbolic of faith, devotion, and love, and are often inked as a way to show your commitment to your religion and the important role it plays in your life. Cross designs are also inked as memorial pieces to those who have passed. The appeal of a cross tattoo is it can be simple or detailed, and you can create a unique finish with the details you choose.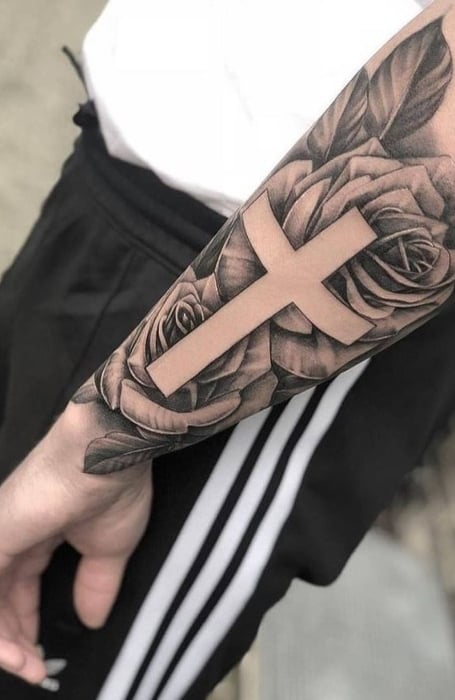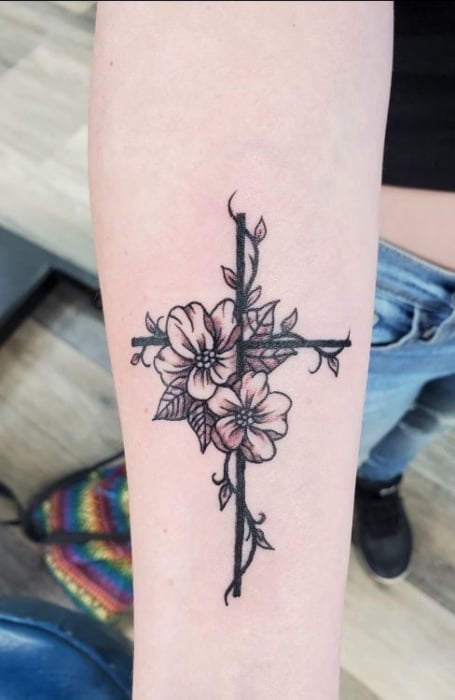 8. Unique Butterfly Tattoos
Butterfly tattoos are the ideal choice for someone who is going through a transitional period in their life. The winged insect is associated with beauty, growth, endurance, and change and can make a powerful statement. It is also one of the most beautiful and delicate designs for a tattoo and can be easily personalized, including with colors and the markings you choose for the butterfly.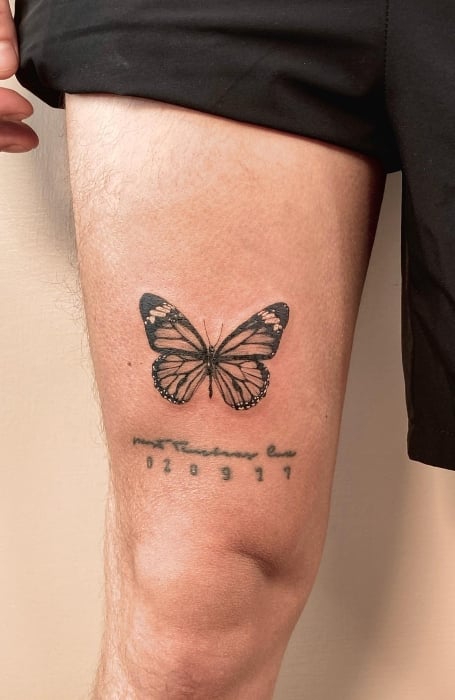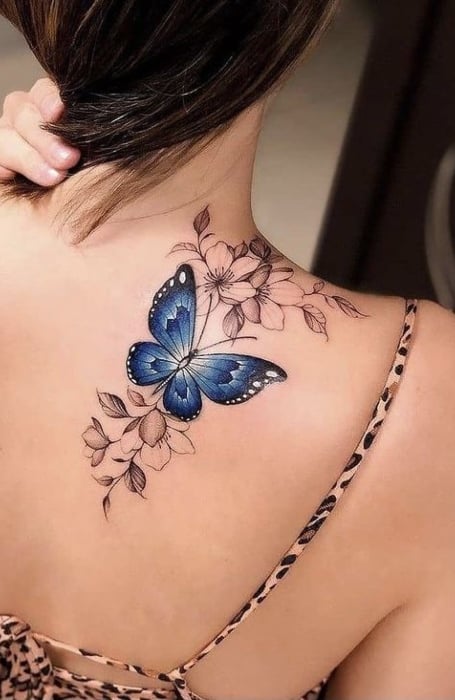 9. Unique Best Friend Tattoos
Best friend tattoos are an excellent way to honor the bond you share with your BFF. This is the person who has been there for you through the good times and the bad and you consider them family. There are many ways to create a unique design that reflects how you feel about each other, and choosing the perfect piece can be a great bonding experience.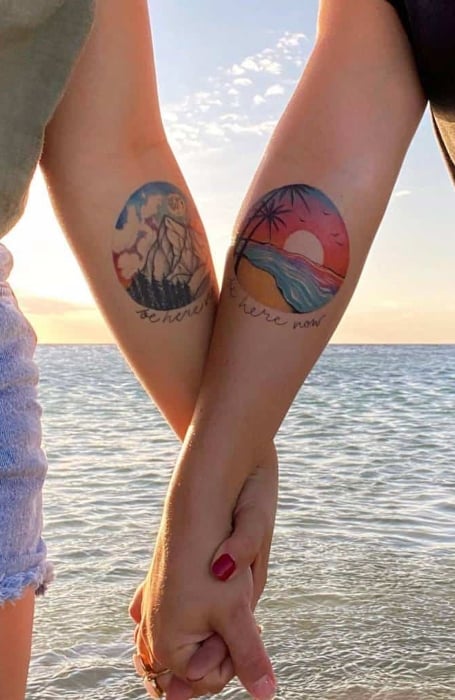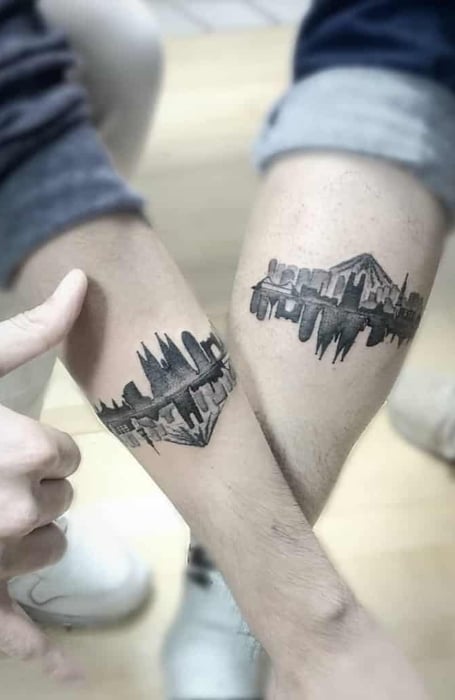 10. Unique Half Sleeve Tattoos
Half sleeve tattoos are appealing because they allow you to get creative with your body art by covering a large part of the arm. They can start at the elbow and end at the wrist or start at the top of the arm and end at the elbow. This gives you more versatility and is also easier to cover with clothing than a full-sleeve design.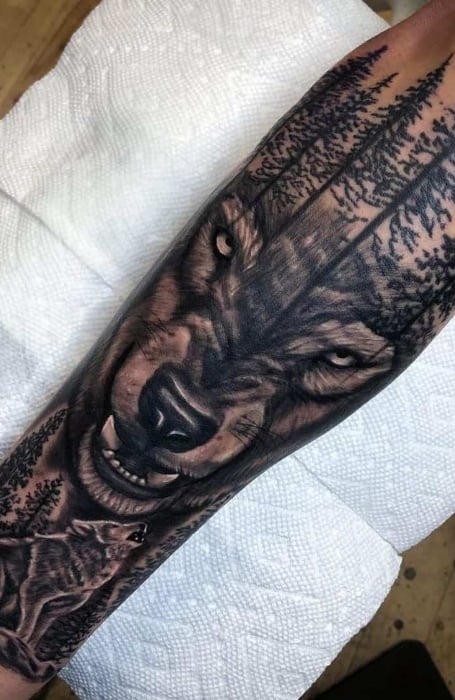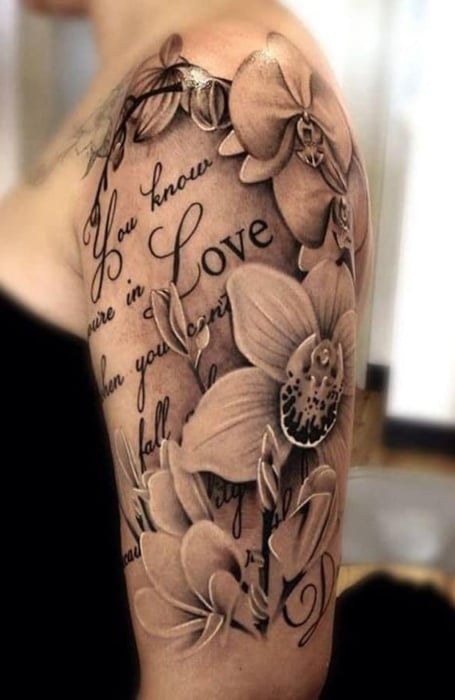 11. Unique Thigh Tattoos
Thigh tattoos remain one of the most popular locations to get inked because they are considered low on the tattoo pain scale chart. This is because of the thick skin, fat, and muscle in the area which provides cushioning. In addition, the thigh is a discreet placement for your ink and can be covered up easily. There is also enough space to let you get creative and find a unique design.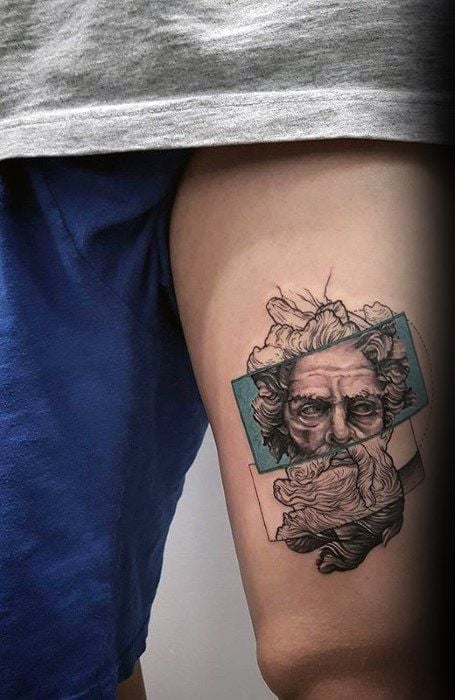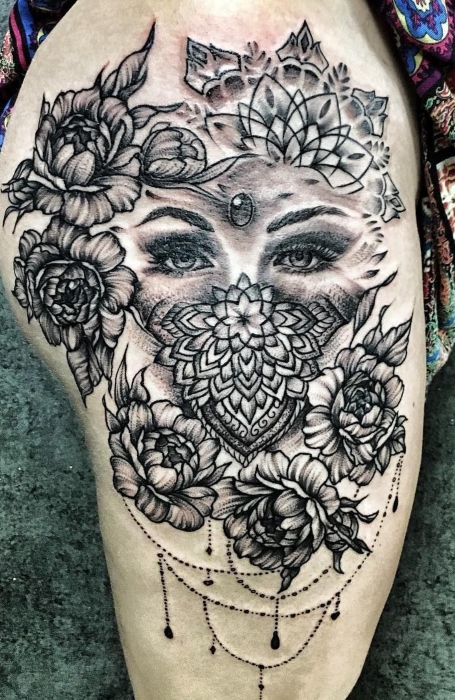 12. Unique Lion Tattoo
Lion tattoos are an appealing choice because the animal is beautiful but also symbolic. The big cat is associated with strength, determination, courage, and bravery. Whereas a lioness is symbolic of motherhood, independence, and beauty. You can combine several images to make your design more unique and experiment with your chosen style. For example, a geometric lion or incorporating a mandala pattern into your tattoo.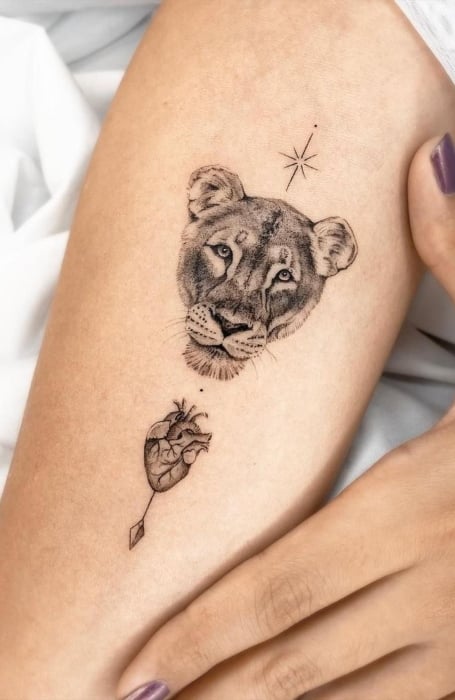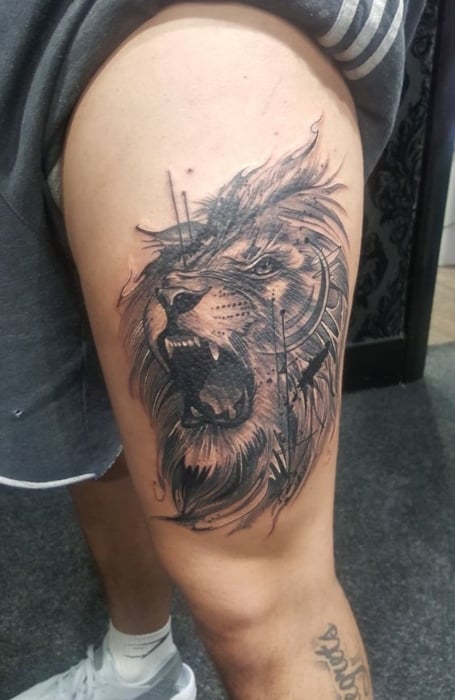 13. Unique Watercolor Tattoos
There are many styles to choose from when getting your tattoo, but the watercolor tattoo technique is appealing because it is bold and bright. The brilliant blend of colors without thick outlines makes for a vibrant piece that demands attention. Your design can be of anything, but images of nature and animals look best with the effect.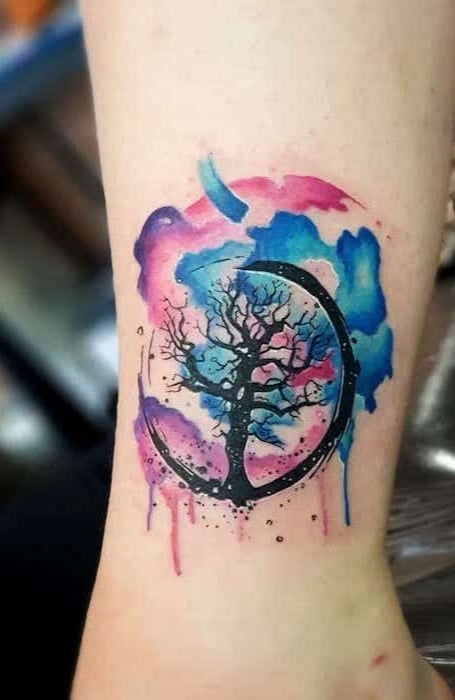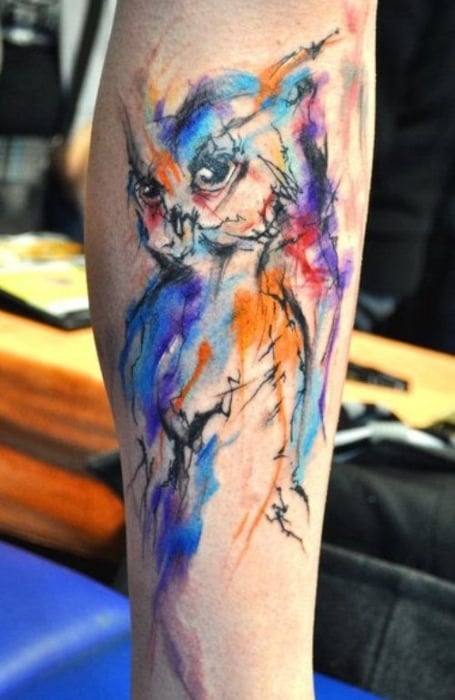 14. Unique Hand Tattoos
Hand tattoos are rebellious and are favored because of their visibility. This is a placement where you can easily show off a unique and meaningful tattoo and it can say a lot about your personality. Hand tattoos are painful because of the sensitivity of the area, in addition to the thin skin and proximity to bone. They will also fade faster than other placements.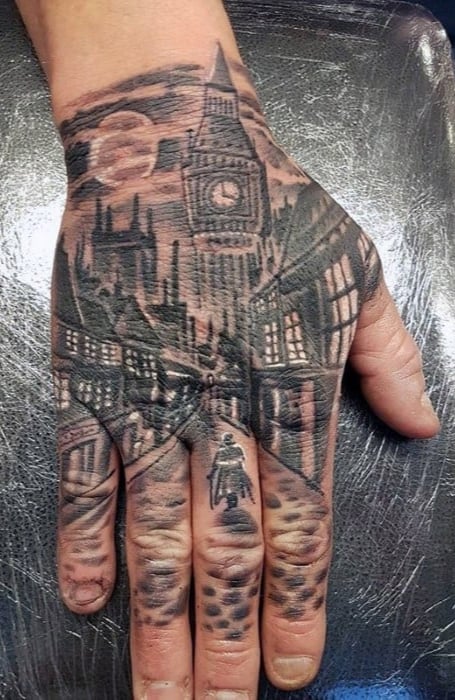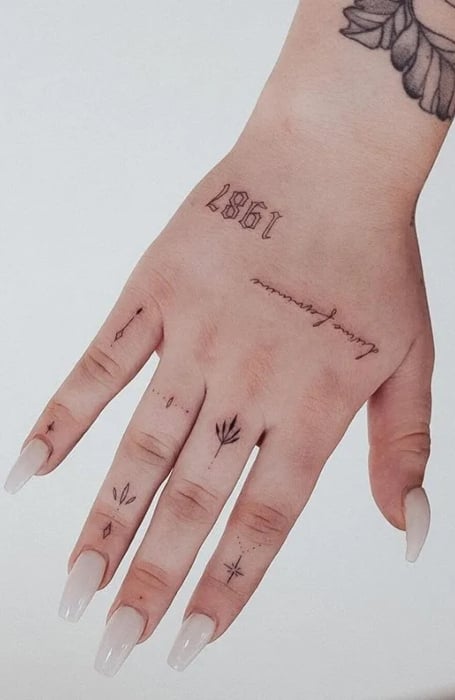 15. Unique Phoenix Tattoo
Phoenix tattoos are a popular choice for body art because of the rich symbolism associated with the firebird. It represents the life cycles, rebirth, growth, and power. It is the perfect choice for someone who has overcome a challenging time in their life or those starting fresh. Your design and your interpretation of what the phoenix represents will make it a unique tattoo.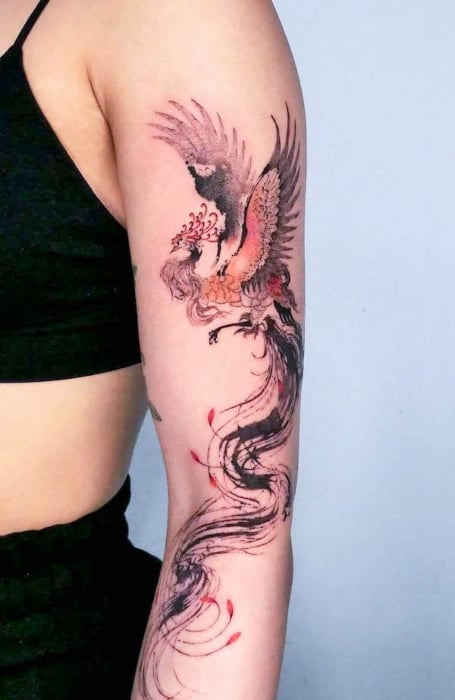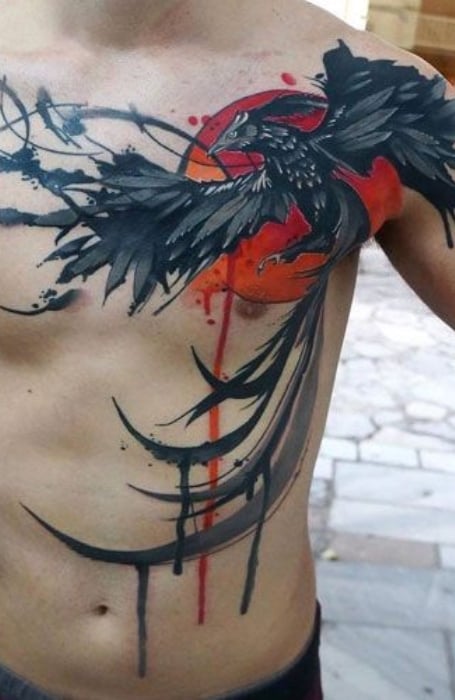 16. Unique Back Tattoos
Back tattoos are appealing because of the creative freedom you are given thanks to the large placement. This is the ideal spot for a unique and detailed design, although small tattoos can also be inked on the back. The thick skin, muscle, and fat in the area will also provide cushioning and reduce overall discomfort. However, the closer you ink toward the spine and hip bones, the more pain you will experience.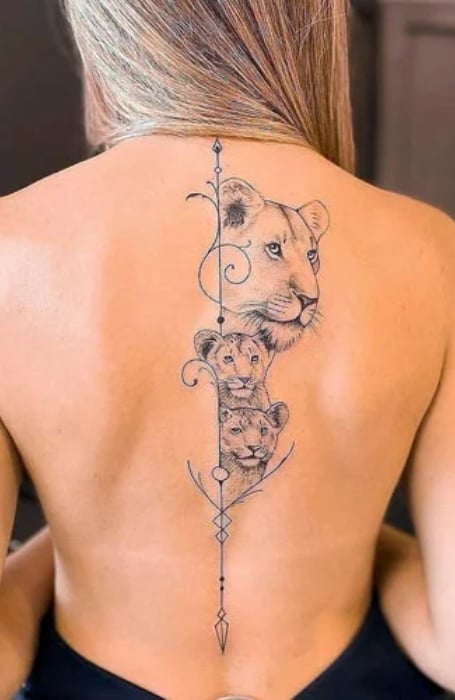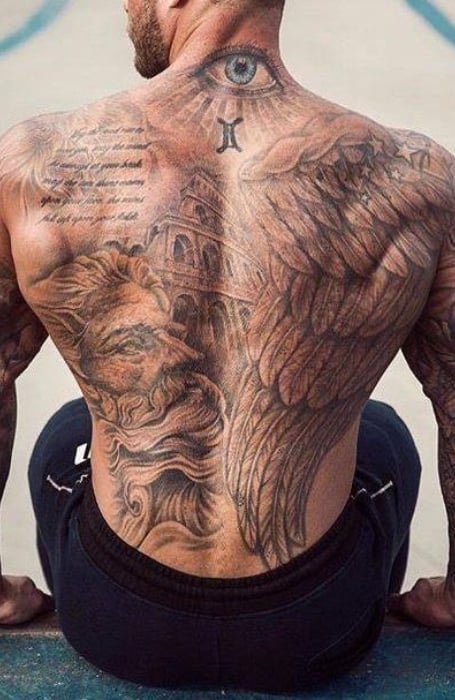 17. Unique Semicolon Tattoo
A semicolon tattoo is much more than a punctuation mark and has powerful symbolism associated with it. The semicolon represents mental health and suicide awareness and is a way for the wearer to convey that their story is not over and they will continue to fight. You can personalize this design by adding something relevant to you, including other symbols or names.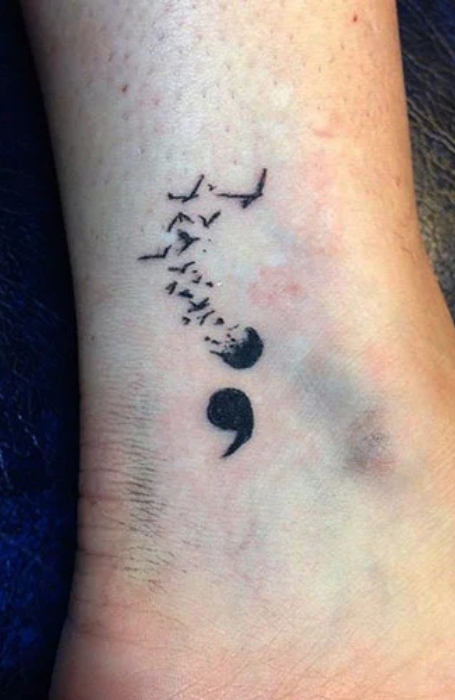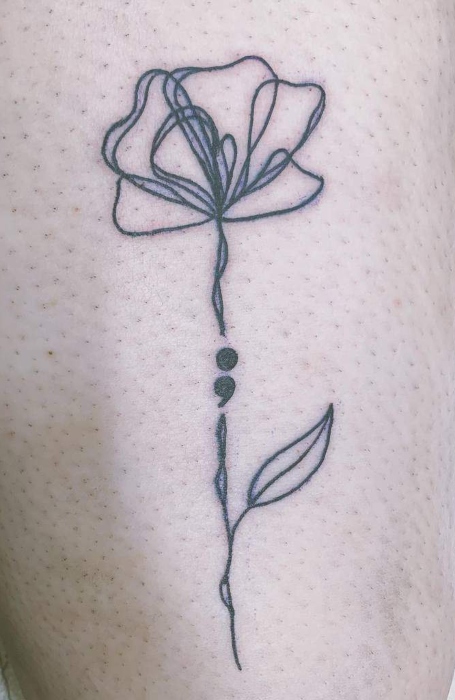 18. Unique Sister Tattoos
The bond between sisters is often unbreakable. This is the person who has been your playmate from childhood and your confidant, and you will love them no matter what. If you have a close bond with your sister, then you can honor this with a unique sister tattoo that celebrates your relationship. The design could include her name or birth date and can have other relevant imagery, for example, your favorite cartoon character or animals.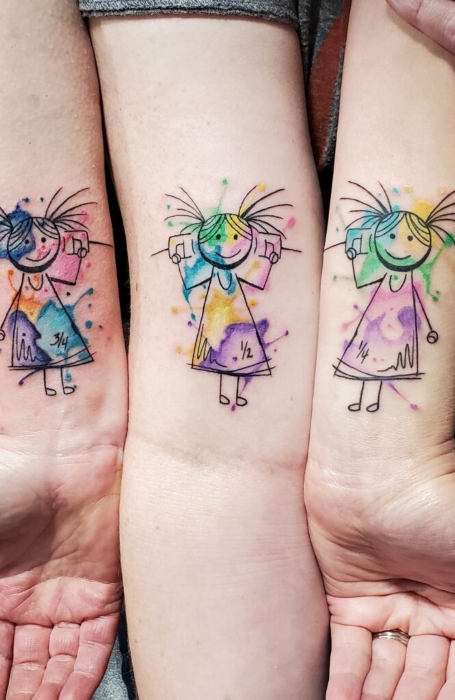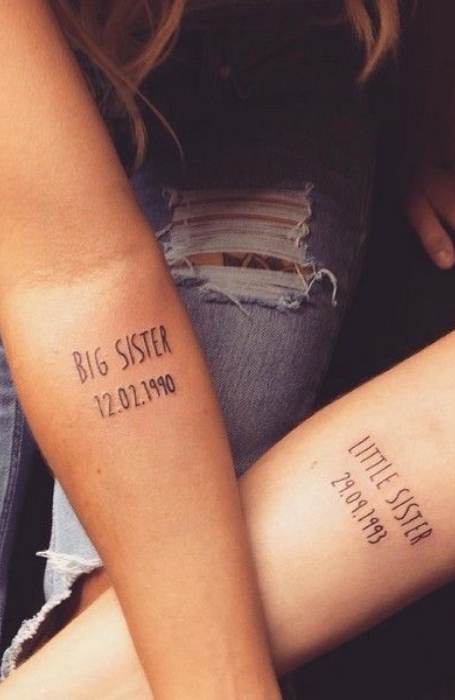 19. Unique Bird Tattoos
Bird tattoos represent freedom and independence. There are different birds to choose from, each with its unique symbolism. For example, the owl is associated with magic and mystery, whereas the raven is seen as an omen of death and mischief. Think about the meaning associated with your chosen bird and find a unique way to incorporate it into your design.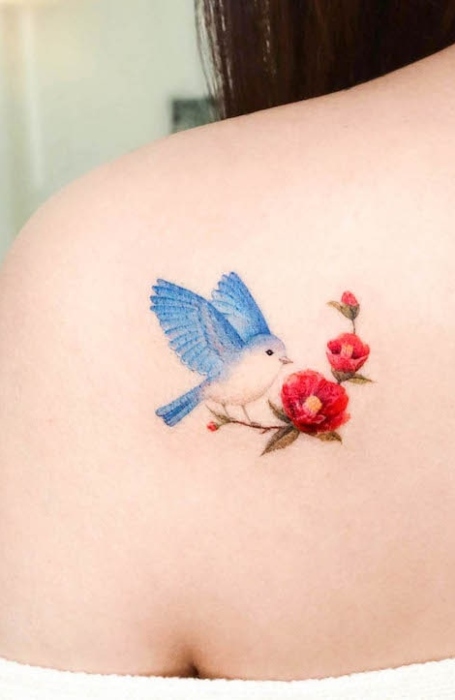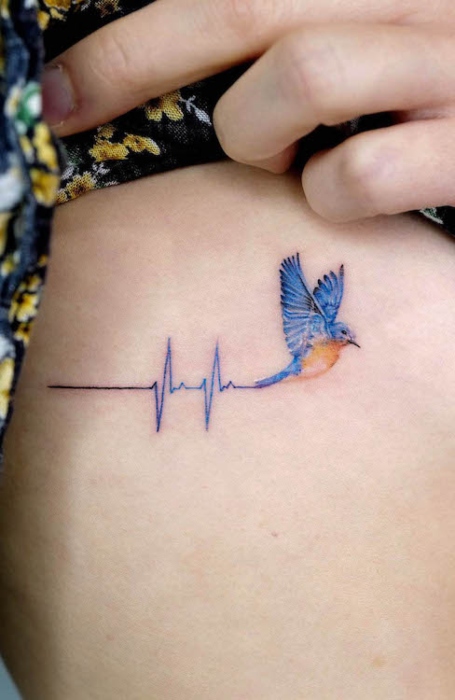 20. Unique Skull Tattoos
Skull tattoos are a universally recognized symbol of death and are often seen as an omen of bad luck or evil. Getting inked with a skull design can be a warning to those who want to hurt you, or could be a way to show you are not afraid of death. There are many interpretations of what the skull means, and the images you combine with it will alter the overall meaning, letting you create a unique tattoo.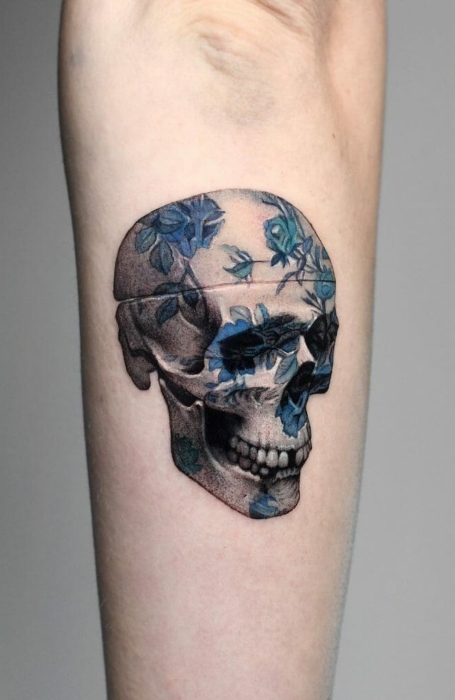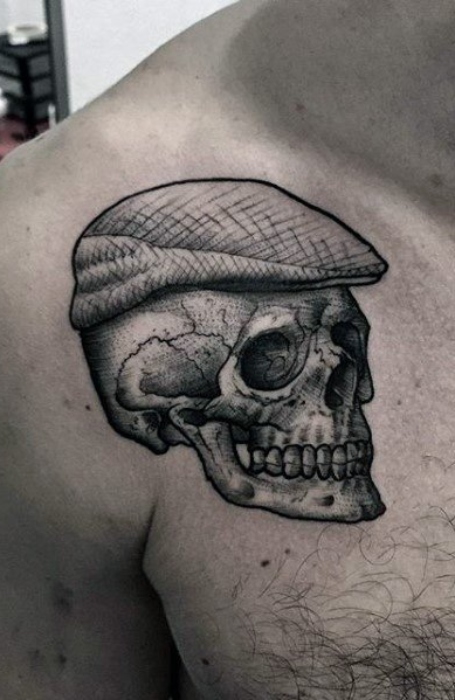 21. Unique Rib Tattoos
Rib tattoos are considered among the most painful locations to get inked. Therefore, this is a placement that should be reserved for unique and special designs that you will not regret in the years to come. What you choose can sum up your thoughts and feelings. It could honor someone you love, or inspire you to live your best life.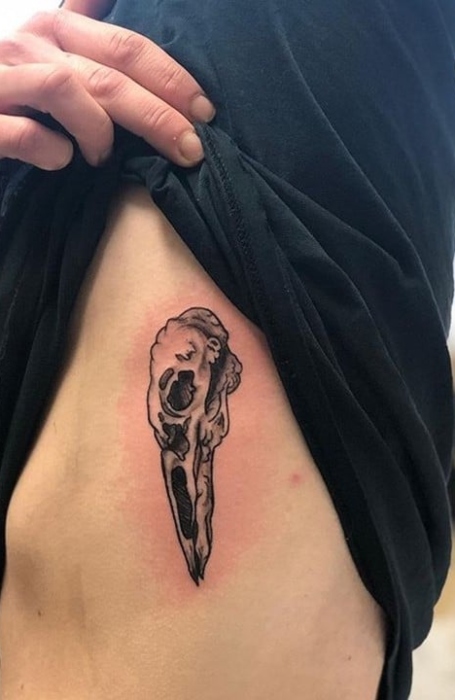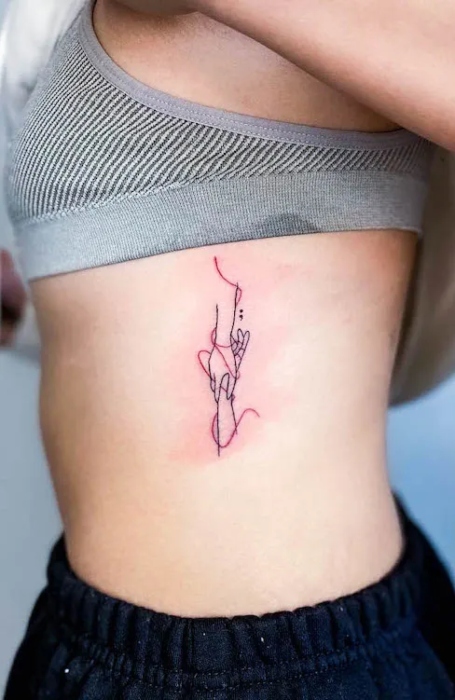 22. Unique Spine Tattoo
Spine tattoos can draw attention to one of the most flattering parts of the human body. They are discreet and easily hidden, letting you show off your design when you want, on your terms. It is not hard to see the appeal of spine tattoos; however, this decision should not be taken lightly, as getting inked here is incredibly painful.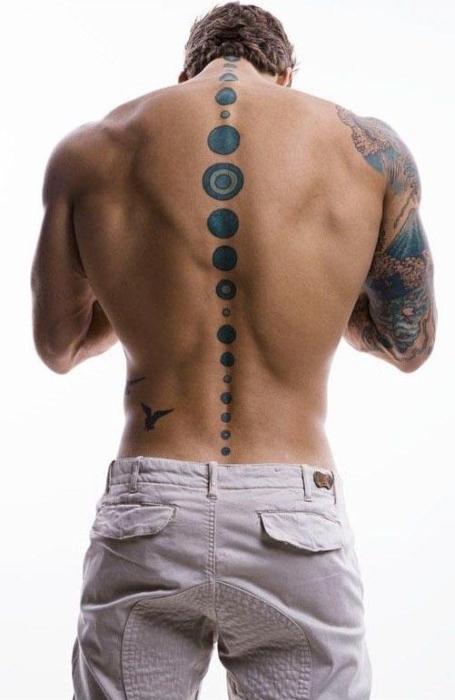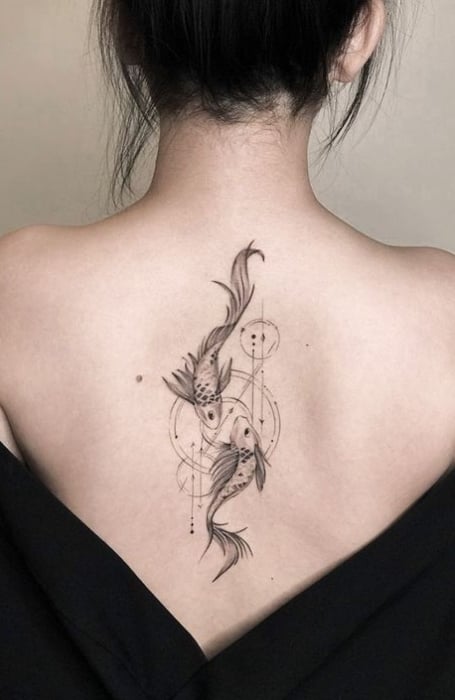 23. Unique Date Tattoos
Date tattoos are one of the simplest but most powerful choices for body art. This is because the chosen date has unique symbolism for the wearer and is inked to honor a memory or a special event. It could be your wedding date, date of birth, or the day someone passed. Dates can also be inked to commemorate a significant period in your life, for example, the day you started a new chapter and left negativity in the past.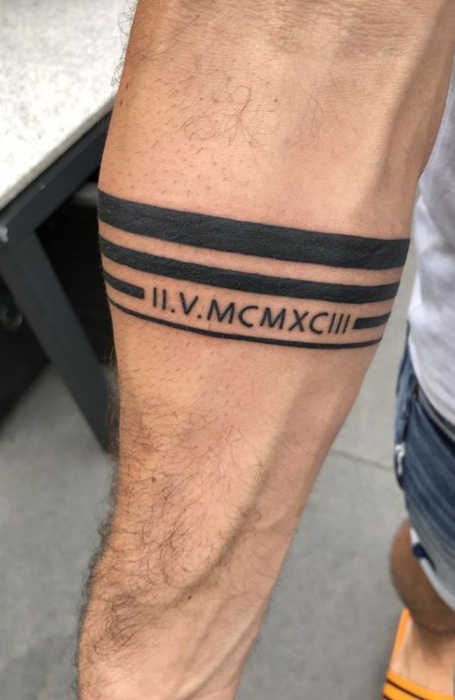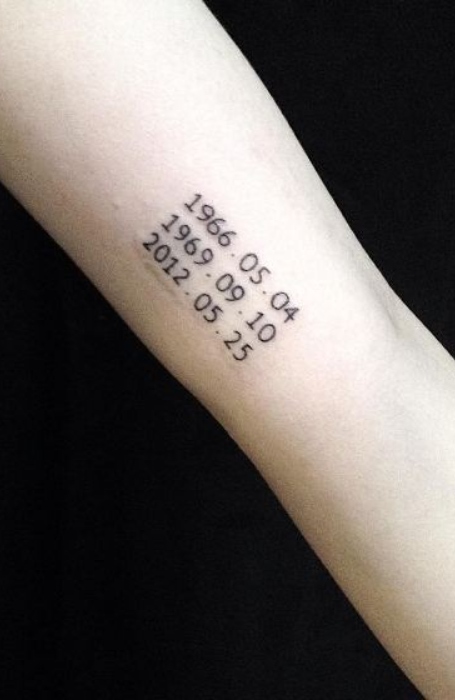 24. Unique Yin Yang Tattoo
The yin-yang symbol will make a powerful statement about duality, balance, and harmony. The two opposing yet complementary symbols can represent many things, including masculine and feminine, good and evil, and light and dark. The symbolism you attach to it will differ depending on your interpretation of the yin-yang and how you design your tattoo. For example, some people choose to represent it as two koi fish, while others incorporate patterns into their symbols.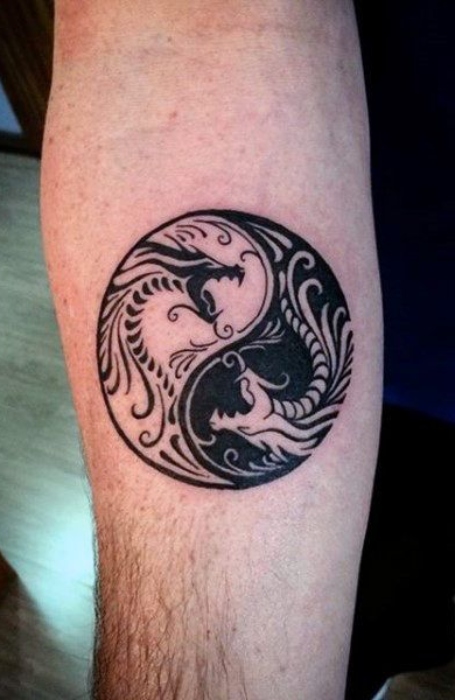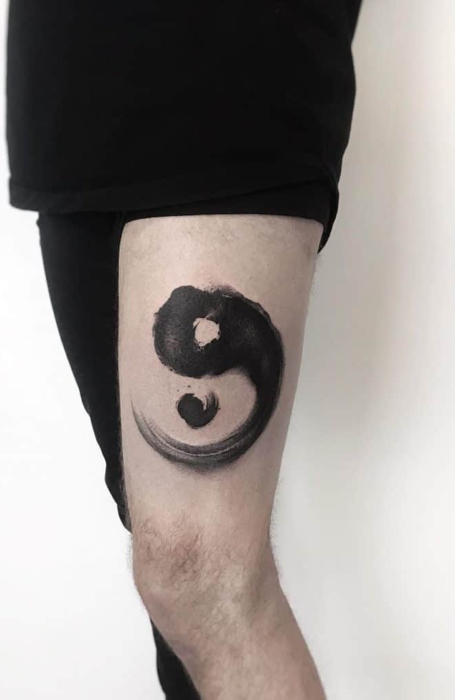 25. Unique Mother Daughter Tattoos
The bond between a mother and her child is unbreakable. This is someone who you will love and support through the good times and the bad. Not everyone has a strong bond with their mother, but if you do, then a mother and daughter tattoo is a wonderful way to honor your relationship. You can include details that are relevant to you, making a creative and unique tattoo that will bring you joy every time you look at it.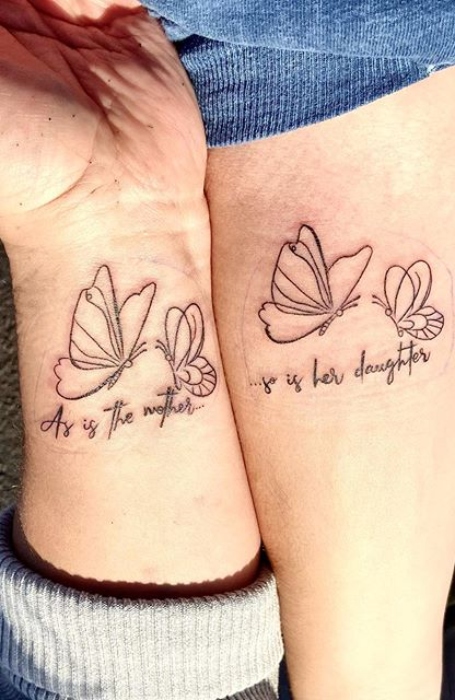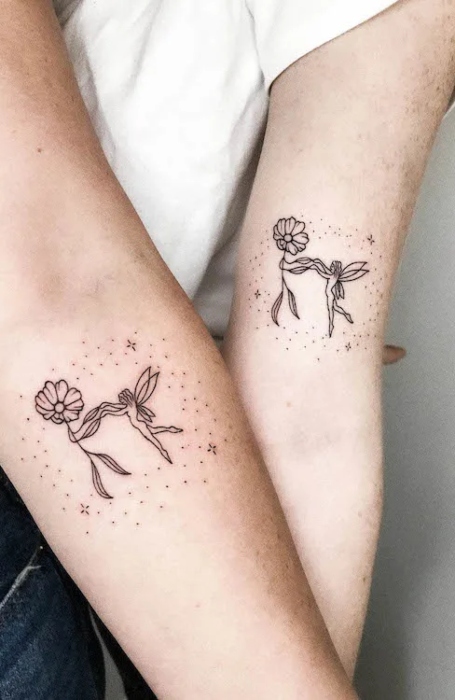 26. Unique Shoulder Tattoos
Shoulder tattoos are a versatile location. It can highlight one of the most flattering areas on the body and is often associated with strength and power. The area is easy to cover with clothing and large enough to give you space to get creative with your design. Shoulder tattoos are also considered low to moderate on the tattoo pain scale chart.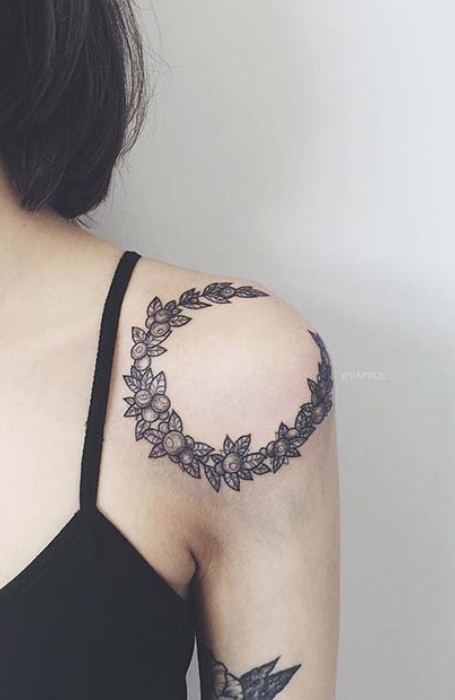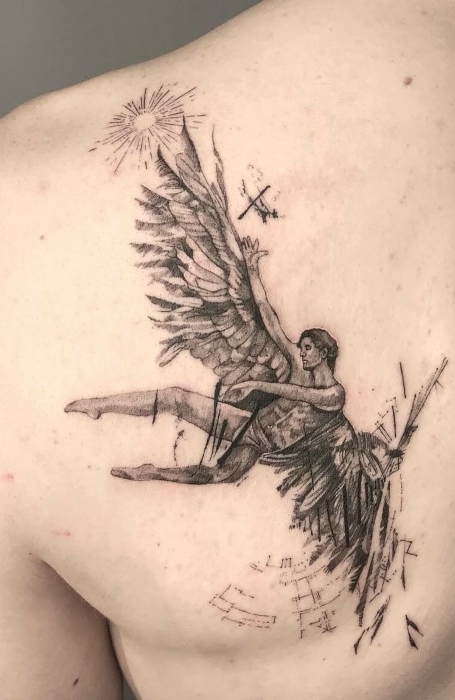 27. Unique Flower Tattoos
Flower tattoos are one of the most commonly inked designs because of their beauty and symbolism. Flowers are associated with life, growth, and beauty. But you can alter your design to make it unique with the styles you choose, including the watercolor technique, the combination of flowers and other imagery, and the addition of personal details.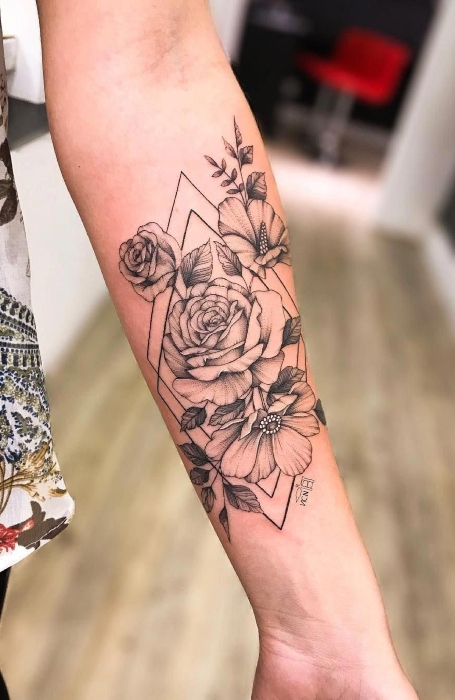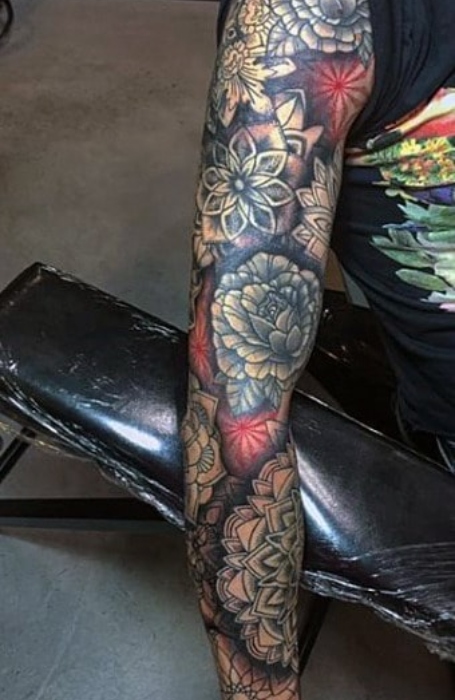 28. Unique Sleeve Tattoos
Sleeve tattoos cover the entire arm and are great for someone who wants a large and detailed piece. They look best when they are created in the same style and follow a specific theme. This lets your body art tell a story, and this is also a way to express yourself. Sleeves are the perfect opportunity to make a statement and create a unique tattoo.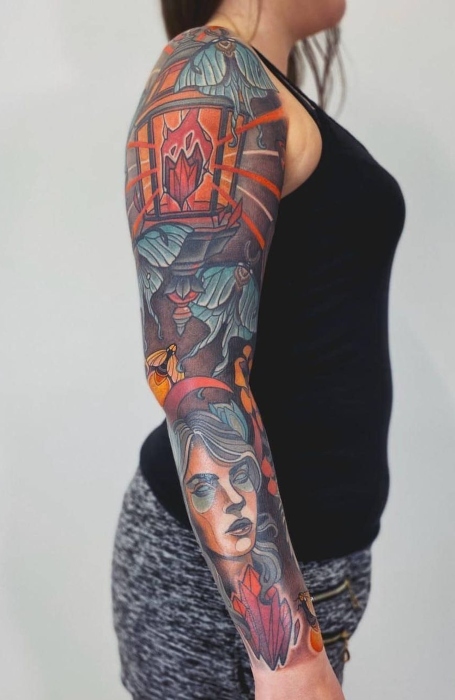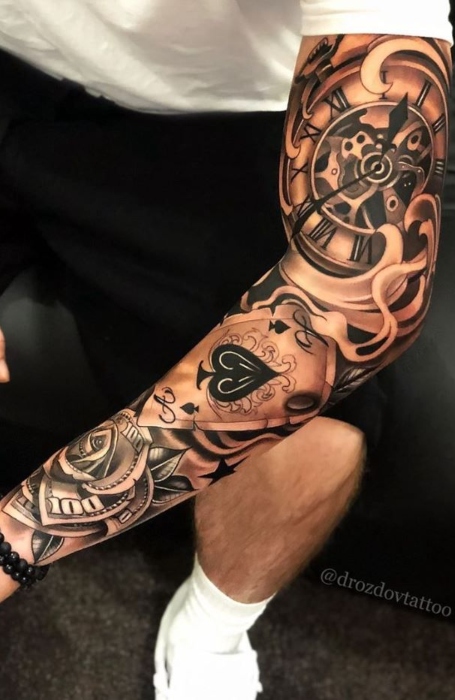 29. Unique Lip Tattoos
Lip tattoos are edgy and cool, but they are not for the faint of heart. Getting inked here can be incredibly painful and fade quickly; the design will typically last between one and five years. Some tattoo artists refuse to tattoo lips because of how fast they fade. There is also not a lot of space to get creative, but it can be a discreet location for body art.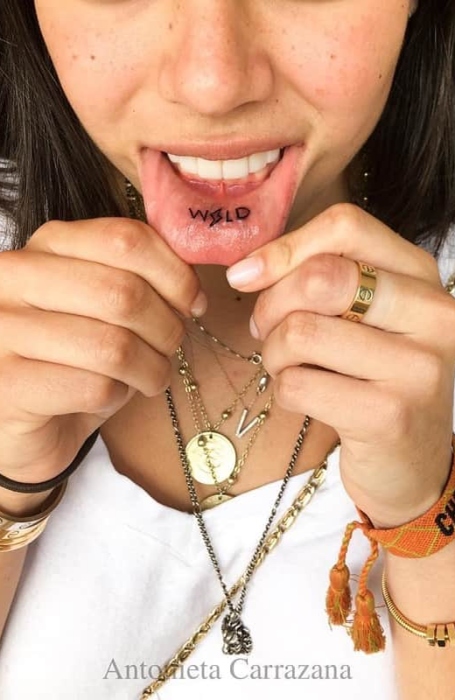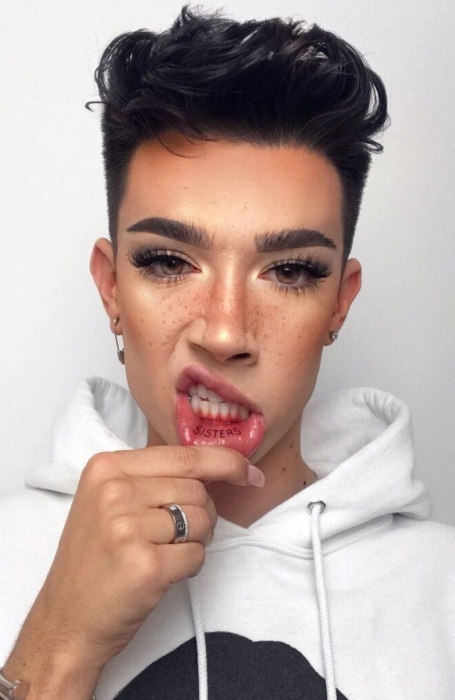 30. Unique Finger Tattoo
Finger tattoos have become incredibly popular because of their visibility. This is a placement that demands attention and will let you show off your unique tattoo. You can cover all of the fingers with designs or opt for something more delicate and discreet by inking the inner finger. Finger tattoos are cool but they fade fast and are painful to get inked.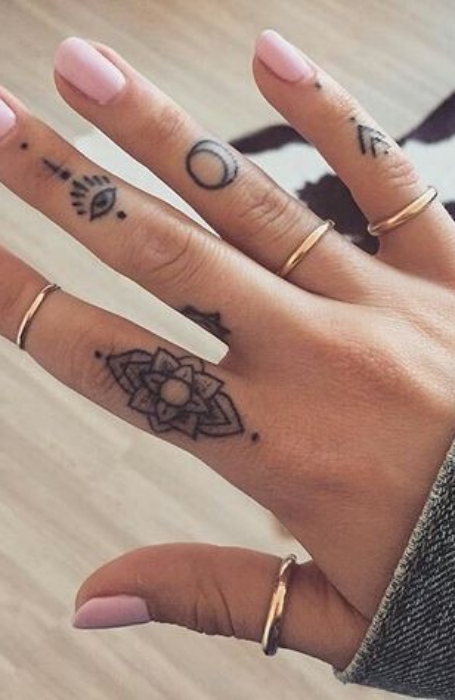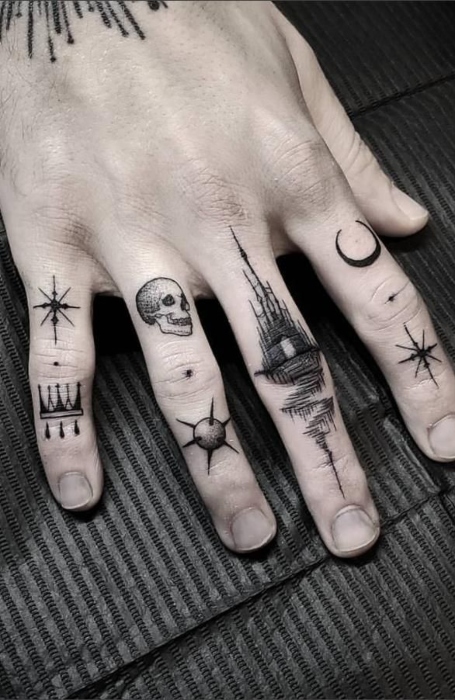 Unique Tattoos FAQs
What is the most uncommon tattoo?
The most uncommon tattoo will be a design that you created yourself. It should have unique symbolism and meaning to you and there are several ways to achieve this. You could draw it yourself, including personal details like a name, date, or portrait design, or combine several images to add to the overall meaning.
How to come up with a unique tattoo?
When deciding on a unique tattoo you want to think outside of the box and create something that no one else will have. You can combine several images so that your piece tells a story. Include personal details that are relevant to you, including names, dates, and quotes. You could also ask someone special to draw the design for you or come up with a creative symbol.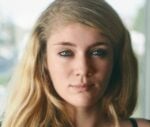 Cailyn Cox holds a degree in journalism and has been working with The Trend Spotter as a writer for over ten years. She has worked with some of the most prestigious women's and men's lifestyle publications. For her, writing is not just a job; it's a passion, which is why each article she writes is approached with such enthusiasm and dedication. She has extensive knowledge of hairstyles, tattoos, and beauty and has made a career out of creating informative articles that appeal to women and men of all ages.
SUBSCRIBE TO OUR NEWSLETTER
Subscribe to our mailing list and get interesting stuff and updates to your email inbox.