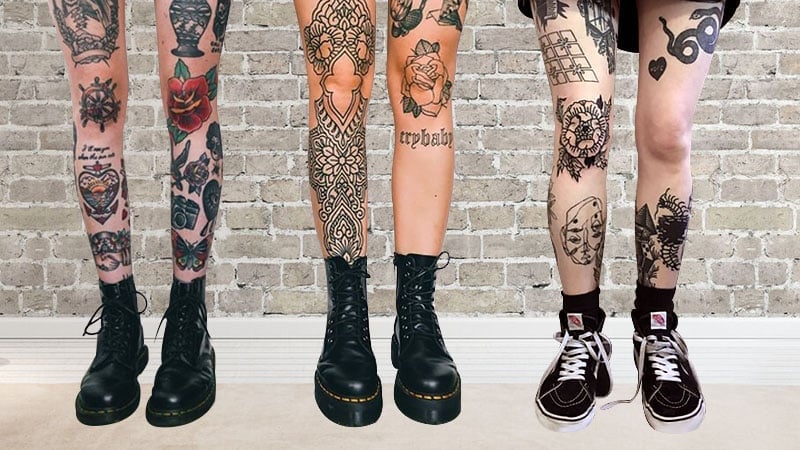 When it comes to deciding on the ultimate tattoo, there is more than the design to consider. You also want to get inked in the perfect placement; for many, this is the knee. The reason is simple, it is an area associated with strength, power, and resilience, which is not surprising considering the location is one of the most painful places to get tattooed. These ideas will inspire you if you can handle the pain and are daring enough. Some will make a statement about your thoughts and feelings, and others will show the world you are not a person to be messed with. If you are looking for a badass and an undeniably cool tattoo, you need a knee tattoo!
1. Above Knee Tattoo
Knee tattoos are pretty badass, but trying one out takes some serious guts. This is because it is one of the most painful locations to get inked, so choose your design wisely! An option that will cause slightly less discomfort is getting it just above the knee instead of directly on the bone, an area rated severe on the tattoo pain chart.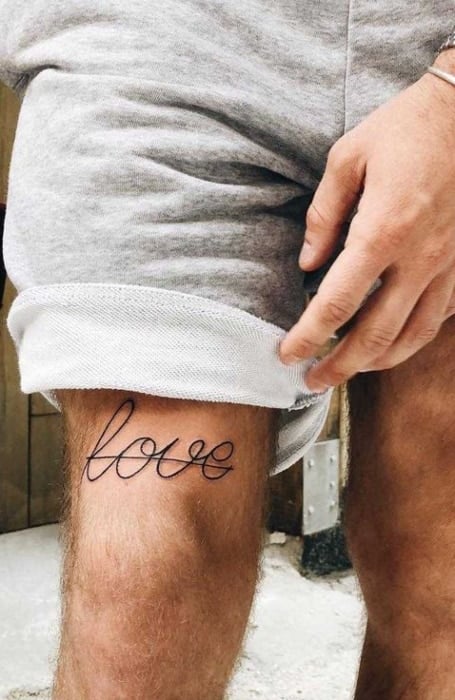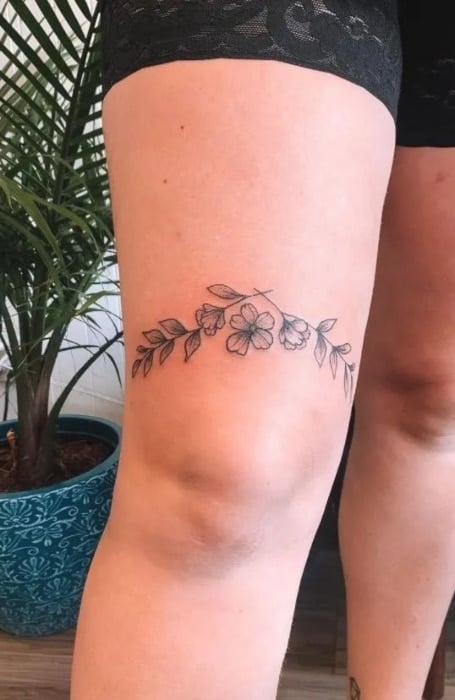 2. Knee Spider Web Tattoo
If you are looking for a design that tells the world you are someone who should not be messed with, it does not get better than a spider web knee tattoo. This piece feels rebellious and daring and has been favored in prison systems. But it is also incredibly symbolic and represents feeling trapped or shows that the wearer views themselves as powerful.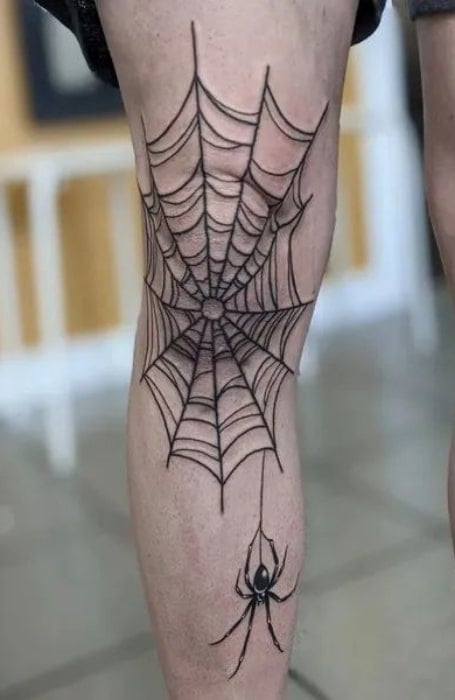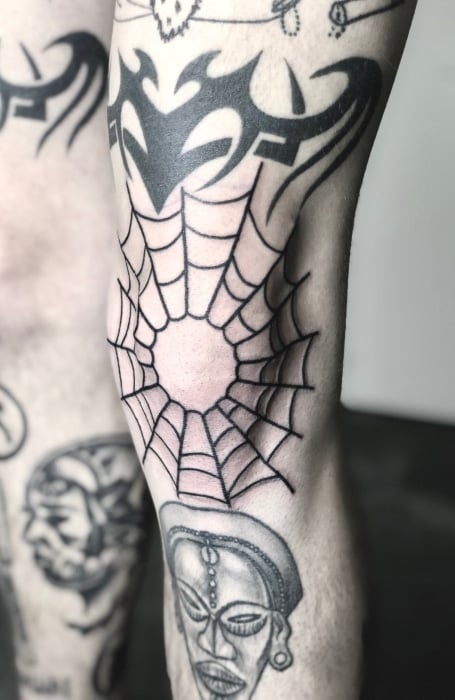 3. Knee Script Tattoo
A script tattoo can express your thoughts and feelings. There are many passages to choose from, making it easy to find the right design. For example, it could be something a loved one has said to you or taken from your favorite book. Because this location is incredibly painful, it should be reserved for truly meaningful inkings, and this could be precisely what you have been looking for.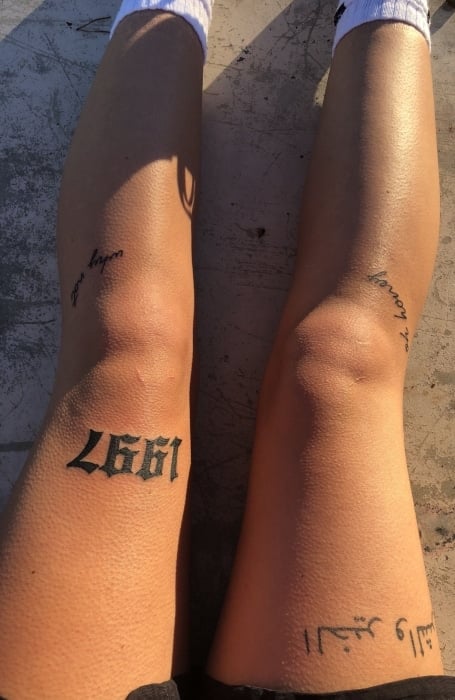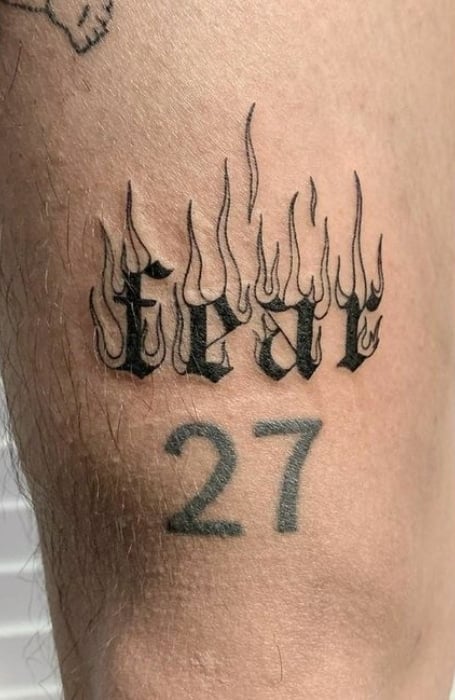 4. American Traditional Knee Tattoo
The American Traditional style has been around for a long time, but it remains popular because it is bold and expressive. The technique is often associated with freedom and travel and was initially favored by sailors and those who lived on the fringes of society. It can be easily defined by its bold outlines, limited but bright color palette, and specific themes, making for an eye-catching knee tattoo you want to show off.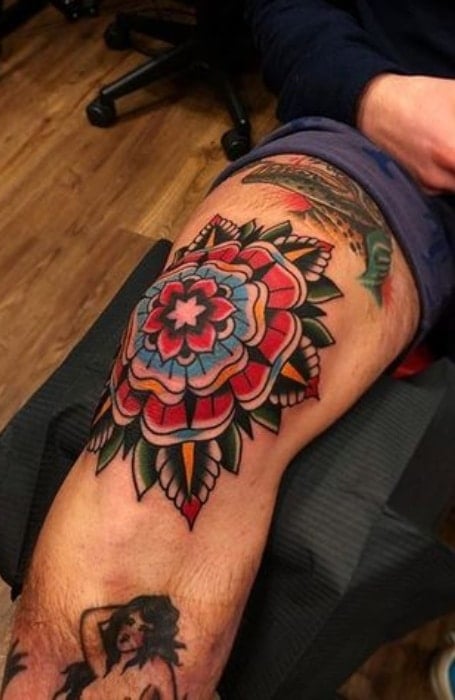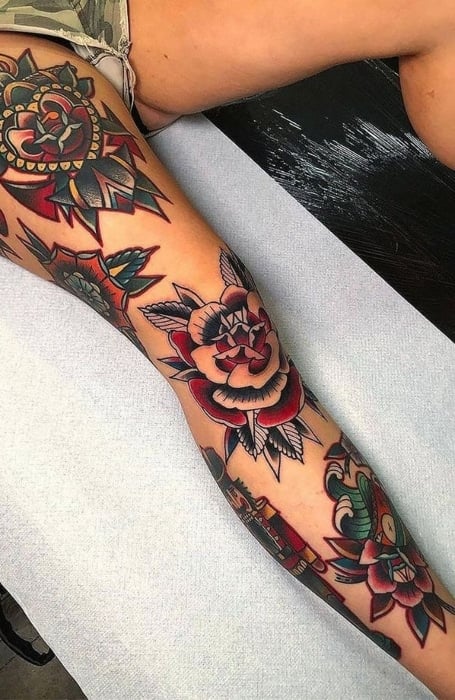 5. Shark Jaw Knee Tattoo
Sharks are one of the most feared creatures of the sea, celebrated for being powerful predators. An image of this big fish could instill fear in others when tattooed on the knee, especially if you choose its jaws. The open jaw is often inked on the knee or elbow and is associated with pain, aggression, and unpredictability.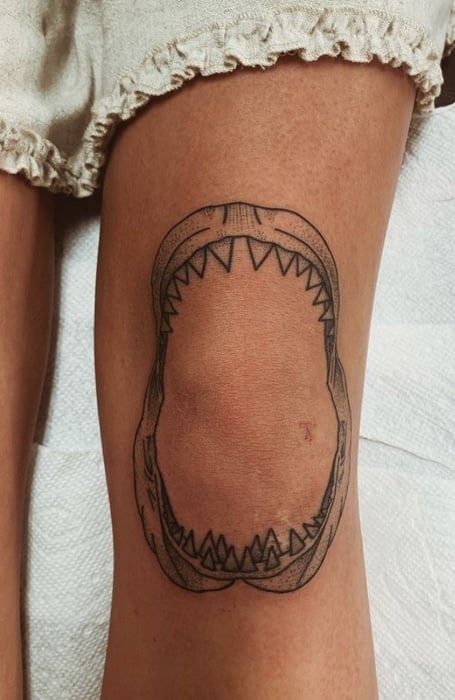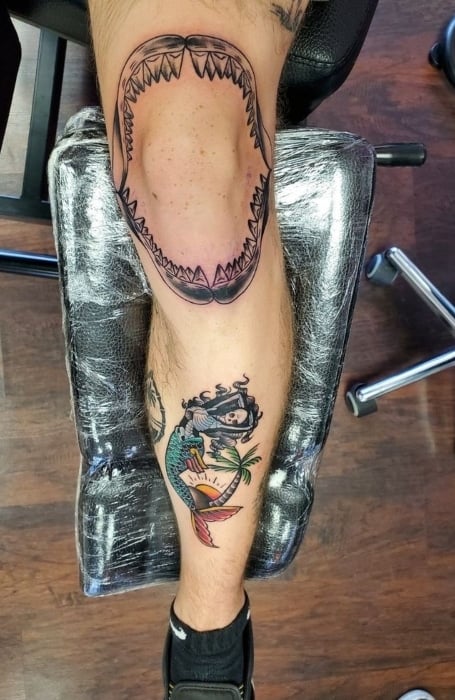 6. Back Knee Tattoo
When deciding on the perfect tattoo, the right design is not the only consideration; you also need the ultimate placement. Few options are as badass and daring as the back of the knee because of the intense pain involved with this location. However, if you want to show off your strength and resilience, there is no better way to do it!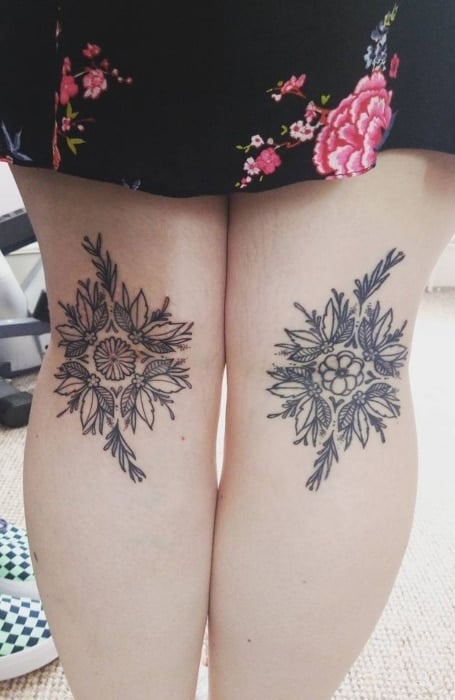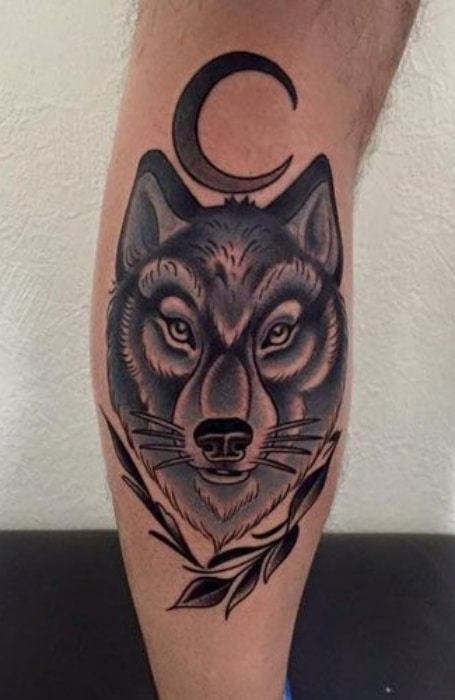 7. Knee Mandala Tattoo
Mandala tattoos are beautiful, intricate designs that often have a circular appearance. They can take many forms, but their appeal is that they are associated with balance and harmony. The knee is a stunning location for such a piece because its shape will work well with your inking, making this the perfect combination.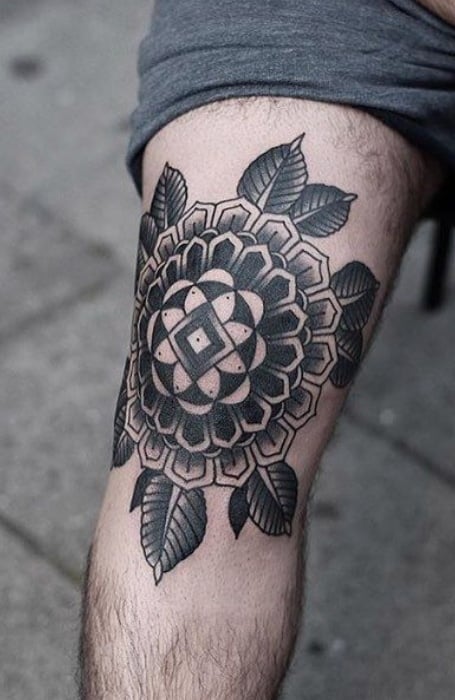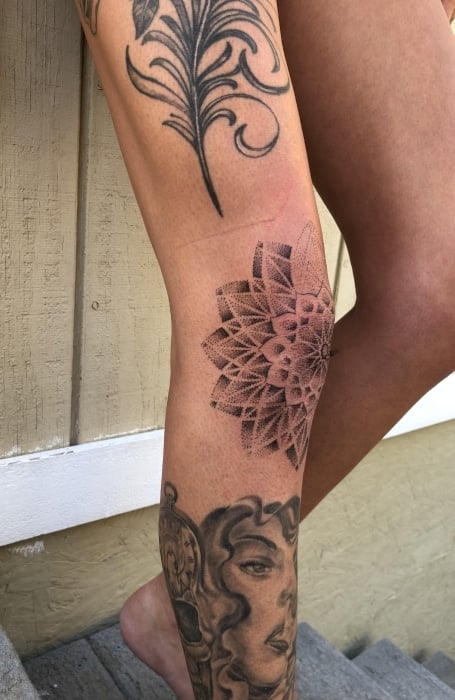 8. Skull Knee Tattoo
Skull tattoos are edgy and cool. They represent the balance between life and death and are often a great choice to get inked for those who contemplate their mortality or want to make a statement about not fearing the unknown. The design can also protect the wearer and be tattooed as a symbol of strength and power.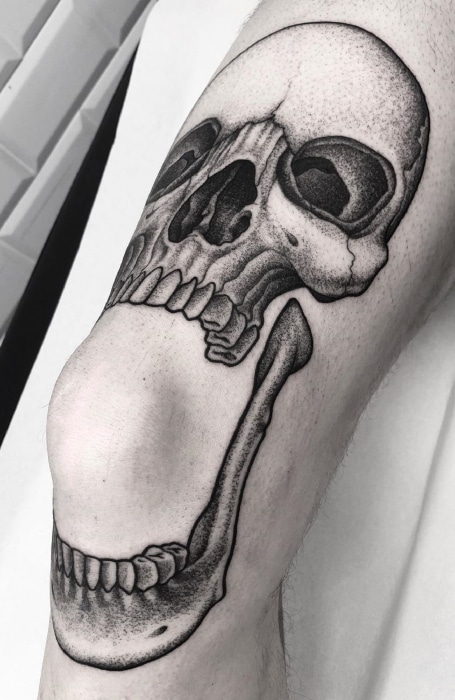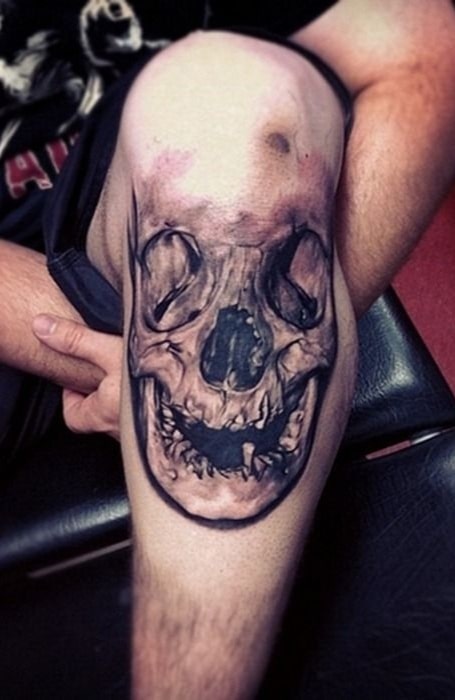 9. Side Knee Tattoo
Getting tattooed anywhere on the knee is incredibly painful because of the high concentration of nerve endings and the proximity to bone. This is not a decision you will make in the spur of the moment, but the designs here look great, and you have versatility with how you add them. This includes a smaller and more subtle option on the side of the knee.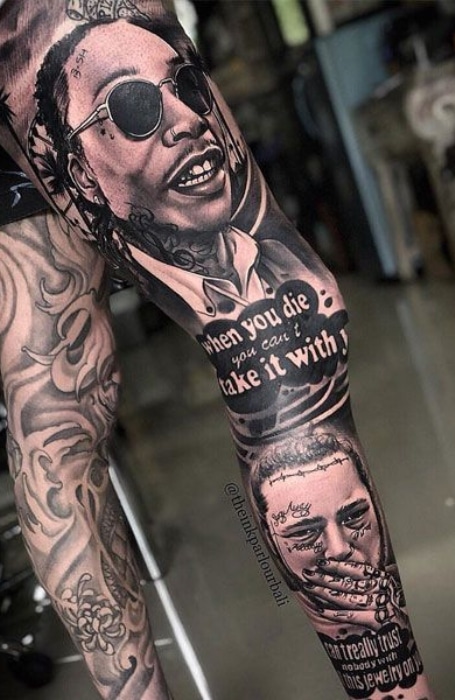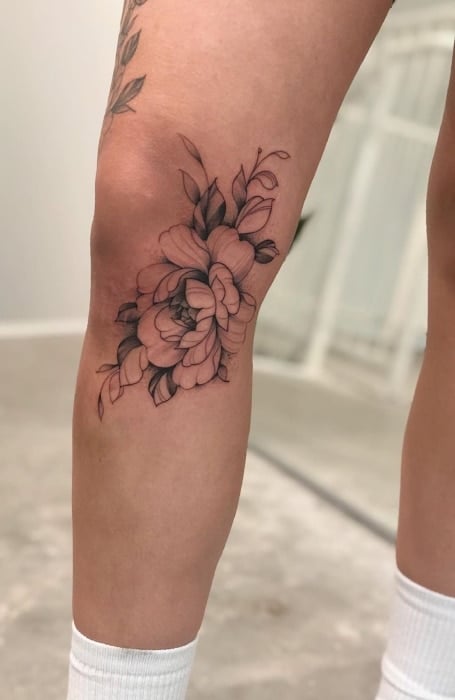 10. Butterfly Knee Tattoo
Butterfly tattoos have long been a favorite design for men and women, not just because of the beauty of the winged insect but also because of its meaning. It can represent change and growth and is an ideal choice for someone who has experienced a period of transformation. In addition, it is a piece that looks good with multiple styles and colors.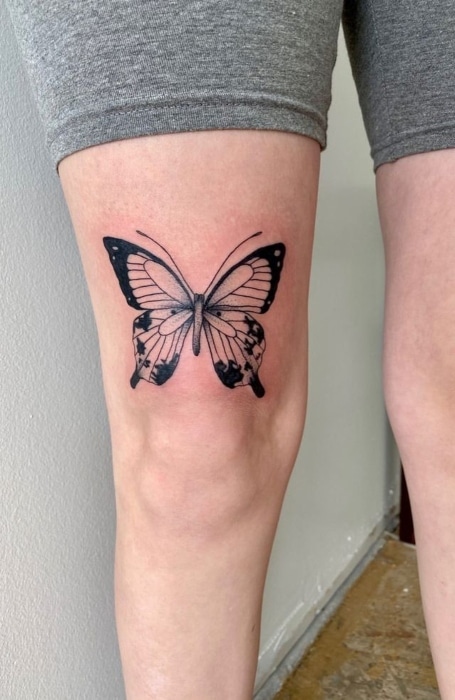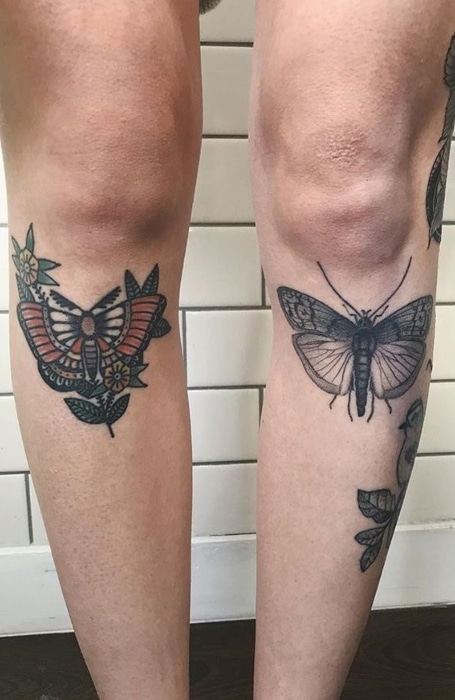 11. Bloody Knee Tattoo
What better way to convey that you are struggling internally or have overcome something painful than by choosing a bloody knee tattoo? There are many techniques, some of which can create an incredibly realistic and even gory finish. Let your design make a statement about how you feel, and do it in color for a bold and eye-catching result.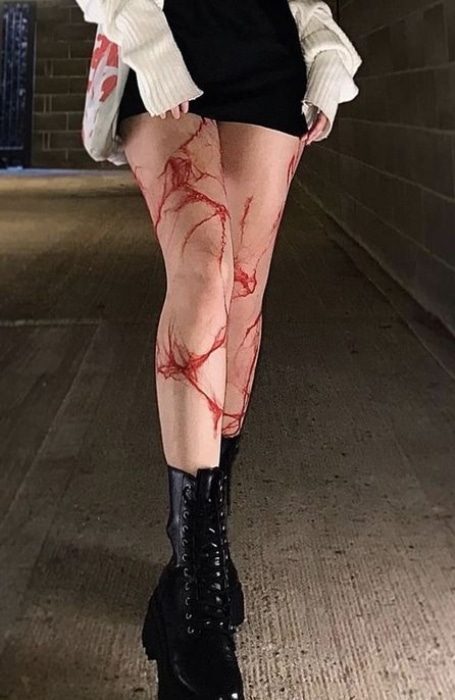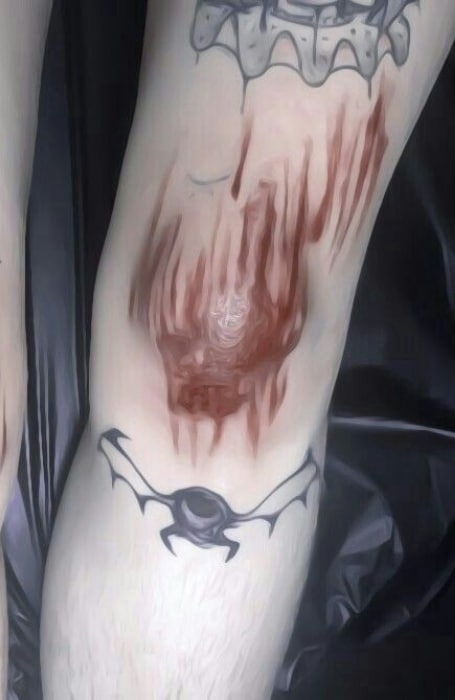 12. Knee Rose Tattoo
The knee is not the biggest placement, so you must plan well for your design. A rose tattoo will look great here because it can easily be adapted to fit the area. Plus, it is a beautiful and symbolic choice representing beauty, pleasure, pain, and the balance between these things. It is a timeless symbol and looks incredible in different colors, which will also alter the meaning.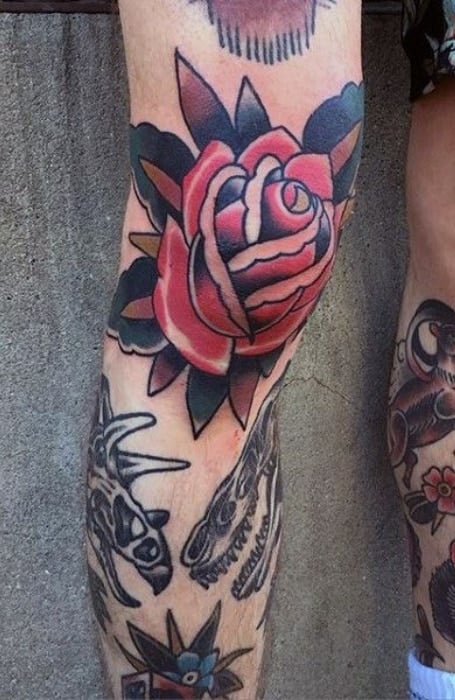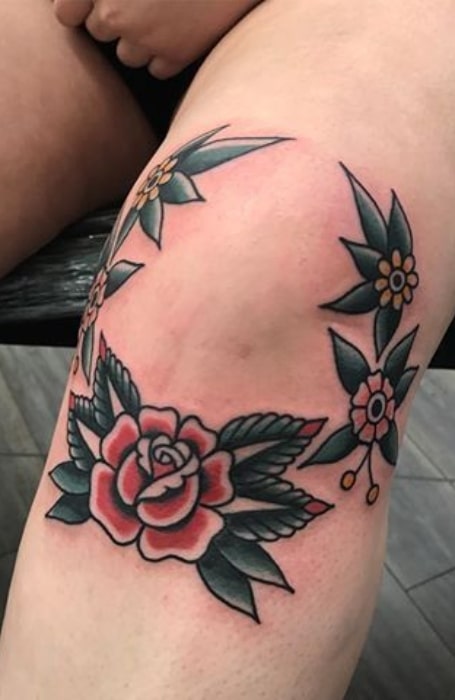 13. Flower Knee Tattoo
Flower tattoos represent growth and beauty, although the specific bloom you choose will also give your design unique symbolism. There is no better choice for those looking for a beautiful but meaningful piece. But why get it inked on the knee? This placement makes a statement about your strength and power, but it is also super visible.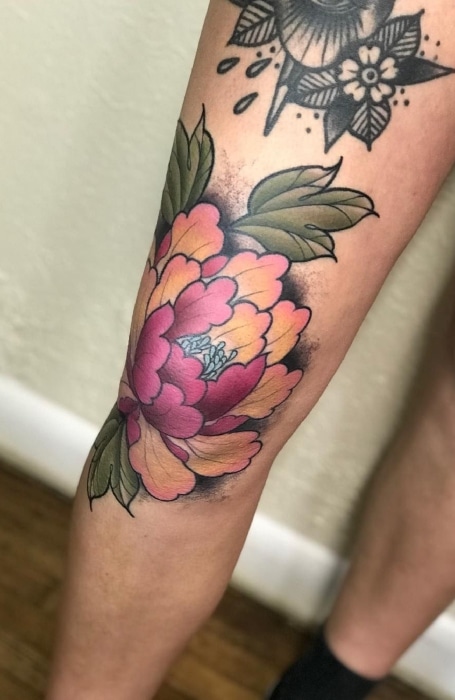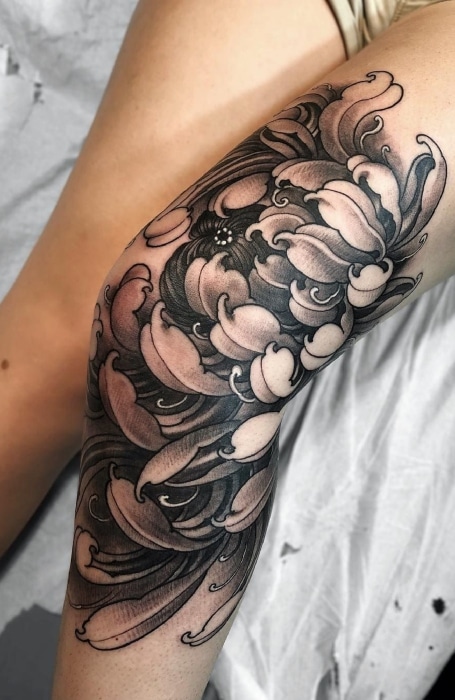 14. Stars On Knees Tattoo
Star tattoos have positive associations, often connected with guidance, hope, and wanderlust. This beautiful design reminds you of all these things' importance in your life. However, the design takes on a new meaning when inked on the knee, often connected with criminals and prison life. It is tattooed as a sign of respect, showing the individual will bow to no man.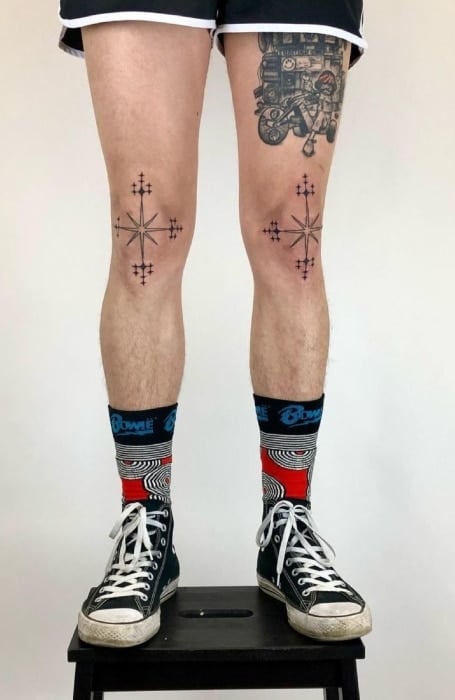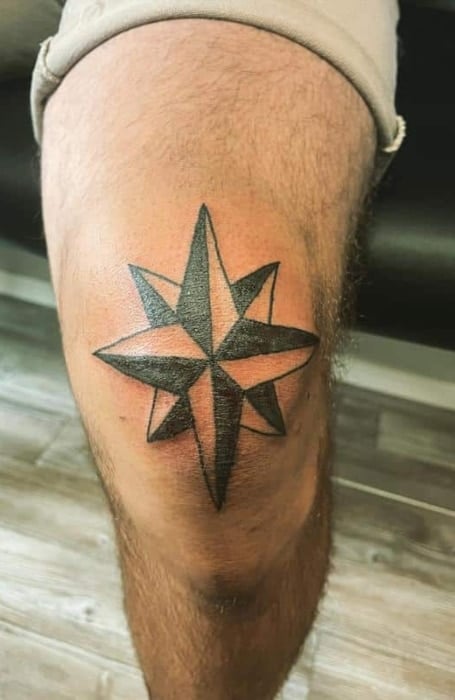 15. Wolf Knee Tattoo
Wolf tattoos represent family, loyalty, and connection. They are often inked by those wanting to celebrate the bond they share with their nearest and dearest. You can show the large canine baring its teeth for a more intimidating finish or choose something more delicate by adding flowers; the choice is yours, so have fun with it.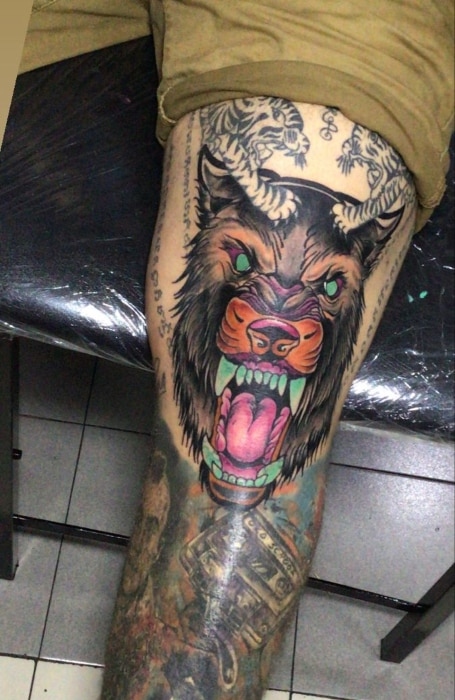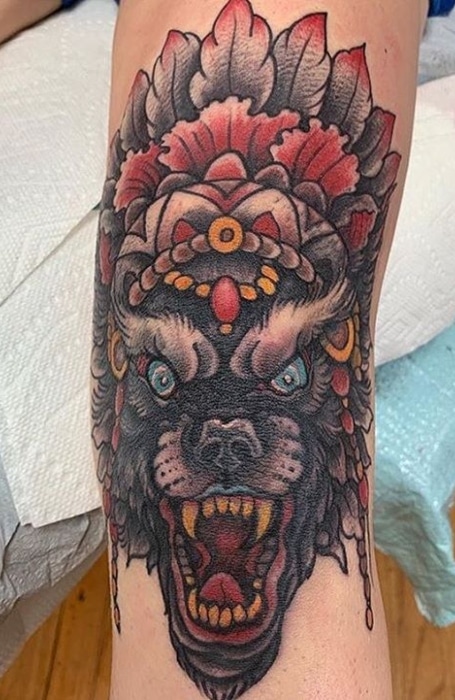 16. Simple Knee Tattoos
If you are brave enough to get tattooed on the knee, you want to choose the right design. This can be intricate and detailed, or you can find the beauty in simplicity with a simple tattoo. Focusing on the basics of your chosen piece is a great option and will not require shading, which would add to the overall pain involved in the tattooing process.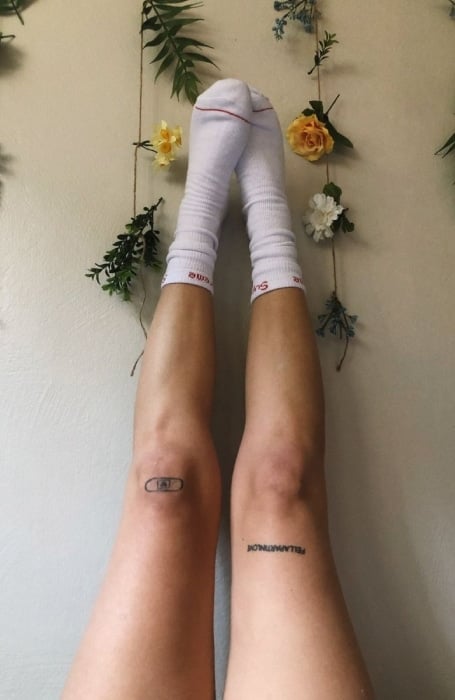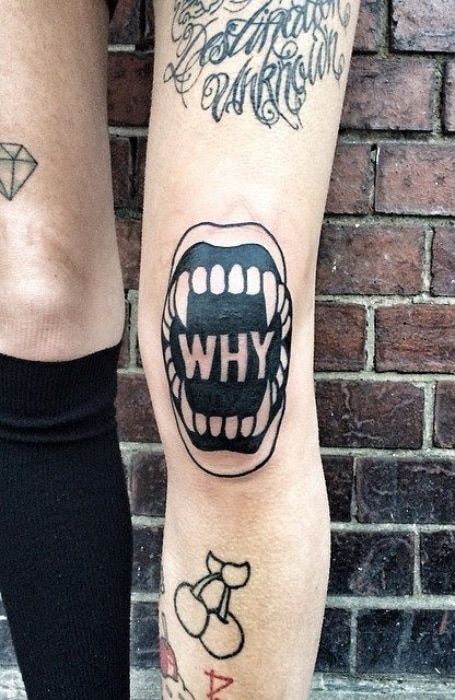 17. Tiger Knee Tattoo
If you are a lover of big cats or are drawn to the beauty of the tiger, consider this design for your next trip to the salon. Tiger tattoos look great in various styles, including color, and the brilliant contrast of orange and black will make for an eye-catching finish. They are also associated with independence, freedom, power, and danger.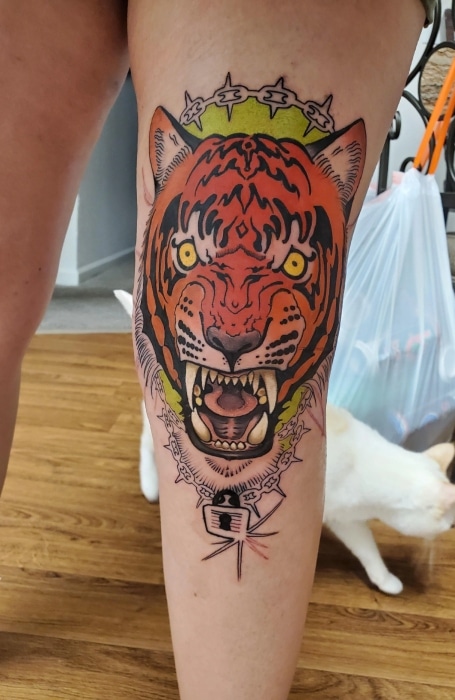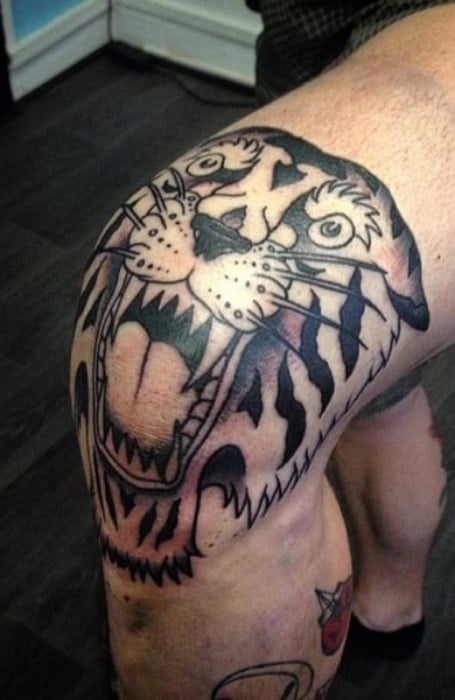 18. Barbed Wire Knee Tattoo
Another design often seen by individuals in the prison system is a barbed wire tattoo. It is often associated with imprisonment and can reflect the wearer's feelings. For inmates, each spike could represent a year in incarceration. It can be tattooed to show solidarity with others or represent authority and power.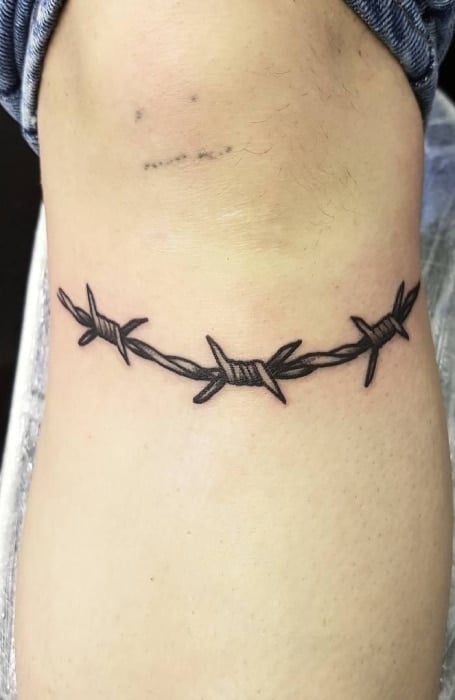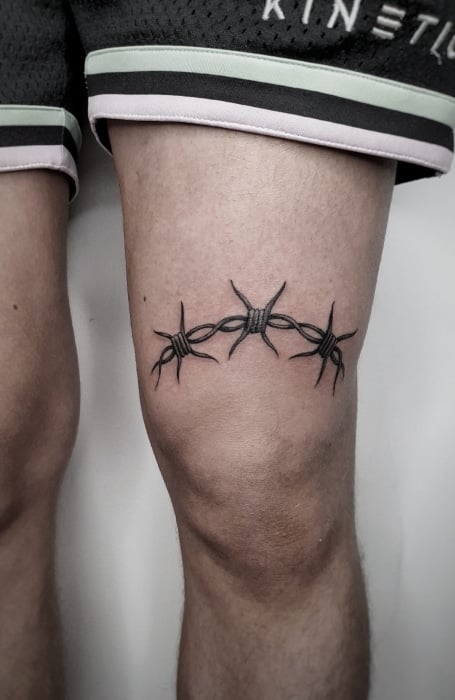 19. Japanese Knee Tattoos
The Japanese tattoo style, or Irezumi, is beautiful and easily recognizable because of its vibrant, bold colors, strong linework, and contrast. In addition, they also follow specific themes which have deep meanings. These could include images of nature, like the koi fish or lotus flower, or be inspired by folklore featuring mythological creatures like the dragon.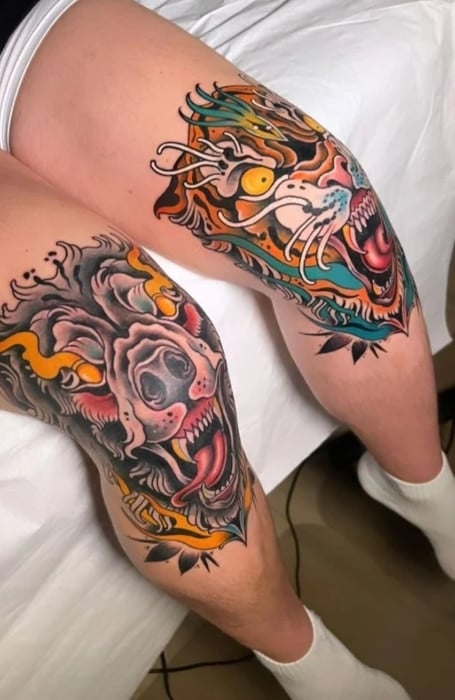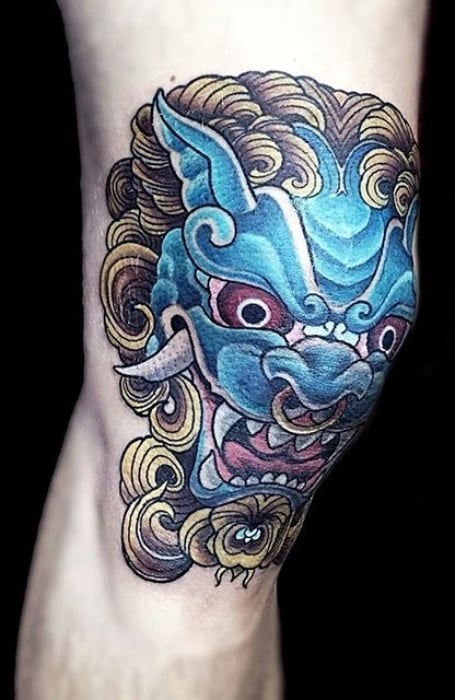 20. Bear Knee Tattoo
A bear tattoo can represent power, protection, or predatory nature. Others interpret the animal differently and get inked because it symbolizes their love of nature and the outdoors or travel and adventure. Whatever your interpretation is, it does not get more badass and cool than choosing the knee as your placement.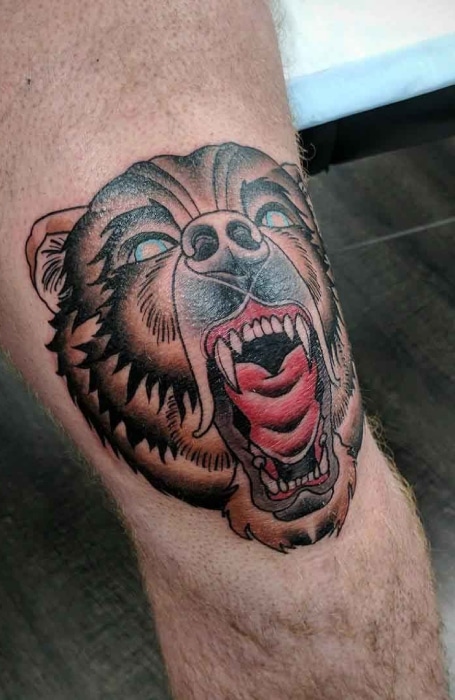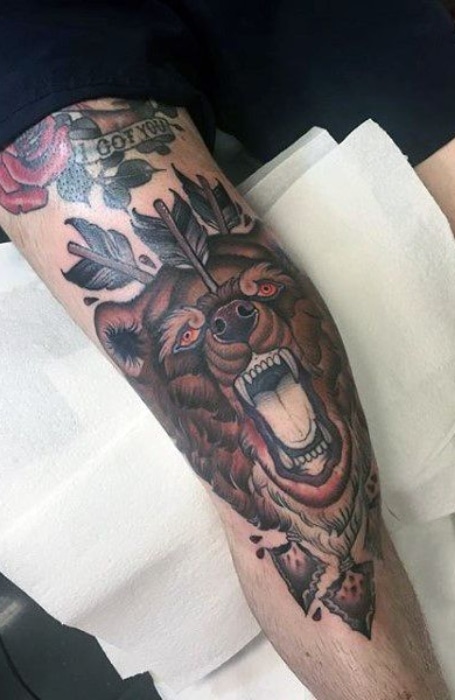 Knee Tattoos FAQs
Do knee tattoos hurt?
Knee tattoos will definitely hurt. It is considered one of the most painful placements for body art because of the proximity to bone and the area's high concentration of nerve endings.
Do knee tattoos fade quickly?
A knee tattoo will definitely fade faster than placements like the arm and leg, and this is because of the natural movement caused by bending the knee. Areas with a lot of motion, like the knee, are prone to fading. Your piece may also rub against clothing more or be exposed to sunlight (when wearing shorts or skirts).
Do knee tattoos swell?
Knee tattoos can be one of the more challenging areas for a tattoo artist to work on, and yes, they will swell. This is completely normal, and swelling should be reduced after around three days.
What tattoos are on Harry Styles's knees?
Harry Styles is known to love body art and has quite an extensive collection of pieces. This includes his knees which feature four tattoos. They are reported to be in the French and Spanish language with "oui," si," on one knee and "non," and "no" on the other. They appear just above and below the kneecap.
SUBSCRIBE TO OUR NEWSLETTER
Subscribe to our mailing list and get interesting stuff and updates to your email inbox.