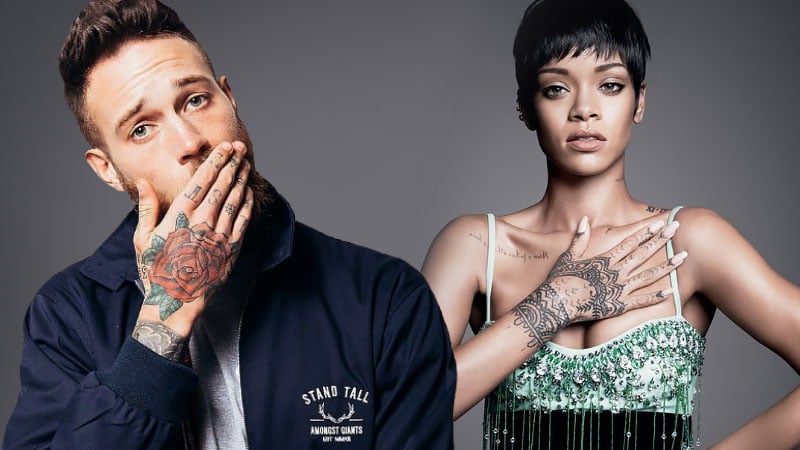 Getting inked is a decision that lasts a lifetime. As everyone's body is a canvas, there's always an opportunity to place your favorite piece of art on your skin as a reminder of your journey. From something subtle and delicate to vibrant and symbolic tattoo designs, there's something for everyone. If you're looking for a bold and extraordinary spot to get your next work, here are the coolest hand tattoos to inspire you.
1. Rose Hand Tattoo
As one of the most complex flowers, a rose tattoo is the best idea for a hand inking. Featuring meanings of new beginnings, promise, and hope, this intricate design is the perfect addition to your body. Have the thorns envelop your fingers and keep the petals in the center, or have the entire plant wrap around your wrist and up the arm. Choose from clean lines to a traditional color combination of red and green – certain colors have specific meanings, and all have different significance to their wearers. There are so many options for this piece; you'll want to have them all.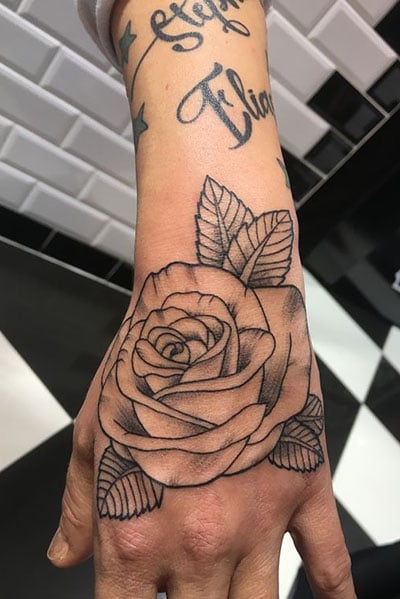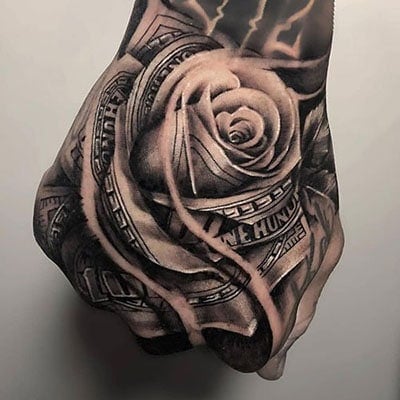 2. Wolf Hand Tattoo
With the ability to survive harsh conditions, the wolf represents power and strength. It is the perfect option for your next tattoo and looks impressive when placed on the hand. From a menacing snarl that offers protection to a wise stare that symbolizes family, a wolf tattoo provides endless meaning for its wearer.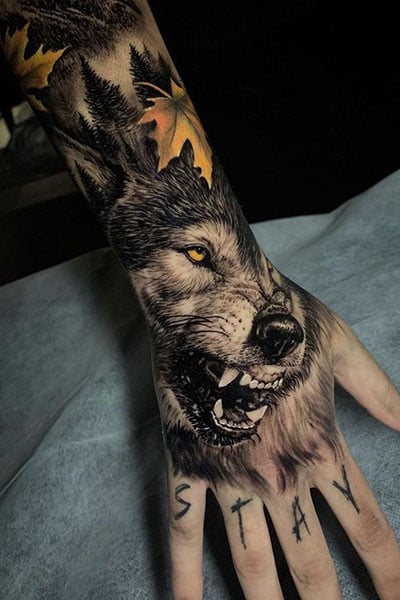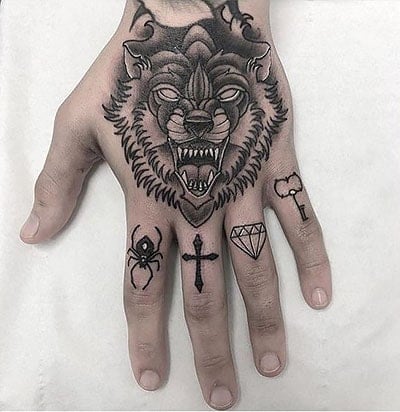 3. Lion Hand Tattoo
Representing strength and courage, the lion tattoo is a fantastic choice for someone's hand and wrist. It is a popular design amongst celebrities and for a good reason. It's a resilient and powerful choice for anyone. It is a design that you'll love every day and will be proud to show off to friends.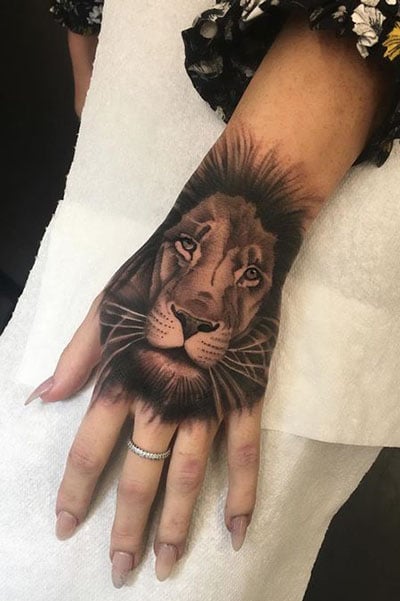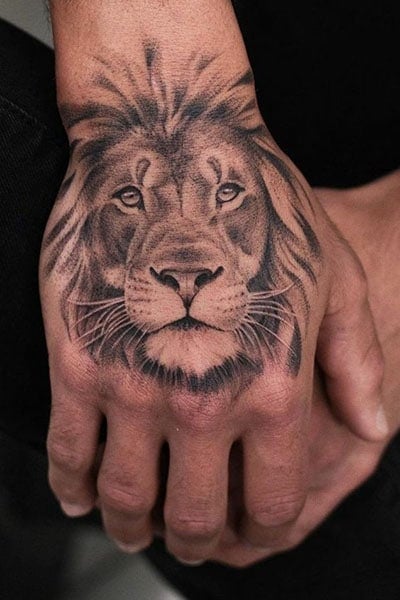 4. Small Hand Tattoo
Sometimes the small tattoos are the ones that have the biggest impact. From a simple one-line portrait of a family pet to a winding leaf up your thumb, you can create a piece that holds a lot of value to your heart. For a tiny but mighty design, keep the lines clean and minimal – you shouldn't get anything too intricate as it will fade as time goes on.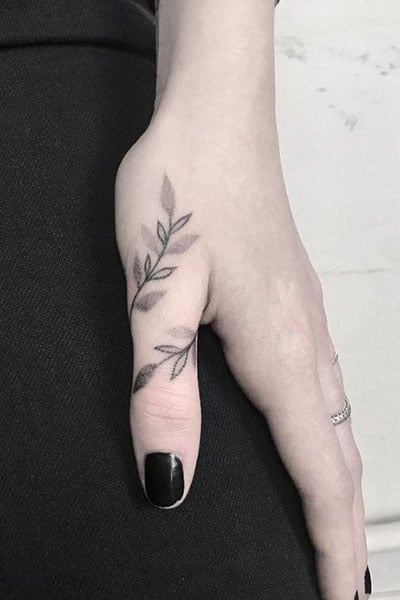 5. Hamsa Hand Tattoo
Hamsa is a symbol of the Hand of God; this design is a fantastic option for anyone looking for a meaningful hand tattoo. It provides luck, health, and good fortune as protection from Ayin Hara, which is essentially the evil eye. You can choose to have it placed upside down or the other way round – it's beautiful ink that you will wear with pride.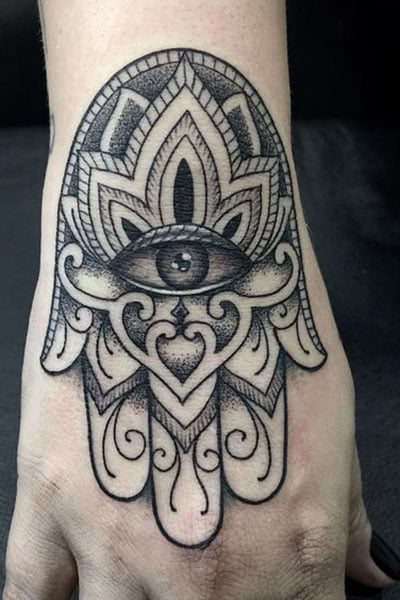 6. Side Hand Tattoo
If you're not ready to cover your entire hand, why not test out the waters by getting something on the side? Whether it's a positive affirmation or a dainty design, this is an elegant and timeless position for your next ink. Be mindful to avoid anything with too much detail, as the tattoo may wear off with time.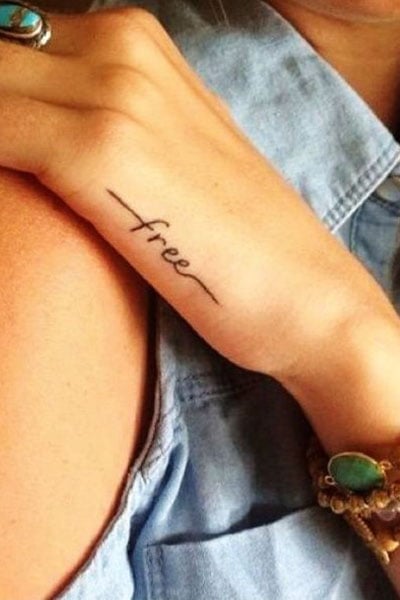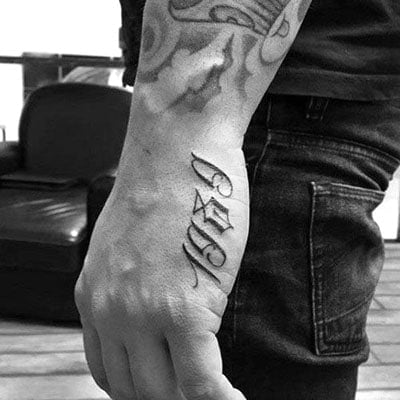 7. Flower Hand Tattoo
Bring a garden with you everywhere you go with a flower tattoo. This everlasting blossom represents purity, passion, and growth – an important symbol that offers significant meaning to whoever wears it. Wrap the leaves around your wrist and intertwine petals between your fingers – watch as you reach full bloom with this stunning ink.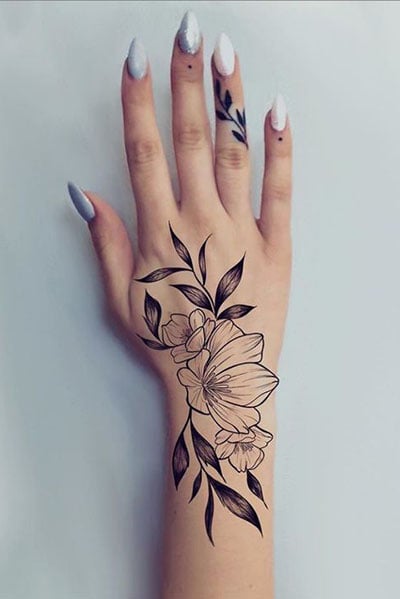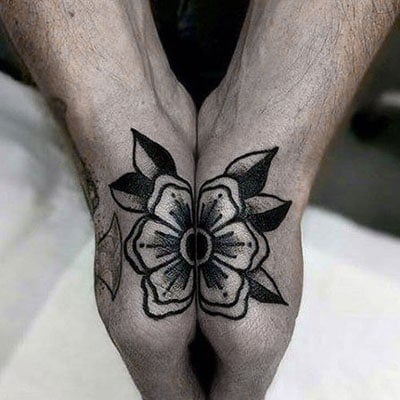 8. Elephant Hand Tattoo
As the universal symbol of strength and resilience, the elephant tattoo is an excellent choice for your hand. When placing this ink, you can go the traditional route and select the center of your fist, or you can incorporate your fingers and have the middle digit as its trunk. Add other symbolic designs throughout the piece or make it photo-realistic – the choice is yours.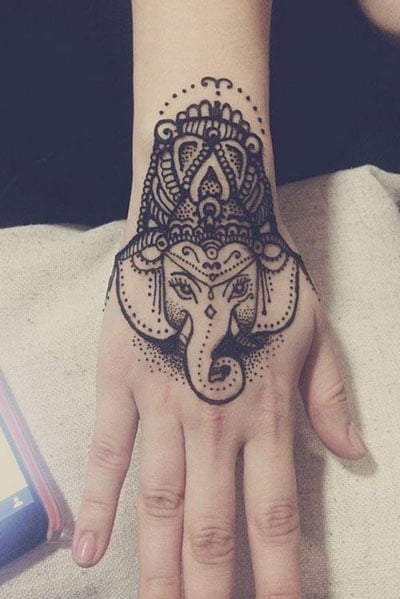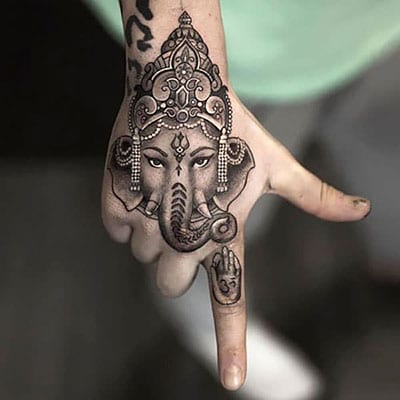 9. Skull Hand Tattoo
Take the hand tattoo to the next level with a skull tattoo design. As the rebel's hallmark, this design represents death and mortality, and also symbolizes overcoming hard times and protecting valuables. Position this ink, so it aligns with your face, or choose a design that sparks significance in your soul. When choosing an artist, make sure you select someone with experience in shading and portraiture – this is a delicate piece to master, so be sure you find the perfect craftsman for you.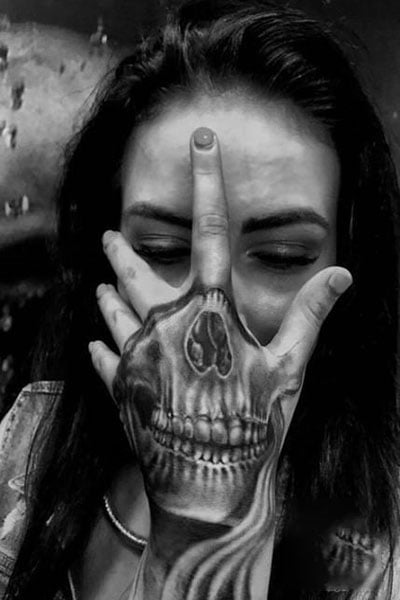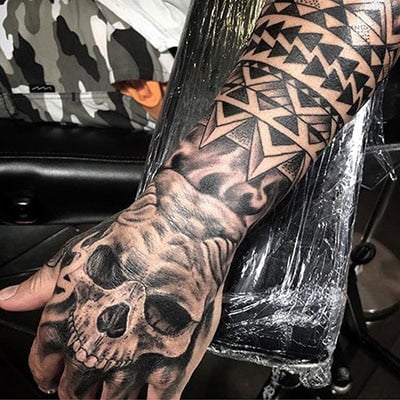 10. Heart Hand Tattoo
Often associated with love and companionship, the heart is a symbolic choice for anyone's new ink. It is a tattoo that is open to interpretation and can get designed any way the wearer likes. Choose from American traditional with bright colors and bold lines, or create a piece of art with a watercolor style. A heart tattoo offers compassion, affection, courage, and is sure to stay with you forever.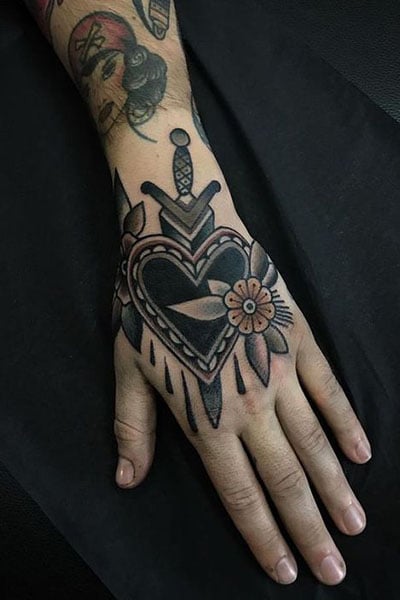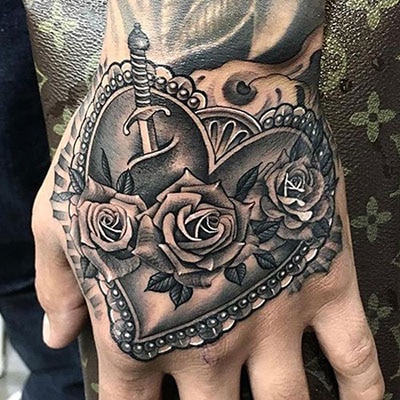 11. Jesus Hand Tattoo
As one of the most symbolic figures in the world, this tattoo choice is ideal for those who wish to showcase their faith. There are several phases of life of Jesus to select, each with their significance and meaning to the wearer. It is profoundly personal ink for anyone who wishes to show their beliefs.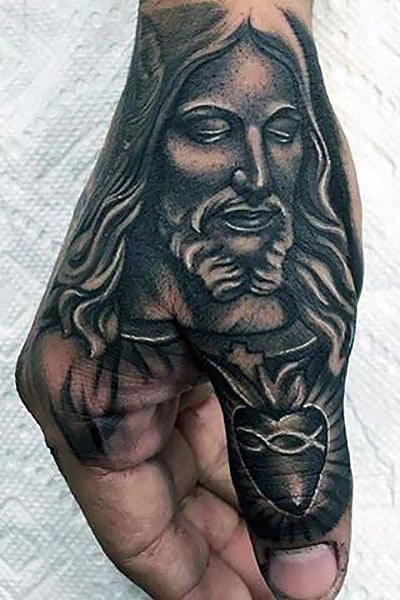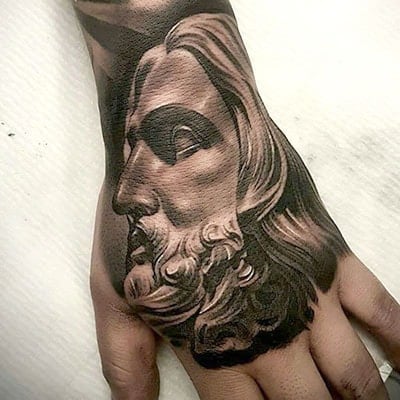 12. Butterfly Hand Tattoo
Symbolizing freedom, beauty, and change, a butterfly tattoo is a perfect piece for your hand. It is the ideal opportunity to design something spectacular on your skin – whether that be with bold colors, clean lines, or a mix between the two. Work with your artist to create a piece that you will adore showing off.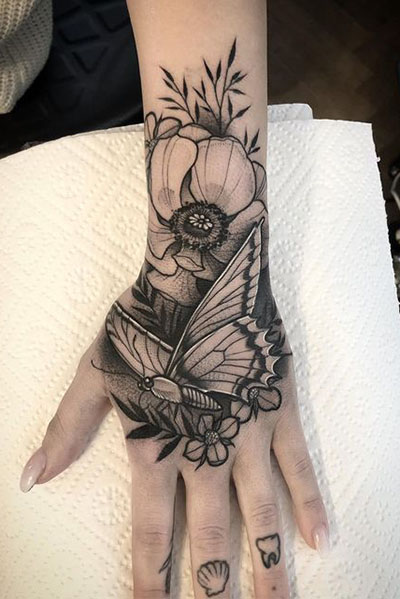 13. Name Tattoo on Hand
Keep those closest to you by you at all times by wearing their names with pride. Typically seen in cursive script, you can create this in a large font or something small and subtle on the side of your hand. Whether it's your family, friends, or even a pet, you will have them near you everywhere you go with this unique name tattoo.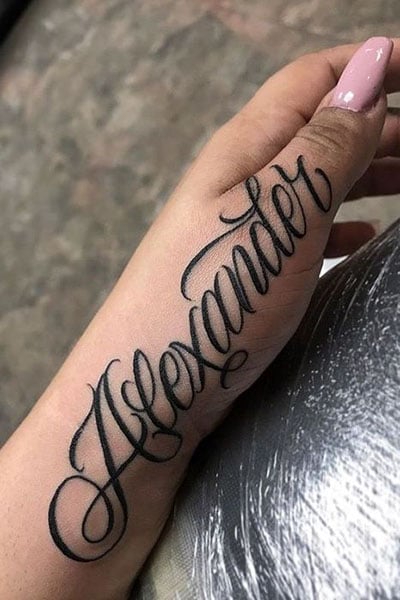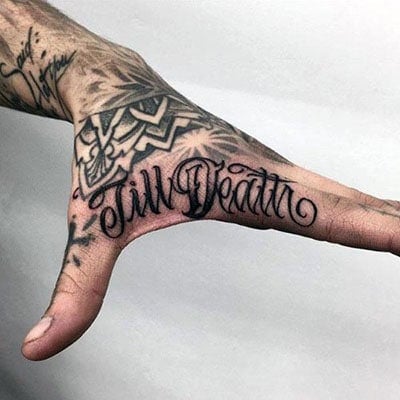 14. Scorpion Hand Tattoo
Don't be afraid to showcase your resilience or your star sign with this scorpion tattoo. This design symbolizes control, power, and offers a unique flair to your body's canvas. Place this ink on the corner of your fist, 0r have the arachnid crawling up your wrist – this is a versatile option for all lovers of this mighty creature.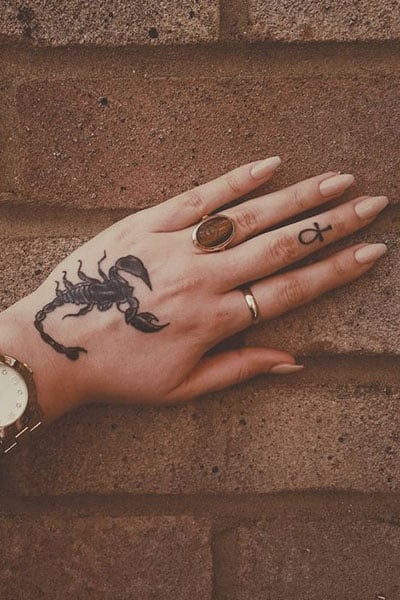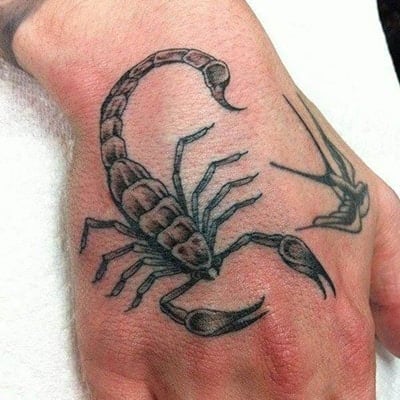 15. Small Rose Hand Tattoo
For those who want to start small with their hand tattoos, go for a small rose design. This dainty and delicate symbol of love, joy, and protection is an excellent option for anyone and works beautifully with other pieces. This ink is easy to blend with a sleeve or as a stand-alone – it's an ideal option for anyone who wishes to celebrate their strength and resilience.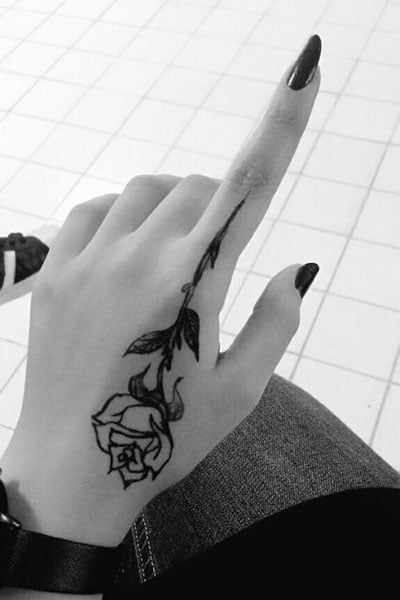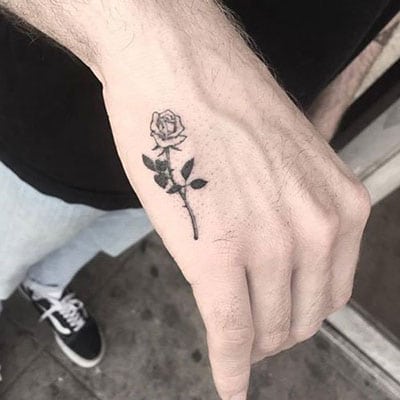 16. Tiger Hand Tattoo
Tell the world who's the boss with this fierce tiger tattoo. Symbolizing strength and vitality, this is an ideal piece for those with a wild side. Choose from the feline's face on your hand, or work the way up your sleeve for a complete look. As a versatile option, you can style this in an American Traditional style, hyper-realistic or Japanese. As soon as you get this ink, you'll be the most powerful person in the room.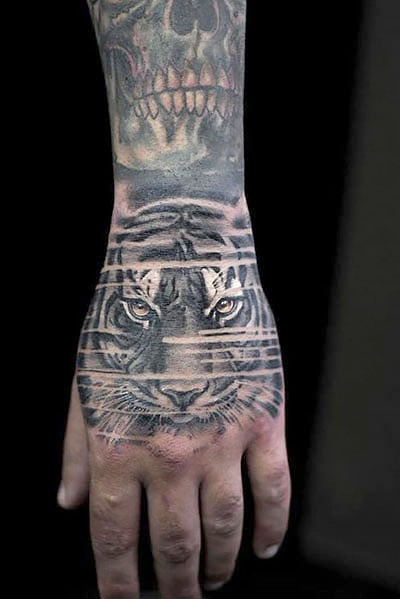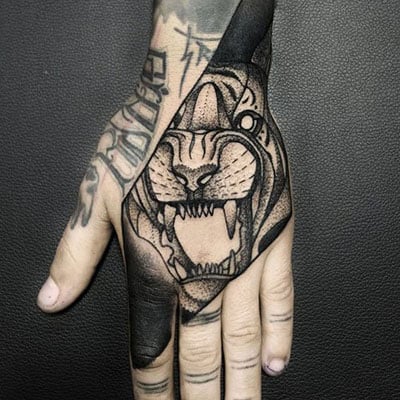 17. Tribal Hand Tattoo
With links to different cultures, a tribal tattoo is a great option if you want to honor your heritage. Opt for intricate detail, bold lines, and fierce storytelling with your ink – it represents social status and rites of passage. Specific patterns represent particular meanings, so be sure you do your research before taking the plunge – these sacred designs are worth exploring.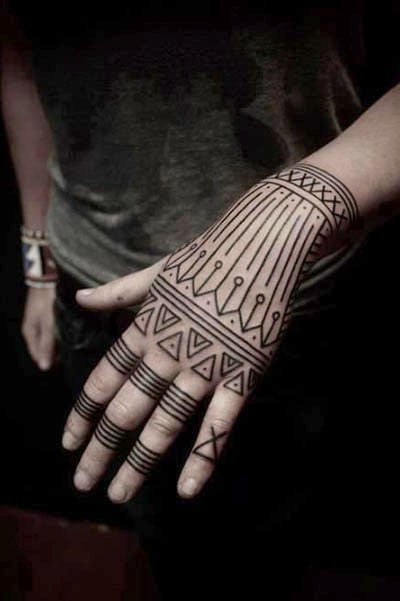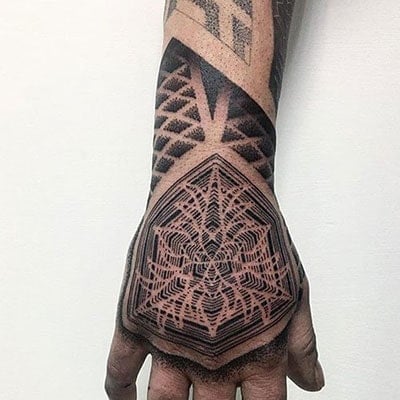 18. Bracelet Hand Tattoo
Feel like you're dripping in jewels no matter where you go with this bracelet hand tattoo. The delicate and intricate designs will make you feel ethereal and dainty at all times and are an exquisite option for your first ink. Choose from a single line or a series covered in patterns and shapes – let your imagination run wild.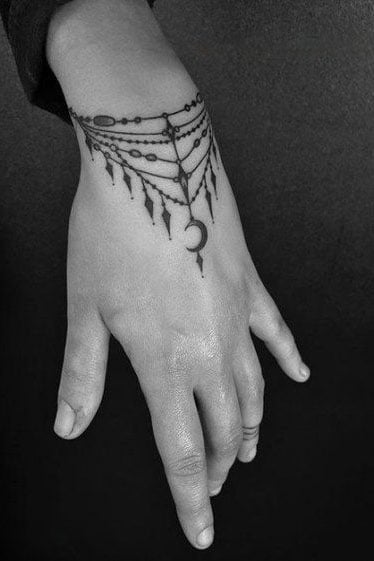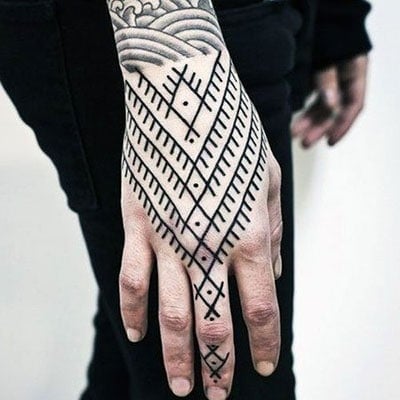 19. Star Hand Tattoo
Reach for the moon and land in the heavens with a star tattoo design. With symbols harking back to strength and energy, this influential art represents the fight against the darkness and the ability to shine out from the rest. Choose from sporadic placements of the burning lights or opt for a single bright orb on your hand. Add a bit of sparkle to your design with shading and jewel tones – this is some ink you'll want to show off over and over.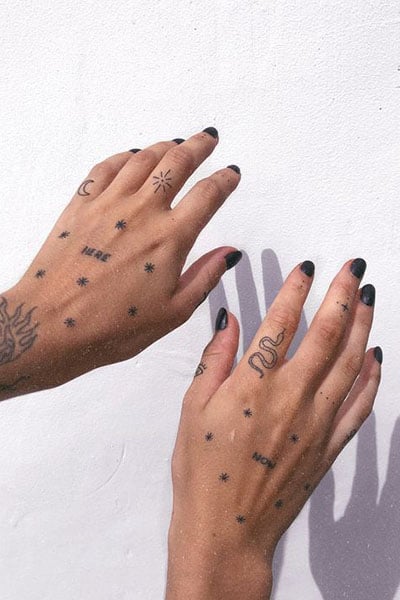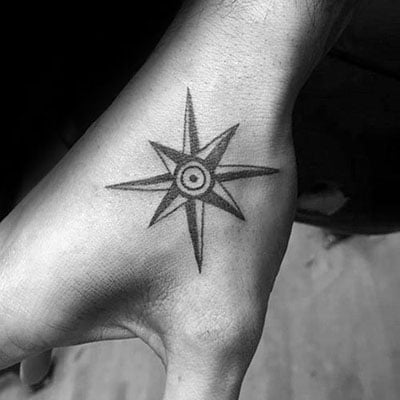 20. Dragon Hand Tattoo
Following a spanning history throughout the world, this mythical creature represents wisdom and power. A dragon tattoo is a beautiful piece of art to ink on your skin, so why not place it on your hands? As this part of your body holds a lot of strength, it's the perfect spot to showcase its resilience. Choose from a traditional Japanese design or something minimalistic for optimum impact. It is a popular choice for lovers of classic tattoos and is a fantastic idea for anyone who wants to show off their vigor.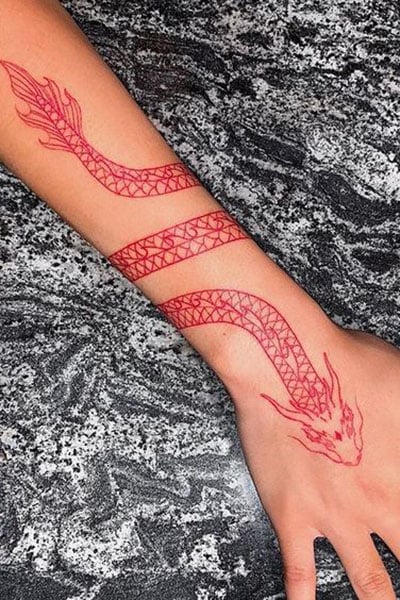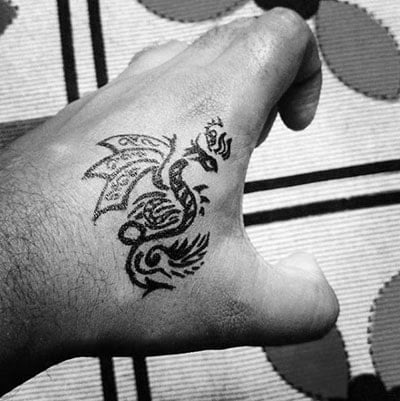 21. Buddha Hand Tattoo
Find your inner peace and serenity with the calming Buddha tattoo. As an important symbol of Buddhism, keeping it on your skin is a daily reminder to feel grounded and staying true to yourself. When finding an artist for this ink, be sure they pay respect to the emblem of the faith, as it holds value for many people. Choose from a piece with intricate detail and incorporate it with other representations of the culture or leave it as a stand-alone. With ink this meaningful, you can't help but show it off!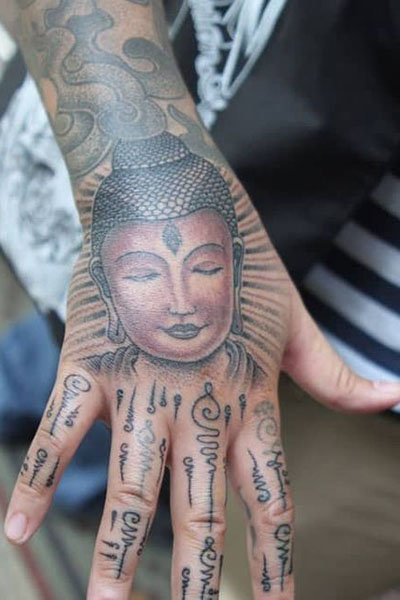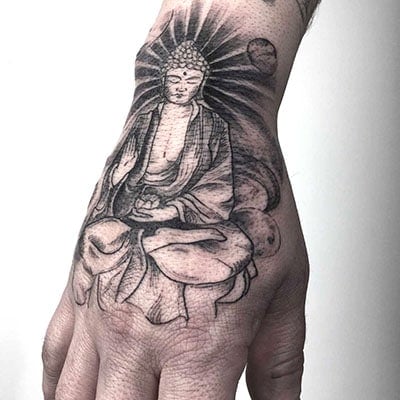 22. Japanese Hand Tattoo
Japanese tattoo designs have been around for centuries and hold symbolic meaning, so why not have one of your own? Amongst some of the most recognizable designs in the world, this ink consists of bright colors, bold lines, and striking patterns. Choose from the snake, Hannya, wave, or even a Samurai – all encapsulate the culture with their origins, significance, and importance. Work the ink up your hand and into a sleeve for ultimate impact – watch as everyone marvels over your incredible artwork.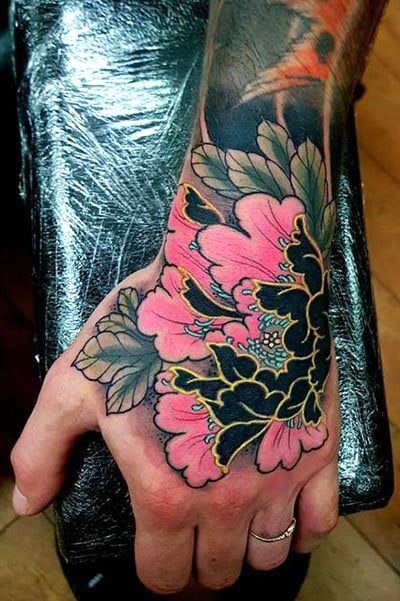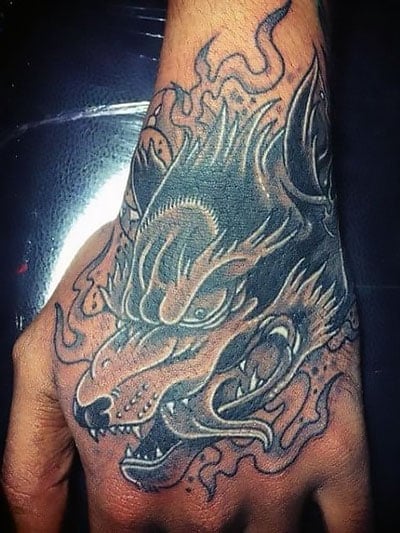 23. Feather Tattoo on Hand
Much like a flying bird, the feather tattoo symbolizes freedom, courage, and bravery. For those who have gone through tough times, this ink is a perfect representation of moving forward and not looking back. Add the light design across the side of your hand, or have it wrap around your wrist and down the fingers. It is a widely versatile and beautiful option for anyone, whether it's a first piece or an addition to a sleeve.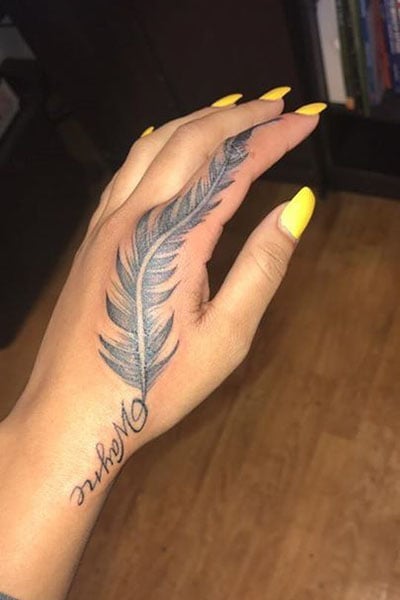 24. Henna Hand Tattoo
For those who like the idea of a fading design, why not try a henna hand tattoo? With this incredible dye, you can create any design you like and go as far as you wish. This ink typically lasts anywhere from one to three weeks, so you can switch up your style whenever you please. From traditional Indian designs to something entirely made up, your friends will all be lining up to get their henna done.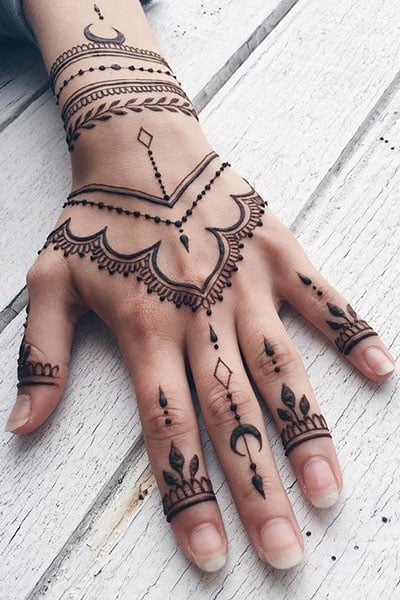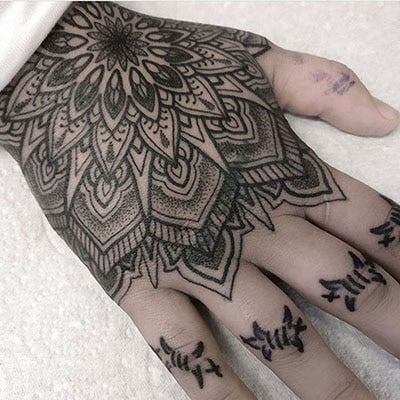 25. Praying Hand Tattoo
Showcase your faith with this praying hand tattoo. From a small and delicate design to a sketch that covers the space of your wrist and fingers, this is a great way to make yourself into a piece of art. This style looks best with clean lines, so find yourself an artist who can create organic and intricate details with ease. As one of the most symbolic pieces in religious culture, this is a good placement for your next ink.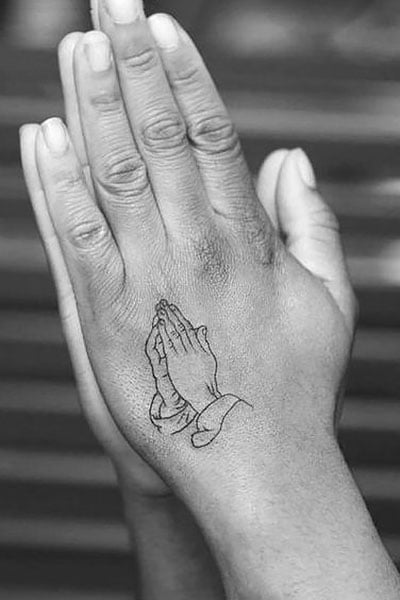 FAQs
What does a hand tattoo mean?
A tattoo on your hand doesn't necessarily mean anything; it can just be a style choice. However, the different hands can have significance, with the right associated with dominance, the sun, mercy, and logic, while the left symbolizes emotions, the moon, and justice. Regardless of the intention behind your choice, it does mean you're a badass for sitting through a session on a notoriously painful area.
Which is the best hand to tattoo on?
The hand to you choose to tattoo comes down to personal preference. The right is commonly the more dominant once, and therefore a popular choice, as it's more likely to be seen. Your right hand can also represent mercy, logic, the sun, and giving. Meanwhile, the left symbolizes emotions, justice, the moon, and receiving.
Is a hand tattoo a bad idea?
There's a lot to consider when deciding to get ink on your hands. Hand tattoos can be incredibly divisive. Some artists refuse to do them and refer to them as "job stoppers". While tattoos are becoming more mainstream, in some environments, they can still hinder professional progress. As such, it's essential to consider your career goals and industry before jumping in. Hand tattoos are also challenging to do, so if you're going down that track, choose an experienced artist. Hand tattoos are also more prone to infection, damage, fading. Because you use your hands so regularly, it can also take longer to heal. Additionally, like other exposed areas of skin, the hands are prone to sun damage and early aging, which will affect the integrity of the design and colors. Plus, it's hard to hide a hand tattoo if your artist did a lousy job.
How painful is a hand tattoo?
Hand tattoos are on the higher end of the pain scale. It's not as bad as the head, but the lack of padding and the number of bones, tendons, and nerves can make it very uncomfortable. Plus, the healing time and risk of infection are higher with your hands. It's a body part you use and move a lot, so even simple things like washing your hands or making dinner can be painful and prolong the healing.
How much does a hand tattoo cost?
Most tattoo shops charge by the hour, and the rate might be a standard shop price, or it could vary by artist depending on their experience, exposure, and popularity. Expect to pay between $120-$200 per hour, on average. However, the total cost will also depend on the size of your tattoo and how much detail it has. The hand isn't a large area, so even a full hand tattoo wouldn't take more than a few hours. When you book in for a consultation and discuss your design with the artist, you'll be able to ask for a ballpark quote.  
How long do hand tattoos last?
Hand tattoos are still permanent, but the thing that doesn't last as long is the integrity of the design. Because the skin on your hands is vastly different from the rest of your body and is prone to early aging, sun damage, increased shedding, and general wear, your tattoo will fade and blur faster. Expect to see some blurring within a year; however, the colors should stay vivid for a while. The best way to get your ink to last is to look after your skin. Wear sunscreen, moisturize regularly and use mild soaps. You can also consider "top-up" sessions, where your artist will go back over the design to freshen it up.
SUBSCRIBE TO OUR NEWSLETTER
Subscribe to our mailing list and get interesting stuff and updates to your email inbox.