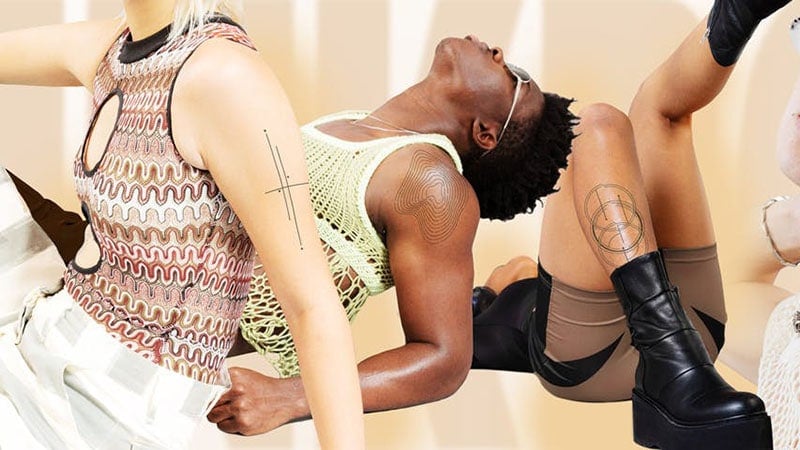 Temporary tattoos are appealing because it lets you try out body art without the permanent commitment. It is also a fun way to change your appearance or experiment with different placements before taking the plunge and getting inked for real. This is an excellent choice for anyone thinking about getting a tattoo but wants to see how it would look first, or for someone who cannot get inked for whatever reason, including pain tolerance or health problems. It is also cheap, easy to apply, and lets you express yourself without hassle. Choose from a wide range of symbolic designs or something simple or cute. The choice is yours, so have fun with it. Below are some popular temporary tattoos money can buy that are skin-safe and use a plant-based formula.
1. Temporary Bee Tattoo
What is not to love about temporary tattoos? They are appealing because you can try out body art without the permanent commitment. It is also a fun way to change your appearance, and there is a wide range of designs to choose from, including a bee. Bee tattoos are an excellent choice for someone who wants a piece representing hard work, commitment, and dedication. It can also be symbolic of teamwork and could be a way to honor the special people in your life who you rely on emotionally. Your chosen design can be simple or detailed, large or small, so find something that best suits you.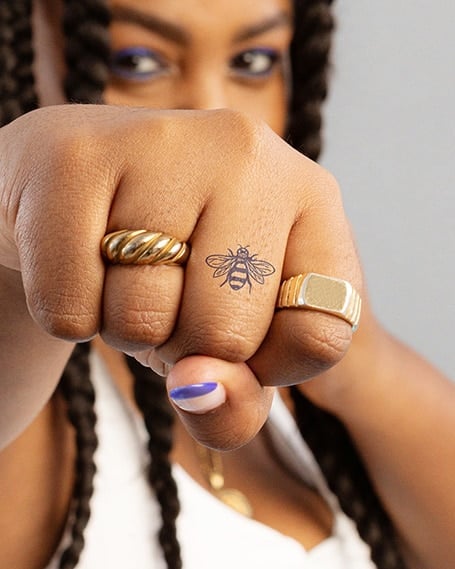 2. Temporary Butterfly Tattoo
The butterfly is a symbol of beauty, transformation, and growth. It is one of the most beautiful insects and comes in various forms and colors, so it is not surprising that it is among the most popular tattoos for men and women to get inked. If you love the idea of a butterfly tattoo but are not ready to commit to a permanent piece, then a temporary design is an excellent alternative. Your ink can be delicate and beautiful, or you can combine several butterflies for a larger and more striking option. This is ideal for someone going through a transitional period in their lives or simply want to adorn themselves with a gorgeous temporary design.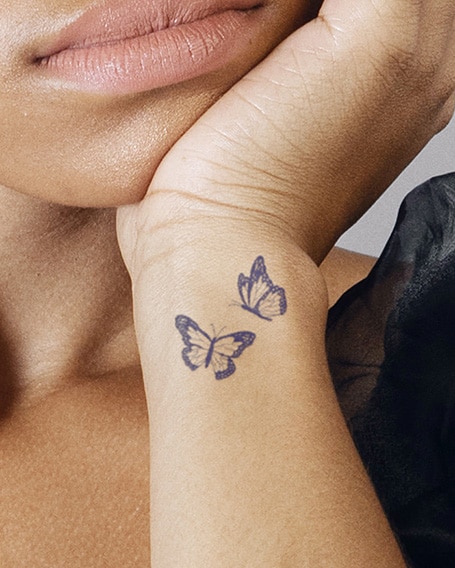 3. Temporary Cross Tattoo
For those who are religious, the cross is an excellent choice of temporary tattoo. It is associated with faithfulness and sacrifice because Jesus Christ is believed to have died on the cross for the good of humankind. This is an excellent design to celebrate your devotion, and the appeal of the cross is that it can be simple or detailed. Opting for two intersecting lines is all you need for those who prefer a minimalist appearance, and this basic design is still rich in symbolism. Alternatively, you can find a cross tattoo that has other details added to it, such as a rose, heart, or even a word like "faith" or "love."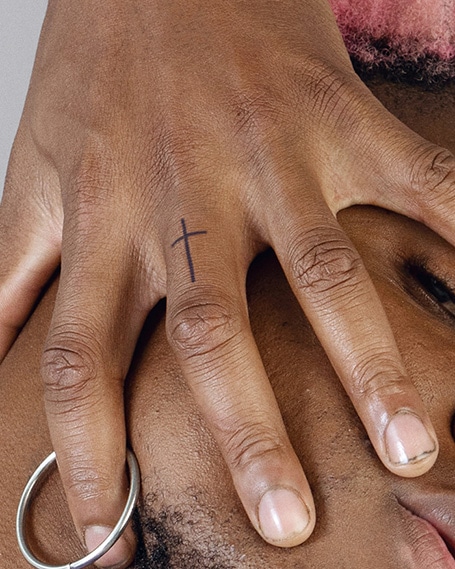 4. Moon Temporary Tattoo
A moon tattoo is excellent and represents mystery, life, and light. There are many positive things associated with the moon, and it also is connected to growth and the passing of time. You can opt for a piece that combines a sun or stars, or you can keep it simple with a solid shape of a moon. There are also different phases, each with its symbolism and appeal. The great thing about temporary tattoos is that you can experiment with your placement; try it on your hand, wrist, or thigh. You can also purchase multiple, finding the perfect spot for you before getting inked for real.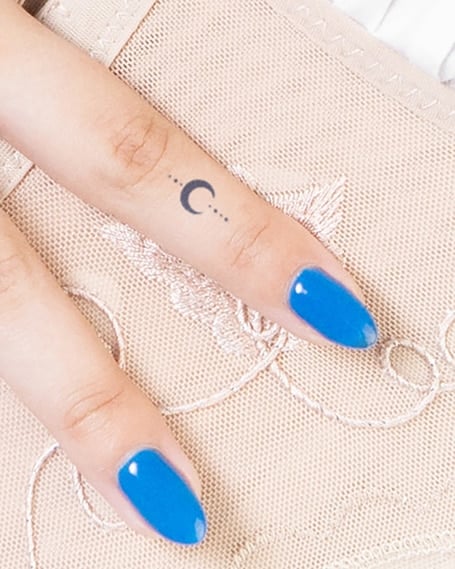 5. Medusa Temporary Tattoo
Medusa is an interesting character, rich in symbolism. The design of this snake-haired maiden is striking, but the story of Medusa in Greek mythology and how she came to be the monster whose gaze turned those who looked upon her to stone is both fascinating and sad. She is often associated with feminism and power but can also represent mystery, jealousy, and death. If you want a temporary tattoo that is different from the standard heart, butterfly, and flower designs, this is a fantastic alternative. Place it somewhere you can see and remind yourself of the reason you chose a Medusa tattoo.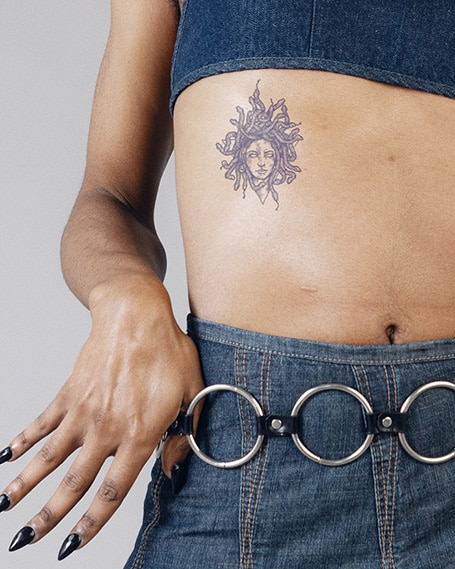 6. Temporary Finger Tattoo
The finger is an ideal placement for body art because of its visibility. With a temporary tattoo, you have none of the drawbacks of a real one in this location. That is because finger tattoos tend to fade quickly and can hurt because of the thin skin, nerve-endings, and proximity to bone. Your temporary piece will just look cool and is in one of the most noticeable spots. It is best to opt for something small and simple, like a heart, geometric shape, or a flower. Vertical designs are also ideal as they can run up the finger; think snakes and palm trees.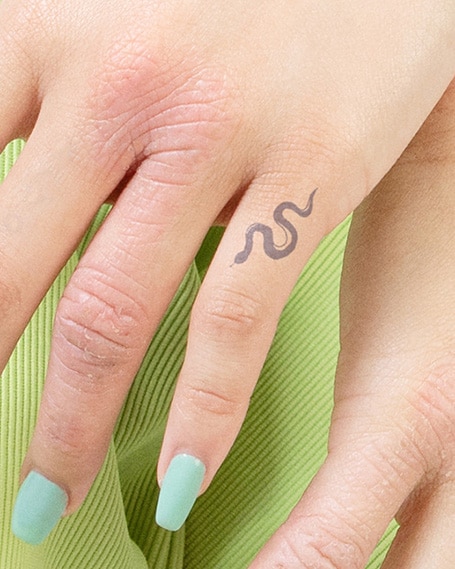 7. Temporary Tiger Tattoo
The tiger is a powerful animal. It is a skilled hunter and is both respected and feared. In addition, the big cat has inspired many tales and is featured heavily in Chinese and Japanese folklore. It is not surprising that the tiger has inspired countless tattoos, created in various styles, and if you want a piece that looks cool but is also rich in symbolism, this could be it. The appeal of temporary tattoos is that you do not need to commit to it beyond a few weeks if you don't like your design or the placement. It is also a fun way to change your appearance and express yourself. It also gives you a better idea of what you may want to get inked for real.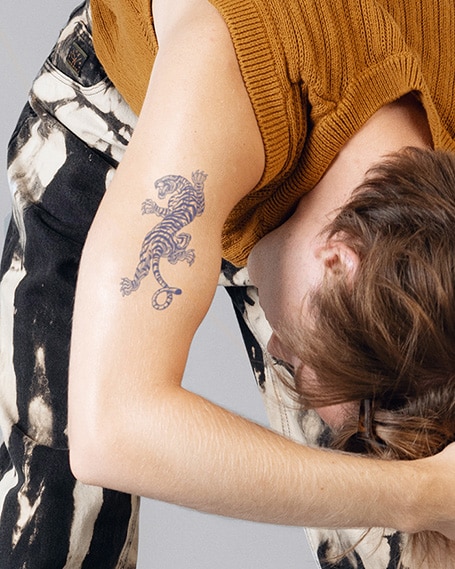 8. Temporary Wolf Tattoo
Wolf tattoo designs are fantastic and will look incredibly cool. It can make a statement about how you want to unleash your wild side and remind you of your primal instincts. The wolf is also a way to honor family; because it lives in packs and its survival depends on others, it can represent commitment, dedication, and loyalty. Or perhaps you want a design that is associated with being free? This could be the perfect choice for you. Consider the size of your temporary tattoo when deciding on where to place it. Larger pieces look good on thighs, shoulders, and arms. That said, the beauty of a fake inking is that you do not have to worry about the pain, and you can also put it on your spine or rib cage.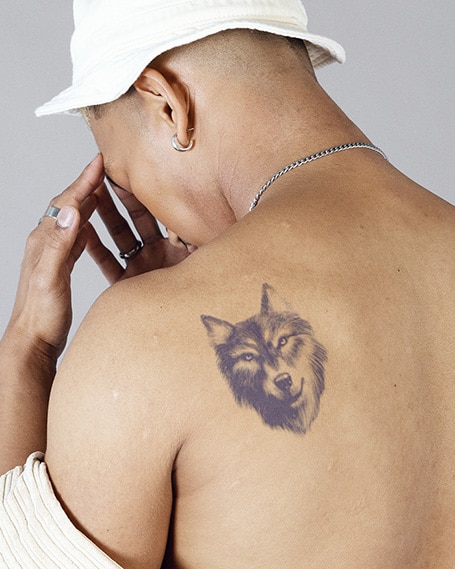 9. Temporary Dragonfly Tattoo
What better way to convey your feelings about harmony, prosperity, and good fortune than with a temporary dragonfly tattoo? Dragonflies can also look good in small or large designs, and, depending on the size, you can place them anywhere on your body, from the finger to the back. In addition, the dragonfly also represents growth and transition and could be a way to remind yourself that you are strong and resilient. If you are going through a challenging or transitional period, this could bring you comfort.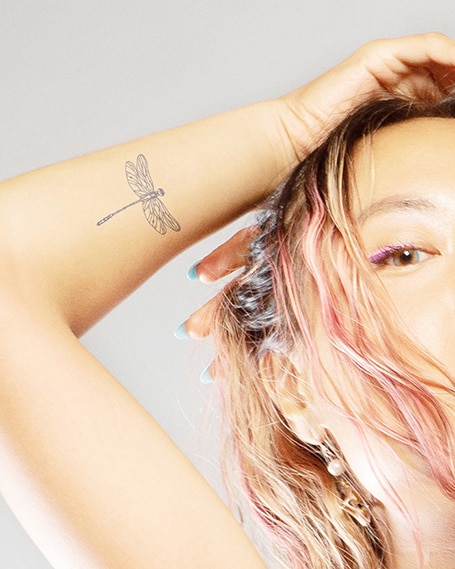 10. Temporary Bird Tattoo
Bird tattoos are incredibly popular because they represent freedom. If you are thinking about getting inked with a bird design but aren't yet sure about the placement, or if it would look good, consider a temporary tattoo first. Temporary tattoos give you all the benefits of real inking, just for a limited amount of time. Choose a design that makes you feel free and independent and reminds you of qualities you hold dear.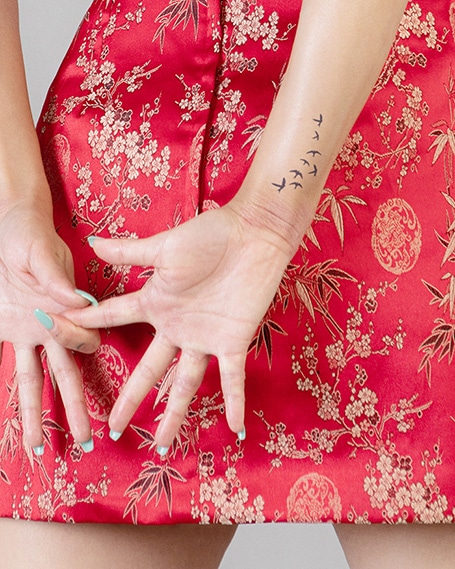 11. Temporary Wrist Tattoo
The wrist is a popular placement for body art because of its visibility. It is a location you can look at every day and remind yourself of why you got inked in the first place. It can also be more discreet, as it is not an immediately noticeable area if inking the underside. Although wrist tattoos can hurt because of the thin skin and lack of muscle, there is no pain when it is a temporary design. If you a considering getting permanent ink or just want something fun and expressive, place your favorite temporary drawing here.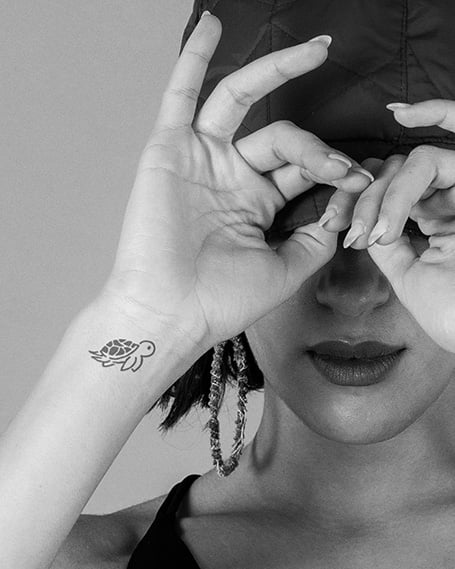 12. Temporary Feather Tattoo
Like a bird design, feather tattoos are associated with freedom. Many of us stare at birds with wonder and amazement because of their ability to fly, which can be seen as leaving their problems behind and starting anew. Feathers look good on long and narrow areas, which complement the shape. This could include the forearm or leg, and with a temporary tattoo, you have no worries about where you choose because there is no pain involved. You also do not have to commit to this piece forever.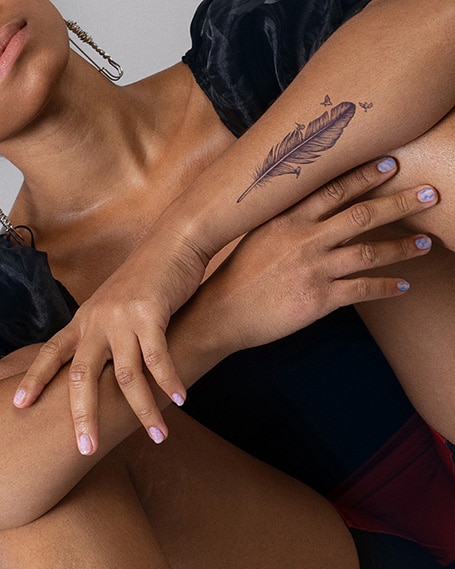 13. Temporary 3D Tattoo
Temporary tattoos have progressed a lot since they were first created, and there is now a wide range of designs to choose from. This includes incredibly detailed pieces in different colors and styles and even 3D artwork. These 3D tattoos will have an extra dimension, and your selected artwork will come to life against your skin. Choose a realistic option, like an insect, to make it look as though it is hovering above your skin.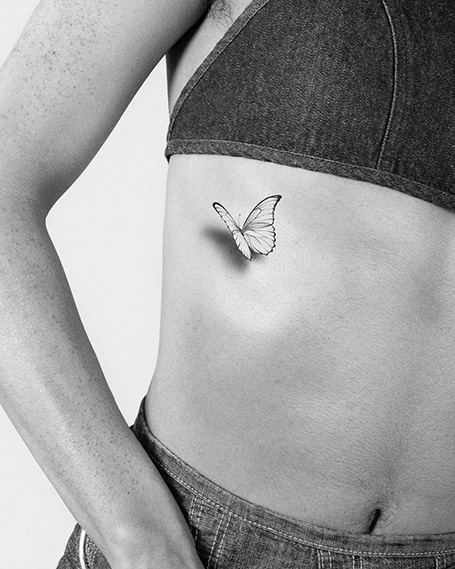 14. Dragon Temporary Tattoo
Dragons are ideal for body art. They are powerful creatures associated with wisdom, power, and fearlessness. They have featured heavily in legends and folklore with different meanings in the East and West. In the West, they are portrayed as evil and greedy, whereas in the East, they are respected beings that represent prosperity and protection. The beauty of temporary dragon tattoos is that they will fade gradually as your skin regenerates. This lets you try out multiple designs, allowing you to choose a specific style or combine several images to achieve your desired look.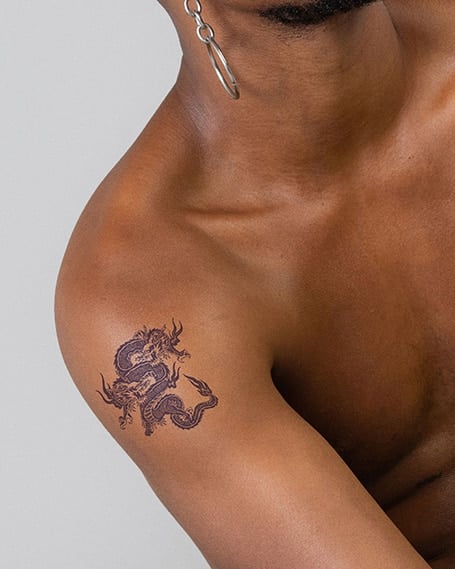 15. Temporary Snake Tattoo
Snakes make for interesting and sometimes menacing temporary tattoos. If you choose something that depicts the snake showing its fangs, this could be a way to instill fear in others or show that you are not to be messed with. Or you could opt for a more delicate approach, focusing on the snake surrounded by nature. There are many great options, letting you find something that best reflects your thoughts and feelings. Another reason a snake tattoo is an excellent choice is that it is associated with life, death, and rebirth; if you are a deep-thinker, this could get you contemplating your existence.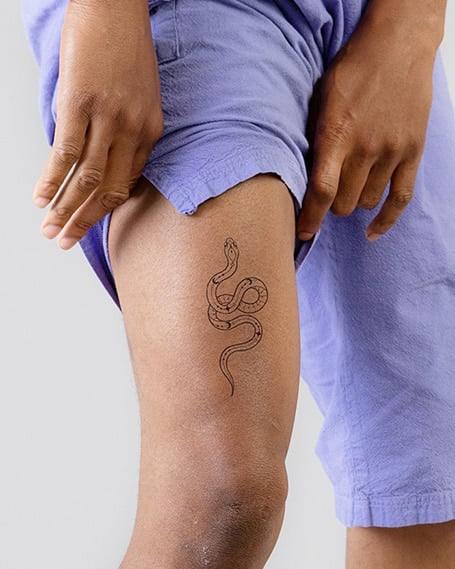 16. Skull Temporary Tattoo
The skull is a universally recognized symbol of death and represents the balance between life and death. Choosing a temporary skull tattoo could be because you want to make a subtle statement about your thoughts and feelings. Or perhaps you are going through a transitional period in your life and want your piece to reflect this. There are multiple skull designs to choose from, including ones that have other imagery, such as a lightbulb or a rose; this will add to the overall meaning and give it a more delicate finish.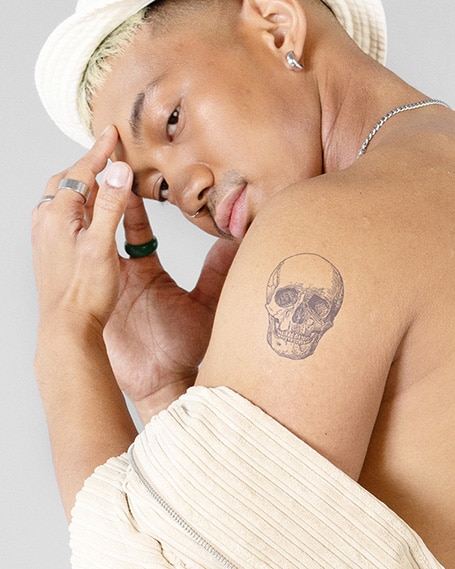 17. Owl Temporary Tattoo
The owl is associated with wisdom and mystery and is seen as a messenger between the living and the dead. The bird represents different things to various cultures, and your chosen owl tattoo can reflect where your inspiration has come from. A temporary tattoo is a wonderful way to try out one, or multiple pieces, letting you experiment with different placements. It is also a low-cost alternative to getting permanent body art and an exciting way to change your appearance.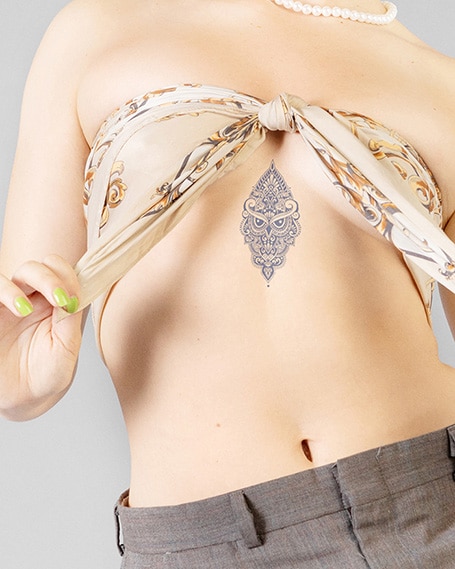 18. Wave Temporary Tattoo
Do you want to remind yourself to relax and go with the flow? Maybe you take comfort in the ever-changing motion of the waves, or you feel at peace when in the water? There are many reasons to choose a wave design, and it makes for a great temporary tattoo. It can also be a way to celebrate nature and the balance between its beauty and power. Or, if you are interested in horoscopes, this could represent one of the water signs.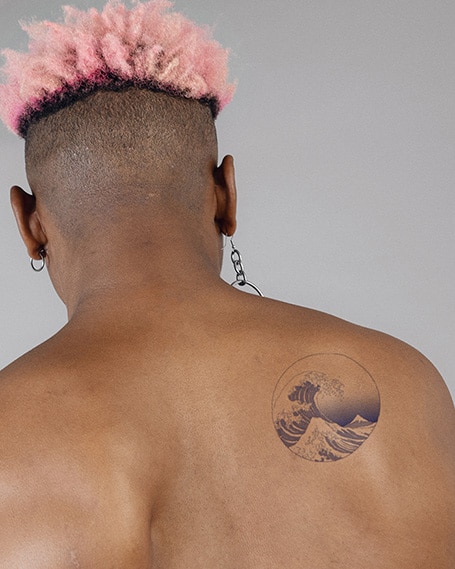 19. Scorpion Temporary Tattoo
Scorpion tattoos are often inked as a warning to others. It can have an intimidating appearance to instill fear in others or show that you are tough and powerful. There is no denying that wearing a scorpion design on your body can make a statement, and it is an excellent choice for anyone who wants an eye-catching temporary tattoo that can make a subtle comment about their thoughts and feelings. Choose to place it somewhere visible and enjoy the attention that will come your way!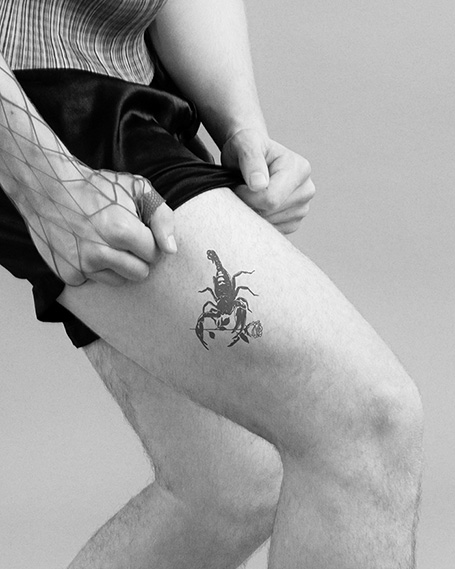 20. Sun and Moon Temporary Tattoo
The sun and moon tattoo represent balance and duality. Both are positive symbols of life, growth, and truth, and getting a design that combines them can make for a beautiful and thought-provoking piece. It is also ideal for someone facing challenges and reminding themselves of their strength. For others, the sun and moon are associated with femininity, masculinity, and good and evil. Find the meaning that appeals to you most, and pick a temporary tattoo that lets you express this.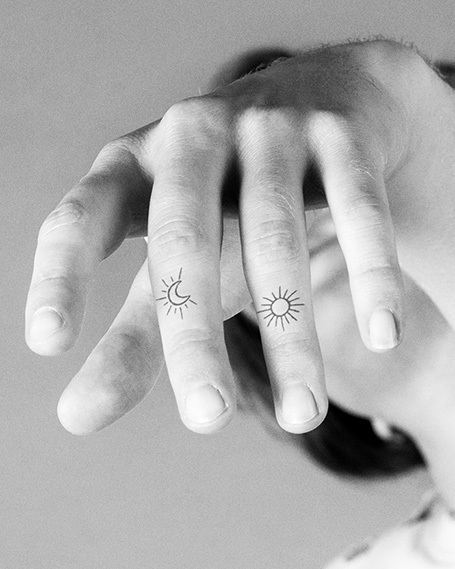 21. Underboob Temporary Tattoo
Underboob tattoos are an excellent location for women who want body art that is sexy and cool. It is a spot often reserved for meaningful tattoo designs because the placement can be particularly painful because of the thin skin and sensitivity of the area. That said, when choosing a temporary tattoo, you eliminate the pain factor, and this can let you get more creative with the pieces you choose. For example, you are not restricted with size or detail because you do not have to sit for a lengthy and painful tattoo session. It is also a great way to experiment with different options and determine if you may wish to get inked permanently in this location in the future.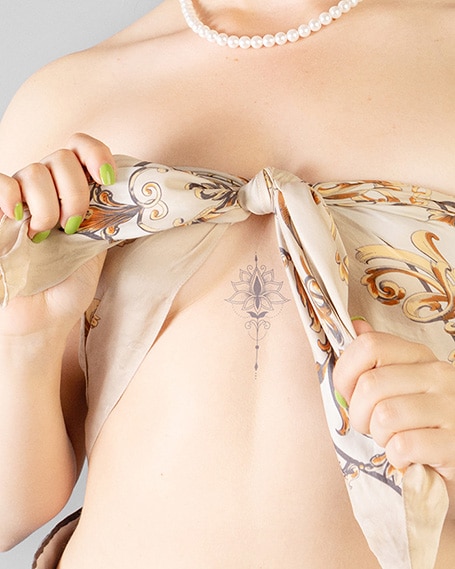 22. Ankle Temporary Tattoo
The ankle is a popular location for women to get body art. This is because designs here often look pretty and delicate. The ankle is best for smaller and less detailed pieces because there is limited space. It can be a painful location because of the thin skin, lack of muscle and fat, and proximity to bone, and for some, this could be enough to put them off getting inked here. An excellent alternative then would be a temporary ankle tattoo that lets you make use of the placement without feeling any discomfort.
23. Temporary Dinosaur Tattoo
Dinosaurs are associated with strength and the past. For some, this is a way to contemplate our existence and remind us how nothing is permanent. Or that even the most powerful can fall. There are realistic designs to choose from or cute, cartoonish images, depending on your preference. Your temporary tattoo can be of your favorite dinosaurs, with popular choices including the Tyrannosaurus rex, Triceratops, and Stegosaurus.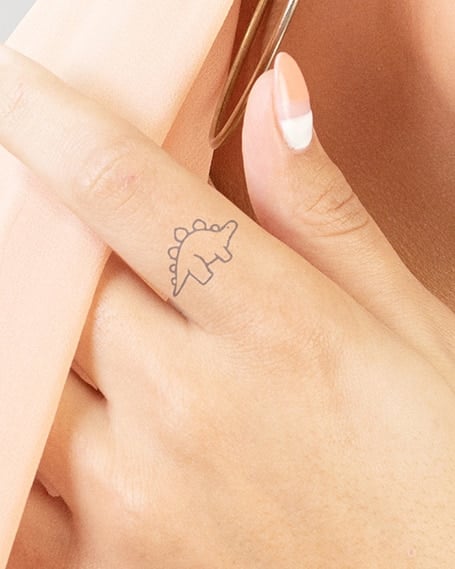 24. Mushroom Temporary Tattoo
Is a mushroom your favorite snack? Then maybe you want to get a temporary tattoo of it. This may seem like a random choice of body art, but the great thing about tattoos is that they can be anything. It is a way to express yourself and share the things you love. You also wouldn't be the first to get inked with a mushroom, and it is also associated with power and strength; think back to some of the video games you may have played as a child, and there is a good chance you had to eat a mushroom for extra life or energy.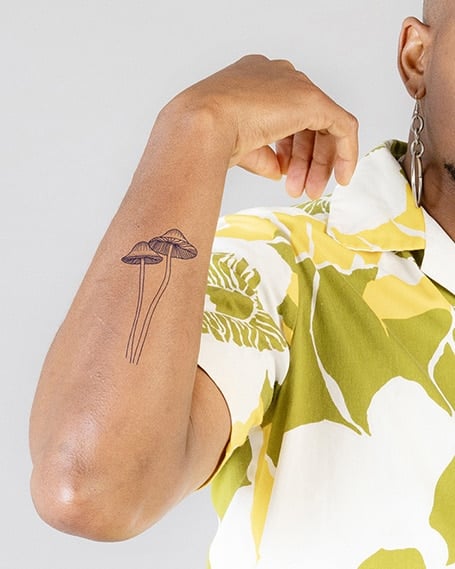 25. Temporary Eye Tattoo
There is a saying that the eyes are the windows into our souls. In addition, the eye is associated with power, foresight, protection, and mystery. There are many different designs to choose from, including realistic portrayals of the human or animal eye. There are also symbols made using the eye, for example, the evil eye tattoo, a talisman to ward off evil and safeguard the wearer from those who mean them harm. Maybe your temporary tattoo shows others that you are watching them and the decisions they make. Or perhaps it will remind you to trust your intuition.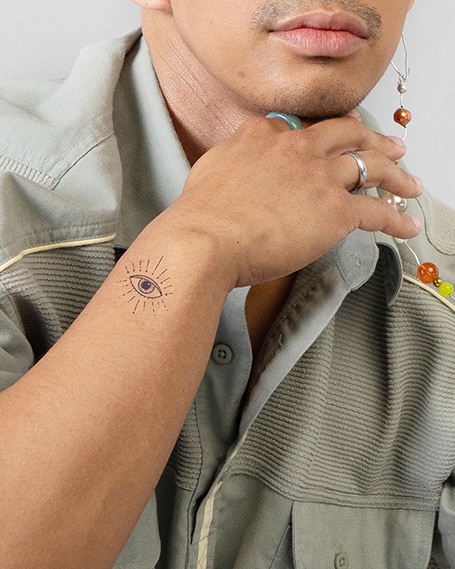 26. Compass Temporary Tattoo
The compass is a navigation device that has been used for hundreds of years. It is associated with guidance, perseverance, and adventure. Travelers and explorers have used the instrument to help guide them and find their way. This strong symbolism translates into a compass tattoo design. It could also be a way to remind yourself of the beauty of taking unexpected paths and making decisions outside of your comfort zone. There are several options, including a simplistic representation that reflects North, South, East, and West. Or you could find a temporary tattoo design that resembles an old-timey compass.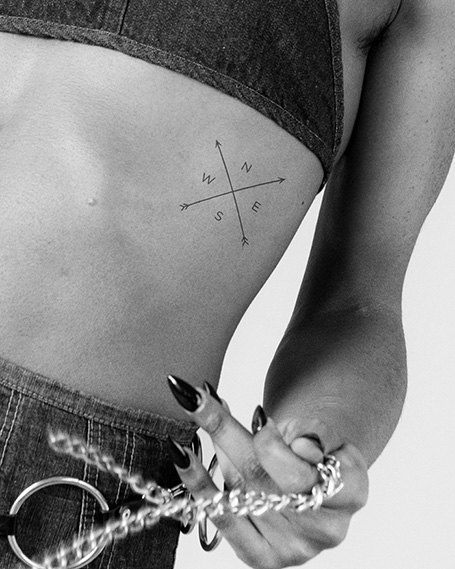 27. Sunflower Temporary Tattoo
Flower body art is popular because it is beautiful and symbolic, and each bloom has a different meaning associated with it. The sunflower is one of the most striking flowers because of its vibrance, but it also represents positivity, joy, hope, and devotion. If these qualities appeal to you, then getting a temporary sunflower tattoo is a wonderful choice. You have no restrictions with where you can place it because of two things; the process involves no pain, and it is temporary. This allows you to consider locations you usually disregard, such as the ribcage, hand, underboob, spine, and even the neck.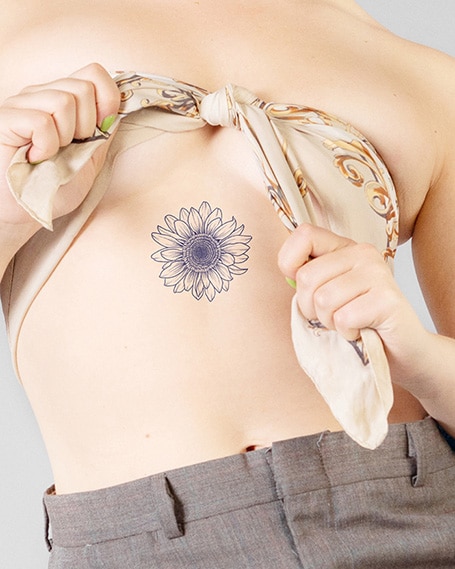 28. Temporary Tree of Life Tattoo
The Tree of Life is an ancient symbol filled with meaning. It represents wisdom, the balance between life and death, strength, and so much more. This design has held importance in several cultures, and although representations vary slightly, it is generally depicted with the branches and roots entwined in a circle. Not only is this a meaningful choice for body art, but it is also a visually striking one with a lot of detail. It can remind you of the importance of laying strong foundations and nurturing relationships to grow stronger and wiser.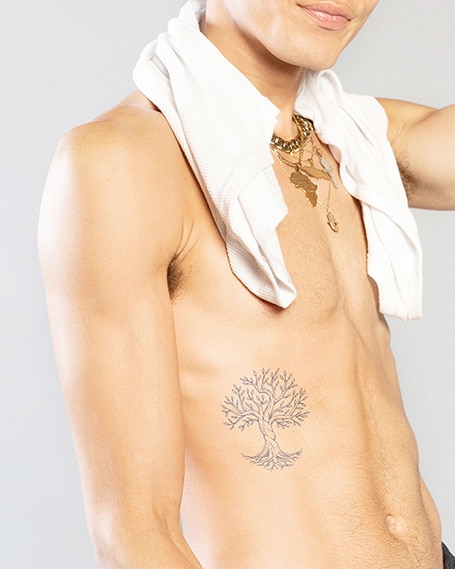 29. Temporary Swallow Tattoo
The swallow is a bird that has long been favored for body art. It was a popular choice among sailors, who got it inked to represent their sailing experience. The swallow represents exploration, travel, direction, and guidance in modern body art. The image is commonly created in the Sailor Jerry and American Old School style and traditionally placed on the neck, hands, or chest. You can also add two temporary tattoos, using one on each hand or each side of the chest.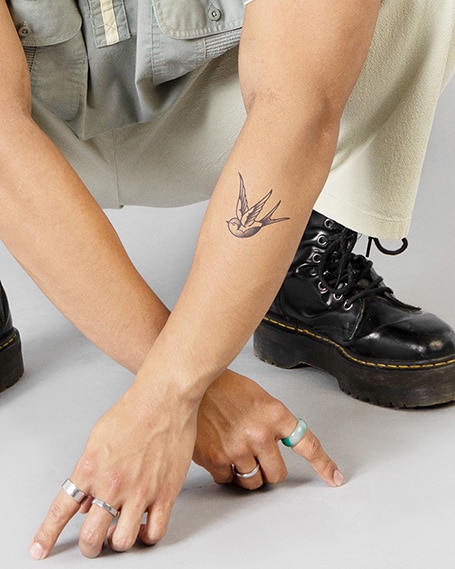 30. Temporary Mandala Tattoo
Mandala tattoos are for those who prefer a more abstract approach to body art. They are created using shapes and symbols to form a pattern. The mandala is sacred with great cultural significance, but in recent years it has also become an inspiration for body art; the topic of whether this is offensive has become a hotly debated one. Modern interpretations feature patterns that take the shape of images such as flowers or animals, and there is a wide variety of designs to choose from. They can make you feel a sense of calm when looking at them, and each piece tends to be incredibly detailed. Getting a mandala inked can be a painful and time-consuming process, so it is not hard to see why someone would be drawn to the idea of a temporary tattoo.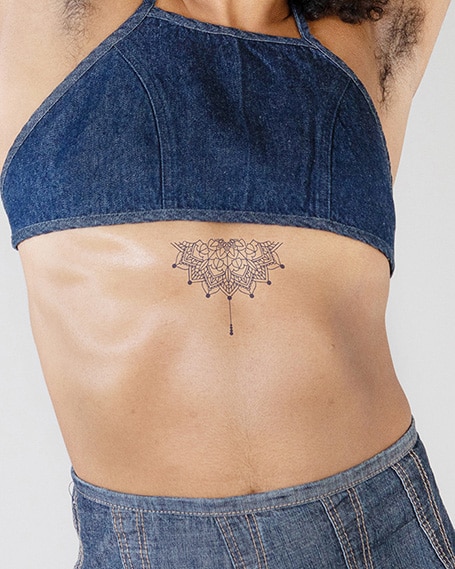 31. Temporary Turtle Tattoo
A symbol of longevity, wisdom, and the ocean, the turtle may be the inspiration you have been looking for for your body art. It is a creature that is often featured in tribal tattoos, and there are a variety of designs to choose from, from simplistic to realistic. You can find a temporary tattoo that appeals to you the most and follow the instructions on the kit for how to apply it. Your piece will fade gradually as the skin regenerates.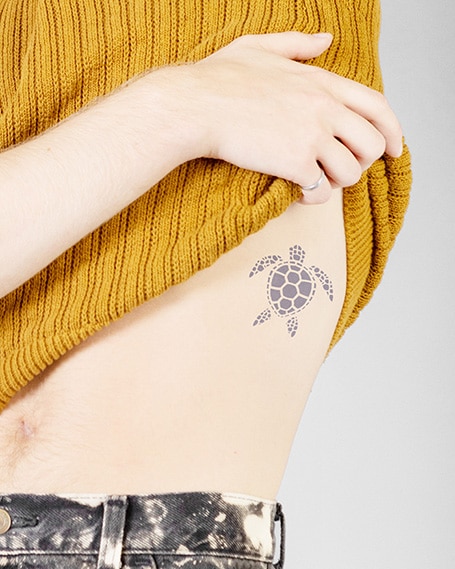 32. Knuckle Temporary Tattoo
Knuckle tattoos are traditionally reserved for tough guys and the rebellious. This is because of the visibility of the body art, making it a controversial placement. It is also a spot that hurts because of the proximity to bone and thin skin. If you have always dreamed of rocking knuckle ink but feel the real deal would not suit you for whatever reason, then a temporary tattoo is a nice alternative. Have fun by choosing designs that reflect your personality and make a statement.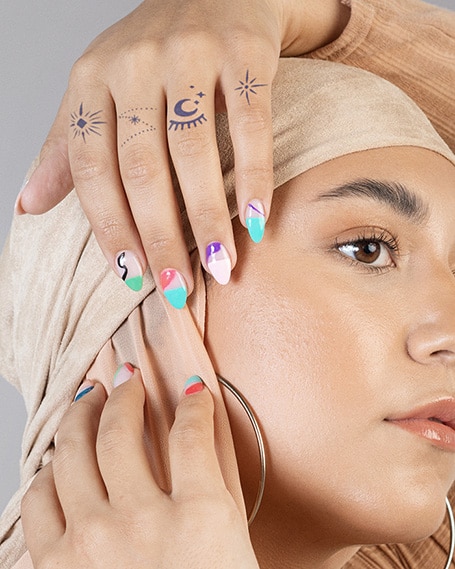 33. Sun Temporary Tattoo
Life on earth could not exist without the sun. For this reason, it is a powerful symbol of light, energy, and warmth. It is not hard to see why people are drawn to body art that has been inspired by the sun, and there are several designs to choose from. Some people wish to combine the sun and moon to represent balance and duality, while others prefer to show the sun in a tribal pattern or with human features. A sun tattoo is good for men and women who want a simple but meaningful design. Place it somewhere you can show it off or look at every day, at least until it fades away.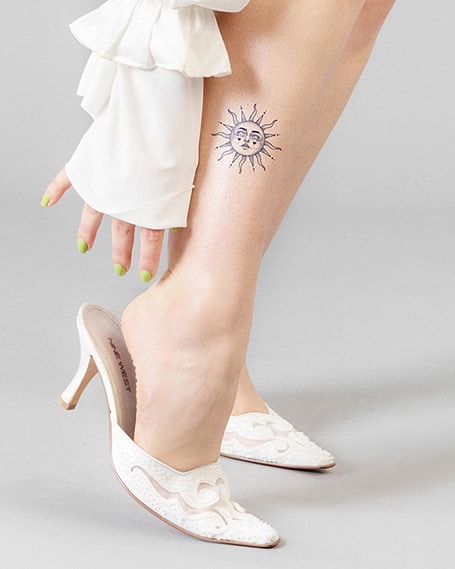 34. Angel Wing Temporary Tattoo
Angel wings are associated with innocence and goodness. Why not pick an angel wing tattoo if you feel you have these qualities? In addition, this could also be a piece to celebrate your faith and devotion to god. Or remind yourself that someone in your life is watching over you and protecting you. Wings are typically placed over the shoulder blades to look as though you are the angel, but small and simple pieces can be anywhere on the body. Try out the wrist or forearm if you want to show off your temporary wing tattoo.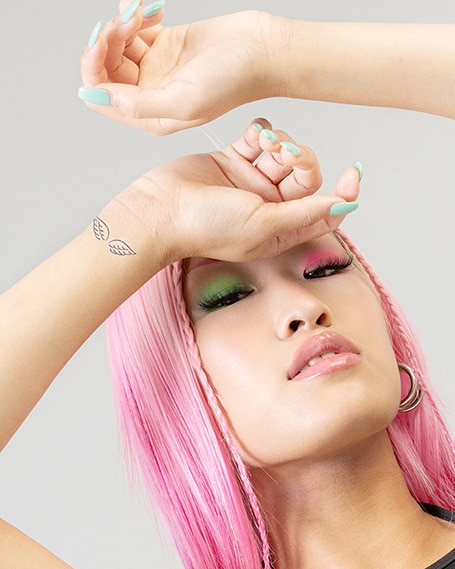 35. Elephant Temporary Tattoo
The largest mammal on earth is the elephant, and it represents much more than sheer size. The appeal of an elephant tattoo is that it is a beautiful and majestic creature, and the symbolism associated with it; is wisdom, loyalty, and prosperity. For some, it could also be a way to celebrate female strength as each herd has a matriarch. Whether you opt for a temporary design that is a realistic portrayal of this mighty animal, or a cute cartoonish version, the choice is yours!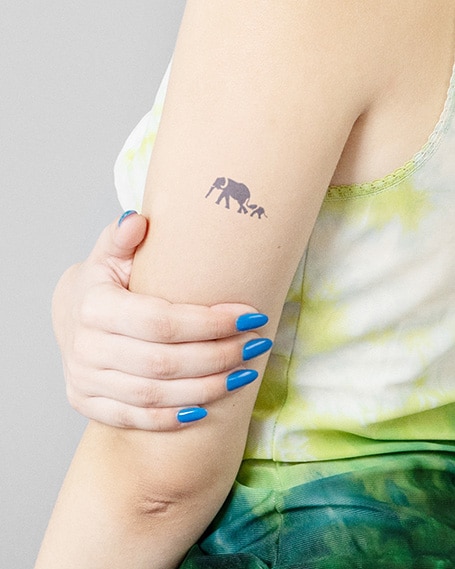 36. Spine Temporary Tattoo
Spine tattoos are a placement that is edgy and cool. This is not a location people typically choose to get inked for their first tattoo because it is painful, and there could be complications involved with a design here; if you need back surgery or an epidural, it could cause a risk of infection. For temporary tattoos, there is no hassle, no pain, and they are affordable, making them an ideal choice for someone who wants artwork on their spine. Yes, it will not last forever, but you can have fun while it does.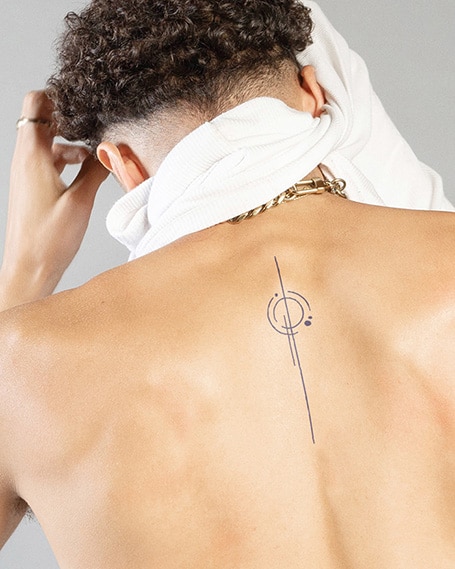 37. Hand Temporary Tattoo
One of the controversial placements for body art is the hand. Hand tattoos are loved by those who want to show off their artwork as it is an incredibly visible location; this is both a pro and a con. The downside to ink that cannot be easily covered is that there is still a stigma attached to tattoos, and, unfortunately, it can affect your job opportunities. They also hurt because of the nerve-endings, proximity to bone, and thin skin in the area. Does this put you off? Well, if you love the rebellious feel of hand tattoos but aren't yet ready to commit to the real deal, let this be your alternative.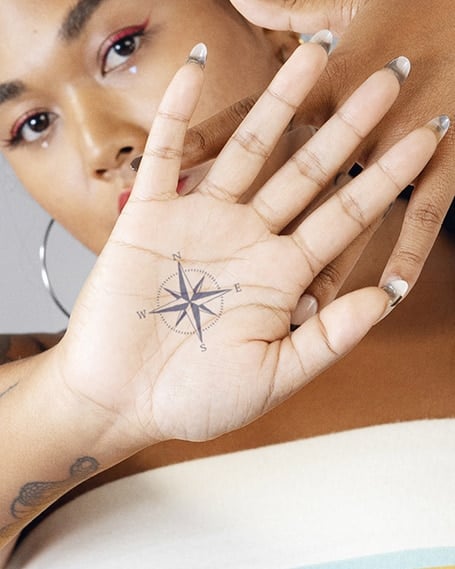 38. Quote Temporary Tattoo
If you want to share your thoughts and feelings with the world, say it with a quote tattoo. There are so many fantastic quotes to be inspired by; it could be a positive and inspirational piece that inspires you to be better and do good. Or it could be something a famous person has said that makes you contemplate life and the impact you have on others. You can take your quote from anywhere, and it can vary in length; perhaps you only need a sentence, or maybe you want an entire paragraph. When picking a temporary tattoo, these quotes could be already chosen for you, making the process easier, or you can opt for a custom design.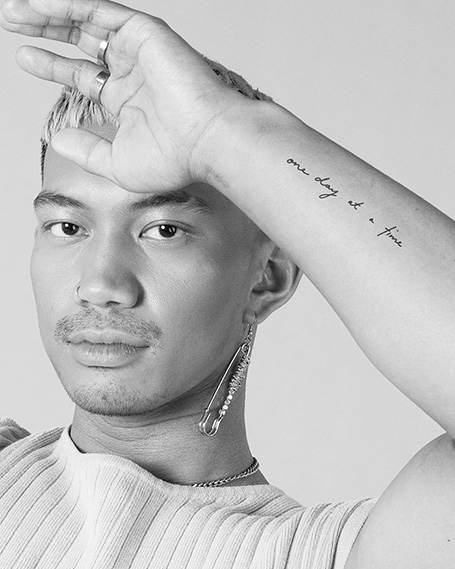 39. Flower Temporary Tattoo
Flower tattoos can be pretty and delicate or bright and bold. Flowers represent growth and beauty, and there are many species to choose from, with each different flower having varying symbolism associated with it. Temporary tattoos look incredible in floral designs and can be large and cover a significant area on the body or small and simple. You will not be restricted with placement because this is not a long-term commitment, and you will also experience no discomfort. Who doesn't want that?!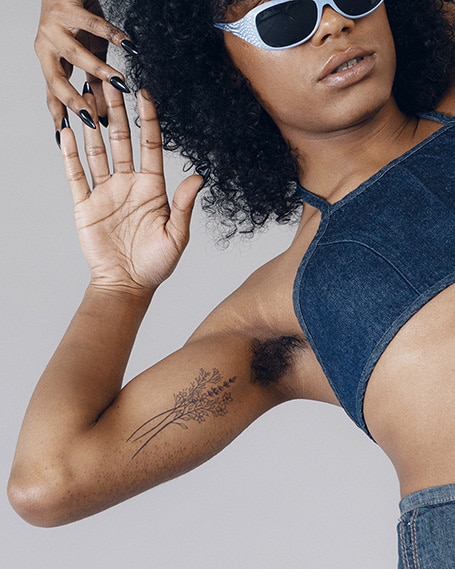 40. Mountain Temporary Tattoo
Mountains can represent travel and adventure or have a more profound association, including resilience, endurance, and strength. Choosing a temporary mountain tattoo can help you express yourself and let you have fun with your appearance. Perhaps you want a reminder to get outdoors more often and embrace new things? Or maybe you want a piece that lets you know that even when life is challenging, and it seems like an uphill battle, you can reach the top.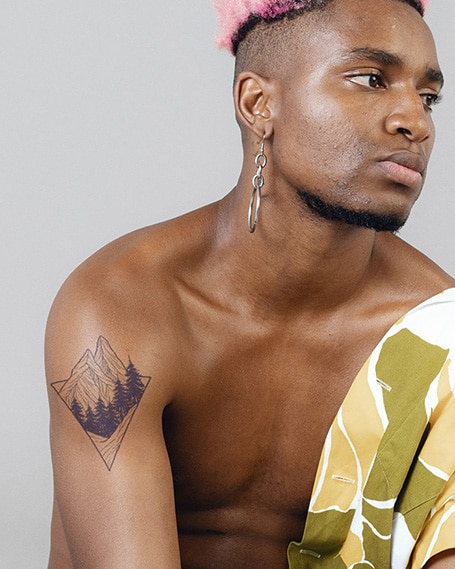 41. Rose Temporary Tattoo
The rose makes for a gorgeous design because it is pretty and symbolic. It is associated with balance, growth, beauty, and pain. Rose tattoos come in a wide range of designs and often include other images such as butterflies, skulls, and snakes. There are also various colors to choose from, with slightly different symbolism. For example, a red rose represents passion, while a white rose is associated with innocence. A temporary tattoo can be placed anywhere on the body and will be an excellent practice run if you decide to get the real deal later.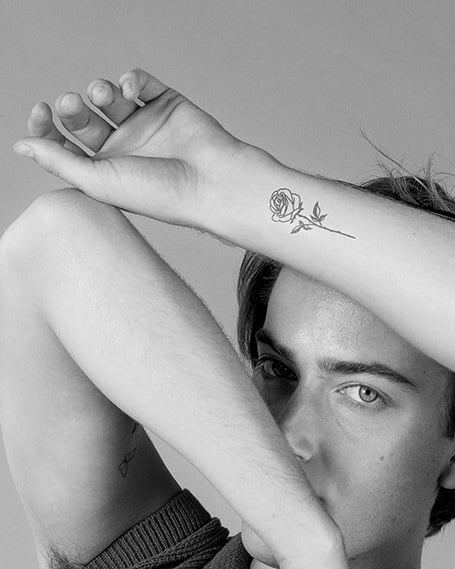 42. Crown Temporary Tattoo
Do you think of yourself as a king or queen? Why not let that reflect with your body art. A crown tattoo is associated with royalty and power and is a popular choice of inking. It is also often inked as a matching couple idea and is a fun way to show what your partner means to you. When deciding on the placement for your temporary tattoo, you may wish to choose somewhere visible and show it off. It could also be a way to remember that you can achieve great things in life. Or to stay focused and exercise self-control.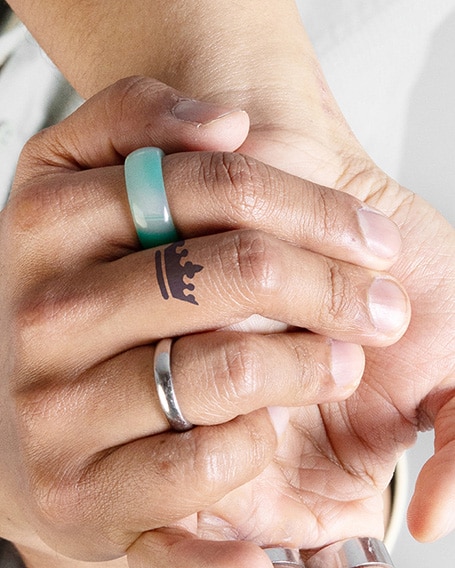 43. Music Temporary Tattoo
Music tattoos can be as simple as a single music note or as detailed as an entire sheet. It could be of an instrument or include lyrics from your favorite song. Music moves each of us differently, but our lives would not be the same without it. It is appealing to get inked with something meaningful to you, which is why music has inspired body art. Temporary tattoos can also let you express yourself, even if they are not there to serve as a permanent reminder of why you got your piece done. Sometimes enjoying something for only a brief while can be just as impactful.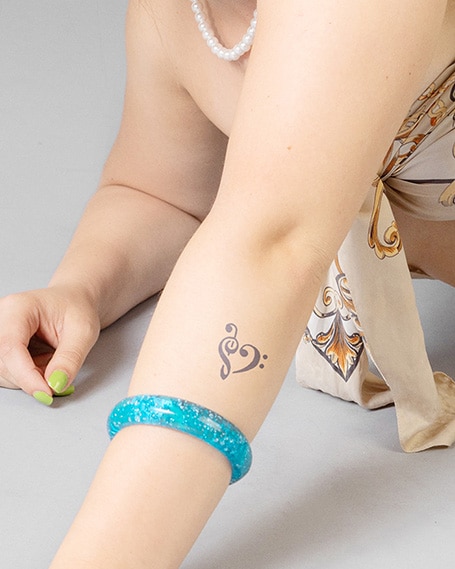 44. Shoulder Temporary Tattoo
The shoulder is an ideal place for the temporary tattoo of your choosing. Shoulder tattoos look great on men and women, and for many, this is one of the most flattering parts of the body. Drawing attention to it is a great idea, and the size and shape give you a wide variety of options for what you can choose to get inked. These could be larger, more detailed options or simple pieces that take up a small amount of space. Pick your favorite design and wear it here!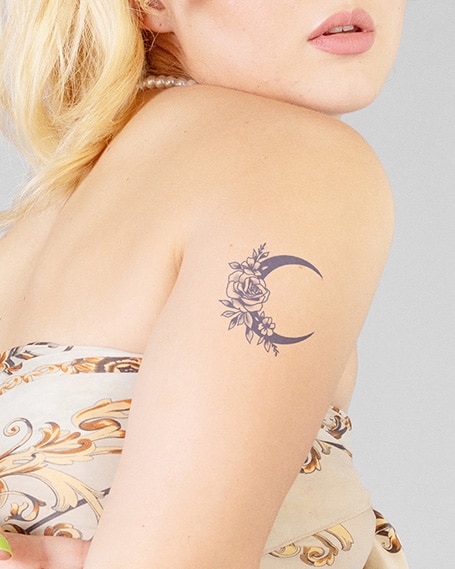 45. Semicolon Temporary Tattoo
The semicolon is much more than a punctuation mark and has been used to represent mental health awareness. It is a way to show that your journey is not over yet and that you have overcome struggles. You have a story to tell. You are strong, resilient, and beautiful. In addition, the semicolon can show that you are standing in solidarity with others or raising awareness for mental health. Your temporary tattoo design may also include other images, combined with the semicolon, such as a butterfly or rose.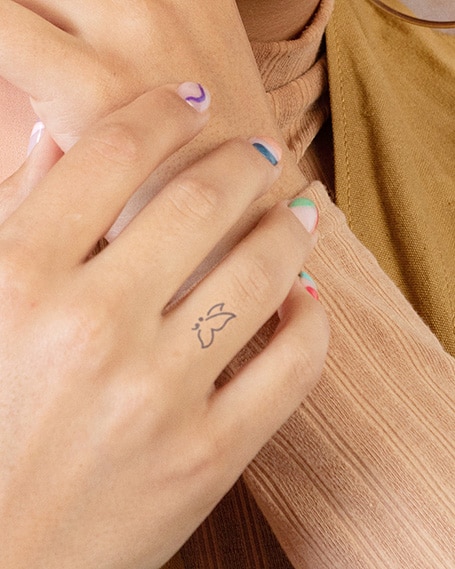 46. Yin and Yang Temporary Tattoo
The yin and yang symbol represents duality and two opposing forces. This can include masculinity and femininity, good and evil, and light and dark. Of course, this is a simplified version of the meaning behind this symbol, but you can see why it would make for great body art. The design has also been adapted and sometimes includes other imagery, including koi fish, sun and moon, dragons, and wolves.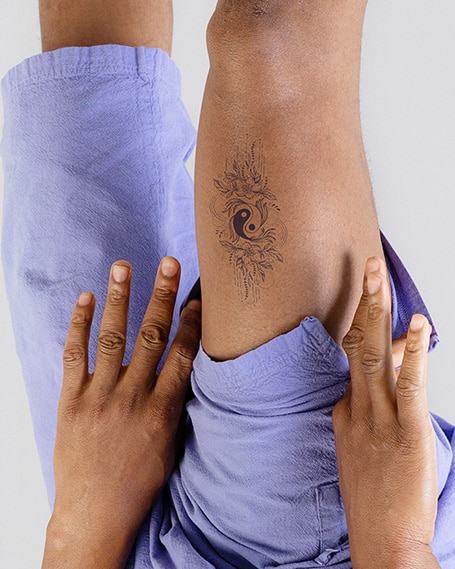 47. Eagle Temporary Tattoo
The eagle is a majestic bird associated with courage, bravery, and wisdom. It had great importance for ancient civilizations and many tribes, who have believed they could channel the bird's strength in battle. It is also significant to Native Americans who have used the feathers for decorative and ceremonial purposes. Or your piece could be linked to patriotism and pride, as the Bald eagle is the United States national animal. If any of these meanings appeal to you, getting an eagle tattoo is a great choice.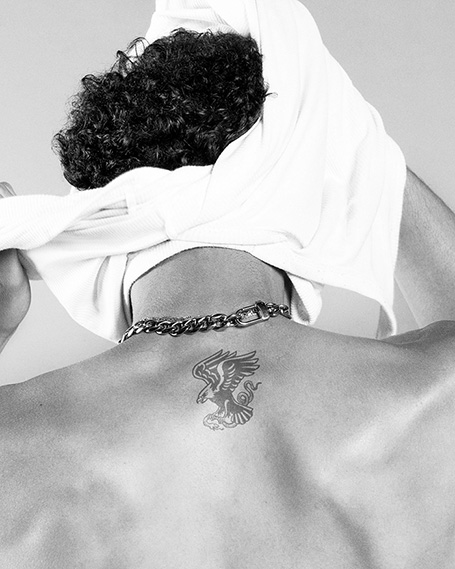 48. Nature Temporary Tattoo
If you love being outdoors or feel at peace when surrounded by nature, let this inspire your temporary tattoo. Nature can include many things, from animals and plants to a mountain range silhouette or an image of hiking boots and a camping tent. The fact that there is so much room for interpretation makes each piece unique to the wearer and lets them find their meaning attached to the image. If you choose a long and narrow piece, consider the arms or legs as placement. If it is a rounded shape, perhaps the shoulder or spine are the perfect locations.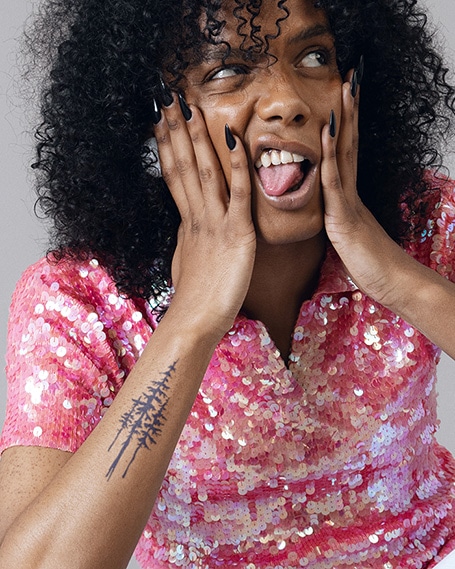 49. Star Temporary Tattoo
Get a star tattoo to remind yourself that there is light in the darkness and good to be found everywhere. The design can be as simple as a five-point shape or a complex constellation, but the meaning associated with stars tends to be profound. Often linked to guidance, direction, and hope, wearing a temporary star tattoo could be the motivation you need to stay focused on your goals and reach your full potential. Although it won't last forever, having it on your skin for one to two weeks will be worth it.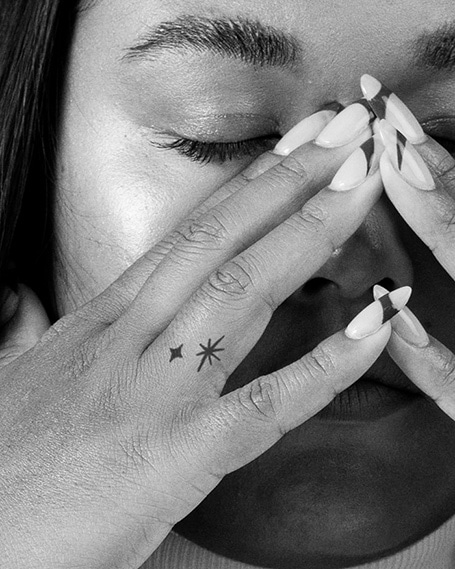 50. Geometric Temporary Tattoo
Geometric tattoos give you a design that is expressive and modern. They can be simple or detailed, creating an abstract image with lines and shapes or taking the form of something recognizable like a flower or animal. If you want body art that is unique and open to interpretation, this is a fantastic choice. Each design can make you feel a different way; perhaps that is a sense of calm or stillness.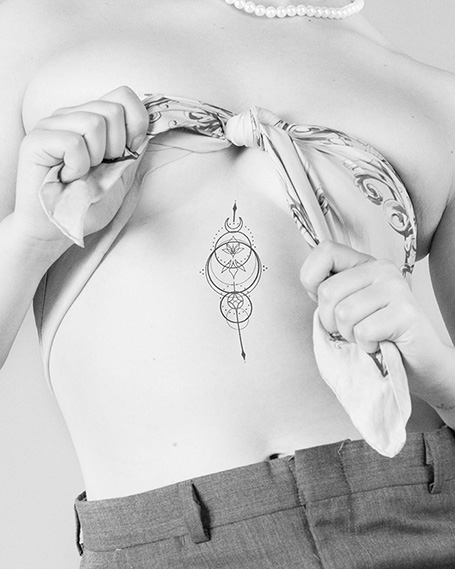 51. Simple Temporary Tattoo
If you prefer a more minimalistic approach to body art, opt for a simple tattoo. The appeal of these designs is that they focus on the basic form. It can be a tiny heart or meaningful symbols like the semicolon or forward arrows. You can also place them anywhere on your body as the simplicity, and often the small size, make them incredibly versatile and usually discreet.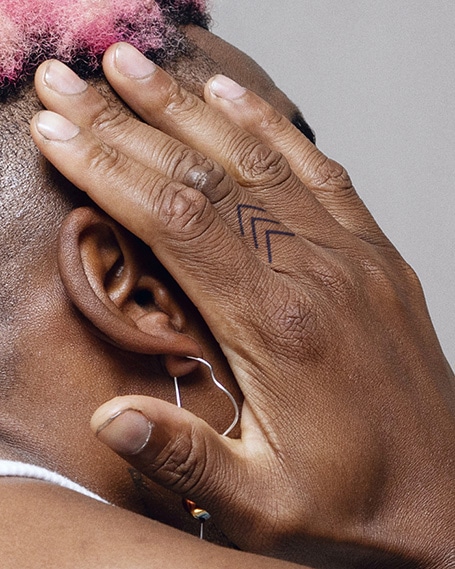 52. Temporary Anchor Tattoo
You can face everything and remain steadfast. This is a concept that the anchor is associated with as the large metal object is used to keep vessels firmly in place and stabilize them. This stops them from drifting in currents and represents calmness and stability. An anchor tattoo design is symbolic and not just for those who spend their lives at sea. That said, it does have special significance for seamen and can represent their career and accomplishments.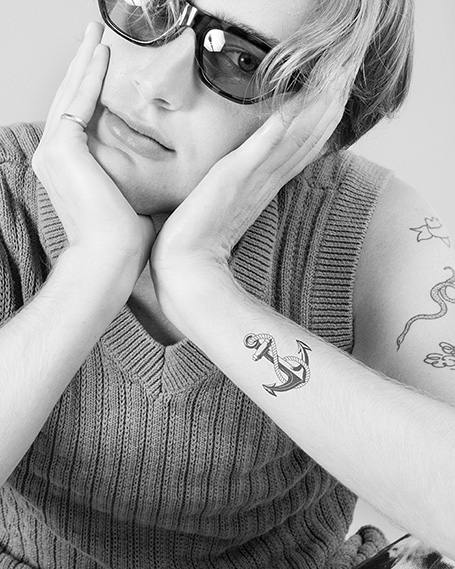 53. Temporary Line Tattoo
Line tattoos are often minimalistic and created without shading or color. The appeal is simplicity, and these pieces can make you feel calm and still. They are not cluttered or overly detailed, focusing on the basic elements. Perhaps this is something we should all do with our lives; free our minds and shift focus to the truly important things. Your choice of design can say a lot about you, though. For example, if it is the image of a woman's face, this is a way to celebrate power and femininity.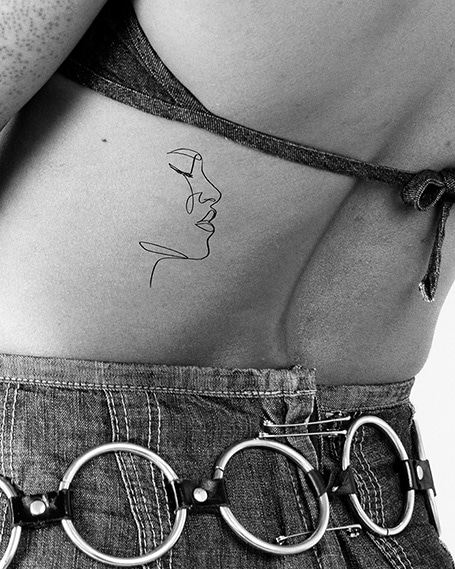 54. Infinity Temporary Tattoo
The infinity tattoo symbol represents the concept of "forever" or endless opportunities. For some people, this focuses on love and is a way to celebrate the bond you share with a loved one. Perhaps you believe your relationship is so strong and unbreakable that it will last your entire life. Or maybe you feel so bonded with someone that you believe your souls are intertwined. This is also a sweet option for matching couple tattoos and can show each other your commitment, even if the temporary tattoo won't last more than two weeks.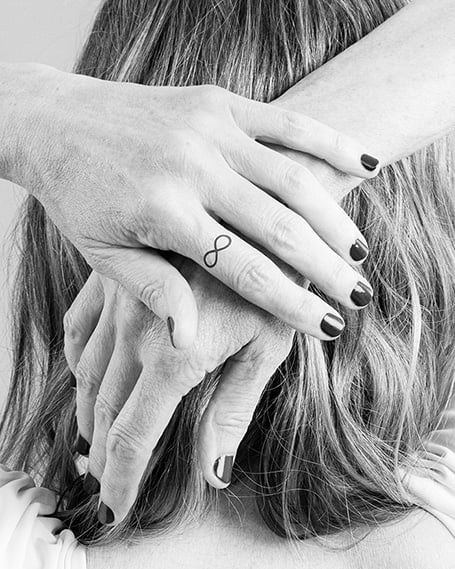 55. Heartbeat Temporary Tattoo
The heartbeat represents our lifeline, and opting for a design around this makes a powerful statement. It can celebrate all the things you have to live for, or it could honor someone you have lost. This is also a way to show connectedness, whether with a loved one or another aspect of your life. Not all temporary tattoos are made equally and before choosing the right one for you, consider whether it uses a skin-safe formula and how long it will last. You also want it to fade naturally without peeling in places, which can look tacky.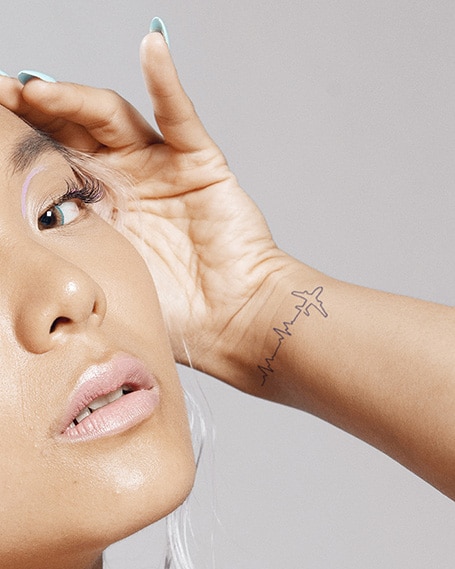 56. Cat Temporary Tattoo
The saying is that a dog is man's best friend, but plenty of cat lovers out there would disagree. If you have a special feline you would like to honor or love the qualities associated with cats, this is an excellent choice for your temporary tattoo. Cats represent grace, agility, and resilience. They are also linked to mystery and magic. For some, a black cat means bad luck, which is the opposite for others. Find the meaning you love the most and the design that brings a smile to your face.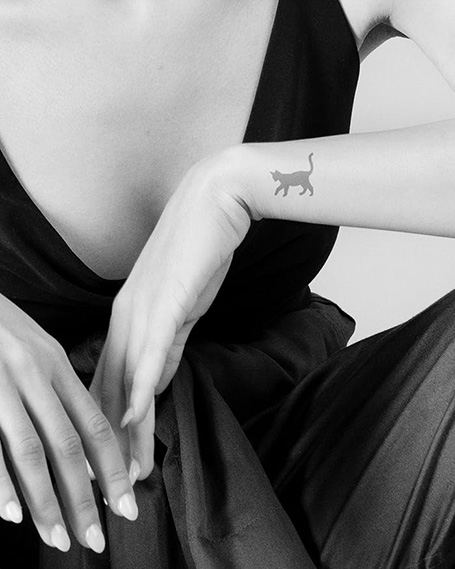 57. Leg Temporary Tattoo
One of the best locations for body art is the leg. Leg tattoos are popular choices for men and women because they provide you with a large area of skin. This lets you get creative with your design and the placement; maybe you want it to wrap around the limb, focus on only a small area, or use the entire leg for detailed and striking artwork. Temporary options are excellent to test the waters, deciding if you want to get a permanent inking. Or, it could be a way to express yourself and alter your appearance.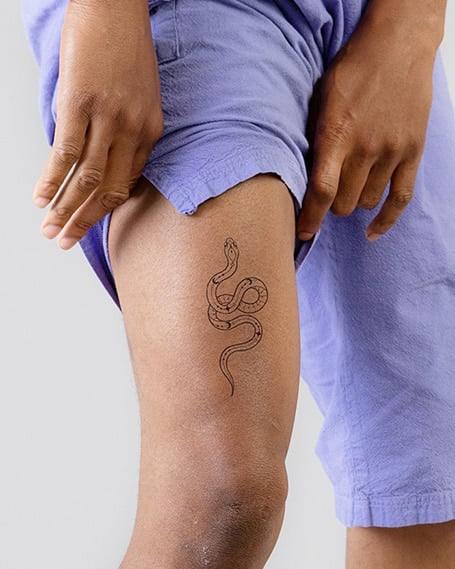 58. Temporary Lotus Tattoo
The lotus is a beautiful flower that grows in unfavorable conditions. Emerging from muddy waters, the bloom is often a symbol of resilience and a reminder that there is beauty to be found even during challenging times of our lives. Lotus flower tattoos also represent growth and personal enlightenment and have a spiritual association. Your choice of temporary ink will look good anywhere on the body, and what makes this even more appealing is that there are several designs to choose from; this allows you to find the style that best suits you, such as a mandala or geometric.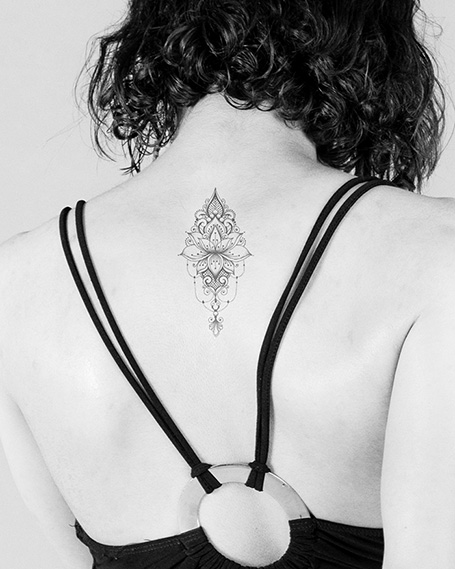 59. Palm Tree Temporary Tattoo
Palm trees can make you think of tropical holidays, adventure, and relaxation. If you are getting ready for an exciting trip that you have coming up or dreaming of the summer, why not opt for a palm tree temporary tattoo? Placing a cute tattoo design on your finger, wrist, forearm, or anywhere visible will let you look at it every day. This is the best option to fully enjoy your artwork before it fades away forever.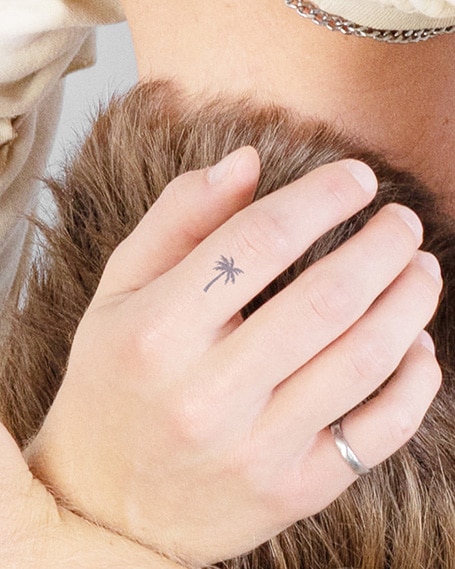 60. Thigh Temporary Tattoo
Thigh tattoos are versatile; they are easy to cover up or show off, and they give you a large area to choose detailed designs. It is also an attractive part of the body for men and women. Because the region, especially the upper thigh, is usually covered with clothing, it makes showing off your design a more intimate and special decision. For permanent tattoos, this placement is also one of the least painful, but you may still want to try a temporary design first to see if you like the look of it here.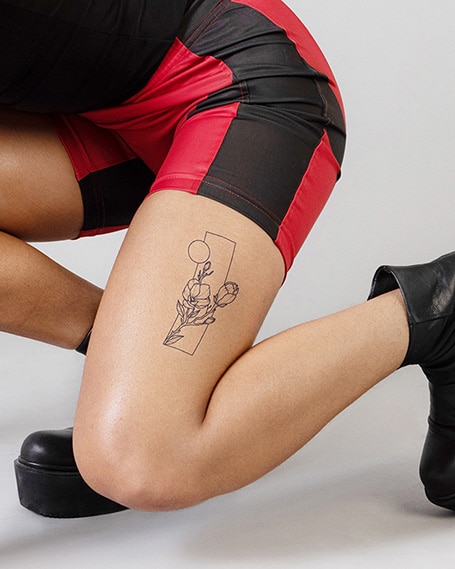 Temporary Tattoos FAQs
How long does a temporary tattoo last?
How long your temporary tattoo will last depends on the brand you choose. In general, they will last around one to two weeks. This is also dependent on your placement and activities. The length of time lets you determine if you want to get the real deal or enjoy having fun changing your appearance. A good quality temporary tattoo should fade naturally as your skin regenerates and not peel or become flaky.
How to apply a temporary tattoo
The temporary tattoo brand that you choose should come with a list of instructions on how to apply it. This may vary slightly from company to company, but it is generally a straightforward process. Make sure the skin is clean and dry first. Remove the foil from the one end of the tattoo and place the sticky side down onto your desired location. You can use a damp cloth to press it down. Some products do not need you to use water at all. Keep the tattoo on your skin for the length of time as stated by the instructions, anywhere from 30 seconds to 60 minutes.
How to remove temporary tattoos
To remove temporary tattoos, you can use an exfoliant to scrub the area. Several oils, like baby oil and olive oil, can also help clear it faster. You can use a cloth and warm water to clean the area after.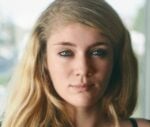 Cailyn Cox holds a degree in journalism and has been working with The Trend Spotter as a writer for over ten years. She has worked with some of the most prestigious women's and men's lifestyle publications. For her, writing is not just a job; it's a passion, which is why each article she writes is approached with such enthusiasm and dedication. She has extensive knowledge of hairstyles, tattoos, and beauty and has made a career out of creating informative articles that appeal to women and men of all ages.
SUBSCRIBE TO OUR NEWSLETTER
Subscribe to our mailing list and get interesting stuff and updates to your email inbox.