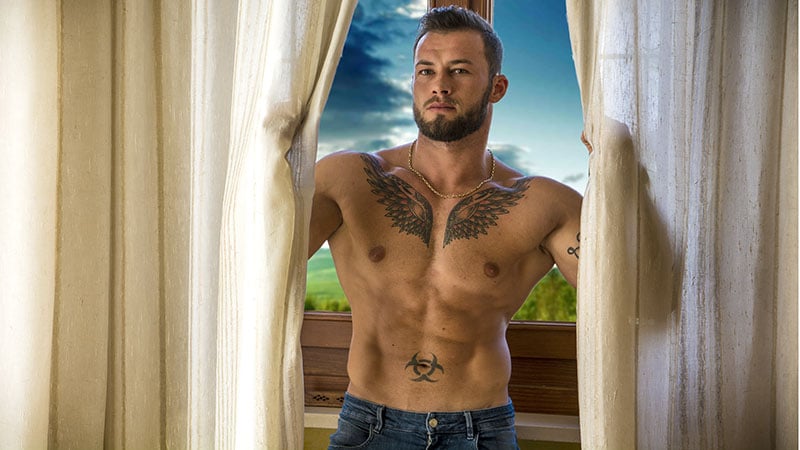 Angels are often associated with innocence and purity and are thought to protect mankind. For these reasons, images of these heavenly beings, specifically their wings, are a meaningful and popular choice for men to get inked. The various designs hold different meanings; for example, if you want to celebrate your faith, you could consider a cross and angel wing tattoo. Or maybe you want to honor a loved one who has passed? You can get inked with a design with a halo or their name. In terms of placement, there are also plenty of options; if you prefer something small and simple, pick the wrist or behind the ear, or go all-out with a full back or chest piece. Check out these cool and symbolic tattoos for men if you want to be inspired.
1. Angel Wings Back Tattoo
Undoubtedly, specific designs benefit from color, but sometimes all you need is black ink to make a statement. Angel wings tend to look more realistic when created in a single shade, especially when it's a large and detailed tattoo design. This would be a great way to go if you want to get your back or chest inked with this body art.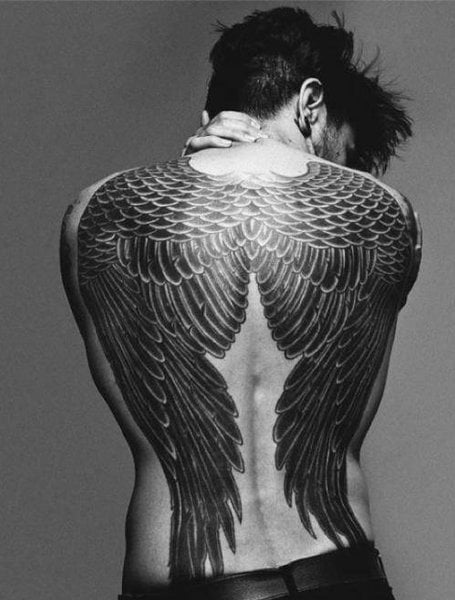 2. Angel Wings Chest Tattoo
Small, minimalist designs are not for everyone; for some men, bigger is better. That is why a chest tattoo is such a popular option; the placement allows for as much detail as you need, and symbols like angel wings will benefit from the shape of the chest. You can also cover up your ink whenever you want or show it off when you whip off your shirt. The only downside to this area? It's going to hurt because of the proximity to the bone. If you can handle the pain, though, it's worth it!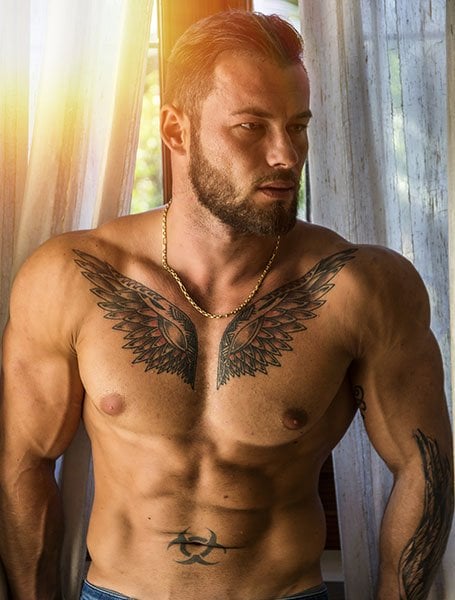 3. Angel Wings Arm Tattoo
When deciding to get a tattoo, the placement is just as important as the design. A back or chest piece is a good option for individuals who prefer a more discreet tattoo because it can be easily covered up. Alternatively, those who want to be able to view their ink daily will be drawn to more visible spots, like the arm. The location is a popular area for men and can even accentuate the muscles, but the best thing is that it is considered one of the least painful options to get inked.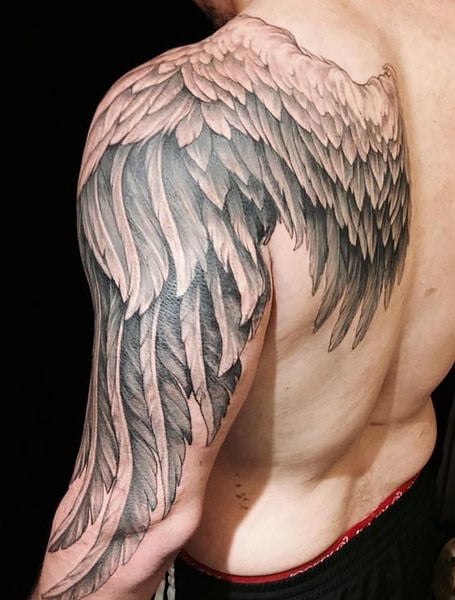 4. Angel Wings Behind the Ear Tattoo
Angel wings can represent hope, protection, and faith but can also be used to honor a loved one. These images take on many different meanings, depending on the design, allowing you to choose something special to you. That said, it's important not just the symbolism but also the placement of your chosen ink. An excellent option for men who want to show off their body art while still being somewhat discreet about it, can be done with a behind-the-ear tattoo. The area is relatively small, so designs are downsized, which is good because it is one of the most painful spots to get inked!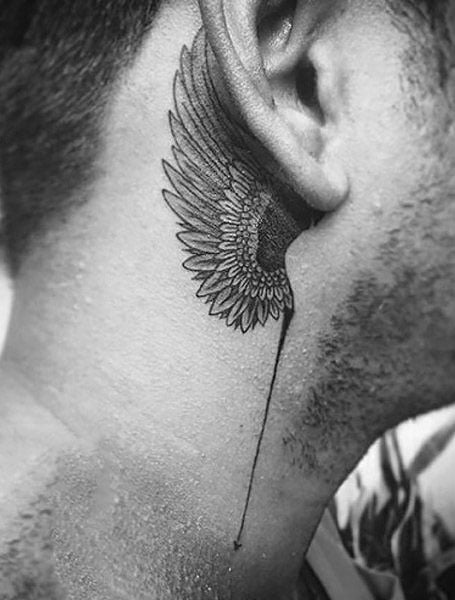 5. Angel and Demon Wings Tattoo
An angel and demon tattoo is often a battle between good and evil and could represent an internal struggle. When someone chooses to get the wings of these two beings inked, it is because they are contemplating light and darkness. This option can have some religious significance or be a more personal interpretation of how there can be both positive and negative qualities in each of us, and we need to find the balance. These pieces tend to make a statement when they are detailed and would be great as a back or chest tattoo.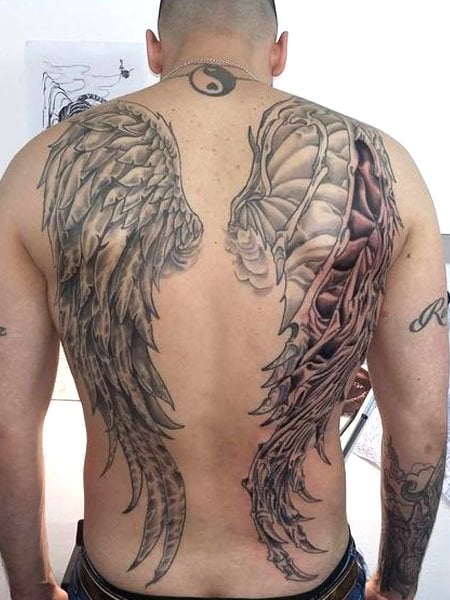 6. Angel Wings Small Tattoo
Worthwhile designs don't have to be extensive or detailed, and small and simple angel wing tattoos make just as much of a statement. The wing often symbolizes freedom and protection. It is an attractive option for a man who wants to honor his faith or the passing of a loved one. Although these designs can represent various things to different people, they are commonly associated with being remembrance pieces. Lastly, one of the best things about tiny tattoos is that they can be inked anywhere on the body, whether you choose your ankle or your finger.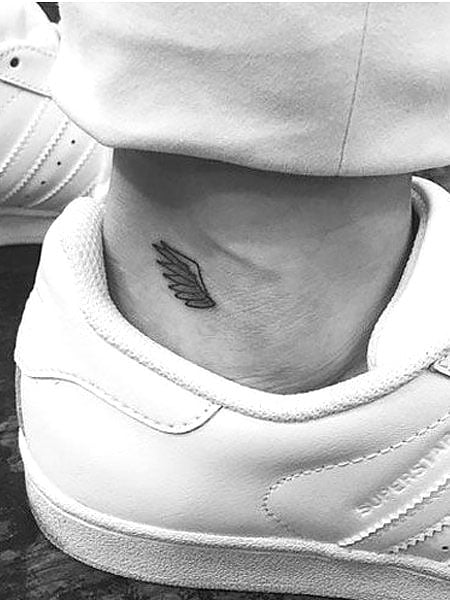 7. Angel Wings Name Tattoo
If you value your ability to choose who you want to share your affections with, then a heart and wing tattoo could be just what you need. Individually, these two symbols are most commonly associated with love and freedom, respectively, but when combined, it takes on a different meaning; free will and choice. These qualities can relate to your romantic life and remind you that you are in control of your relationships and heart.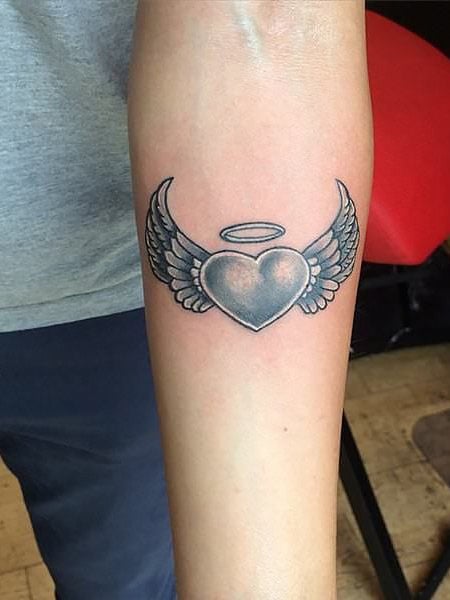 8. Angel Wings Name Tattoo
Combining a name or initial and an angel wing is a standard design. It is something that is often used to celebrate those you love or honor the deceased. Angels are often believed to be sent from God to watch over humankind. They can help guide and protect us. Therefore, when someone passes, they could take on this role from heaven, which is why this is a popular tattoo choice for those who want to remember the people they hold close to their hearts. Your ink can be as complicated and detailed or as simple as you choose, but regardless of what you pick, this is one of the most moving pieces to get inked onto your skin.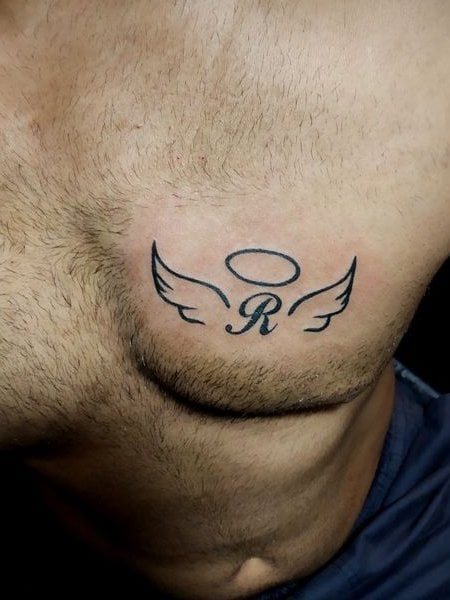 9. Angel Wings Baby Tattoo
The thought of innocence and goodness instantly comes to mind when you see a baby angel wing tattoo. Children are associated with purity and could represent the link between heaven and earth. If you want to get a piece that reminds you of the beauty in the world, then a design like this is just what you need!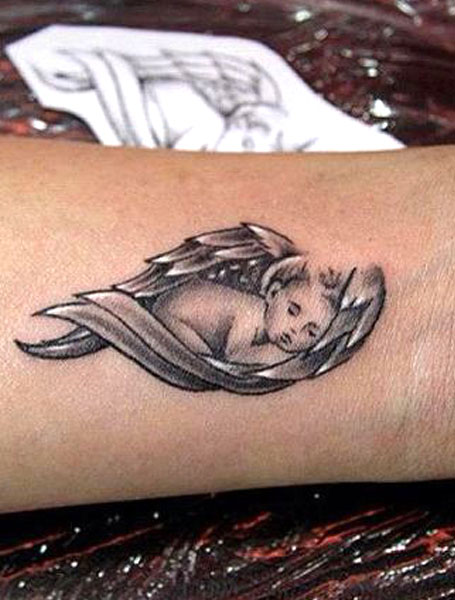 10. Fallen Angel Wings Tattoo
In contrast to a baby with wings, a fallen angel tattoo is often associated with a loss of innocence. When choosing this design, it's an excellent option for a man trying to regain what he has lost; or someone who has experienced past conflicts and is no longer sure about what they believe. These pieces are rich in symbolism and are often extremely detailed. Designs can be interpreted quite literally, depicting a fallen angel who has been banished from heaven or lost its way. Alternatively, your ink could take on a more abstract portrayal. The choice is yours!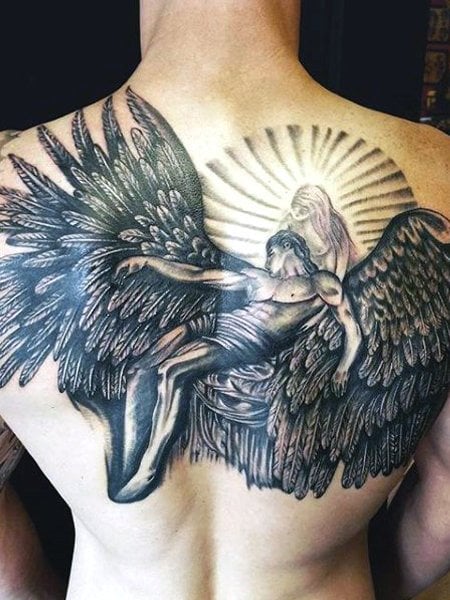 11. Angel Wings Halo Tattoo
Angel wings and halo tattoos are most commonly associated with losing a loved one. The idea is that when a person has died, they go to heaven and can watch over and protect us. It is the perfect piece for a man who wants to honor someone he has lost. The ink could be as simple as wings and a halo, although many people choose to add dates or initials to the design to make it more personal. Since this is one of the most moving tributes you can get, it works best in places that can be viewed often, like the forearm or wrist.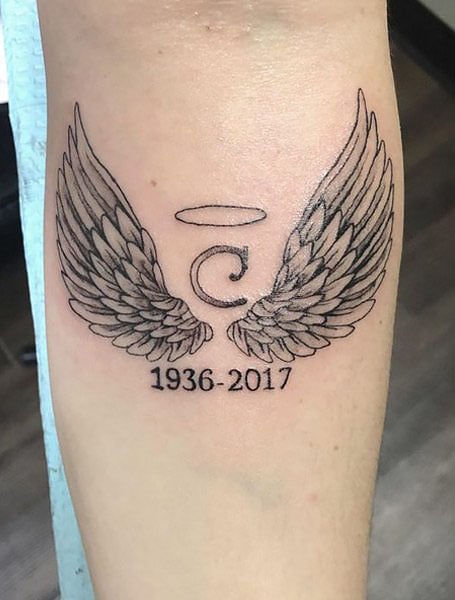 12. Angel Wings Rose Tattoo
Angel wings represent freedom, morality, and goodness. They can be great tattoos on their own, but many people choose to add various other elements to the design to give it more significant meaning. The rose tattoo is a flower that is often associated with a balance between beauty and pain; despite it being lovely to look at, the thorns can cause harm but also protect the bloom. If you decide to combine these two elements, it could be interpreted as a way to preserve your innocence.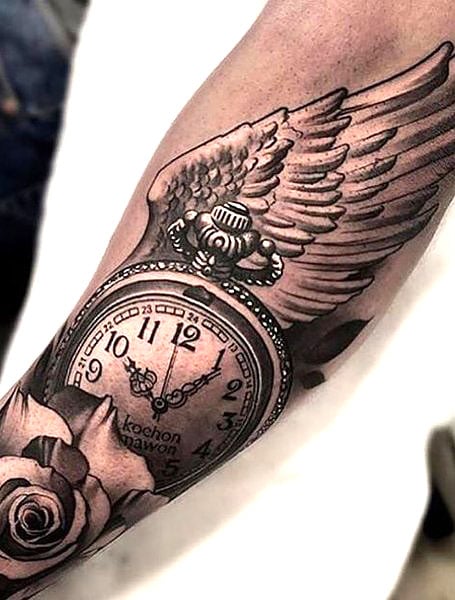 13. Angel Wings Colorful Tattoo
Angel wing tattoos are a beautiful way to make a statement, but why limit yourself? Go bold and choose some vibrant shades for an eye-catching design. Although you may need to pay extra for color designs, it will be worth the cost when people take notice of your custom artwork!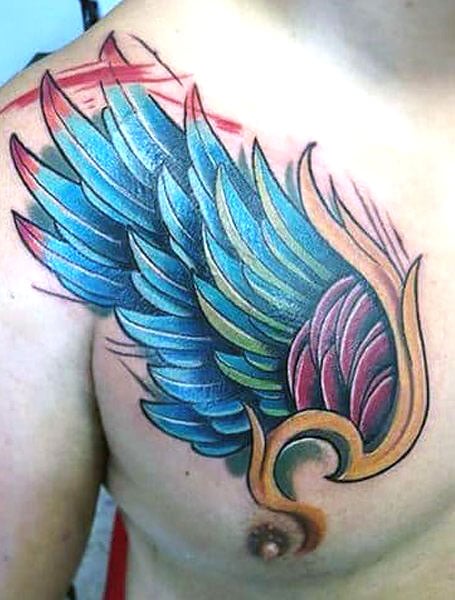 14. Angel Wings Realistic 3D Tattoo
Fans of body art are continuously blown away by talented individuals who can create realistic 3D tattoos, and angel wings look incredibly impressive when done in this way. If you want a design that will have people doing a double-take, consider this tattooing approach because the extra dimension brings these pieces to life. When deciding to get inked in a hyper-realistic way, there are some things you should take note of, including how you're going to pay for a quality piece. The time and effort that has been put into this tattoo will make it more expensive. Therefore, it is best to do your research and find someone who specializes in this style.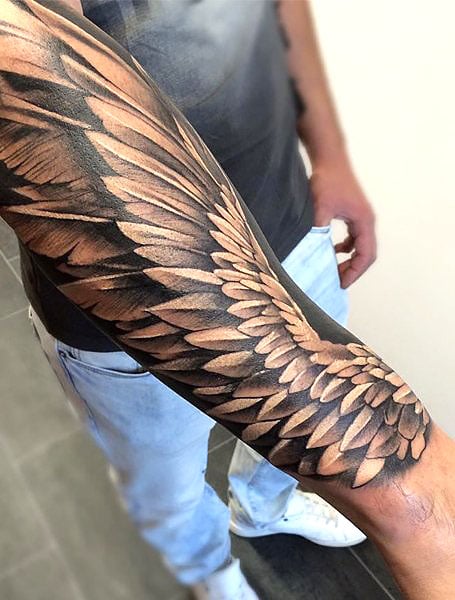 15. Angel Wings Wrist Tattoo
You won't be tattooing large pieces onto your wrist, but it's the perfect place for a small, meaningful design. What draws many men to this placement is that it is a way to show off a tattoo that means something to them. You can look at it every day and remind yourself of why you got the design in the first place. In terms of pain, we will not lie; it can hurt. That is due to the thin skin in the area, but because your body art will be little, you will be able to withstand the discomfort.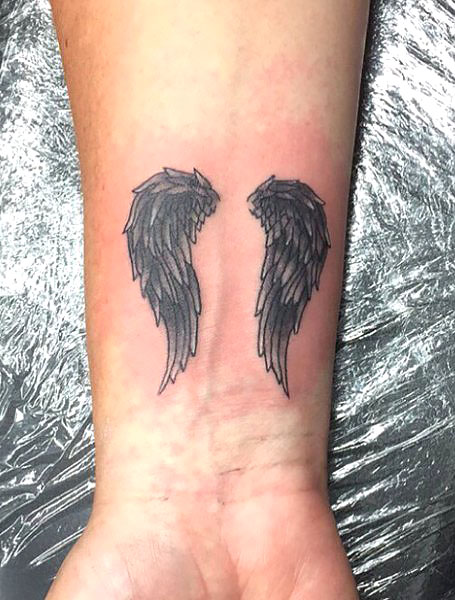 16. Angel Wings Forearm Tattoo
The forearm is one of the most popular choices for a tattoo because of its visibility and versatility. The area is a decent size, allowing for detail. It also lends itself exceptionally well to long and narrow designs, thus making it a preferred spot for an angel wing piece. Another highlight is that it is considered one of the least painful places to get inked. Whether you choose a large, colorful option, or stick with black ink, ensure the design you have chosen means something to you; after all, you will be looking at it every day!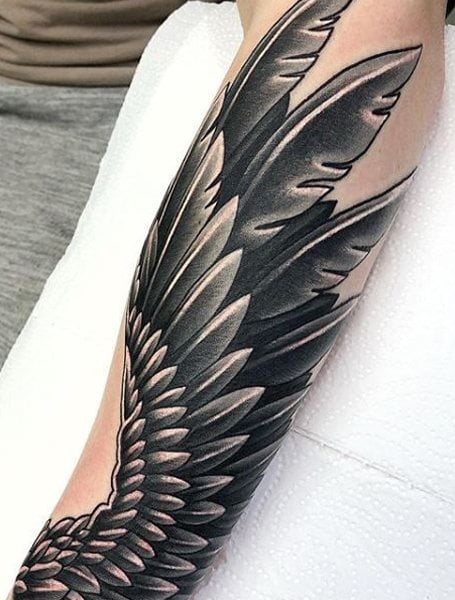 17. Angel Wings Tribal Tattoo
Tribal tattoos have a distinct style and are one of the most popular design options. Initially, these pieces were inked by indigenous tribes as a means to protect warriors, symbolize social status, or used to adorn their bodies. In more modern times, the original designs have been adapted to include many symbols and images, including angel wings. You can expect a piece that stands out and focuses on thick lines. It is typical only to use black ink and concentrate on the essential elements of the design.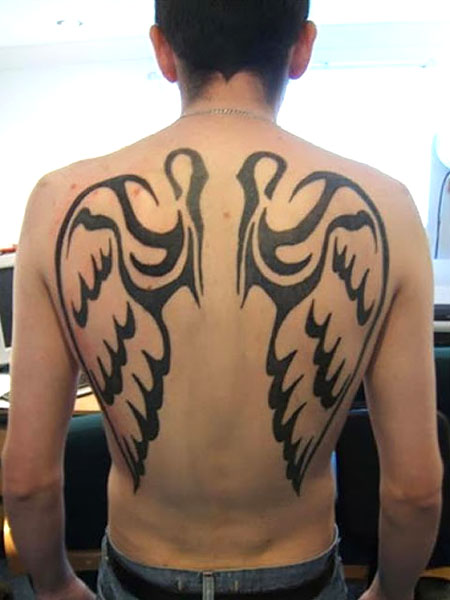 18. Angel Wings Neck Tattoo
Society may have once viewed neck tattoos as being reserved for rebels and delinquents, but this idea is changing. Many male models and entertainers have embraced this placement because it is incredibly eye-catching. Plus, it's a great spot to show off a piece that means something to you. If you find you're a little limited in space, the design can also continue downwards, towards your back. That said, choosing to get inked on your neck will hurt; the area is sensitive, and the skin is thin.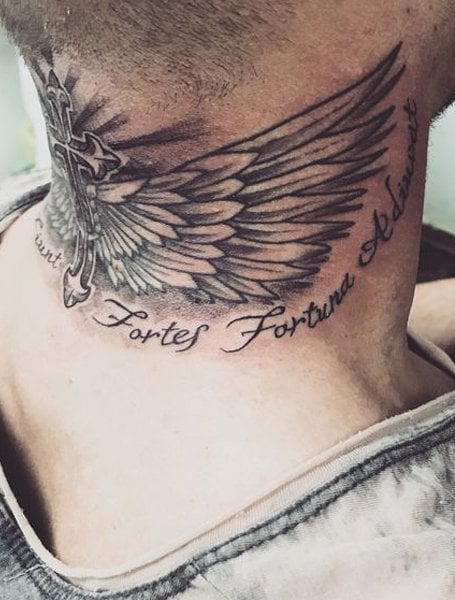 19. Angel Wings Cross Tatoo
Angels are heavenly beings often associated with purity and goodness, while the cross is a sacred symbol in the Christian religion. The combination of these two images, therefore, makes for a powerful and meaningful design. The cross and angel wings tattoo is linked to religious freedom, but it can also be used as a way to honor a loved one who has passed. Many men choose to add significant dates and names to their tattoos as a reminder of the individual they have lost. It's a moving and lovely piece to get inked onto your skin.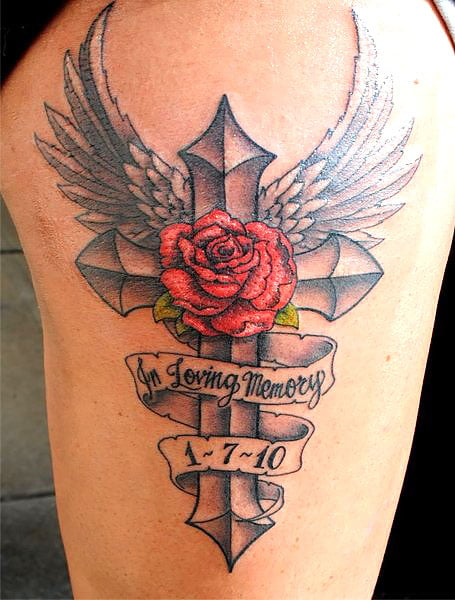 20. Angel Wings Full Back Tattoo
What better spot for a pair of angel wings than on your back? If you find the symbolism behind this tattoo appealing, you can recreate it in a realistic and largescale way; and the back is the only place where this can be done! The beauty of this placement is also your ability to cover it up; making it a meaningful location that you don't need the world to see. Considering this is such a large piece, you can expect some discomfort, especially around the shoulder blades.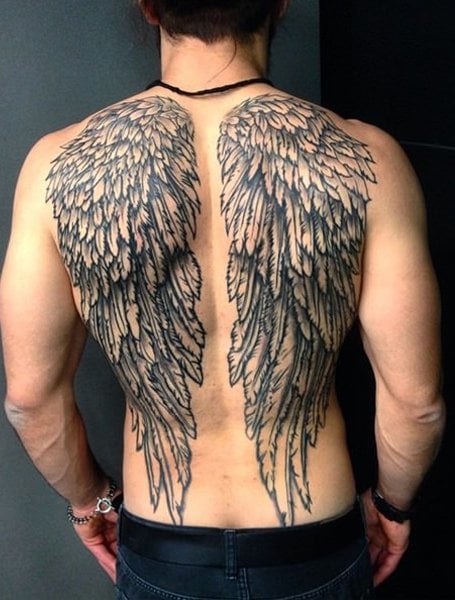 Angle Wings Tattoos FAQs
What do angel wings tattoos mean?
Angel wing tattoos can have many meanings, including freedom, faith, and protection. For some, they are a tribute to a loved one who has passed on – a 'guardian angel'. For others, they represent Christian faith and how belief in God reminds them of their better nature – their holy, angelic side.
Where do you put an angel wings tattoo?
Angel wings tattoos are versatile. A smaller design can be placed on your finger or behind your ear, while larger angel wing tattoos look great on your back, chest, or arm.
Should angel wings be up or down?
Fully outstretched, upward-facing angel wings symbolize freedom and faith, while angel wings that are folded down are more often seen in memorial or tribute tattoos, representing mourning and sorrow. However, the shape of an angel wings tattoo is usually determined by the placement. Down-facing wings are a better shape for shoulder and arm designs, while up-facing wings suit a chest placement.
What does it mean if an angel has black wings?
Usually, an angel with black wings represents a fallen angel – someone who has made mistakes, given in to temptation, or embraced their dark side. As a tattoo, black wings can also represent the angel of death, symbolizing that the person has gone through loss and trauma.
Which angel has golden wings?
While no angels are described as having wings in the Bible, in artistic traditions the archangel Gabriel – God's messenger – is often shown with golden wings.
Who was the strongest angel?
The archangel Michael could be considered the strongest of the angels. A great warrior and the leader of God's army, Michael is often depicted with a sword and slaying a dragon. He represents defense, protection, and the triumph over evil. Today he is the patron saint of those who serve in the military.
SUBSCRIBE TO OUR NEWSLETTER
Subscribe to our mailing list and get interesting stuff and updates to your email inbox.