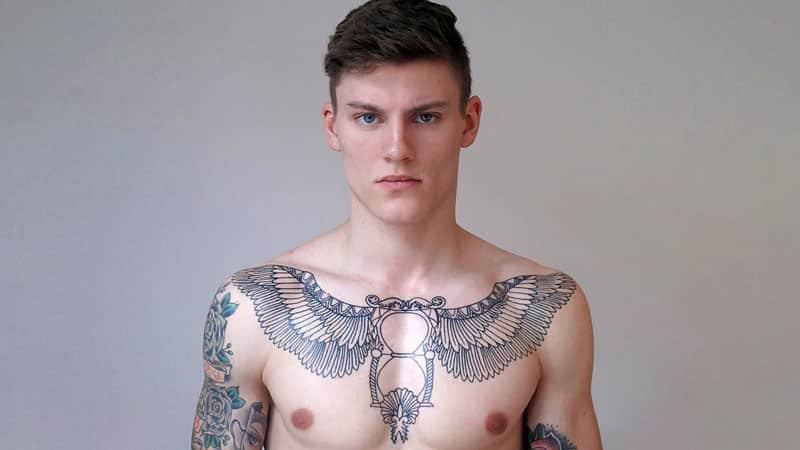 The Ancient Egyptian civilization was powerful and celebrated for its technological achievements, artworks, and wealth. It should come to as little surprise that this world has inspired body art, and there are many tattoo designs to choose from that will leave you with a tattoo that is not only beautiful but also symbolic. Find out more about the Anubis, Ankh, and Scarab beetle, or celebrate your love of felines with a cat design. Some pieces are simple, and the meaning associated with them is obvious while others are not. If you have been looking for the perfect body art, then these Egyptian tattoos will inspire you!
1. Egyptian Eye Tattoo
If you have been looking for a tattoo design that is edgy and filled with meaning, then you should consider an Egyptian eye tattoo. The Eye of Horus is an image that will encourage self-improvement. It is also associated with health and power. Get your ink big or small; regardless, it will make a statement.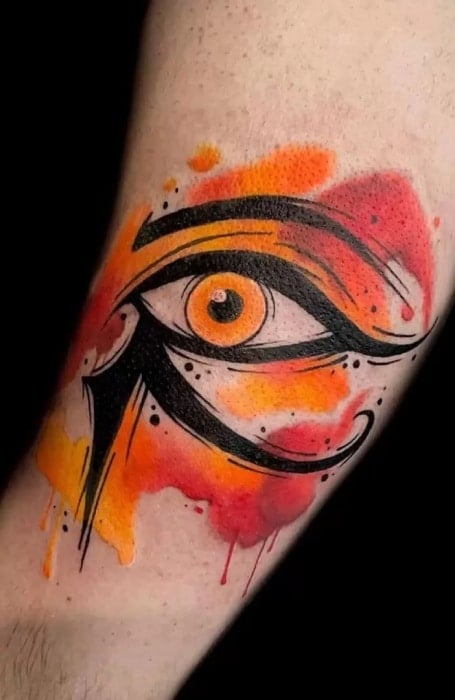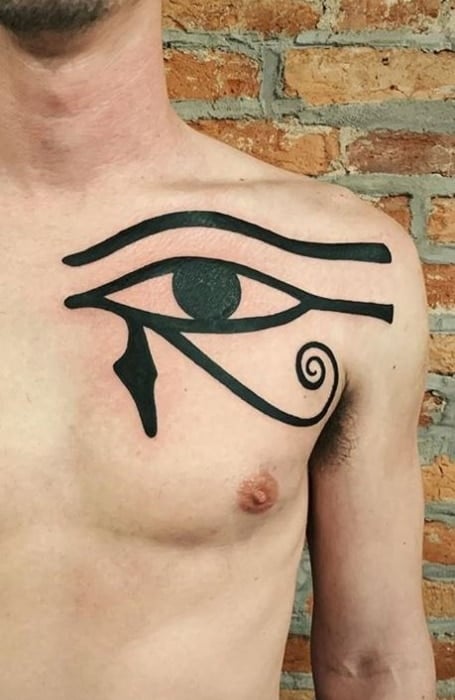 2. Egyptian Sleeve Tattoo
Sleeve tattoos are the ultimate way to show off your creativity. They will combine several images to cover the length of your arm from shoulder to wrist, and you will create it around a specific theme and style. Ancient Egypt will leave you with plenty of powerful imagery to choose from, making for a badass and epic piece. After all, you want a design you won't regret because sleeves are time-consuming and expensive.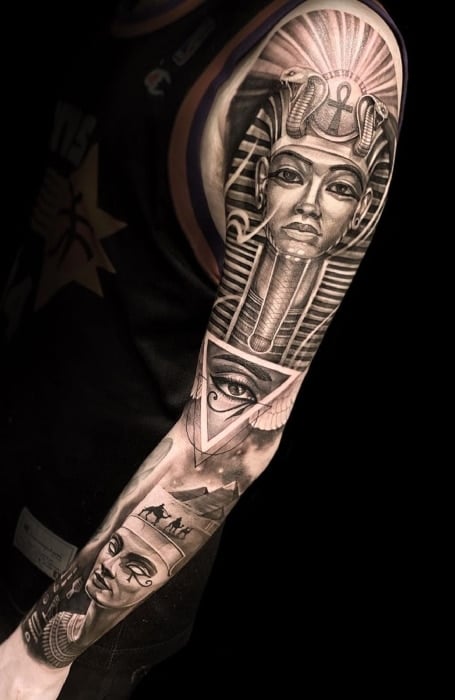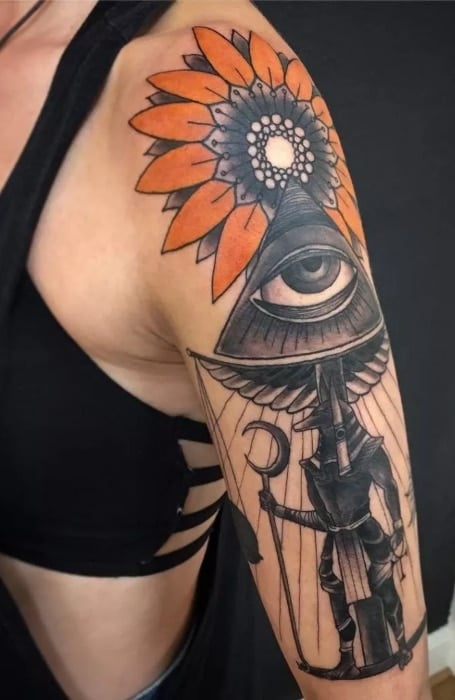 3. Protection Egyptian Tattoos
If you want to protect yourself from harm and keep away evil thoughts, get inked with a powerful symbol to make you feel more at peace. Protection Egyptian tattoos include several designs, including the Scarab and the Ankh, both of which have powerful meanings associated with them. The best part is that these inkings are not immediately obvious, which makes them even more interesting.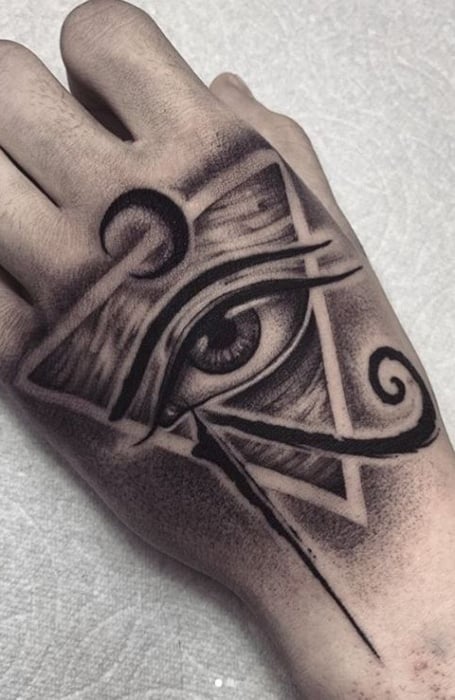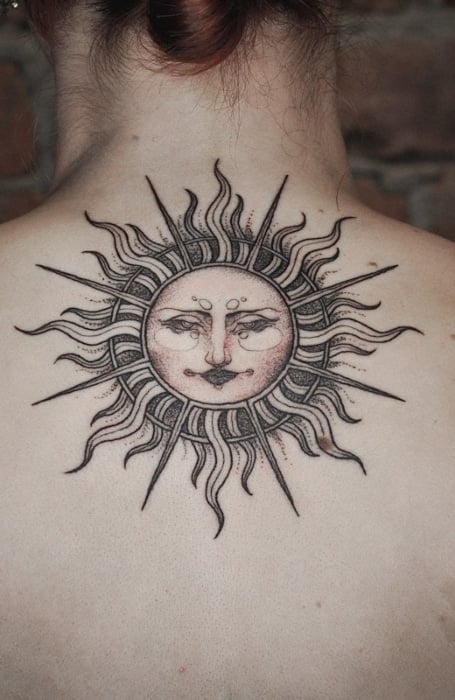 4. Egyptian Cat Tattoo
Cat tattoos have long been a favorite season among those who love their furry friends. But in Ancient Egypt, cats were much more than pets. They were an animal that was highly respected and could symbolize good fortune and protection. And what better way to prove your love for felines everywhere than with body art dedicated to them?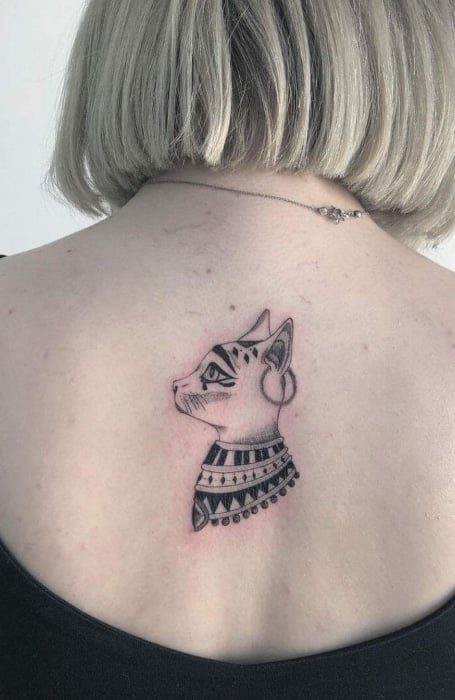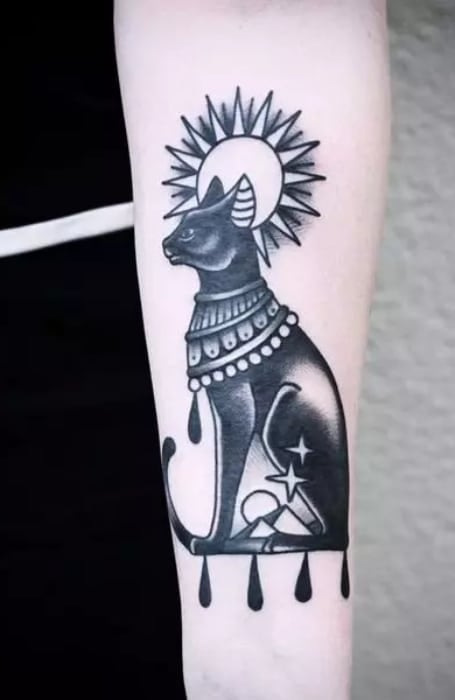 5. Egyptian Beetle Tattoo
Do you want body art that is a conversation starter? Well, this is probably it. The Egyptian beetle tattoo is definitely not your standard insect. The scarab had great importance in this ancient civilization and was believed to be worshipped. It should come as no surprise that there is rich symbolism associated with it, including longevity, regeneration, and good luck!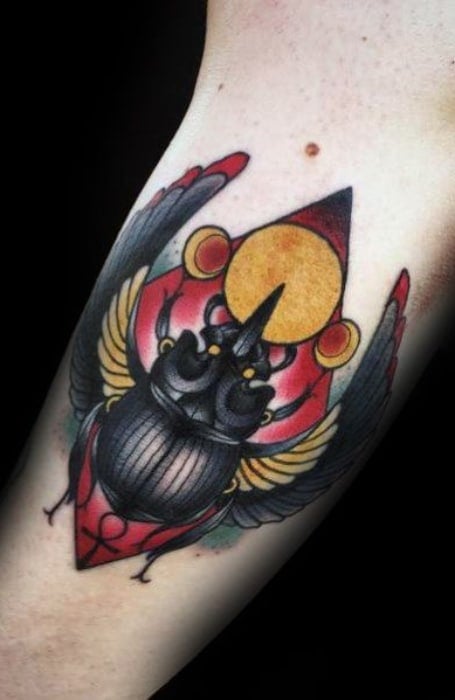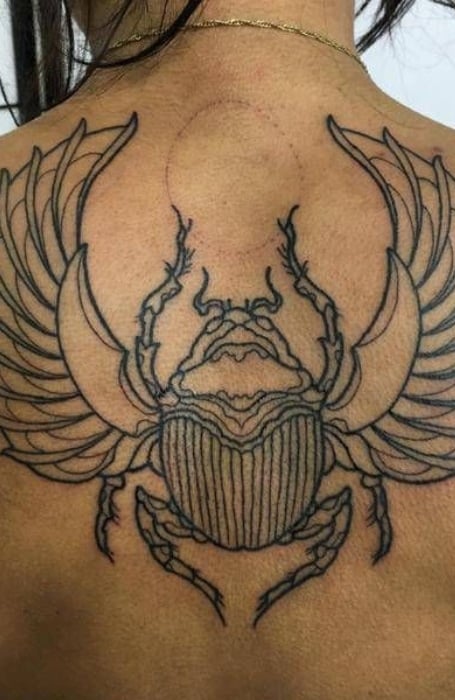 6. Egyptian Tattoo Chest
Chest tattoos are edgy and undeniably cool. It is a location that is considered among the most painful places to get tattooed, so think long and hard before choosing it. However, it is the perfect canvas for a meaningful design if you are brave enough to face the pain. You can wear your body art close to your heart at all times, adding an extra layer of symbolism.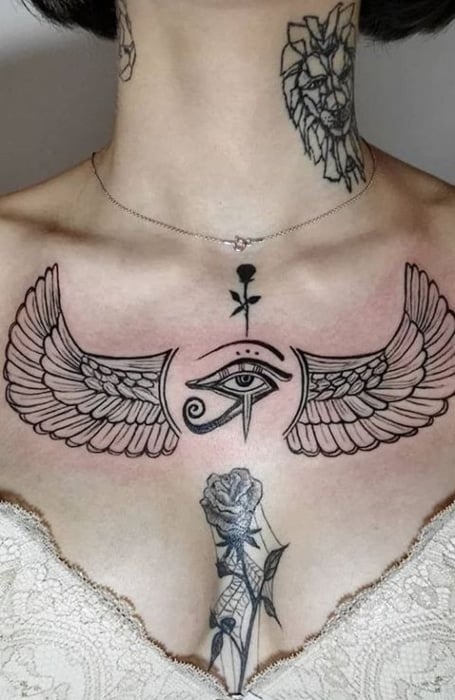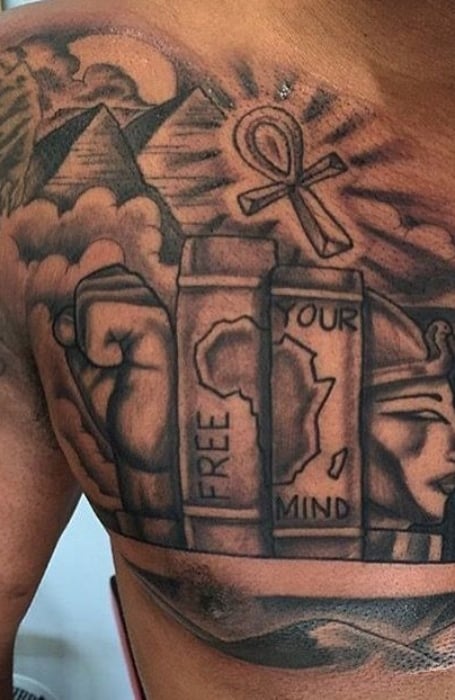 7. Egyptian God Tattoos
The Ancient Egyptian civilization has been a topic of much research and discussion. Are you interested in it and drawn to the meaning behind the symbols? If strength, power, and knowledge are qualities that appeal to you, then the right choice for your design is a god tattoo. There are gods and goddesses with their own symbolism and importance, letting you easily personalize your tat to suit your preference.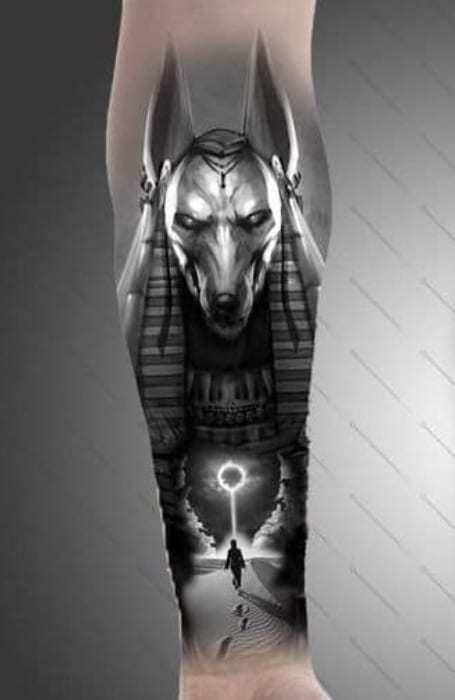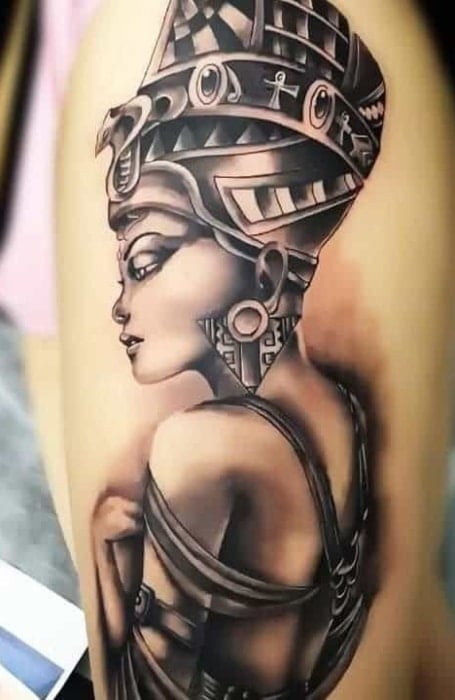 8. Small Egyptian Tattoos
Have you been longing to get body art but have been too afraid? The pain factor is a big consideration, which is why small tattoos provide you with a welcome alternative. Not only are they super cute and delicate, but they can also be inked anywhere on the body. They will also cost less and result in less comfort. It is basically a win-win situation.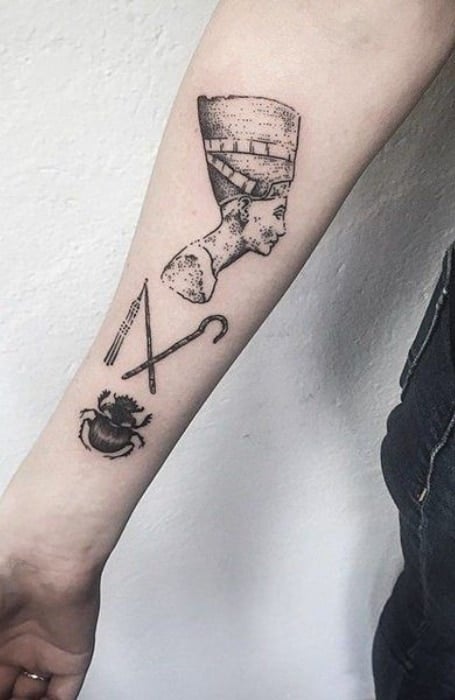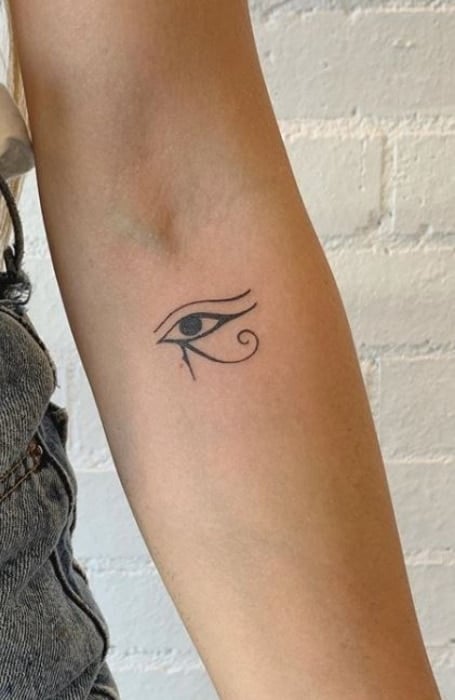 9. Egyptian Leg Tattoo
It is time to ditch your trousers in favor of shorts! Why? Because you want to show off your epic Egyptian leg tattoo? The right design will be important to the wearer, and the placement is popular for men and women to ink because you can flaunt it. It is also considered moderate on the tattoo pain chart, so you can look good without being in agony.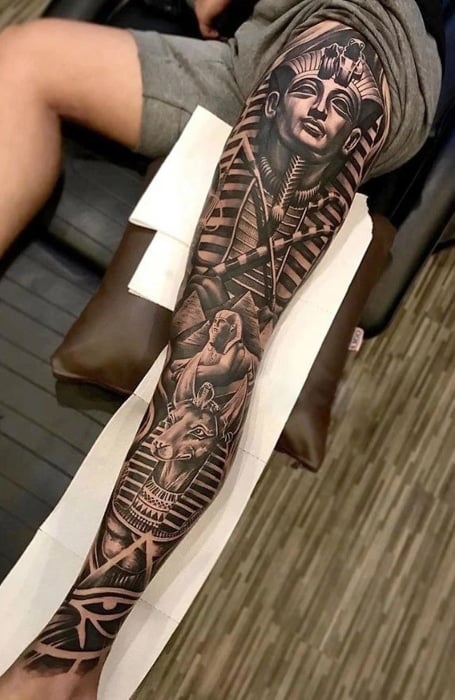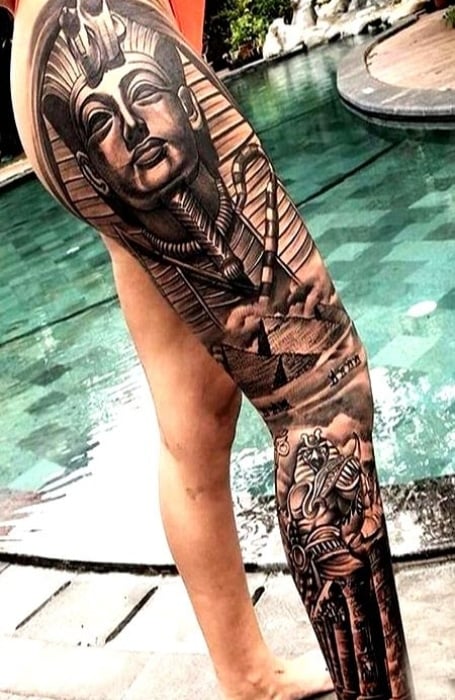 10. Egyptian Back Tattoo
Sexy and undeniably cool, the back tattoo is among the top placements for men and women to get inked. There is something incredibly seductive about this area on the body because it is often covered with clothes. However, the right inking will let you show it off whenever you want. Choose something small and simple, or utilize the full space with a detailed Ancient Egypt-inspired piece.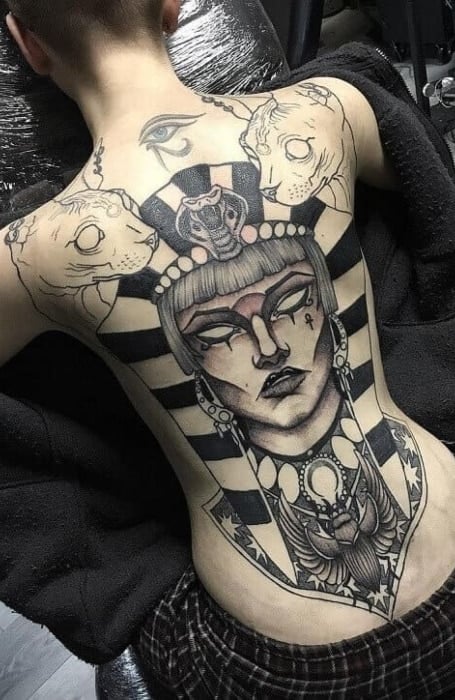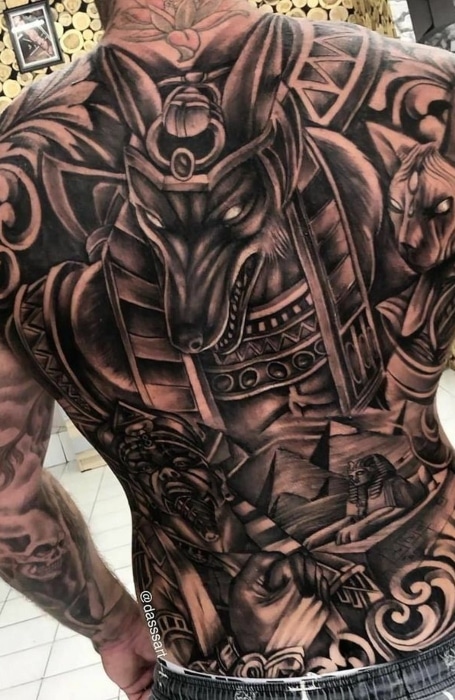 11. Egyptian Forearm Tattoos
Do you want body art that you can look at every day? How about the ultimate design to show off? Regardless of the reason behind your inking, you cannot go wrong with a forearm tattoo. The location is one of the most versatile options, letting you easily cover it up or put it on full display. It is also not considered high on the tattoo pain chart, which is a significant plus when getting tattooed!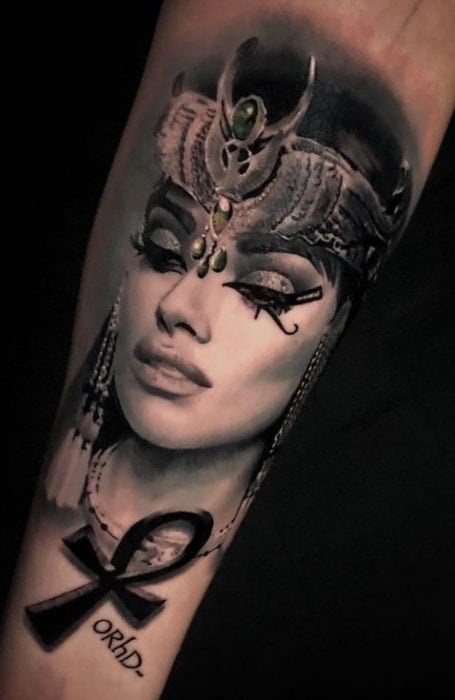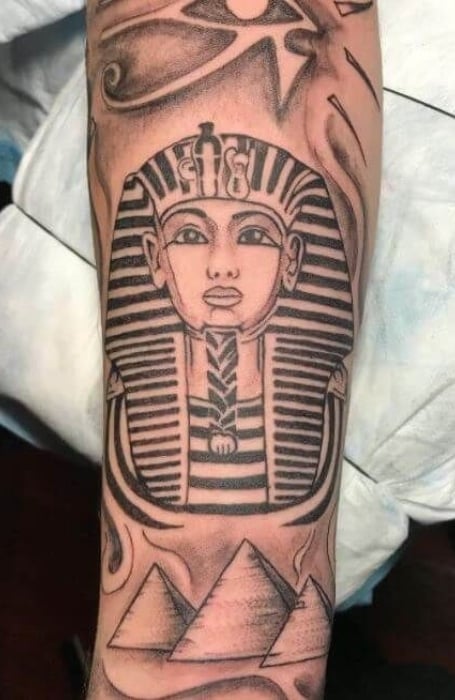 12. Egyptian Queen Tattoo
The rulers of Ancient Egypt were not just men! You can celebrate the power of womanhood, fertility, and beauty by opting for an Egyptian queen tattoo. You can also personalize your design to reflect the ruler that had the biggest impact on you. Could it have been Nefertiti for her beauty? Or maybe Cleopatra for her passion, lust, and interesting associations with Roman statesmen.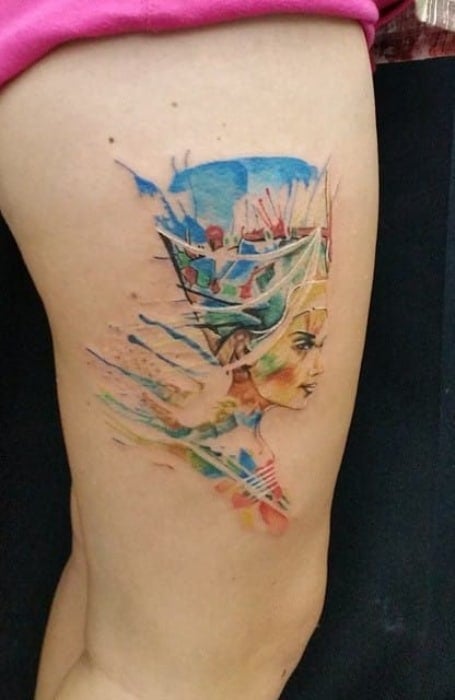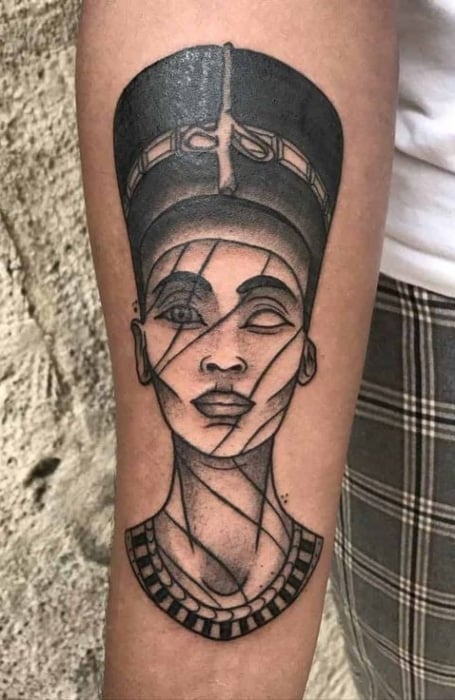 13. Egyptian Foot Tattoo
Want to show off your feet? Well, a foot tattoo is a great way to do it and will definitely give you something to talk about. Getting your ink here is not a decision to make on a whim because the thin skin and proximity to bone make it an incredibly painful placement.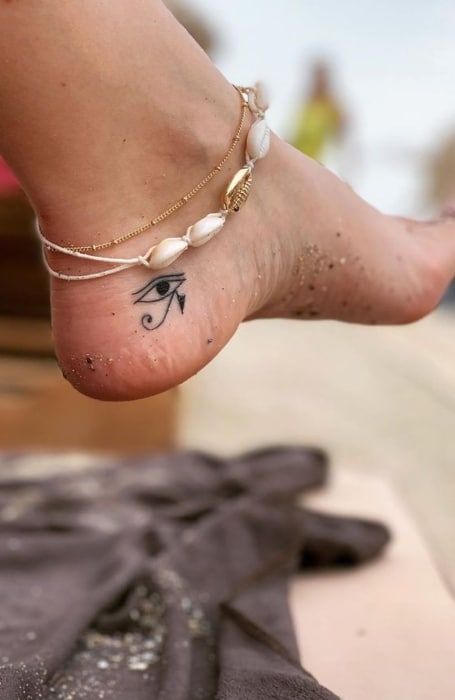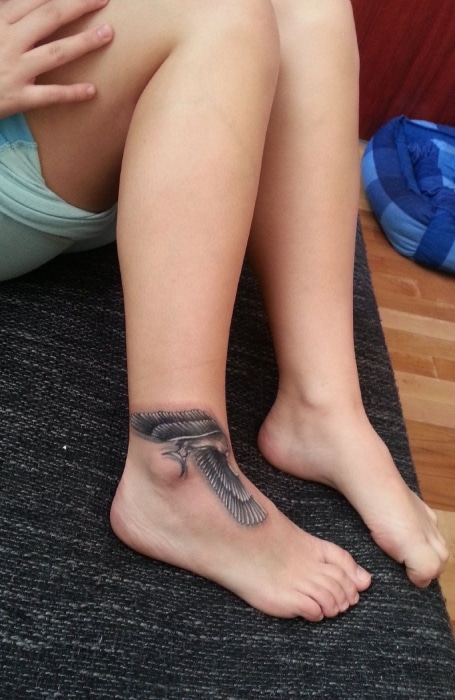 14. Egyptian Anubis Tattoo
Ancient Egypt is the perfect inspiration for your body art. Anubis is a god who is known to have guided souls after they had passed. The Anubis design is a way to honor the dead and has ties to the underworld. This makes it a compelling choice but also a visually interesting one. The figure has the head of a jackal or dog and the body of a man.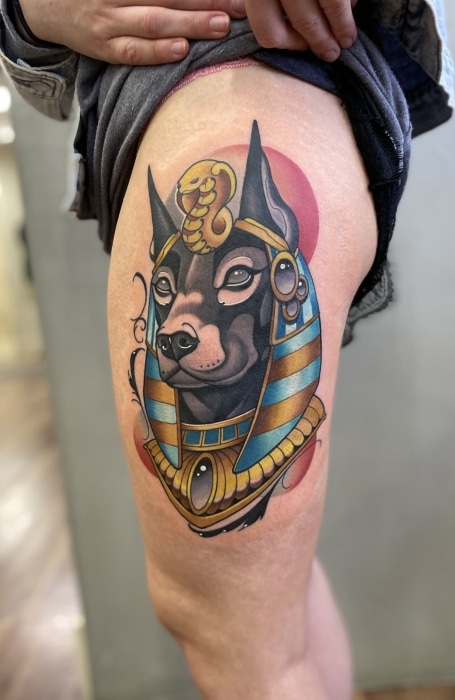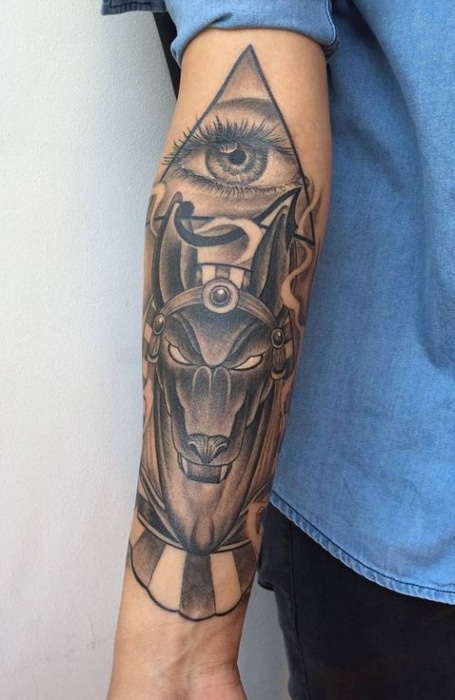 15. Egyptian Pharaoh Tattoo
What better way to celebrate strength and power than with a Pharaoh tattoo? These gods on earth were the ancient rulers of Egypt and were thought to be supreme and mighty. Their achievements have been well-documented, making it easy to choose your favorite. There were multiple Pharaohs, but some of the most memorable include King Tutankhamun, Hatshepsut, and Cleopatra.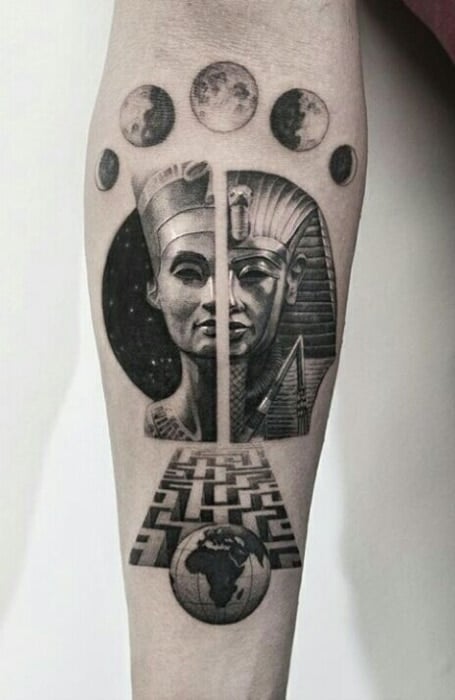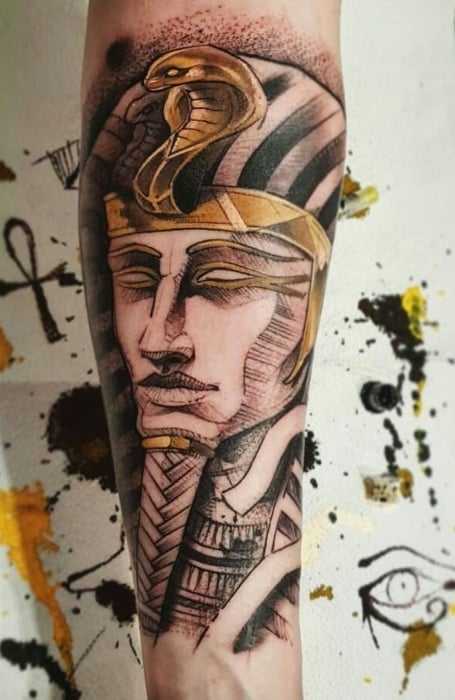 16. Egyptian Ankh Tattoo
There are many exciting and meaningful symbols to choose from for your next tattoo. But if your inspiration is the Ancient Egyptian civilization, then consider a design of the Ankh. What is it, you ask? The appearance is similar to the shape of a cross and features a loop at the top. It represents life and death and can be a way to convey a powerful message with regard to your thoughts and feelings on these topics.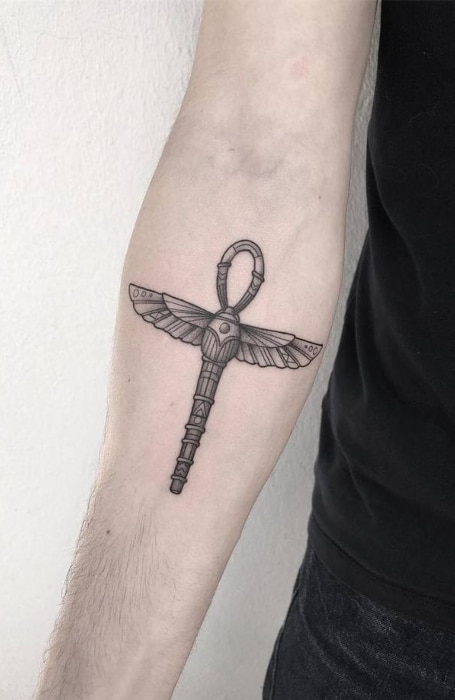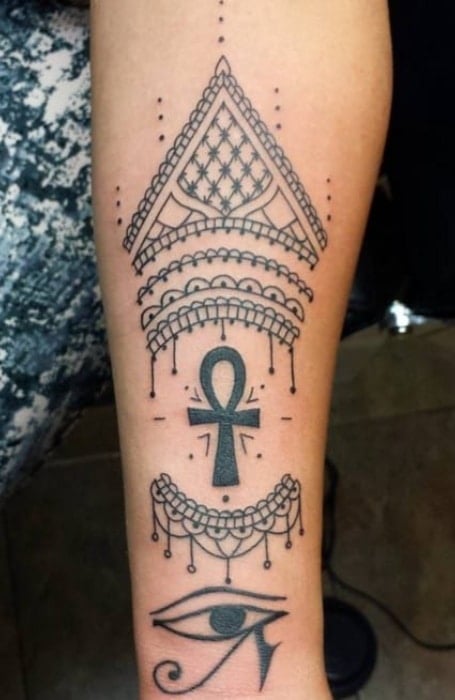 17. Egyptian Hieroglyphics Tattoo
Hieroglyphic tattoos are a great way to convey a message. These ancient symbols have been used on monuments, tombs, and objects and are a pictorial form of writing. You can combine your own images to create the message you want. This makes this an incredibly unique and powerful choice for your next inking.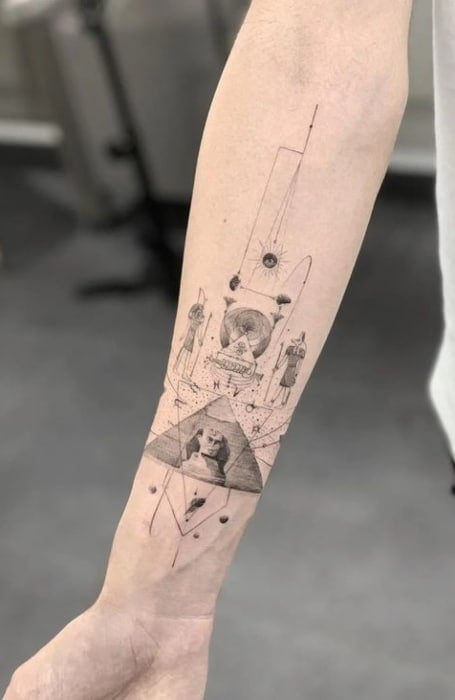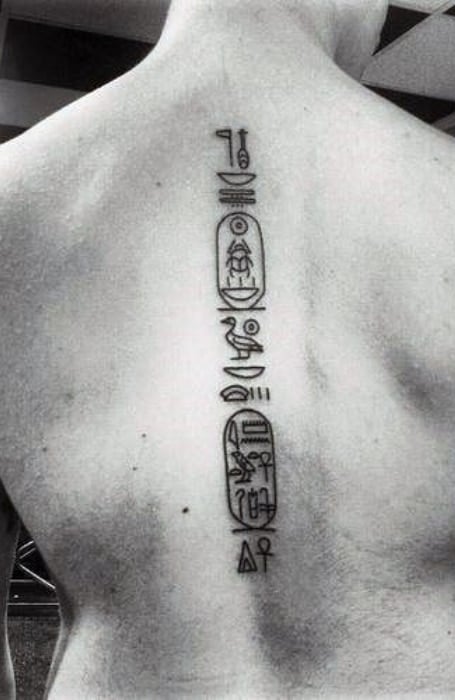 18. Egyptian Neck Tattoo
Neck tattoos are not for the faint of heart and are often reserved for those who are rebellious. If you want to stand out from the crowd and prove your individuality, then an Egyptian design is the way to do it. The right piece will say a lot about the wearer. It will also prove you can handle pain because you better believe it hurts to get a tattoo here.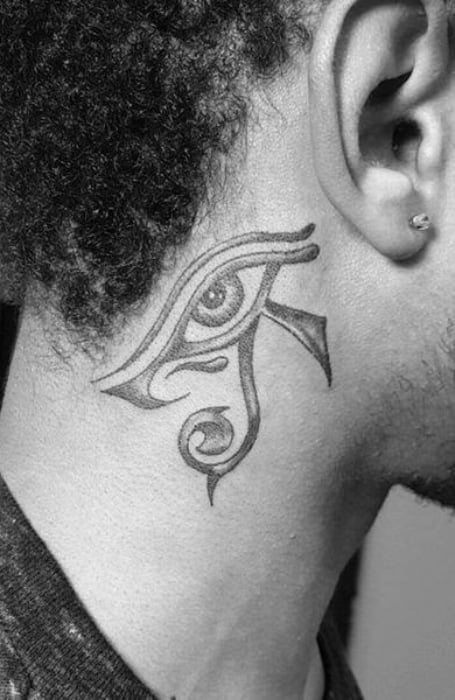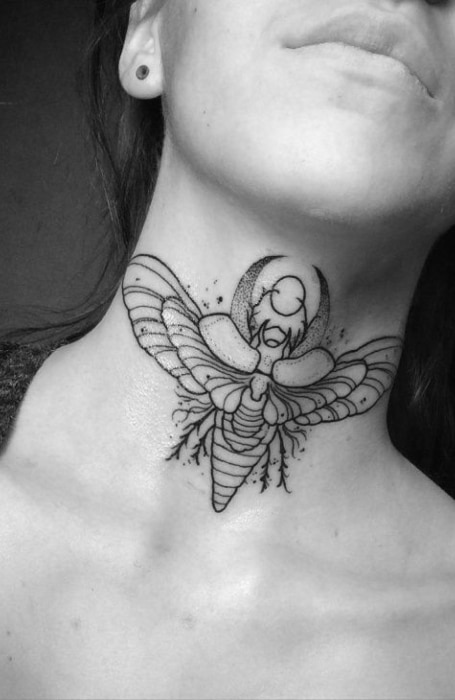 19. Egyptian Hand Tattoos
Hand tattoos may have once been reserved for tough guys and hardened criminals, but that's changing. Now it is the perfect location for a design that you want to be seen. The visibility makes this the ideal spot to show off a meaningful tat. But it will hurt because of the thin skin and proximity to bone.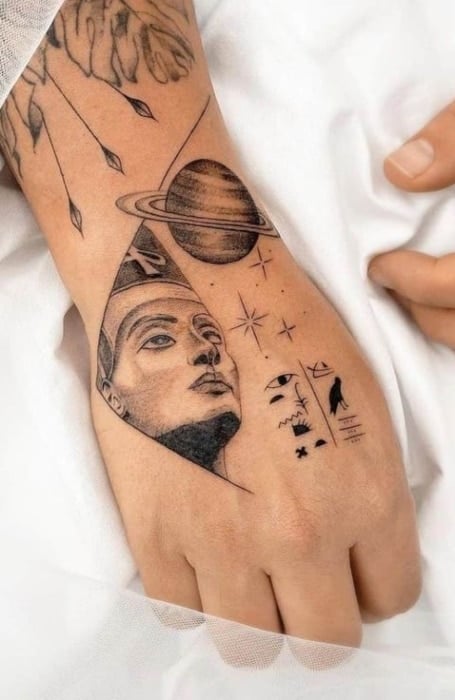 20. Egyptian Hip Tattoos
Your hip tattoo will highlight one of the most seductive parts of the body. The right design will draw the eye in, making this a placement that is as much a celebration of body art as it is of the human form. Ink here can be painful because of the proximity to bone, but if you can handle the discomfort, definitely consider it for your next tat.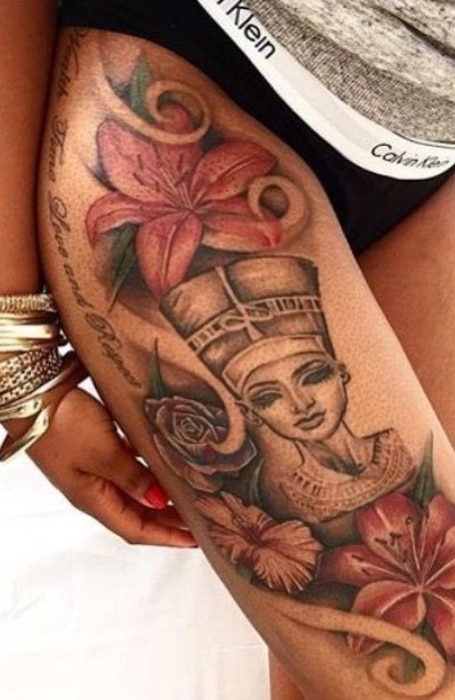 21. Egyptian Pyramid Tattoo
The Ancient Egyptian pyramids continue to be a marvel because of their advanced construction techniques and sheer size. Seriously, have you seen how big they are? This is an impressive structure when seen in real life, but in tattoo form, it can be simple and created on a small scale. It is also incredibly meaningful and will represent achievement, resilience, and strength.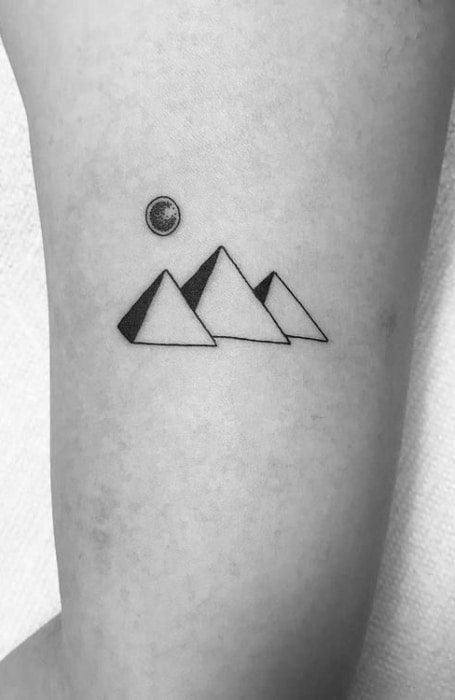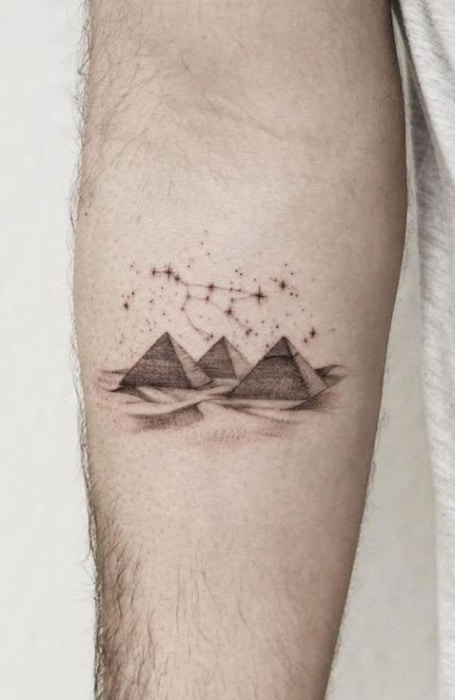 22. Egyptian Scarab Tattoo
The scarab is a dung beetle, but it is one of the most beautiful insects you will ever see. It had great importance in Ancient Egypt and represented the cycle of the sun and was also linked with resurrection and regeneration. It is not surprising that this meaning is empowering and beautiful, making this a great tattoo.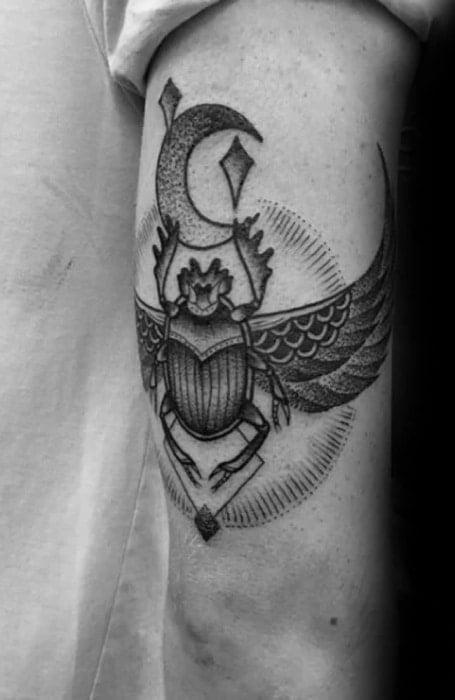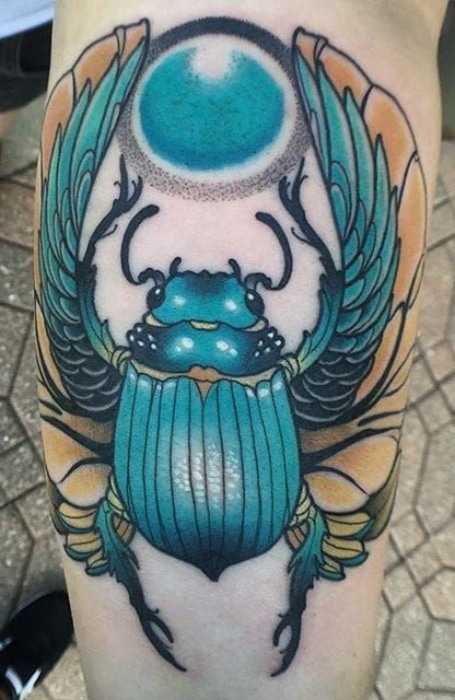 23. Egyptian Flower Tattoo
Flower tattoos represent beauty and growth, but in Egypt, the lotus is worshipped and respected. It is a bloom many associates with creation and innocence and will make a powerful statement. It will also have great significance to the wearer, with many interpretations of its meaning.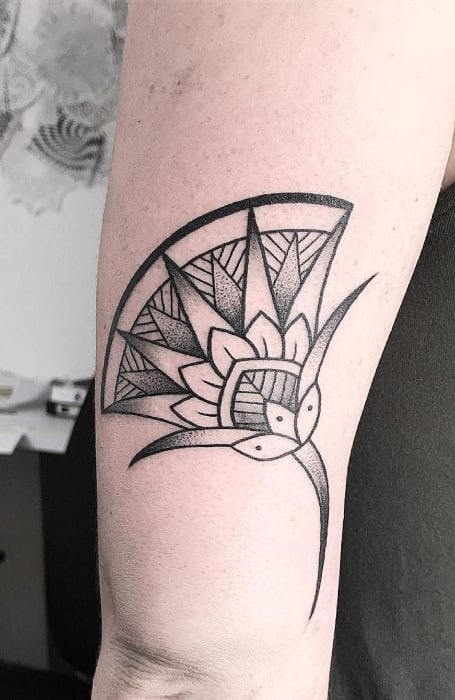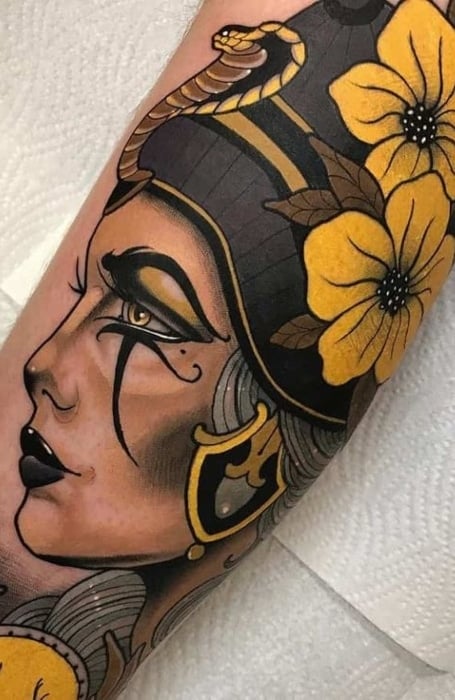 24. Egyptian Sun Tattoo
Sun tattoos are a celebration of warmth and life. There are multiple designs to choose from, some basic, others more detailed. In Ancient Egypt, the sun could have represented power, strength, and life. It was worshipped like a god because the people understood the importance of the sun and its direct effect on their crops.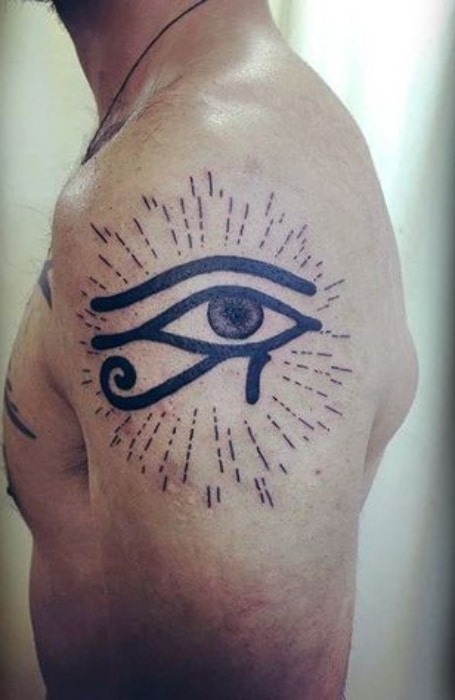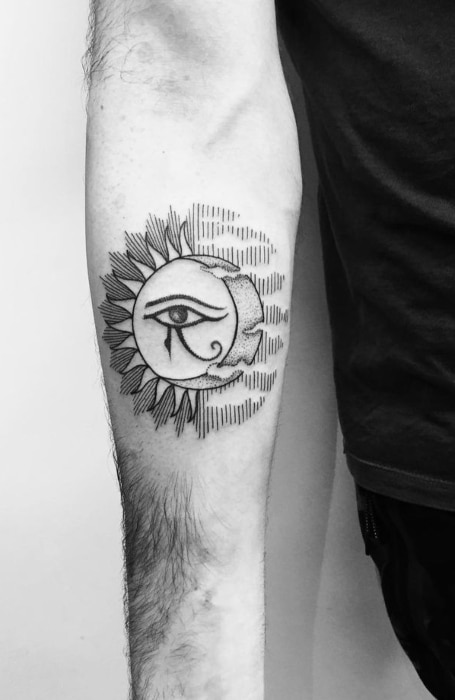 25. Egyptian Snake Tattoo
The ultimate snake tattoo could be edgy and cool. It is a creature that often represents the life cycles and can be an intimidating design, causing fear and conveying a message that you are not to be messed with. In Ancient Egypt, the asp is believed to have had a role in the death of Cleopatra. Or you could choose the symbol of the Ouroboros, a circular image that sees the serpent swallowing itself.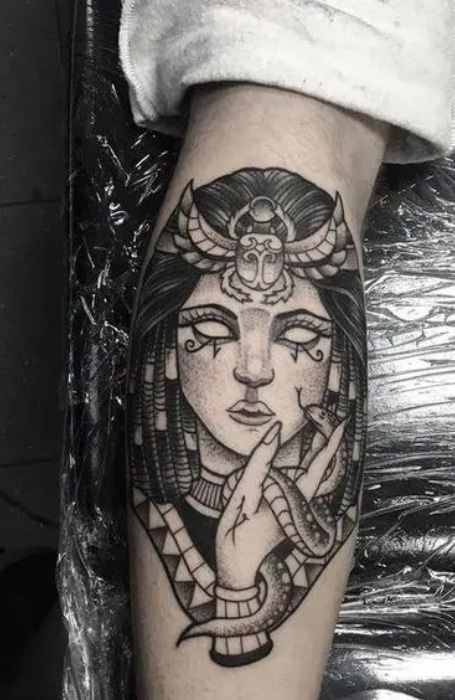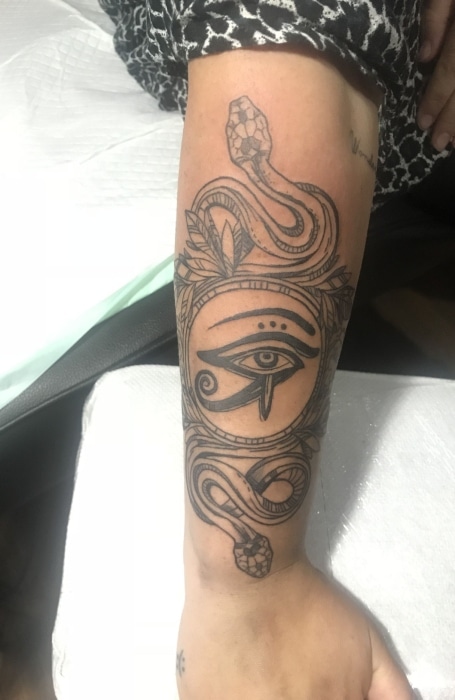 Egyptian Tattoos FAQs
What are Egyptian tattoos?
Egyptian tattoos have been inspired by the ancient Egyptian civilization. There can be different options for your body art, including images of gods and goddesses, symbols like the ankh and hieroglyphics, or you can use designs that are meaningful like the scarab beetle or serpent.
Did ancient Egypt have tattoos?
It has been stated that some mummified remains were found to have tattoos on them. These were of various animals and line art. It is believed that for the Ancient Egyptians, tattoos were a way to protect themselves but also become closer to the gods.
Can Egyptians have tattoos?
Evidence found on the mummified remains of Ancient Egyptians shows that they did get tattoos.
Is it good to have Anubis tattoo?
An Anubis tattoo is a visually interesting option as well as an excellent choice because of its rich symbolism. He is a god and has ties to the afterlife, helping the dead pass to their next life. This piece can make a powerful statement about the cycle of life and death.
SUBSCRIBE TO OUR NEWSLETTER
Subscribe to our mailing list and get interesting stuff and updates to your email inbox.