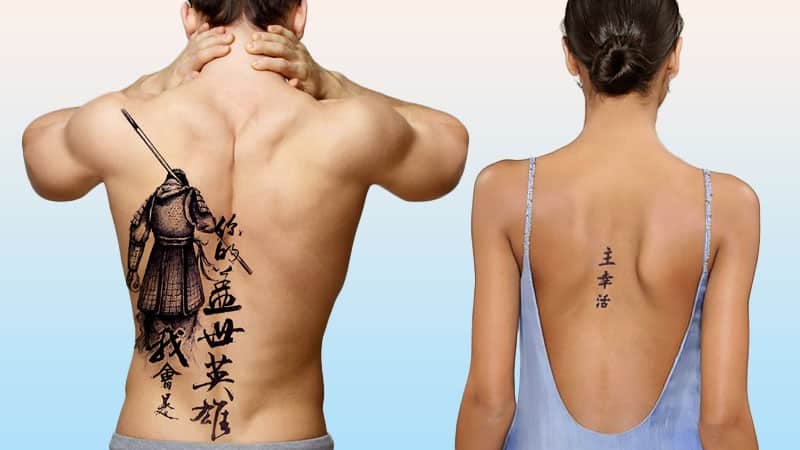 Body art is expressive and is a brilliant way to make a statement about your thoughts and feelings or give a glimpse into the inner workings of your mind. There are many styles to choose from, but inspiration is also taken from different places. If you are inspired by Chinese culture or folklore, you may want to get a Chinese tattoo. From symbols to mythological creatures, this is a great way for you to create something unmissable! There are fascinating and unique designs with incredible symbolism attached to them. If you need inspiration for your next meaningful inking, keep reading to discover the best Chinese tattoo designs.
1. Chinese Dragon Tattoo
The dragon tattoo is a popular choice because it looks excellent and has important symbolism associated with it. The mythological creature is often found in Chinese folklore, and its appearance of it will make for an interesting and meaningful design. It is associated with peace, wisdom, protection, and good luck and will make a powerful statement about these values.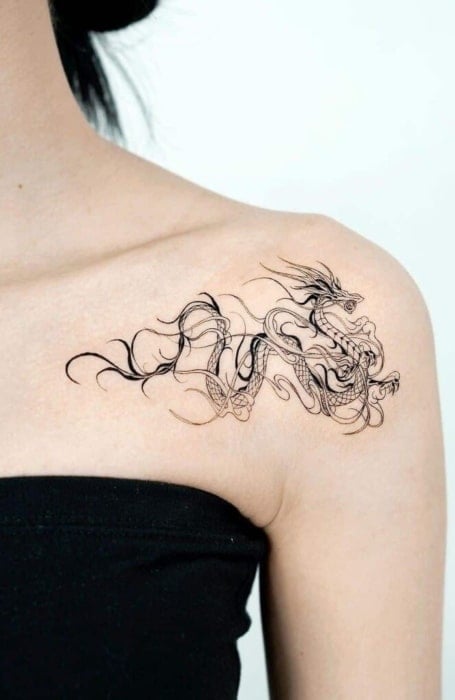 2. Chinese Symbol Tattoos
The Chinese characters used for writing are beautiful and detailed, and many foreigners are drawn to them. This is why they are often used in body art, as it offers the wearer something different without immediately obvious meaning to those who do not understand the language. But this is also a problem and makes it easy for you to get the message wrong. Ending up with inking with an entirely different meaning than originally intended.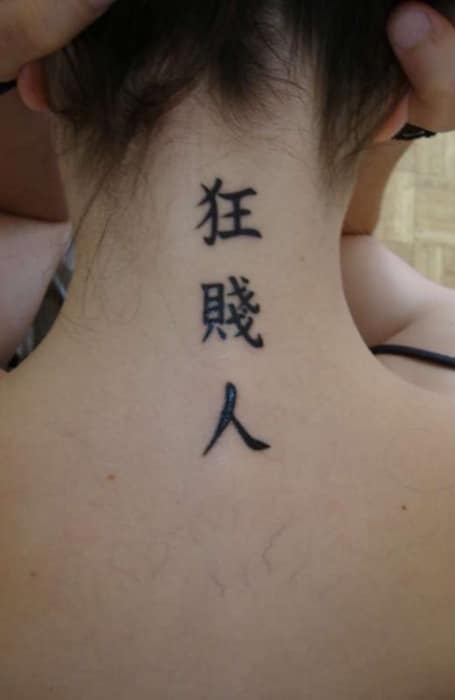 3. Love In Chinese Tattoo
Love makes the world go round. If you believe this statement, it is not hard to see why you would be drawn to a tattoo in celebration of it. Those who want something different and beautiful opt for the Chinese symbol of love. Not only does this make for an interesting and detailed design, but it can also be inked to honor your loved ones or celebrate your admiration of the Chinese language.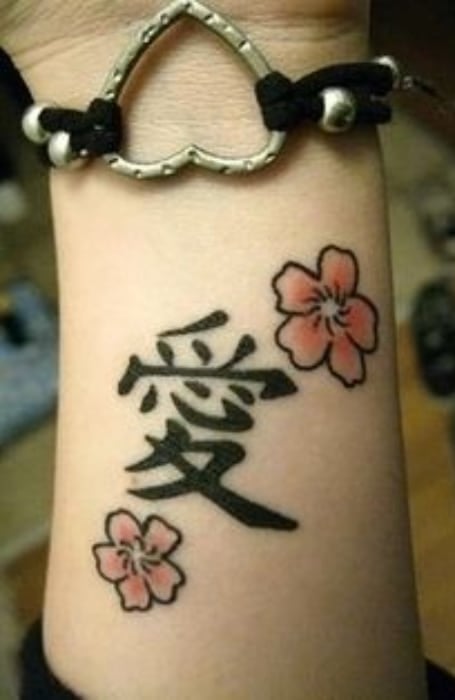 4. Chinese Letter Tattoo
There are several Chinese writing systems that comprise ideogrammatic characters. The beauty of these symbols is one of the reasons individuals are drawn to them, and they have inspired body art worldwide. The downside is that it is easy to misinterpret if you are not fluent. The result is you could be left with a tattoo that means nothing to you.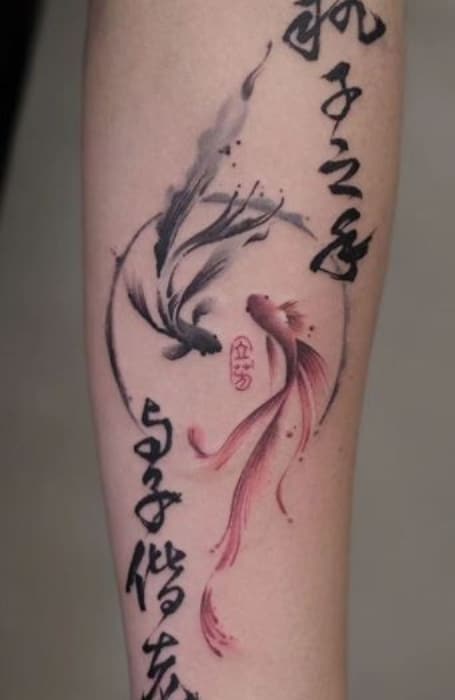 5. Chinese Tiger Tattoo
Tiger tattoos are beautiful and symbolic but can mean something different to various cultures. The Chinese tiger is believed to represent royalty, generosity, courage, and dignity. They are also linked to the afterlife and believed to be protectors of the dead. Choose somewhere on the body that is large enough to really bring this design to life, and do not be afraid to experiment with bright colors.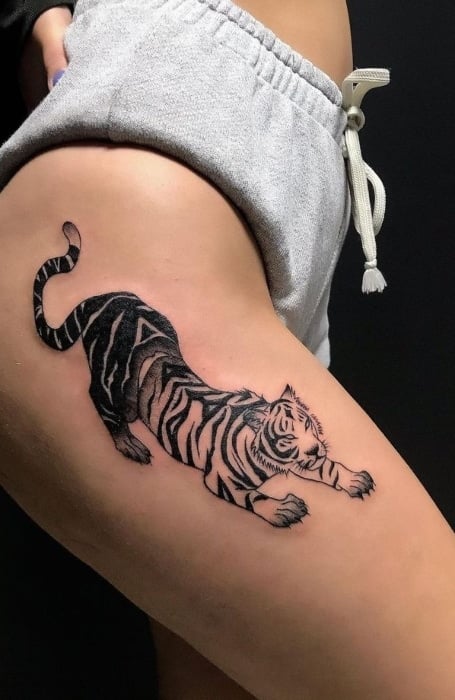 6. Chinese Character Tattoo
When it comes to deciding on the perfect tattoo, many people are drawn to words or phrases. They can say so much about the wearer and are open to interpretation. The beauty of Chinese writing has made it a popular choice for those who want something different and symbolic. Popular choices are love, happiness, harmony, and peace. If you are getting a design in a language you do not understand, always research beforehand.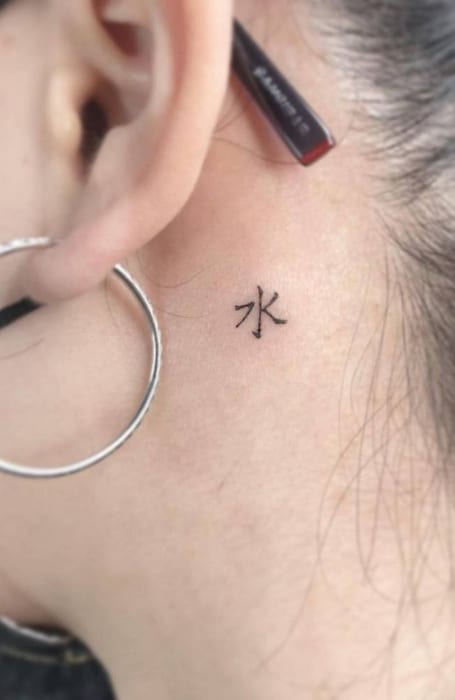 7. Traditional Chinese Tattoo
Body art is nothing new and has existed in many forms long before the modern approach of using an electric tattoo machine. If you prefer the results of the traditional style or feel it is more meaningful, then you may be able to find a tattoo artist who can create Ci Shen for you. Interestingly, despite existing for centuries, the art of tattooing was never embraced by mainstream society.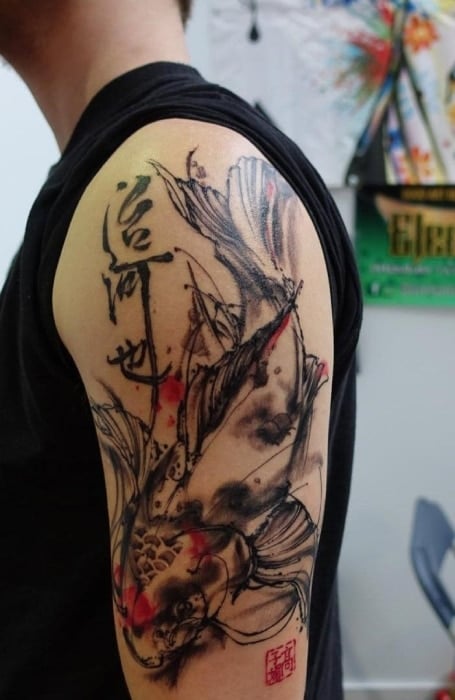 8. Chinese Flower Tattoo
Flower tattoos are appealing because they can look delicate and feminine. They are excellent in various styles and colors and can be easily combined with other images or inked on their own. Blooms represent different things, including life, growth, and beauty. Some of the popular choices used in Chinese-inspired body art include lotus or white and red peonies.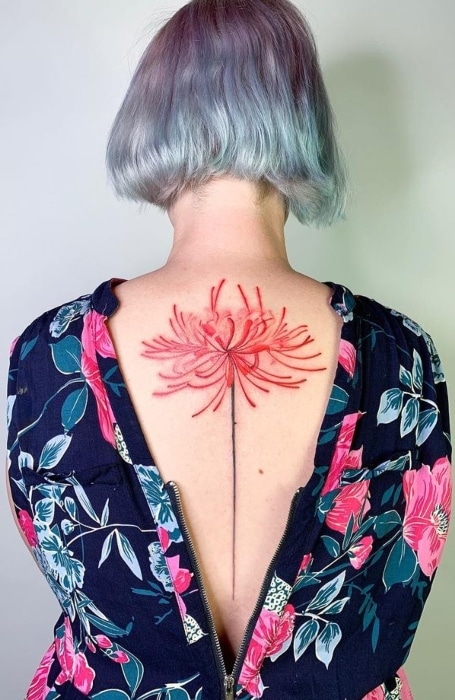 9. Chinese Neck Tattoo
A neck tattoo is for those who want to make a statement! As for why this is? Well, the area is edgy and rebellious. But it is not a decision to be made on a whim because body art here will hurt a lot due to the thin skin and high concentration of nerve endings. However, the location is unmissable, making it the ideal choice for a design you want to show off.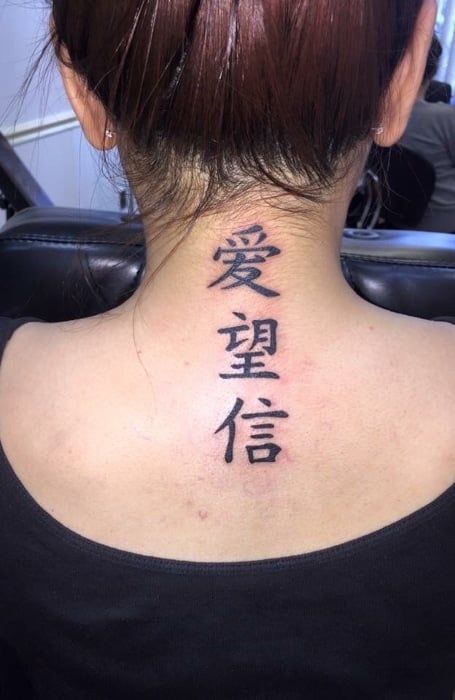 10. Chinese Word Tattoo
The great thing about body art is that your design can be intricate and detailed. Or you can focus on the basics, like a word tattoo. The Chinese writing system is appealing because the characters are detailed. It will also be something different and unique for those who do not speak the language. Think hard before you decide on the perfect word or phrase, and do your research to ensure you have found the correct translation.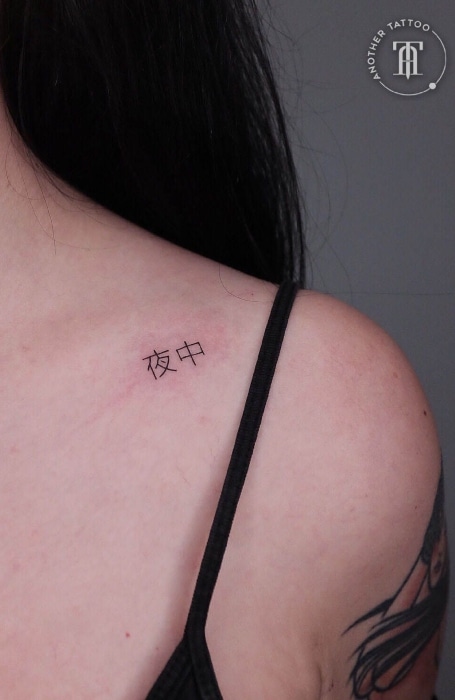 11. Chinese Back Tattoo
If you have a great idea in mind but are looking for the perfect placement, a back tattoo could be just the location you need. There are several pros to getting your ink here, including the size of the area and how it is considered moderate on the pain scale. This is thanks to the thick skin, muscle, and fat, which provide cushioning.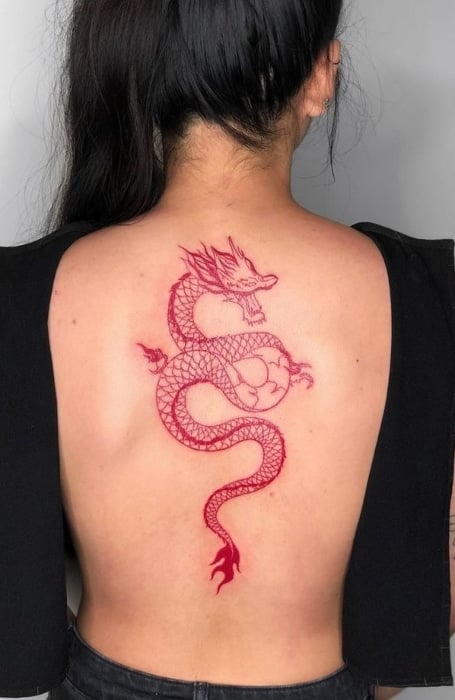 12. Chinese Fish Tattoo
A Chinese fish tattoo will often be of a koi fish, which is important and symbolic in Chinese culture. One of the best things about a fish design is you can create it in multiple styles and colors. This makes it an appealing option to experiment with both. Focus your artwork on one fish, or combine several to add to the overall meaning.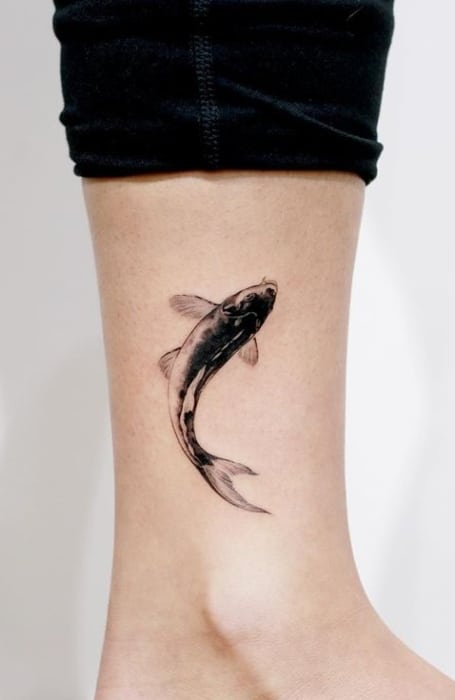 13. Small Chinese Tattoos
You do not have to commit to a statement design to try out body art! Small tattoos are gaining popularity because they can be inked anywhere on the body. They are also appealing because of their simplicity. Another reason to love your tiny piece is that it will hurt less and be cheaper; there is less detail to include, and it will be completed faster.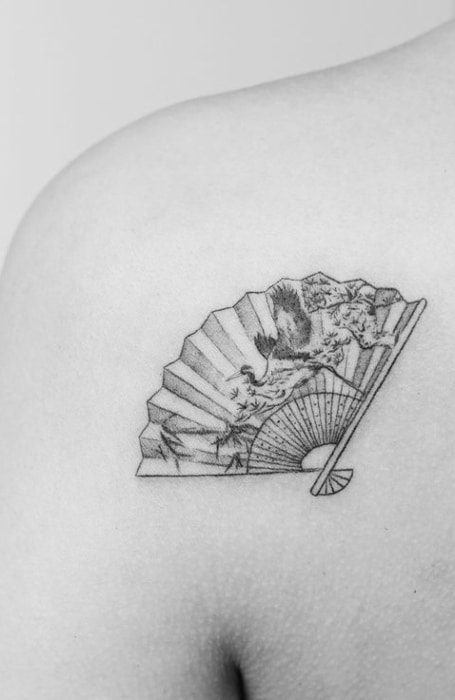 14. Meaningful Chinese Tattoos
Meaningful tattoos are designs that have great personal symbolism associated with them. This is different for everyone, but, in general, good choices are words, quotes, names of loved ones, or images that you have created. They should be able to tell a story about you and your life. Many great options exist, so get creative and find something special and unique.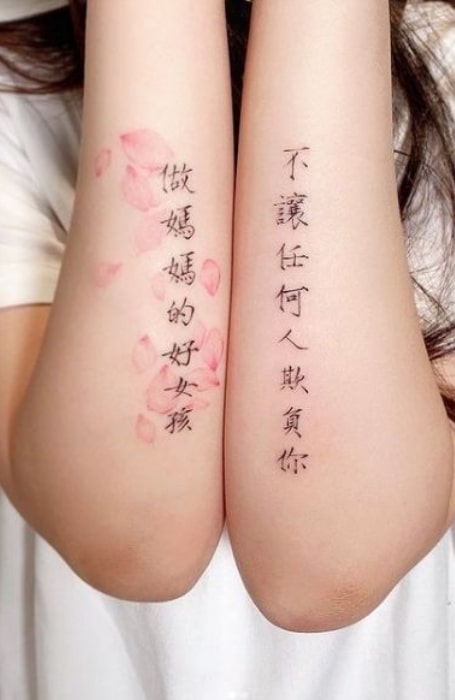 15. Chinese Spine Tattoo
What better way to highlight one of the sexiest parts of the body than with a spine tattoo? There is no denying that an inking here will look edgy and effortlessly cool. But it is also an appealing location because it can be easily covered with clothes, letting you show it off when you want. Will it hurt? You bet, so choose something meaningful that you will not regret in a few years.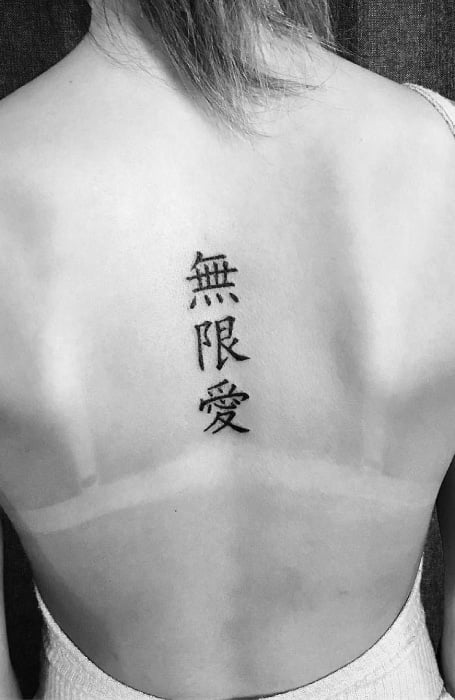 16. Chinese Family Tattoo
What better way to honor those you respect and love than with a family tattoo? This beautiful design celebrates the bonds you share with your nearest and dearest. There are so many ways to do this, including images or symbols, so your choice is a deeply personal one and should reflect who you are as a person.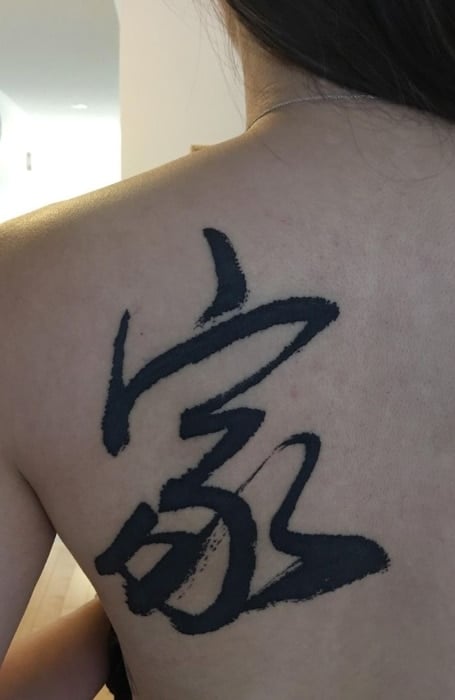 17. Chinese Koi Tattoo
The koi fish tattoo will make for a brilliant inking. You have the freedom to create it in vibrant colors, and it will be easy to combine with other imagery. For example, a lotus will add to the overall meaning. The koi has importance in Chinese culture and represents different things, including strength, good fortune, and wealth. It is also often paired with the yin-yang symbol or created to depict it, with one fish representing yin and the other yang. This shows harmony and balance between two opposing forces.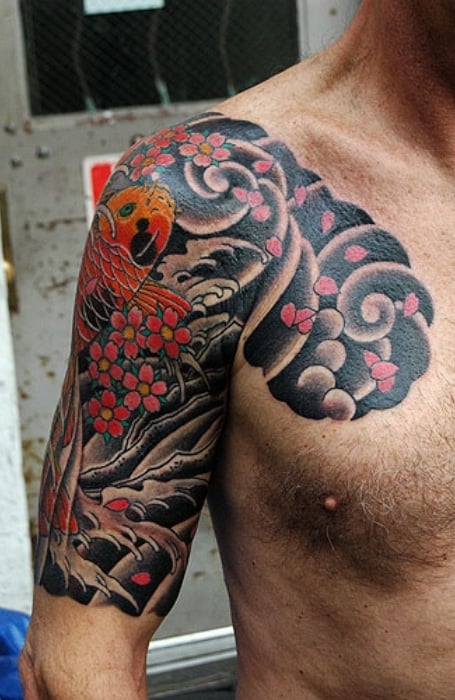 18. Red Chinese Tattoo Behind Ear
A behind-the-ear tattoo is the ultimate placement for those wanting something a little edgy but more subtle. The location is excellent, especially for people with longer hair. This is because it will be easily covered. The ear looks best with smaller designs because it is not a large area, but this is beneficial. Why? Because it can be incredibly uncomfortable getting inked here due to the vibration of the machines.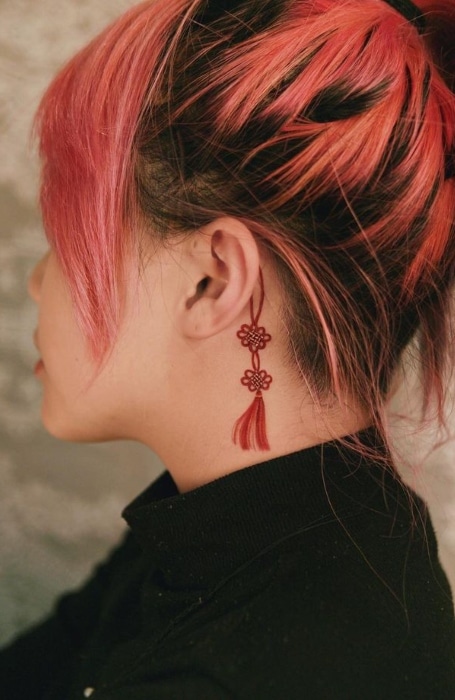 19. Chinese Zodiac Tattoo
The Chinese zodiac consists of 12 animals, each with its own unique meaning and attributes. It is based on the Chinese calendar, and the great detail and importance of each animal have inspired many people to use it for a tattoo design. You can choose the animal and its characteristics based on your birth year or the year of someone you love. Whether you want an image of a pig, dog, rooster, monkey, or more, this makes for a brilliant inking.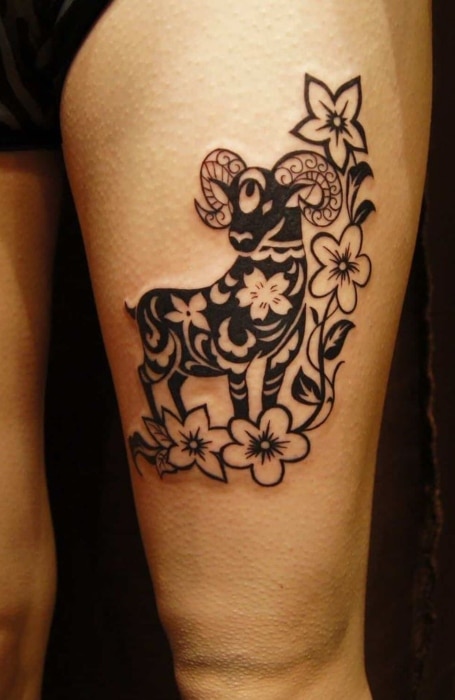 20. Chinese Warrior Tattoo
A Chinese warrior will make a powerful statement. It is a tattoo that is filled with meaning, representing courage, strength, loyalty, and honor. There are various designs to choose from, including depicting an individual in a full suit of armor or opting for something more simple, like the symbol for a warrior. Regardless of how you choose to depict this piece, it is something that should be worn with pride.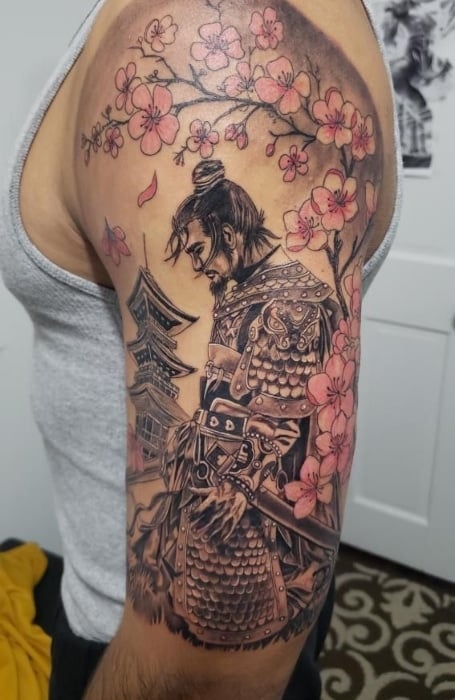 21. Arm Chinese Tattoos
Arm tattoos are some of the most versatile placements. They can be easily shown off but are also covered with clothing. Whether you choose the top of the arm or focus the design on the forearm, there is enough space to select an inking that is large enough to allow for detail. Plus, it is not a particularly painful spot to get inked.This is always a big consideration when it comes to tattoos.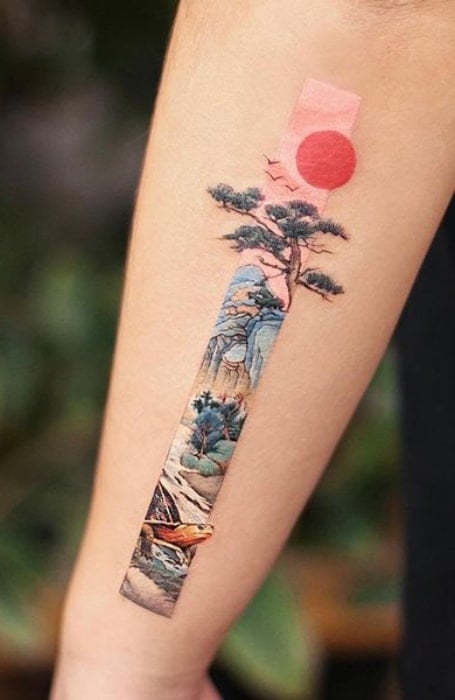 22. Chinese Phoenix Tattoo
If you love mythological creatures and have an interest in Chinese folklore, a phoenix tattoo will appeal to you. The firebird represents the life cycle, most importantly, rebirth. In Chinese folklore, it is known as Fenghuang and is associated with the empress. Therefore, your inking can be used to show respect to royalty but is also symbolic of peace and prosperity.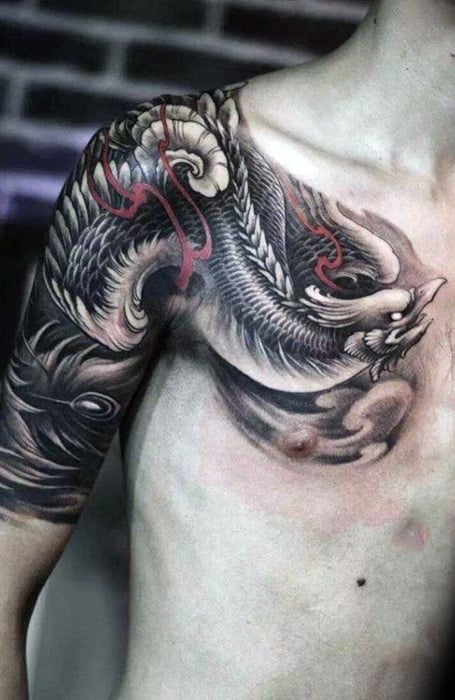 23. Chinese Tattoo For Strength
Choosing a tattoo to symbolize strength is a simple but incredibly symbolic choice for your next body art. The word can be interpreted in many ways. This includes reminding the wearer of their inner power and the importance of resilience. Life can be unpredictable, but remaining confident, no matter what it throws at you, will help set yourself up for success.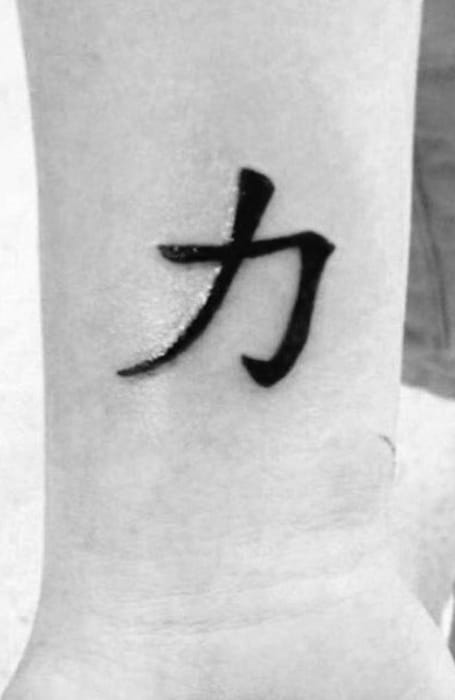 24. Chinese Dog Tattoo
When talking about a Chinese dog, it is not likely that people are referring to a man's best friend. Instead, this is not the typical canine but a foo dog, a guardian lion often symbolic of protection or prosperity. You can see beautiful statues of these creatures outside important buildings. So, getting one tattooed onto your skin forever can make a powerful statement.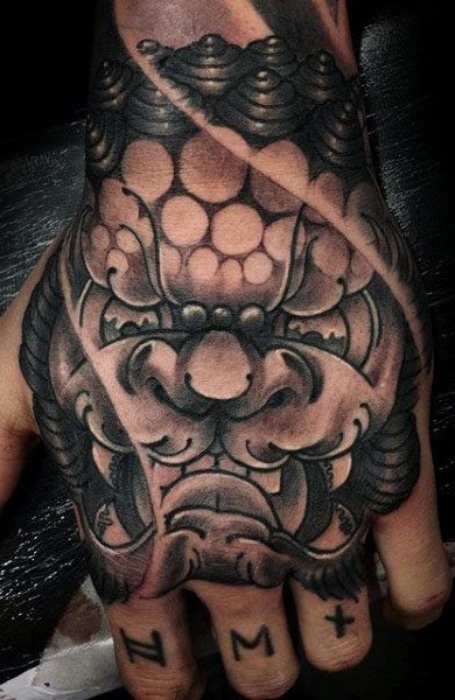 25. Chinese Tribal Tattoos
Different cultures around the world have inked tribal tattoos. They will tell much about the wearer and have been used for protection, intimidation during battle, or to indicate social hierarchy. For Chinese tribal tattoos, while the Dai people have placed great importance on the art of tattooing, it would be offensive to replicate their markings. Instead, opt for a more stylized approach that features black ink and bold lines with minimal shading.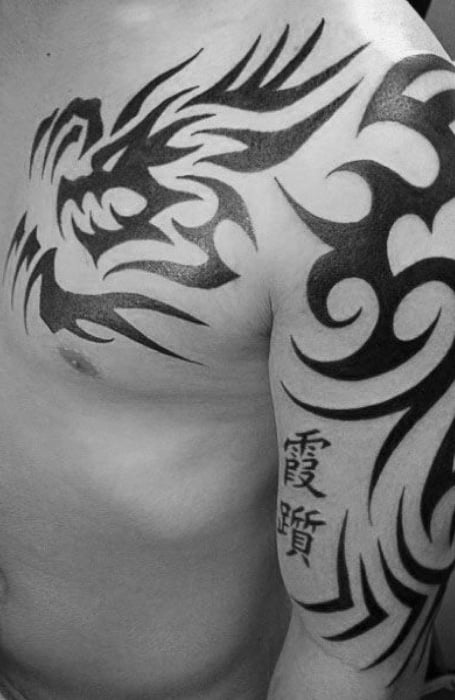 26. Chinese Cat Tattoo
The lucky cat tattoo is a cute and symbolic choice for your inking. It represents good luck, prosperity, and wealth. You have probably seen them being sold as a trinket in stores. This little cat will look great in the home for decorative and symbolic purposes. You may be able to find them in Chinatown, but this design is not Chinese. It is actually thought to have originated in Japan.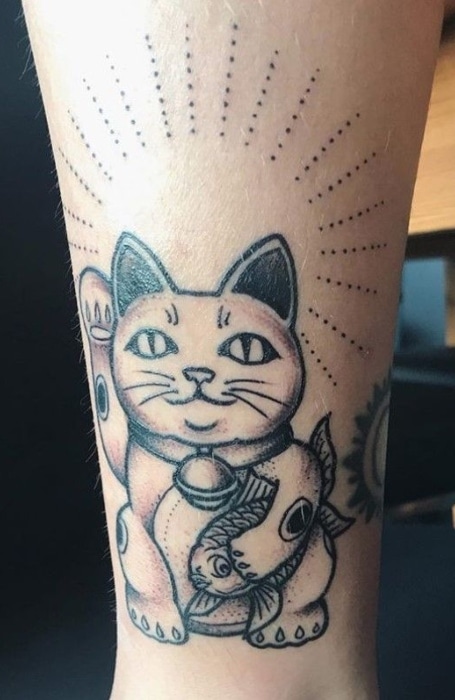 27. Chinese Knot Tattoo
If you want a design that can bring you peace of mind, offer protection, and ward off evil spirits and those who wish you harm. This is it! The Chinese knot tattoo looks best in red ink and will have a very positive association, bringing the wearer good luck and fortune. There are different designs to choose from, and it will look great when paired with other imagery or inked alone, depending on the detail you desire.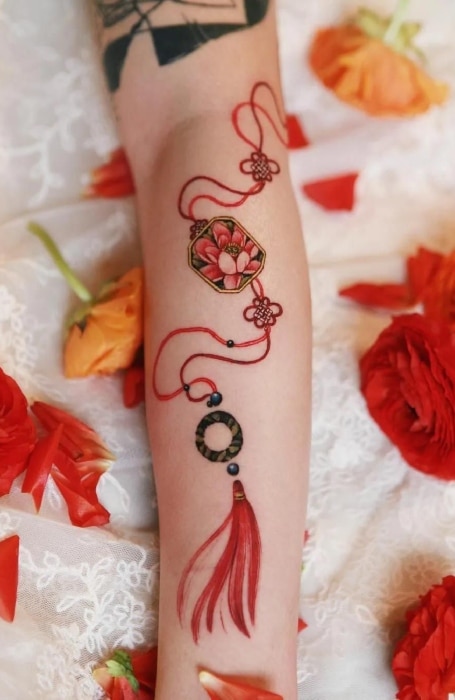 28. Peace Chinese Tattoo
There are many Chinese symbols that depict different things, but one of the most commonly used represents peace. It may seem like a simple choice for your next tattoo, but it can mean so much to many. This could include encouraging a sense of inner peace, reminding you to strive to find balance and equilibrium, or addressing what is and what is not, making you happy.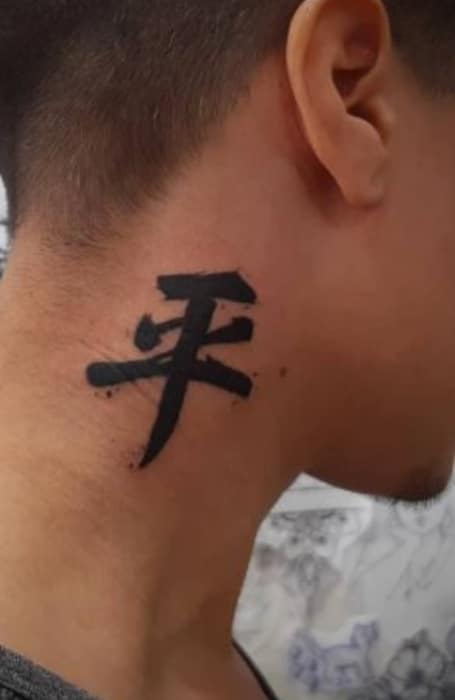 29. Chinese Cloud Tattoo
The Chinese cloud tattoo is not the fluffy, wispy clouds many of us are familiar with. Instead, they have a distinct shape consisting of swirls and curls. You can include several clouds for a detailed, patterned finish or add them to other imagery to alter the meaning. Speaking of which, the clouds will also represent happiness and good luck and are a positive sign.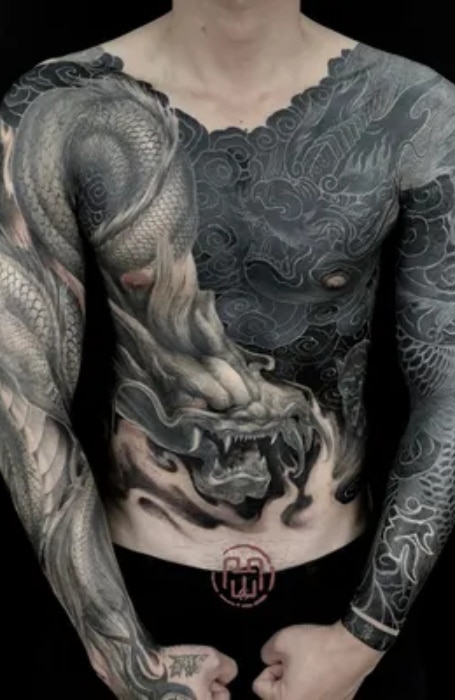 30. Chinese Guardian Lion Tattoo
The Chinese guardian lion has many names associated with it. But regardless of what you call it, it is a popular choice for a tattoo because it has beautiful detail and is important. The statues are found outside important buildings. These will include palaces and government houses. The Chinese guardian lion will represent success, wealth, good fortune, and protection. Your lion tattoo design can be a way to honor Chinese culture and will make for an excellent inking.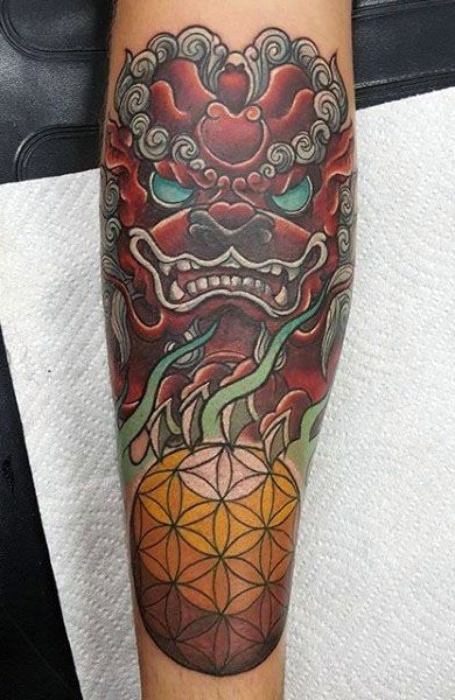 31. Chinese Hand Tattoos
Hand tattoos are unmissable, and while this is a great option to show off cool or meaningful ink, there is also a rebellious feel to this placement. This is because criminals and hardened individuals have traditionally favored it. Is it the most subtle location? Definitely not. But this is what draws people to get tattooed here.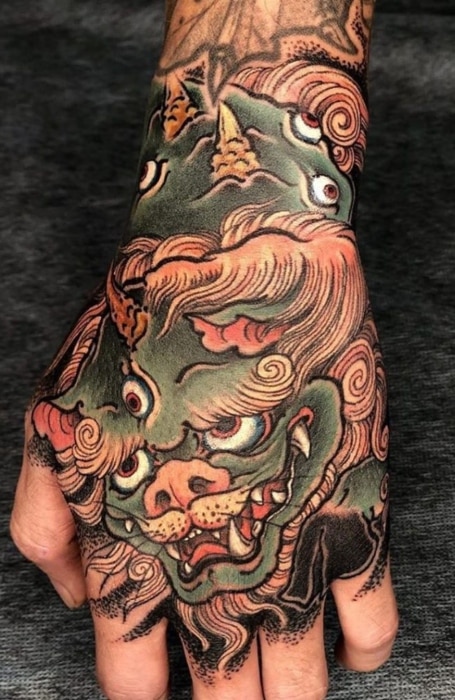 32. Chinese Lantern Tattoo
A lantern tattoo is a beautiful design and one that is rich in symbolism. It will represent new beginnings and letting go of the past. This will remind you of the importance of finding your path in life. In China, a lantern festival honors deceased ancestors, promotes peace, and encourages forgiveness. It is not hard to see why this design would have great appeal.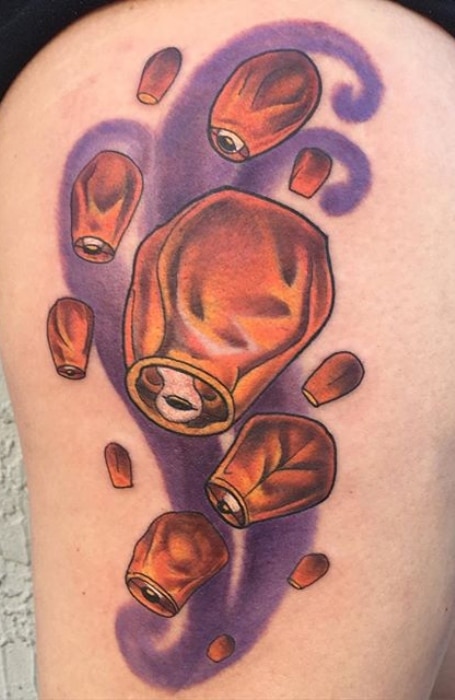 33. Chinese Tattoo Quotes
Quote tattoos can say a lot about the wearer. You can take inspiration for them from anywhere, including your favorite films and novels. Or it could even be something a loved one has said that has stuck with you. Words can move, inspire, and motivate us to do better, be better, and act in a way we can be proud of.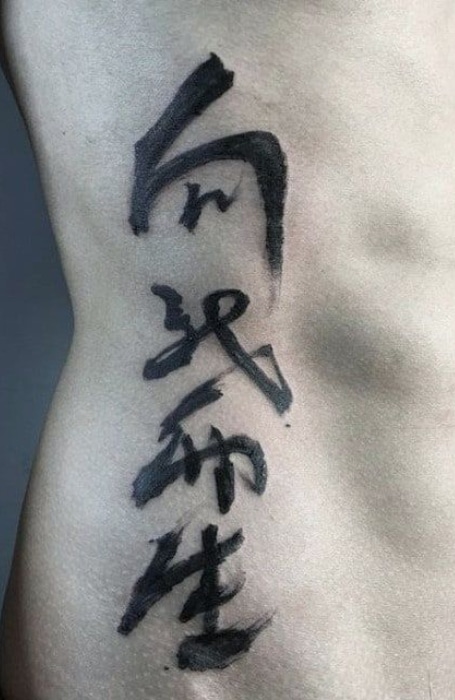 34. Chinese Triad Tattoos
Body art is not always viewed favorably. Historically, it has been favored by criminals, outcasts, and those on the fringes of society. This includes the Triad. The Triad is a Chinese organized crime syndicate who were known to adorn their bodies with ink. This is a way to show dedication and commitment to the organization and reflect. This is obviously not something you want to replicate, so let this be an inspiration rather for the designs you do not wish to get.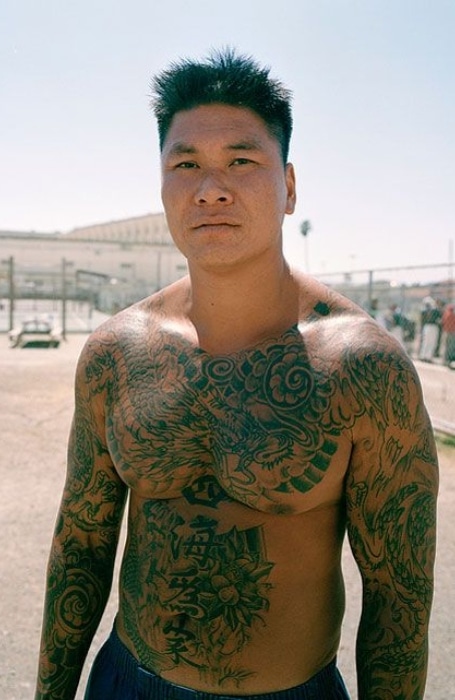 35. Faith Hope Love Tattoo Chinese
Chinese tattoos can include quotes or a series of symbols with great personal meaning. This would include a Faith, Hope, Love design. These three words can have various interpretations, depending on who the wearer is. The most basic and obvious example would be the importance of these theological virtues in your life which could be a way to show your dedication to your faith.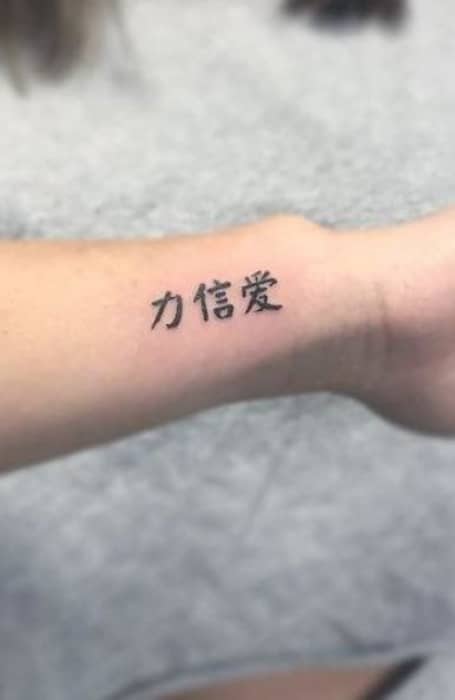 Chinese Tattoo Ideas FAQs
What is the Chinese style tattoo called?
The art of tattooing in China is called Ci-Shen. Despite existing for thousands of years, it is not popular in mainstream society, but the writing, folklore, and rich culture have inspired many individuals to create their own body art.
What does a Chinese dragon tattoo mean?
The dragon features in Chinese folklore and is important, representing power, wisdom, strength, and good luck. It is also associated with the male element of the yin-yang symbol. It is one of the most beautiful and symbolic choices for a tattoo.
SUBSCRIBE TO OUR NEWSLETTER
Subscribe to our mailing list and get interesting stuff and updates to your email inbox.