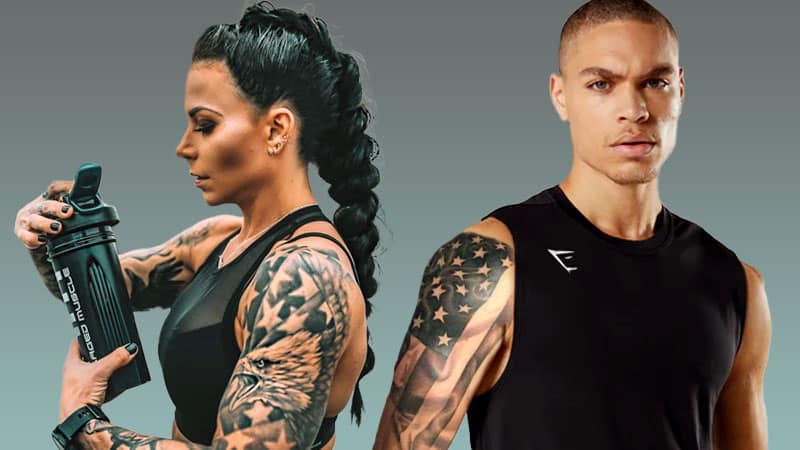 Inspiration for body art can come from anywhere, but today, we are focusing on the brilliance of the red, white, and blue! The American flag has been seen as a symbol of freedom, liberty, and justice. It reminds you to fight for what you hold dear to your heart or to be resilient and steadfast. Deciding to get this design will make a powerful statement and is a great way to celebrate your love and devotion to your country. If you are looking for exciting ways to create an American flag tattoo that feels fresh and unique, look no further! There are several ways to get creative with the design, and you can add imagery and experiment with different styles and colors to give you a tat that you will be proud of and want to show off. Keep reading to become inspired and find out more.
1. American Flag Forearm Tattoo
The American Flag is seen by many as a symbol of freedom, liberty, and justice. It is an excellent option for patriotic individuals who want to show their love for their country, and what better place to do this than with a forearm tattoo? The visibility and moderate pain of the location makes it the ideal spot for any inking.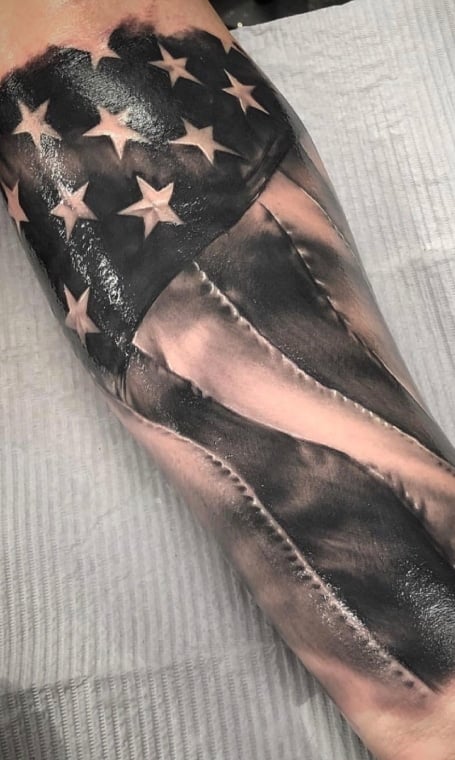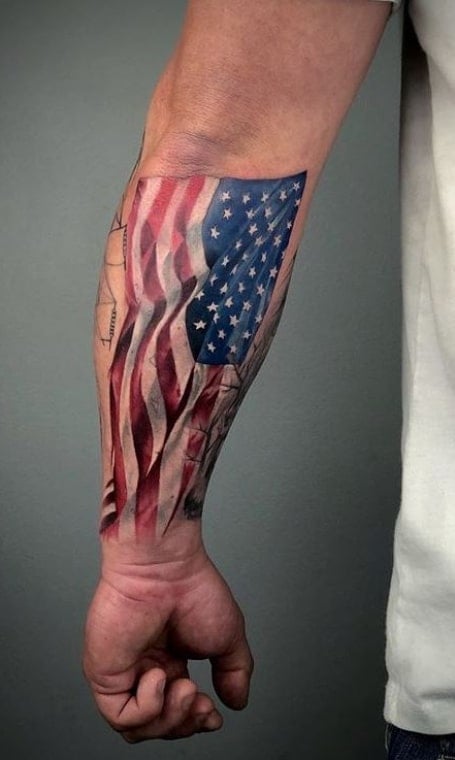 2. American Flag Sleeve Tattoo
Sleeve tattoos are for those who want to tell a story with their body art. This is undeniably one of the most remarkable ways to make a statement and will draw attention to your arm because it covers it like a sleeve of clothing would. The American flag can be combined with other imagery to add to the overall meaning. This could include an eagle, words, quotes, or a cross.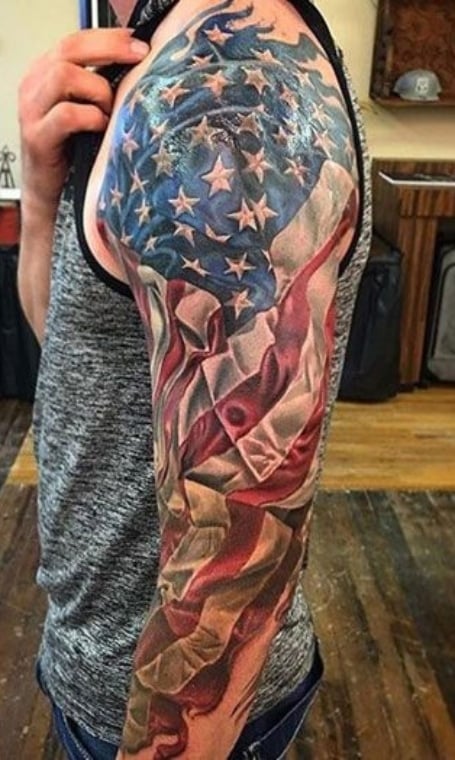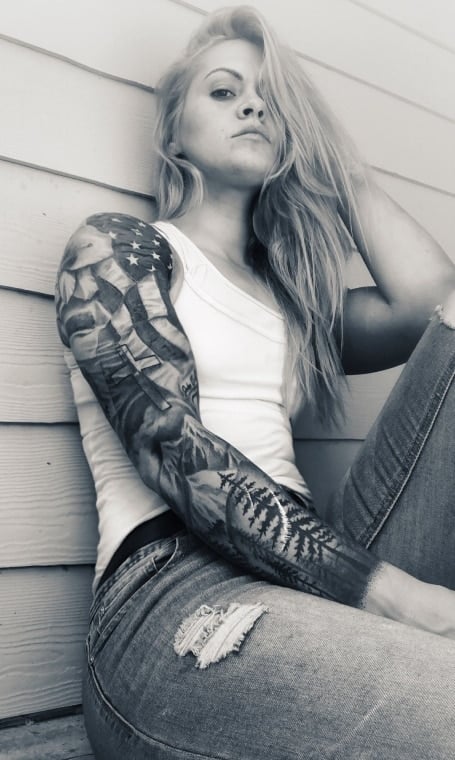 3. American Flag Shoulder Tattoo
Shoulder tattoos are pretty badass, and they look good on bodies of all shapes and sizes. The location is excellent because it can be easily covered and shown off whenever you decide. It is also large enough for a detailed design and low to moderate on the pain scale chart, which is a significant pro, especially when opting for a more complex piece.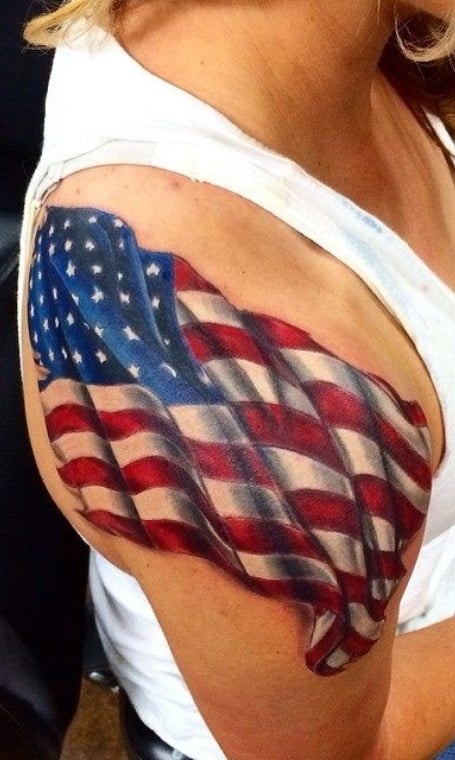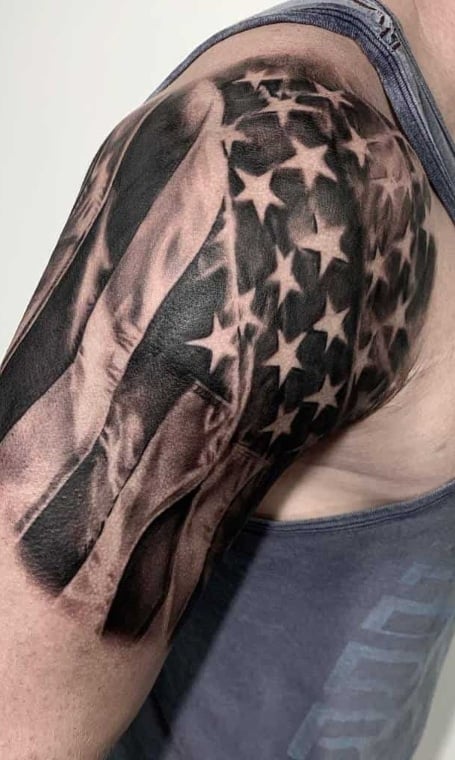 4. American Flag Eagle Tattoo
What better way to drive home the message of patriotism while also creating a more detailed tattoo than with a design of the American flag and eagle tattoo? The bald eagle is the national bird and is seen as a symbol of strength, freedom, and dignity. The combination makes for an excellent and thoughtful piece, often favored by those in the armed forces.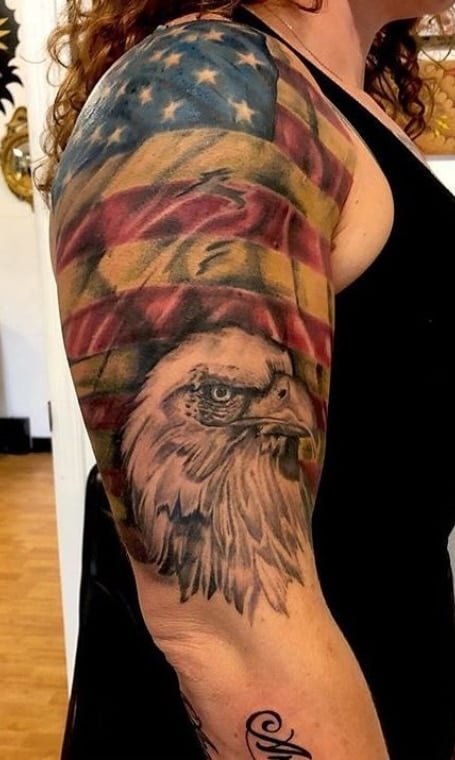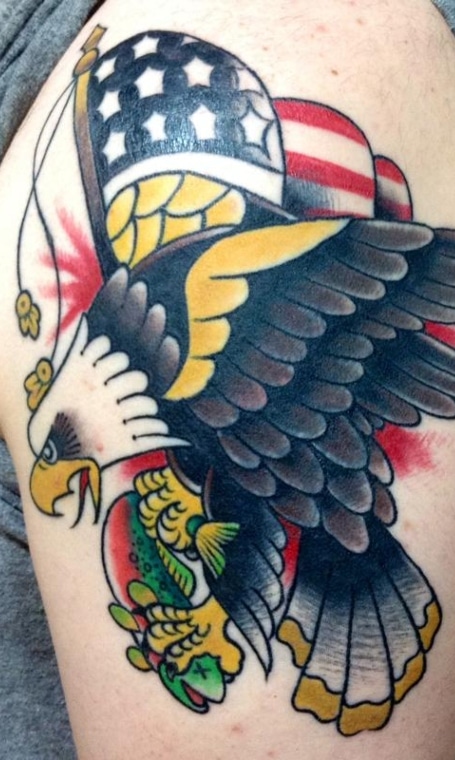 5. American Flag Arm Tattoo
Arm tattoos are a popular choice for men and women for several reasons. For starters, the area is large enough to allow for the design of your choice. It is also considered low to moderate on the pain scale chart (depending on where you get inked) and offers you versatility as it can be easily covered. But the real reason you should get your American flag tattoo here? You can show it off!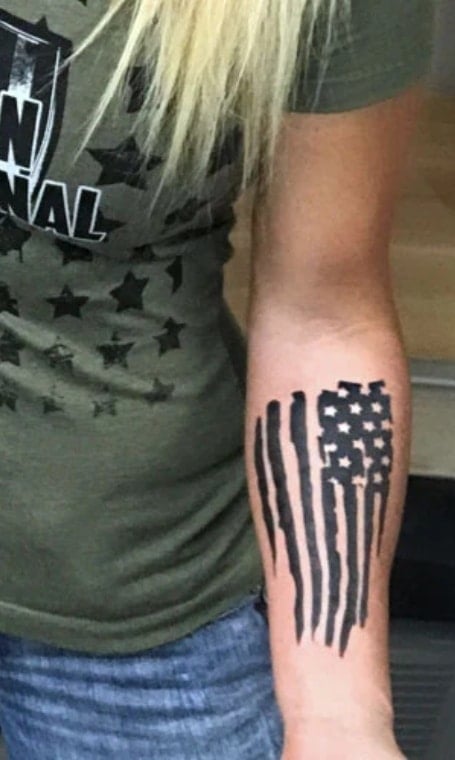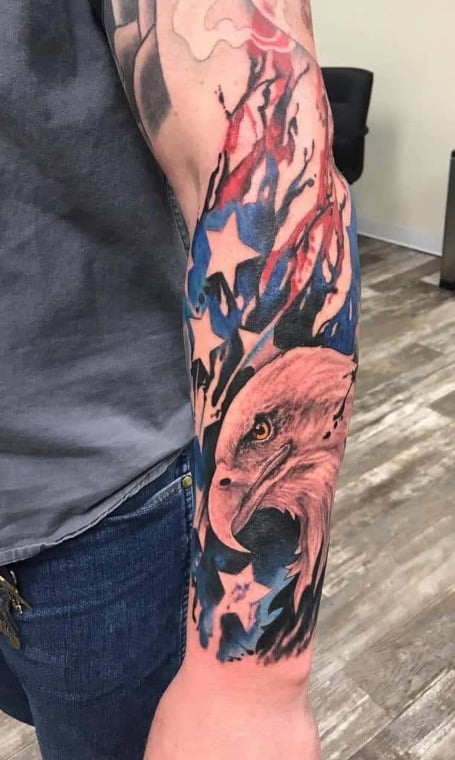 6. American Flag Cross Tattoo
Those who are creative will find there are many ways to incorporate the American flag into their design. Instead of opting for the traditional approach, why not make your inking more personal by combining it with a cross tattoo? This is an excellent way to show devotion to your faith while celebrating patriotism.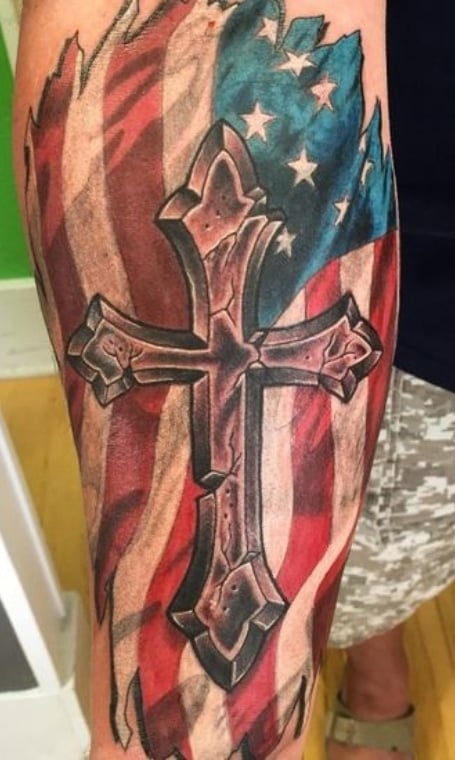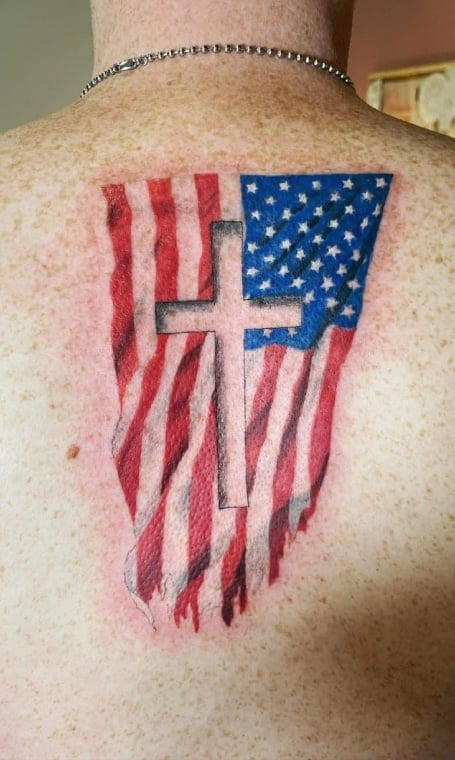 7. Black American Flag Forearm Tattoo
The Black American Flag tattoo can be used to show your support for law enforcement. This is an excellent design for those who work in the profession or someone who has a deep respect for the jobs they do. For others, a black flag has ties to the civil war. It is believed to have been used by confederate soldiers to show that they would not surrender and would continue fighting.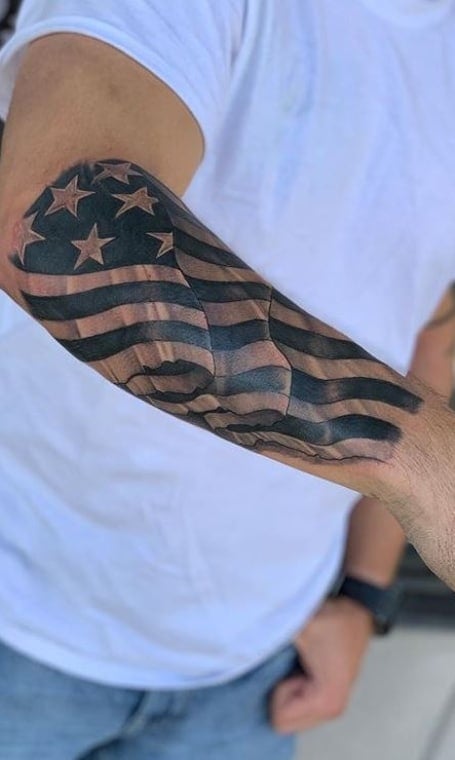 \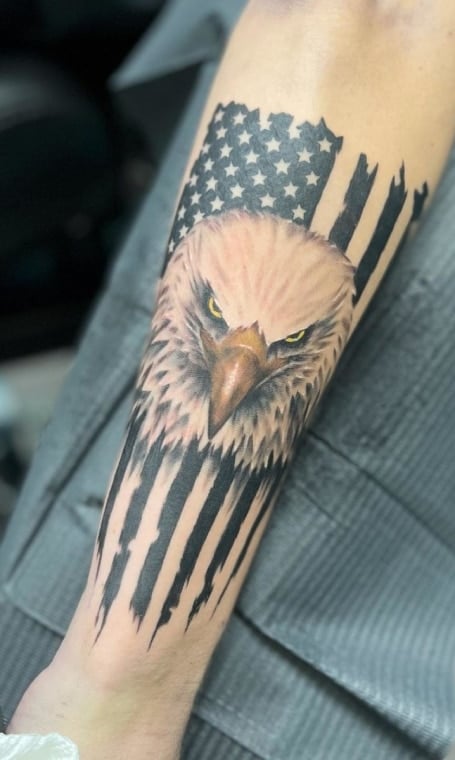 8. Black And White American Flag Tattoo
Most people choose color designs when getting inked with an American flag because this will make your tattoo pop. But this is not the only option; there are several techniques and colors to experiment with, including black and white. If you love contrast and want to show off the shading, this is your choice! Plus, there's something understatedly cool about the muted hues.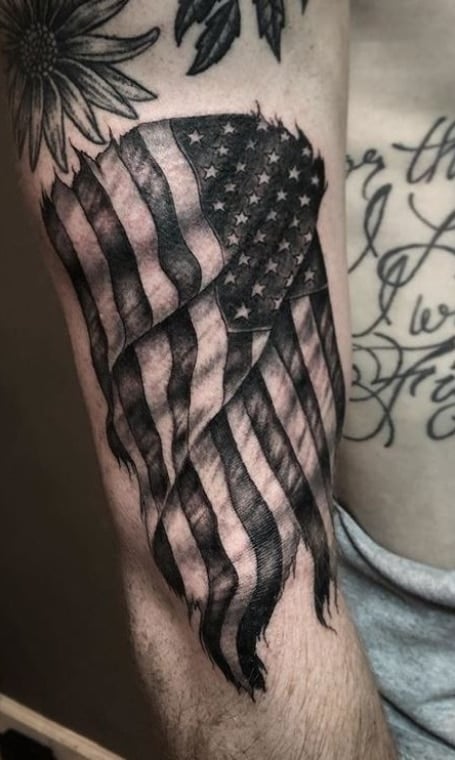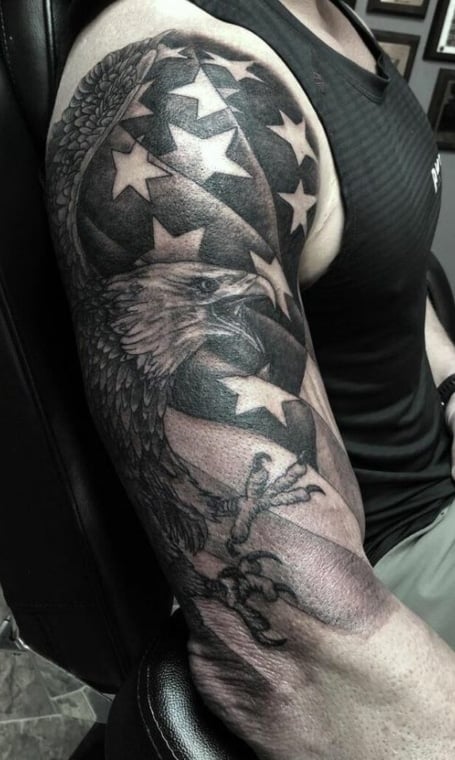 9. Black Ripped American Flag Tattoo
A ripped or tattered image of an American flag can make a powerful statement. It often indicates resilience and determination even when faced with the most challenging situations. This piece could remind you to believe in your worth or to have faith in your country, despite all odds. There are several interpretations that are what makes this design so unique and beautiful.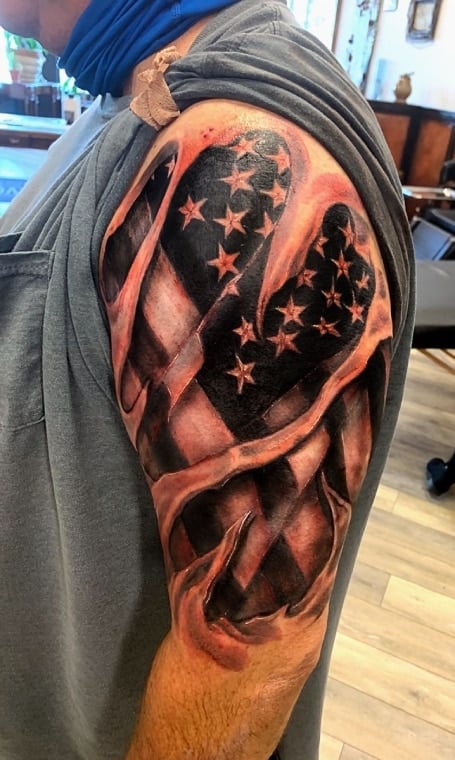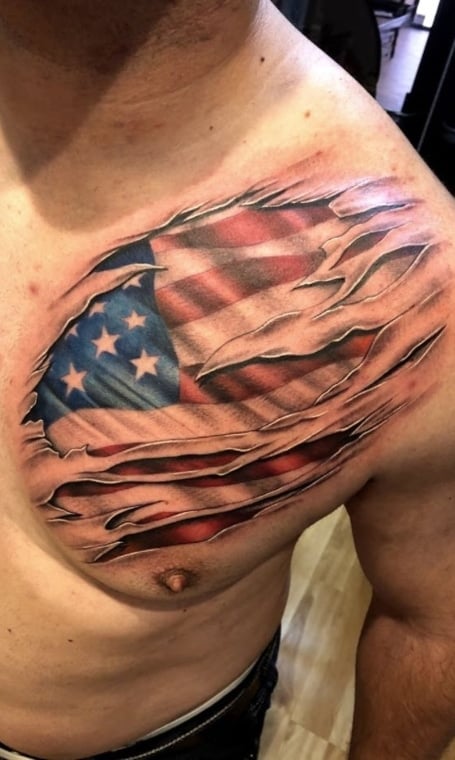 10. Mexican American Flag Tattoo
If you have dual nationality and want to show your love for both of your countries, you can combine flags. For example, a Mexican American flag tattoo is a way to celebrate your patriotism and loyalty. This could be an excellent opportunity to experiment with color, creating something eye-catching that will pop against your skin.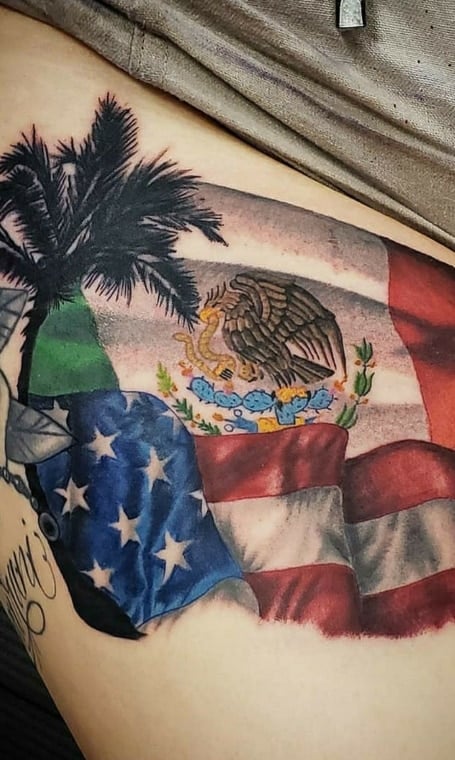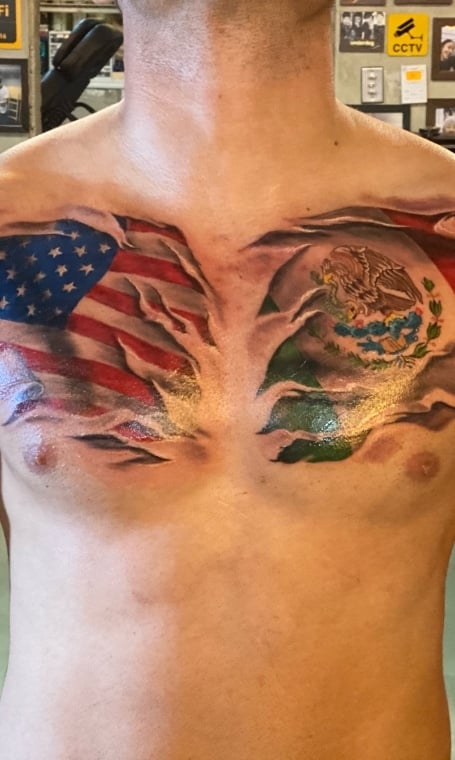 11. Small American Flag Tattoo
Showing your devotion to your country does not have to be done in a big and loud way. Sometimes the best designs are created for you and only you. Small tattoos are often this and can appear simple and delicate. The size gives you versatility with the placement, whether you want a tiny inking just above your heart or on your thigh.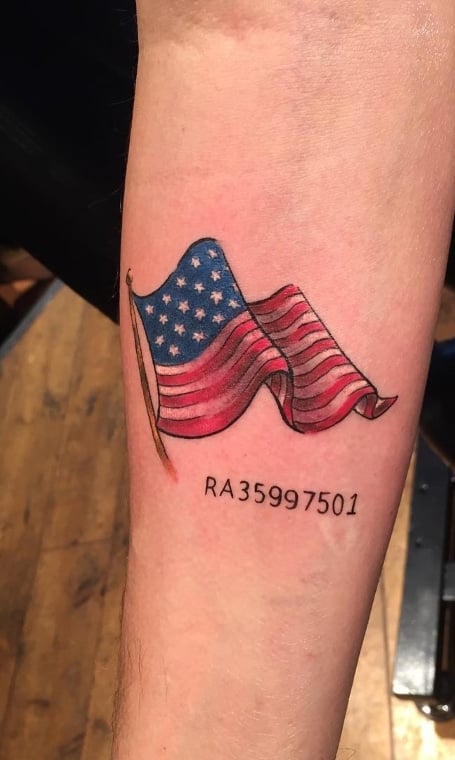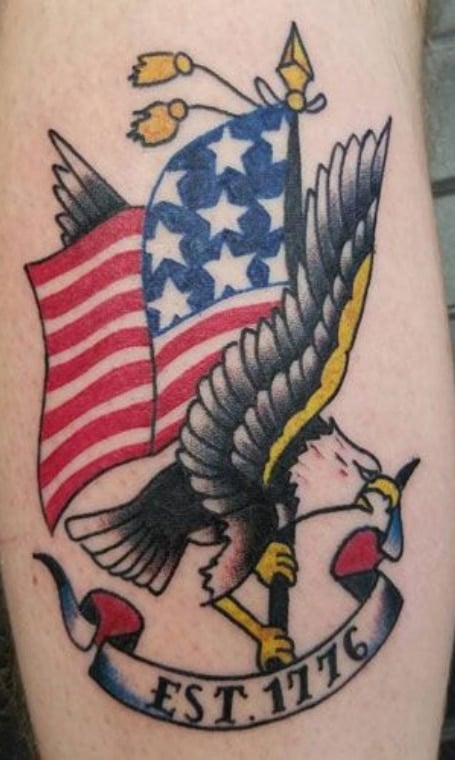 12. Black And Grey American Flag Tattoo
There is a definite appeal to color tattoos, especially for specific designs, because they can bring them to life. However, consider black and grey inking if you want body art that feels more classic and will last longer. This is an excellent choice for the American flag and can make it feel dark and moody, adding to the emotion of the piece.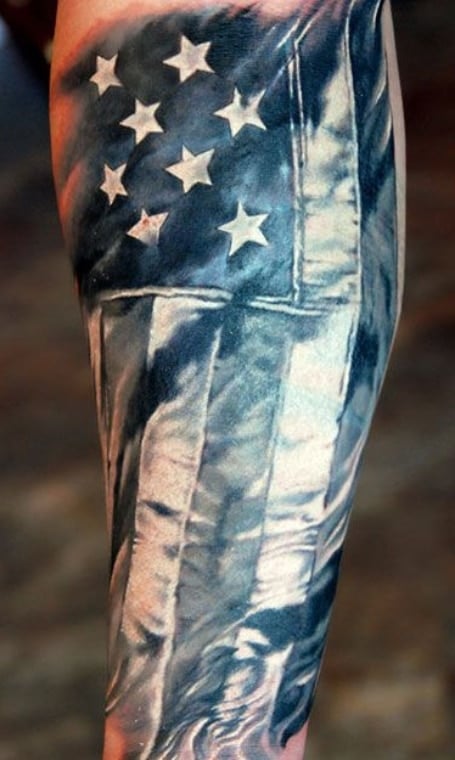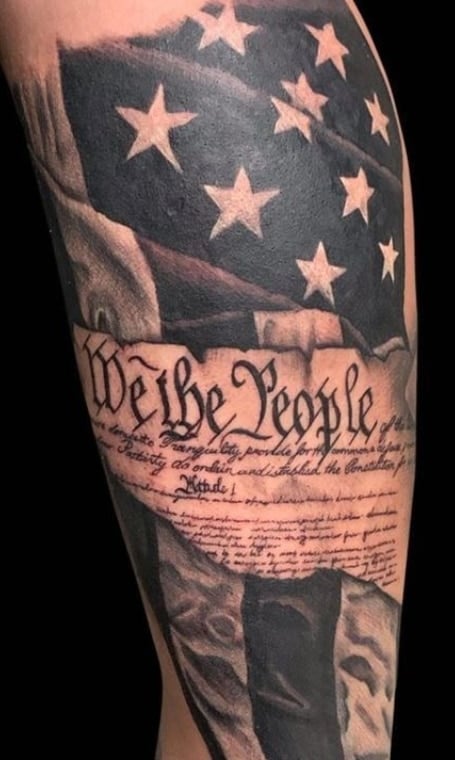 13. Half Sleeve American Flag Forearm Tattoo
We can all appreciate the beauty of a complete sleeve design, but a half sleeve tattoo is just as cool and even more versatile. The images will cover only half the arm, making it easier to cover up and more affordable to get inked. At the same time, it still makes for an expressive piece you want to show off!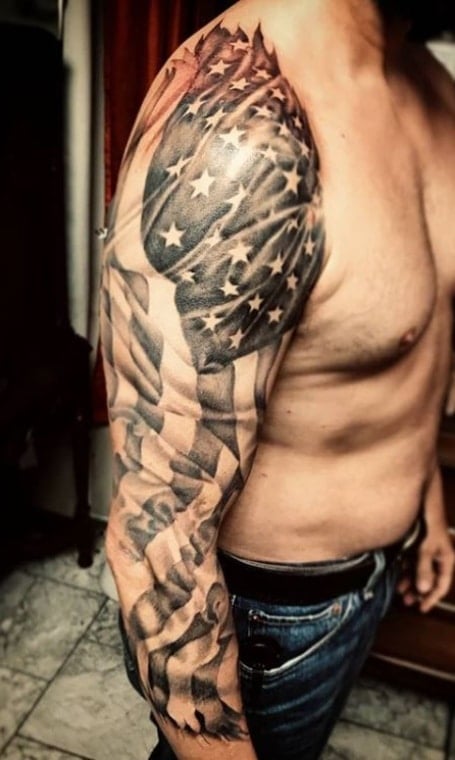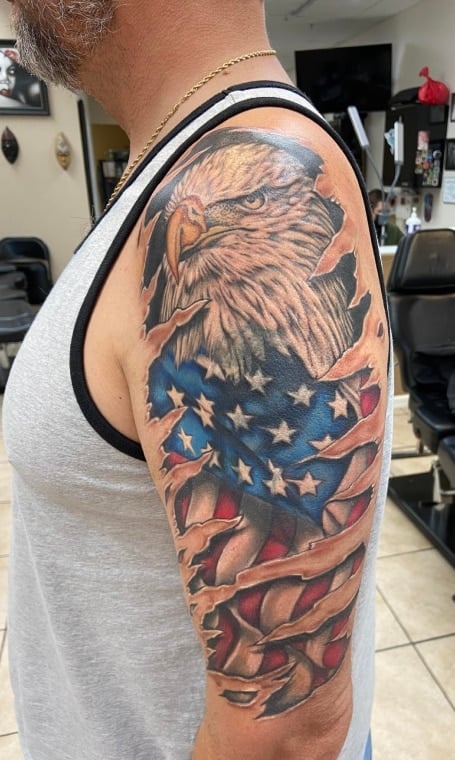 14. Tattered American Flag Tattoo
A tattered American flag tattoo is so expressive; just by looking at the design, you are confronted with emotions. Are you hardworking, determined, and resilient? Will you fight until the end for the things you believe in and are passionate about? If so, this is the perfect choice for your next inking because it is symbolic of these things and can remind you to remain steadfast in times of struggle and adversity.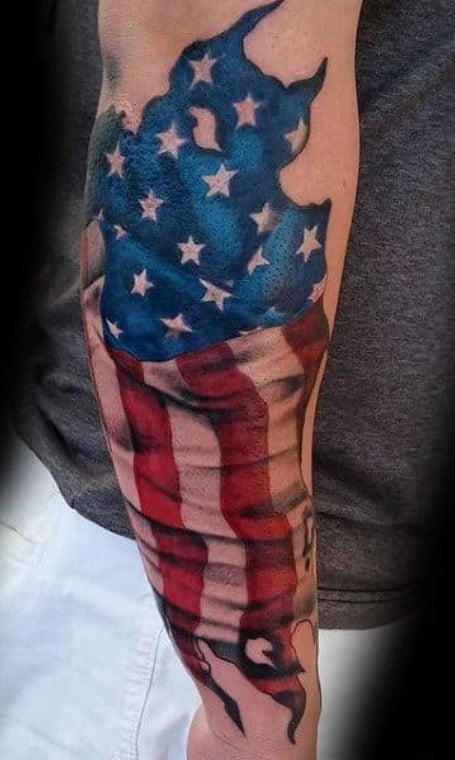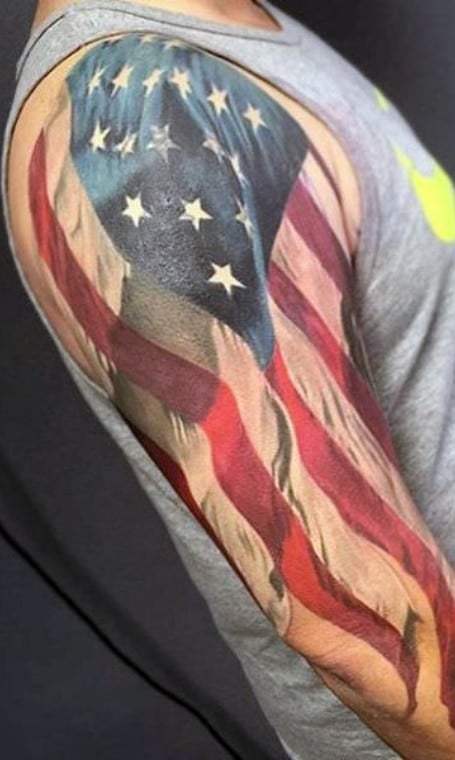 15. American Flag Chest Tattoo
Chest tattoos are undeniably cool but are also one of the most painful locations to get inked. This is because of the area's proximity to bone and thin skin, which makes it reserved for truly meaningful tattoo designs. The American flag is one of those because it lets patriotic individuals wear it close to their hearts at all times, adding to the overall symbolism.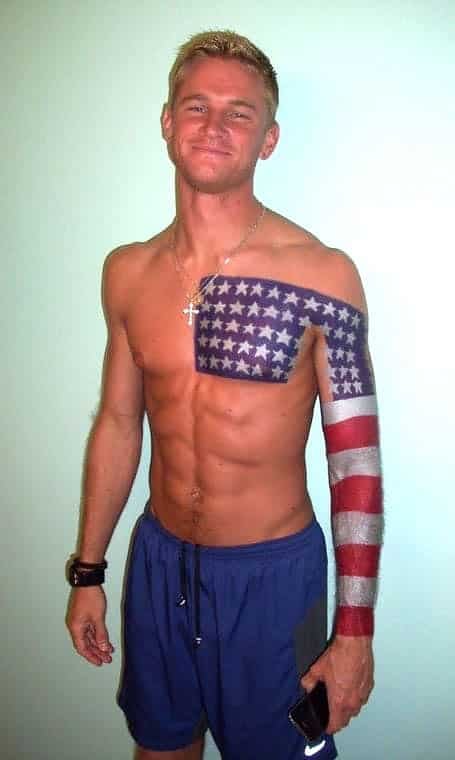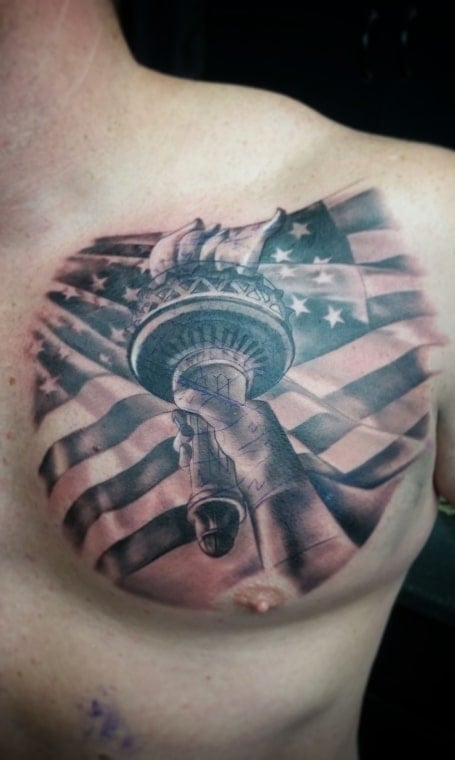 16. American Flag Rose Tattoo
When designing the perfect ink, there is no right or wrong way to go about it. Your creativity is your only limit, which is excellent because it will let you combine several designs or add unique details to your piece. An American flag and rose tattoo can have a softer, more feminine finish, but the symbolism will be even greater. The bloom will represent love, passion, pleasure, and pain.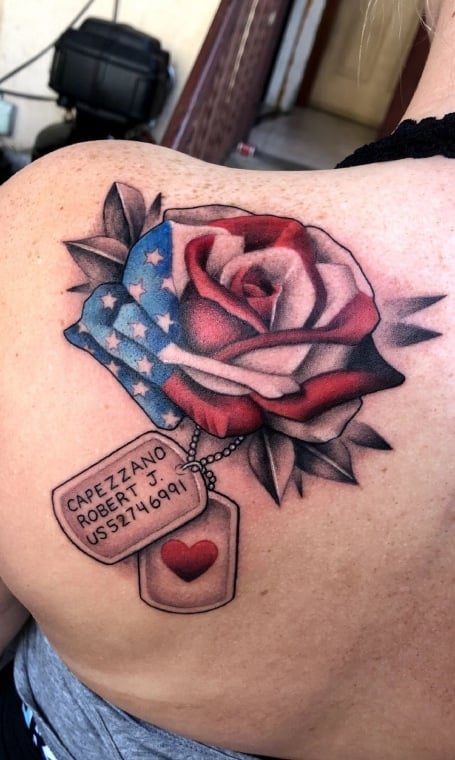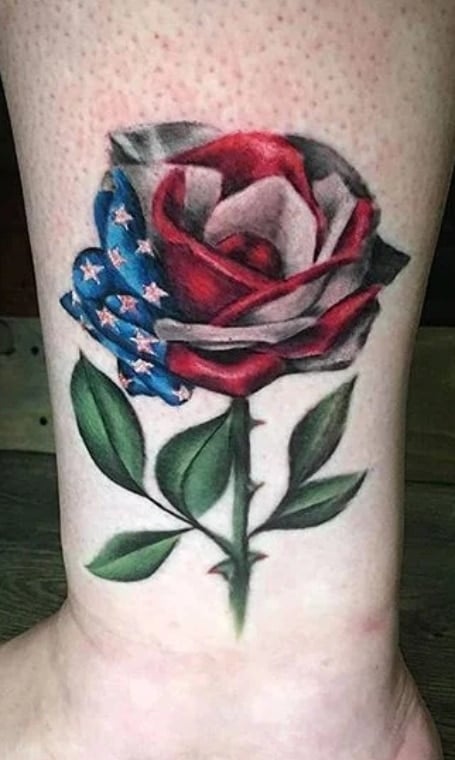 17. American Flag Tribal Tattoo
Tribes around the world have been using the art of tattooing for expressive purposes. Their body art can tell a lot about the wearer, including social hierarchy, achievements, and success in battle. These days, there is a more general tribal tattoo style for the average man and woman. It is defined by the simplicity of the imagery and thick, black outlines. This will make for a bold piece that will get you noticed.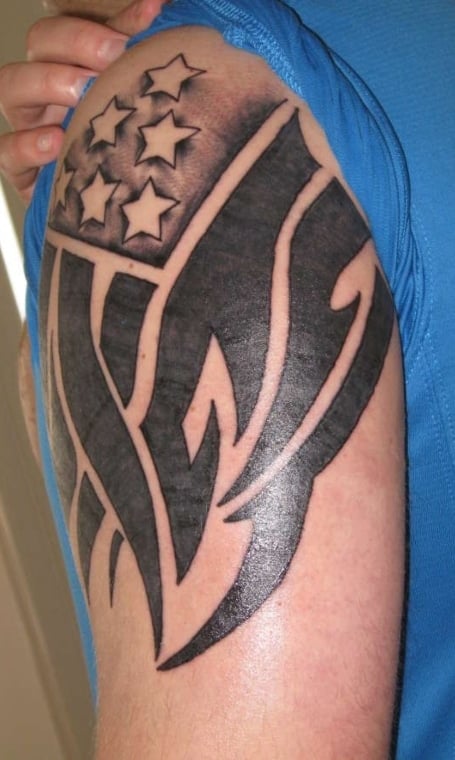 18. American Italian Flag Tattoo
Combining two flags is an excellent choice to celebrate your heritage and homeland. If you have dual nationality, or if your family immigrated to the USA to pursue the American dream, you may have a unique and symbolic tattoo that incorporates both flags. Don't be afraid to use bright colors and get super creative.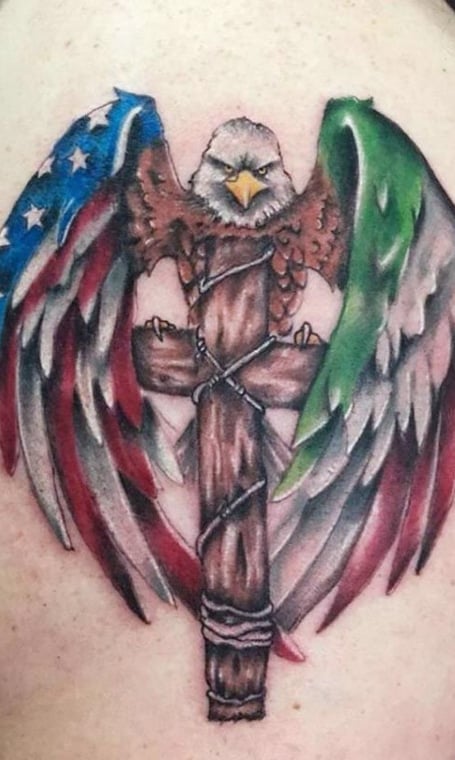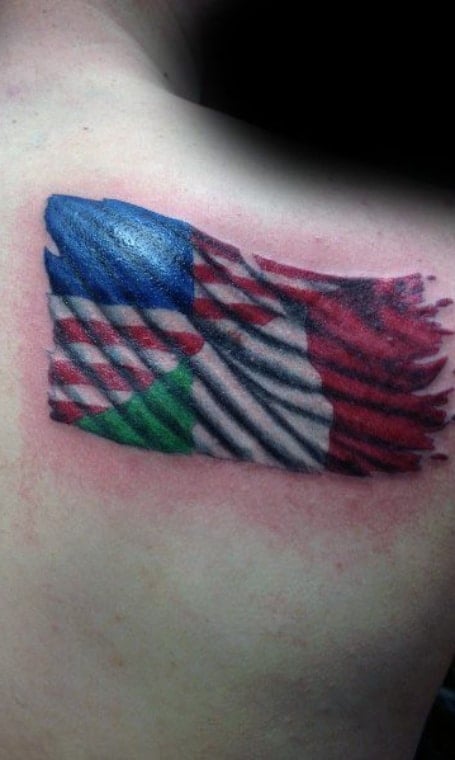 19. Simple American Flag Tattoo
Finding the right body art is a process and an incredibly unique one at that. Not every piece has to be detailed, as simple tattoos prove. Often the most beautiful designs focus on the basics, giving them a clean finish that does not feel tired or dated. Create a simple American flag design if you prefer a minimalistic aesthetic.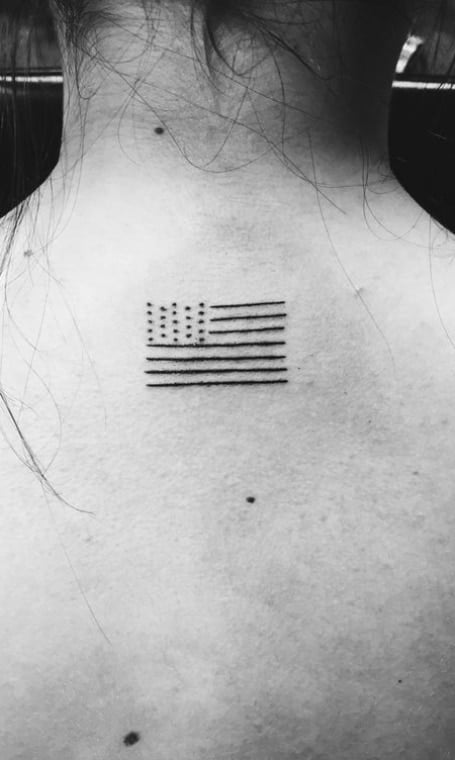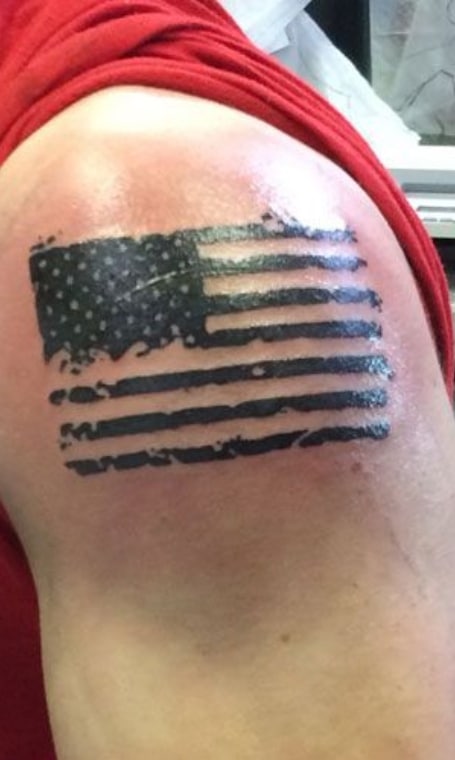 20. American Flag Calf Tattoos
Have you got some really great calf muscles? If so, it is time to show them off with a calf tattoo! You can create your American flag to be large or small, in great detail, or super simple. This gives you plenty of options when it comes to the placement. The appeal of this location, in particular, is that you can show off your tat whenever you want; whip out those shorts!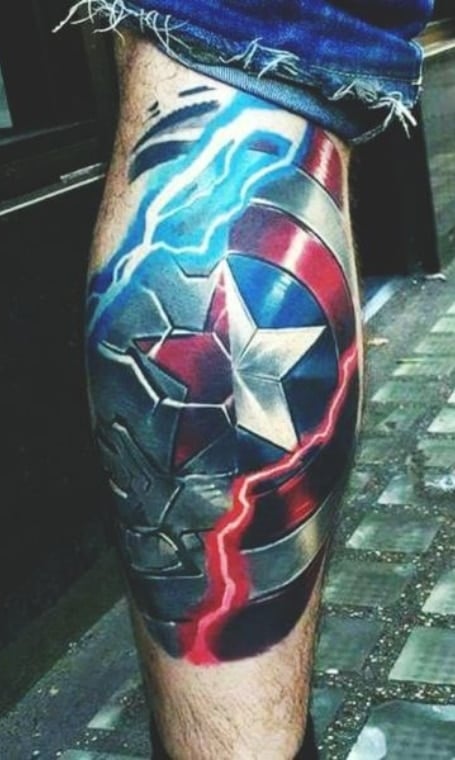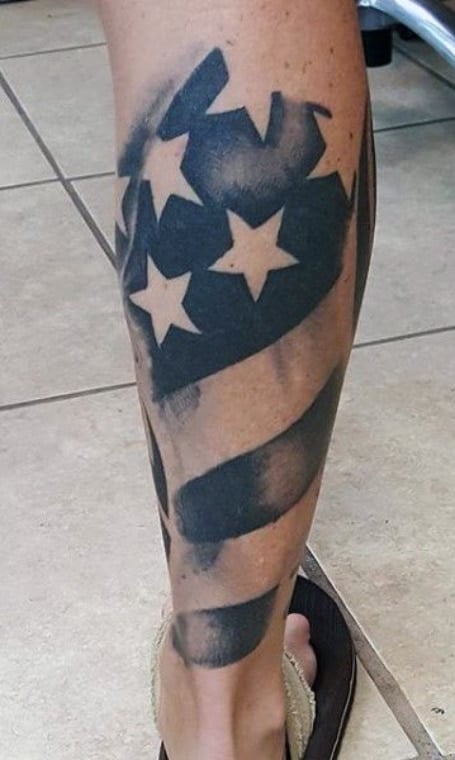 American Flag Tattoo FAQs
What does an American flag tattoo mean?
An American flag tattoo is associated with liberty, freedom, and justice. It can also have other symbolism, depending on your interpretation, or the images you combine. For example, you may wish to wear an American flag and a cross design, which also shows your devotion and commitment to your faith.
Is it OK to get an American flag tattoo?
American flag tattoos are often inked to celebrate your patriotism and can make a powerful statement. There are many designs to create that will be a beautiful way to honor this. However, if you intend to make a political statement against American or use images that could be seen as offensive, then this decision could be ill-advised.
What does a black American flag tattoo mean?
There are different meanings associated with the black American tattoo; for some, it represents their loyalty to law enforcement. For others, a black flag has ties to the civil war and is believed to have been used by confederate soldiers to show that they would not surrender and would continue fighting.
SUBSCRIBE TO OUR NEWSLETTER
Subscribe to our mailing list and get interesting stuff and updates to your email inbox.