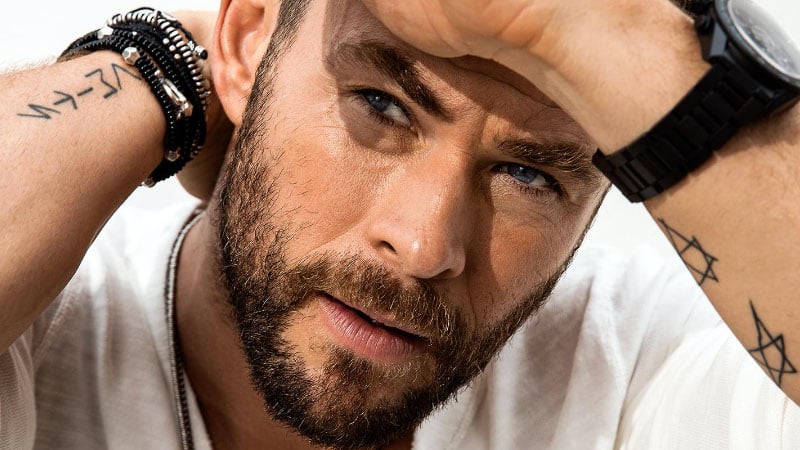 When it comes to choosing your next ink, wrist tattoos for men are a versatile option. They can be easily shown or hidden under a shirt, and they look good, whether simple or more complex. Guys that are after a smaller design have a lot of different options to choose from that suit the wrist placement, whether it's a short quote, symbol or shape. Men wanting a more complex design – potentially as the start of a sleeve – will also be well served with a wrist tattoo. Check out these original and authentic options to suit your style.
1. Small Wrist Tattoo
Because your wrist is one of the narrower tattoo placements, it suits a smaller inking. Plus, a small tattoo will be quicker for your artist to apply, meaning you won't need to endure too much pain. Many men choose their wrists for meaningful tattoos because they are visible at any time. Some ideas include the initials of a loved one, your favorite quote from a movie or song lyric, or religious symbols like the cross or numbers.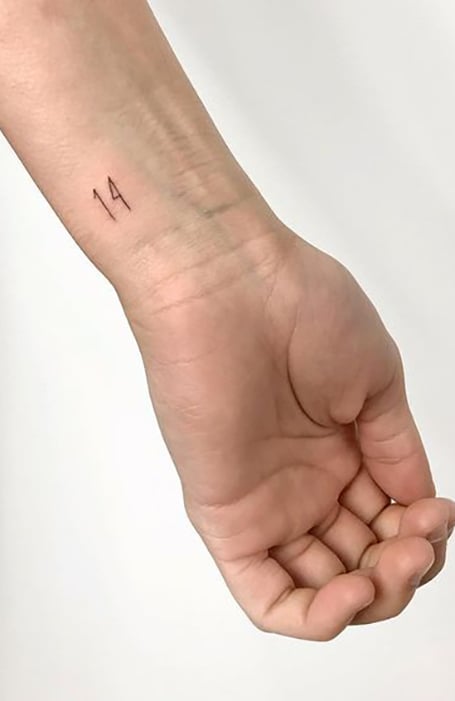 2. Simple Wrist Tattoo
Like a small wrist tattoo, a simple wrist inking is much quicker to apply and will lessen the amount of pain and discomfort you feel when going under the needle. Popular options for these tattoos are geometric shapes like triangles and squares. The bold lines and angles of these inkings are minimalist and masculine, making them perfect for your first simple tattoo.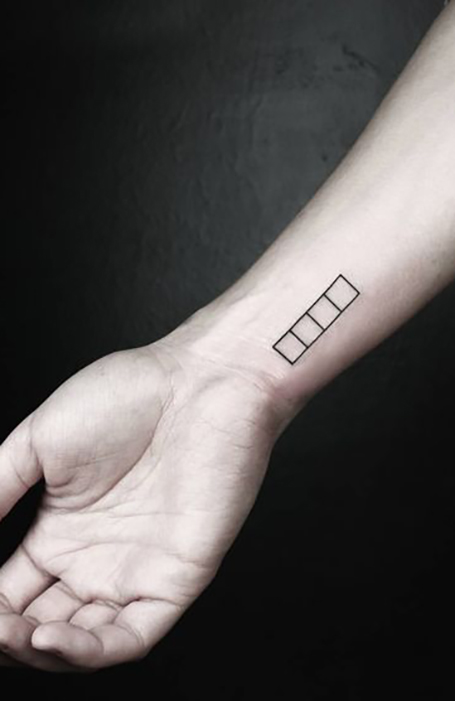 3. Rose Tattoo
Rose tattoos are a classic design dating back to the early sailor tattoo days. Back then, men would have them inked to remind them of the love and happiness waiting for them at home. Today, they represent life itself; the flower is a symbol of beauty, while the thorns of the rose represent pain and loss. A rose wrist tattoo suits a man who loves the traditional tattoo art style and wants an inking with subtle meaning.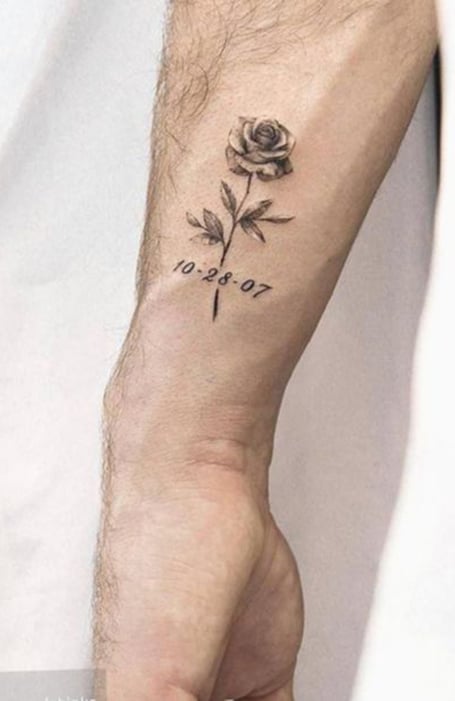 4. Cross tattoo
For Christian men, the wrist is one of the most popular placements for cross tattoos. That's because it's always visible – you can look at it and remind yourself of your connection to God whenever you need to. While many guys choose to keep their cross tattoo simple, you could make it more creative by combining it with an infinity tattoo symbol or a 3D tattoo design.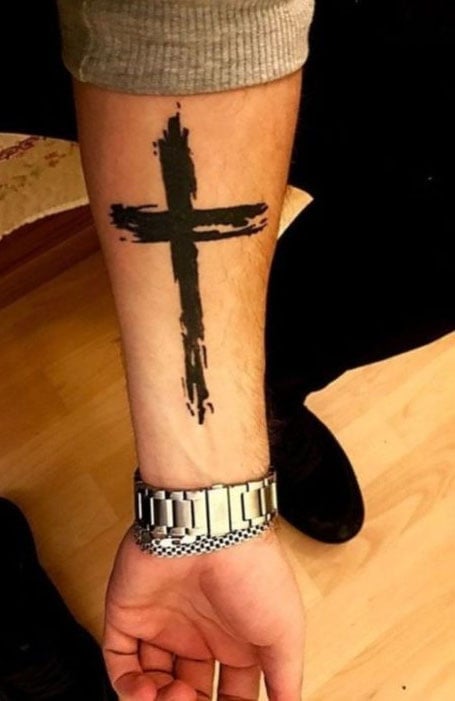 5. Cute Wrist Tattoo
Cute tattoos look best when they're on the smaller side, which means they suit more narrow placements – like the wrist. Many men choose to get matching cute wrist tattoos with their partners. For your cute couple tattoo, you could select cartoon characters, animals, or even food – such as peanut butter and jelly – to symbolize your relationship. Alternatively, you could choose a cute wrist tattoo that represents your childhood, like a video game character or your favorite childhood snack.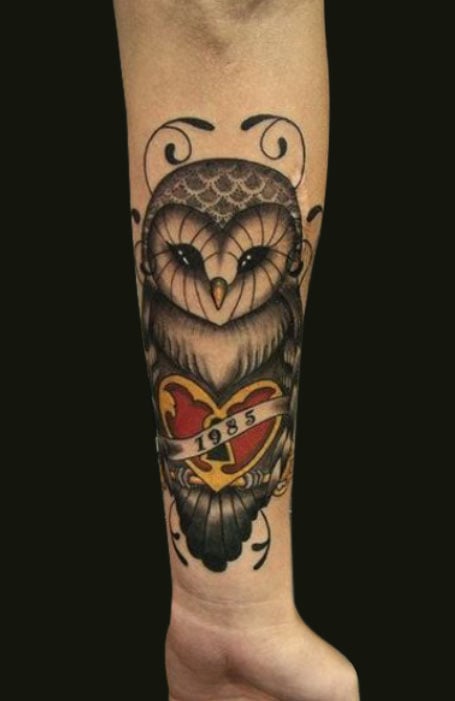 6. Heart Wrist Tattoo
While heart tattoos have traditionally been more popular with women, there are masculine versions of the design too. A black heart – inspired by a deck of cards – is one option, while an anatomical heart is another. For those who want something more traditional, a classic heart design with a name ribbon looks excellent with a wrist placement.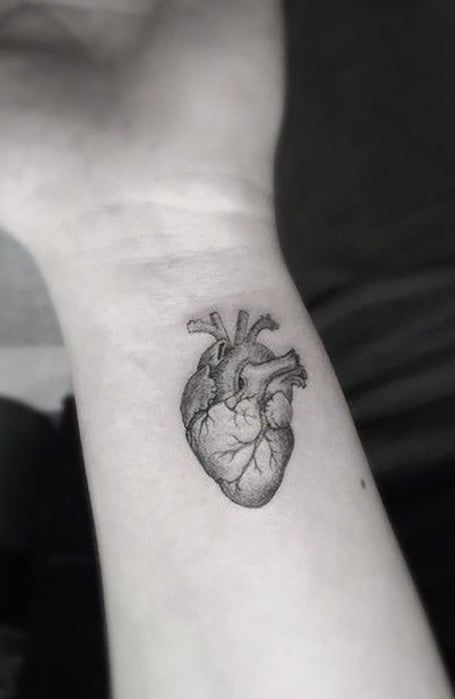 7. Name Wrist Tattoo
Your wrist is one of the most meaningful places to have a name tattoo inked. That's because you'll always be able to see it whenever you roll up your sleeve. For that reason, the name should belong to someone very close to your heart, like your parent, child, spouse, or pet. As space can be limited, you could also choose to ink the person's initials. As an extra special and unique touch, you could get their signature tattooed.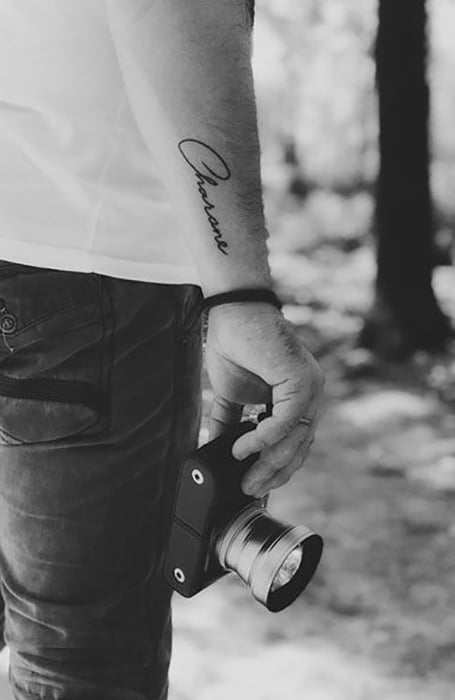 8. Side Wrist Tattoo
The side of your wrist is a long and narrow area, which means it suits simple or word-based tattoos. Many men choose this placement for an arrow tattoo, which represents finding direction in life. Others opt for a string of Roman numerals, which represents a particular date – such as a loved one's birthday or an anniversary. One meaningful option for a side wrist tattoo is a heartbeat inking or a flock of birds. Both are common tribute tattoos to those we have lost.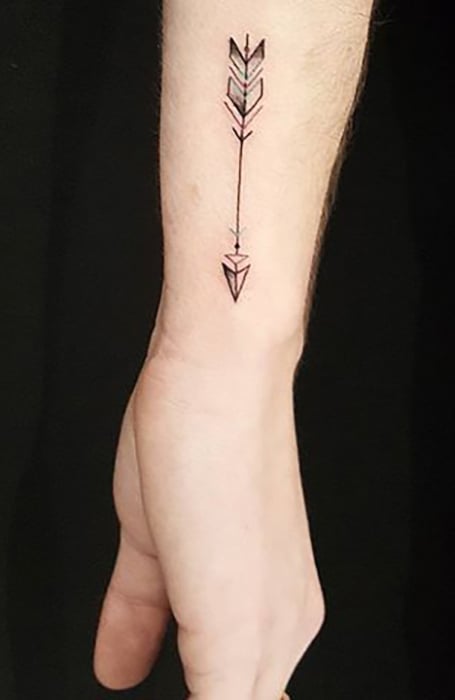 9. Butterfly Wrist Tattoo
Butterflies represent freedom and transformation, and they also symbolize resurrection in Christianity. While some people consider butterfly tattoos to be feminine, there are ways to adapt this meaningful inking into a more masculine style. One way is to opt for a butterfly tattoo in black ink, rather than color; another is to choose a tattoo artist whose style is either very traditional or photorealistic.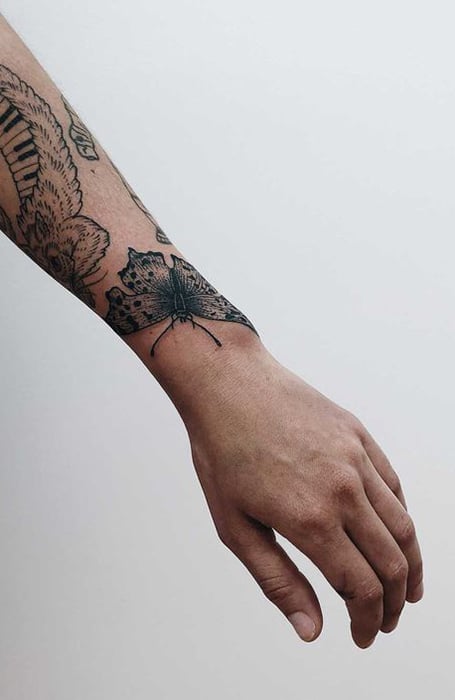 10. Flower Wrist Tattoo
As one of the most traditional tattoo motifs, flowers have been a favorite among men for decades. While rose tattoos are always on-trend, sunflowers and mandala tattoos are gaining popularity. Sunflowers represent health, good luck, and optimism, while the mandala is a spiritual symbol representing the harmony of the universe.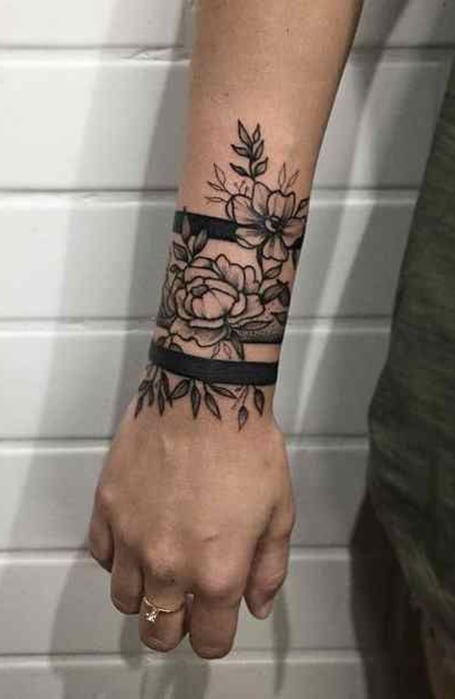 11. Infinity Tattoo
An infinity tattoo looks great on your wrist because it's a small and self-contained symbol. As a neverending loop with no beginning and no end, the infinity symbol represents eternity. For that reason, it's often chosen by couples to represent everlasting love. Additionally, it's neither too masculine nor too feminine and can be combined with other symbols – like the cross – to give it a new and personal meaning.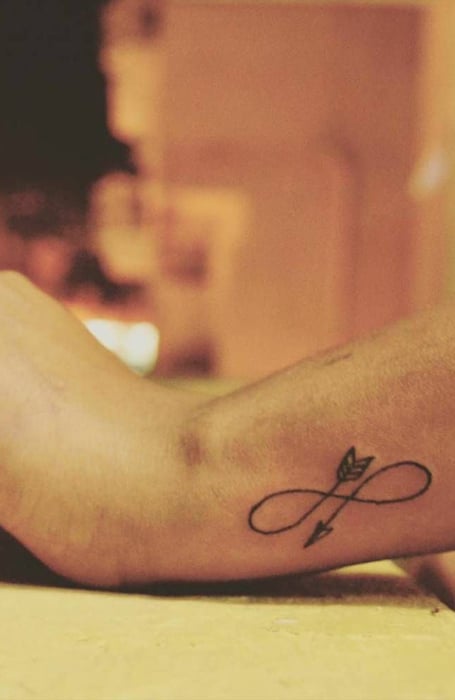 12. Wrist Tattoo Bible Verse
A great wrist tattoo option for Christian men is a Bible verse. Not only is it a great way to show your faith, but it's also one of the most meaningful inking options. You'll be able to see your favorite verse whenever you need to, giving you strength and inspiration. The inking also acts as a reminder that God is always with you.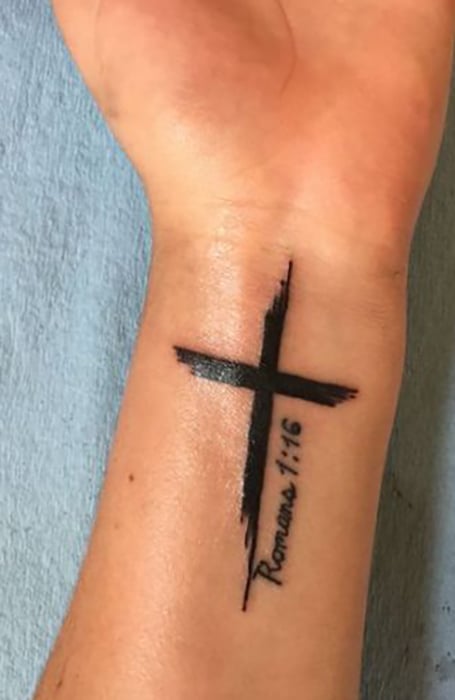 13. Roman Numerals Wrist Tattoo
Roman numerals make for a subtly meaningful wrist tattoo. These numbers are often used to represent an important date, such as a birthday, anniversary, or the years of a loved one's life. For that reason, they are frequently chosen by men as wedding tattoos or tributes to those who have passed away. Because of their shape, Roman numeral tattoos are often placed on the side of the wrist.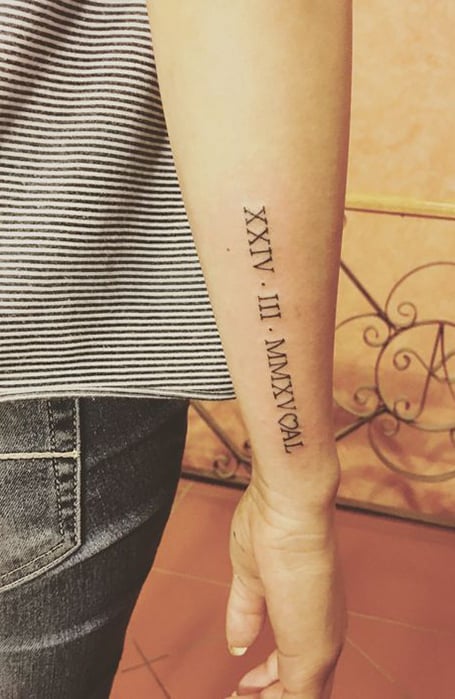 14. Meaningful Wrist Tattoo
Many men choose the wrist for their most meaningful tattoo inkings because the area is one of the more painful places to get inked – it's a tattoo that requires some sacrifice. Plus, wrist tattoos are always visible to the wearer, so they need to represent people, ideas, or sayings that are very close to a person's heart. There is a multitude of options for meaningful wrist tattoos, from initials to shapes and quotes.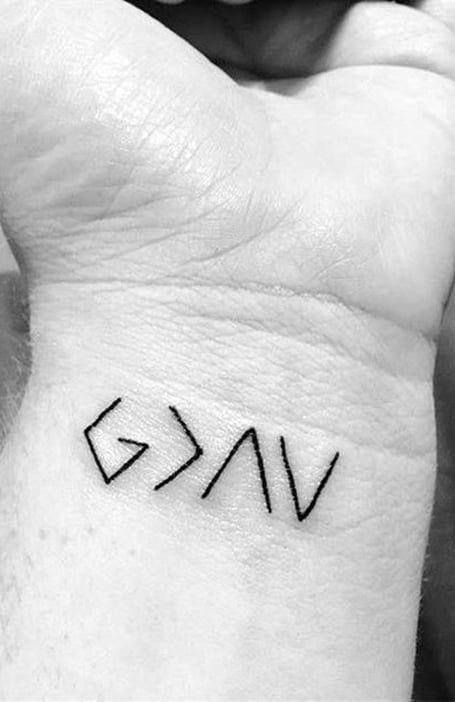 15. Bird Tattoo on the Wrist
Bird tattoos are some of the most popular ink designs for men as they represent freedom. Some also choose them as a tribute to a loved one who has passed away. That's because birds travel between the land and the sky – between Earth and Heaven. For Christian men, the dove of peace remains an enduringly popular wrist tattoo choice because of its spiritual meaning. Meanwhile, American guys may choose the eagle tattoo as a subtle patriotic inking.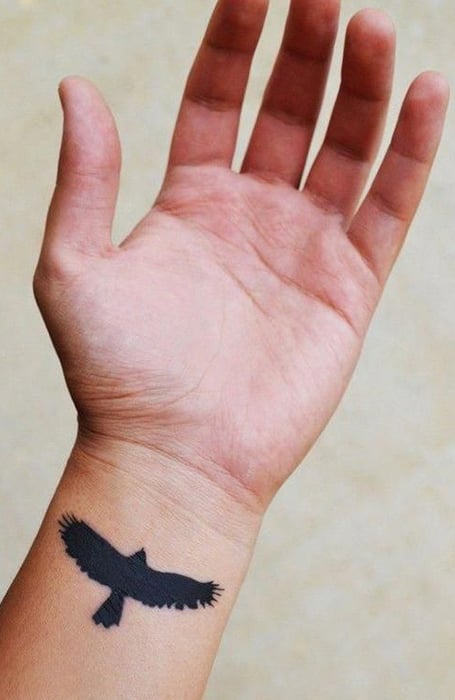 16. Feather Wrist Tattoo
Like birds, feathers are associated with freedom. However, a feather tattoo can have other meanings, too, including hope and courage, as a feather represents being brave enough to 'spread your wings and fly.' In Native American cultures, feathers can represent spiritual protection, so if this is part of your heritage, you may choose it for your wrist tattoo.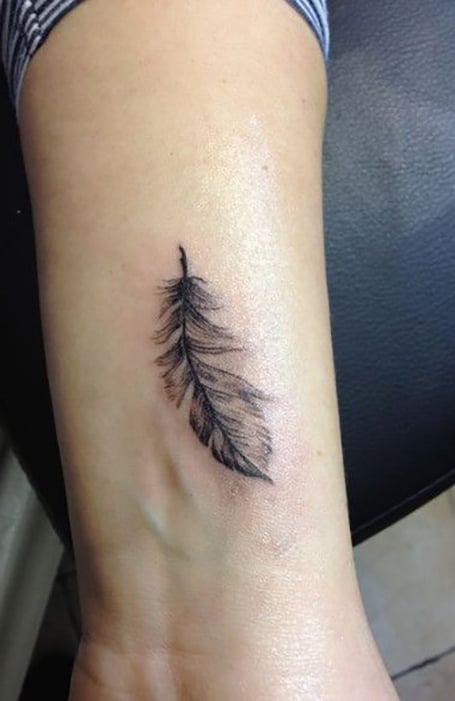 17. Sunflower Wrist Tattoo
For men who want a meaningful wrist tattoo, a sunflower is an excellent option. These plants represent optimism, health, and good luck. They are also considered to be a symbol of loyalty. That's because the sunflower 'follows' the Sun across the sky during the day. For that reason, many men choose a sunflower wrist tattoo to represent their devotion to their partner or child.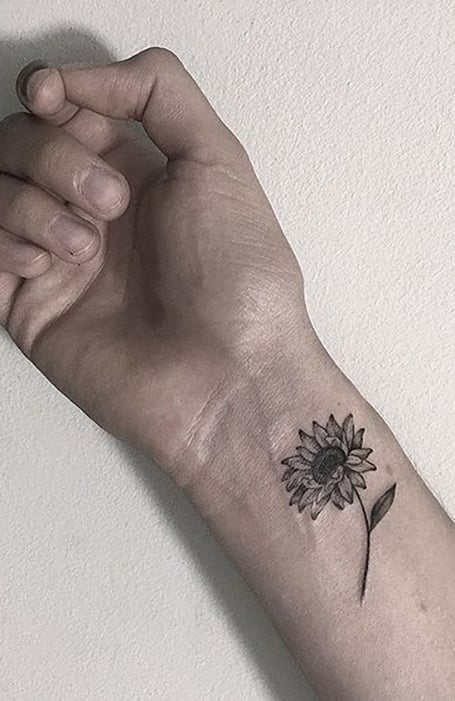 18. Wrist Bracelet Tattoo
A wrist bracelet tattoo is also known as a cuff tattoo or band tattoo. For a masculine take, many men choose simple, bold black lines of varying thickness. That gives the inking a subtle tribal or geometric vibe and suits guys with a minimalist style. Another option is a more intricate, tribal-style inking that can be blended into a tattoo sleeve or a hand tattoo.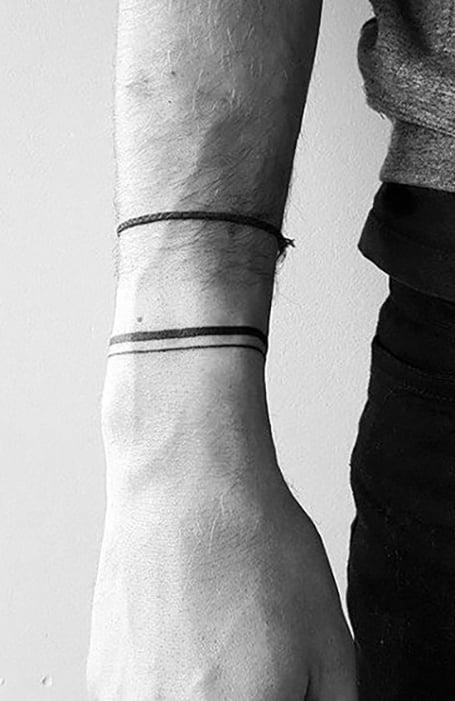 19. Rosary Tattoo On the Wrist
Catholic men looking for a tattoo that pays tribute to their faith should consider a rosary tattoo on their wrist. A skilled tattoo artist can render the design so that it has a realistic 3D effect, appearing as a string of beads that wraps around your skin. While some men choose a necklace-style rosary tattoo, getting the inking on your wrist means you'll always be able to see it and show it off to others.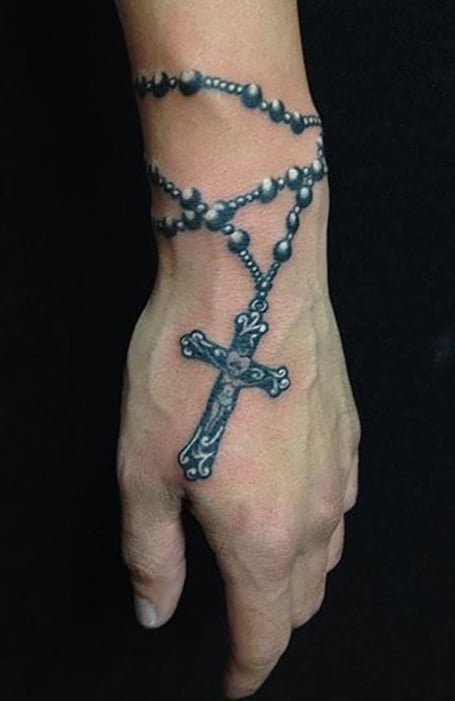 20. Semicolon Wrist Tattoo
The semicolon tattoo carries a poignant meaning. It represents those who have survived severe mental health struggles, particularly suicidal thoughts. That's because, in writing, the semicolon represents when the author could have ended a sentence but chose not to. Many survivors choose to have the semicolon tattooed over the self-harm scars on their wrist to remind themselves of their inner strength and how far they have come.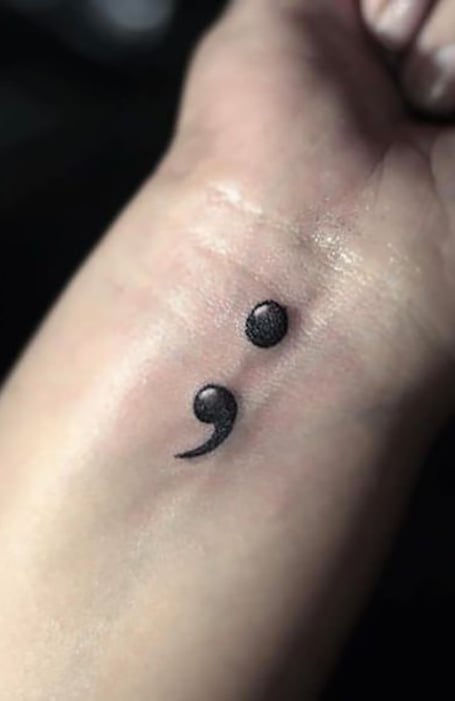 21. Tree Wrist Tattoo
Trees are some of the most ancient symbols used by humans, and they have come to represent long life, protection, and growth. A tree tattoo looks great at any size, which means it suits placements all over the body – including your wrist. Currently, black ink and silhouette-style tree tattoos are trending for men. Whether you choose a single plant or a forest that wraps around your wrist, a tree tattoo never goes out of style.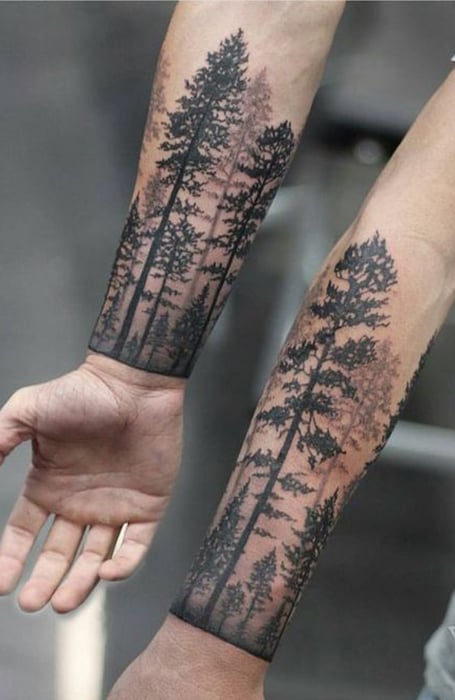 22. Anchor Wrist Tattoo
Another classic motif of traditional tattooing, the anchor represents safety and homecoming. That makes it an ideal tattoo if you have just returned from a long trip or living in another country. Many men also choose the anchor as a tribute to their partner. As a simple and striking tattoo choice, an anchor tattoo looks excellent with a wrist placement.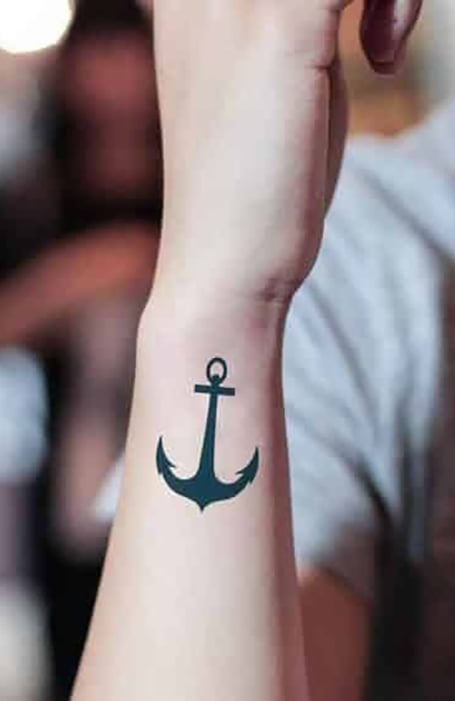 23. Crown Wrist Tattoo
Every man wants to feel like a king in his own life, and that's what the crown tattoo says. As the symbol of royalty, a crown represents power, honor, and pride. Because crown tattoos look best when they're on the smaller side, the wrist placement is ideal for this inking. It's also an excellent couple tattoo choice, as your partner can get a matching crown to symbolize how you 'rule' your life together.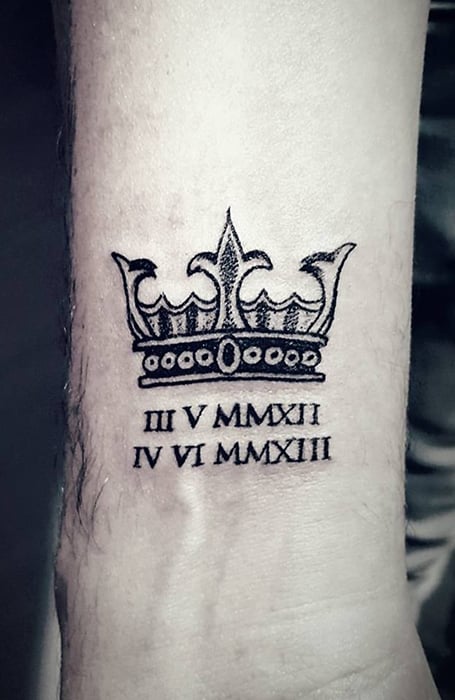 Wrist Tattoos for Men FAQs
Is it dangerous to get a wrist tattoo?
Getting a wrist tattoo is no more dangerous than any other placement on your body. The biggest risk is an allergic reaction to the ink used. However, keep in mind that the lack of padding in the wrist and the proximity to nerves and tendon means a tattoo here can be more painful.
What do wrist tattoos mean?
Tattoo placement on your wrist can symbolize many things. Because it's so visible, it can mean connection, as it's one of the first things people see when you wave or shake hands. Likewise, it can also mean confidence and honesty – wearing your heart on your sleeve and not hiding anything. The inner wrist is also considered a very spiritual location, which can be a good choice for a design that has significant meaning to you.
What is the right way up for a wrist tattoo?
The orientation of your wrist tattoo will depend a lot on the design. You can choose to have it, so you see it the right way up, or, so it's upside down to you, but the correct way for everyone else. A lot of people choose to place their ink so that it's the right way up for others to see. Plus, it'll be the right way up in the mirror and photos. However, if a tattoo has a significant meaning to you, you may prefer it the other way so you can more easily appreciate it.
How painful is an inner wrist tattoo?
The inner wrist is one of the highest pain areas to get tattooed. There's a distinct lack of muscle and fatty tissue in the area, so the needle and pressure are closer to your tendons and nerves. Plus, the skin in the area is thinner and more sensitive, which adds to the pain level.
SUBSCRIBE TO OUR NEWSLETTER
Subscribe to our mailing list and get interesting stuff and updates to your email inbox.