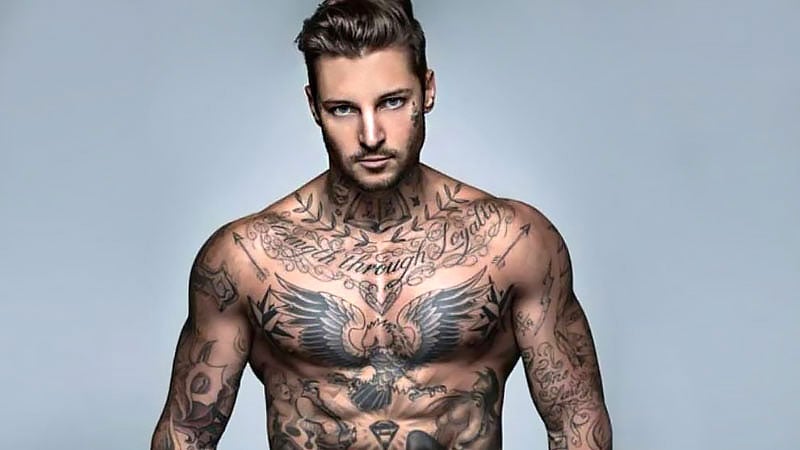 Do you want to share your emotions with the rest of the world or have a reminder of what is important to you inked onto your skin forever? The heart is a universal symbol of love, loss, and life and is one of the best tattoo ideas for men who want a design rich in symbolism. Some may opt for a crying or broken heart, reminding the wearer of the heartbreak they have experienced and how they will remain more guarded in the future. Others want a piece that honors the special people in their lives, which can be done with a heart and name design. It could also be used to commemorate a loved one who has passed. Many techniques and other images can add further meaning to your tattoo, making it a powerful and expressive piece.
1. Ace of Hearts Tattoo
The Ace of Hearts is more than just a playing card. When you get it tattooed, it is often associated with good luck and good fortune. It can also be inked by someone who wants body art that represents power. There are some negative connotations connected to the design, though, as it has been linked to gamblers and biker gangs. There are several ways to design this tattoo, and you could opt for the Ace of Hearts card or just the symbol, depending on how detailed you want your body art to be. Some men also choose to add various other elements to their designs, including names or other playing cards.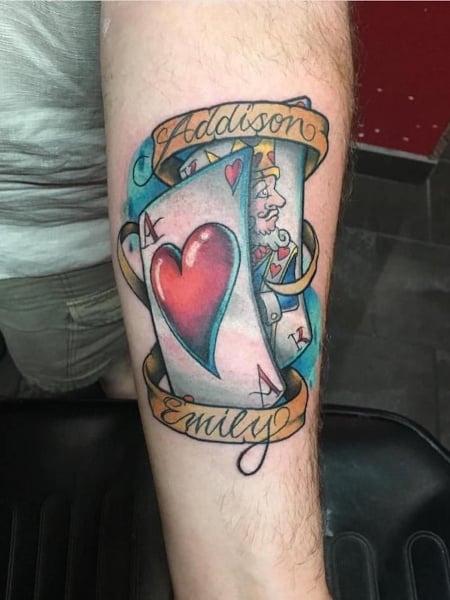 2. Rose Heart Tattoo
The rose and the heart are both symbols that are rich in meaning, and the combination of the two is even more so. Typically, it is associated with intense love and passion. There are many ways to interpret this tattoo and various designs to choose from. That said, some men prefer to make the rose into a heart shape instead of featuring it as two separate images. This can also be interpreted as heartache, as the flower is sometimes associated with pain because of its thorns. If you want body art to remind you of how love can hurt, then a rose tattoo with a heart is the perfect choice for you!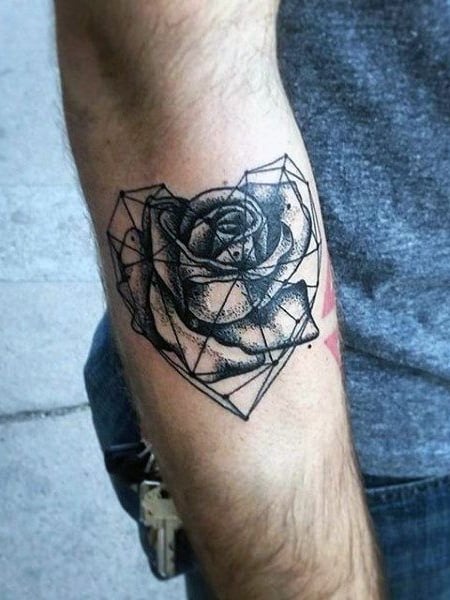 3. Heart Face Tattoo
Face tattoos make a statement. That said, this is not the type of tattoo that just anyone can get, as it is considered one of the most controversial spots for body art. Often only gangsters or rappers, like Offset and Post Malone, have ink on their faces, but that is changing. Still, most people are not going to get a face tattoo as their first choice because of the restrictions that come with it; you won't be able to work in a corporate environment and will experience some judgment. If you are throwing caution to the wind, then a heart face tattoo is a trendy and versatile option. You can pick something small and subtle, depending on how big you want it, o something intricate and detailed.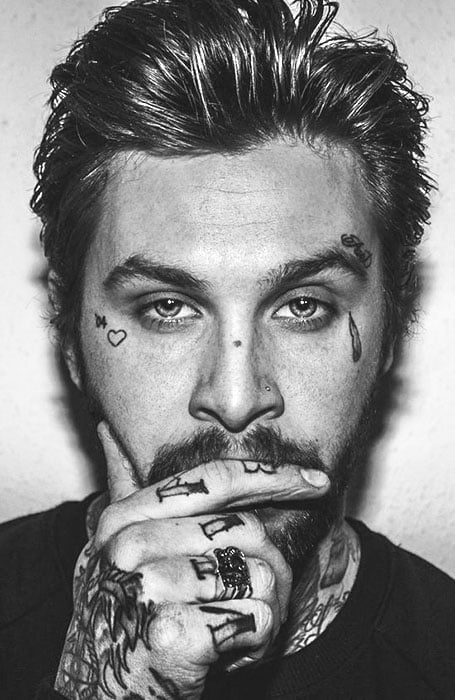 4. Heart Tattoo on a Wrist
The wrist is a popular placement for tattoos because of its visibility. It is somewhere that you can look at every day, and it is, for this reason, it is often reserved for designs that have significant meaning to the wearer. A heart symbol is small enough to be easily inked in this location; whether you choose a semicolon and heart design, a simple outline, or a heart emoji, the choice is yours. There are some drawbacks to this spot, though, including pain. Due to the thin skin in the area and lack of muscle, body art can cause some discomfort. The good news is that because tats are usually small, this is not for very long. Wrist tattoos also tend to fade faster because of exposure.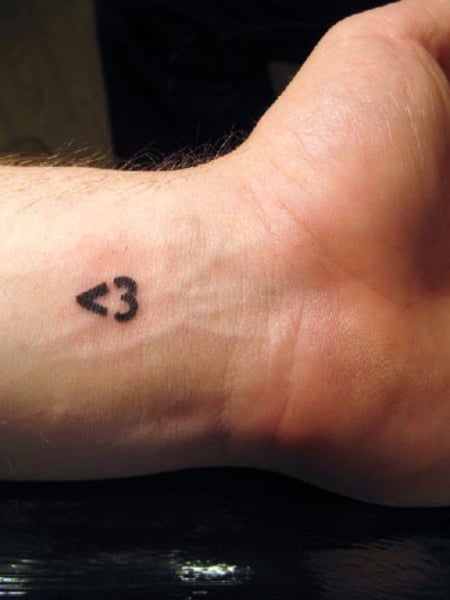 5. Black Heart Tattoo
The heart may be a simple symbol, but because there are so many designs and colors to choose from, each piece is unique and has special symbolism. For example, a black heart is often linked with sadness, grief, and loss. It can say so much about an individual's feelings just by the color that has been chosen. Some men want to remind themselves of their heartache after a breakup so as not to make the same mistakes again. Or to better guard their hearts the next time. Others find this is the perfect memorial tattoo to honor someone who has passed.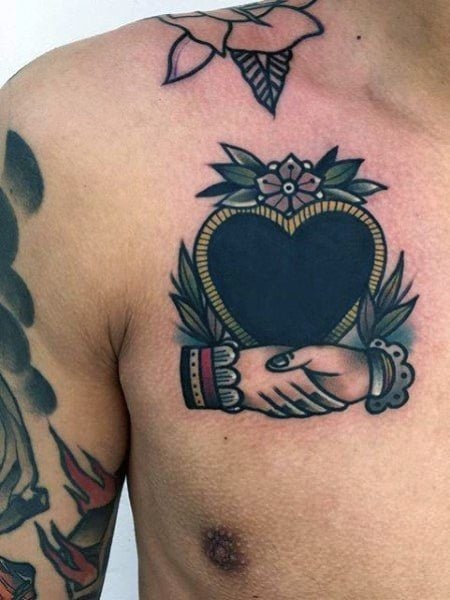 6. Traditional Heart Tattoo
A traditional tattoo refers to a particular style often recognizable by its strong use of bold black outlines and limited color palette. The ink used is usually red, blue, yellow, and green with heavy shading, creating a bold and bright appearance. The technique was once popular among sailors but has filtered into the mainstream. It remains a popular choice for those wanting very distinct body art. The heart design is seldom on its own and often includes banners, daggers, swallows, or flowers, which add to its meaning.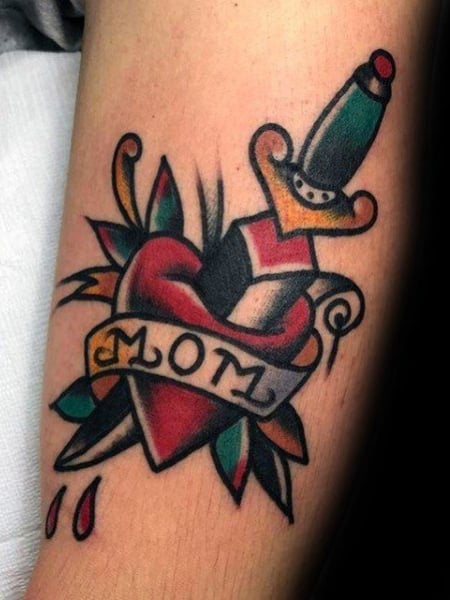 7. Heart Tattoo With Names
The heart is a universally recognized symbol of love and affection, and it is one of the most popular choices to get tattooed for both men and women. If you want to honor your loved ones, a beautiful way to do this is with a heart and name tattoo. This could be of your romantic partner, your parents, or your children. It is also a way to guarantee that your ink is unique. Some people even opt to add birth dates; if they have lost this individual, they can add the day of their death.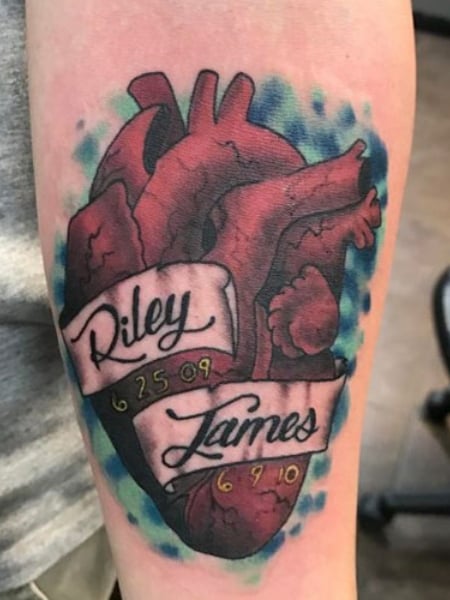 8. Sacred Heart Tattoo
The sacred heart represents Jesus Christ's physical heart and his love for humankind. It is often tattooed as a symbol of devotion to the Christian faith and to express religious views. The image is an excellent choice for an individual whose beliefs play an important role in their life. Popular designs often include other spiritual elements, such as an image of Jesus Christ, an angel, or Mary. That said, the design makes just as much of a statement on its own. Due to the strong symbolism associated with it, it is often best inked in a spot where you can see it every day or on your chest so that it is close to your own heart and all the things you hold dear.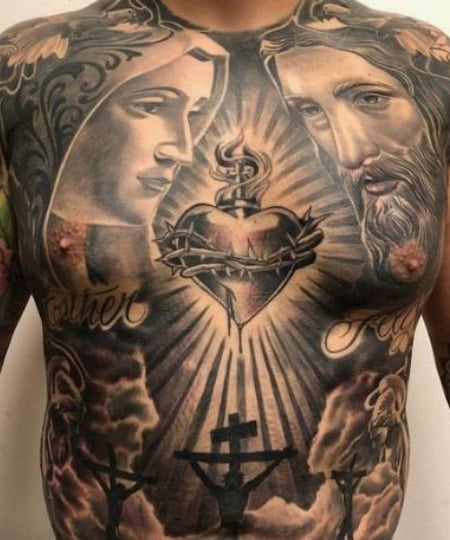 9. Heart Tattoo Behind the Ear
Unlike face tattoos, behind the ear is a placement that is a lot more subtle. Most people will not see your ink as soon as they look at you, and you need to get close before noticing a tiny piece in this location. The area is small, so simple designs tend to work best, such as a heart outline or tiny symbol. It is a particularly uncomfortable place for body art, and the buzzing and vibrating from the tattoo machine can also cause it to be annoying and loud.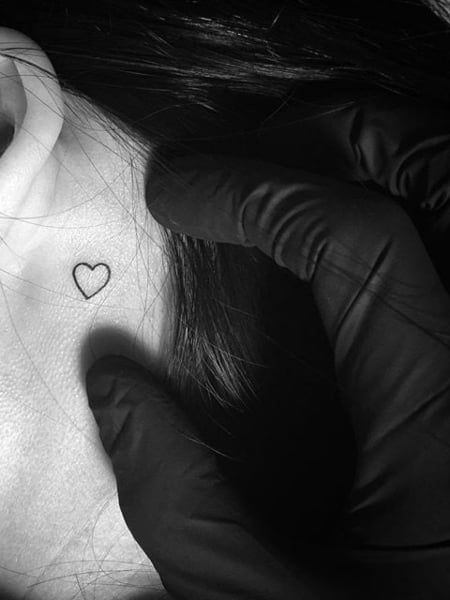 10. Anatomical Heart Tattoo
If you prefer a more realistic portrayal of the heart, you can opt for an anatomically correct tattoo instead. This inking is often associated with love and life. It can also be a celebration of what it means to be human and the importance of living well. This option is incredibly detailed and beautiful and should be inked in an area that is large enough to allow for this, such as the arm or thigh. If you want to convey a message of life, you can add flowers, whereas a skull can be linked with death and destruction.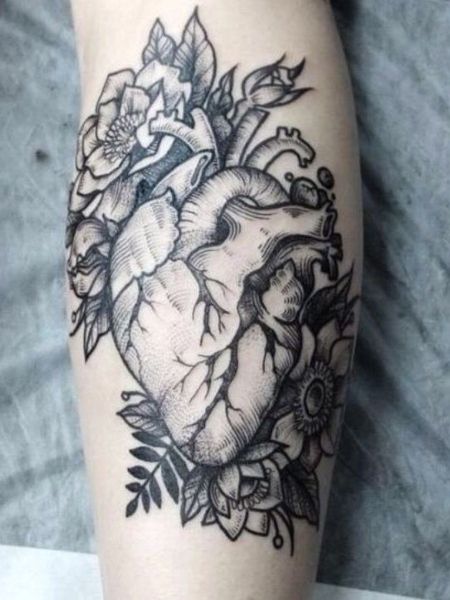 11. Infinity Heart Tattoo
If you want a tattoo that focuses on eternal love, then the infinity tattoo and heart are the design for you. It represents a love that is limitless and without conditions and is a beautiful way to celebrate the important relationships in your life. Maybe you want to honor your siblings or parents and how you will be bonded for life. Or perhaps your ink is a tribute to your children, who will forever be the most important people to you. The image itself is usually very simple and uncomplicated, but you can make it more visually interesting by adding names, various colors, and even important dates.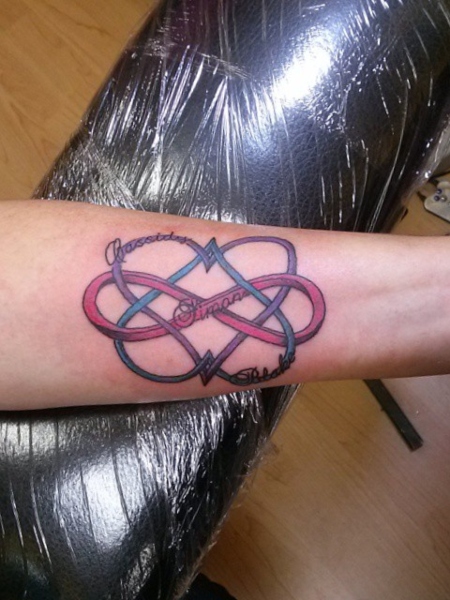 12. Heart Outline Tattoo
You do not need to opt for a detailed inking to make a statement or have something deeply symbolic. Outline tattoos for men are a popular choice, especially for those who want a more minimalistic body art approach. The meaning of the art remains the same, linked to love and life, but forgoing the shading and choosing not to have an intricate design often means a short tattoo session, therefore not as much pain and less cost. That said, outline work is not always simple. Some men opt for very detailed pieces, creating a geometric appearance, which can have an almost calming effect when looking at it.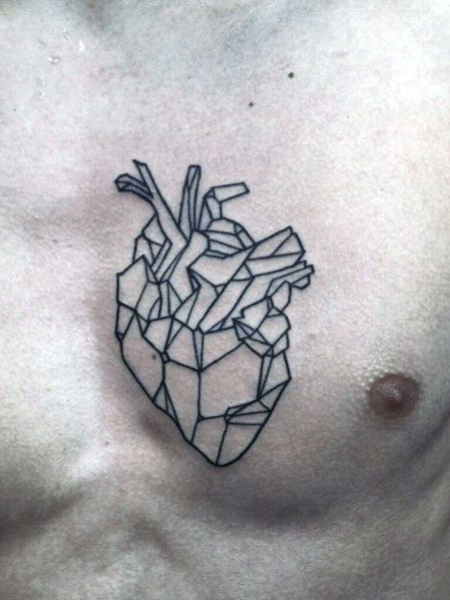 13. Semicolon Heart Tattoo
Semicolons tattoos are much more than punctuation marks, they have become a symbol of strength, solidarity, and hope for those fighting an ongoing battle with mental health issues. It reminds the wearer that their story is not over yet, and there is much to look forward to in the future. The inclusion of a heart reminds you to love yourself, remember your worth, and the fact that your life matters. This may be a simple design, but it is deeply meaningful and moving. Thus it should be tattooed somewhere where you can look at it every day.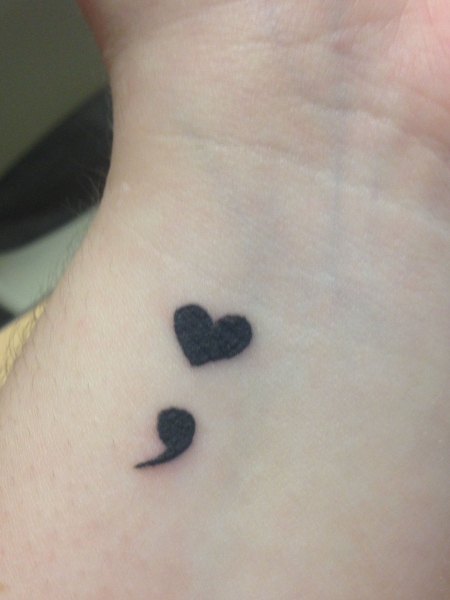 14. Heart and Rose Tattoo
The heart and rose tattoo are two symbols that are often inked together because of their meaning. The flower is associated with beauty, pain, and life. However, the symbolism can be altered slightly depending on what color ink you use. For example, black is associated with loss and destruction, while yellow symbolizes joy and friendship. The heart is a universal symbol of love, and together with the bloom, it often represents passion and desire.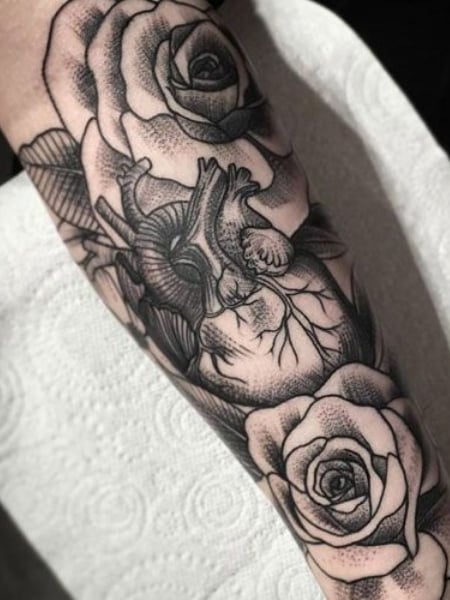 15. Heart with Wings Tattoo
Do you want to honor someone who has passed with your body art? One of the most popular ways to do this is with a heart and wings tattoo, which often includes the name of a loved one or the date of their death. There can also be the inclusion of a halo or a special quote. It is a memorial piece and can sometimes be seen as a reminder that your loved one is watching over you or that they are now an angel.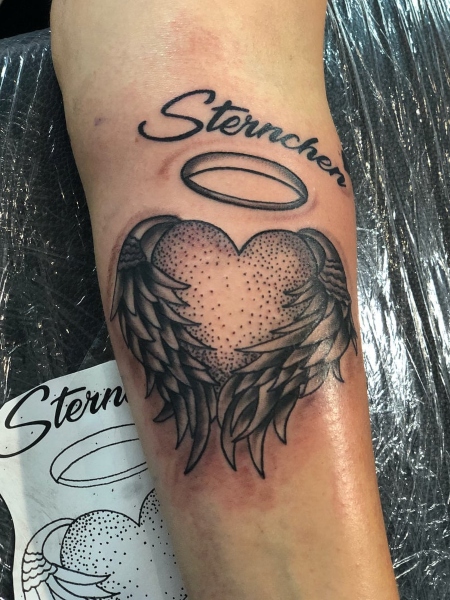 16. Broken Heart Tattoo
As the name suggests, a broken heart is often linked with heartache and intense pain. This could signify the end of an important relationship and be inked as a reminder of that pain. Or it can take on a more positive meaning as the wearer chooses not to let themselves fall into the same mistakes again. There are many interpretations of this tattoo, and they are special for the individual who tattooed them. You can also include names or quotes that are important to you to make the design even more unique.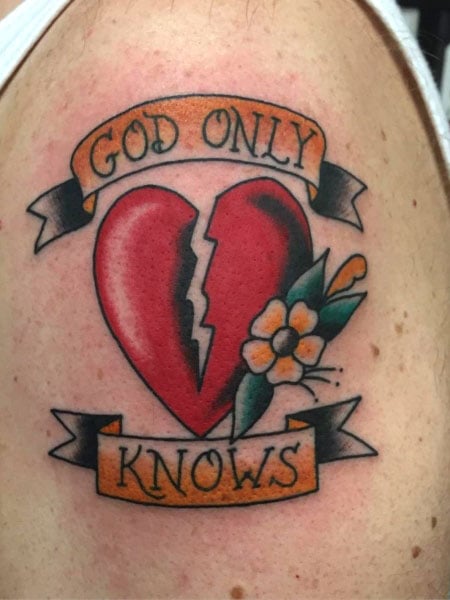 17. Crying Heart Tattoo
The design of a heart with a crying face is incredibly expressive. It immediately conveys sadness and loss, which is what the tattoo is often associated with. Individuals who have experienced heartache may like to get this inking as a reminder of the people who hurt them or to express their emotions clearly. Perhaps it is a warning to future partners to take care of their hearts. Or simply a way to honor the past, but be certain not to make the same mistakes again. This piece can be inked in color or black, depending on your preference and which technique appeals to you the most.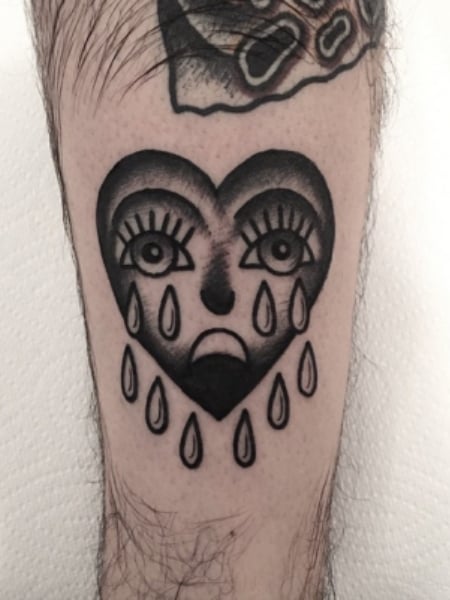 18. Three Hearts Tattoo
There is so much variation in heart tattoos. For the three heart designs, this is down to personal preference. For example, you can opt for pixel art, like the heart bar representing Link's health from the game Zelda, or opt for three simple heart outlines. The meaning behind your body art will vary, depending on your chosen design, but three hearts are often associated with the past, present, and future. Each symbol represents a specific time in your life and could be a special milestone or a reminder of the dreams and goals you wish to achieve.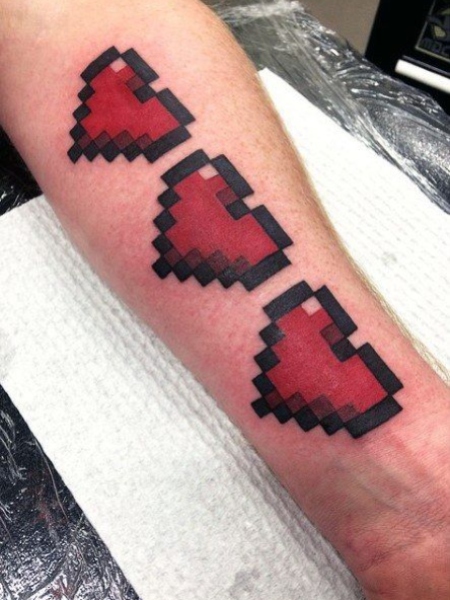 19. Kingdom Hearts Tattoo
If you are a gamer and Kingdom Hearts is your favorite, it may become the inspiration for your next tat. The action role-playing game is developed and published by Square Enix and has a large and dedicated following. The designs often feature a keyblade, a symbol of Mickey Mouse, and potentially your favorite character from the game, including Sora, the main protagonist. These tattoos are usually very bright and bold and easy to notice. While it is best if you are a fan of the game to have meaning to you, if you find the designs super cool, that is fine too!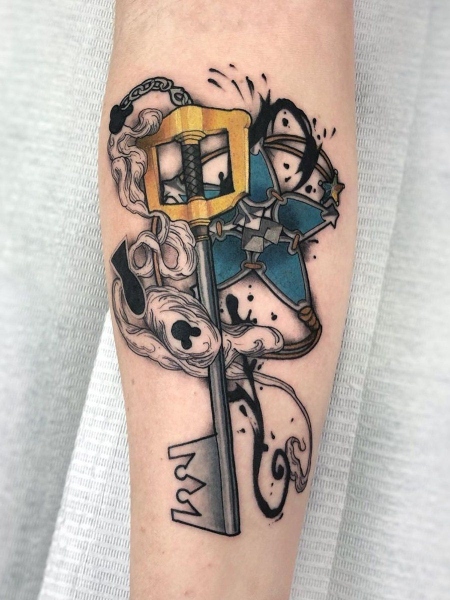 20. Finger Heart Tattoo
Another excellent spot for a design you can see every day is on the finger. This location may have once been reserved for the outcasts in society, such as bikers or thugs. It has now become a popular and masculine placement and a fantastic way to show off something meaningful to you. There is not much room for an exceptionally detailed tattoo, which is why something simple like a heart symbol or even an anatomical heart outline is such a great choice. A finger tattoo is bold, and it makes a statement. It can also be pretty painful because of the nerve endings located in the hands and the thin skin. They also tend to fade very quickly and will need to be touched up or covered up pretty regularly. This is because of exposure and the frequency of use, as we are constantly using our hands.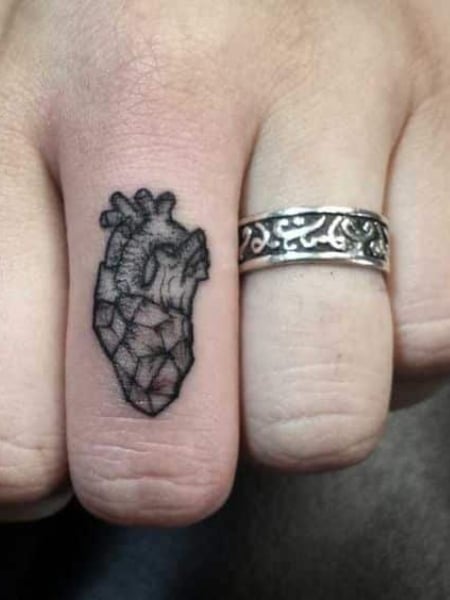 Heart Tattoo Meaning
There are many designs and interpretations of heart tattoos, but it is a universal symbol of life, love, and loss. It is a popular image to get inked because of the rich symbolism associated with it. If you want a piece that honors the special people in your life, then you can do this with a name and heart tattoo. If you wish to show your heartbreak or express deep pain, this can be achieved with a crying or broken heart. There are also options like the sacred heart, which shows your devotion to your faith. Or the queen of hearts, which is connected with female power.
Heart Tattoos for Men FAQs
What does a heart tattoo on the wrist mean?
The wrist is a fantastic placement for a tattoo that is meaningful because of its visibility. It is a spot where you can look at every day and be reserved for exceptional pieces. Your chosen design can be a heart with names to honor loved ones or a reminder of the special people in your life. Or it could be of a broken heart and represent heartache and intense pain. This could signify the end of an important relationship or indicate how the wearer has learned a valuable lesson about love.
What does an open heart tattoo mean?
An open heart tattoo can show that the wearer is open to love. It can be that they are not afraid to express their feelings and are comfortable with sharing their deep emotions. It can also be a sign of an everlasting connection, friendship, or deep love.
What does the Sacred Heart tattoo mean?
The sacred heart tattoo is a fantastic way to show off your spiritual beliefs. It represents the heart of Jesus Christ and his love for humanity. It is a popular choice for individuals whose faith plays an important role in their life and a way to show their devotion. Many designs also include other elements, like a crown of thorns, an angel, or an image of Jesus.
SUBSCRIBE TO OUR NEWSLETTER
Subscribe to our mailing list and get interesting stuff and updates to your email inbox.