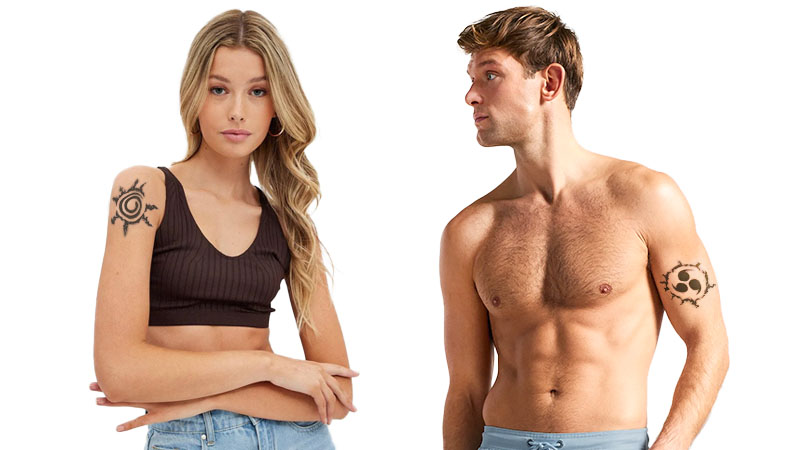 Inspiration for body art can come from anywhere. If you are an anime fan, what better way to celebrate your passions than by getting your favorite symbols or characters permanently inked onto your skin? Naruto is a manga series that Masashi Kishimoto created. Its initial release was in 1999, and it has become one of the most well-known and loved series because of its interesting plotline and diverse characters. This includes the main protagonist, Naruto Uzumaki, a young ninja with big dreams for the future. Consider these cool Naruto tattoos if you want to get inked again but need inspiration for your next design.
1. Naruto Sealing Tattoo
Anime fans may be inspired by the Naruto sealing tattoo for their next trip to the parlor. The appeal of this seal is that it is symbolic as it is the fūinjutsu of the Uzumaki clan, but it is also interesting to look at with the circular center and eight points. When deciding on the perfect placement, many people are drawn to the stomach to replicate where Naruto has his own sealing design.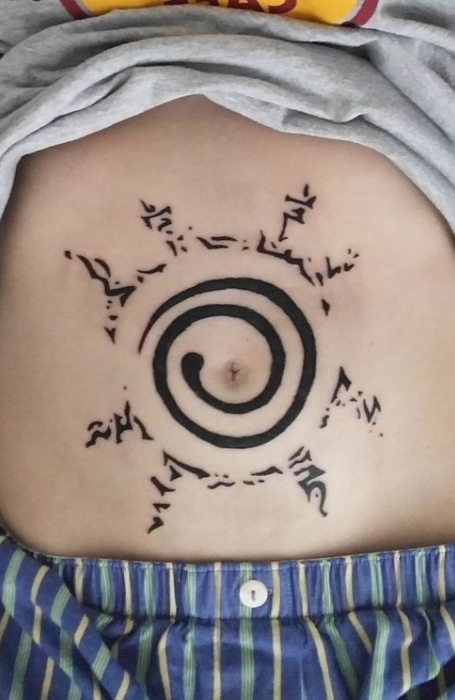 2. Naruto Curse Mark Tattoo
The Naruto curse mark makes for an excellent tattoo and allows the wearer to draw upon their power. In the manga series, the character Sasuke is marked with this symbol. This is an appealing option for body art for fans of Naruto, but the simplicity of the design also makes it easy to replicate and can be inked anywhere on the body.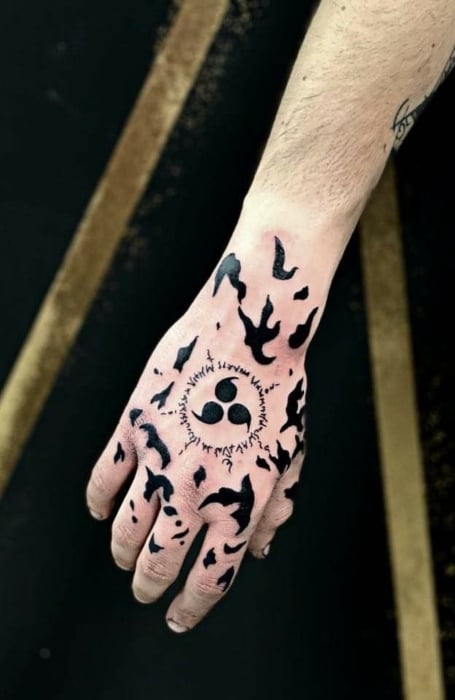 3. Small Naruto Tattoos
There are so many characters and symbols to be inspired by from the Naruto series, but opting for a small tattoo is an excellent choice. There is so much to like about tiny designs because they are incredibly versatile, and you will not be restricted by placement. They are also often cheaper to complete and will hurt less (because the tattoo will be completed faster).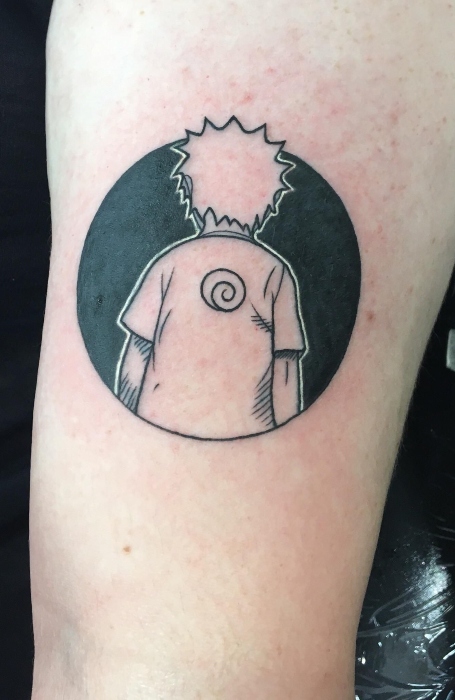 4. Pain Tattoos Naruto
The characters in Naruto have various markings, each with its unique symbolism. You can be inspired by their body art for your own, for example, by replicating the pain tattoo mark on Gaara's forehead. Some interpret this marking as loving only himself, symbolizing someone who feels extreme loneliness and pain and may be searching for love and acceptance. This meaning can appeal to many people who feel the same way.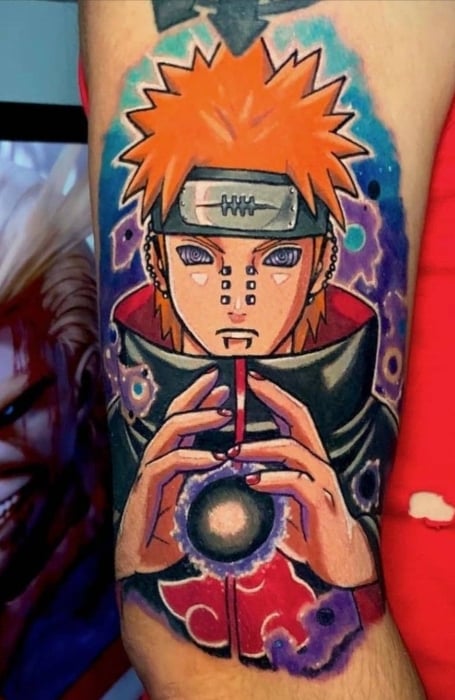 5. Naruto Eyes Tattoo
The eyes of the Naruto characters are all different and represent various things. For those who want a unique design, you can combine images of several close-ups. The shape of the eye can also indicate the character's personality, whether they are cold and calculated, innocent, or warm and open. The beauty of body art means there is no right or wrong way for your design to be interpreted, so let it reflect you.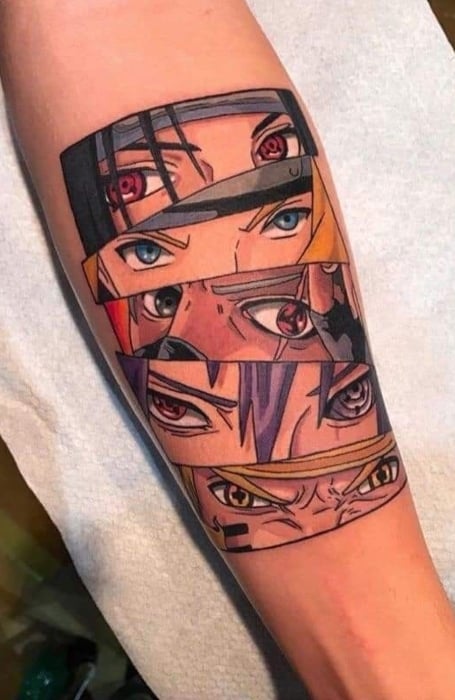 6. Anbu Naruto Tattoo
Are you drawn to the ANBU in Naruto? If so, maybe you want to get a tattoo that depicts this. An Anbu Naruto Tattoo represents the special forces squad in the manga series, which is celebrated for their impressive skills as assassins. They wear masks to conceal their identities, which can have slits in the eyes, be styled as animals, or leave the eyes visible (depending on the Anbu custom).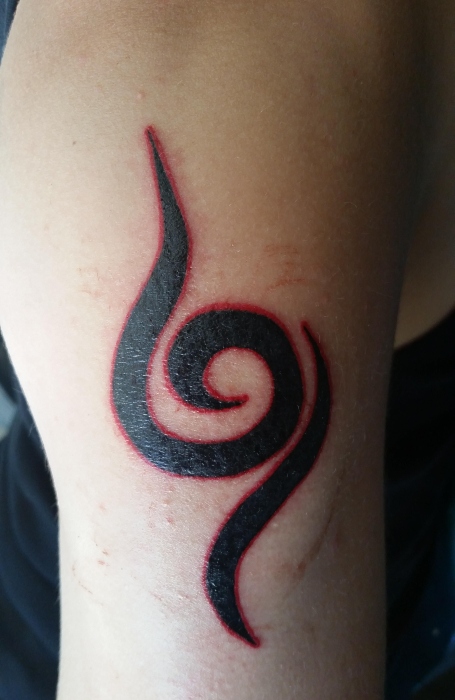 7. Naruto Kunai Tattoos
Are you a fearless individual? Or perhaps you are someone who does not suffer fools gladly. If so, you may be drawn to the Naruto Kunai tattoo. The design will focus on the knife that can be used in several ways, including stabbing enemies or it could be thrown. The interesting shape, with the triangular tip, makes it a fascinating weapon and one that could make for eye-catching ink.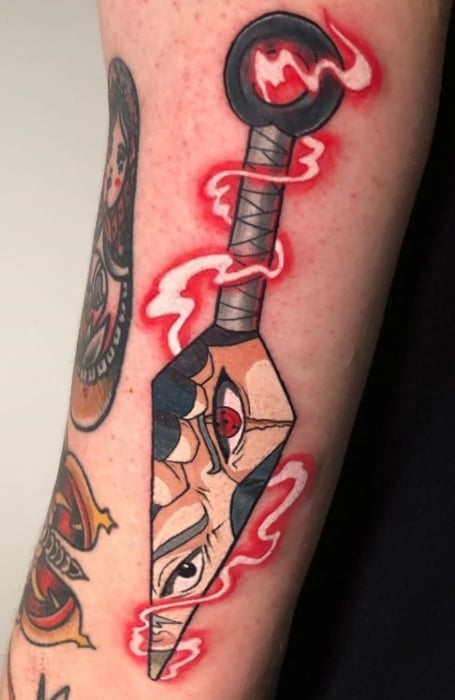 8. Naruto Stomach Tattoo
Naruto has a sealing tattoo on his stomach, but before replicating this design in the same area, there are some things you need to be aware of. The main drawback is the pain; getting inked here, especially with large pieces, will be exceptionally painful. The severity of the discomfort you will experience also depends on your physical form, as those with looser skin will experience more pain.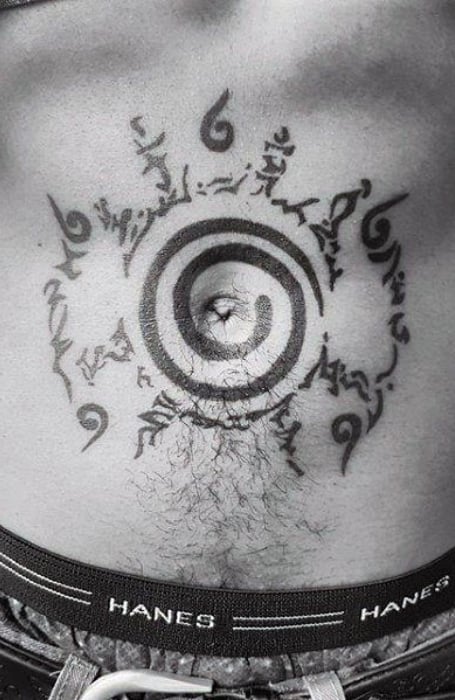 9. Naruto Symbols
Many meaningful symbols are found in Naruto, giving you many opportunities to become inspired. You can choose one that really resonates with you and get it inked on a larger scale or combine several small ones to tell a story. If you want to show off your design and pick a placement that is not high on the pain scale, the forearm is an excellent choice.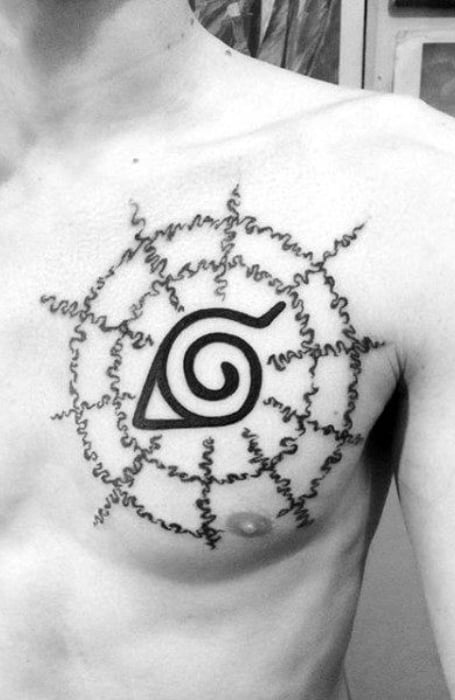 10. Meaningful Small Naruto Tattoos
If you are extremely passionate about Naturo, what better way to remind yourself of what it means than with a meaningful small Naruto tattoo? This is a great way to reflect your thoughts and feelings, and your design will be unique to you (use it as a reminder of your strength and inner power or not to give up when times are hard).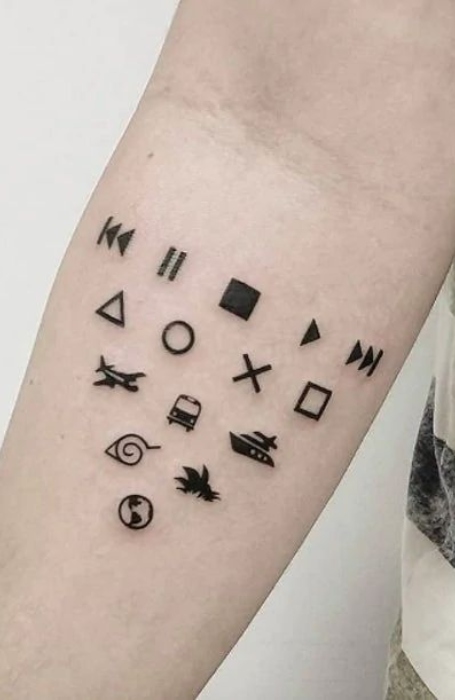 11. Simple Naruto Tattoos
Naruto is a detailed series with an interesting plot and diverse characters, which is why it has earned many loyal fans. But the imagery is not overly detailed, making this an excellent choice for those who prefer a simple tattoo. Focus on the basic outlines, stick to black ink, and avoid shading for the best results.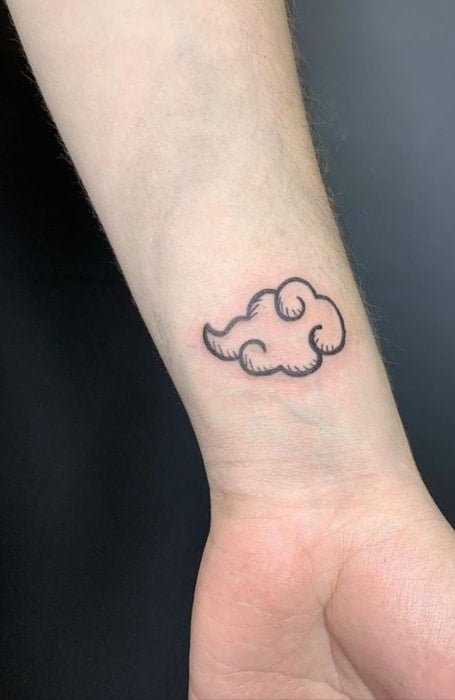 12. Naruto And Sasuke Tattoo
Sasuke Uchiha and Naruto Uzumaki are two of the most popular characters from the Naruto series. The characters share a close bond and work together and form a brotherhood. But their relationship is complicated, but despite this, Naruto continues to see the good in Sasuke. This is an excellent choice for your tattoo if you want to honor your own bond with a loved one or celebrate a friendship.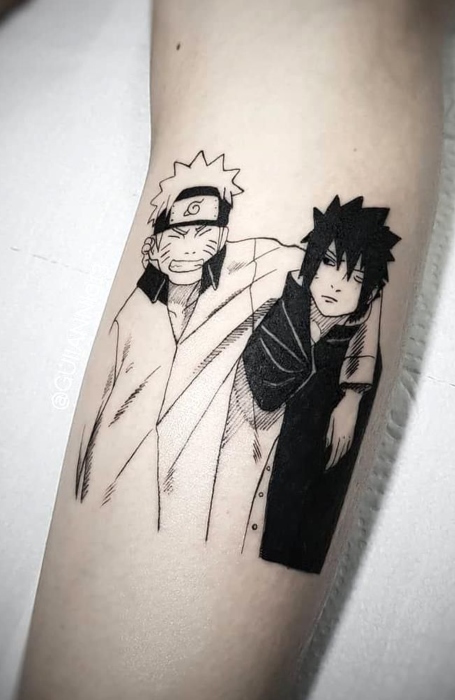 13. Gaara Naruto Tattoo
A Gaara Naruto tattoo is an excellent choice for those who love this character. And why wouldn't you because Gaara is arguably one of the most interesting? He is a skilled ninja with the ability to control sand, and he was originally an antagonist, but this changes with his interactions with Naruto Uzumaki. He can let go of his past hatred. You could get inked with a Gaara design to show your personal transformation and overcoming challenges.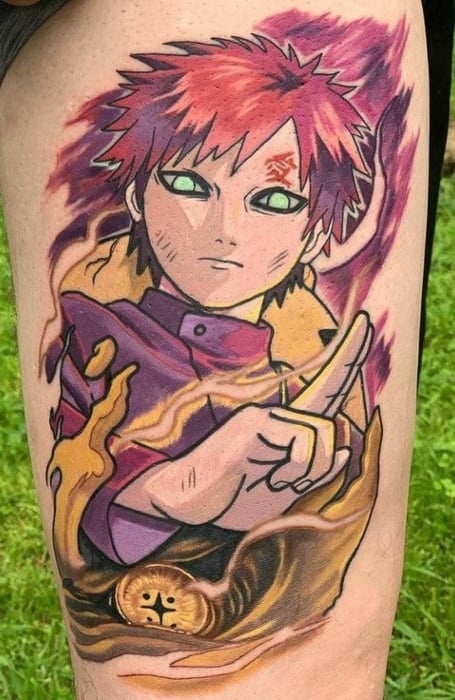 14. Matching Naruto Tattoos
What better way to celebrate your bond with a loved one than getting inked with a matching tattoo? Your designs could be the same or complement each other with slightly different details. This is a beautiful option to show how much the other person means to you, and picking out the perfect body art will be a memorable experience.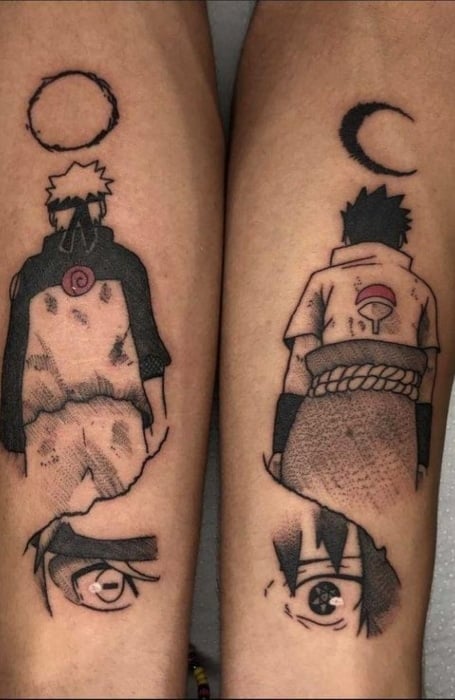 15. Naruto Foot Tattoo
The great thing about loving an anime or manga series is that you can honor it with a tattoo. But what placement is best? When deciding where to get inked, there are two big things to consider; your lifestyle and the pain. A foot tattoo is an excellent choice for those who want an area on the body that is easily hidden.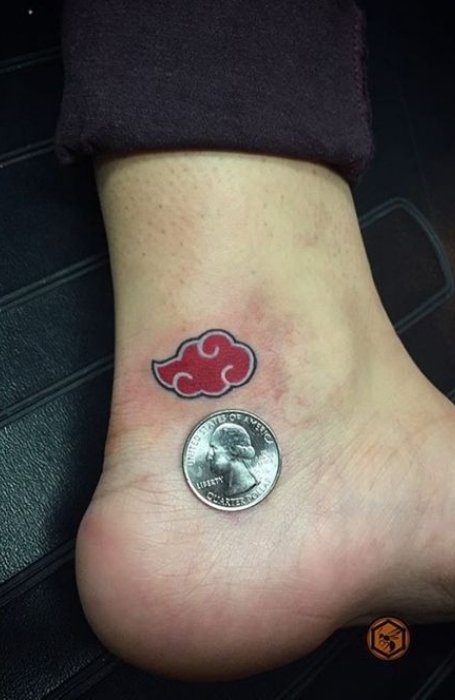 16. Naruto Sleeve Tattoos
A sleeve tattoo will cover the whole arm, stopping at the wrist. This is a large area to get inked, so these pieces require a lot of creativity to blend the images expertly. The best results are created when you stick to the same style (unless you want to create a patchwork tattoo effect, which is also popular).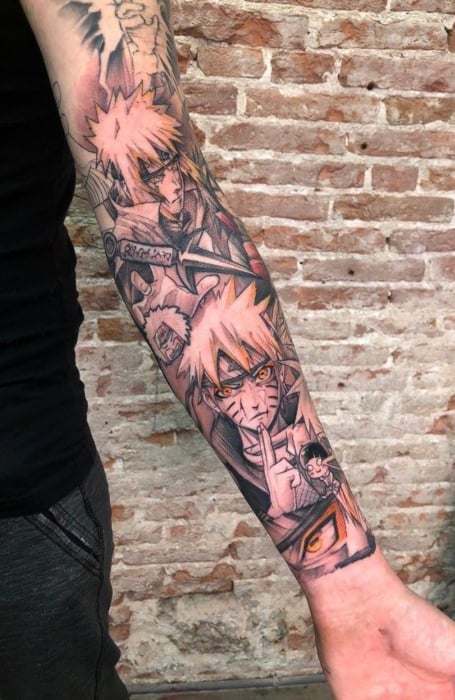 17. Naruto Half Sleeve Tattoos
If you are not ready to fully commit to a full sleeve or want a piece that is easier to cover, a half sleeve tattoo is what you need. It can cover the shoulder to the elbow or from the elbow to the wrist (although opting for the top half of the arm is more versatile because you can wear short sleeves in the summer).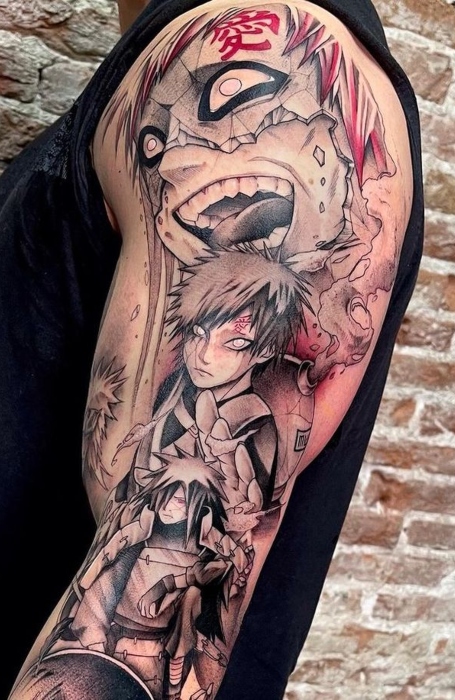 18. Naruto Neck Tattoos
Neck tattoos are rebellious and undeniably cool, making them the perfect option for those who want something different. It can make a statement about who you are, how you are unwilling to conform, and how you take risks. It also shows you are tough and not deterred easily because the location is one of the most painful spots to get tattooed. Still interested? Check out this cool Naruto design.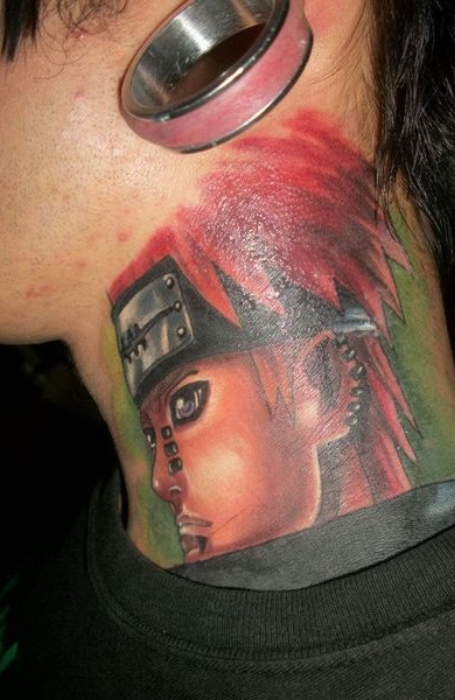 19. Naruto And Kurama Tattoo
Kurama is a character from Naruto that is also referred to as nine tails. It is a nine-tailed beast. Initially, he despises humans, but his interaction with Naruto Uzumaki softens his stance. But what would a tattoo of your favorite characters represent? This depends on your interpretation of their relationship, but it could be a way to celebrate kindness and mutual respect.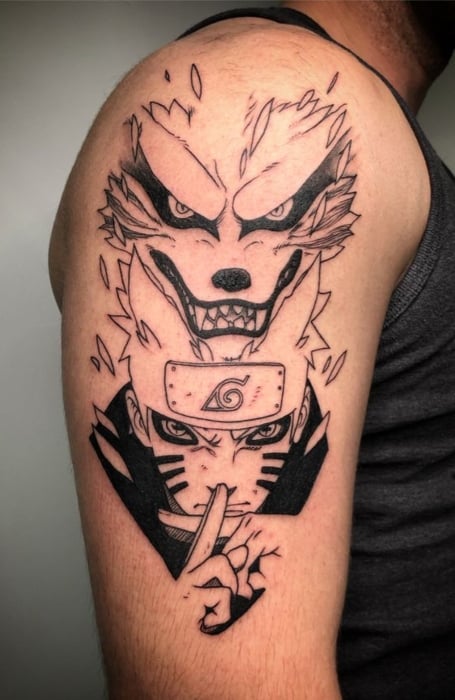 20. Naruto And Jiraiya Tattoo
Jiraiya is incredibly powerful and a celebrated ninja. He has a tremendous influence on the life of Naruto Uzumaki. If you have a mentor or a strong and influential figure in your life, you could use an image of Jiraiya to portray this. Adding an image of Naruto and Jiraiya is also a great way to celebrate a bond.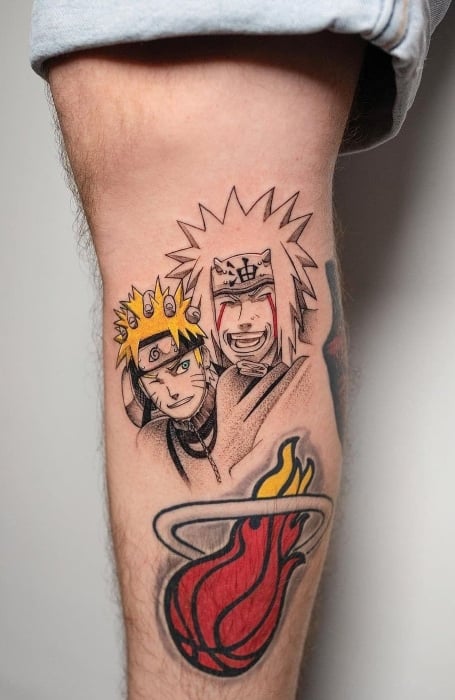 21. Naruto Arm Tattoos
There is no better location a picture art than the arm. Arm tattoos are the most popular because they are relatively low to moderate on the tattoo pain scale (because the fat and muscle provide cushioning). They can be easily covered with clothing or shown off. Plus, it's a large enough space to get creative, while small and simple designs look just as good.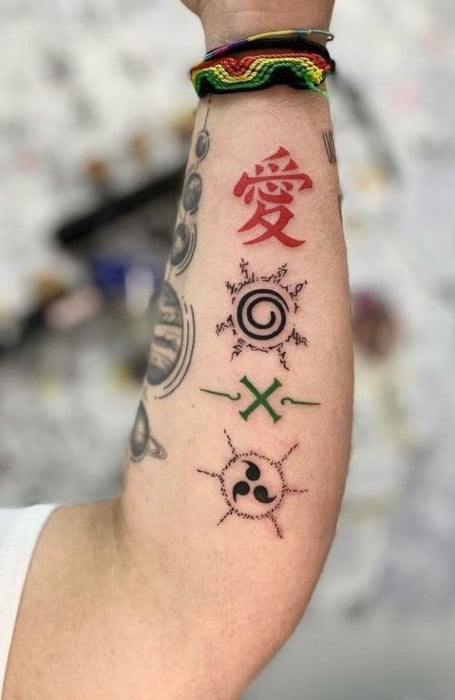 22. Naruto Back Tattoos
Are you looking for the ultimate location to celebrate your love of Naruto? Then look no further than a back tattoo. The appeal of this area is how big it is, letting you combine several images or focus on one very large, detailed piece. It is also easily covered, not restricting those who cannot have visible body art. Be sure to avoid the spine because getting inked here will significantly increase your discomfort.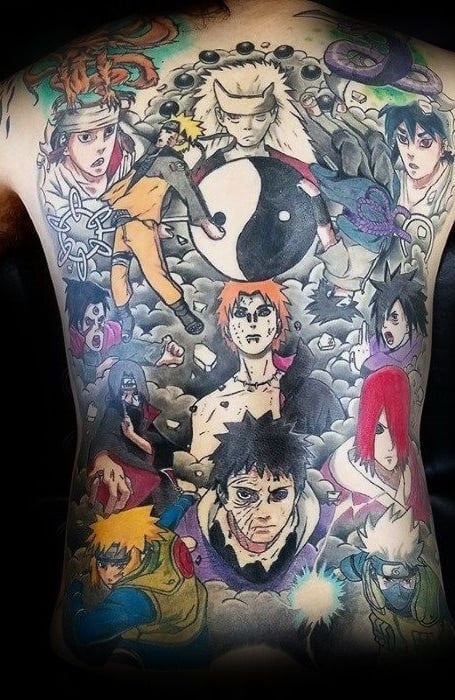 23. Naruto Chest Tattoos
Wear your Naruto design close to your heart to show just how special the manga series is to you. And you can do this with a chest tattoo. It's a large enough placement to experiment with your design and can be easily covered. Sounds good, right? But wait… the pain is a real consideration, and chest tattoos are right up there with the most painful!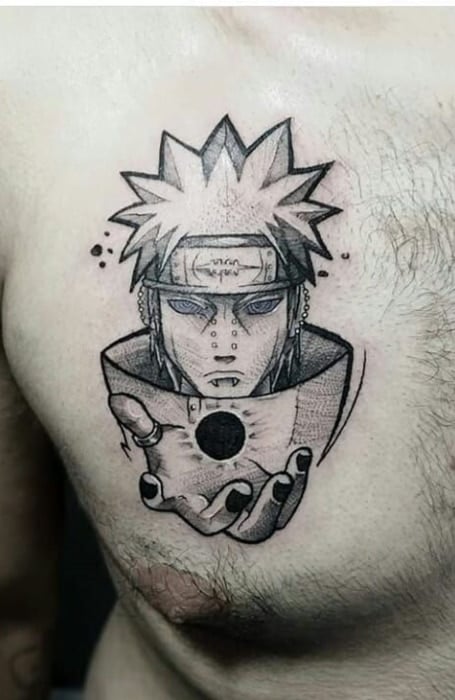 24. Naruto Hand Tattoo
Anyone looking for a placement that feels edgy and rebellious, listen up; the hand tattoo is for you. The pros and cons of getting inked on your hand is the visibility. Some people love this because the design is unmissable, but it is too restrictive for others. Tattoos still carry a stigma, and the hand, neck, and face are often the worst offenders. Plus, it will hurt because of the nerve concentration, thin skin, and how close it is to the bone.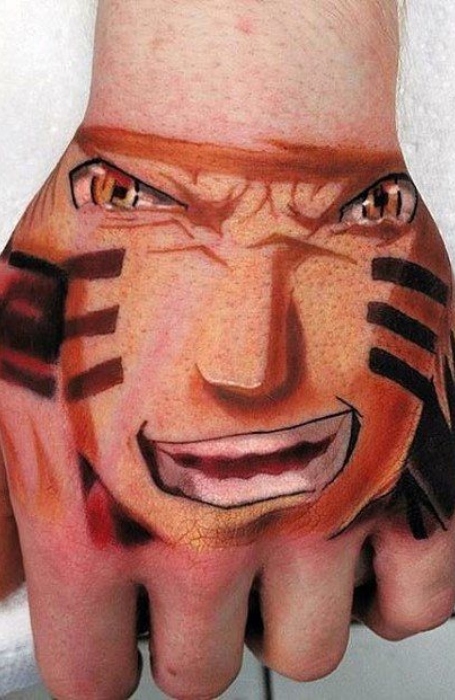 25. Naruto Leg Tattoos
Hand and neck tattoos may not be for everyone, but a placement that is far more versatile is the leg. Leg tattoos can be inked higher up, on the thigh, or lower down, depending on your preference and how visible you want them to be. Or, for those who really want to go all out, you can get a leg sleeve and show off your originality.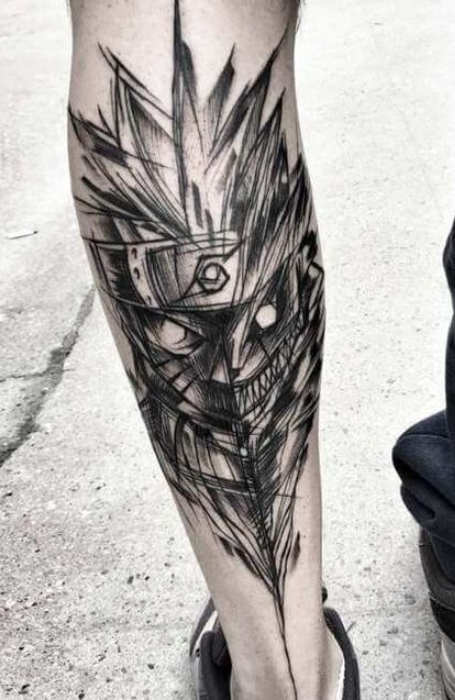 Naruto tattoos FAQs
Do any Naruto characters have tattoos?
Many of the Naruto characters have markings on their bodies, including the sealing symbol on Naruto Uzumaki's stomach and the pain tattoo mark on Gaara's forehead. Sensei Kakashi Hatake also has a tattoo.
What tattoo does Kakashi have?
Sensei Kakashi Hatake has one of the most memorable tattoos and is marked with an Anbu marking on his arm. The reason? He used to be part of the assassin force.
What does the Gaara tattoo mean?
Another popular marking from the Naruto manga series is the Gaara tattoo. A red marking on his forehead is the Japanese symbol of love. It can be interpreted in different ways, including someone who only loves himself and how he is searching for love. It can also represent pain and loneliness.
What is an Itachi tattoo?
Itachi Uchiha is another memorable character from the Naruto manga series. He is an individual who has experienced too much pain and suffering in his lifetime. People often interpret this marking as being a symbol of resilience and transformation.
SUBSCRIBE TO OUR NEWSLETTER
Subscribe to our mailing list and get interesting stuff and updates to your email inbox.