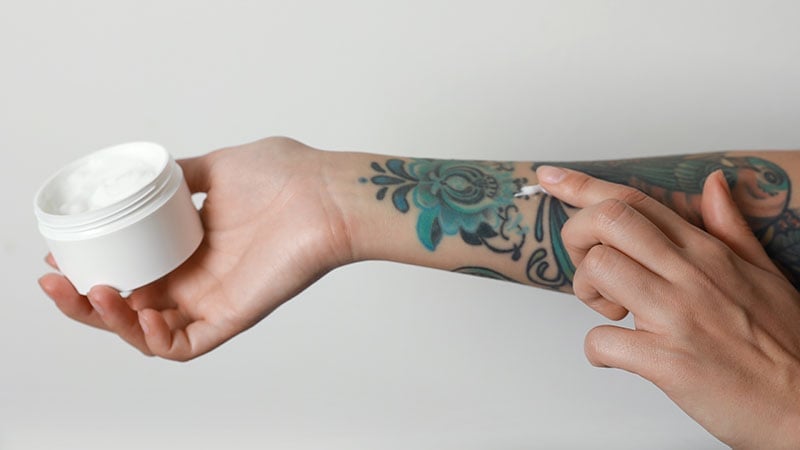 As someone who has gotten several women's tattoos, I cannot stress enough the importance of proper tattoo aftercare products. Once you leave the tattoo shop, it's up to you to ensure that your new ink doesn't become infected or irritated. While there is a lot of information available online on aftercare, sometimes it can be conflicting. That's why it's crucial to trust the instructions of your tattoo artist, as they know how to best care for tattoos. Depending on various factors, such as the size of the tattoo and the placement, the time to wait before removing the bandage can differ. In addition, asking your tattoo artist for advice on which creams to use for moisturizing is highly beneficial. Lastly, whether you're getting your first tattoo or your tenth, finding the best tattoo aftercare products, including tattoo lotions, balms, healing creams, and sunscreens to reduce tattoo pain and redness, is key for a smooth healing process.
Best Tattoo Aftercare Products
Below is our list of the best tattoo aftercare products: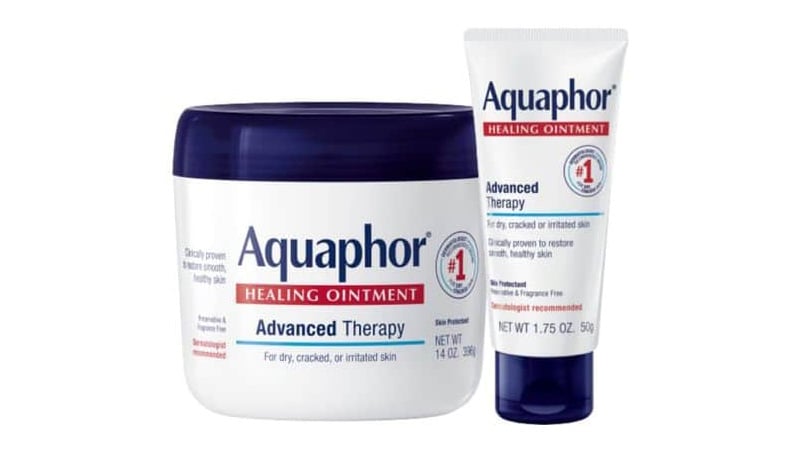 $31 on Amazon (Dual Pack) $18 on Walgreens
What we Like
Provides excellent hydration for the skin.
Effectively seals moisture into the skin.
Helps maintain the vibrancy of tattoos.
What we Don't Like
The formula can be sticky and may transfer.
Aquaphor is considered the best tattoo aftercare product among tattoo artists, and for good reason. As someone who's been inked multiple times, I can attest to its miraculous healing properties. Its first ingredient, petrolatum, locks-in moisture while fighting inflammation and bacteria. What sets Aquaphor apart from its competitors is its scentless formula, perfect for use during those first few sensitive days post-tattoo. But beware, it does have a tendency to transfer onto clothes and anything else it touches, so it's best to avoid wearing your favorite outfit while using it. Overall, Aquaphor is a trusted and reliable product that any tattoo enthusiast should consider adding to their aftercare routine.
Active Ingredients: Petrolatum | Skin Type: All | Size: 14 fl. oz | SPF: None | Cruelty-Free: No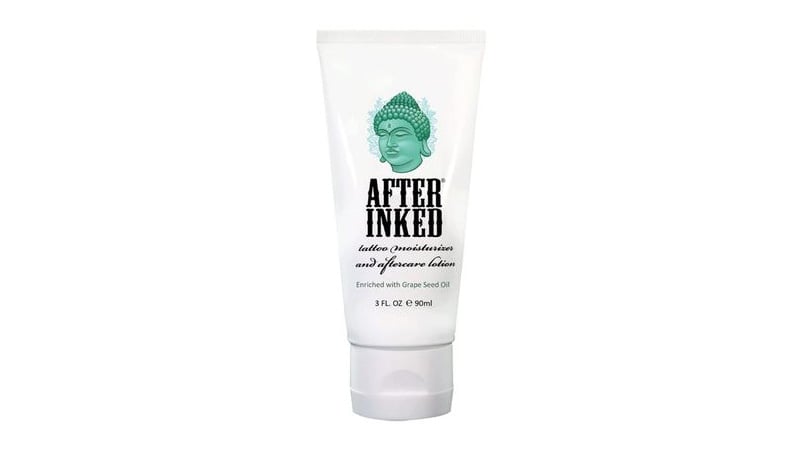 $25 on Adore Beauty $19 on Walmart
What we Like
No petroleum
Hydrating formula
Helps enhance tattoo vibrance
What we Don't Like
After Inked is a tattoo aftercare cream that has built a solid reputation among tattoo artists and enthusiasts alike. But what does it offer you as an individual? Well, for starters, we're talking about moisturized skin that's been treated with natural ingredients like grapeseed oil without any petroleum-based products. It's the perfect tattoo aftercare lotion for caring for your tattoos while also nourishing your skin. Not only does it work wonders on your inked areas, but it also moisturizes other parts of your skin that need a little extra TLC. After Inked is easy to apply, absorbs quickly, and will leave your skin feeling soft and nourished.
Active Ingredients: Grape seed oil, glycerin | Skin Type: All | Size: 3 fl. oz | SPF: None | Cruelty-Free: Yes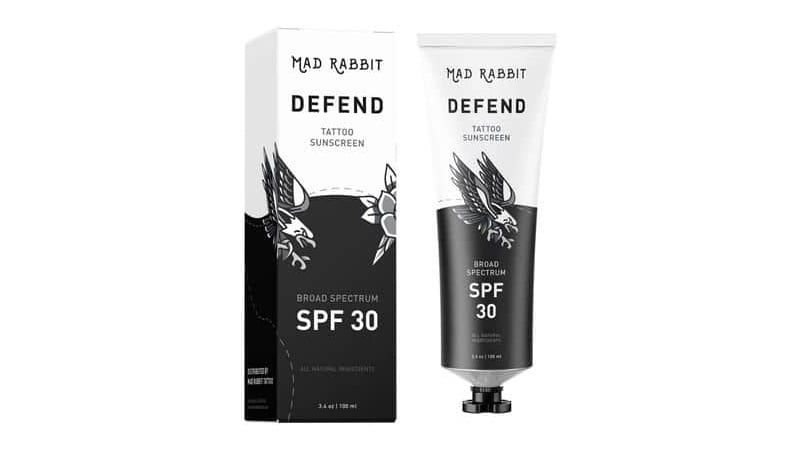 $29 on Amazon $46 on Mad Rabbit (15% Off)
What we Like
Provides a cooling sensation
Contains vitamin C
Helps alleviate itching
SPF 30
What we Don't Like
It may leave a slightly sticky feeling when drying
As a lover of the sun, I can appreciate the importance of sunscreen when spending long days outside. But when it comes to protecting tattoos, the National Library of Medicine (NLM) takes it to the next level. The NLM recommends applying sunscreen with SPF 30 or higher and reapplying every two hours for anyone with tattoos. But not all sunscreens are created equal. Mad Rabbit's Defend Tattoo Sunscreen is one of the best tattoo aftercare products and is a game changer for newly-inked individuals. It not only blocks harmful rays but also contains anti-inflammatory ingredients and skin barrier-supporting fatty acids to keep your tattoo protected and looking fresh. And who doesn't love a good fatty acid? Overall, it's important to take care of your tattoos and protect them from the sun, so make sure to slather on the right kind of tattoo aftercare products like sunscreen.
Active Ingredients: Shea and cocoa butters | Skin Type: All | Size: 3.4 fl. oz | SPF: None | Cruelty-Free: Yes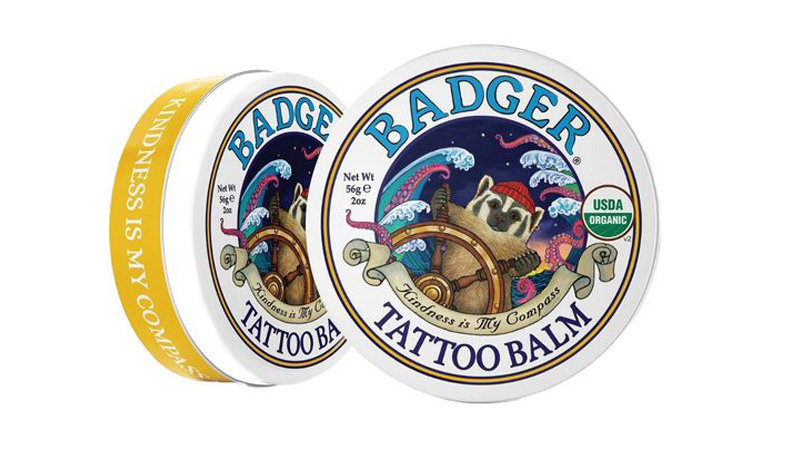 What we Like
Vegan Ingredients
Contains vitamin C
Over 25,000 happy customers
Afordable
What we Don't Like
I recently stumbled upon Badger Tattoo Balm, and I have to say, I'm impressed. This all-natural balm is not only fragrance-free, but it's also USDA Certified Organic, making it one of the top tattoo aftercare products for those with sensitive skin. But what really caught my eye was the packaging. A badger sailing a ship in a Steve Zissou hat surrounded by octopuses? Yes, please! But let's not forget about the actual product. It's gentle on fresh tattoos and helps bring out their brightness, but it's also a great everyday balm for any other problem areas you might have. If you're looking for a highly praised tattoo balm on the cheap, Badger Tattoo Balm is definitely worth a try.
Active Ingredients: Organic Sunflower Oil, Organic Fair-trade Coconut Oil, Other Organic Ingredients | Cruelty-Free: Yes | Skin Type: All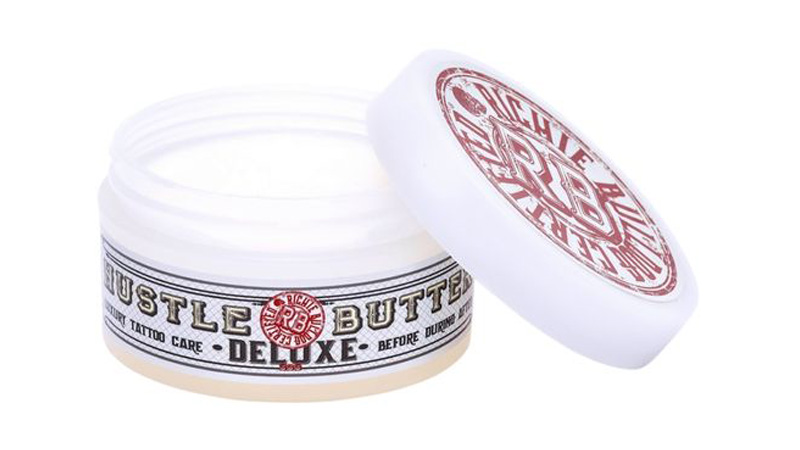 What we Like
Crafted using clean, natural ingredients
Pleasant fragrance
Provides hydration
What we Don't Like
Relatively expensive considering the quantity provided
Hustle Butter Deluxe is a vegan formula tattoo aftercare product favored by tattoo artists and has become an essential product for ink lovers. With its proven ability to reduce irritation and maintain color, it's no wonder that this product has earned a rating of 4.8 out of over 25,000 reviews. One satisfied customer wrote, "I normally don't ever leave reviews, but this product blew me out of the water. It made the day after so much more bearable and made sure the tattoo and surrounding skin wasn't dry." This sentiment is echoed time and time again by countless users who swear by the product's effectiveness in both preserving and reviving tattoos.
Active Ingredients: Shea, mango, and aloe butter | Skin Type: All | Size: 5 fl. oz | SPF: None | Cruelty-Free: Yes
What we Like
Pleasant unscented fragrance
Strengthens skin barrier through added ceramides
Provides 48hr hydration
What we Don't Like
Relatively expensive considering the quantity provided
If you're looking for a tattoo aftercare product that's easily accessible, look no further than your own bathroom. A simple bottle of Eucerin Advanced Repair Body Lotion can do wonders for your ink. The key player here is the ceramides, which work to strengthen and protect your skin from the elements. Plus, it's unscented, which, as you may know, is a vital component in the healing process. And best of all, because it's a regular body lotion, you can continue to use it daily long after the healing is complete. Trust me on this one, and grab that bottle sitting right on your bathroom counter.
Active Ingredients: Water, Glycerin, Urea, Other Ingredients | Cruelty-Free: No | Skin Type: All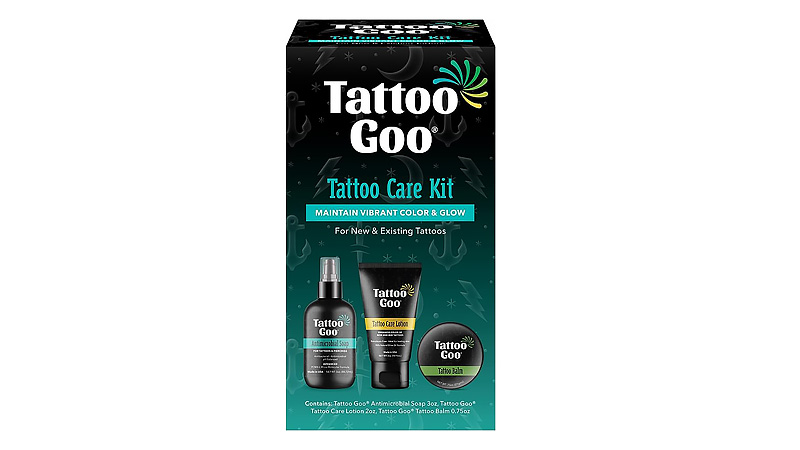 What we Like
Made from natural ingredients
Save costs on buying separate products
Good for sensitive skin
Affordable
What we Don't Like
The formula is a little sticky
If you're like me, then you want to ensure that your tattoos are always looking their best. That's why I highly recommend checking out the Aftercare Kit from Tattoo Goo. This kit should be one of the tattoo aftercare products if you don't want to piece together your tattoo aftercare routine, as it comes with everything you need to protect your art and your skin. The kit includes an antimicrobial soap, tattoo aftercare lotion, and tattoo aftercare balm, all of which are made with natural ingredients and gentle enough for even the most sensitive of skin.
Ingredients: Olive Oil, Cyclopentasiloxane, Glycerine, Other Ingredients | Cruelty-Free: Yes | Skin Type: All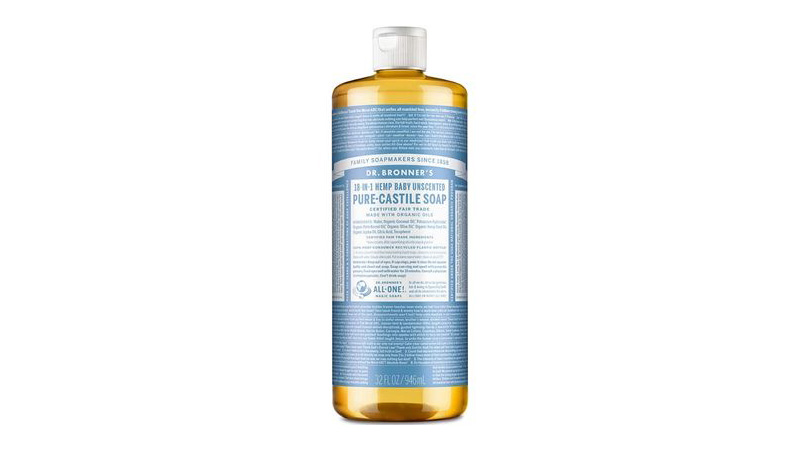 What we Like
Gentle cleansing safe for sensitive skin
Vegan and cruelty-free formula
Completely biodegradable
Made with certified Fair Trade and organic oils
100% vegetable-based ingredients
What we Don't Like
It can make the skin feel dry
If you're looking for a gentle, all-natural tattoo aftercare product, look no further than Dr. Bronner's Pure-Castile Liquid Baby Soap. This product is made with certified Fair Trade and organic oils. The soap is vegan, completely biodegradable, and vegetable-based. As someone who recently got some fresh ink, I can attest to its effectiveness. The fact that it's marketed towards babies was a promising start, but it's the product's versatility and tattoo-friendly formula that really make it stand out. Made with over 90% organic ingredients, this unscented soap is concentrated, meaning a little goes a long way. I've even placed a bottle at each of my sinks so I can make wise soap-related decisions in all aspects of my life.
Active Ingredients: Water, Organic Coconut Oil, Potassium Hydroxide, Organic Olive Oil, Other Organic Ingredients | Cruelty-Free: Yes | Skin Type: All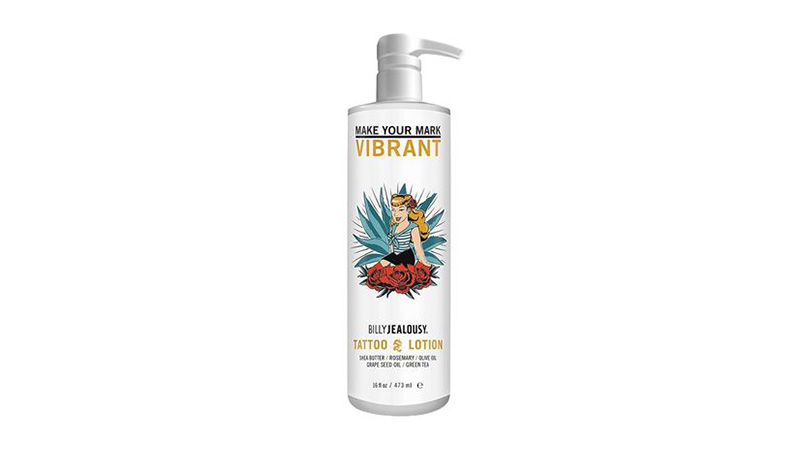 $43 on Amazon $60 on Fresh Beauty Co
For those who want to keep their tattoos looking fresh and smooth, Billy Jealousy's Tattoo Lotion is one of the most popular tattoo aftercare tattoo products. Although it may be pricier than other options, this lotion is packed with skin-soothing elements like shea butter and sunflower seed oil, jojoba oil, green tea leaf extract, and more. While some may worry about the inclusion of fragrance, it's essential to note that Billy Jealousy's fragrance comes from essential oils rather than synthetic fragrances. With this lotion, you'll be able to maintain the appearance of your tattoos without any harsh chemicals or synthetic scents.
What we Like
Moisturizing
Contains antioxidants
What we Don't Like
Active Ingredients: Aloe leaf extract, glycerin, olive oil | Skin Type: All | Size: 8 fl. oz | SPF: None | Cruelty-Free: Yes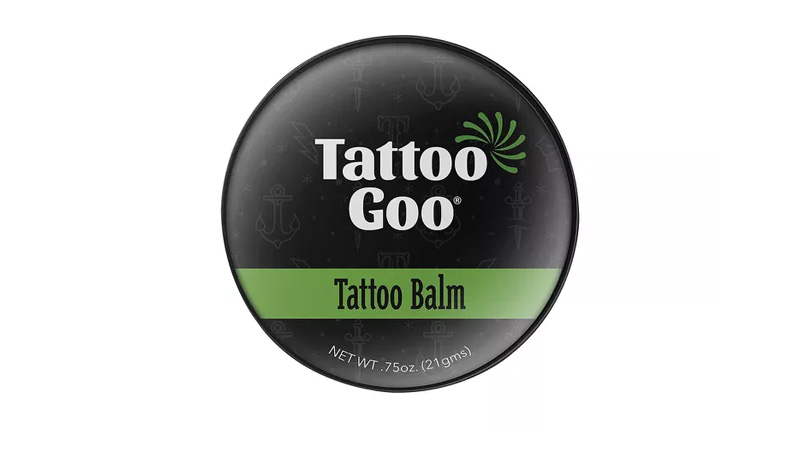 What we Like
Does not clog pores
Provides relief for chapped and dry skin
Free of petroleum
What we Don't Like
Comes in a very small tin
Tattoo Goo has more than a decade-long reputation in the ink community as a go-to tattoo aftercare product. Formulated with a blend of 98% natural healing ingredients, such as triglycerides, olive oil, lavender, cocoa butter, and wax ester beeswax, this product is designed to soothe inflammation effectively. The tattoo aftercare balm also boasts the benefit of preventing scabbing, making sure your new tattoo looks its best as it heals. Plus, Tattoo Goo is one of the best tattoo aftercare products for those who worry about pore-clogging since it's made to be lightweight and safe for your skin. Another perk I love about this product is that it can enhance the vibrancy of your tattoo colors, creating stunning and long-lasting body art. And if you're concerned about product safety, don't worry. Tattoo Goo is dermatologist tested, giving you even more, reassurance as your new art heals.
Active Ingredients: Olive oil, cocoa butter | Skin Type: All | Size: 0.75 fl. oz | SPF: None | Cruelty-Free: Yes
Tattoo Aftercare Do's and Dont's
As well as using the best tattoo aftercare products knowing how to care for your tattoo can help avoid or identify an infection. It is essential to be armed with this knowledge for the best possible results. This includes what to do, what not to do, and how to react if you think your piece is infected or you are having an allergic reaction to the ink.
Do's
Keep your tattoo clean by regularly washing it.
Use a fragrance-free soap to prevent irritation and wash with warm water.
Pat the skin dry with a paper towel after washing it. Wait some minutes to make sure it is completely dry before adding moisturizer.
Find one of the best unscented tattoo aftercare products.
Use clean bedsheets to prevent infection or irritation.
Don'ts
Never pick at the scabs or scratch the skin, even if it is itchy.
Do not stop cleaning and caring for your tattoo, even if it appears to be healed in the first few weeks.
Remember that colored tattoos and larger pieces take longer to heal, give it time, and do not rush this process.
Avoid submerging your tattoo in water.
Keep it away from direct sunlight, and even after it has healed, use sunscreen.
Best Tattoo Aftercare Products FAQs
What is the best product for healing tattoos?
Aquaphor is highly recommended by tattoo artists as an aftercare product. It effectively soothes and moisturizes the tattooed area while also providing anti-inflammatory benefits for healing your new ink.
How long after a tattoo should I apply cream?
It is recommended to remove the bandage from your tattoo around three hours later. You can then wash it with warm water and pat it dry with a paper towel. When the skin is completely dry, you can apply an unscented cream. Depending on the size of your design and the placement, your tattoo artist may advise you to wait longer before removing the bandage; this could be up to 48 hours.
How long should I want to shower after a tattoo?
You can wash your tattoo with warm water after removing the bandage. This can be around three hours after getting inked unless you are advised differently. You want to avoid submerging it in water, for example, going for a swim until it is fully healed.
What should you not do after a tattoo?
Taking care of your tattoo is essential to prevent infection and irritation. This can be achieved by keeping it clean, dry, and moisturized. We all heal at different rates, and some parts of the body heal faster than others. It is normal to experience some discomfort and tenderness in the days after getting inked. You will also have scabbing and itching, which is entirely normal. If the area is swollen, has excessive oozing, or experiences an allergic reaction like a red rash, you need to contact a doctor.
SUBSCRIBE TO OUR NEWSLETTER
Subscribe to our mailing list and get interesting stuff and updates to your email inbox.