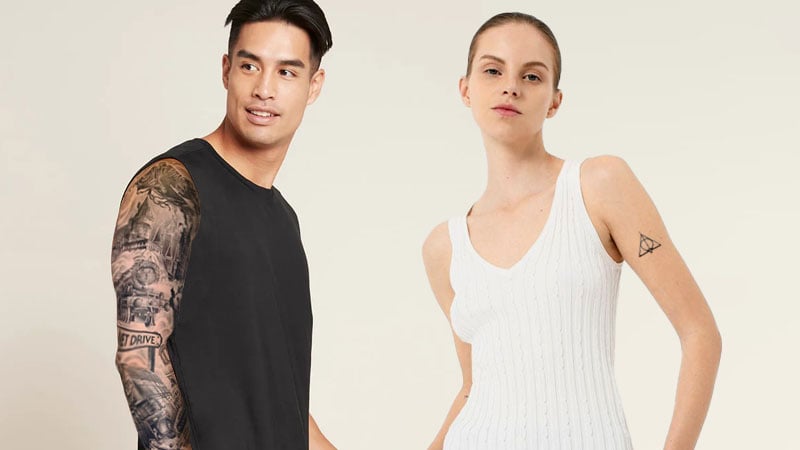 The first Harry Potter book was released in 1997, and almost three decades later, the book and subsequent film franchise remain just as popular and relevant. The thought and creativity that went into making Harry Potter has encouraged countless fans to express their individuality and uniqueness. To embrace their differences. And body art is a way to show the world who you are while expressing your thoughts and feelings. There are many images, symbols, interesting spells, and motivational quotes, that can be turned into the perfect tattoo. Whether it is a piece to inspire you or help you through a challenging time or honor a relationship with a cute matching design, when it comes to Harry Potter tattoos there is something for everyone!
1. Harry Potter Tattoo Ideas
Harry Potter has a loyal and passionate fandom. It has been almost thirty years since the first book was released but the wizarding world is just as relevant today as it was then. The detail and creativity that has gone into creating the book series give you plenty of ideas for unique and meaningful tattoos, including iconic symbols like Harry Potter's glasses, or powerful spells.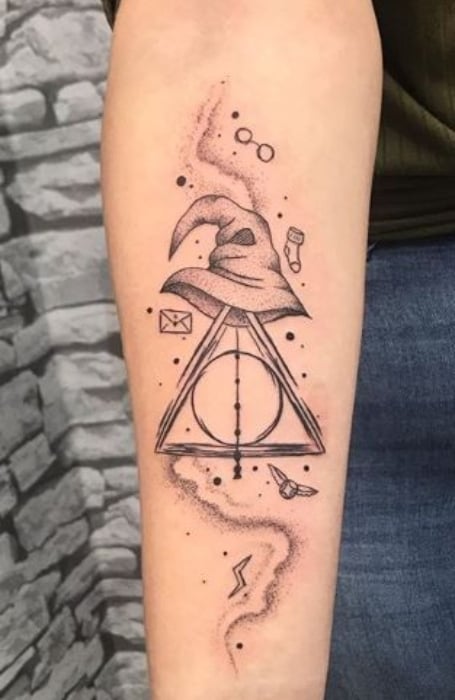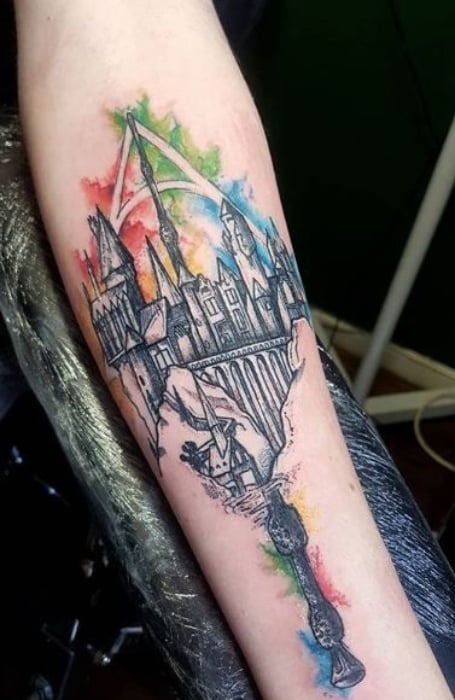 2. Small Harry Potter Tattoos
Small tattoos are appealing because they can be inked anywhere on the body, including behind the ear or on the finger. The size also makes your design more discreet and easier to cover up. There are many great Harry Potter-inspired tattoos to choose from, including symbols like the Sorting Hat, Sign of the Deathly Hallows, or the Golden Snitch. Your choice will depend on the meaning you want to be associated with your design.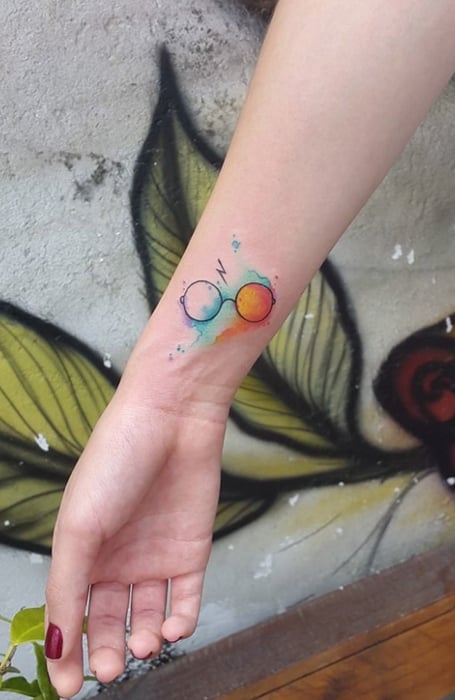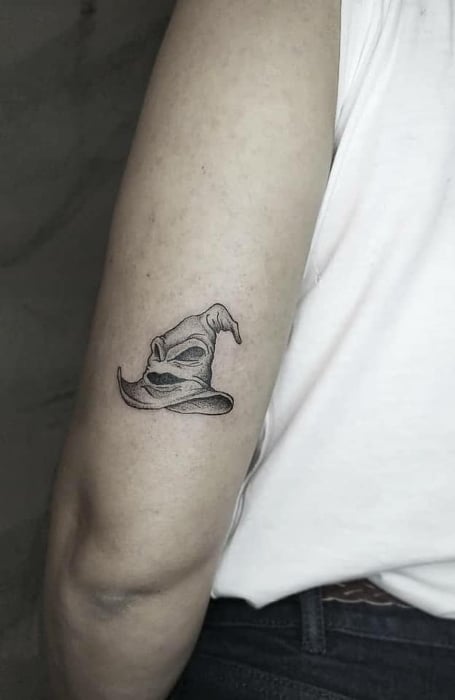 3. Harry Potter Dark Mark Tattoo
The Dark Mark was a symbol of loyalty to Lord Voldemort. His followers were branded with the symbol on their inner left forearm and it was used to show their support of Voldemort but could be used to summon them when he was in need. Why you would choose a design like this depends on the symbolism you associate with it. For some, it could be a way to show the balance between good and evil or could be inked to show you have overcome a challenge.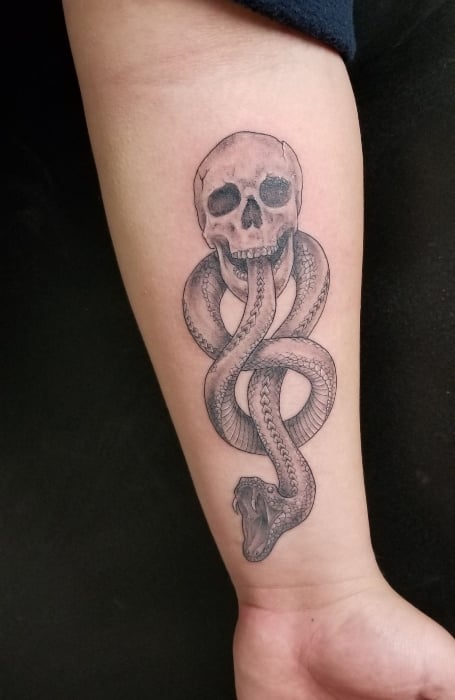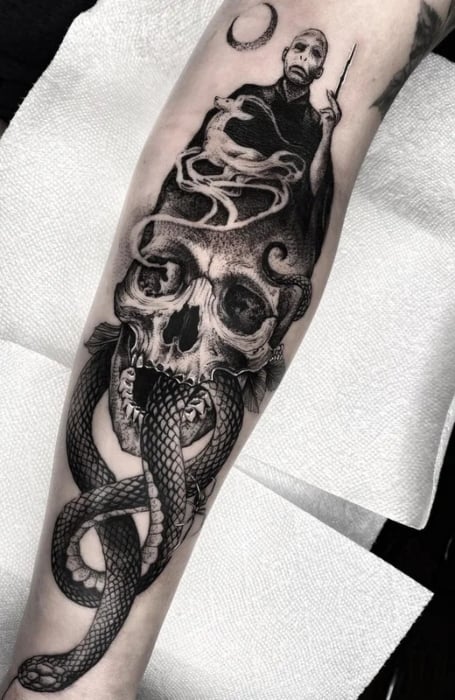 4. Harry Potter Sleeve Tattoo
Sleeve tattoos are an excellent choice for those who want to combine several images and let their body art tell a story. Sleeves work best when created in the same style and theme because it allows the images to blend seamlessly. Harry Potter is a great source of inspiration and there are many designs to include in your sleeve tattoo.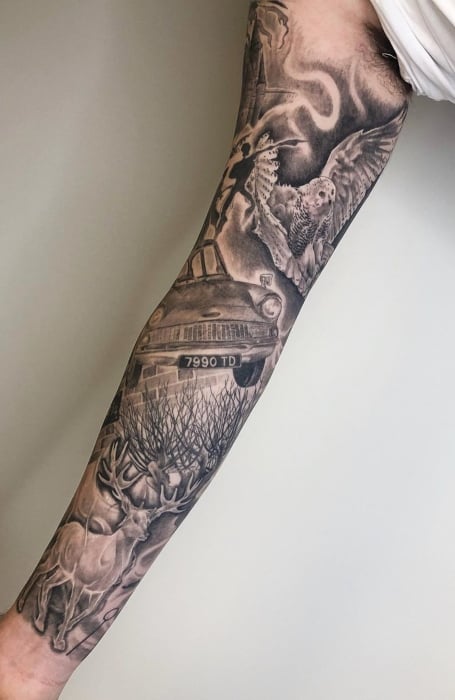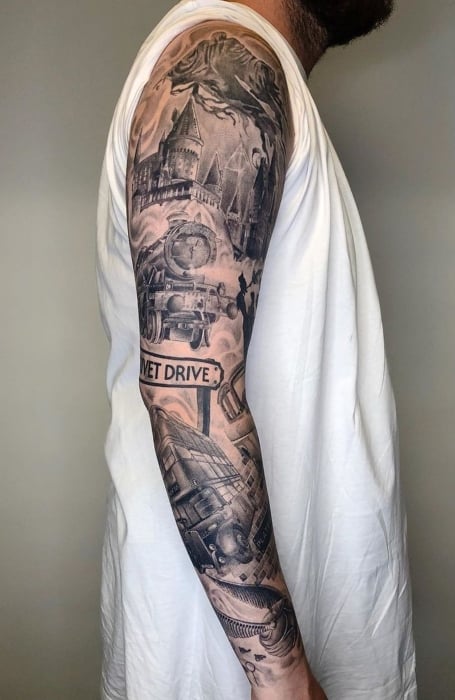 5. Harry Potter Death Eater Tattoo
Death Eaters are the names given to followers of Lord Voldemort. The group of individuals, often wizards and witches of Slytherin, are dedicated to the Dark Lord and this tattoo can be a symbol of loyalty, trust, and dedication. It can also show an unbreakable bond, as the Death Eaters have dark marks which show their loyalty to Voldemort and can never be removed. Your tattoo could also represent death and rebirth.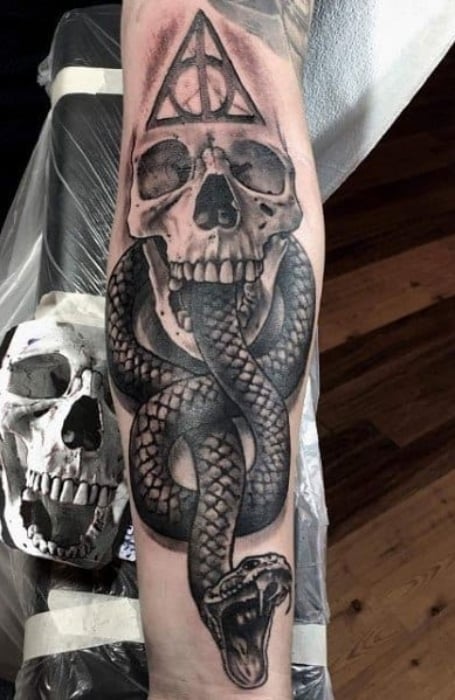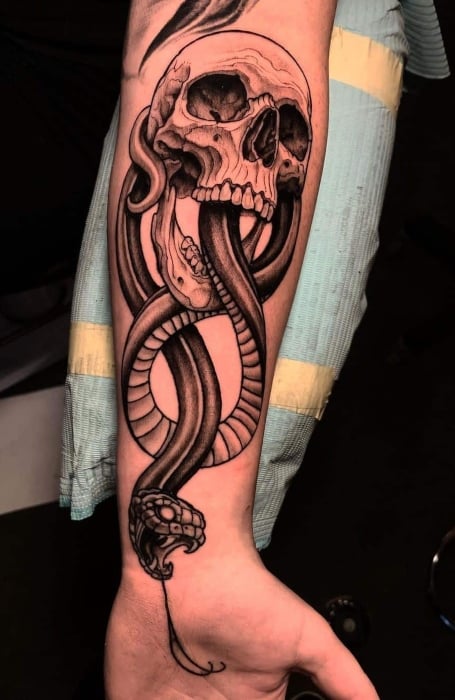 6. Harry Potter Stars Tattoo
Harry Potter is one of the biggest book and film franchises in the world. The main stars of the series are Harry Potter, Ron Weasley, and Hermione Granger. The actors and actresses who played these characters were catapulted into stardom thanks to their roles and are loved and respected by the fandom. If you have a favorite, this could be an excellent option for your next star tattoo design. Or it could be of a literal star, representing guidance and magic.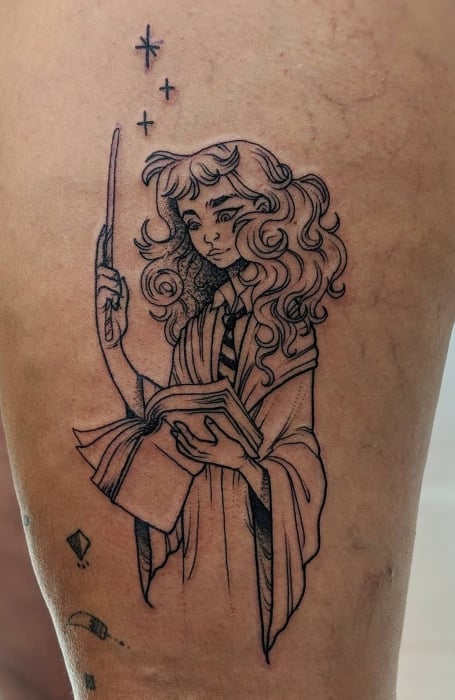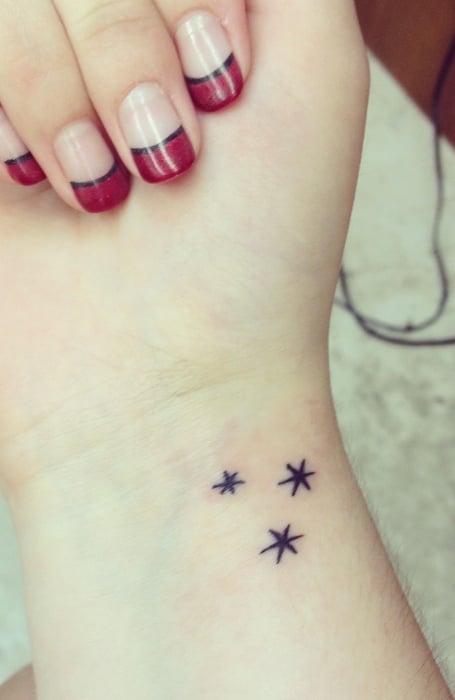 7. Harry Potter Always Tattoo
What better way to show your love and dedication to the Harry Potter franchise than with a tattoo? The word "Always" has become a popular slogan for the fandom to get inked, showing their love and loyalty. There are several ways to design it, including transforming the letter A into the sign of the Deathly Hallows or adding a spell, wand, or other symbols.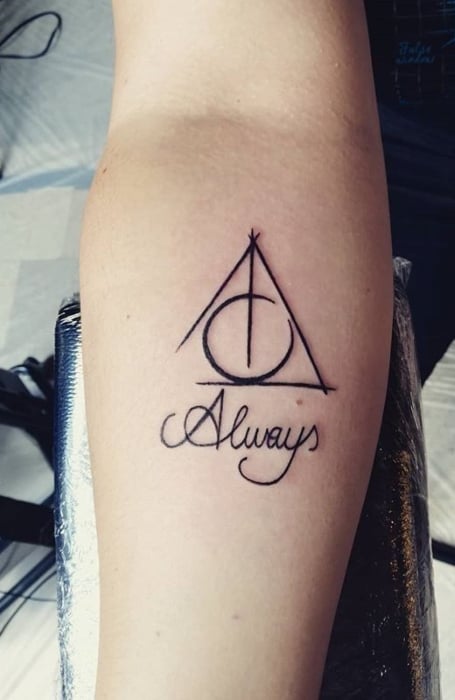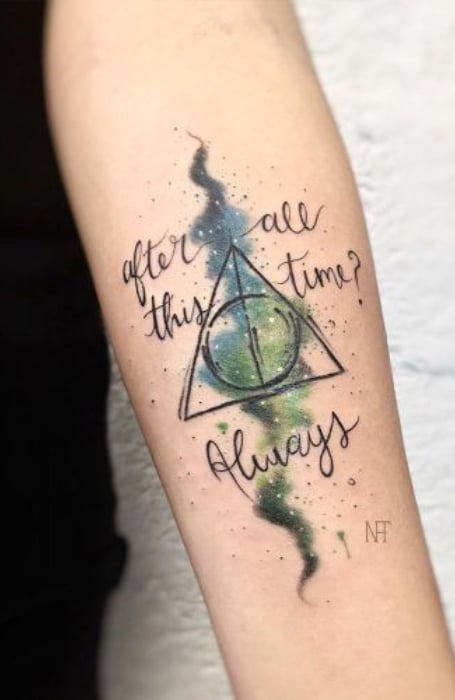 8. Harry Potter Wand Tattoo
A Harry Potter wand tattoo can be designed to be simple or detailed and can be inked big or small. It is also rich in symbolism and associated with magic, mystery, growth, power, and protection. You can personalize the wand depending on the symbolism you want to be associated with it. For example, Harry Potter's wand includes a phoenix feather, and the phoenix is a symbol of rebirth and immortality.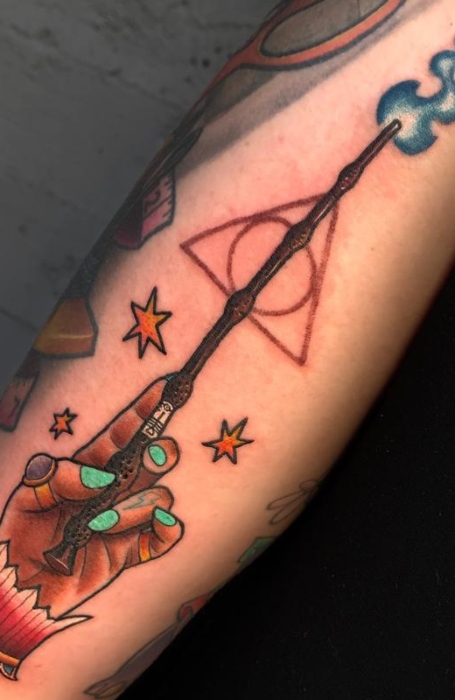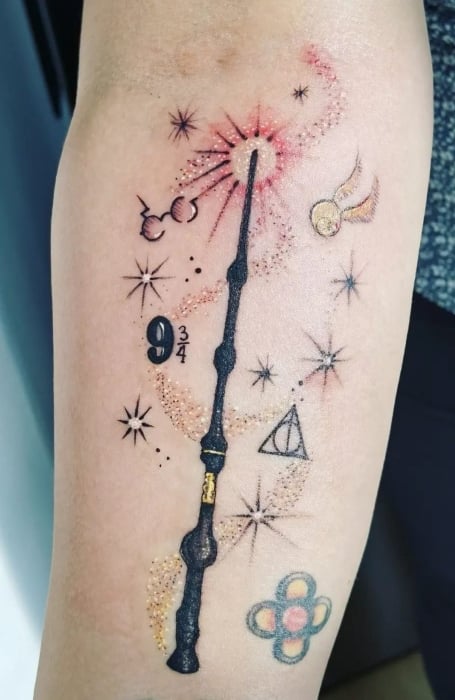 9. Meaningful Small Harry Potter Tattoos
Meaningful tattoos are unique to the wearer. They can be of anything and can reflect your thoughts and feelings, bring you comfort, or make you feel safe and protected. Fans of Harry Potter may be drawn to specific symbols, spells, or even images of their favorite character. Designing them so that the tattoo is small is an excellent choice if you want versatility with placement.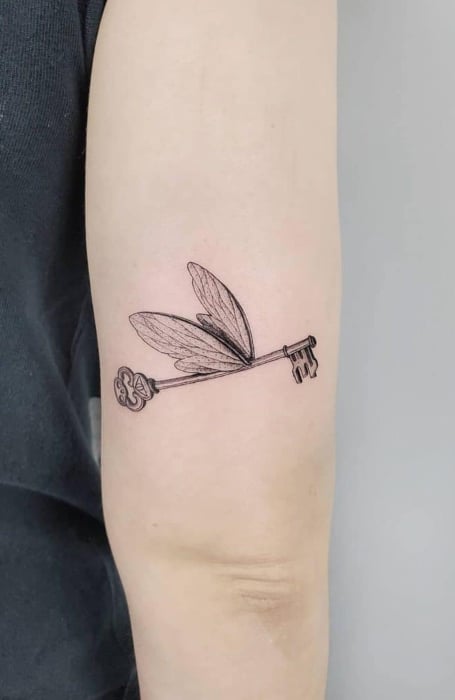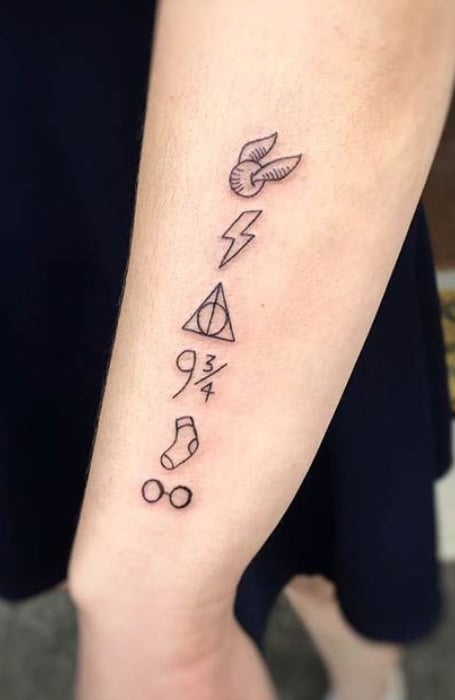 10. Simple Harry Potter Tattoos
Simple tattoos focus on the basics of the design and are often created in black ink and with limited shading and detail. This is a style that appeals to those who prefer a minimalistic aesthetic. There are many Harry Potter symbols that are simple or can be simplified, including his iconic glasses, a wand, the mark of the Deathly Hallows, the Golden Snitch, Winged Keys, and much more.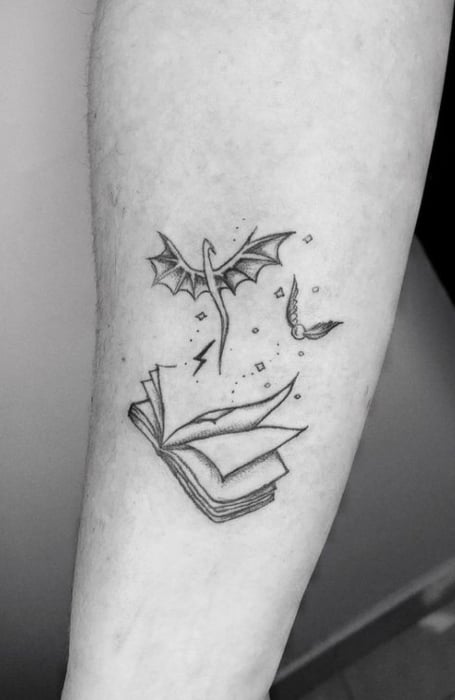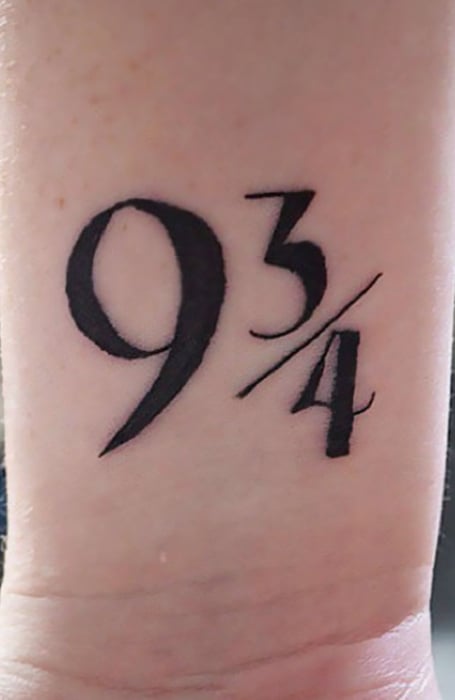 11. Harry Potter Deathly Hallows Tattoo
The idea of the Deathly Hallows is one of the most important in the Harry Potter series and is represented by a triangular mark that has a circle and line within it. They represent three powerful artifacts created by death. It is believed that if a witch or wizard can have possession of all three artifacts at once, they are able to overcome or conquer.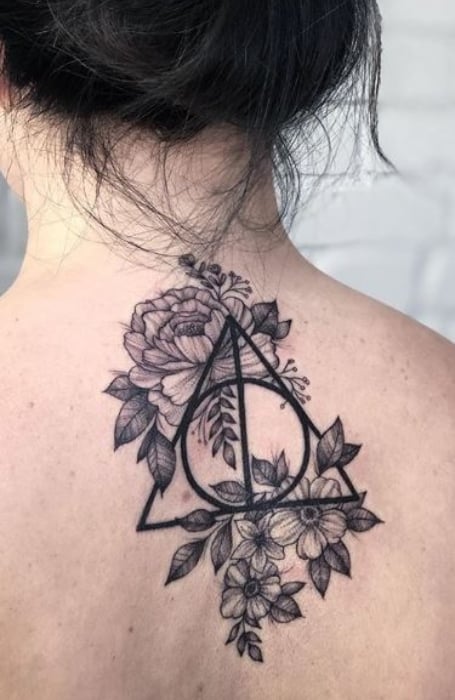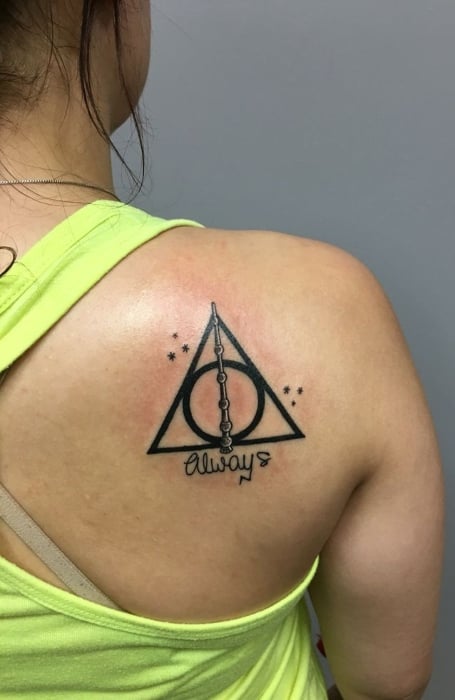 12. Harry Potter Lightning Bolt Tattoo
For those looking for a simple but meaningful tattoo for your Harry Potter-inspired design, a lightning bolt is an excellent choice. Harry's scar is in the shape of a small lightning bold and is a symbol of sacrifice and unconditional love because his mother died trying to protect him from Voldemort. It can also be a symbol of protection because Lily created a barrier against Voldemort with her sacrifice.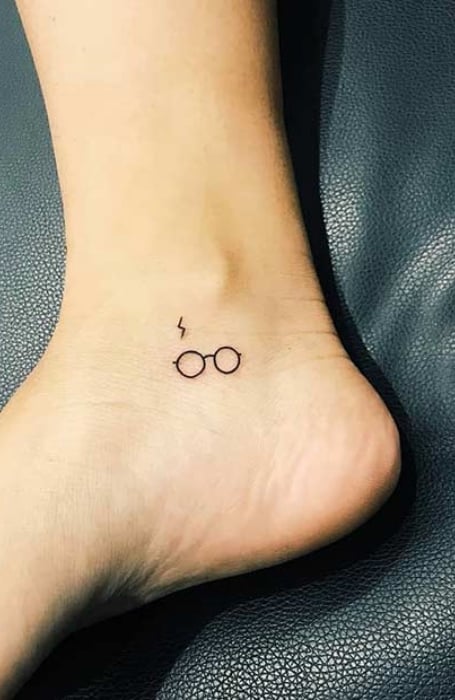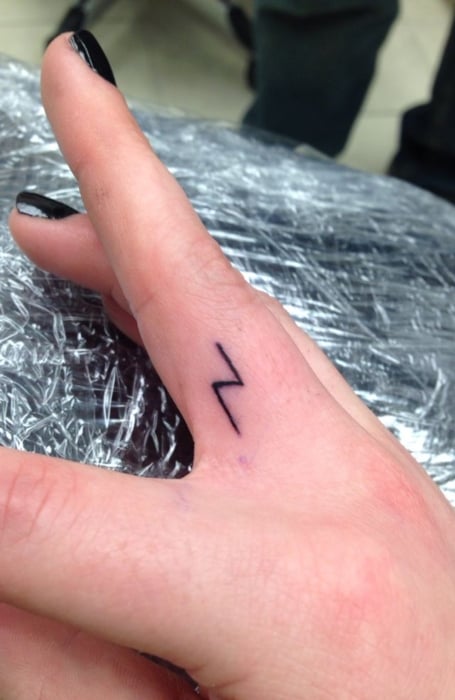 13. Harry Potter Scar Tattoo
One of Harry Potter's defining features is his scar, a small lightning bolt that was created when his mother sacrificed herself to protect him from Voldemort. He was an infant at the time. This scar is therefore a powerful symbol of love and protection. It could also be inked to show that good triumphs over evil or that you are powerful and can overcome the challenges you face.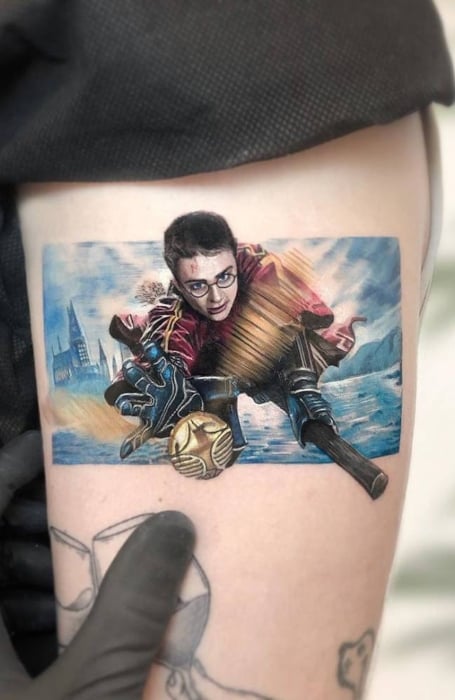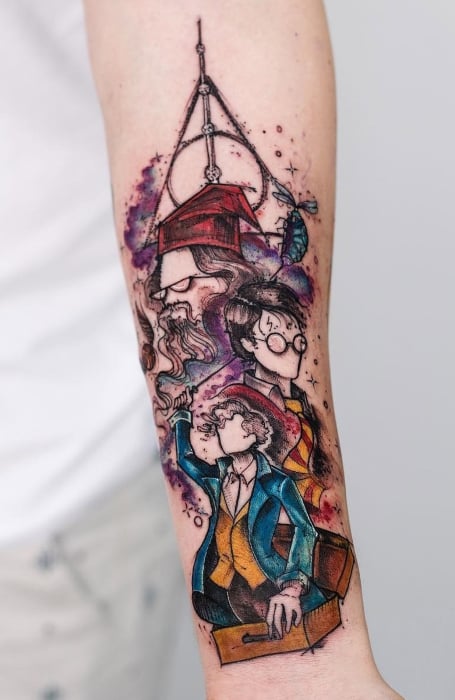 14. Harry Potter Snake Tattoo
Snake tattoos are popular because of their rich symbolism, often associated with the cycle of life and transformation. For Harry Potter fans, serpents have an added meaning and could represent evil and death, or loyalty to Lord Voldemort. The snake is also the symbol of Slytherin house and is associated with Parselmouths (the name given to those who could speak Parseltongue, an uncommon skill where witches and wizards can communicate with serpents).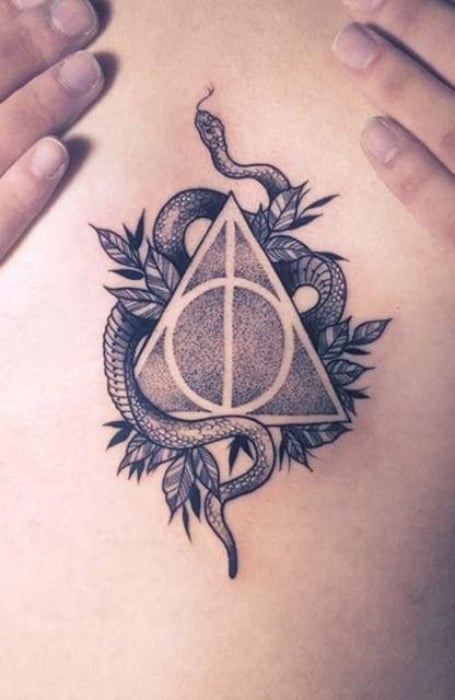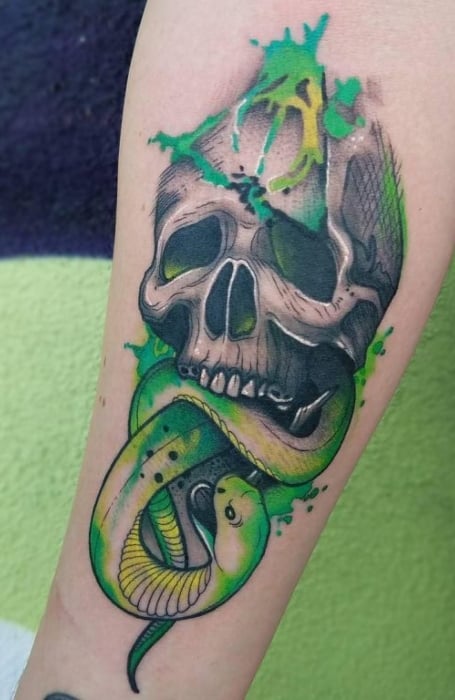 15. Matching Harry Potter Tattoos
Matching tattoos are a cute way to celebrate your relationship with someone you love. This could be a sibling, best friend, or romantic partner, and the process of finding the right design will be an added bonding experience. If you are both fans of Harry Potter and the wizarding world then you may be drawn to symbols like the Deathly Hallows, wands, lightning bolts, spells, and phoenixes.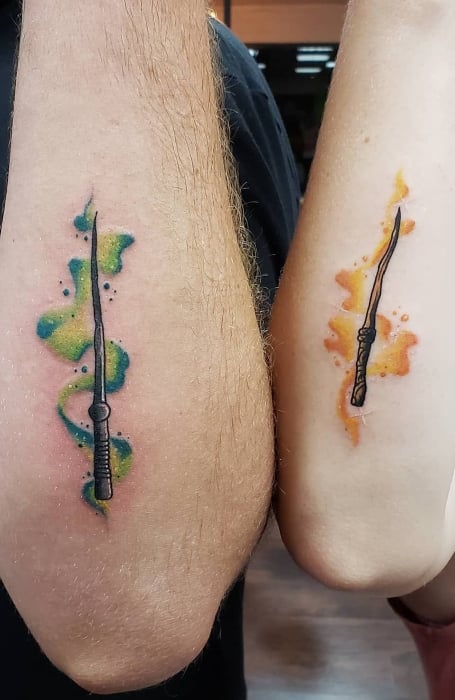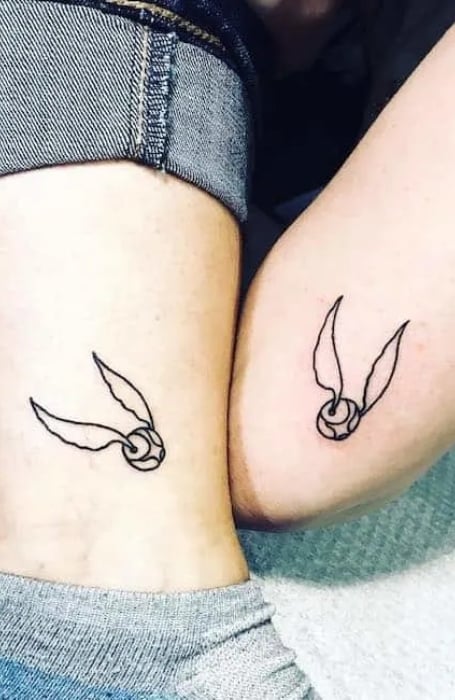 16. Minimalist Harry Potter Tattoo
Minimalist tattoo designs are created with black ink and feature clean lines, negative space, limited detail, and a lack of shading. They are simplified and focus on the basics, but can be inked big or small. The appeal of this style is that it can look delicate and can be tattooed on a smaller scale, giving you versatility with your placement.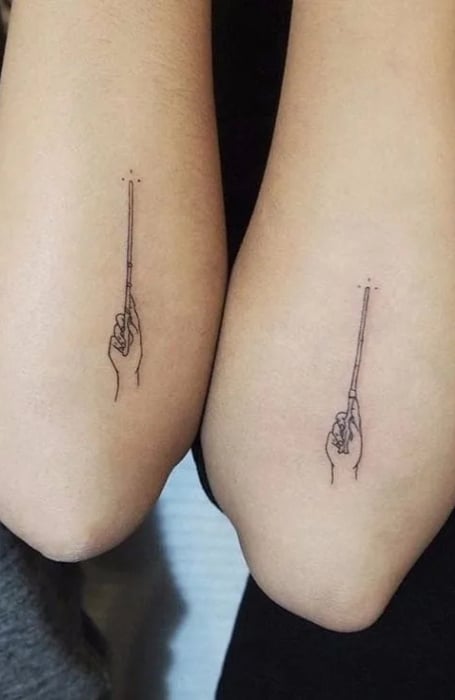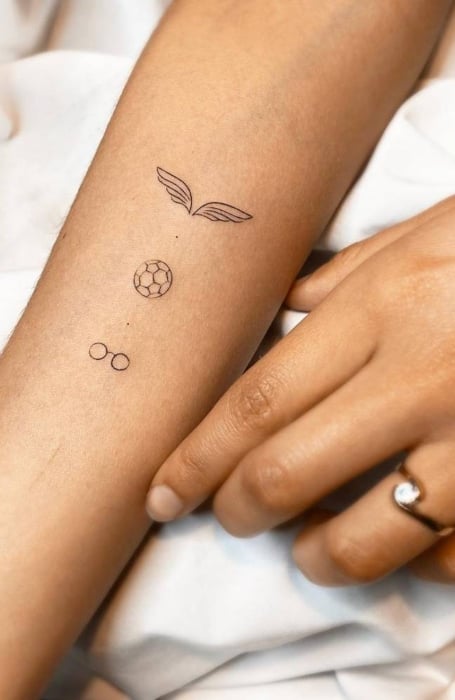 17. Harry Potter Black Light Tattoo
A black-light tattoo is unique and undeniably cool. UV tattoos are invisible except under UV light, making this an ideal option for someone who wants their design to have an element of mystery and magic to it; a theme that is fitting with Harry Potter-inspired artwork. This is also a discreet option for body art. The downside is that these tattoos are not regulated and the chemicals in the ink could have health risks.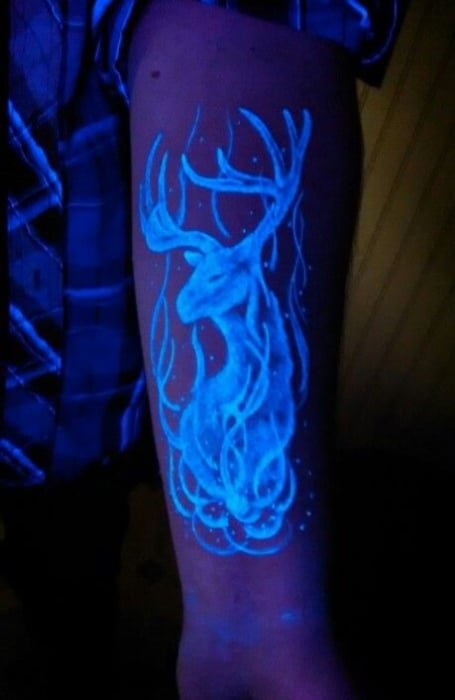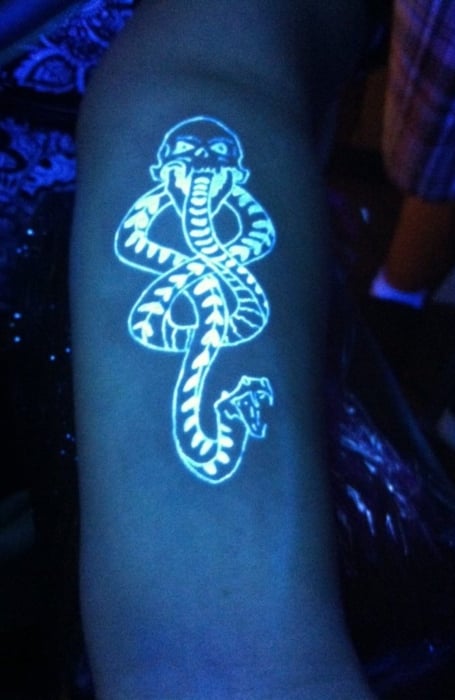 18. Harry Potter Phoenix Tattoo
Phoenix tattoos can make a powerful statement and are often inked to show personal transformation and victory. It is also a symbol of rebirth and new beginnings. Harry Potter was first introduced to Fawkes, a phoenix, by Professor Dumbledore who was instrumental in helping Harry to understand important lessons relating to life and death. Fawkes also helped Harry defeat the Basilisk and your tattoo can represent triumph.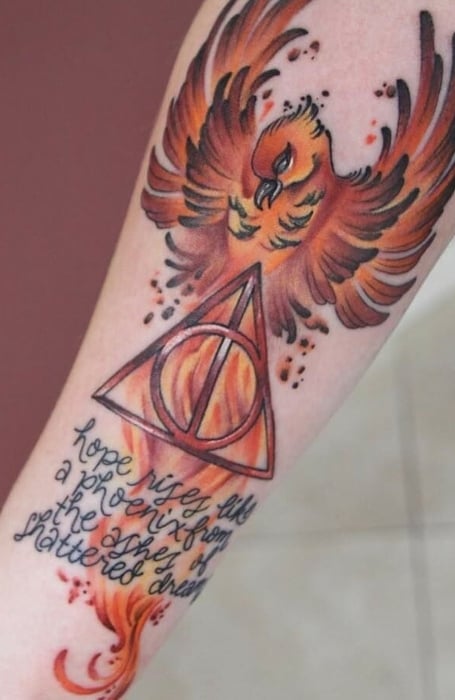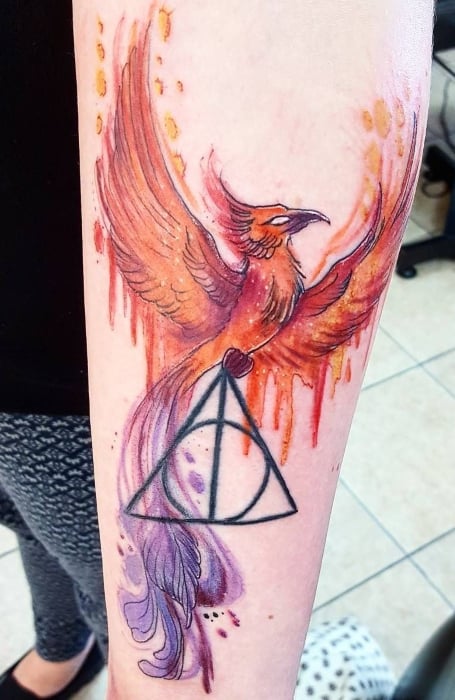 19. Harry Potter Quote Tattoos
Quote tattoos can say so much about who you are as a person and choosing the right quote can make a powerful statement. There are many Harry Potter quotes to choose from which can inspire and motivate you. Your quote can help you see the light during darkness, it can encourage you to be better and live life to the fullest, or it could be a line about love and protection. Find the words that move you the most.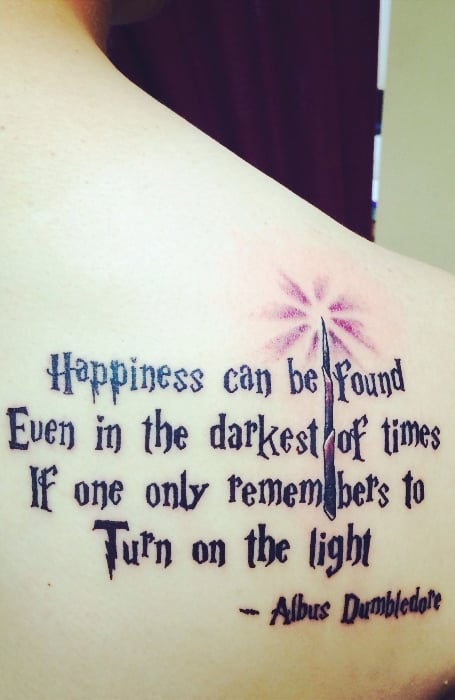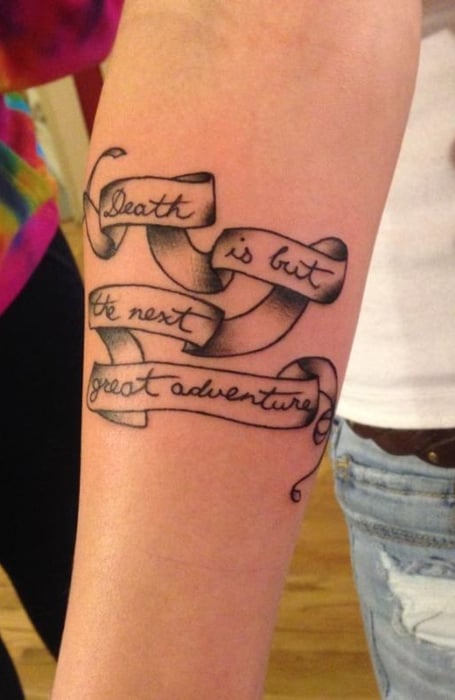 20. Harry Potter Couple Tattoos
Couple tattoos are a cute way to show your dedication to your relationship. If you and your partner have bonded over Harry Potter then this is an excellent option for your inking. You can choose matching designs, symbols that complement each other, or even quotes. Some people also choose to get their tattoos inked over their ring finger as an alternative to wearing a wedding band.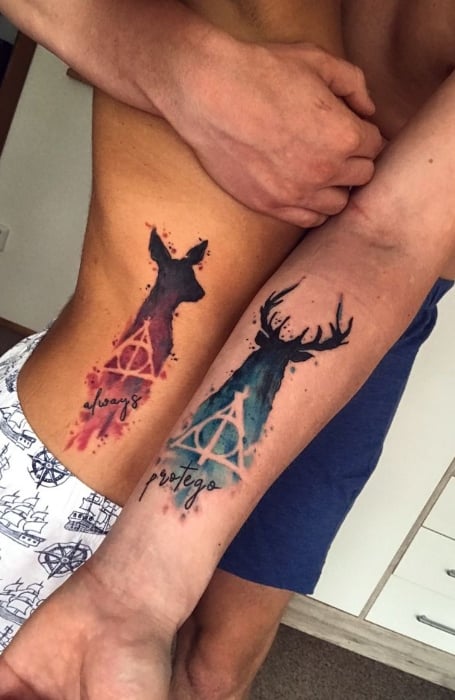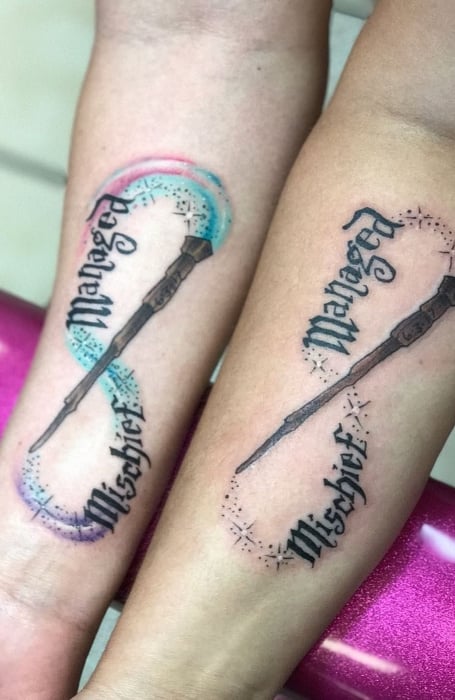 21. Harry Potter Matching Friend Tattoos
Matching friend tattoos are an excellent way to celebrate your connection with someone. It could be to honor a friendship or sibling, or to show your dedication to a romantic partner; in all of these relationships, the basis is friendship. Matching tattoos can be of anything, as long as they have meaning to you. Harry Potter is a great source of inspiration from powerful symbols to simple tattoos like the word "always."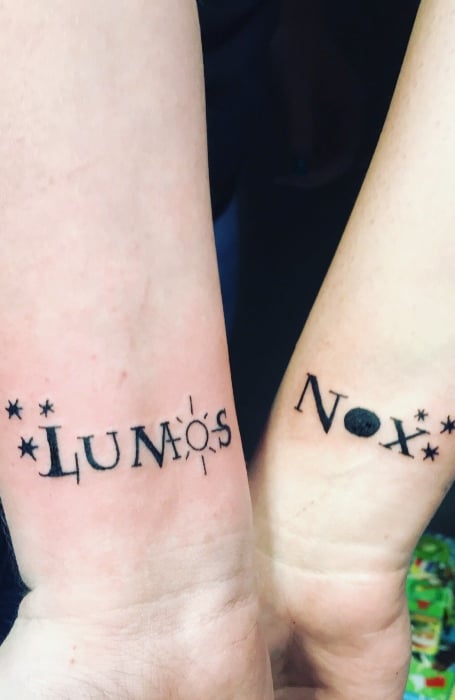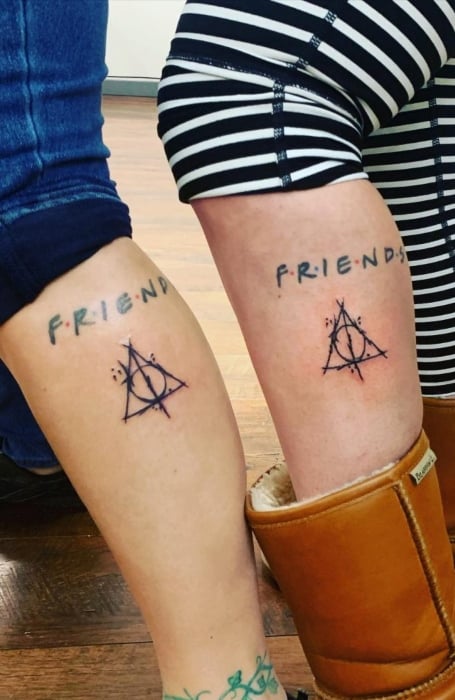 22. Harry Potter Sibling Tattoos
Your sibling is someone who is there for you and is willing to give you unconditional love and support. This is a unique and special bond that exists between you, and a beautiful way to honor them would be with a sibling tattoo. There are many siblings in the Harry Potter franchise, most notably Fred and George Weasley, but you could also find other symbols that you love to inspire your designs.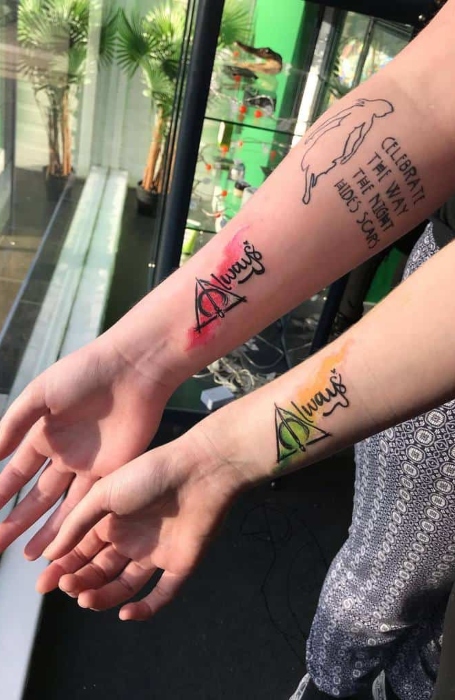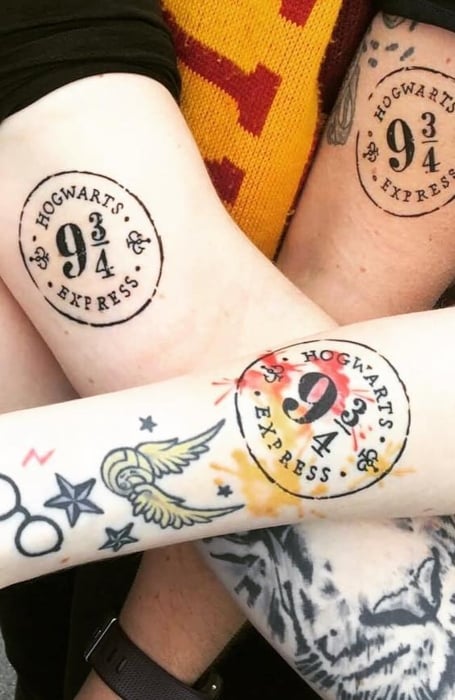 23. Unique Harry Potter Tattoos
There are commonly inked symbols and images from the Harry Potter franchise because of the powerful meaning associated with them, but you can also create something different and personal. Unique tattoos are designed for the wearer and have special significance. You can draw your own Harry Potter-inspired piece, combine several images to add to the meaning or work with your tattoo artist to give your design a different look and feel.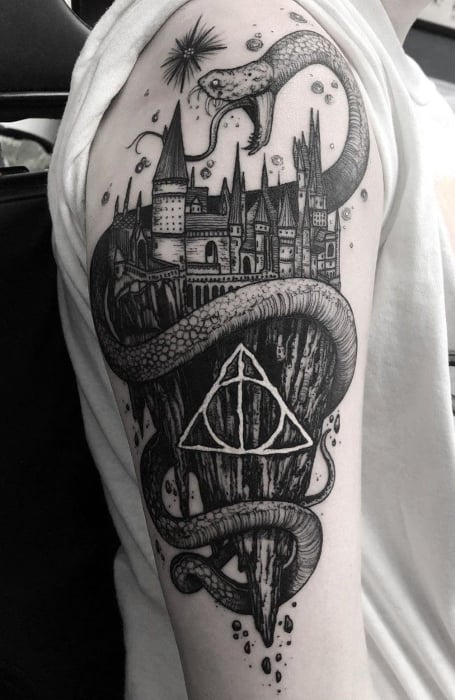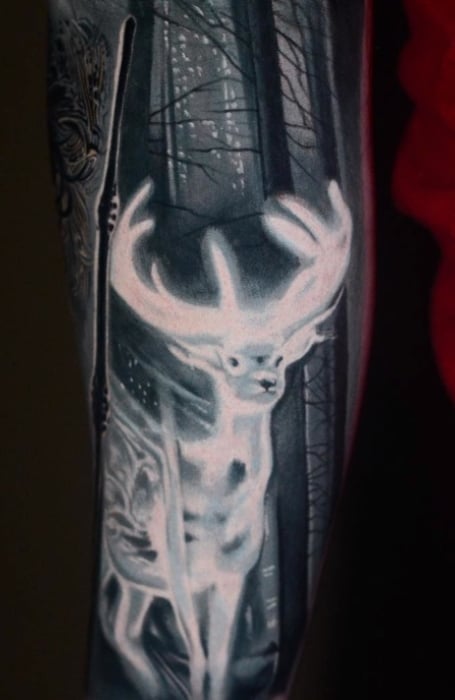 24. Harry Potter Finger Tattoo
Finger tattoos are an excellent choice for someone who wants to show off their ink. The appeal of the location is its visibility and small and simple designs look best on the finger. The downside is the pain because of the high concentration of nerve endings and proximity to bone. Finger tattoos also fade fast because of friction and exposure to the elements.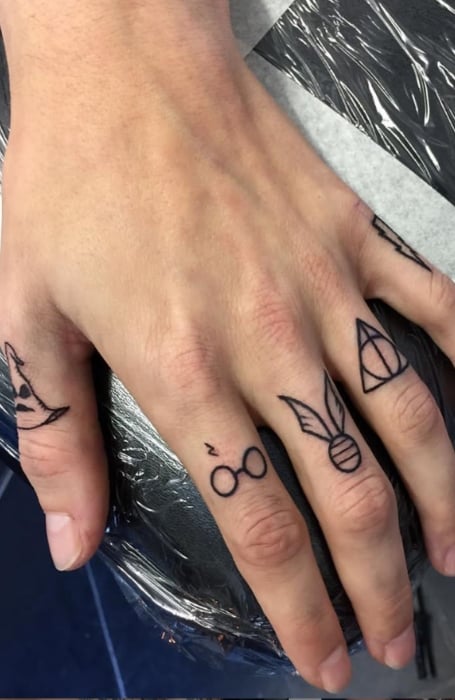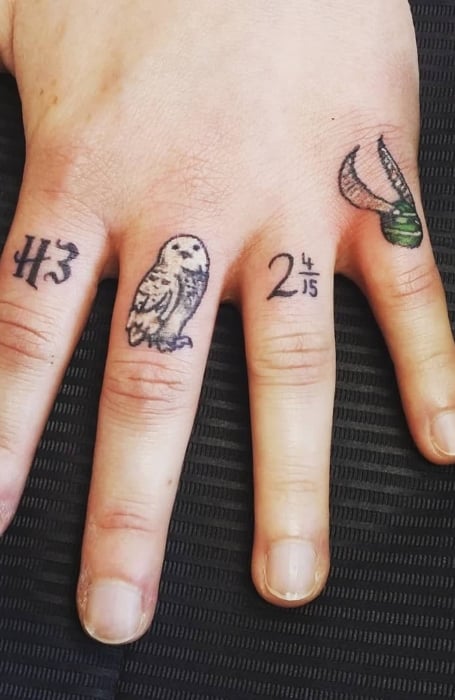 25. Harry Potter Half-Sleeve Tattoo
The half-sleeve tattoo is a more versatile option than a full-sleeve because it covers, as the name suggests, half of the arm. It can start from the top of the arm and end at the elbow, or start at the elbow and end at the wrist. There is enough space to get creative with your design and find something beautiful and meaningful, but you are also able to cover up your tattoo more easily and it will cost less.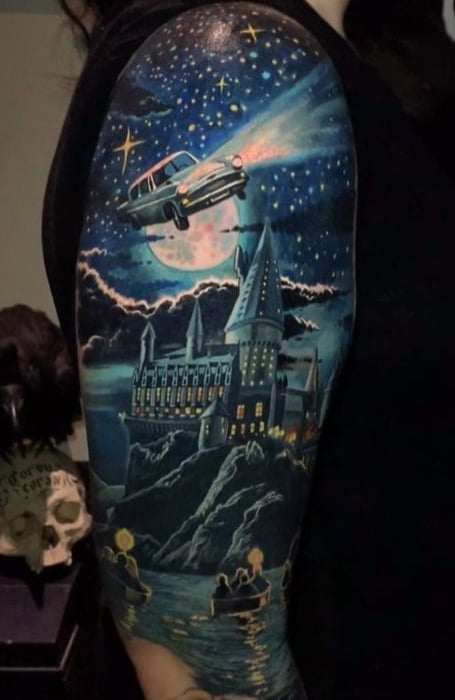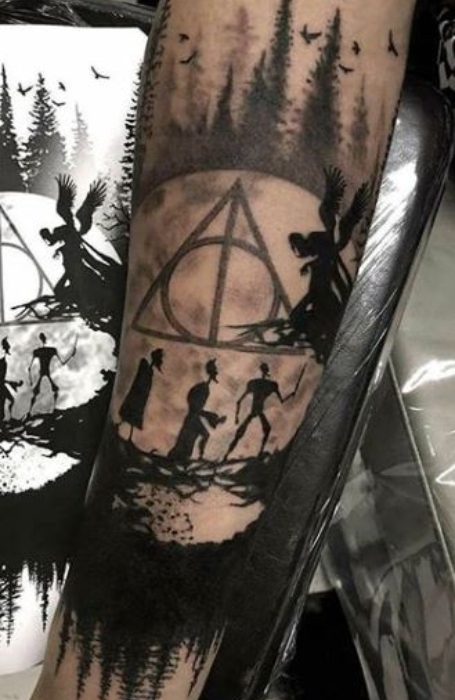 26. Harry Potter Thigh Tattoos
Thigh tattoos are among the most desirable locations for body art because they are rated low on the tattoo pain chart. This is because of the thick skin, muscle, and fat which provide cushioning and reduce discomfort. The thigh is also easy to cover up with clothing, making it a discreet location for your Harry Potter tattoo.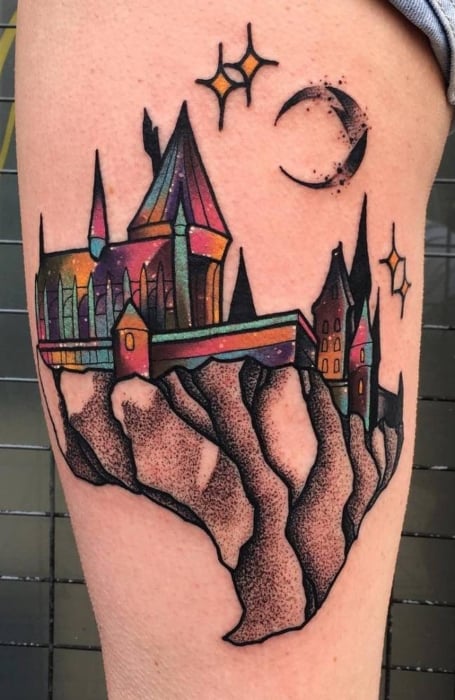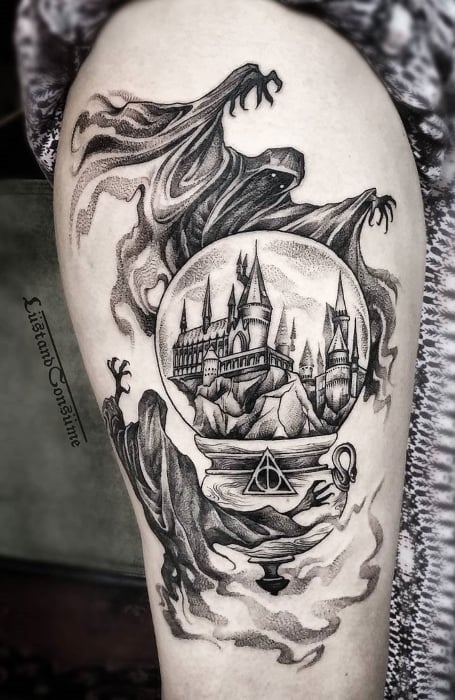 27. Harry Potter Arm Tattoo
Arm tattoos are one of the most popular placements because of their versatility. The arm can be easily covered with clothing but also shown off whenever you wish. This is also a great spot for meaningful designs you want to look at every day. Small tattoos look great on the arm, or you can get creative and combine several images for a sleeve design.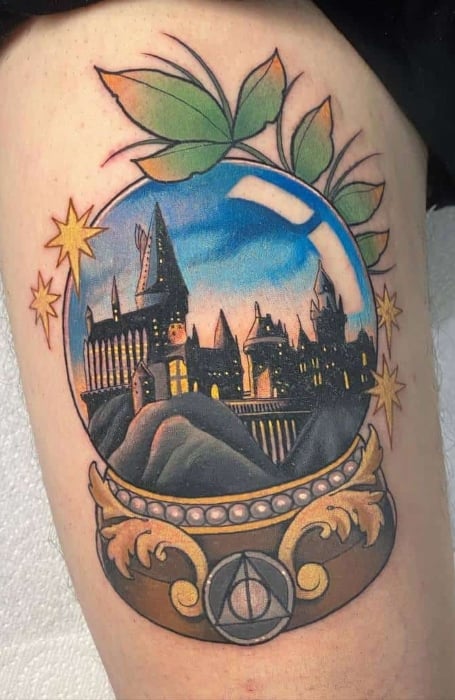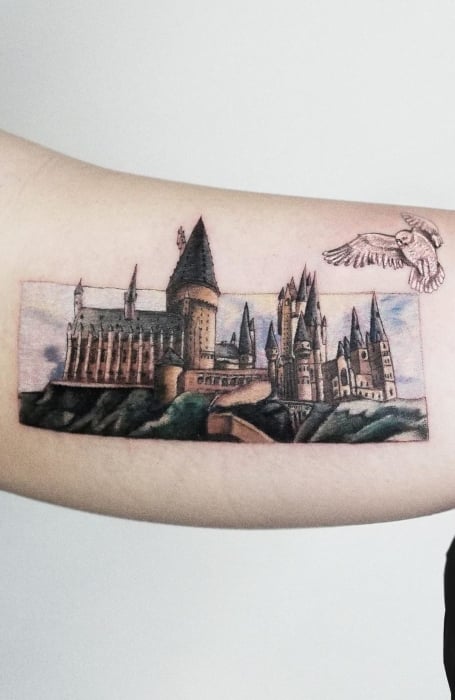 28. Harry Potter Forearm Tattoo
The forearm is low to moderate on the tattoo pain scale and can be easily covered or shown off. The area is large enough to allow you to get creative with your design and forearm tattoos are great for meaningful designs. If you want to get inked with the Dark Mark, this is also the best place for it because Voldemort's followers have the mark on their left forearm.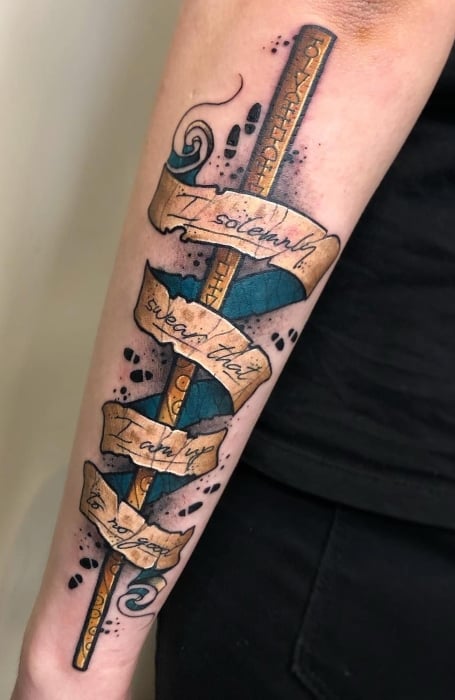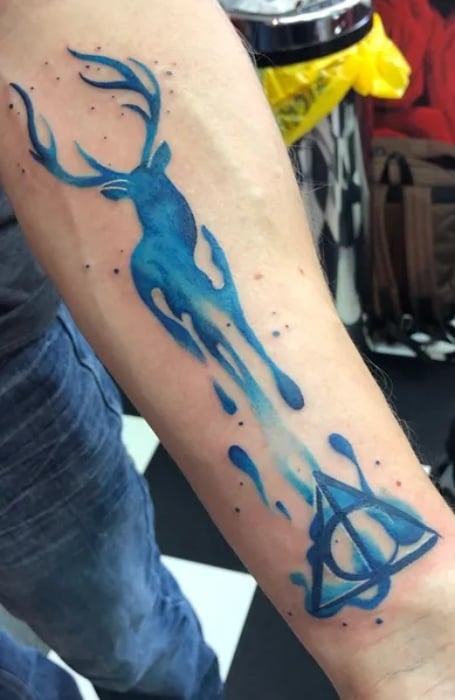 29. Harry Potter Glasses Tattoo
One of the most iconic symbols of the Harry Potter series is Harry's glasses. They can represent different things, depending on your interpretation of the character. For some, the glasses are a window into the magic world, or to be able to see everything through Harry's eyes. For others, it shows that even one of the strongest wizards can have a weakness and that this does not mean you are not powerful and resilient.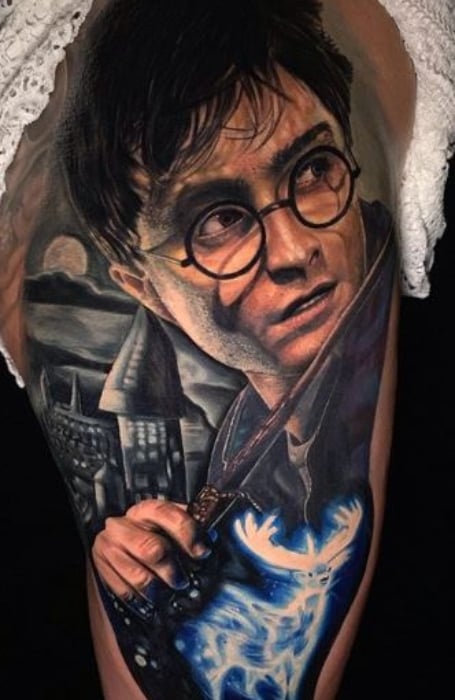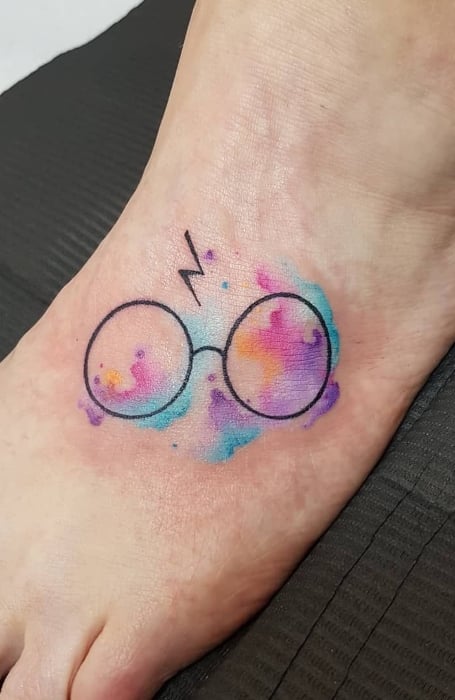 30. Harry Potter Best Friend Tattoo
Best friend tattoos are a cute way to celebrate your friendship and show commitment to the relationship. At its core, Harry Potter is also a story about friendship, love, and loyalty, and is a series with some of the most beautiful relationships. You can choose matching symbols with your bestie, or get a design of Harry Potter, Ron Weasley, and Hermione Granger.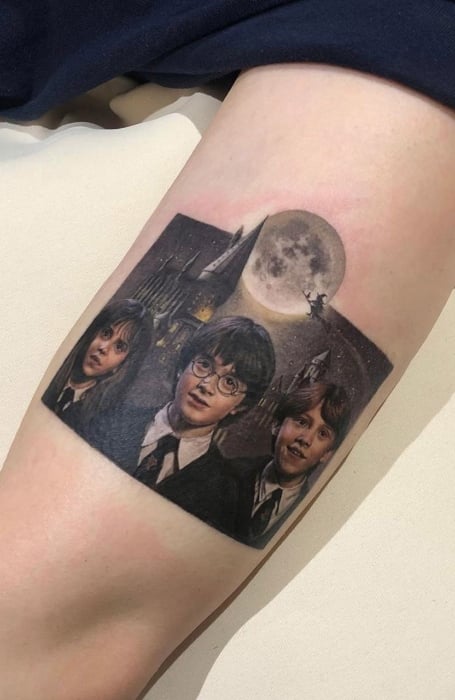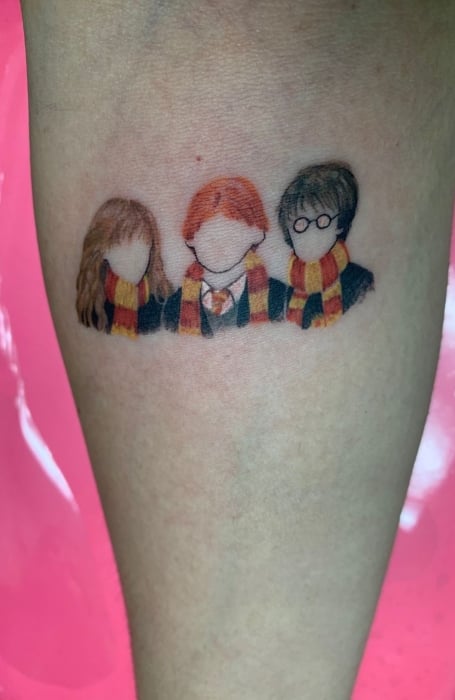 31. Harry Potter Watercolor Tattoo
Watercolor tattoos are bright and bold and an excellent way to experiment with colors. The technique brilliantly blends two or more hues together to resemble paint drying on a canvas. It is done without precise linework or black outlines creating an almost abstract image. Or the technique can be inked as a base for a more detailed black ink tattoo.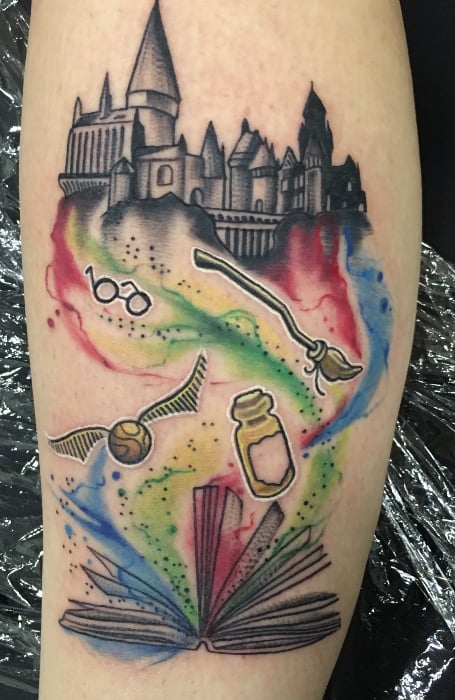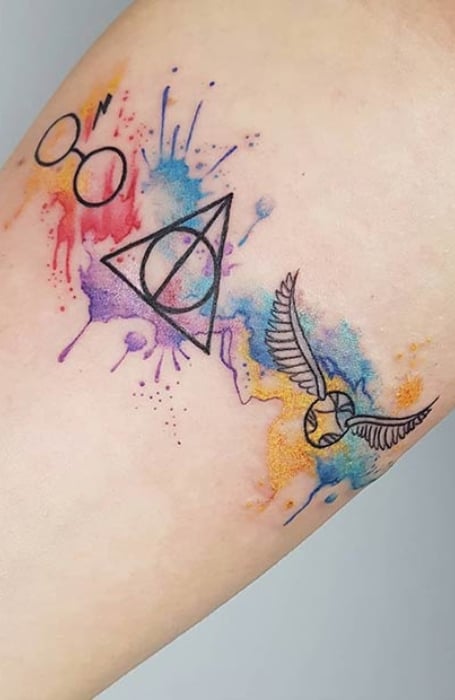 32. Cute Harry Potter Tattoos
The placement for your body art is just as important as the design, and small, cute designs look great when inked somewhere visible like the forearm or the finger. When deciding on the perfect cute tattoo that has been inspired by Harry Potter, choose something meaningful but delicate and focus on the basic features of the design. Simple, clean lines and limited shading will make the design look more delicate.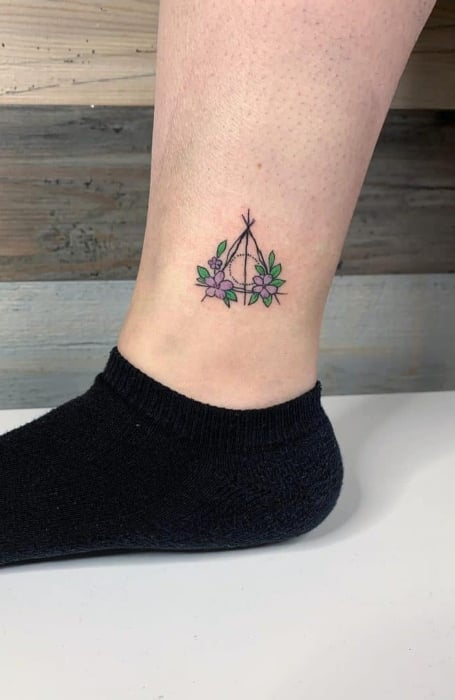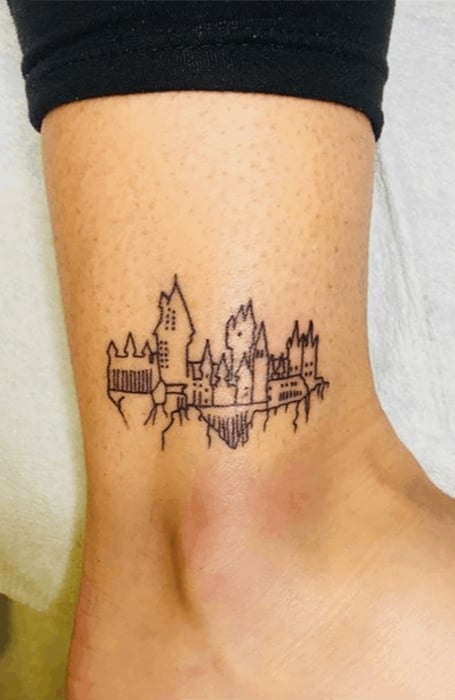 33. Harry Potter Book Tattoo
The Harry Potter franchise is massive, but it all started with a book. Author J. K. Rowling's first book in the series, Harry Potter and the Philosopher's Stone was released in 1997. If you are a fan of fantasy novels and feel they are far superior to films, then this is an excellent idea for your next tattoo.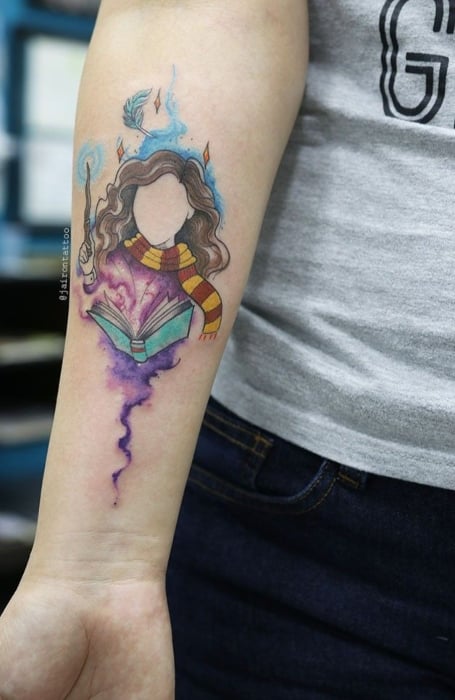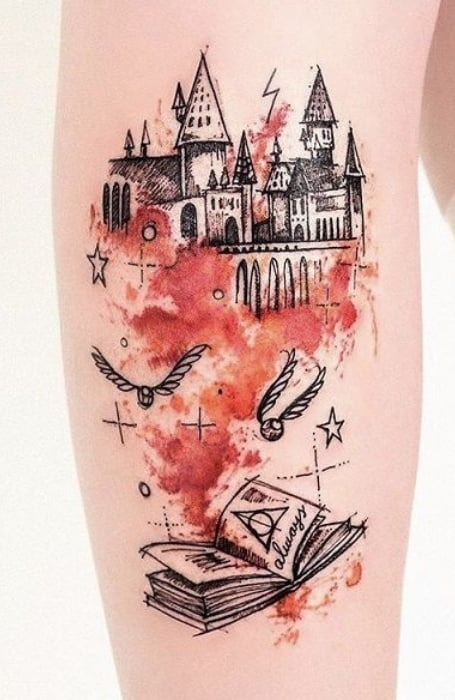 34. Harry Potter Castle Tattoos
The castle in Harry Potter is the Hogwarts School of Witchcraft and Wizardry. It is a magical place and the center of the activity that occurs throughout the series. It is an excellent choice of design and will represent magic, mystery, and protection. There are several designs to choose from, including a silhouette for those who prefer a minimalist approach, or a hyperrealistic tattoo.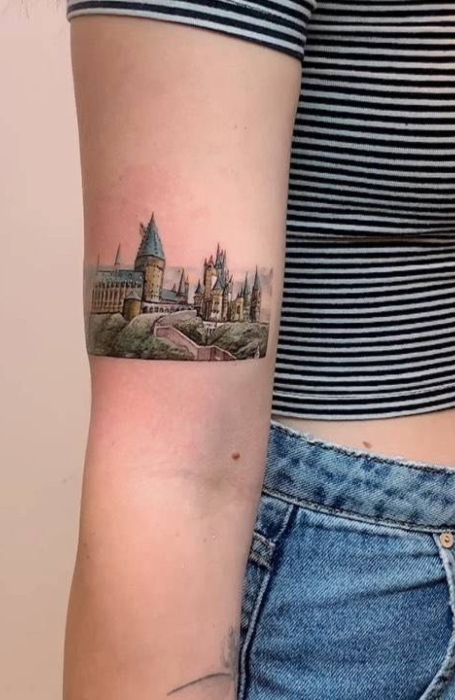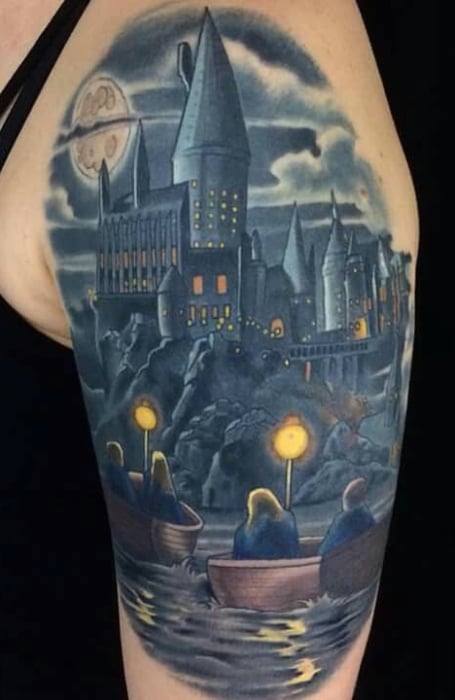 35. Harry Potter Spell Tattoo
Harry Potter has many spells to choose from which makes it easy for you to choose the one that appeals to you the most. Some spells are cute and fun, while others are serious and can have powerful symbolism associated with them. This includes Expelliarmus, Avada Kedavra which is the worst spell which is The Killing Curse, or even The Patronus Charm.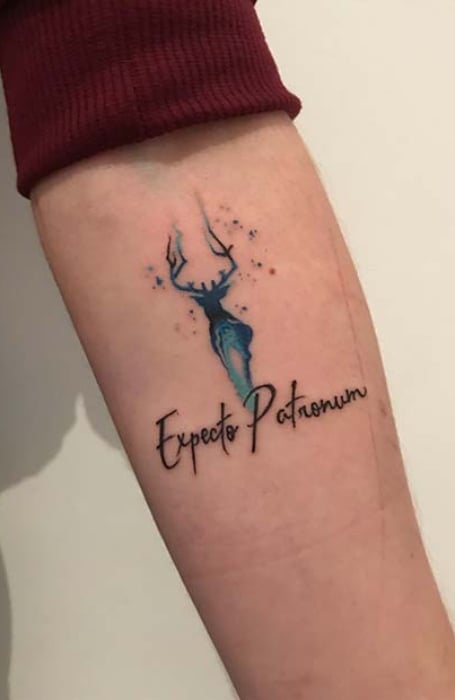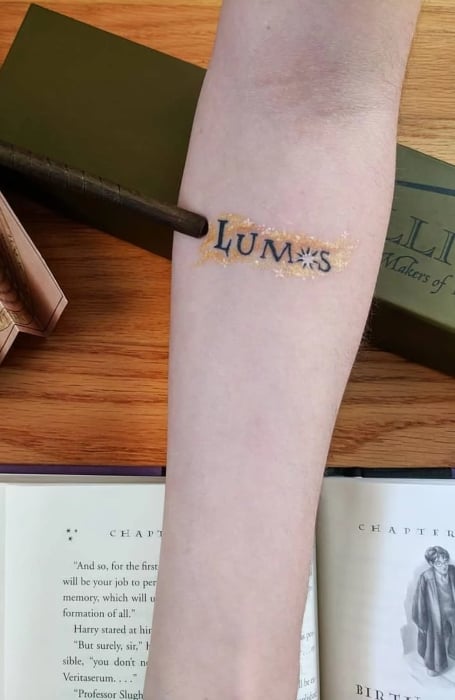 Harry Potter Tattoos FAQs
What does the tattoo in Harry Potter mean?
The Harry Potter series has inspired countless artworks, including body art. There are several symbols to choose from including Deathly Hallows, Harry's iconic glasses, and the Golden Snitch. There are also unique spells and empowering quotes and detailed characters and imagery. This makes it easy to find a tattoo that appeals to you. You can also opt for matching designs to honor a romantic relationship or celebrate a friendship.
What tattoo does Harry Potter have?
Harry Potter does not have a tattoo but he does have a scar in the shape of a lightning bolt of his forehead. This has inspired many people who are fans of the witchcraft and wizardry world.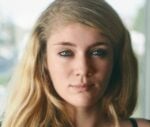 Cailyn Cox holds a degree in journalism and has been working with The Trend Spotter as a writer for over ten years. She has worked with some of the most prestigious women's and men's lifestyle publications. For her, writing is not just a job; it's a passion, which is why each article she writes is approached with such enthusiasm and dedication. She has extensive knowledge of hairstyles, tattoos, and beauty and has made a career out of creating informative articles that appeal to women and men of all ages.
SUBSCRIBE TO OUR NEWSLETTER
Subscribe to our mailing list and get interesting stuff and updates to your email inbox.