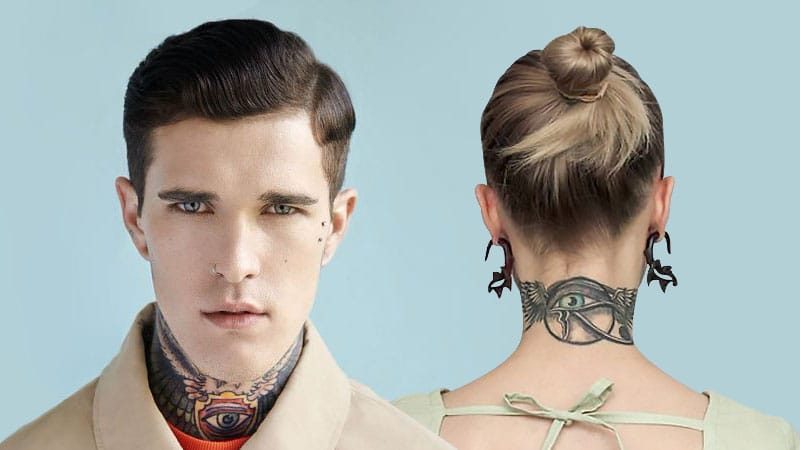 Our eyes are a window into our souls, but they're also great tattoos for men. You should never ink your eyeballs, but getting tattooed with a visual image is a good choice if you want to make people look twice. The eye is associated with mystery, protection, and clarity, and it is a universally recognizable symbol of importance in several cultures. There are also different interpretations and many designs to choose from. For example, the evil eye is believed to ward off bad spirits and negative energy, safeguarding the wearer. Those who have overcome a struggle or are focused on healing will be drawn to an Eye Of Horus design. You can make your piece unique by you choosing something meaningful and eye-catching. If you want a tattoo rich in symbolism that's super cool, look no further because we have all the inspiration you need.
1. Egyptian Eye of Horus All Seeing Eye Tattoo
The Eye of Horus is an Egyptian image depicting a human eye representing protection, royal power, and health. According to ancient Egyptian mythology, the symbol is Horus, the falcon-headed God's left eye. He is believed to have lost it in a struggle and then had it magically restored by the goddess Hathor. It is for this reason that it is linked to health and healing. When deciding on your next body art, an Egyptian tattoo is a fantastic choice for someone who has been hurt or has experienced pain and is focused on overcoming it.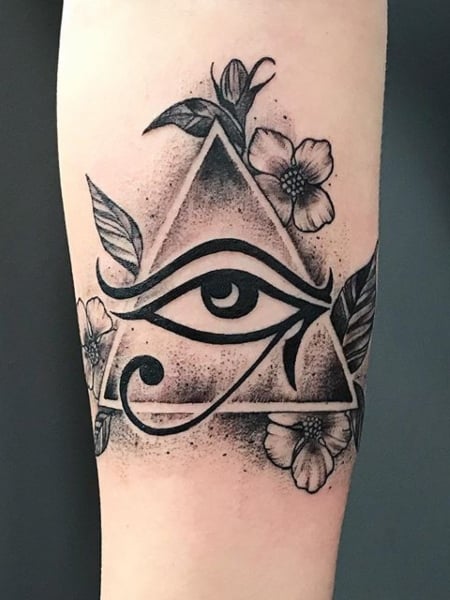 2. Third Eye Tattoo
The third eye is invisible and often referred to as the sixth chakra. It represents intuition and wisdom. It is thought to reflect our thoughts and inner voice and help guide us in making decisions. The powerful symbolism of this image makes for an incredible tattoo, and you can get creative with your design. Some people like to portray it on the forehead, between our two usual eyes, while others include various elements to give it a mystical appearance. Whatever you choose, the meaning associated with your design will remind you to stay true to yourself.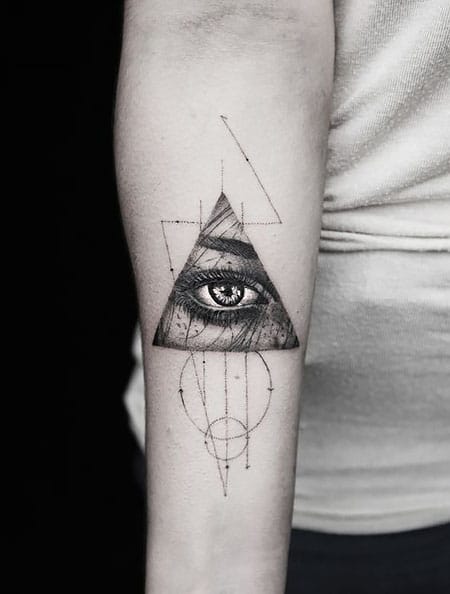 3. Tiger Eyes Tattoo
The tiger is a powerful predator, and in its natural habitat, it is at the top of the food chain. Strong and feared, it is not hard to see why people would find a tiger tattoo an appealing design to get inked. The big cat also represents focus and determination; getting a tattoo of its eyes could remind you of your desires and the things you want to achieve. The mighty creature's eyes also make for a particularly striking design, especially when it is the only part of your ink that is depicted in color.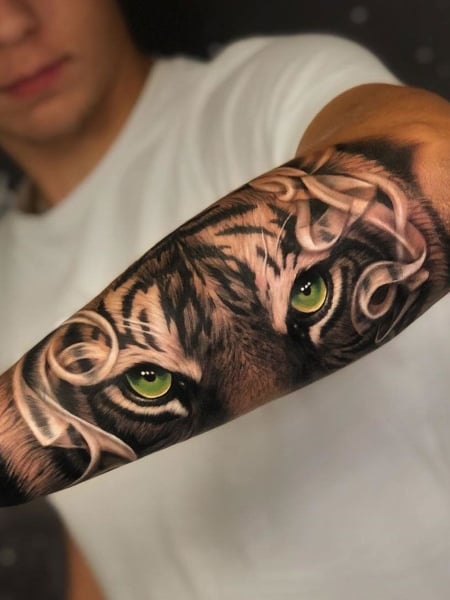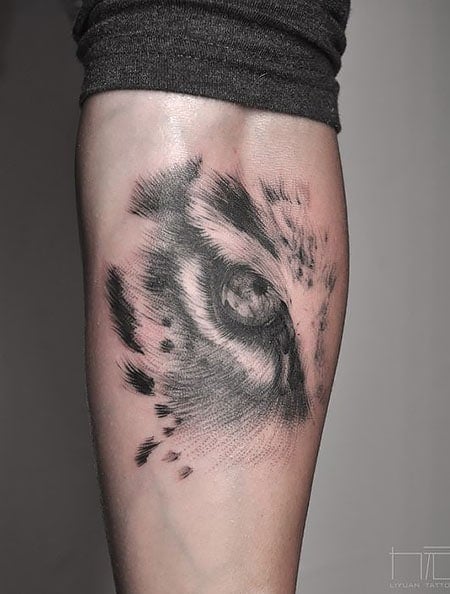 4. Lion Eyes Tattoo
The lion is the king of the jungle. It is a beautiful and powerful animal that symbolizes bravery and courage. It is seen as a fearless creature but is also respected. Men who find these qualities appealing and want to remind themselves of their inner strength will be drawn to this design. You may also choose to ink its eyes, which represent guidance or a window into the soul. The beauty of body art is that the meaning is often unique to the wearer, making it even more meaningful.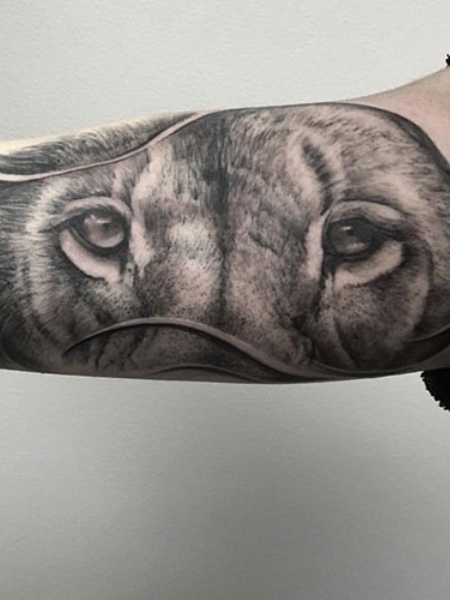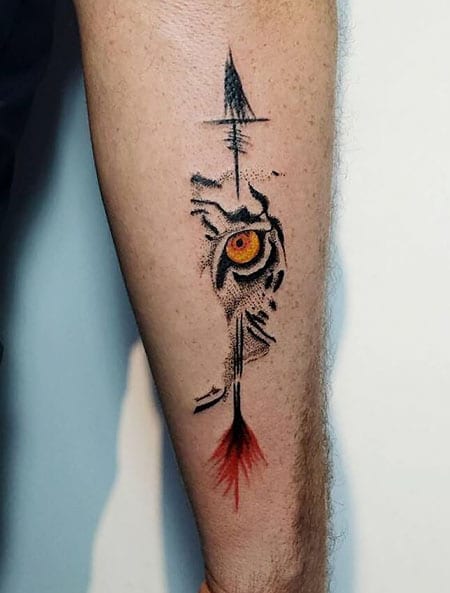 5. Owl Eyes Tattoo
An owl makes for much more than an eye-catching tattoo. Men often choose an owl tattoo because of its rich symbolism. It is thought to represent wisdom, intelligence, and transition. The bird also holds significance in several cultures; for example, to the Native American peoples, it is a guardian of knowledge. When deciding on your ink, choosing just the eyes of this beautiful creature could represent any of the qualities mentioned above, or it could make for a relaxed and edgy tattoo!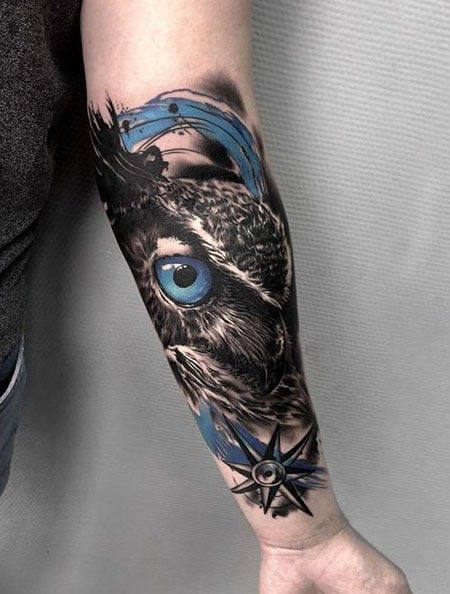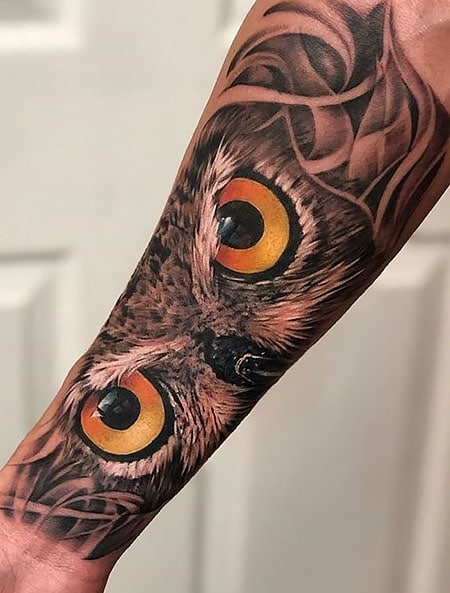 6. Wolf Eyes Tattoo
The wolf is a mighty beast that is rich in symbolic value. It represents loyalty, family, and protection and is a fantastic tattoo choice for those who prioritize these things. There are many wolf tattoo designs, but choosing just the animal's eyes focuses on the meaning of your intentions. The wolf also has significance in Native American culture. Some state that Shamans felt the eyes were reflections of emotion, conveying a message such as anger or fear.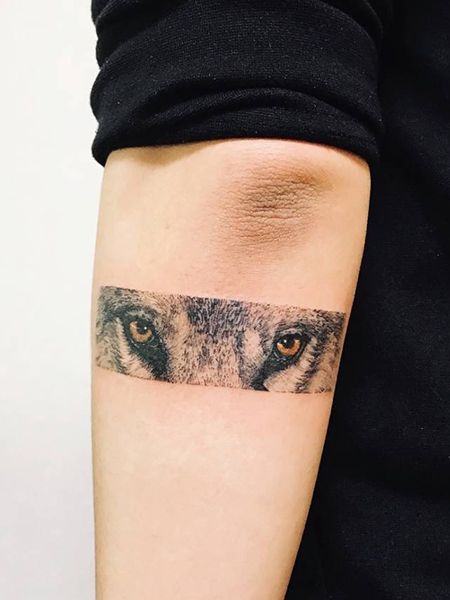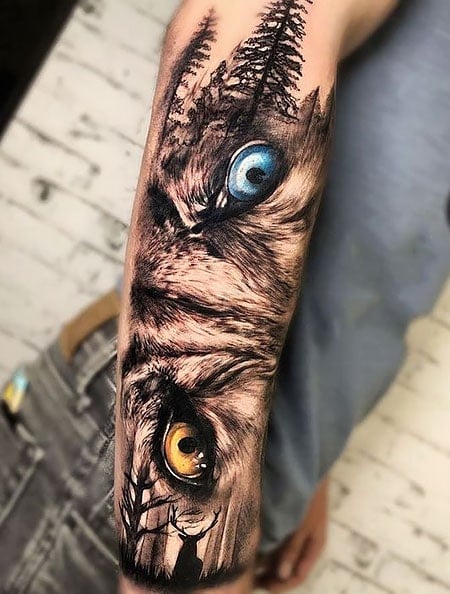 7. Dragon Eye Tattoo
The dragon is a powerful mythological beast that is both respected and feared. A tattoo of the mighty creature's eye can mean many things, depending on your interpretation, but in general, it is thought to represent wisdom, knowledge, and strength. It symbolizes masculinity and prosperity; some also believe the dragon's eye is associated with both good and evil. Men who admire these qualities and want a dragon tattoo design that demands attention will be drawn to this piece.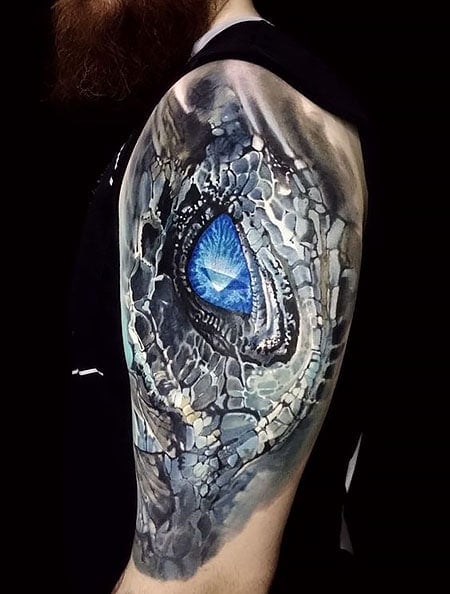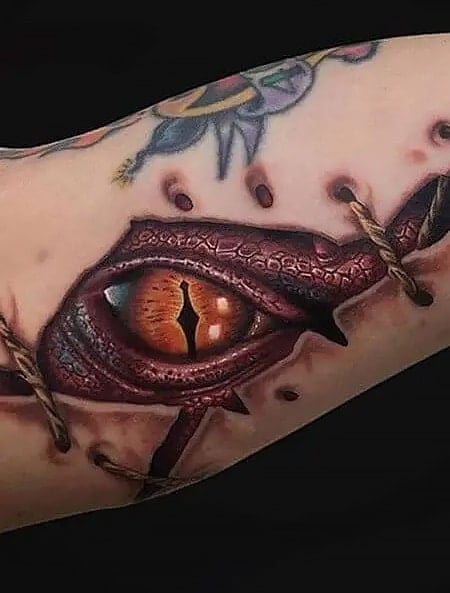 8. Butterfly with Eyes Tattoo
A butterfly is one of the most familiar images to get inked because it typically represents transformation and beauty. The wide range of butterfly tattoo designs makes it incredibly appealing, and your tattoo can be easily tailored to your preference. Combining the insect with an eye takes on an even deeper meaning. This ink has to do with our souls, as butterflies are thought to represent human souls, while the eye gives us the ability to look inside ourselves. The combination is profound, and it is not hard to see why someone would get tattooed with this image.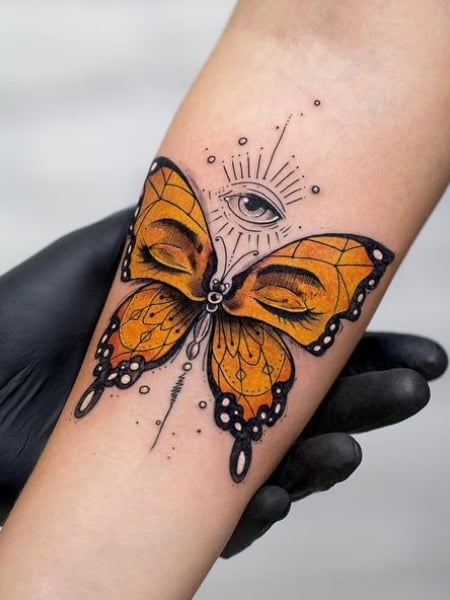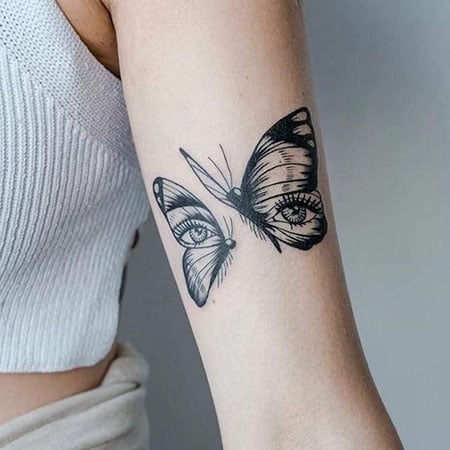 9. Triangle Eye Tattoo
The eye is one of the most incredible parts of our body, and not only does it give us the ability to see, and it is also considered a window into our souls. You want to get inked with an ocular design for many great reasons, and the triangle eye tattoo is among the most appealing options. The piece often includes an eye surrounded by a triangle with rays of light coming out of it. It is thought to represent God and his ability to watch over us. It is a visually exciting choice but also rich in symbolism.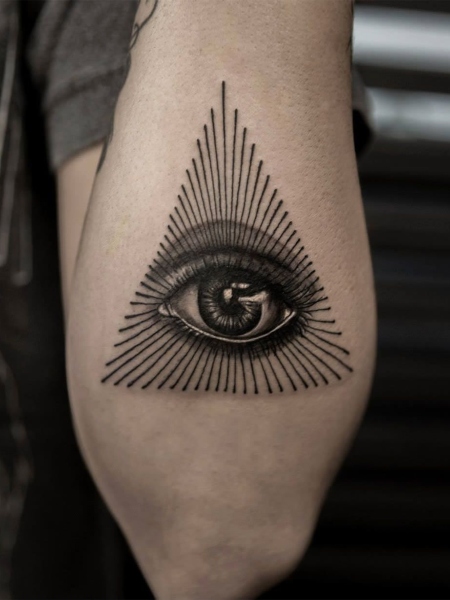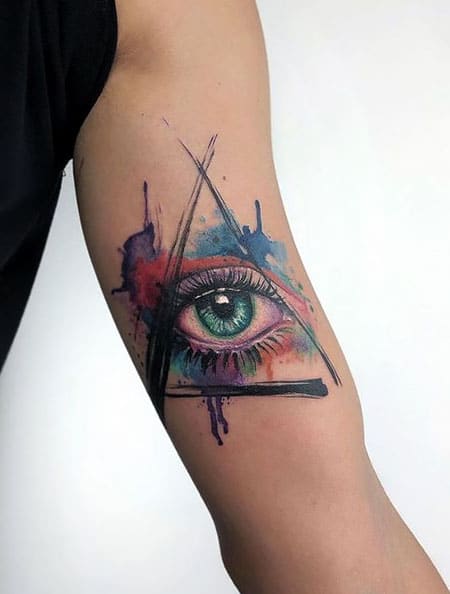 10. Realistic Eye Tattoo
There are many techniques to choose from when deciding on your tattoo, but the hyper-realistic approach is one of the most striking. The style makes the image come to life on your skin, and people will undoubtedly have to do a double-take. The life-like approach to tattooing is relatively new. It also requires an incredibly skilled body artist to ensure the result is impressive, not cartoony. If you want a realistic eye design, find a tattooist who specializes in this technique, and you won't be disappointed.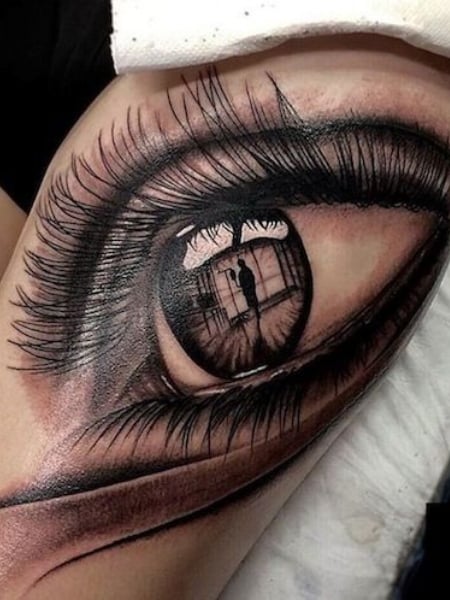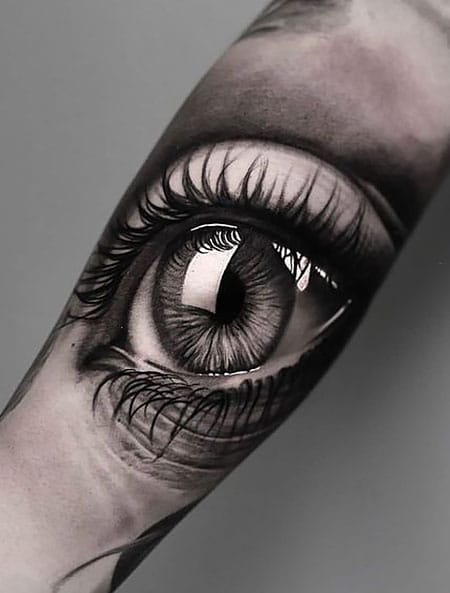 11. Simple Eye Tattoo
If you prefer more superficial things, why not let this reflect your tattoo choice? Simple tattoo designs are often small and focus on the basic outlines of the chosen method, often without shading and detail. It is an appealing option for someone more laid-back who wants meaningful body art but doesn't necessarily make a dramatic statement. As for why you should choose an eye design? Well, it represents clarity, protection, and sometimes even mystery!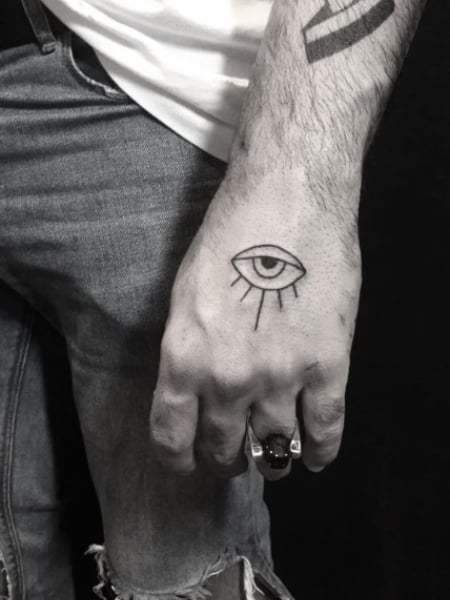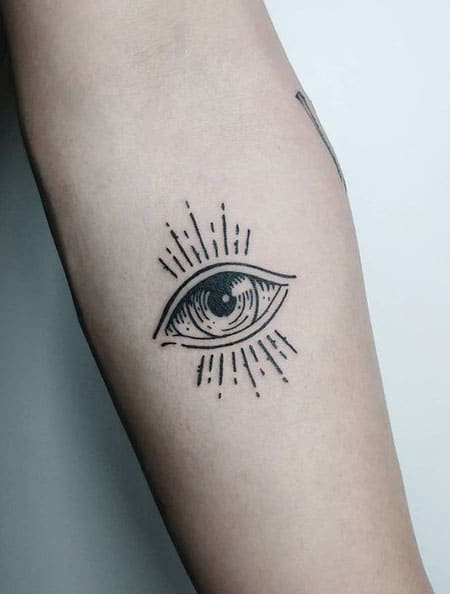 12. Snake Eyes Tattoo
Snake tattoos are popular because they are connected to transformation, rebirth, and change, but choosing to ink a serpent's eye takes a different meaning. It can represent charismatic people who charm people with their words and actions. Another interpretation could be that the image symbolizes those who reject authority. The beauty of this design is that there are many different meanings, and you can choose the one that best reflects your thoughts and feelings. The one thing we can probably agree on is that the snake eye makes for a cool tattoo.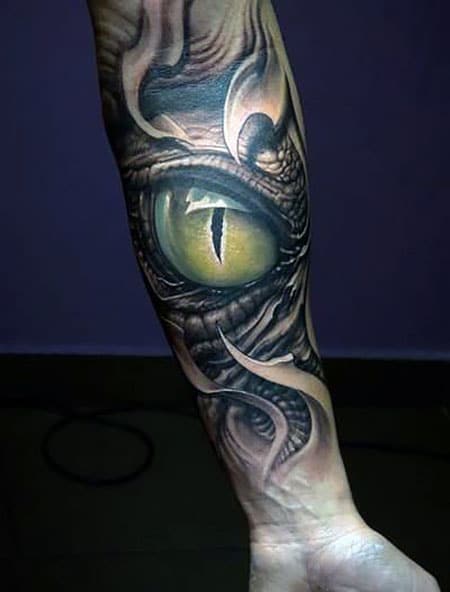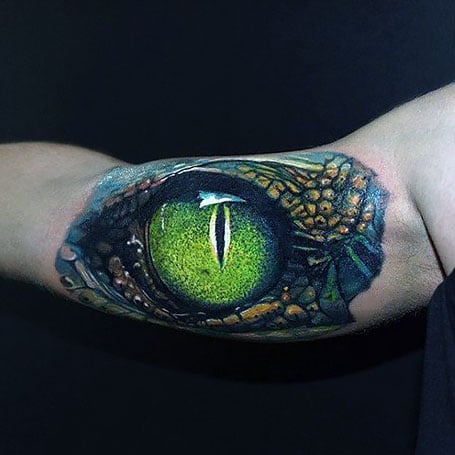 13. Mind's Eye Tattoo
The mind's eye typically refers to the images we can think up in our heads. It is the process of being able to imagine or recall mental pictures. The concept makes for an interesting tattoo and a design open to interpretation. This is the perfect option if you want to get inked with body art that will be a conversation starter. It is also best to have your chosen piece inked somewhere you can see it, to make even more of a statement.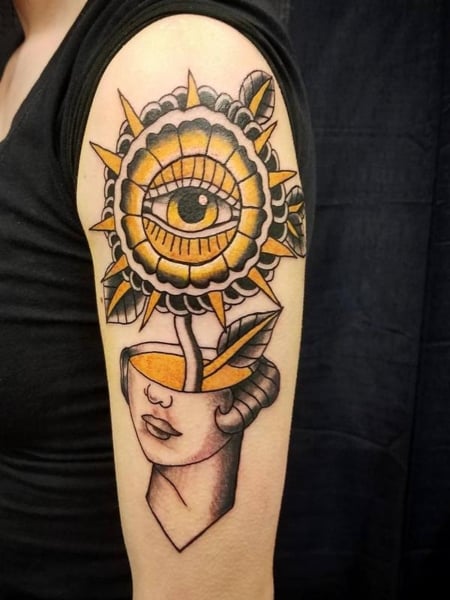 14. Traditional Eye Tattoo
Traditional tattoos often refer to a style of ink defined by bright colors and bold lines. Popular shades include red, black, and yellow. The approach usually favors several images, including anchors, crosses, and skulls. That said, this technique makes an eye look fantastic because it stands out against the skin. Your chosen design can be as straightforward or as complicated as you want, depending on your preference.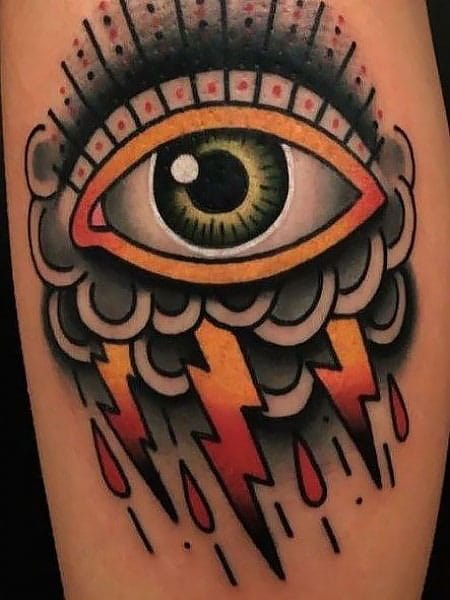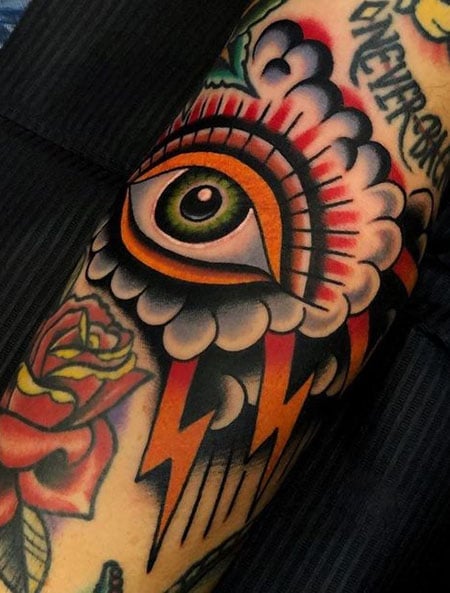 15. Crying Eye Tattoo
When you look into someone's eyes, you can see emotions such as sadness, happiness, or fear. For many people, our eyes can tell a story without us having to say anything, and a crying eye tattoo can do the same. There are many interpretations of this ink, but for most, it is associated with the loss of a loved one and is tattooed as a way to honor or remember them. For others, this image is linked with prison ink, and teardrops are often gang-affiliated. The meaning depends on the way you choose to interpret the design.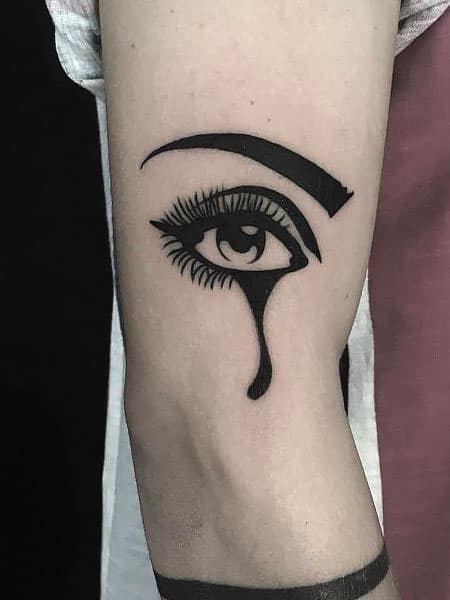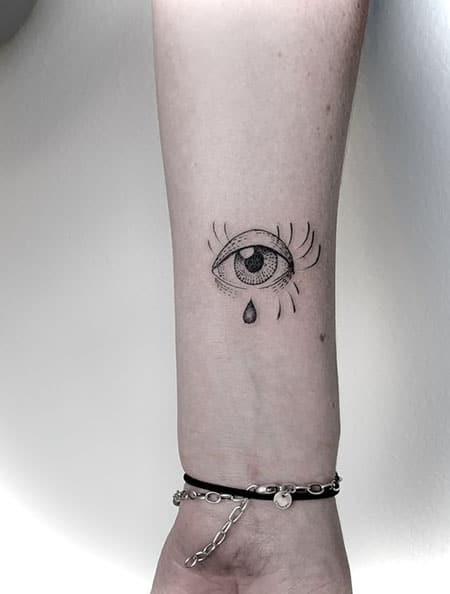 16. Eye Clock Tattoo
Clocks are often associated with life and death. It could represent the passing of time or the importance of living each day to the fullest, as each moment is so precious, and our existence is temporary. Combined with an eye's image, it creates a visually striking design with even more profound meaning. It could be seen as someone watching over your life and a symbol of protection, or it could be to honor an individual you have lost. There are so many ways to interpret a clock tattoo that it is entirely up to you!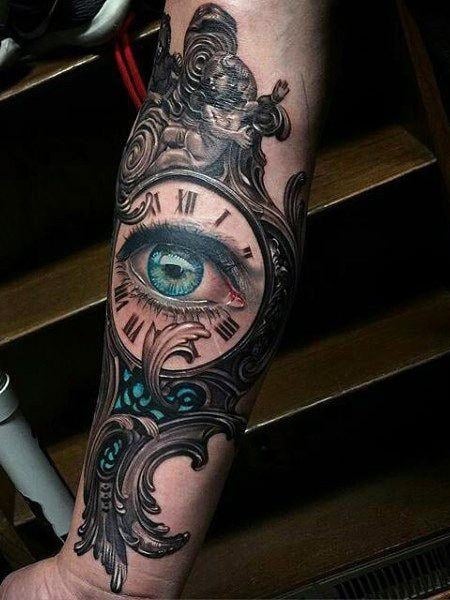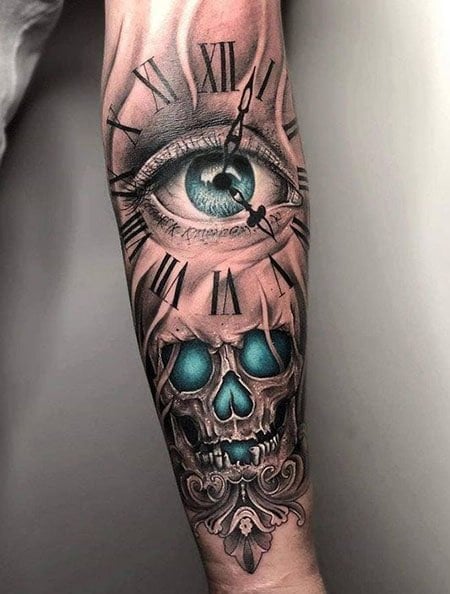 17. Evil Eye Tattoo
The evil eye symbol is traditionally designed with the shape of the eye in blue color. The talisman is thought to offer protection for the wearer, guarding them against harmful energies and creating good karma. There are many design variations, but their idea is the same and has powerful symbolism linked to safety, perseverance, and faith. This is the sort of ink you want to show off, so choose somewhere visible, as it can remind you of the critical reason you decided to get it tattooed in the first place.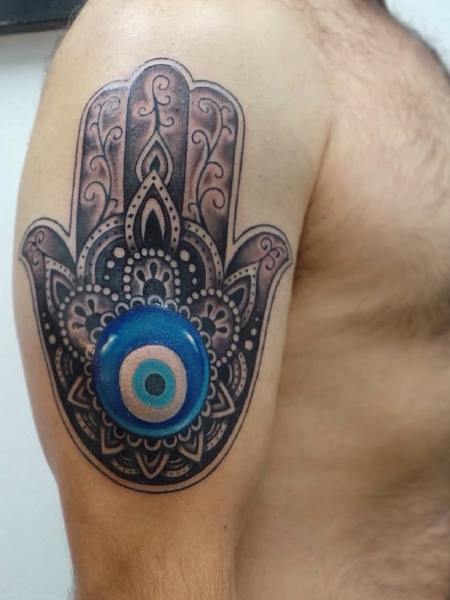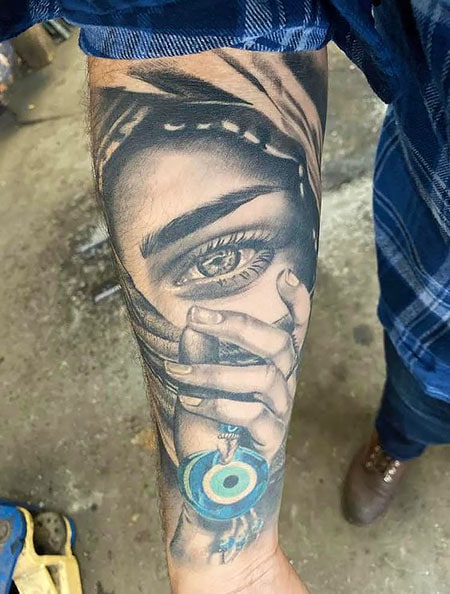 18. Eye of Providence Tattoo
When deciding on body art, it helps to choose something meaningful to you. If you pick something rich in symbolic value, like the Eye of Providence, you will unlikely regret your decision and love your tattoo for years to come. This design is connected with the all-seeing eye concept and is believed to depict God looking down on humanity. It would appeal to a religious person, as it is often associated with Christianity, or perhaps can be seen as a symbol of protection and guidance, as someone is watching over you. The beauty of this piece is that you can interpret it the way you want, allowing the meaning to be unique to you.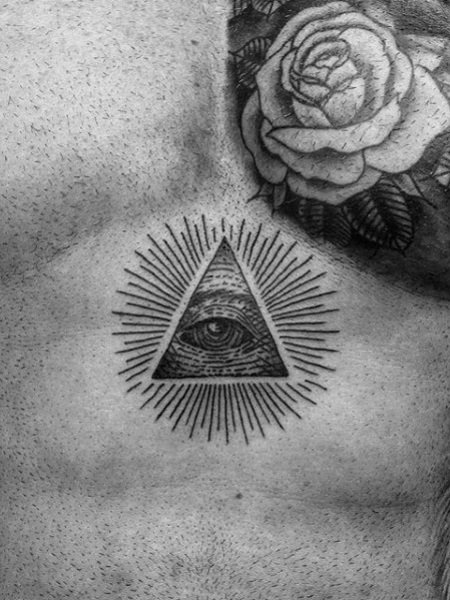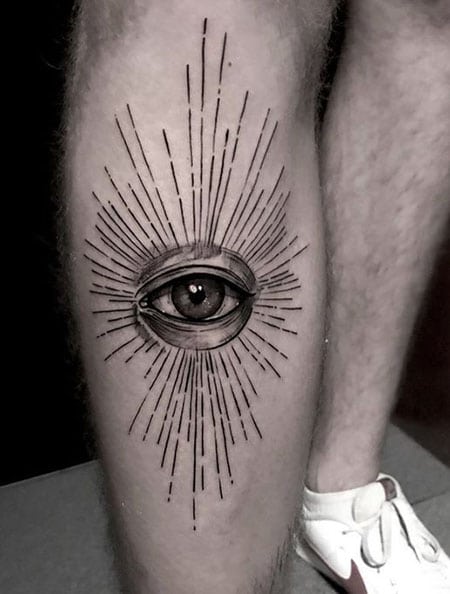 19. Eye Tattoo on the Arm
An arm tattoo is great for many reasons. It is large enough to allow for detail and is not considered high on the tattoo pain chart because of the thickness of the skin and muscle. It is also super easy to show off or hide with clothes. We don't need to convince you why this is one of the most popular spots for body art because you can see that for yourself. Since we are speaking about sight, you should remember how well an eye tattoo would work in this location, as it's bound to turn heads!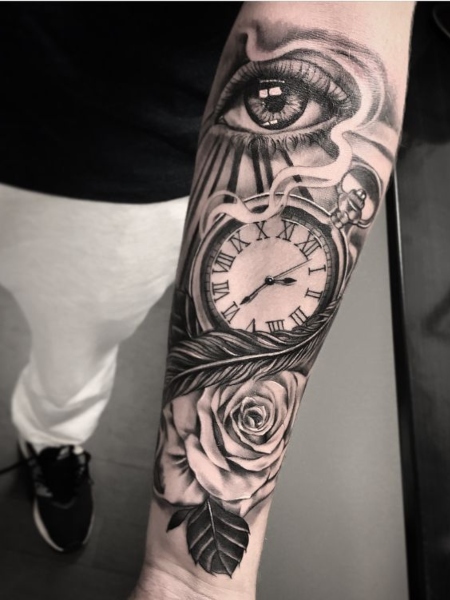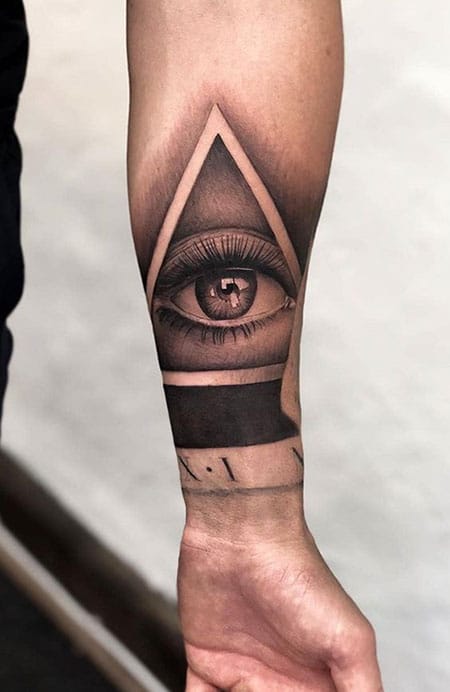 20. Eye Tattoo on the Hand
Do you want a tattoo you can look at daily while making a statement? Well, if so, there is no better spot than the hand. The visibility makes this placement appealing to those not afraid to show off their body art. That said, you need to consider your lifestyle before getting tattooed, and this is a spot not going to work for those who have corporate jobs. Another downside is the pain factor; hand tattoos are considered among the most painful due to nerve endings, bone, and thin skin. Pieces in this area also tend to fade faster because of exposure to the elements and frequency of use.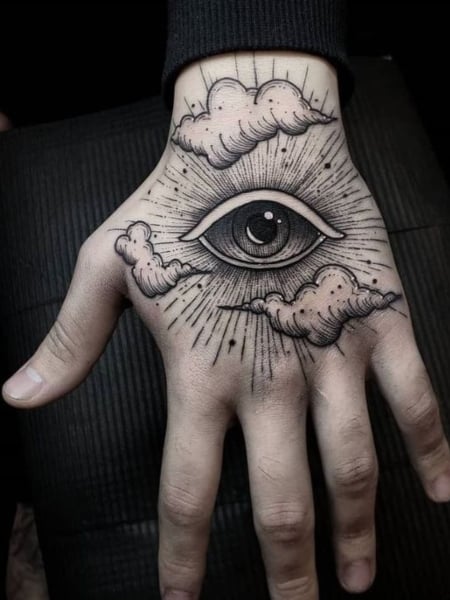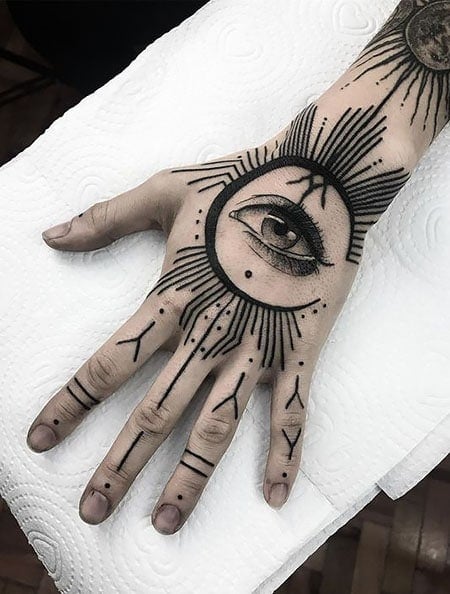 Eye Tattoos FAQs
What does an eye tattoo mean?
Depending on your chosen design, a tattoo of an eye can mean many things. There are several popular ocular pieces, including the Eye of Horus and the Third Eye. That said, in general, the eye is commonly associated with protection, guidance, knowledge, and clarity.
What does the crying eye tattoo mean?
A crying eye tattoo can have various meanings, depending on your interpretation of the design. Although some people associate the eye and tears with prison ink or gang-affiliations, for most people, this image is a beautiful way to honor a loved one or remember someone who has passed away.
What does the Eye of Horus mean?
The Eye of Horus is associated with healing and health. In Ancient Egyptian mythology, the falcon-headed god, Horus, loses his left eye in a struggle, but it was later magically restored. It is for this reason that this tattoo is commonly associated with the qualities mentioned above.
What is the meaning of an evil eye tattoo?
The evil eye tattoo is believed to safeguard the wearer from negative energies and bad spirits. It is a good luck talisman and a design popular in many cultures. It is linked with the ideas of safety, perseverance, and faith.
SUBSCRIBE TO OUR NEWSLETTER
Subscribe to our mailing list and get interesting stuff and updates to your email inbox.