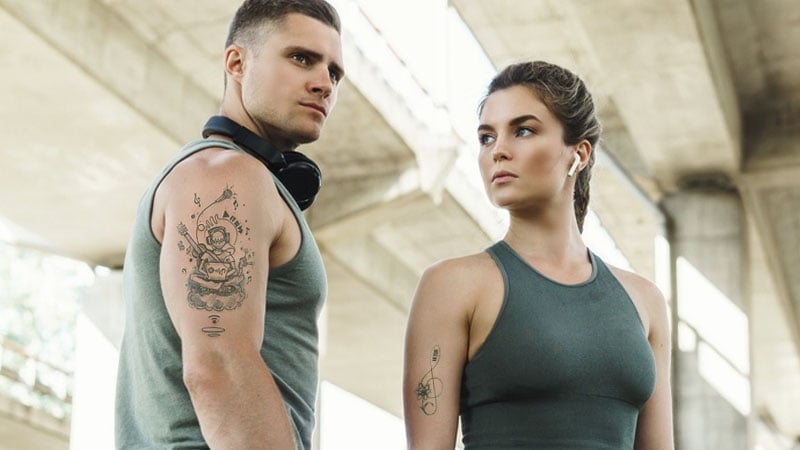 Tattoos are a wonderful way to honor or celebrate the things that mean the most to you, and music is a source of inspiration for most people. Music tattoos reflect how much of an impact music has on your life. It can be a way to connect with others, strengthen your bond with loved ones, or show your devotion to an instrument. It can be a way to share with the world the things that you love and can provide an escape from the world. There are many designs to choose from, from simple, minimalist pieces, to beautifully detailed designs that take hours to complete. You can also get inked anywhere on the body, whether you want to show off your artwork or keep it hidden. If you are looking for inspiration for your next tattoo, look no further than these cool and meaningful music tattoo designs.
1. Music Sleeve Tattoo
A sleeve tattoo is an excellent choice because it allows you to tell a story with your body art. Expertly combining images so that they seamlessly blend and cover your entire arm, as a sleeve of clothing would. The music theme gives you versatility and can be incredibly meaningful.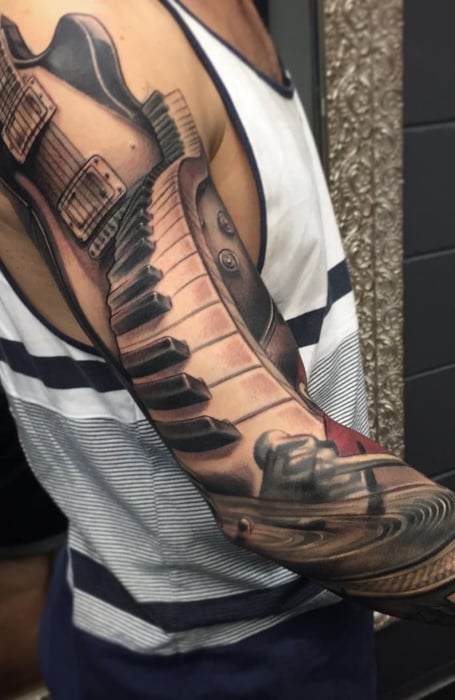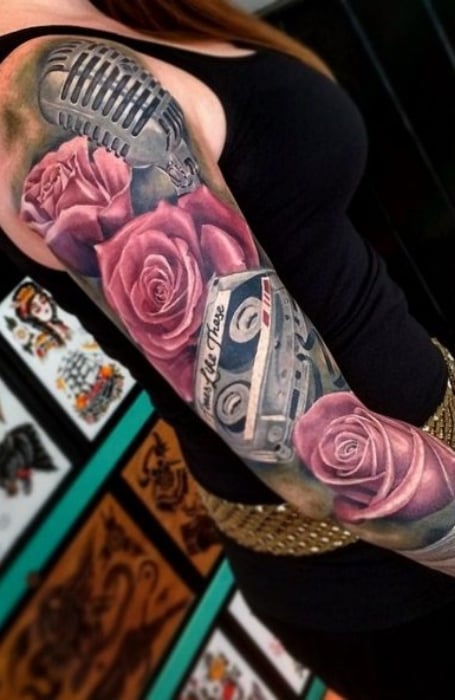 2. Music Note Tattoo
There are a dozen music notes to choose from, depending on which appeals to you the most. This could be in aesthetics or the note could have a deeper meaning associated with it. You can also combine several notes to create a more detailed design that shows your love of music.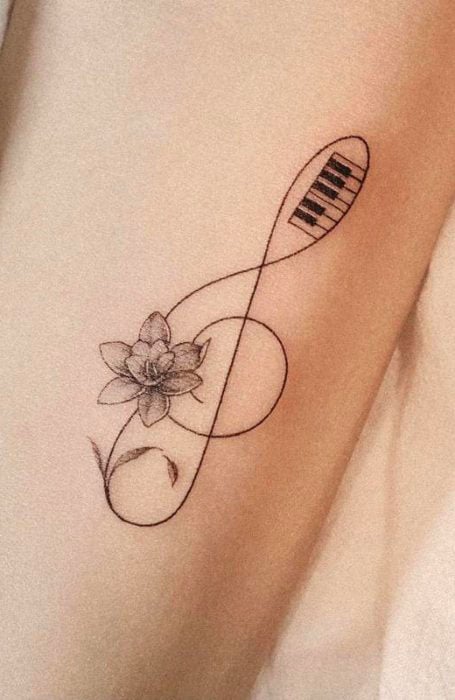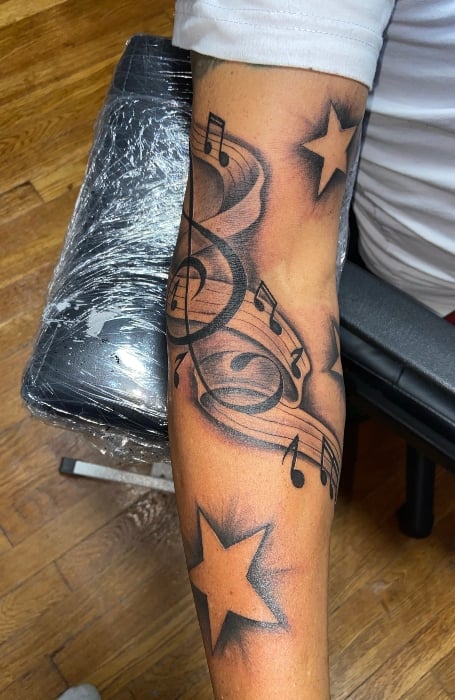 3. Small Music Tattoos
Small tattoos are appealing because they can be inked anywhere on the body. They are affordable, result in less pain, and give you versatility. With a music theme, there are so many different choices, including a music note or a tiny instrument. Your tattoo can be a way to express yourself and show the things you love.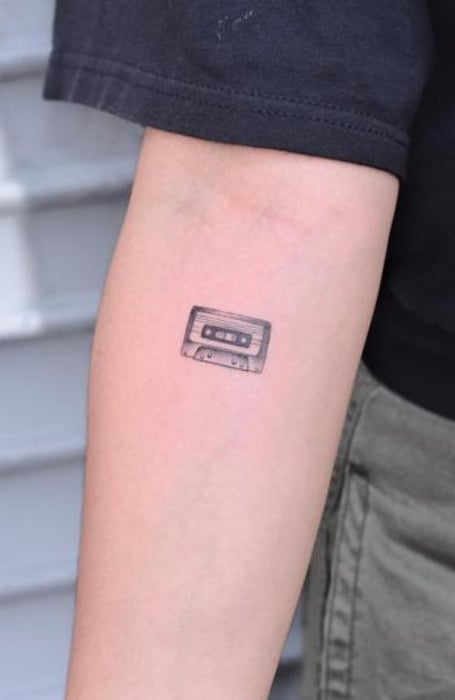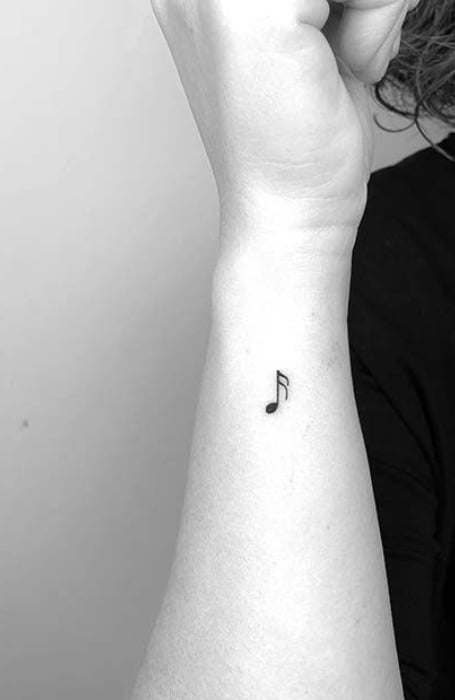 4. Music Lover Tattoo
Music means something different to each person. It can bring you solace, it can motivate you, and it can inspire. If you play an instrument, or there is a specific piece of music that you love, you can find a way to portray this with a music lover tattoo.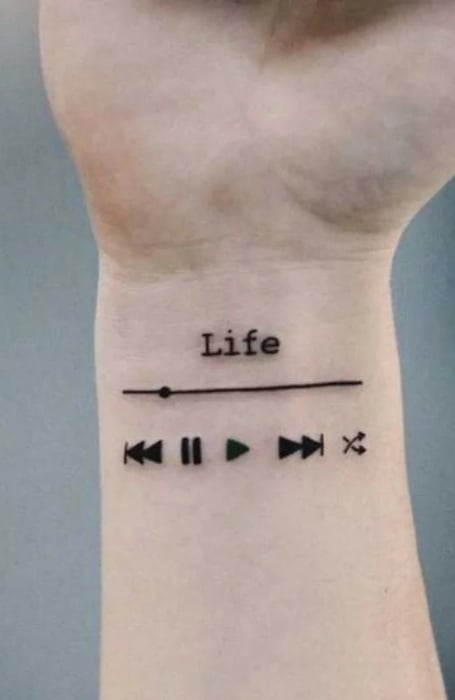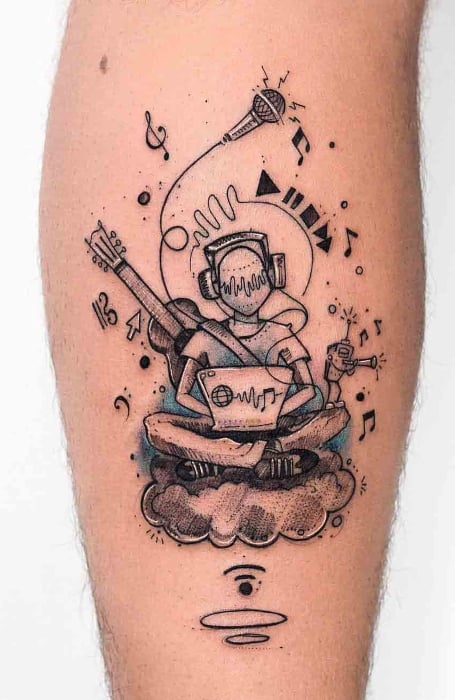 5. Music Note Tattoo Behind Ear
Behind the ear tattoos are delicate and effortlessly cool. The location is small, so it is best suited to simple designs, like music notes. The appeal of this placement is that your design can be hidden with long hair or shown off when the hair is up or short.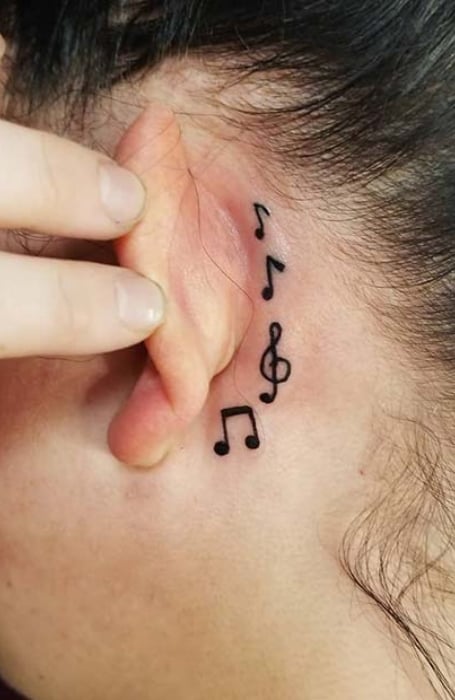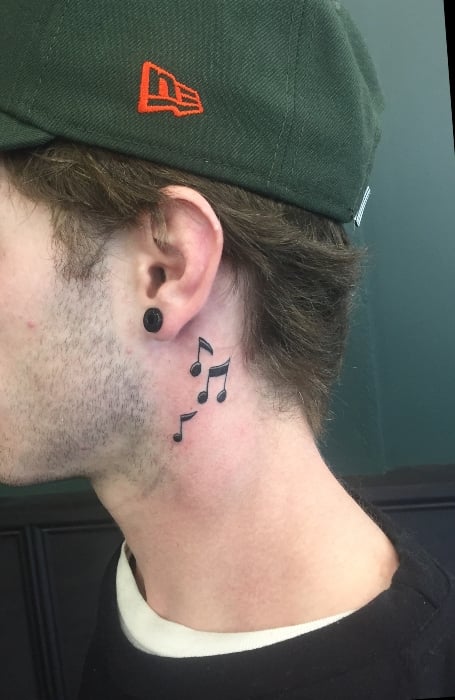 6. Music Symbol Tattoo
The music symbol tattoo is an excellent way to express your love and devotion to music. The appeal of the design is its simplicity and it can be inked anywhere on the body, including behind the ear or on the finger. The symbol also lends itself well to other imagery, letting you create unique artwork that best reflects your preference.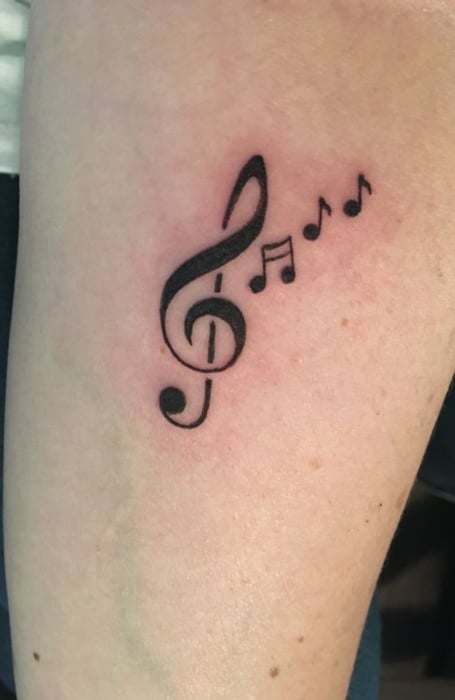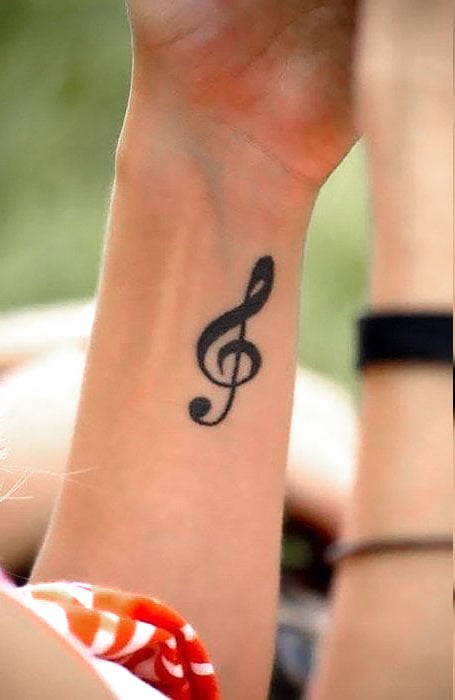 7. Watercolor Music Tattoo
Watercolor tattoos are loved because of their bold and bright appearance. They are created to mimic painting drying on a canvas, with colors brilliantly blended and often without black outlines and line work. This can be a stunning background for a music tattoo to let the design pop.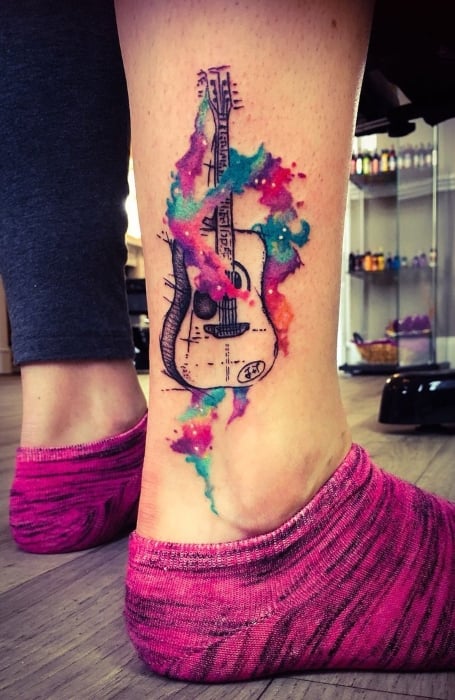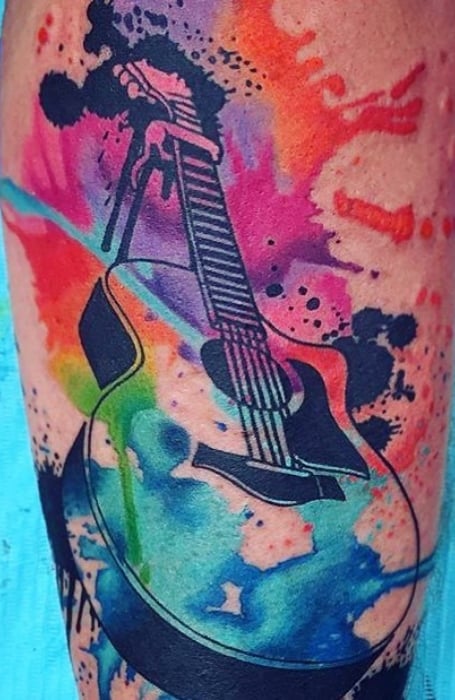 8. Meaningful Music Note Tattoo
Meaningful tattoos are designs that have great meaning to the wearer. This can be different for every person, with a simple or detailed design. For a meaningful music tattoo, you can personalize it to reflect your thoughts and feelings, including adding quotes, dates, and names. Adding other images to your design will also add to the overall symbolism.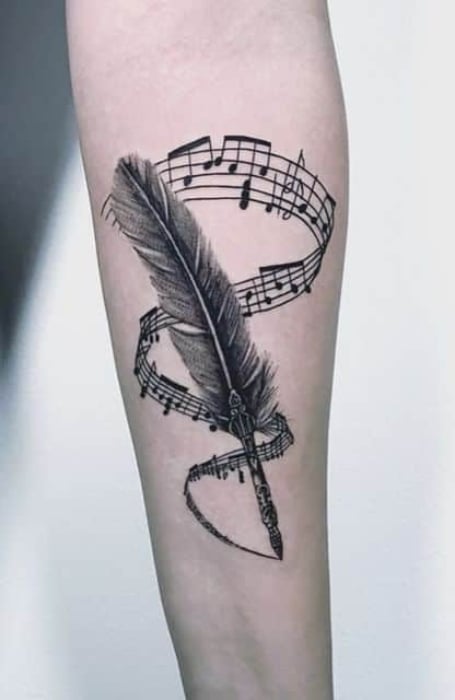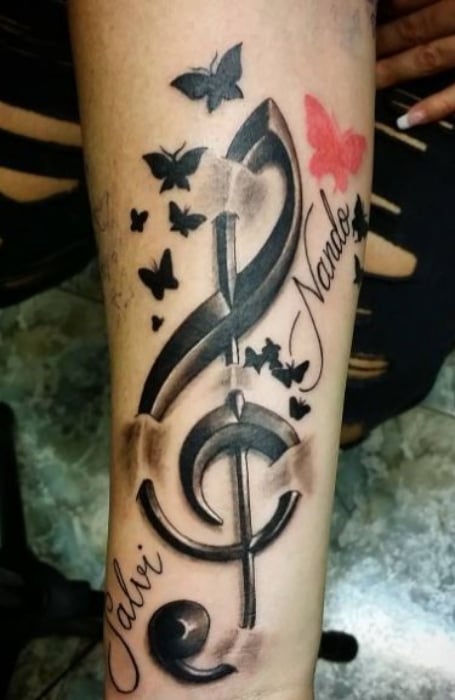 9. Sheet Music Tattoo
Sheet music refers to handwritten or printed musical notation. It has a combination of symbols to indicate the different elements of a song, including pitch, rhymes, and chords. This could be a great choice for a tattoo and can be personalized to include the notes of your favorite song. Your design can celebrate how much music means to you.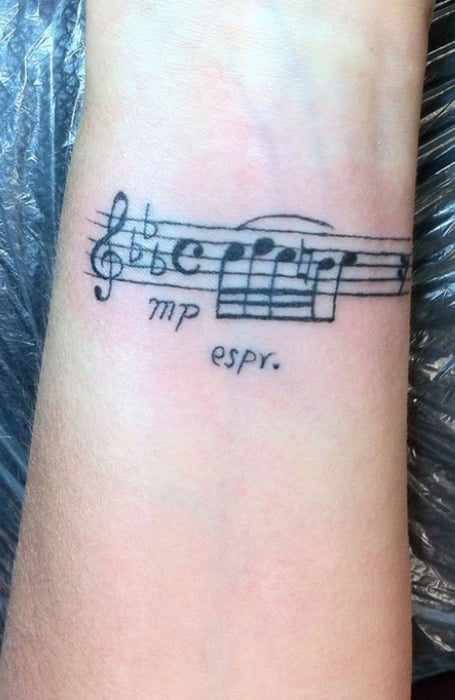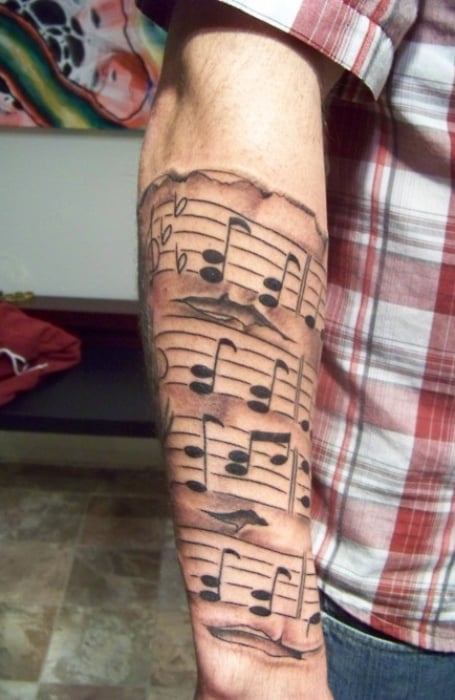 10. Tattoos With Music Symbols
Tattoos with music symbols are a popular choice for musicians and composers, or those who have been inspired by a particular piece of music. There are many different ways to create your design, from simple music notes to a more detailed piece that is unique to the wearer.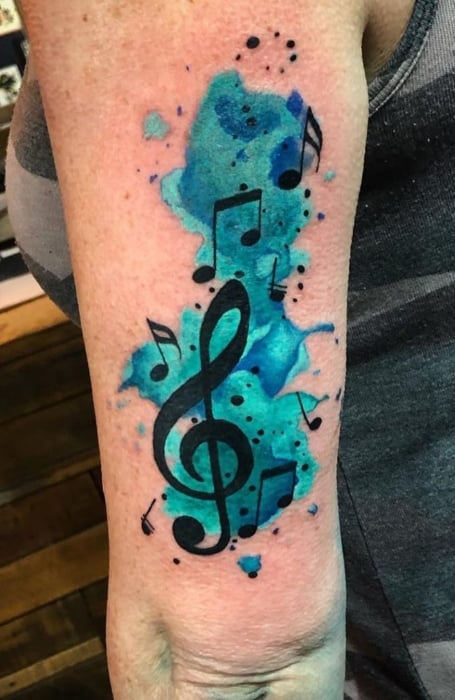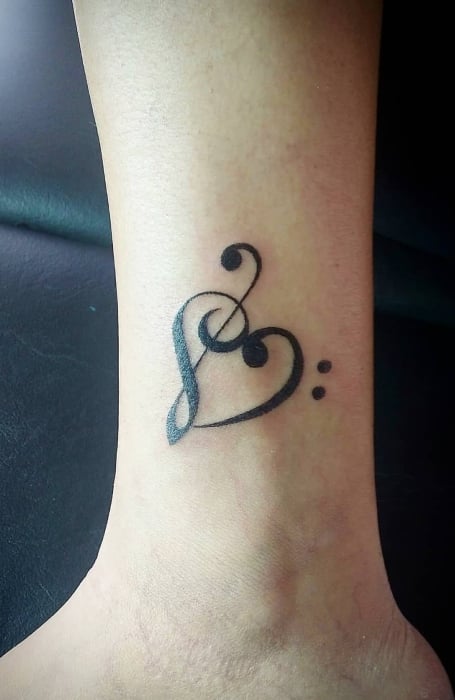 11. Music-Inspired Tattoos
Music-inspired tattoos do not have to be of musical symbols and notes but are more abstract or detailed. You could choose your favorite instrument and make it look like it is beneath your skin with a hyper-realistic design. Or you could get inked with your favorite album cover, the title of the song that moves you, or lyrics that inspire; the choice is yours.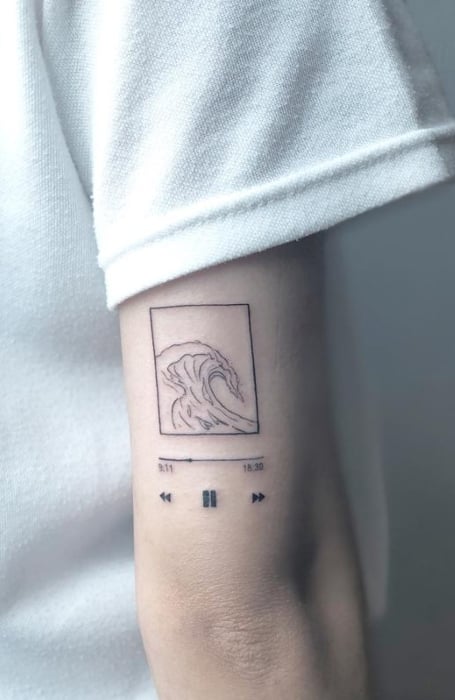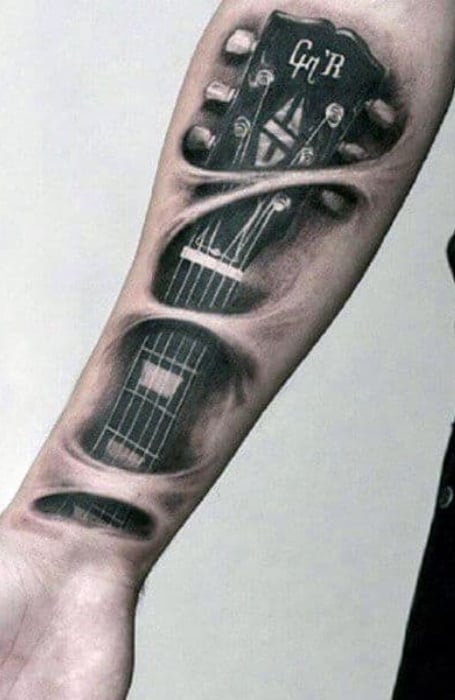 12. Music Note Heart Tattoo
What better way to show you love music than to make it obvious with a music note heart tattoo? This is a design that transforms a music symbol into a heart to show your love for music and your devotion to playing an instrument. It shows music is a part of your heart and can make a powerful statement about your feelings.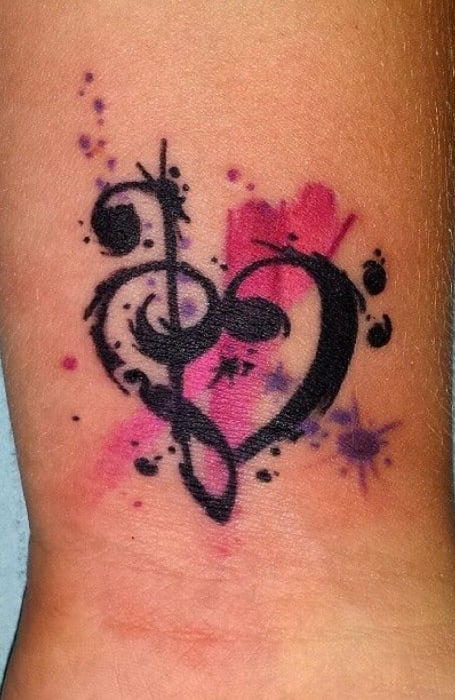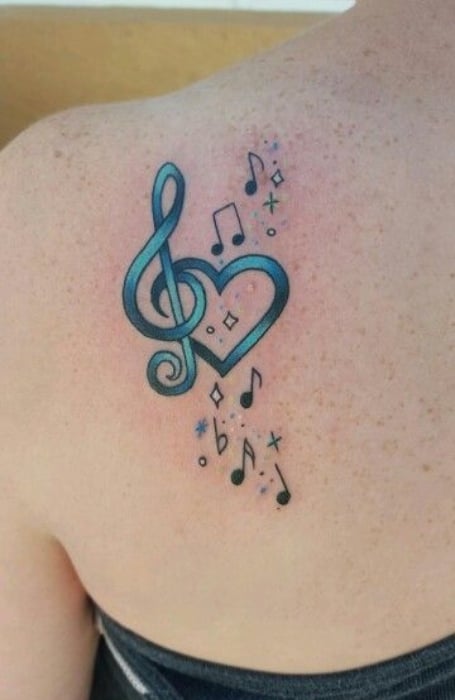 13. Country Music Tattoos
There are many genres of music, each appealing to different people. For those who are country music fans, you can reflect this with your choice of body art. It could include the album artwork for your favorite artist, their name or lyrics, or an image of them performing.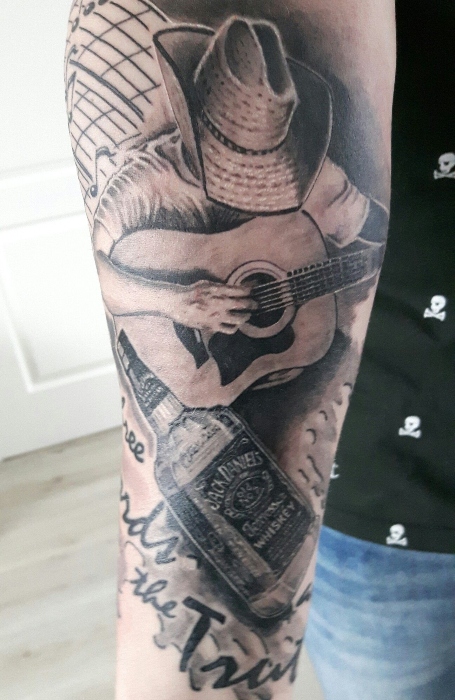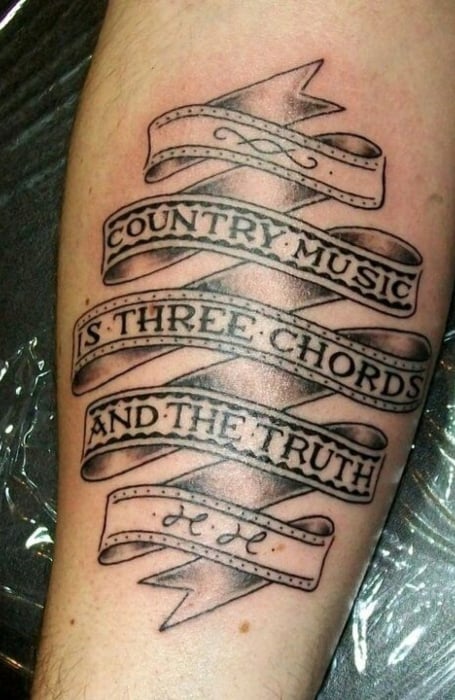 14. Music Note Tattoo On Wrist
The wrist is a popular location for body art because of its visibility. Wrist tattoos are great for showing off meaningful designs and because you can look at them every day this is an excellent way to remind yourself of the significance of your tattoo. It is a painful location because of the thin skin and lack of muscle and fat.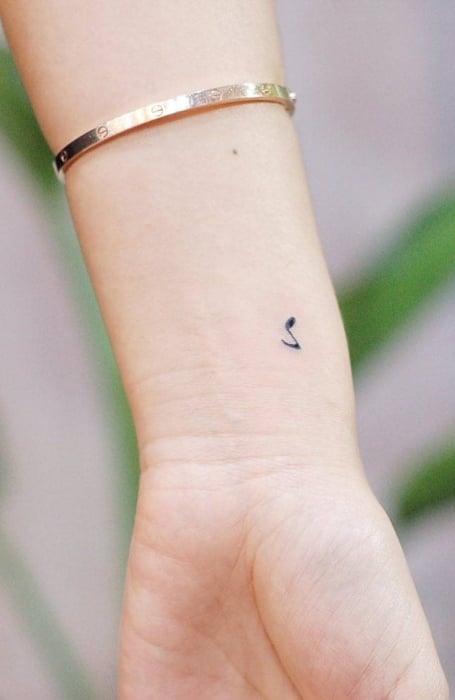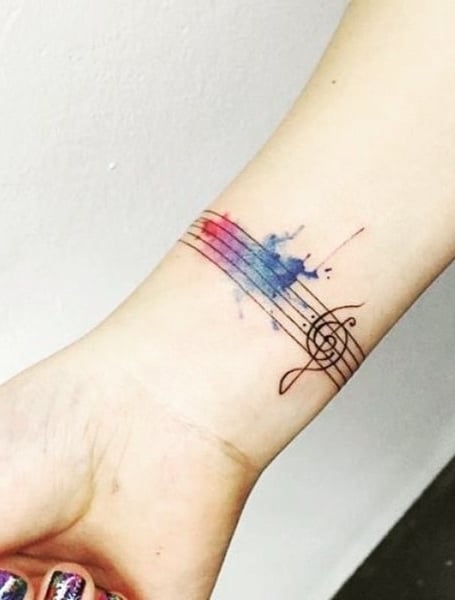 15. Music Staff Tattoo
Anyone passionate about music will already be familiar with musical notation and the staff or stave refers to the five parallel horizontal lines, which when combined with a clef, show the pitch of the musical notes. This is an excellent option for someone who is a musician or to get inked with a sample from your favorite piece of music.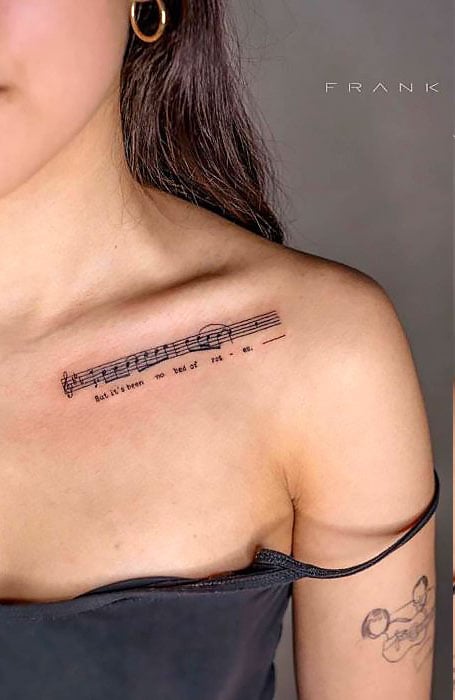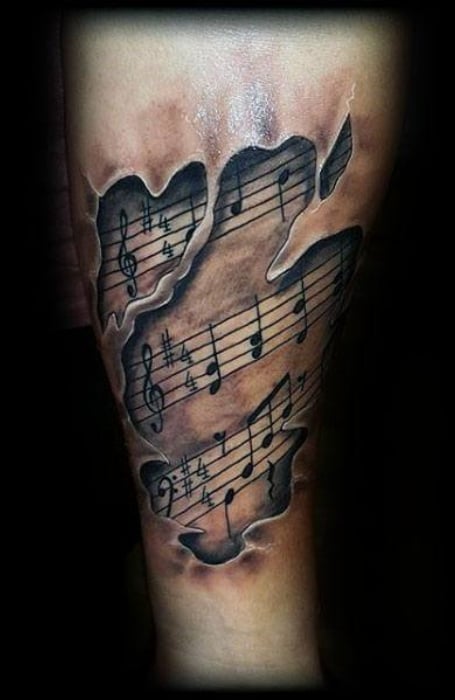 16. Music Is Life Tattoo
If music plays an important part in your life, or it is your whole life, then a music is life statement will make for a meaningful tattoo. Musicians and those who are passionate about music will be drawn to this design, and there are various ways to make it your own, including personalizing it with names and dates.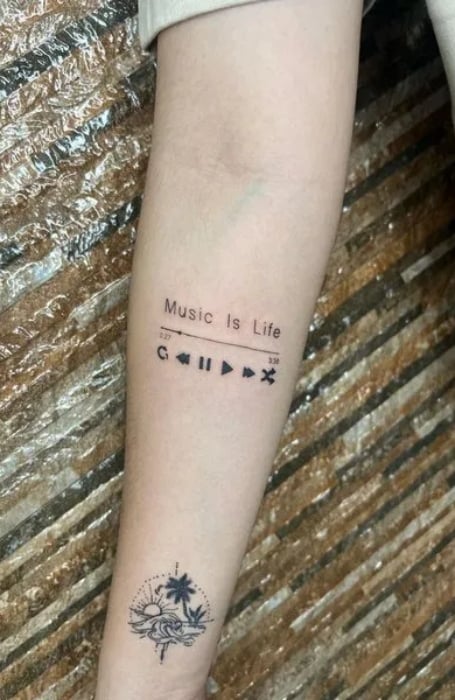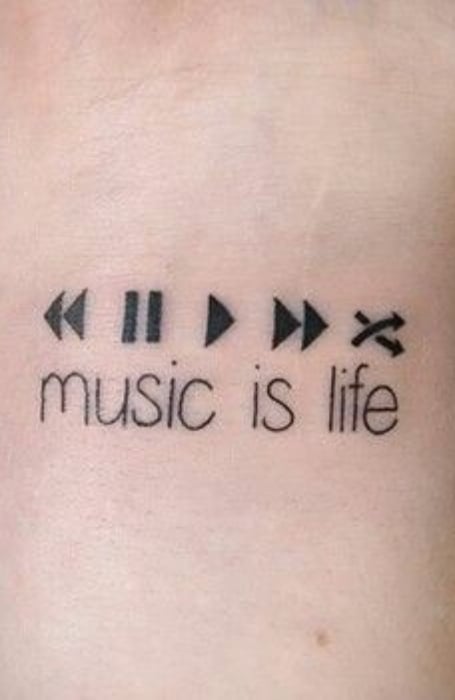 17. Music Spine Tattoo
Spine tattoos are edgy and cool. Reserved for those who can withstand the pain because it is one of the most painful locations to get inked due to the proximity to bone and the general sensitivity of the area. However, it is an excellent placement for a music tattoo because there are many options for vertical designs.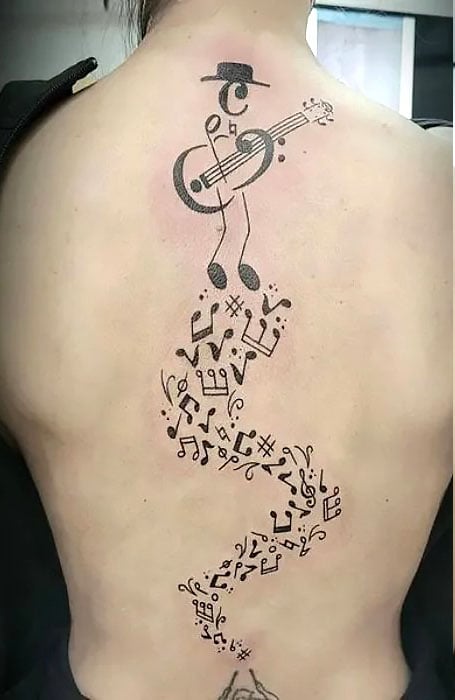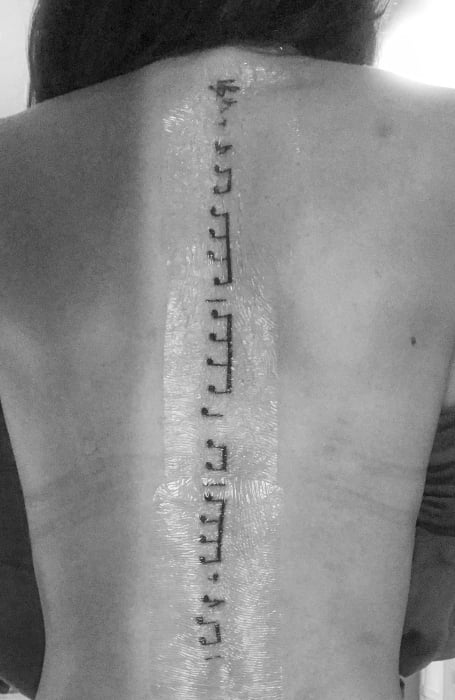 18. Music-Themed Tattoos
Your music tattoo can be of many things, from musical notes and your favorite instruments to lyrics from songs or a portrait of a musician. The music theme gives you plenty of opportunities to get creative, creating a design that is unique and meaningful to you. Music can make a powerful statement and so will your tattoo.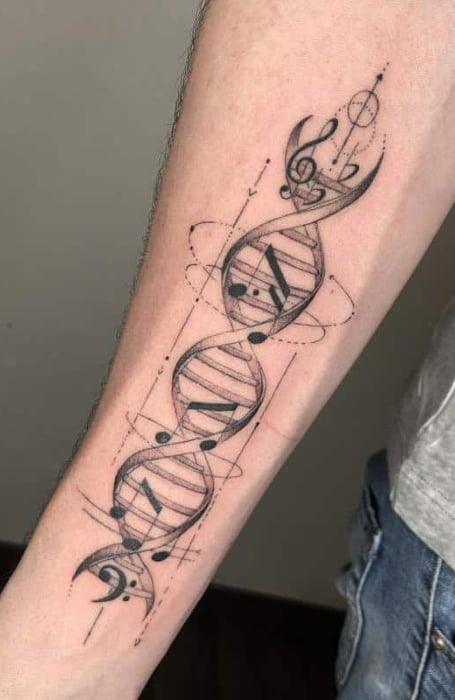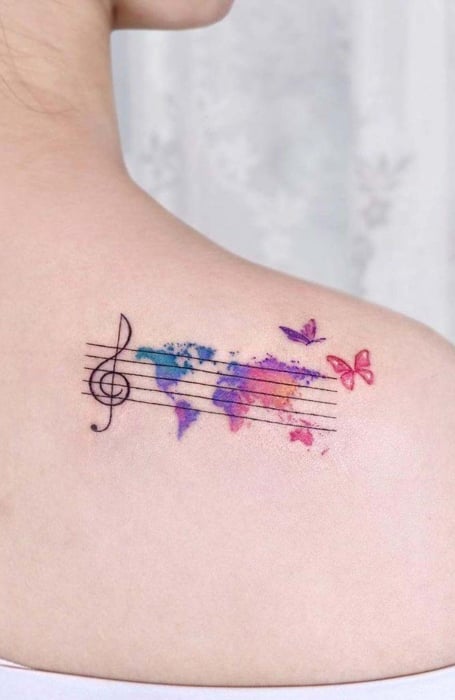 19. Simple Music Tattoos
The appeal of music tattoos is they can be as simple or as detailed as you want them to be. Simple tattoos appeal to those who prefer a minimalist aesthetic and are often created without shading and limited detail. This approach allows you to create your tattoo on a smaller scale, giving you versatility with where on the body you get inked.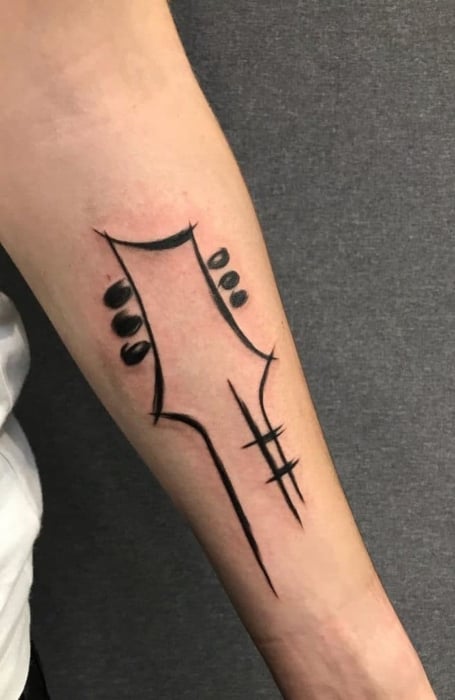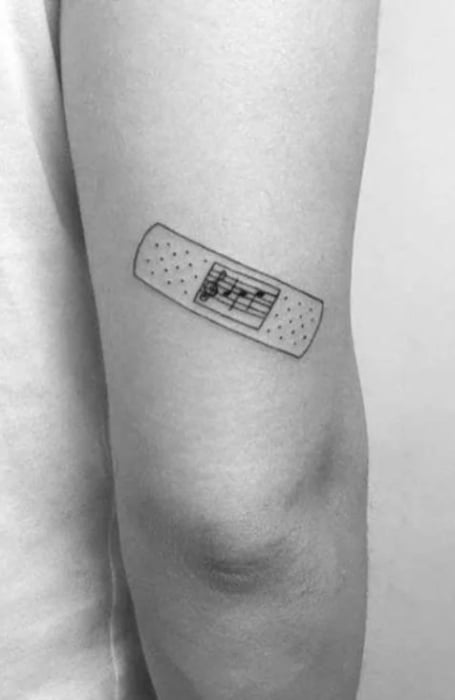 20. Forearm Music Tattoos
Forearm tattoos are a great choice for your next design. The visibility of the forearm makes this an appealing placement for tattoos that you want to show off, although it can also be easily covered with clothing. The forearm is low to moderate on the pain scale and is large enough to give you space to get creative with your music design.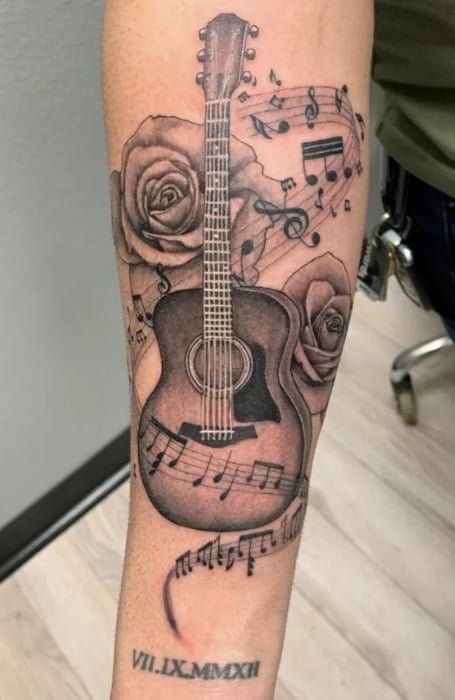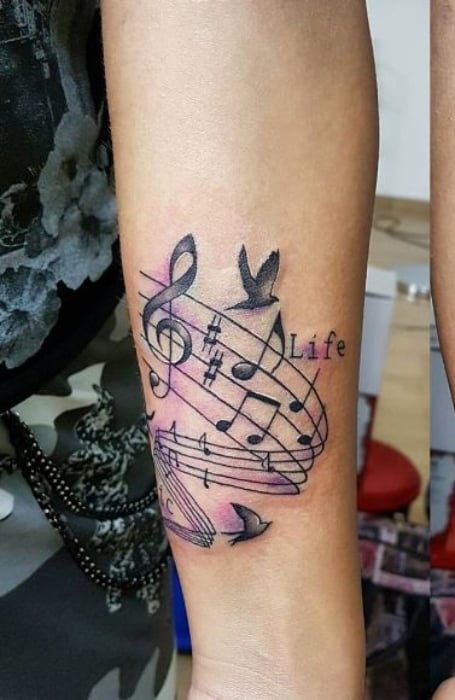 21. Love of Music Tattoo
We are all drawn to music, whether we realize it or not. You might listen to it on the way to work, sing a song in the shower, or find yourself humming while going about your errands. A great way to celebrate the impact music has had on your life, and continues to have, is with a love of music design.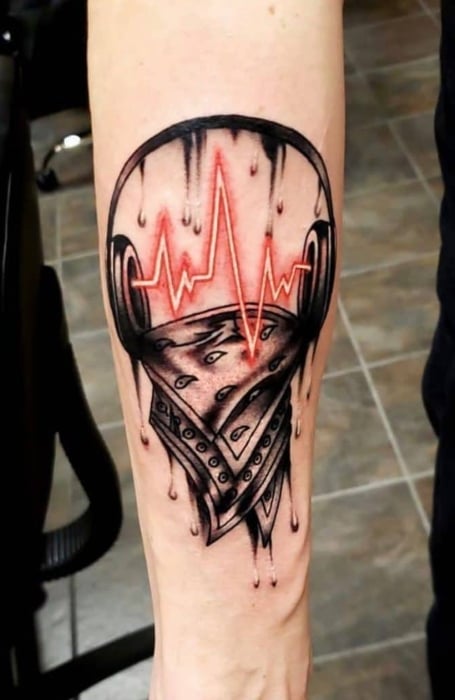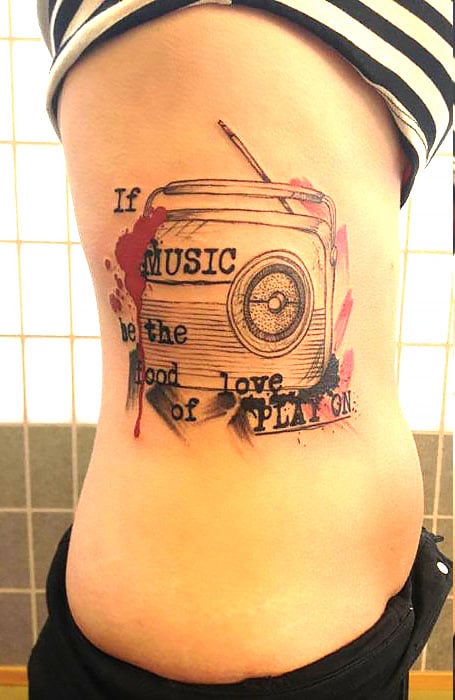 22. Geometric Music Tattoos
Almost all tattoos can have a geometric element to them which makes them unique. Geometric tattoos are created with a series of shapes and symbols and are associated with beauty, balance, and stability. Your geometric music tattoo can be simple or detailed, depending on your preference, and can make a powerful statement.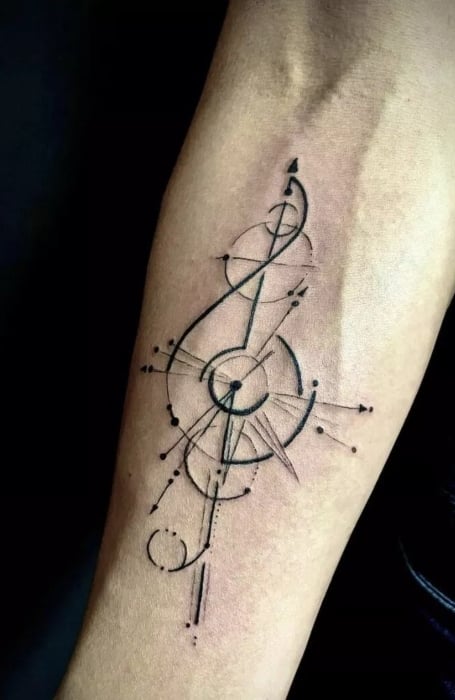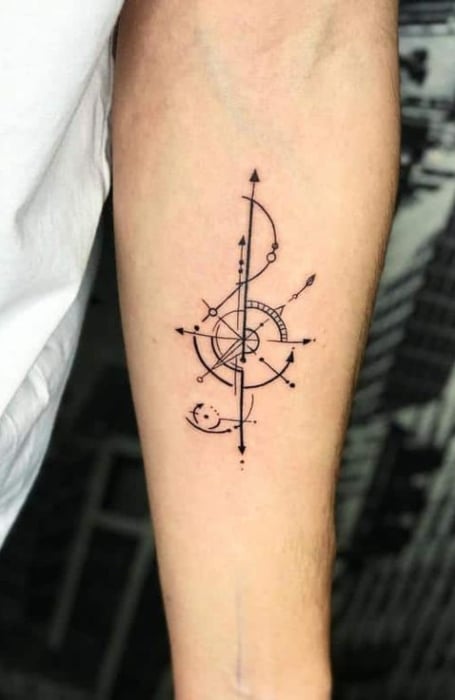 23. Music Notes With Roses Tattoo
Rose tattoos are one of the most beautiful and popular designs. The rose is symbolic of many things, including beauty, pleasure, and pain. It can remind you of the importance of finding a balance in life and being wary of those you give your heart. Combined with music notes, your design can be a celebration of music and life.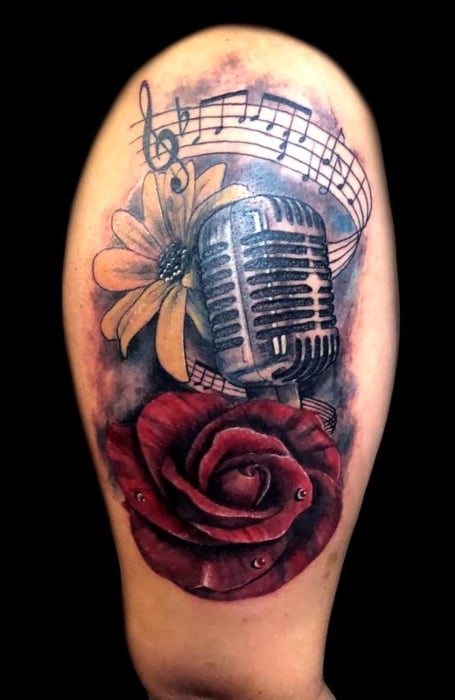 24. Music Tattoo On Hand
Hand tattoos are effortlessly cool and rebellious. They are a popular choice because of their visibility and are an excellent way to show off a meaningful music tattoo design. However, the hand is a painful location to get inked because of the proximity to bone and thin skin. The general sensitivity and lack of muscle and fat in the area will also increase the overall discomfort.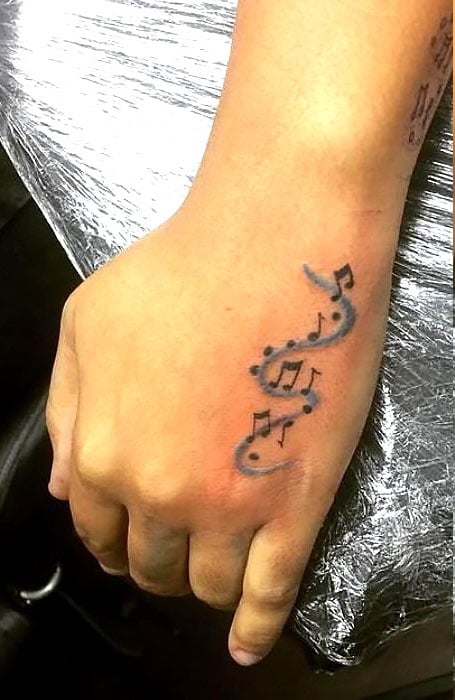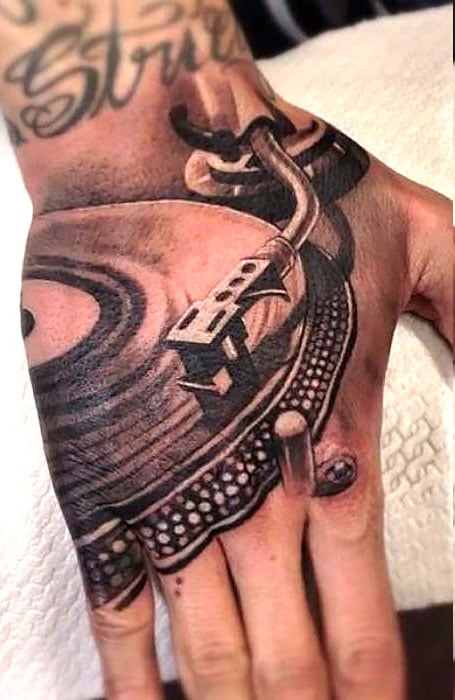 25. Music Tattoo On Neck
Neck tattoos have long been favored by criminals and outcasts. For this reason, they are associated with power, resilience, and rebellion, and getting a music tattoo on your neck can make a statement. It is one of the most painful locations on the body to get inked, and can also be a show of strength and determination.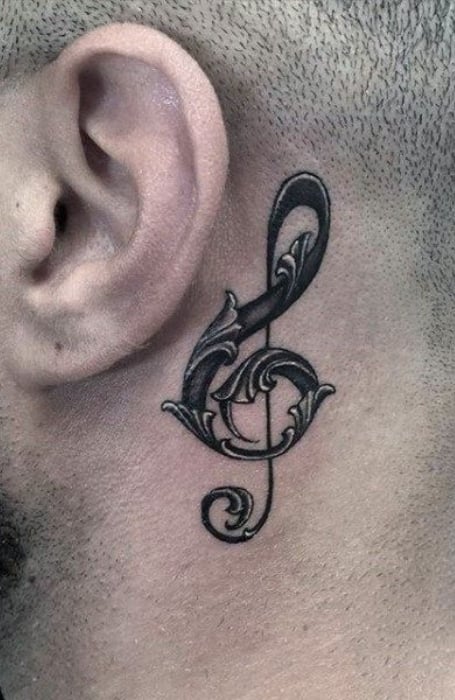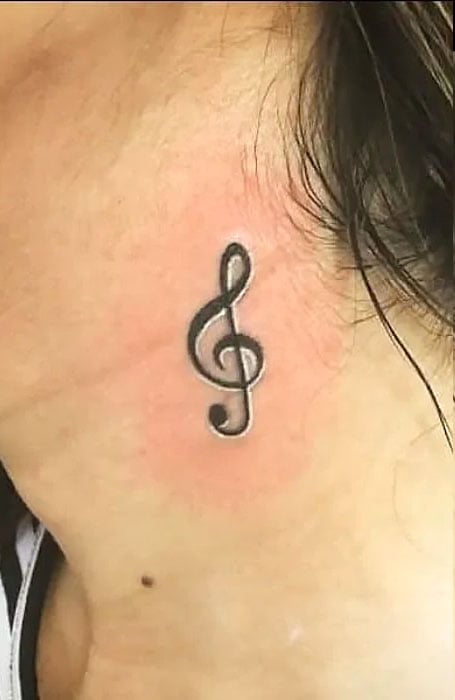 26. Arm Music Tattoos
Arm tattoos are among the most popular locations for body art because of their visibility and versatility. You can easily cover up your inking or show it off, and the arm gives you enough space to get creative with your design. It is also low to moderate on the tattoo pain scale.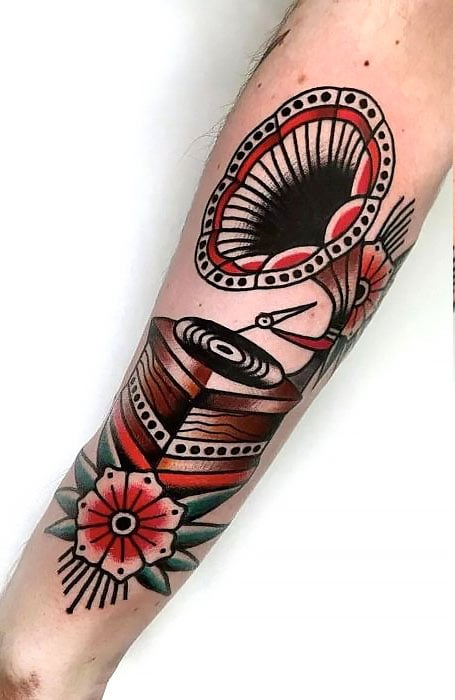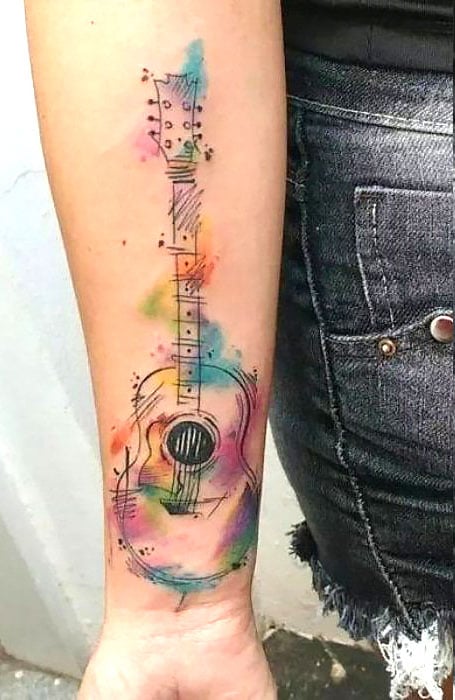 27. Half Sleeve Music Tattoo Ideas
Half sleeve tattoos are a great alternative to a full sleeve. They are a creative way to combine imagery that you love and let your body art tell a story, however, they are also more versatile as the ink only covers half the arm. This makes it easier to hide, but will also be less painful and cheaper to complete.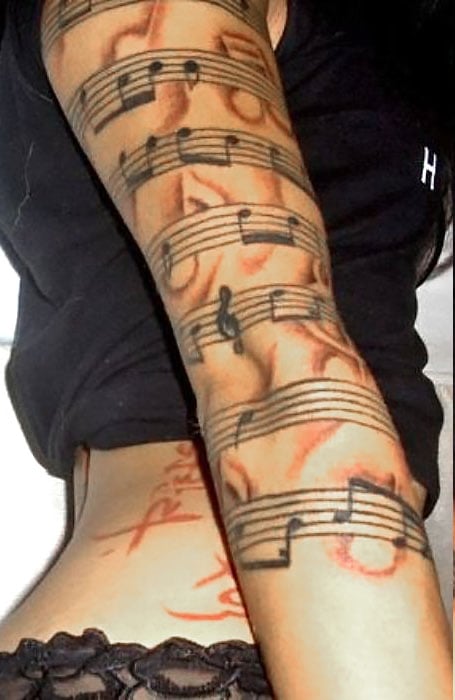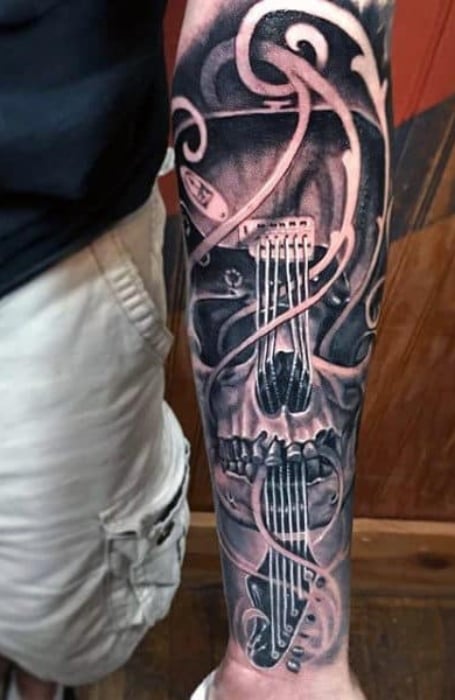 28. Matching Music Tattoos
What better way to celebrate your relationship than with a matching tattoo? Matching tattoos are a cute way to show your commitment to a romantic partner or could be to honor the bond you share with a best friend, sibling, or parent. If you bond over music or there are lyrics that move you, this is a perfect choice.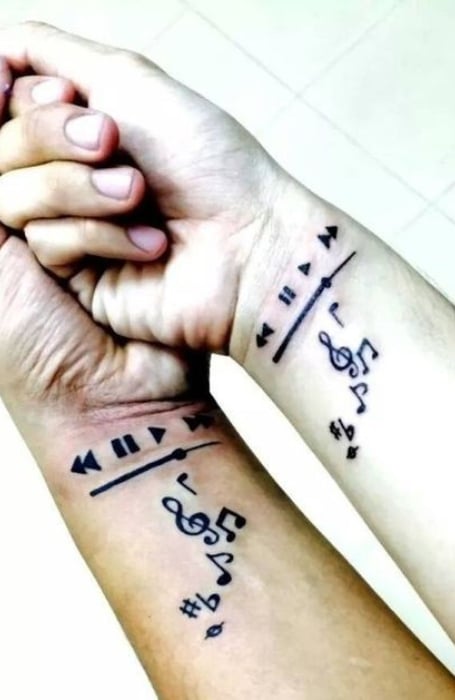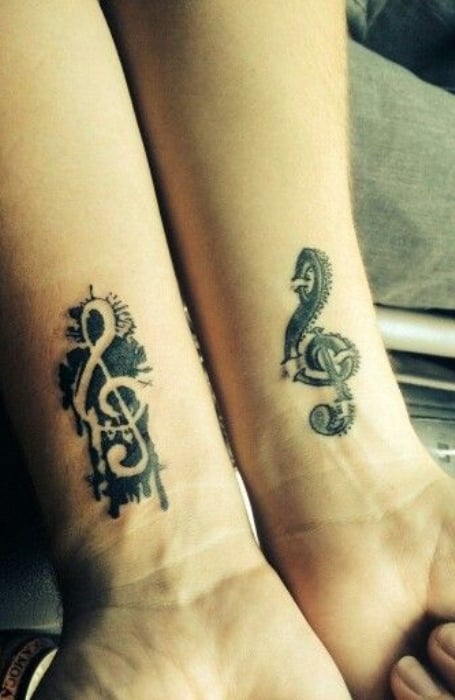 29. Music Back Tattoo
Back tattoos are appealing because the size of the location gives you creative freedom. Your chosen design does not have to be restricted because of the space, letting you combine multiple images and experiment with different techniques. The back is moderate on the tattoo pain scale because of the thick skin, muscle, and fat.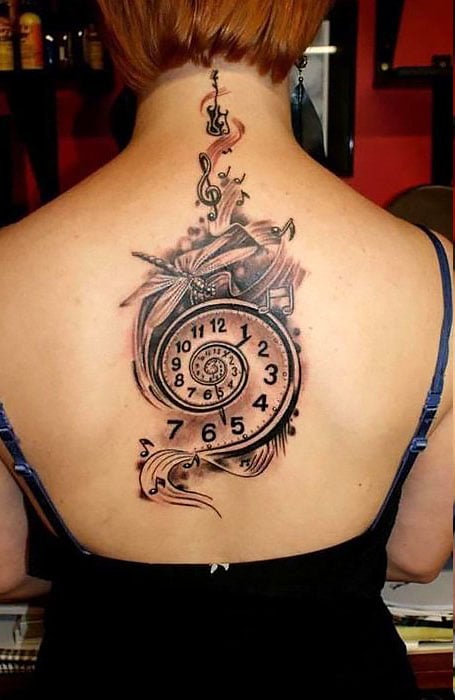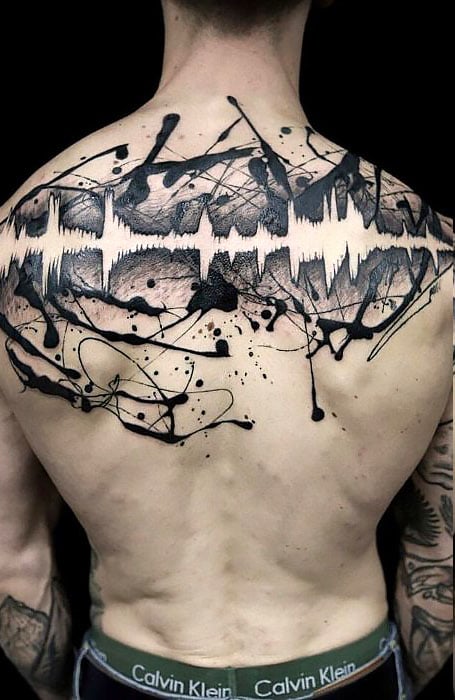 30. Minimalist Music Tattoo
Tattoos can be bright and bold and detailed, but they can also be simple and appeal to those who prefer a more minimalist aesthetic. Your minimalist tattoo design will focus on the basic elements, with clean lines, lack of shading, muted colors, and negative spacing. It can be inked big or small and is a great way to focus on the meaning behind your chosen design.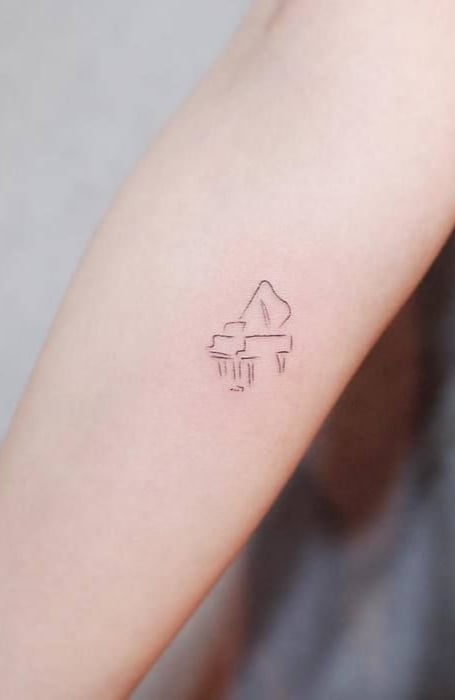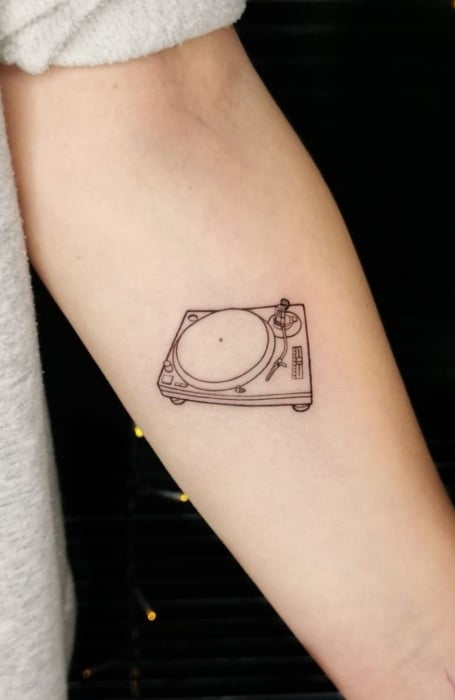 31. Music Box Tattoo
A music box tattoo can make a powerful statement and could be a way to honor the past. Your design could be of an old gramophone and could celebrate a grandparent or a period in history that has inspired you. Or it could be a way to remember the happiness of childhood or the beauty of life. There are many ways to make your design unique and meaningful.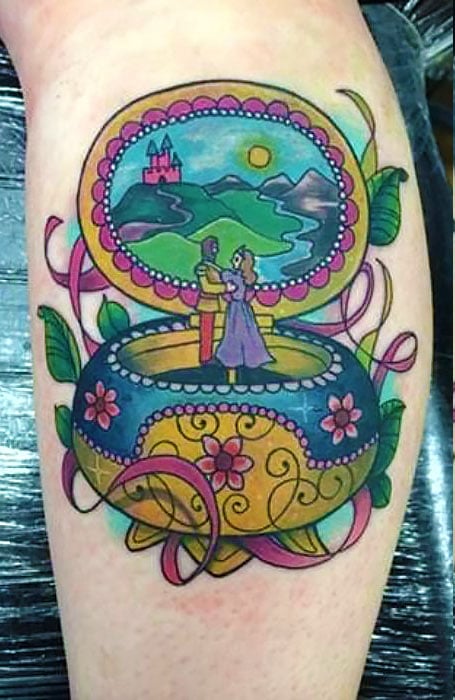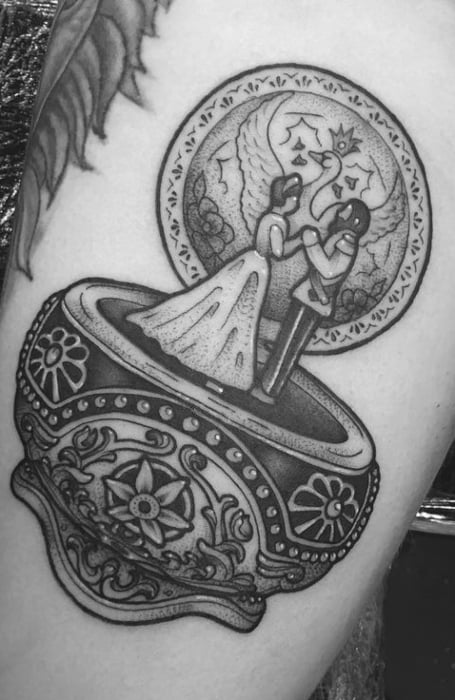 32. Music Microphone Tattoo
Microphone tattoos are an excellent choice for music lovers. If you are a singer or feel some connection to a particular artist, this could be a way to convey that. You can opt for a retro design or a modern one, and combine it with other imagery including music notes, roses, and quotes.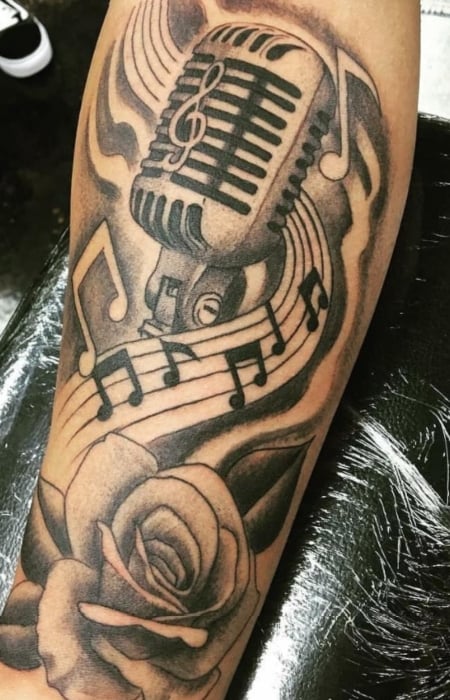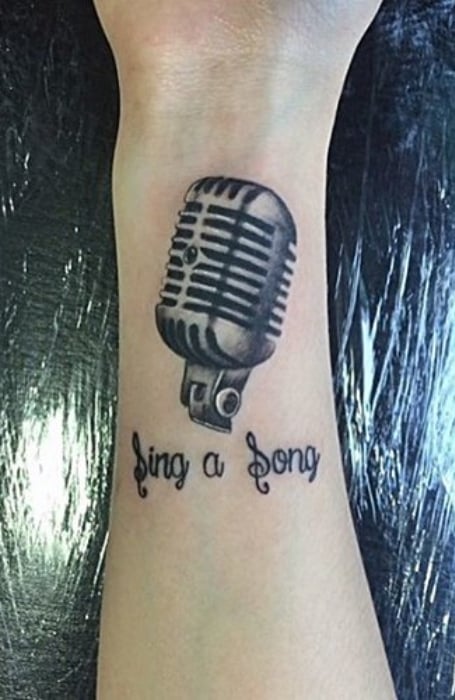 33. Music City Tattoo
An interesting take on the music theme would be to create a design that at first glance appears to be the skyline of a city but the buildings are created with musical instruments. This could be a way to acknowledge the importance of music in your life and how it forms the foundation for everything. Or it could be a reminder to follow your dreams and go where you need to go to achieve them.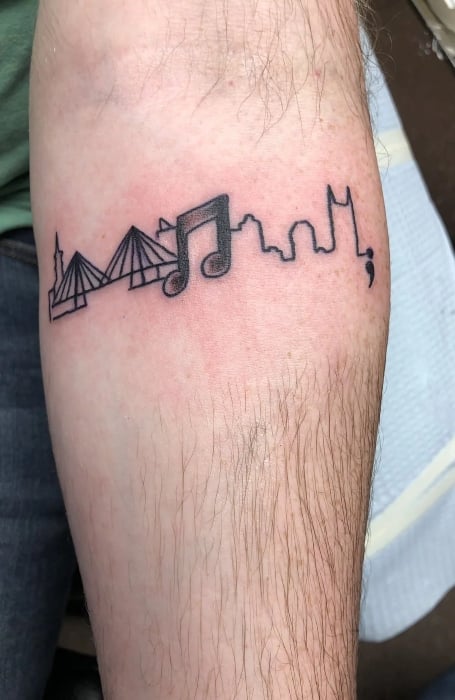 34. Music Note Butterfly Tattoo
Butterfly tattoos are beautiful and symbolic. They represent beauty, growth, and transformation, and are an excellent choice for someone experiencing a challenging or transitional time in their life. Butterflies can be added to all designs, including a music note, adding to the overall meaning of your design but also giving it a delicate appearance.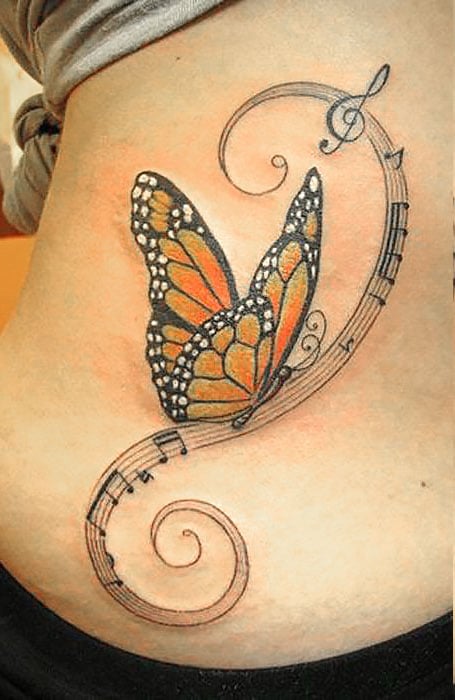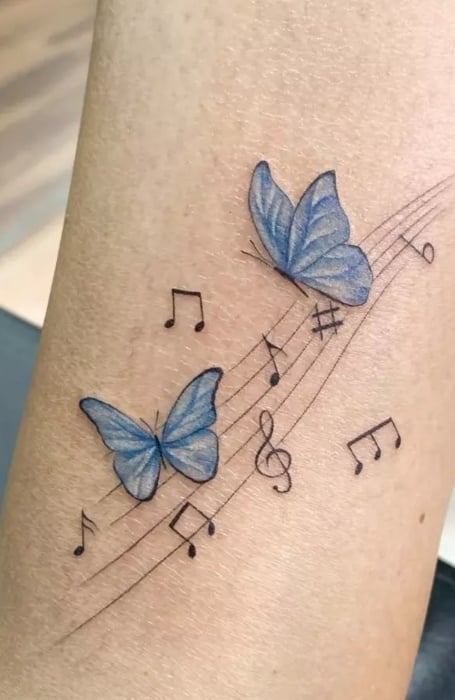 35. Trash Polka Music Tattoo Designs
Trash polka is an excellent style of tattoo if you want your design to stand out. It is bold, bright, and chaotic, blending realistic and abstract imagery to create something rebellious but beautiful. The colors are predominantly a mix of black and red, and the subject matter can be of anything. This includes your favorite instrument, music notes, and quotes.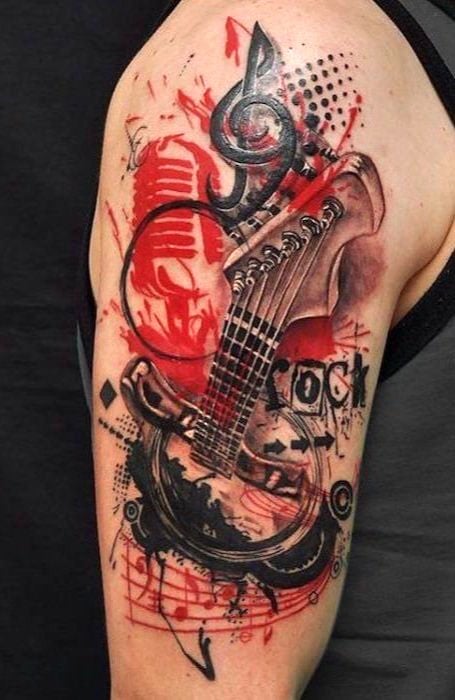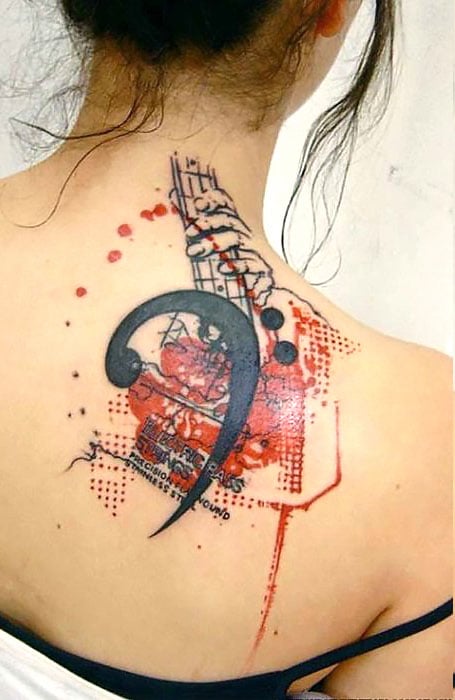 36. Guitar Music Tattoo
A guitar tattoo can be inked to show your love of music or your dedication to mastering the instrument. It could also be a way to honor a loved one. For example, your grandfather may have played guitar and you decided to get inked with a guitar to celebrate your relationship. The guitar also represents happiness, peace, and togetherness.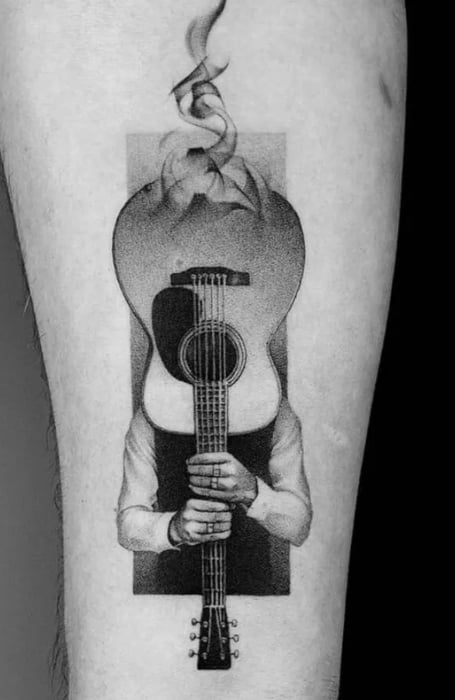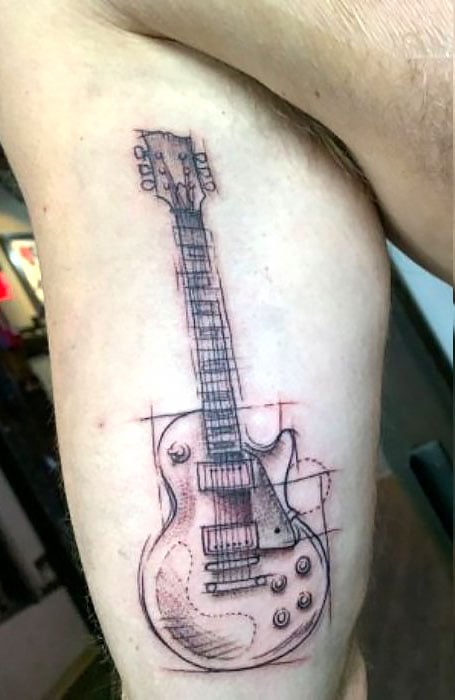 37. Music Lyric Tattoos
Lyrics are much more than words. Each verse has so much meaning and can inspire you or bring you solace. During particularly challenging times, music can be comforting and remind us that we are not alone. It can also bring us great joy. Designing your tattoo around lyrics that have meaning to you is an excellent choice.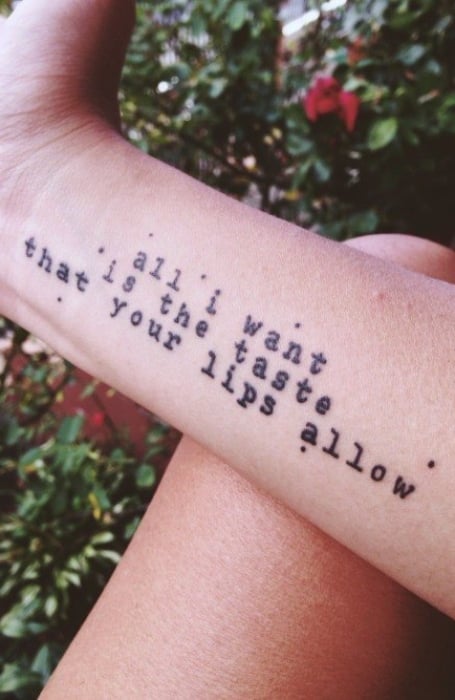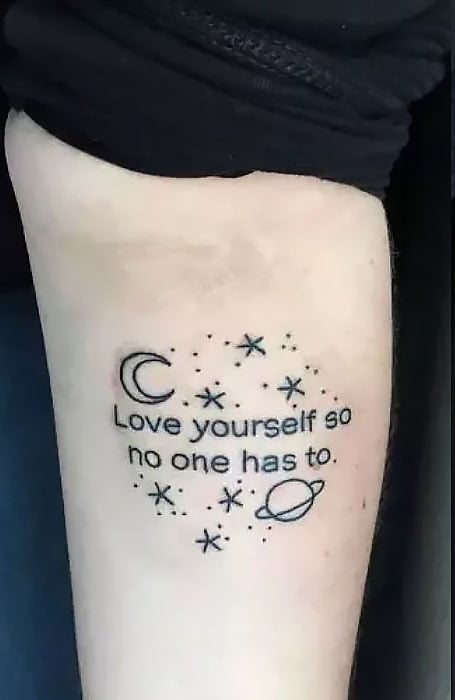 38. Music Quotes For Tattoos
Quote tattoos can make a powerful statement about your thoughts and feelings. You can take inspiration from your quote from anywhere, including your favorite lyrics or something an influential musician has said that has stuck with you. Quote tattoos are also personal and deeply meaningful. Choose a placement that is large enough to give you space so that the quote is not too small and unreadable.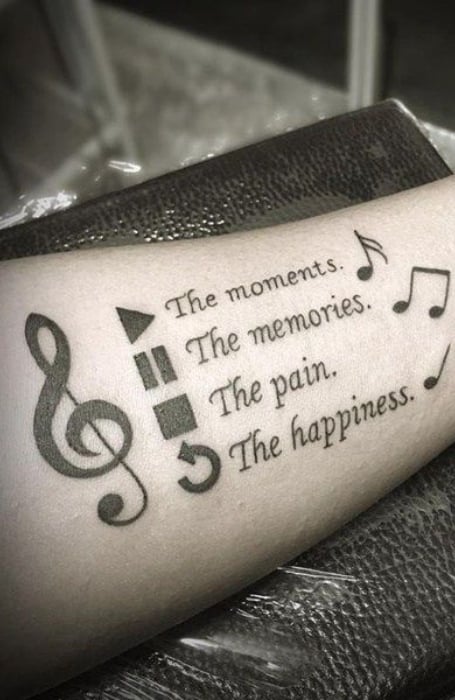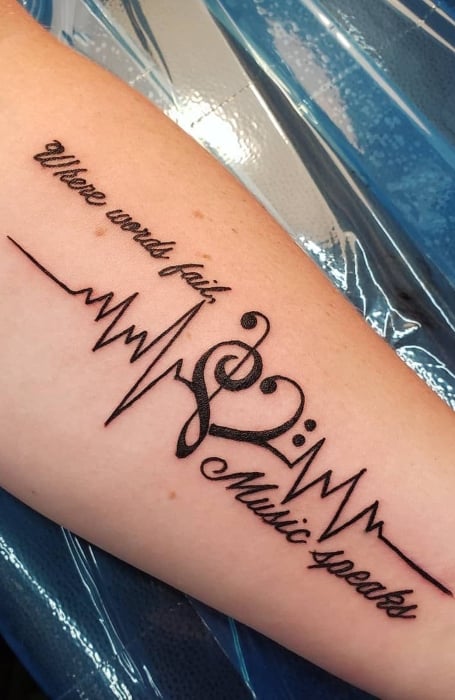 39. Music Clef Tattoo
The music clef is one of the most recognizable music symbols and can be an excellent choice for a musician or to show how much music means to you. There are various designs to choose from, including small and simple designs. Or you could opt for something more detailed, like a clef beneath the skin, or incorporate it into other imagery. This will add to the overall meaning of your design.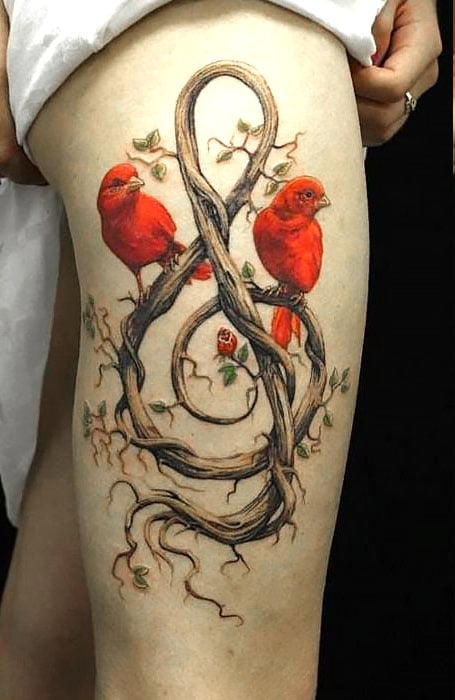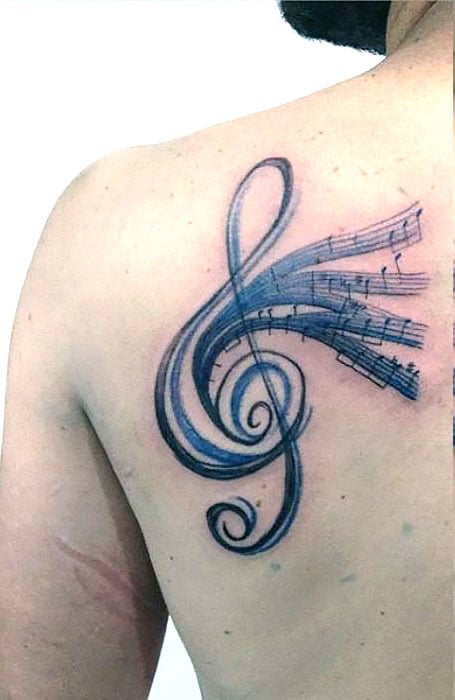 40. Rock Music Tattoos
If you are a fan of rock music, what better way to show this than with a tattoo? Your inking can be of your favorite music group, lyrics, or a band logo or album art. There are many ways to make your piece individual and show off your creativity, making this an excellent option for those who want body art that will stand out.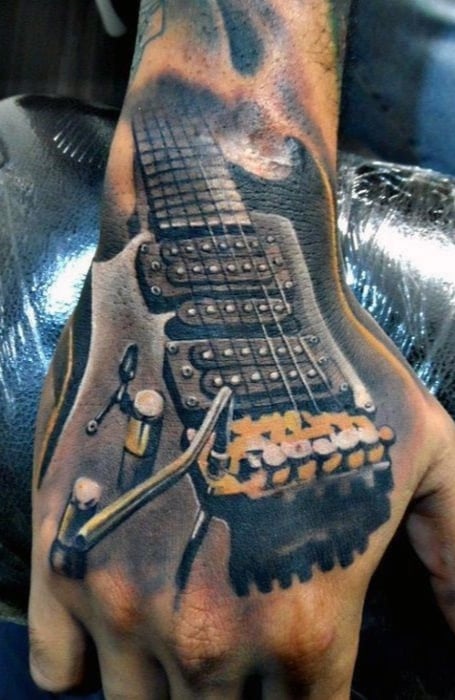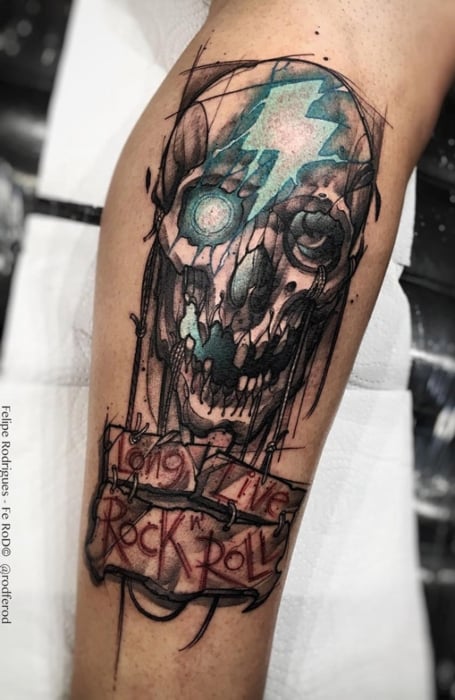 41. Skull Music Tattoo Designs
The human skull is associated with death and destruction, but skull tattoos can also have a positive meaning, reminding you to embrace life and live to the fullest. There are many options for a skull and music tattoo, and this could be a way to show how music is your life and you would live and die for it.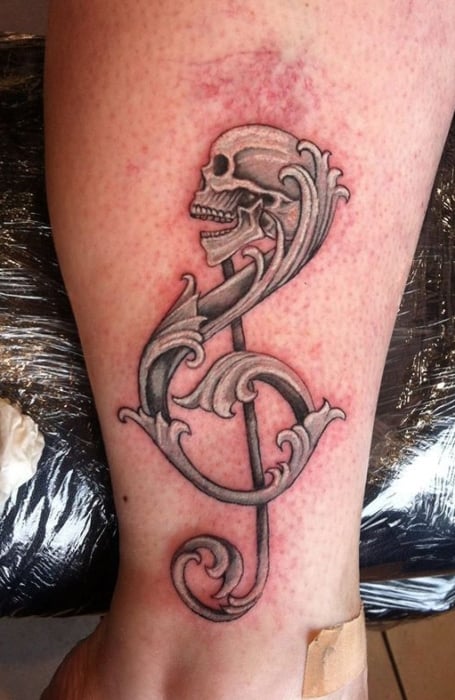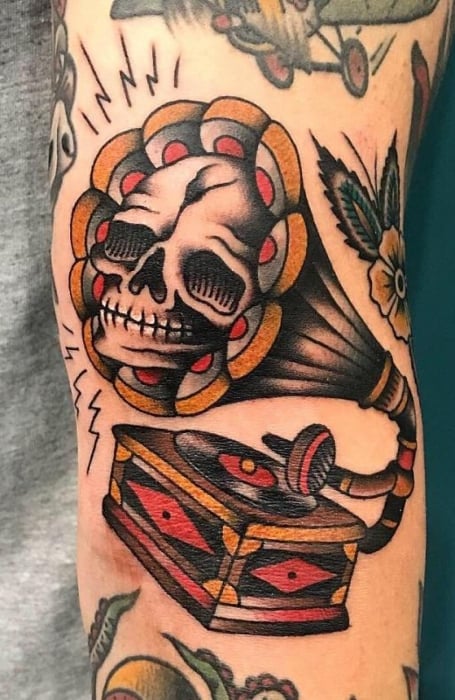 42. Semicolon Music Tattoo
The semicolon is much more than a punctuation mark and has been used to make a powerful statement about mental health. It indicates that the wearer's story is not over. They will continue to live and go on, despite the struggles that they face. Combining a semicolon tattoo design with music is a way to incorporate how music is your solace and has brought you comfort during your time of need.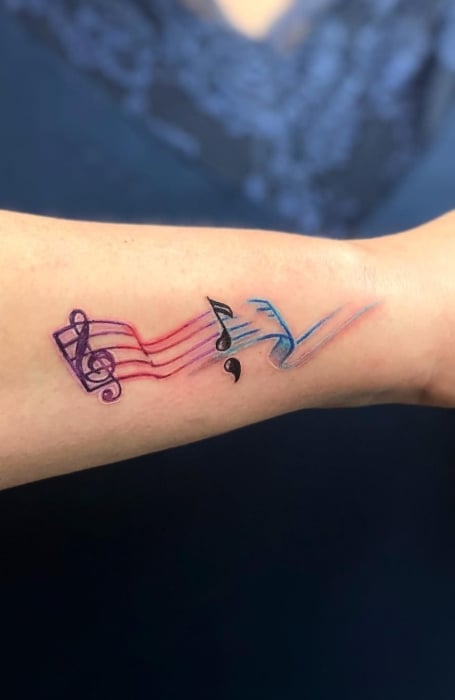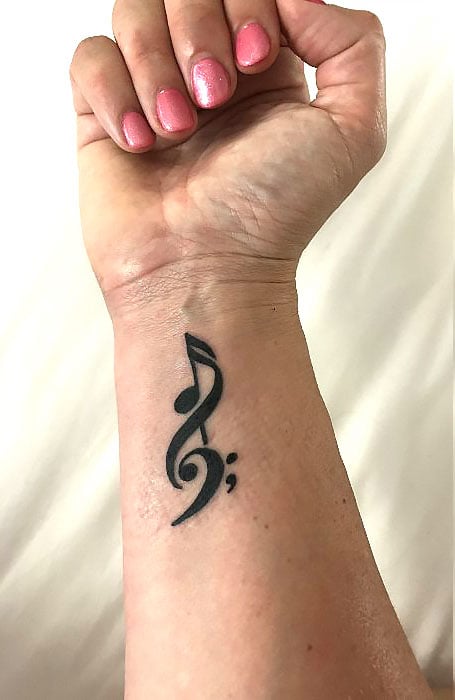 43. Dragon Music Tattoo
Dragon tattoos can symbolize wisdom, protection, and fearlessness. These mythical beasts are fierce and powerful and can be combined with other images to add to the overall meaning. A dragon and music tattoo is a creative interpretation that can represent the power of music in your life. Choose musical symbols or combine them with instruments and lyrics; the choice is yours.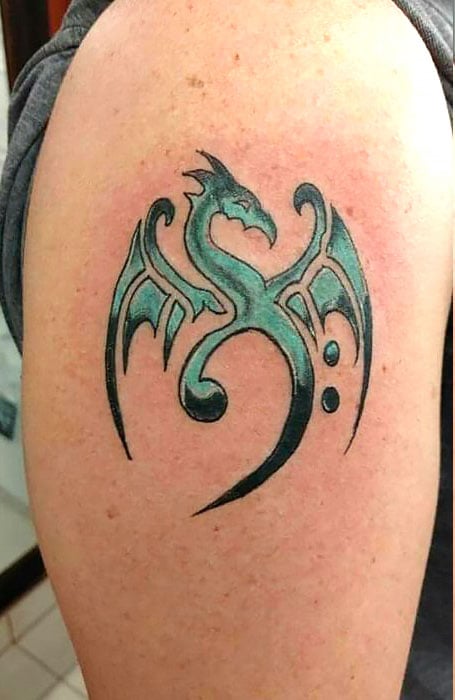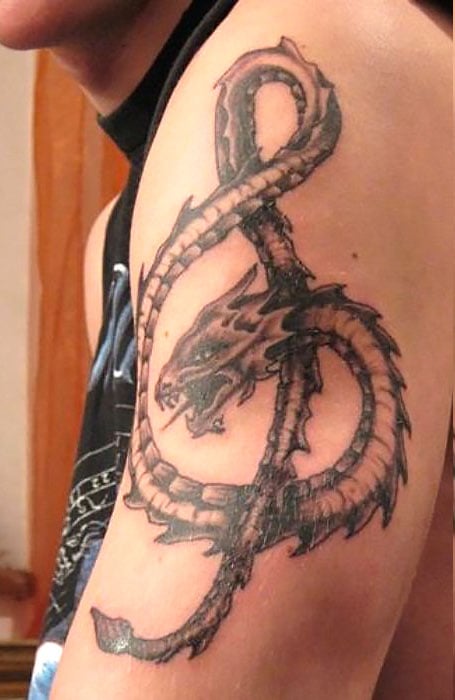 44. Flower And Music Note Tattoos
Flower tattoos represent life, growth, and love. They are an excellent addition to any tattoo and will give your chosen design more meaning. They can also be inked as fillers, or to give your design a pop of color. How you combine flowers and music notes is your choice, but think outside of the box to get creative and design something unique and special.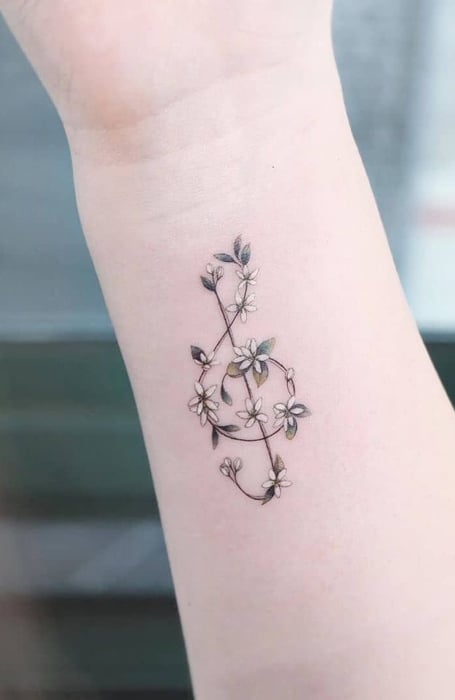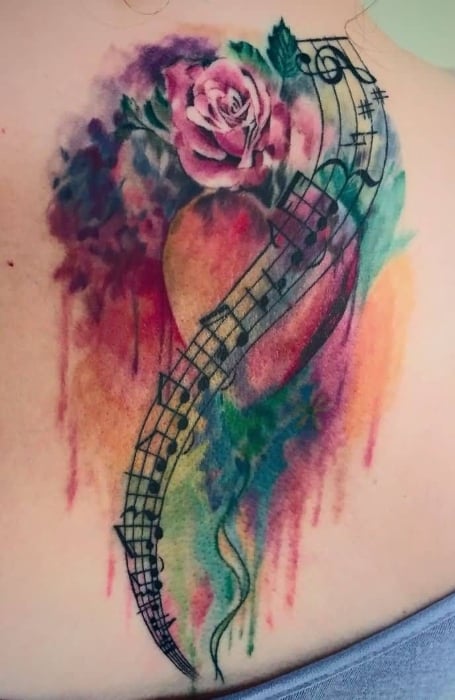 45. Music Heartbeat Tattoo
The heartbeat tattoo is associated with life and connectedness. It can be a way to show the important things in your life or honor your relationships. Adding a musical note or the word "music" to this design is symbolic of music being an essential part of your life, and without it, you would cease to exist.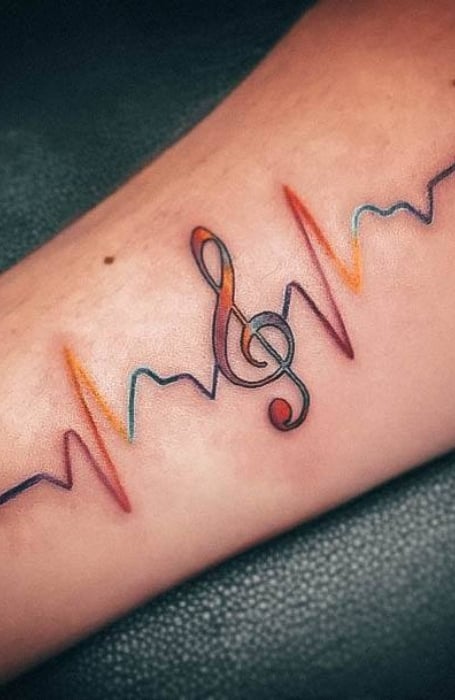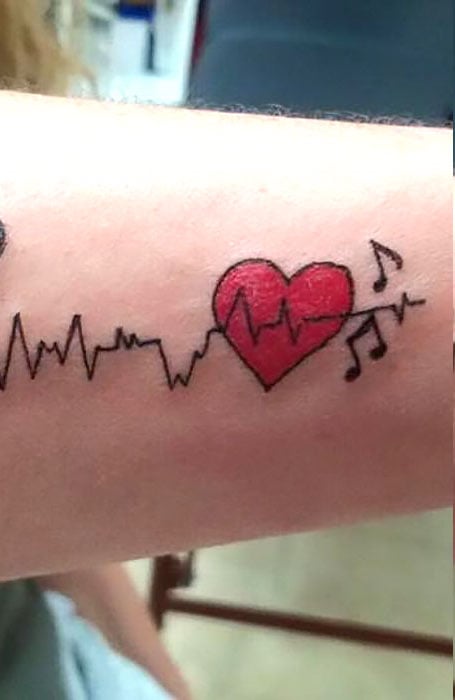 46. Neo Traditional Music Tattoo
Neo Traditional tattoos are a style that is excellent for music tattoos. It is bright and bold, defined by its visible black outlines, clean lines, and limited but vibrant color palette. The technique is similar to American Traditional artwork but you have more variety with the images you choose and the designs have a greater depth of dimension.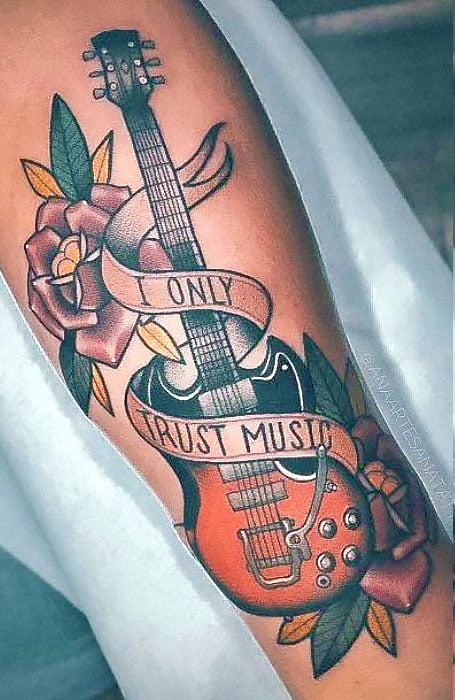 47. Peace Love Music Tattoo
Music has been used to convey many things, including advocating for peace, love, and freedom. You can make a powerful statement with your tattoo by focusing on these things. How you do this is up to you; perhaps you have been inspired by an artist and the things they have done and said, or maybe you feel music is the thing that can bond people regardless of their background.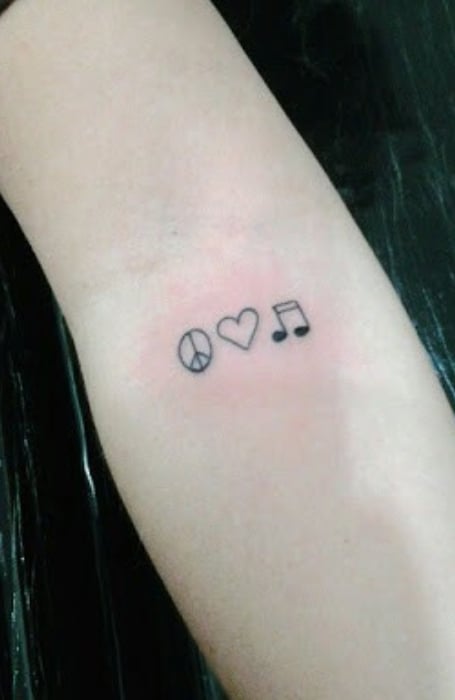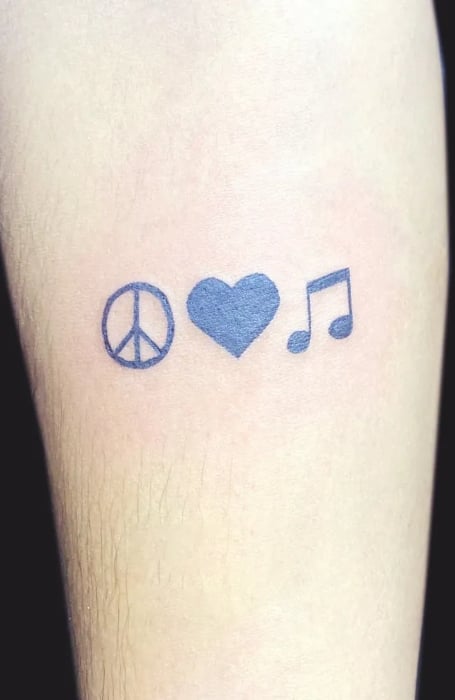 48. Shoulder Music Tattoos
The shoulder is an excellent location for your music tattoo is an area associated with strength. It can be a way to draw attention to one of the sexiest parts of the human form but is also an appealing location because it is moderate on the pain scale. Shoulder tattoos can be shown off or covered up, making them a versatile placement.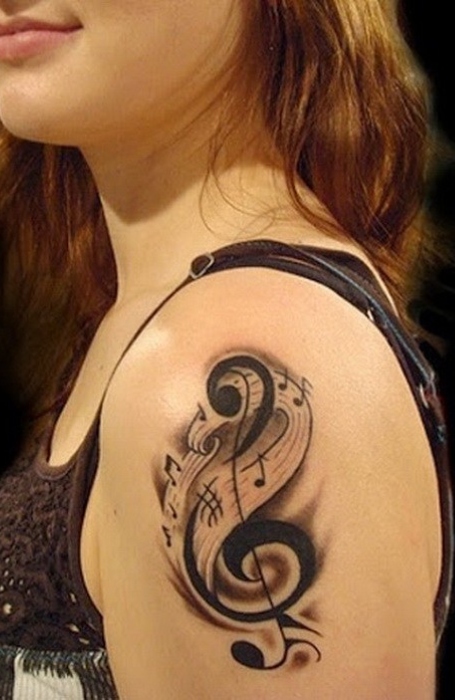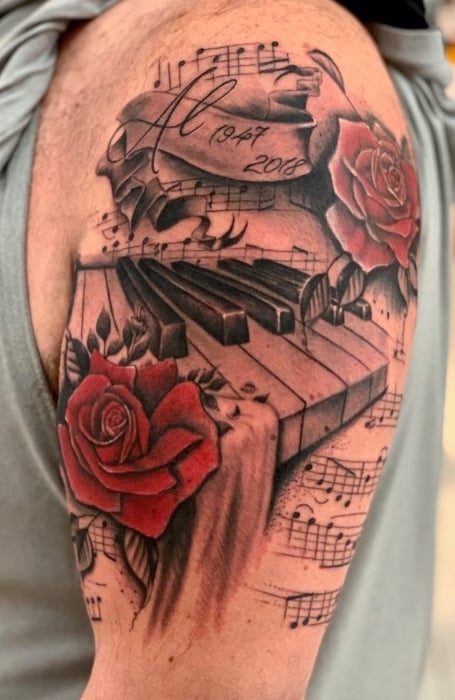 49. Tribal Music Tattoo
Tribal tattoos have great importance for the wearer. They have been used to convey social achievements and hierarchy, instill fear in the hearts of enemies, and celebrate the wearer's culture. Many tattoos have been inspired by traditional tribal patterns and style, with pieces being created with thick, black outlines, no color and shading, and often limited detail.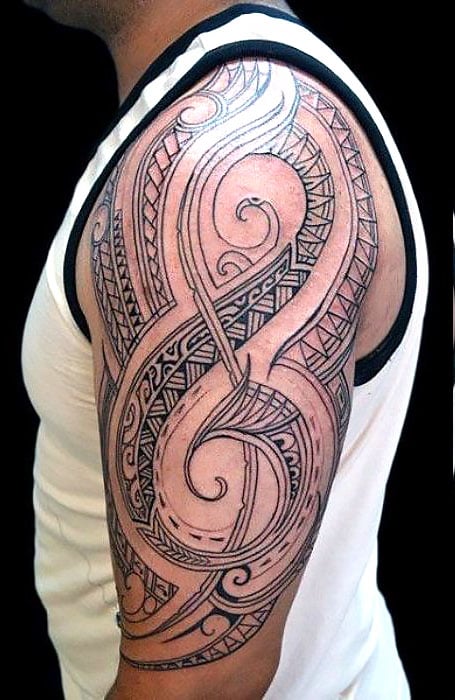 ]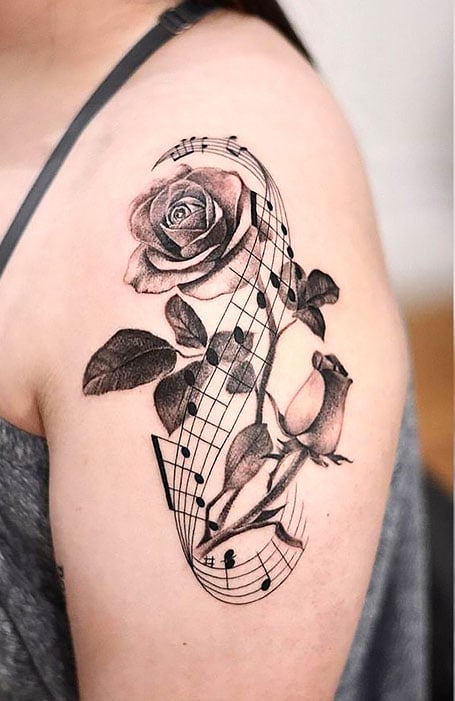 50. Stars And Music Notes Tattoos
Star tattoos are associated with hope, guidance, and dreams. It can be a beautiful way to remind yourself of all the good things in your life, but also to stay on the right path and achieve your goals. Adding music notes to your design will create a stunning aesthetic but also add to the overall meaning of your piece, showing your devotion to music.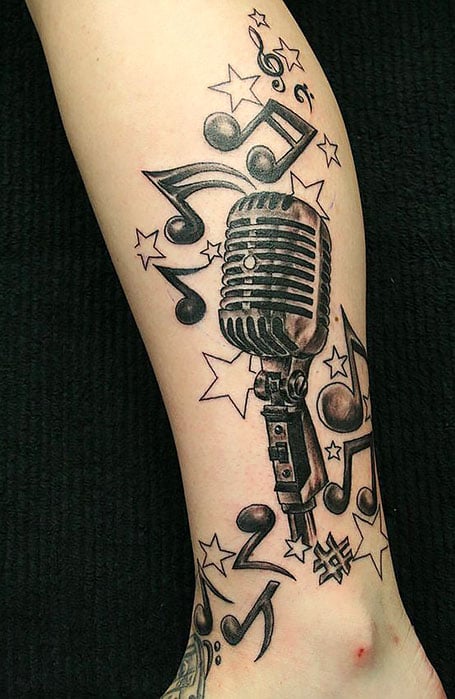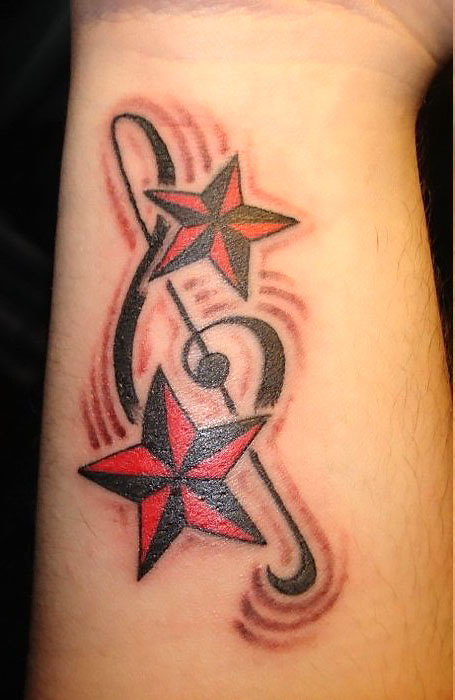 Mussic Tattoos FAQs
What is the meaning of a music tattoo?
Music tattoos represent your love of music. Music tattoos are an excellent way to show your interests and passions and can say a lot about you. If you are a musician, you could get inked with the instrument you play, showing your dedication to your art and how important music is to your life. You can also honor your favorite musical genre or artist, and combine music notes and other imagery to create a more detailed design.
Should I get a music tattoo?
If you are passionate about music or it has changed your life in some way, then a music tattoo is a great choice. There are multiple options, from simple and minimalistic designs to music sleeve tattoos. You can also opt for various styles and combine imagery to add to the overall meaning of your piece. Add lyrics or quotes about music to add to the overall meaning. This makes it easy to find a design that reflects your thoughts and feelings.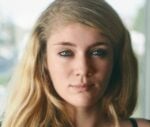 Cailyn Cox holds a degree in journalism and has been working with The Trend Spotter as a writer for over ten years. She has worked with some of the most prestigious women's and men's lifestyle publications. For her, writing is not just a job; it's a passion, which is why each article she writes is approached with such enthusiasm and dedication. She has extensive knowledge of hairstyles, tattoos, and beauty and has made a career out of creating informative articles that appeal to women and men of all ages.
SUBSCRIBE TO OUR NEWSLETTER
Subscribe to our mailing list and get interesting stuff and updates to your email inbox.