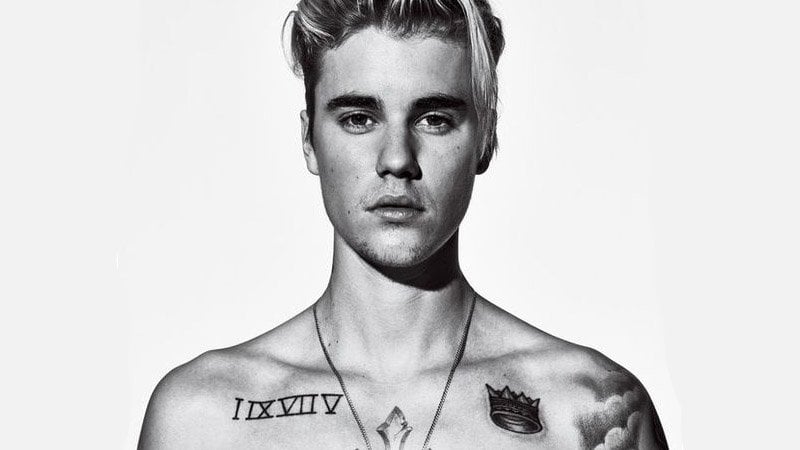 When deciding to get inked, it helps to choose tattoo ideas for men that are rich in symbolism so that way, you won't regret it. A crown tattoo is a fantastic option for powerful men because of the meaning associated with it. The head adornment is connected to the monarchy and represents strength, triumph, self-control, and glory. Those who love the idea of courage and royalty will be drawn to a lion and crown tattoo; alternatively, adding a name to your piece could make it more personal. You can opt for a bold and bright colored tattoo, or choose something simple and understated. When it comes to placement, the crown works well in both large designs and small ones. Another popular choice is for a couple to get matching ink. If you feel like a king, then consider these options for your next body art.
1. Lion with Crown Tattoo
The lion is often referred to as the king of the jungle, so it is not surprising that the animal would be portrayed with a crown. The best thing about the combination of these two images is the powerful symbolism. The majestic beast is often associated with strength, courage, and royalty, while a crown represents victory, control, and power. A man who values these qualities will find the lion tattoo and crown design appealing, as it can reflect his beliefs.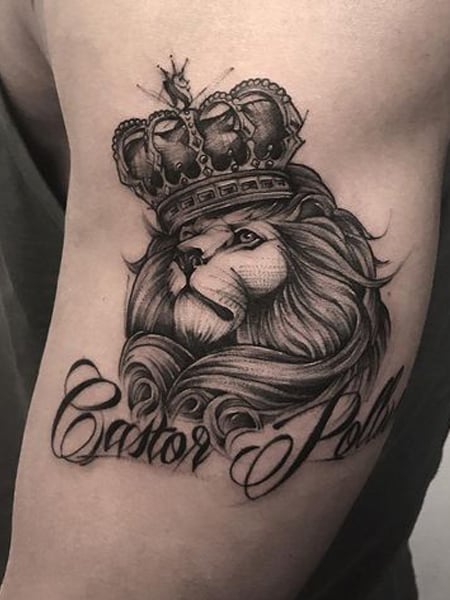 2. King Crown Tattoo
Crowns are worn by the monarchy and associated with glory and power. These qualities are appealing to many men because they can remind them of their inner strength and drive to succeed. There are various options for getting inked with a crown, and you can get as creative as you wish. Some men choose to honor their relationship with this tattoo option, and this is often done by including phrases such as "her king" — to let the world know he is taken.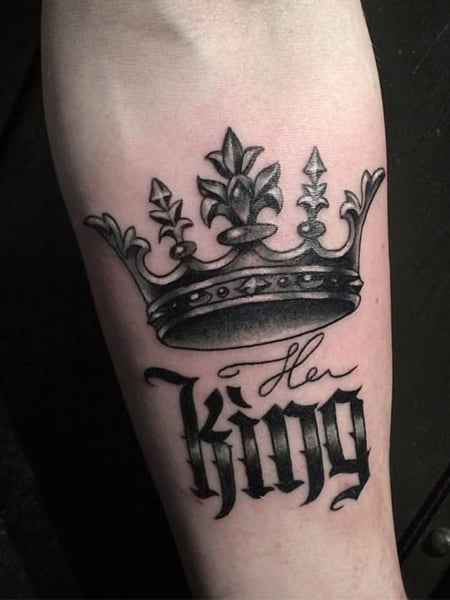 3. Queen Crown Tattoo
A queen crown tattoo may seem like a more feminine option, but a strong man can also rock this design. It represents victory, nobility, and, of course, royalty. The wearer can get inked with this piece to honor the females in his life, or perhaps to reflect that he is in touch with his softer side. It also makes for great body art when combined with a king crown.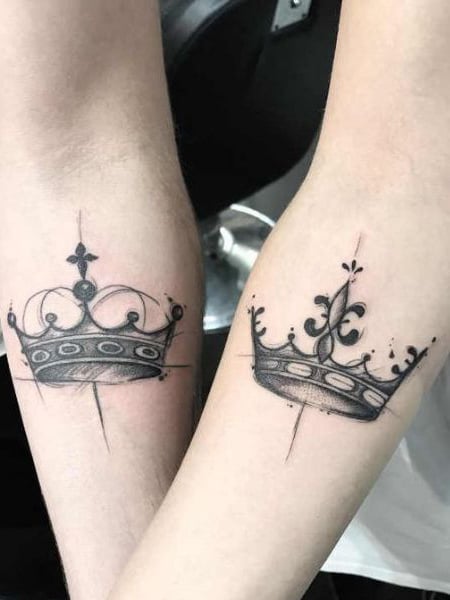 4. Crown of Thorns Tattoo
The crown of thorns is a religious symbol. It comes from the Bible story of Jesus Christ, who was forced to wear this painful headpiece ahead of his crucifixion. The thorn is symbolic of Jesus' sacrifice for humankind and makes for striking body art. Deeply spiritual individuals will be moved by the symbolism associated with this design and may choose to portray it with the head of Jesus or leave it as a stand-alone piece.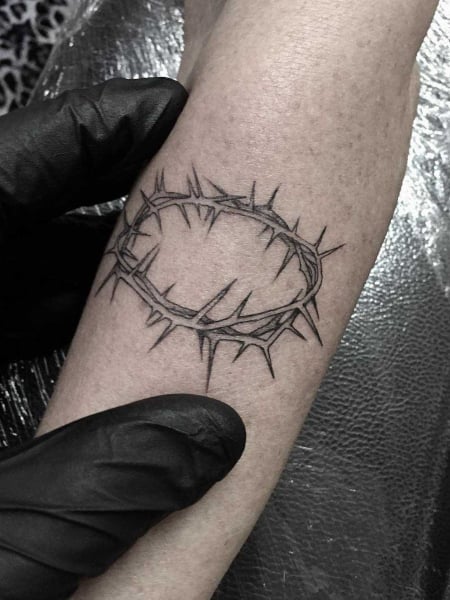 5. Small Crown Tattoo
Who says bigger is necessarily better? Small tattoos are increasing in popularity among both men and women, making them an excellent choice for your next piece. There is something understated yet cool about tiny tats, and they are also incredibly versatile; you can get tattooed anywhere on your body. This means that you can opt for a neck or finger design if you wish. Another pro about small tattoos for men is that they tend to be cheaper and require less time to complete, which usually means not as much pain.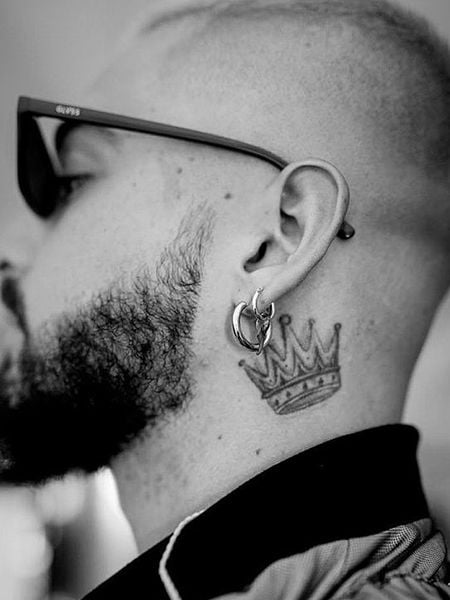 6. Name with Crown Tattoo
Do you want your next tattoo to be deeply personal? Then why not opt for a name tattoo with a crown! When deciding on body art, it helps to choose something visually striking and meaningful. After all, your ink is meant to be permanent, and you want to ensure you will not regret your decision. Getting tattoed with a tailored design to you, personally, makes it a lot more symbolic, so people often decide to include the names of their loved ones. A crown design works well with a name, whether it is your romantic partner, family member, or someone who has passed.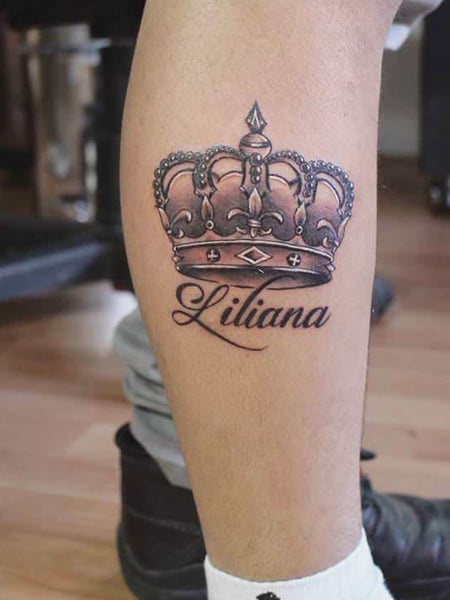 7. Simple Crown Tattoo
The beauty of a tattoo can also be in its simplicity. We understand the appeal of extensive and detailed designs, but not every piece has to be like this. Some men prefer a more understated approach to body art, choosing a basic but still meaningful tattoo design. If you opt for a simple tattoo, the focus is on the shapes and lines. These pieces often have minimal shading and work best in classic black ink.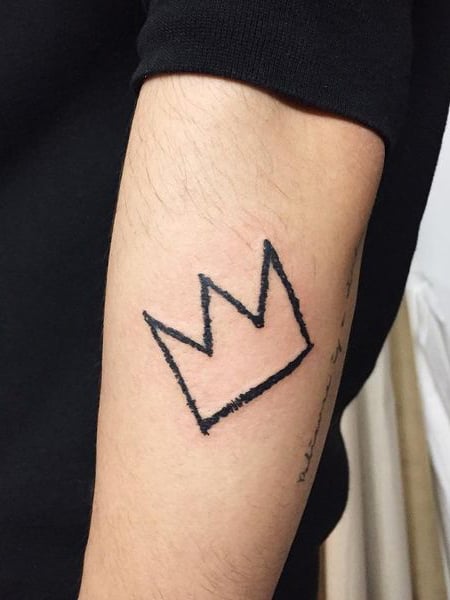 8. Rolex Crown Tattoo
Rolex is one of the most well-known wristwatch manufacturers in the world, and for a good reason. It is a company that is celebrated for its outstanding quality, luxury pieces, and the same ideas translate into tattoo form. The company's crown logo is a popular choice to get inked because it is associated with prestige and success. If you want to remind yourself of the goals you wish to attain in life or strive for material greatness, this is the perfect option for your next body art. With that in mind, it is advisable to get this design somewhere you can see every day!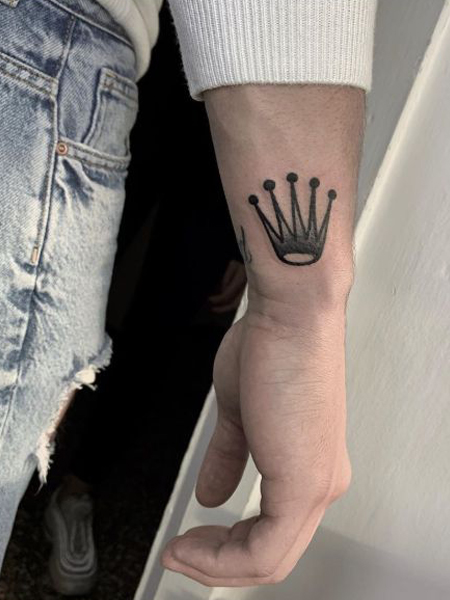 9. Skull and Crown Tattoo
A crown and skull tattoo may not be a combination you would typically think to put together, but it makes for a fantastic tattoo. It is an image often favored by gamblers and is believed to represent good luck. Individuals may choose to include other elements such as poker chips and cards. That said, the meaning is open to interpretation as the crown typically represents power and leadership, and a human skull is associated with strength, protection, and death.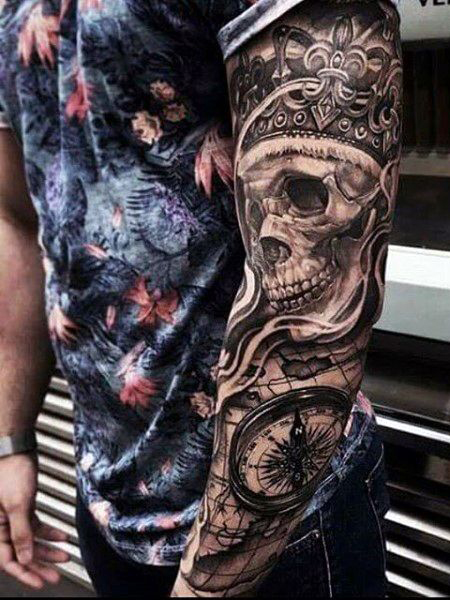 10. Heart with Crown Tattoo
A crown with a heart tattoo is much more than just visually striking; it also has strong symbolism associated with it. The headpiece worn by monarchs is associated with power, triumph, and nobility, but it takes on new meaning when placed over a heart. It can also be traced back to the Irish Claddagh ring. The symbol features two hands, a heart, and a crown, and the direction of the headpiece is important; facing toward your wrist means you're taken. The opposite is true if you are single.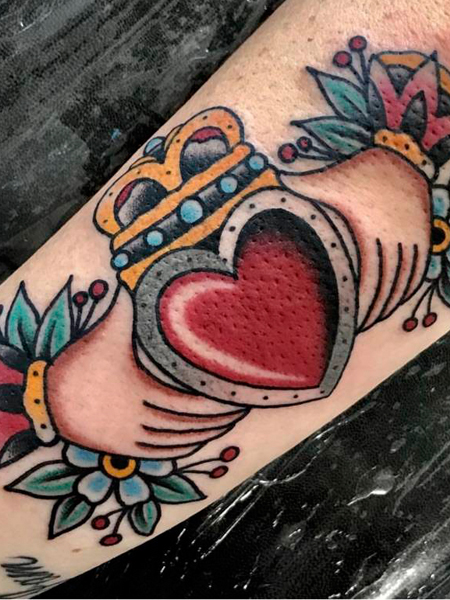 11. Gangster King Crown Tattoo
Some tattoos are popular options to get inked because they look cool, but you should always do your research. The five-point crown design is associated with prison and is related to the gang, the Latin Kings. Unless you have ties to this organization, it is probably best to avoid getting tattooed with this piece! It is believed that the ink represents the gangster lifestyle and the idea of "my crazy life."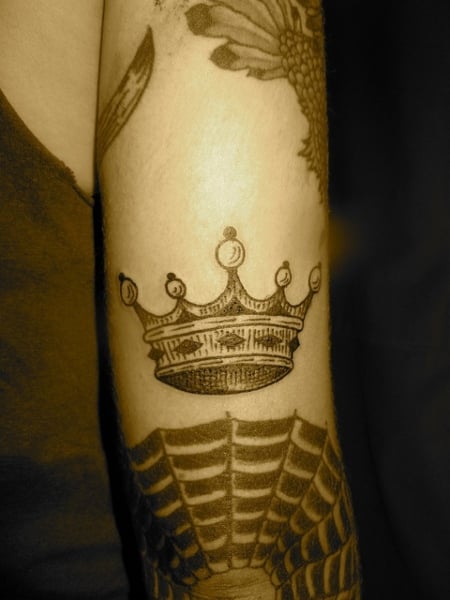 12. Rose with Crown Tattoo
If you want a bold and bright tattoo that is filled with meaning, then the rose tattoo and crown will appeal to you. Of all the flowers to ink, this bloom is perhaps the most common, and for a good reason. It is visually striking and symbolic of the balance between pleasure and pain. There are many different shades to choose from, but the most popular would be red, which represents passion and desire. On the other hand, the crown is linked to victory, power, and self-control. This tattoo should be inked in color to maximize the effect!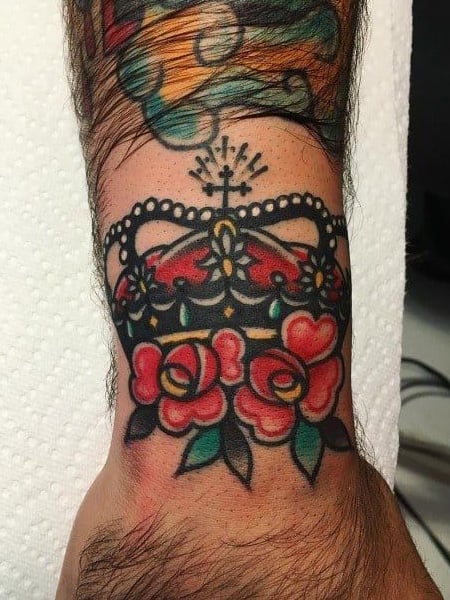 13. Cross and Crown Tattoo
A profoundly religious individual can honor their faith by inking a cross tattoo onto their skin. The symbol is especially significant for Christian beliefs and is associated with Jesus Christ's crucifixion. More than that, it is thought of as his willingness to sacrifice himself to help humanity atone for our sins. When combined with a cross, this is often seen as a religious symbol, depicting the faithful's reward in heaven.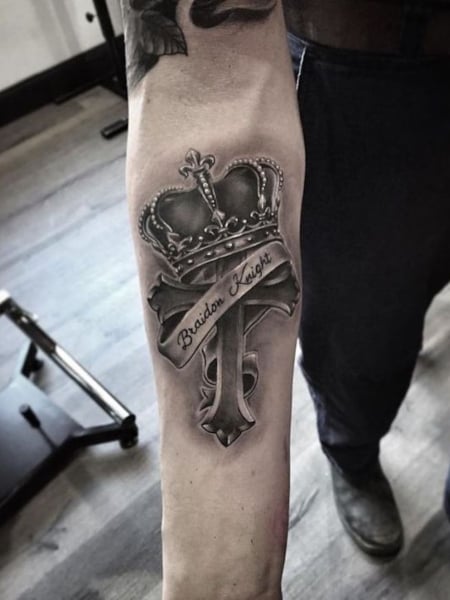 14. Crown with Anchor Tattoo
No one said you had to be a sailor to find an anchor tattoo fascinating, and it is one of the most popular symbols for men to get inked. The purpose of the heavy metal device is to keep ships in place so that it does not drift in the current, and therefore it is often associated with stability and grounding. Men who want to keep focused during a hard time in their life may find this design appealing as it serves as a reminder that better times are ahead. In combination with a crown, it could be a nod to an individual's love for the sea.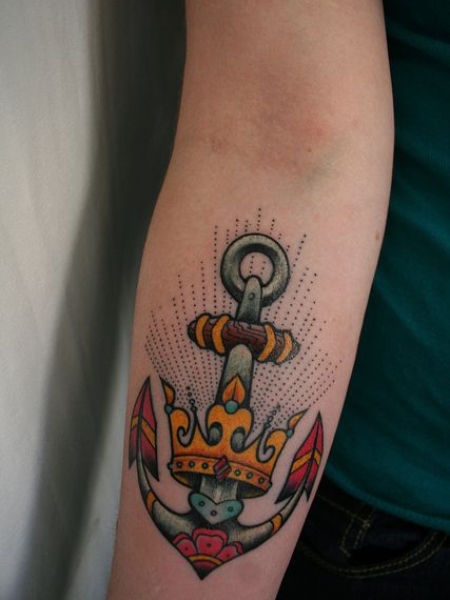 15. Crown and Feather Tattoo
The feather is rich in symbolism and has different meanings. Many of us wish we could fly and travel to places that are often beyond our reach, which is why the feather is such a powerful symbol. It has various interpretations but is commonly linked to freedom and beauty. On the other hand, the crown is associated with power and glory, making combining these two elements an interesting one. Your chosen crown and feather tattoo would look fantastic in colored ink, making it a bold and striking option that cannot be missed.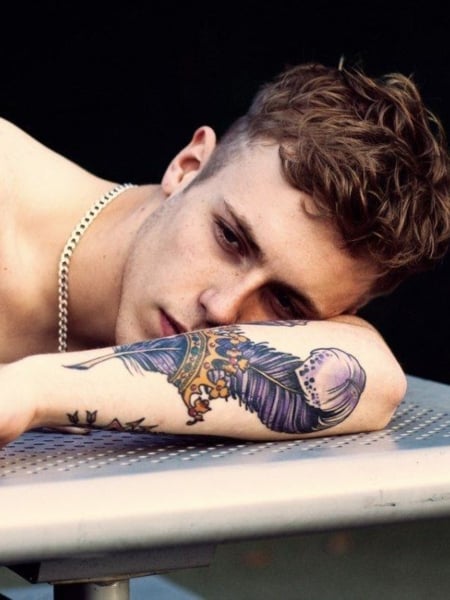 16. Crown Finger Tattoo
Do you want to get inked with something meaningful but simple? Finger tattoos are a trendy and much-loved choice. You may have to get your chosen design touched up in a few years, though, because the ink tends to fade fast on the finger. The reason is because of the exposure to the elements, but also because of how frequently we use hands. Still, if you don't mind having to go back to the tattoo studio to make your piece crisp and clear again, it is a fantastic spot for ink that is small but super cool!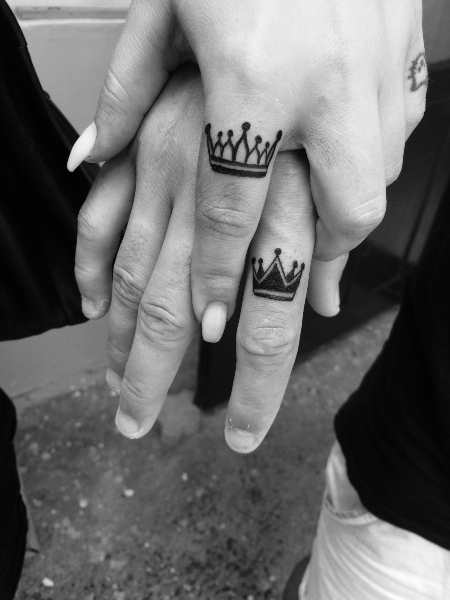 17. Crown Neck Tattoo
The attitude towards tattoos is changing, and body art is becoming more acceptable in mainstream society. That said, some placement options still tend to raise eyebrows, and the neck is one of them. This spot has been typically reserved for tough guys and delinquents, but it doesn't have to be. The location makes a statement, and you don't get tattooed here if you don't want to be noticed. A neck tattoo is more painful to get inked, so choose your design wisely because it should be worth the discomfort.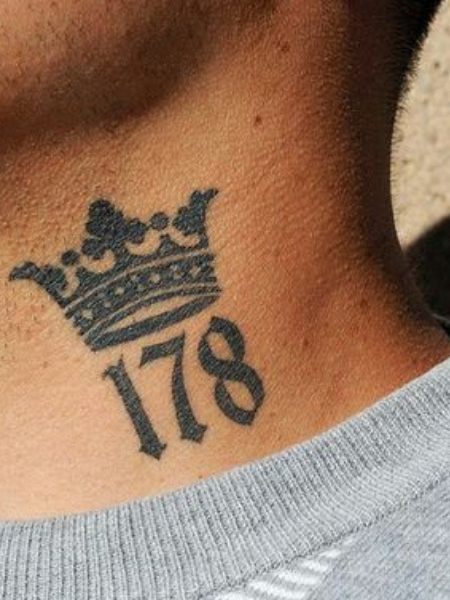 18. Crown Tattoo on the Wrist
Why not get a crown tattoo somewhere you can see it every day? The reason wrist tattoos are so great is because of their visibility. The area allows the wearer to see their chosen design whenever they want, and they are also able to show it off. The location works best with small designs, but these can still be bold and detailed if you wish. That said, it is worth remembering that the thin skin and lack of muscle on the wrist may cause some discomfort when getting inked.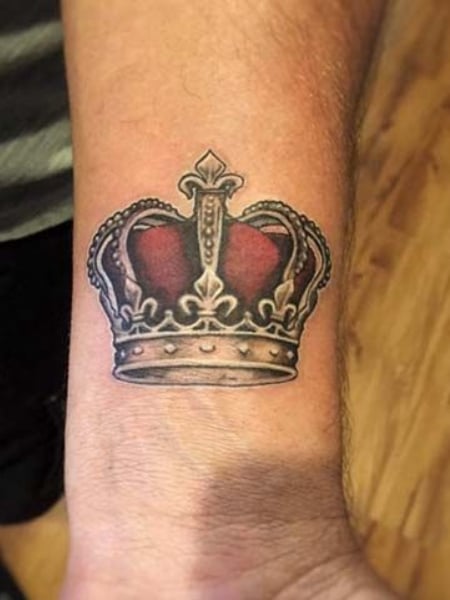 19. Crown Chest Tattoo
If you value leadership and authority and are driven by the thought of success and power, then a crown tattoo is the perfect choice for you. Your chosen ink's location is just as important as the design, and if you want to get tattooed with something meaningful to you, why not get it done close to your heart. This is why chest tattoos are such great options for symbolic and personal body art. Despite all the pros of the placement, there is a downside, and that is the pain. The area is considered one of the most uncomfortable for a tattoo because it has little fat and is close to bone proximity.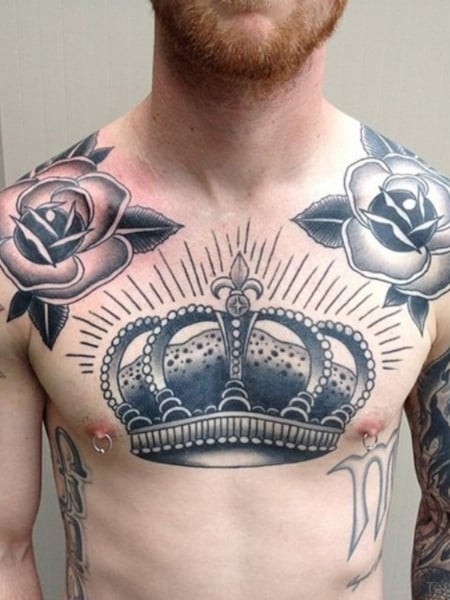 20. Crown Tattoo on the Shoulder
Do you want a tattoo that you can show off whenever you want but also cover up? The shoulder is a fantastic option for body art because of its visibility and versatility, but it also allows men who work at corporate jobs to keep their designs hidden. Traditionally, it was a spot favored by sailors, who proudly displayed their chosen ink at the top of their arms. It is now a popular location for modern men to get inked. Another pro about this area is that it has thick skin and few nerve-endings, making it one of the least uncomfortable tattoo spots.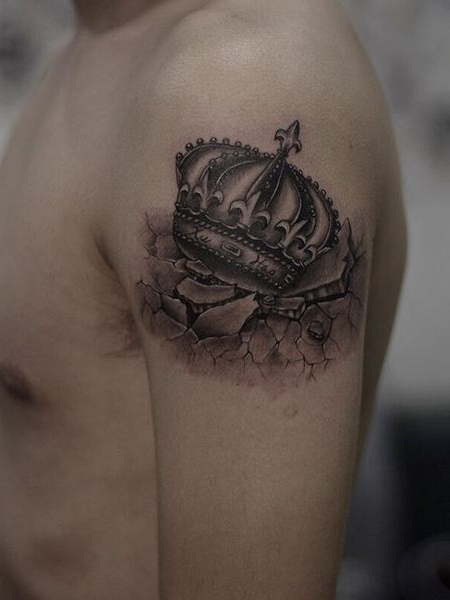 Crown Tattoos FAQs
What does the tattoo of a crown mean?
A crown tattoo has powerful symbolism and is often associated with victory, triumph, and strength. There are many variations and designs, each with their unique interpretation.
What does a crown tattoo on a girl mean?
Although crown tattoos can be symbols of power, there are also negative associations with the design. It is believed that many young women who are trafficked are branded with a crown, which may include the name of the man who has procured them.
What does a small crown tattoo mean?
The size of your chosen tattoo does not affect the meaning, but it does allow for more versatility in terms of placement. Tiny ink is appealing because it can be tattooed anywhere on the body, including the finger or the neck.
What does a crown symbolize?
A crown is an object worn by the monarchy. Men and women who like the idea of being a ruler, such as a king or queen, and the power that comes with this position, will be drawn to a crown tattoo.
What does a three-point crown mean?
A three-point crown is linked to artist Jean-Michel Basquiat, and his motif has been featured heavily in his work. It is also worth noting that a five-point crown is related to the gang, Latin Kings. It is wise to think about your design carefully to avoid making a mistake such as this.
What does the crown symbolize in the Bible?
The Bible is filled with crown symbolism. The faithful believe that the head adornment refers to heaven, a reward they will receive after a dedicated life on earth. Jesus Christ was also crucified, wearing a crown of thorns, which represents his sacrifice for humankind.
SUBSCRIBE TO OUR NEWSLETTER
Subscribe to our mailing list and get interesting stuff and updates to your email inbox.