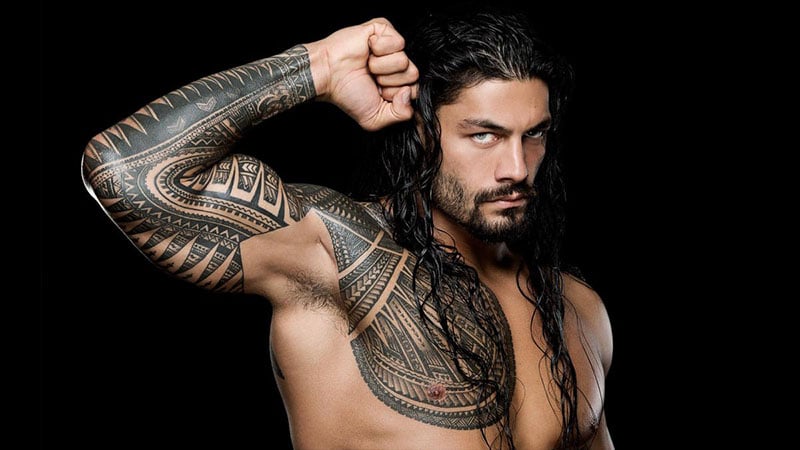 When getting an arm tattoo, go big or go home. These designs aren't for the faint-hearted, but they will surely make an impact. A full sleeve is an excellent option for those who want to paint an entire masterpiece on their arms. If you're not sure what piece is best for you, check out these ink-redible sleeve tattoo ideas for men.
RELATED: 55 Best Arm Tattoo for Men
RELATED: 60 Best Half Sleeve Tattoo for Men

1. Half Sleeve Tattoo
You don't have to go all the way up your arm to wow a crowd. A half sleeve tattoo is an ideal option for those who wish to conceal the artwork for the office or a formal event but aren't afraid to let it out when the time is right. Choose the upper half of your arm for easy concealing access or the bottom half if you'd prefer the design to creep onto your hand and fingers.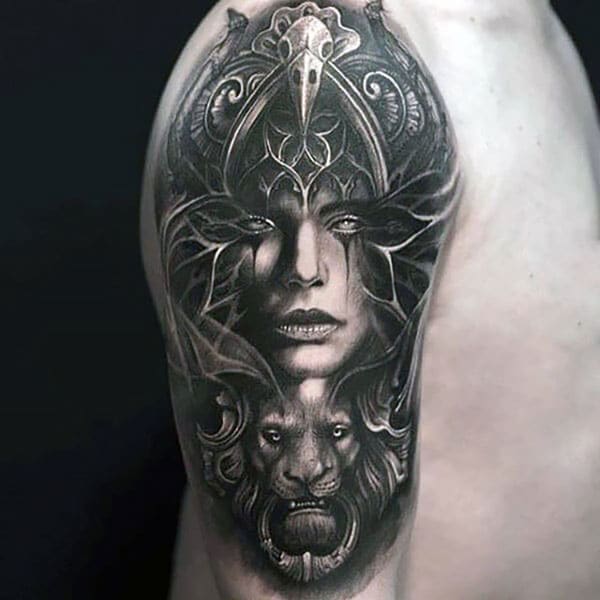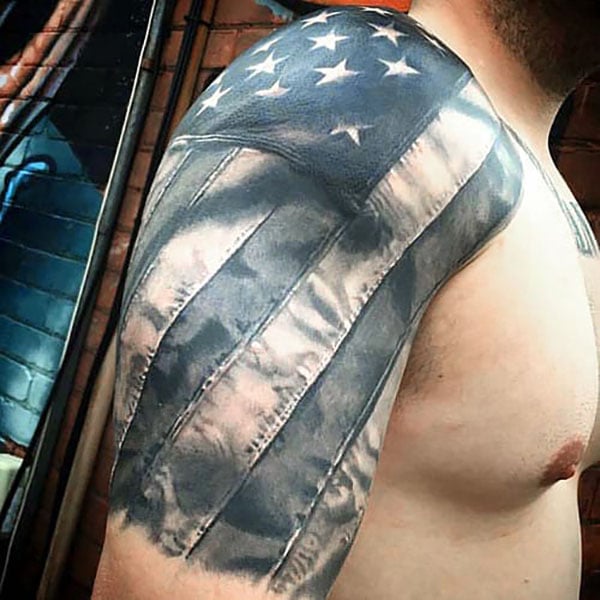 2. Full Sleeve Tattoo
You can't go wrong with a full sleeve tattoo. From Japanese tattoo designs to something black and white, there are so many options to choose from. This is also an excellent choice for those who want to work their illustration on their back. Let your personality shine through on your skin, and keep a piece of artwork on you at all times.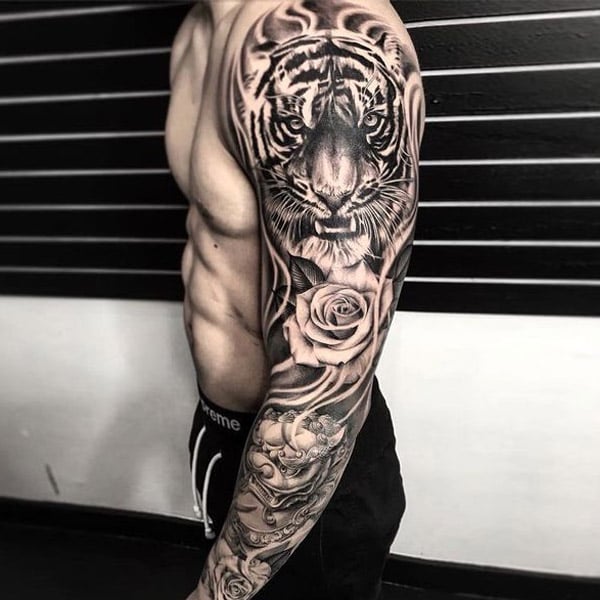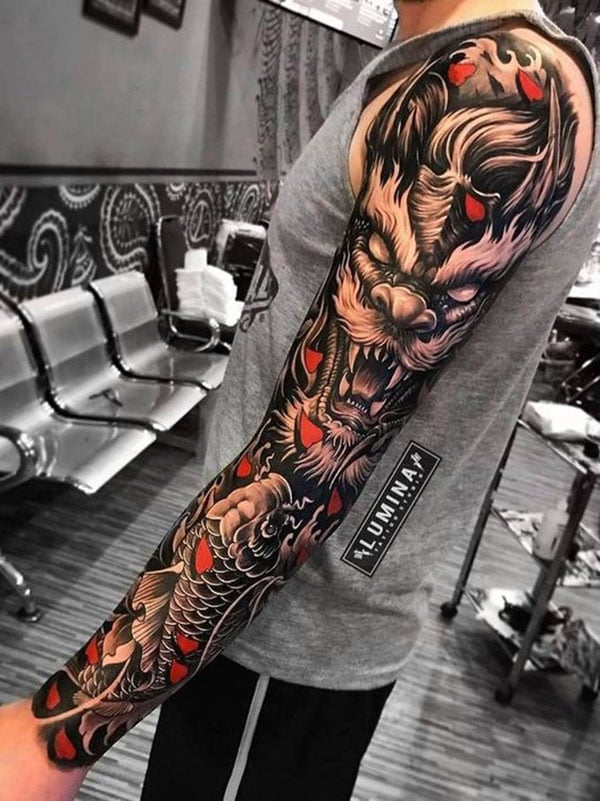 3. Skull Sleeve Tattoo
Keep it creepy and cool all at once with a skull sleeve tattoo. These are available in a myriad of skull tattoo designs, so you can find the one that best suits you and your style. Whether you choose to go all out and recreate a realistic skeleton cascading down your arm or you'd prefer something subtle, you're sure to keep heads turning!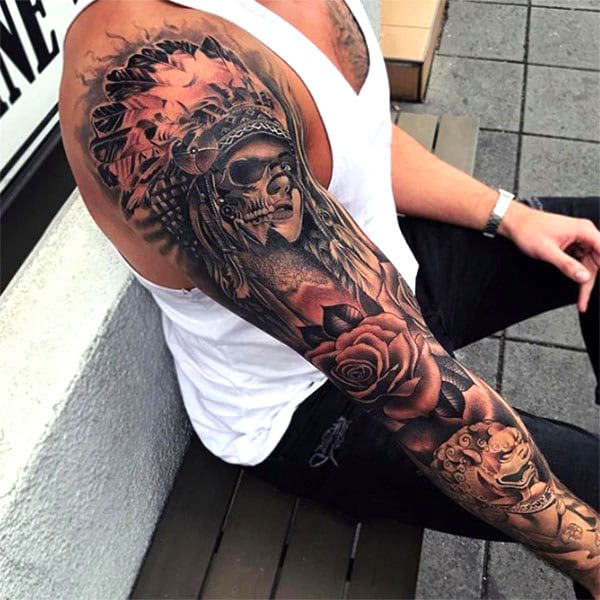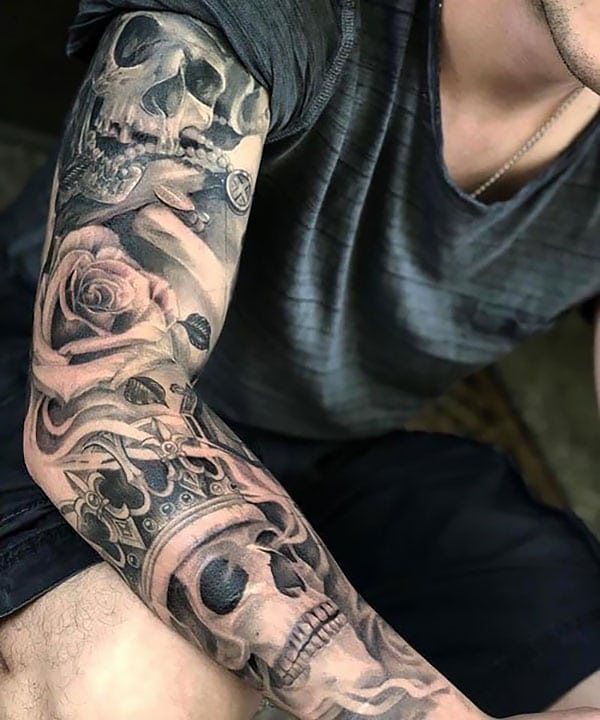 4. Tribal Sleeve Tattoo
Let your pride in your heritage shine through with a tribal tattoo. These designs are intricate, powerful, and awe-inspiring, so how could you go past it? For the ultimate reflection of the culture, be sure to find an artist who specializes in the area; that way, you'll have a piece that's worth showing off!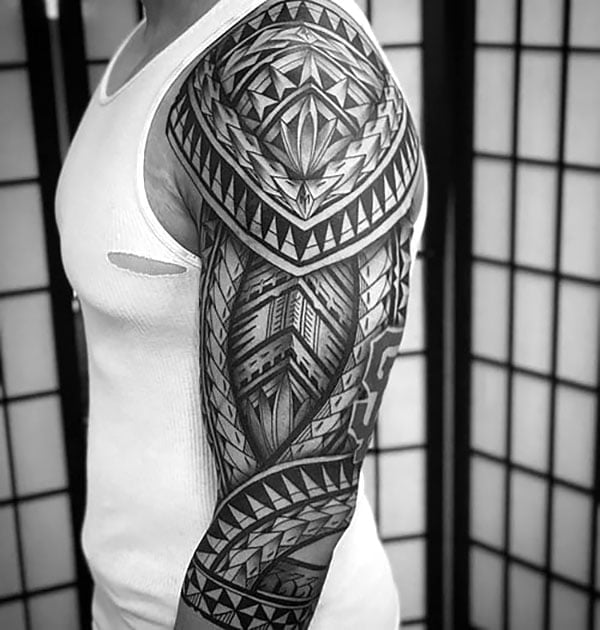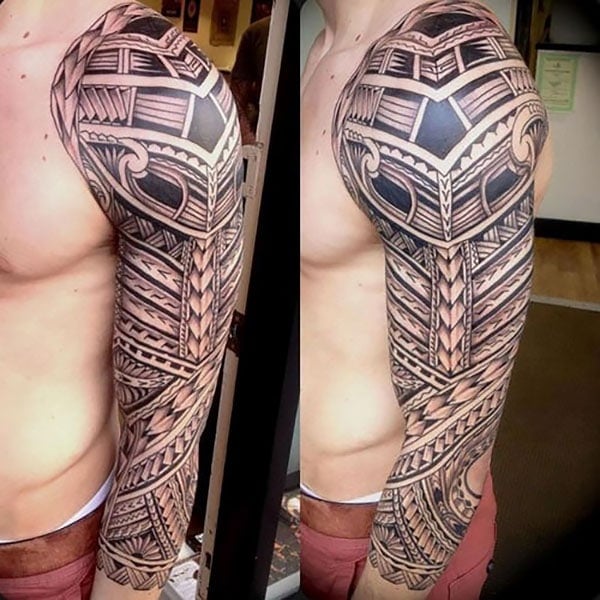 5. Jesus Sleeve Tattoo
Show your love and faith with this Jesus sleeve. Dedicated to the entire arm, this design is compelling and beautiful. You can choose to feature Jesus as the piece's focal point or alongside other significant tattoos; you can't go wrong with something as breathtaking as this.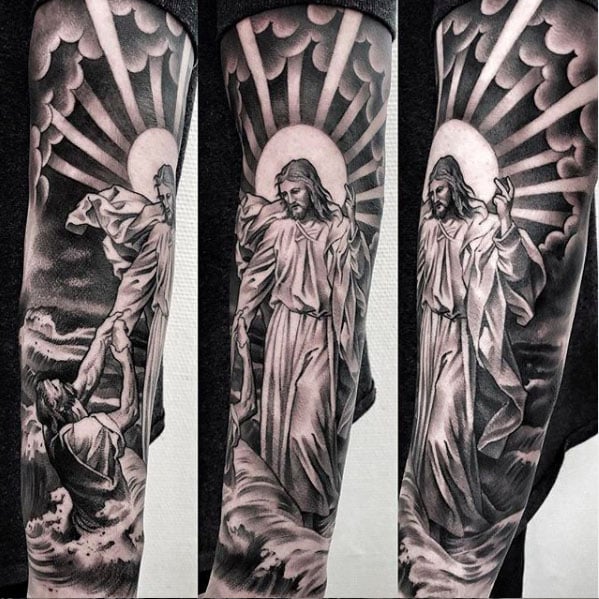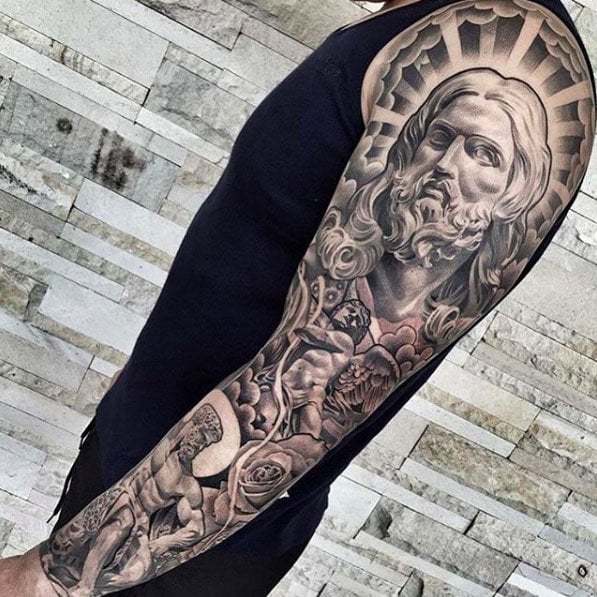 6. 3D Sleeve Tattoo
Is that a drawing or real life? That's what everyone will be asking when they see these 3D tattoo designs. Choose a hyper-realistic portrait of a loved one or something abstract, or opt for biomechanics design. These tattoos look amazing when done correctly, so be sure you find a reputable artist who knows exactly how to master this tricky artwork.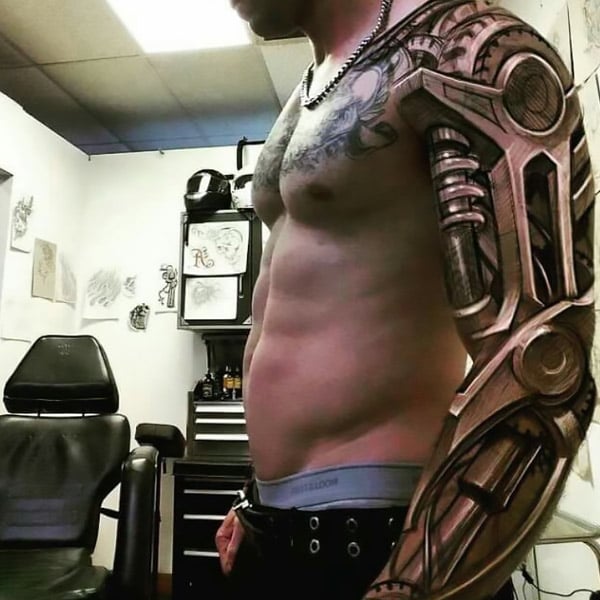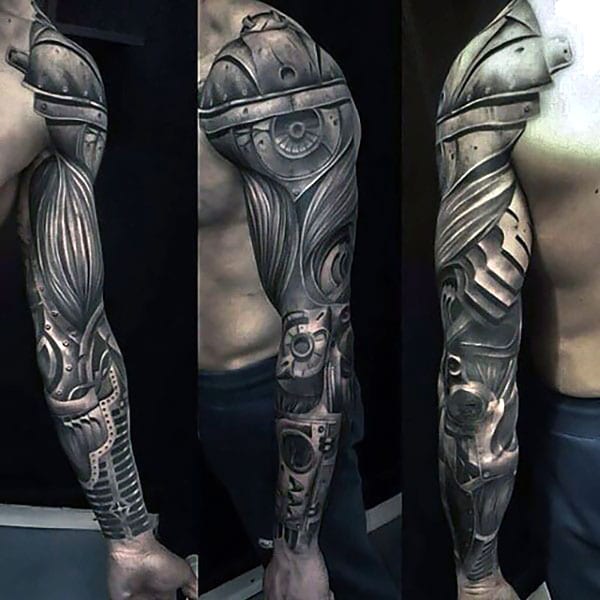 7. Celtic Sleeve Tattoo
Show your love for the Celts with a cool Celtic tattoo design. These designs are a timeless option with a traditional intertwined pattern or a soldier. Typically Celtic artwork features a myriad of knots and patterns; they're easy to recognize and worth every penny. Direction like this allows you to get creative, so don't be afraid to get intricate!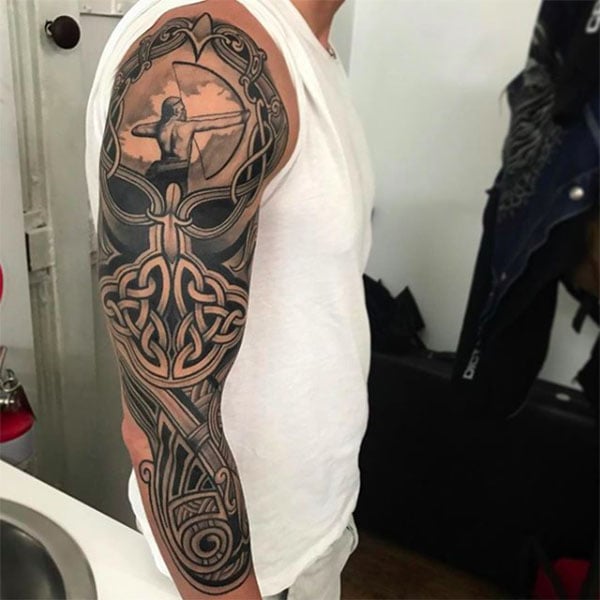 8. Dragon Sleeve Tattoo
Feel like Daenerys and be the mother of these dragon tattoos. From Japanese-style designs to something medieval, there are so many options to choose from; you'll want to get them all. You can fill the piece in with color, making the entire artwork pop. But if you'd prefer something monochromatic, you can opt for a black ink form to blend with the rest of your sleeve. No matter how you wish to style this, you'll always have one of the strongest and bravest mythical creatures with you.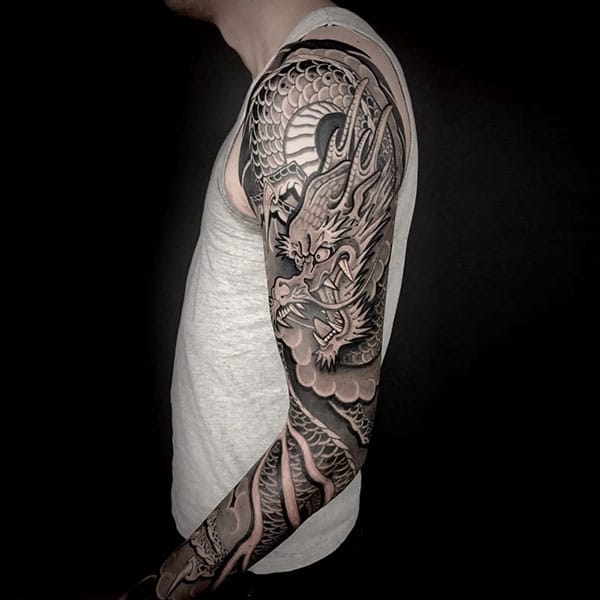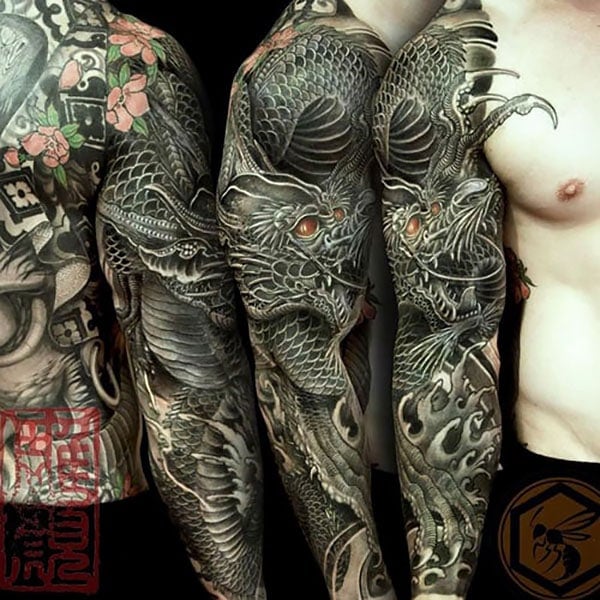 9. Viking Sleeve Tattoo
Feel the Norse blood rush through your veins with the help of this sleeve. One of the most fierce soldiers of all time, the Vikings, make the perfect design option for strong and brave men. Pair the portrait with other Germanic designs, such as mythological characters, skulls, and sailing motifs. These Viking tattoos look best as a full sleeve, so don't be afraid to go all out!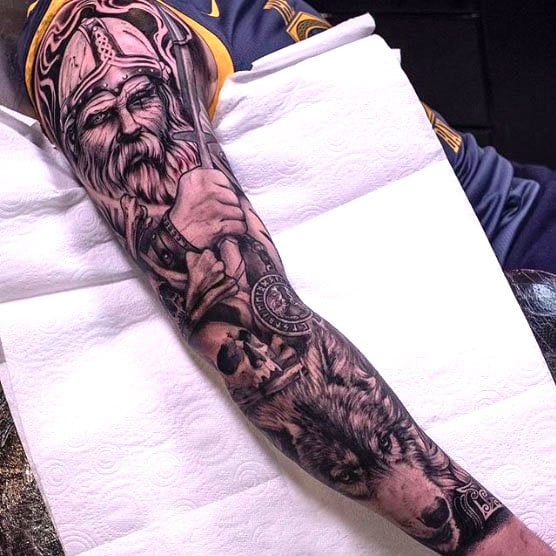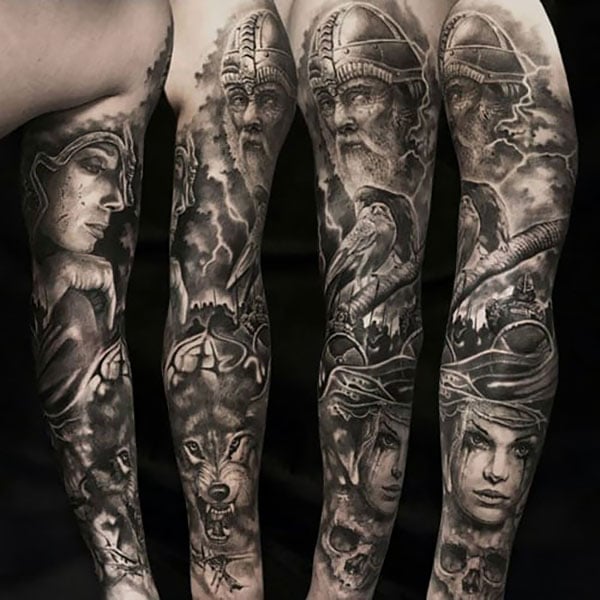 10. Half Sleeve With Quote
Tattoos look best when they feature something meaningful. If you'd prefer to have a half sleeve tattoo design, why not compliment the artwork with a quote tattoo that resonates with you? Whether it be the name of a loved one or a favorite saying, these scripted pieces are sure to make an impact and keep you feeling grounded, no matter what.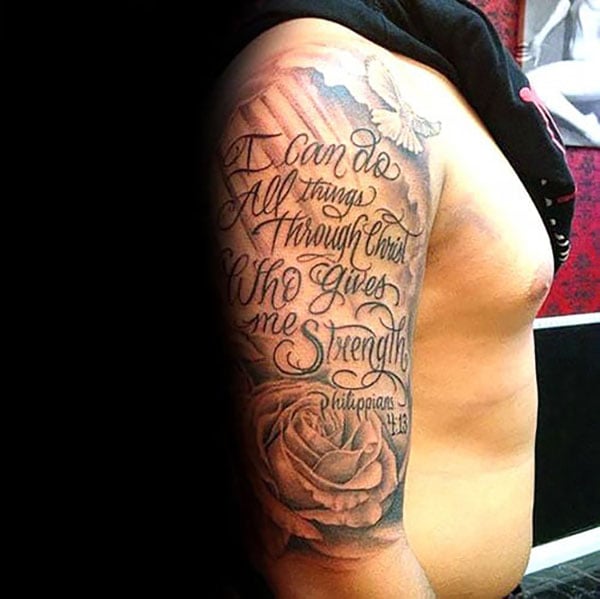 11. Clock Sleeve Tattoo
It's time to get one of these clock tattoos. Whether you need to learn how to spend your minutes more wisely or you don't want to miss a second, these sleeve designs have a personal meaning behind them. Go old school with a stopwatch, or head into the digital age with something a little bit futuristic. Whatever you choose, you can't stop the clock, but you can ink it on your skin.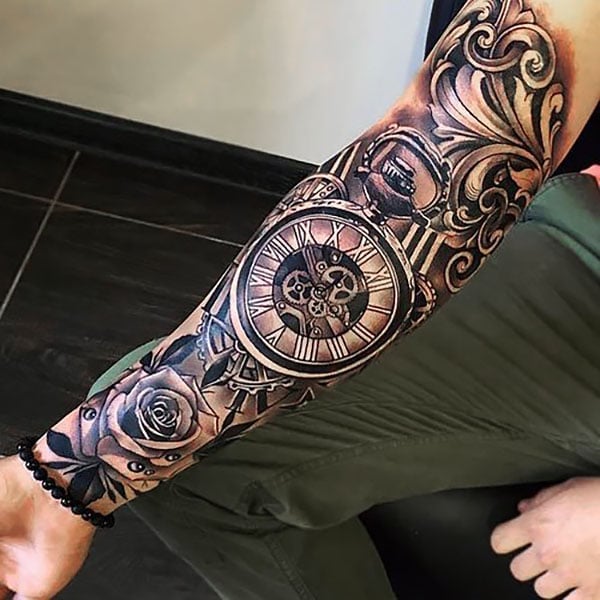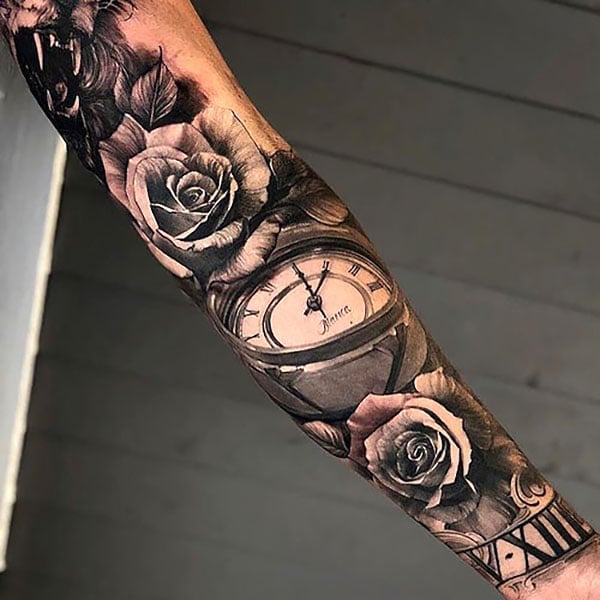 12. Wolf Sleeve Tattoo
Made for those who are wild at heart, these wolf tattoos can help you unleash your inner beast. Be strong, determined, and ready for action; this design looks terrific when done correctly. Be sure to find an artist that is familiar with inking animals. The perfect finishing element is fur that looks 3D and soft enough to touch.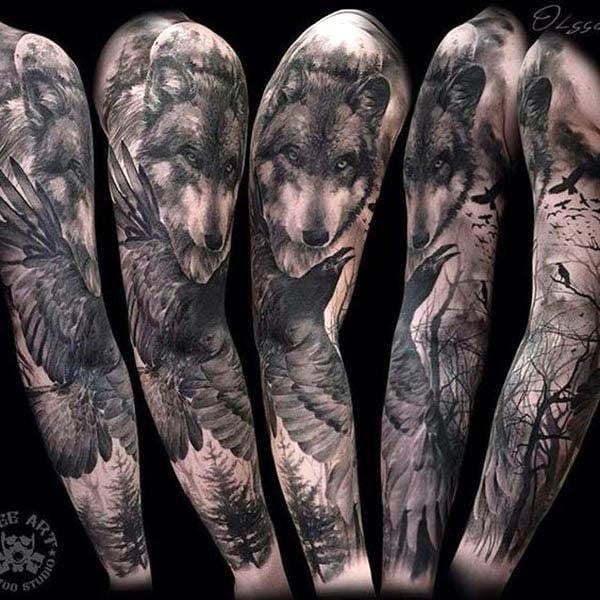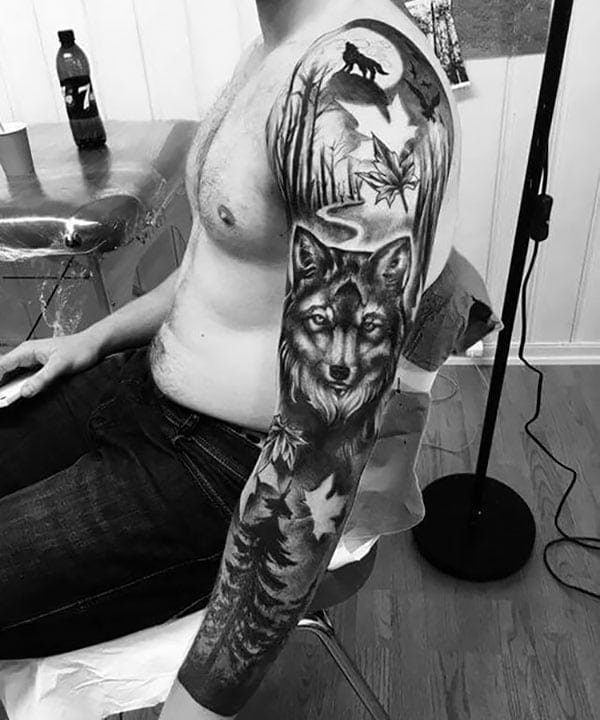 13. Religious Sleeve Tattoo
Be true to your faith with these designs. No matter what you believe, it would look great as a sleeve. You can opt for something simple such as a cross, or you can go all out with a hyper-realistic portrait. These religious tattoo designs make the ultimate statement, and once you have one, you'll want to get the other arm done.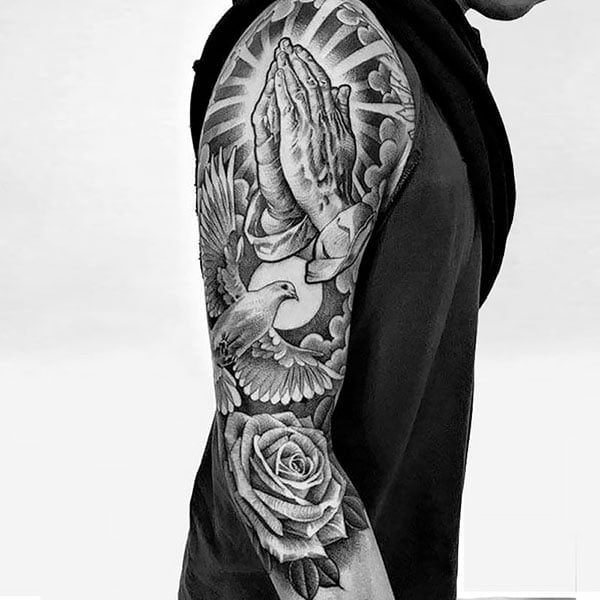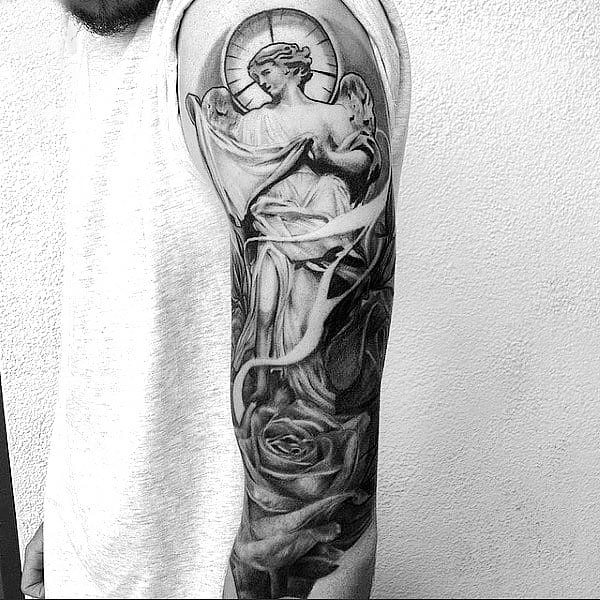 14. Angel Sleeve Tattoo
Angels are a perfect piece to feature on your arm. These represent an age of innocence, purity, and protection; pair them with other divine drawings, and you'll have the ideal sleeve to reflect your faith. Choose a cherub that's asleep, shooting an arrow, or playing the harp. With so many angel tattoo design options, you'll be hard-pressed finding something that's better.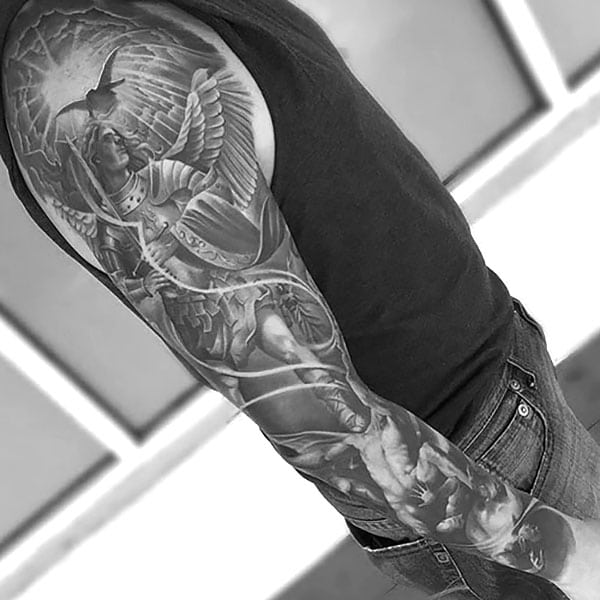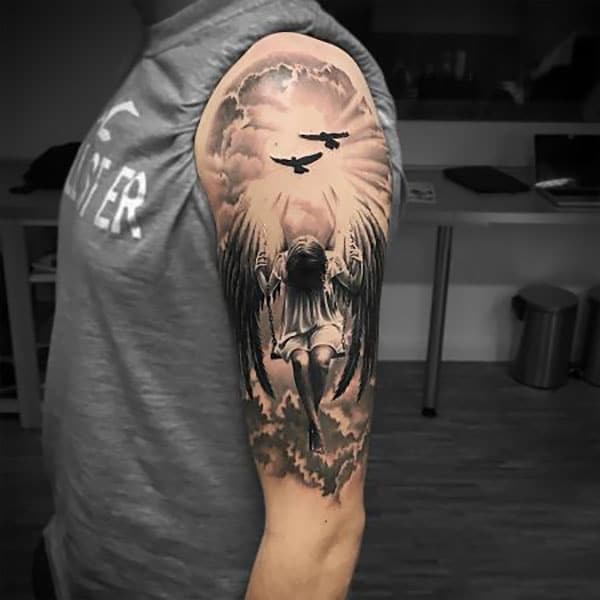 15. Portrait Sleeve Tattoo
Dedicate your arm to someone you admire, a loved one, or an idol with a portrait tattoo. From celebrities to family members, these tattoos can hold a lot of meaning and are worth the time invested in them. Pick an artist well; it's imperative that you find someone who specializes in portraiture; this is a design you don't want to mess up. When done correctly, these designs are jaw-dropping and need showing off.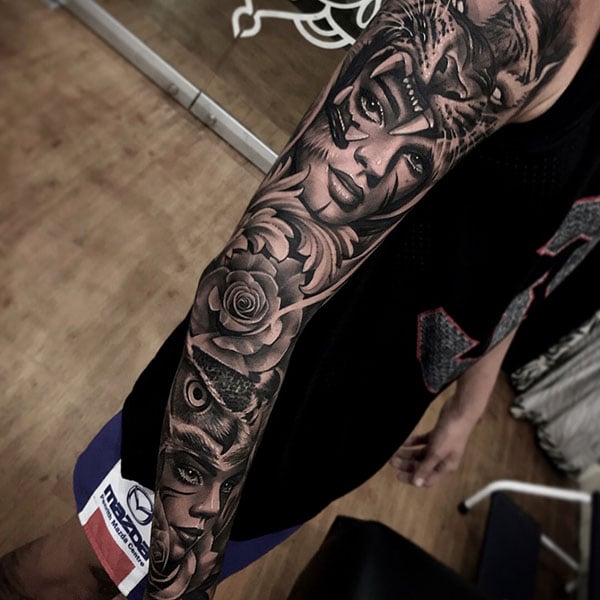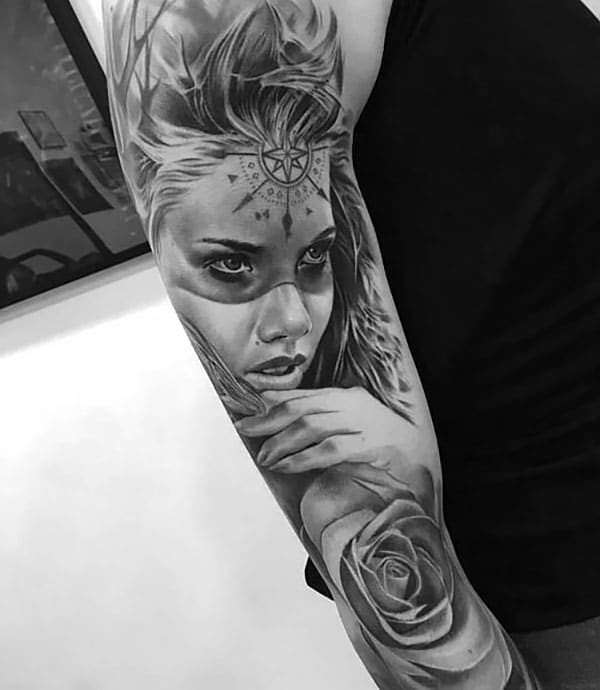 16. Cross Sleeve Tattoo
The cross is a symbol that resonates with faith, so why not showcase your belief with a cross tattoo? Whether portrayed as a simple block design decorated with rosaries or flowers, you can create a unique design that's both badass and respectful. Go all out with a colorful depiction, or keep it graphic with something 3D in black ink. No matter what you choose, this is a timeless piece that blends perfectly with other designs.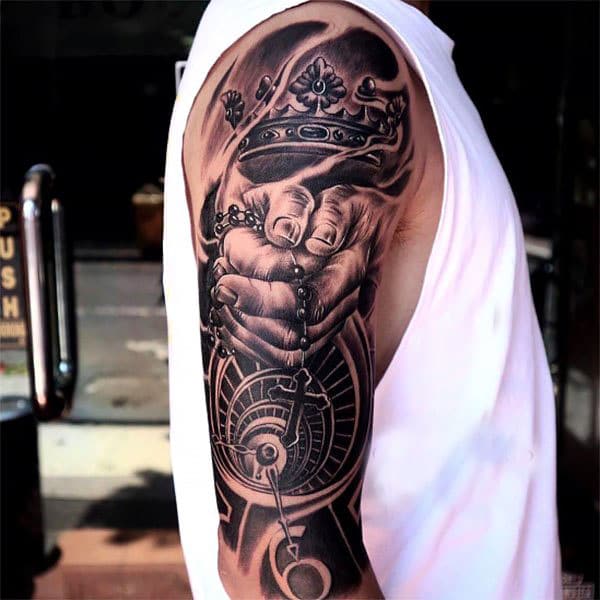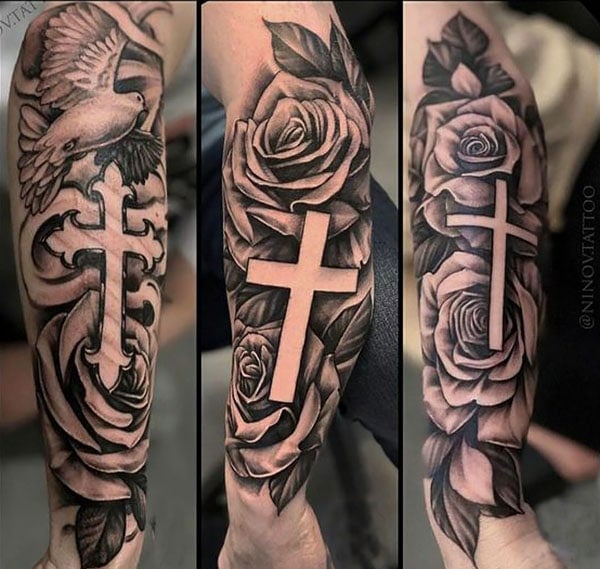 17. Music Sleeve Tattoo
Feel the beat through your skin with this ink. From a single treble clef to a full symphony, let the music in you come out with these fantastic tattoos. Creep a manuscript up the arm and illustrate your favorite instrument, microphone, or DJ turntable with a music tattoo. Whether you'd prefer an oboe or an orchestra, this is a flawless composition for a pitch-perfect sleeve.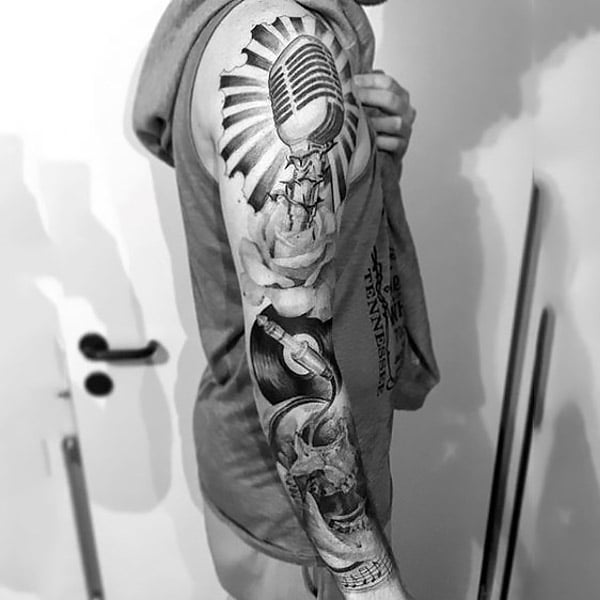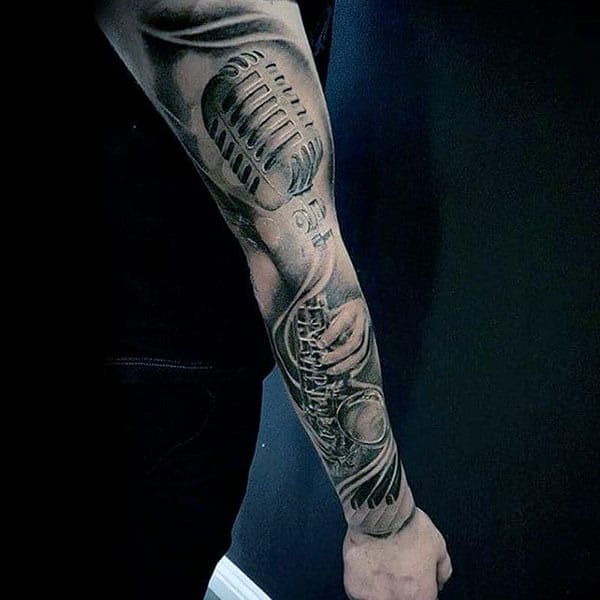 18. 3D Arrow Sleeve Tattoo
Head in the right direction every time with a sleeve arrow tattoo. These designs signify guidance and remind you always to move forward. You can ink a traditional dart on your arm or something geometric. Think outside the box with a 3D tattoo, and add shadow for an ultra-realistic approach or keep it simple for a huge impact. This is a timeless design that's packed with meaning.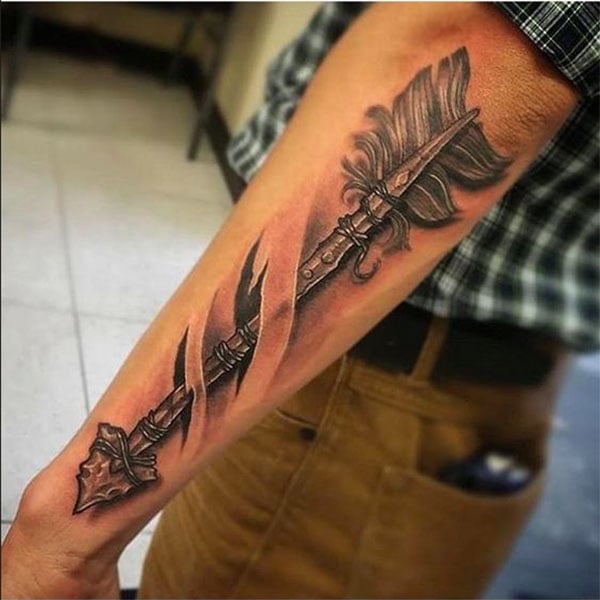 19. Family Sleeve Tattoo
Celebrate your loved ones with a family tattoo. From chosen members to the ones we were born with, families are a part of our lives that offer us support and guidance. Choose to portray them in a realistic portrait or ink their names. This is a touching way to pay respect and honor those who are closest to you and can be the perfect way to keep them with you forever.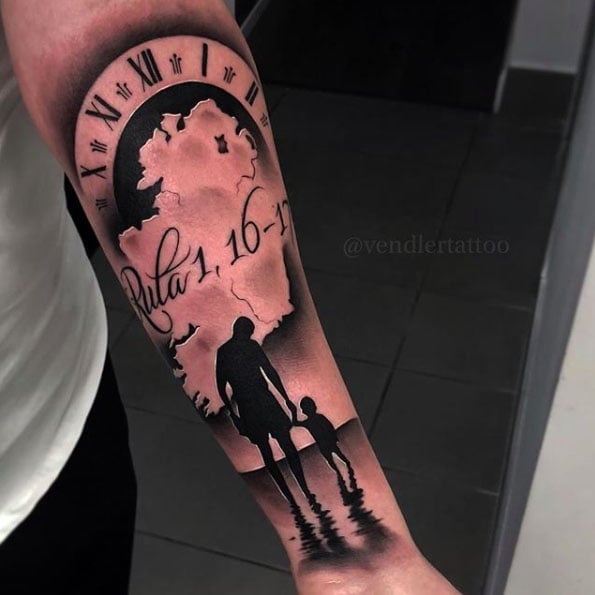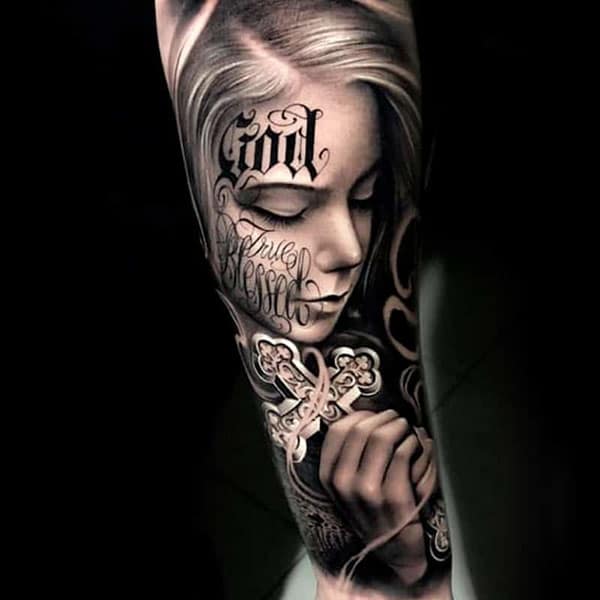 20. Watercolour Sleeve Tattoo
Take things outside of the box with a watercolor tattoo. This is the ultimate way of expressing your personality, so why not go all out with vibrant colors? This sleeve idea gives the impression that you've had splashes painted on your skin. They can look strong and powerful or delicate and intriguing; no matter how you wish to present this fantastic design, you're sure to attract attention.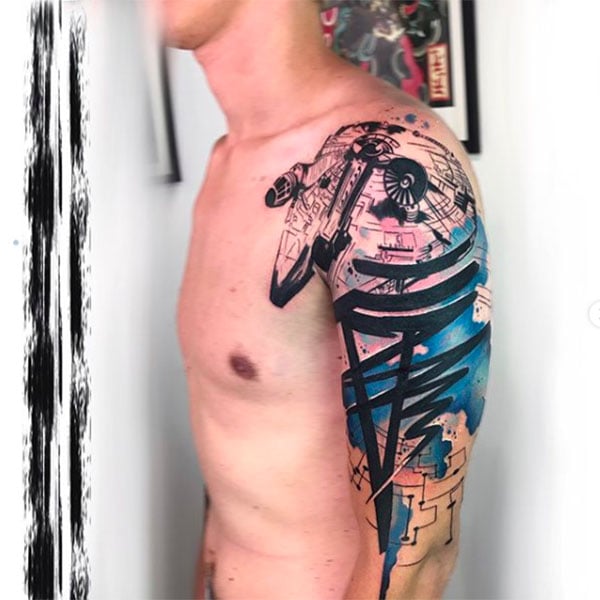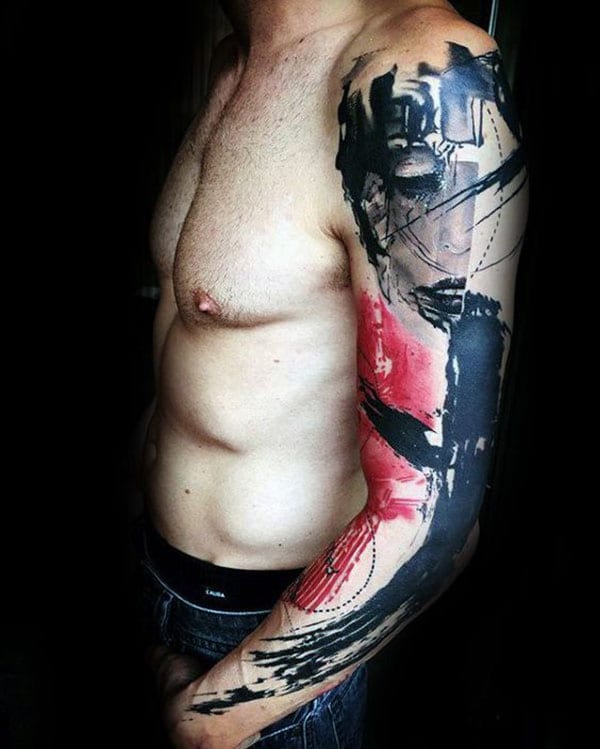 21. Abstract Sleeve Tattoo
Not all tattoos have to have a traditional approach. For artwork that makes you think and let your imagination loose, opt for an abstract sleeve. There are no rules to this design; dig deep into your creative side and let your fantasies out. From shapes and thought-provoking designs to futuristic patterns, you can't go wrong with something out of the ordinary!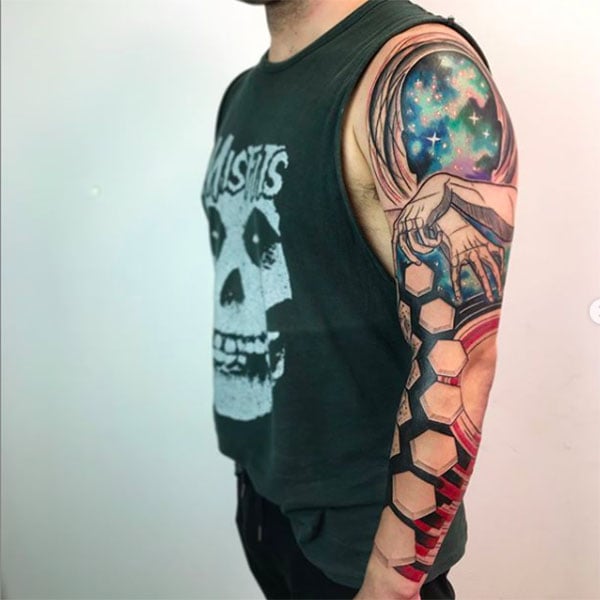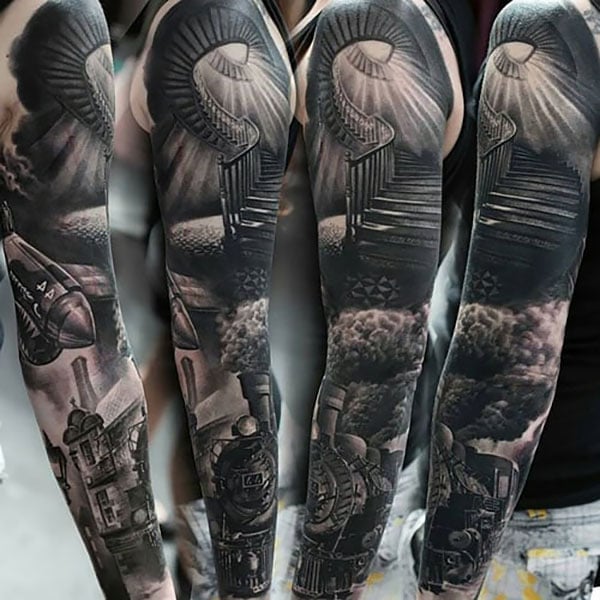 22. Mechanical Sleeve Tattoo
Well-oiled and ready for action, mechanical tattoos are for the working man. Combining steampunk and traditional designs, these pieces signify the past, the present, and the future. Choose from a timepiece or something robotic. You'll be hard-pressed to find someone with a better sleeve than you.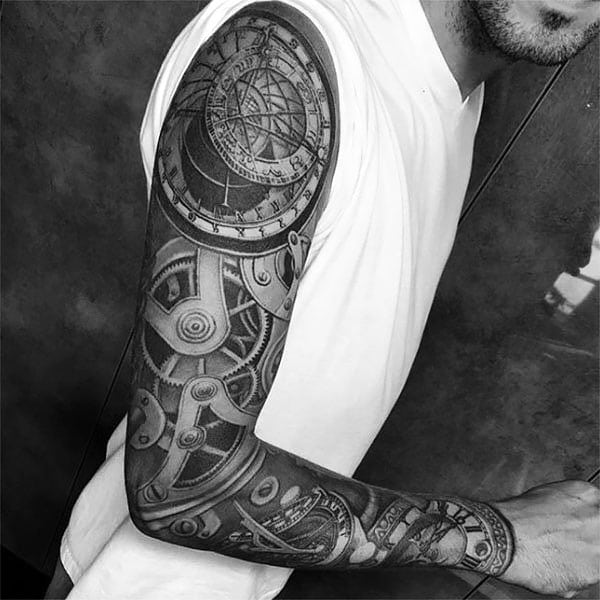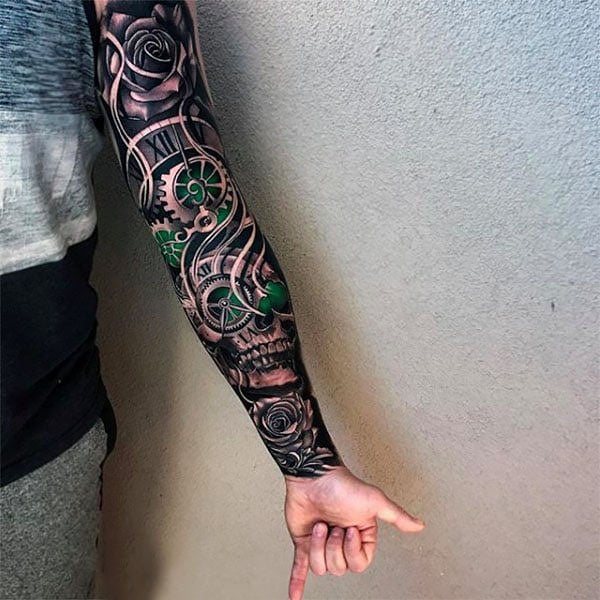 23. Nature Sleeve Tattoo
Get back in touch with Mother Nature with these designs. Flora, fauna, and everything in between make the best artwork, so don't be afraid to set your sights on all things natural. Choose from the traditional rose tattoo or express your love for plant life with a selection of birds, flowers, and other botanical illustrations. These pieces look best with bold colors or in black ink. Whatever you wish to feature, you'll be one with the Earth instantly.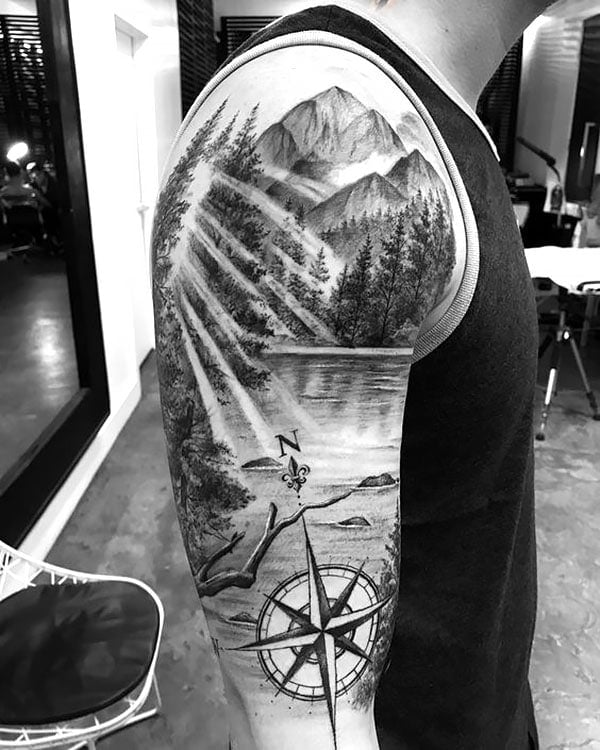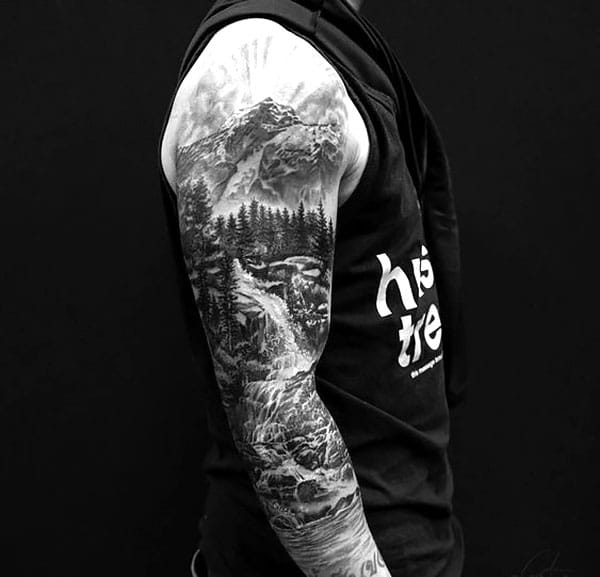 24. Black and White Sleeve Tattoo
Not all ink has to be colorful to make a statement. Black and white sleeves are also an impressive feat to portray on your skin. Bold and sharp, these designs are the best option for people who don't want to touch up their tattoos as often as colored pieces.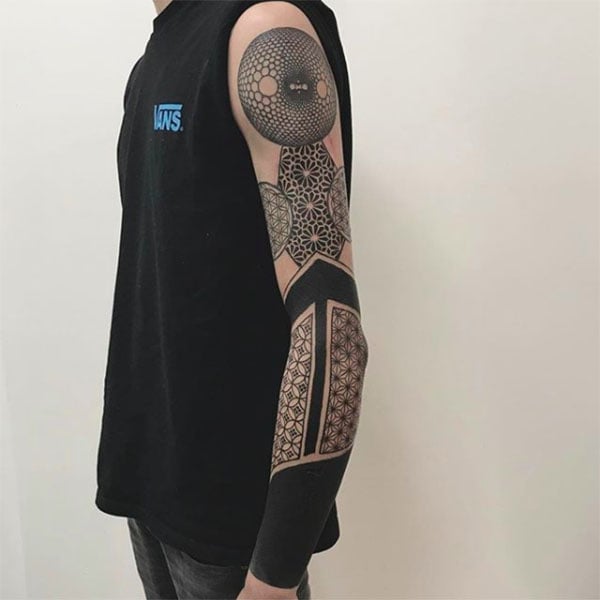 25. Blackout Sleeve Tattoo
Who says there's a rule book when it comes to tattoo designs? Blackout sleeves are the perfect option for those who want to stand out amongst the crowd or who wish to hide their past mistakes. These pieces take a fair amount of time to complete, so be patient as your arm slowly dissolves into pure darkness. This design isn't something to take lightly, so be 100% ready to commit to this intense ink.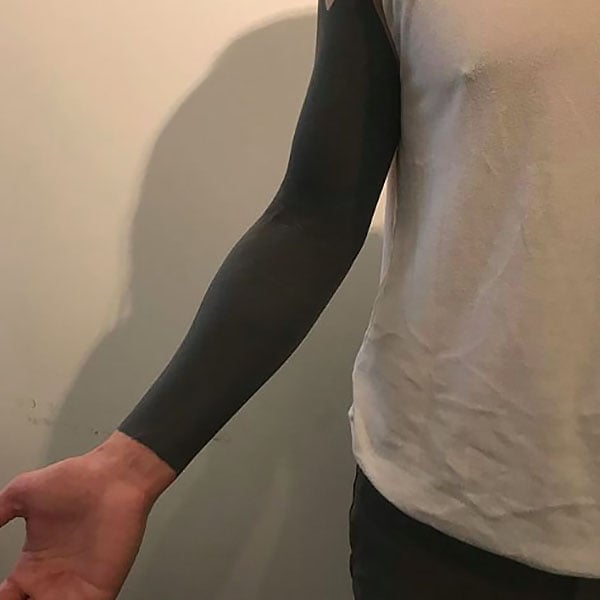 26. Black and Grey Sleeve Tattoo
Sleeves make a statement and can give others a glimpse into your personality. They complement many styles, but black and grey are a favorite because it is more versatile than colored ink. The two colors create a brilliant contrast, giving your artwork a greater depth. It will also not fade as fast and complements most skin tones.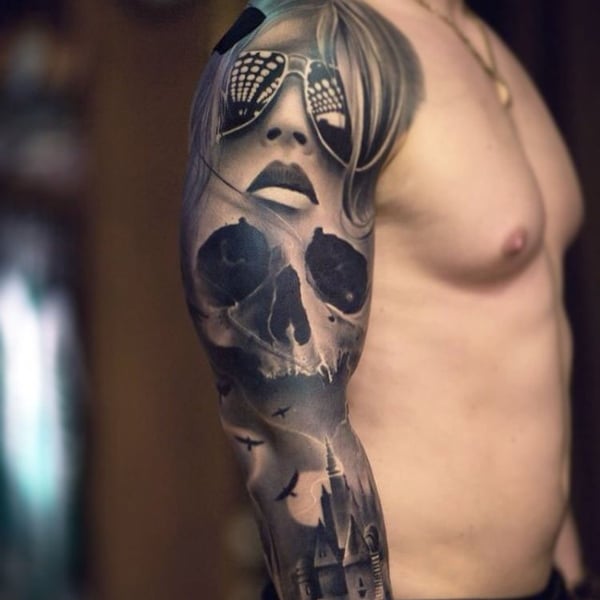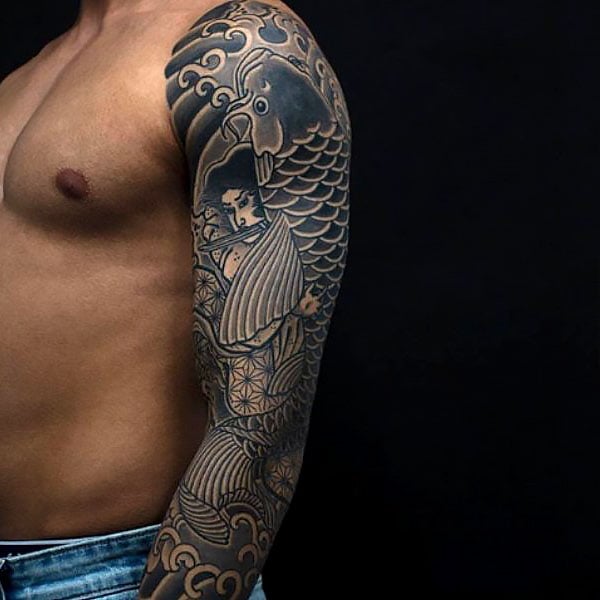 27. Forest Sleeve Tattoo
A forest sleeve tattoo is an excellent way to show appreciation for the natural world. Forests are also symbolic, associated with life, growth, rejuvenation, and mystery. They can make a powerful statement about your thoughts and feelings. The theme is also diverse, letting you add multiple images, including animals and birds, to add to the overall look and meaning.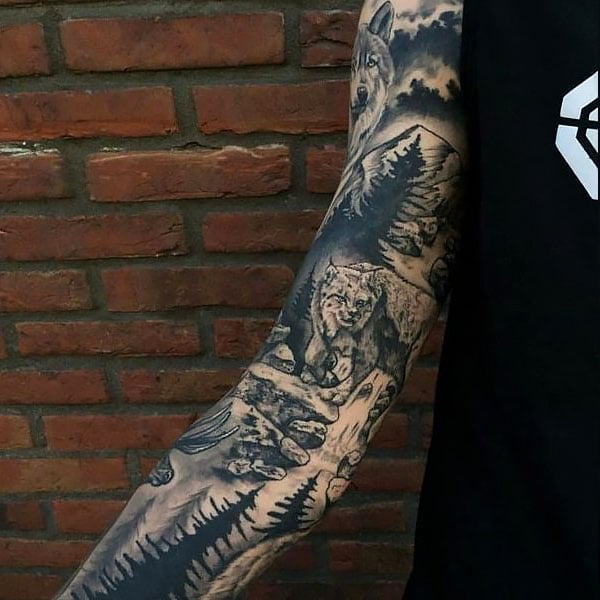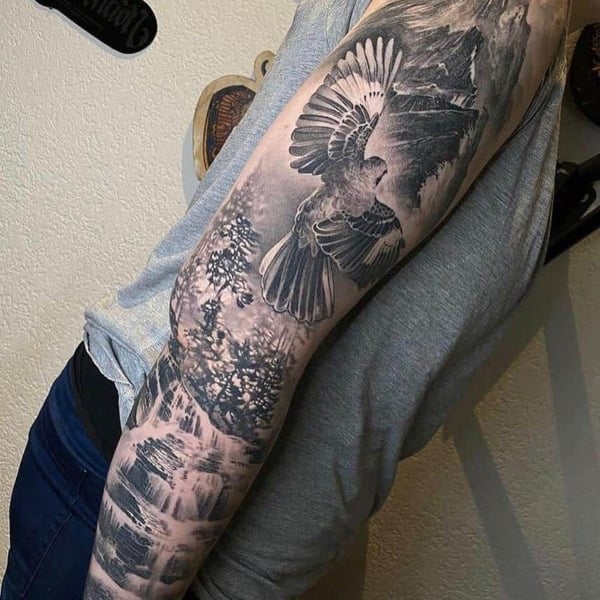 28. Music Sleeve Tattoo
Music inspires us all in different ways. Whether you use it to unwind, celebrate by singing your favorite song at the top of your voice, or are passionate about playing an instrument, we all connect with music. Your music tattoo sleeve is the ideal opportunity to explore this theme and will let you get creative with the artwork, combining musical notation, lyrics, and images of instruments to create a unique and meaningful piece.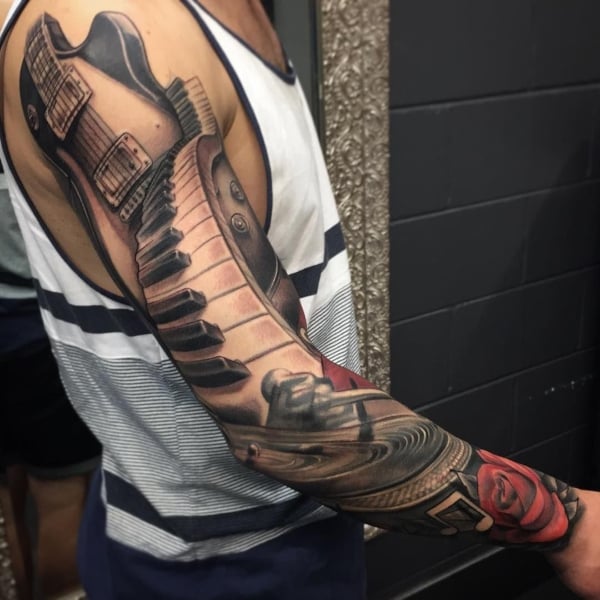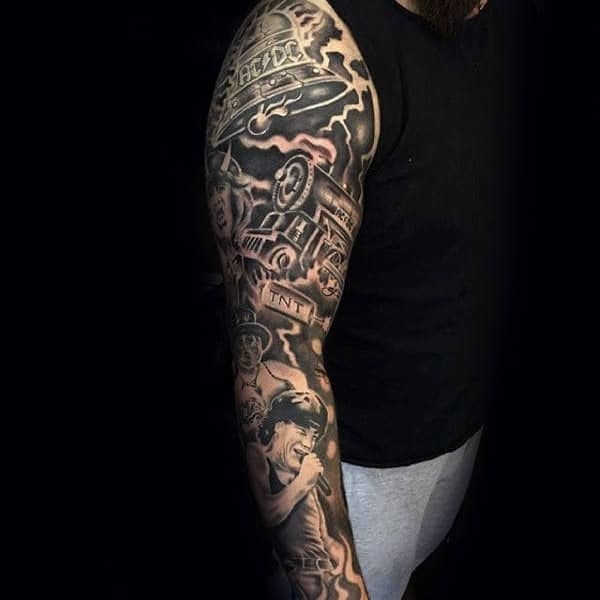 29. Leg Sleeve Tattoo
A sleeve tattoo refers to body art that covers the entire arm, ending at the wrist. This is an excellent option for someone who has a larger design in mind or wants to make a statement with their body art. A leg sleeve is similar, but it covers the entire leg instead of the arm. Many people also choose to get a leg sleeve and a standard sleeve.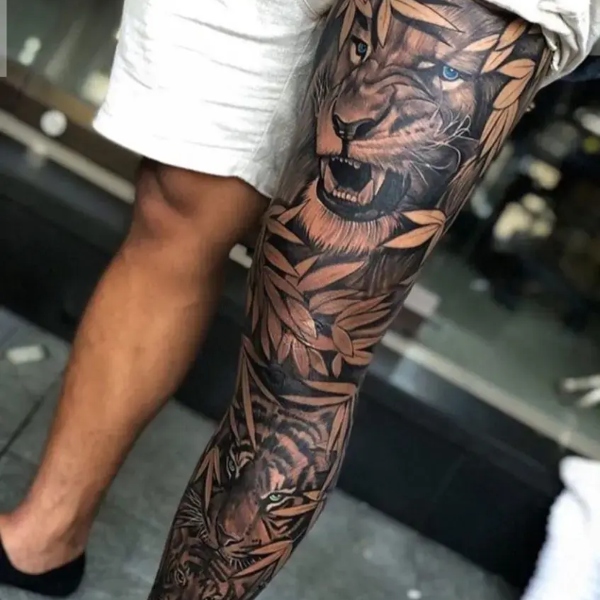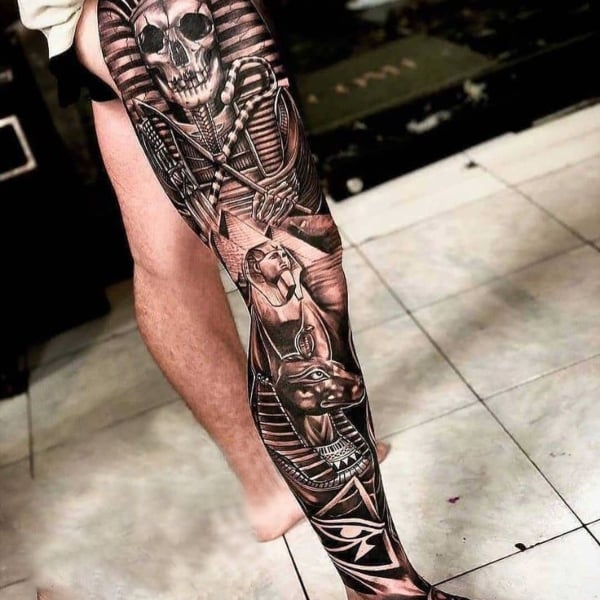 30. Black Sleeve Tattoo
Sleeve tattoos are a creative option that seamlessly blends different images to create a large design that covers the entire arm. Sleeve tattoos give you versatility in how you create them, including the different styles and colors you choose. Black ink is a versatile option and will last longer than brightly colored designs.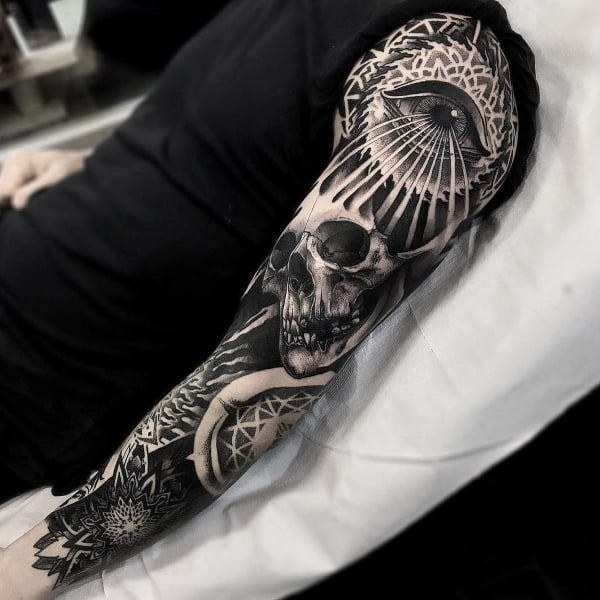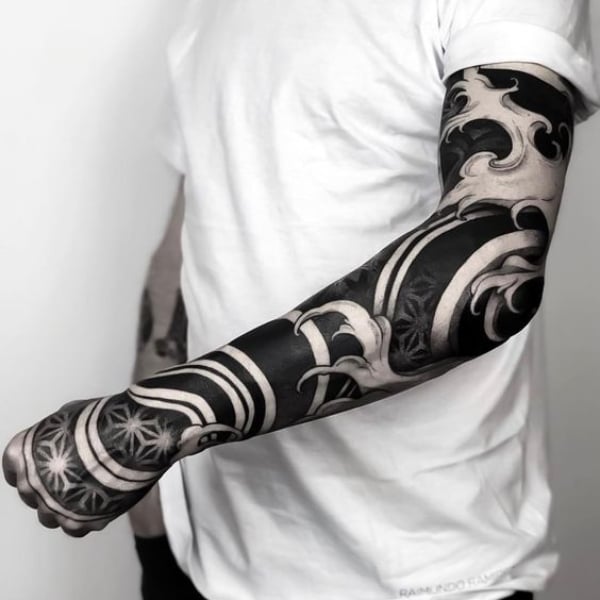 31. Colorful Sleeve Tattoo
Colorful sleeve tattoos will not last as long as black ink, but there is a definite appeal to using color. It allows you to bring your artwork to life and add to its overall meaning. For example, red is associated with passion while yellow represents optimism and joy. Color sleeves fade faster and are often more expensive, but they will let you try out various styles and techniques.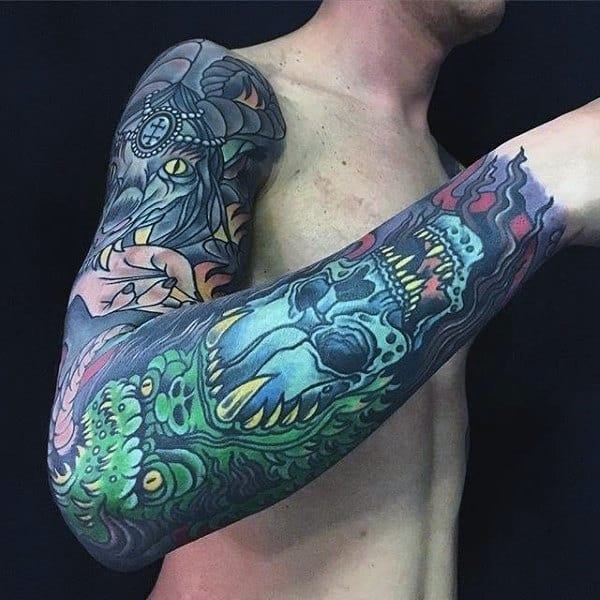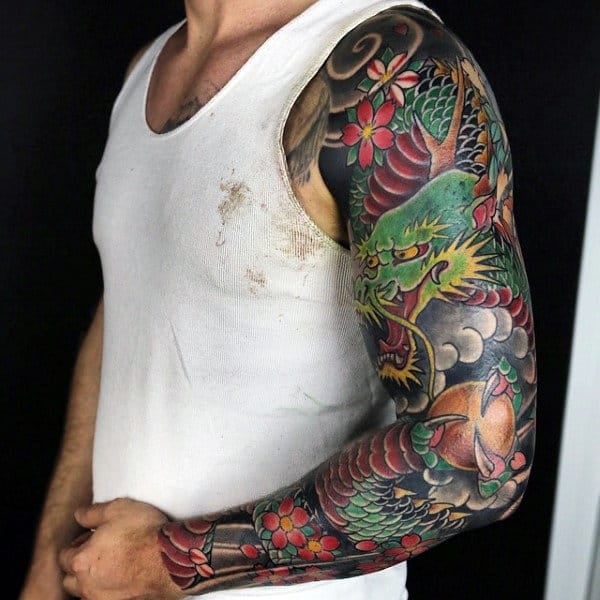 32. Mandala Sleeve Tattoo
Mandala tattoos are beautiful and symbolic. The word mandala is taken from the ancient Sanskrit language and means circle. The mandala is created using shapes and patterns that form a circular shape and is a sacred symbol used in rituals, traditions, and meditation. Although there is controversy surrounding its use of it in body art, it has become a popular choice and can be transformed into images of animals and nature.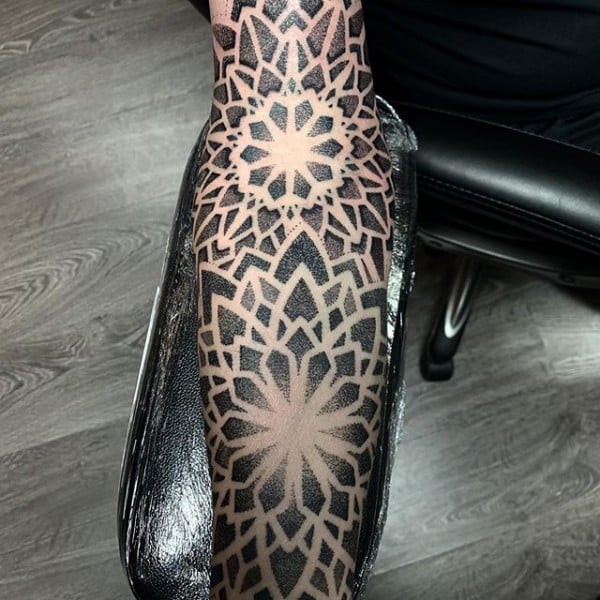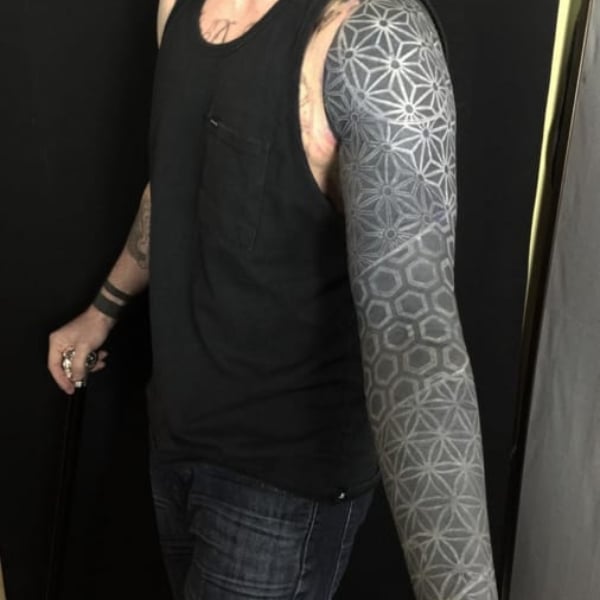 33. Dreamcatcher Sleeve Tattoo
A dreamcatcher is an object of great importance and deep symbolism. It has roots in Native American culture but has become a popular object that is appreciated and sold worldwide because of its beauty and the meaning associated with it. The hand-woven creation is a symbol of protection and filters out negative experiences and bad dreams.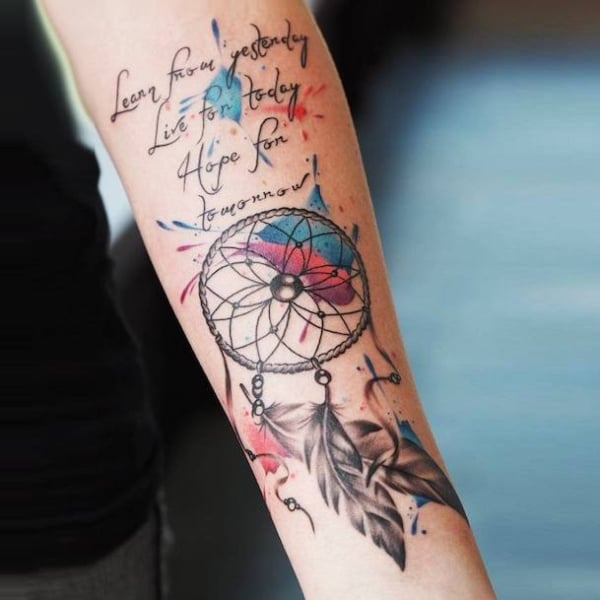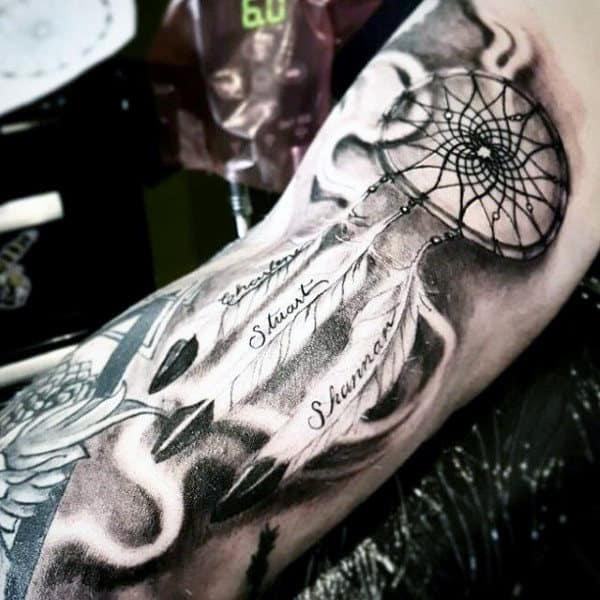 34. Lion Sleeve Tattoo
Lion tattoos are an excellent choice for a sleeve. The big cat is beautiful and associated with royalty, power, and strength. This is a popular choice for men who value these qualities but can also be inked to show your dedication to family or commitment to your relationship; lions are social animals and live in pride. The lion can be inked in various styles, including photorealistic or outline designs.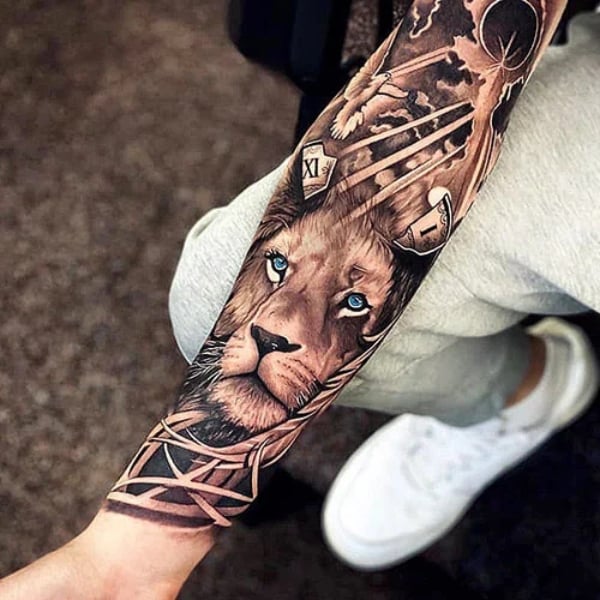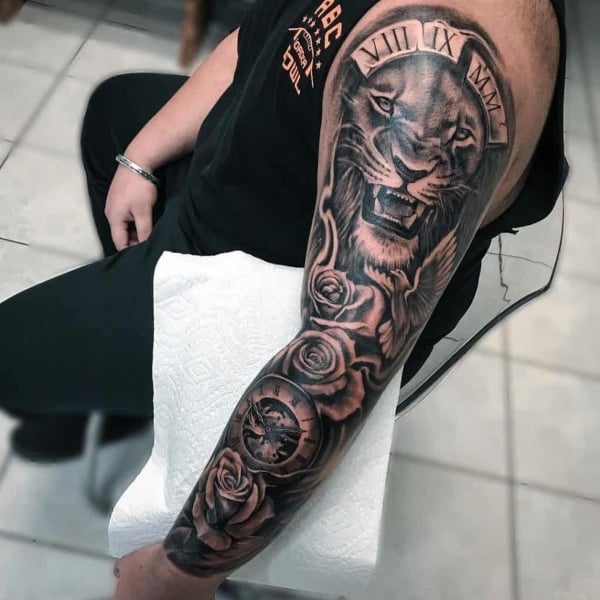 35. Aztec Tattoo Sleeve
The ancient Aztec civilization was a complex but interesting one. To honor your heritage or show your fascination with the culture, you can be inspired by their symbols or use images of warriors, temples, and important animals like the serpent or eagle to convey the meaning you want to be associated with in your body art. Each Aztec tattoo design is rich in symbolism and can make a powerful statement.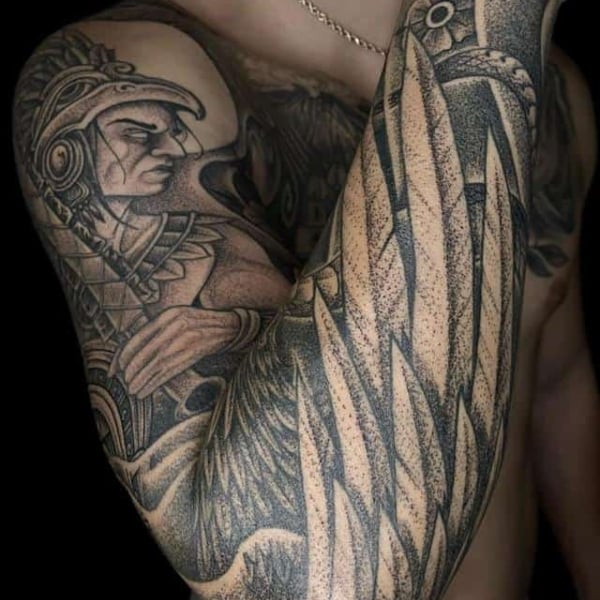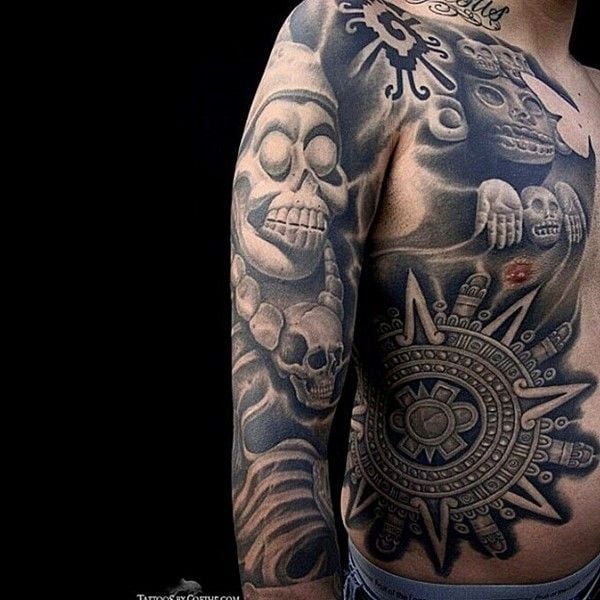 36. Geometric Tattoo Sleeve
Geometric tattoos are created with shapes and angles to create a brilliant, eye-catching effect. They can have an abstract appearance or be added to recognizable images of animals and nature; almost all designs can incorporate a geometric element. Your sleeve can be simple or detailed, in black ink or color, and is a great way to express yourself.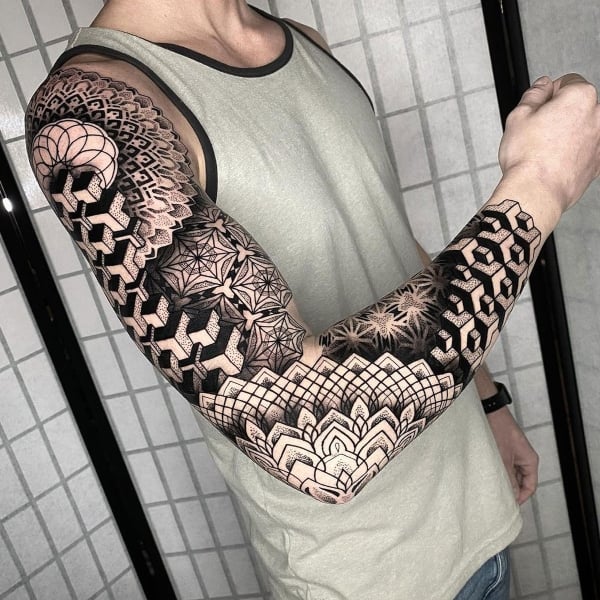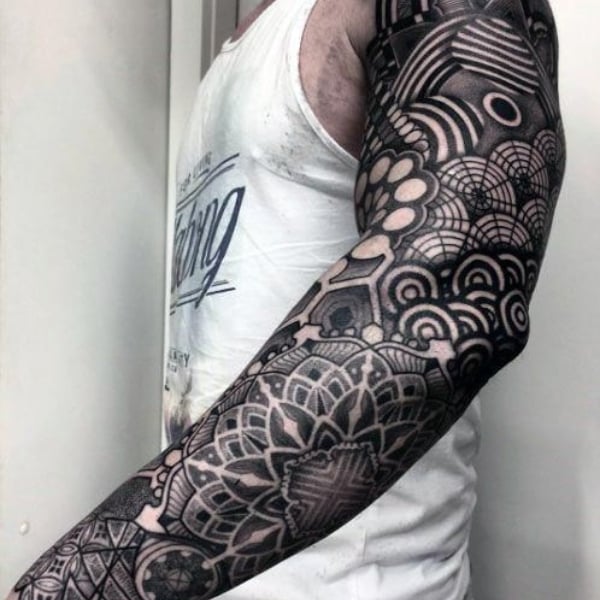 37. American Flag Sleeve Tattoo
An excellent way to show patriotism and love for your country is with an American flag tattoo. This design is often favored by those in service and is inked to show their dedication to protecting their homeland. The flag can be added in various ways, including making it appear as if it is underneath the skin, showing that you are American, right down to your core.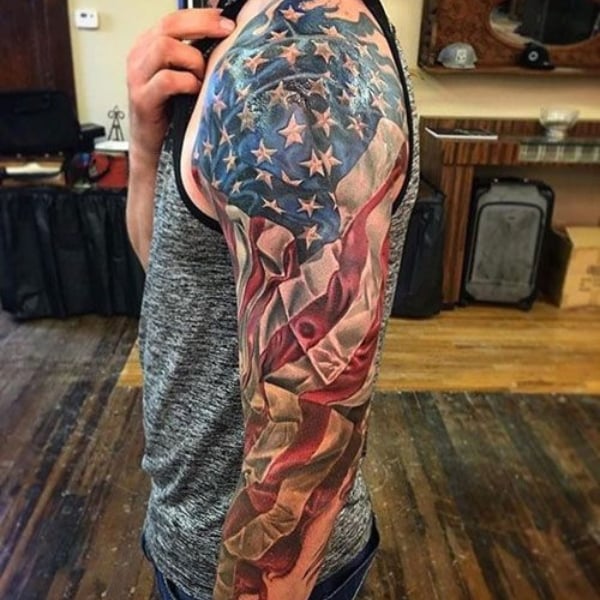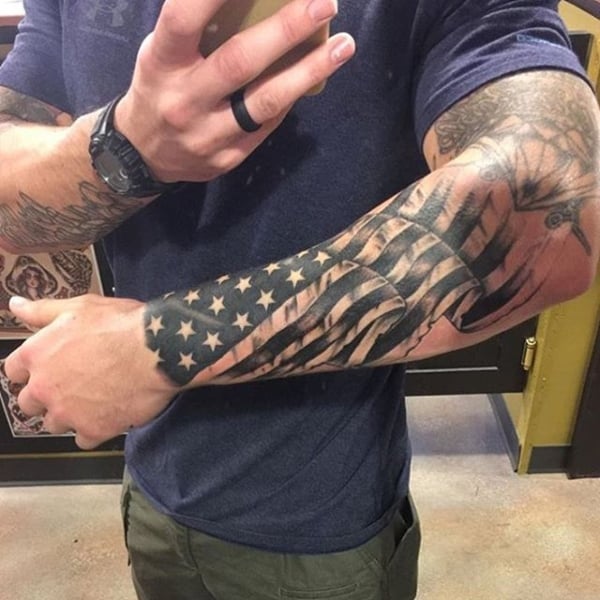 38. Tiger Sleeve Tattoo
The tiger is a beautiful animal and a powerful predator, making it an ideal choice for a tattoo. Those who want to show their strength can do so with a tiger tattoo design. It can also represent freedom and independence, and because they are solitary animals could be a way to recognize the importance of living on your terms and being the master of your fate.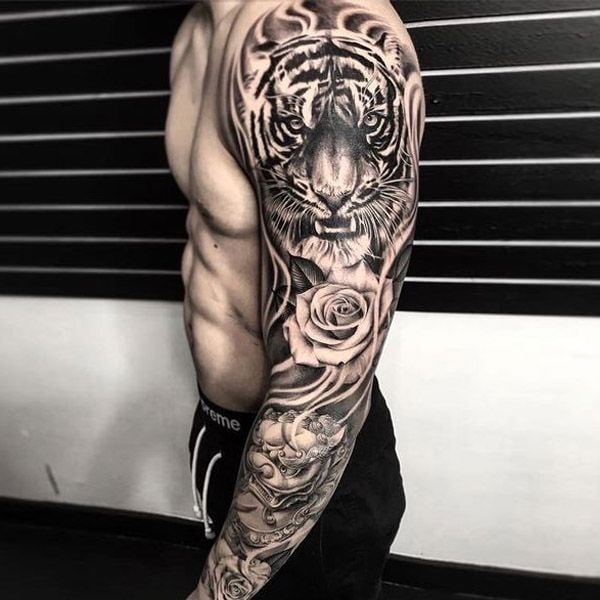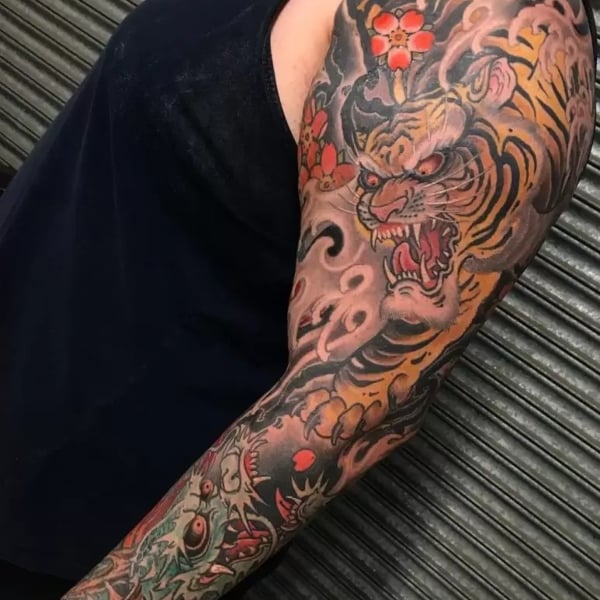 39. Patriotic Sleeve Tattoo
An excellent way to show your patriotism and pride for your country is with a patriotic flag. This can be created in many ways, depending on your preference. It can be as simple as opting for your national flag, or it could also include other images like a motto, the national animal and plant, and quotes about the protection and success of your homeland.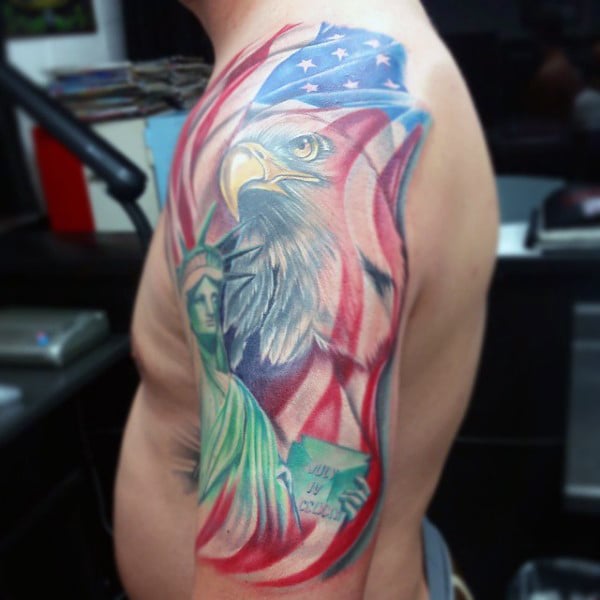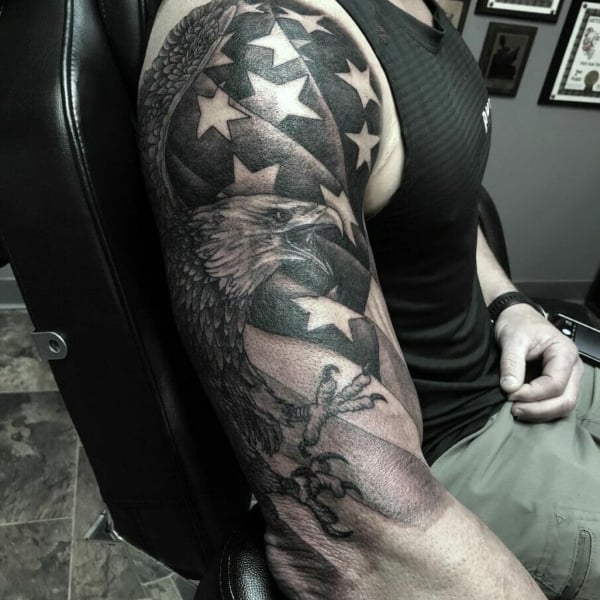 40. Snake Sleeve Tattoo
Snake tattoos are edgy and cool. They can be inked to show your strength and can feel tough and rebellious. Serpents are also rich in symbolism, associated with danger, rebirth, and transformation. For some, they represent protection and good luck, while for others, they are associated with sin. Find the meaning that appeals to you most, and let your sleeve reflect this.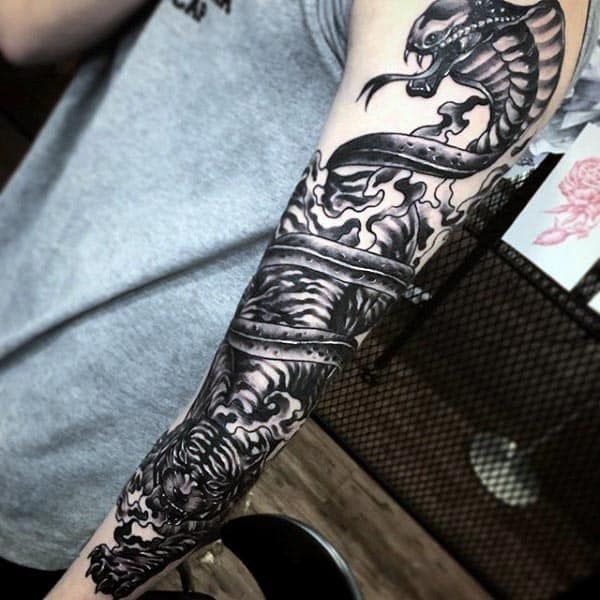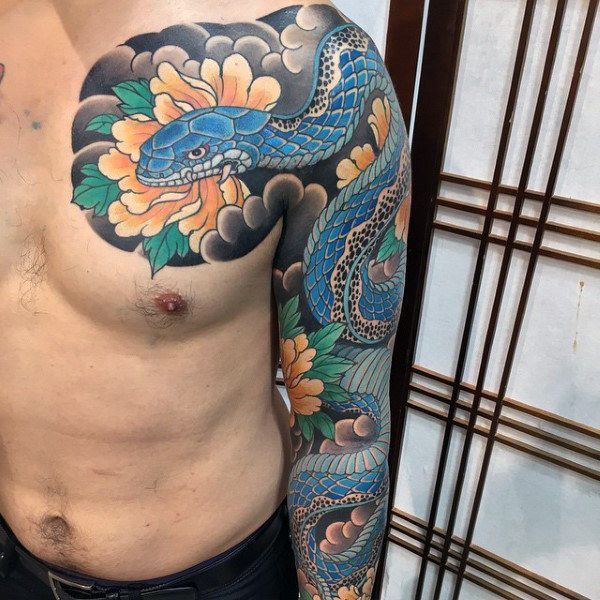 41. Tree Sleeve Tattoo
Tree tattoos are an excellent choice for a sleeve because of their versatility. There are so many species of tree to choose from, each with its symbolism. You can combine several to add to the overall meaning, create a forest, or add other images of nature. In general, trees are a symbol of longevity, strength, life, and growth. This can make a powerful statement.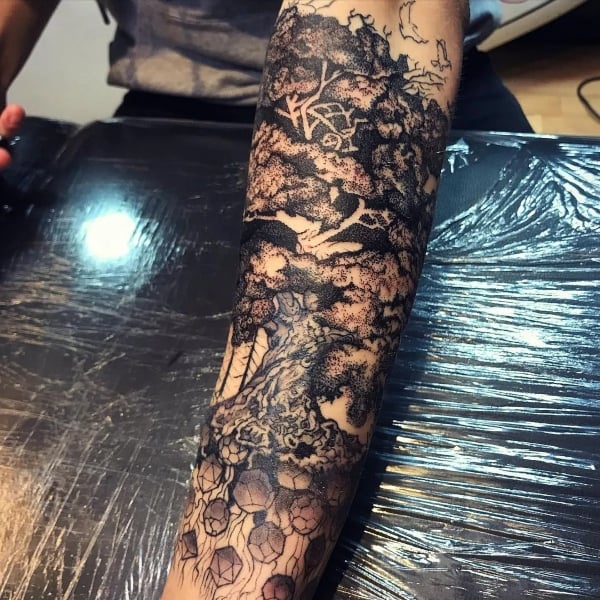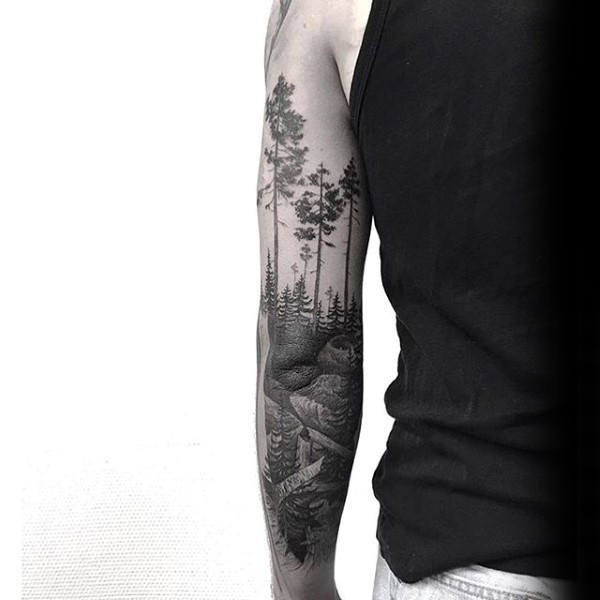 42. Owl Sleeve Tattoo
Owl tattoos represent wisdom, mystery, and knowledge. They have great importance in different cultures, where they have been seen as messengers, omens of death, and can have a positive or negative association. Owls are an excellent choice for a sleeve, and combining them with other imagery will convey your intended symbolism. For example, a full moon, a lantern, and a cauldron could show your fascination with magic and the unknown.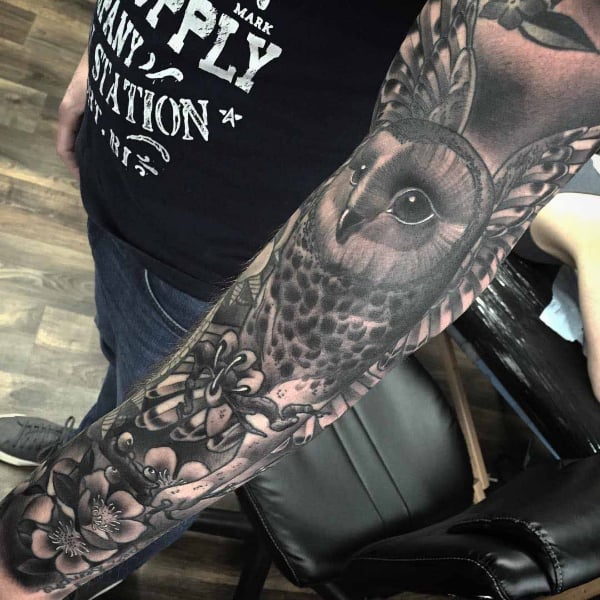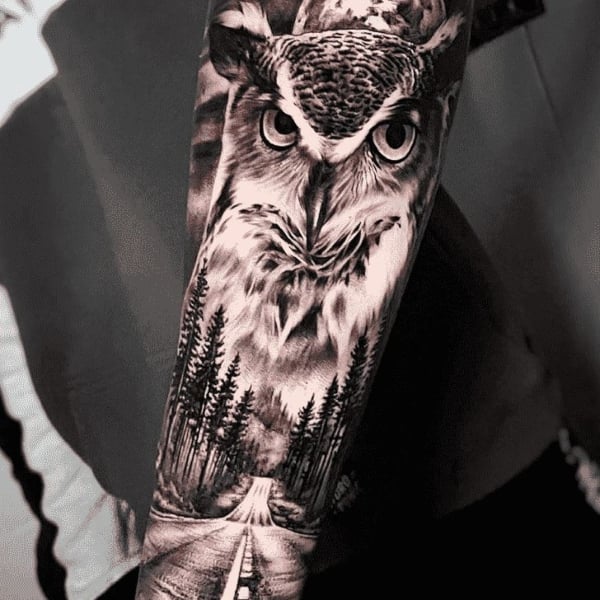 43. Christian Tattoo Sleeve
Christian tattoos are an excellent way to honor your faith and its important role in your life. Your body art can show your devotion or remind you that you are not alone. There are different images to choose from, including crosses and Bible verses, and a sleeve tattoo will let you combine several to tell a story about your thoughts and feelings on the topic of religion.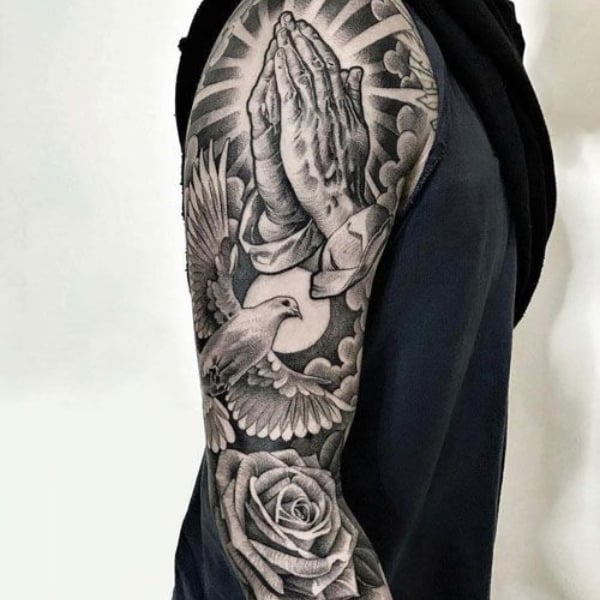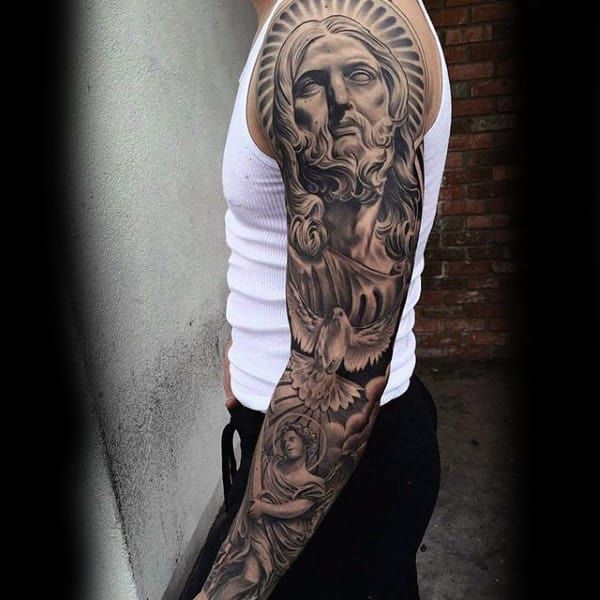 44. Patchwork Sleeve Tattoo
Patchwork tattoos give you versatility because, unlike other approaches to sleeve tattoos, they do not have to blend seamlessly. This requires less planning beforehand, and you can create your design at various times in your life instead of in consecutive sessions. The images will tell a story about your life and your interests, but they do not need to stick to a specific theme or style.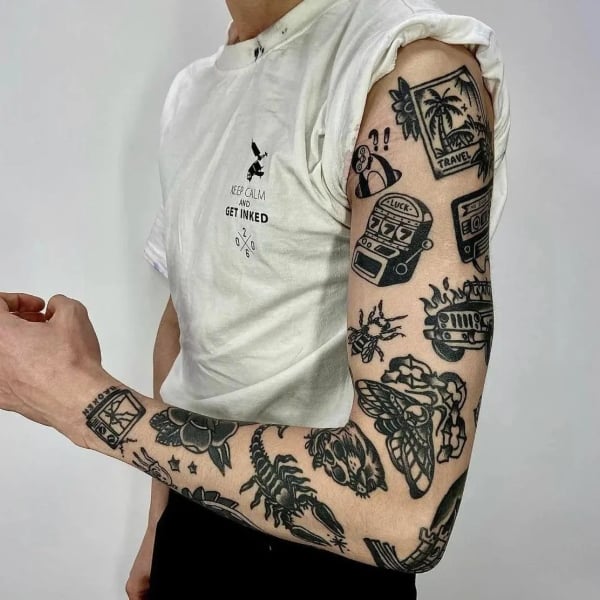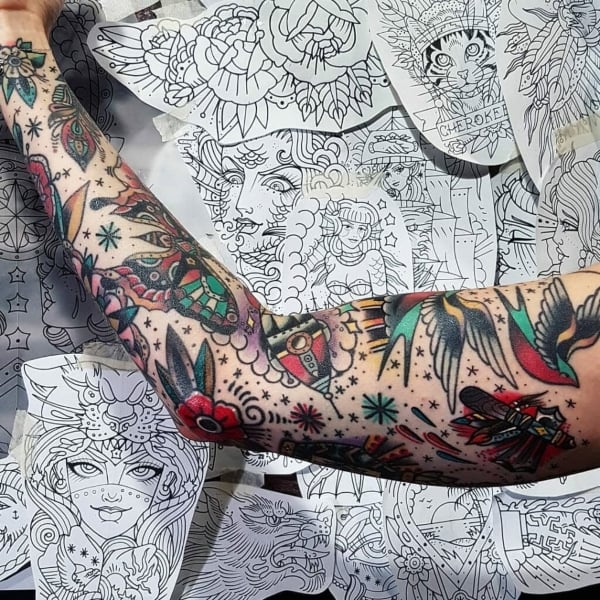 45. Egyptian Sleeve Tattoo
An Egyptian tattoo is an excellent way to honor your heritage or your appreciation for the rich history of the Ancient Egyptian civilization. Depending on your preference, there are many images to choose from, including the pyramids, the scarab, and Anubis, each of which has its own symbolism. You can combine several images to tell a story or focus on one with unique background imagery and quotes; the choice is yours.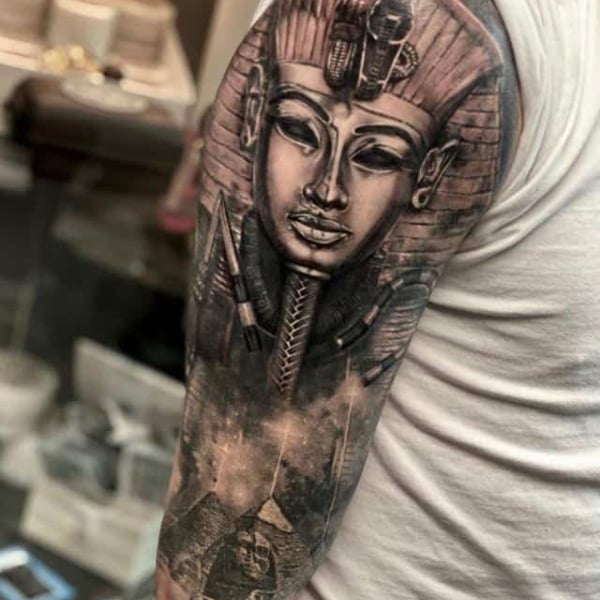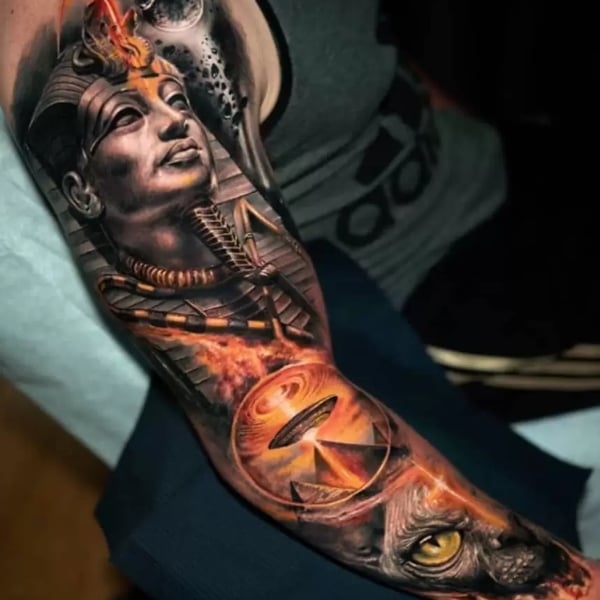 46. Galaxy Tattoo Sleeve
Space tattoos are a great way to show your appreciation for the world. A galaxy tattoo, in particular, can make a statement about how something beautiful and unknown could influence how you live your life, taking chances and not being afraid to do something different or unique. Your ink could indicate that you are a dreamer or have plans to achieve great things in life.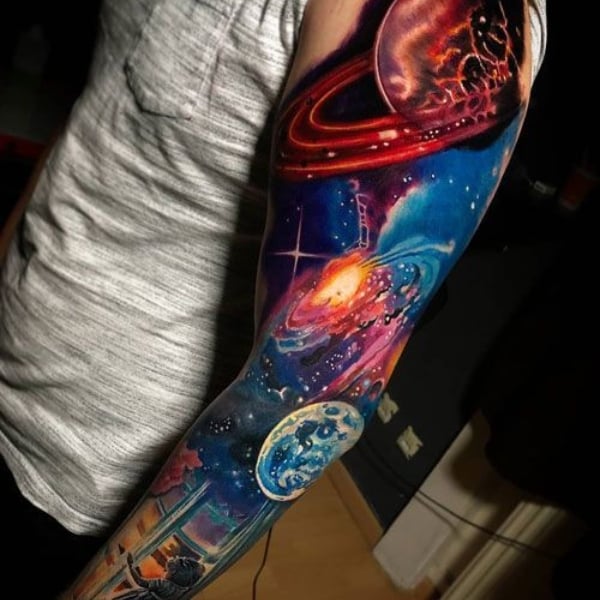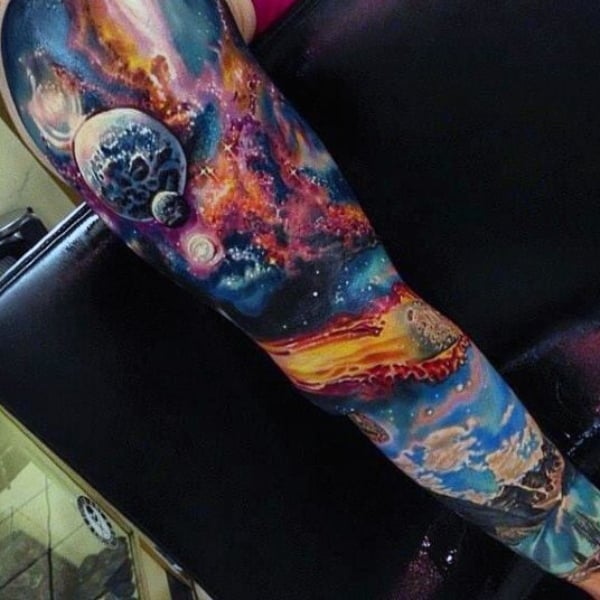 47. Greek Mythology Tattoo Sleeve
Greek mythology is an excellent choice for a tattoo sleeve because there are so many different stories that can be combined. If you are fascinated by Greek mythology and want to design your body art around it, several options can make for striking and symbolic artwork, including Medusa. The snake-haired female monster symbolizes strength and femininity but also jealousy, death and rebirth, and mystery.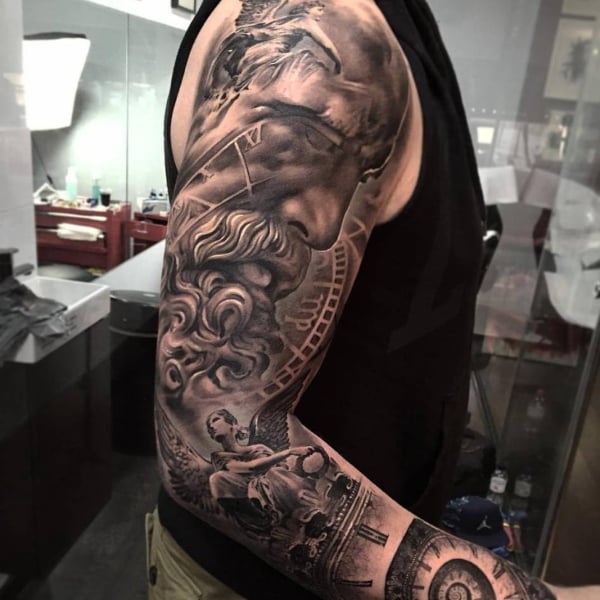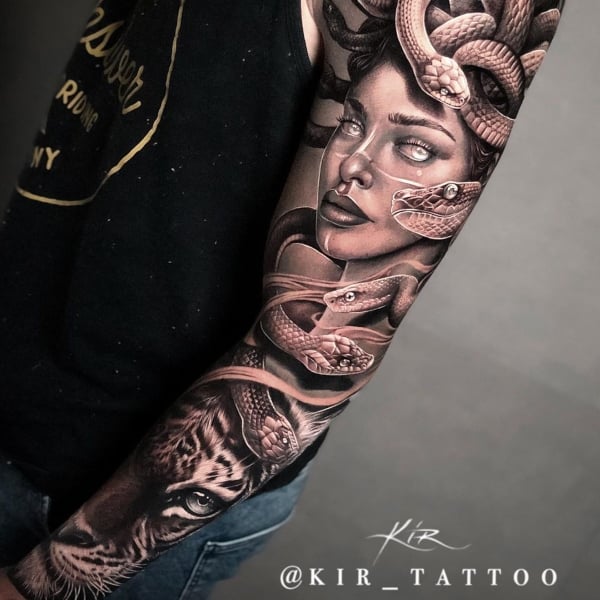 48. Mountain Tattoo Sleeve
A mountain tattoo is a great way to show your strength and remind yourself that you are steadfast and unmoveable, even in times and times of great difficulty. Your sleeve can include your favorite mountain range and other images of nature to show your love of being outdoors. Your design could also be symbolic of travel and adventure.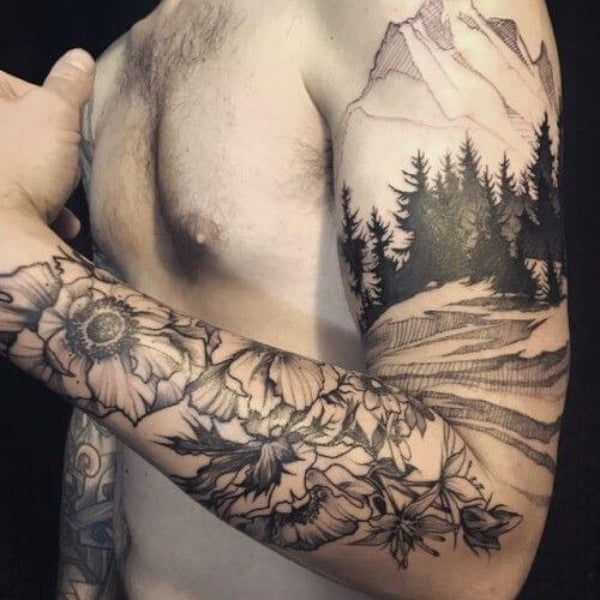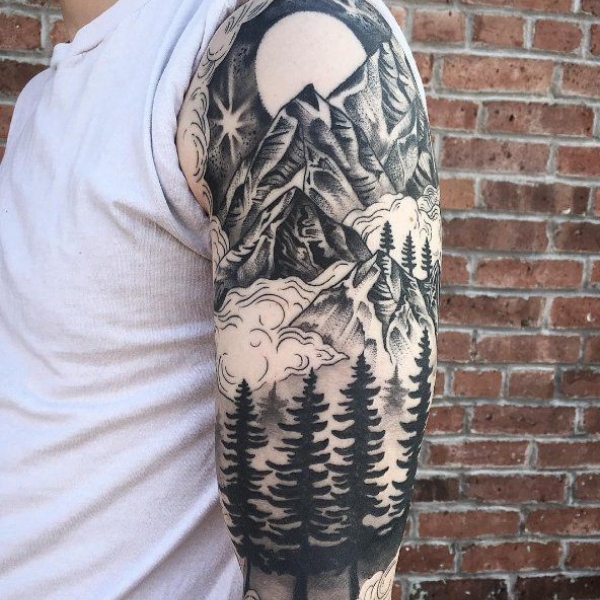 49. Nautical Sleeve Tattoo
Sailors have long favored nautical themes to reflect their skills at sea or bring give them protection and comfort for the voyage that lies ahead. Even if you have never set foot on a vessel, the symbolism associated with a nautical theme makes a powerful statement. From anchors, ships, and compasses, these objects are all meaningful and can reflect your thoughts and feelings.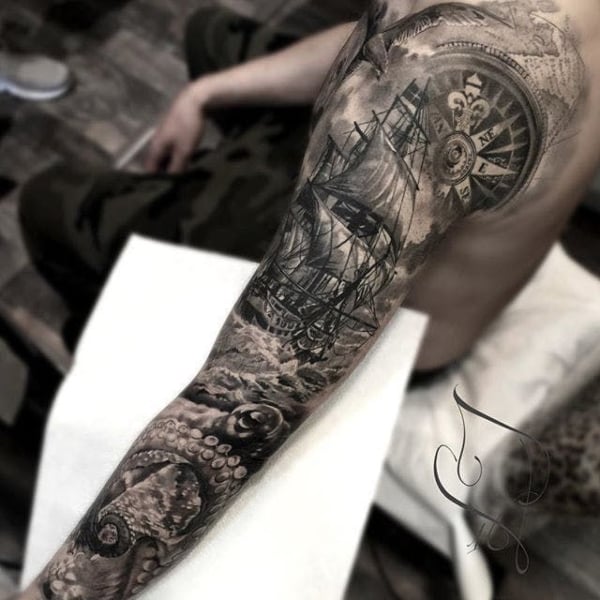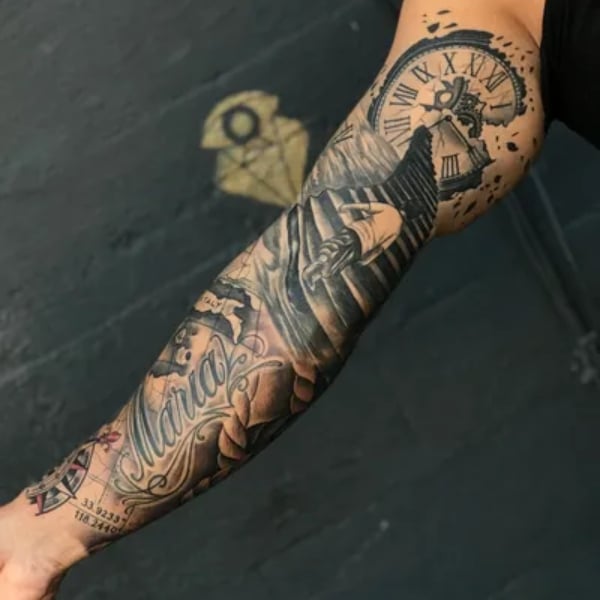 50. Ocean Sleeve Tattoo
The ocean is a place of beauty and mystery. A sleeve tattoo is large enough to allow for detailing, including sealife, waves, ships, and much more, depending on the meaning you want to be associated with your design. This tattoo can represent new opportunities and encourage you to take risks and reach for your dreams. It could also remind you to let go of the things that cause you pain. Or that life and emotions will ebb and flow like waves.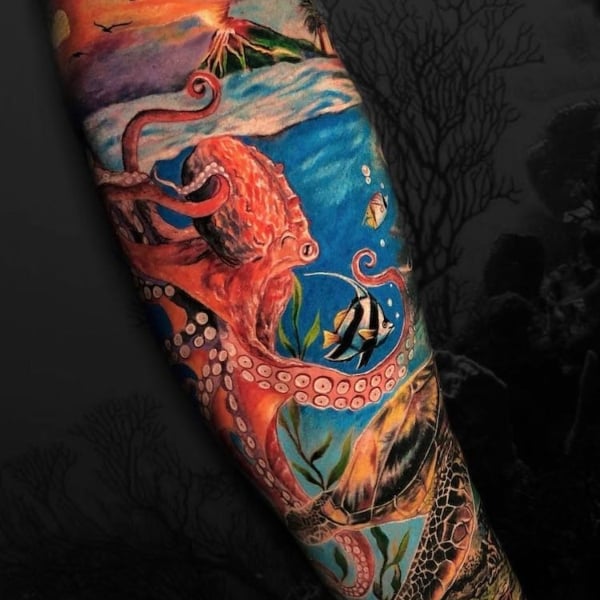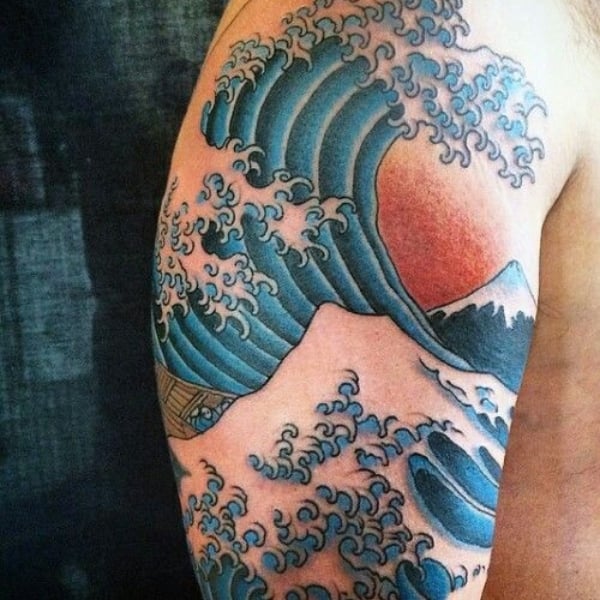 51. Space Tattoo Sleeve
Space tattoos are an excellent choice for a sleeve because there are many different themes and so much detail that can be added to your design. This makes it easy to personalize your inking, giving you something unique and symbolic. Space tattoos represent dreams and aspirations for the future and can be a way to show your appreciation for space travel or interest in extraterrestrial life.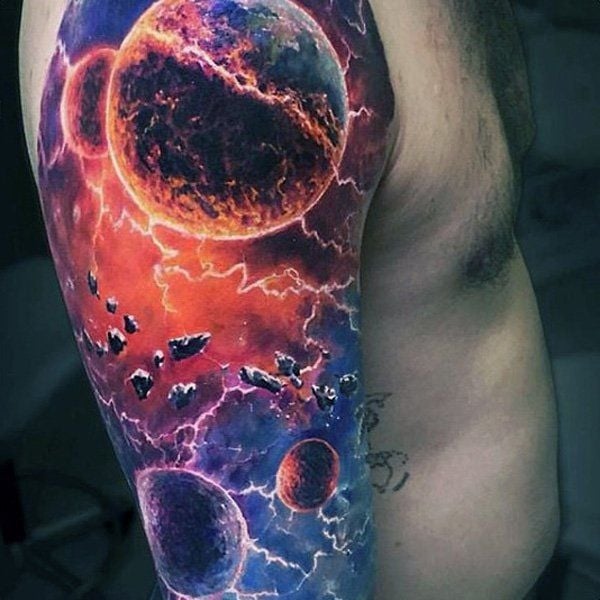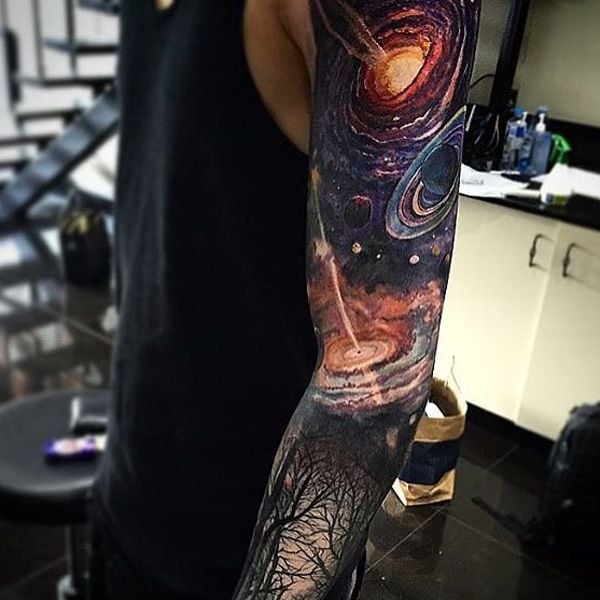 52. Armor Sleeve Tattoo
An armor sleeve tattoo can make a powerful statement and will be designed to look like you are wearing a suit of armor. The arm you choose will depend on your preference, but it can include chain mail or could be designed to look like unique Japanese samurai armor. An armor sleeve tattoo could symbolize strength, resilience, and determination. It could show that you have a warrior spirit or that you are dedicated to protecting your homeland.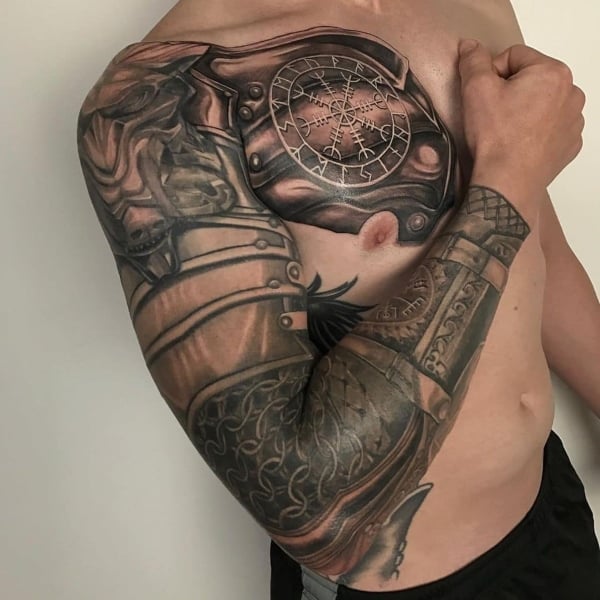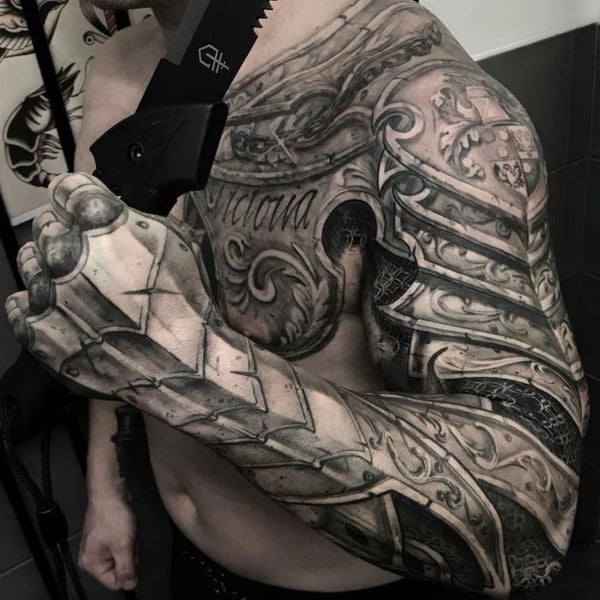 53. Greek Tattoo Sleeve
There is so much choice when it comes to a Greek-inspired tattoo sleeve. If you have Greek heritage, you can include the colors of the flag or important monuments and quotes about patriotism. However, most people interpret this theme as Greek mythology and have been inspired by powerful legends. This is an excellent way to let your body art tell a story.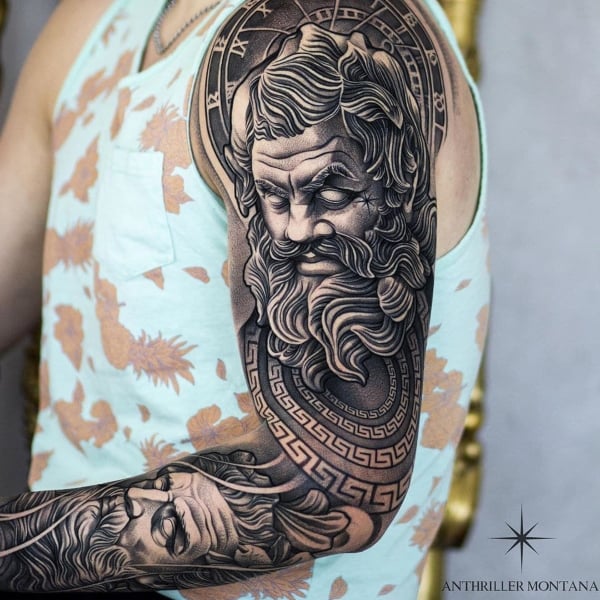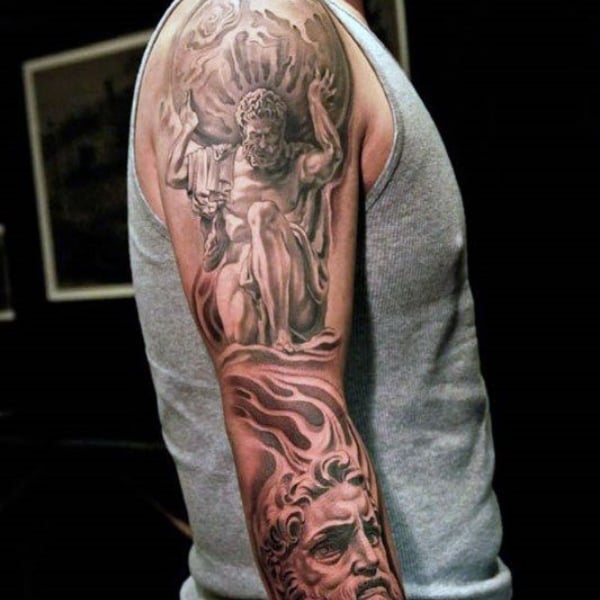 54. Naruto Tattoo Sleeve
For fans of Naruto, a way to honor your passion is with a sleeve tattoo. Sleeves give you more room to get creative with your design and can include multiple characters, including Naruto Uzumaki, letting your artwork tell a story. Naruto is a Japanese manga series written and illustrated by Masashi Kishimoto. It is one of the most popular and well-recognized animations.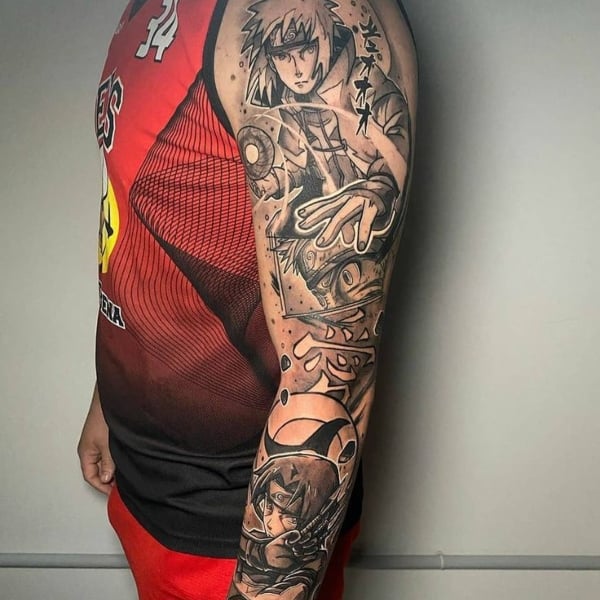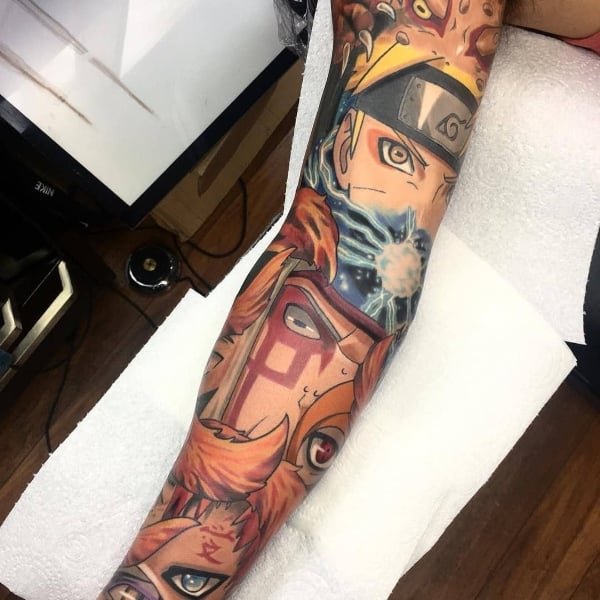 55. Neo Traditional Tattoo Sleeve
Neo Traditional tattoos are bright and bold and are designed to stand out. They can feel rebellious because of their appearance, which features thick black outlines and a limited color palette. They are similar to the American Traditional style but have more detail and greater depth of dimension. You are also less restricted with the imagery you include, which gives you versatility for a sleeve tattoo.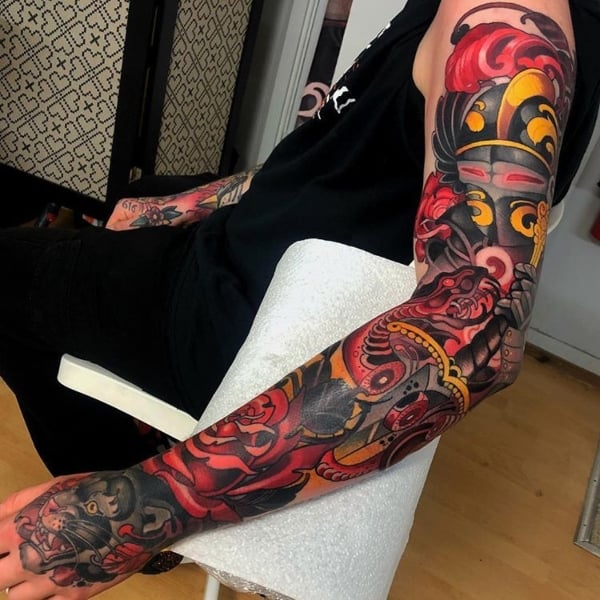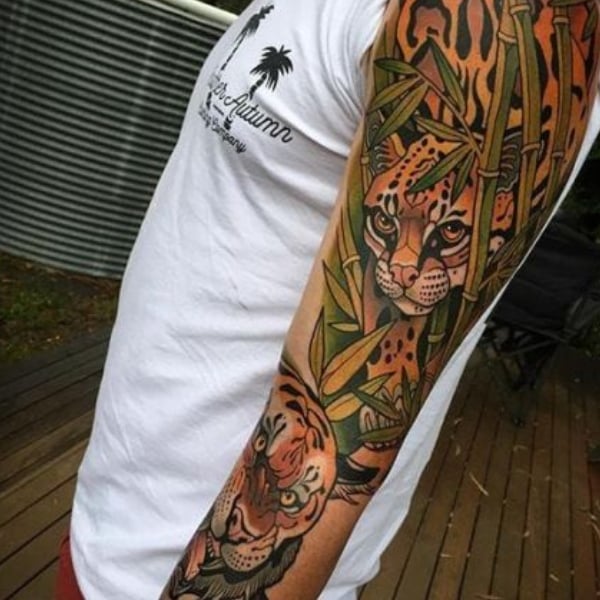 Sleeve Tattoo For Men FAQs
How much is it for a sleeve tattoo?
Sleeve tattoos can cost between $1500 -$4000. You need to consider how much the artist charges, will they charge to draw, how elaborate is the design, and how quickly does the tattoo artist work.
How to Design a Sleeve Tattoo?
Sleeve tattoos can be designed using different colors and styles. For the best results, it is best to stick to a theme, for example, nature or religion, and the same technique should be used throughout. You can work with your tattoo artist to find a design that combines your chosen images in a way that they are seamlessly blended.
Do sleeve tattoos hurt?
In general, sleeves hurt because you have to be under the needle for hours per session, and you have to come back for several sessions over the course of a few weeks. Most people report feeling the most pain around the elbow, inner elbow, wrist, and armpit area.
Why do guys get sleeve tattoos?
Men with ink aren't scared of being upfront about feelings and emotions and wear their heart on their sleeve.
How Long does a sleeve tattoo take?
Sleeve tattoos are time-consuming and expensive. They can take around 10 hours to complete, or more than 80. This depends on the level of detail involved in your design and the imagery you have chosen. For example, photorealistic pieces will take longer because they are so intricate and detailed. If you are choosing colored ink, this could also increase the time.
How to start a sleeve tattoo?
Tattoo sleeves are an excellent way to get creative with your body art. They are designed with several images combined seamlessly. Before starting, you should discuss your desired outcome with your chosen tattoo artist. Stick to a theme, or several, and choose the style you want. Start at the shoulder and work down. You can have everything planned beforehand, or you can get it done at various stages in your life.
SUBSCRIBE TO OUR NEWSLETTER
Subscribe to our mailing list and get interesting stuff and updates to your email inbox.