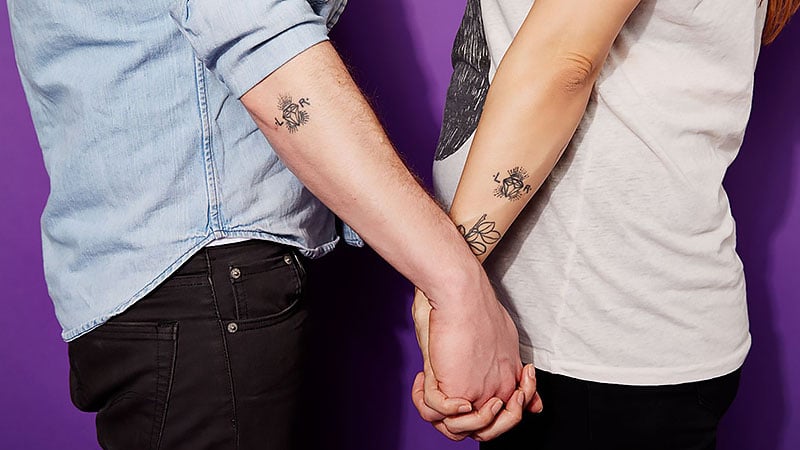 There are so many ways to show your eternal love for your partner and getting matching tattoos is a popular option. Getting inked together is a great bonding experience. You can show your creative side when you choose a design together. More importantly, having a couple's tattoo makes a bold statement about your relationship and shows the world what your other half means to you. Keep reading to discover all the inspiring couples tattoo ideas to help you decide on the perfect artwork to suit both of you.
RELATED: The Best Matching Couple Outfits to Wear Together
1. Small Couple Tattoos
Bigger isn't always better when it comes to tattoos. When choosing your design, it's best to go for something that fits with your sense of style, budget, and pain tolerance! If you like a minimalist tattoo look, don't have a lot of money to spend, and can't stand the thought of being under the needle for hours, a small tattoo is your best choice. This inking is subtle and can be easily hidden under the clothes, so it's perfect if you can't have visible tattoos at work. However, you'll always know it's there. This way, a small couple tattoo is a shared secret between you and your loved one, so it gives you an extra special bond.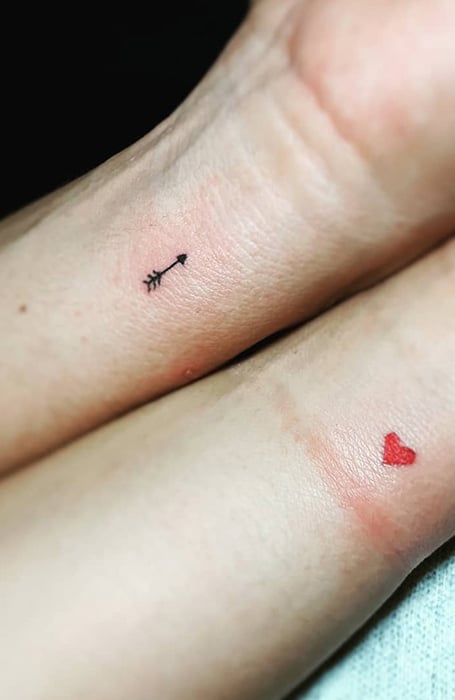 2. Cute Couple Tattoos
Tattoos don't have to be edgy or artistic to be meaningful. For many couples, a serious tattoo wouldn't reflect the nature of their relationship. Playful pairs who are young at heart will love cute couple tattoos. Cartoons, fruit, and fluffy animals make for adorable body art. These loveable cute tattoos are also a good choice if you have a youthful sense of fashion. It's all about choosing a design you'll love, and that will put a smile on your face!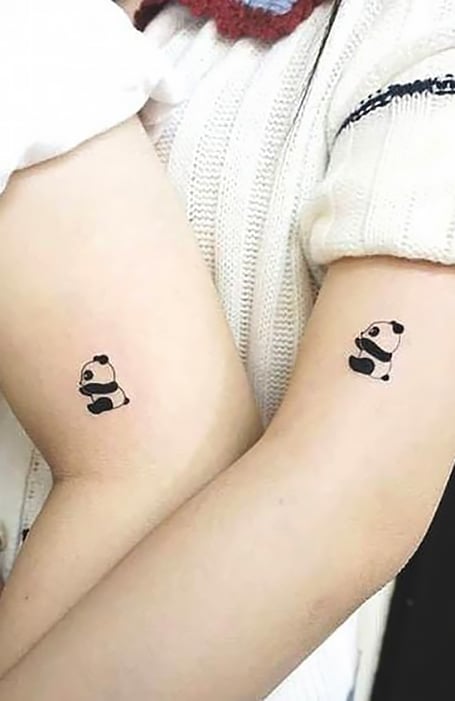 3. Matching Couple Tattoos
Getting a matching tattoo is a beautiful way to celebrate your connection with your partner. Having the same tattoo links you together for life. You could choose a special symbol, word or phrase, in-joke from your relationship, or commemorate an anniversary or a milestone. Matching tattoos are popular with couples who are very similar. They represent being soulmates and thinking alike.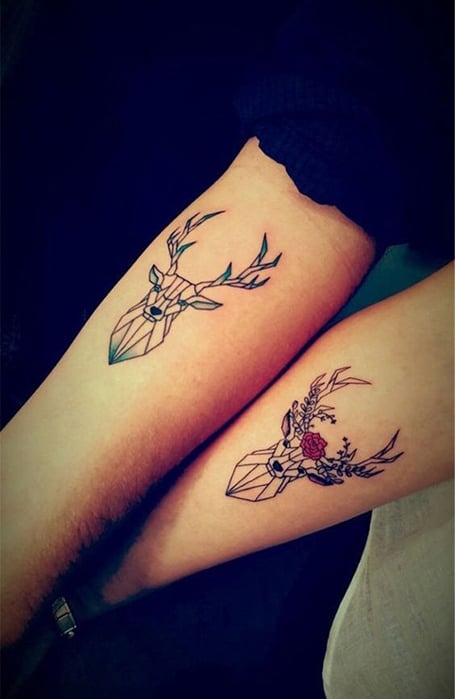 4. Unique Couple Tattoos
There are many popular couple tattoo designs, and it's easy to see why. They represent universal feelings of love and affection in a way that's easy to understand. However, not every couple wants to choose a standard design. The more artistic types might choose a unique tattoo concept that's one-of-a-kind. These inkings can be abstract or refer to something, only the two of you understand.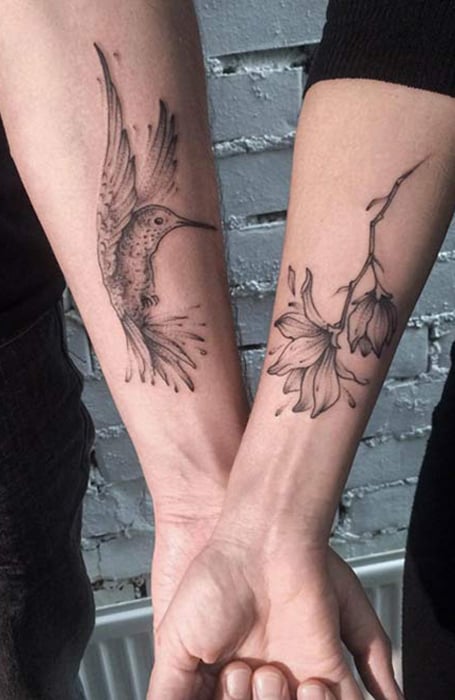 5. Couple Finger Tattoos
Finger tattoos are a quirky option when it comes to couple tattoos. There are lots of different possibilities for the piece; for example, you could choose to have lines from a poem inked on your fingers so that it can be read in full when you weave them together. A simple design could be a matching inking that's only visible when you move your hands a certain way. It is a low-key tattoo choice that has a playful vibe.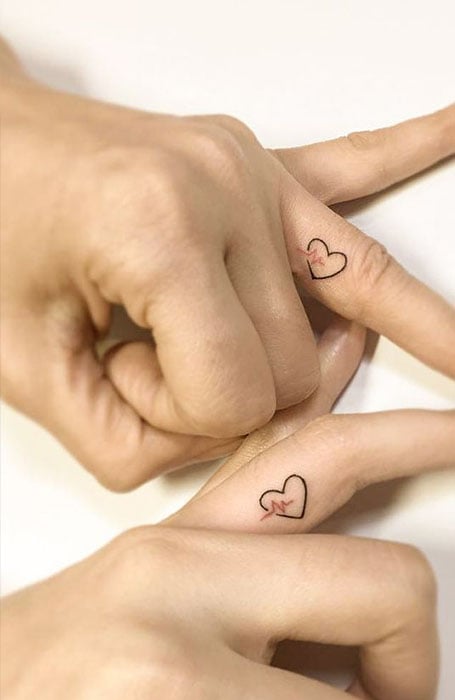 6. Couple Ring Finger Tattoos
The ancient Romans believed the ring finger – the fourth finger on the left hand – contained a vein that ran directly to the heart. They called it the vena amoris – the vein of love. It's said that this is why wedding bands are traditionally worn there. For the same reason, getting your couple tattoo on the ring finger is incredibly romantic. Having your partner's name, initials or a symbol of your relationship inked there shows that they are the closest person to your heart.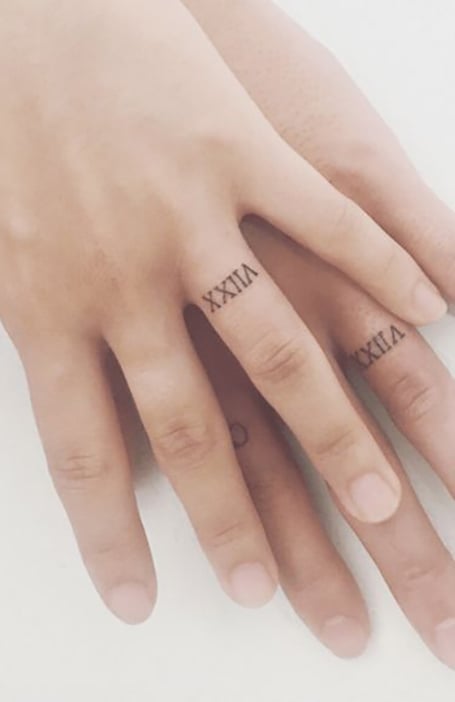 7. Couple Love Tattoos
The word 'love' and heart symbols are some of the most famous couple tattoos. For the romantic, sentimental types, it's all about wearing your heart on your sleeve – sometimes literally. These inkings can't be misinterpreted, and they make a simple, bold statement about what's most important in life. There's a reason love tattoos have been around for so long and why people keep getting them: they're simple, powerful, and iconic.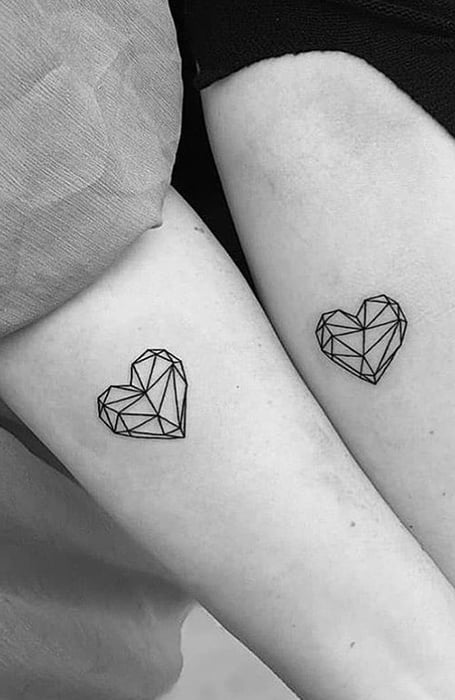 8. Couple King and Queen Tattoos
Why not give your body art the royal touch? These designs show that you are the king and queen of each other's hearts. Representing both masculine and feminine, this couple tattoo symbolizes that you have distinct roles – but that you complement each other perfectly. Getting king and queen tattoos can also be a fun way to show that you are 'co-ruling' your life together as equals and partners.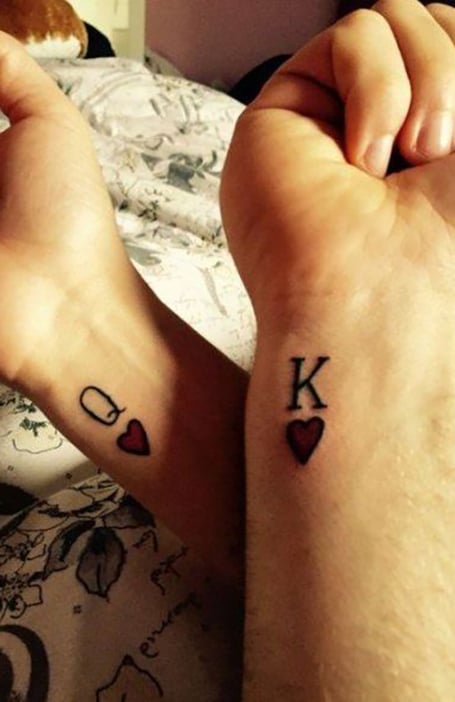 9. Married Couple Tattoos
While wedding rings are traditional, more and more couples are opting for marriage tattoos instead. Usually placed on the ring finger, these inkings are more permanent than jewelry and can be adapted in lots of different designs. They're a great option if you don't usually wear rings or can't have your wedding band on at work for safety reasons. The married couple tattoo is a visual reminder of the commitment you've made to each other with your vows – and it will last as long as your love.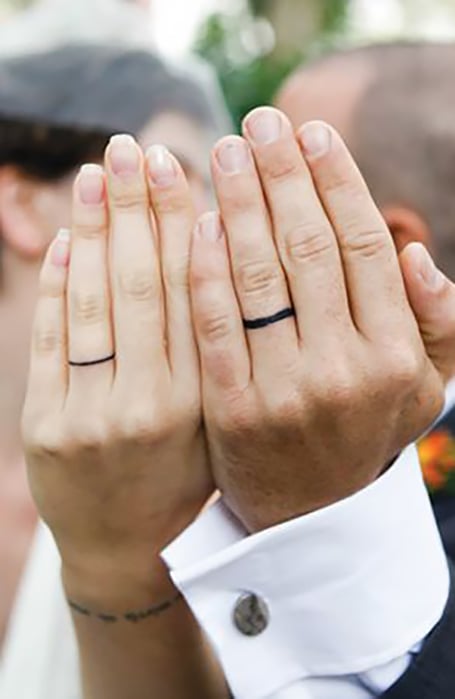 10. Couple Quote Tattoo
There are endless poems, books, movies, and songs written about love. For many people, a particular quote sums up their philosophy about this emotion. It can even articulate how they feel about a specific person. If this is the case for you, a quote tattoo is a perfect idea for a matching design with your partner. You could both get matching quote tattoos or have one half of the saying tattooed on each of you. It is a romantic option because the message is only complete when you're together.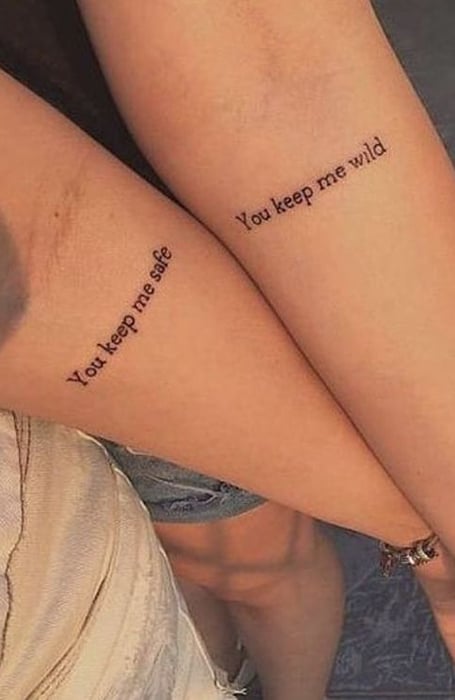 11. Crown Tattoos for Couples
These subtle crown tattoos complement each other without being the same so that you can adapt them to your style. Often combined with king and queen tattoos, crowns represent both power and responsibility – both of which are important when it comes to love. They also symbolize what you aspire to achieve in life. If your significant other is important to you, a crown tattoo is a great way to honor them. European-style crowns have eight golden arches which symbolize eternal life, so matching crown tattoos for a couple can represent your everlasting life together.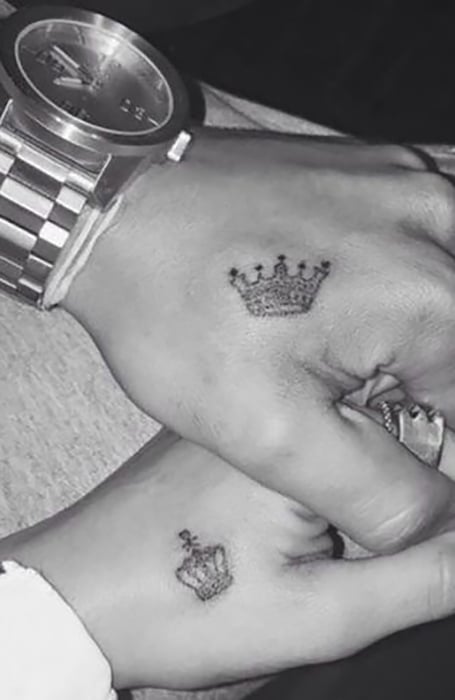 12. Cool Couple Tattoos
For couples who like to stay on-trend, a cool tattoo is a must. The freshest designs combine traditional elements with a modern twist and a unique art style. One idea is an updated version of the classic swallow tattoo on the forearm. This inking was made famous by the iconic tattoo artist known as Sailor Jerry. These birds represent traveling and coming home, so they're great if you are in a long-distance relationship. They also make for a dynamic tattoo that's full of movement. Whatever you decide to go with, it's essential to choose a very experienced artist with a defined aesthetic to ensure you get a cool tattoo.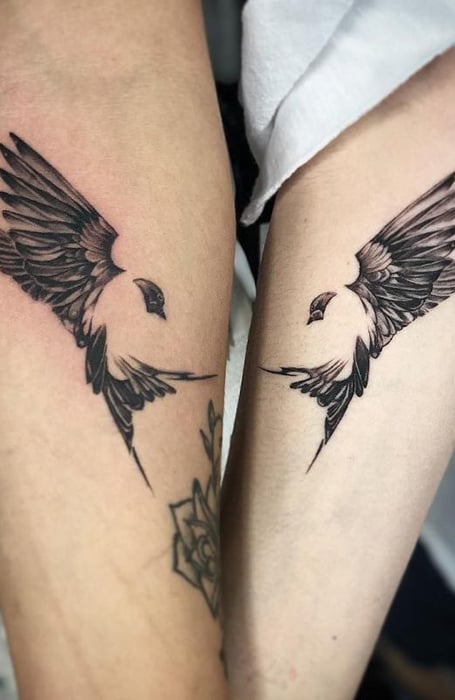 13. Infinity Tattoos for Couples
The infinity tattoo symbol represents eternity. It's a neverending loop that has no beginning and no end. For that reason, it's a popular choice for couples to show their everlasting love for each other. This inking also symbolizes how your love is limitless – it has no boundaries and will continue forever. Not only is the infinity symbol a very poignant and meaningful inking, but it's also a great unisex design. As it's not too masculine or feminine, it suits every type of couple.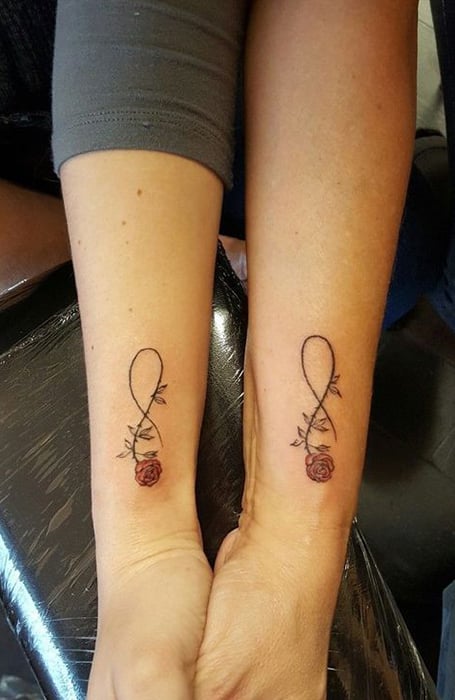 14. Couple Lock and Key Tattoo
Only one person has the key to your heart. Show how much your other half has unlocked your emotions – or tell them that you're ready to lock it down – with this meaningful body art. Popular places for these pieces include the inner forearm, ankles and hands. This is also a versatile idea for a tattoo because you can choose a large, ornate design or something more minimalist. Whatever you decide, it's clear that lock and key tattoos show you're truly made for each other.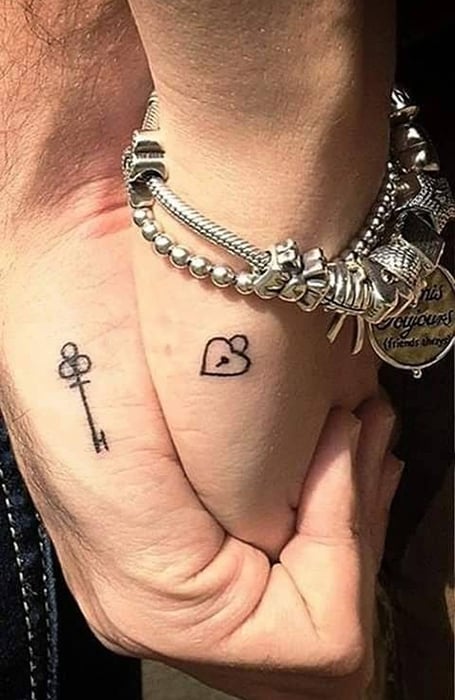 15. Skull Couple Tattoos
Some might consider skull tattoos a bit macabre, but what better way to say, 'til death, do us part'? You can adapt this versatile design to suit any style. An anatomical look might be your preference, or perhaps something more elaborate and Gothic. There's something romantic about skull couple tattoos that can't be denied. Of all the couple pieces out there, these are some of the most unique.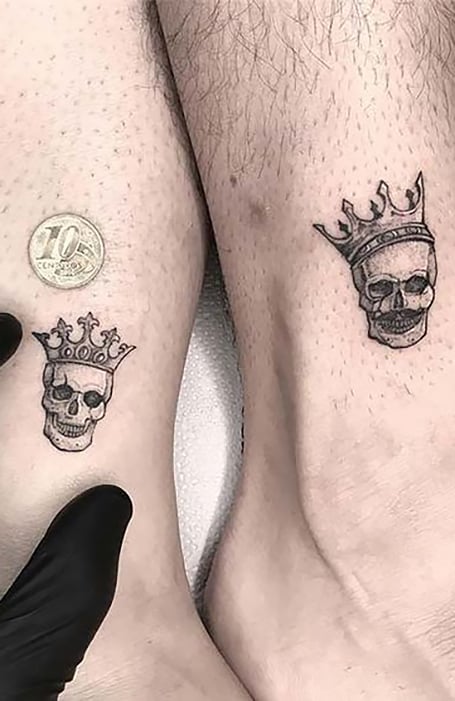 16. Disney Couple Tattoos
Love can make you feel like a child at heart, and so do Disney films! There's a reason they call Disneyland 'the happiest place on Earth' – and the various theme parks around the world play host to dozens of weddings and engagements every year. For all those fans of Mickey Mouse, a Disney couple tattoo is the perfect way to pay tribute to your childhood sweetheart – or to the person who makes you feel like a kid again. It's also a sweet way to remember the place where you got engaged or tied the knot.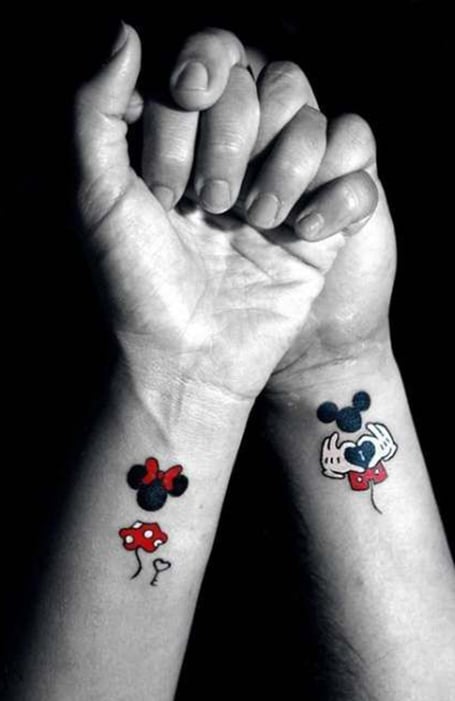 17. Meaningful Couple Tattoos
Every tattoo is meaningful. But this type of couple's tattoo is more abstract than most. This is a highly individual choice that will represent something specific to your relationship. One popular meaningful couple tattoo is a set of coordinates. For example, this could be the location of the place you met, where you fell in love, where you spent your honeymoon or a dream destination you hope to visit one day. Think of it as a secret you both share – looking at the numbers, only the two of you will understand the meaning.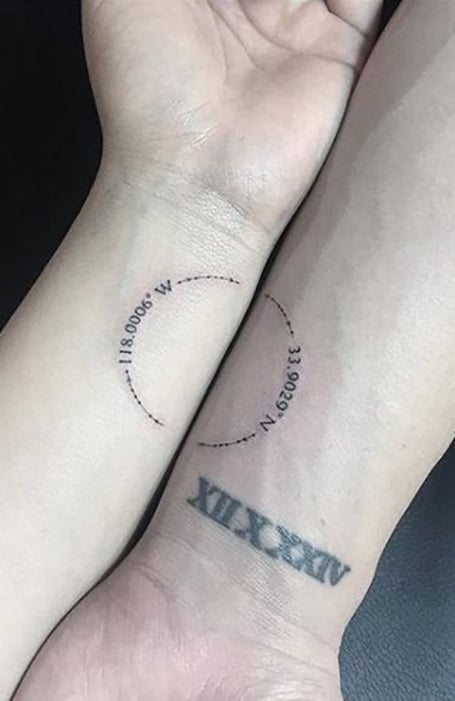 18. Simple Couple Tattoos
If you have a minimalist tattoo style or are simply a low-key person, a simple tattoo is for you. These inkings are usually in black ink rather than color, use a stripped-back line style, have minimal shading, and are small in size. Because the design is so simple, these pieces tend to be more symbolic than specific – but they're still very romantic. And the upside is that you won't need to spend hours in pain as you go under the needle!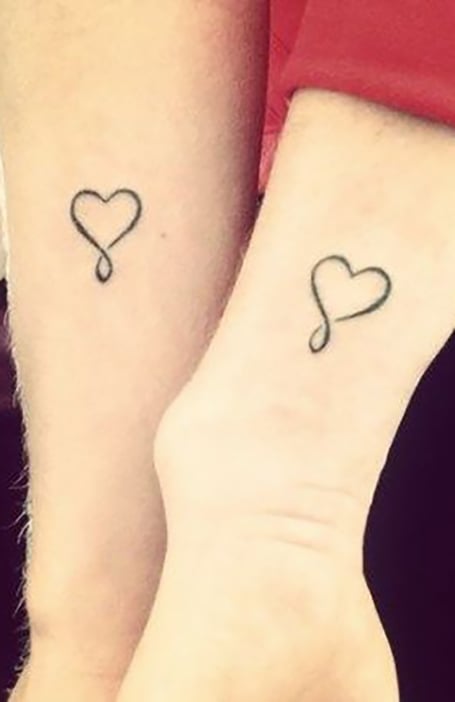 19. Yin and Yang Tattoos for Couples
The ancient concept of Yin and Yang symbolizes two different halves that fit together perfectly. While Yin is a feminine energy, Yang is masculine. When they join together, they make a whole perfect circle. Yin Yang tattoos for couples suit a pair who are opposites in many ways, but whose differences complement each other. Ultimately, this inking is about the ways you balance each other out, making a relationship that's greater than the sum of its parts.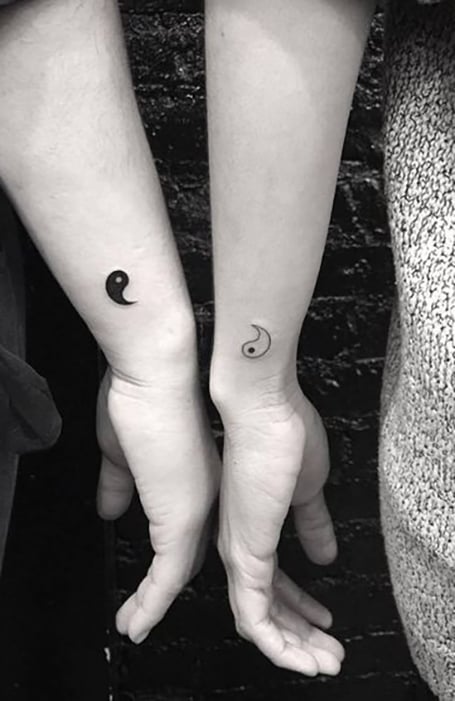 20. Country Couple Tattoos
Country tattoos are all about the traditional lifestyle of the great outdoors. Inspired by nature, these tattoos often have a theme that relates to hunting, riding, hiking, or fishing. Think antlers, fishhooks, feathers, horses, flowers, and trees! These beautiful inking ideas will ground both you and your partner in your country's roots. This type of design will make you think of being on the ranch – and home in your other half's arms.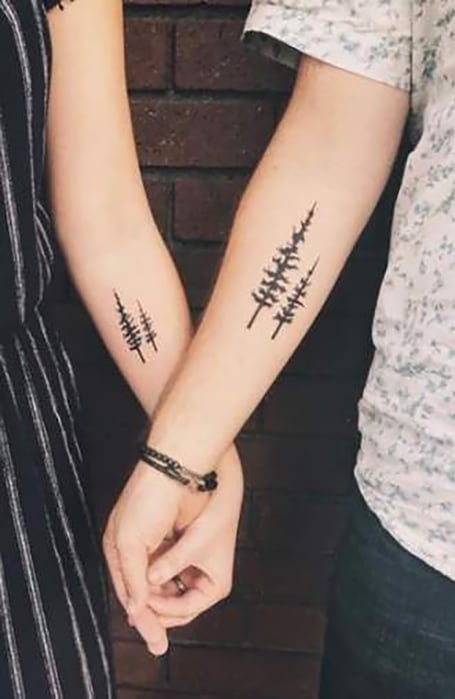 21. Couple Hand Tattoos
Hand tattoos are becoming more and more popular. While they used to be associated with unsavory types, today these inkings are embraced by people from all walks of life. They are also accepted in most workplaces. Because hand tattoos are so visible – they can't be easily covered up by clothing – they make a real statement. If you're planning to tattoo your hands together, try a design that becomes complete when you hold hands, touch fingers, or high five. This symbolizes how you make each other complete.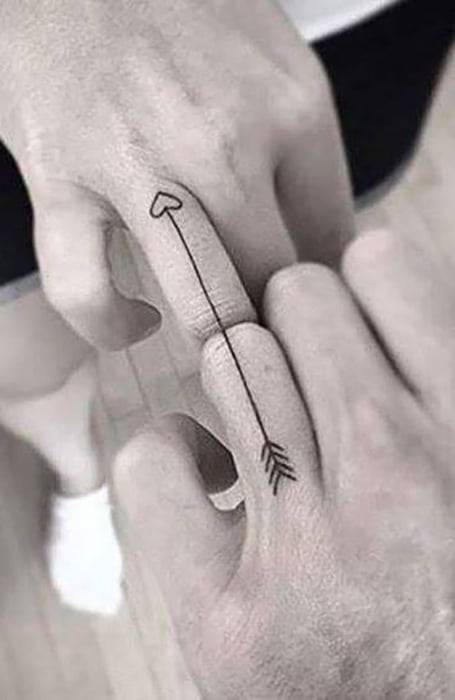 22. Anchor Couple Tattoos
The anchor tattoo design is all about finding your safe harbor. When ships drop anchor, their days of wandering the rough seas are over. Instead, they've discovered calm waters, and it's all smooth sailing from here. This is a romantic take on one of the traditional sailor's tattoos, which historically represents hope, salvation, calmness, and steadfastness. These also happen to be all the qualities you want in your partner!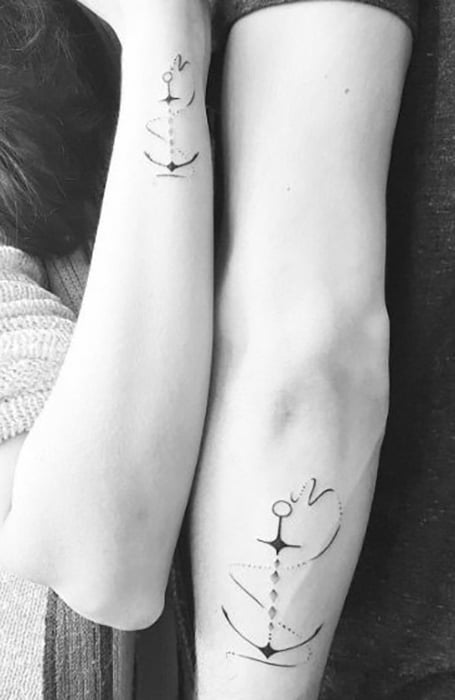 23. Couple Wrist Tattoos
The wrist is one of the most eye-catching places to place a tattoo. As a result, it's an excellent choice for couples who want to show off their love! This is a small area, so any design you choose will have to be petite and relatively simple. A lot of couples opt for a wrist tattoo that makes sense when you hold hands, like a paper plane in flight, heartbeat or Celtic knot. Bear in mind that it can be quite painful to be tattooed on your wrist due to the number of nerve endings under the skin. So be prepared to suffer for your love!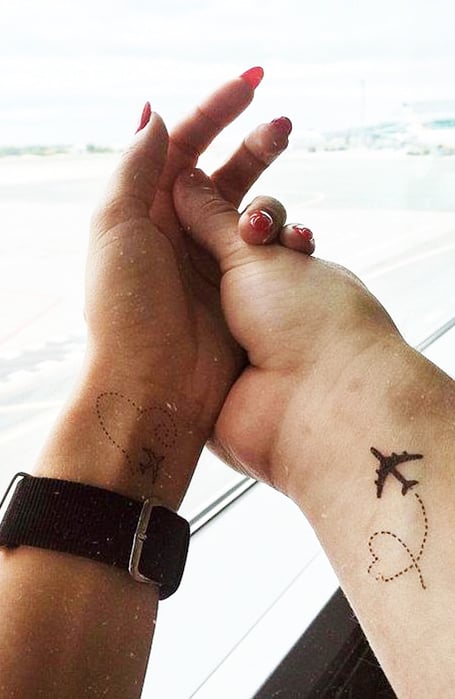 24. Couple Tribal Tattoos
Tribal tattoos are very significant in many cultures. Each one carries a special meaning, and the process is a rite of passage. If you are not a tribe member, it's important to respect these symbols and their essential place in another culture. However, if you and your partner love the look of these tattoos, you can create an original piece that has the same dark ink and use of shapes. Many artists take their inspiration from traditional designs, so they will be able to create something unique just for the two of you. It will pay tribute to tribal art without being a direct copy.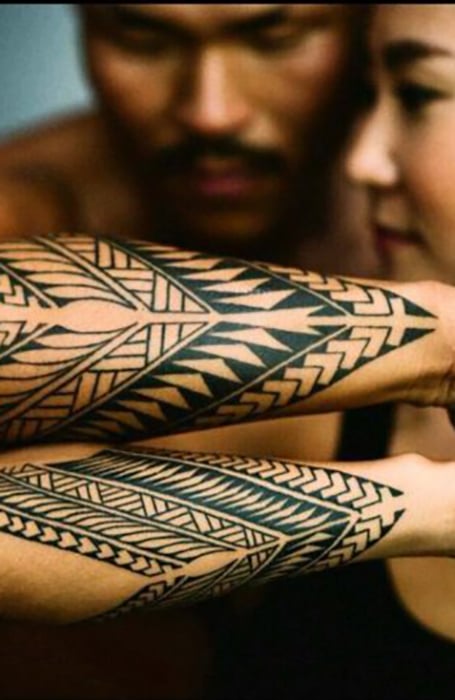 24. Initial Tattoos for Couples
One of the original couple tattoos is having your other half's initials inked on your body. Traditionally, it's considered bad luck to have a lover's name tattooed on you. However, an initial is a great compromise because you can quickly adapt it to something else should the worst happen! From a less cynical perspective, initial tattoos are a beautiful way to pay tribute to your one and only – they show the world that they are yours, and you are theirs.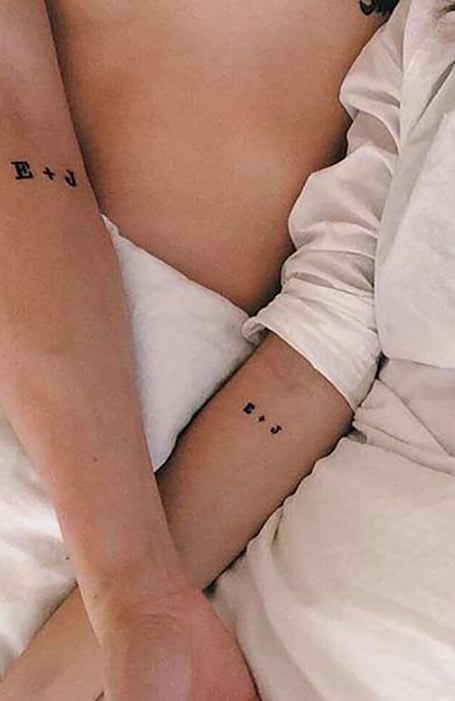 25. Puzzle Piece Tattoo Couples
Puzzle pieces have long been a metaphor for couples that fit together perfectly. So it's an ideal choice for a tattoo. This is the body art that shows that you complete each other, despite your rough edges. It's a symbol of connection and is a popular choice for those who feel like they have 'found their missing piece'. Some couples also use it to represent the bigger picture; it shows that they are a work in progress and moving toward a larger goal on a unique journey.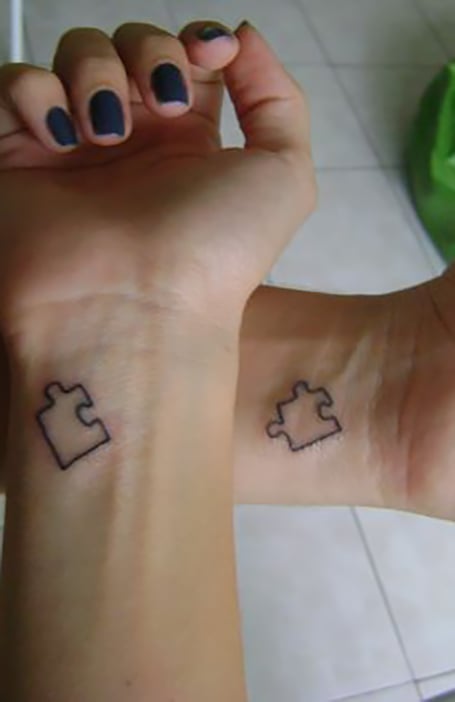 26. Star Wars Couple Tattoos
We all have a favorite on-screen couple, and for many, that's Han Solo and Princess Leia from Star Wars. This pair is known for their witty banter and sense of independence which hides their sentimental, romantic sides. Definitely ones for fans of the sci-fi classic, a Star Wars couple tattoo will show not only your love for the epic franchise but also your love for each other. May the Force be with you if you choose this inking!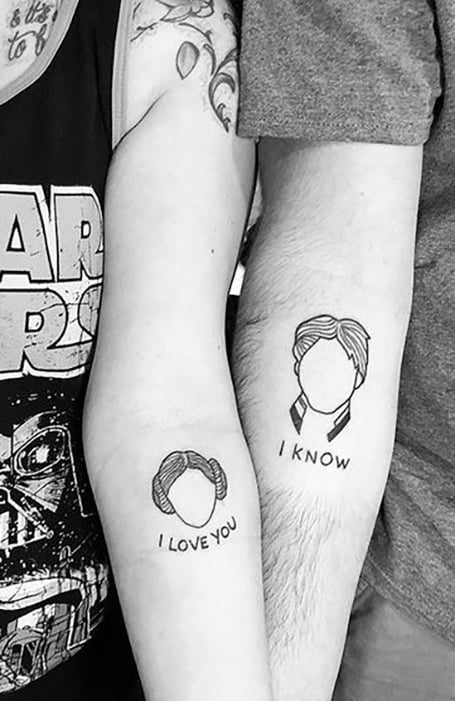 27. Sun and Moon Couple Tattoos
If your relationship is all about opposites attracting, sun and moon tattoos are perfect for you. While one represents heat, light, and energy, the other represents cold, dark, and rest. This design works for a pair who are very different in their personalities but complement each other perfectly. The classic example is if one of you is bold and extroverted, and the other is more cautious and introverted. This inking is a sign that you make each other complete because a relationship – like the Earth – needs both night and day to survive.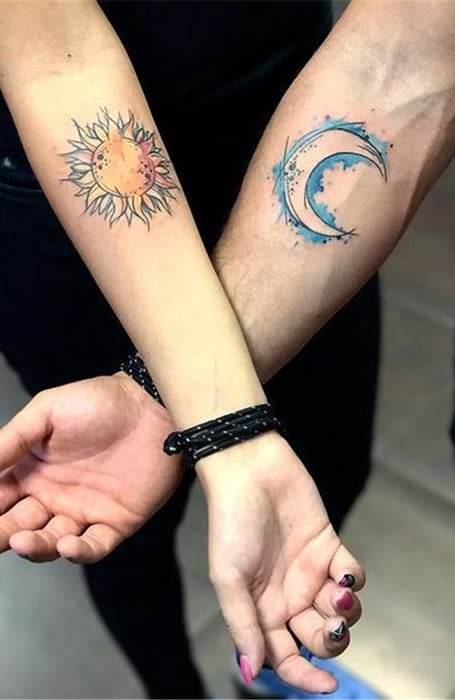 28. Wolf Couple Tattoos
Wolves are known for being wild and untameable. Many people have heard the myth of the 'alpha wolf' of the pack, but in reality, these amazing creatures form family groups with their chosen mates just like we do. Wolves are incredibly loyal, and when they couple up, they will stay together for many years, hunting, playing, and raising their cubs together. A wolf tattoo symbolizes a pair who trust their instincts, are fiercely committed and will protect each other at all costs.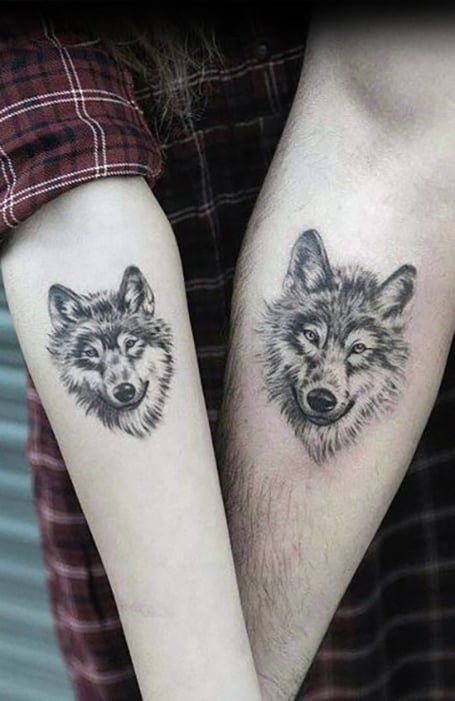 29. Nerdy Couple Tattoos
When you share a nerdy passion with your other half, why not get matching tattoos to celebrate it? Lots of pairs have bonded over their mutual love for Harry Potter, Doctor Who, a video game or comic. When you are choosing your tattoo, look for a symbol, slogan or fictional couple – like Mario and Peach from the Super Mario games – that relates to your favorite media. This piece of body art will remind you of all the fun times you spent sharing your favorite entertainment.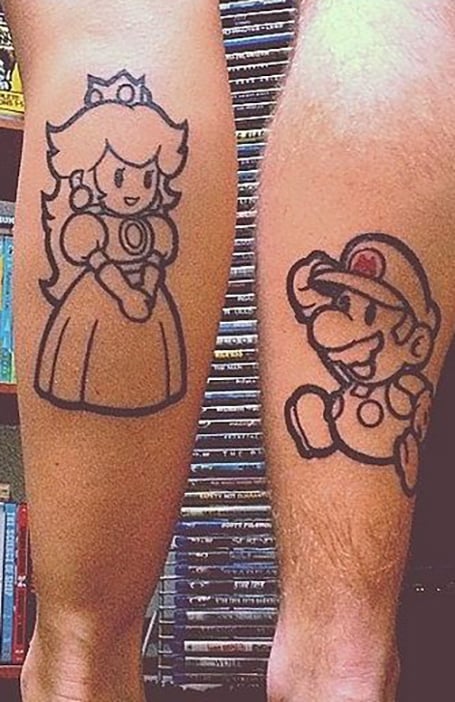 30. Sexy Couple Tattoos
A sexy couple tattoo is a must for every passionate pair. This type of inking shows your sensual connection with each other. There's a wide variety of sexy tattoos out there; a classic option is to have your other half's initials inked onto a private area like your hip, thigh, or chest. Another idea is to have a special symbol tattooed on your sides, so it's only visible when you are undressed.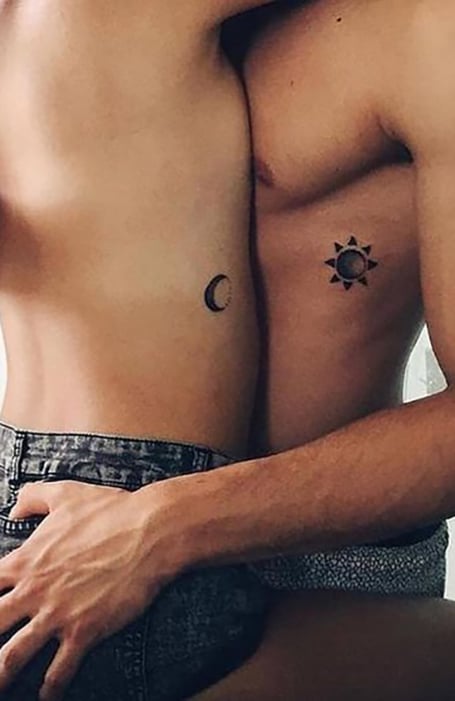 31. Gay Couple Tattoos
Not only do gay couple tattoos symbolize your love for your partner, but they can also be a permanent visual reminder always to be proud of who you are. If you're getting your couple tattoo during June – Pride Month – you could opt for a rainbow-themed design. However, not everyone likes multi-colored body art. If you prefer a simple black ink tattoo, a meaningful choice for gay couples is the double triangle. When pointing upwards, this three-pointed shape represents the masculine energy force. So when two of them overlap, it can symbolize the love between two men. This is a great couple tattoo idea if you want something subtle that will suit both your styles.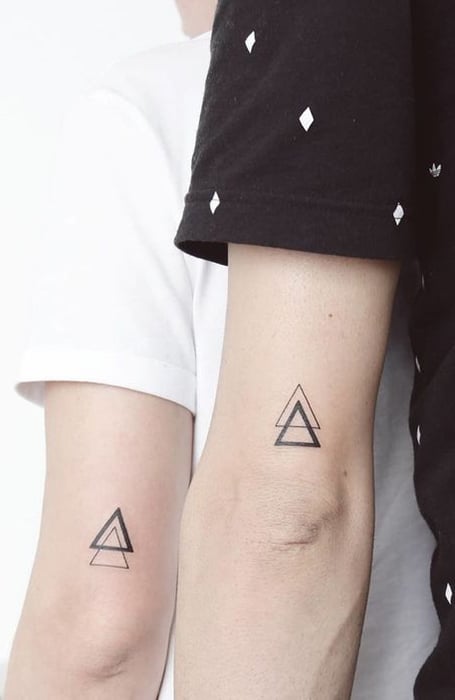 32. Lesbian Couple Tattoos
Ladies, there are lots of ways to express your love for your wife or girlfriend through a couple's tattoo. From matching flowers and lips to rainbow hearts and the double feminine symbol, there are hundreds of classic designs out there. A cute option is a simple line drawing of two girls with their arms around each other. This is a fairly literal tattoo, but that doesn't mean it's not meaningful. Tender and sweet, this design speaks to the intimacy two women feel for each other when they fall in love.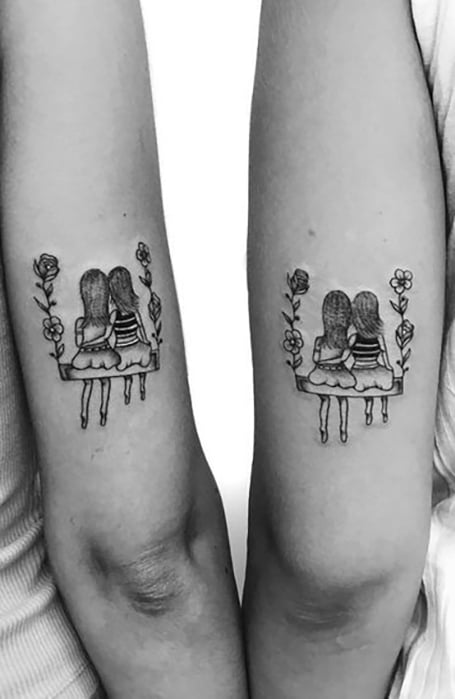 33. Funny Couple Tattoos
Funny matching tattoos represent the unique sense of humor the two of you share, so they'll be different for every couple. Some might prefer bawdy sex jokes, while others might want a wacky and original in-joke represented. Even puns are fair game if you and your partner get a kick out of them! Find something that makes you both crack up and book your appointment with the tattoo artist. The best part is that every time you look at your ink, you'll laugh.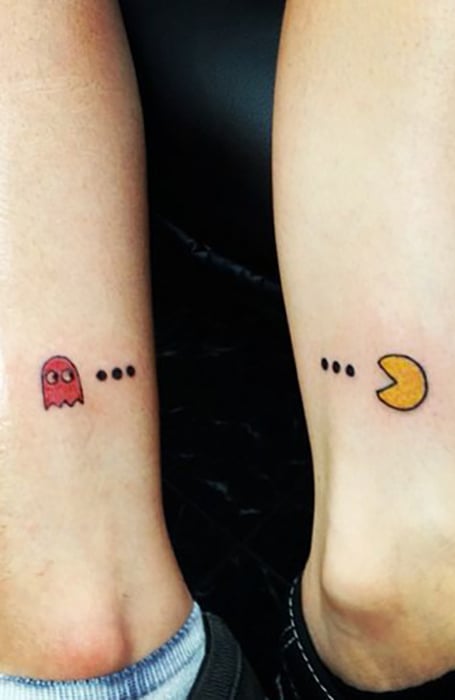 34. Minimalist Couple Tattoo
Minimalist tattoos are perfect if you want something subtle – and don't want to spend hours getting inked. It's also a good option if you have a very different style to your other half, as minimalist tattoos suit everyone. This type of body art is all about symbolism; no long quotes or complicated patterns, just a simple reminder of love. A classic minimalist couple tattoo is the 'x' and 'o' – because that's all you need to get the message of love across.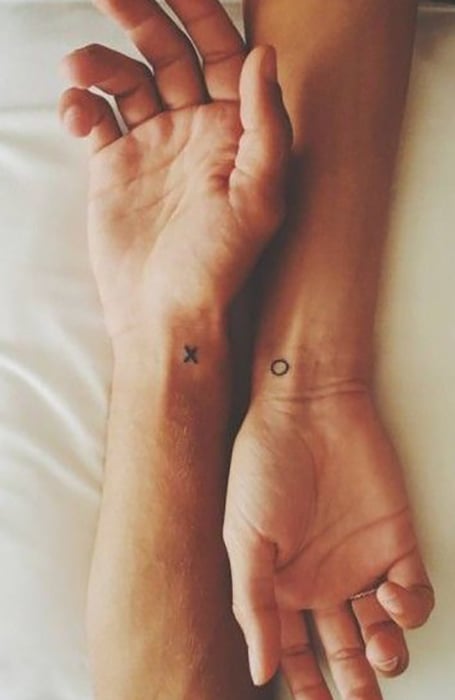 Couple Tattoos FAQs
What does matching tattoos mean?
Matching tattoos are a really symbolic step for a couple to take. Some couples' matching tattoos represent their shared milestones like years spent together, children they've had, people they've lost, or numerous other experiences that couples share.
Why do couples get matching tattoos?
Getting inked together is a great bonding experience. You can show your creative side when you choose a design together. More importantly, having a couple's tattoo makes a bold statement about your relationship and shows the world what your other half means to you.
What are good matching tattoos for couples?
Some good matching couple tattoos are quotes, sun and moon, tribal, matching design, wolf, lock and key, Yin and Yang, and infinity.
Are matching tattoos considered bad luck?
Getting your significant other's name tattooed, no matter how well your relationship is going, is considered a kiss of death according to tattoo artists.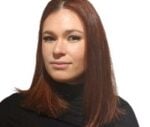 Arabella Roden is a skilled writer and sub-editor with over ten years of experience across print, digital, and B2B. She holds a Bachelor's Degree in Journalism and specializes in beauty, hairstyles, fashion, tattoos, and lifestyle topics. Arabella is currently the Chief Sub Editor at Mecca Brands and has been writing for The Trend Spotter since 2019.
SUBSCRIBE TO OUR NEWSLETTER
Subscribe to our mailing list and get interesting stuff and updates to your email inbox.