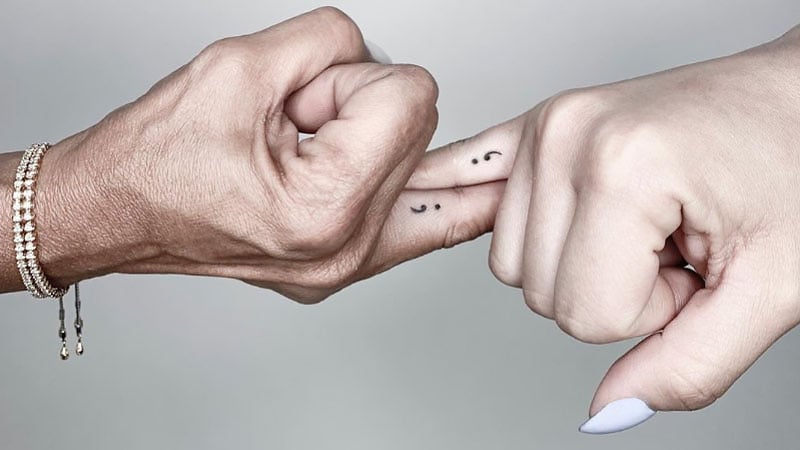 When it comes to choosing a tattoo, many people are searching for art that signifies something close to their heart. The semicolon is one of the most meaningful and moving tattoo choices. It has now spread around the world as a sign of solidarity and strength in the face of suicide, depression, and other mental health issues. For those who have gone through it, a semicolon tattoo is a powerful reminder of how far they've come.
RELATED: 12 Meaningful Sister Tattoo Ideas
1. Semicolon Butterfly Tattoo
Because they turn from a caterpillar into a beautiful winged insect, butterflies often represent transformation when it comes to tattoos. They are also flying creatures, which means they are a symbol of freedom. In Christianity, a butterfly also represents resurrection. For these reasons, many survivors choose to combine it with a semicolon to show their evolution. They were once in a depressed and suicidal state and have now come back to life.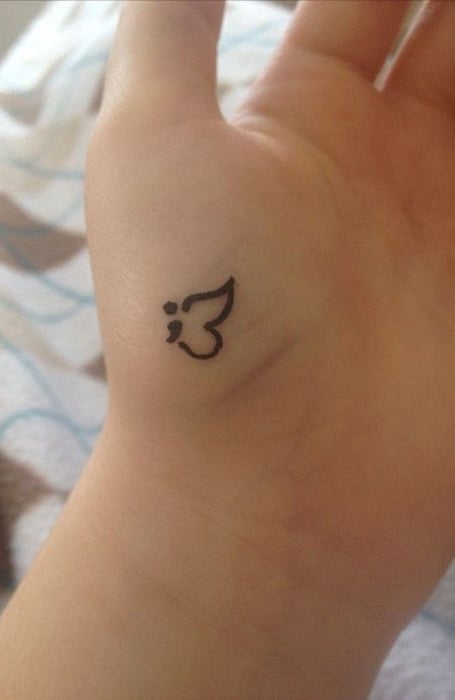 2. Semicolon Heart Tattoo
A small and delicate tattoo, the semicolon heart design has a poignant message. Hearts are a well-known symbol of love. When combined with the semicolon, this piece of body art reminds the wearer to love themselves. It can also represent how love saved them from the worst time in their life – and therefore as a tribute to their romantic partner or family and friends. It's a popular tattoo choice for women and is frequently placed on the wrist so that the wearer can see it every day.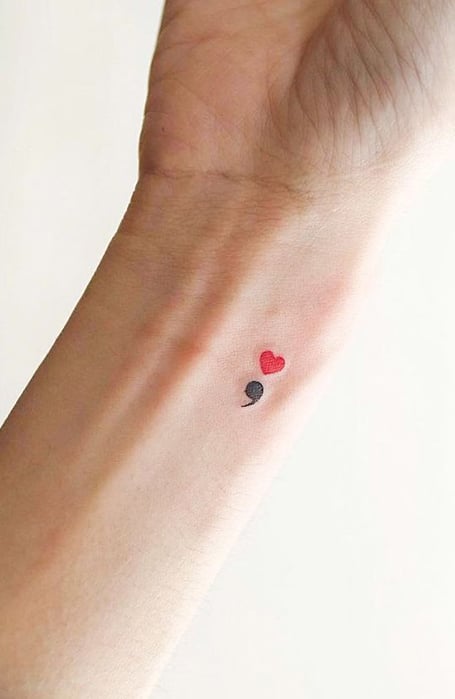 3. Semicolon Cross Tattoo
Christian survivors of suicide, depression, and mental illness often choose to work the symbol of the cross into their semicolon tattoo. The cross represents the sacrifice of Jesus Christ and reminds his followers that they have been saved from sin. When combined with the semicolon, it often represents how their religion healed them and helped them through dark moments. It is a way to reaffirm a Christian's faith in God and reminds them that they are never alone. It's also a great addition to a religious sleeve tattoo.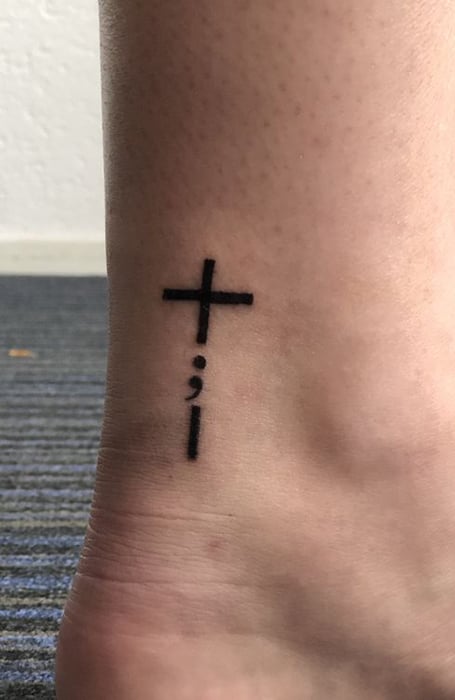 4. Cat Semicolon Tattoo
One of the cuter interpretations of the semicolon tattoo is to combine it with a cat. For some, it's a tribute to a beloved pet. Their furry friend was by their side in a time of need. However, cats also have symbolic meanings across many cultures. In Celtic and Japanese mythology, they were considered guardians of the underworld. They can also represent luck, mystery, independence, transformation and a wandering spirit. For these reasons, cats are often combined with a semicolon tattoo.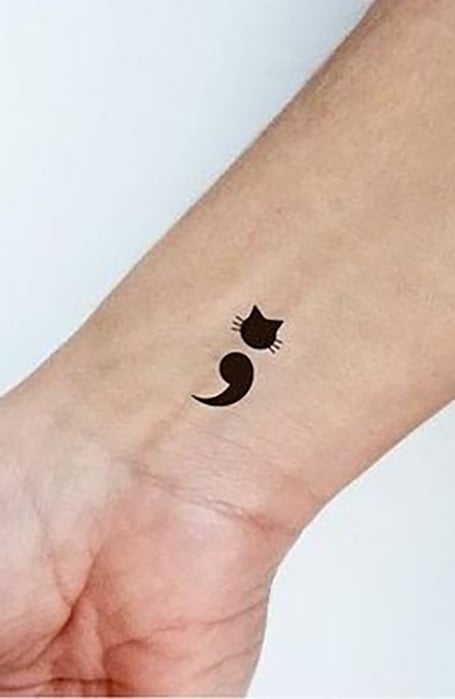 5. Semicolon Dragonfly Tattoo
Another nature-inspired element to add to a semicolon tattoo is the dragonfly. This creature is a very positive symbol; it's all about embracing change and finding inner strength, joy, and bravery. Those who have bounced back from a suicidal episode and have now found peace could consider a dragonfly semicolon tattoo. It is also a versatile tattoo design, as it looks equally cool large as it does small.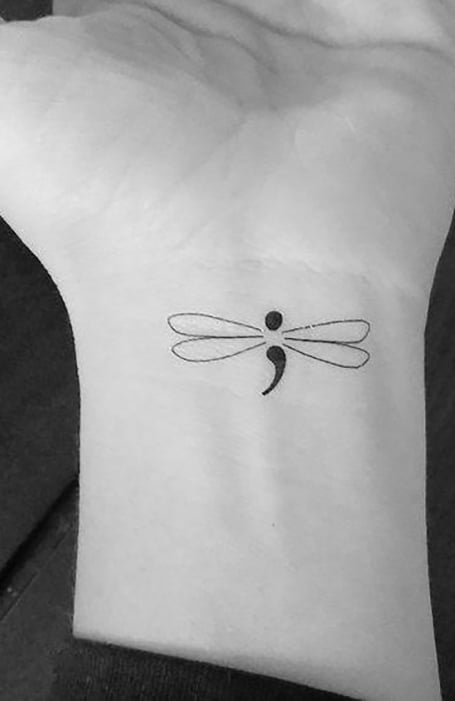 6. Semicolon Birds Tattoo
One of the most classic tattoo designs is a bird. That is because birds represent total freedom as they can swim, walk and fly. Birds also have a spiritual meaning, with some cultures considering them messengers between heaven and Earth. That's why many people think of them as the perfect addition to a semicolon tattoo, showing that the wearer is finally free from their troubles. Also, specific birds carry different meanings: doves are a symbol of hope, while swallows are signs of safety and are said to guide lost souls. The phoenix represents resurrection and 'rising from the ashes'. Any of these birds would be a poignant combination with a semicolon tattoo.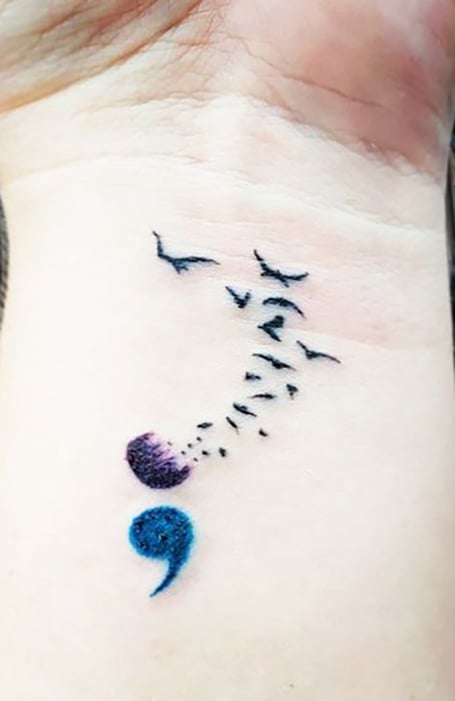 7. Wrist Tattoo
While a semicolon tattoo is subtle enough to be placed anywhere, many people opt to have it inked on their wrist. There are several reasons for this choice. One of them is that the wrist is part of the body that's easy to see, so the wearer can always look at their tattoo and find strength. Another reason is that the tattoo covers and over-writes scars on the wrist or arm. The inking becomes a powerful reminder that the wearer has overcome self-harm.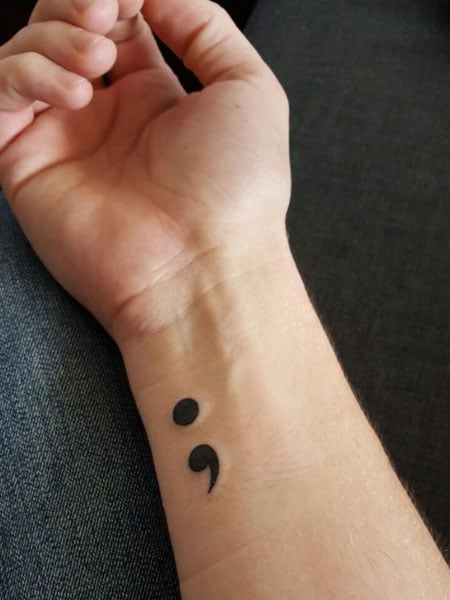 8. Tattoo on the Finger
Because the semicolon tattoo has such a poignant meaning, the wearer might prefer to keep it low-key. Luckily, fingers are a great placement for a small and subtle inking. You can easily hide the semicolon by inking it on the side of your finger. However, it is easy for you to see it if you want to. Fingers are also considered to be the ideal placement for tattoos of commitment and the things about which we are most passionate.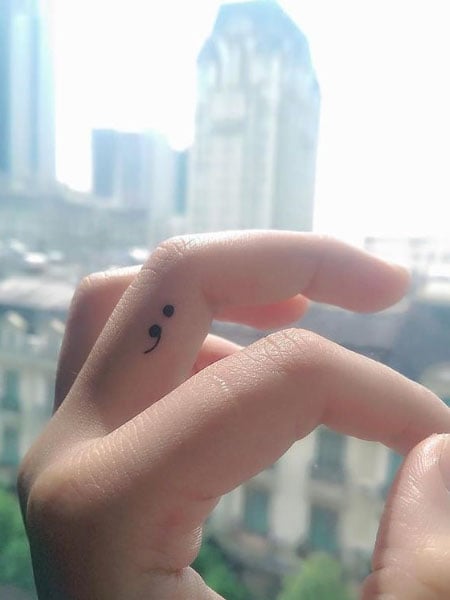 9. Tattoo Behind the Ear
Getting tattooed behind your ear is a rising trend. That's because it's an unexpected and discreet place to put body art. You can easily show off or disguise the inking just by moving your hair. Because the area behind your ear is small, it's perfect for a subtle design like a semicolon. However, it is also one of the most painful places to have a tattoo inked. So the semicolon design is also an excellent choice for this placement because it's quick to draw.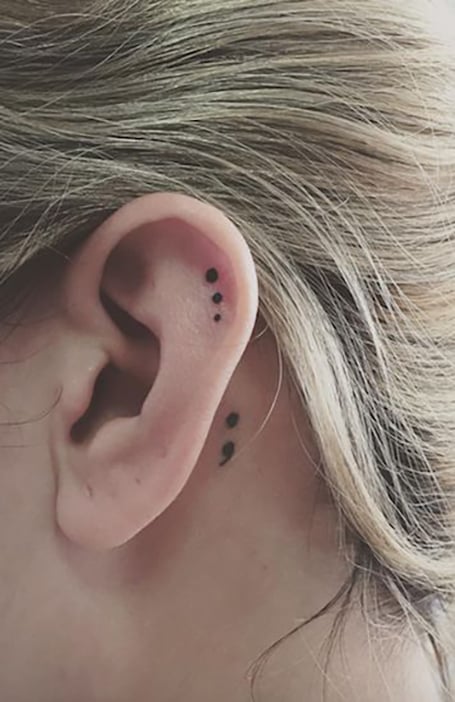 10. Watercolour Semicolon Tattoo
The watercolor tattoo technique is beautiful. It mimics the look of watercolor painting, which uses water to thin out pigment instead of oil. The result is a soft gradient of ink that looks like it is still wet on the skin. The fluid, freeform, and colorful finish of a watercolor tattoo provides a great contrast to a neat black-ink semicolon. These tattoos are ideal for free spirits and those preferring a more non-traditional look.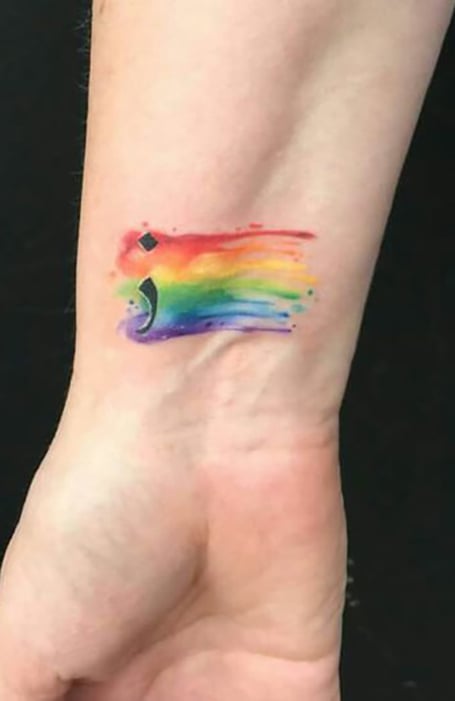 FAQs
What Does a Semicolon Tattoo Mean?
In punctuation, the semicolon is used when a sentence could have ended but didn't. When used as a tattoo, it represents when a person could have ended their life but chose not to. It is an empowering symbol of a person's ability to write their own story and overcome struggles. The beauty of this tattoo is its simplicity; it can be combined with many other designs to amplify its message of strength and rebirth.
Why is a semicolon a symbol for depression?
In a literary sense, the semicolon represents a decision by an author to continue a sentence, rather than ending it. In life, it symbolizes a choice to keep going rather than stop, which is particularly poignant for people battling suicidal thoughts, self-harm, and depression. It's also the symbol for Project Semicolon, a not-for-profit organization that helps to support and provide hope and love to people with mental illness and depression.
Are semicolon tattoos cliche?
There's nothing cliche about a symbol that brings hope and serves as a reminder that you can choose life. Simple characters can be incredibly powerful and uniting. Plus, the more awareness, the more conversations can be open and honest, and the stigma attached to mental illness can be eliminated.
Should I get a semicolon tattoo?
The meaning behind a semicolon makes it a particularly personal and vulnerable choice to get as a tattoo. If you're struggling, it can serve as a reminder that continuing is a choice worth making. It is an empowering symbol of a person's ability to write their own story and overcome challenges. You can also use it to show your support for others battling mental health issues.
SUBSCRIBE TO OUR NEWSLETTER
Subscribe to our mailing list and get interesting stuff and updates to your email inbox.