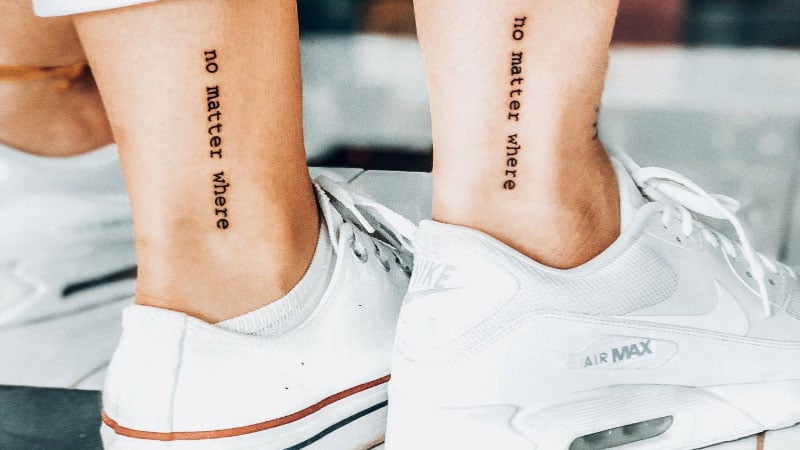 There's nothing like a best friend. You've stuck by each other through thick and thin, gone through hard times, and celebrated the good times too. Your best friend makes life brighter just by being around. Whether you met on the first day of kindergarten, discovered your friendship in school or found each other as adults, yours is a bond that can't be broken. Why not show your appreciation for each other to the world with matching ink? After all, tattoos last a lifetime – just like best friends.
1. Small Best Friend Tattoos
Even a tiny best friend tattoo has a significant meaning. A petite inking is perfect for those who are getting their first tattoo as it is a low-pain, low-cost option. Alternatively, it's also an excellent choice for those who want a design that's quick and simple to draw. To make the most of your small tattoo, choose a simple design in black ink. Some ideas could include your initials, lucky number, or a reference to your favorite movie, book, or TV show.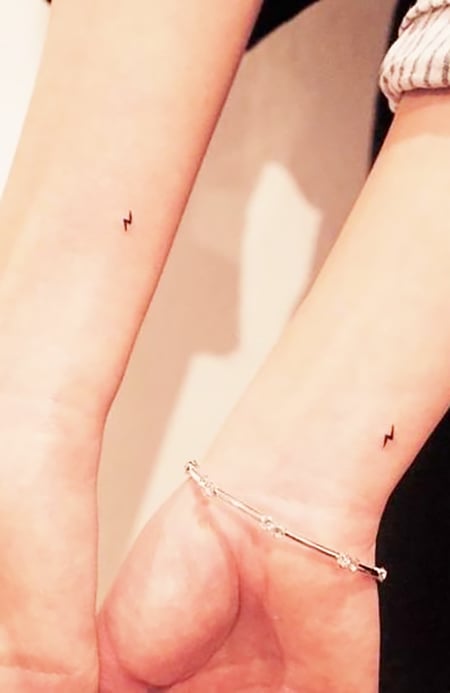 2. Best Friend Tree Tattoos
Some people are lucky enough to have two best friends! If your trio is looking to get a distinctive tattoo, why not reference the number three? A matching tattoo that includes this motif will let people know that the three of you are close pals. A popular design is three trees. The size of each tree can represent your heights or ages. Trees also symbolize growth, wisdom, protection, and eternity – a metaphor for a friendship that will stand the test of time.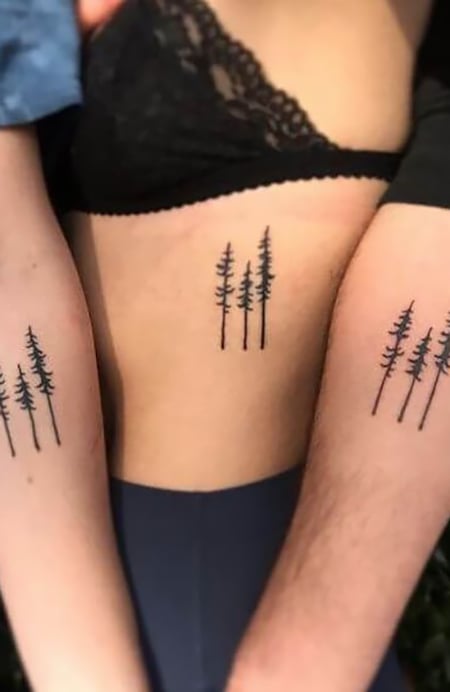 3. Cute Best Friend Finger Tattoos
Cute finger tattoos are a popular body art choice for best friends who bring out the sweet and playful side in each other. If you met your best friend when you were children, a cute tattoo could be the ideal way to symbolize your relationship. Your favorite childhood cartoon character, animal tattoos, or the famous 'hugging fingers' design are all adorable inkings for cute best friends.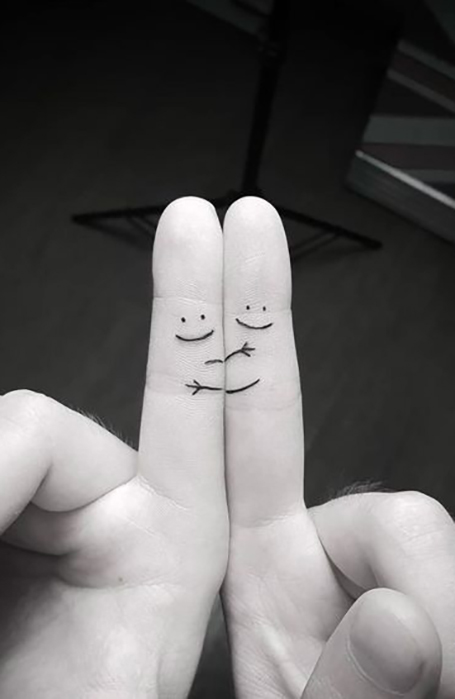 4. Best Friend Symbol Tattoos
When choosing a symbol tattoo with your best friend, it's essential to do your research. There are many symbols with different meanings, so there's bound to be one that summarises how you feel about each other. Symbols can also be as elaborate or as simple as you desire, so choose something that works with both your styles. A fresh minimalist choice is the double triangle symbol. One triangle points up, while the other points down. It symbolizes that the two of you are opposites that have connected on a deep level. Plus, the design also looks like the Nordic Rune Inguz, which represents creativity, new beginnings, and a new phase of life. It could be a great tattoo choice if you and your best friend are starting an adventure or a project.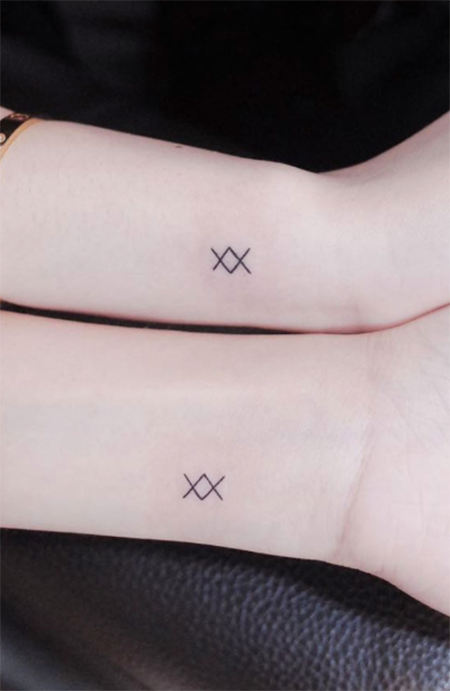 5. Quote Best Friend Tattoos
Quote tattoos have been a popular design choice for many years. That's because they poetically summarise our feelings and ensure we never forget them. Whether it be a line from a play, movie, book, or song lyric, quotes are a meaningful choice for body art. Best friends might choose to get the same quote tattooed or have one person inked with the first half of the quote and the other person with the second half. That way, the quote will only be complete when you are together – just like your friendship.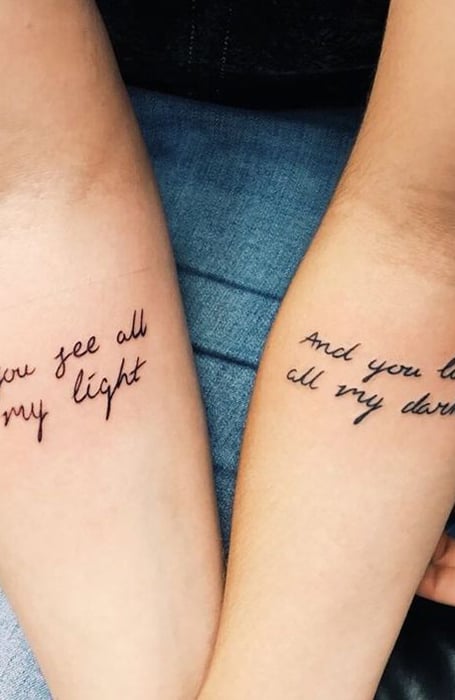 6. Matching Best Friend Tattoos
Getting matching tattoos is a classic choice for best friends. One of the best bonding experiences you can share is choosing what you'll get – or even creating a unique design together. However, make sure the final inkings suit both of you, with an art style you both like. Matching tattoos are ideal for best friends who are incredibly similar. Like matching couple tattoos, these inkings show you have the same mindset and see the world the same way. Choose this type of body art if you and your best friend are soulmates.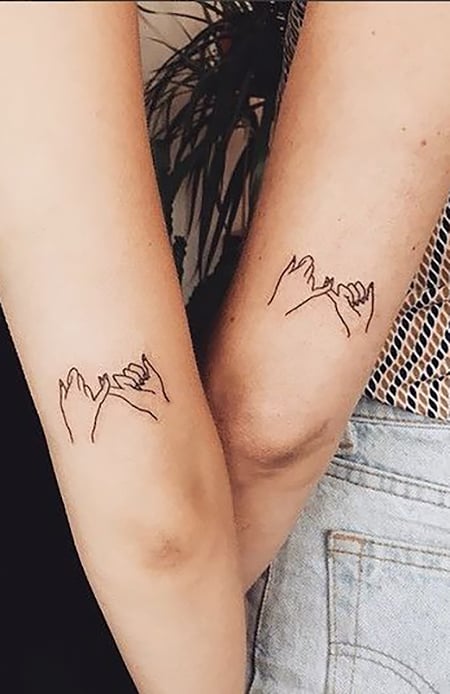 7. Sun and Moon Best Friend Tattoos
Sun tattoos and moon tattoos aren't just for romantic couples. The design is also ideal for best friends who are opposites but have complementary personalities. Many people associate the sun with outgoing, extroverted people, while the moon is usually symbolic of more reserved, introverted types. However, the Earth needs both night and day – so when you bring these two powerful symbols together, they represent perfect unity. As a result, getting sun and moon tattoos represents how your friendship is perfectly balanced, no matter how different you may be.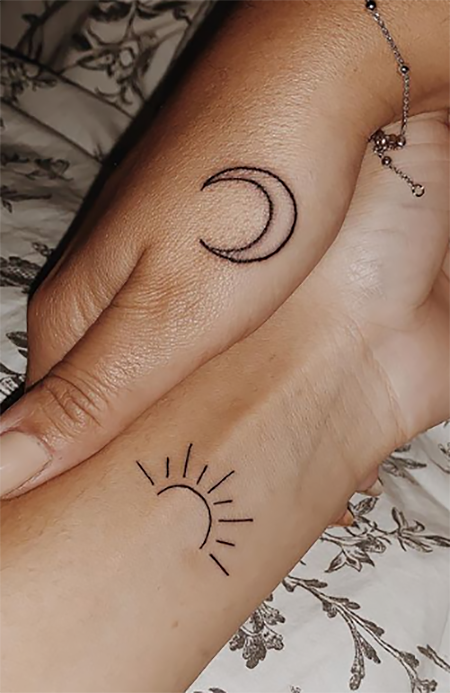 8. Memorial Best Friend Tattoos
One of the most lasting ways to pay tribute to a lost friend is with a memorial tattoo. Because it is such a personal inking, the design of a memorial tattoo is up to every individual. It can be as simple as their initial or birthday, or as intricate as a sleeve tattoo full of symbolic elements. One motif that is often used in these types of tattoos is the rose. That's because this flower represents eternal and immortal love that transcends death. Red and black roses, in particular, are associated with memorials, and the flower can also represent new hope and new beginnings.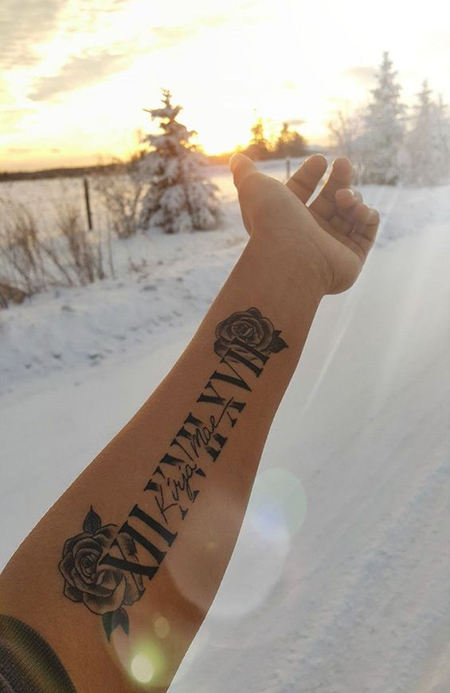 9. Simple Best Friend Tattoos
Tattoos don't need to be complex to be meaningful. If you and your best friend are looking for a body art design that matches your easy friendship, a simple tattoo is a perfect choice. Many choose to get each others' initials. Other ideas could include simple geometric shapes, lines, or dots. Friends who share the same religious faith could get subtle inkings that express their shared beliefs. Popular placements for simple tattoos include the wrist and fingers, and even though the inking is small, you will always be able to see it.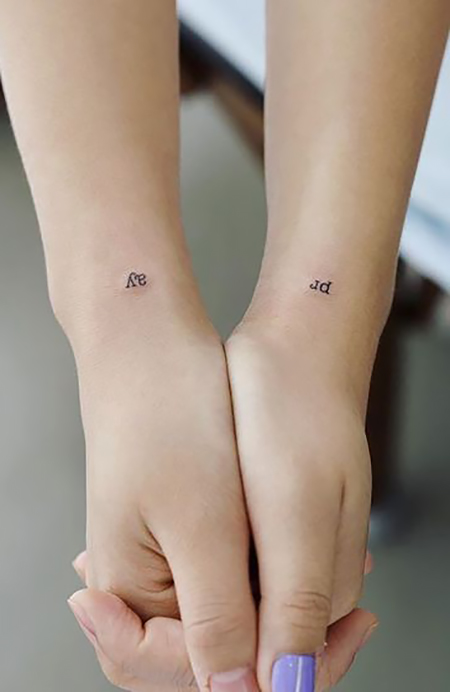 10. Best Friend Heart Tattoos
One of the most popular tattoo designs of all time is the heart. It's a universal symbol of love and affection – but it's not just for couples. These tattoos show that your best friend is close to your heart. It's also a versatile design because you can customize it to match your style. A floral heart would suit best friends with a feminine style, whose love for each other has grown over time. Some choose a full-color heart with a hue that matches their best friend's personality. For example, yellow is the universal color of friendship, while green represents trust. Whatever you decide, there's no mistaking how you feel about each other when you get heart tattoos.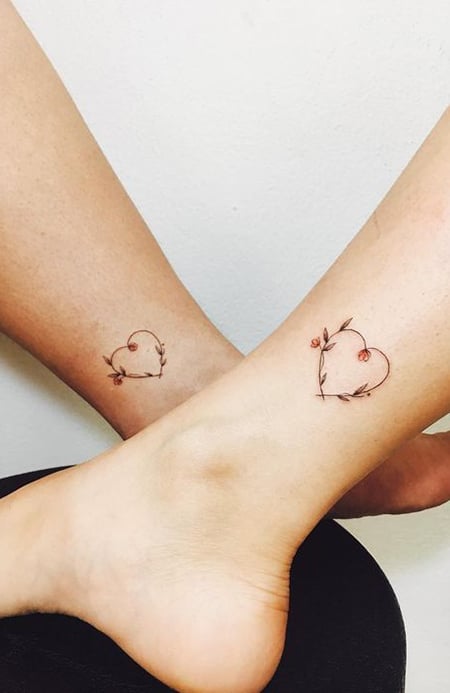 11. Best Friend Sister Tattoos
Some people are lucky enough to be best friends with their sisters. So if your sibling is also your best friend, you've got twice as many reasons to get a sister tattoo together! One cute idea is to get a design that makes sense when you place the two inkings side by side. It symbolizes how you are two halves of the same whole and your strong bond with each other. You could also choose to get matching symbol tattoos, like the Celtic Sister's Knot.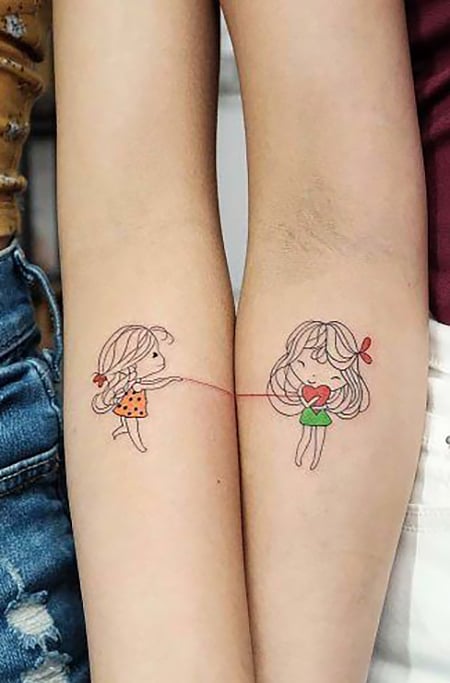 12. Guy and Girl Best Friend Tattoos
If your best friend is of the opposite sex, make sure you choose a design that will work with both your styles. Neutral symbols will ensure your tattoo doesn't look too romantic and is neither overly masculine nor super feminine. A popular choice is lightning bolts; it's a great design if you are both Harry Potter fans too. Anchors or numbers, such as your birthdays, the date you met, or co-ordinates for a special place you've visited together, are also trendy ideas.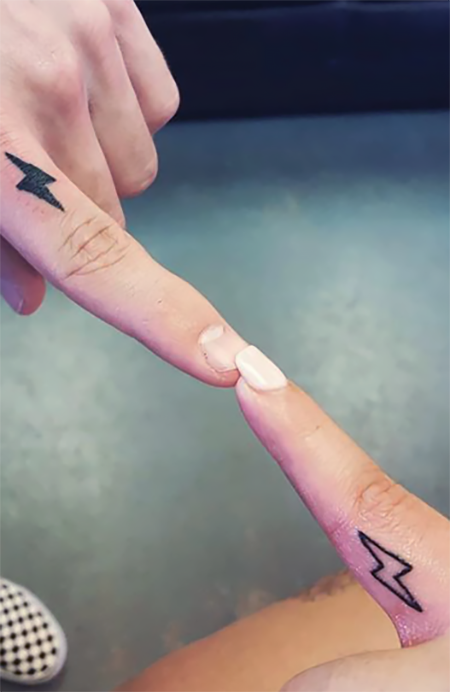 13. Funny Best Friend Tattoos
One of the best parts of friendship is laughing together. Having the same sense of humor can make a friendship last a lifetime. So, if your buddy makes you crack up, a funny tattoo is the perfect idea for your tattoos. Puns, cartoons, and cheeky or dirty jokes are all fair game. The only thing that matters is that the two of you giggle every time you see your ink. Take your funny tattoo to the next level by choosing tattoos that others will 'get' when they see them together.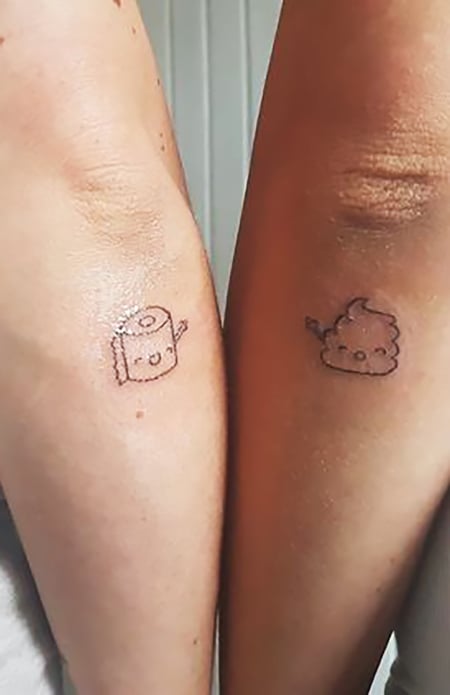 14. Cool Best Friend Tattoos
Best friends with unique, artistic, or edgy styles should choose a cool tattoo. These inkings are all about the art, so you must select an artist whose designs you both like. For an on-trend cool tattoo, opt for a black line drawing with no shading. These minimalist inkings look striking on fair skin, and you can incorporate meaningful symbols without the design becoming too complicated or confusing. A trendy placement for tattoos is the back of the arm, rather than the forearm or bicep. If you choose to have your inking placed there, bear in mind, you won't be able to see your ink without using mirrors. However, your best friend will always be able to see it!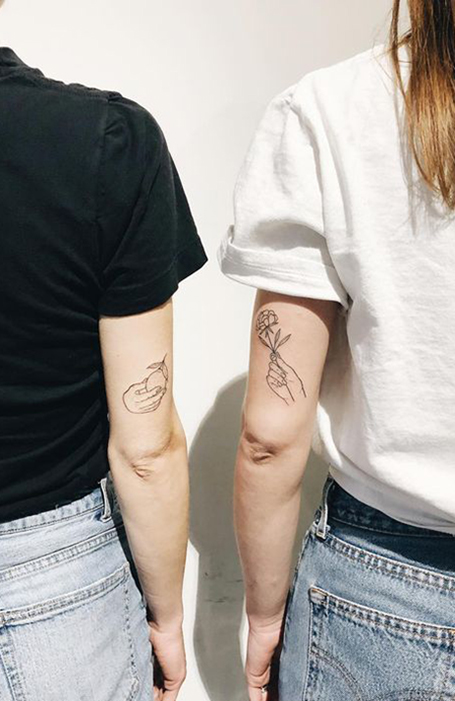 15. Butterfly Best Friend Tattoos
Butterflies are a symbol of transformation because they turn from a caterpillar into a beautiful winged insect. They are also associated with nature and freedom. As a result, best friends who connect with these ideas could consider getting matching butterfly tattoos. In the Christian religion, butterflies represent resurrection. If you and your best friend have helped each other through dark times, matching tattoos bearing this symbol could be a significant choice for you.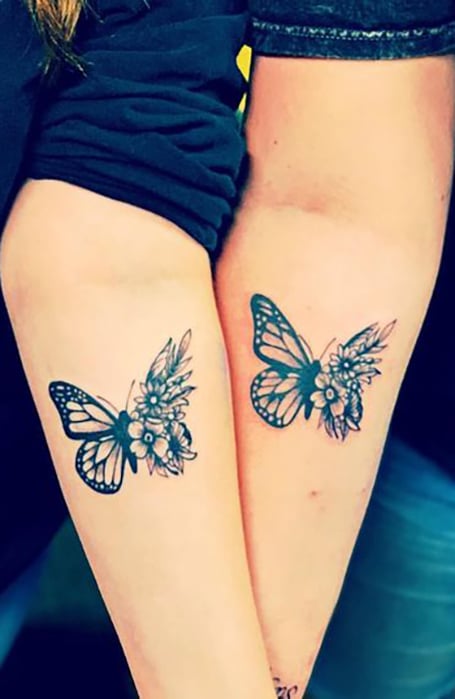 16. Best Friend Flower Tattoos
Flowers can have many meanings. So, when choosing the perfect floral tattoo with your best friend, consider not just the appearance but also the symbolism of the flower. The rose represents everlasting love, while lily of the valley is associated with sweetness and happiness. Meanwhile, each month of the year also has a 'birth flower' as well as a birthstone. You and your best friend could have each other's birth flowers inked. Finally, if you and your BFF have botanical names – like Poppy, Violet, Jasmine, or Daisy – you could have the flowers inked to remind you of each other.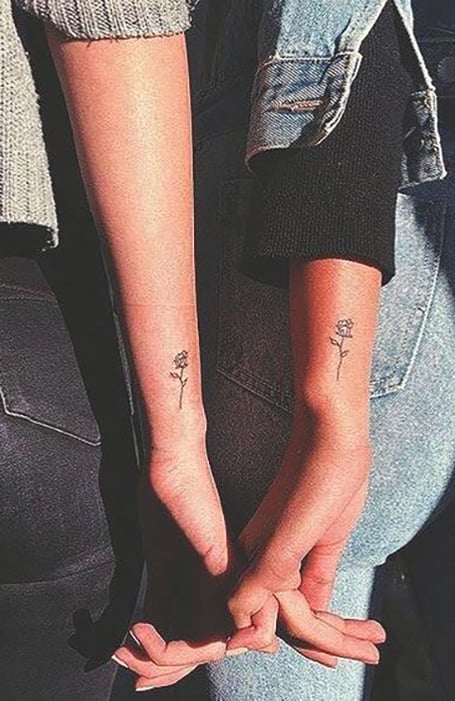 17. Yin and Yang Best Friend Tattoos
Another symbol that represents two different yet complementary people, the yin and yang sign originates in ancient Chinese philosophy. Yin symbolizes feminine and calm energy, while yang is associated with male, active power. The two together are a sign of balance and harmony – just the way two best friends are. When you get your yin and yang tattoo, you can customize the design with other elements. The mandala is sometimes added to the yin yang as it is also a symbol of unity, wholeness, and perfect balance.
18. Best Friends Forever Tattoos
What symbolizes everlasting friendship better than the infinity tattoo symbol? It's an excellent choice for those who have been best friends for many years, as your bond can stand the test of time. While you can opt for the simple version of the sign, it can also be customized with other symbols. A popular choice is to turn the infinity into an arrow. The meaning behind this arrow tattoo is that whichever direction you go in life, your friendship will remain eternal. For best friends who might be parting ways – for example, if one of you is moving to another part of the country – the infinity arrow design is meaningful.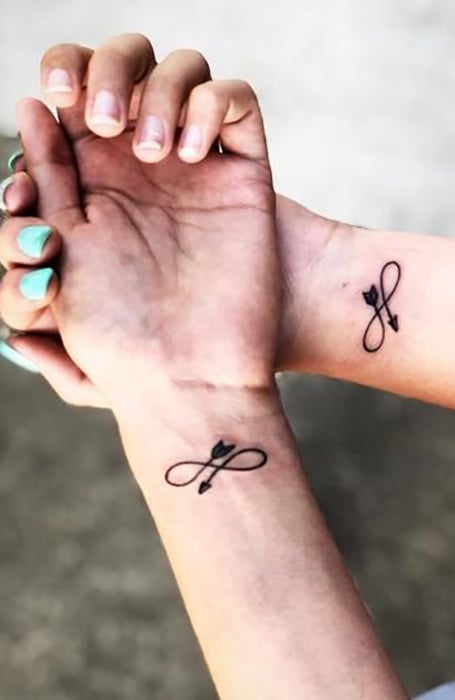 19. 1/2 Best Friend Tattoos
A plain yet powerful best friend tattoo is the half symbol. Taken literally, it means that you are both halves of the same whole and are complete when you are together. When you are apart, you can look at your ink and remember that you are one of two – you're never truly alone. It's a design that suits best friends who mean the world to each other. Because the design is so simple, it looks best when drawn small. As a result, it suits placements like fingers, ankles, or behind the ear.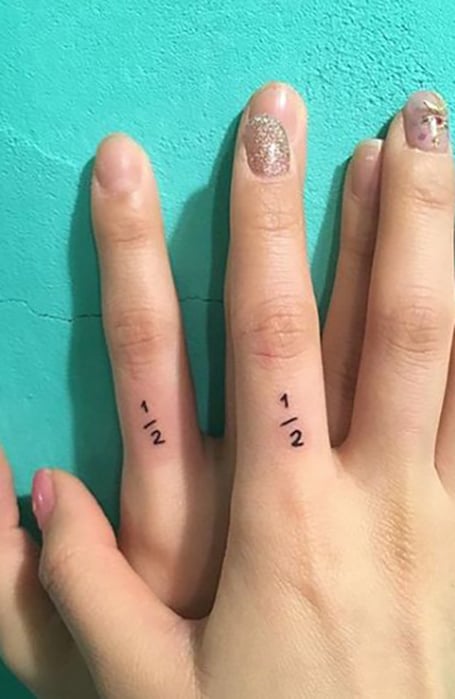 20. Lock and Key Best Friend Tattoos
While a lock and key tattoo is a popular choice for couples, it's also suited to best friends. That's because the design represents two people who are made for each other. If you and your best friend bring out the best in each other – and unlock each other's potential – it could be an ideal design. The lock and key also represent the thing that is most precious to us and that we most want to protect. For many people, that is their friendship with their BFF.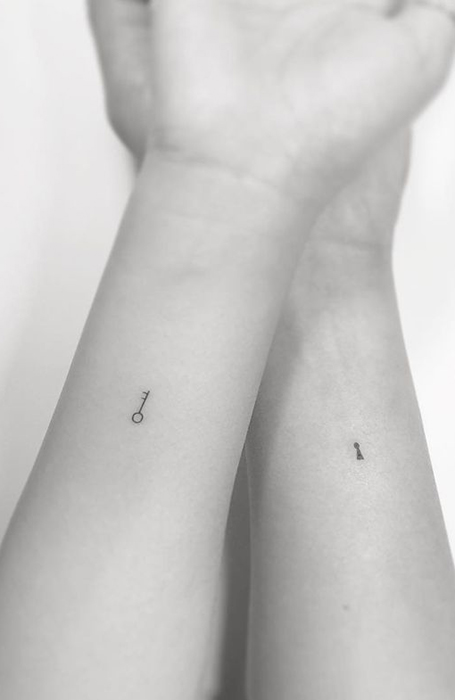 21. Best Friend Wings Tattoos
Wing tattoos are a very symbolic inkingchoice. Flying requires two wings moving in the same direction. For two best friends, getting one wing tattooed each can mean that you lift each other and are unstoppable when you are together. In mythology, wings must also be earned, so these tattoos could represent best friends who have gone through hard times and come through stronger. Wings are also often used to symbolize an angel, so these tattoos could be a memorial to a friend who has passed away.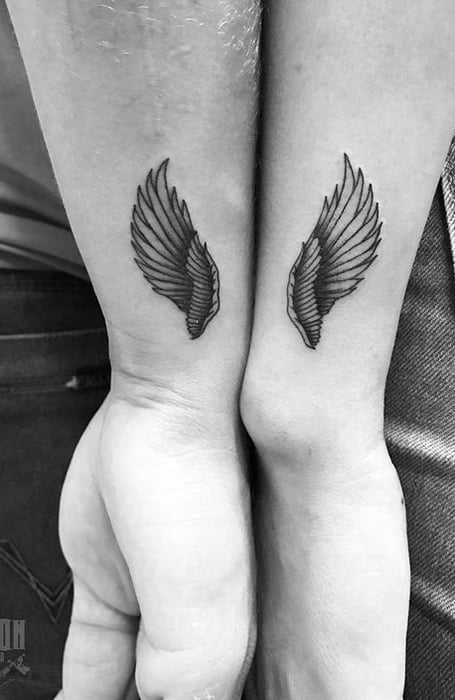 22. Best Friend Distance Tattoos
Life can take you and your best friend in very different directions, sometimes leaving you on opposite sides of the world. One of the best ways to pay tribute to each other – and make sure you never forget your bond – is with matching tattoos. A meaningful phrase, a map of the globe, or an airplane are popular choices for distance tattoos. You could also get the coordinates of each other's locations inked as a subtle tribute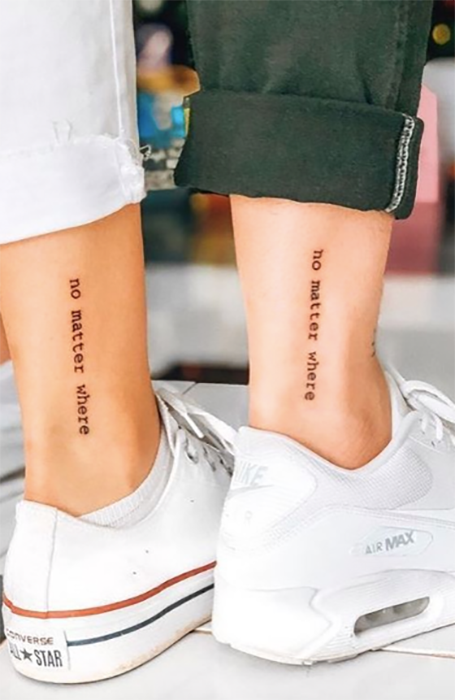 23. To Infinity and Beyond Tattoos
One of the most famous lines in movie history is Buzz Lightyear's catchphrase, "To infinity, and beyond!" The phrase was first said in the movie Toy Story, which is all about friendship. If you and your best friend love the film and its message – and if they are the Buzz to your Woody – you should consider having the line turned into a tattoo. The inking connects you to your childhood. At the same time, it reminds you of your potential and the adventures you and your best friend will go on together through life.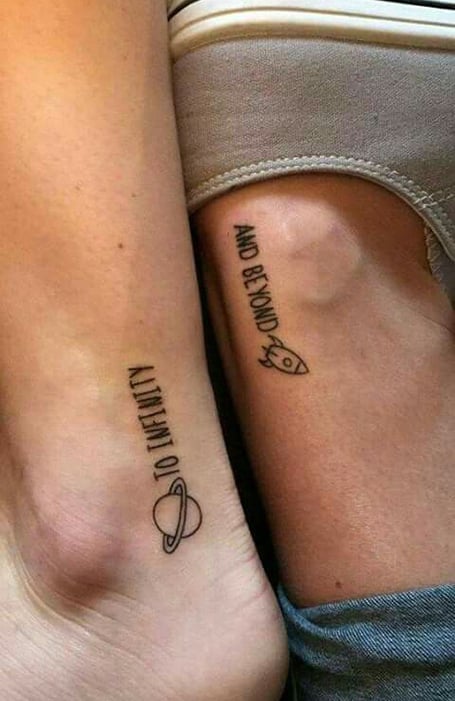 24. Best Friend Arrow Tattoos
Arrows represent life's journey, so they are the perfect tattoo for two people who have grown up together. Two crossed arrows are a universal symbol of friendship, making that the ideal design for best friends. When it comes to matching tattoos, they are also popular inking for pairs and groups as multiple arrows are harder to break than a single one. You can easily combine your arrow tattoos with other symbols like your initials, leaves, and flowers – or leave your body art eye-catching and straightforward.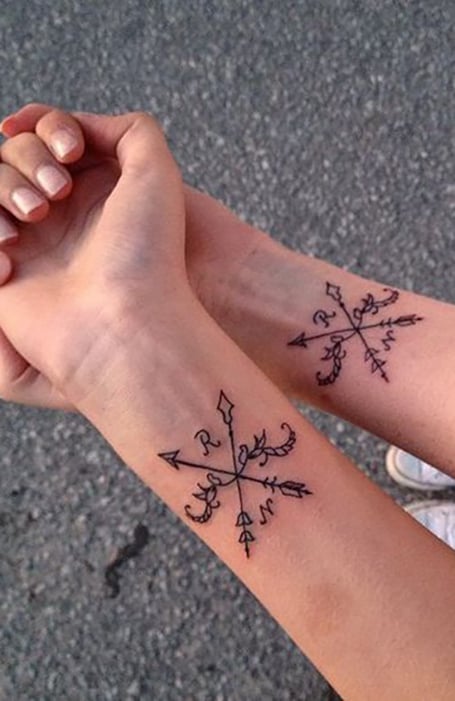 25. Best Friend Bird Tattoos
If you and your best friend are looking for a classic tattoo design, you can't go past birds. One of the original sailor tattoos, the swallow bird design represents coming home after a long journey – perfect if the two of you live far apart or are about to reunite. Sparrows, meanwhile, represent loyalty so it could be an excellent idea to show that the two of you are incredibly close and never let each other down. Because they can fly, birds are also associated with freedom, so a couple of free-spirited friends would suit matching bird tattoos.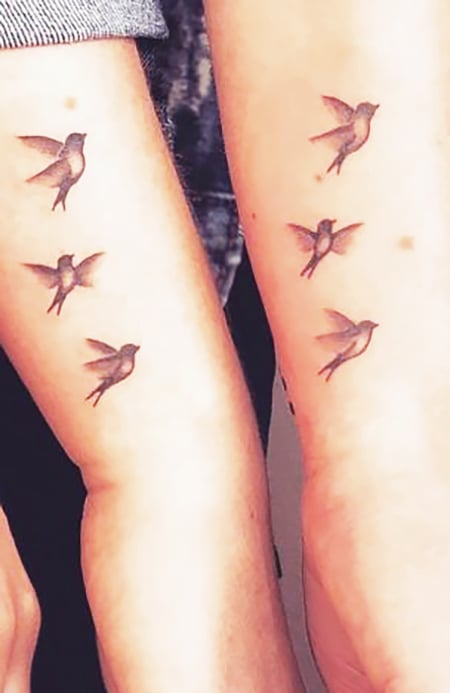 26. 3 Best Friend Tattoos
If you have multiple best friends, you can find a design that honors all of you. For three best friends, there are several options including choosing different Disney characters or picking out three images that go together. For example, the sun, moon, and stars. You can all get matching tattoos, or each tattoo can be different, representing one element of a much bigger and more detailed design. This is a sweet way to celebrate your friendship and show your commitment to the relationship.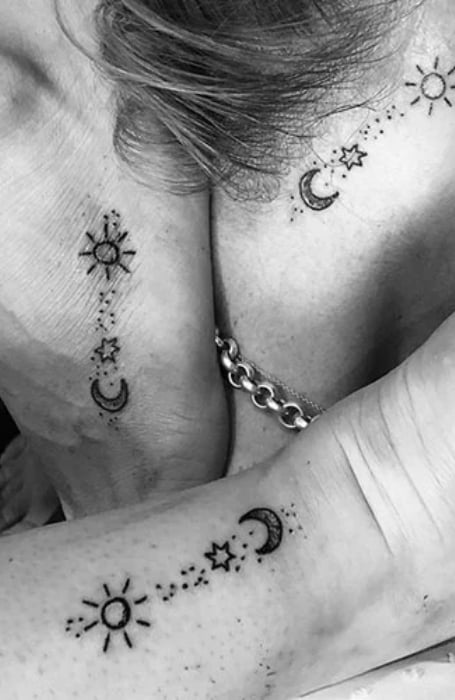 27. Unique Girly Best Friend Tattoos
What better way to celebrate the bond between friends than with a best friend tattoo? There are many options to choose from, including simple designs that appeal to those who prefer a minimalist aesthetic, to intricate, detailed inkings. Deciding on the right tattoo will also be a bonding experience, especially if you intend to get matching tattoos. Opting for something unique that reflects the way you feel about each other is a great choice.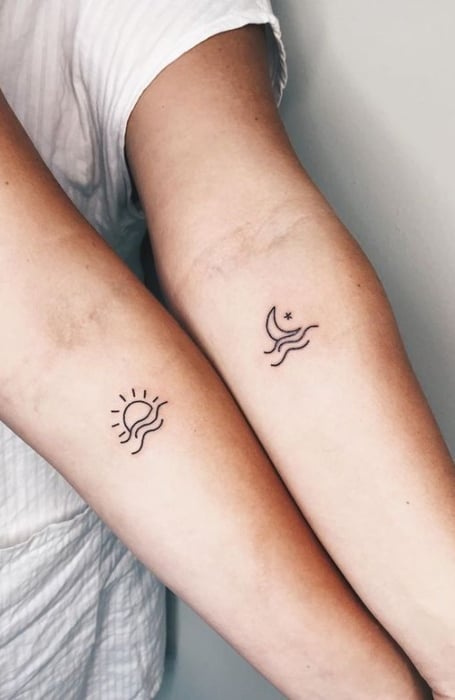 28. Disney Best Friend Tattoos
Disney has inspired many people with their storylines and characters. For many, Disney movies are also a reminder of a happy and innocent time, taking them back to their childhood. If you have a childhood friend or someone you feel deeply connected with, you can honor this bond with a tattoo. Disney best friend tattoos are an excellent option and there are many characters to choose from, depending on your favorite film. Some sweet options include Lilo and Stitch, Timon and Pumbaa, and Lumiere and Cogsworth. Each of these friendships is unique, letting you choose the one that best reflects your own.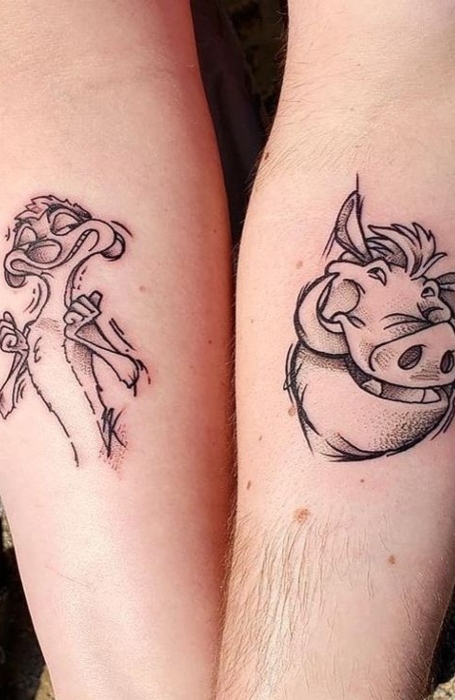 29. SpongeBob Best Friend Tattoos
Some of the most memorable friendships are between cartoon characters. If you and your best friend love SpongeBob SquarePants then what better design than a Patrick Star and SpongeBob tattoo? In the cartoon series, these two characters are best friends, and this can be a cute and lighthearted way to celebrate your connection. The design will look great in color, showing off the detail of the cartoon. You may also wish to include your favorite quotes from the series.&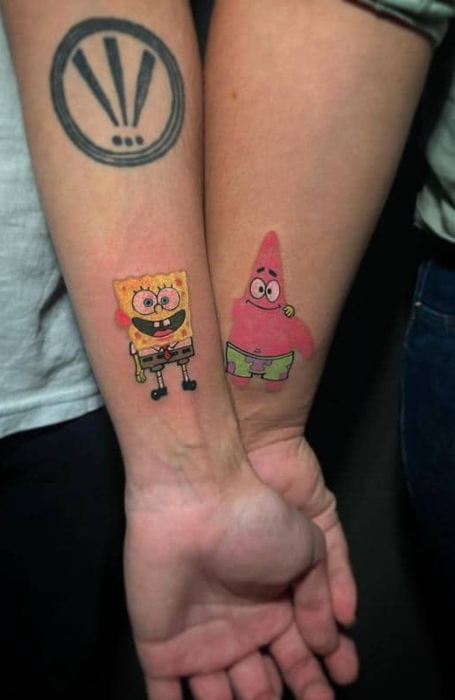 30. Best Friend Infinity Tattoos
The infinity symbol is simple but makes a powerful statement. It represents the concept of eternity and forever, and many people interpret this as everlasting love and commitment. It can make an excellent design for your best friend tattoo and the simplicity of the design gives you versatility with placement, letting you ink even the smallest areas like the finger or behind the ear. Infinity tattoos can also be adapted to suit your preference and reflect your thoughts and feelings, this can be done by adding to them with quotes and other images like a bird, arrow, or feather.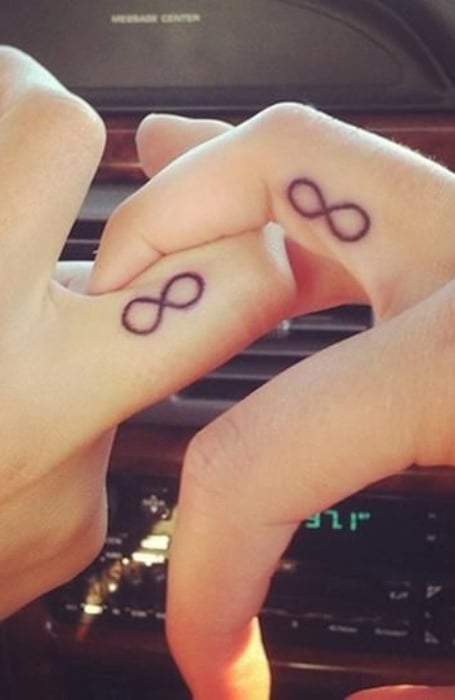 31. Rip Best Friend Tattoos
Tattoos are an excellent way to honor the bond you share with someone and are often inked to celebrate the life of a loved one who has passed. If you have lost someone close to you, the right design may make you feel as if a small part of them is with you always. Tattoos can make a powerful statement but they can also bring you comfort and joy. When honoring your best friend, try to make your design as unique as possible, including images that have meaning to you. This could be their favorite animal, flower, quote, or something that has great symbolism associated with it.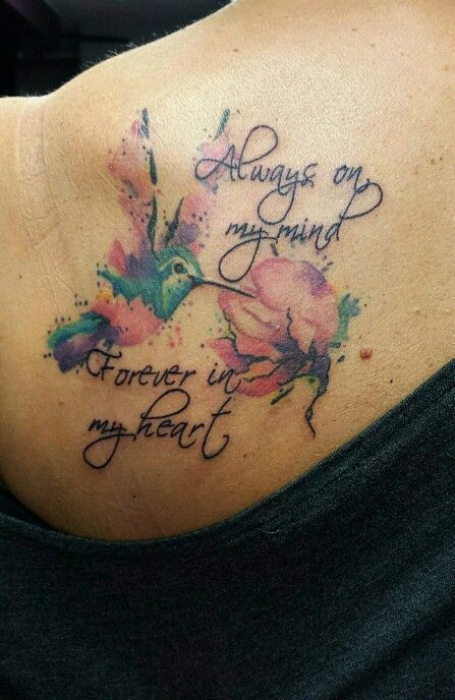 32. Best Friend Foot Tattoo
Foot tattoos are an excellent location for your best friend design. The foot is a versatile placement because it can be easily covered up, making this a discreet option. It is ideal for those who want to keep their body art hidden or who work in conservative environments. Small, simple designs look best on the foot, and you can choose to get it on the top of the foot, or to the side. The downside to getting tattooed here is that it is incredibly painful because of the sensitivity of the area and the high concentration of nerve endings. The lack of muscle, thin skin and proximity to bone also increase the discomfort.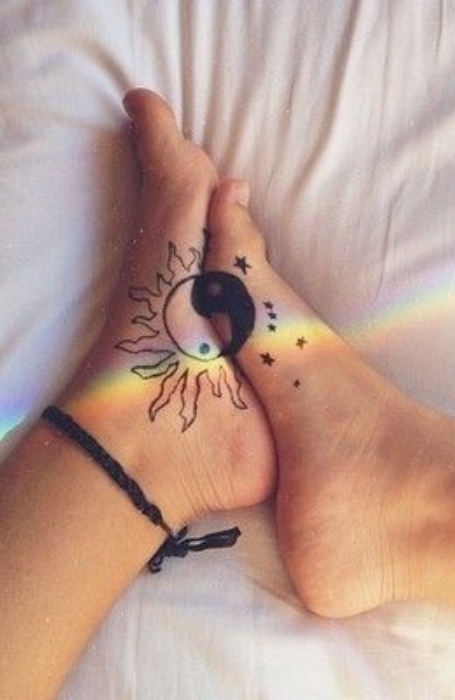 33. Best Friend Ankle Tattoo
If you are looking for a versatile placement for your next tattoo, the ankle is the choice for you. Ankle tattoos are an excellent option because they can be shown off when you want, but are also easily hidden. The area is not large, so simplified designs often work best here, but you can add more detail to your design at a later stage by expanding it to cover the leg or foot. Ankle tattoos are considered painful because of their thin skin and proximity to bone, so choose your design wisely to minimize the discomfort.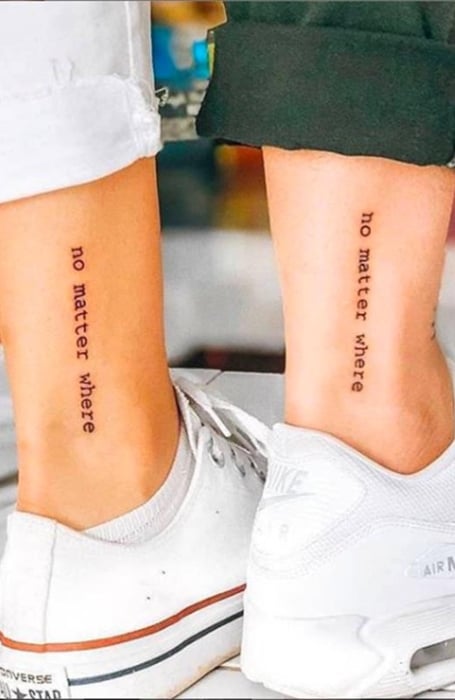 34. Best Friend Anchor Tattoo
There are few designs as symbolic as an anchor. Anchor tattoos are associated with stability, strength, and resilience. It is a reminder to be strong and remain steadfast, no matter what challenges you face in life. That you can overcome even the most challenging situations and that you are powerful and determined. Your anchor design can also be a way to honor your friendship with your best friend. If you feel they keep you grounded and help you navigate turbulent waters, then this is an excellent choice for you.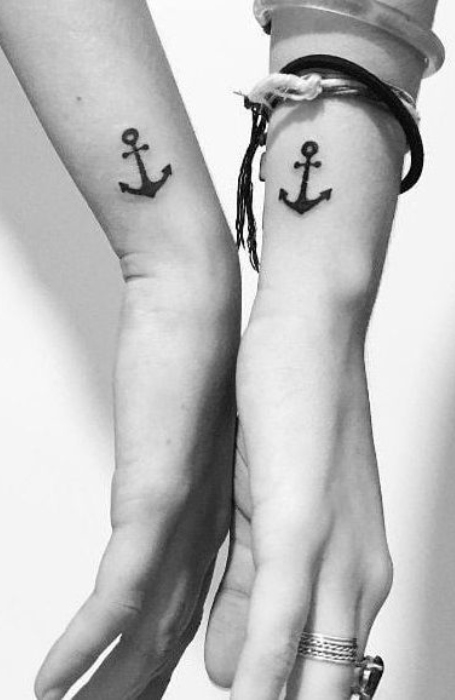 35. Best Friend Music Tattoo
Music can inspire and motivate you but it is also a way to bond. If you and your best friend have a favorite song, with lyrics that can sum up your relationship or make you feel powerful, then there is no better option than a music tattoo. You can create a matching design, or you can opt for two different but complementary tattoos. The beauty of music tattoos is that they are incredibly versatile and can be created in various techniques. From simple, minimalist designs to more detailed and intricate tattoos.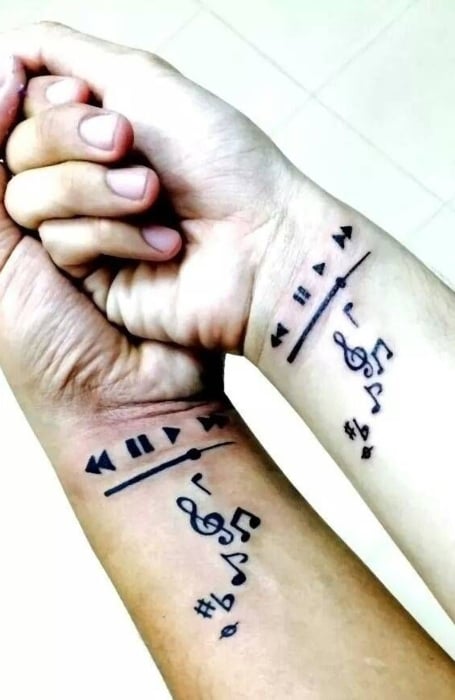 Best Friend Tattoos FAQs
What is a symbol for best friends?
Popular examples of best friend symbols include two crossed arrows, interlocking hearts, or infinity and yin and yang symbols. However, if you're getting a tattoo to symbolize your friendship with your besty, it should represent your relationship. Choosing something that means a lot to you both or represents a part of your journey together can be much more powerful than something generic. Matching images are great, as are two-part items, such as a sun and moon or a lock and key.
Is it bad luck to get matching tattoos with your best friend?
You and your best friend have been through a lot over time, through thick, thin, and downright crazy. If you want to make a permanent reminder of how awesome you are together, a tattoo could be the way to go. While it's not bad luck to get a matching tattoo with your best friend, there are things to consider before taking the plunge. You both need to be 100% onboard with the design – remember that tattoos are forever. Choosing a design that can stand on its own is also a good idea, just in case you have a falling out, you're not left with a missing piece. Lastly, you want to be in it together – use this as another bonding experience and go together to get it don and add it to your list of stories!
What animal means friendship?
Dolphins are an animal that commonly depicts friendship. They're associated with being graceful, playful, and loyal. They're incredibly popular for female friends. If dolphins wouldn't be your pick, but you like the idea of your relationship being represented by the animal kingdom, dogs and bears are also great options. Dogs are loyal, noble, and faithful – everything you want from a friend. Bears also represent gentle friendship, as well as courage and tenacity.
What number means friendship?
According to affinitynumerology.com, 173 is the number for friendship. Its numerology energy is all about companionship, introspection, and friendship. It also reduces down to number 2, which represents teamwork, relationships, and diplomacy. If you're looking for other mathematical symbols for friendship, infinity is another popular choice illustrating an everlasting relationship.
SUBSCRIBE TO OUR NEWSLETTER
Subscribe to our mailing list and get interesting stuff and updates to your email inbox.