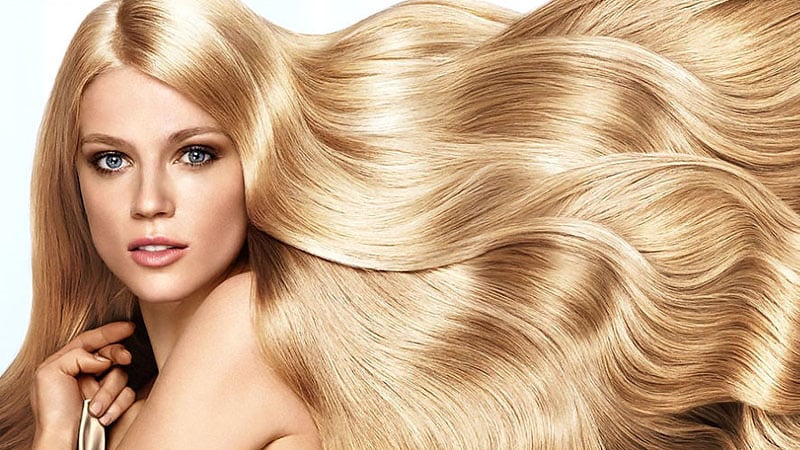 Who hasn't dreamed of having a mane of long hair? It's no wonder these hairstyles are trending at the moment. From braids to curls, mermaid waves, and a bombshell blowout, there's no limit to the looks you can create when your hair is long. Even better, there's a hairstyle that will flatter every face shape. Long hair is known for its power to soften out sharp features, balance proportions, and make you look younger, healthier, and more feminine. So, if you're growing your locks out or just looking for a change, check out these inspiring hairstyles for long hair.
1. Long Layers
If you're looking for a mid-year hair change but don't want to sacrifice your long locks, try a layered style. It suits both fine and thick hair types, as it can be used to create depth and dimension as well as break up the dense 'hair helmet' look. Asking for layers means the stylist will cut your hair to different lengths. The exact position and length of the layers will be adjusted to flatter your face shape. For example, long and airy layers look best on square and round face shapes, while oval faces look good with soft, subtle layers. A long hairstyle with layers is a great way to give your mane more movement, texture, and bounce without a dramatic change.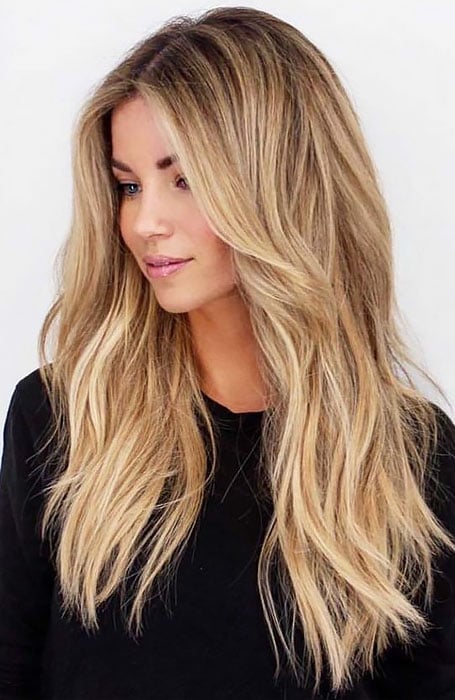 2. Long Hair With Bangs
Long hair looks fantastic, paired with bangs. The contrast gives you the face-framing powers of short hair while keeping the rest of your mane intact. Getting a fringe is a simple way to change your look, and there are endless options to flatter your features. A soft, center-parted fringe – also called 'curtain bangs' – blends beautifully with thick, wavy hair. Meanwhile, wispy or 'piece-y' bangs are great if you have fine hair. If you're feeling daring, you can experiment with a blunt or choppy fringe.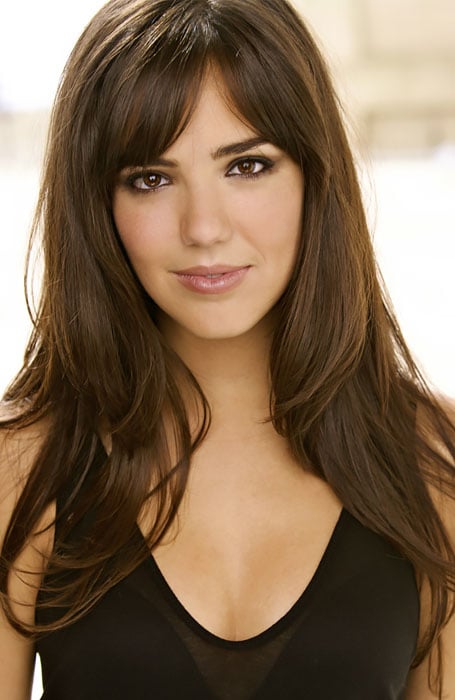 3. Long Bob
There's a reason fashion editors all over the world love the long bob – otherwise known as the 'lob'. It's super sophisticated, chic, and easy to maintain, and it flatters every face shape because the cut ends several inches below the chin. Unlike a bob haircut, there's no risk of making your face look wide or square. The most on-trend way to style a lob is with an off-center part and some extra volume at the roots. Keep your hair smooth and straight – this look is supposed to be chic, yet understated.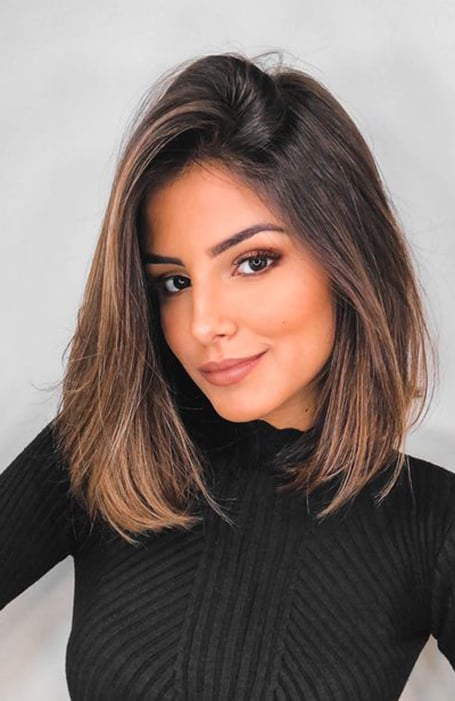 4. Long Shag
The retro, rock'n'roll style of the '70s is trending again this year. That decade's iconic haircut was the shag. For a modern take, try wearing this style with long hair, instead of the classic short or mid-length. To make it work for your face shape, have the stylist cut in a fringe. Long, side-swept bangs balance out the volume in the rest of the cut and draw the eye diagonally down, making it perfect for square faces. Add subtle highlights and lowlights to complement the natural movement in the long shag haircut.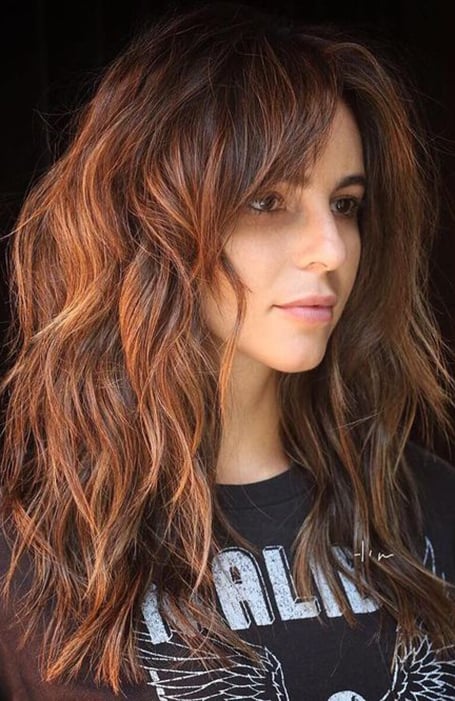 5. Long Braids
There is a braid hairstyle for every occasion – and every hair length and type. Long hair suits braids because there's more to work with, so you can get creative. A fluffy ponytail plait is one of the most popular because it looks chic while being very simple to create. Start a French braid at the back of your head instead of the front or side, and keep the tension reasonably loose for a relaxed, summery vibe. You don't want the braid to look too neat or polished. If you're not good at braiding, you can fake this look with the 'pull-through' technique. It involves securing your hair in parallel ponytails and looping them through each other for a braid-style effect.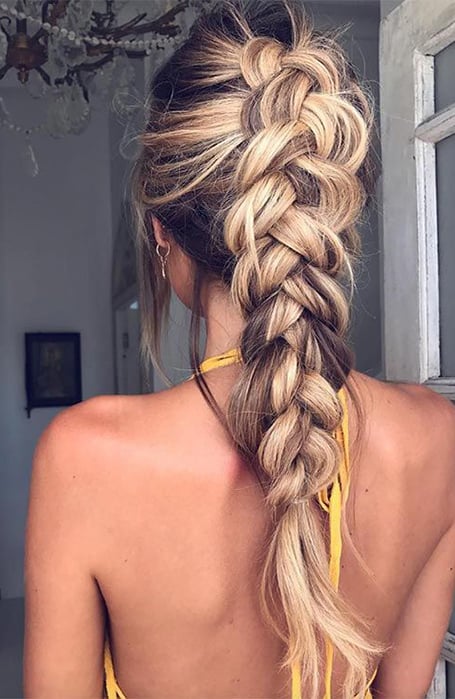 6. Short in the Front Long in the Back
Another cool '70s-inspired style is the short in the front, long in the back hairstyle. It is a great editorial style that takes an attitude to pull off. If you have a taste for retro fashion that makes a statement, this could be the long hair look for you. A variation on the classic shag cut, this hairstyle involves keeping the front layers more separate and defined. There's also more emphasis on the fringe, which is cut longer and styled to look windswept. Leave the longer back layers to do their own thing, adding a little texturizing spray to encourage waves.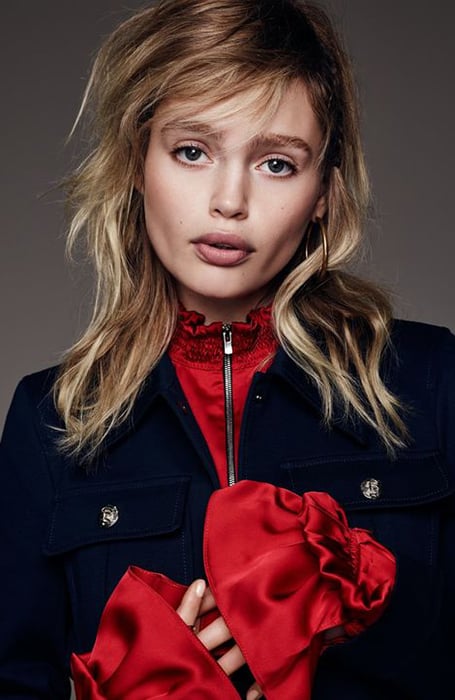 7. Long Blonde Hair
Blonde hair never goes out of style, and the shade that's trending right now is ice blonde. Not as stark as platinum, this is a cool-toned bleached look with an ashy wash, plus subtle champagne and peach highlights to add dimension. If you're not a natural blonde, you can still get this style with the high balayage technique, where your roots are left dark but given a similarly cool undertone and expertly blended with the bleached strands. Like all blonde hairstyles, this one requires maintenance. Stock up on toner and hair masks, and be prepared to re-color regularly. While it's more of an investment than other hair color changes, the results of going blonde are incredibly beautiful and worth it.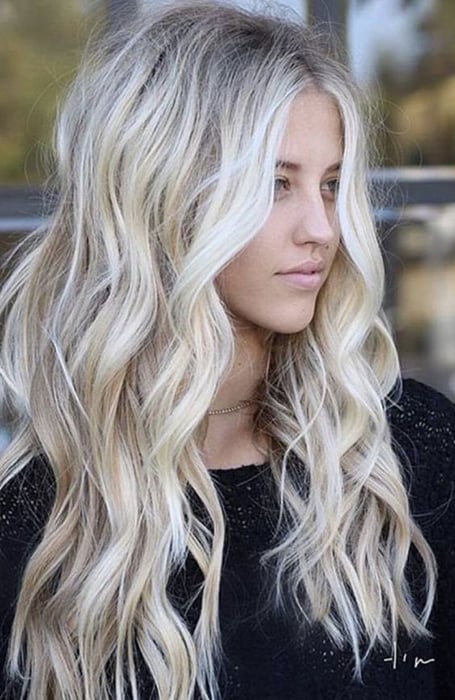 8. Long Natural Hair
Natural hair looks fantastic when worn long. To keep your mane healthy, make sure you moisturize and detangle regularly, and don't overwash. The goal is to have hydrated and defined curls with no frizz or brittleness. One option is to braid in a protective style every once in a while to preserve the fragile ends of your hair. Your curls are still growing during this process, so you won't sacrifice any length when you take the protective style out. It's also worth remembering that it's a slower process to grow out natural hair, as each strand is growing in curls and coils instead of straight lines. But once you've gone long, you might never want to chop it short ever again!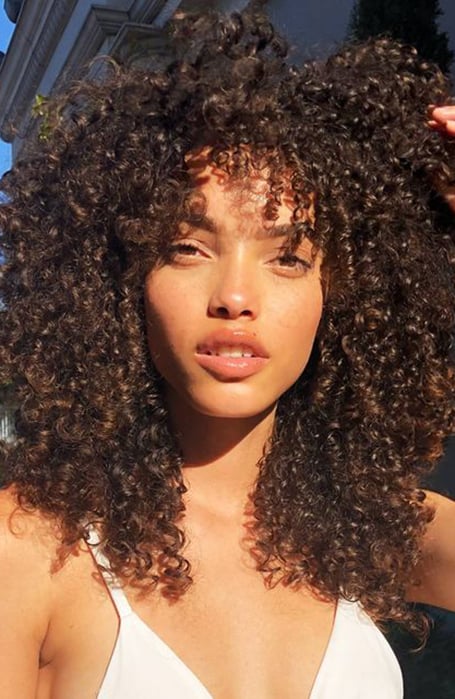 9. Long Black Hair
Black hair is an eye-catching color choice that looks dramatic and bold on long hair. Think full-on femme fatale! Depending on the warm or cool undertones in the dye, black hair can also suit any skin tone – although those on the fairer end of the spectrum should note that it will emphasize any paleness in your complexion. Ensure you don't look washed out by opting for a cool black and treating your dark tresses to shine-enhancing treatments. Statement make-up will also look great when teamed with this striking color. Olive and deep skin tones can get away with more natural-looking long black hair; a warm black will pick up the equally rich tones in your complexion.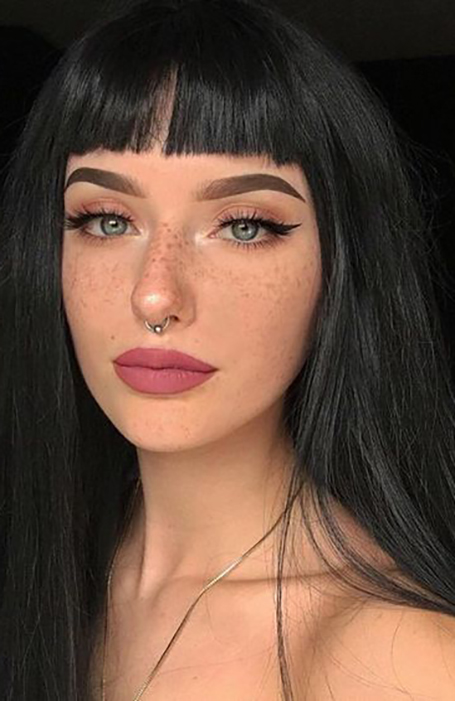 10. Long Updo
A beautiful look for every day – or dressed up for date night – the updo hairstyle for long hair is both simple and chic. It works best on smoother hair textures, so make sure you apply a serum if your tresses are on the dry and frizzy side. To get this style, make sure your hair has some grip to it too; either wait until the day after you've washed it, or add some texturizing spray. You'll also need to make sure you have a volumizing product in your roots, as this oversized bun needs a good foundation to sit on. Leaving some pieces out to frame your face, twist the rest of your hair up to make the bun, then secure underneath with a clear hair tie and bobby pins. Like all updos, this style works best when paired with a statement earring and lipstick to balance out the top-heavy volume.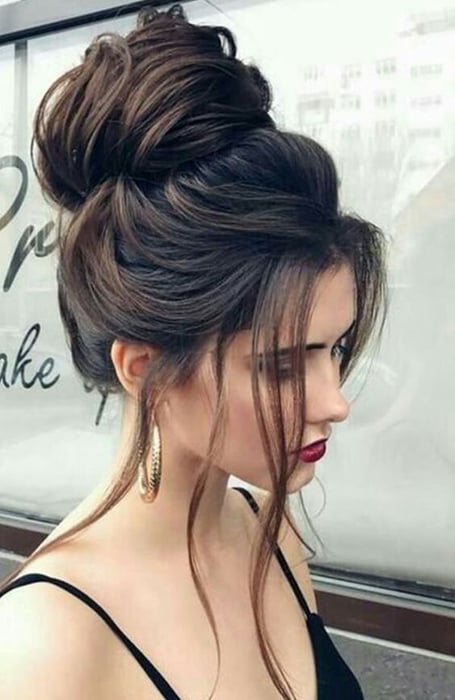 11. Long Thick Hair
Having long thick hair can be high maintenance, but it's worth taking good care of your tresses. Thick hair makes you look younger and healthier, and your hair is usually in better condition because it's stronger. The drawback is that your hair might be so heavy that it can't hold a style. Fix this by having your hairstylist cut in some layers and thin your hair out. A curling wand is also your best friend – adding direction and movement with bombshell waves will break up the mass of your hair. Highlights will have the same effect, giving your locks some extra dimension.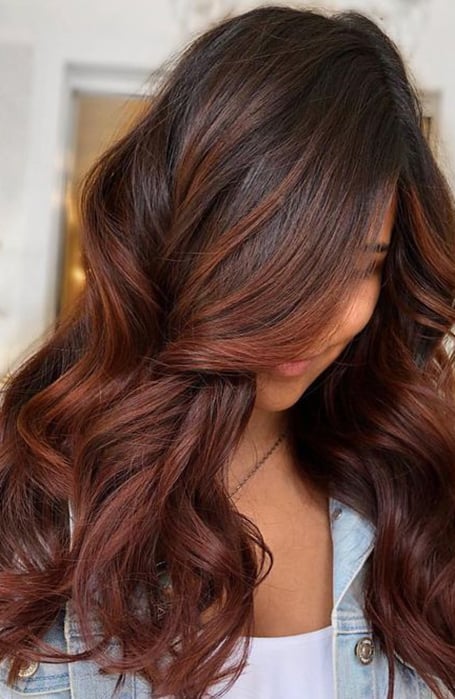 12. Cute Long Hair
Long hair doesn't have to be a bombshell, all the time. You can make this hair length look lovely with simple styling and accessories. A loose, 'undone' ponytail will make the most of your natural volume. Leave some longer pieces out at the front and let them naturally curl to frame your face. The finishing touch is a velvet ribbon as there's nothing cuter than wearing a bow in your hair.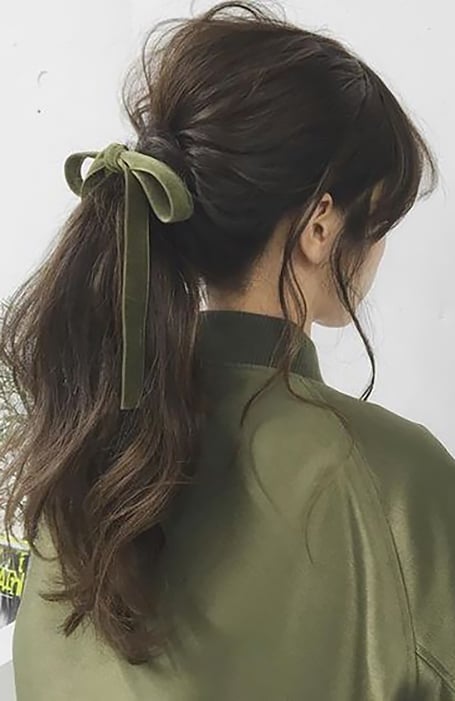 13. Long Straight Hair
The ultimate simple style is long straight hair. Because this look is so simple, you'll need to make sure your locks are in tip-top condition. There's no room for frizziness or split ends; otherwise, this hairstyle runs the risk of looking messy and unkempt. Long hair can be dense, so use a root-building product to make sure your mane isn't weighing itself down and looking too flat. Ask your stylist to add subtle highlights also, as this will stop your hair from looking like one solid block of color. A significant upside to long straight hair is that it is the perfect canvas to show off your make-up, as it won't distract from your face.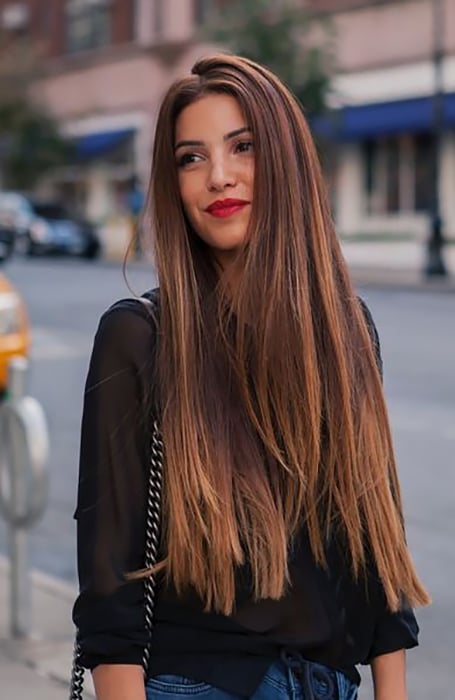 14. Pretty Long Hair
Long hair can be overwhelming at times, but it's very easy to create a soft and beautiful look. If you want this type of style, try wearing your hair half-up, half-down. Ladies with ombré and balayage are particularly suited to this hairstyle because the focus is on the point where the two colors meet. Try twisting the upper section of your hair to create a seamless blend, and add soft waves to the bottom part for pretty, beachy vibes.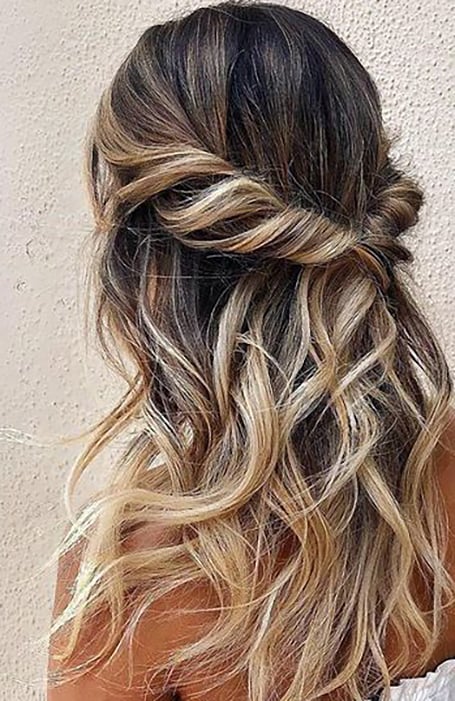 15. Medium Long Hair
Hair that falls just below the shoulders is considered medium-length. It has all the volume and weight of long hair, plus the same power to add length to a round or square face by drawing the hair down. However, it's not quite at the 'epic mane' level of long hair. This length works well if you have fine hair or are prone to developing split ends as you'll still be able to create long hair favorites like bombshell waves and braids, but your hair won't dry out or get frizzy. The only thing to keep in mind is that this women's hairstyle requires regular trims to keep it at the desired length.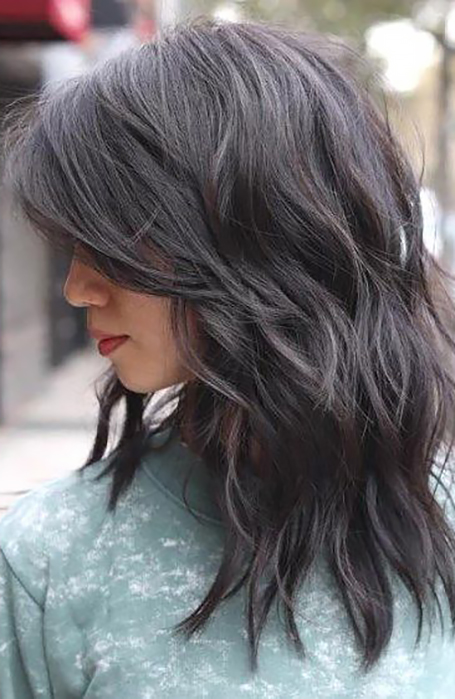 16. 1920s Long Hair
While most people associate the 1920s with the bob, long hair was still very much in fashion in this roaring decade. Whether long or short, one of the defining styles of the time was finger waves. Super-sleek and polished, you can create this iconic look's signature 's-shape' waves with a flat iron, duckbill clips, and a lot of hairsprays. Alternatively, save this Great Gatsby-inspired style for a special occasion and have a professional do it for you. Unlike short hair, the weight of long hair will mean that your finger waves will likely form barrel curls at the ends as they drop – but that only adds to the old-school elegance of the style.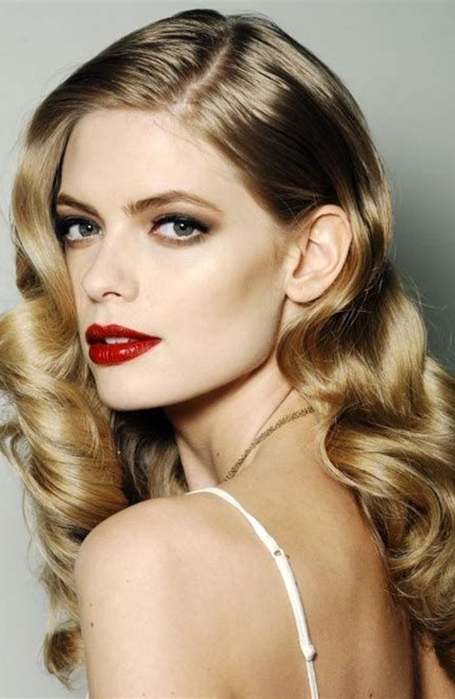 17. 50s Long Hair
The 1950s was known for its ultra-feminine fashion and beauty trends, and hairstyles were less formal than in the '40s. One '50s-inspired look for long hair is the side-sweep with romantic waves. Part your hair on one side, then fold and pin a front section back to create volume and height. It is a particularly flattering technique if you want to add length to your face. Next, sweep back the side sections of your hair and secure them. Gently curl the rest of your hair, so it falls in soft yet bouncy waves. It is a classic and undeniably retro hairstyle with a clean-cut feel.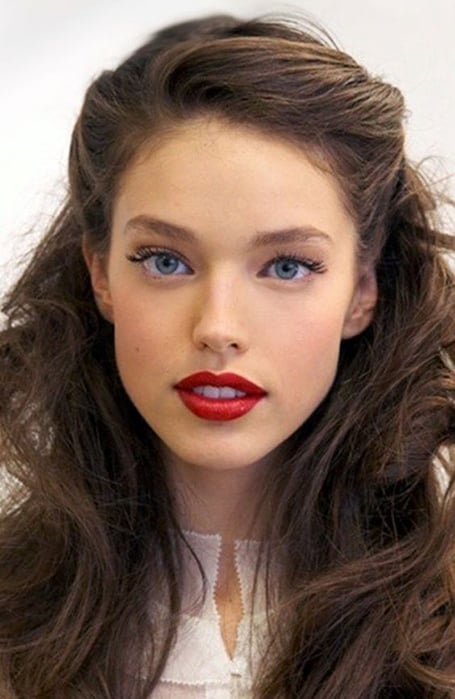 18. Long Box Braids
Box braids are created by sectioning the hair into squares, giving them a boxy appearance. It is an incredibly popular and versatile protective style that can be done with various lengths and thicknesses, letting you personalize your look to suit your preference. With long hair, these braids demand attention and can have a feminine and stylish finish. The appeal of box braids is that they last around four to six weeks, depending on how you care for them, and reduce styling time and give the hair a break from heat styling. They are time-consuming to install, but this is offset by how long-lasting they are.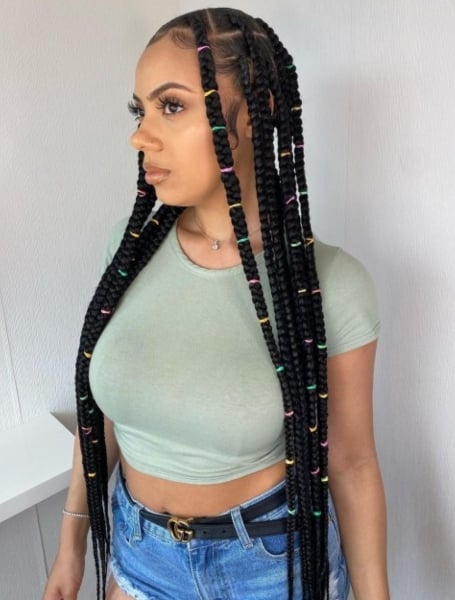 19. Long Knotless Braids
Knotless braids are an attractive option for women who want to reduce tension on the scalp. These braids are installed without a knot and are seamlessly installed with the natural hair, resulting in a more comfortable braid that reduces damage and looks natural. There is a wide range of options for knotless braids, letting you choose the style, thickness, and length of your choosing. Long braids have a carefree and feminine appearance and will demand attention, getting your hair noticed and drawing attention to the face.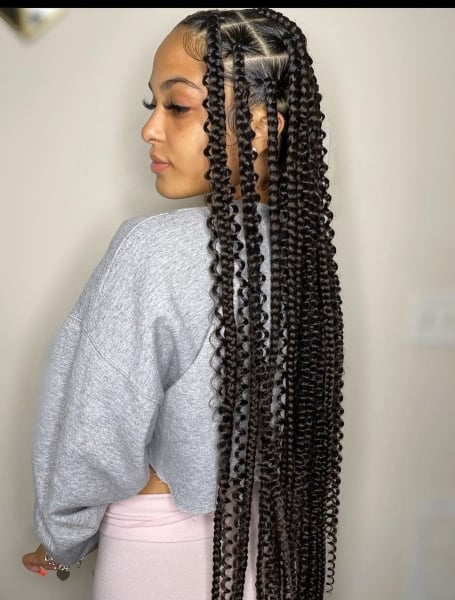 20. Long Crochet Braids
Crochet braids are created using the crochet installation technique. This involves braiding cornrows as the foundation and then braiding hair extensions using a crochet hook. The installation time is drastically reduced with this method. It is versatile, allowing you to choose from a wide range of pre-styled, pre-colored, and even pre-curled hair extensions that can be synthetic or natural hair. Long crochet braids give you more versatility with styling, including a half up, half down hairstyle.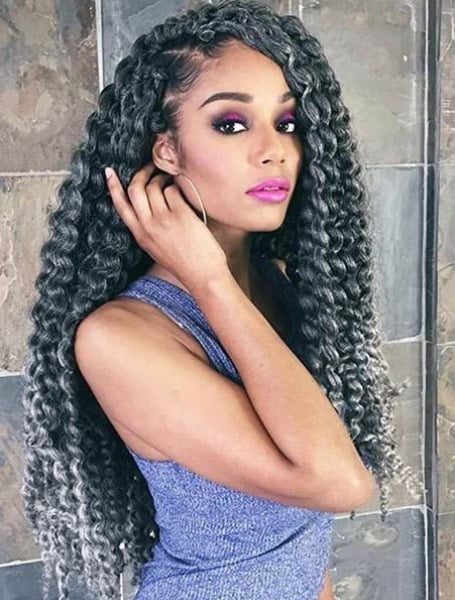 21. Long Passion Twists
Passion twists are one of the newer braided hairstyles, rising in popularity in 2018. They are appealing because their curly appearance is feminine and can soften the features. Passion twists can be created in the length of your choosing, with long hair making more of an impact and a great way to show off the curly texture of the braids. Passion twists will last for around two months. In this time, you can take a break from heat styling, prevent hair breakage and friction, and reduce daily styling time. The protective style is also waterproof, making it an appealing choice for the summer.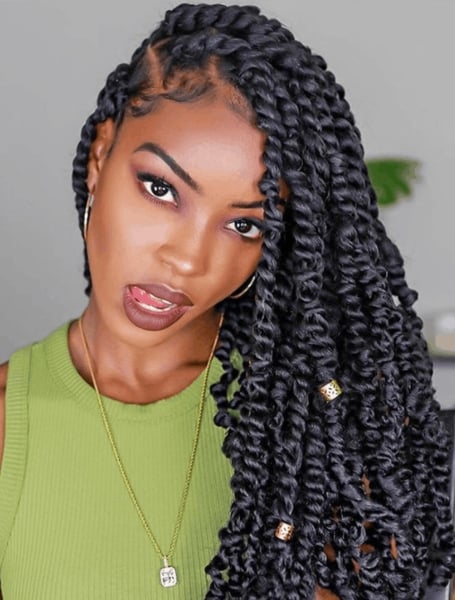 22. Long Hair with Undercut
An undercut is an edgy addition to any hairstyle. It is created by keeping length on top of the head and shaving the back and sides; the hair can also be clean-shaven. The appeal of the undercut is that it can give the hair structure, but it is also a fantastic way of creating contrast. This can highlight the hair on the top of the head, making it appear thicker and fuller. It is also a great way to remove weight and bulk from thick hair. With long hair and an undercut, the difference in lengths is more noticeable, making this a hairstyle that demands attention. It is also an expressive hairstyle, letting you show the world you are an individual who is not afraid of taking risks.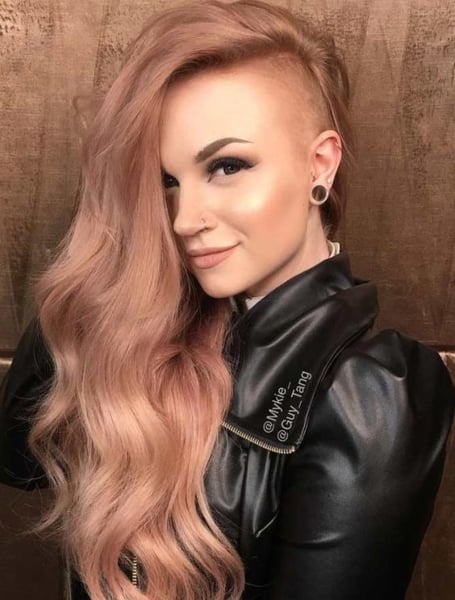 23. Long Blunt Hair
A blunt cut is cut at the same length without layers, resulting in a simple but gorgeous haircut. It can suit all hair textures and be cut at varying lengths but makes the most impact with straight hair. With long hair, the ends will be less noticeable than with longer hair, making the look feel less bold and dramatic. Instead, it appears sleek, sophisticated, and is incredibly wearable, suiting women of all ages. Blunt cuts require some maintenance, though, and you will have to visit the salon for regular trims.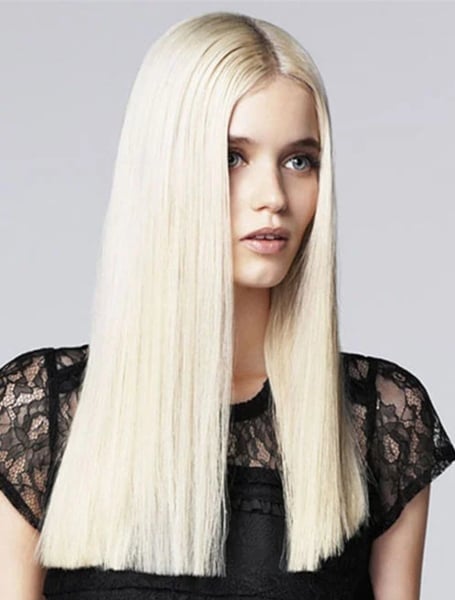 24. Long Chic Senegalese Twist
The Senegalese Twist is a braided protective style that is chic and feminine. The look is done with straight braiding hair and can be achieved with varying thicknesses and lengths, with long hair having the biggest impact. Long hair also gives you versatility with styling; wearing the braids down will demand attention, but you can also style them in ponytails, buns, or the half up, half down hairstyle. This braided style is low-maintenance hairstyle and will give the hair a break from heat styling and help prevent breakage. They are long-lasting and will last around eight weeks or more, depending on how you care for them.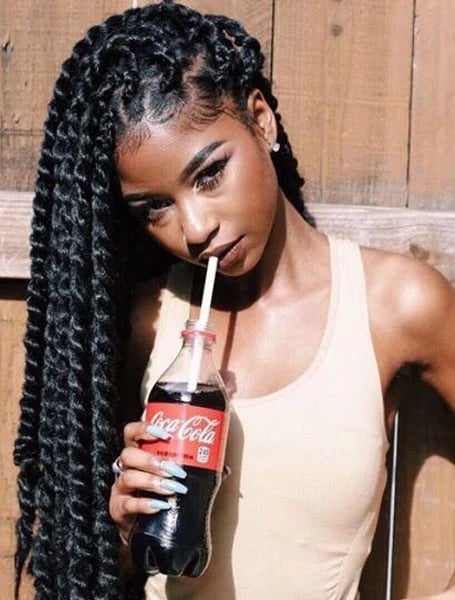 25. Long Crimped Hair
Crimped hair was a big trend in the 80s, and for a good reason; the unnatural appearance of the waves was an easy way to draw attention to your hair and get noticed. The 80s was a decade when bigger was better, but the modern approach to crimped hair is more versatile and easier to wear. The angular Z pattern that it creates gives the hair texture and produces mermaid-like waves, and with long hair, this is more noticeable. Crimped hair can feel retro, but you can experiment with how you add it to the hair, giving it a fresh and modern finish. This could be by focusing the crimp on just one section of the hair or making subtle waves instead of defined ones.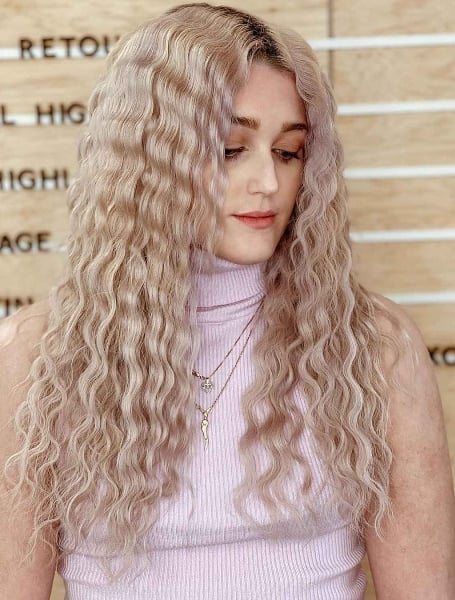 26. Long Ponytail
The ponytail is an effortlessly chic hairstyle and makes a big impact when styled with long hair. The ponytail can be achieved with hair of all textures, which will determine the look. It can feel sleek and sophisticated for straight hair, while on wavy and curly hair, it has a softer, more romantic appearance. The appeal of the ponytail is also the versatility, and it can be worn low for a more carefree aesthetic or styled high for drama!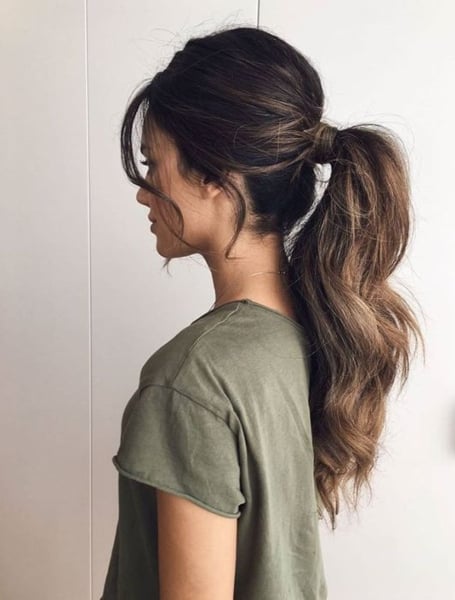 27. Long Tribal Braids
Tribal braids are a protective hairstyle that is rich in symbolism. There are multiple styles to choose from that can be traced back to various tribes and have been used to convey relationship status, social hierarchy, achievements, and more. Tribal braids refer to the braiding pattern, with looks including Fulani braids, linked to the Fula people of West Africa or Ghana braids from Ghana. Your choice of braid can be worn in varying thicknesses and lengths, but long braids are versatile, feminine, and stylish.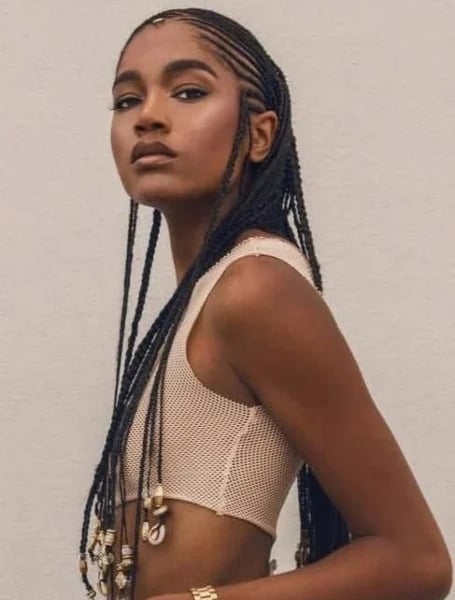 28. Long Dreadlocks
Dreadlocks are rope-like strands of hair that can be worn in various ways depending on your hair length and thickness. They can have an edgy and cool appearance and are versatile with how you style them, especially for long dreadlocks. You can style them up, down, or in a half up, half down hairstyle for long hair. Dreadlocks do take maintenance and a lot of patience, but the result is worth it.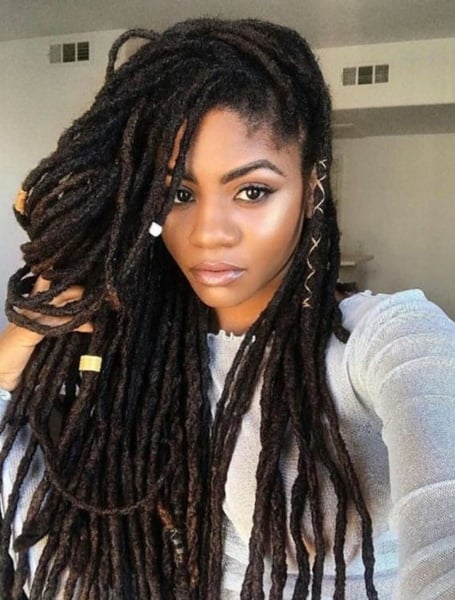 29. Long French Braids
French braids are one of the most popular braided hairstyles and are relatively easy to create. The braids feature three strands that start around the crown of the head. It is created using an overhand weaving technique which leaves the hair looking sleek and sophisticated. It is a fantastic look that can be created on hair of all textures and lengths but will make the biggest impact when worn long. Long braids demand attention, and they are a fun and practical way to wear your hair; braids can prevent tangles. It is also much easier to braid longer hair. Wear this look to a wedding, formal event, or even just for every day.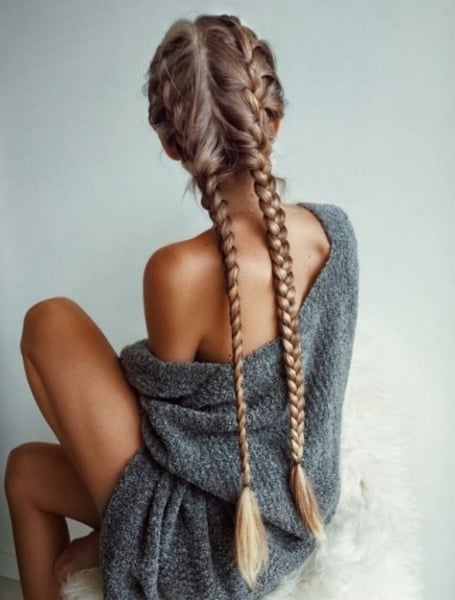 30. Long Yarn Braids
Yarn braids are a hairstyle that is bold and cool. They are created from yarn and have a rope-like appearance. This is a great way to experiment with different colors, letting you express yourself and finding something bold and bright. Yarn braids can be created in various lengths, but long braids give you versatility with styling. You can also try out multiple styles, from updos to leaving them long and loose. Plus, they can be personalized with hair accessories of your choosing, including cuffs or wire. Depending on how you care for them, they last around eight weeks and are a fantastic protective style.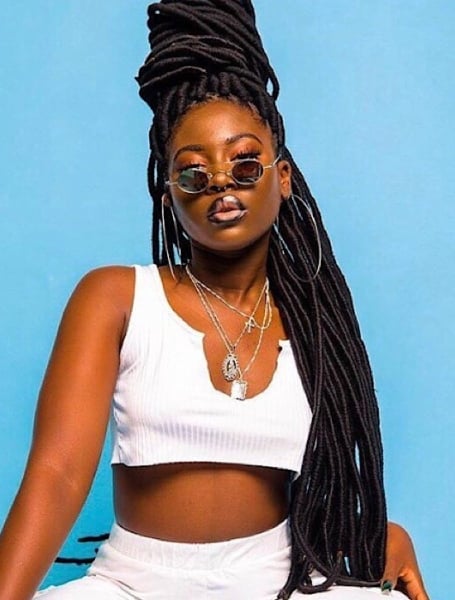 31. Long Lemonade Braids
Lemonade braids rose to popularity in 2016 after Beyoncé wore them in the music video for the album, Lemonade, although they existed before and were referred to as side braids. These braids are thin, long, and can be styled in various ways and with the color of your choosing. You can try wearing them up, down, to the side, and in multiple other styles. Lemonade braids can be created with extensions or your natural hair, depending on the length you want to achieve, and will last around four weeks. This is a fantastic protective style to reduce styling time and take a break from heat styling. It will take approximately three to six hours to install.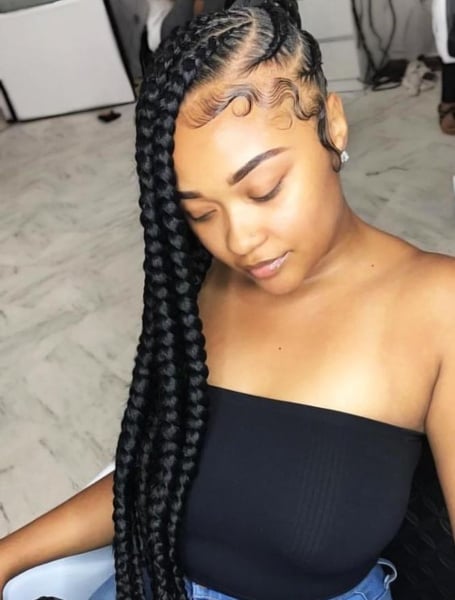 32. Long Cornrow Braids
Cornrows are one of the most popular and versatile protective styles and can be achieved with hair of various lengths. There is much more versatility for how your cornrows will look with long hair, but in general, these braids are created close to the scalp using the underhand technique. They are raised in appearance and form rows, although the intricacy of the pattern can vary depending on your preference. Cornrows can also form the foundation for many looks that feature extensions or can be paired with loose hair on one side for a contrasting and edgy appearance.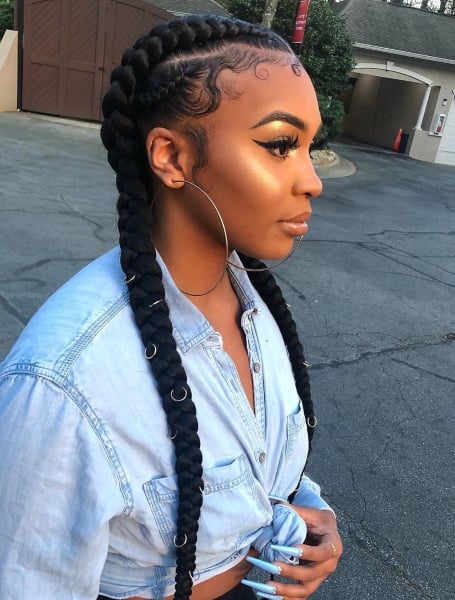 33. Long Fishtail Braids
Fishtail braids are created by weaving two strands of hair together. The braiding technique may look similar to other braids, for example, the French braid, but it differs in that it uses two strands instead of three. It can be created in several ways, offering you versatility for how you style your hair. This includes wearing it to the side, keeping it sleek for a sophisticated appearance, or pulling strands of hair out around the face for a romantic finish that can soften the facial features. Long hair is always easier to braid than short hair, making this a fantastic option for women with long locks.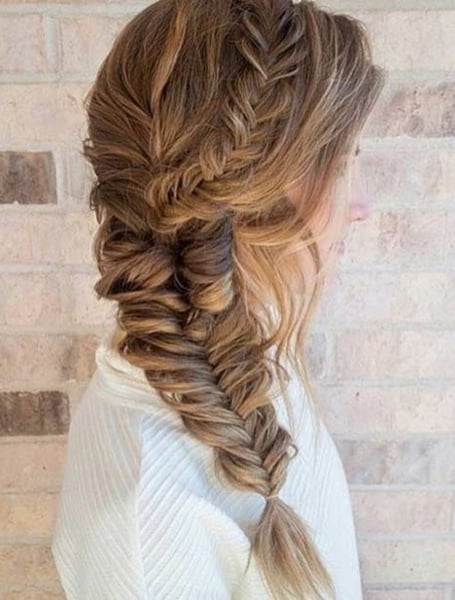 34. Long Dutch Braids
Dutch braids are a three-strand braid created using the underhand braiding technique. The result is a braid that is chic with endless possibilities for how to wear them. Creating Dutch braids is much easier with long hair and offers you more versatility with styling. Unlike French braids, which are also a three-strand braid and appear flat and smooth, these braids are raised. Your braids can last several days, depending on how you care for them. They can also be adapted to suit your preference with bold colors and accessories.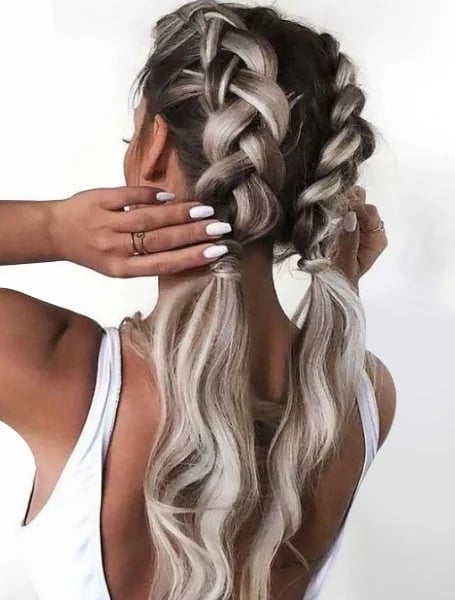 35. Long Vintage Hair
There is something to be said for vintage hairstyles that involve glamorous curls. They are ultra-feminine and stylish and perfect for formal occasions, adding a touch of sophistication. You can choose from various styles, depending on your preference and hair length, but longer hair gives you more versatility with styling. Popular vintage hairstyles include finger waves, victory rolls, and tight tousled curls. Find the option that suits your face shape and draws attention to your best features. You can also add your personal touch with accessories like a simple barrette or a floral clip.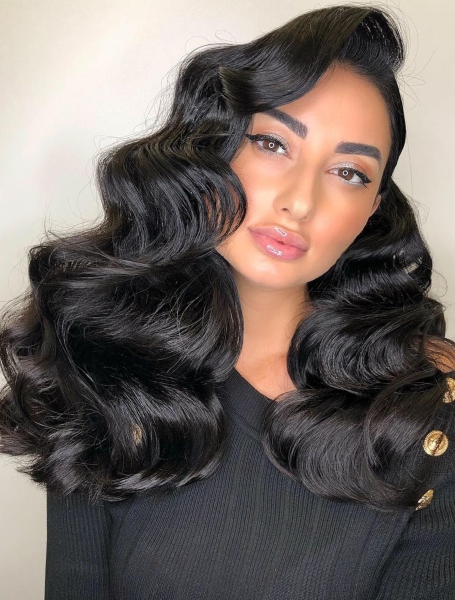 36. Long 80s Hairstyle
The 80s was a decade where hair made a statement, and the bigger, the better. It was a time for big curls, permed hairstyles full of volume, and chunky highlights that demanded attention. The modern approach to 80s hair feels more wearable but is still fun and expressive. With long hair, there is a lot of versatility for how you style it; this includes full and thick bangs or curtain bangs that frame the face. Work with your 80s hairstyle to find the best look for your face shape and hair texture, and just have fun!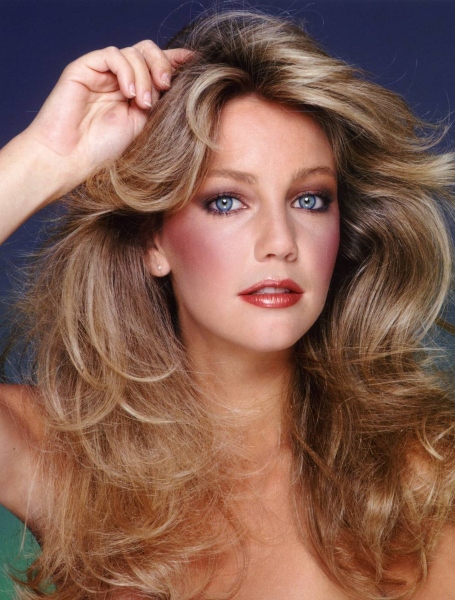 37. Long Bandana Hairstyle
When styling your hair, you do not have to opt for an overly complicated look or a time-consuming one. Sometimes the best addition to any hairstyle is simple accessories like a bandana. The bandana is a small piece of fabric, which can be in the color or pattern of your choice but is often made using a paisley print. It has been used for several decades and the bandana hairstyle gaining popularity again because it is practical and versatile; The material is folded in a triangular shape and added to the hair. It can prevent friction keep the hair in place, and there is a selection of different shapes, colors, and sizes, letting you find the option that best reflects your style.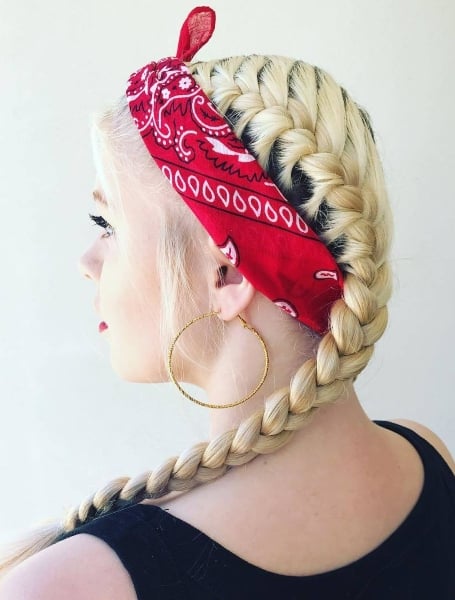 38. Long A-Line Haircut
An A-Line haircut is a cut that is defined by hair being short at the back and gradually becoming longer toward the front. This creates an interesting shape that makes the hair appear full of movement. It is a very stylish cut that complements most face shapes and is incredibly flattering. It also works with all hair textures, but the angles of the cut are more visible on straight hair, whereas it appears softer and blended on curly textures. The most popular way to wear the A-line cut is in a bob or lob haircut, but you can keep the hair longer at the front for a fashion-forward and modern approach.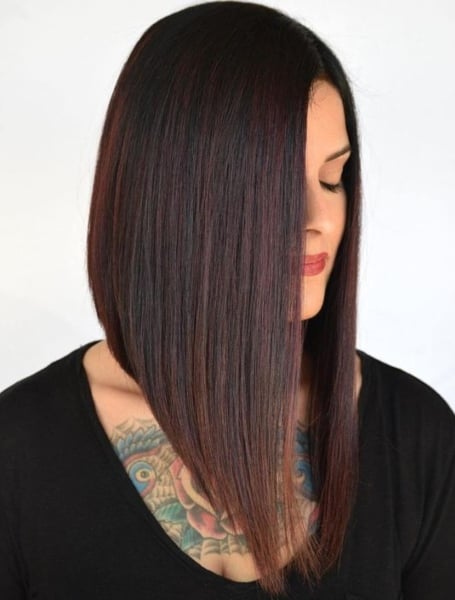 39. Long Asymmetrical Haircut
The asymmetrical haircut is excellent for those who want hair with a bit of drama. The cut is defined by hair being shorter on one side of the head and longer on the other. The interesting angle makes for a stylish cut that can be created short or long and on all hair textures. Asymmetrical cuts work with most face shapes and can be an excellent way to draw attention to the face. They are often cut around the chin to collarbone level, but you can experiment with lengths to suit your preference.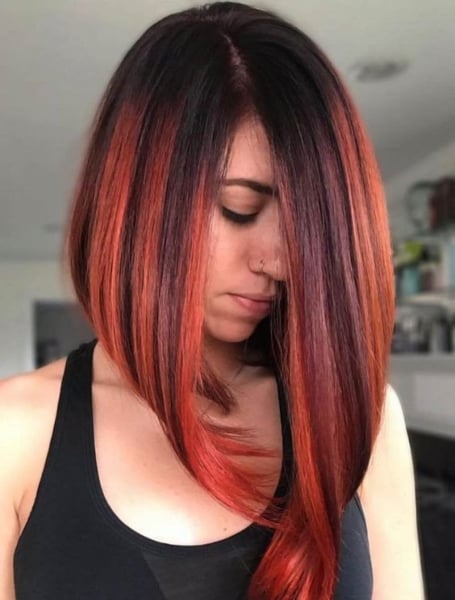 40. Long Waterfall Braids
Waterfall braids are ideal for achieving a hairstyle that is romantic and feminine. They are created in multiple ways but often feature a braid along the hairline that gradually works backward down the hair. The technique creates a cascading effect and is incredibly flattering, perfect for everyday or special occasions. These braids can be created on varying lengths but look fantastic with long hair as it gives you more freedom with styling and lets you show off the full effect of the braiding. It can also be created on all textures but looks better with wavy or curly hair, creating softness. Add your favorite floral accessory to the back of your braids, or try out baby's breath for a wedding or formal event.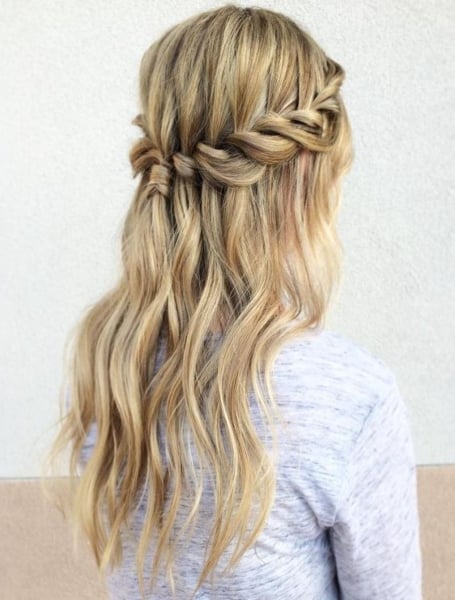 Long Hairstyles & Haircuts FAQs
Which haircut is best for long hair?
The best hair cut for long hair is one that will flatter your features and suit your lifestyle. Layers can soften a strong jawline and accentuate high cheekbones. Plus, it can take weight out of really heavy, thick hair, and add movement and dimension. Sideswept bangs and part lines are great for heart and square faces, as it balances your forehead out. Fringes, both blunt and wispy, can bring attention to your eyes and even out long faces. Meanwhile, if you're a more low-maintenance kind of woman, a long bob is a lower-effort style that still gives you length. Embracing your natural curls is also suitable for long hair and reduces damage from heat and styling products. Finally, bringing inspiration from different decades into your styling is another excellent way to match your hair to your overall aesthetic.
Does long hairstyle make a woman look older or younger?
Long hair has a reputation for making women look younger, as it's associated with youthfulness, fertility, and health. Plus, it's a strong contrast to the Nanna perm and blue rinse we often think of when it comes to older women. However, the health and cut of your hair will impact how young your hair makes you look. If you're starting to lose volume with age, long hair can emphasize this, as can pin-straight hair. Try adding volume and movement with layers and shaping around the face. Age also causes you to lose keratin, a key component in healthy hair. Sacrificing a bit of length by keeping the ends trimmed can make your hair appear strong and fuller, resulting in a more youthful look.
SUBSCRIBE TO OUR NEWSLETTER
Subscribe to our mailing list and get interesting stuff and updates to your email inbox.