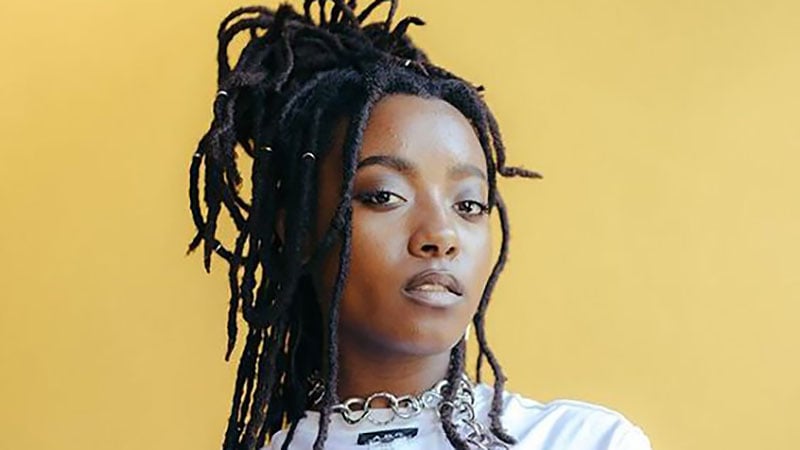 One of the most iconic hairstyles of all time is dreadlocks. Eye-catching, easy to maintain and full of attitude, locs are not for the shy types! For natural hair, they are considered a protective style because they don't require any chemicals to create. They also help the hair retain moisture, and don't put too much stress on the scalp. Dreads also require lots of patience as they can take years to be fully complete. If you can't wait that long, then try faux locs. The only limit is your imagination.
Dreadlock Hairstyles
1. Long Dread Style
Your patience will be rewarded when it comes to a long hairstyle. It can take years for your locs even to reach your shoulders, as your hair won't be growing in a straight line. Instead, it will grow in different directions within the tangle of your dreadlocks. If you want the long dread style without the wait, you can have extensions braided into your natural hair.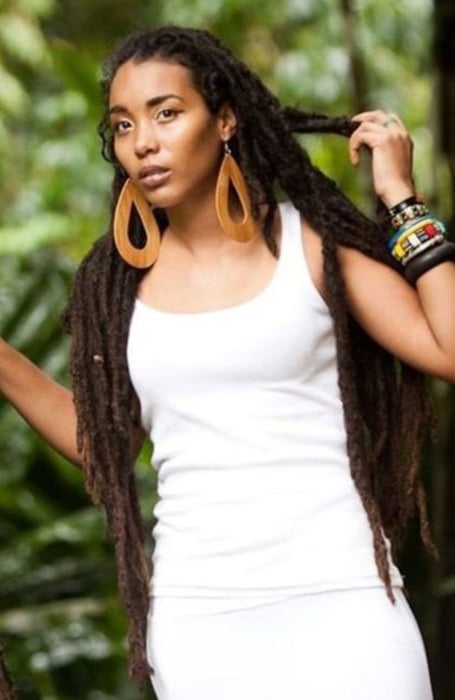 2. Short Dread Style
Nothing is cuter than a short dread style! These locs have the same sassy quality as a bob haircut, but with even more attitude. Chic and simple to care for, dreads of this length will form in a matter of months. The best part is that you won't need to bother with styling your hair – all the volume, texture, and body you need is built into the hair.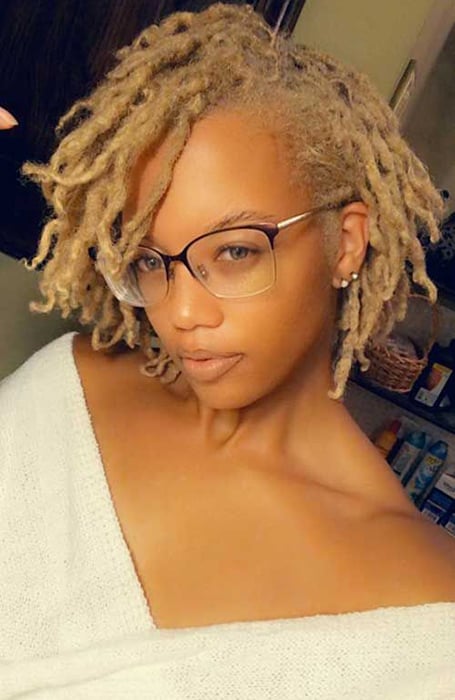 3. Medium Dread Style
Tighter, thinner dreads look great when they're grown to medium length. This is a polished look that has an elegant feel. If you're worried about thick, heavy dreads drawing too much attention away from your face, this is the perfect type for you. It's also a great style for showing off subtle hair accessories, like rings and shells.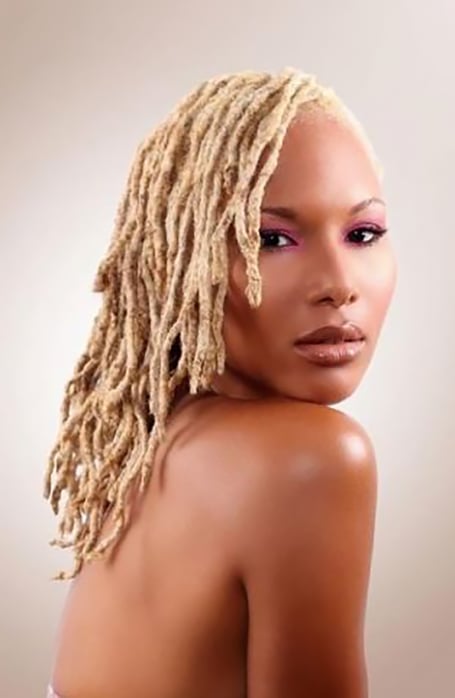 4. Dread Braid Style
You can braid your dreads just as you would your regular hair. Your mane will look even thicker and hold the style better! A classic three-strand plait is an easy way to shake it up if you're tired of the traditional dread look. It's also perfect for a special occasion like a wedding because it has a feminine feel to it. Braid your locs in sections, rather than trying to plait the individual ropes of hair.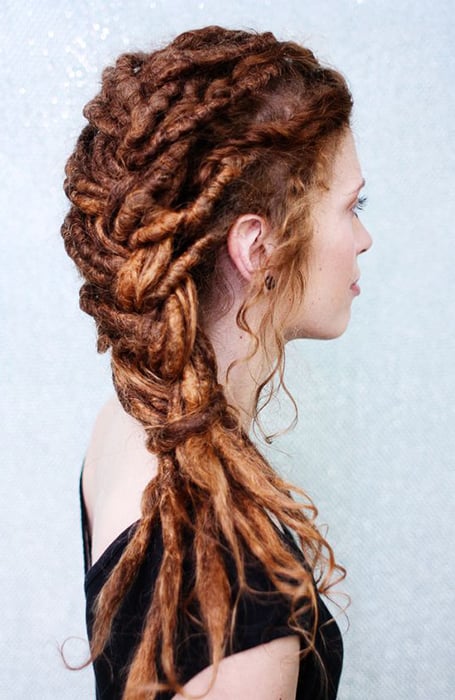 5. Wool Dreads
Wrapping your locs with wool began as a protective step as it prevents frizziness. Wool dreads can also make a serious style statement. Shake it up with different colors or keep it chic with natural tones like brown, black, and white. Just bear in mind that wool dreads will be heavier when wet and take longer to dry, so you'll wash them less regularly. Use dry shampoo in between washes to keep your scalp and hair clean.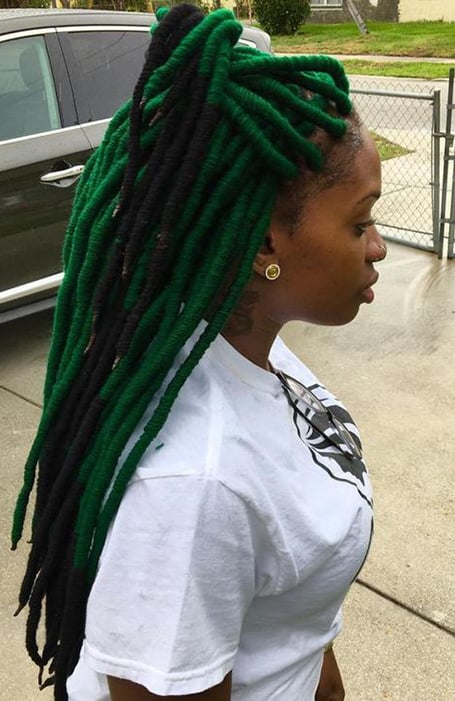 6. Yarn Dreads
Yarn serves the same purpose as wool when it comes to wrapping your locs. However, 'yarn' can refer to any kind of material or thread, while wool refers specifically to sheep's wool. If you're vegan and don't wear animal-derived fabrics, synthetic yarn is for you. It will give you hair all the same benefits of wool wraps, and it also comes in a vast variety of textures and colors. It can also be a good option if you have a wool allergy.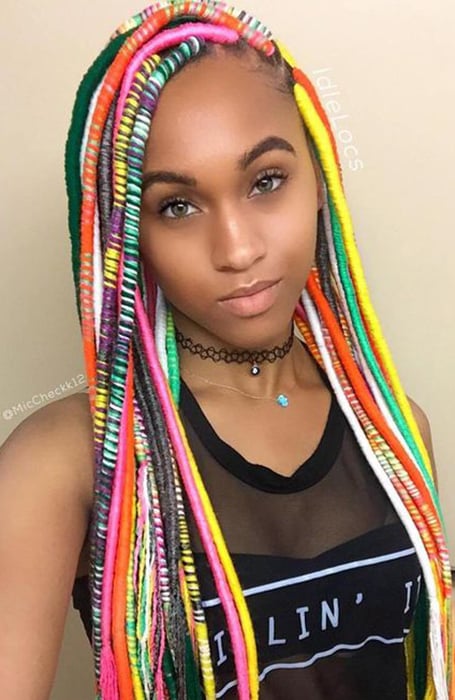 7. Crinkle Dreads
Crinkle dreads are a fun and quirky twist on the dreadlock style. The process to get them is similar to how you'd create mermaid waves on straight hair. Start by making your dreads wet, then plait three locs at a time into braids. Tuck all your braids into a hairband and leave to dry. Then, carefully un-braid them. Your dreads will then have cute kinks and waves. This is an excellent technique to try if you miss your curls and coils after growing your dreads in.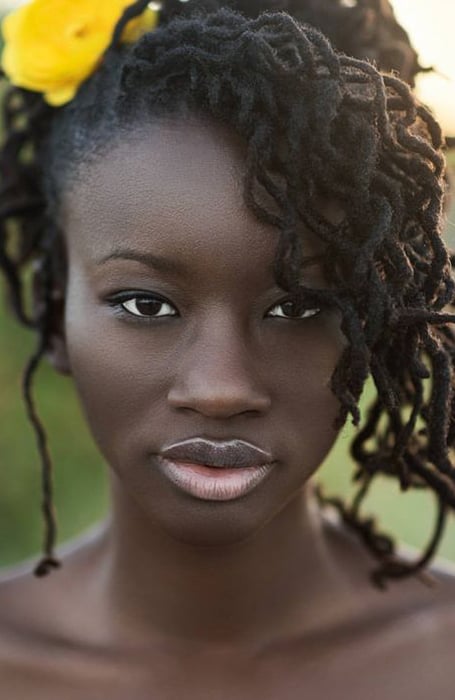 8. Cornrows and Dreadlocks
Cornrow is an iconic style that reached the height of popularity in the '90s and is coming back into fashion now. When combined with dreads, the cornrow is a neat, raised hair with the scalp visible in between the 'rows', it looks unusual and striking. It's also a cool twist on the undercut style.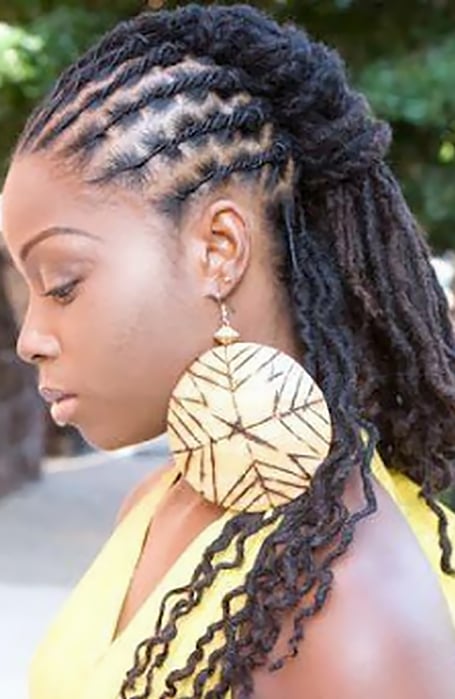 9. Wavy Dreadlocks
Wavy dreadlocks are a simple way to change up your style, with a playful and romantic result. You can make your dreadlocks wavy using silk or satin-covered hair rollers. Just roll and clip them as you would with regular hair. You can also apply setting lotion to damp dreads and then loosely braid them, leaving them to dry. This technique works best on thin to medium-sized locs.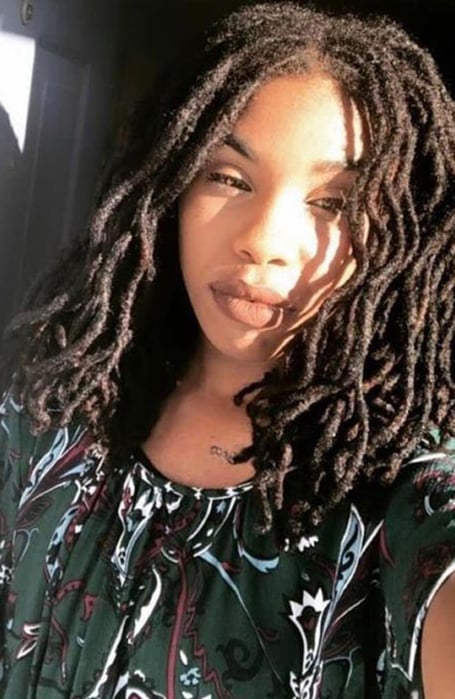 10. Bohemian Dreads
Calling all free spirits! Dreads are already associated with natural beauty and spiritual vibes, so why not lean into the look and go full boho? Add nature-inspired decorations like shells, flowers, and beads, and let your locs go their own way. This type of style is all about creating a relaxed and earthy feel, so it will suit you if that's your taste when it comes to fashion and jewelry too.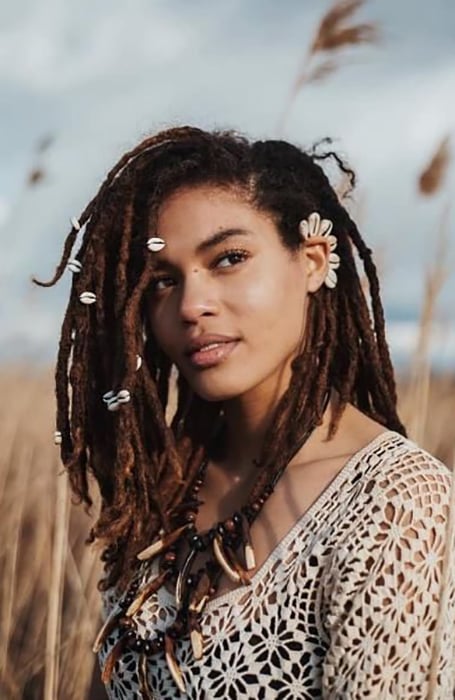 11. Rasta Dreads
Dreadlocks are a religious symbol in Rastafarianism. This style is all about connecting with African roots and letting your natural hair grow without interference. These dreads are freeform style, as it's particularly important not to use any unnatural techniques to create them. These types of dreads can't be rubbed, cut, or rolled either; however, they can be washed as usual.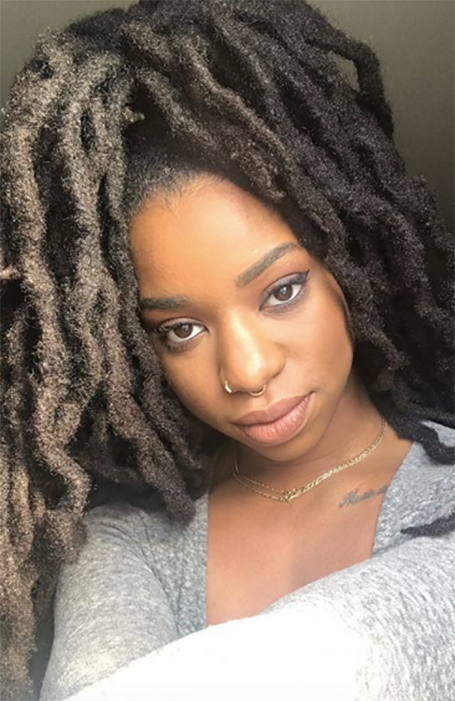 12. High Top Dreads
High top dreads are related to the fade dread style, except the hair is left longer at the sides rather than shaved down. The locs at the crown of the head can be grown as long as you like, but look especially on-trend when grown out and swept forward. This gives the style movement and structure.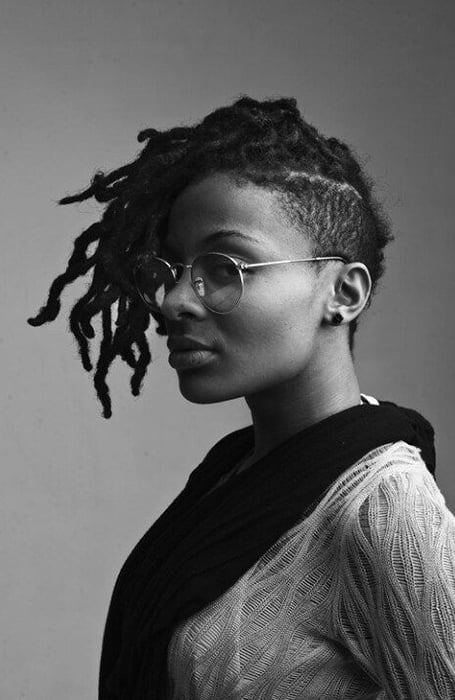 13. Mohawk Dreads
If you want all eyes on you, mohawk dreads are the best way to be the center of attention! This style is similar to a natural hair faux hawk. To get this look, form your locs down the center of your scalp while keeping the sides shaved short. As your dreads can take months or even years to fully mature, you can delay shaving the sides until the locs themselves are ready to take center stage.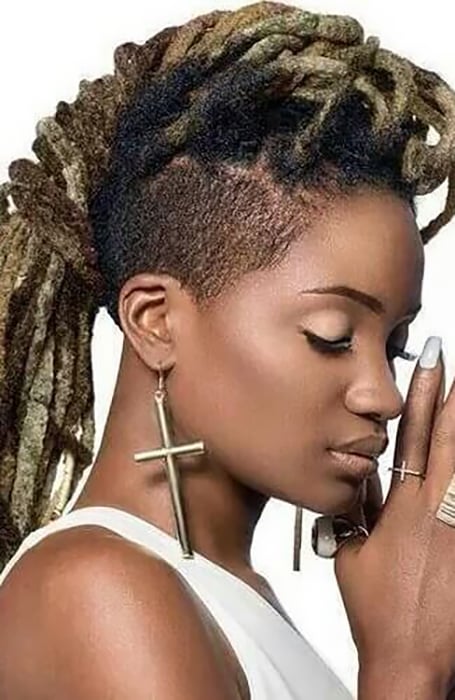 14. Soft Dread
Not every dread hairstyle is about an edgy attitude. Soft dreads are delicate, feminine, and understated. This pretty dread look is ideal if you don't want to go all the way with a bold loc style. It's also simple enough to wear every day, but stylish enough for a night out. Pair this hairstyle with equally soft makeup for a casual yet glamorous finish.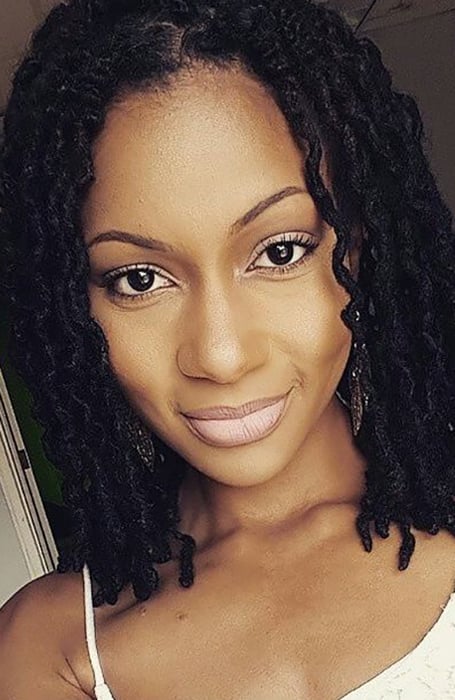 15. Soft Dread Crochet
The term 'crochet' gets used a lot when it comes to dreads. Crocheting is a technique to tighten up dreads quickly and pull in any loose hairs. This makes the locs themselves look thicker and smoother. When it comes to getting a soft dread look, the crochet hook is used to attach dread extensions to braided hair. You'll get beautiful locs instantly!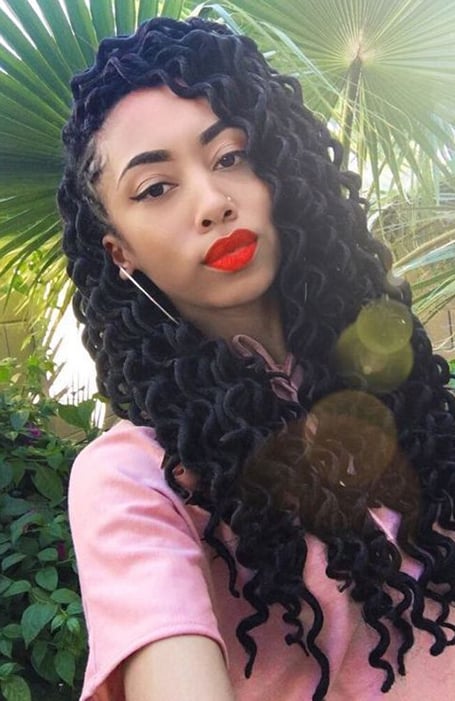 16. Dread Twist
This style combines the protective powers of both twists and dreads. You can leave the locs long or twist them into an up-do. Twisting is also one of the ways to encourage locs to form – although it works best with very textured and longer hair types. It's also slower than other methods of creating dreads.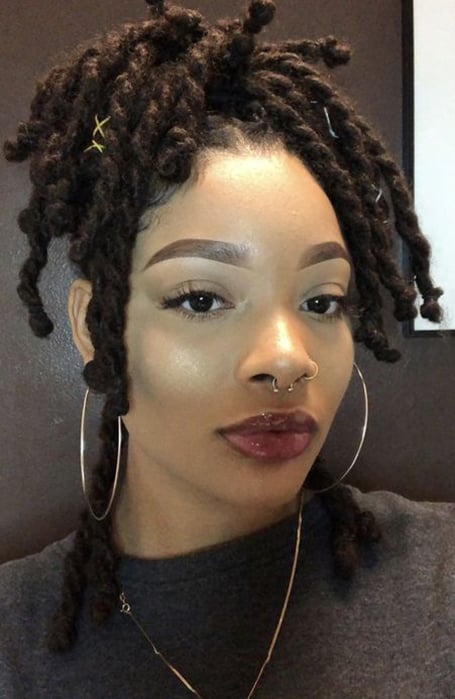 17. Dread Pin Up
There's no end to the versatility of dreads – you can even have an old-school pin-up-inspired look! Create a Victory Roll style by twisting a section of your locs around a foam hair roller for the signature shape. Then, slide the roller out and secure the hair with bobby pins. If you have braided sides, this look is even more elegant. Otherwise, pull back the rest of your locs and secure them at the back of your head.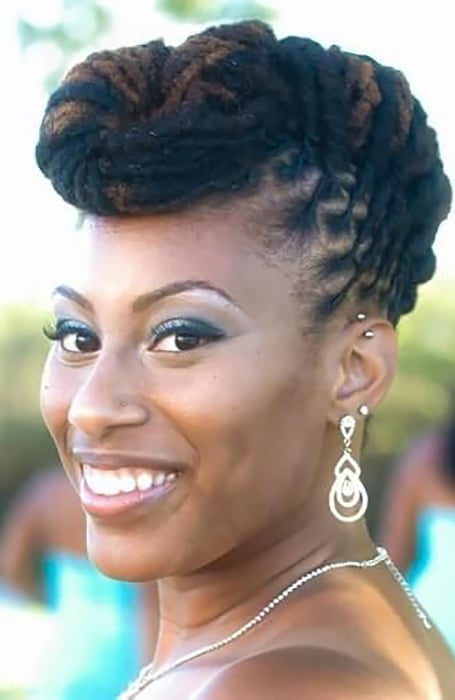 18. Dread Updo Bun
It's no secret that dreads look amazing when styled in an updo. You can go for a half up, half down hairstyle, a full bun, or leave statement strands hanging down. Like any bun hairstyle, this look draws the eye up so try pairing it with statement eye makeup and bold brows. It's also the ideal way to show off earrings, which will balance the top-heavy hairstyle.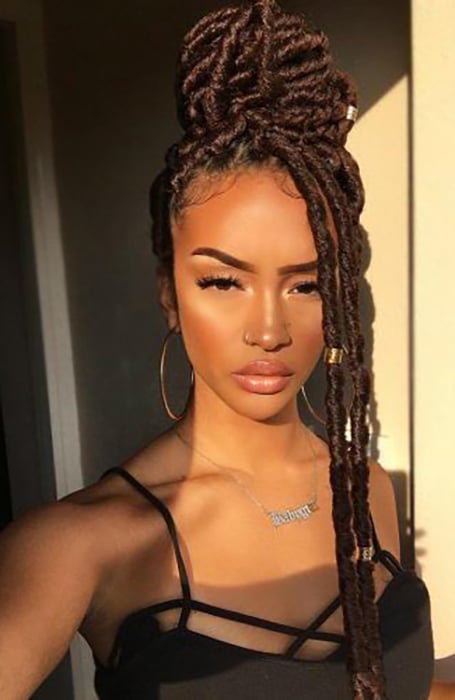 19. Faux Locs
Faux locs, or 'fake dreads', will give you the look of dreads without committing years of your life to grow them. You can get this look by having a hairdresser braid your real hair, before wrapping dreadlocks around it. The faux locs can also be crocheted into cornrows. Faux locs will give your hair all the benefits of other protective styles like weaves because your natural hair is covered and therefore protected from heat, pollution, and chemicals.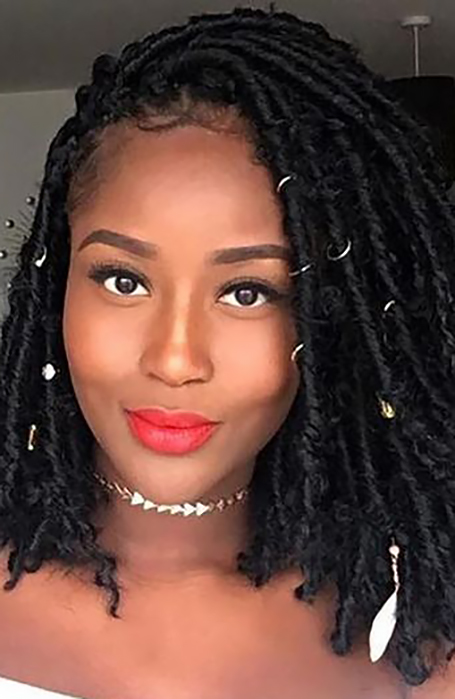 20. Dread Fade Style
Combining dreads with a fade isn't just for the guys. This on-trend look is just as striking on women. Whether you opt for a low, medium, or high fade, keep your dreads fairly long to create a cool contrast and give you more versatility. This is a great look for summer too, as it means you'll have less hair to deal with!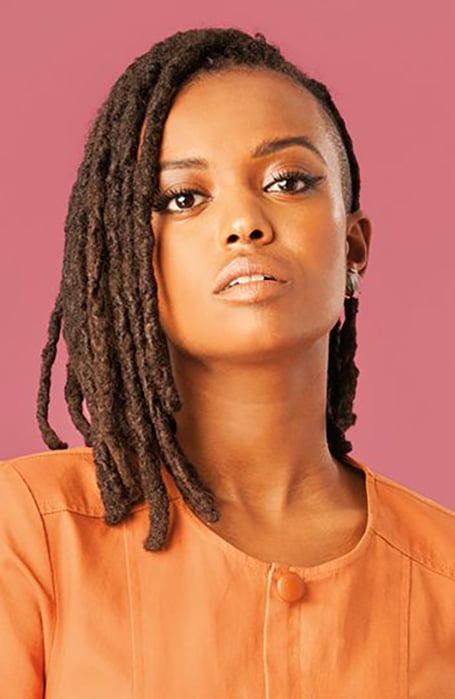 21. White Girl Dread Style
Non-Afro textured hair can develop freeform dreads – they're often called 'neglect dreads' because they take next to no effort, just a lot of patience while they 'loc up' and grow over time. While Caucasian hair doesn't form dreads as quickly as natural hair due to its different texture, locs will eventually occur. Often, the dreads will only form on certain parts of the hair, with the rest staying loose and separated.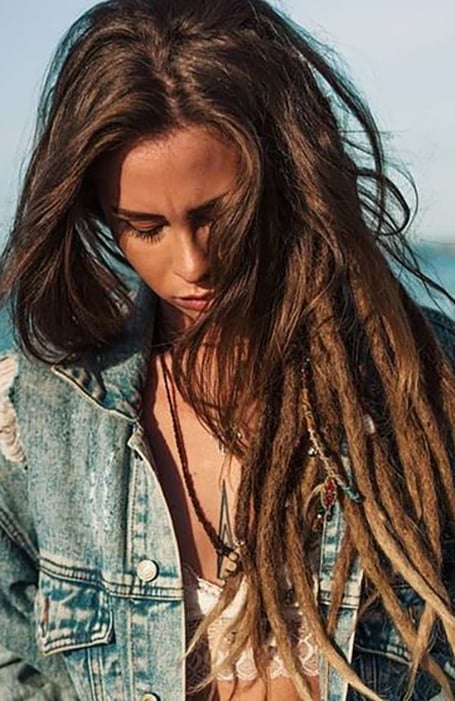 22. Dyed and Coloured Dreads
You can dye your dreads with the same products you'd use for ordinary hair. The difference is that you don't need to comb the color through. Instead, the dreads need to soak up the color, so use a tint brush to paint on the dye. It also takes longer for the color to develop. If you're thinking about changing your shade, go bold – primary colors like red, green, and blue look fantastic on dreads and give the style an Afropunk feel.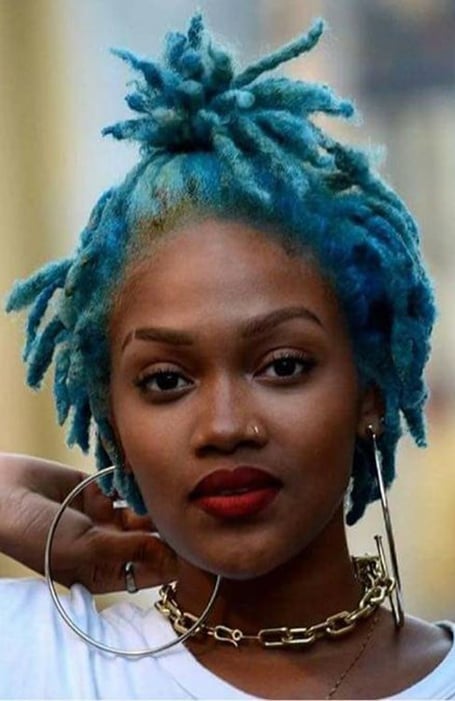 23. Fishtail Dreads
There are so many ways to style your dreads, and a standout option is the fishtail braid. It's easier to braid dreads than normal hair because it's already separated into sections and has lots of texture. This is a classic, feminine braid that has a romantic feel – and it's a speedy way to change up your loc style from day to night.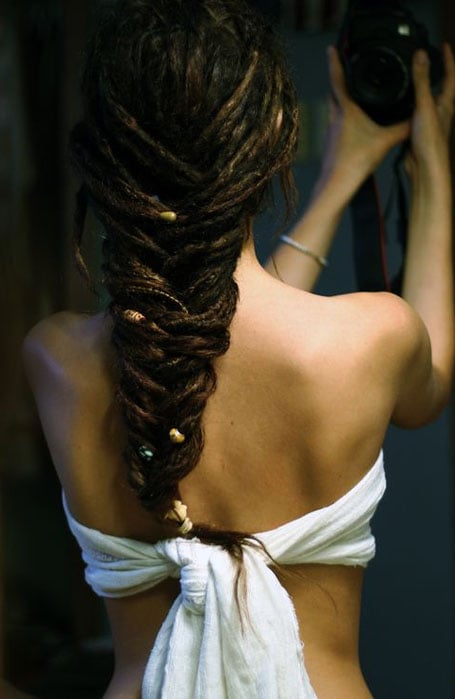 24. Fishbone Dreads
As opposed to fishtail braids, fishbone braids involve braiding the hair at an angle, close to the scalp, to create a pattern. It combines the artistry of braiding with the cool factor and attitude of dreadlocks. This style looks beautifully elaborate and sophisticated while still maintaining its uniqueness.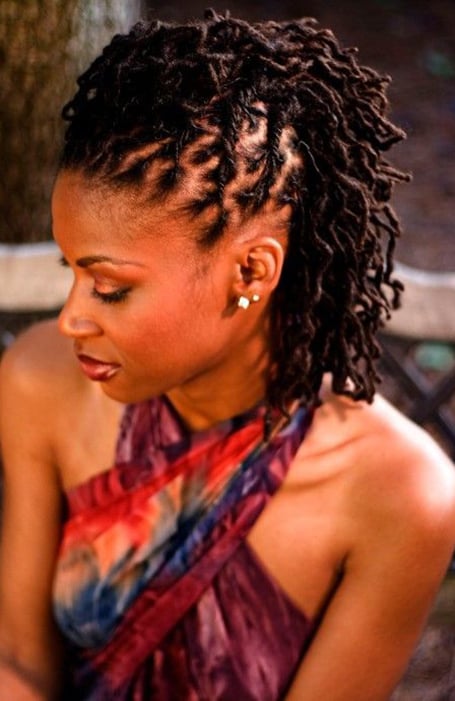 25. Freeform Dread Style
Otherwise known as 'freedom locs', freeform dreads are the most low-maintenance dreadlock style. It's all about accepting your hair's natural texture with no intervention. You won't need to get them retwisted or detangled, and there's no product required either. However, you need to wash your hair regularly, as clean hair forms dreadlocks faster.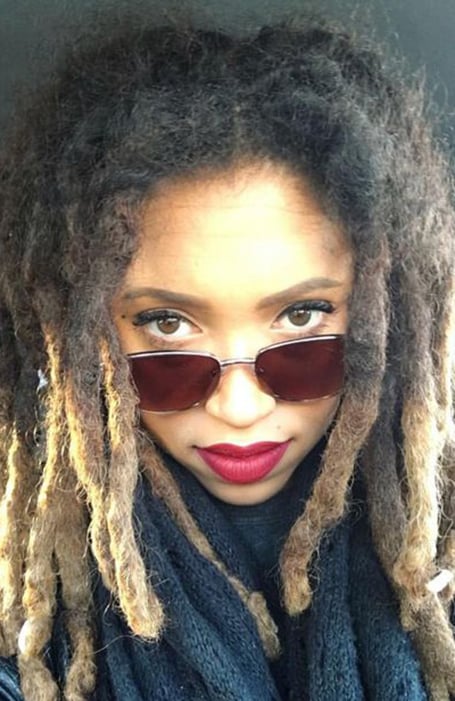 26. Dreadlock Ponytail
Dreadlocks are an iconic hairstyle with cultural importance and can make a statement. It is also a protective style that can retain moisture and let you take a break from heat and chemicals. There are several ways to style the hair, depending on your preference, and one of the most practical ways is with a ponytail. You can opt for a low ponytail or a high ponytail, depending on the length of your hair and the desired look. A ponytail is a great way to pull the hair away from the face and off the neck, drawing attention to the face and highlighting your features. It is also cool for the summer or warmer climates and great for when you are going about your daily errands and want to keep your hair in place.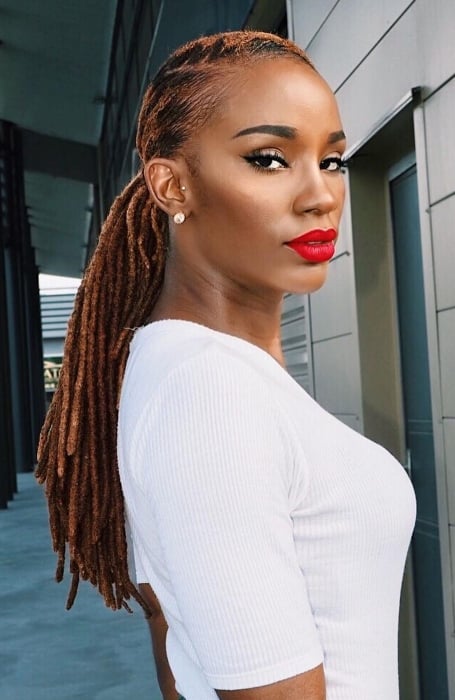 27. Half Up Half Down Dreadlocks
The half up half down hairstyle is incredibly versatile, letting you show off your dreadlocks while also benefiting from putting them up and pulling them away from your face. This style is excellent for showing off the length of your dreads but can also highlight your features. With dreadlocks, the simpler the style, the better, as you are not able to create intricate braids. Instead, tie the hair into a bun or a half ponytail. You can leave a few dreads to fall around the face to soften your appearance.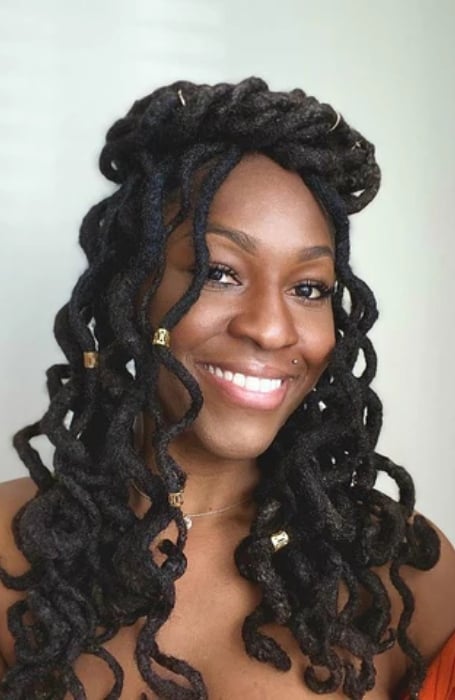 28. Pink Dreadlocks
Bright, bold colors are expressive and a great way to have fun with your appearance. You can choose your favorite hues, whether a vibrant pink shade or a soft, pastel color. Pink hair color is a color associated with femininity and love. Choosing to dye your hair pink can be an excellent way to celebrate your strength and female energy. Dyeing your dreadlocks pink will also make them more visible, highlighting the length and thickness. It is also great to show your playful side and let the world know you are not afraid to take risks.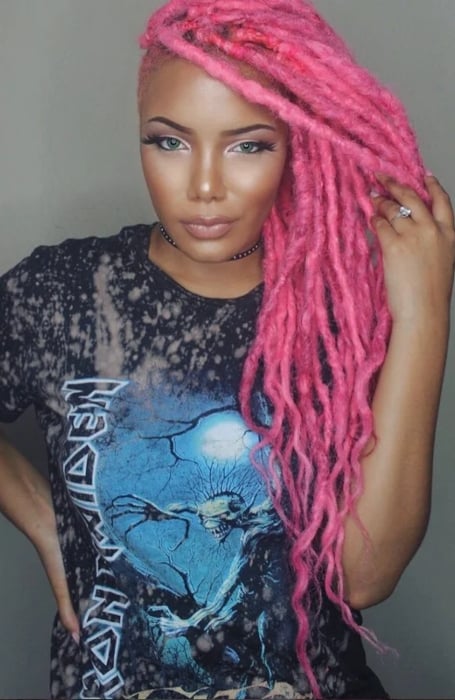 29. Dreadlock Top Knot
The top knot is a fun and easy way to style your dreads and is perfect for special occasions or everyday wear. The look is defined by pulling the hair up, into a bun, on the top of the head. Dreadlocks are textured and have a lot of grit, which makes them easy to style. The length and thickness of your top knot will also determine the size; it could be oversized or small and subtle. Having the hair away from your face can be a great way to draw attention to your eyes and can be incredibly flattering. It is also an excellent style for showing off statement jewelry, like big earrings or a pretty necklace.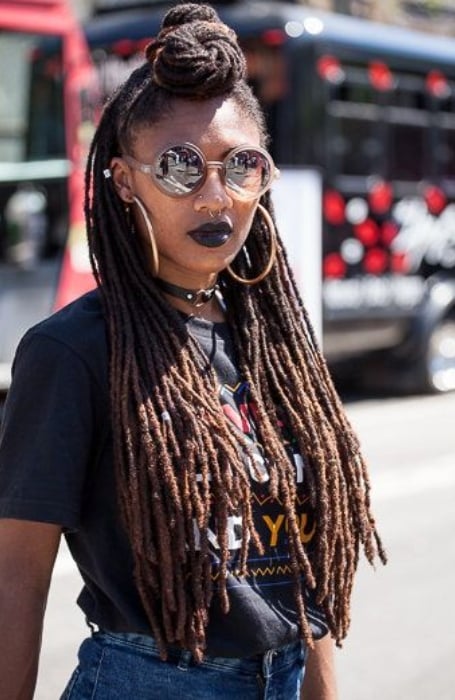 30. Dreadlock Undercut
For an edgy and cool approach to dreadlocks, you can wear them with an undercut. The undercut will shave the hair on the bottom of the head, keeping length on top. This will create an interesting contrast but also give your hairstyle more structure. In addition, an undercut is fantastic for removing weight and bulk from your dreadlocks and can make them easier to manage and lighter, resulting in less tension on the scalp. The hair on the top of the head will also appear thicker and fuller, and this is an excellent option for shorter, smaller dreadlocks that are still growing out. The undercut with dreadlocks is a perfect look for someone who wants to experiment with their hair and take risks.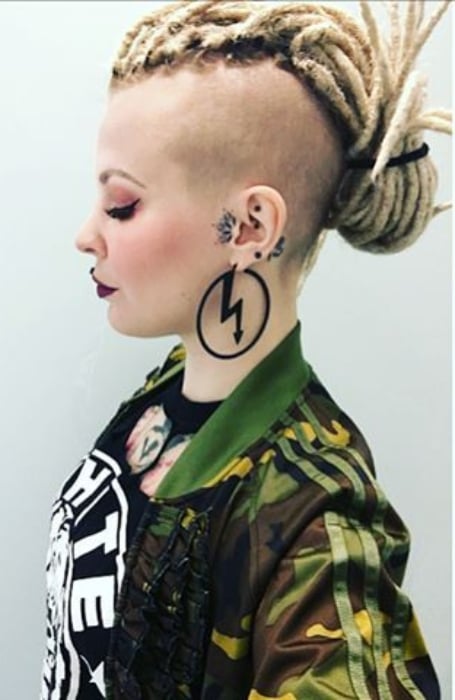 31. Dreadlock Space Buns
Space buns are a 90s favorite and are simple to create and youthful. The hairstyle is defined by a bun on either side of the head, but there are many ways to try it out depending on the length of your dreads and the thickness. You can put all the hair up on both sides of the head for a stylish updo or try a half up half down hairstyle with space buns, leaving the rest of the hair to fall loosely. Wearing the hair up is practical and simple and can reduce daily styling. You can also experiment with different finishes, adding scrunchies over the space buns for a pop of color.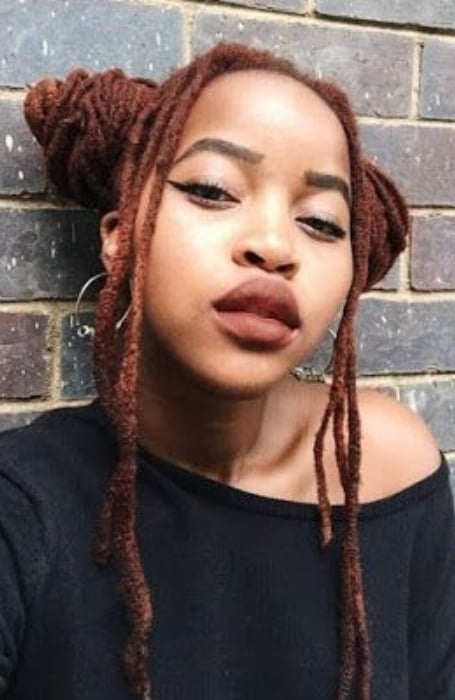 32. Dreads and Bantu Knots
Dreadlocks are a great protective style that is symbolic and makes a statement. They can be styled in several ways, including combining dreads with other hairstyles like Bantu knots. Bantu knots are a protective hairstyle that can be traced back to the Zulu people of South Africa. They are defined by the hair being sectioned off, twisted, and wrapped into knots. It is a look that has been favored by some of the world's most stylish women. Plus, it can be worn with hair of various textures and lengths. If you have long, thick dreadlocks, you can create large Bantu knots, or if your dreads are short or still growing, you can keep them short.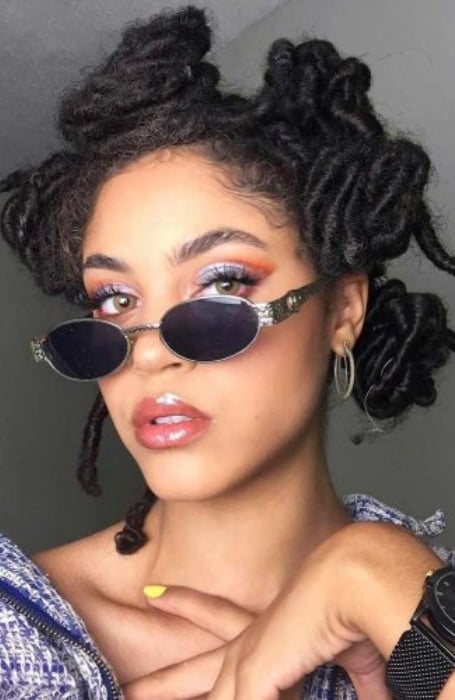 33. Dreadlock Fringe
Dreadlocks require a lot of patience and maintenance to grow out, but they can be adapted to suit your preference and can be styled in various ways. This includes creating a dreadlock fringe. Fringes are a great way to draw attention to the face and highlight the features, and a dreadlock fringe will make a statement and be instantly noticeable because of the textured finish. You can style them horizontally across the face for a more dramatic finish or opt for a side fringe. Regardless of your look, this is a great way to get your hair noticed and create a youthful glow.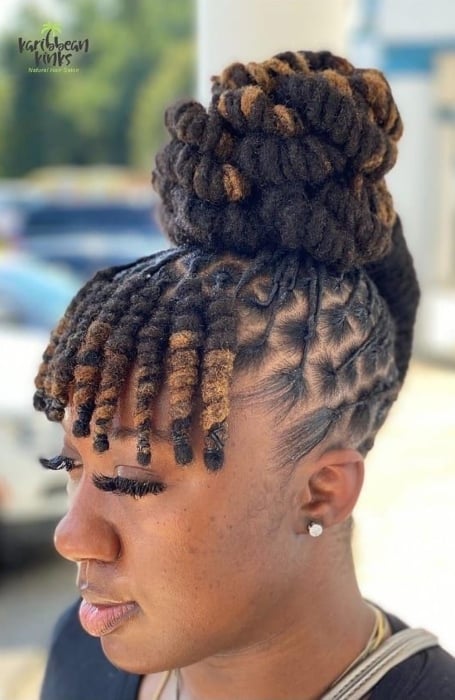 34. Ombre Dreadlocks
Dreadlocks can be styled or colored to suit your preference. Consider the ombre coloring technique to give your hair depth and dimension, and experiment with color. This approach blends two colors, one light, and the other dark. The lighter color is focused toward the ends of the hair, making this a low-maintenance option as you do not have to worry about root regrowth. The colors you choose can be natural or artificial. For example, adding blonde or caramel to darker hair will lighten it and brighten your appearance. Or you could experiment with artificial hues like pink or blue. This is an excellent way to show the playful side of your personality and let you have fun with your hair.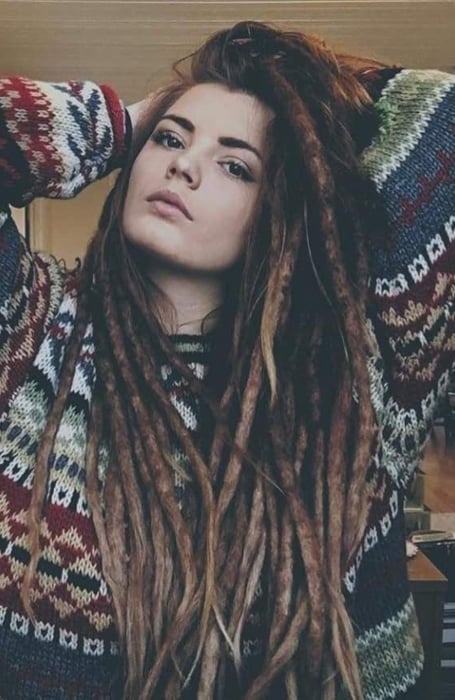 35. Dreadlock Halo Braid
Dreadlocks are an iconic hairstyle, but they can also be styled in more ways than you may realize. If you have long dreads, you have more versatility with how you wear them, including trying interesting braided looks like a halo braid. The halo braid is a plaited hairstyle that wraps around the head, creating the appearance of a halo. It is a wonderful way to get your dreadlocks noticed, but it is also practical and cool, keeping the hair off the face and neck. This can be a great option for formal occasions and is practical for warmer climates. Halo braids are long-lasting and can last for several weeks, depending on how you care for them.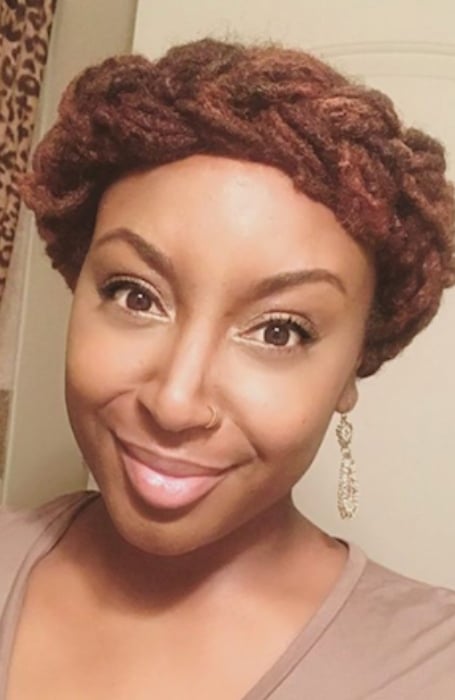 Dreadlocks Hairstyles for Women FAQs
What do Dreadlocks Symbolise?
Dreadlocks are often associated with many different meanings. In certain cultures, dreadlocks represent purity and act as a constant reminder of goodness. Locs often resemble a lion's mane, which is affiliated with courage, strength, and power. 
Do dreadlocks damage your hair?
When preparing for dreads, it's essential to make sure you take good care of your hair. While dreadlocks don't cause damage directly, you have to make sure you treat them regularly and avoid twisting them too tight, as this can cause breakage. For those with thin hair, be cautious when turning the locks, as the closer they are, the more damage it will do to your scalp. That being said, with good dreads comes the right treatment - take care of your hair, and you won't experience damage.
How long does it take for dreads to lock?
There are many factors to take into consideration when preparing for dreads. Depending on your hair type, it can take anywhere from two months to a year before you start to see locks. This also depends on the level of maintenance and care you provide through the lock forming journey.
What is the best hair type for dreadlocks?
While dreads can form in any hair type and texture, certain kinds tend to bind easier. The best type to start dreadlocks is coarse and textured hair. This type tends to bond together at a higher rate, thanks to its wiry feel, making it easier to tangle and create stunning dreads.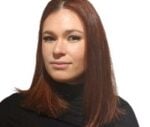 Arabella Roden is a skilled writer and sub-editor with over ten years of experience across print, digital, and B2B. She holds a Bachelor's Degree in Journalism and specializes in beauty, hairstyles, fashion, tattoos, and lifestyle topics. Arabella is currently the Chief Sub Editor at Mecca Brands and has been writing for The Trend Spotter since 2019.
SUBSCRIBE TO OUR NEWSLETTER
Subscribe to our mailing list and get interesting stuff and updates to your email inbox.